CURRENT DAY - SPREAD OF WHITE TIGERS IN ZOOS - TOO MANY TO COUNT
"White gene" vs "Inhibitor gene."
Although these pages refer to "white genes," white tigers have the genes for normal orange colours, but those genes are switched off by a recessive "inhibitor gene." When a tiger inherits 2 copies of the inhibitor gene, the normal orange colour is suppressed. In general parlance, it's simply easier to refer to "white genes."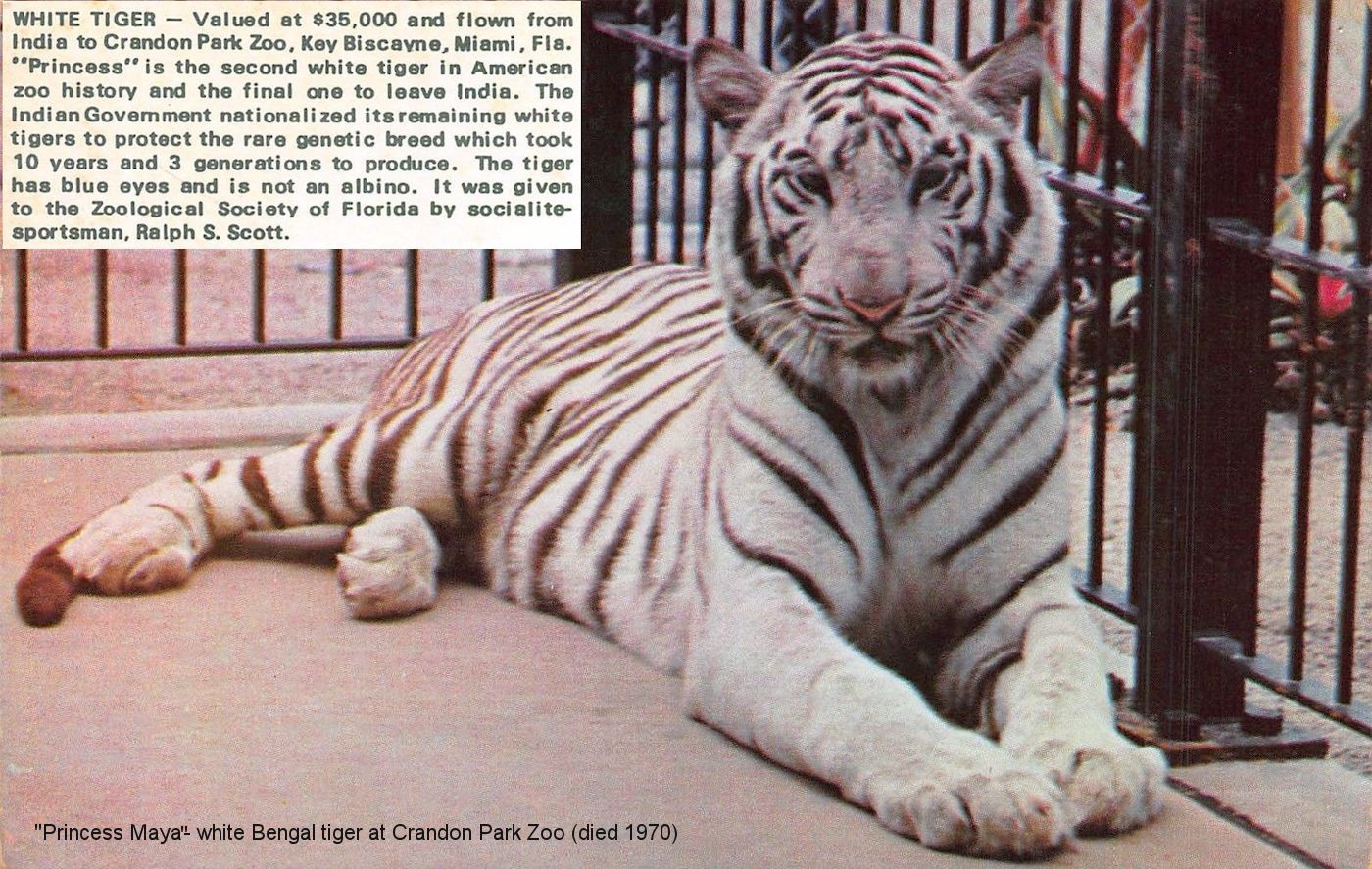 SPREAD OF WHITE TIGERS IN ZOOS - TOO MANY TO COUNT
White tigers are found in zoos worldwide - there are now too many to track, so only a few are noted here. A white tiger at White Oak Plantation, in Florida, resembles Rewati in having crossed eyes and a crooked spine; she was born at Metro-Miami zoo, to Cincinnati parents.
In the 1990s, a female white tiger from the Henry Doorly Zoo named Kitra went on loan to Potters Park Zoo in Lansing, Michigan.
The Kenosha News, 26th June, 1991 reported the birth of a white tiger, worth an estimated $100,000, at a small zoo in Brandon in Fond du Lac County around 12th June. Sutra's parents and her sister were normal orange tigers worth atounf $550. She was borna t Willie's Wildlife Zoo about 60 miles north of Milwaukee, owned by Gerhart Willie. Willie admitted it was tempting to sell Sutra because of her value.
In June 1994, 350-pound male white tiger Lucknow, one of the star attractions at Miami's Metrozoo, fatally mauled a zookeeper who entered its outdoor enclosure. Veteran zookeeper David Marshall was apparently unaware that the tiger was loose. It happened when Lucknow was to be moved from one enclosure to another.
In 1999, entertainer Dirk Arthur donated a cross eyed white tiger to a zoo in Hawaii (Hawaii Tribune Herald, Hilo, Hawaii, July 23, 1999 Page 1).
Bhopal, India planned a white tiger breeding centre. Taipei zoo has 7 white tigers and started with one from Taman safari park in Indonesia. Nashville zoo, which bred white tigers in co-operation with Siegfried and Roy, gave 6 white tigers to the Khoa Kheow Open zoo, in Chonburi province, Thailand, in 2002. Guangzhou Xiangjang safari park claimed to have 60 white tigers, 50 being the offspring of a single female and many of those were sired by her older brother - a dangerous amount of inbreeding and likely to result in genetic problems. This white tiger mill situation is comparable to that of Bhim and Sumita.
Two white tigers from Nandanakanan Zoo went to Surabaya Zoo, Java, Indonesia as a gift. Western Plains Zoo's (Australia) white tiger came from Surabaya Zoo. At various times in the mid-to-late 1990s, Western Plains Zoo had white tigers from the Rewa, Orissa, and Sioux Falls Zoo lineages.
The NZP's last white tiger was Panghur Ban, a son of Ranjit born at Omaha; he was euthanized October 2002, ending an era. His brother Chester was donated by HDZ to the Taronga Zoo in Sydney, and was the first white tiger in Australia. Chester was sire of an orange tigress named Mary Alice who was the first test tube tiger cub (only survivor of a litter of three), born at HDZ. Chester's heterozygous orange daughter Gold/Rani at Montgomery is exhibited with Akeer's brother Zazu, but has not bred.
White tigers are popular in circuses. Josip Marcan, a Croatian, was a trainer with the Hawthorn Circus when the Hawthorn Circus leased troops of white tigers and trainers out to other circuses. His white tigers are claimed to be of pure Bengal origin from Yugoslavian imports, however, no pure Bengal white tigers are known to have been perpetuatied outside of India. In factMarcan's tigers originated from the Hawthorn Circus and are Bengal/Amur mixes descended from Silver. Information about his breeding is at White Tiger Breeders: Robert Baudy, Josip Marcan
"MarineLand And Game Farm" at Niagara Falls, Canada had the first white tigers in Canada, these being a troop of Hawthorn Circus tigers stationed there with their trainer. Silver was with the white tiger act at Marineland and Game Farm in Niagara Falls, Canada in 1981. The "Great White Tiger Show", comprising 16 Hawthorn Circus white tigers, 2 orange tigers, and a trainer (John Cox) travelled to Osaka, Japan where Dalip was exhibited in 1970. The white tigers at MarineWorld/AfricaUSA came from Josip Marcan who sent tiger cubs there for hand-rearing. MarineWorld/AfricaUSA bought a white tiger from him named Samson, who had dark stripes and who fathered a litter of three white cubs in Vallejo (the mother was an orange heterozygous tigress also acquired from Marcan - possibly also descended from Silver?). Samson later went to Henry Doorly Zoo which already had Ranjit, Kesari. Raja, Sheba II and Obie. Those from DreamWorld may have come from Vallejo along with their trainers (Vallejo Tiger Island wanted control of the Gold Coast Tiger Island).
Although white tiger Silver is behind many white tiger lines there is no genealogy information available because they were bred by Josip Marcan and were not part of any zoo breeding programme. Silver had a number of disabilities caused by a difficult birth. According to the Sports Illustrated article (July 21, 1986) "Now He's The Cat's Meow" "All of Burck's white tigers are hard of hearing. The one named Bagheera is stone deaf. Three of them are cross-eyed. All of them are neurotic, easily spooked. The one named Silver is mentally retarded. When Silver was born his sac didn't break. When he took his first breath he inhaled his placental fluids. Most baby tigers scream. Silver lay flat barely breathing. He remained comatose for four months. Burck had to use a tube to feed him. Silver is five years old now. He roars all the time and bangs his head against his cage for reasons that he alone understands. He is afraid of everything - the whip, circus music, meat, Burck."
Because Silver's disabilities were not genetically transmissible, he could be bred from. Silver was loaned to Josip Marcan and all of Marcan's white tigers are descended from him, despite claims of them coming from a separate line imported from Yugoslavia. Burck had warned Cuneo that Marcan might try to breed Silver, but they didn't know that Marcan had bred white tigers from him until much later. In 1989, MarineWorld/AfricaUSA in Vallejo, California had an adult white tiger descended from Silver; all of their white tigers were descended from Silver. Siegfried &amp Roy also have tigers descended from Silver. The Henry Doorly Zoo had a white tiger named Samson from MarineWorld, who was a direct descendant of Silver. Jack Hanna used to appear on TV with tiger cubs, including white cubs descended from Silver. The tigers at Australia's Dream World on the Gold Coast are also probably Silver's descendants. There are photos of 3 dark-striped white tiger cubs born at MarineWorld and sired by Samson, a descendant of silver, on a heterozygous orange female (also descended from Silver?) bought from Josip Marcan by Ron Whitfield, a tiger trainer at MarineWorld. Marcan and Whitfield fought over ownership of the three white tiger cubs because Whitfield wanted all of them, but eventually settled for two. MarineWorld had a white tiger cub with pinkish stripes which may have belonged to Marcan.
In June 2005, there was an attempt to smuggle white tigers into Mexico where they were claimed to sell for $50,000 each. This price seems unlikely as so many white tigers are bred by private menageries for the exotic pet market that some end up in exotic animal rescue centres! The cubs were seized by US Customs in Brownsville, Texas and went to Louis Dorfman at the International Exotic Feline Sanctuary in Boyd, Texas which already had 6 dark-striped white tigers. Pampa, born in Argentina's Temaiken Zoo in 2006 arrived at Mexico Zoo in May 2007 where he is to be mated to 2 year old Luna, a tiger from a Mexican zoo. Meanwhile, a white female called Brisa was born at the Zoologico de Vallarta, in the Pacific coast state of Jalisco, Mexico (the zoo owners erroneously refer to white tigers as an endangered species).
Minnesota zoo donated a pair of Bengal tigers to the Taman Safari Park in Cisaru, Bogar, West Java. One was a white female called Shinta and the other was an orange male. In April 2005 Shinta had 4 orange tiger cubs.
Two white tigers were born at Stump Hill Farm, Richville, Massilon, Ohio where owner Cyndi Huntsman erroneously said "Only 50 to 100 white Bengal tigers may be found in the wild because their white stripes make for an easy target." In fact there have been none in the wild for around 50 years. The Farm's white cubs were born to 5 year old white parents Samson and Ashora, ex-circus tigers and therefore probably Bengal/Amur mixes.
It has proven impossible to found lines of purebred white Bengal tigers outside of India. Cincinnati Zoo imported two white female tigers from the Nandankanan Zoo to try and start a line of pure Bengal white tigers, but were unable to get a pure Bengal male. The Columbus Zoo wanted the US Fish And Wildlife Service to help them acquire pure Bengal white tigers from India, and white tiger semen, but were also unsuccessful.
My New Wild Life on Animal Planet (August 2009) featured the neutering of ten tigers at the PAWS tiger sanctuary in Galt, California. The show noted that Majesty (white tiger from John Weinhart's Tiger Rescue in Colton, California) would be first because if there was going to be a problem it would probably be with this white tiger. The show noted also that White tigers are known to have more difficulty metabolizing anaesthetic drugs; excessive inbreeding is necessary to produce white tigers a coloration not normally found in the wild; inbreeding also causes birth defects and other profound medical issues....but the concern was the drug may not work properly on the white cat. Majesty was rescued from a substandard breeding facility. He has eyes trouble, hearing deficiency, and lack of coordination.
March 18, 2010 - Washington Park Zoo - On the weekend of January 23, Zoo Director Johnny Martinez, General Curator Elizabeth Emerick and Zoo Keeper Julia Bauer drove to Wildwood Wildlife Park , Monocqua, Wisconsin to acquire a 10 day old female white tiger cub on loan for the Washington Park Zoo. Zusha was born January 14, 2010 in captivity. Zusha's father, Shertan, is a white tiger, and her mother, Sheba, is an orange tiger.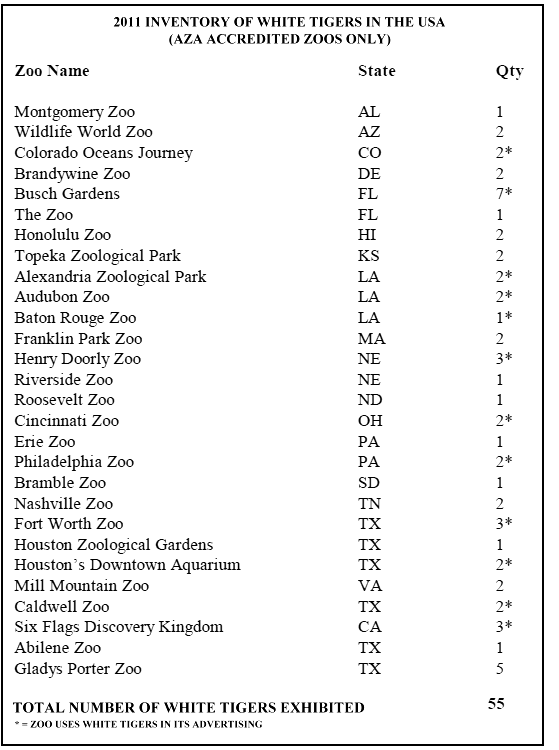 The Mobile Zoo, Alabama has a white tiger named Magoo. It's not known if that zoo ever bred them, or if they are AZA accredited. The AZA policy since 2009 regarding generic tigers, including white tigers: AZA zoos are forbidden to breed white tigers; replace them when they die; acquire new ones; or even get cubs on loan. If they are transferred out of an AZA zoo to a non-AZA facility, they must be spayed or neutered prior to the transfer. The goal is to manage them to extinction within 20 years. They are permitted to live out their lives in AZA zoos, but many AZA facilities have chosen the option of spay/neuter and relocation to a sanctuary. That leaves only non-AZA zoos and private owners as possible homes for them. However, there are numerous attempts to pass laws, both at the state and national level, forbidding anyone else but AZA zoos to have big cats, which would leave white lions and white tigers nowhere to go in the USA. Many have been lost. The white tigers at Cincinnati and Knoxville have died out due to old age. Those at Nashville were sent to Tiger Haven. John Cuneo sent the remaining Hawthorn tigers to the National Tiger Sanctuary. Federal legislation in the works in 2013 would, if passed, make it illegal for anyone to breed white tigers in the United States as only AZA accredited zoos would be allowed to breed big cats. Private owners and circuses would not be allowed to breed big cats. This would put an end to the "sanctuaries" and "preserves" that are effectively tiger mills, churning out cubs (frequently inbred) for private owners and offloading defective, elderly or otherwise unsaleable animals on genuine rescue organisations.
In March 2021, a white tiger cub named Yanek, and three orange littermates, was born at Cuba's National Zoo in Havana from two orange Bengal tiger parents.
THE DECLINE OF WHITE TIGERS IN ZOOS
The tigers in Montreal with Allen Gold were the remnants of the white tiger act featured on the Beyond show in Canada in 1977, and the ones that were mentioned in the Sports Illustrated article, with the exception of 2 white and 3 orange tigers delivered to the act in 1989 when it was in Germany. The last of the original tigers, Conan, died in 2001. The last of the tigers added in Montreal, Wei, died in 2004.
The last white tiger at the National Zoo was Panghur Ban (known as "Taj"), who was a great grandson of Mohini. He died in 2002 at the age of eighteen.
West Midlands Safari Park has a number of white tigers (regarded by some as "white tiger central" in the UK), but declined to reveal their ancestries following my query in December 2013. Katie McDonald's response to my request for information: "I ran your project passed the head of carnivores. He agreed that it is interesting work and I am impressed by your geneologies. However we know that our white tigers are inbreed. We are not planning to breed white tigers again and therefore we feel that devoting resources to your project is not something that we are able to do at the present time.
Cincinnati's last white tiger was Popsy who died in June 2018 aged 22. She was euthanized due to age-related issues. The white tiger habitat had been modified with ramps and a shallow section in the pool to allow her easier. Popsy arrived at Cincinnati Zoo from Nashville in June 1996 with her sister Erica. They were named after the late Erich Kunzel, Conductor of the Cincinnati Pops, who was a large supporter of the Cat Ambassador Program. Popsy spent her last ten years with male companion Akere, who died in December 2017 aged almost 22. Akere had non-treatable oral cancer, was in renal failure and was severely arthritic. Akere arrived in Cincinnati from Nashville in November 1996 at 9 months of age. Popsy and Akere were kept together for companionship not breeding. Over 70 white tigers were born at the Cincinnati Zoo, which is where Siegfried and Roy purchased their white tigers.
In June 2019, Bajirao, the last captive white tiger at the Sanjay Gandhi National Park in Mumbai suburb Borivali, died aged of 18. He had chronic ankylosis on the left shoulder and age-related arthritis. Bajirao was born at the Sanjay Gandhi National Park in 2001.
Many of the white tigers now found in zoos are rescues from the illegal exotic pet trade and are not bred.
Because white tigers are a natural colour morph of the Bengal tiger and were eradicated in the wild, it would make more sense to include those that are known to have the highest percentage of Bengal genes, and no health defects, to be incorporated into the Bengal tiger conservation programmes and allow white cubs to be born at a natural frequency.
Textual content is licensed under the GFDL.
FOOTNOTE
Most white tiger websites have a pro- or anti-agenda and variously claim to give "facts," "truths" or debunk "myths" but give misinformation or have hidden agendas. I stick to facts and deductions based on facts. Some information is documented, some is from personal correspondence with zoos, and some is from the recollections or personal notes of people involved with circus or zoo tigers where records were have been lost or destroyed. Even the different editions of tiger studbooks are inconsistent. Information from my pages, which are frequently updated, is widely copied on those other sites. Some sites have tried to claim I copied their work.