WHITE TIGERS IN CAPTIVITY TODAY (PAGE 4)
Mutants are natural variations which occur due to spontaneous genetic changes or the expression of recessive (hidden) genes. Recessive genes show up when there is too much inbreeding. As well as anomalous colours, there are abnormally large or small individuals, longhaired individuals, short-tailed or even tail-less individuals. All of these occur in domestic cats so why are they less common in big cats? Wild cats displaying these traits may be less likely to survive to pass on the traits. In captivity, humans control which traits are bred, hence the multitude of domestic cat colours and types. In the wild, nature selects against any trait which does not enhance the animal's survival chances.
In the past, the obvious reaction to any unusual big cat was to shoot it for the trophy room. As a result, many interesting mutations may have been wiped out before the genes were passed on. Some colour mutations which would disadvantage a wild big cat are bred in captivity and are not viable in the wild. It is questionable whether these mutants should be perpetuated for the sake of curiosity or aesthetics alone.
Historical quotations are credited and are in the public domain. Original text is licensed under the GFDL. I am grateful to Paul McCarthy and Jerry Blackman for researching and providing extensive material, information and corrections on white tigers and for genealogies.
White Tiger Genealogies from Mohan to Modern Day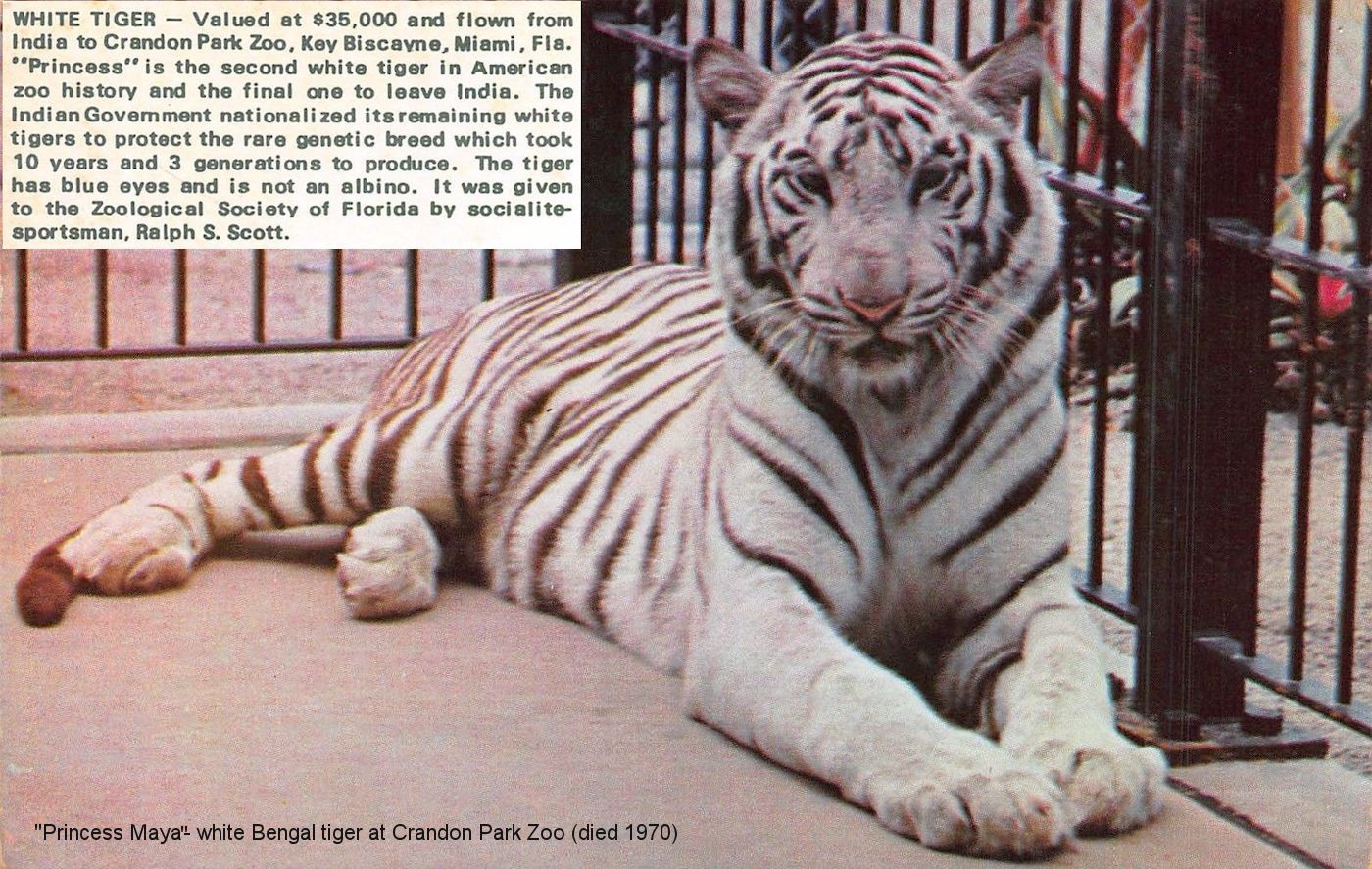 White Bengal/Amur Hybrid Tigers in Captivity Today
Two researchers tracing white tiger genealogies are Paul McCarthy (Canada) and Jerry Blackman (USA) have contributed extensive information and charts regarding lineages, births and deaths and colours.
This section is roughly chronological, but the amount of inbreeding, leasing and loaning makes this complicated. Text is best viewed in conjunction with genealogies (which open in their own windows). Some zoos are better than others at keeping and making public accurate mating records and genealogies for their tigers. In circuses and private collections, a tigress gang-mate with multiple males making it impossible to determine the father's identity.
According to Roychoudhury, pure Amur tiger Kubla (born at Como Zoo, Minnesota) was bred to Bengal tigress Susie from an unidentified West coast zoo, born to wild-caught parents) while at Sioux Falls Zoo, South Dakota and they produced 12 orange cubs including Raja and Sheba II. Kubla was subsequently sold to a Dutch zoo. His Amur brother and several of Kubla's demi-Bengal offspring were also sold. The brother Amur tiger was mated to his demi-Bengal niece Sheba II in the Hawthorn Circus of Grayslake, Illinois, resulting in several white cubs. This led to the suggestion that the Amur tiger carried the white gene. However, Sheba II also mated with her demi-Bengal brother, Raja, clouding the issue of the white cubs' paternity (i.e. the white gene came from Bengal tigress Susie). Both Sheba and Raja were heterozygous. Susie may have been based at Sarasota, Florida, which is a big circus hub.
Chart 3.1: Raja and Sheba II's Offspring (large image, opens in new window)
Raja and Sheba II, were bought by Julius Von Uhl of the Shrine Circus and produced white cubs, the most notable being Tony (born 1973, Peru, in the Indiana Circus Winter Quarters of Cole Bros Circus; also known as the Terrell Jacobs farm) who is an ancestor of almost all white tigers in North America. Tony's orange siblings, bred from two heterozygotes had a two thirds chance of being heterozygotes. Tony was sold to the Hawthorn Circus. James Witchie of Ohio, bred white tigers from Tony's orange brother Chequila (sometimes mis-reported as Tequila or Chiquita). Tony and Chequila were born on the Paul Kelly Farm outside of Peru, Indiana, on the back of a flatbed truck (i.e. in a transport cage), during a snow storm, in 1972. Peru, Indiana is a big circus hub. Chequila would have been based in Lebanon, Ohio when he wasn't on breeding loan to the Racine Zoo.
John F. Cuneo bought Tony for only $10,000, but Hungarian expatriot Baron Julius Von Uhl tried to renege on the sale, threatening to shoot anyone who tried to take Tony (1975 Detroit News article.) The dispute was settled in expensive court action. There was concern that Tony was too young to breed in 1976. After 1976 Cuneo asked Bristol Zoo to trade white tigers with him to diversify the gene pool, but they declined. Many of Tony's white siblings born years later at the Henry Doorly Zoo (HDZ) were apparently sterile.
Washington had white tigers from 1960. Washington attorney Ralph S Scott suggested to John W Kluge that he buy a white tiger for Washington Zoo as a gift for the children of America. White Bengal tigress Mohini in the USA National Zoo (NZP), was mated to her mother's orange brother, Sampson. In 1964 Mohini and Sampson produced orange male Ramana who was bred to Mohini after Sampson's death. The Mohini-Sampson mating also produced white male Rajkumar - the first white tiger born in a zoo (said to have a particularly nasty temperament!) - who survived only 10 months before he and his orange sister died of feline distemper despite being vaccinated.
In 1966, Mohini and Sampson produced orange daughter Kesari; no other cubs from that litter, which included white cubs, survived. In 1969, Ramana and Mohini produced cross-eyed white female, Rewati (she also had a crooked spine, short limbs and at one point her hind legs were paralysed). Their next litter had 2 white and 3 orange cubs, but only white male Moni survived. Moni was the last white tiger born in Washington and died of a neurological disorder. Moni was the first white tiger in whose brain the visual pathway abnormality was first documented. None of Mohini's white offspring survived to reproduce.
The National Zoo did not want to breed Rewati as she was a poor tiger specimen due to inbreeding. Rewati was killed in 1983 aged 14 at which time she was considered too old to breed (she might have bred at the Rare Feline Breeding Compound at Center Hill). After leaving Cincinnati Zoo Rewati lived at Bronx Zoo and Center Hill, then Cincinnati Zoo in 1976 (as intended mate of Tony). Rewati and Mohini lived at the Brookfield Zoo for two years from 1974 to 1976 while Kesari, Ramana and Marvina were in Cincinnati.
In 1971 Washington Zoo director Dr Theodore H Reed hoped to acquire a tiger named Ram (born New Delhi Zoo 23rd March 1965 to Vindhya, daughter of Mohan and Begum, and an unrelated tiger named Suraj) from a Trivendrum Zoo in southern India as a mate for Mohini. He described Ram as a grandson of Mohan having 25% of Mohan's genes, 25% of Begum's genes and a 50% chance of carrying white genes. When Mohini was euthanized in 1979, Reed was apparently so upset he left town the next day. He said "It's impossible to say how much the zoo owes that cat and her cubs. They drew attention to the facility and made all our recent improvements so much easier. If she had been human she would have been a movie star." Mohini had been born and bred in a maharaja's palace and had visited the White House in the USA. During her lifetime, she spent a night at each of the Bronx and Philadelphia zoos, spent 2 years at Brookfield Zoo and spent the rest of her life in Washington DC. Mohini's legacy lives on in her progeny and in sections of Mohini's brain preserved for scientific study. The skulls and skins of Mohini and Rajkumar are preserved in the Smithsonian's National Museum Of Natural History, but are not displayed.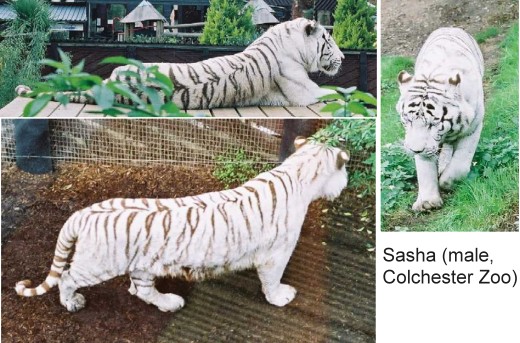 Kesari, was bred to Tony, on breeding loan from the Hawthorn Circus, at Cincinnati Zoo in 1976. Tony had gone to Cincinnati to be bred to Rewati, not Kesari, and had the Tony-Rewati breeding occurred it would have resulted in only white cubs. In any event, Kesari produced more white cubs than expected. Tony-Kesari matings produced 80% white cubs rather than the expected 50%. Ramana-Kesari matings produced 75% white cubs instead of the expected 25%. Kesari went from Cincinnati zoo to HDZ, but produced no more cubs. Tony introduced Amur (Siberian) tiger blood into the zoo population of white tigers.
Chart C: The Merging of Bengal and Amur (large image, opens in new window)
Kesari's offspring Ranjit, Bharat, and Priya were all outcrossed with unrelated orange tigers to introduce fresh blood (heterozygotes bred from Bharat or Priya went to Gulf Breeze Zoo). The three were eventually sold to Hunt's Bros' International Animal Exchange (IAE) in 1987 where Bharat remained. Ranjit and Priya went to Hunts Bros' International Wildlife Park, Grand Prairie, Texas (now closed). NZP had a non-breeding brother and sister pair of orange Bengal tigers, offspring of Bharat and a supposedly pure Bengal from Knoxville, for many years.
The owner of the Rare Feline Breeding Center, Robert Baudy, claimed his white tigers to be pure Amur stock, however none of them were registered as Amur tigers. Whether he knew it or not, his tigers had inherited the white gene from A Bengal or Bengal-Amur ancestor. Because of Tony, most white tigers in the USA are a mix of Amur and Bengal. Because of international loans and sales, only a few in India are pure Bengal. Baudy only realised his supposedly pure Amur tigers had white genes after one sold to Marwell Zoo, UK developed white spots. Baudy's first supposedly pure Amur white tiger was named Boris. Baudy bred Rewati to an unregistered Amur tiger because she would not mate with a Bengal tiger, however Rewati did not produce any cubs while with Baudy. Rewati preferred the Amur because both Rewati and the Amur tiger had been hand reared and "spoke the same language". Baudy sold a pair of white, supposedly pure Amur (Siberian) tigers, Raisa and Gorby, to Beauval Zoo in France - it is highly unlikely that they were pure Amur and their white offspring are described as white Bengal (or Bengal-Amur) tigers. Some of Raisa and Gorby's offspring went to a Dutch zoo and some to Colchester Zoo, England. Baudy sold 2 white tigers to boxer Mike Tyson (they ended up in a rescue centre as Tyson was refused a licence for them) and one to Von Uhl - Tony's original owner. Baudy also sent white tigers to the Lowery Park Zoo in Florida where they had a litter of cubs.
In 1973 an unrelated orange Bengal (actually Indo-Chinese) tiger named Poona was sent from Chicago Brookfield Zoo to Washington to breed with either Mohini, Rewati or Kesari. According to Brookfield Zoo, Poona was born in Seattle 7th August 1962 and was listed as Panthera tigris corbetti (North Indochinese tiger). Poona of Chicago appears to have been confused by Sankhala and Thornton with a heterozygous orange tiger named Poona born at New Delhi zoo to Moti (male) and Homa (white daughter of Raja and Rani). Poona of Chicago mated with 15 year old Mohini in 1973, but no cubs resulted. He was also bred to Kesari, resulting in 6 orange cubs in 1973; but only Marvina (female) survived (hand-raised). Brookfield Zoo stated that their Poona was not the heterozygote from New Delhi zoo as claimed by Thornton and Sankhala. Poona of Chicago fathered cubs by 2 other tigresses at Brookfield zoo and 50% would have been heterozygotes. One may have gone to Racine zoo. Neither Poona, nor Marvina were registered Bengal tigers nor listed in the white tiger studbook.
Poona of Delhi's mother Homa was quadruple first cousin to Kesari (all of their parents - Raja, Rani, Mohini, Sampson - were siblings). According to Sankhala, Moti was an orange male, Moti captured in the forests of Panna in the neighbourhood of Rewa and taken to Delhi Zoo. At Delhi Zoo, Moti was paired with white females, Homa and Roma to produce heterozygous offspring and introduce fresh blood.
Prior to 1974, Cincinnati Zoo director, Ed Maruska, was anxious to acquire a white tiger, but zoos would not sell at any price. In 1974 Marvina, Kesari and Ramana were boarded at the Cincinnati Zoo during renovations in Washington. Zoo 2000 quoted Devra Klieman of the NZP as saying "I was well aware of the white gene and told Cincinnati not to breed from any of these tigers." NZP had attempted unsuccessfully to breed Ramana to Kesari prior to their successful breeding at the Cincinnati Zoo in 1974. Cincinnati Zoo responded that while Ramana and Kesari had refused to mate in Washington, they had mated almost as soon as they arrived in Cincinnati. The Ramana-Kesari mating produced 3 white and 1 orange cub, all healthy, born just after Ramana's death from a kidney infection. The cubs were white male Ranjit (sent to HDZ), 2 white females Bharat and Priya, and orange male Peela (the latter 3 were returned to Washington). These were the last registered pure-bred Bengal tigers born in North America. Inbreeding for white tigers had coincidentally kept the Bengal bloodline pure.
Chart 3.1d: Ramana and Kesari's Offspring (large image, opens in new window)
Cincinnati Zoo had hoped that Ranjit, Bharat and Priya would remain on permanent loan in Cincinnati. However, Bharat went to the International Animal Exchange and Ranjit and Priya to the International Animal Wildlife Park, Grand Prairie, Texas.. They were about 13 years old and still able to breed. Marvina, aged 14, may have gone to Grand Prairie with them; she was not registered as a pure Bengal as her grandfather Moti (not to be confused with Cincinnati Zoo's Mota) was possibly of mixed ancestry, hence her father Poona could not be considered a pure Bengal.
In 1976 Cincinnati Zoo unsuccessfully tried to breed John Cuneo's Tony to Rewati. Tony was successfully bred to Kesari, resulting in 4 white and one orange cub in 1983. Although born to unrelated parents, the 4 white cubs developed crossed eyes (only one other cub, out of 70 born at Cincinnati Zoo, was cross eyed). The 2 white males returned to the Hawthorn Circus with Tony. Cincinnati Zoo kept a white pair named Bhim and Sumita along with orange female Kamala.
Mexico City Zoo, which has bred numerous white tigers, obtained white offspring of Bhim and Sumita (though some could also have been offspring of Bhim and Kamala). Bhim and Sumita became the world record parents of white tiger cubs.
About 25% of Bhim and Sumita's cubs were stripeless white tigers. Tapi (white daughter of Bhim and Sumita) may have been paired with Mota (white son of Bhim and Kamala) while at Los Angeles zoo, before moving on to San Diego zoo and eventually to the African Lion Safari in Ontario. African Lion Safari had a white tiger Calcutta (son of Bhim and Sundari) and in 1997, they had a white tiger cub Nicholas (son of Calcutta and Badfinger - a daughter of Bhim and Kimanthi). At Cincinnati, Bhim was outcrossed to unrelated orange Bengal tigress, Kimanthi, producing 5 litters. Kimanthi was on breeding loan to Cincinnati Zoo from Oakland Zoo, California, and the pairing resulted in Indira (Rajiv's mother) and Dolly. Bhim was also bred to his daughter Indira. According to Zoon, the Pretoria Zoo magazine, Indira shared Rajiv's enclosure at the National Zoo, even though she was Rajiv's mother and half-sister (being Bhim's daughter), and Rajiv was the product of a father-daughter mating.
Chart 3.1a3: Bhim and Kimanthi's Offspring (large image, opens in new window)
Chart 3p1a1: Bhim and Sumita Pt 1 (large image, opens in new window)
Chart 3p1a1a: Bhim and Sumita Pt 2 (large image, opens in new window)
Chart 3p1a1f: Bhim and Sumita Pt 3 (large image, opens in new window)
Chart 3.1a2: Bhim and Kamala's Descendents (large image, opens in new window)
Chart 3p1a3b: Bhim and Indira's Descendents, showing the genetics of golden tabby (large image, opens in new window)
Chart 3.1a3: Bhim and Kimanthi Descendents (large image, opens in new window)
Chart 3.1a1b: Bhim and Sundari Descendents (large image, opens in new window)
Chart 3.1a1c1: Bhim and Tapi's Descendents (large image, opens in new window)
Chart 3.1a1c: Tapi, Naranga and Mota's (Bhim's Sons) Descendents (large image, opens in new window)
Chart 3.1a1b: Shubra (Bhim/Sumita Daughter) and Benzoo (Bhim/Kamala Son) and their Offspring (large image, opens in new window)
Chart 3.1a1b1: Bubba (Shubra/Benzoo Son) and Kipling and their Offspring (large image, opens in new window)
In the 1980s the Cincinnati Zoo was selling white tiger cubs sired by Bhim for $60,000 each. The zoo was criticised as being a "white tiger mill". When NZP decided to leave the white tiger business and sent their white carriers out, they specifically asked that the carriers not be bred for their white genes; Cincinnati Zoo ignored this request. Genealogies show that Bhim-Sumita (brother-sister) matings had more females born or surviving than males, indicative of an unhealthy level of inbreeding. Matings between Bhim and his daughters will make this even worse. It also brought out the apparently recessive mutation for stripeless (snow white) tigers that may originally have come from Tony.
Siegfried and Roy bought a litter of 3 white cubs from Cincinnati Zoo for $125,000 (at the suggestion of the Maharajah of Baroda, cousin of the Maharaja of Rewa and India's commissioner of wildlife at the time, who negotiated on their behalf). These were Sitarra ("Star of India"), Neva (snow") and Shasadee ("chosen one"). The matriarch of Siegfried and Roy's "Royal White Tigers of Nevada" was snow-white Sitarra whose first litter was SiegRoy, Vegas and Nevada. At the time it was believed that stripeless white tigers were sterile so Sitarra was included for the bargain price of $5000 and then proved to be fertile! Siegfried and Roy became the first to try to selectively breed for stripelessness. When Siegfried & Roy were just starting out with the white tigers, Irvin Feld, tiger trainer and part-owner of Ringling Brothers Circus, had wanted all white tigers in show business under his "flag ship".
At a recent count, Siegfried and Roy had 38 white tigers and 15 white lions at their "Little Bavaria" estate outside Las Vegas. Two of their white tigers were loaned to Phantasialand, in Bruhl, Germany where the U.S. Ambassador attended the tigers' reception. They have claimed to have white tigers on breeding loan to Indian zoos, but this is unconfirmed.
Shiva, Montecore's mother, was snow white. Nino, her mate, was born March 30, 1992 (Zoo Guadaljara have confirmed this). Their three tigers born in Japan are Fuji, Osaka, and Tokyo. Jaipur (striped white) was the last of a litter of five born to mother Noele. There are two other tigers Nickolei and Christmas who are also holiday themed and probably littermates. There is also Kashmir, Tajmah, Samsara and Mahatma. A gods themed part-Siberian litter is Titan (striped white), Atlas, and Apollo (snow white). Narmada was a mate to Vishnu. Other snow whites are Indira and Rajiv. Kashmir, Tajmah, Rewa, Baroda, and Nirvana may be littermates. There is also one tiger named Sara (golden striped) who along with Sitarra, has been credited as "starting it all". Vishnu sired Gandara, Akasha, and Kuuma (mother not yet researched). Montecore, the tiger that savaged one of the performers, was the only survior of his litter and was renamed after that incident.
Siegfried and Roy were considering presenting a white tiger to singer Michael Jackson for his private zoo at Neverland Ranch (it has permits for tigers), as "a gift to the children of California." Jackson now has white tigers. They adapted their coat of arms from that of the Maharaja of Rewa with the white tiger on it.
Chart 3.1c1: Ranjit and Soma's Descendents (large image, opens in new window)
Chart 3.1c: Ranjit, Ia and Tanya's Descendents (and Cherry & Maynard's line) (large image, opens in new window)
In the 1980s HDZ and Columbus Zoo also bred white tigers. Columbus Zoo had a pair of heterozygotes and also wanted to breed from a pair of whites. HDZ bought Tony's parents Raja and Sheba II, and Tony's orange sister Obie, from the IAE (Baron von Uhl). Raja and Sheba II had produced at least 2 more white cubs, while at a fair in Baltimore in 1976; the whereabouts of those offspring is unknown. In 1978, HDZ borrowed Ranjit (son of Ramana and Kesari) from NZP to breed with Obie. Ranjit's mother Kesari also went to HDZ, but produced no more cubs. Ranjit was bred to four tigresses, including an orange tigress from Muscatine (Weed Park Zoo, Iowa) and orange tigresses Soma and Tanya to widen the gene pool. The offspring were then crossed to produce both orange and white offspring.
Ranjit-Obie matings produced both orange and white offspring. A brother and sister pair of supposedly pure-Bengal tigers (unregistered) from Knoxville Zoo were bred to Ranjit and Bharat in Washington (the female might have been Soma). In 2006, Omaha Zoo still had two of Ranjit's granddaughters (his last descendents were born 1998), one of whom was on loan to Michigan. According to Sara Iverson's ZooGoer article, a Bengal tiger (possibly not purebred) named Jack was sent from the San Francisco Zoo and bred to Bharat in Washington. Jack appears to have sired Kanchana, a tigress who later bore at least one white cub (possibly at Riverbanks Zoo, Columbia, South Carolina).
Columbus Zoo borrowed Ika (brother of Bhim and Sumita), a 3-legged amputee retired from performance, from the Hawthorn Circus. Ika was born at Cincinnati Zoo in 1976 and named Vir. He was bred to Rewati in 1984, even though both were cross eyed. According to the zoo "We took anything we could get." Ika and Rewati were gradually introduced over a 9 month period and were getting along well, but unfortunately Ika killed Rewati during mating. Ika was then paired with white tigress Taj, daughter of Dolly and Duke and granddaughter of half brothers Bhim and Ranjit. The Ika-Rewati mating produced a cross-eyed female Lilly. Ika was also bred to Taj's mother, orange tigress Dolly, on loan from Cincinnati zoo, resulting in 2 orange and one white cub in 1986.
Chart 2.2: Ika, Baby and Dolly's Descendents (large image, opens in new window)
Chart 2.6: Ari and Kashmir's Descendents (large image, opens in new window)
Dolly and Duke were the orange parents of Taj. Duke was Ranjit's son from an outcross and Dolly was Bhim's daughter from an outcross, ensuring Taj had fresh blood from both sides. Taj's siblings included one regular orange and 2 golden tabbies. Taj and Ika's offspring Yin and Yang, born at Columbus Zoo, went to the Hawthorn circus as part of their share from the breeding loan of Ika. The incestuous nature of breedings among Bhim, Ika and Ranjit (all offspring of Kesari) can be seen from the genealogies. Ika was returned to Hawthorn Circus at the conclusion of the breeding loan. Taj was also mated to Isson, a son of Arjun (Arie), in 1997. In 2006, Columbus Zoo had just one white tiger, an 8 year old striped male named Akere (or Akeer - Hindi for "last") on loan from Cincinnati Zoo when Taj died. When Akere returned to Cincinnati Zoo, he was castrated before being exhibited with white tigress called Popsie.
On May 20, 1983, white tiger cubs were born at the Racine Zoo. The male white cub, Mohan II, was hand-reared by Jean Rhodes, the wife of zoo direcor Louis Rhodes (a photo appearsin The Milwaukee Journal of May 24). In 1984, Racine Zoo bred a white female from Jim Wittchie's orange Chiquita (brother of white tiger Tony) and orange female Bonnie who was born at Racine Zoo. Bonnie's father, Bucky (unknown parentage), came from Indianapolis Zoo. In 1982, Bonnie was accidentally mated to her father, resulting in a litter of white and orange cubs, showing that both Bucky and Bonnie were heterozygous for white.
The New York Times of April 4th 1984 wrote "One act that, if not new is rare, is Wade Burck's, which places him in a cage with nine white Burmese tigers and six Siberian and Royal Bengal standard-striped cats." Quite why Burck's white tigers were described as Burmese is unclear as the tiger subspecies found in Burma is the Bengal tiger. The circus's white tigers were Bengal and Bengal/Amur mix tigers.
In 1989, Cincinnati Zoo received 2 female white pure Bengal tigers, Sipra and Swapna (born 1983) from Orissa Park in India. These were from the unrelated Orissa bloodline, but they were never bred from and their genes were lost.
Cincinnati zoo provided a further pair of white tigers to Siegfried and Roy in exchange for a promise to share the offspring. Cincinnati Zoo also loaned a pair to Gulf Breeze Zoo, Florida, which they hoped would breed (so far they haven't). Another pair born at Cincinnati, one of which had no tail, went from Oklahoma City zoo to the Parc Safari, Hemmingford, Quebec, but have not bred. They were traded by Cincinnati for walruses from Sea World in Orlando, though the white tigers never went to IAE rather than Sea World. Kivali (white female with hip dysplasia) and Moose (orange male) went from Cincinnati to Toronto zoo; their only surviving offspring are a privately owned orange brother and sister pair in Nova Scotia. In summer 1998, Kivali returned from Granby to Toronto from Granby and remained there until she died.
White tiger breeder Betty Young (Riverglen Feline Conservancy, Arkansas - a "sanctuary" that breeds white tigers!) acquired orange heterozygotes from Cincinnati, full siblings of Dolly and Indira bred from Bhim and Kimanthi, (confusingly, heterozygotes are sometimes referred to as white tigers because they can have white offspring). San Diego Zoo's white tigress Blanca was born at Betty Young's zoo and had originally been sent to the menagerie at Caliente race track in Mexico (which has other white tigers). Blanca was confiscated at the Mexican border by US Customs and donated to San Diego Zoo by the US government. Both Siegfried & Roy, and Marineland (Vallejo, California) had asked to have Blanca after she was confiscated. Blanca's parents were both orange tigers descended from the Racine Zoo lineage. San Diego zoo's second white tiger is from Cincinnati. Cincinnati also supplied white tigers to Jakarta zoo, Ueno zoo (Tokyo) and Busch Gardens in Tampa (Florida).
One of Riverglen's white tigers, Jupiter, was sold to Ronald and Doris Guay, of Alachua, Florida, for their circus act under the names Ron and Joy Holiday (Cat Dancers). Jupiter's papers from Riverglen said he wasn't inbred. The Guays believed inbred tigers to be more unpredictable and dangerous. According to the Guays, if a young tiger looked normal signs of inbreeding would not be noticeable until it matured at around 3 years old. In October 1998, trainer Charles "Chuck" Lizza III tripped and fell against Jupiter (aged 3.5 years) and the tiger immediately snapped his neck. It was considered an accident with the tiger reacting instinctively. A few weeks later, Joy fed Jupiter while Ron held the tiger's leash. Jupiter tore into Joy's throat. The tiger was pacing around his kill when state game officials shot him. A post mortem allegedly found the tiger was inbred and therefore the papers were false, though how an autopsy alone could tell a tiger was inbred (a genetic condition) is uncertain.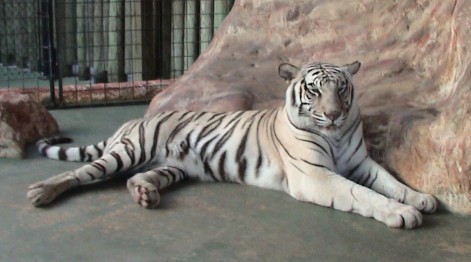 Nakai at Wild Adventures, Valdosta, Georgia
Longleat Safari Park, England bought white tigers from Cincinnati and Columbus zoos. Glasgow Zoo, Scotland had white tigers on loan from Lord Bath and Chipperfield Circus (i.e. Longleat) before it closed and referred to these as "American non studbook white tigers" i.e. mongrels. Pyongyang Zoo has obtained white tigers from South Korea.
John Cuneo, Hawthorn Corporation, Illinois traces one of his lines back to Raja and Sheba II, two tigers owned by Von Uhl, of the Shrine Circus via their son Tony, obtained from Von Uhl. The Hawthorn Corporation has another line of white gene tigers derived from heterozygous brother and sister Sheba III and Prince bought from the IAE. Sheba III and Prince were siblings of Tony's parents Raja and Sheba II, all born at the Sioux Falls Zoo. Sheba III and Prince produced at least 5 litters including 2 white offspring. Their heterozygous daughters Rani and Baby were bred to Tony to produce mostly white litters.
Chart 2.5: Tony and and Rani Descendents (large image, opens in new window)
Chart 3.1a: Rani, Tony, Snowy and Kesari Descendents (large image, opens in new window)
Chart 2: Ural, Sheba III and Begum Descendents (Part 1) (large image, opens in new window)
Saber was the other sibling of Prince and Sheba III and, therefore, of Raja and Sheba II. There were many more siblings of Raja, Sheba II, Sheba III, Prince and Saber scattered far and wide as the IAE "recirculated" tigers around zoos and circuses. This recycling of tigers makes it hard to track some individuals due to name changes and movement.
John Cuneo lost interest in breeding more tigers with the Cincinnati Zoo as he believed he had an orange male carrying white (Ural/Prince) to breed with a female carrier (Sheba). Cuneo guessed that Ural was fathering the white cubs on Sheba because Ural and the cubs were all cross-eyed. However Wade Burck believes that only Prince or Saber could have fathered the white cubs and Cuneo later had one or both castrated.
Tony was not actually loaned to the Cincinnati Zoo, but had been boarded there because the Hawthorn Circus was going to Mexico, and did not want to take Tony in case anything happened to him. Kesari was already at the Cincinnati Zoo on "breeding loan" (sources vary as to the type of loan) and the National Zoo appeared to be winding down their white tiger program. The breeding agreement said that any white offspring of Tony and Kesari would be split equally between the Cincinnati Zoo and Hawthorn Circus, with the orange offspring going to the National Zoo. As luck would have it, the first cub born was a white male (i.e. Cincinnati's); the second was a white male (i.e. Hawthorn's); the third was a white female, (Cincinnati's); the fourth was a white male (Hawthorn's) and the last cub was an orange female that went to the National Zoo (these cubs were Kamala, Bhim, Sumita, Ika and Ari). Tony was supposed to breed with Rewati in 1975, not with Kesari. In a twist of fate, one of Kesari's cubs fathered by Tony killed Rewati at the Columbus Zoo (Columbus Zoo had managed to obtain Rewati because Dr. Theodore H. Reed's sister lived in Columbus.). Ultimately, over 70 white tigers were born at the Cincinnati Zoo.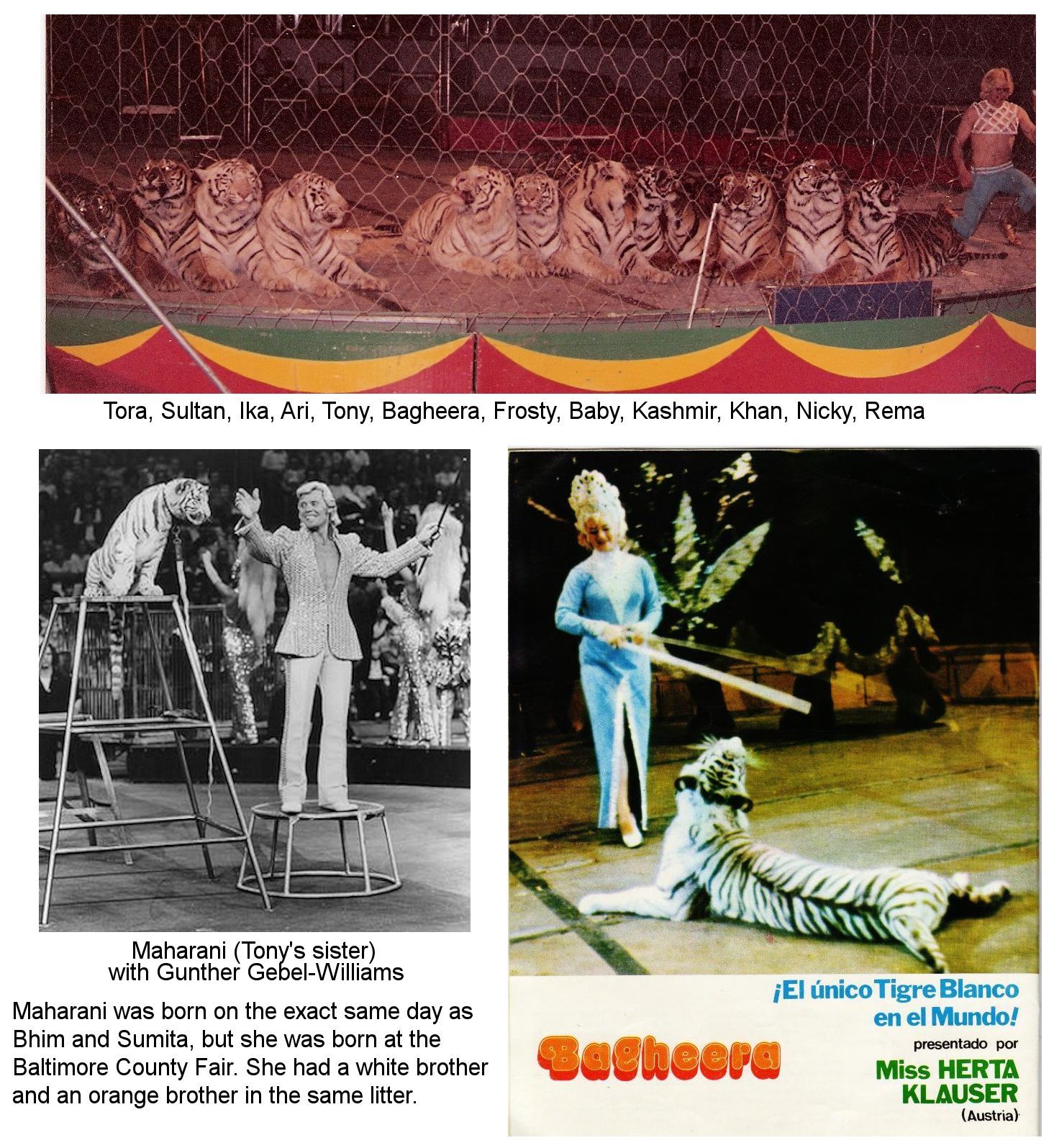 The Infamous White Tiger Cubs Theft Case
In 1984, Dr. Dan Laughlin, the vet for Brookfield Zoo, stole 5 white tiger cubs from the Ringling Circus. They were the property of John F. Cuneo Jr. and the Hawthorn Circus Corp. of Grayslake, Illinois. Laughlin tried to ship them to Ray Long's Exotic Feline Survival Association in Louisiana under a false name and in a box labelled "Angora Cat." Three cubs were recovered, but 2 died. The trial was in 1984 in Baton Rouge, Louisiana. Laughlin went to prison and then to a halfway house. He now works for the much-criticised Big Cat Rescue and authored the very dubious "White Tiger Fraud." His conviction was reported in the Los Angeles Times, 22nd December 22, 1985: Pair Get Year in Prison in Theft of White Tigers. BATON ROUGE, La. — Dr. Daniel Laughlin, a veterinarian from Riverside, Ill., and Raymond Long, owner of a wildlife refuge in Springfield, La., were sentenced to a year in prison in the theft of five white tiger cubs from the Ringling Bros. and Barnum & Bailey Circus. Both have been ordered to make restitution of $55,000 per cub for two cubs that died. They also must serve six months in a halfway house, in addition to their prison terms."
The Salina Journal (Salina, Kansas), 8th November, 1985, the Del Rio News Herald (Del Rio, Texas), 5th October, 1985 and numerous other papers carried a report about Ray Long, the recipient of the stolen cubs who ran the Exotic Feline Survival Association, one America's many counterfeit sanctuaries (many are thinly disguised private menageries or roadside zoos). Not all are impressed by [Long's] goals. A federal grand jury in Baton Rouge recently accused him and Dr. Daniel C. Laughlin of Riverside, Ill., of concealing five newborn white tiger cubs stolen from the Ringling Brothers and Barnum & Bailey Circus in November 1984. Long denies the charges, but his lawyer doesn't want him to talk about it publicly. [. . .] But there's still that thing about the stolen white tigers. Prodded about the incident, Long gives his side of the story. He says the cubs arrived at the New Orleans International Airport addressed to him with no indication of where they came from. He took them in, called his lawyer and notified federal authorities, he says. One died, probably because it was too young to be shipped, Long says. He kept the other four until they were confiscated. White cubs are rare and worth a lot of money. But, he says, he couldn't dispose of them illegally if he wanted to because they are so rare and so noticeable. 'To sell one of these . . . without anyone knowing about it would be impossible.' Besides, he says, he's not in the business of selling animals for profit. 'We've never sold one.' Barring any unforeseen legal deals in Baton Rouge, a federal jury will decide whether Ray Long is telling the truth. No trial date has been set." (Version from the Salina Journal)
The case is reported at United States of America, Plaintiff-appellee, v. Daniel C. Laughlin, Defendant-appellant, 804 F.2d 1336 (5th Cir. 1986) on 14th November, 1986. Following a three day bench trial, presided over by District Judge Frank Polozola, Dr. Daniel G. Laughlin was convicted of transporting stolen property across state lines and of aiding and abetting the receipt of stolen property shipped in interstate commerce. Dr. Laughlin appealed, asserting that the Government failed to prove beyond a reasonable doubt that the white tiger cubs he stole had a market value of $5,000; that being the value that met statutory jurisdictional requisites for the charges (there was no doubt about the theft, only about the value). Here are some excerpts.
Dr. Laughlin was the chief veterinarian for the Ringling Brothers, Barnum & Bailey Circus. During the first week of August 1984, while the circus was on tour in Oregon and Washington, two female tigers owned by John Cuneo each gave birth to a litter of white tiger cubs. "Snowy," a white tiger, gave birth to three white cubs, one of which died shortly after birth. "Targa," a gold tiger, also gave birth to three white cubs, all of which initially survived. Targa and Snowy were leased by Cuneo to perform as artists in a nine white- and six gold-tiger act at the greatest show on earth.
[Note: Whose cubs? The court case refers to Targa (Kairi) and Snowy. They were born the first week in August 1984 and stolen in November 1984 (before 6th November). When the 3 surviving cubs were reclaimed there was probably no way to tell which litters they came from. Targa (Kairi) & Ari – there is no 1984 litter listed for Targa/Kairi, but the court case says she produced 3 white cubs on the first week in August. Tony & Snowy produced a litter of 3 white cubs on 4th August 1984, but the court case says one of her cubs died shortly after birth. It looks as though the 3 surviving stolen cubs were listed as offspring of Tony & Snowy.]
Dr. Laughlin secreted the five, presumably distraught cubs from their mothers, and shipped them to one Raymond Nicholas Long of the Exotic Feline Survival Association in Springfield, Louisiana. Unlike a ringmaster proudly presenting the next act, Dr. Laughlin - using the alias "Dr. Johnson" - shipped the cubs on a midnight flight from Seattle to New Orleans in an airline kennel mendaciously marked "one Angora cat." Initially, Dr. Laughlin denied that he had taken the cubs and claimed that they had either been lost or killed by their mothers - a not infrequent practice among tigers. But in November, Dr. Laughlin admitted in a self-serving letter to Cuneo, who had been frantically searching for the wayward animals, that he had taken the cubs. Dr. Laughlin claimed that he had sent the cubs to Long for health reasons. On November 6, 1984, FBI agents found three live cubs and two dead cubs - which had been preserved in a freezer - at Long's facility, and on November 28, Cuneo reclaimed the survivors.
Considerable evidence was adduced at trial as to the market value of white tigers. Cuneo's cats all derive from a gold sire, "Tony" the tiger [. . .] the distinguished progenitor of a line of white tigers at the Cincinnati Zoo that consistently fetch prices in the open market ranging from $45,000 to $60,000 per cat. Further, although Cuneo's tigers have genetically diverged from the line of white tigers bred at the Cincinnati Zoo, Edward Maruska (the Zoo Director) testified that he would gladly pay $5,000 for any one of Cuneo's cats. Maruska also testified, as the director of the largest breeding and selling program of white tigers in the world, that he had sold one-day-old cubs and three-month-old cubs for the same prices as adults. Cuneo testified that the market value for white tigers, based on "innumerable" offers he received and subsequently collected in his files for tax purposes, is far greater than $5,000 per cub. According to both Maruska and Cuneo, there is no difference in the market price of one-day-old cubs and young adults, because of the great surplus in demand for white tigers. Finally, although Cuneo never sells his white tigers, he leases them to perform with various circuses. His unrebutted testimony shows that he garners a net rental income of approximately $16,000 per white tiger per year.
Dr. Laughlin presented expert testimony purporting to show that the Cuneo cats had diverged in genotype significantly and to their detriment from the Cincinnati cats, despite their common ancestor, Tony. These experts testified that Cuneo's cats were very inbred, subject to congenital spinal deformities, stabismus, and immuno-deficiency syndrome (tiger-AIDS). The experts further testified that due to outcrosses, the Cincinnati gene pool resulted in much "thriftier" cubs. [Footnote 5: Our study of the genealogical history of the two lines leads us to conclude that the genotypes are roughly comparable. Maruska testified to the equivalence in genotype, phenotype, and market value of the Cuneo and Cincinnati cats.] In establishing restitution, by contrast, the judge must take into account that three of the white tiger cubs have been returned to Cuneo. Thus, market value is not the only issue. Further, the court must consider the fact that Cuneo is not able to ascertain from which of the two litters the remaining three tigers came, causing a diminution in their breeding value since proper pedigree records cannot be kept for any progeny the remaining cubs might produce. These issues were irrelevant to the criminal trial, and thus a restitution determination was properly put off until a relevant proceeding.
That's not the end of Laughlin's involvement with white tigers though. Carole Baskin, of the infamous Big Cat Rescue (formerly Wildlife on Easy Street, one of the USA's many big cat menageries that masquerade as sanctuaries), allows Laughlin to use her web site to expound his accusations and inaccuracies about the current population of white tigers. On that website he made the now oft-repeated, and wholly false, claims that 80% of white tiger offspring die due to inbreeding. A 20% survival rate is a mathematical impossibility considering the number of white tigers alive today, and it is not borne out by studbook data. Big Cat Rescue use the case of a single animal, Kenny, a disfigured white tiger at Turpentine Creek Sanctuary to support claims that all white tigers are unhealthily inbred. Today, most white tigers have good genetic diversity because of frequent outcrossing to unrelated, or distantly related, orange tigers.
In "The White Tiger Fraud," Laughlin claims that about twenty-five years previously he fully researched and documented the accurate genealogy and origin of the white tiger in the U.S.A. and that there are 2 distinct bloodlines. One (he claims) was the Bengal tiger bloodline which originated in India and entered the U.S. via a breeding loan to the National Zoo. One of the Indian origin tigers carried the recessive gene for the white colour and was the mother of the second litter of white tigers born at the Cincinnati Zoo in 1976. He claims that he original litter of white tigers born at Cincinnati in 1974 and all subsequent Indian origin bloodline white tigers soon died out in the U.S. without leaving any pure Indian origin Bengal white tigers in the U.S. Imported white tigress Mohini and orange-coloured white gene carrier Samson were founders of the USA white tigers, and this later merged with the second bloodline. He claimed to have unpublished research definitively showing the true origin of the white tiger in the U.S., in a second and separate bloodline that occurred spontaneously in two separate private collections in this country siblings born to a pure Siberian male (Kubla) and a Bengal female (Susie, white gene carrier born to wild-caught parents) were bred together at a small zoo in South Dakota, producing 12 live cubs. Two cubs (male & female) were sold to a private individual, while a litter of 5 cubs were sold to another private individual. Both owners inbred their tigers and white cubs of mixed Amur/Bengal ancestry were spontaneously born. This "unpublished" information was there for all who cared to read the ISIS sheets and studbooks. It's true that there was inbreeding in those days to bolster the white tiger population as they were in great demand.
Laughlin wrote "One of the individuals who owned the litter of five brothers and sisters representing the American crossbred white tiger bloodline has continued to inbreed his tigers for over the past twenty-five years even though his neonate mortality rate has often exceeded eighty per cent and his tigers are severely defective and unfit." That may be true of a single individual owner with very poor breeding practices, but reputable menageries crossed their white tigers to unrelated orange tigers (often of different subspecies) and their mortality rate was around 30%, the same as in captive-bred orange tigers at the time. Laughlin then claims "The only conceivable legitimate reason for exhibiting a white tiger would be for educational purposes to clearly and unequivocally illustrate to the public the process of natural selection and how, when a deleterious recessive genetic mutation randomly occurs that is disadvantageous for the survival of the animal, such as white color in a tropical jungle environment, the animal does not survive to pass on that genetic mutation or disadvantageous characteristic to its offspring. This was the normal course of natural selection and evolution of the tiger until a young white tiger male was captured in 1951 [. . .]" In fact white tigers thrived and bred successfully in India (especially Assam) until gun-toting European hunters slaughtered the tiger population (one hunter bagging around 200 tigers in a couple of years). White tigers were highly valued as trophies. Because most prey animals do not see in glorious technicolour, the black-and-white coat was not a disadvantage in jungle settings. Laughlin does not tell the truth about the viability of the white gene in the wild; white tigers had been around since the 1500s.
"To produce white tigers or any other phenotypic curiosity, directors of zoos and other facilities must continuously inbreed father to daughter and father to granddaughter and so on." This is false. They need only breed heterozygous animals together i.e. gene carriers. These are related only very distantly, perhaps sharing only a few percent of genes because they have been outcrossed to completely unrelated tigers from the wild over many generations. Having been convicted of white tiger theft himself, Laughlin seemed determined to discredit the white tigers themselves.
Too Many to Count
White tigers are found in zoos worldwide - there are now too many to track, so only a few are noted here. A white tiger at White Oak Plantation, in Florida, resembles Rewati in having crossed eyes and a crooked spine; she was born at Metro-Miami zoo, to Cincinnati parents.
Bhopal, India planned a white tiger breeding centre. Taipei zoo has 7 white tigers and started with one from Taman safari park in Indonesia. Nashville zoo, which bred white tigers in co-operation with Siegfried and Roy, gave 6 white tigers to the Khoa Kheow Open zoo, in Chonburi province, Thailand, in 2002. Guangzhou Xiangjang safari park claimed to have 60 white tigers, 50 being the offspring of a single female and many of those were sired by her older brother - a dangerous amount of inbreeding and likely to result in genetic problems. This white tiger mill situation is comparable to that of Bhim and Sumita.
The NZP's last white tiger was Panghur Ban, a son of Ranjit born at Omaha; he was euthanized October 2002, ending an era. His brother Chester was donated by HDZ to the Taronga Zoo in Sydney, and was the first white tiger in Australia. Chester was sire of an orange tigress named Mary Alice who was the first test tube tiger cub (only survivor of a litter of three), born at HDZ. Chester's heterozygous orange daughter Gold/Rani at Montgomery is exhibited with Akeer's brother Zazu, but has not bred.
White tigers are popular in circuses. Josip Marcan, a Croatian, was a veterinarian at the Frankfurt zoo for 7 years, before moving to America and becoming a tiger trainer. He was a trainer with the Hawthorn Circus when the Hawthorn Circus leased troops of white tigers and trainers out to other circuses. His white tigers are claimed to be of pure Bengal origin from Yugoslavian imports, however, no pure Bengal white tigers are known to have been perpetuatied outside of India. Contrary to claims of having pure Bengal tigers, Marcan's tigers originated from the Hawthorn Circus and are Bengal/Amur mixes. Marcan maintained the illusion of Bengal purity. He breeds black-striped white tigers, stripeless white tigers and golden tigers, but is careful not to over-produce white tigers. Marcan now owns the tigers in the Ringling Circus, which include white and golden tigers. His white tigers are descended from "Silver" from the Hawthorn Circus bloodline, though there is an unsubstantiated rumour that one tigress was sent to Nandankanan zoo for impregnation to found his own white tiger line (it seems more likely that she was mated to one of Hawthorn Circus's white tigers).
Josip Marcan, though claiming to be a veterinarian and renowned tiger expert, was not licensed to practice as a vet in Florida ( Tigers of India Josip Marcan). His operations included "Bengal Tiger Encounter", "Tigers of India" and "Adriatic Animal Attractions". Those who have rescued tigers from Marcan since the 1990s described him as a prolific breeder who keeps only a few of the tigers he breeds, at his private "preserve" in Florida. Former employees described the preserve as housing tigers in small cages and using an exercise pen in rotation. In January 2011, the Gulf Coast Zoo, Alabama, had a white tiger cub named Sita that had been born at the Marcan Tiger Preserve on Nov 7, 2010. The zoo were charging $50 for a 30 minute tiger encounter with Sita who was claimed to have been rejected by her inexperienced mother. Her sibling had alelogedly died at birth so the Gulf Coast Zoo was asked to raise her until she was old enough to be returned to Marcan Tiger Preserve. In 2004, one of Marcan's tigers, Apollo, caused a five-car pile-up when he escaped from a Cole Bros Circus trailer on Jackie Robinson Parkway, New York City. In 2009, Brooklyn Federal Court found Marcan liable for $935,500 damages to two drivers who were seriously injured in the incident. According to a United States Department of Agriculture investigation report, Marcan was cited in 2000 and 2001 for violations of the Animal Welfare Act after investigations found unsanitary food preparation and storage, inadequate ventilation and water supply, and failure by handlers to make regular checks on the tigers. Marcan blamed this on Ringling Bros and Barnum & Bailey Circus (who had contracted out the tigers) requiring them to travel by train instead of trailer. Marcan's tigers are not part of the only internationally sanctioned Species Survival Plan.
According to Tigers of India Josip Marcan Marcan's preserve is sited on 80 acres but only a small portion of the land was used. Marcan was said to breed and sell tigers to zoos in the Florida area. The Species Survival Plan won't include Marcan's tigers because they are not pure Bengal tigers for conservation breeding, but are descended from circus tigers. Marcan wanted to work on legislation that would allow him to exchange tigers with pure bloodlines from India. CITES does not allow tigers to be taken from the wild and bred for circus acts or the pet trade and the Marcan Tiger Preserve is not an AZA accredited facility.
"Marineland And Game Farm" at Niagara Falls, Canada had the first white tigers in Canada, these being a troop of Hawthorn Circus tigers stationed there with their trainer. The "Great White Tiger Show", comprising 16 Hawthorn Circus white tigers, 2 orange tigers, and a trainer (John Cox) travelled to Osaka, Japan where Dalip was exhibited in 1970. The white tigers at MarineWorld/AfricaUSA came from Josip Marcan who sent tiger cubs there for hand-rearing. MarineWorld/AfricaUSA bought a white tiger from him named Samson, who had dark stripes and who fathered a litter of three white cubs in Vallejo (the moter was an orange heterozygous tigress also acquired from Marcan). Samson later went to Henry Doorly Zoo which already had Kesari. Those from DreamWorld may have come from Vallejo along with their trainers (Vallejo Tiger Island wanted control of the Gold Coast Tiger Island).
In June 2005, there was an attempt to smuggle white tigers into Mexico where they were claimed to sell for $50,000 each. This price seems unlikely as so many white tigers are bred by private menageries for the exotic pet market that some end up in exotic animal rescue centres! The cubs were seized by US Customs in Brownsville, Texas and went to Louis Dorfman at the International Exotic Feline Sanctuary in Boyd, Texas which already had 6 dark-striped white tigers. Pampa, born in Argentina's Temaiken Zoo in 2006 arrived at Mexico Zoo in May 2007 where he is to be mated to 2 year old Luna, a tiger from a Mexican zoo. Meanwhile, a white female called Brisa was born at the Zoologico de Vallarta, in the Pacific coast state of Jalisco, Mexico (the zoo owners erroneously refer to white tigers as an endangered species).
Minnesota zoo donated a pair of Bengal tigers to the Taman Safari Park in Cisaru, Bogar, West Java. One was a white female called Shinta and the other was an orange male. In April 2005 Shinta had 4 orange tiger cubs.
Two white tigers were born at Stump Hill Farm, Richville, Massilon, Ohio where owner Cyndi Huntsman erroneously said "Only 50 to 100 white Bengal tigers may be found in the wild because their white stripes make for an easy target." In fact there have been none in the wild for around 50 years. The Farm's white cubs were born to 5 year old white parents Samson and Ashora, ex-circus tigers and therefore probably Bengal/Amur mixes.
It has proven impossible to found lines of purebred white Bengal tigers outside of India. Cincinnati Zoo imported two white female tigers from the Nandankanan Zoo to try and start a line of pure Bengal white tigers, but were unable to get a pure Bengal male. The Columbus Zoo wanted the US Fish And Wildlife Service to help them acquire pure Bengal white tigers from India, and white tiger semen, but were also unsuccessful.
My New Wild Life on Animal Planet (August 2009) featured the neutering of ten tigers at the PAWS tiger sanctuary in Galt, California. The show noted that Majesty (white tiger from John Weinhart's Tiger Rescue in Colton, California) would be first because if there was going to be a problem it would probably be with this white tiger. The show noted also that White tigers are known to have more difficulty metabolizing anaesthetic drugs; excessive inbreeding is necessary to produce white tigers a coloration not normally found in the wild; inbreeding also causes birth defects and other profound medical issues....but the concern was the drug may not work properly on the white cat. Majesty was rescued from a substandard breeding facility. He has eyes trouble, hearing deficiency, and lack of coordination.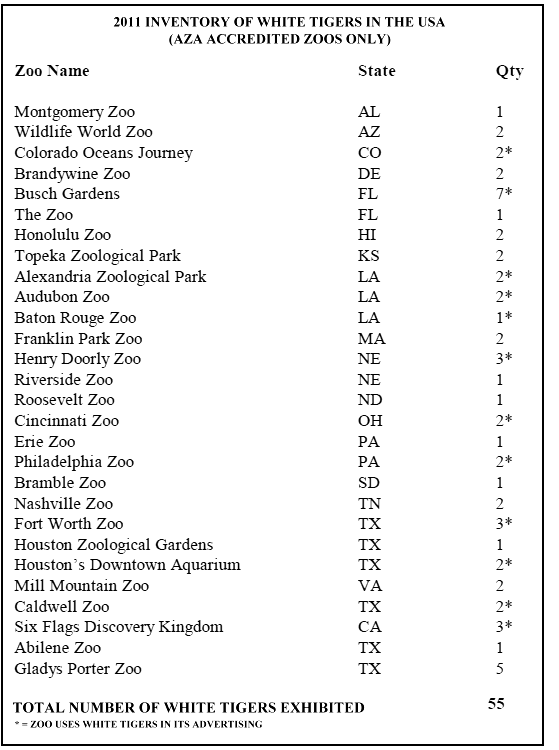 The Mobile Zoo, Alabama has a white tiger named Magoo. It's not known if that zoo ever bred them, or if they are AZA accredited. The AZA policy since 2009 regarding generic tigers, including white tigers: AZA zoos are forbidden to breed white tigers; replace them when they die; acquire new ones; or even get cubs on loan. If they are transferred out of an AZA zoo to a non-AZA facility, they must be spayed or neutered prior to the transfer. The goal is to manage them to extinction within 20 years. They are permitted to live out their lives in AZA zoos, but many AZA facilities have chosen the option of spay/neuter and relocation to a sanctuary. That leaves only non-AZA zoos and private owners as possible homes for them. However, there are numerous attempts to pass laws, both at the state and national level, forbidding anyone else but AZA zoos to have big cats, which would leave white lions and white tigers nowhere to go in the USA. Many have been lost. The white tigers at Cincinnati and Knoxville have died out due to old age. Those at Nashville were sent to Tiger Haven. John Cuneo sent the remaining Hawthorn tigers to the National Tiger Sanctuary. Federal legislation in the works in 2013 would, if passed, make it illegal for anyone to breed white tigers in the United States as only AZA accredited zoos would be allowed to breed big cats. Private owners and circuses would not be allowed to breed big cats. This would put an end to the "sanctuaries" and "preserves" that are effectively tiger mills, churning out cubs (frequently inbred) for private owners and offloading defective, elderly or otherwise unsaleable animals on genuine rescue organisations.
Because white tigers are a natural colour morph of the Bengal tiger and were eradicated in the wild, it would make more sense to include those that are known to have the highest percentage of Bengal genes, and no health defects, to be incorporated into the Bengal tiger conservation programmes and allow white cubs to be born at a natural frequency.
West Midlands Safari Park has a number of white tigers (regarded by some as "white tiger central" in the UK), but declined to reveal their ancestries following my query in December 2013. Katie McDonald's response to my request for information: "I ran your project passed the head of carnivores. He agreed that it is interesting work and I am impressed by your geneologies. However we know that our white tigers are inbreed. We are not planning to breed white tigers again and therefore we feel that devoting resources to your project is not something that we are able to do at the present time.
Reintroducing White Tigers Into The Wild?
Although the mutation occurred in wild Bengal tigers, it has been selectively bred in captivity. White tigers are a man-made breed of tiger in the same way that Persian cats are a man-made breed of domestic cat. They have no place in the wild. New except, perhaps, to diversify the gene pool of the normal orange tiger. According to The Times Of India article "Will They Survive The Century?" there was a moratorium on breeding white tigers in India after cubs were born with deformities at New Delhi Zoo. As a consequence the Cincinnati Zoo was the only zoo breeding white tigers at that time. K Ullas Karanth, writing in "The Way Of The Tiger", said that white tigers are of little value to conservation. Changed views on their usefulness to conservation, and on their genetic problems, led to Delhi Zoo's plan to reintroduce white tigers to the wild being shelved.
NZP wanted to wean the public away from white tiger mania. For years it had been a major source of white tigers, but came to consider the white genes as pollution in the tiger gene pool. Cincinnati Zoo was, for a long while, a source of white tigers, but today its only remaining white tigers are on permanent loan from Siegfried and Roy, as are those at HDZ today.
The AZA (American Zoo & Aquarium Association) Felid TAG (Taxon Advisory Group) recommended phasing out the Bengal tigers in US collections. Species Survival Plans (SSPs) were developed for 3 of the 5 tiger sub-species only. This meant abandoning the work of Henry Doorly Zoo to improve the genetics of the white tiger bloodline. Ed Maruska had advocated a white tiger SSP, but was unable to get approval. Some of the white and heterozygous orange tigers were traded to private zoos such as Jim Fouts' Tanganyika and to dealers such as the Hunts' International Animal Exchange, the latter becoming founders of the private sector white tiger gene pools.
In June 2010 it was reported that white tigers were to be reintroduced to Madhya Pradesh's Rewa forests. At recent meeting of India's Central Zoo Authority (CZA), the Environment Minister Jairam Ramesh gave a go-ahead to the state government's proposal to start a rescue centre and captive breeding of highly-endangered white tigers at Maand reserve near Govindgarh Fort where Mohan was kept in 1951. The plan would require the permission of the Supreme Court and would be in collaboration with the National Tiger Conservation Authority (NTCA) which oversees conservation and management of tigers in the wild.
Textual content is licensed under the GFDL.
REFERENCES
JBNHS: Journal of Bombay Natural History Society.
Acus. D. 1986. The coming of the white tiger. Anim. Keepers' Forum 13(2):43.
Ahmed, Z.; Ramanadhan, S., and Ali Khan, M. G. 1990. Anaplasmosis in a captive white tiger (Panthera tigris). Zoo's Print. 5(10):13-5.
Anonymous. 1921. A white tiger in captivity. J. Bombay Nat. Hist. Soc. 27.
Anonymous. 1978. White tigers weak in sex. Hindustan Times (New Delhi) July 9.
Anonymous. 1979. Brown cubs to white tigress. Times of India (New Delhi) October 10.
Anonymous. 1979. White tigers paralysed. Hindustan Times (New Delhi) December 6.
Anonymous. 1980. White tigress dead. Times of India (New Delhi) September 19.
Anonymous. 1989. White tigers for Texas. Zoo's Print 4(3):24.
Bablo, M. 1964. A star is born. Long Island Ocelot Club Newsl. 8(3):3-4.
Beehler, B. A., C. P. Moore and J. P. Pickett. 1984. Central retinal degeneration in a white Bengal tiger. Am. Assn. Zoo Vet. Ann. Proc.
Berham, H. I. 1983. The rare propagating white tigers of the Cincinnati Zoo. Marathon World 20(2):18-21.
Berrier, HH, Robinson, FR, Reed, TH, & Gray, CW; The White Tiger Enigma (Chediak-Higashi Syndrome). Veterinary Medicine/Small Animal Clinician 1975 467-472
Bhadura RS. 1987. An Enigma-Birth Of A White Tiger Cub In Kanpur Zoological Park. Zoo's Print 2(8):9-10
Cousins, D. 1977. The white tiger and its status in captivity. Int. Zoo News 24(7), 147:16-19.
D'Abrek, E. A. 1916. An albino tiger from the Central Provinces. J. Bombay Nat. Hist. Soc. 24(4):819.
Desai JH and Malhotra AK. The White Tiger
Desai, J. H. 1992. The white tiger. Publications division, Ministry of Information and Broadcasting, Govt. of India, New Delhi.
Divyabhanusinh. 1980. The Earliest Record Of A White Tiger (Panthera tigris). JBNHS. 83(Supplement): 163-165
Divyabhanusinh. 1986. The white predator: Chronicles in the Akbarnama. The India Mag. Feb.:20-7.
Fay, J. 1983. White tigers: A rare cat makes zoo news. 3-2-1-Contact Feb:4-8.
Gairola, H. K. 1986. Surprise birth of white tiger at Kanpur Zoo. Zoo's Print 1(10):25-8.
Gee, EP. 1959. Albinism and Partial Albinism in Tigers. JBNHS 56: 581-587
Gee, EP. 1964 The Wildlife of India. London.
Gee, EP. 1964. The White Tigers. Animals 3: 282-286
Guillery, RW and Kaas JH; June 22, 1973. "Genetic Abnormality of the visual pathways in a 'white' tiger." Science 180:1287-9
Geringer, Dan. 1986. Now He's The Cat's Meow. Sports Illustrated Vol. 65 No. 3 July 21, 1986
Husain, D. 1966. Breeding and handrearing of white tiger cubs (Panthera tigris) at Delhi Zoo. Int. Zoo Yrbk. 6:187-93.
Isaac, Jeanette. 1984. Tiger Tale. Geo. 6: 82-86
Iverson, SJ (1982) Breeding white tigers. Zoogoer 11:5-12
Jackson, P. 1988. Earliest record of a white tiger. Cat News. No. 8:6-7.
Jude, AC. 1950s. Cat Genetics (demonstrates the early confusion that chinchilla was a form of albinism) Kelly, D. F., H. Pearson, A. I. Wright and L. W. Greenham. 1980. Morbidity in captive white tigers. In: The Comparative Pathology of Zoo Animals, eds. R. J. Montali and G. Migaki, pp.183-8. Smithson. Inst. Pr.: Washington, DC.
Latinen, K. 1987. White tigers and species survival plans. In: Tigers of the World: The Biology, Biopolitics, Management and Conservation of an Endangered Species, eds. R. L. Tilson and U. S. Seal, pp.391-3. Noyes Publ.: Park Ridge, NJ.
Leyhausen, P., and T. H. Reed. 1971. The white tiger: Care and breeding of a genetic freak. Smithson. 2:24-31.
Malhotra, A. K. 1981. The `Pucca Sahib' tigers of Rewa. Indian Wildlifer. 1(4):35-6.
Maruska, E. J. 1987. White tiger: Phantom or freak? In: Tigers of the World: The Biology, Biopolitics, Management and Conservation of an Endangered Species, eds. R. L. Tilson and U. S. Seal, pp.372-9. Noyes Publ.: Park Ridge, NJ.
Mishra, ChG; Acharjyo, LN; Choudhury LN. 1982. Birth of a White Tiger (Panthera tigris) Cub to Normal-Coloured Tigers in Captivity. JBNHS, 79: 404-406
Mountfort, Guy. 1981. Saving the Tiger. Michael Joseph, London.
Murtaugh, J. 1980. A Genetic Analysis of the North American Population of White Tigers with Recommendations for Future Management. Natl. Zool. Park Rep., Washington, DC.
Nagar, S. K. 1978. Studies of small mammals of Delhi Zoological Park as possible source of babesiosis infection among white tigers in the zoo. J. Comp. Dis. 10:175-8.
Naidu, M. K. 1978. White tigress of Nehru Zoological Park. Wildl. Newsl. 6(1):7.
Naidu, M. K. 1987. White tiger at National Zoo, New Delhi. Zoo's Print 2(10):13-4.
Oswald, A. 1960. The white tigers of Rewa. Cheetal 2(2):63-7.
Pant, M. M., and I. D. Dhariyal. 1979. White tiger breeding - its economic potentialities. Cheetal 21(1):3-10.
Pant, M. M., and I. D. Dhariyal. 1979. White tiger progeny - its economic potentialities. In: International Symposium on Tiger, pp.294-7. Project Tiger, Govt. India, Dept. Environ.: New Delhi.
Patnaik, L. N., and Acharjyo, L. N. 1990. White Tiger in India - its past and present. Tiger Paper. Jan/March 1990:8-10.
Quammen, D. 1991. The white tigers of Cincinnati. Outside. Sept. 1991:35-45. Rai, U. 1987. Will they outlast this century?. Times of India, New Delhi, March 15.
Reed, Theodore H. 1961. Enchantress! Queen of an Indian Palace, a Rare White Tigress Comes to Washington. National Geographic, 119: 628-641.
Reed, EC; 1970. White Tiger In My House. National Geographic April 1970 137:483-91
Robinson's Genetics for Cat Breeders & Veterinarians 4th Ed
Robinson, Roy. Genetics for Cat Breeders, 3rd (earlier version showing some of the historical misunderstandings)
Robinson, F. B. 1928. White tigers. J. Bombay Nat. Hist. Soc. 32(3):584-6.
Robinson, R. 1969. The white tigers of Rewa and Gene Homology in the Felidae. Genetica. 40:198-200.
Robinson, R. 1969, The white tigers of Rewa. Carnivore Genetics Newsletter. 8:192-3.
Ross, J. 1982. The white tiger enigma. Your Cincinnati Zoo News Spring:10-4.
Ross, J. 1983. El tigre blanco: El "Tiger Fantasma" de la India. Geo. Mundo. 466-73.
Roth, TW; 1964. Rare White Tiger Of Rewa. Journal Of Cat Genetics.
Roychoudhury, A. K. 1978. A study of inbreeding in white tigers. Sci. Cult. 44:371-2.
Roychoudhury, AK and Sankhala, KS. 1979. Inbreeding in White Tigers. Project Indian Academy of Science Vol 88, Pt 1, no 5, pp 311-323.
Roychoudhury, A. K. 1980. Is there any lethal gene in the tiger of Rewa? Curr. Sci. 49:518-20.
Roychoudhury, AK. 1980. White Tigers. Threat to Their Survival. Probe (India). Issue March 1980, pp 10-11.
Roychoudhury, AK and Acharjyo LN. 1983. Origin of White Tigers at Nandankanan Biological Park, Orissa. Indian Journal of Experimental Biology 21, pp 350-352
Roychoudhury, AK. 1985. White Tigers: Their Roots and Branches. Centre of Demographic and Population Genetics. University of Texas, Health Science Centre. Houston, Texas. 77025
Roychoudhury, A. K. 1985. Inheritance of coat colour in white tigers. Zoo's Letter Nov.: 3.
Roychoudhury, A. K. 1985. Tiger! Tiger! Burning white. Sci. Today 19(3):16-8.
Roychoudhury, A. K. 1986. Origin of white tiger at the Mysore Zoo. Zoo's Print 1:19-21.
Roychoudhury, A. K. 1987. White tigers and their conservation. In: Tigers of the World: The Biology, Biopolitics, Management and Conservation of an Endangered Species, eds. R. L. Tilson and U. S. Seal, pp.380-8. Noyes Publ.: Park Ridge, NJ.
Roychoudhury, A. K., and L. N. Acharjyo. 1987. Genetic status of white tigers at Nandankanan Biological Park, Orissa. J. Bombay Nat. Hist. Soc. (in press).
Roychoudhury, A. K. 1988. Origin of white tiger at Patna Zoo. Zoo's Print 3:13.
Roychoudhury, AK; Banerjee GC and Poddar R. 1989. Stud Book of White Tigers. Zoo Zen. Zoo Outreach Organisation. Vol VI, No XI
Roychoudhury, A. K. 1989. About studbook of white tigers in India. Zoo's Print 4:8-9.
Roychoudhury, A. K. 1989. White tigers of Nandankanan lineage. Zoo's Print 4(3):12-3.
Roychoudhury, A. K.and Acharjyo, L. N. 1990. Genetic Status of White Tigers in Nandankanan Biological Park, Orissa. Journal of the Bombay Natural Historical Society. 87(1):20.
Sankhala, Kailash. 1978. Tiger! The Story of the Indian Tiger. W Collins. London
Sandhu, J. S., and Dhindsa, M. S. 1986. On breeding and conservation of White tiger. Tiger Paper. 13(4):25-7.
Saharia, V. B. 1979. Population dynamics in captive tigers. Wildl. Newsl. 7:37-40.
Sankhala, K. S. 1969. The white tigers. Cheetal 12(1):78-81.
Sandhu, J. S., and M. S. Dhindsa. 1986. On inbreeding and conservation of white tiger. Tigerpaper 13(4):25-7.
Schroeter, W. 1981. On color, color deviation, stripe diminution and color-brightening in the tiger, Panthera tigris (Linne, 1758). Saugetierkd. Mitt. 29(4):1-8. In German with English summ.
Sharma, KK. 1988. Birth of a White Tiger in Jaipur Zoo. Zoo's Print. 3(11): 6
Simmons, J. C. 1981. White tiger enchantment. American Way Oct:82-84.
Simmons, L. G. 1987. White tigers: The realities. In: Tigers of the World: The Biology, Biopolitics, Management and Conservation of an Endangered Species, eds. R. L. Tilson and U. S. Seal, pp.389-90. Noyes Publ.: Park Ridge, NJ.
Singh, K. S. 1986. Bihar, home of the white tiger. Tigerpaper 13(4):24-5.
Smithsonian Institute. 1979. A Zoo For All Seasons. Smithsonian Exposition Books, Norton and Company, NY pp 191
Spaak, A., and A. K. Malhotra. 1981. White tigers of Rewa. Indian Wildl. 1(4):35-6.
Stracey, P. D. 1968. Tigers. Golden Pr.: New York. 95pp.
Street, P. 1964. The fabulous white tigers. Animal Life Jul.:36-7.
Street, P. 1965. A tale of two tigers. Nat. Geo. School bull. 43(7):425-7.
Thomas, W. D. 1982. The ghost tigers of Asia. Zooview 16(3):15.
Thornton, Ian WB; Young KK and Sankhala KS. 1967. The Genetics of the White Tigers of Rewa. Journal of Zoology, London. 127-135, 152
Thornton, I. W. B. 1978. White tiger genetics - further evidence. J. Zool. 185(3):389-94.
Tilson, R. L. 1992. No stamp of approval for white tiger postal stamp. Zoo Biology. 11:71-3.
Walker, S. 1984. The white tiger. Gnu's Letter 2(11):8-12.
Walker, S. 1989?. White Tigers--the Indian viewpoint. International Zoo News. 36/6(217):9-11.
Wallace, J. 1987. Tiger, Tiger. Safari: The Magazine of the Toledo Zoo. 3(2):13.
Whitney, E. 1912. The white tiger of Nepal. Reilly & Britton, Chicago.
"Cross-eyed tigers" Scientific American 229:43 August 1973
"Here Kitty Kitty" il People Weekly 21:97-9 January 23, 1984 (Cincinnati Zoo Breeds Five Rare White Tigers)
"White Tiger" Life 31:69 October 15, 1951.
"White Tiger From India" Life 49:47-8 December 19, 1960.
"White Tigers Care And Breeding Of A Genetic Freak" Smithsonian magazine 1971
"The White Tiger Enigma", Small Animal Clinician (Chediak-Hegashi Syndrome)
"A Tale Of Two Tigers" from I think 1964, National Geographic School Bulletin
"Will They Survive This Century?" The Times Of India (1980s)