WHITE TIGERS IN CAPTIVITY TODAY
"White gene" vs "Inhibitor gene."
Although these pages refer to "white genes," white tigers have the genes for normal orange colours, but those genes are switched off by a recessive "inhibitor gene." When a tiger inherits 2 copies of the inhibitor gene, the normal orange colour is suppressed. In general parlance, it's simply easier to refer to "white genes."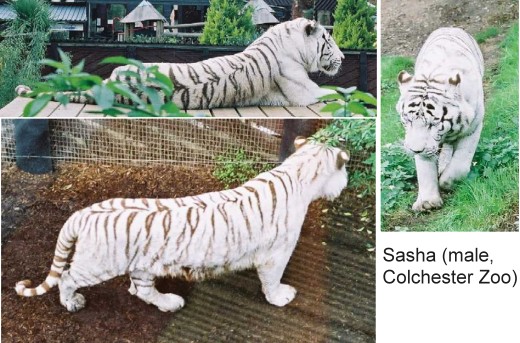 WHITE BENGAL/AMUR HYBRID TIGERS IN CAPTIVITY TODAY
Two researchers tracing white tiger genealogies are Paul McCarthy (Canada) and Jerry Blackman (USA) have contributed extensive information and charts regarding lineages, births and deaths and colours. Historical quotations are credited and are in the public domain. Original text is licensed under the GFDL.
This section is roughly chronological, but the amount of inbreeding, leasing and loaning makes this complicated. Text is best viewed in conjunction with genealogies (which open in their own windows). Some zoos are better than others at keeping and making public accurate mating records and genealogies for their tigers. In circuses and private collections, a tigress gang-mate with multiple males making it impossible to determine the father's identity. In news articles about Von Uhl's and Cuneo's tigers, the tigers are always referred to as Siberian, unless they are white. It's impossible to know the exact percentage of Siberian (Amur) blood. Siberian tigers were larger and were less common in captivity, so were a bigger draw to the public. Conversely, in the Smithsonian Annual Reports, only the orange tigers were referred to as Bengal tigers, white tigers were never referred to as Bengal tigers, perhaps because of the mixed bloodlines.
According to Roychoudhury, pure Amur tiger Kubla (born at Como Zoo, Minnesota) was bred to Bengal tigress Susie from an unidentified West coast zoo) while at Sioux Falls Zoo, South Dakota and they produced 12 orange cubs including Raja and Sheba II. Kubla was subsequently sold to a Dutch zoo. His Amur brother and several of Kubla's demi-Bengal offspring were also sold. The brother Amur tiger was mated to his demi-Bengal niece Sheba II in the Hawthorn Circus of Grayslake, Illinois, resulting in several white cubs. This led to the suggestion that the Amur tiger carried the white gene. However, Sheba II also mated with her demi-Bengal brother, Raja, clouding the issue of the white cubs' paternity (i.e. the white gene came from Bengal tigress Susie). Both Sheba and Raja were heterozygous. Susie may have been based at Sarasota, Florida, which is a big circus hub. Susie was killed by a Bengal tiger she was paired with for breeding. Kubla was her only documented mate, any previous offspring are unknown.
It seems that when von Uhl left military service (he was a dog trainer) he went into the circus business and bought Rajah and Sheba II from the Sioux Falls Zoo for $8000. Julius Von Uhl claimed that Raja and Sheba were born in 1968, although Walkley's charts showed them as being born in 1966. In the 1960s Von Uhl had three leopards, two of which were killed by Radja and Sheba II. In October 1968, Von Uhl reportedly had Marilyn, a pet spotted Indian leopard, six lions and two Siberian tigers, most likely Raja and Sheba based on his claims that they were the first tigers he owned. Von Uhl had claimed that Sheba was three quarters Siberian and one quarter Bengal, and that Raja was half and half (which is absurd as these were brother and sister, but if true, this would make Susie half Siberian.)
Chart 3.1: Raja and Sheba II's Offspring (large image, opens in new window)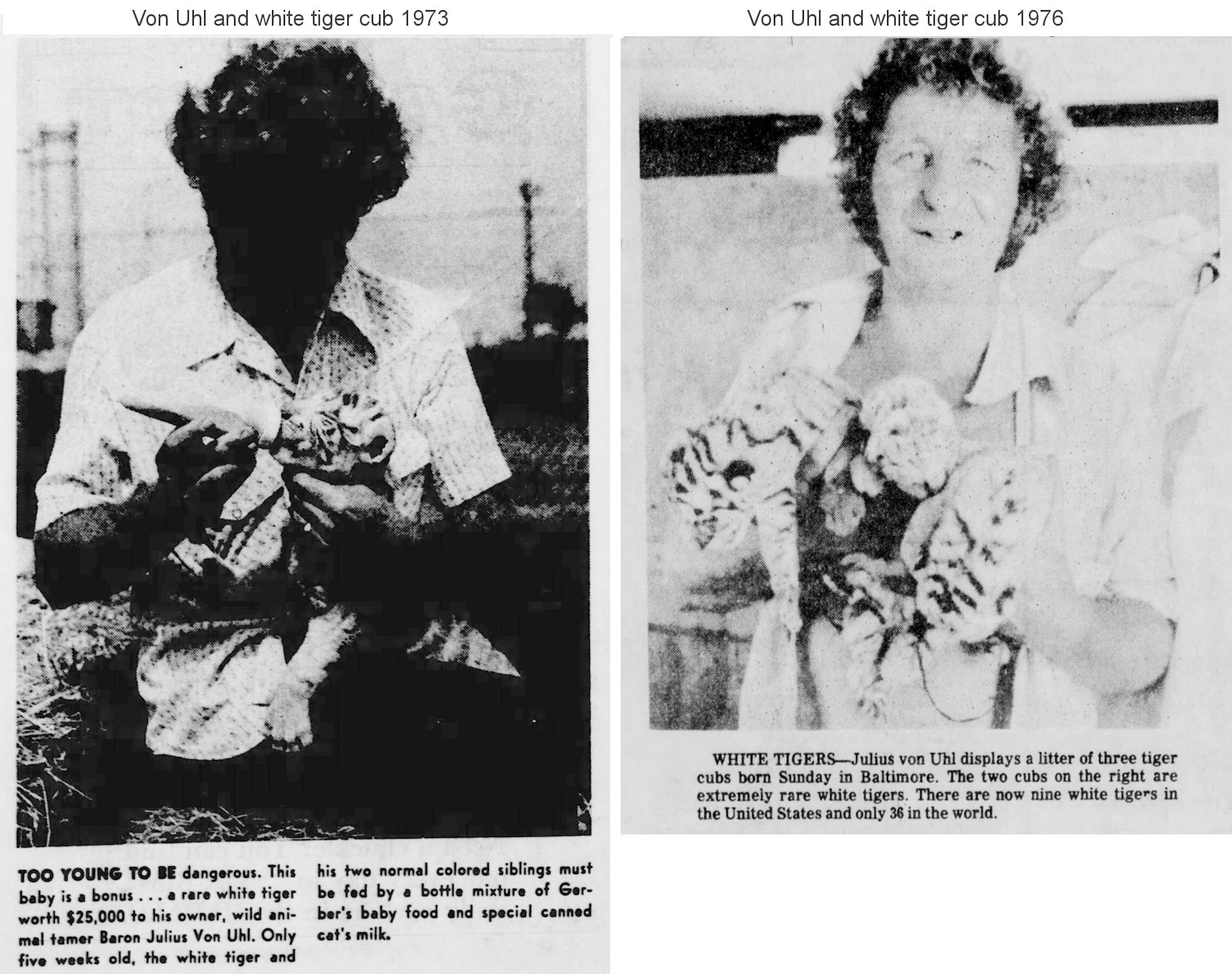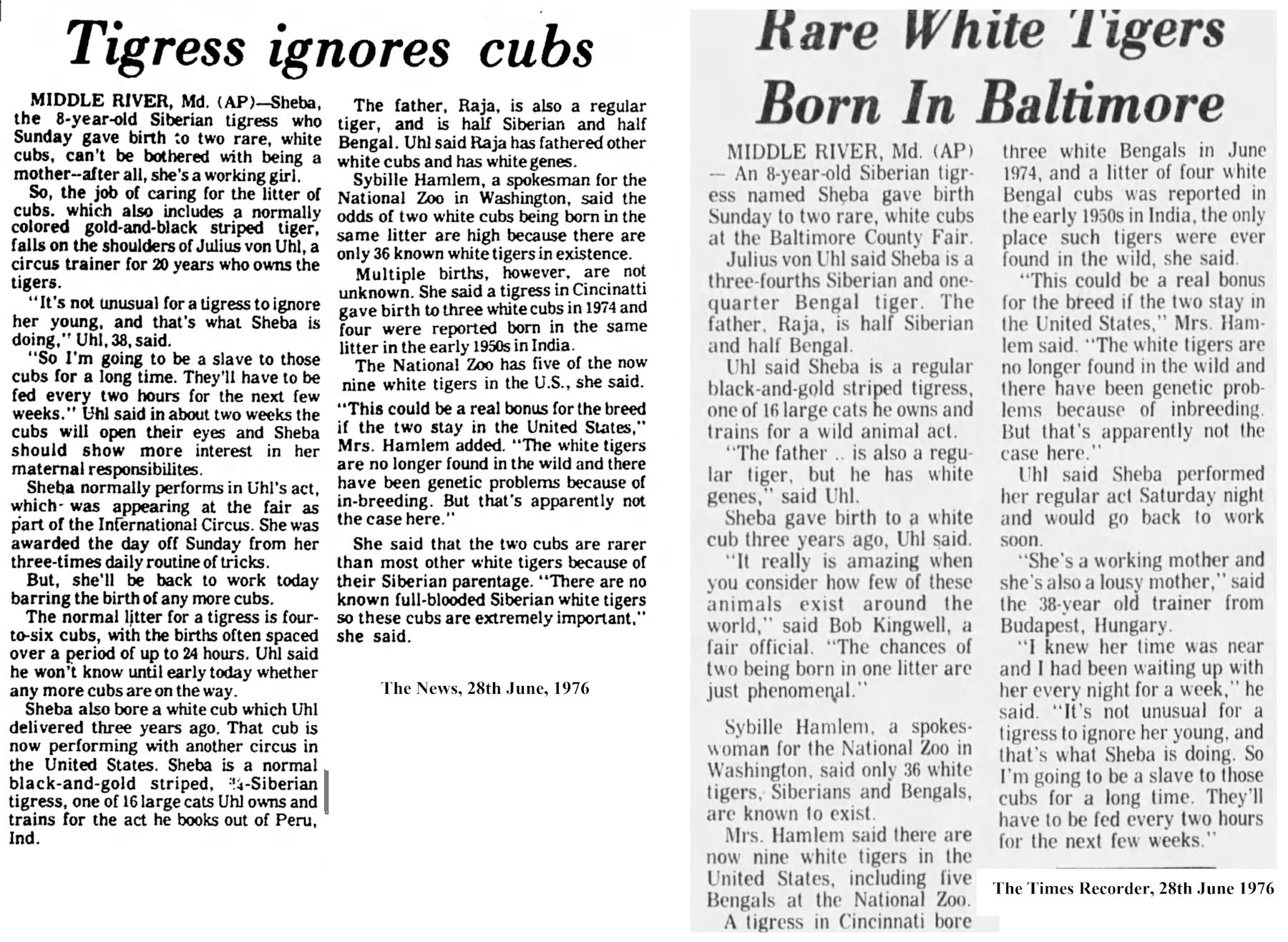 Raja and Sheba II, were bought by Julius Von Uhl of the Shrine Circus and produced white cubs, the most notable being Tony in 1973. Tony is an ancestor of almost all white tigers in North America and there are several conflicting accounts of his birth. An account of Tony and his older brother Chequilo (born 1972) is at:
Circus White Tigers: Tony - Various Accounts of His Birth
In brief, Tony was later sold to the Hawthorn Circus. His heterozygous orange older brother, Takila (Chequila) from a previous litter ended up with James Witchie of Ohio, who bred white tigers from him. Tony's orange siblings, being bred from two heterozygotes had a two thirds chance of being heterozygotes. Both Takila/Chequilo and Tony were subjects of separate court cases when von Uhl tried to reclaim them. There was concern that Tony was too young to breed in 1976. After 1976 Cuneo asked Bristol Zoo to trade white tigers with him to diversify the gene pool, but they declined. Many of Tony's white siblings born years later at the Henry Doorly Zoo (HDZ) were apparently sterile.
Sheba II and Raja probably produced litters in 1970 or 1971, but Sheba was a "lousy mother" never reared her own cubs and the early litters might not have survived.
According to an article and photo in the Asbury Park Press, 12th July 1972 (p 26), two white tiger cubs were born the preceding Saturday 8th July at the circus headquarters at the fairgrounds. This would be Bagheera and her white littermate. It says the cubs were born in Trenton, New Jersey in the Hamid-Morton Circus (not in Illinois as previously assumed). Carol Golden was handrearing the cubs (presumably the wife of Bill Golden) because their mother Sheba rejected them. The article mentions there being only two other white tigers (presumably meaning circus white tigers), one in Europe and one in the South. The male cub died at 3 days old.
Von Uhl was pictured with a litter of 4 orange cubs (born 10th May 1974 in the Shrine Circus at the Brown County Veterans Memorial Arena) in the Green Bay Press-Gazette, Wisconsin, 12th May 1974. Von Uhl only took one tiger (Sheba II, who was pregnant) and eight lions, and Sheba II had this litter in Wisconsin, Tony was not with him, which may have been due to legislation prohibiting transporting wild animals across state borders – due to an oversight, circuses had not been exempted – and he did not want to risk Tony being seized.
Breeding white tigers meant getting publicity – who can resist photos of cute cubs? There were frequent photos of Von Uhl and Cuneo in the papers when they had tiger cubs, and it was a bigger story when the cubs were white. In 1973 article Von Uhl had commented that his white tiger cub was worth $25,000 to him. When white cubs were born in zoos it boosted attendance. It's possible that the Kingdom 3 Safari Park or the Baltimore County Fair paid Von Uhl for allowing his white tiger cubs to be born there because of the increase in visitors. However, although Tony's birth was featured in the circus press and mainstream newspapers, there are far fewer articles mentioning John Cuneo or the birth of Frosty (1975), or indeed of Maharani or Scarlett O'Hara in 1977 or 1978. After Tony was born, white tigers may not have been as newsworthy, in which case there may have been other litters containing white cubs that went unreported.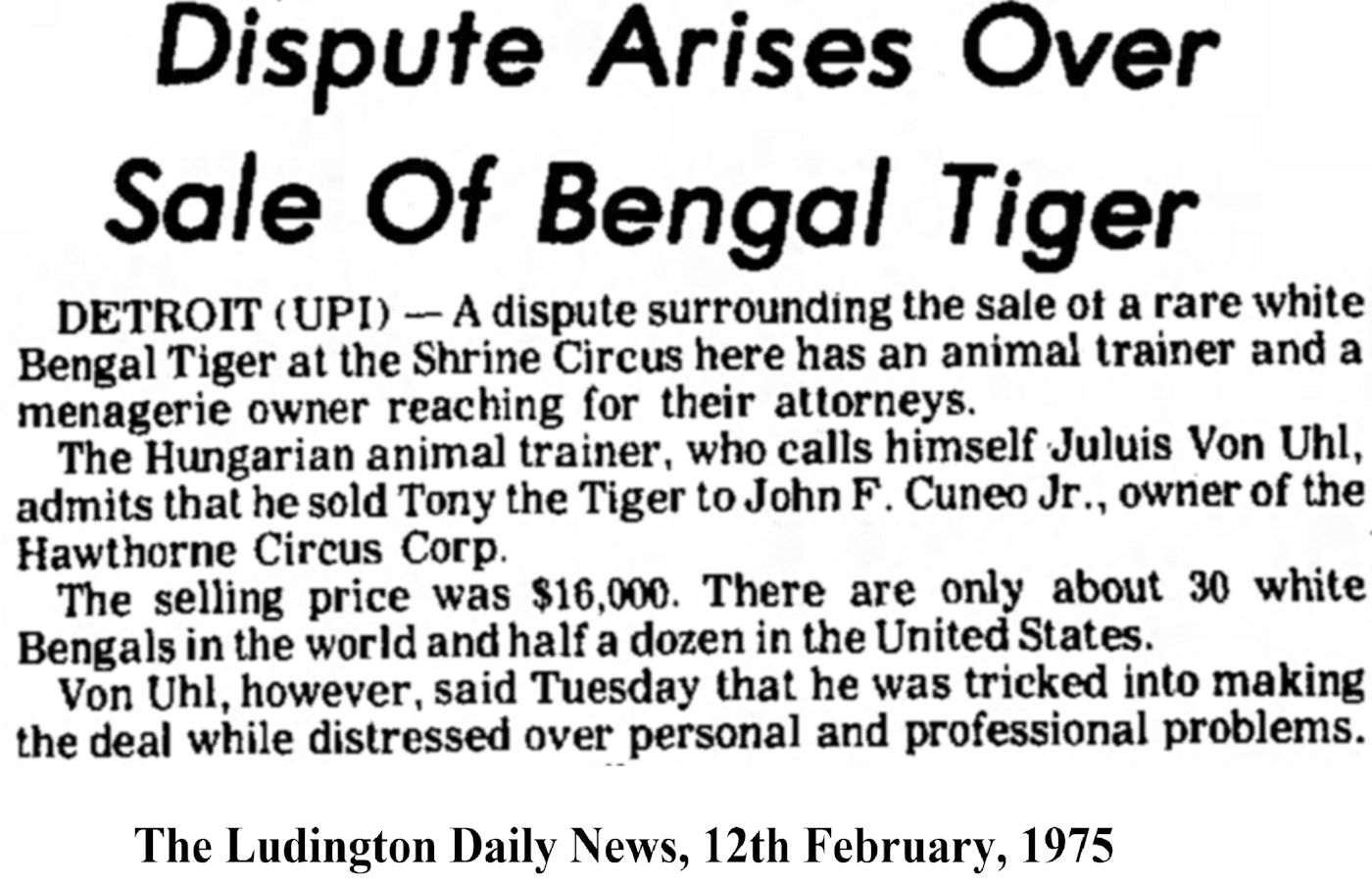 Washington had white tigers from 1960. Washington attorney Ralph S Scott suggested to John W Kluge that he buy a white tiger for Washington Zoo as a gift for the children of America. The story of Mohini and her descendants is at:
White Tigers: Mohini - Mother of American White tigers - and her Descendants
In 1964 - one year and one day after Samson's arrival - Mohini and Samson produced orange male Ramana who was bred to Mohini after Samson's death. By his time, the San Diego and Los Angeles zoos were clamouring to have a white tiger of their own each and the same was true of Philadelphia Zoo which had been trying to acquire Rajkumar.
The Los Angeles Times, 21st June, 1973 (p 80) wrote: "Up until a few weeks ago the National Zoological Park was the only one in the country to have white Bengal tigers from the Province of Rewa in India. 'The zoo in Seattle has just recently acquired some.' Mrs. Hamlet said." She was a spokesperson for the National Zoo.
Kesari, a heterozygous daughter of Mohini and Samson, was bred to Tony, a mixed-blood white tiger on breeding loan from the Hawthorn Circus, at Cincinnati Zoo in 1976. Tony had gone to Cincinnati to be bred to Rewati, not Kesari, and had the Tony-Rewati breeding occurred it would have resulted in only white cubs. In any event, Kesari produced more white cubs than expected. Tony-Kesari matings produced 80% white cubs rather than the expected 50%. Ramana-Kesari matings produced 75% white cubs instead of the expected 25%. Kesari went from Cincinnati zoo to HDZ, but produced no more cubs. Tony introduced Amur (Siberian) tiger blood into the zoo population of white tigers.
(At one point, Ranjit, Bharat, Priya, Peela, Rewati, Kesari, and Tony were all at the Cincinnati Zoo at the same time - five out of the eight white tigers (5 registered Bengal tigers + mixed-blood Tony) in the Western Hemisphere.)
Chart C: The Merging of Bengal and Amur (large image, opens in new window)
Kesari's offspring Ranjit, Bharat, and Priya were all outcrossed with unrelated orange tigers to introduce fresh blood. These are detailed on the page about Mohini and her descendants. The African Safari Wildlife Park brochure (1987?) shows what looks like a pure-Bengal white tiger, and it says there are only 55 white tigers on earth. This appears to be Bharat in the IAE safari park at Port Clinton, Ohio.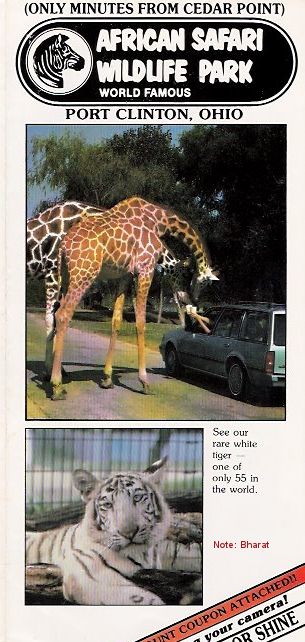 In the Orlando Sentinel, 18th September 1965, Robert Baudy is shown with a 2.5 years old white tiger at Center Hill, Florida. This came from an animal dealer in Thailand and he received it at the beginning of September 1965, but died of a heart attack two weeks later. This tiger is not mentioned in his own book, "Notes On Breeding Felidae At The Rare Feline Breeding Center" 1969, or a later biography entitled "Baudy, The Animal Man: The Biography Of Robert Baudy," 1996. If genuine, this tiger was born in 1963. Begum (Mohan's first mate) had a number of probable heterozygote cubs (from matings to "No. 3" and Sultan) in 1958 and 1959 that were lost to follow-up and would have been old enough to breed in 1963. These might have been bred together and might have produced white offspring.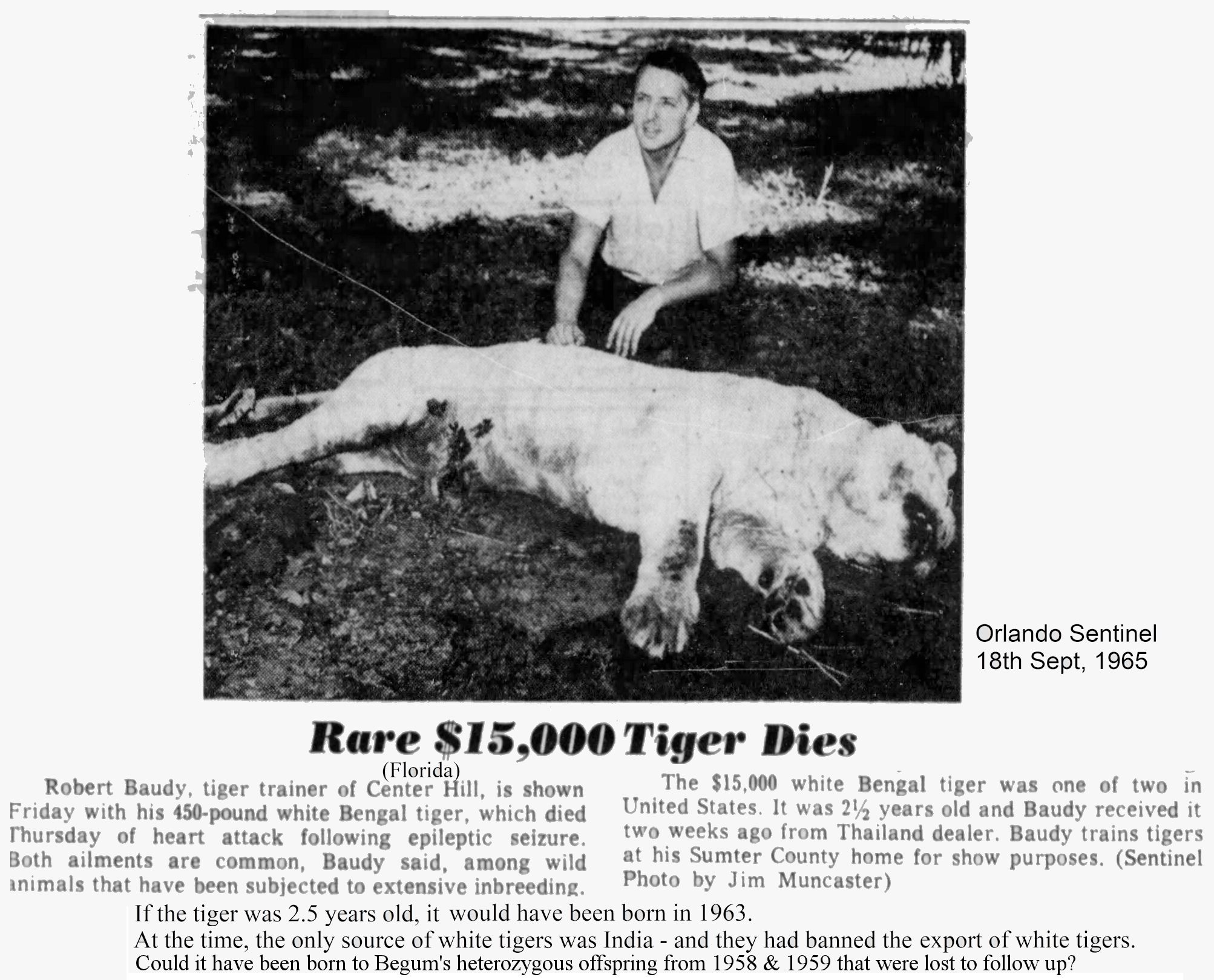 Baudy owned th owner of the Rare Feline Breeding Center (a big cat farm that masqueraded as a sanctuary, later becoming "Savage Kingdom") and claimed his white tigers to be pure Amur stock, however none of them were registered as Amur tigers. Whether he admitted it or not, his tigers had inherited the white gene from a Bengal or Bengal-Amur ancestor. Baudy bred Rewati to an unregistered Amur tiger because she would not mate with a Bengal tiger, however Rewati did not produce any cubs while with Baudy. Rewati preferred the Amur because both Rewati and the Amur tiger had been hand reared and "spoke the same language".
Details of Robert Baudy's tigers are at White Tiger Breeders: Robert Baudy, Josip Marcan.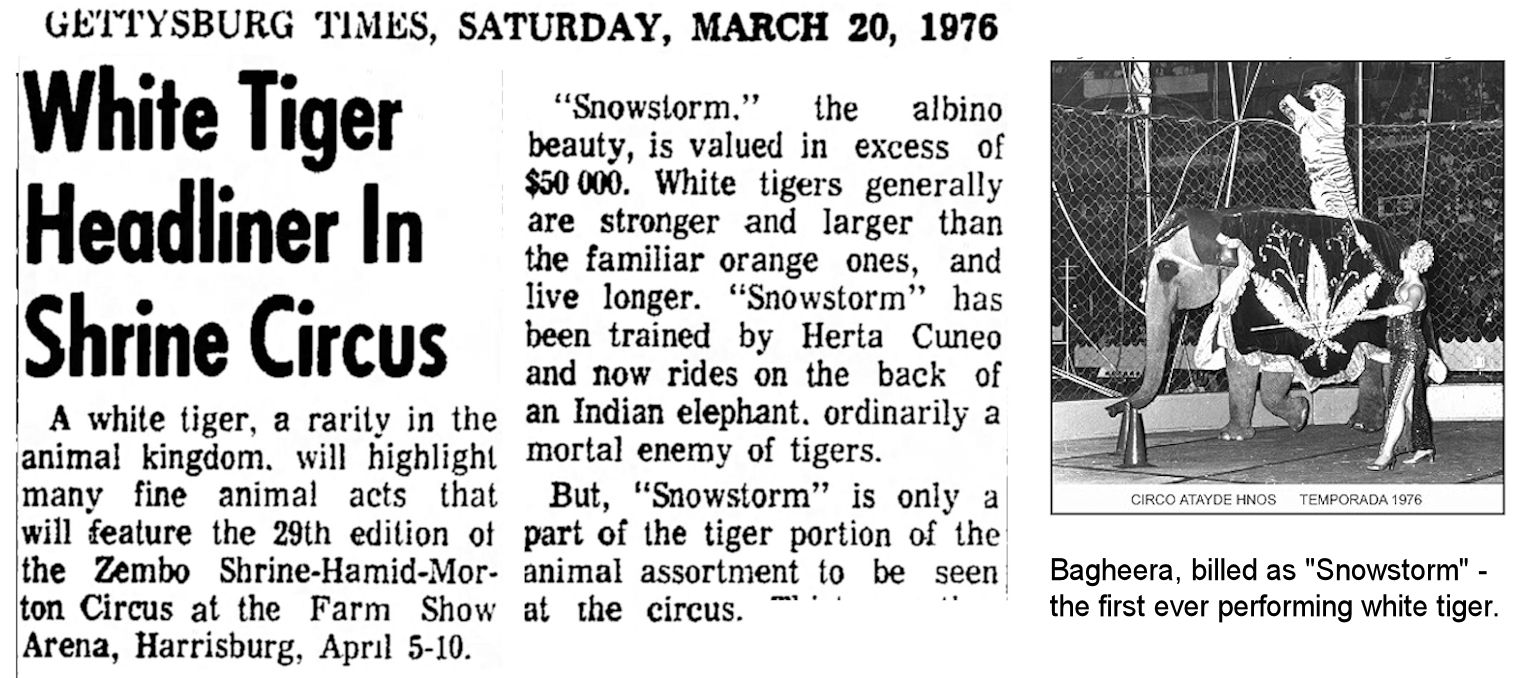 "Snowstorm" was a stage name for Bagheera (Sheba III x Prince/Saber I, born July 1972). Bagheera was the only white tiger Herta (Klauser) Cuneo worked with and she taught Bagheera to ride an elephant named Joyce. This was the first performing white tiger act in history. Tony, the most famous white tiger in history was in Cincinnati doing breeding duty. In an article in The Statesville Record and Landmark, from June 22, 1973, the State zoo director in North Carolina, William Huff, said that he was promised a "rare white Indian tiger" by John Cuneo; this would have been Bagheera. She may also have been loaned to the Seattle Zoo, giving rise to the rumour that they had white tigers. In 1976 the Hawthorn Circus had only three white tigers, Tony, Bagheera (aka Snowstorm), and Frosty.
In 1974, Bagheera survived a crash in which the circus trailer he was travelling in overturned. The Post Standard, Syracuse, New York of 18th June 1974 (p19) has an article "A Tale Of Six Tigers" about a traffic accident on Route 690, one mile west of the Fairgrounds, involving a trailer containing six tigers including a white tiger (Bagheera), all unharmed. The white tiger was valued at $30,000 (insurance value) and the remaining 5 young orange tigers at $25,000 ($5,000 each). The Hawthorn Circus trailer was heading for Niagara Falls and the driver, Barbara Letso, had lost control and the vehicle overturned when his wide mirror was clipped by a circus vehicle driven by Herta Cuneo (who was cited for improper passing while Letso was cited for imprudent speed).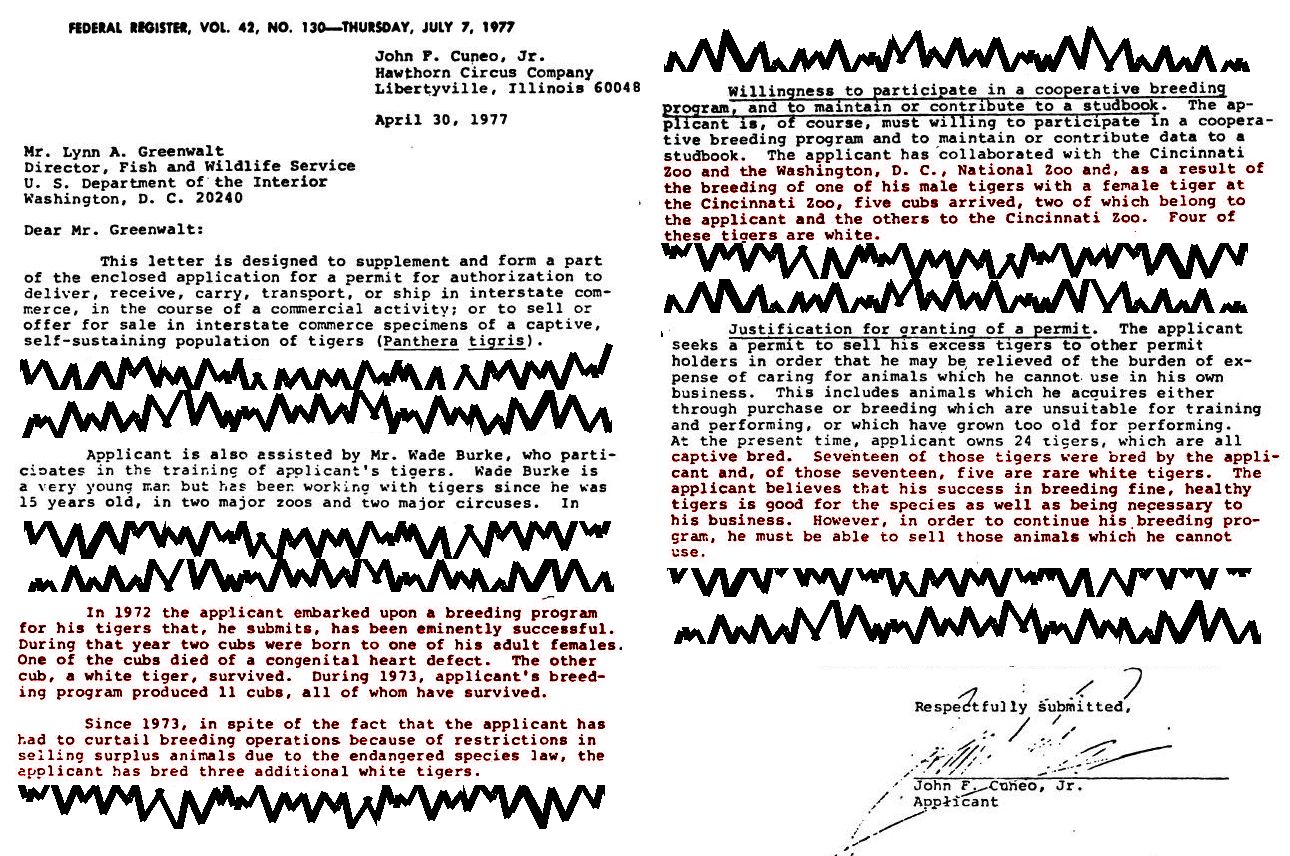 The Green Bay Press Gazette, 12th May, 1974, showed von Uhl with 4 new-born cubs and said he had raised 218 young tigers. In August 1976 while in Honolulu Von Uhl said that he had 22 big cats on his 50 acre farm. He evidently kept a number of non-performing tigers. In a report in the Boston Globe, 6th February 1975, von Uhl was complaining about the cost of feeding his animals, which included six tigers (Radja, Sheba II, Tony, and three others). The last white offspring of Radja and Sheba II was killed by another white tiger at the Omaha Zoo. The orange cubs of Radja and Sheba II born at Omaha Zoo most likely went to Von Uhl, as these were not such an attraction.
In 1976 Cincinnati Zoo unsuccessfully tried to breed John Cuneo's Tony to Rewati. Tony was successfully bred to Kesari, resulting in 4 white and one orange cub. Although born to unrelated parents, the 4 white cubs developed crossed eyes (only one other cub, out of 70 born at Cincinnati Zoo, was cross eyed). The 2 white males returned to the Hawthorn Circus with Tony. Cincinnati Zoo kept a white pair named Bhim and Sumita along with orange female Kamala. Mexico City Zoo, which has bred numerous white tigers, obtained white offspring of Bhim and Sumita (some were possibly the offspring of Bhim and Kamala). Bhim and Sumita became the world record parents of white tiger cubs. About 25% of Bhim and Sumita's cubs were stripeless white tigers.
In the summer of 1977, von Uhl had three white cubs and a normal coloured cub born to normal coloured tigers born at Kingdom's 3 (formerly Lion Country Safari) at Stockbridge, Georgia, just off of I-75 south of Atlanta. In a report on June 18, 1977 regarding Stockbridge, Georgia, it said that two white tiger cubs were born, and that two more cubs were expected.
In the Tampa Times, 26th May 1978 (p4), von Uhl said that he has settled down to raise rare white tigers. He was living on a farm in McDonough, Georgia. This was after the death of Scarlett O'Hara and there was no indication that he had a white tiger at that point. He had shipped 4 tigers to the Omaha Zoo, but either kept some heterozygous tigers or knew he could obtain some. He had paid $8,000 for Radja and Sheba II, so he knew the value of tigers and evidently had long term plans to breed and sell tigers.
In 1978, the old jail in Saint Augustine, Florida, became a private zoo called Fort Bengali owned by big cat tamer Julius Von Uhl. According to the Orlando Sentinel, 5th May, 1979, von Uhl had purchased Fort Bengali in August 1978, and had been prevented from opening because of wildlife officers' complaints. He moved his tigers there after Kingdoms 3 closed in spring 1979. It's possible that he had tiger cubs born at Fort Bengali in 1978 and 1979. It seems less likely that white tiger Tony was there because Von Uhl acquired Fort Bengali 3 years after parting company with Tony, The Lincoln Star, Nebraska, 25th February 1979 (p 129), and The Lincoln Journal Star, 25th February 1979 (p93) reported that the Fort Bengali Zoo had white tigers. The Honolulu Star-Bulletin, 25th March, 1979 p 74), stated that St. Augustine, Florida "...has a new Fort Bengali Zoo Florida 16 east Interstate 95..collection of big cats including rare white tigers." There were no white tigers there when his animals were seized a few months later and Raja, Sheba II, and Obie had already been sold to the Henry Doorly Zoo. In May 1979, officers of the Florida Game and Fresh Water Fish Commission raided Fort Bengali and placed the animals in protective custody of the state which included four Bengal tigers, five leopards, nine lions, a cougar, horses and ponies, monkeys, exotic birds, peacocks, raccoons, gerbils and other species of rodents. According to the officers, fifty-five animals were neither fed nor given water for 10 days, and some of the tigers and lion could not even stand up when the commission took over custody of the animals. It was said this was a place where children could see big cats being starved to death for their amusement. Von Uhl was charged and the animals were confiscated. Fort Bengali existed for nine months and was was "involuntarily dissolved" in 1980.
It is difficult to know how many tigers von Uhl had at any one time. Based on newspaper reports of tigers in his act, at Fort Bengali or sent to Omaha Zoo in 1978, there seem to be additional orange tigers in the headcount at different times. These could have included various cubs of Radja and Sheba (chart 3.1) as well as orange tigers not shown on the genealogy charts because they were not used in breeding white tigers. He had at least one orange tiger born in 1972, two orange tigers in 1973, four orange tigers in 1974, three orange tigers in 1975, and one orange tiger in 1976. He claimed to have 11 tigers which carried white genes in 1978. That means 10 orange tigers born between 1973 and 1976, plus Radja and Sheba II. Radja and Sheba II had an unnamed female orange tiger cub in December 1980; this must have gone to Von Uhl as his share. Then a white tiger cub, Bill Atma, born on 27-Nov-1981 was Von Uhl's property according to a newspaper article from The Lincoln Star Lincoln Nebraska ("Meowr! Meowr! White tiger twins born at Doorly Zoo"), 28th November 1981 which says "Under contract with the Jacksonville, FLA. trainer, the zoo will retain the first white cub born Friday, a female, and will give the trainer the second one, a male, Simmons said." Bill Atma died before von Uhl took delivery. The article also says that HDZ rejected an offer of $60,000 each for both white tiger cubs as soon as they were born. According to "Rare White Tigers Born," in The Alliance Times Herald, Alliance, Nebraska, 30th November 1981 (pg 2): "Since their arrival Sheba has given birth to five live cubs, three of them white."
the breeding arrangements between zoos, or between a zoo a circus went like this: the first cub born goes to one party, the second goes to the other. and so on in alternation. Manju was born first, she was was the property of HDZ Omaha Zoo, and Bill Atma was born 40 minutes later, so he was the property of Von Uhl. This means there have to be witnesses present for all the births.
The Sioux City Journal, Iowa, 13th August, 1978 (p5) and The Lincoln Star, Nebraska, 15th August, 1978 (p10) reported the impending arrival of four new tigers (on August 20-21) and it was hoped that another rare white cub would be produced from breeding one of those new tigers to the mother of a white tiger at the zoo. This was 6 months before the zoo received tigers seized from Fort Bengali. Omaha Zoo's four tigers were not the four seized tiger from St. Augustine. Omaha Zoo ended up with six potential white gene carriers, four from Von Uhl and two from Washington DC.
In 1981, at the Henry Doorly Zoo, von Uhl's tiger, Raja, was bred to a seven year old tigress named Situng via artificial insemination. A fertilized egg from Situng was transferred to a lioness, but no cub resulted from this peculiar experiment. According to The Lincoln Star, Nebraska, 2nd April, 1981 (p7) two tigers were artificially inseminated from Rajah.
Information was easier to hide in the 1970s and 1980s (no internet), and rather than admit his animals had been confiscated, Von Uhl told people that he had sold the tigers because he wanted to get out of the circus business. However, the Circus Report of June 11, 1979 mentioned the incident: "Fort Bengali Park Animals. Some 55 animals at Florida's Fort Bengali Park were recently seized by the State's Game and Fresh Water Commission because the animals had been left without food and water."
The Lincoln Journal Star, 28th November 1981 (p 3) announced "White Tiger Twins Born At Doorly Zoo - A gamble taken by Omaha's Henry Doorly Zoo has paid off again with the birth Friday of two white tigers. Zoo Director Lee Simmons called the births a rarity and said they have implications for increasing the world's number of white tigers currently around 35. Two sources have made a standing offer to pay $60,000 for a white tiger adult or cub, but the zoo isn't interested in selling, Simmons said. Parents of the unnamed cubs born 40 minutes apart are Radja and Sheba, yellow Bengal-Siberian circus cats acquired from a trainer [von Uhl]. Simmons said the zoo took a gamble acquiring the old circus cats after learning they produced white offspring. Under a contract with a Jacksonville Florida trainer the zoo will retain the white cub born Friday, a female, and will give the trainer the second male. The female is a prospective mate for Ranjit the white Bengal tiger on loan from the Smithsonian National Zoo in Washington DC. Ranjit has been bred to three Bengal tigers and the zoo hopes to breed him to five more. Since their arrival Radja and Sheba have produced five live tiger cubs, three of them white. Simmons said three zoos in the United States have white tigers, and one in England and one in India and a private collector." The Huron Daily Plainsman of 29th November, 29, 1981 featured a picture of Simmons holding two white tiger cubs.
Elsewhere, Simmons was quoted as saying that "We were having serious doubts about Rhanjit. But then his attitude towards the females changed and he became much more aggressive. They were 'boxing' him and then he started fighting back, and although no mating had been observed two cubs resulted." They were talking about breeding him with "unrelated pure-Bengal tigers", and there being no prospect of white cubs from this.
The white male cub, Bill Atma, was the property of Baron Julius Von Uhl, but died on 10th Dec 1981, probably from Feline Infectious Enteritis (distemper) which white tigers seemed particularly susceptible to. Bill Atma seems to have been Von Uhl's last white tiger, and this was after Fort Bengali. Manju, the white female littermate, contracted the same disease, but survived. Manju was originally intended as a mate for Ranjit. She remained at the zoo in Omaha and was paired with another white tiger for breeding. On 18th April 1987, six year old Manju was killed by her mate in front of zoo visitors.
Von Uhl fell foul of animal welfare laws 30 years later. In February 2010, the U. S. Department of Agriculture confiscated an African elephant, 6 tigers and 4 lions from 72 year old von Uhl's home in Miami County, Indiana. This was not accredited by the Association of Zoos and Aquariums (AZA). The USDA claimed the animals' living conditions weren't following the law, but von Uhl claimed he wasn't given proper notice of the violations. After years of taking his circus on the road, he had decided to retire in 2010 and was to sell the elephant to the Pittsburgh Zoo for $150,000 (this could not be verified with the zoo and the elephant went to the Toledo Zoo). His barn was inspected at random intervals by the USDA Animal and Plant Health Inspection Service for 15 years. Von Uhl claimed there had never previously been any issues until 2010, when he was told the elephant's enclosure was too small. Although he has claimed there were no previous issues, the inspection report from January 2009 showed he was told the cages for his big cats were too small. He admitted to this violation and said he already bought material to build larger cages, but the next inspection report, November 2009, showed that the big cats' cages and conditions had not changed. The USDA probably decided that conditions would not change and that it was better to remove the animals. Von Uhl was still in business working with big cats, lions and tigers, right up to 2015.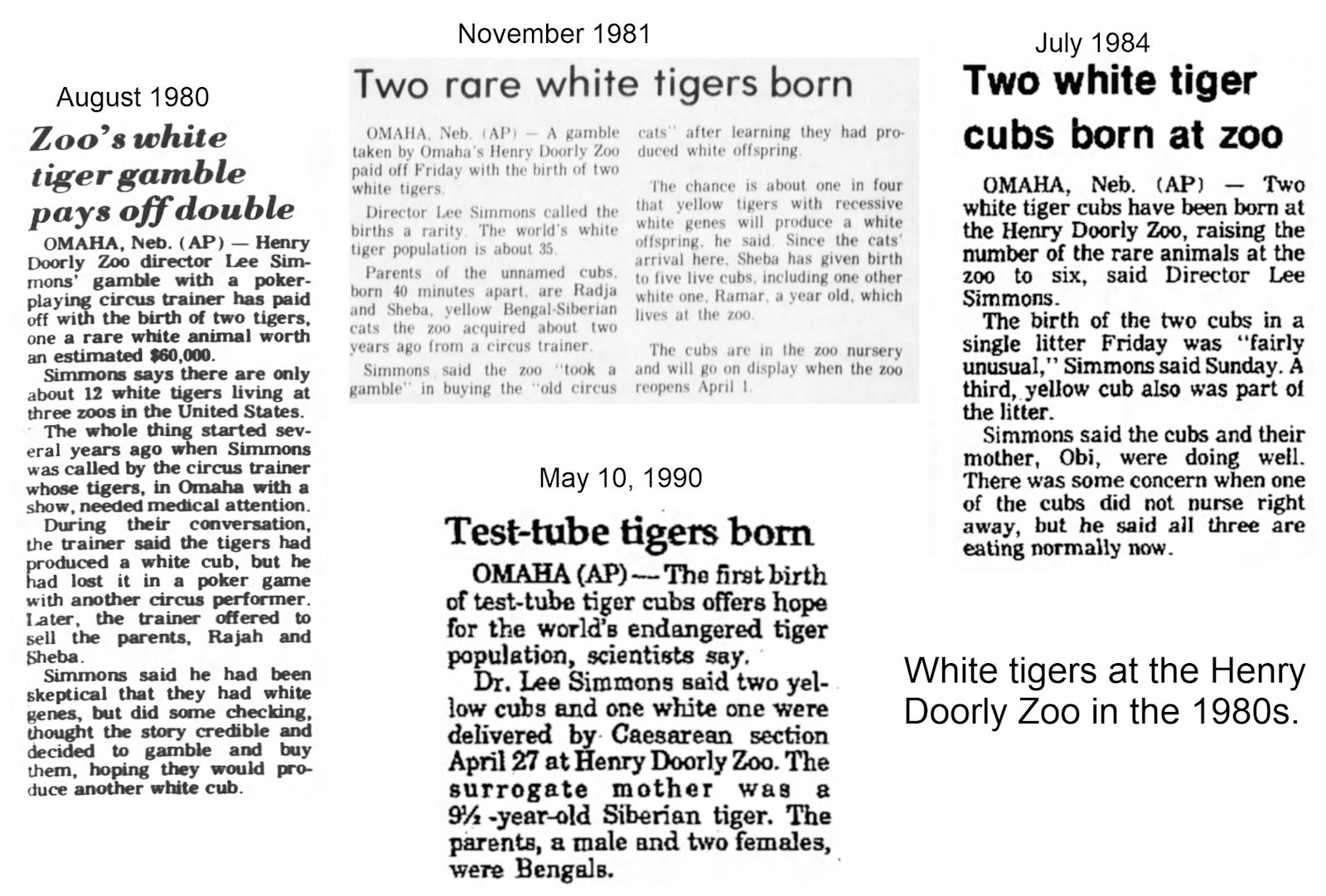 Chart 3.1a3: Bhim and Kimanthi's Offspring (large image, opens in new window)
Chart 3p1a1: Bhim and Sumita Pt 1 (large image, opens in new window)
Chart 3p1a1a: Bhim and Sumita Pt 2 (large image, opens in new window)
Chart 3p1a1f: Bhim and Sumita Pt 3 (large image, opens in new window)
Chart 3.1a2: Bhim and Kamala's Descendents (large image, opens in new window)
Chart 3p1a3b: Bhim and Indira's Descendents, showing the genetics of golden tabby (large image, opens in new window)
Chart 3.1a3: Bhim and Kimanthi Descendents (large image, opens in new window)
Chart 3.1a1b: Bhim and Sundari Descendents (large image, opens in new window)
Chart 3.1a1c1: Bhim and Tapi's Descendents (large image, opens in new window)
Chart 3.1a1c: Tapi, Naranga and Mota's (Bhim's Sons) Descendents (large image, opens in new window)
Chart 3.1a1b: Shubra (Bhim/Sumita Daughter) and Benzoo (Bhim/Kamala Son) and their Offspring (large image, opens in new window)
Chart 3.1a1b1: Bubba (Shubra/Benzoo Son) and Kipling and their Offspring (large image, opens in new window)
In 1980 Cincinnati Zoo was negotiating with the government of China to trade white tigers for giant pandas. In the 1980s the Cincinnati Zoo was selling white tiger cubs sired by Bhim for $60,000 each and was criticised as being a "white tiger mill". When NZP decided to leave the white tiger business and sent their white carriers out, they specifically asked that the carriers not be bred for their white genes; Cincinnati Zoo ignored this request. Genealogies show that Bhim-Sumita (brother-sister) matings had more females born or surviving than males, indicative of an unhealthy level of inbreeding. Matings between Bhim and his daughters made this even worse. Inbreeding brought out the apparently recessive mutation for stripeless (snow white) tigers that may originally have come from Tony.
The Honolulu Star-Bulletin, 17th February, 1980 (p 128) reported on Siegfried and Roy's cub White Gold whose parents may have come from Julius von Uhl's stock, but White Gold's place of birth isn't mentioned. Siegfried and Roy bought a litter of 3 white cubs, including a stripeless white cub (born 1982), from Cincinnati Zoo. When these illusionists were just starting out with the white tigers, Irvin Feld, tiger trainer and part-owner of Ringling Brothers Circus, had wanted all white tigers in show business under his "flag ship". Feld owned Siegfried & Roy and Gunther Gebel Williams, and he tried to acquire Wade Burck's white tiger act which was in the Ringling Circus in 1984. For details of the Siegfried & Roy tigers see:
Circus White Tigers: Siegfried and Roy's Tigers
Chart 3.1c1: Ranjit and Soma's Descendents (large image, opens in new window)
Chart 3.1c: Ranjit, Ia and Tanya's Descendents (and Cherry & Maynard's line) (large image, opens in new window)
The Daily News New York April 17, 1980 reports that Rewati arrived at the Bronx Zoo.
In the 1980s HDZ and Columbus Zoo also bred white tigers. Columbus Zoo had a pair of heterozygotes and also wanted to breed from a pair of whites. HDZ acquired Tony's parents Raja and Sheba II, and Tony's orange sister Obie, from the IAE (Baron von Uhl) - these tigers had been seized from Fort Bengali. In 1978, HDZ borrowed Ranjit (son of Ramana and Kesari) from NZP to breed with Obie. Ranjit's mother Kesari also went to HDZ, but produced no more cubs. Ranjit was bred to four tigresses, including an orange tigress from Muscatine (Weed Park Zoo, Iowa) and orange tigresses Soma and Tanya to widen the gene pool. The offspring were then crossed to produce both orange and white offspring.
Ranjit-Obie matings produced both orange and white offspring. A brother and sister pair of supposedly pure-Bengal tigers (unregistered) from Knoxville Zoo were bred to Ranjit and Bharat in Washington (the female might have been Soma). In 2006, Omaha Zoo still had two of Ranjit's granddaughters (his last descendents were born 1998), one of whom was on loan to Michigan. According to Sara Iverson's ZooGoer article, a Bengal tiger (possibly not purebred) named Jack was sent from the San Francisco Zoo and bred to Bharat in Washington. Jack appears to have sired Kanchana, a tigress who later bore at least one white cub (possibly at Riverbanks Zoo, Columbia, South Carolina).
Columbus Zoo borrowed Ika (brother of Bhim and Sumita), a 3-legged amputee retired from performance, from the Hawthorn Circus. Ika was born at Cincinnati Zoo in 1976 and named Vir. He was bred to Rewati in 1984, even though both were cross eyed. According to the zoo "We took anything we could get." Ika and Rewati were gradually introduced over a 9 month period and were getting along well, but unfortunately Ika killed Rewati during mating. Ika was then paired with white tigress Taj, daughter of Dolly and Duke and granddaughter of half brothers Bhim and Ranjit. The Ika-Rewati mating produced a cross-eyed female Lilly. Ika was also bred to Taj's mother, orange tigress Dolly, on loan from Cincinnati zoo, resulting in 2 orange and one white cub in 1986.
Chart 2.2: Ika, Baby and Dolly's Descendents (large image, opens in new window)
Chart 2.6: Ari and Kashmir's Descendents (large image, opens in new window)
Dolly and Duke were the orange parents of Taj. Duke was Ranjit's son from an outcross and Dolly was Bhim's daughter from an outcross, ensuring Taj had fresh blood from both sides. Taj's siblings included one regular orange and 2 golden tabbies. Taj and Ika's offspring Yin and Yang, born at Columbus Zoo, went to the Hawthorn circus as part of their share from the breeding loan of Ika. The incestuous nature of breedings among Bhim, Ika and Ranjit (all offspring of Kesari) can be seen from the genealogies. Ika was returned to Hawthorn Circus at the conclusion of the breeding loan. Taj was also mated to Isson, a son of Arjun (Arie), in 1997. In 2006, Columbus Zoo had just one white tiger, an 8 year old striped male named Akere (or Akeer - Hindi for "last") on loan from Cincinnati Zoo when Taj died. When Akere returned to Cincinnati Zoo, he was castrated before being exhibited with white tigress called Popsie.
In 1980, Bonnie was "accidentally" mated to her father, Bucky, resulting in a litter of white and orange cubs, showing that both Bucky and Bonnie were heterozygous for white. Bucky's parentage was unknown and he had come from Indianapolis Zoo. He was most likely a descendant of Kubla and Susie as he can't be traced to Mohini's line.
The Journal Times Racine, Wisconsin) of 16th May, 1980 (p 11) "Zoo Has Rare White Strain" reported the birth of a white cub to orange tigers Bonnie and Bucky. Bucky had a documented history of attacking and injuring his offspring (which is not surprising as tigers, unlike lions, are not social). Six year old Bonnie was a first time mother. One or other fatally punctured the lungs of three of their quadruplets born April 16. The only surviving cub was being reared by Rhoades wife and was to return to the zoo when it reached 15 or 16 weeks old. Bonnie's history of false pregnancies meant the zoo were unaware she was about to give birth and had left the pair together. The three cubs were immediately removed from their parents for medical treatment and it was found then that Bonnie and Bucky had produced, and fatally injured, a white cub, according to the Racine Zoo's director, Louis Rhoades. He believed both parents inherited genes from "Rewa, a white tiger captured and bred in 1951 in New Delhi." He said there were only three documented cases of white tigers being born ta American zoos, and that the previous white cubs had resulted from inbreeding, in which siblings are mated with one another, whereas Racine Zoo had used line-breeding – mating Bonnie to her father Bucky. In fact this is still inbreeding (which is the mating of close relatives – parent/offspring or sibling/sibling) and elsewhere. Having found out that the father and daughter carried the white tiger gene, Rhoades documented the white cub's birth and has contacted Cincin¬nati in the hope of mating Bonnie to one of that zoo's white tigers. If the Cincinnati was agreeable, Ra¬cine Zoo planned to begin their own white-tiger strain. The article said there was such a tiger surplus in American zoos that some zoos were loaning tigers to other zoos instead of selling them. How¬ever, white tigers were such a rarity that zoos would not even sell them. Cincinnati Zoo had rejected an offer of $125,000 offer for a white cub, and Rhoades speculated that if Racine's white cub had survived it would have been worth at least $65,000, however he was not even willing to sell its skin, and had sent the cub to a taxidermist so that it could be preserved and displayed at the zoo.
Racine Zoo staff planned to pay much closer attention to Bonnie's weight changes. Seven months earlier she had put on weight and they expected cubs, but she was not actually pregnant. Had they been positive the recent weight gain was a pregnancy the adults would have been separated and Bonnie would have been monitored. Rhoades said that it was not uncommon for inexperienced mothers to accidentally injure or kill their offspring. Bonnie had been injured by her father, Bucky, when she was born (again, the father should not have been present when cubs were born).
On May 20, 1983, white tiger cubs were born at the Racine Zoo. The male white cub, Mohan II, was hand-reared by Jean Rhodes, the wife of zoo director Louis Rhoades (a photo appears in The Milwaukee Journal of May 24), but died in June 1983 of distemper. In 1984, Racine Zoo bred a white female from Jim Witchie's orange Takila/Chequila (older brother of white tiger Tony) and orange female Bonnie who was born at Racine Zoo. The Kenosha News, featured a picture of Bonnie at Racine Zoo with a white cub.
The New York Times of April 4th 1984 wrote "One act that, if not new is rare, is Wade Burck's, which places him in a cage with nine white Burmese tigers and six Siberian and Royal Bengal standard-striped cats." Quite why Burck's white tigers were described as Burmese is unclear as the tiger subspecies found in Burma are the Bengal and Indo-Chinese tigers. Perhaps "Burmese" sounded more exotic. The circus's white tigers were Bengal/Amur mix tigers. In 1977, Sultan, Rhoni (Rani), Tora, Begum, Bengali, Ika, Ari, Kahn, Frosty, Baby, Kashmir, Rema, Nicky, Bagheera, Tony, and Roman performed in a single circus act. Sultan (possibly one of Susie's cubs?) was never bred. In 1977, Ural was "retired" (destroyed?). Prince, Saber, Princess, and Farah were "retired" in 1979. In 1985 Burck had nine white tigers were Tony, Ika, Ari, Bagheera, Frosty, Silver, Ban-Seri (or Ban-Siry), Isson, and Snowy.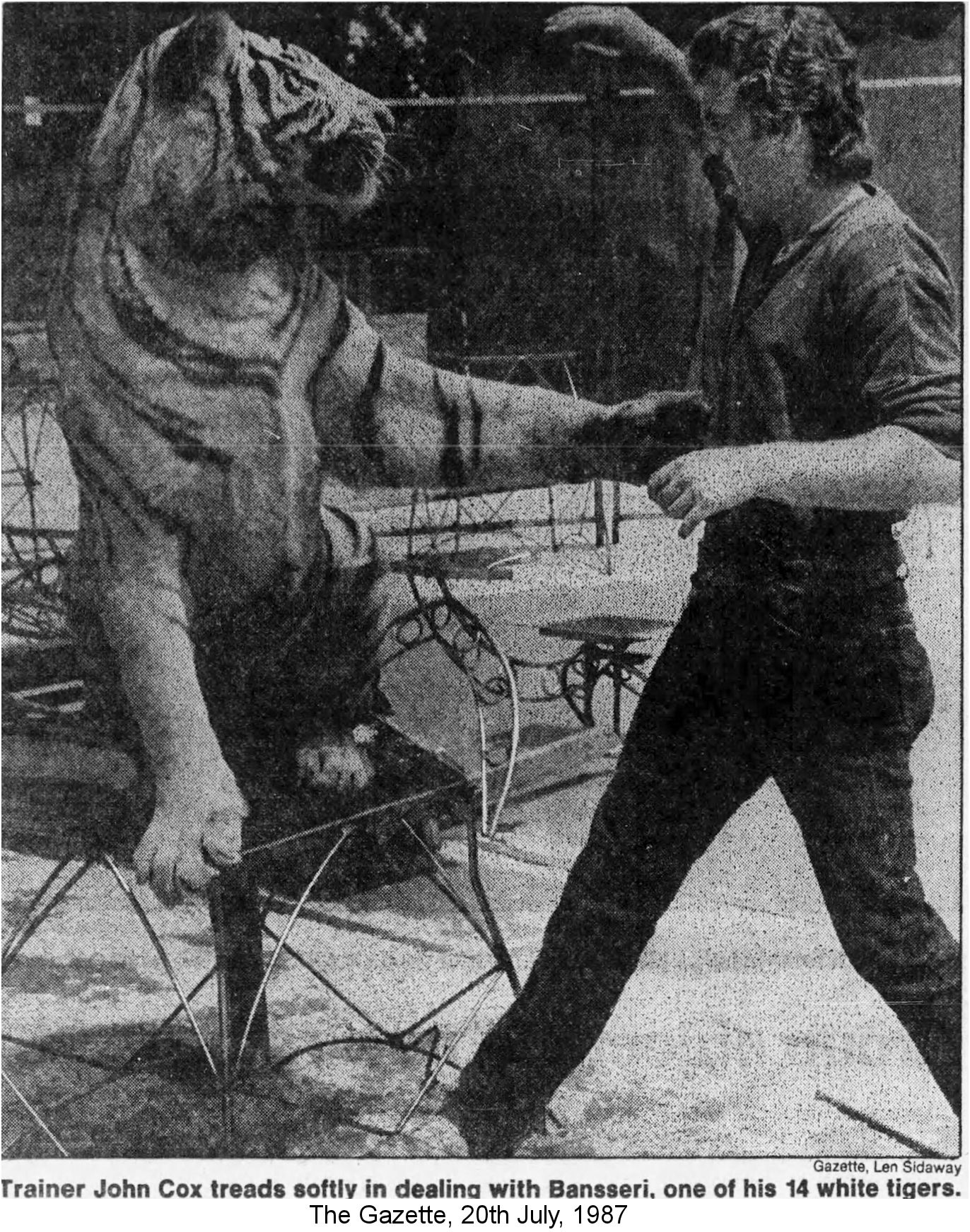 John Cox, above with Ban-Seri, was the tiger trainer at parc safari in Hemmingford, Quebec. One of his white tigers fathered at least one tiger cub at parc safari. The tiger cub born at parc safari had some sort of bone disease or ailment and didn't live long.
Hawthorn Circus white tigers Amur (male) and Flurry (female) spent a short summer vacation at Honolulu Zoo before joining a circus in Spain/Barcelona Zoo (Honolulu Advertiser, 5th March, 1988).
In 1989, Cincinnati Zoo received 2 female white pure Bengal tigers from the unrelated Orissa bloodline, Sweta (Indian Studbook's No. 231) and Sipra (Indian Studbook's No. 234) (born 1983) from Nandankanan in India. They were never bred at Cincinnati and their genes were lost. They lived in Texas for up to 2 years before finally moving to Cincinnati. It's possible, though unlikely, they were bred in Texas. They may have been kept at the African Lion Safari in Grand Prairie, Texas.
Cincinnati zoo provided a further pair of white tigers to Siegfried and Roy in exchange for a promise to share the offspring. Cincinnati Zoo also loaned a pair to Gulf Breeze Zoo, Florida, which they hoped would breed (so far they haven't). Another pair born at Cincinnati, one of which had no tail, went from Oklahoma City zoo to the Parc Safari, Hemmingford, Quebec, but have not bred. They were traded by Cincinnati for walruses from Sea World in Orlando, though the white tigers never went to IAE rather than Sea World. Kivali (white female with hip dysplasia) and Moose (orange male) went from Cincinnati to Toronto zoo; their only surviving offspring are a privately owned orange brother and sister pair in Nova Scotia. In summer 1998, Kivali returned from Granby to Toronto from Granby and remained there until she died.
White tiger breeder Betty Young (Riverglen Feline Conservancy, Arkansas - a "sanctuary" that breeds white tigers!) acquired orange heterozygotes from Cincinnati, full siblings of Dolly and Indira bred from Bhim and Kimanthi, (confusingly, heterozygotes are sometimes referred to as white tigers because they can have white offspring). San Diego Zoo's white tigress Blanca was born at Betty Young's zoo and had originally been sent to the menagerie at Caliente race track in Mexico (which has other white tigers). Blanca was confiscated at the Mexican border by US Customs and donated to San Diego Zoo by the US government. Both Siegfried & Roy, and Marineland (Vallejo, California, now called Six Flags Discovery Kingdom) had asked to have Blanca after she was confiscated. Blanca's parents were both orange tigers descended from the Racine Zoo lineage. San Diego zoo's second white tiger is from Cincinnati. Cincinnati also supplied white tigers to Jakarta zoo, Ueno zoo (Tokyo) and Busch Gardens in Tampa (Florida).
One of Riverglen's white tigers, Jupiter, was sold to Ronald and Doris Guay, of Alachua, Florida, for their circus act under the names Ron and Joy Holiday (Cat Dancers). Jupiter's papers from Riverglen said he wasn't inbred. The Guays believed inbred tigers to be more unpredictable and dangerous. According to the Guays, if a young tiger looked normal signs of inbreeding would not be noticeable until it matured at around 3 years old. In October 1998, trainer Charles "Chuck" Lizza III tripped and fell against Jupiter (aged 3.5 years) and the tiger immediately snapped his neck. It was considered an accident with the tiger reacting instinctively. A few weeks later, Joy fed Jupiter while Ron held the tiger's leash. Jupiter tore into Joy's throat. The tiger was pacing around his kill when state game officials shot him. A post mortem allegedly found the tiger was inbred and therefore the papers were false, though how an autopsy alone could tell a tiger was inbred (a genetic condition) is uncertain.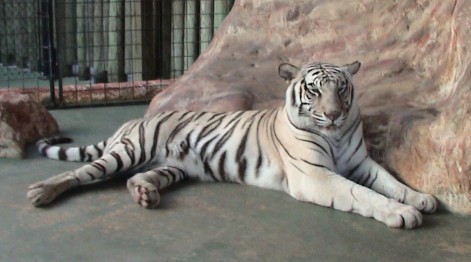 Nakai at Wild Adventures, Valdosta, Georgia
Longleat Safari Park, England bought white tigers from Cincinnati and Columbus zoos. Glasgow Zoo, Scotland had white tigers on loan from Lord Bath and Chipperfield Circus (i.e. Longleat) before it closed and referred to these as "American non studbook white tigers" i.e. mongrels. Pyongyang Zoo has obtained white tigers from South Korea.
John Cuneo, Hawthorn Corporation, Illinois traces one of his lines back to Raja and Sheba II, two tigers owned by Von Uhl, of the Shrine Circus via their son Tony, obtained from Von Uhl. The Hawthorn Corporation has another line of white gene tigers derived from heterozygous brother and sister Sheba III and Prince bought from the IAE. Sheba III and Prince were siblings of Tony's parents Raja and Sheba II, all born at the Sioux Falls Zoo. Sheba III and Prince produced at least 5 litters including 2 white offspring. Their heterozygous daughters Rani and Baby were bred to Tony to produce mostly white litters (Burck apparently knew Rani as "Rhoni.")
Chart 2.5: Tony and and Rani Descendents (large image, opens in new window)
Chart 3.1a: Rani, Tony, Snowy and Kesari Descendents (large image, opens in new window)
Chart 2: Ural, Sheba III and Begum Descendents (Part 1) (large image, opens in new window)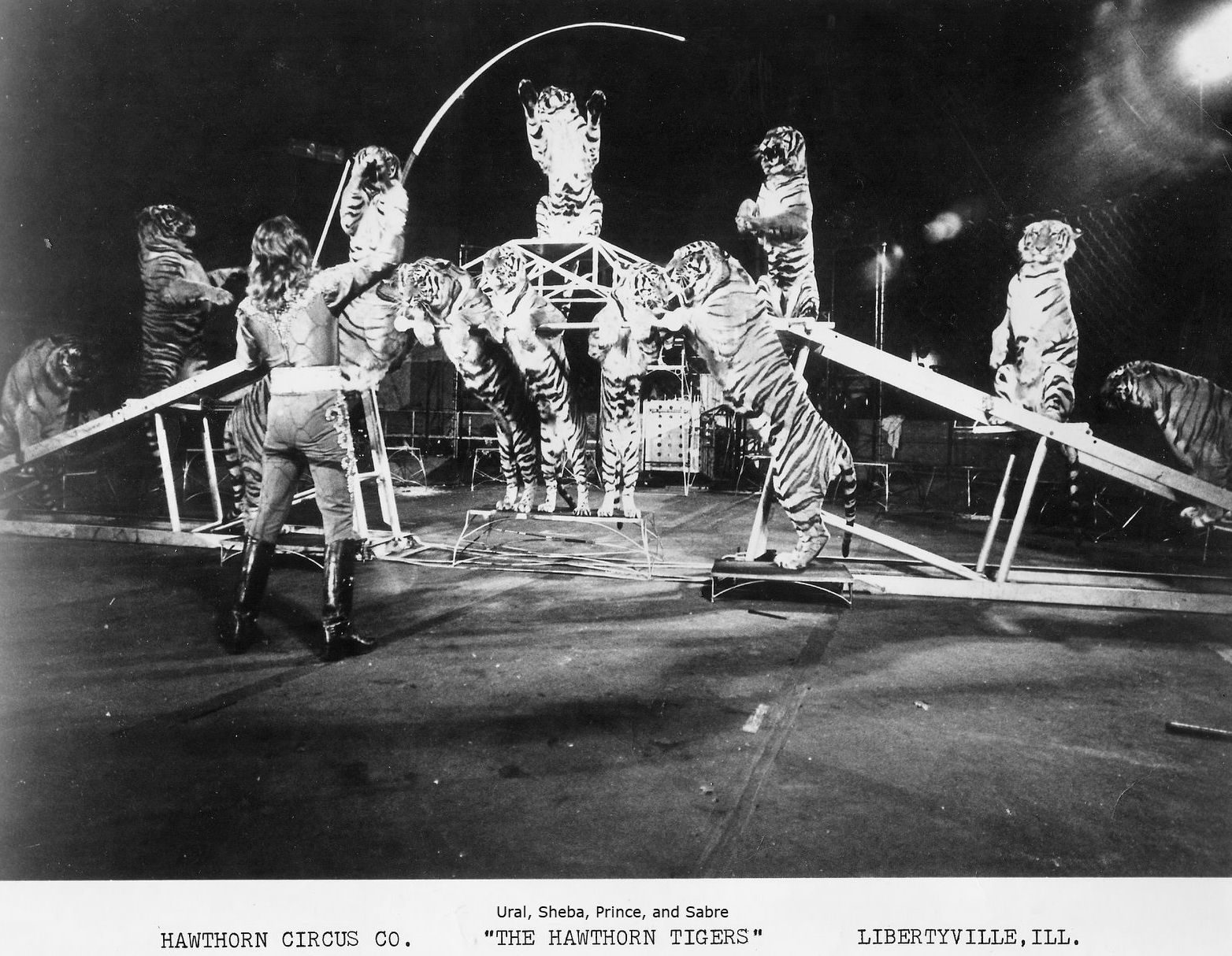 Saber was the other sibling of Prince and Sheba III and, therefore, of Raja and Sheba II. There were many more siblings of Raja, Sheba II, Sheba III, Prince and Saber scattered far and wide as the IAE "recirculated" tigers around zoos and circuses. This recycling of tigers makes it hard to track some individuals due to name changes and movement.
It has been remarked that the Hawthorn breeding records are "highly suspect". John Cuneo lost interest in breeding more tigers with the Cincinnati Zoo as he believed he had an orange male carrying white (Ural/Prince - records make it impossible to distinguish which) to breed with a female carrier (Sheba). Cuneo guessed that Ural was fathering the white cubs on Sheba because Ural and the cubs were all cross-eyed. However Wade Burck believes that only Prince or Saber could have fathered the white cubs and Cuneo later had one or both castrated. According to the Hawthorn corporation, they didn't castrate a male tiger until 1988, when there was a sufficient gene pool in their whites.
Wade Burck originally believed that Tony, Bagheera, and Frosty were unrelated to Mohan, and that the Sioux Falls Zoo siblings were a different bloodline. He assumed that there were two unrelated strains of white tigers in the USA prior to 1976, and also said that John F. Cuneo and Baron Julius Von Uhl "unknowingly" bought tigers from the Sioux Falls Zoo i.e. via the International Animal Exchange, not knowing they were siblings. Robert Baudy also got one of those cubs, which he might have thought to be a pure Amur tiger.
According to Wade Burck, Ural was physically very distinctive and a very poor specimen – severely crossed eyes, matted fur due to not self-grooming, and mentally defective - due to excessive inbreeding because there were so few Amur tigers in captivity. On the other hand Sheba, Prince, and Saber shared many similar features. Saber was larger than Prince. The crossed eyes in cubs was considered the sign of Ural being the father. Sheba's first litter was gold, and John Cuneo always believed that Ural was the father.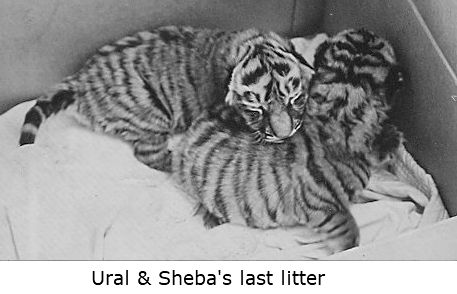 In a picture with Tony, Ika, Ari, and Frosty, Frosty was labelled as "unrelated". According to Wade Burck, at a certain point everybody started claiming that their white tigers came from an unrelated strain. This may have been prompted by the picture of Frosty in "Sports Illustrated" showing his severely crossed-eyes. Rhys Walkley thought that Ural was the father of Bagheera and Frosty. Bagheera (aka Snowstorm) was immediately taken for hand-rearing and "Sheba was put back with Prince Saber and Begum." Without a cub to nurse, Sheba went into oestrus again and Frosty was born a few months after Bagheera. In between the births, Prince and Saber were castrated due to fighting. When Burck first went to work for John Cuneo, he asked who had sired Frosty and Bagheera and was told, "we are not sure, maybe Ural because he has crossed eyes." Based on a 104 day gestation period, Frosty (born Feb 1975) would have been conceived the previous November i.e. before Prince and Saber I were castrated. It is possible that Cuneo told Thornton that Frosty had orange littermates, but none appear to be documented. After the castration there were no more white tiger cubs and no confirmed carriers of the white gene. Sheba had 14 cubs, 3 of which (21%) were white.
There was a litter of 2 orange cubs born between 1975 and 1978 which would have been sired by Ural because the other males had been castrated by then. These are shown on a photo. According to Wade Burck this was Sheba and Ural's last litter. Thornton (1978) shows 3 orange cubs which are claimed to be Frosty's orange litter-mates. It's possible these were a litter born between 1975 and 1978. In 1978 Sheba and Ural had a single orange cub, Gordo. This was her last cub. Gordo was never bred and it is not known if he carried the white gene.
When Sheba III's cubs were being fathered by her uncle there were no more white cubs. This is strong evidence that Prince/Saber sired the white cubs. Wade Burck cautioned suspicion regarding early records. "There was a massive patch, to justify the castrating of Prince and Saber which was actually for the best given the major problems of Bagheera and Frosty." Bagheera, nicknamed "Baggy", was housed with Tony, but always rejected him and they never bred. It seems that Bagheera did not go into oestrus and was sterile just like Rewati.
According to the Latrobe Bulletin, 18th April 1979, orange tigress Begum (mated to Frosty) gave birth at the Hamid-Morton Circus at Kingston Armory in Wilkes-Barre on 17th April to two healthy cubs. One of the cubs was "a light colour" and, according to the report, possibly a white tiger. The "light coloured cub" was most likely due to fever coat, where pigment does not form properly due to high temperatures in the womb. According to the same article, Begum had produced three white cubs in 1973, but according to circus records she had produced 3 orange cubs in May 1973; perhaps these had also been pale at birth.
Tony was not actually loaned to the Cincinnati Zoo, but had been boarded there because the Hawthorn Circus was going to Mexico, and did not want to take Tony in case anything happened to him. Kesari was already at the Cincinnati Zoo on "breeding loan" (sources vary as to the type of loan) and the National Zoo appeared to be winding down their white tiger program. The breeding agreement said that any white offspring of Tony and Kesari would be split equally between the Cincinnati Zoo and Hawthorn Circus, with the orange offspring going to the National Zoo. As luck would have it, the first cub born was a white male (i.e. Cincinnati's); the second was a white male (i.e. Hawthorn's); the third was a white female, (Cincinnati's); the fourth was a white male (Hawthorn's) and the last cub was an orange female that went to the National Zoo (these cubs were Kamala, Bhim, Sumita, Ika and Ari). Tony was supposed to breed with Rewati in 1975, not with Kesari. In a twist of fate, one of Kesari's cubs fathered by Tony killed Rewati at the Columbus Zoo (Columbus Zoo had managed to obtain Rewati because Dr. Theodore H. Reed's sister lived in Columbus.). Ultimately, over 70 white tigers were born at the Cincinnati Zoo. While some records say that Tony died in 1986, according to Wade Burck, Tony retired from performing in 1987 and died soon after of lung cancer (probably from exposure to second hand cigarette smoke).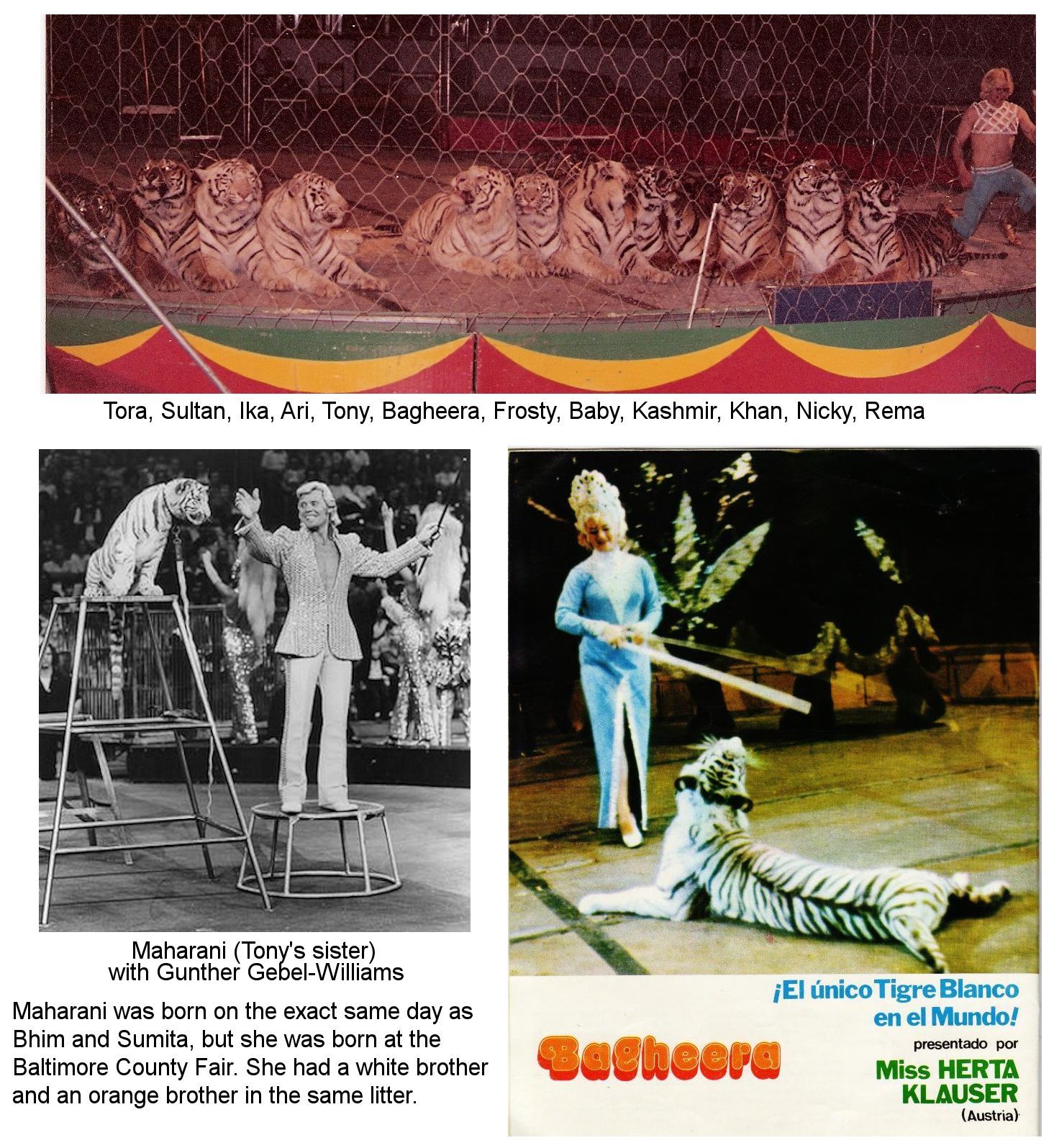 John Cuneo's Hawthorn corporation major breeder and supplier of white tigers to circuses. Hawthorn leased tigers and other animals to facilities and circuses around the world, including Jordan World Circus, Circus Vargas, Shrine Circuses, Walker Bros. Circus, Royal Palace Circus, George Carden Circus, Hanneford Circus, Hamid Circus, Alain Zerbini, and Tarzan Zerbini. The US Dept of Agriculture cited Hawthorn for multiple animal welfare offences between January 1994 and 2004. It cited Hawthorn farm several times for unsanitary and improper food storage, feeding inedible food to the tigers, poor housekeeping, inadequate structural maintenance, damaged transport trailers, failure to provide a veterinary care program or maintain medical records, having and using outdated medications and failure to provide necropsy reports on animals that died. In 1997 the USDA filed charges alleging Hawthorn exhibited tigers in Albuquerque, New Mexico, while its license was suspended. In March 2001 the USDA inspector noted that a 12-year-old white male tiger named Neve had died while being transported back to winter quarters and that a 6-year-old white female tiger named Java had died in June 2000. Between April and June 2002, the USDA cited Hawthorn for failure to provide minimum space to 14 white tigers living in transport cages, and noted that 13 white tigers had been kept in transport cages since April 23, 2002, which failed to comply with minimum space requirements.
By 2004, Hawthorn had accumulated $72,500 in USDA penalties and has twice had its license suspended.. Cuneo owned 84 tigers, some of the white, at that time. Hawthorn took the USDA to court, were found not guilty and were awarded $130,000. Tigers had been seized in California for "too small transport cages" even though the cages exactly met USDA specifications. Cuneo claimed that at Hawthorn farm the cages were big enough for the animals to walk around and that there was a loft made of boards for the cats to sleep on and outside cages with small water pools, and logs for scratching. PETA claimed that more than 30 tigers had died at Cuneo's facility in the previous 11 years (including white tigers such as Neve and Java), but Hawthorn responded that tigers, like dogs, only lived a certain number of years and that they were all buried on the farm to prevent their skins or bones being traded. Not al lwere buried – he perfectly legally let a vet keep the head and skin of a euthanised white tiger and the head and skin fell out of the vet's vehicle onto the road! (But it is fair to say that the skin was not traded and would have to be returned to Hawthorn if the vet wanted to dispose of it.)
In 2005, a visitor to the Hawthorn farm sued after being mauled by a tiger. He claimed he had been invited into an arena at the facility where 14 white tigers were being trained and that one attacked him. Cuneo said the man provoked the tiger. In August 2008, Hawthorn owned about 50 tigers (some of them white), according to Cuneo, but only about 30 were at the farm, while the rest were leased to circuses around the country and the world. In 2012, Hawthorn hired Lancelot Kollman to train 16 white tigers which were exhibited with circus shows. Kollman's USDA exhibitor's license had been revoked due to a procedural default, but Hawthorn erroneously believed that if the handler operated a a Hawthorn employee, he could legally train and present Hawthorn's tigers. This wasn't correct and when Soul Circus checked Kollman's status it rescinded its contract with Hawthorn, resulting in substantial expenses for Cuneo. As circuses rightly became an outdated institution, Hawthorn increasingly became a target for activists. Because his tigers were not pure Bengals, they had no conservation value.
SUSIE
Susie - Matriarch of a White Tiger Line
In "The White Tiger Fraud," Dan Laughlin claimed to have fully researched and documented the accurate genealogy and origin of white tigers in the U.S.A. and that there are 2 distinct bloodlines. Much of the research was done by Rhys Walkley (I have his original charts). One bloodline (Laughlin claims) was the Bengal tiger bloodline which originated in India and entered the U.S.A. via a breeding loan to the National Zoo. One of the Indian origin tigers carried the recessive gene for the white colour and was the mother of the second litter of white tigers born at the Cincinnati Zoo in 1976. He claims that the original litter of white tigers born at Cincinnati in 1974 and all subsequent Indian origin bloodline white tigers soon died out in the U.S.A. without leaving any pure Indian origin Bengal white tigers in the U.S.A. Imported white tigress Mohini and orange-coloured white gene carrier Samson were founders of the USA white tigers, and this later merged with the second bloodline. He claimed to have unpublished research definitively showing the true origin of the white tiger in the U.S.A., in a second and separate bloodline that occurred spontaneously in two separate private collections in the U.S.. Siblings born to a pure Siberian male (Kubla) and a Bengal female (Susie, white gene carrier) were bred together at a small zoo in South Dakota, producing 12 live cubs. Two cubs (male & female) were sold to a private individual, while a litter of 5 cubs were sold to another private individual. Both owners inbred their tigers and white cubs of mixed Amur/Bengal ancestry were spontaneously born. This "unpublished" information was there for all who cared to read the ISIS sheets and studbooks. It's true that there was inbreeding in those days to bolster the white tiger population as they were in great demand.
There are 6 litters registered to Susie and Kubla. None contained 5 cubs - I believe the "litter of 5" referred to the July 1966 litter containing 3 females and a male named either Saber I or Prince, perhaps Laughlin counted these as 2 cubs. Susie and Kubla had 14 documented offspring. A brother-sister pair (Raja, formerly Tony, and Sheba) went to von Uhl and were extensively bred to produce white offspring. Another brother-sister pair (Saber I/Prince and Sheba III) went to Hawthorn Circus were bred together to produce white cubs.
Laughlin was not a reliable source of information and had a grudge against those who sent him to jail - John F. Cuneo Jr., Ed Maruska – and against the Cincinnati Zoo brand. His false claim of 80% white tiger mortality is widely repeated. Laughlin wrote "One of the individuals who owned the litter of five brothers and sisters representing the American crossbred white tiger bloodline has continued to inbreed his tigers for over the past twenty-five years even though his neonate mortality rate has often exceeded eighty per cent and his tigers are severely defective and unfit." That may be true of a single individual owner with very poor breeding practices, but reputable menageries crossed their white tigers to unrelated orange tigers (often of different subspecies) and their mortality rate was around 30%, the same as in captive-bred orange tigers at the time. Laughlin then claims "The only conceivable legitimate reason for exhibiting a white tiger would be for educational purposes to clearly and unequivocally illustrate to the public the process of natural selection and how, when a deleterious recessive genetic mutation randomly occurs that is disadvantageous for the survival of the animal, such as white color in a tropical jungle environment, the animal does not survive to pass on that genetic mutation or disadvantageous characteristic to its offspring. This was the normal course of natural selection and evolution of the tiger until a young white tiger male was captured in 1951 [. . .]" In fact white tigers thrived and bred successfully in India (especially Assam) until gun-toting European hunters slaughtered the tiger population (one hunter bagging around 200 tigers in a couple of years). White tigers were highly valued as trophies. Because most prey animals do not see in glorious technicolour, the black-and-white coat was not a disadvantage in jungle settings. Laughlin does not tell the truth about the viability of the white gene in the wild; white tigers had been around since the 1500s.
"To produce white tigers or any other phenotypic curiosity, directors of zoos and other facilities must continuously inbreed father to daughter and father to granddaughter and so on." This is false. They need only breed heterozygous animals together i.e. gene carriers. These are related only very distantly, perhaps sharing only a few percent of genes because they have been outcrossed to completely unrelated tigers from the wild over many generations. Having been convicted of white tiger theft himself, Laughlin seemed determined to discredit the white tigers themselves.
Information about Susie's ancestry comes largely from verbal sources from people who are no longer alive. This is now on a separate page at Susie - Matriarch of a White Tiger Line
Textual content is licensed under the GFDL.
FOOTNOTE
Most white tiger websites have a pro- or anti-agenda and variously claim to give "facts," "truths" or debunk "myths" but give misinformation or have hidden agendas. I stick to facts and deductions based on facts. Some information is documented, some is from personal correspondence with zoos, and some is from the recollections or personal notes of people involved with circus or zoo tigers where records were have been lost or destroyed. Even the different editions of tiger studbooks are inconsistent. Information from my pages, which are frequently updated, is widely copied on those other sites. Some sites have tried to claim I copied their work.