WHITE CIRCUS TIGERS - TONY - VARIOUS ACCOUNTS OF HIS BIRTH; AND TAKILA/CHEQUILA; MAHARANEE/MAHARANI
Historical quotations are credited and are in the public domain. Original text is licensed under the GFDL. I am grateful to Paul McCarthy and Jerry Blackman for researching and providing extensive material, information and corrections on white tigers and for genealogies.
"White gene" vs "Inhibitor gene."
Although these pages refer to "white genes," white tigers have the genes for normal orange colours, but those genes are switched off by a recessive "inhibitor gene." When a tiger inherits 2 copies of the inhibitor gene, the normal orange colour is suppressed. In general parlance, it's simply easier to refer to "white genes."
TAKILA/CHEQUILA
Tony's heterozygous older brother has been reported as "Takila", "Tequilla", and "Chequila." A. K. Roychoudhury said his name was "Tequilla or Chiquita." The daughter of James Witchie of Ravenna, Ohio said his name was "Chequila" and that is the name that is now most often given for this tiger in histories. Although often shown as a litter mate of Tony, Chequila was from a previous litter. Takila/Chequila was born in Oakland, California around June 10, 1972; there might have been littermates though none are in press reports. Baron Julius von Uhl took him to Hawaii with the circus two months later. There's a picture of von Uhl and Takila (later known as Chequila) in The Honolulu Star Bulletin August 10, 1972. It says von Uhl was holding "Tequilla" who was two months old on that date. The article "No Respect For Queen" (Valley News, Van Nuys, California, 24th September, 1972, p 52) tells us that Polack Circus tiger cub Tequila scratched 21 year old beauty queen Linda Lockwood, a pre-veterinary major. Another picture of him in The Decatur Daily Review, Illinois of April 11, 1973 calls him "Takila", and von Uhl said the cub was 8 months old (though it must have been ten months old).
Takila/Chequila was subject of a court case. The Akron Beacon Journal, 6th December, 1974 says that von Uhl went to court to get his tiger and two lions back from Dick Hartman (or get their monetary value). Richard (Dick) Hartman borrowed a chimpanzee worth $1000 from von Uhl and sold Von Uhl a truck for $1500, but von Uhl's cheque bounced. It seems that Hartman went to von Uhl's farm and appropriated a tiger – Takila - and two lions in lieu of the $1500. Von Uhl wanted the judge to order Hartman to pay him $1000 for the chimp, $5000 for the three big cats, and $1500 for the truck. Hartman demanded that Von Uhl pay him $1500 for the truck and $1500 for the chimp and big cats. Hartman ended up keeping Takila/Chequila and sold him to James Witchie of Ravenna, Ohio. Takila (Chequila) would have been based in Lebanon, Ohio when he wasn't on breeding loan to the Newton Falls Zoo which was billed as the only privately owned zoo with a white tiger. Takila/Chequila was killed by another tiger in Texas around 1990.
One of Chequila's notable offspring was the white tiger Tequila II, born in 1986. According to the Akron Beacon Journal, 25th July, 1986 (p 54) "Baby White Tiger Joins Newton Falls Menagerie of TV Stars" and "Baby White Tiger Is King Of Newton Falls Jungle" (p61). This talks about a "6 month old white Bengal tiger" - "Baby White Tiger Is King Of Newton Falls private zoo that Witchie opened two years ago". The article quoted James Witchie as saying that he estimated his white tiger's value at $150,000 and expected to charge a $75,000 stud fee. The article also quoted T.H. Reed, the retired director of the US National Zoo, who lived in Millford, Del. Reed said "This guy has something very valuable." and said he "has witnessed some "crazier than hell" buys". He declined to speculate on the dollar value. Of Reed, the article said "In 1961 he flew to India and returned with America's first white Bengal tiger." (It was actually 1960.) In that article, Ed Maruska the Cincinnati Zoo director said that he had "sold them [white tigers] for $50,000" and "price tags have led to incest." According to the article, the white tiger cub – Tequila II, son of Chequila - weighed 45 pounds. James Witchie, director of Newton falls Zoo, said that he wouldn't sell his "6 month old white Bengal tiger" cub for $100,000 and Louis F. Rhoades the director of the Racine Zoo in Wisc. agrees that he wouldn't sell his white tiger for $100,000 either. It says there were "no deformities." "That's because Racine Zoo director Louis F. Rhoades researched the lineage of the tigers parents and discovered no common [ancestors]" A modern DNA test would have proved them to be related.
Chart 3.1b2: Tequilla II, Shubu, Jill and Andy, Racine Zoo (chart incomplete)
In October 1988, numerous papers reported Takila/Tequila having dental treatment. He was also in the Kelly Morton Circus based near Peru, Indiana.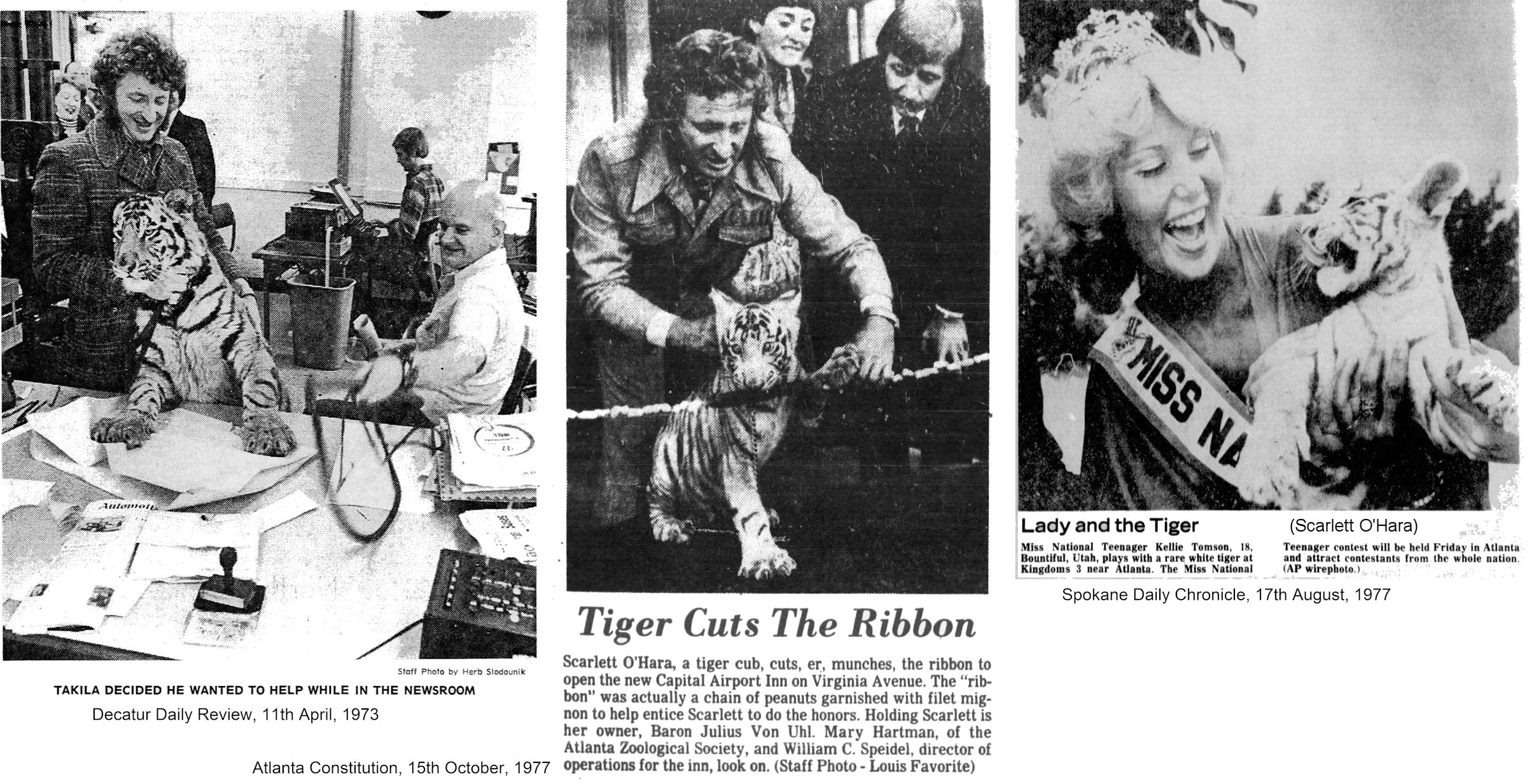 TONY - PATRIARCH OF A WHITE TIGER LINE
Raja and Sheba II, were bought by Julius Von Uhl of the Shrine Circus and produced white cubs, the most notable being Tony. Tony is an ancestor of almost all white tigers in North America and there are several conflicting accounts of his birth.
Version One- During a Snowstorm in Peru, Indiana. According to one account he was born 1972 in the Indiana Circus Winter Quarters of Cole Bros Circus. Another account claims Tony (white) and Chequila (orange) were born on the Paul Kelly Farm outside of Peru, Indiana, supposedly in a transport cage on the back of a flatbed truck during a snow storm.
Version Two - At the Paul Kelly Farm in Peru, Indiana. Peru, Indiana is a big circus hub; the Paul Kelly farm was originally the Terrell Jacobs Training Barn and Homestead and had room for 50 big cats. Dorothy Kelly liked to claim that Baron Julius Von Uhl's "first white tiger" was born there. There were no other white cubs in that litter and she didn't remember any details about the number or names of any orange littermates.
Version Three (reported in the press) - Elkhart, Indiana. In "The Circus Report," August 6, 1973, page 8 "Who's Who" it says "Baron Julius Von Uhl has a white tiger cub, which was born in Elkhart, Indiana. It is the seventh known to be in the country." (The previous white tigers in the USA were (barring infant mortalities) 1 - Mohini, 2 - Rajkumar, 3 - Rewati, 4 - Princess, 5 - Moni, 6 – Bagheera, 7 – Tony.) Since Tony is first mentioned in the August 6, 1973 issue, and was 5 weeks old in the report, he had to have been born before August 6, 1973. It appears he was born in the George Matthews Great London Circus (judging by circus travel dates) because Von Uhl was with that circus in June of 1973. According to The Circus Report, 16th July, 1973, von Uhl joined the George Matthews Great London Circus earlier in July month, just in time for Tony's birth (about 12 days from publication date). The photos contradict the story that Tony was born at Dorothy Kelly's barn at Peru, Indiana or in a snowstorm!
"A New Tiger On The Force," (Cicero Life, Illinois, 29th August, 1973, p 21) referred to Tony as "Lawman" and implies he was born in a suburb of Chicago. According to the article, "Promotional Stripes: During the stay of the circus sponsored by the Combined Counties Police Association (CCPA) in July, a white tiger was born. John Marone, former Cicero Chapter president negotiated with the circus owners to name the cub in honor of the CCPA. The rare little tiger was christened 'Lawman'." This report suggests Tony was born in Prospect, a suburb of Chicago, Illinois between July 24-26, because that's when the circus was there.
One of the earliest mentions of Tony (the name Lawman evidently didn't stick) is in The Dispatch, Moline, Illinois, of 9th November 1973 (p11) which refers to "Baron Von Uhl of Budapest with his lions and tigers including a white Siberian tiger cub . . . in addition at 4 p.m. today, Tony the Tiger and an orangutan are to visit the Rock Island Bank & Trust Co."."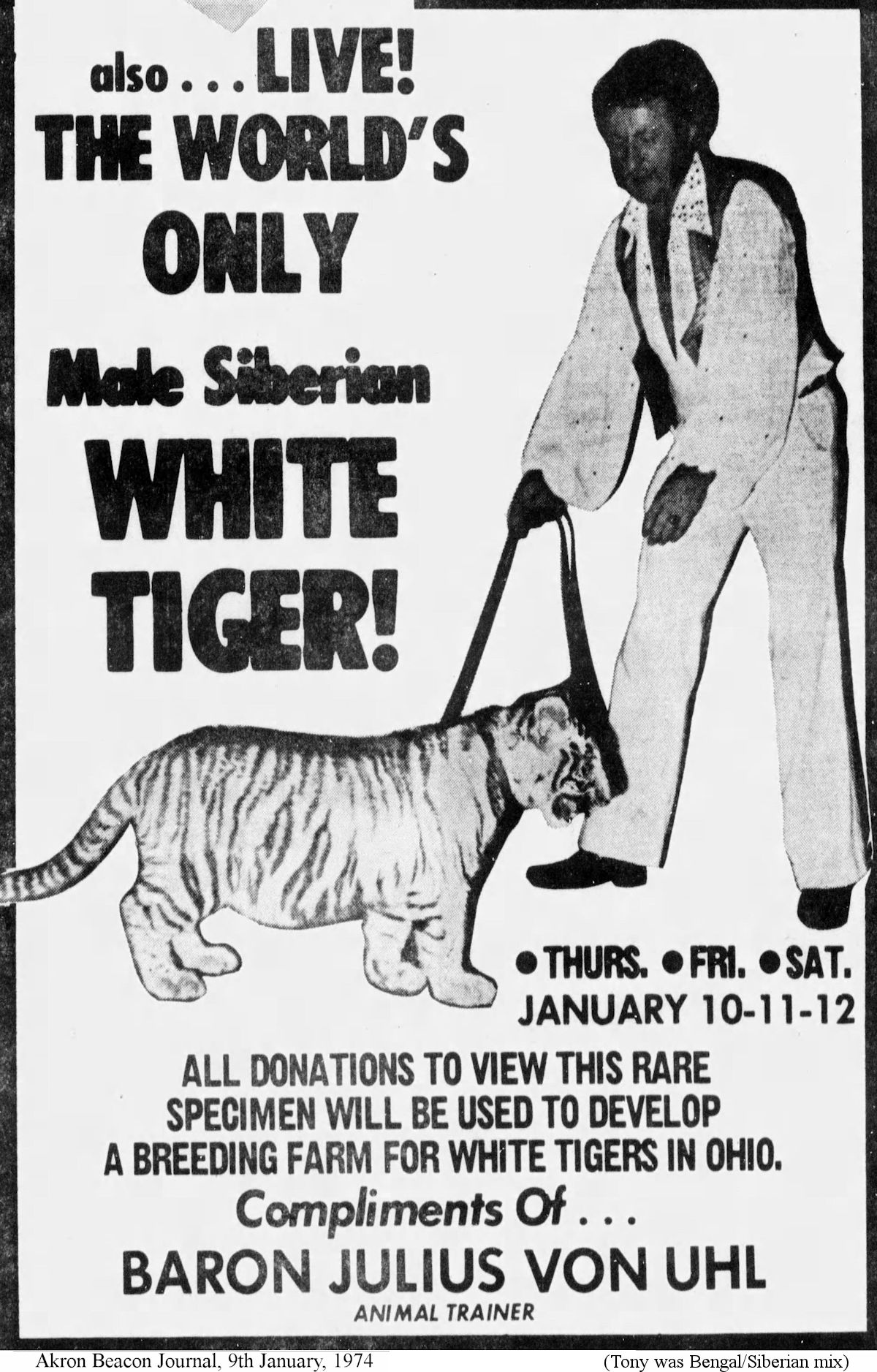 According to an article in The Sports Illustrated, July 20th, 1986, Tony was 15 years old in 1985 which would mean he was born in 1970, but this conflicts with all other accounts.
Von Uhl's location when he had Tony was Country Rd. 6 in Wayne Twp., Ohio. Tony was later sold to the Hawthorn Circus. His heterozygous orange brother, Takila/Chequila, born the previous year, would have been based in Lebanon, Ohio when he wasn't on breeding loan to the Racine Zoo. James Witchie of Ohio, bred white tigers from Takila/Chequila (sometimes mis-reported as Tequila or Chiquita). Tony's orange siblings, being bred from two heterozygotes had a two thirds chance of being heterozygotes. Akron Beacon Journal, 9th January 1974 says "World's Only [?Siberian] White Tiger. All donations to view this rare specimen will be used to develop Breeding Farm for white tigers in Ohio. Compliments of Baron Julius Von Uhl."
In a report in the Boston Globe, 6th February 1975, von Uhl was complaining about the cost of feeding his animals, which included six tigers (Radja, Sheba II, Tony, and three others).
In 1978 it was reported that white tiger Tony had grabbed Ronald Kilroy, the stage manager, through the bars and severely mauled his legs. This may have been the incident where Tony was blinded in one eye. Tony later mauled another person and was retired from circus performance.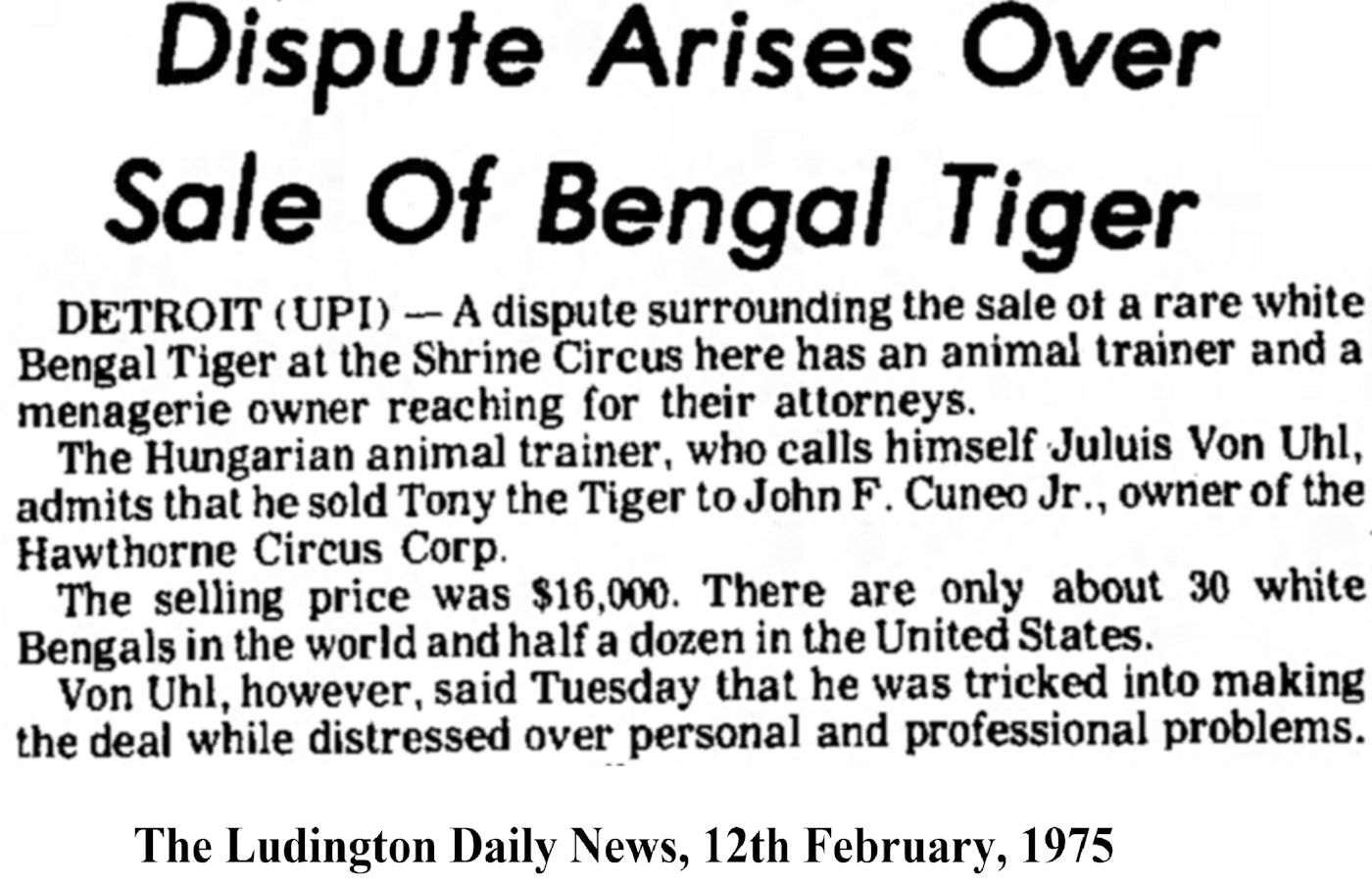 John F. Cuneo bought Tony for only $20,000, but Hungarian expatriot Baron Julius Von Uhl tried to renege on the sale, threatening to shoot anyone who tried to take Tony (1975 Detroit News article.) The dispute was settled in expensive court action. First Von Uhl agreed to sell Tony for $16,000. Then when they went to court Cuneo offered to pay an extra $4000. Von Uhl was "threatening to shoot someone" if they tried to take Tony from him. He said that Tony was the only thing of value in his life, that he had an artistic temperament had financial problems and was suffering from depression, and was begging Cuneo to cancel the sale. Von Uhl had already accepted a $100 down payment. Cuneo still owed him $15,900. He sweetened the pot with the extra $4000. The judge said he was glad the matter was settled because he had nowhere to keep the tiger! The Cincinnati Zoo offered the Bristol Zoo $40,000 for a white tiger in 1971, so Tony was probably worth double what Cuneo had paid.
It looks as though in each of Von Uhl's litters there was a single survivor. It was Takila/Chequila in 1972, Tony in 1973, Obie in 1975, Maharani in 1976, and Scarlett O'Hara in 1977. Von Uhl was ahead of his time trying to start a white tiger farm before Josip Marcan or Betty Young started theirs. The Cincinnati Zoo was selling white tiger cubs for $60,000 each, so a white tiger farm would have netted him a small fortune. There was concern that Tony was too young to breed in 1976. Many of Tony's white siblings born years later at the Henry Doorly Zoo (HDZ) were apparently sterile.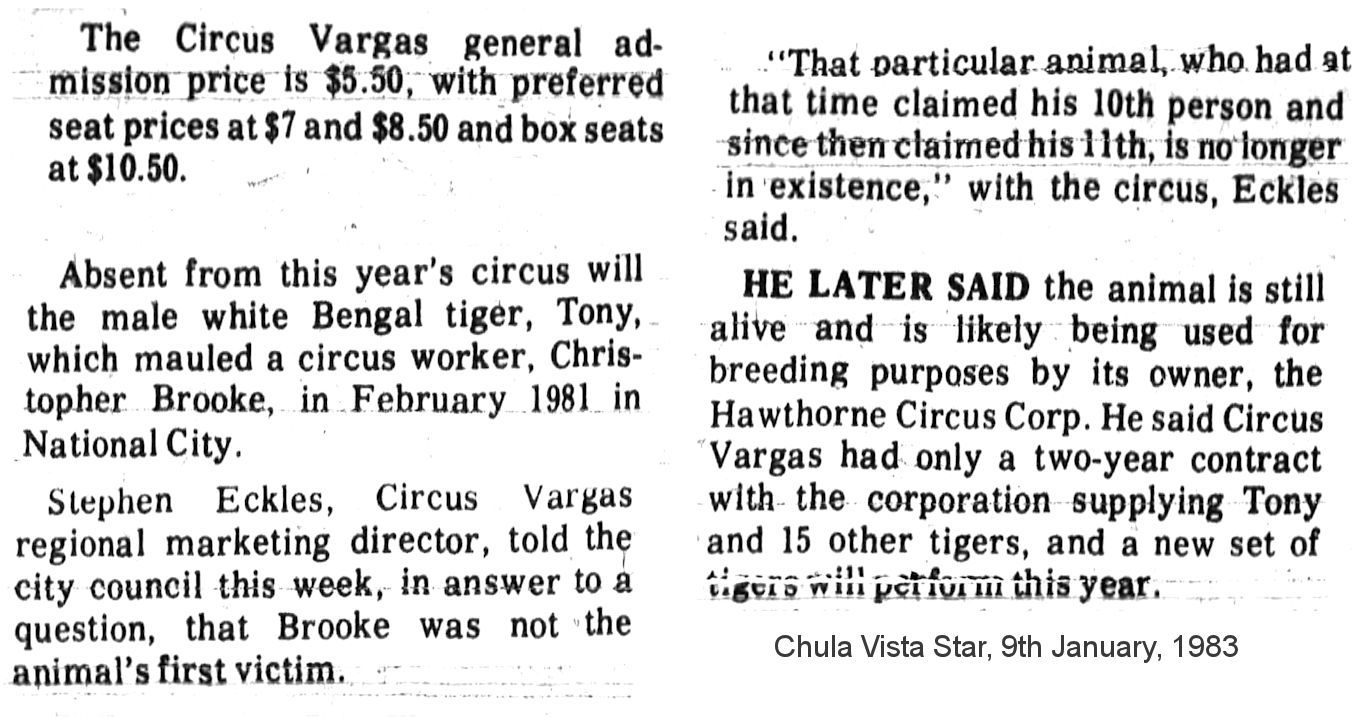 MAHARANEE/MAHARANI
A K Roychoudhury mis-identified the white female cub born at Baltimore County Fair in 1976 as Maharani. That 1976 litter comprised 2 white cubs and one orange cub. His mistake is perpetuated in many histories of white tigers. After a lengthy trawl through press reports, we can piece together the real story of Maharani.
Both of the white tigers born at the Baltimore County Fair (female "Snowball" and male "Baltimore County Fair") were dead by August 18, 1976 and neither was sold to the Ringling Circus. On August 18, 1976 Von Uhl still had the orange male tiger cub. In the Honolulu Advertiser (Hawaii), of 18th August, 1976(p 62) there is the article "Baron Von Uhl The Number One Cat." According to this, he has a six week old male orange tiger cub which came from a litter in which the other two were white, "but deformed and I put them to sleep." (He also mentions selling its older brother also a white tiger for $20,000 i.e. Tony.) So Maharani did not come from the 1976 litter.
Maharani gets a mention in the Courier-Journal, Louisville, Kentucky of 24th September, 1978 (p 135) "Royal Bengal Revue. A fast moving illusion show...the mystic of the east brought to you by Baron Julius Von Uhl. ….Baby white tiger [Maharani] the jewel of the Maharaja." (Von Uhl had sent four tigers to the Omaha Zoo around August 15, but in the September 24 article is shown with an adult orange tiger and a lion.)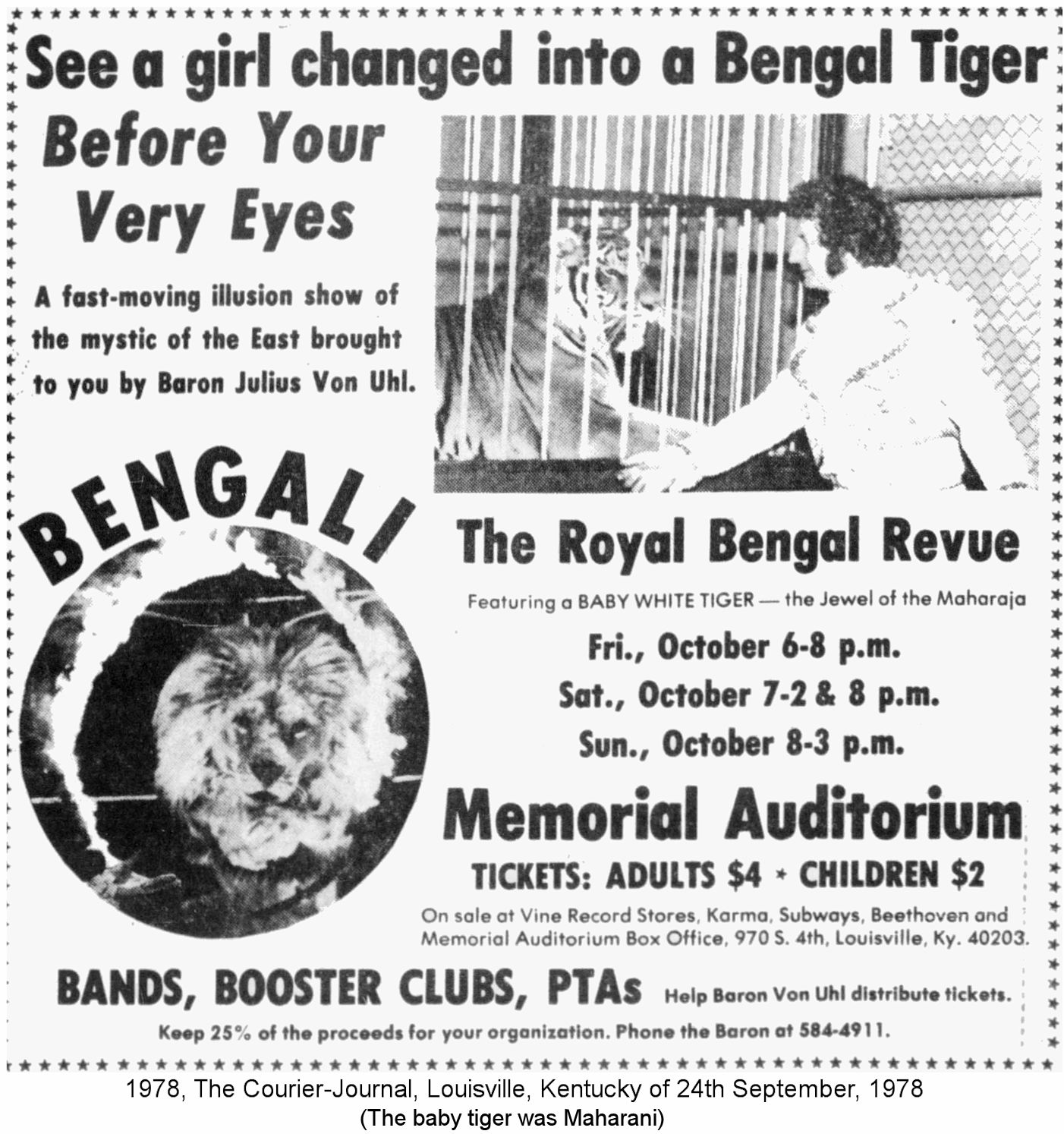 Maharani (Maharanee in Ringling press releases) was 6 months old on January 7, 1979. She came from a litter of three which included an orange male and an orange female. Kenneth Feld bought all three. Irvin Feld, tiger trainer and part-owner of Ringling Brothers Circus, had wanted all white tigers in show business under his "flag ship". Feld owned Siegfried & Roy and Gunther Gebel Williams. The Tampa Bay Times, Sun, Jan 7th, 1979 article "Color Baby Brown White Rare" said there were 18-20 white tigers on earth descended from two strains. It said "Maharani's brother and sister [are] burnished gold [. . .] Feld bought the three cubs in October for a princely sum he refused to divulge from a man who tries to breed white tigers from one that lives in Omaha Zoo." (There was no white tiger in the Omaha Zoo in 1978 and no heterozygotes there until 1980.) "Maharani was 6 months old." "She's actually the granddaughter of a Ringling tiger that was donated to Sioux Falls Zoo in the 1950s." Feld said. It said that Feld believed Maharani was bred from the Omaha tiger (that didn't exist) and one in a Washington DC zoo presented to President Eisenhower by an Indian Maharaja (this was Mohini – possibly he assumed all white tigers traced to Mohini).
Feld claimed to have bought the cubs from a man who was trying to breed white tigers with one that lives at Omaha Zoo. Perhaps it would have been more accurate to say the man intended - in the future - to breed his tigers to the one at Omaha Zoo. By 1978, there may already have been a plan to breed white tiger Ranjit (born 1974) with Obie (born 1975) in Omaha. This may have led Feld to believe the mating had already happened. Lee Simmons, at Omaha Zoo, knew about Raja and Sheba II because they had gone to the Omaha Zoo for medical treatment, and their owner had said they had previously produced white cubs. It seems quite likely they wanted to cross Mohini's line and Tony's line, the same as Maruska had done at Cincinnati Zoo with Tony and Kesari.
The Circus Report of 22nd January, 1979 says "Ringling Red is off and running [. . .] Gunther Gebel-Williams [. . .] featured in the finale is a young white tiger, riding a black-blanketed, black horse that observerssay is stunning." Other reports tell us that Gebel-Williams made a "spectacular entrance in the finale with Maharanee, a white tiger held on a leash aboard his favourite elephant." The San Bernardino Sun, 10th June 1979, said that the 109th edition of Ringling Bros and Barnum & bailey Circus would be in California from July 17th through to August 19th and "A top attraction is the first-time-ever rare white tiger, trained and exhibited by the incomparable Gunther Gebel-Williams."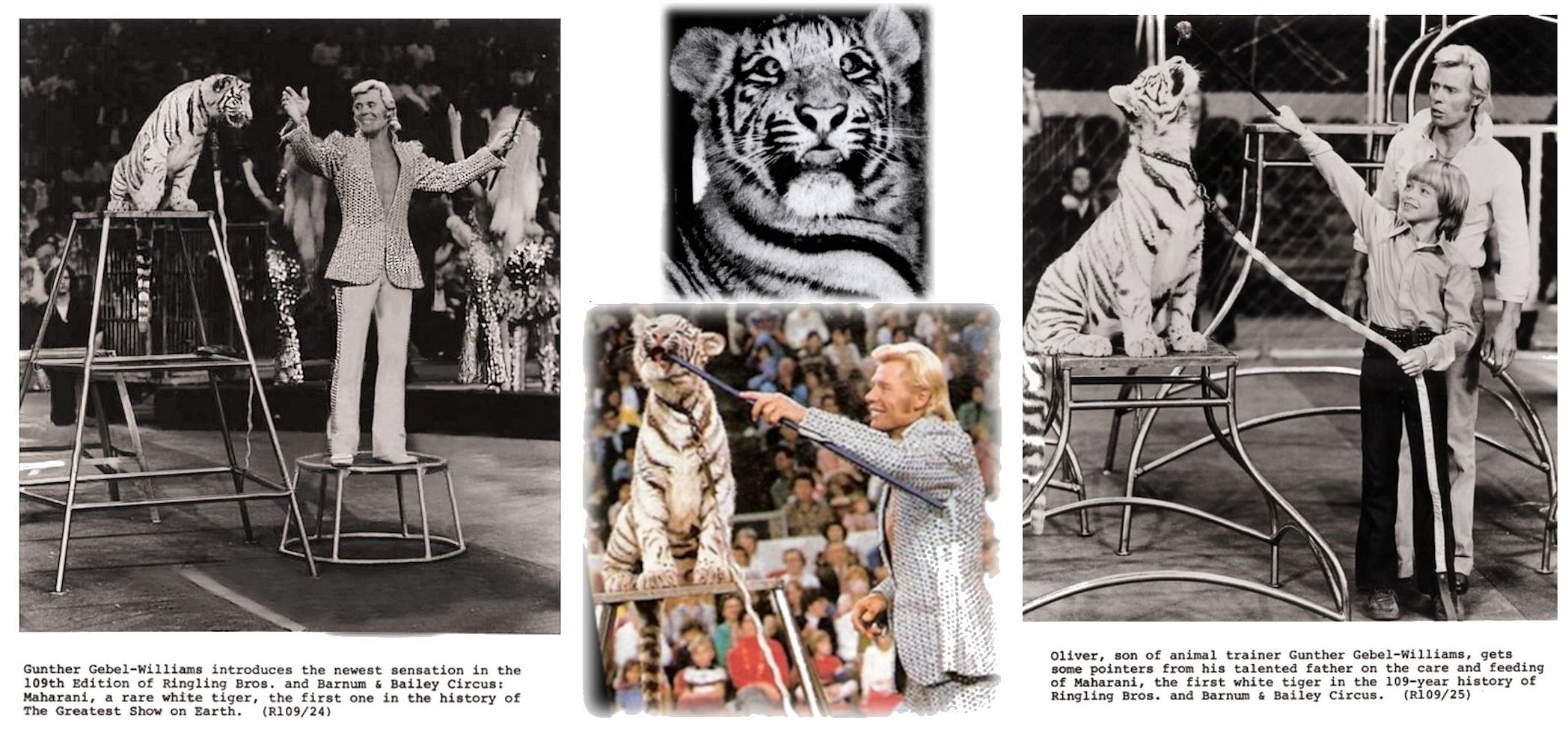 There was nothing about any white tigers being born at Kingdoms-3, Stockbridge, Georgia or anywhere else in 1978 or 1979, but by this time The Circus Report seems to have grown tired of reporting white tiger births and von Uhl was keeping quiet (possibly his animals were not in good shape). Roychoudhury provides us with Maharani's parentage - Raja and Sheba - and the year she died - 1984. Because he did not know about white tiger breeding at Stockbridge, Georgia, he matched her to the only litter of 3 that he knew about (1976) not knowing that the white cubs had been put to sleep almost at once. The newspaper reports tell us that Maharani was part of a litter of 3 that were 6 months old in January 1979, so they were born in summer 1978. At the time, Raja and Sheba were at Stockbridge, Georgia (this was 6 months before its closure). There is a gap in the breeding records between a litter born in Georgia in 1977 and one born at the Henry Doorly Zoo in Omaha in 1980. Raja and Sheba produced at least one litter per year.
Omaha Zoo newspaper articles confirm that Maharani came from Von Uhl. The Omaha Zoo had two tigers from the Rewa strain and four from the Sioux Falls strain (Radja, Sheba II, Obie, and probably Muhammad Ali) and became a melting pot. Other newspaper articles confirm that Von Uhl was living in Jacksonville, Florida at the time. He acquired lions and tigers again after Fort Bengali and had his own circus. It's likely he was able to have Radja and Sheba' orange cubs born at Omaha Zoo as the zoo would have had little use for them. Radja and Sheba had one, possibly two, litters at Stockbridge in 1978, and then no more cubs until May 1980. There is more detailed information on the Fort Bengali tigers at White Tigers in Captivity Today
Von Uhl had said that he "wanted to settle down and raise white tigers." He had a farm in McDonough (a suburb of Atlanta, Georgia, close to Kingdoms-3). When Kingdoms-3 closed he took his tigers to St. Augustine, Florida where the old jail became his private zoo called Fort Bengali. In May 1979, officers of the Florida Game and Fresh Water Fish Commission raided Fort Bengali and seized the animals. Fifty-five animals had not been given food or water for 10 days, and some of the tigers and lion could not even stand up. Von Uhl was charged and by 1980, Raja, Sheba II, and Obie were at the Henry Doorly Zoo.
During 1980, The The Oklahoman mentioned Maharanee. She was the first white tiger to have a contract with Ringling Bros and Barnum & Bailey Circus, and would be trained and presented by Gunther Gebel-Williams. There were a number of press photos issued in 1979 and 1980 showing the young Maharani "a rare white tiger, the first one in the history of The Greatest Show on Earth." There were also souvenir soft toys and other white tiger themed items for sale when Maharani arrived. Some ofthe photos featured Gebel-Williams's son, Mark Oliver, who later went into the circus tiger business.
In the Washington Post, 27th March, 1980, "Ring Around the Circus" – "At yesterday morning's opening performance, the bad news was the absence of Maharanee, the white tiger. But it was hard to argue with the explanation offered by circus officials: Due to a mix-up in meat shipments, Maharanee had not been fed for three days. Gunther Gebel-Williams apparently chose not to be remembered as yet another mix-up in meat shipments."
FOOTNOTE
Most white tiger websites have a pro- or anti-agenda and variously claim to give "facts," "truths" or debunk "myths" but give misinformation or have hidden agendas. I stick to facts and deductions based on facts. Some information is documented, some is from personal correspondence with zoos, and some is from the recollections or personal notes of people involved with circus or zoo tigers where records were have been lost or destroyed. Even the different editions of tiger studbooks are inconsistent. Information from my pages, which are frequently updated, is widely copied on those other sites. Some sites have tried to claim I copied their work.