CATS AND THE CAT FANCY IN AMERICA 1880S TO 1903 (1)

The following is from the 1903 publication "The Book of the Cat" edited by Frances Simpson, with the addition of newspaper cuttings from USA newspapers. Fans of the Maine Coon breed will find it described in the Messybeast Retrospective on long-haired breeds (see

Cats and Cat Care Retrospective).
Although cats (mostly Maine Cats) had been shown at agricultural shows, cat fancying as a hobby was imported from Britain. Persian cats were imported into America from Britain, although many failed to survive the transatlantic voyage or arrived in poor shape and never fully recovered. A major difference in America was distance which meant the big cat shows were 3, or even 4, days long compared to comparable British shows which were 2 days (because of travel time). This meant that American shows were regional, rather than national, and Simpson and contributors to her work discuss the American cat fancies on a region-by-region basis. Simpson saw cat fancying as spreading westwards from America's east coast; this had good transatlantic shipping links and there was a thriving trade in exporting good quality cats from England (then the world capital of the cat breeding hobby) to New York to improve the American bloodlines. The trade was evidently one way with American-bred cats seen as vastly inferior to those bred in Britain - not until comparatively recently did America's native Maine Coon reach British shores!
Cats in America (Frances Simpson)
A review of the cat fancy in America carries us over so vast an expanse of territory, that it is not easy at one fell swoop really to do it justice. The only way that seems feasible is to take the fancy by districts; and as the cat fancy - exemplified by shows - may be said to have arisen in the east, this district should, I think, have the pride of place, though it has for a time to give way to the reign of the cat further towards the setting of the sun.
DISTRICT NO 1
On referring to Mrs [R F] Pierce's notes, it will be seen that Maine had its cat shows long before we had - some of us - come to America. The cat fancy - as it is now - in America may have been said to have sprung into a steady existence with the first show being held in the Madison Square Garden, New York, on May 8th, 1895. This show was organised by Mr James T Hyde, and Englishman, who has been closely identified with the horse shows at the Garden for many years, and the idea of holding a cat show came to him suddenly, from having attended the Crystal Palace show.
The first cat show in New York was a great success from the time the doors opened till its close, though the temperature - which was for part of the time as high as 96 degrees [Fahrenheit] - was hard upon the cats, especially those that had just come from England. When we returned home the morning after the show there was a frost! Part of the judging was done - and well done - by the late Dr Huiderkoper, who had picked up a good deal of his cat lore while a medical student at Paris and Edinburgh and in London. Miss Hurlburt and Mr T Farrer Rackham were the other judges.
In regard to this show - which marks the beginning of the cat fever in America, that spread outside of the State of Maine - I think I ought to point out what was chiefly remarkable, and the parts of the show that were destined to bear upon the future. In the first place, the prize for the best cat in the show was won by a brown tabby - a native cat, or, as some people designate them, Maine cats. This cat was in every way a good one; but he was a gelding, and of course in May, much ahead of the breeding cats as to plumage; but still, there was little dissatisfaction at the awards. Of English cats there were not more than about eight, and several died soon after; and of all those shown at this our first show the only ones that have really made any mark or real impression upon the cat fancy in America may be mentioned "King Humbert," "Topaz," "Minnie," and "The Banshee." The first named were all brown or grey tabbies, the last a white. Cats bred from these are still winning, and their descendants keep their names green in the annals of present-day stud books.
White cats had always been popular in America, and the first show produced specimens as good as, or even better than I have ever seen in this city; up to now, in fact, we have never had anything to beat "Ajax," who made his first and last bow to the public here.
No other shows occurred for some time till the autumn, when an exhibition was held at Newburgh, sixty miles up the Hudson River, to be repeated the next year, with the New York show of 1896 in between. All this latter great improvement had been made in colours and varieties; and in fact, all concerned had made considerable advance in the meantime as to knowledge of different varieties of cats.
At the second show in New York a club was formed, intended to be the National, but it died, and affairs were in a comatose condition as regards shows in New York until the consent of Mr Crawford, the manager of the poultry show, was obtained for the holding of a cat show in January, 1902, in the concert hall which opens out of the main hall at Madison Square. This show, though a small one, was well attended, and though the entries only numbered about 110, the quality of many of the cats was very much ahead of the five years before, and the classes of silvers were good enough for any country. The impetus gained by this show and the results obtained were not over-estimated by those who promoted the show, and the bringing together of many staunch breeders who had sprung up in the meantime made it possible to organise the Atlantic Cat Club, which has gathered such headway in the year of its existence that it is becoming one of the most powerful factors in the American cat fancy. The show held at Madison Square in 1903, with the fine collection of challenge cups and the many other valuable specials, speaks to the gathering interest and the strength of the fancy in the district, and the club is being every day still further strengthened; and, if the treasury balance is any indication, the future of the Atlantic Cat Club will be very marked, especially as many people of wealth and influence are being enrolled upon the books and are becoming most enthusiastic upholders of the cat in New York.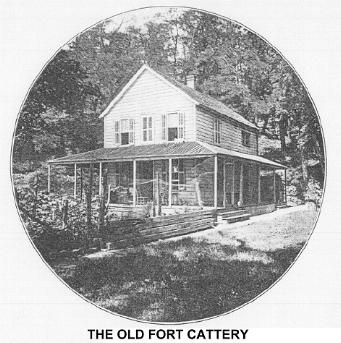 In discussing the eastern affairs, we must not leave out Boston shows, which have been a steady factor for some years, and gave opportunities to the more northern cats to meet and compete together. These shows have been kept alive by Mr T Farrer Rackha, to a great extent, and from the opening of the cat fancy up to now he has been a steady promoter of the interests of the cat, and has steadily worked to keep up the interest.
In thinking of the breeders of the eastern portion of this continent we have to range over a good deal of territory, and even the State of New York alone takes us quite out west, and from Mrs Conlisk (who lives at Gowanda, and who owns "Bitterne Silver Chieftain" and a daughter of "Whychwood," besides "Silver Belle," who came from England lately) our thoughts drift down to Pittsburg to Mrs L T Hodges, who is making a speciality of smokes and silvers, and has commenced well by winning in kittens at Cleveland with "Wahanita," "Southampton," and "The Dusky Pilgrim" - a capital smoke, since sold for £50. Mrs Mix, although in New York State, lives 180 miles to the westward of New York City; but, still, the effect the cats that she has imported from England have had upon the young stock and the future of our cats in certain lines has been very marked. As a sire of good ones no cat has exceeded "King of the Silvers," and his children have been picked on several occasions for best in show and the influence that these may have in the future cannot yet be fully estimated. The winnings of this cattery have been many, but as the home of good breeding stock and as the practical founder of a strain for the future this cattery is destined to rank very high in our annals. At the Old Fort cattery reside "King of the Silvers," "Jack Frost," "Tortie Diana Fawe," "Lady Lollypop," and many other good ones, and from this cattery to many parts of the country have gone cats that for type and quality have not been excelled.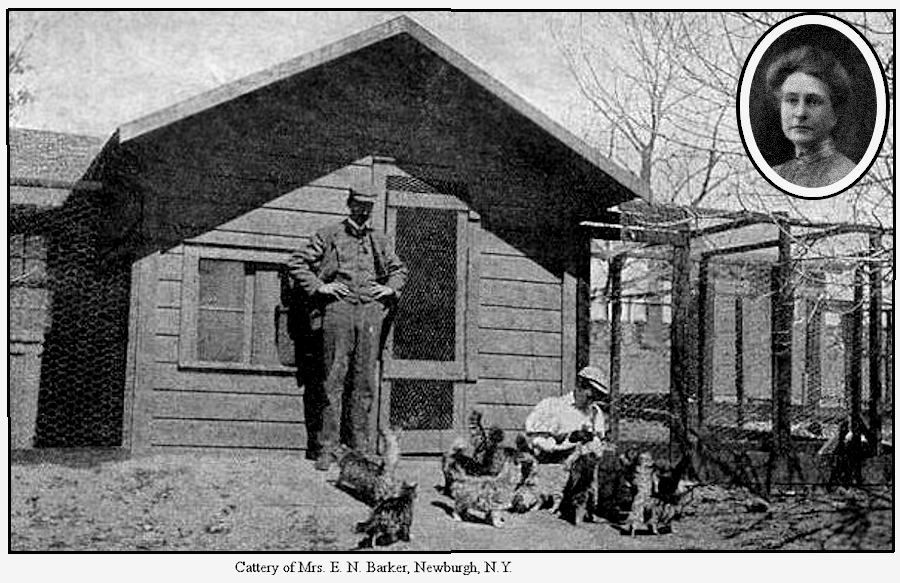 Not far from here - at Saratoga - is the summer residence of Dr Ottolengui's cats, under the care of Mrs Hall, and these at the present time are doing a great deal of winning, not so much by cats purchased as by home bred ones. For instance, I may mention "Lord Lossie," who has some of the cream of the English blood in his veins; and lately has come to this cattery "Sir Robert," the black, a winner at the Crystal Palace, and who repeated his triumphs at other shows here. "Dollie Dutton," a black daughter of "Persimmon," is largely aiding this cattery as a mother and a show cat. Dr Ottolengui's advent into the fancy in January, 1902, as secretary of the Atlantic Club gave an impetus to things in general that only future times can show the full effect. The cat fraternity needed an organiser and a worker to bring it together, and he was found just at the right time.
Miss Lincoln, of Worcester, Massachusetts, has done a little work for the good of the majority; but has not had the best of luck with her cats so far, and Mrs A G Brown, or Melrose, Massachusetts, is a steady breeder of whites and other colours, and she has in her cattery "His Majesty," the white that has won many prizes and is the sire of winners.
Mrs Neel, at Urbana, New York, established a cattery, and has been a very hard worker in the cause, doing good from her experience in a medical way, by writing for the papers, by upholding the shows - often a good distance from home - and by the general support she has afforded to all who made use of the help she was willing to give.
Whilst in this direction I must not forget Mr C H Jones, who commenced as a breeder and exhibitor, though his business kept him away from home a great deal; yet the fever grew on him until he started a newspaper called The Cat Journal, which, no doubt, is one of the principal factors in keeping up the interest in the cat in general. Though on account of Mr Jones's other business engagements it is not possible for him to report shows, he brings out this paper monthly at great personal cost to himself and with little chance of profit on anything like a fitting scale at present; so that we may say that, considering the work of the paper is done after business hours and is largely supported by his own purse, we cannot help but think that it is most probable the cat family never found a more enthusiastic and disinterested [i.e. impartial] devotee in the whole course of its history. Mr Jones gave up his exhibition cats, and yet for sheer love of the race and from motives of pure humanity he still continues to move heaven and earth for their support, and must always be reckoned one of the foremost exponents of the cat in America, and one of the staunchest friends the cat ever had.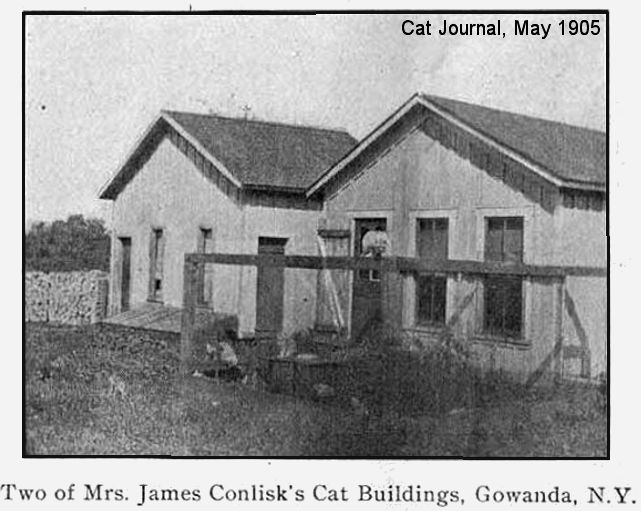 Among fanciers in the vicinity of New York must be enumerated Miss A L Pollard, who has imported and bred a few good cats, and has made a name for herself with "Omar," by "St Anthony." Miss Pollard's place is situated at Elizabeth, new Jersey, about fifteen miles from New York, and so is practically in the metropolitan district. "Purity," the white which was so successful in England, and the tortoiseshell "Woodbine," are factors in this cattery, which is quite a large one, and very well arranged. The crops of kittens have been most successfully reared and distributed, in fact with more success than many of our fanciers have been able to show. Mrs W S Hofstra, the president of the Atlantic Cat Club, lives on Long Island, the other side of New York, and devotes herself to her Siamese and Persians, and has had a very decided influence in the development of the club over which she so ably presides.
The Lindenhurst Cattery at Ridgefield, new Jersey, is also becoming prominent, and in Brooklyn the Misses Ward have done very good work and have reared some fine cats and kittens. The keynote of this establishment has been "Robin," and orange tabby son of "Persimmon," who seems to breed back to his sire, and begets a good many brown tabbies as well as oranges. We must no leave New York State without remembering Mrs F L Norton, of Cazenovia, who has built one of the most beautiful catteries in America, and has spared no expense or trouble to stock it with good cats; and here reside "Sussex Timkins," "Sweetheart," and many others known to fame.
Mrs Champion, now settled at Hart Park, New Brighton, Staten island, new York, with her two daughters, is doing a great deal for the cats of America, and the two Misses Champion will probably have to do for some time a good deal of the judging for us. Mrs Champion's cats did well at the first New York show at which they made their appearance, and "Lord Argent," "Silver Flash," "Argent Puffy," "Moonbeam II," and "Lord Silvester" are becoming household words. "Argent Moonbeam II" was best in the show of January, 1903.
Mrs Gotwalts, of Pottstown, Pennsylvania, must not be omitted from the eastern contingent, for she has the nucleus of a good cattery, and owns a sone of "Blue Boy II" called "Amesh," and she has some "Persimmon" blood in the cattery, and also some of the smoke blood of the "Backwell" strain obtained from Mrs Harold James. Mrs Gotwalts keeps fine cats, and is very fond of breeding her own, in which she takes much pride. Mrs Brown, of Millerton, New York, has bred and kept cats for some time, but does not favour the shows much.
Washington has come to the fore of late, but has not within her borders many regular breeders outside of Mrs hazen Bond, who exhibited with a good deal of success during the season of 1901-1902, and Miss Eleanor Burritt, who most successfully brought to a termination a good show in Washington in December, 1902; and this will, no doubt, be followed by others in years to come.
Our travels in search of cats do not take us very far south, for in these regions the fleas alone make the rearing of cats in anything like numbers an impossibility. Mrs B M Gladding most pluckily tried it at Memphis, Tennessee, but has been obliged to give it up, though she was one of our most promising cat lovers.
The Connecticut cats bid fair to be quite a factor in the American race for prominence in catty matters, and within the borders of Connecticut we have to record a few breeders. In 1903 we have a show at Stamford, Connecticut, which is an important place, and where the show now begun might assume quite extensive proportions; for at Stamford are many large country houses, and it is a centre that can well afford to have the best of everything. Connecticut has within her borders the possibilities of future greatness, and is at present emerging from comparative obscurity, though always having had some good fanciers. Miss Lucy Nicholls was, for a time, perhaps one of the best known, but she died in the spring of 1902. Dr Frank Abbott is stirring up the fanciers of Connecticut, and a little while from now there would probably be a good deal more to say about this region, which holds such breeders as Mrs Copperberg, Miss Anna Marks, Mrs Ida Palmer, and others.
I leave the Maine and the northern division to Mrs Pierce, who was born there, and has known this region and its history for many years, and who can cover it so much better.
Mrs M B Thurston was very much missed as an exhibitor, as for a time she was very successful, but more with cats she bought than with cats she bred. Mrs K L Gage, of Brewster', new York, is not now so prominent as of yore, but still for a time was energetic in disseminating good cats, and was the owner of the silver tabby "Whychwood," who bids fair to leave a name behind him.
The New York show of 1903 revealed to us that we are making steady progress in long-haired silvers, and the probability is that at the present time, if we could make up a team of four or five of our best and take them to England, we should give a good account of ourselves. At this show the blacks, thanks to recent importation, were much better than heretofore; and Miss Hurlburt's "Eddie Fawe," Dr Ottolengui's "Sir Robert" - a previous winner at the Palace - and Miss Lincoln's "Jack Fawe" made a trio that we may be proud of. The blues were a decided improvement on last year, and so were the whites; and Miss Pollard had "Purity" and the blue-eyed "Fairy" put down in splendid shape, and won well. Orange cats are always pretty popular in America, and are, owing to Miss Ward and Mrs Copperberg, coming well up to the front.
In the silvers Mrs Champion's "Argent Moonbeam II" carried all before him in males, and Mrs Conlisk took first in queens [females] with "Silver Belle" - big one and a good one. The "Blessed Damozel" is perhaps our best queen, and there is nothing to beat her in the female division; but she was not put down for competition, as her owner does not approve of a four days' show. Mrs Mallorie had a big strong silver - "Silver Glen" second to "Argent Moonbeam II." The silver tabbies are coming along well, and so are the smokes, and one - "The Dusky Pilgrim," a son of "The Passionate Pilgrim," who has been altered - was sold for £50. "The Passionate Pilgrim," a very light and massively built cat, promises to be a great loss to breeders, as he is an almost complete outcross, but he has left several good kittens. Mrs Mix, who was judging, brought out some beautiful silvers, and her home-bred "Jack Frost" was a notable cat.
"Arlington Hercules," the brown tabby, made his first appearance in New York, and was very much admired. Prices ran high for good cats, especially smokes and silvers, as these are new to Americans. The blue colour they are more familiar with from the long acquaintance with the short-haired blues of Maltese; but there is no denying the fact that the blues are always dangerous when it comes to judging for specials, for in their all-round quality they show the care that has been bestowed upon them in England.
Old "Tortie Diana Fawe" is still our best tortoiseshell without much apparent chance of being deposed. Mr H T Draper - a old Londoner, who exhibited short-hairs steadily since 1895 - is still with us, and taking prizes as before; he has been a very steady supporter of the short-hairs for years.
DISTRICT NO 2
District no 2, that we shall consider next, is the city and region of Chicago, which is not places second as a matter of importance, but simply comes in chronological order. The first show to be held there was three years after the first in New York, and was promoted and managed by Mrs Leland Norton; and this was such a decided success that a club was formed, called the Chicago Cat Club, which held together for some years, but was in the end dwarfed by its rival the Beresford Cat Club. This came into being in 1899, and grew to such dimensions that the club soon numbered over 300 members, and reached in January 1902, to the highest place by far of any American cat club, having at the show in Chicago over 250 cats, which was at least 100 in excess of any show ever held up to that time in America.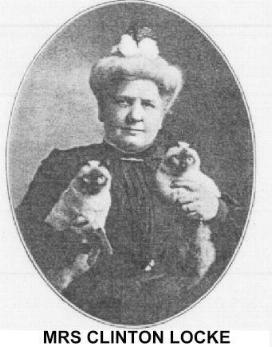 Not the least important work done by this club was the inauguration of a stud book which has now three volumes, and contains a record of nearly all of the cats that have been factors in the development of the fancy in America. No doubt a greater part of the success of the Beresford Club has been brought about by the energy and management of Mrs Clinton Locke, aided by the corresponding secretary (Miss L C Johnstone), and it is impossible to compute the work they have done. The mass of information collected in the stud books will always be the basis for the future, and on this may be built the stud book in use by the whole of America.
The vicinity of Chicago has been the centre of the cat fancy in America, and in this city and its vicinity there have been more steady breeders and more people who have selected, bred, and reared the best cats they could obtain, so that, of course, the shows have been the biggest and best ever held in America. The one striking feature of the Chicago shows has always been the white long-haired cats. Of late another club has started, called the Orange and Cream Club, which may be said to have had Chicago for its birth-place, and this club flourishes and prospers.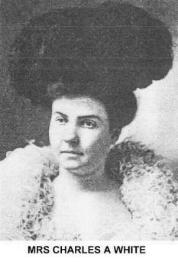 We can best gauge the Chicago division by looking over the breeders and taking a glance at the shows, and as I was judge there at the show of 1901 and also in 1902 I have had the opportunity to make acquaintance with many of the owners and many of the cats. If we turn back to the Beresford Cat Club stud book we find among the officers of the year many o our best known breeders, and I commence with Mrs Clinton Locke, the president. It must not be imagined that this was her first attempt at cat breeding, for she had been a breeder of long-haired cats for years, and I must say I had heard of Mrs Locke many years before I ever had the pleasure of meeting her, and her cats were well known before the advent of cat shows. Mrs Locke has made a name with several colours and breeds, and has imported and bred Persians, Siamese, Russians, etc, and the last two shows displayed the fact that se held a strong hand in most of these. "Melrose Lassie" - a blue sent over in 1900 from England by Miss Frances Simpson, and who developed into a beautiful quality cat with lovely orange eyes - was the best at the Chicago show in 1901. This cat the next year was not shown for competition, and the premier honours went to her kennel mate "Lupin," and these two when mated together have produced several winners. "Lupin" was bred by Miss Beal, and is by "Ronaldkirk Midshipmite" ex "Daisy Belle," by "Ronaldkirk Toga." "Lupin" was selected at Ronaldkirk by myself when a promising kitten of six months, and to say that he fulfilled his promise is sufficient, for he grew in size and stature, and retained his beautiful golden eyes. He is now owned by Mrs White.
The winning kitten of the 1901 show was from the two ("Melrose Lassie" and "Lupin"), and Dr Ottolengui's two winning queens in 1902 - "Lady Lola" and "Isis" - are bred from the same two. It is curious to watch how blood will tell, for in the winning blue male at Washington, December, 1902, had some of the same blood again in "Lord Lossie," by "Lucullus" ex "Dollie Dutton," who was by "Persimmon," "Lucullus" being a son of "Lupin" ex "Lady Claire" - late the property of Mrs Falconer Sinclair, and known in England as "Baby Flossie." Among other celebrities of Mrs Locke's cattery were "Lord Gwynne" - the white imported from England through the kind offices of Mr A A Clarke - and this cat at once made a name for himself as the sire of "True Blue," "Mars," "Prosper Le Gai," and many other good cats. "St Tudno" and "Blackbird" were two blacks that did well for Mrs Locke, and "St Tudno" sired the winning black in 1902, who very nearly annexed the prize for best in show. The "Beadle," another of Mrs Locke's blues that must not be forgotten, was a cat bred by Mrs Dean, and he did yeoman service in his time, and has left many promising young ones. Mrs Locke has been the owner of good Siamese, and from "Siam" and "Sally Ward" she bred "Calif" and "Bangkok," who carried all before them at the Chicago show of 1902, and were the best pair I have seen this side of the water, and would have given a good account of themselves anywhere.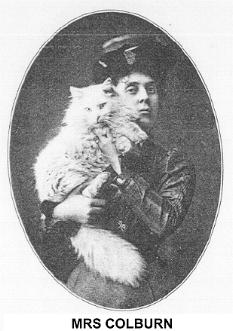 Mrs Locke's Russians - "Blue Royale" and "Schuyla" - were respectively obtained from Mr Towerton, of Wakefield, and Mrs Carew Cox, and have passed into other hands after winning many prizes. Among other Chicago ladies who have been very prominent in cat breeding for many years we must not forget Mrs Cratty, who built up a beautiful strain of whites from a pair she obtained in Switzerland twelve years ago. Mrs Cratty has now given up breeding, finding the rearing of kittens too great a tax upon her powers; but as a consistent and steady breeder, instead of simply a buyer and exhibitor of other people's efforts, she will be much missed.
Mrs Eames Colburn has at the present time probably one of the largest and most successful catteries in America. In 1901 she made a reputation with her cat "Paris," which was bred by herself, and which, besides winning in the strongest of company, has been a most successful and prolific sire of white kittens, a good many of which have taken honours on the bench. Mrs Colburn also possesses two very fine blacks - "Blackthorn," which she imported from Asia, and "Blackberry Fawe," sent to her from England by Miss Frances Simpson. Many people who have visited the cattery of late are heard to speak enthusiastically of the quality of the inmates and of the perfection of the appointments and the way the cattery is fitted up. Miss L C Johnstone, the ever busy secretary of the Beresford Club, has been a prominent exhibitor, and has taken many honours with "Blue Flash," "Persimmon Squirrel," and "Kew Laddie." "Blue Flahs" grew into a beautiful cat, taking at the Chicago show, 1902, the special for best queen in the show.
Mrs Jerome H Pratt has usually been an exhibitor with "Sir Henry Irving," a very richly marked silver tabby by "Whychwood," who was by "Charlbury Silver King." Mrs Tolman has always been an energetic officer of the Beresford Club, and is very energetic at the shows, and in cats her fancy runs to creams, of which she has brought out several winners. Mrs L Nicholson (formerly Mrs F Fisk Green) has been a prominent and good supporter of past Chicago shows.
Mrs F W Story has been known as a successful breeder of orange cats and some whites, and in having obtained possession of the fine orange "Hamish" will no doubt find herself in a few years in the position of being a prominent breeder of this colour. "Bunch," the former stud cat belonging to this cattery, did good service in his day, and is responsible for a few winners; but the absence of any details in the American catalogues of the shows makes it very difficult to arrive at a very accurate estimate of all his performance.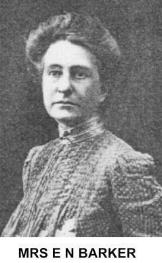 In speaking of Chicago we shall have to include Miss Hazelton, who has turned out several winners, all descended from "Sapphire," that she bought of Mrs Barker in 1896. Mrs Fred E Smith has been one of the shining lights among the Chicago breeders, and has been a consistent winner at Chicago shows; she now holds a strong hand in the white division, and was fortunate enough to pick up on the Pacific coast a fine male in "Light of Asia," who was imported from Asia. "Swampscott," another very good cat, makes his appearance every year, and usually finds himself on the prize list, and he has the most fascinating way of turning up in splendid coat at most of the shows. This cat is a pure Maine cat, if we may so cal him; but as an example of vigour and good health, year after year, he stands pre-eminent. Mrs Smith is now building up a strain of silvers of her own composing, which may be very valuable to the attenuated strains of the ordinary breeder, who is only too glad to welcome something that will be and outcross and will not spoil the silver colour.
Mrs C E S Blinn is another breeder who is always present at the shows, and whose cats usually find their way into the prize list. Mrs Blinn is a consistent breeder who does not always make herself very prominent, but she obtains the results on the quiet. Mrs Blanche Robinson has bred several of her own prize-winners, and her black "Othello," of which we spoke previously, is more that a good one. The name of Mrs McKenzie will always be associated with "Prince of Orange," whose name will designate his colour, and this cat is a hard one to beat in any orange class, for he is very rich and deep in tint.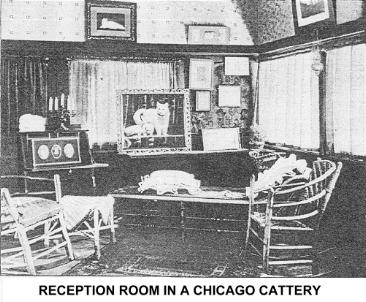 In 1902 there were two shows held in Chicago by the Beresford Cat Club, one in December, 1902, or just a month earlier than usual, really representing what would have been, in the natural course, the 1903 show. This show did not reveal to us any very great changes; there are a few new home-bred ones, but the principal wins in the highest of the specials were made by impoted cats. The advent of some nice new whites was welcomed, as usual, and "Toddles" is an addition to our list of white males, and is a nice cobby sort, bred from "Light of Asia." "Little Miss Eiger," one of Mrs Cratty's breeding and own particular strain, won in the blue-eyed white queens. "Lupin" kept on his winning career, and took the prize for the best in show once more, and this, under judges who had never seen him before, seems to endorse the estimate made of him heretofore. "Melrose Lassie," shown this year again for competition, took the first prize in blue queens. Blacks, taking the open and novice together, came out strongly, and black seems to be one of our strongest colours. "Prince of Orange" is still invincible at this show in orange males, and the orange queens are coming along nicely. Mrs Sarmiento's "John Bull," in much better form than last year, again sweeps the deck in the silver class. The silver tabbies still continue to prosper. "Arlington Hercules" went down, for the first time, at this show, largely on a question of eye colour.
Smokes in the year gone by have not made much advance in the West, and this year the cream females outnumber the males, and a descendant of "Kew Laddie" takes the eye of the public with colour, coat and points. Mrs C A White, who in the spring bought "Lupin" and "Melrose Lassie," was most successful at this show, and is probably destined to be one of our successful breeders, and with the co-operation of her husband (Dr White), who is very clever with animals, the assistance she will receive will very largely help her to the front.
Mrs White is the lady who is organising a home for deserted dogs and cats, with a hospital attached, and on a scale and with a foresight that is certainly remarkable. Considering that Dr White is the head of the Veterinary College in Chicago, the benefit that may accrue to the dogs and cats in the future from the opportunity of humane study that this will give will be incalculable. This, when put alongside of the horrible revelations that we are treated to anent vivisection, may, I hope, have the effect of swinging the balance the other way, and help to show the rash experimenters that there are people in the world who recognise the individuality of the animal creation, and that we use them for our own ends and have crowded them out of their place in Nature to a certain extent should at the same time look at the other side of the picture, and should consider the debt we owe to them during their short lives - that humanity, practised towards the dumb animals, is nothing more than their just due.
A great many of the same cats won at Chicago at this last show, "Lupin" being again best cat in show, and among the younger brigade the most remarkable was a lovely cream kitten owned by Mrs Locke, which is by "Kew Laddie." "Toodles," a white son of "Light of Asia," was the best white.
DISTRICT NO 3
District No 3, which we shall assign to the Detroit contingent, is certainly one of our most important. The Detroit fanciers are situated more in a central position - that is as regards getting to several shows a year, for Detroit is accessible to Cleveland, Rochester, Cincinnati, and Chicago, all of which are good shows; so this gives the Detroit fanciers the chance to come out at several shows besides their own in the course of the winter.
At Detroit reside several of our most enterprising and successful breeders and exhibitors; for the Detroit fancier is not content simply to stay at home and only take part in the one local show of the year, but is to be found at a good many, even so far away as New York. In the list of these we place Mrs F J Sarmiento and Mrs Dwight Cutler, who own the well-known cats "Arlington Hercules," "Bar Abdul," "Marriame," "Dingley Belle," "Champion Floriana," "Brownie Pink," etc. The history of these and their wins is written on the sands of time and will not be lost for many years, and they represent the enterprise of buying and importing the best English strains and taking care of them.
Mrs Owen. At the Owena Cattery, has been an important factor at many shows for the last two years. Mrs W M Chapman is well known to show-goers, and has won a good many honours, and rather in a way not too common here - that is, by breeding her own cats. This has been done with skill and patience; for Mrs Chapman has selected the parents with forethought and has not been one of those who has paid large sums for breeding stock. The keynote, more or less, of this strain has been a fine brown tabby obtained from Canada some years ago - viz "Prince Rupert," who goes back in his pedigree to cats owned by Mr A A Clarke, and also to some imported by Mrs Cumberland, of Port Hope, Ontario.
Mrs W J Stanton deserves mention in the Detroit list as a breeder of short-haired orange-and-tortoiseshells with and without white, and I must say I watch this lady's career with interest, for she has brought out several winners in her specialities, and is probably destined to make things interesting in the short-haired division. Mrs N C Ellis is another of the Detroit breeders likely to be heard of at show times, and Mr and Mrs Franklin have both made a name for themselves with cats of their own breeding. We must not forget Mrs Hemenway, who was the owner of "Royal Bengal," a fine brown tabby, and several good orange cats bred by herself.
Cincinnati is our next point of interest, though I have not had the opportunity of meeting so many of the Ohio breeders as I should like, but thisis destined, I feel sure, to be one of the prominent fancier sections in the future. In passing through Ohio we must never forget that Ohio has the two important shows of Cleveland and Cincinnati, and holds within her gates Mrs E R Pierce, whose tastes run to orange and creams; Mrs Chas McCloud, of Marysville, Ohio; and Mrs Wagner, of Sandusky, who brought a very fine lot of long-haired cats to Cleveland this year. Mrs Wagner is well known, and has been for some time a breeder of blacks; her silver tabby "Queenie" was the sensation of the Cleveland show in 1902, and is destined to win a great deal more in the future.
Mrs Ferris has developed a faculty for bringing out good orange and brown tabby cats. Mrs C F Russell, Mount Pleasant, Michigan, is also well known. Mr G G brown, of East Cleveland, Ohio, deserves more than a passing mention, for though not a cat breeder, he has made it his business for two years to organise and carry through two of the best shows in the country at Cleveland, which have been of material help to the fancy, and did a great deal of good. What cats are kept at the Brown homestead are short-hairs and some nice Manx, but in other lines, such as poultry and dogs, Mr Brown is hard to beat. Mrs D E Peters, of North Baltimore, Ohio, has owned quite a few good cats, including some that came from Romaldkirk, but of late she has signified her intention of selling out.
Indianapolis, though rather south-westerly, is more in this division, and contains a good many cats and some breeders, though they have not been able up to now to come to shows and meet the more northern and eastern cats. Miss N H Wilson, whose prefix is "Spokane," is well known; and so is the cattery of Mrs Ida M Shirk, who has carried on the business under the name of the Linden Cattery.
DISTRICT NO 4 - CANADIAN CATS
The two pioneers of the cat in Canada - i.e. the two who were most prominent as breeders when I went to the first Canadian shows - were Mrs Cumberland, or Port Hope, Ontario, whose prefix or affix of "Demain" bespeaks her early efforts. Even earlier than Mrs Cumberland, the cats belonging to Mr A Burland, and Englishman, attained prominence, and the blood that he brought from England - mostly from Mrs A A Clarke - is now diffused into or among many of our best-known catteries. We had a dim suspicion - in fact, more than a dim suspicion - that there was tucked away in Canada more than one good cat; and so, being in Toronto, we made and exploration, thanks to the help of Mrs Ellis and Mr Boyd.
Our first visit was to the Pioneer Cattery, where we found the ravages of gastritis has been severely felt only the week before, and, of course, some of the very best, including some we has portrayed lately, had succumbed. The most noted inmate was "Marie," a cat of good type, very sound and in good condition, with capital eyes of a good, rich orange - she should breed something good; and - we hope we can say it without offending anyone - this cat, old as she is, is the peer of any brown tabby put down in America last year, and we only hope she will live to breed one more good litter, which should be retained to perpetuate the race.
It was only a short walk to Mrs Mallock's, who is rejoicing in the possession of a very cute young black male, capital in style, with a lovely coat and colour, named "Furzo," bred by Mr Empey, of Montreal. After lunch we drove to see Miss Cox, who has the same nice white male we saw there six years ago, and he has done yeoman service in the meantime. "Cadi," a young brown tabby male, is a year old, and a credit to any cattery. Miss Cox is also the possessor of a nice white queen by "Fluff," who is responsible for some of the good kittens. We next journeyed to the home of Mrs Bell, who has one queen and two very strong kittens. Mrs Bell, however, intends to strengthen her cattery soon by the acquisition of some good queens.
Leaving Mr and Mrs Bell, we journeyed to the ferry and went over to the Island, getting a glimpse of the beauties of Toronto and a fine view of the water front and the suburban attractions. We landed at the house of Mrs McAdley, and were introduced to the grandest lot of brown tabbies we ever remember to have seen, outside, perhaps, Mrs Cutler's, which we should not like to compare, not having seen them. We may safely say that nothing so good was show last year as Mrs McAdley's. At the head of the list is "Prince," a grand old cat, imported from Ireland seven years ago, and there are few cats extant to-day, or ever were, that can take his measure. His head is magnificent, and he is short on the leg, has plenty of bone, grand colour, no weak colouring around the lips or chin, and, what is more, he sires the right sort. "Paddy," his daughter, is the peer of any brown tabby queen we have seen in the ring for a long time, and we saw nothing to beat her in England two years ago. Mrs Ellis has adopted the kittens, and these will not pass out of Canada under pretty stiff figures, and wherever they appear in the show room they will have to be reckoned with by the very best.
We got back to our hotel at 11 pm, after a most enjoyable day among enthusiastic and painstaking fanciers, and we had unfortunately to leave out one house for lack of time. Another cat enthusiast who has some good Romaldkirk stock to sell - viz Mrs Cottle - journeyed over from Kingston on purpose to have a catty talk at the dog show. We feel sure that the Canadian contingent will have to be reckoned with in the future as breeders, and in brown tabbies are a hard proposition. As soon as they get hold of some better cats of the other colours they will be up with us, though we do not see some of the best of the other colours, notably Miss Cottle's and the Montreal blacks.
DISTRICT NO 5
California is a district by itself, which can never be in active touch with the east, and the future cat of California may probably be the Siamese, for the demand for them is growing every day, and the climate favours them. California is too warm to coat the long-hairs, and the vermin are too promiscuous in most parts to make the rearing or caring for the long-hairs a pleasant occupation. Mrs C H Hoag and Mrs C E Martling have been two of the most energetic in promoting the cat as a fancy in California, and several shows have been held, but at present - in the language of the slang - "there is nothing much doing," except in Siamese; so that in taking a look over the past from a high point and looking down, we cannot say that up to now we can point to many families or strains that have yet made their mark in America; that is, a mark that is very conspicuous, for there has not been time. But still there are signs of strains that will be matters of history, and there are families that may be called distinctive, because the descendants win under different judges with sufficient regularity to make this noticeable.
Some of these I have sketched in my other notes; but probably the most far-reaching of the families that win in all colours I the "Humbert" strain, which emanates from Mrs Barker's "King Humbert," imported in 1895. Not only did this cat sire a lot of winners himself, but cats with the "Humbert" blood to the thrid and fourth generation, such as "Prince of Orange," etc are still winning all over the country. Judging by present appearances, the "King of the Silvers" family, coupled with his sire "Bitterne Silver Chieftain," is forging to the front, and is marking a path of its own as regards winning in public. One cat - "The Blessed Damozel," bred by Mrs Barker in England, and by "Champion Lord Southampton" ex "Peggy," by "Champion Silver Mist," is making a big reputation through her children, and the second generation is now beginning to win as did the first. This blood is very successful wherever found, and this is, no doubt, largely owing to the kittens by "King of the Silvers," though "The Passionate Pilgrim," who goes back through his sire to "Whychwood," is as good as anything Mrs Barker has yet produced; and this is saying a good deal, for she has bred a great many winners in many colours, and the effect of cats imported or bred by her is seen at every show we go to, and the ramifications of blood lines spread over America would make a book in itself.
***
The very best cats from England will win here every time they are shown in good trim, and in picking cats for best in show the greater part of the prizes go to English cats, or to cats bred from English parents [note: unsurprising since they were being judged against English standards!]. The crossing of the natives with the English is very successful in some cases, and, no doubt, the changes of blood will in the future work to the good of the majority, for in size, shape, and coat many of the American cats are very good, but fail in type and quality.
The cat fever in its present form may be said to be so comparatively new as an industry that it has not been easy to give a comprehensive view of the whole. Some exhibitors have come up suddenly, and after seeming to have carried all before them have disappeared as suddenly as they came, while others have kept on right through, though these are few by comparison with the great possibilities. We are now passing through the early days of organisation, and the future is not always too clear; but, still, I have tried to give the most prominence to those who have braved the light of day and have supported the shows, and this, really, is the only practical test of where we any of us stand. If I were to enumerate all I have heard of, and the many people who are interested in the cat in America, there is no doubt but that a good deal more space than I have at my command would be used two or three times over; and such is the size of the country that it is only possible to give a light sketch of the whole; and I do not expect that I shall, or anyone else could, begin to do justice to, or could in any way really gauge, the number of people interested in cats in America.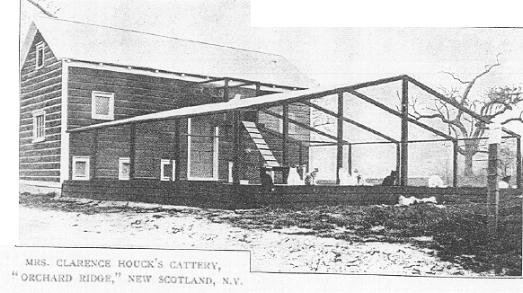 In ten years' time I expect to see cities that now bring together perhaps 100 cats, then having shows containing hundreds; for in most places, even where shows have been held, we have hardly scratched he surface, and in perhaps only one out of 100 important and possible towns have we ever had a show. The extent of the possibility of the future can only be slightly grasped by those who have touched the fancy, but those of us who have worked for many years at it see signs of growth now that may increase the fancy as a snowball will grow - the further you roll it the faster in grows in proportion. We are only just waking. The future alone can say whether we shall succeed; but we must face the fact that in America the cat fancy, as a whole, is an impossibility, and that cats as exhibition cats can only, as a rule - unless belonging to rich people - meet each other in competition if within reasonable distance of each other.
JUDGING IN AMERICA
In 1900, I am not afraid to say, we had not more than two judges capable of judging a small show correctly all the way through. To-day we have a great many breeders who could do very fair work, and would not make many mistakes if the classes were not too big for them. Of course, the fact must be recognised here, as elsewhere, that a judge improves with experience, and I hazard the opinion that the fewer cats he owns the better he may judge, though I personally prefer for my own stock a judge who has at some time bred the variety. I cannot say that I have found the judging of cats in America a very difficult matter, up to now, for classes have been as a rule small, and in most cases the winners stood out well; and though, no doubt, there have been differences of opinion upon what I have done, I have not had many qualms of conscience over past doings.
The weakest spot in the American cat shows has been the tendency of owners to over-estimate the value of their cats in many cases, and the disappointment of defeat comes sometimes severely upon very enthusiastic people; but there is not hope for a fancier who cannot suffer defeat and come again for some more, so I think we need not waste our tears upon these, for they were never destined to succeed. Want of quality is another weak spot we have to contend with, and this often comes from the eye not having been trained to the best. Size as a factor of beauty is another fetish we have to destroy with a rude hand, but our people are apt pupils, and those who stay in the game are very anxious to be on the right track, though it will take some years longer to learn the give and take, to withdraw gracefully, and to admit that there may be another side to a question.
My own position to-day is that I am as much interested in the fancy as ever, but I do not find the necessity for doing the work in so severe a manner now, for there are so many capable of carrying on what has been done, and the future is pretty well assured; so that for the health of the fancy at large it is better that too much should not be monopolised by two or three pairs of hands, and some of us old-timers, who began in 1893 and 1894, and before that, are allowing the younger blood to take its share of the tasks.
In judging cats, as in other stock, it seems to me that one of the greatest criterions as to the success of our efforts as judges is the success in many cases of cats or kittens bred from those we have put in the front rank. And only time can tell the force of what we have done. If in the future I see cats doing as well as they are in this season, bred from those I have put in the prize list, and judged by other judges, then shall I feel repaid for work done in the past, and not until then can I be sure I have been right. It would be impossible to go back through the last eight years and their troubles and experiences, and though in many cases I know I may have been called a "beast," I hope posterity will say I was a "just beast."
It might be as well to refer to the score card to show where in cases such as we have had to contend with it has done a great deal of good. One hundred points make perfection, and the question arose in one's mind before using the score card as to whether the budding exhibitor would be forever crushed by finding that the cherished one came out of the score card ordeal with about 75 points instead of the possible 100; so that when it has been selected by a club for a show I have warned the owners of the danger; but to the everlasting credit of our fanciers I may say that I have not had to register a kick because of a low score, and many - even novices - were more than pleased with a score of eighty. If I may point out a failing in English judging - and we see the same thing here in the dog fancy - the criticism is left to the reporter, who has not the time or the opportunity for finding the real faults not the space at command to do justice to the exhibits.
The task of explaining to exhibitors why their animals have lost is not an agreeable one; but in a land like this, where nearly all have been beginners, this has been an absolute necessity, and the dose must be swallowed or no progress is made, and, as in the case of the score car, no doubt the having to give a reason is likely to keep us from giving prizes to one point at the expense of all the rest. Two great factors we have had to consider here are type and quality, the two weakest points in out cats; and if we had run to extremes in eye colour we should have made no progress in type or perhaps quality. Great stress has been laid upon markings in tabby cats, with very good results, and we are rapidly accumulating a good lot of tabbies - especially in the Detroit district, where tabbies are popular, which is a thing to be grateful for. We have never thought it well here to discourage the orange tabbies for the sake of the unmarked orange, and we have some very good orange tabbies whose number is on the increase; and if the plain orange can range up beside the orange tabbies, all well and good. But I shall be an advocate, if there is a danger of one hurting the other, of making separate classes, for we do not want to drive out the good orange tabbies, which are very popular, and the average American who loves an orange cat at the present moment does not care whether is is marked or unmarked.
Cats with white hair are much in favour, as is the case with Madame Ronner and the Continental fanciers; and, if so, there seems to be no reason for discouraging them, and we may as well first make up our minds to the fact that, in trying to force English ideas down the throats of the people of another country with too violent a hand, we may do a lasting injury to the fancy at large.
Another thing I might refer to, and that is that the average American exhibitor does not favour giving prizes to long-haired cats when out of coat, and the strength of the fancy and its future popularity lies in presenting to the public the cats in their best dress, and this mostly is the only logical way we can give out the principle prizes and appeal to the good sense of those who come to see them; for the general public, when not experts, can only judge from appearance. The strength in England lies in the fanciers themselves, who have the opportunity of seeing so much more and of learning. Our future here lies in being able to gather recruits by presenting the cats to them in as perfect a form as possible, and therefore we have to depend upon the public. Our shows have to be in the winter, when the cats are in coat, and the dangers of exposure to the weather are very great, all of which is a good deal to the disadvantage of the fancier.
WILD SPECIES
We cannot leave the American exhibition cats without saying a word upon the wild species, some of which find their way into the show rooms on more than one or two occasions. Of course, the cougar or mountain lion - our biggest species - is out of court on account of his size; but still, if history is to be believed, this fine animal was never injurious to man, and has not been known in recent times to attack man, though he is fitted by size and strength to do a great deal of damage. The next in order is the lynx, and though this animal is pictured as very fierce, there is as much evidence to show, in other ways, that if taken young and domesticated, the lynx is amenable to reason and is very intelligent, full of humour, and not afflicted with excessive nervousness. I have seen specimens exhibited and one in particular that was the constant playmate of a little child; and this cat spent four days in a show playing most of the time with all the children that came along, and was the coolest and most unconcerned cat in the hall. Evidently the lynx shares the great brain power of the cat family with those who are well acquainted with cats are willing to concede to them, added to a calmness of temperament foreign to some of our so-called domesticated breeds that ought to have inherited by now, perhaps more savoir faire under show conditions [note: breeders of domestic cats were selecting for type and colour, not for temperament, so savoir faire was not being bred into their cats!].
When on a ranch in the wilds with a few cats and dogs, where quarters were limited, I could never see that there was a natural antipathy between cats and dogs, for the bitches would rear kittens and vice versa, and the friendship was great between them - so much so that they would play together for hours, and there was no danger in leaving dogs and cats together, shut up in the house, when we were absent. In later times I have had twenty cats or more running around with as many dogs, and never had a cat killed, and only two or three occasions where any trouble started. The supposed antipathy between cat and dog seems to be an acquired taste in a certain measure, and personally I do not believe in the antipathy being natural or a fact, for the two will live together in peace if not set upon each other by man.
From a few observations I believe the lynx is capable of domestication; of course, his size precludes his being numerous, but in this variety there are possibilities as yet not sufficiently tried out.
Of other cats, in contradistinction to this, we may mention that beautiful cat the ocelot. This cat is fairly plentiful, and is not very difficult to obtain when young; and though they are so handsome and can be reared and left to run about the house till a year old, as they arrive at maturity they become what the ladies call "impossible." The ocelot with increasing age grows hopelessly savage, and will kill anything put in his cage that he is capable of handling, and even to his keeper he is a problem. This evidence is not hearsay, but is from one who tried for a long time to do something with these beautiful animals. They are, when in condition, one of our handsomest specimens of the cat tribe.
One of the most fascinating little cats I ever judged was a little Marguay [sic] cat from Brazil, exhibited by the Zoological Society of Chicago, and though quite small and delicate-looking, it seemed perfectly healthy, and, as in the case of the lynx, was as tame and affectionate as possible, and seemed delighted to be noticed and handled. I cannot help thinking that if obtainable and kept pure this would make one of the most beautiful of exhibition cats. Small, of a reddish-brown colour, and clearly spotted all over, with beautifully shaped and small ears which are black-and-white, this cat is gentle, sweet, sizeable, and possible as a pet. I have never seen it excelled by anything else among the cat tribe; and having handled this cat a good many times during the show, I may say it was one of the tamest and best-natured cats I ever came across in the show-room, and certainly the most beautiful short-haired cat possible to imagine.
On one or two occasions we have had Australian cats exhibited, and they were funny little beasts, sitting up like a squirrel, and with much the same shape of head. When genuine they are most quaint, but do not seem to live long here. A very clever fake was carried out with these cats at some of the early shows - or, rather, I should not say with these cats, but an imitation of these cats. When the supply became limited, someone became clever enough to augment the number by shaving the long and ragged native short-hairs, and so well was it done that they not only won prizes, but on one occasion one was bought by a judge after winning, when to his purchaser's disgust a month or two later he turned out to be an ordinary yellow tom with his coat on! The Australian cat fell into disfavour after a few of these experiences, and it has not been possible to resuscitate him.
We often hear of the Pampas cat of South America being in certain catteries, but so far at the shows none have been produced, and I am inclined to think these are of the impossible brigade on account of their savage disposition. It is a pity that some enterprising fancier does not try to tame these wild species.
SOME OF THE DIFFICULTIES IN AMERICA
Our English readers will, no doubt, wonder at a good many things we do in America; but, never having had the experience of our conditions, they would not b able to appreciate what it is that keeps the fancy back. In the first place, on this continent anything except dog shows and poultry shows is an unknown quantity, and many of those who take up the cat fancy with enthusiasm are perfectly innocent of any show experiences, and have few to teach them; so that until a show or two has been held in a certain neighbourhood, our affairs are apt to be a little mixed. For instance, the common idea of a tortoiseshell cat is as often as not a heavily marked tabby of the brown tabby persuasion, or it may be an orange tabby, or it may be a mixture of many colours.
Until a show has been held in a town, very few of the inhabitants know whether they have good cats or not and they are as likely to bring the bad as the good. The idea has prevailed to a large extent that it is very expensive to get up shows, and so the only opportunity made use of has been when a poultry show is being held and the promoters of this are asked for a little space, which they may grant, as the cats are found to be very conducive to a gate; but the drawback of this arrangement is that in most cases the poultry people want to make as much money as possible, and so keep the cats penned for four or five days, which in many cases means death to the cats.
The cost of the hall being so great, and the prize money being consequently kept down to try to balance things, with the entry fees also put away up, which all added to the travelling long distances and the added expense of hotel bills, makes the lot of the American cat exhibitor not too rosy, and it is something to wonder at that the fancy has ever developed at all.
Distance from place to place is another factor, and when you read in England of the New York and then the Chicago show the week after, you hardly realist that they are 1,000 miles apart, and that if living in New York and you want to show in Chicago it may cost you £20 in travelling expenses alone. Another thing show committees have to face is the expense of the judge, and the difficulty of finding suitable sires within reasonable distance is one of the many drawbacks with which American fanciers have to contend.
* * *
CAT FARMS - The Graphic, 30 May 1896
Cat farms are springing up in the United States since American ladies have taken it into their heads to keep rare and well-bred cats for pets as well as dogs. The principal farms are in the suburbs of Boston and New York, and are fitted with every comfort and improvement for the most aristocratic pussies, even to small trees for the kittens to climb and large wired-in yards for daily exercise. Angoras are most in demand, run close by Russian cats, which have large bodies and rather short legs.
TOUR OF CATTERIES. Democrat and Chronicle, 8th November, 1905

Mrs Brace, secretary of the Lockehaven club, returned from a trip in which she saw some of the finest catteries in the United States. In company with Miss Cathcart of Oradell, she first went to Rome, Mich., where they saw the one owned by Mrs. W.M. Chapman. This woman is so successful with her cattery that she realizes hundreds of dollars a year from it, Mrs Grace says Mrs. Chapman now has twenty live kittens that have all been bargained for. This cattery is famous and is one of the largest In the West. The arrangement of the home of the high-bred pets is complete. Each family of cats has its own apartments where the kittens live with their parents until they are old enough to be placed in the general cattery. Each king cat has a den where he reigns supreme. The rooms, which are about six feet in height, are provided with cushions, pictures, etc., in order that the eats may be accustomed to home-like surroundings. Orange, brown and black are the only colored cats raised in this home.
From Rome, Mrs Brace went to Cleveland. In the latter part of January Mrs. Brace will conduct a show in that city for the Cleveland Cat club. The members devote their energies chiefly to the housing of stray cats. The proceeds of the proposed show will go toward founding a refuge. While waiting for this to be done a number of women are giving the attention to stray cats that in most places is only bestowed on cats procured for pets. Mrs. D.B. Smith, one member of the club, is caring for sixteen to twenty of the wanderers all the time. Another Cleveland woman has appropriated her barn for a cattery, where the waifs live in different rooms. Since the Lockehaven club was incorporated he Cleve land club has followed its example.
In Dayton, O., the next city visited, Mrs. Brace was entertained by Mrs. Laura Zehring Dosch, editor of the Cat Review. Mrs. Dosch is to be one of the judges at the Rochester show. She raises nothing but silver cats in her famous Stillwater Cattery.
In Oradell, N.J. the home of Miss Cathcart, Mrs. Brace had the most delightful visit of her journey. Miss Cathcart entertained some forty guests at a housewarming in honor of the opening of her cattery. Invitations had been sent to all prominent fanciers in the country. Many well-known cat people of the East were there. Western New York was represented by Mrs. Brace and C.H. Jones of Palmyra, editor of the Cat Journal. Miss Cathcart is an heiress of many millions and occupies a palatial home on a farm outside the town of Oradell. This dwelling has all the appointments of a modern city mansion. Surrounding it are seventy-five acres of land devoted to what might be called a "Paradise for Cats," which will be the title of an article describing it.
Mrs. Brace says that expense has not been spared in the equipping of Miss Cathcart's cattery. The floors are of concrete and the arrangements have been made with reference to perfect sanitation for the cats. Short-haired cats are the only kind Miss Cathcart raised. She takes the pets owned by people who are away from home for a time and boards them for $1 a week. Besides these, she shelters many waifs.
On the brow of a hill almost high enough to be a mountain, overlooking four counties, stands this ideal home for cats. Here live Buster Brown, the only smoke short-haired cat known in this country, and other prize winners. Outside the building are many long grassy runs. At intervals along the way sleeping houses have been provided, where the cats may stop and rest. These tiny houses, built with gabled roofs and front doors, stand high, that no dampness from the ground may reach them. At other points on the runs rustic ladders have been built for the cats to play on. When the cats are tired of these they run up tall posts surmounted by platforms, on which they may lie down. There are covered runs for stormy days, connected with the cattery. There is every device here to keep the life of the cats from being "a weary blank."
Miss Cathcart has a manager and two assistants, who care for her pets. She has thirty present, besides twenty-three boarders. She has a cattery in France and a kennel.
After leaving Oradell, Mrs. Brace went over to Staten Island to visit the Argent Cattery of Mrs. P.E.J. Champion. The owner is an English woman who before she came to America four years ago conducted a cattery in England. She supports her family with the proceeds from the one she how has. All the cats here are silver or white. Among the most noted of them is Argent Puffy, a silver queen who never was beaten at a show where she was entered In England. Argent Splendor, a king, won first prize at the Madison Square show this fall. Puffy will be shown in the Rochester exhibition next month, and also Splendor, if he is in "trim." All Mrs. Champion's silver cats are descended from Lord Argent, a sire, the ancestor of 150 prize winners. He is related to all the best silvers in this country and England. Lord Argent has retired from the exciting life he once led when traveling from one show to another and now is now called "The Old Gentleman." He Is 11 years old.
CALIFORNIA
There is a lady in California, worth many millions, who has a cat ranch [old term for a large cattery] near Samona, She has three hundred Angoras with long pedigrees and tails. Twenty-five of the choicest are her personal court, being always in attendance on their mistress. In next Sunday's Herald, Hartley Davis tells about this great collection and about Kahlek, the painter, who has immortalized them on canvass. – The Salt Lake herald, July 13, 1893
CHICAGO
CHICAGO WOMAN BUILDS A HANDSOME HOME FOR HER CATS – The Inter-Ocean, January 19, 1902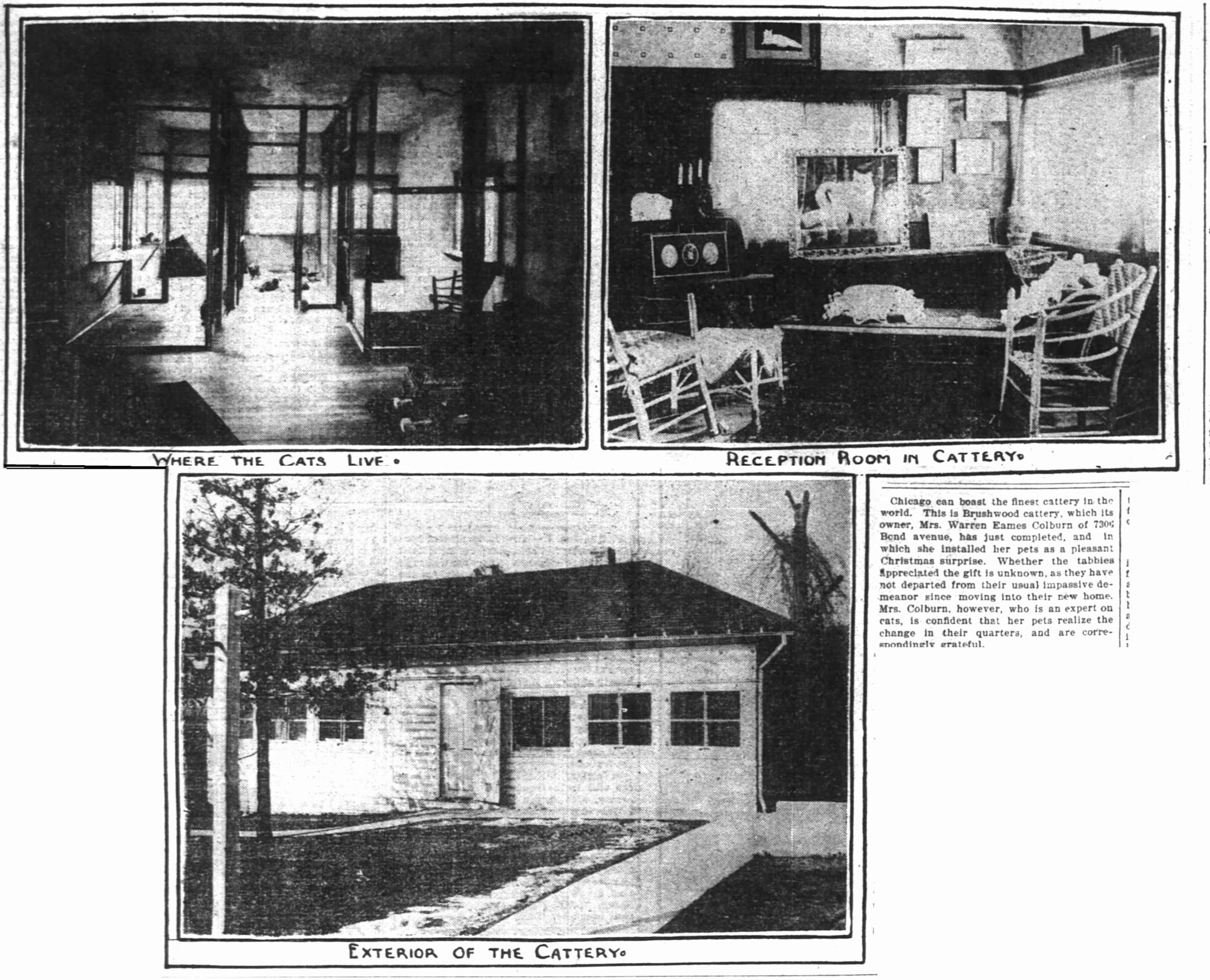 Chicago can boast the finest cattery in the world. This is Brushwood cattery, which its owner, Mrs. Warren Eames Colburn of 7306 Bond avenue, has just completed, and in which she installed her pets as a pleasant Christmas surprise. Whether the tabbies appreciated the gift is unknown, as they haave not departed from their usual impassive demeanor since moving into their new home. Mrs. Colburn, however, who is an expert on cats, is confident that her pets realize the change in their quarters and are correspondingly grateful.
If they are not, however, they must be hard to please. As a matter of fact, Mrs. Colburn's cats are more luxuriously housed than many a human being in Chicago. But then, these cats are aristocratic, and if they have a place to live in it is no more than is due to their blue-blooded lineage.
Brushwood cattery is a building forty feet long by twenty wide. It is assured ample light and sunshine by thirteen large plate glass windows, and these all have double sashes to screen the delicate Angoras from the draughts of winter. In the summer the windows will be screened so as to provide plenty of air and at the same time keep out the flies. At each window is a wide bench on which the cats can take their daily sun baths. The big apartment is divided up into a number of separate cages by silver wire, which gives a glistening effect on a clear day and at the same time keeps the cats from getting at one another and marring their beauty by disgraceful combats.
Angora cats are great fighters, and that seems to be the only fault of Mrs. Colburn's pets. "If I should allow them to get together," she says, "the fur would fly so thickly that you'd think you were in a hat factory. They're perfect demons when it comes to fighting."
Hence the silver wire, which keeps each cat in its own quarters. But as exercise and fresh air are also as indispensable for cats as for humanity, provision has been made by which the pampered Angoras may obtain both. The cattery stands about two feet above the ground, which is cemented. A trap door in each cage leads to this cellar, which is divided into individual "runs" fifty feet long, part of the run being under the building, which is always dry, and the rest in the open air. This gives the cats ample room for a frolic and a climb whenever they feel so disposed. In addition to these separate cages there is a "maternity" ward, where the mothers and their kittens are assured the requisite privacy.
The crowning glory of Mrs. Colburn's cattery, however, is the reception-room – not for the cats, but for Mrs. Colburn's cat-loving friends. This is a large apartment, with all the luxuries that generally are found in a ladies' boudoir. There are easy chairs, hassocks, couches, a writing desk, a bookcase filled with literature pertaining to cats, a medicine cabinet with all the drugs known to the medical practice of cats, and enough pictures to fill a good-sized art store. This room, as well as the cattery, is heated by steam, lighted by electricity, and has hot and cold water. All the comforts of home are to be found there, in fact, as well as a good many that are not in some homes.
Mrs. Colburn is an enthusiast on the subject of cats – that is, certain kinds of cats. Angoras are her hobby, and she is constantly importing choice specimens of this species for breeding purposes, the progeny being in constant demand at good prices.
"I get my cats direct from England and Asia Minor," said Mrs. Colburn to a reporter for the Sunday Inter Ocean. "Besides importing, I am constantly shipping cats to all parts of the country. I don't suppose there is a state in the Union to which I have not sent cats. Yes, there is a good and steady demand for them. The price? That depends a good deal upon the cat – the purity of the breed, for instance, and a number of other points. They bring me all the way from $15 to $100 apiece. The highest priced cat is the white blue-eyed Angora and they will always bring $100.
"The demand for cats is far I advance of the supply. That is my experience, and I understand that the same condition prevails at every cattery in the country. I market my cats at anywhere from 8 weeks to 6 months old. It depends altogether upon their condition at the time. I take care of them myself, and their diet is looked after as carefully as if they were pugilists training for a prize fight. They get three meals a day. For breakfast I give them thickened milk, for lunch puppy biscuits, and for dinner meats of the choicest kinds."
Paris, who won the honor of being the finest male cat at the Chicago cat show last winter, is the supreme ruler at Brushwood cattery. Mrs. Colburn has just imported the largest number of cats ever brought to Chicago, among them being the descendants of three of the noblest strains in England – White Friar; White Knight, and Blue-Eyed Wanderer. White Ruin, from Scotland, and White Duchess each brought a basketful of white kittens, Nine valuable cats have just arrived – six from Angora, sailing direct from Aleppo, two white, blue-eyed males, with perfect hearing; a black male, a tortoiseshell and white, a black female, two white females, and a pair of gorgeous orange cats. This makes a round-up of about forty cats at Brushwood, not to mention a colony of short-haired pauper pussies from the alley, who are partakers of the Brushwood bounty, for in a quiet and unostentatious way Mrs. Colburn provides a refuge for the homeless ones.
A couple of years ago, Mrs. Colburn built a fine new cattery, steam-based, with electric lights, bells etc, but it burned soon after being completed, and her cats narrowly escaped cremation. As far as possible, this cattery is fireproof, and is outfitted with fire extinguishers of various kinds.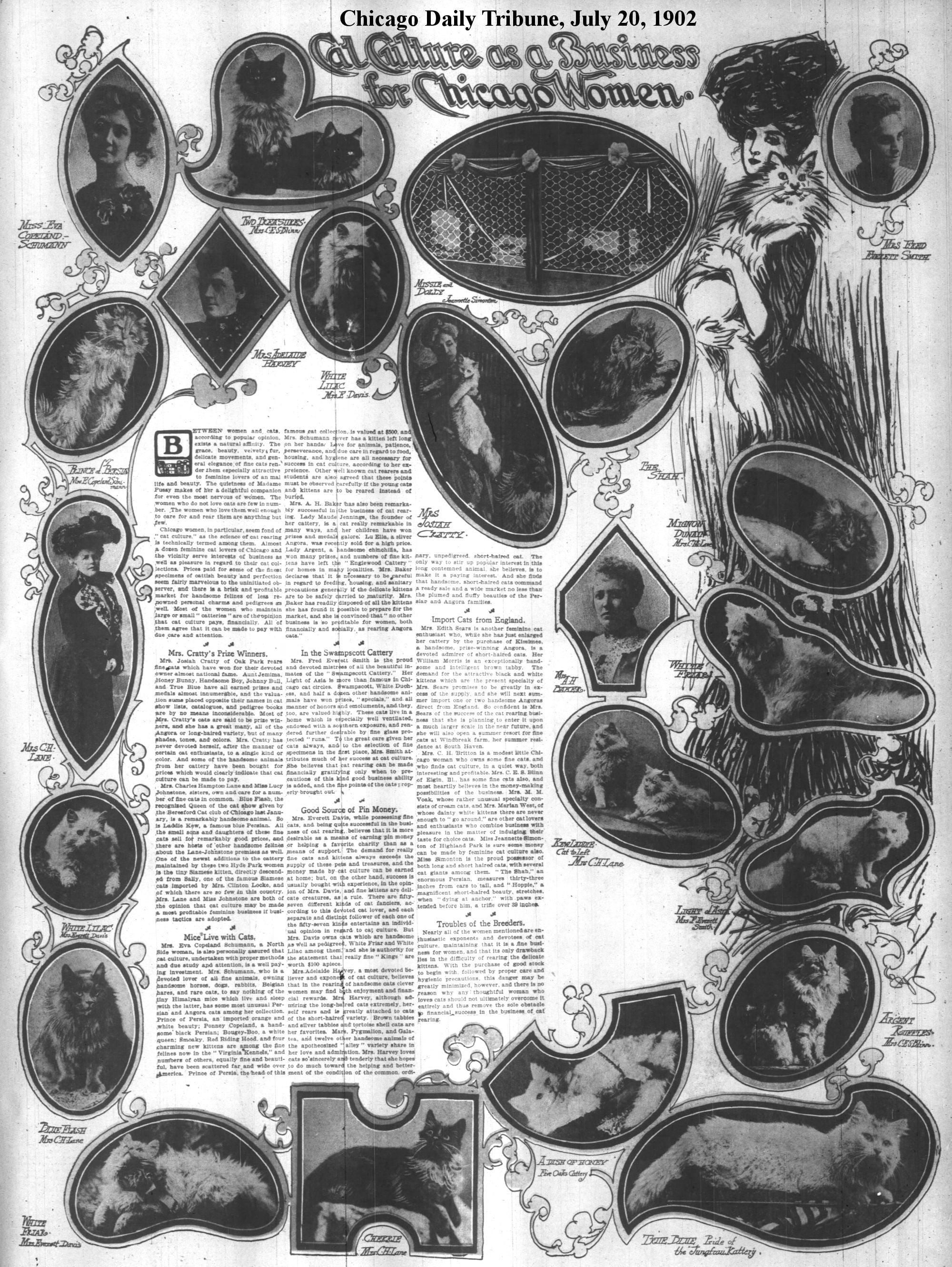 CAT CULTURE AS A BUSINESS FOR CHICAGO WOMEN - Chicago Daily Tribune, July 20, 1902
Between women and cats, according to popular opinion, exists a natural affinity. The grace, beauty, velvety fur, delicate movements, and general elegance of fine cats render them especially attractive to feminine lovers of animal life and beauty. The quietness of Madame Pussy makes of her a delightful companion a for even the most nervous of women. The women who do not love cats are few In number. The women who love them, well enough to care for and rear them are anything but few.
Chicago women, in particular, seem fond of "cat culture," as the science of cat rearing is technically termed among them. Almost a dozen feminine cat lovers of Chicago and the vicinity serve interests of business as well as pleasure in regard to their cat collections. Prices paid for some of the finest specimens of cattish beauty and perfection seem fairly marvelous to the uninitiated observer, and there is a brisk and profitable market for handsome felines of less renowned personal charms and pedigrees as well. Most of the women who maintain large or small catteries are of the opinion that cat culture pays, financially. All of them agree that it can be made to pay with due care and attention.
Mrs. Cratty's Prize Winners.
Mrs Josiah Cratty of Oak Park rears fine cats which have won for their devoted owner almost national fame. Aunt Jemima, Honey Bunny, Handsome Boy, Johnny Bull, and True Blue have all earned prises and medals almost innumerable, and the valuation sums placed opposite their names in cat show lists, catalogues, and pedigree books are by no means inconsiderable. Most of Mrs. Cratty's cats are said to be prise winners, and she has a great many, all of the Angora or long-haired variety, but of many shades, tones, and colors Mrs. Cratty has never devoted herself, after the manner of certain cat enthusiasts, to a single kind or color. And some of the handsome animals from her cattery have been bought for prices which would clearly indicate that cat culture can be made to pay.
Mrs. Charles Hampton Lane and Miss Lucy Johnstone, sisters, own and care for a number of fine cats in common. Blue Flash, the recognised Queen of the cat show given by the Beresford Cat club of Chicago last January, is a remarkably handsome animal. So is Laddie Kew, a famous blue Persian. All the small sons and daughters of these fine cats sell for remarkably good prices, and there are hosts of other handsome felines about the Lane-Johnstone premises as well. One of the newest additions to the cattery maintained by these two Hyde Park women is the tiny Siamese kitten, directly descended from Sally, one of the famous Siamese cats Imported by Mrs. Clinton Locke, and of which there are so few in this country. Mrs Lane and Miss Johnstone are both of the opinion that cat culture may be made a most profitable feminine business if business tactics are adopted.
Mice Live with Cats.
Mrs. Eva Copeland Schumann, a North Side woman, is also personally assured that cat culture, undertaken with proper methods and due study and attention, is a well paying investment. Mrs. Schumann, who is a devoted lover of all fine animals, owning handsome horses, dogs, rabbits, Belgian hares, and rare cats, to say nothing of the tiny Himalyan mice which live and sleep with the latter, has some most unusual Persian and Angora cats among her collection. Prince of Persia, an imported orange and .white beauty; Ponney Copeland, a handsome black Persian; Bougey-Boo, a white queen; Smoaky, Red Riding Hood, and four charming new kittens are among the fine felines now In the "Virginia Kennels," and numbers of others, equally fine and beautiful, have been scattered far and wide over America. Prince of Persia, the head of this famous cat collection, is valued at $500 and, Mrs. Schumann never has a kitten left long on her hands. Love for animals, patience, perseverance, and due care in regard to food, housing, and hygiene are all necessary for success ln cat culture, according to her experience. Other well known cat rearers and students are also agreed that these points must be observed carefully if the young cat» and kittens are to be reared instead of buried.
Mrs. A. H. Baker has also been remarkably successful in the business of cat rearing. Lady Maude Jennings, the founder of her cattery, is a cat really remarkable in many ways, and her children have won prizes and medals galore. Lu Ella, a silver Angora, was recently sold for a high price. Lady Argent, a handsome chinchilla, has won many prizes, and numbers of fine kittens have left the "Englewood Cattery" for homes in many localities. Mrs. Baker declares that it is necessary to be careful in regard to feeding, housing, and sanitary precautions generally if the delicate kittens are to be safely carried to maturity. Mrs. Baker has readily disposed of all the kittens she has found it possible to prepare for the market, and she is convinced that "no other business is so profitable for women, both financially and socially, as rearing Angora cats."
In the Swampscott Cattery
Mrs. Fred Everett Smith is the proud and devoted mistress of all the beautiful inmates of the "Swampscott Cattery." Her Light of Asia is more than famous in Chicago cat circles. Swampscott, White Duchess, and half a dozen other handsome animals have won prizes, "specials," and all manner of honors and emoluments, and they, too, are valued highly. These cats live in a home which is especially well ventilated, endowed with a southern exposure, and rendered further desirable by fine glass protected "runs." To the great care given her cats always, and to the selection of fine specimens in the first place, Mrs. Smith attributes much of her success at cat culture. She believes that cat rearing can be made financially gratifying only when to precautions of this kind good business ability is added, and the fine point* of the cats properly brought out.
Good Source of Pin Money.
Mrs. Everett Davis, while possessing fine cats, and being quite successful in the business of cat rearing, believes that it is more desirable as a means of earning pin money or helping a favorite charity than as a means of support. The demand for really fine cats and kittens always exceeds the supply of these pets and treasures, and the money made by cat culture can be earned at home; but, on the other hand, success is usually bought with experience, in the opinion of Mrs. Davis, and fine kittens are delicate creatures, as a rule. There are fifty-seven different kinds of cat fanciers, according to this demoted cat lover, and each separate and distinct follower of each one of the fifty-seven kinds entertains an individual opinion in regard to cat culture. But Mrs. Davis owns cats which are handsome as well as pedigreed, White Friar and White Lilac among them, and she is authority for the statement that really fine "Kings" are worth $100 apiece.
Mrs. Adelaide Harvey, a most devoted believer and exponent of cat culture, believes that in the rearing of handsome cats clever women may find both enjoyment and financial rewards. Mrs. Harvey, although admiring the long-haired cats extremely, herself rears and is greatly attached to cats of the short-haired variety. Brown tabbies and silver tabbies and tortoise shell cats are her favorites. Mars, Pygmalion, and Galatea, and twelve other handsome animals of the apotheosized "alley" variety, share in her love and admiration. Mrs. Harvey loves cats so sincerely and tenderly that she hopes to do much toward the helping and betterment of the condition of the common, ordinary, unpedigreed, short-haired cat The only way to stir up popular interest in this long contemned animal, she believes, is to make it a paying interest. And she finds that handsome, short-haired cats command a ready sale and a wide market no less than the plumed and fluffy beauties of the Persian and Angora families.
Import Cats from England.
Mrs. Edith Sears is another feminine cat enthusiast who, while she has just enlarged her cattery by the purchase of Kissimee, a handsome, prize-winning Angora, is a devoted admirer of short-haired cats. Her William Morris is an exceptionally handsome and intelligent brown tabby. The demand for the attractive black and white kittens, which are the present specialty of Mrs. Sears, promises to be greatly in excess of the supply, and she will next summer import one or two handsome Angoras direct from England. So confident is Mrs. Sears of the success of the cat rearing business that she is planning to enter it upon a much larger scale in the near future, and she will also open a summer resort for fine cats at Windbreak farm, her summer residence at South Haven.
Mrs. C. H. Britton is a modest little Chicago woman who owns some fine cats, and who finds cat culture, in a quiet way, both interesting and profitable. Mrs. C. E. S. Blinn of Elgin, Ill., has some fine cats also, and most heartily believes in the money-making possibilities of the business. Mrs. M. M. Voak, whose rather unusual specialty consists of cream cats, and Mrs. Marian West, of whose dainty white kittens there are never enough to "go around," are other cat lovers and enthusiasts who combine business with pleasure in the matter of indulging their taste for choice cats. Miss Jeannette Simonton of Highland Park Is sure some money can be made by feminine cat culture also. Miss Simonton is the proud possessor of both long and short haired cats, with several cat giants among them. "The Shah," an enormous Persian, measures thirty-three inches from ears to tall, and "Hoppie," a magnificent short-haired beauty, stretches, when "dying at anchor," with paws extended before him, a trifle over 39 inches.
Troubles of the Breeders.
Nearly all of the women mentioned are enthusiastic exponents and devotees of cat culture, maintaining that it is a fine business for women, and that its only drawback lies in the difficulty of rearing the delicate kittens. With the purchase of good stock to begin with, followed by proper care and hygienic precautions, this danger may be greatly minimized, however, and there is no reason why any thoughtful woman who loves cats should not ultimately overcome it entirely and thus remove the sole obstacle to financial success in the business of cat rearing.
CHICAGO WOMAN SELLS HIGHLY BRED CATS TO AID BABIES (The Inter Ocean, November 30, 1902): The beginning of Mrs. Locke's "cattish" charities dates back twenty years. At that time a personal friend, a great traveller, brought to her a fine blue cat from Persia. The career of Wendella, as the pretty puss was named, in honor of the giver, marked the beginning of the cat=loving fad in Chicago. She proved a most attractive and lovable pet, and was presently joined by other fine cats, imported from England. Almost before the pioneer of the cat fancy in Chicago was aware of the fact or of her distinction, other cat-loving women, admiring and envious, were endeavouring to start catteries. Mrs. Locke, with numerous charities weighing upon her heart and brain, always saw and recognized an opportunity to make money in behalf of these beloved institutions and efforts. With every cat or kitten sold a check was promptly sent to some needy place or person; the only exceptions ever made to this rule have occurred when other fine cats have been imported, for the good of the Lockehaven cattery and collection, and, indirectly, of the beneficiaries for whose sake the cats were sold. To hunt up the records of the hundreds of choice cats now to be found in Chicago would be to trace Mrs. Locke's cats and kittens to all parts of the city. And still, although Mrs Locke is now disposing of many of her cherished pets and treasures, because of the ill health and encroaching duties that render it impossible for her to longer care for so many, the Lockehaven cattery is will worth a visit for the sake of the fine animals it still contains.
Lucy Claire, duly accredited as the handsomest "smoke" cat in America, and an envied champion because of her four first prizes, three of which were won in Chicago, with the fourth hailing from Cincinnati, is still the undisputed star of Chicago's feline society. Had the challenge cups to be offered at th the oncoming show of the Beresford Cat club been sooner provided, Lucy Claire would have carried the m off long ago, with her remarkable unbroken records.
Ripple, a handsome orange, is another noted Lockehaven beauty. Ripple belongs to the rare Manx family. Bobolink, a Lockehaven Manx kitten, one of Ripple's children, and now the property of Mrs. Samuel Harvey of Chicago, bids fair to be almost as interesting as his noted and handsome progenitor. Jessica Kew is the only child of Daffodil, another famous Lockehaven beauty and prize winner, a rare cream this time, and Laddie Kew, the equally famous cream prize winner owned by Miss Lucy Johnstone of this city. As the "littlest one" of all her feline pets, and treasures, Mrs. Locke has a feeling for the diminutive Jessica shared by none of the others, unless perhaps it be the cat mummy presented to her in Persia ten years ago, and which she smilingly describes as "my oldest cat."
INDIANA
FORTUNE OF FELINES – The Indianapolis Star, 29th April, 1906
An Indiana girl who is seeking her fortune along an avenue not trod by everyone in the search for wealth is Miss Abby M. Clark, whose home is a stately old farmhouse located in a most picturesque spot a few miles north of Morristown, Ind. Miss Clark is the proud possessor of a "cattery," well stocked with long-haired pedigreed Tabbies and Toms of the bluest blood of Persian aristocracy.
From the schoolroom to the raising of cats is rather a strange step to take, but this is just what Miss Clark has done. Finding the work of the schoolroom too arduous for her strength, Miss Clark returned to her home on the farm and cast about for something to interest her, and at the same time bring her some financial return. After various experiments with artificial flymaking, candy making and poultry raising, she decided that longhaired cats might prove a profitable investment. She wrote to the presidents of the two cat clubs in Chicago, and was soon the proud possessor of "Silver Belle," a beautiful silver tabby, who, in the course of time, became the devoted mother of six kittens.
In the meantime Miss Clark had also purchased "Dainty," an adorable little white lady, a daughter of "Royal Norton," probably the most famous cat In the United States. Since then she has bought but one female, "Silver Locks," a beautifully shaded silver kitten, three months old when purchased, to whose charms she fell a victim at the cat show in Chicago December, 1902. This kitten was owned by one of the judges, Mr. Burland of Ontario, Canada, and was offered for sale for $50.
Two years ago Miss Clark purchased "Swampscott," a great beauty, indeed, who took a special prize at one of the cat shows, being the longest-haired cat exhibited. "Swampscott" was a great baby, he would follow Miss Clark about the yard, and his idea of bliss seemed to be realized when she took him in her arms. If set at [the foot of the stairs, he] would hurry up two or three steps, then turn to see if she was following. In this way, by a series of dashes, he would reach the last landing when, with a grand rush, he would hurry, to the top step and turn into the door of his own room and joyfully watch the more gradual ascent of his mistress.
Miss Clark has eighteen cats, fifteen of her own and three boarders. One of these is "Tintagel," who was imported from England and has won many first and special prizes at the Crystal Palace shows in London. He was brought to this country at a cost of $250. "Tintagel" is a son of the famous "Lord Southampton," the sire of some of the most celebrated winners in the world.
"Chiffon," for instance, for whom $1,000 was offered and refused by his former mistress, Mrs. Colburn of Buffalo, who has imported a great many cats, some from England, Scotland, and a number from Asia, their native home. Many of these Persian cats made a part of the journey on the backs of camels.
Mrs. Colburn is the wife of a banker and the price of a cat is a small item to her. A few weeks ago she sold a splendid blue-eyed white cat, a little more than a year old, for $150. Three hundred and fifty dollars is the highest price ever paid for a cat in this country or England. Recently a New York fancier refused an offer of $1,000 from a millionaire for an imported Persian cat. It is said that the mistress of a silver cat shown at Detroit last January refused an offer of $500.
Very pretty cats, suitable for pets, can be purchased for $10.
Miss Clark has sold cats to lovers of the Persian varieties living in all parts of the country. Since disposing of all she cared to she has had numerous inquiries from every quarter. "Silver Belle" was Miss Clark's first sale, as well as first purchase. The poor little cat seemed to be the unhappy victim of imaginary fears. She was afraid of everything and everyone, apparently feeling that "everything was against her" except her mistress, to whom she was most devoted. "Silver Belle" was sold to a woman in New York, who, after various vicissitudes, put her in an upstairs room with a window lowered from the top.
"Silver Belle" found this as good an exit as any and utilizing it, took up her abode in the stable for a week, where her mistress caught her by strategy. If Miss Clark's dog, a big collie, ventured near while "Sliver Belle's" kittens were out for an airing she would dash through the grass and with a bound leap to his back and desperately try to claw him, while the dog, looking crestfallen and grinning dog fashion, would slowly walk away with "Silver Belle" clinging to his back.
"Tontita," a little blue tortoise [shell] cat, is one of Miss Clark's most amusing kittens. At one time she walked so far out on a fir branch that she was afraid to turn around to go back. Miss Clark's brother held his hands beneath "Tontita." Divining his action she carefully loosened each little claw and dropped to safety.
Another time a rug was taken from the foot of the front stairway and replaced by one of ordinary moquette. "Tita," as she was also called, was running all over the house with the other, kittens, but refused to walk on the rug, the width of which filled the door through which she must pass. She solved the problem by leaping over the corner to the lowest step, running to the end of it and Jumping off beyond the end of the rug.
Smaller kittens arc the delight of "Tita's" heart. She rolls them over and over like a big ball. She also likes to see the chickens run and never reaches an outside door without at once looking for a flock of hens. On locating them she charges into their midst, making no effort to catch them and when they run away squawking she turns and looks at her mistress with a positive chuckle.
"Teddy" met an untimely fate. He was purchased by a druggist in Buffalo, who put his pet in one of his drugstores for a time. The soda fountain clerk overindulged "Teddy's" little appetite and soon he was no more. "Teddy's" brother "Pat" does not like children and on hearing their voices hastily retires to the seclusion of a closet for a season of silence and meditation. He is a most intelligent kitten and answers with a happy mew as often as his mistress cares to call his name.
"Sousa," a son of "Dainty," Miss Clark's greatest success, with on enormous coat and. the bluest of eyes, has covered himself with honor during the past show season. He has won five first prizes, a medal, a silver cup fourteen inches high and numerous special prizes. "Sousa" has played the part of both father and nurse. He usually takes one kitten out of a litter for his own and washes and attends to it himself. During the evening he always curls around a lamp on a large table and makes a beautiful picture.
"Sousa" has a sister named "Princess," who is almost his counterpart in appearance except that her eyes are amber and in her klttenhood her fur was longer. "Princess" was sold when 37 [sic. Means 7?] months old to a young woman in Wabash, Ind., for $20 and her mistress frequently writes to Miss Clark that her pet grows more and more charming.
"Loveliness," a splendid orange kitten, found an adoring mistress in Lafayette not long ago. Being accustomed to the quiet of a country life, with nothing more frightful than automobiles, the passenger trains and other city noises were almost more than she could bear. Her mistress carefully watched her, but "Loveliness" disappeared one day, and a thorough search failed to discover her. The family joined in the hunt, even to the pulling apart of the beds, but still no "Loveliness." Dinner was a failure, and the family left the table to try again, with no results. Then her mistress collapsed on the sofa, but rose in great haste, with a call for the scissors. "Loveliness" had crept Into the springs and was between the excelsior and the couch covering.
A letter acknowledging the receipt of one of Miss Clark's handsome sliver cats said: "We are much attached to him, and spend half our time looking for him. He has slept in the medicine chest and on all the beds."
Miss Clark usually names her kittens, but when she has a dozen or so she finds it hard to think of enough names to go around. She usually gives them descriptive names. "Grotty" insists on going everywhere and mews all the time. "Tipsy" is a brown lass with an orange-tipped tail. "Ras" Is a rascal, not naughty, but so mischievous. "Sunny" is a beautiful orange lad. "Bayard Taylor" developed fondness for explorations at a very tender age. Some of Miss Clark's cats have been christened by their new masters or mistresses, but not many of them.
She has now what she calls "her beloved 'Dainty,' still the sweetest, whitest, most sensible cat, and such a gentle little lady." "Dainty" believes everybody is her friend. Secure in her position as a thoroughbred registered puss she permits no short-haired cats on the premises. She is fond of making excursions to the barn, being a wonderful "ratter," and if a stray "Sir Thomas" happens to be loafing there he is soon to be seen making his way across the fields with every appearance of being in a great hurry, while a white streak follows close behind.
"Baby," a funny little orange cat with cross eyes and no particular beauty to boast of, but such a sweet, loving disposition and an amiable habit of presenting litters of most beautiful kittens, with great, round, velvety brown eyes (not crossed.) She is fond of spending her time in the most remote corner of the "raspberry patch." When Miss Clark calls "Baby" she comes running so fast she looks as though she would strain her little body. She usually misses her mistress [by] about two rods, and has to locale her again before reaching her.
Last and best, in Miss Clark's own words, is "My glorious 'Silverlocks' - a consciously naughty little girl, usually so timid, except with me, that visitors rarely see anything but a gray streak. 'Silverlocks' is worth looking at. With broad, short head, tiny ears, beautiful great round eyes, sometimes brown and sometimes green, enormous coat, ruff and brush — a cat after my own heart, only such a cranky disposition. She was born in Canada, of English parentage, so I feel I must bear with her idiosyncrasies."
"Silverlocks" is very fond of out-door life, and every morning leaps lightly to her mistress's back, apparently hoping that in a fit of absent-mindedness she will walk out with her on her shoulders, and she can go and go to her heart's content. Failing in this she rears herself up against the door and looks so pleadingly, all the time earnestly and volubly mewing her anxiety to be out of doors. She often runs round and round the flower beds simply for the joy of running. If Miss Clark pets her and stops before she is ready "Silverlocks" quickly turns and slaps her mistress. If any one reads aloud, sings or talks loudly, she expostulates with them, and if the offender fails to heed her very evident annoyance she receives a very smart slap from her ever-ready little paw.
Miss Clark is much attached to "Teddy the Second." He has the softest, whitest of coats, the most beautiful of ruffs and great dark eyes. He is a brilliant conversationalist in that he is always purring. He is also of a very affectionate nature, and is quite free with his kisses. It is easy to see why he is so loved.
Miss Clark says country life agrees with kittens, not one of hers, so far, has ever been sick. A diet of fresh, raw eggs, new milk in abundance and beef gives them wonderfully thick, soft coats. She never has to bathe them. Coal smoke is not known, gas being the fuel, her cats are always clean and sweet. Not only Miss Clark, but all the family, are devotedly attached to the kittens. Her aged mother, who is an invalid, often says: "How did we ever get along without the kittens?" They are so necessary to their happiness that the whole family echoes the question
KANSAS
Kansas City Journal, Nov 27, 1898: "Cat culture has been added to the Industries of Long Island. Several ventures of this sort have flourished there for years, but a cat ranch on a large scale is an innovation. The man who is arranging suitable pens and yards for this new venture will devote his attention to Angoras, which sell well in Flatland."
KENTUCKY
LOUISVILLE CAT KENNEL OPERATED BY MRS. BARNES
Cultivating the Kentucky Taste for High-Bred Tabbies Worth From $30 To $300.
The Courier Journal, February 6, 1898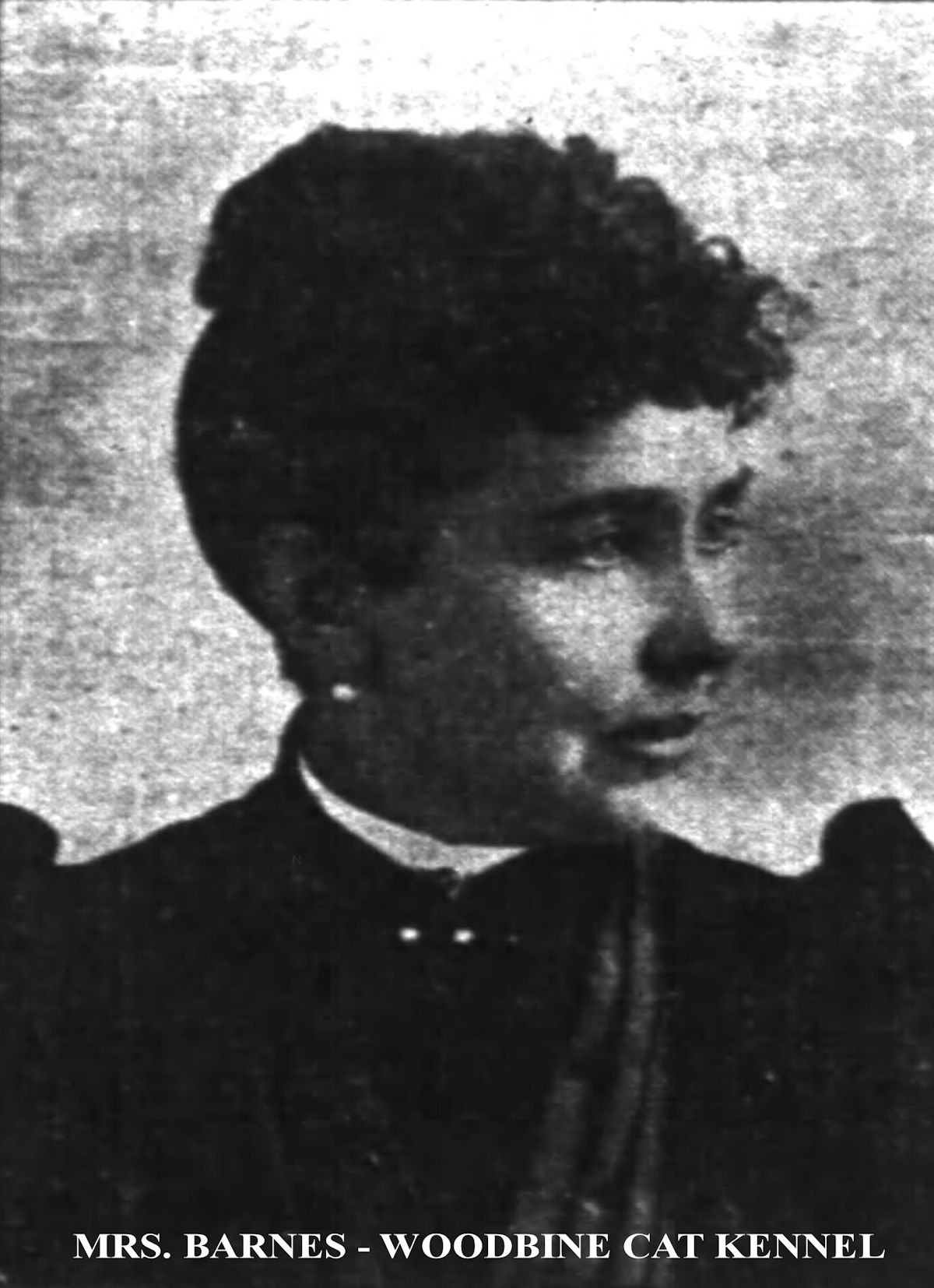 "Dear me, yes, August Belmont has paid as high as $300 many a time to secure a high-bred cat," said Mrs. N.L.D. Barnes, the owner of one of the few cat kennels in this section of the country. "It was several years ago that I established my kennel for thoroughbred cats. I find the business profitable, and while the majority of people of this place do not put any great store by blue-blooded cats. I think they are gradually being educated. I have letters from many cat fanciers in other large cities, and many of them are willing to pay as high a price as $30 or $40 for a cat." Mrs. Barnes then referred to a large book in her private office at the Columbia building and took out a number of letters.
"This letter is from Mrs. Leland Norton, who established the Drexel Avenue Kennels of Chicago," said she. "In order to be successful with animals, one must love them. In Boston last week there was held a very successful bench show of fine felines. In New York the demand for cats is so great that it is hard to fill the orders. It is not uncommon to see placarded 'Cat Meat Shop,' or 'Cat Meat Butcher Shop,' since various merchants down town have to keep cats to destroy mice in their stores, and as they live at too great a distance to supply feed for cats the special dealers make considerable money from the business."
Mrs. Barnes' cat kennels are well-known to cat breeders throughout the land. She keeps a register, and can tell with accuracy the pedigree of every cat in her kennel. She had in her office in the Columbia building yesterday a fine specimen of the Angora family.
"This is the Duchess," said she, "half sister of the one recently bought by August Belmont. Champion No. 2 is of royal Angora blood. Champion No. 1 having taken the blue ribbon at the Worcester exhibition in 1887. Another fine cat is Duke of Maltese family. I have Mollie Bawn, a tortoise-shell color, on which the hair grows three inches long over the body. Lilith is beautiful. She is of pure white, with blue eyes. Then, of tiger cats, I own Tiger and Topsy. Pompey is an immense black cat of a very royal line, Pearl, however, is a very rare variety. She has hair that is tipped with black, but if pushed back one can see that she is, in fact, a white cat."
"I love cats, as I find those of high breeding are not at all as fawning as some folks seem to think. A dog, for instance, if you do him an injury, will forgive and forget, but a royal cat cannot be persuaded to come near one who has mistreated him. I have now about forty cats and I provide them with every comfort. The beautiful, be it what it may, is always pleasant to behold; and there is but little if any doubt in my mind that the constant companionship of even a cat must have a soothing effect. The treatment bestowed upon the common house cat speedily kills an Angora, and I have given special attention as to their needs. In dressing the coat of an Angora a soft brush must be used and the cat must not be washed unless absolutely necessary."
A Courier-Journal reported visited the "Woodbine Cat Kennels," as Mrs. Barnes' establishment has been named. The location of the kennels is well-adapted for such a purpose. On the high cliff at the corner of Twenty-ninth and Catalpa streets, in the suburbs of Parkland, is this cat farm, accessible only by climbing a high wall to the front door.
Mrs. Barnes is a most affable woman, and took her visitor to the rear of the pretty house, where her splendid felines hold sway. Connected with the kitchen and a vestibule of the bathroom is a frame house filled with wooden boxes that serve as nests for the cats. In every box is nice clean straw. The kennel is in a small lot, and through the gateway one enters an extensive tract of ground that is called "a runaway," or "The Campus," over which the cats scamper and frolic. The entire cat premises is inclosed by a tall boarded fence, with a network of wire over the top. The wire top is to exclude plebeian cats from the ranks of "the 400."
Looking over the extensive grounds the scene was one of much interest. Some of the sedate matrons were looking at their frisky offspring with a satisfaction worthy of proud mothers of pretty debutantes.
"That is a red tabby," said Mrs. Barnes, "she is that one with a black ruff. Her hair is three inches long and an orange color all over her body. Her weight is twenty-one and one-half pounds." Her mistress had her perform some antics, such as jumping through a hoop, standing up at command, and 'lying dead,' all of which she did with supreme feline nonchalance.
"Another fine specimen is that large Maltese cat," she continued. "She will take her outdoor exercise, but before going to her nest with her young ones, she first crawls under the kitchen range and gets her fur heated."
There were a number of black cats scampering around, and their owner explained that all of her black cats had yellow eyes; if a black cat has green eyes, it is of no commercial value. A man is employed constantly to attend the kennels. Overfeeding is one of the things that prevents cats from thriving. Mrs. Barnes feeds her cats meat twice a day, and says as they are caged they do not require very much. The kittens are kept several months before they are put on the market.
MARYLAND
JENNINGS CATTERY TO BE SOLD – Democrat and Chronicle, 25th November, 1906
Home of Cigarette and Other Cats..
Owing to the fact that Allen B. Jennings, at Huntington Point. Md., has been appointed to a government office on the Isthmus of Panama, Mrs. Jennings, a member of the Lockehaven Cat Club, will be compelled to dispose of the inmates of her fine cattery. The best known of these is Cigarette, a smoke considered the most perfect specimen of his kind in the world. He and nine other blue-blooded cats will have to be sold before Mrs. Jennings joins her husband on the Isthmus, because they cannot stand the warm climate of that country, Cigarette was exhibited in the last cat show held in Rochester. Mrs. Jennings's cats will be in the Atlantic Club's show in New York in January to be sold. There will doubtless be scrambling among members of the Cat Fanciers' Association for Cigarette and others.
MASSACHUSETTS
THE WALNUT RIDGE CAT FARM, BOSTON.
As described in The San Francisco Chronicle (and others), May 10, 1896
Over One Thousand Felines Are Reared Each Year — Cats of All Breeds, With Their Points and Prices.
A cat farm! This will certainly strike most people as a novel industry. Few, probably, are aware that such an establishment is in successful operation in one of the suburbs of Boston, and is paying large dividends to those interested in the venture. It bears the euphonious title of Walnut Ridge Farm.
The cat fad is rapidly spreading in this country. In France it is the basis of a very profitable industry, having been carried on for two or three centuries; indeed, the French have long supplied the markets of the world with the finest specimens of cats of the long-haired variety, although England is more famous as a general market. Numerous exhibitions have been held in Crystal Palace, London, in which royalty, a» well as the working classes have shown these beautiful pets. The fever has now reached our own shores, and the public have been treated to several cat shows. The first national exhibition, held last May In Madison Square Garden, New York city, had more than three hundred members or the feline race on benches. Society has impressed upon the fad the seal of approval and it is now well on the way to great possibilities. Boston was recently treated to a display of these pets in Mechanics' Building.
But to recur to our cat farm — owing to the growing demand, the Walnut Ridge establishment has its hands full in supplying the orders which pour In every day, and the breeding of the animal promises to become general. Exactly 1,150 cats of various ages were shipped from this place last year; an average of nearly 100 a month, or more than three a day. The amount received for the consignment footed nearly $20,000, and this year the business la expected to Increase at least 60 per cent. Just as in other fads, fashions change in regard to the breed of cats, and Angoras are now the rage. This variety, being comparatively rare, has attained a correspondingly high position in the esteem of those able to afford such luxuries; society demands thoroughbred animals. This country has been a little backward in introducing the Angora, and until recently they have not been within the reach of the public. Not only was the cost of importing them very considerable, but the risk incurred in bringing the animal to this climate was great. But now they have become very hardy here. It is said that their hair grows longer and is much brighter, and that in every way the American Angora is a superlative animal.
The Angora cat, as its name indicates, comes from Angora, in Western Asia — a province which is also celebrated for its long-haired goat. This breed is in high favor with the Turks and Armenians, the best commanding a great price. The prime points of excellence are a small head, with nose not too long; large, full eyes of a color in harmony with that of its fur; ears rather large and pointed, with a tuft of hair at the apex — the size not showing, aa they are deeply set in the long hair on the forehead; a very full flowing mane about the head and neck. This latter should not be short; neither should the body, which should be graceful and elegant, and covered with silky hair with a slight mixture of woolliness. In this it differs from the Persian cat. In texture the hair should be as fine as possible, and not so wooly as that of the Russian cat; the legs of moderate length; the tail long, curving upward slightly toward the end, the hair very long at the base and less toward the tip. The colors of these cats are quite varied, a pure white, with blue eyes, being regarded as perfection.
In breeding the greatest care is taken in so mating the progenitors that the offspring will not only develop all the valuable points of its kind, but also be strong and hardy. The main object is to secure kittens having extra-long, soft silky hair, with large bushy tails, and big bright eyes. The hair is very even, being prettily curled upon the body, and about the neck is a lovely ruffle like a collar. Angora cats are very playful and make delightful pets as they are very intelligent. There is something surprisingly aristocratic and imposing in their appearance. In feeding the kittens particular attention must be given to have the food clean and wholesome; warm milk and oatmeal are what should be given principally, though cats can be fed on most anything that is good. They are sometimes fed on cooked meat in very small quantities, but this diet is rather heating and causes the skin to get hard and the hair to lose its lustre. Angoras are good ratters, and ordinarily get quite enough meat in that manner.
Of the Angora cat there are more than eight varieties; solid black, solid yellow, solid gray, solid white, black and white, yellow and white, maltese, tortoise-shell and various mixed colors — indeed, prettily marked mixed ones seem to be in the greatest demand. The prices vary, ranging as follows: The best full grown, male or female, $10 to $25; second, $5 to $10; kittens to $10 each, either sex. Pairs, cats closely mated for breeding, the best $25, others $15 to $20; kittens, the best $20, others $10 to $15. A really fine specimen that will give entire satisfaction may be bought for $5. The solid colors are much more expensive than the mixed, yet many prefer the latter.
An expert on the subject states that in Angora cat breeding it is wise to keep only the finest specimens. It is a mistake to rear all the litter. Never should more than four kittens be allowed to nurse. Too many breeders strive for numbers and quantities rather than for quality and value. Half of the Angoras raised now are not strictly thoroughbreds, there are scarcely twenty breeders in this country who have the fine imported stock to raise kittens from.
The training of the Angora depends largely upon the person in charge. It requires patience, though the kitten is quick to learn. Some cunning tricks are the following: Lying down, sitting up, giving the paw, kissing, jumping the rope, crying, praying and sitting at table. One of the many charming qualities of the Angora is its affectionate and loving disposition.
However, it must not be supposed that Angoras have the call on public favor. The Persian cat is also very popular. It differs from the Angora chiefly in that its tail is larger, and the hair fuller and coarser at the end. The eyes should be large, full and round, with a soft expression. The Persian is longer in body than the Angora, and apparently more strongly made; yet slender and elegant, and exceedingly graceful in all its movements. The colors comprise almost every tint obtainable in cats.
Another popular variety is the Russian. The principal characteristics are the unusually large body and relatively short legs. Its habits are peculiar, and not at all like the common short-legged cats. The Tabby cat is chiefly remarkable on account of the variety of colors in its coat. The name "tabby" has reference to its peculiar markings, being derived from a word meaning ribbed silk. The Abyssinian cat is included in the tabby variety. It is believed that this breed is identical with the Egyptian cat, which was worshiped so many centuries ago, and the mummies of which are so numerous.
The Manx cat is a curious creature. It lacks that appendage which enables its brothers to alight upon their feet no matter from what distance they may be dropped. In other words, it has no tail — the best breeds none at all, and even the less aristocratic not enough measure off an inch on the tape line. The creature runs more like a hare than a cat.
Among the most famous cats in the country is "Toodles," a very valuable representative of the rare black branch of the Angora species, owned by Miss Mazzanich, of 29 West Thirty-second street, New York. Another beauty "Royal King," a blue and white Angora, valued at $500, by the Walnut Rid Farm, which also owns "Charming Tommy," who can not be bought for less than $1,000. He is solid buff in color, weighs thirty pounds, and is distinguished by his beautiful mane and tail. His hair varies from three to six inches in length. "Black Max" is another admirable species of his race. He is about eight months old, and is owned by Mrs. Thomas Aitkin, of Newburgh, whom nothing could induce to part with him. His value is estimated by experts at $200.
Another farm which has recently sprung into prominence is that conducted by Crittenden & Norton, of New York. As this farm is intended as an improvement upon the "old original," it combines all the best features and latest improvements. It is situated at Parsippany. N.J., about ten miles from Montclair — not far from Caldwell, the birthplace of President Cleveland.
The main building consists of a "barn" 100 feet in length by twenty in depth. This is waterproof and warm, and has every sanitary arrangement for the preservation of the health of the occupants. It comprises two divisions, one devoted to the male and the other to the female section of the community. These sections are respectively divided into three parts each, in which the felines are distributed according to their age.
To the south of the barn are the runways, six in number — one for each section of the interior. These range from 20 to 30 feet in length, and from 16 to 17 feet in width. In those devoted to the kittens are planted several small trees, which the future sleep-destroyers climb and tumble from with untiring energy.
Closely-woven- wire screens separate these alleys, so that while Tom and Tabby may exchange the compliments of the season, or arch their backs in the discussion of breach of promise suits, they may not meet with either osculatory or pugilistic intent.
WHERE CATS ARE BROUGHT UP – Angola Herald, September 30th, 1896
People who pass up and down a certain street in a suburb of Boston are often startled by a sound of wailing and yowling and mewing, as if all the cats of the city had gathered in one spot and were holding a concert. The sound really does come from cats. For at Walnut Ridge farm they don't raise wheat or corn or potatoes, but just cats - big cats, little cats, shaggy cats and cats with kangaroo tails and short legs. Last year this farm shipped over 1,100 cats and kittens to various parts of the country, the prices ranging all the way from $10 up to $25 each.
These cats from Boston's suburb are not the kind that live in barns and hunt their own living, but long-haired, strange- looking pussies known as Angora cats. The Angora cat, as the name indicates, comes originally from Angora in western Asia, and has, up to very recently, been imported from that place; but the risk incurred in bringing the animals to this clime, besides the cost of importing them, was so great that the idea of raising them here in America was tried. And it has been at once successful. If any of your friends have an Angora cat it probably received its early education in Boston.
MICHIGAN
A MANX CATTERY – Los Angeles Times, 28th January, 1900
Miss Hattie A. Warren of Adrian, Mich., is mistress of the Bobh-o'-Link Kennels, the only Manx cattery in this county.
The plumy-tailed Angoras are having their day, but as fads invariably swing like a pendulum, from one extreme to another, it is not surprising that the cat without a caudal appendage is becoming the idol of the hour. They are a superb foil for each other, these splendid, graceful creatures from the Orient and the tailless puss from the Isle of Man. While Manx cats do not appeal to the artistic taste, they tickle the risibles to the last degree, for their hind legs are longer than their front ones, and, lacking the balance of a tail, they amble around like an intoxicated kangaroo. Their rolling gait never ceases to be laughable, even to a Manxman, who simply adores the odd little creatures from his beloved isle.
But if they are not beautiful without they are lovely within, for they are extraordinary affectionate, scrupulously clean, fine mousers and keen for all manner of small game, which doubtless accounts for the fact that in their native island there are neither venomous reptiles nor toads, moles or badgers, foxes, pheasants or black game. Half a dozen years ago Miss Warren was presented with Bob-o'-Link, a white-and-tortoise-shell Manx cat, and her birthday, August 27, is religiously kept in the Bob-o'-Link Kennels. Manx cats are not prolific, there rarely being more than a couple of kittens in a litter, which makes the animals rare and valuable.
The chief attractions in Miss Warren's kennels are Nig, an Ethiopianesque giant, with eyes yellow as topaz; Cupid, Caprice, Midget and Mammy, who has a perfect golden heart on her bonny face. They are about the size of the average cat, but their locks are longer and soft as silk. There is only one real Manx cat in Chicago. Miss Warren will exhibit three of her pets at the coming cat show.— [Chicago Record.]
MINNEAPOLIS
A KENNEL OF MINNEAPOLIS ANGORAS
SANTA CLAUS WILL PUT SOME OF THESE SOFT BALLS OF LONG FUR IN THE STOCKINGS OF SEVERAL CAT-LOVERS.
The Minneapolis Journal, December 6th, 1902
Santa Claus will have in his capacious bag this year a number of kittens, kittens with fluffy fur and fluffier tails and long ruffs around their heads from which bright little eyes will peer curiously forth. They are not common kittens, by any means, and come from the St. Anthony kennels. Some of them will be surprises, but for the most part they have been selected by their prospective mistresses, who visit them at least once a week for a frolic and to promote good fellowship.
Miss Frances Meeker has at present only thirteen cats in her kennels, but the number is not proving unlucky unless one considers the rapidity with which the cats are being sold unfortunate, but as Miss Meeker raises them for that purpose, she doubtless has other views, although she is extremely fond of her pets and mourns the departure of every one of them. They are happy little animals, and play all over the house on Chicago avenue, for the Misses Meeker do not confine them to their special playground in the rear. They have the freedom of the place and are often found curled in soft furry balls on the divan. Thirteen fluffy balls just about fill the big sofa, and there isn't room for even a cat lover unless she pushes aside a head or tail, and even then the cats admit her with a bored sigh and continue their naps. They are used to admiration, and when Miss Meeker takes them out in leash, which she occasionally does, it is quite as good as a royal progress.
It is about two years since Miss Meeker became interested in raising cats. Egypt, a great smoke Angora, was her first pet and came from Maine. Egypt is of wild stock, but she is very mild and gentle, with her kittens. Marc Antony is a handsome red and cream of pedigreed stock, and his brother took the second prize at the Boston cat show when valuable cats from all over the county were exhibited. Marc Antony took a prize at the St. Paul cat show himself last year. Marc Antony and Egypt are both about 2 years old, and Miss Meeker values them at §50 apiece, and then laughs as she says they are not for sale, even at that price.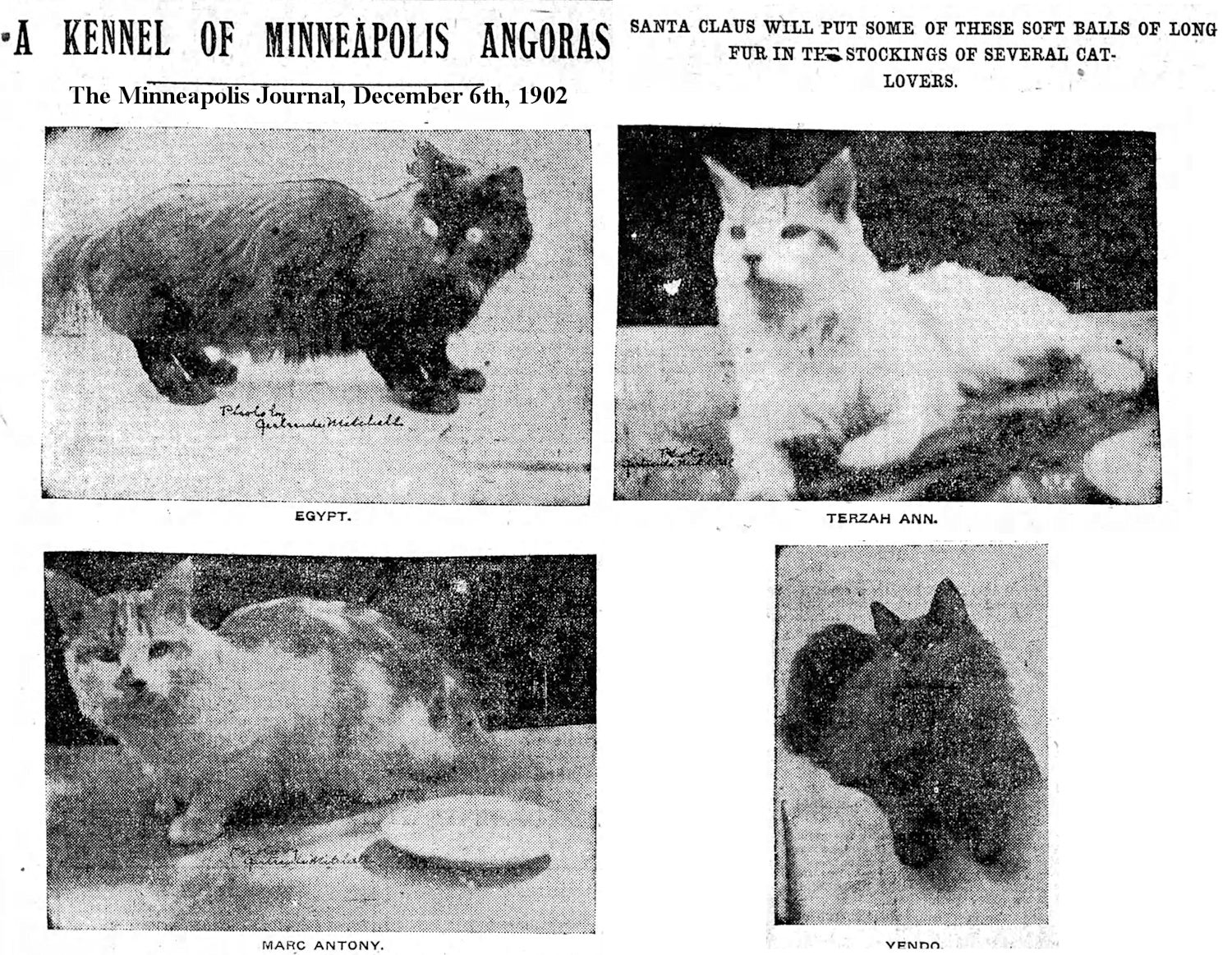 Of the younger generation Yando is perhaps the most promising. He is a beautiful smoke, just ten months old the day his picture was taken. He was named for the Japanese scientist who was with Professor Conway McMillan's botanical party at the Pacific experimental station last summer. Yando has a certain dignity that is very amusing in a kitten. He is also a $50 cat and his points make him exceedingly interesting to a cat fancier.
Huckleberry Finn is a cream tortoise, who won a prize at the St. Paul show last year. Then there Is Tirzah Ann, whose distinctive feature seems to be a fondness for handkerchiefs, which she hides whenever she can. Babs, who is as weird as Mme. Sarah Grand's impossible heroine. Remus who feels very much alone since Romulus died, Ping Pong has been sold, as well a number more. It is not the easiest matter to find names for all of the wee kittens and heroes and heroines of history and fiction are reviewed when names are wanted.
All of Miss Meeker's cats show the much prized points — short body, round head, short nose, tufted ears and big ruffs, so desirable in an angora who is to be a prize winner. They range in price from $5 to $50 according to how strongly the different points are developed and to color. The smokes, deep lustreless, almost black, are regarded by people who know, as the most beautiful, and consequently are among the most valuable. The solid colors are always the highest priced because they are rarest and a solid blue, smoke or white cat is worth almost its weight in silver. The reds and creams are mere common but the red should run into the cream in certain ways to be desirable and a spot of red In the wrong place diminishes the value of the kitten.
There will be a cat show in connection with the poultry show the last of January in Minneapolis and aristocratic pussies from the northwest will be present. Mrs. Hampton Lane of the Berrisford [sic] kennels in Chicago has been invited to act as judge. Miss Meeker will exhibit some of her cats in spite of her misfortune at the last show, where Danny Deaver, a beautiful blue, was taken ill and died shortly after. But one does not need a blue ribbon to show that Miss Meeker's cats are remarkably handsome and intelligent, and each one, from the tiny kittens to the grave and dignified Egypt, has its own individual charm which makes him the meat interesting of felines.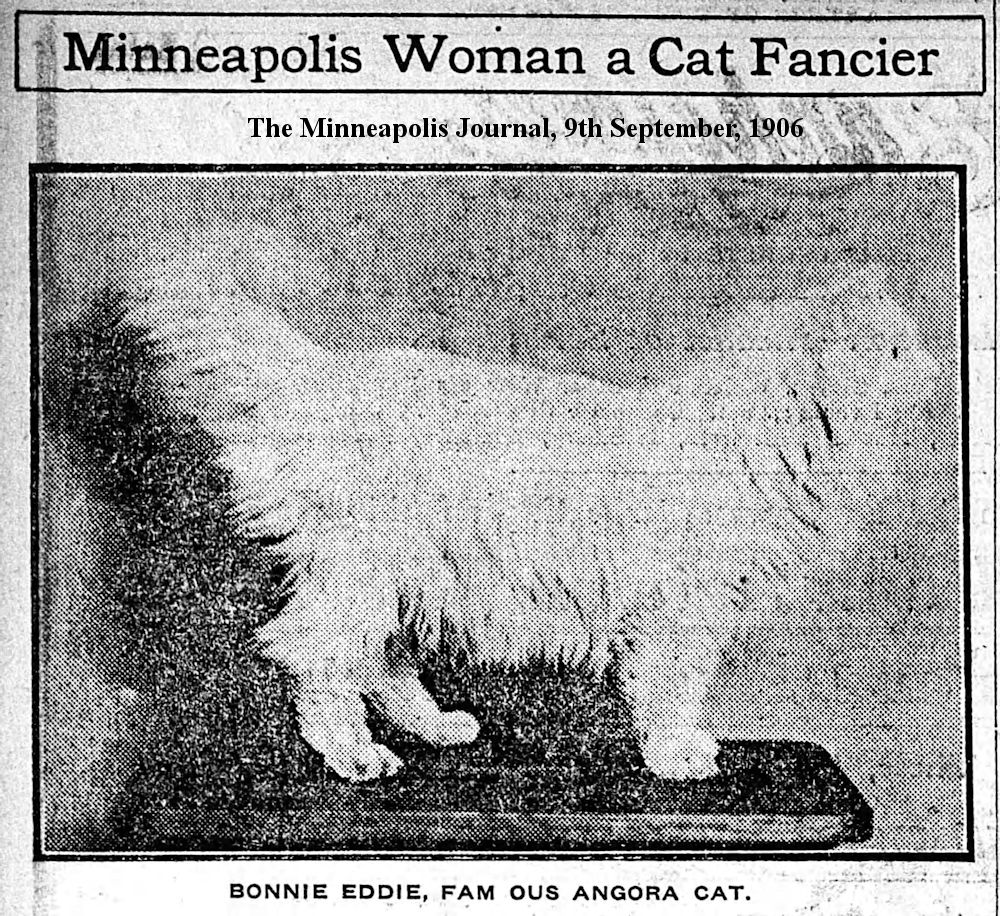 MINNEAPOLIS WOMAN A CAT FANCIER - The Minneapolis Journal, 9th September 1906
A cat that is worth almost his weight in gold is Bonnie Eddie, the king of Mrs. F. H. Williams' cat kennels. Mrs. Williams has twice refused $1,100 for Eddie, who won the championship ribbon at the last cat show. Mrs. Williams is enthusiastic over her pets, and at her kennels, the Ramblers, shows some beautiful angora cats and kittens.
"I am a southerner by birth," she says, "and from earliest childhood accustomed to blooded stock. There is not an animal at The Ramblers, poultry, cats, dogs or horse, but what comes from the best attainable blood."
Mrs. Williams makes a specialty of white cats, and Bonnie Eddie has not a colored hair on his body. His eyes are of the shade of sapphire most desirable in a white angora, and Mrs. Davis of Chicago, who judged the cats at the last show, described them as "deep wells of sapphire, fathomless as the; bottom of the sea," which is pretty good for even a $1,100 cat. He is heavily furred all over his body, and the fur is as fine as spider web, each hair measuring four inches long, and of that creamy tinge so essential in a white cat. His score at the show was 95, which was something remarkable.
Mrs. Williams is enthusiastic over her pet, and in speaking of him she says: "He is 3 years old, was bred by Mrs. Colburn of Chicago, a wealthy cat fancier, and sold as a 3 months' old kitten by her to William Simnet, then a leading dealer in this city, of whom I purchased him. Mrs. Colburn has repeatedly tried to purchase him from me. Eddie comes from a long line of sapphire blue-eyed, white imported cats. Paris, the blue-eyed wonder, being his sire; his mother was an imported blue- eyed white. Lord Elton II was his grandfather. Caprice, the best-known white female in the United States, is his grandmother. Lord Elton, a famous blue-eyed white English cat,, his great grandfather. Eddie is a cat with national reputation. While at the fair, yesterday I met an Englishman just over from across the pond, to whom I gave Eddie's card. He said: "I've 'eard of that cat; 'es known hall over Hingland."
"King Cotton, another of my cats, and Eddie s rival in show points, is a handsome golden-eyed white male, springing from the best known white cats in the country and, is holder of championship ribbons for the best gold-eyed, white cat. It is doubtful whether we cat dealers will show in connection with the poultry people this coming winter, but you may put me down as authority in saying there will be a show of the best angora cats held here, in which there will be a full, field of white, blue-eyed cats; some of them Eddie's children. At this show will be seen my pet alligators, now about four feet long, and my latest fad, angora chickens [silkies], as I call them, 'hatched from cold-storage eggs,' the only fur-bearing chickens in the world."
NEW JERSEY
THE SHORTHAIRED CAT NO LONGER SLIGHTED
Miss Cathcart, a New Jersey Woman with Ideas
About Cats, Hopes to Make It a Rival of the Angora and ilk Persian.
The Washington Post, Sunday, October 1, 1905.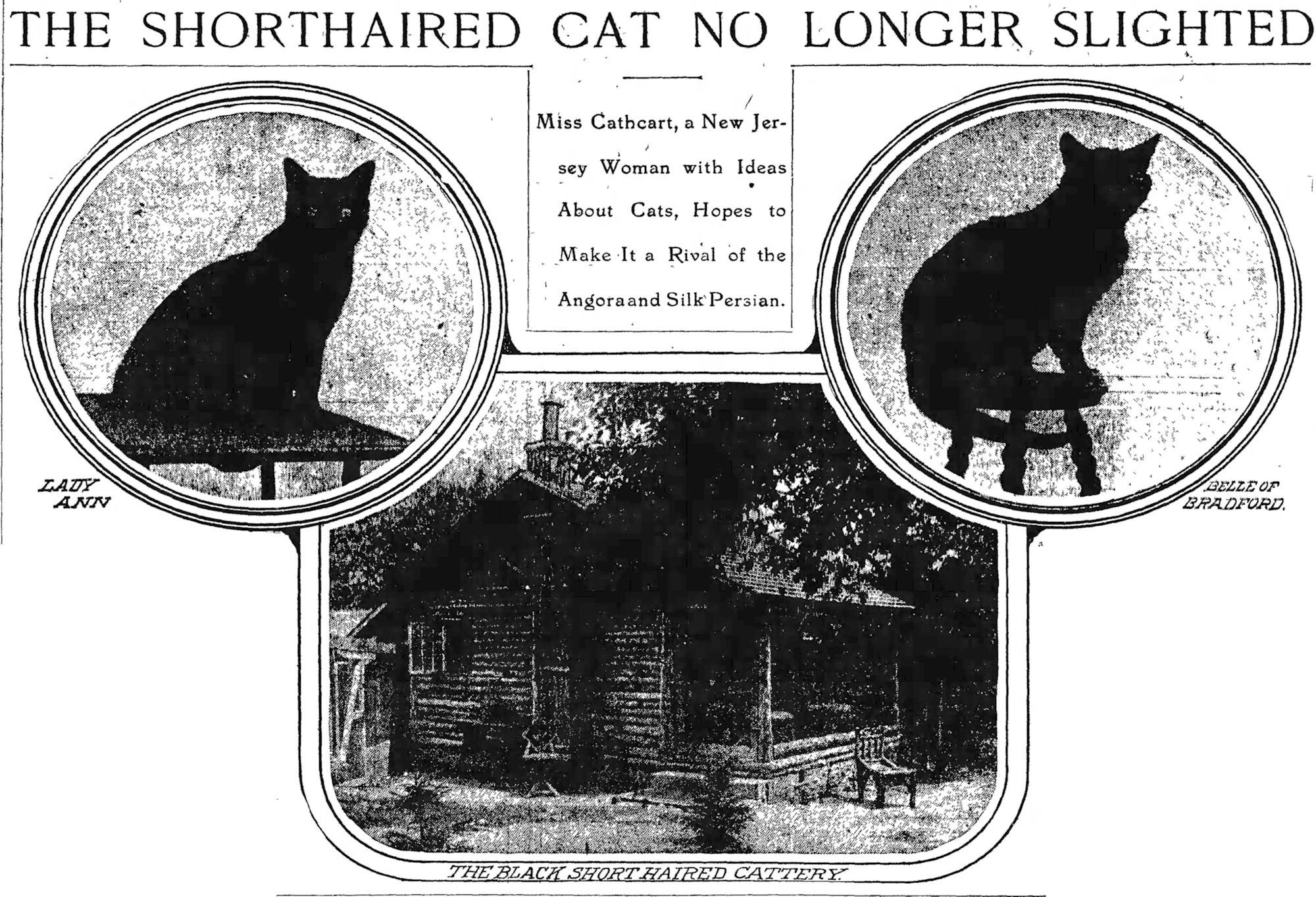 There is a stock farm in Bergen County, N. J., that differs from the ordinary stock farm which raises cattle or horses or sheep, because it breeds cats - shorthaired cats like the one that rubs Its back under your chair and mews for tidbits at jour dinner table. It differs from most stock farms In another respect, it is managed by a woman.

Miss Jane R. Cathcart is the owner and operator. She is a young woman who drew some attention to herself last summer by addressing various cat clubs on the advisability of arresting all the stray tomcats in the big cities. The cattery sits on a little knoll, and consists of half a dozen small rustic buildings assembled about a long, shed-like affair which opens on one tide into a great turf-paved, wire woven cage. Miss Cathcart herself is an enthusiastic guide to visitors about the place.

"This is the first summer my cattery has been running," she will tell you. "And it is the only one of its kind in the country. When you realize that there are numerous breeders of Angoras you easily see how shamefully the shorthair cat has been slighted. I think it is quite as beautiful and lovable a house pet as the Angora or the silky Persian I am breeding from pedigreed stock, and I'm glad to say the demand for shorthairs is increasing weekly "

Miss Cathcart calls the place the Black Shorthair Cattery, and you might suppose that the farm bred only black shorthairs. The name, though, arises from a quite different circumstance Black was the name of a French poodle. Miss Cathcart once owned. He is now dead, alas but in the flesh he had a tender regard for cats of every age, breed, and length of hair. But the shorthair variety were his special favorites. He adopted a shorthair kitten named Tiger.

When, In spite of Black's tender care, Tiger longed for cat companions, Miss Cathcart bought one and then several shorthairs, and they all frolicked about under Black's delighted and careful eye - a very happy family, indeed. They have gone the way of all flesh. But when Miss Cathcart determined to breed kittens it was with fond memories of Black and his predilections lingering In her mind. Hence the name.

"This is the cattery itself," she explains, as you enter the long, shed-like building.

Cats are purring and frolicking in the fifty or more neat pens ranged in a single tier. These are six feet long by three wide Clapboardlng and wire netting separate them. Just within comfortable jumping distance from the concrete floor, you note, is a shelf bearing tabby's kennel, full of clean straw. The pens open by sliding doors into the large, grassy, wire-covered runway, where alternate squads of toms and tabbies frolic all day long. You soon learn that the prime object of the many which Miss Cathcart intends the cattery to serve is that which she has already championed - the elimination of that roue of the back fences, the stray tom, from feline society.

"All of my breeders are prize cats, some of them champions," Miss Cathcart said. "I suppose Champion Belle of Bradford, who has never been beaten, is our finest animal. He - of course, he's a tom. The name? Well, I suppose Champion Beau of Bradford would be more correct. Anyway, he has won over a dozen firsts in England. Yes, perhaps a woman did name him, although I'm sure I don't see the point of your question. He is that red tabby over there with the beautifully striped markings.

"He was pronounced almost unbeatable in his class at the Toronto exhibition a few weeks ago. My cats took ''nearly all the prizes there in the shorthair class. Tommy Rot, this little black rascal with four white socks, took first prize as a house cat at the Atlantic Cat Show last winter. Lady Ann, this rolypoly English black, is one of my best. She has taken many firsts in England, but I have never shown her here. Her four kittens - just see how they frolic around her - will be prize winners, you may be sure. You see, three of them are tortoise shell, and so prettily marked!

"Prissy, this small English black, is one of my best cats and a great prize winner. She will soon have a litter of kittens by Champion Belle of Bradford, and with such parents they should be very good, indeed. The odd-looking white puss with the brown ears and paws? Oh, that's Baquette. She does look as if she were half dog. She is an imported Siamese pussy from prize-winning parents. I imported them all from France and England in April, you know. The cattery practically dates from then. I go abroad this winter and will bring back several Manx and Abyssinians in the spring to complete the stud.

"What do I feed them? Well, milk with perhaps a cracker or two In the morning, raw beef at noon, and cooked meat with potatoes at night."

Here you learn that chickens, squabs, and rabbits are also raised on the farm - not, however, for the tables of the fashionable restaurants across the river. For different is their fate. They are used solely to vary the simple diet of the cats.

"Game is their natural food, you know, and cats won't thrive without it," she said. "They should not be fed too much, however. More cats die from overfeeding and lack of exercise than from any other cause."

At a corner of the grounds is the hospital. Here cats are examined by the veterinary surgeon of the establishment on entrance and treated when ill. Nearby is another small building for the accommodation of mothers with their litters.

"We keep the cattery about E0 degrees during the cold weather," Miss Cathcart said "Of course, the more thoroughbred the cat the more sensitive to change of temperature, like other highly bred animals. The native cats, however, need nothing more than their warm kennels and liberty to frolic at will in the runway, even In the coldest weather But the Imported ones are not used to our winters, and would die unprotected Queerly enough, though, their kittens are just as hardy as the little one of native cats."

As for the spread of the Cathcart idea, a short-hair cattery is soon to be established In Rochester, and another in Connecticut, both with the elimination of the stray Tom as their prime objects. Cat clubs and breeders think favorably of the idea, but have serious doubts of its practicability.

ELEVATING THE STATUS OF CATS
Daily Arkansa Gazette, 4th November, 1906; New York Sun, 14th October, 1906
Miss Cathcart Runs and Interesting "Cattery" in New Jersey – Real Value is Apparent.

Miss Cathcart, who has started a "cattery" in new Jersey, with the aim of raising the status of the short-haired cat until its ownership is limited to responsible people who will care for it properly, thus reducing the number of vagabond, homeless cats, thinks she is making progress in her mission, according to a New York letter.

Last summer the cattery consisted of two small kennels and a few inmates. This season more than ninety cats, some of them champions from abroad worth several hundred dollars each, have been enjoying its comforts. There are winter and summer kennels, grass furnished with roosts, ladders and various contrivances for feline exercise and amusement, sun parlors and infirmaries. A cow is kept to provide the cats with milk, Belgian hare are raised exclusively to serve them with food and chickens to supply them with both eggs end meat.

"I do not want anyone to suppose that this this is a philanthropy," said Miss Cathcart. "Though it originated in a desire to improve prove the condition of the short haired cat, it would simply tend to degrade them if it were conducted on any other than business principles. I do not believe in giving a cat or a kitten to anyone. A person who cannot pay at least S1 for a kitten cannot afford to have a veterinarian for it when it is sick, nor care for it properly at all.

"Moreover well to do people place no value on cats they do not have to pay for and so a great number are turned out on the streets as strays each summer by people rich enough to close their town houses and go on vacations. The Persian cat is highly esteemed, but merely because of the price which must be given for it.

"It is not hard to educate the true cat lover to appreciate the difference between the cat worth $25 and that which may be had for the taking. There is always a demand for pretty kittens. A handsome prize winning house cat is worth about $25. A champion king or queen may command several hundreds. This summer the cattery has paid its running expenses, and that I consider very good considering how new the work is.

"If the short haired cat brings less money, it has the advantage for the ordinary family of being hardier and more easily raised than the Persian. Then it looks handsome the year through, while the longhaired haired beauty loses its coat terribly in spring and fall. Some people also prefer the short hair because the mobility of its form is visible, while that of the other is hidden beneath a mass of fur."

At first it was intended to devote the cattery to producing a perfect breed of black short haired cats only, that being a creature at present almost impossible to find. But there is yet no strain of black cat so true that kittens of other colors will not appear in each family, so the scope had to be broadened, and now the kennels hold prize winners of all colors. The black cats, however, are Miss Cathcart's chief pride and one of these, Prissy, is considered the most perfect of her kind in existence.

"The fine black cat is coal black, and without a touch of white on it anywhere," she explained as she exhibited her treasure. "The eyes should be a deep orange which is very hard to procure, those of most black cats being yellow. I brought Prissy from London where I paid $150 for her."

Prissy has a broad head, round face, very small ears set far apart, and large round eyes placed straight across the face without the slightest slant upward. These, her mistress explained, are the points which all breeders strive for in short haired cats. The kings of the establishment occupy each his separate run and little summer cottage. Most of the kennels are like miniature Queen Anne cottages, with two stories and many doors and windows, for all cats love a place in which to hide and climb.

"The bedding in these houses must be burned and renewed every day without fail," Miss Cathcart said. "Then each cat has two houses, one being taken away after it has been in use two or three days, thoroughly disinfected, scrubbed and left to the sun and air while the other is in use. One must not economize trouble when running a cattery.

"This is Riquiqui a royal Siamese king," unfastening the gate of a large run. Riquiqui's sleek coat is the color of covert cloth while his short crooked tail, his ears, nose and legs are dark brown. His eyes might be patches of the sky, they are such a clear turquoise blue. "You see how crooked his tail is," said his mistress, "That is considered a very good point in a Siamese cat; so are the blue eyes. The darker the points of the Siamese, the higher he ranks. The brown in Riquiqui's coat is a little light just now, but it will become darker in the winter.

"These cats are growing in favor here as pets among wealthy women, but they are extremely hard to raise in this climate. They are very much in vogue in Paris just now because they are odd as well as beautiful. Riquiqui came from Paris with me in the spring and his wife is to follow soon. Such a pair is worth about $75.

"And this is Buster Brown she continued, opening another of the small runs. "He is a champion short hair smoke and a native of America."

Placed by the side of a black cat Buster's coat showed a tinge of plum color or dark cinder, though without the comparison the difference was scarcely noticeable. Unlike the black cat, however, his under fur is pure white, the hair shading gradually from white at the roots to black brown on the tips.

This is the peculiarity of all smokes, which are extremely rare, and especially so in the short haired class. Buster is a champion of his kind, and has been beaten only once and then by his wife Judy B., for whom Miss Cathcart paid $200. Judy B. lacks the handsome well shaped head of her mate but excels him in the fine quality of her coat and its even upper tone; also her tail is thinner. What the English call a whip tail is desired for a shorthaired cat, because a thick tail, breeders say, shows a long haired ancestor.

An orange tabby king, Belle of Bradford, represented England, having won his championship in that country before coming here. He is orange even to his eyes, tiger marking of a deeper shade running through his coat. No touch of white mars his perfection.

"There are few orange queens," Miss Cathcart said, "and there are no tortoiseshell kings. Belle of Bradford, therefore, makes a good mate for a pretty tortoise shell queen of mine. Then with an orange father and a dark blue mother we can get the pale blue kittens which are now so much preferred to the dark blue."

The blue cat is a native of Russia though it is commonly called Maltese and a very pale silver gray is the odd shade now desired in its coat.

A short hair cat society has recently been founded in Rochester. Miss Cathcart is its president and it will have branches in every city of the country. It will strive to instruct cat owners about the care and possibilities of cats. Besides exhibiting at the regular cat shows this winter it is to hold one of its own at which a special feature will be prizes of money for poor men's cats.

A municipal ordinance will soon go into effect in Rochester which will oblige anyone one who keeps a tomcat to pay a breeders fee or license. This is regarded by cat lovers of that city as the most practical measure for decreasing the number of strays, which has been so great this summer as to make it impossible for the various cat homes and shelters to handle them.

"It would be impossible to have such a law in New York yet," said Miss Cathcart. "The city is too large. Even in Rochester it is merely an experiment and is likely to be modified. Later such a law might be made practicable in large cities."

In one of the large summer runs is Billy Baxter, a brown tabby and white, who is especially interesting because he exhibits what is considered perfect marking in all cats which are not solid in color. The white begins in a sharp point between the eyes, spreads over the lips, covers the chin, and extends down the chest, forming a shirt front. His four feet are white. When the white extends to the legs of such a cat it must be as even as possible on all four. The eyes of all cats marked with white should be orange, no matter what the other color of the coat may be. The pure white cat, however, must have blue eyes according to the English rules; but in this country country there is a separate class for those with yellow eyes.

Among the inmates of the cattery are twenty cats in runs by themselves, and those have a history. They are the wards of a New York woman who devotes time and money to rescuing strays from the streets and keeping them at her own expense until she can find good homes for them. Among many beauties in this collection of former tramps are two remarkable gigantic white cats.

"I have had about forty boarders this summer," said Miss Cathcart. "The care of the cat? Nothing better can be given them to eat than table scraps. I give my cats a drink of fresh milk in the early morning and after that two meals a day. Some people do not believe in milk for cat but I do. They have raw beef and many other kind of meat besides the rabbits and chickens. I give them constant variety, every meal different from the last. Of vegetables of all sorts they should have an abundance; they are also fond of cereals. Raw egg is good for them and cats are always fond of it; but it is too heating for summer diet.

"A cat should never be washed. The short hairs ought to be combed several times a week and the cats should then be rubbed with a cloth to polish their coats."

NEW YORK

A CAT FARM [NEW YORK?] Cork Constitution, 1st August 1896
America now boasts a cat farm, writes our New York correspondent, and no breeding farm is conducted with more scrupulous care. Cats with pedigrees, cats with short and long hair, with graceful tails and no tails at all - every variety is to be found on the farm, which was founded by a lady some eighteen months ago. The nucleus of her feline colony was formed by three cats, whose ancestors were born in the land of the Shah. After twelve months had passed, there had been twenty-two additions to the colony, and every one of the newcomers was born on the farm. It is doubtful if anyone know the number of the present population. A perpetual census is necessary to secure absolutely accurate information. This feline's paradise is known as Sparrow's Roost - why, is unknown. Certainly the average sparrow is not of a sufficiently suicidal nature to make this a roosting place.

They are fed a mixed diet of broth, vegetables, oatmeal, and raw meat. The main food, however, is a brand of cat food, which the proprietress makes herself, of which the animals are very fond. Cats of different colours are constantly imported in order to diversify the colours of coming generations, and cat is kept for breeding purposes that does not boast a pedigree. Care, attention, and study have to be given constantly to prevent the soiling of the coats and matting of the hair. All the members of the aristocracy buy their cats from this place, and often pay big prices for them. £5 is a common amount, but as the lady-farmer captures most of the prizes at all the prize cat shows, it is no wonder that she has no difficulty in obtaining as much as £100 for some of her animals, and that she threatens to wax rich out of her novel business.

WASHINGTON

ARISTOCRATIC CATS OF WASHINGTON - The Times, Washington, April 13th,1902

Washington possesses the finest cats in the country. There is one of these creatures the number of whose ancestors many a parvenu here covets. The pedigree of Mrs. Mary Cornish Bond's prize Persian, Menelik III., dates back thirty generations. Menelik leads off in value of Mrs. Bond's 11 cats. He is worth over $1,000 and the others follow at values of from $250 down to $10. The kittens are sold as fast as they can be bred, and even the skins of these long-haired creatures are saleable for small rugs at a good price.

Next to Mrs. Bond, Miss Burritt's cattery is the largest. She calls it the Columbia cattery and each of her 19 cats has the surname Columbia prefixed to his given name. Columbia Shamrock, Columbia St. Patrick and Columbia Maggie Kline are the names that have been given to three little puffs of whiteness that were born on St, Patrick's day. Columbia Puff is a new importation that came over in a cattle ship from London. She is valued at $500 and the duty on her was $30. Columbia Gay has the most remarkable tall in town. It is 14 inches square. The hair on it parts in the middle and stands out on the other side 7 inches. It is 14 inches long.

WISCONSIN

FIRST CAT KENNEL IN WISCONSIN BY A FORMER JANESVILLE WOMAN - Janesville Daily Gazette, July 5th, 1901

Apropus to the revival of interest the in the Oak Lawn Hospital Association, few people in this city are aware of the novel industry in which a former matron of Oak Lawn hospital has enthusiastically interested himself [herself]. The lady is Mrs. Blanche D. Wells, now of Milkwaukee, who will be well remembered by her friends in this city.

To Mrs. Wells belongs the distinction of having founded the first cat kennel in Wisconsin. Cat kennels are very new in the United States. Cat clubs and cat shows are distinctly latter day institutions, although the gentle creatures themselves have been the friends of the illustrious of the earth since the Pharaohs welcomed them to their luxurious homes and shared with them their honoured tombs. History shows a long line of kings and nobles, queens and ladies, authors and artists, who have done homage to cats, while the House of Commons cat and the County Council cat are as much a part of government machinery as lord or judge or jury.

Puss, take her as you will, reigns supreme the world over. She dares enter where prime ministers and courtiers fear to tread. She is master of all she surveys and no one denies her right to go where she will.

In 1887 a number of distinguished English people, drawn together by their sympathetic appreciation of the cat, instituted "The National Cat Club," probably the first of its kind in the world, certainly the first in England. In 1895, as an offshoot of this, was organized the "Lady Beresford Cat Club," with the Duchess of Marlborough, Duchess of Wellington and Lord Marcus Beresford as presidents, and half the gentry of England occupying the chair of vice-presidency.

New York of course could not be far behind her English cousins and in 1896 organized the first American Cat Show, at the termination of which "The New York Cat Club" was formed. The west woke up a little later; but once the west is aroused it is aggressively energetic, and when Chicago made up its mind to have cats and clubs and shows there was no specimen too good or too remote to be brought to her doors. The Result is that Chicago is acknowledged today to have the finest and rarest collection of cats in the country. Indeed, a most learned judge, who had acted in the capacity of a cat expert in Europe for seven voted the collection of exhibits at the first Chicago Cat Club show in December, 1898, the finest he had ever seen in any country; and now kennels are being started all through the far west from stock obtained at the best Chicago kennels.

One of the most promising of these recently organised kennels is the one which Mrs. Wells has founded at 503 Sycamore street, Milwaukee. Five of the kittens which are a part of Mrs. Wells' collection of thoroughbreds, have for their sire, Drexel [Royal] Norton, first of the Drexel kennels, of Chicago, for whom is claimed the proud title of the most famous and aristocratic cat in the world. Mrs. Leland Norton and the founder and proprietor of the famous Drexel kennels, is a persona1 friend of Mrs. Wells. She will put no price upon Royal Norton, first, and money cannot buy him but he is valued at $25,000.

Mrs. Norton has won for herself a national reputation as a breeder and raiser of thoroughbred cats and the Drexel kennels' stock takes rank with the very best in the country. The great glory of the Drexel kennels is "Tootsie" – "Tootsie Willard." His great claim to distinction is that he was the well-beloved pet of Frances Willard, and as such inherits the love of her devoted followers. Over two thousand dollars' worth of "Toots' pictures have been sold for the temperance cause, so dear to the heart of his mistress, and there is still a constant demand for the counterfeit presentment of his lovely head. "Toots" was really destined for better things in the way of name, having been originally christened "Gladstone," and "Gladstone" he would have remained had not the grand old man for whom he was named, one day repudiated principles considered vital by Miss Willard.

A visit to Miss Wells' kennel is full of interest and even the person who does not know an Angora from the common tabby of the alley is apt to come away enthused on the subject of thoroughbreds. Mrs. Wells herself is the most ardent of enthusiasts and very proud of her beautiful pets. All her life, she says that she has had pet cats, the common, every-day plebeian being loved just as dearly as the dainty and costly aristocrats which she owns today, but she confesses to the fact that the possession of these creatures of stainless lineage engenders the same feeling of pride that animates the owner of rare lace and priceless diamonds. Mrs. Wells has taken great personal pleasure in the establishment of the kennel which has already proved profitable to her and she intends to increase and enlarge it until Milwaukee can boast of a kennel second to none.

The kennel is founded on the very best stock and all of Mrs. Wells' cats are absolutely thoroughbred, all being registered. They receive many calls from interested people and Mrs. Wells could have sold them several times over but she has determined to keep the original members of her cat family. One of the most interesting of her kittens is Jacques, registered in the Drexel kennels and also in the Chicago cat club kennels. He is a magnificent animal with a jet black coat, pure white feet and the most exquisite coat a cat ever wore. This royal animal is only a little over a year old and the fur on his tail, which looks like, a great ostrich plume, measures five and a half inches. He is the most conceited fellow and enjoys exhibiting himself, but is as excusive as any prince of royal blood, rarely allowing any one but his owner to touch him. Black cats are being taken up wonderfully by theatrical people as mascots and this past winter Mrs. Wells had a chance to sell Jacques to a member of Olga Nethersole's company for a price three times as large as Mrs. Wells paid for him but she will not part with him at any price.

Bangalore, another of Milwaukee's famous kittens, is a pure Indian tortoise-shell, imported from her native home in Mysore, India. But very few of these cats have ever been brought to this country, and Mysore's stock is much sought after. Mrs. Wells also has four snowy white kittens, four months old, sired by Royal Norton, first. Their mother is Marie, owned by Mrs. Wells. She is a registered cat and is eligible to any prize winning in the United States. Mrs. Wells does not let any young cots leave the kennel until they are six months old because they are apt to die if taken any younger.

WISCONSIN MAN STARTS PERSIAN CAT RANCH - The Wilmington Dispatch, March 8, 1915

Fond Du Lac, Wis., March 8 [1915]. H. Pettingill, prominent business man and noted cat fancier, is to put this city on the feline map. Mr. Pettingill, who is engaged in the retail furniture business at North Fond du Lac, has already completed plans for a cat ranch to be inclosed with high fences to protect the pets from common tabbies and also from their arch enemy — the dog. Mr. Pettingill has been studying the Persian type seven years and has owned a score or more. His most recent acquisition is "Jerry of Keewadin," Persian aristocrat from the cattery and Dr. Haines of Pittsburgh. "Jerry of Keewadin" is bred "in the purple" and is duly registered in the American Cat Association records. His sire is Teddy D. and his dam Daphne D., with a long list of Chicago Cat Show ribbons to her credit. Other ancestors include "Black Bill" and "Champion Menelik III," and [Jerry] is expected to have an illustrious line that will help make Fond du Lac famous as a producer of Persian tabbies.

WYOMING

DAVOUST'S BIG CAT RANCH – Marietta Daily Leader, September 23, 1900

Achilles Louis Nicolas Davoust has just passed through Cheyenne, Wyo., en route from his famous cat ranch in the Big Horn mountains to spend some time with relatives in his old Canadian home. Davoust established his Big Horn cat ranch several years ago, and now has one of the choicest of cat collections. The ordinary and regulation "tabby," the valuable Angora, with its great size and long silky fur; the pretty "tortoise shell" variety, the big tailless Manx feline from the Isle of Man; the beautiful Carthusian cat, the maltese, and the native wildcat of the Big Horn mountains are all included in M. Davoust's breeding pens.

The market value of the Angora, the "tortoise shell" and the Carthusian run from $15 to $50 per cat. Maltese kittens are worth one dollar each as soon as their eyes are open, while the native wildcat commands an especial and fancy price. The cat ranchman has now on hand, all told, 1,000 cats, and estimates the market value of his stock at between $5,000 and $7,000, He is doing considerable fancy breeding and especially expects to be able soon to supply the market demand for the rare particolored black and cream Angora.

The view from America ...

AMERICAN WOMEN CORNER ENGLAND'S FELINE MARKET
The Atlanta Constitution, January 11, 1903

THE latest American invasion is that of the American woman who snaps up prizes in the cat world of England. For several years she has dazzled staid old England by paying any price asked, and, as a result, she has a regular corner in the best English cats. She thinks nothing at all of paying $200 or $300 apiece for Persian pussies of "lang pedigree." The breeding of the long-haired cat been a pastime of wealthy women in England for years. The pedigrees of the pets are kept with as much care as those of the owners, while the death of a famous cat, or the joyous advent of a happy family, is chronicled with re¬spectful solemnity in the cat page of the society journals.

These titled cats are now being brought in great numbers to America. Queen Vic¬toria had a pet Persian named Duschar. Duschar had a son named Amesh, whom the queen gave to her daughter, Princess Victoria of Schleswig-Holstein. Amesh was a great pet in the royal household, and has often strolled over the ample person of King Edward. Today, however, he belongs to Mrs. J. V. Gotwalts, of Pottstown. Pa., and presides over the Bagdad cattery and a harem of Persian beauties.

AMERICAN MOST CELEBRATED CAT. In the Mohawk valley, at the very house where doughty old Sir William Johnson once ruled the Six Nations, lives the most celebrated stud cat in America, King of the Silvers, who has sired more winning kittens than any other tom In this country, just as his father, Lord Southampton, Southampton, sired more winners than any other cat in England. King's owner, Mrs H. A. Mix. has refused $500 for him, and William C. Whitney unsuccessfully offered $250 for one of his sons, Jack Frost. At one side of Sir William's stately old stone mansion, which has been in tie possession of Mrs. Mix's family ever since the revolution, is the Old Fort cattery. It is a neat, white cottage, in the midst of spreading lawns, with kitchen and sitting room, hospital and wide verandas, all kept in immaculate order for the tribe of pedigreed cats which occupies it.

At her pleasant country home in Elizabeth, N.J., Miss Ava Pollard has another of these model catteries, the Omar, where, in the midst of vines and roses, dwell Omar and a whole family of fa¬mous queens. Omar is the lightest chinchilla in America and was bred by Mrs E. H. Edmondson, of Springfield Hall, Knowle, Warwickshire, England. Lorraine of the Gables is called the finest silver queen In America, and Purity the finest white, her parents, White Friar and Crystal, having been the best whites in England. In the same cattery is a tortoise-shell queen who was bred by Hon. Philip Wodehouse, son of the earl of Kimberly.

SOCIETY WOMEN ARE CAT FANCIERS. One of Omar's sons, Honeyboy, went to Mrs. Clarence Mackay for a pet last fall. He journeyed to his country home on Long Island in an automobile, his wicker cage making a pretty picture in its hamper of fresh cut flowers. Mrs. Francis Burton Harrison is an¬other New York society woman who dotes on Persians. Mrs. Sarmiento and Mrs. Cutler, two wealthy sisters of Detroit, are among the heaviest importers of English cats. Mrs. Frank L Norton, of Cazenovia, N. Y. has just brought in five or six for which she paid from $100 to $300 each. Her Imperial Blue is a famous cat. Mrs. Champion, of Hart Park, Staten Island, has a large cattery noted for its beautiful silvers. Mrs. S. H. Bond, of Washington; Mrs William Brandreth, of Ossining, N. Y. Mrs. George G. Brows, of East Cleveland, and Mrs. B. M. Gladding, of Memphis, are among the wealthy enthusiasts.

Mrs. W. S. Hofstra, of Garden City, L.I., president of the recently organised Atlantic Cat Club, which will probably become the national club, devotes herself to the breeding of the Siamese species. This is called the royal cat, because it has been bred for centuries in the Royal family of Siam. One of Mrs Hofstra's cats was a present from the crown prince of Siam, and its little brother went to the Queen of Portugal who is an enthusiastic cat fancier. Mrs Mitchelson, of Kansas City, recently paid $150 in New York for a 7-months-old kitten, Argent Sparks, a member of the famous Argent family of silver Persians. Sparks' little brothers and sisters sell for $50 or $70 at the age of 4 or 5 weeks. Miss Lillian C. Moeran, a wealthy New York woman, devotes herself to the breeding of the Manx tailless cats at her country place at Southampton, L. I. Miss Katherine L. Gage keeps at her country home in Brewster, N.Y, a celebrated cat named Whychwood, who was bred on the estate of Lady Florence Dillon in England, and named after one of its beautiful forests. His pedigree is cal¬culated to strike awe to the plebian heart, and he has lent it the glory of traditional prizes. Seven of his descendants gather about the patriarch at mealtime, and special meats and fishes are sent out from New York for the Persian pets every day.

UNCLE RUSSELL PAGE'S CATS. Milo and Mellto, strictly American cats of the Maltese variety, have the run of the Fifth avenue mansion which shelters "Uncle Russell" and Mrs Russell Sage, and one of the few relaxations which the hard working multi-millionaire allows himself is a play with the pets after dinner.

Mrs. Clinton Locke, of Chicago, was the first woman to import Persian cats, and the Beresford Cat Club of that city was the first cat club in America. It was named after Lady Marcus Beresford, the most enthusiastic of the aristocratic women cat fanciers of England. These catteries are run upon the strict¬est of scientific principles. The care, the food, the grooming, the cleanliness and the hygiene are up to the standard of that accorded carefully reared children. The latest wrinkle in the cat world is the breeding of the short-haired cat for points, as the Persian has been bred. Poor puss is to be rescued from the humble hearthstone or the alley fence, transformed Into a thing of beauty, and then introduced to cat shows, blue ribbons and silver challenge cups.

You are visitor number