WHAT ARE HYBRID BIG CATS?
WHAT ARE HYBRID BIG CATS?
Zoos and menageries once bred exotic-looking hybrid big cats to attract the public just as hybrid small cats (Bengal, Chausie etc) are now bred as pets. Hybrids are unlikely in the wild. Where big cat species have overlapping territories, they usually have different lifestyles and rarely meet. If they do meet, conflict is more likely than romance. To deliberately breed hybrids, the parent cats are raised together to overcome any natural enmity between their species. Some hybrids occur accidentally where different cat species were housed together for convenience; the keepers did not realise that the cats would - or even could - mate. The urge to mate can be so strong that they will mate with each other if there is no available partner of their own species.
The belief that big cats readily inter-mated and produced all manner of hybrid offspring is found in the writings of Roman author Pliny, in "Historia Naturalise". Pliny described the lustful and competitive nature of lions. Since many species must flock to a single watering hole, there is opportunity for lust between species, resulting in "many varieties of hybrids". In "The Variation Of Animals And Plants Under Domestication" Charles Darwin wrote: "Many species of Felidae have bred in various menageries, although imported from diverse climates and closely confined. Mr. Bartlett, the present superintendent of the Zoological Gardens (18/17. On the Breeding of the Larger Felidae 'Proc. Zoolog. Soc.' 1861 page 140.) remarks that the lion appears to breed more frequently and to bring forth more young at a birth than any other species of the family. He adds that the tiger has rarely bred; "but there are several well-authenticated instances of the female tiger breeding with the lion." Strange as the fact may appear, many animals under confinement unite with distinct species and produce hybrids quite as freely as, or even more freely than, with their own species."
Unusually for hybrid animals, female big cat hybrids are usually fertile, though the males are most often sterile. The same is seen in many small cat hybrids e.g. Asian Leopard Cat x domestic cat where the F1 (first generation) males are sterile. Due to conservation efforts, deliberate hybridization is banned in most zoos. It still happens in private collections, behavioural/reproduction studies institutes and as part of attempts to breed domestic big cats. A loophole in some laws makes it illegal to own lions, tigers or leopards, but legal to own hybrids! Although ligers and tigons are the best known hybrids, lions are more closely related to jaguars and leopards than to tigers.
The ability to hybridise is partly associated with how closely species are related to each other. According to nuclear and mitochondrial DNA analysis, tigers are more closely related to snow leopards than to lions, leopards and jaguars. Lions, leopards and jaguars are more closely related to each other than to tigers.
The common ancestors of lions, leopards and jaguars split from other cats around 4.3 to 3.8 million years ago.
The common ancestors of tigers and snow leopards evolved around 3.9 million years ago.
The ancestor of jaguars evolved around 3.6 to 2.5 million years ago.
Tigers began to evolve into a unique species around 3.2 million years ago.
Lions and leopards split from one other about 3.1 to 1.95 million years ago.
While lions, leopards and jaguars all form viable hybrids with each other, the tiger has only formed viable hybrids with the lion (tiger/leopard matings resulted in aborted foetuses). None of the species have been mated to the extremely rare snow leopard (captive snow leopards are part of conservation programmes and therefore not available for frivolous cross-breeding).
Some of the information here may also be found in "Mystery Cats of the World" and assorted articles by Karl Shuker. I am grateful to Paul McCarthy for library searches researching and providing information on a number of mammalian hybrids, including those of big cats.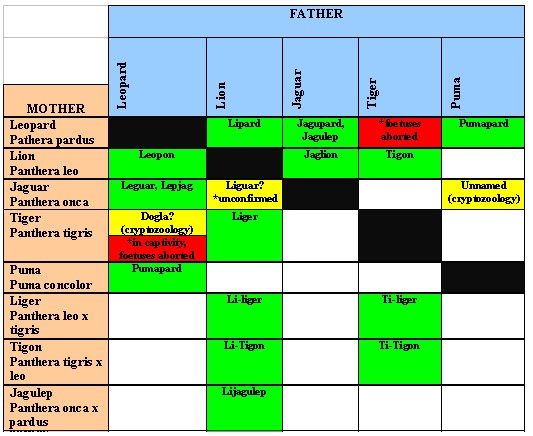 THE FOLLOWING SECTIONS OPEN IN NEW WINDOWS
WHY ARE LIGERS SO MUCH BIGGER THAN TIGONS?
WHY BREED HYBRIDS? COMPLEX HYBRIDS AND BACKCROSSING. HOW NEW SPECIES ARE CREATED
EMOTIONAL & BEHAVIOURAL PROBLEMS IN HYBRID BIG CATS
BIG CAT/DOMESTIC CAT HYBRIDS
REFERENCES AND FURTHER READING
For more information on the genetics of colour and pattern:
Robinson's Genetics for Cat Breeders & Veterinarians 4th Ed (the current version)
For more information on genetics, inheritance and gene pools see:

The Pros and Cons of Inbreeding
The Pros and Cons of Cloning
For more information on anomalous colour and pattern forms in big cats see Karl Shuker's "Mystery Cats of the World" (Robert Hale: London, 1989); the genetics content of this publication is now outdated.
Textual content is licensed under the GFDL.