THE CAT'S MEAT MAN
Copyright Sarah Hartwell, 2014-2017
The cat's meat man used to be a common sight in London and other large towns between the mid 1800s and the 1930s. Let me clear up one misconception first - this trader sold meat FOR cats, not meat from cats! During that period, most towns had their own abattoirs and horse slaughterers (knackers) and ineveitably there was meat unfit for human consumption, though it has to be said that the definition of "fit for human consumption" was probably wider than it is today. Horsemeat, along with meats that were "on the turn", fly-blown or showing signs of disease could be purchased by traders who hawked their wares in the street. To prevent unscrupulous traders from re-selling the meat as fit for human consumption or using it in pies, it became the practice to dye the meat blue or green. Whether the dyes were toxic to cats is not mentioned, though a good many Victorian and Edwardian dyes turned out to be noxious to humans and animals alike.
The earliest reference I have found to the trade comes from Bell's Life in London and Sporting Chronicle, 18th August 1822. In a report on court cases was this one entitled "CATS' MEAT AND CONJUGAL DIFFERENCES.": A gentleman next appeared to answer the charge of a lady. The former was wholesale slaughterer of horses at Battle Bridge; the latter was a retail dealer in food for the canine race — or, other words, a barrow-hawker of cats' and dogs' meat. It appeared that the parties were man and wife, but that of late divers unhappy differences and disputes had arisen between them.' The complainant was in the habit weekly of disposing of some three or four pounds' worth of horse flesh, in the way of her trade, and there being a pretty decent profit attached, as well to the wholesale as the retail dealer, tire defendant thought it was nothing but fair, as he was the complainant's husband, and a wholesale dealer in flesh, that she should come to him to buy her meat. The complainant had, however, thought proper to carry her ready money to another market, and the defendant, being displeased with this bad treatment, threatened the complainant what lie would do, provided she persisted in this course. It was for this that the present warrant had been granted. After hearing the parties at great length, Mr. Sergeant observed, that it appeared their object was a separation; but had not power to separate them. The defendant replied, that the magistrate was quite mistaken, for wanted his wife to come back and live with him and be comfortable. The complainant— Yes, yes, your worship, he wants to come back and live with him, and then for my earnings to support another woman and a young family of children, that will have by her; but that's what I'll never do, your worship' The worthy magistrate observed, that if the lady refused, he could not compel her to live with her husband. If the husband could not coax her back his winning appearance and actions, there was another course open to him, but he must take special care that he did not commit any breach of the peace; be therefore recommended them to depart, and behave civilly to each other. They then left the office, neither of them at all satisfied with this decision.
Social researcher and journalist Henry Mayhew wrote about cat's meat vendors in his record of London life: London Labour and the London Poor Volume One (1861). He counted 300 such vendors (though his reports also mention 1,000 such vendors).
The supply of food for cats and dogs is far greater than may be generally thought. "Vy, sir," said one of the dealers to me, " can you tell me 'ow many people's in London?" On my replying, upwards of two millions; "I don't know nothmg vatever," said my informant, "about millions, but I think there's a cat to every ten people, aye, and more than that; and so, sir, you can reckon." [I told him this gave a total of 200,000 cats in London; but the number of inhabited houses in the metropolis was 100,000 more than this, and though there was not a cat to every house, still, as many lodgers as well as householders kept cats, I added that I thought the total number of cats in London might be taken at the same number as the inhabited houses, or 300,000 in all.] "There's not near half so many dogs as cats. I must know, for they all knows me, and I sarves about 200 cats and 70 dogs. Mine's a middling trade, but some does far better. Some cats has a hap'orth a day, some every other day; werry few can afford a penn'orth, but times is inferior. Dogs is better pay when you've a connection among 'em."
The profit the carriers make upon the meat is at present only a penny per pound. In the summer time the profit per pound is reduced to a halfpenny, owing to the meat being dearer on account of its scarcity. The carriers give a great deal of credit—indeed, they take but little ready money. On some days they do not come home with more than 2s. One with a middling walk pays for his meat 7s. 6d. per day. For this he has half a hundred-weight . This produces him as much as 11 s. 6d., so that his profit is 4s ; which, I am assured, is about a fair average of the earnings of the trade. One carrier is said to have amassed £1,000. at the business. He usually sold from 1 to 2 cwt. every morning, so that his profits were generally from 16s. to £1 per day. But the trade is much worse now. There are so many at it, they say, that there is barely a living for any. A carrier assured me that he seldom went less than 30, and frequently 40 miles, through the streets every day. The best districts are among the houses of tradesmen, mechanics, and labourers. The coachmen in the mews at the back of the squares are very good customers. "The work lays thicker there," said my informant . Old maids are bad, though very plentiful, customers. They cheapen the carriers down so, that they can scarcely live at the business. "They will pay one halfpenny and owe another, and forget that after a day or two." The cats' meat dealers generally complain of their losses from bad debts. Their customers require credit frequently to the extent of 1s. "One party owes me 15s. now," said a carrier to me, "and many 10s.; in fact, very few people pay ready money for the meat."
The carriers frequently serve as much as ten pennyworths to one person in a day. One gentleman has as much as 4lbs of meat each morning for two Newfoundland dogs; and there was one woman - a black - who used to have as much as 16 pennyworths each day. This person used to go out on the roof of the house and throw it to the cats on the tiles. By this she brought so many stray cats round about the neighbourhood, that the parties in the vicinity complained; it was quite a nuisance. She would have the meat always brought to her before ten in the morning, or else she would send to a shop for it, and between ten and eleven in the morning the noise and cries of the hundreds of stray cats attracted to the spot was "terrible to hear." When 'the meat was thrown to the cats on the roof, the riot, and confusion, and fighting, was beyond description. "A beer-shop man," I was told, "was obliged to keep five or six dogs to drive the cats from his walls." There was also a mad woman in Islington, who used to have 14 lbs of meat a day. The party who supplied her had his money often at 2 pounds and 3 pounds (sterling) at a time. She had as many as thirty cats at times in her house. Every stray one that came she would take in and support. The stench was so great that she was obliged to be ejected. The best days for the cats' meat business are Mondays, Tuesdays, and Saturdays. A double quantity of meat is sold on the Saturday; and on that day and Monday and Tuesday the weekly customers generally pay.
"My father was a baker by trade," said a carrier to me, " but through an enlargement of the heart he was obliged to give up working at his trade; leaning over the trough increased his complaint so severely, that he used to fall down, and be obliged to be brought home. This made him take to the cats' and dogs' meat trade, and he brought me up to it. I do pretty comfortably. I have a very good business, having been all my life at it. If it wasn't for the bad debts I should do much better; but some of the people I trust leave the houses, and actually take in a double quantity of meat the day before. I suppose there is at the present moment as much as £20 owing to me that I never expect to see a farthing of."
The generality of the dealers wear a shiny hat, black plush waistcoat and sleeves, a blue apron, corduroy trousers, and a blue and white spotted handkerehief round their necks. Some, indeed, will wear two and three handkerehiefs round their necks, this being fashionable among them. A great many meet every Friday afternoon in the donkey-market, Smithfield, and retire to a public-house adjoining, to spend the evening.
A " cats' meat carrier" who supplied me with information was more comfortably situated than any of the poorer classes that I have yet seen. He lived in the front room of a second floor, in an open and respectable quarter of the town, and his lodgings were the perfection of comfort and cleanliness in an humble sphere. It was late in the evening when I reached the house. I found the "carrier" and his family preparing for supper. In a large morocco leather easy chair sat the cats' meat carrier himself; his "blue apion and black shiny hat" had disappeared, and he wore a "dress" coat and a black satin waistcoat instead. His wife, who was a remarkably pretty woman, and of very attractive manners, wore a " Dolly Varden" cap, placed jauntily at the back of her head, and a drab merino dress. The room was cosily carpeted, and in one corner stood a mahogany " crib" with cane-work sides, in which one of the children was asleep. On the table was a clean white table-cloth, and the room was savoury with the steaks, and mashed potatoes that were cooking on the fire. Indeed, I have never yet seen greater comfort in the abodes of the poor. The cleanliness and wholesomeness of the apartment were the more striking from the unpleasant associations connected with the calling.
It is believed by one who has been engaged at the business for 25 years, that there are from 900 to 1,000 horses, averaging 2 cwt. of meat each— little and big—boiled down every week; so that the quantity of cats' and dogs' meat used throughout London is about 200,000 lbs. perweek, and this, sold at the rate of 2d. per lb., gives £2,000 a week for the money spent in cats' and dogs' meat, or upwards of £100,000 a year, which is at the rate of £100 worth sold annually by each carrier. The profits of the carriers may be estimated at about £50 each per annum. The capital required to start in this business varies from £1 to £2. The stock-money needed is between 5s. and 10s. The barrow and basket, weights and scales, knife and steel, or blackstone, cost about £2. when new, and from 15s. to 4s. second-hand.
The slaughtermen are said to reap large fortunes very rapidly — indeed, the carriers say they coin the money. Many of them retire after a few years, and take large farms. One, after 12 years' business, retired with several thousand pounds, and has now three large farms. The carriers are men, women, and boys. Very few women do as well as the men at it. The carriers "are generally sad drunkards." Out of five hundred, it is said three hundred at least spend 1s a head a week in drink. One party in the trade told me that he knew a carrier who would often spend 10s. in liquor at one sitting.
The carriers then take the meat round town, wherever their "walk" may lie. The sell it to the public at the rate of 2-and-a-half pence per lb, and in small pieces, on skewers, at a farthing, a halfpenny and penny each. Some carriers will sell as much as a hundred-weight in a day and about half a hundred-weight is the average quantity disposed of by the carriers in London. Some sell much cheaper than others. These dealers will frequently knock at the doors of persons whom they have seen served by another on the previous day, and show them that they can let them have a larger quantity of meat for the same money. The class of persons belonging to the business are mostly those who have been unable to obtain employment at their trade. Occasionally a person in bred to it, having been engaged as a lad by some carrier to go round with the barrow and assist him in his business. The boys will, after a time, find a "walk" for themselves, beginning first with a basket and ultimately rising to a barrow. Many of the carriers give light weight to the extent of 2 oz and 4 oz in the pound (weight).
The best districts are among the houses of tradesmen, mechanics, and labourers. The coachmen in the mews at the back of the squares are very good customers. "The work lays thicker there," said my informant. Old maids are bad, though very plentiful, customers. They cheapen the carriers down so that they can scarcely live at the business. "They will pay one halfpenny and owe another, and forget that after a day or two." The cats' meat dealers generally complain of their losses from bad debts. Their customers require credit frequently to the extent of £1. "one party owes me 15s now," said a carrier to me, "and many 10s; in fact, very few people pay ready money for the meat."
The Journal of the Society of Arts, 1868, gives us some additional figures: "He had pursued some independent inquiries with regard to the question of using horsemeat for food, and he did not find the same difference as Mr. Bicknell had between the amount slaughtered and that accounted for. In round numbers, there wore 1,300 cats' meat men, but who preferred to be called " carriers" in London, and their vocation was to feed something liko 150,000 dogs, and 250,000 cats. He believed he was correct in saying that about 46,000 horses were annually slaughtered in London, many being brought up from the country on purpose by contract; the prices being from 15s. to 55s each. Allowing 250 lbs. of dog's-meat to be produced from each horse, there would be about 11 million lbs. as a total. On inquiry as to each carrier's daily average, he found that the total amount sold did not very largely differ from this."
The Dundee Evening Telegraph of 19th October 1882 reprinted a short item from the Gentleman's Magazine: THE CATS OF LONDON. Is it not startling to hear that the cats of London - the real household pets - are said to number three hundred thousand, without any sort calculation for houseless wanderers, whose nasal yells disturb nocturnal peace? The amount annually spent on purchasing horse-flesh from the cats' meat men of London is said to be £100,000! This, according to vulgar notions, should be a proof of the folly of elderly spinsters, who are generally supposed to have a monopoly of feline affections The great cat show held in London a few years ago, however, betrayed a very different state of domestic matters, the male exhibitors being so numerous and so successful that they carried off thirty-two prizes; fifteen more were secured by cat-loving matrons, while to the much maligned old maids there were only awarded four prizes!
Another author also interviewed a cat'-meat man and her report was published in "The Gentleman's Magazine". It was also reproduced as "The Cats'-Meat Man" in the Aberdare Times, June 20, 1896:
Under the title of "Henry," Elsa D'Esterre Keeling contributes to the new number of the "Gentlemans Maqazine" a not altogether in appreciative sketch of the London cat's meat man. After describing his childhood, with its environments, and his early youth, the writer says: The calling which this youth follows is one which seems to be peculiar to these islands - he is a cats' meat hawker. It will have been noticed by some, if not, perhaps by all readers of this, that the cats'-meat man is a person not to be looked for in the grandest, and also not to be looked for in the lowliest, places - that is, in his professional capacity, In his private character he may be met anywhere, even in the old Court suburb of London. If any cats'-meat man here plies his trade, however, it is only with moderate success the great field of action for this commercial body is in northerly regions. There is one North London suburb where the calling of cats'-meat man could probably not be overstocked. The reason of this is that more than in any other region of London, there is a delightful preponderance of the class which is not rich and is not poor, but is an intermediate English thing for which there is, unfortunately - and unaccountably - no name [note: there was a name "middle class"]. This class is the one which gives out its washing and buys cats'-meat, and which, on the score of being able to do this, considers - and, mayhap, rightly considers itself – a credit to England and the whole earth. Henry, who is gifted with business talents of no mean order, plies his calling among this class, and that he does not make his fortune by so doing, but remains bitterly poor, can only be explained on the ground of his large philanthropy. Not only is he to all his friends that 'friend indeed who is friend in need,' and that, when at all possible, in a very practical way, but at 20 years of age he wholly supports two persons besides himself. One is his blind kinswoman, the other is a kinswoman in the possession of all her senses, except when, as on one or two day of every week, she goes on what he calls euphemistically, "visits to her friends." That way madness lies, and she becomes for that time a mad woman. Inquiries concerning her made by persons of plainer speech are usually made in the formula, "Maria on the drink again?" a formula this which does not offend Henry, though he is sufficiently attached to Maria to hold his home open to her. It also does not offend him when the facetious among his familiars ask after his blind kinswoman in the words, "How is the Old Hundredth?" words containing an allusion either to her great age or great piety. Levity never displeases him, yet so little is his soul a clod that he has visions. In these he sees himself the happy man that he will be when these two women are gathered to their foregoers, for then he means to marry a young lady to whom he is warmly attached. This young lady is one of 12 damsels in the employ of a collar-dresser, who takes out their work and disposes of it, for he does not work himself, being a sweater [sweat-shop owner]. She is paid miserably, howbeit she refuses to allow Henry to contribute an iota towards her sustenance while she is a maid. One could not say that all is sweet and commendable in her nature, but this in it is sweet and commendable – she loves Henry to ecstasy, and by a curious defect of mental vision sees in him not a hero, which in some respects he is, but a thing which he is really in no respect, a brilliant and fascinating "gentleman."
The occupation was not without hazard as the report "Godsend for Cats" in the Evening Express, August 5, 1898 indicates: A purveyor of eats' meat named Laybon was plying his trade in Redcross-street, Borough, and in an ill-fated moment left his barrow unattended by the pavement. A vehicle, driven by a Mr. Hawkes, came along, collided with' the barrow, turned it over, and shot all the cats' meat onto the roadway. Then, there was great rejoicing .among all the cats who had their dwelling in the Borough, and they promptly devoured the succulent meat which had been placed in their way by a kind providence. As a result of the accident Mr. Laybon took proceedings against the driver of the vehicle which had caused the mischief, and the case came before Judge Addison on Thursday at Southwark County-court. The Defendant: I should have paid the money only he's charged me for repairing a bad leg which was tied up with rope when the collision occurred. The Judge: You damaged the barrow, and it could not be repaired without putting in another leg. The Defendant: Had he any right to leave his barrow in the read? The Judge: There are regulations as to that, but if there is anything in the road you must not run over it, whether it is a donkey or a barrow. This is your misfortune, and you must pay plaintiff 12s. 3d. and costs in three monthly payments.
WHERE DID THE MEAT COME FROM?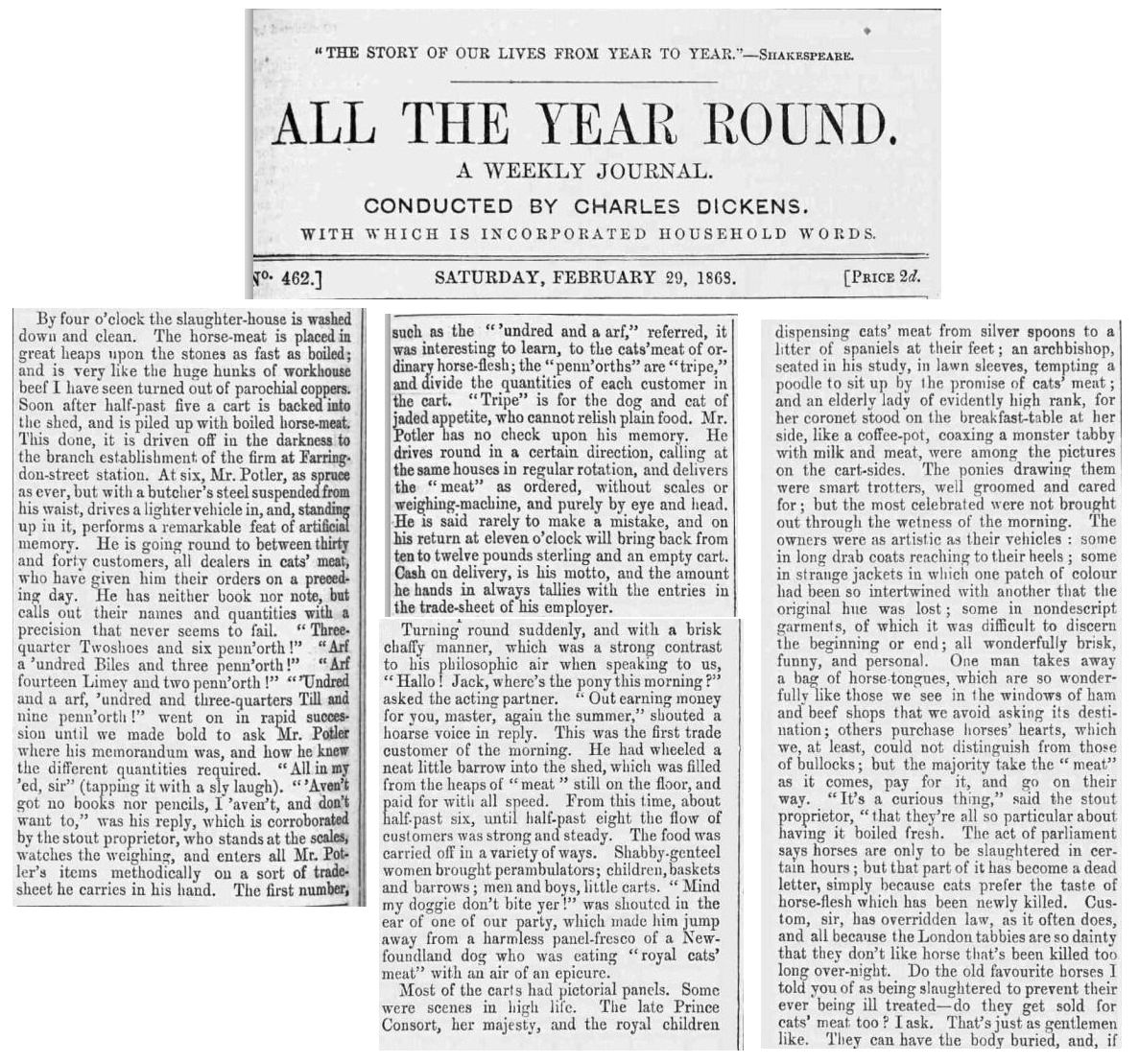 Horses were the main motive power in towns and cities in Western Europe and North America before steam-lorries, motor-vehicles and electric trams . They transported both people and freight and were often overworked. Heavy horses in railway yards rarely lasted beyond 2 years before becoming worn out. Omnibus-horses were worn down by the stop-start nature of their work. Cab horses might be raced along the streets in order to pick up as many fares as possible in a highly competitive trade. Anna Sewell described the conditions faced by working horses in her book "Black Beauty" which was written to draw attention to their circumstances. For a long while, horses and motorised vehicles coexisted and the horses always came off worse in any collision. After death, these horses were recycled into leather, glue and, of course, cat- and dog-food. Contaminated or diseased meat from other livestock was also sold as petfood, but every good-sized town had a specialised horse-butcher. The high mortality rate made the horse-butchery business a necessity. In 1868, Charles Dickens described a visit to such a business in London "All The Year Round." The horsemeat was boiled in great coppers, then delivered by cart to branches of the butchers. Here are some excerpts relating to the cats' meat trade.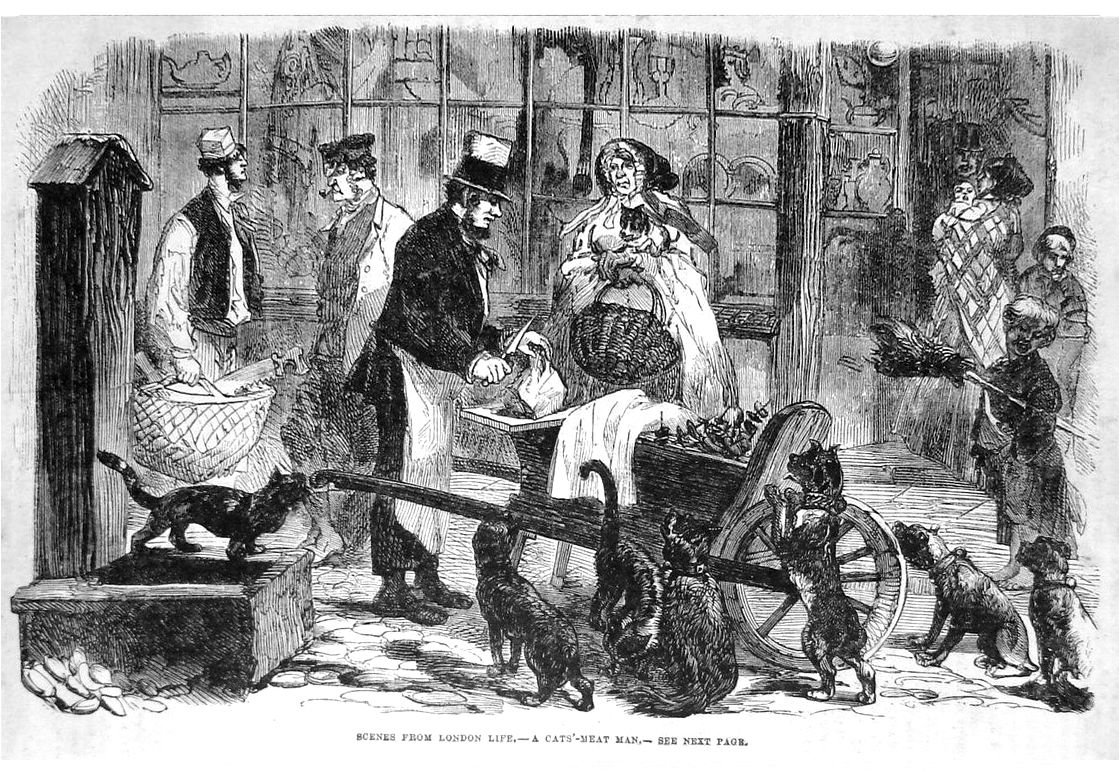 At six, Mr. Potler, as spruce as ever, but with a butcher's steel suspended from his waist, drives a lighter vehicle in, and, standing up in it, performs a remarkable feat of artificial memory. He is going round to between thirty and forty customers, all dealers in cats' meat, who have given him their orders on a preceding day. He has neither book nor note, but calls out their names and quantities with a precision that never seems to fail. "Threequarter Twoshoes and six penn'orth!" "Art" a 'undred Biles and three penn'orth!" "Arf fourteen Limey and two penn'orth!" "'Undred and a arf, 'undred and three-quarters Till and nine penn'orth!" went on in rapid succession until we made bold to ask Mr. Potler where his memorandum was, and how he knew the different quantities required. "All in my 'ed, sir" (tapping it with a sly laugh). "'Aven't got no books nor pencils, I 'aven't, and don't want to," was his reply, which is corroborated by the stout proprietor, who stands at the scales, watches the weighing, and enters all Mr. Poller's items methodically on a sort of tradesheet he carries in his hand. The first number,
such as the "'undred and a arf," referred, it was interesting to learn, to the cats'meat of ordinary horse-flesh; the "penn'orths" are "tripe," and divide the quantities of each customer in the cart. "Tripe" is for the dog and cat of jaded appetite, who cannot relish plain food. Mr. Poller has no check upon his memory. He drives round in a certain direction, calling at the same houses in regular rotation, and delivers the "meat" as ordered, without scales or weighing-machine, and purely by eye and head. He is said rarely to make a mistake, and on his return at eleven o'clock will bring back from ten to twelve pounds sterling and an empty cart. Cash on delivery, is his motto, and the amount he hands in always tallies with the entries in the trade-sheet of his employer.'
[Dickens asks] What affects the price of cats' meat? [The butcher creplies] Why the cost of horses, and the number of them. Sometimes they drop off like rotten sheep, at others the season's healthy and the supply low. We buy 'em dead and alive, remember. We've standing contracts with many of the largest employers of horses to take their diseased and worn-out and dead ones at a fixed price all round.
From this time, about half-past six, until half-past eight the flow of customers was strong and steady. The food was carried off in a variety of ways. Shabby-genteel women brought perambulators; children,baskets and barrows; men and boys, little carts. "Mind my doggie don't bite yer!" was shouted in the ear of one of our party, which made him jump away from a harmless panel-fresco of a Newfoundland dog who was eating "royal cats' meat" with an air of an epicure. Most of the carts had pictorial panels. Some were scenes in high life. The late Prince Consort, her majesty, and the royal children dispensing cats' meat from silver spoons to a litter of spaniels at their feet; an archbishop, seated in his study, in lawn sleeves, tempting a poodle to sit up by the promise of cats' meat; and an elderly lady of evidently high rank, for her coronet stood on the breakfast-table at her side, like a coffee-pot, coaxing a monster tabby with milk and meat, were among the pictures on the cart- sides. The ponies drawing them were smart trotters, well groomed and cared for; but the most celebrated were not brought out througb the wetness of the morning. The owners were as artistic as their vehicles: some in long drab coats reaching to their heels; some in strange jackets in which one patch of colour had been so intertwined with another that the original hue was lost; some in nondescript garments, of which it was difficult to discern the beginning or end; all wonderfully brisk, funny, and personal. One man takes away a bag of horse-tongues, which are so wonderfully like those we see in the windows of ham and beef shops that we avoid asking its destination; others purchase horses' hearts, which we, at least, could not distinguish from those of bullocks; but the majority take the " meat" as it comes, pay for it, and go on their way. "It's a curious thing," said the stout proprietor, "that they're all so particular about having it boiled fresh. The act of parliament says horses are only to be slaughtered in certain hours ; but that part of it has become a dead letter, simply because cats prefer the taste of horse-flesh which has been newly killed. Custom, sir, has overridden law, as it often does, and all because the London tabbies are so dainty that they don't like horse that's been killed too long over-night. Do the old favourite horses I told you of as being slaughtered to prevent their ever being ill treated—do they get sold for cats' meat too ? I ask. That's just as gentlemen like. They can have the body buried, and, if they prefer it, we'll send men to their own places to kill for them. If they come here, it can be made quite private. We'd a baronet here, with an old pet, only yesterday. We always close these gates at such a time; for, hang me (with much vigour) if people don't seem to rise out of the pavement when anything's going on on the quiet. The great thing we guarantee is that a horse shall be put out of the way painlessly, and in the presence of witnesses, if it's wished; and that he'll not be found, ill-treated, in a cab, perhaps, ten years after he's supposed to be killed, as I've known happen before now."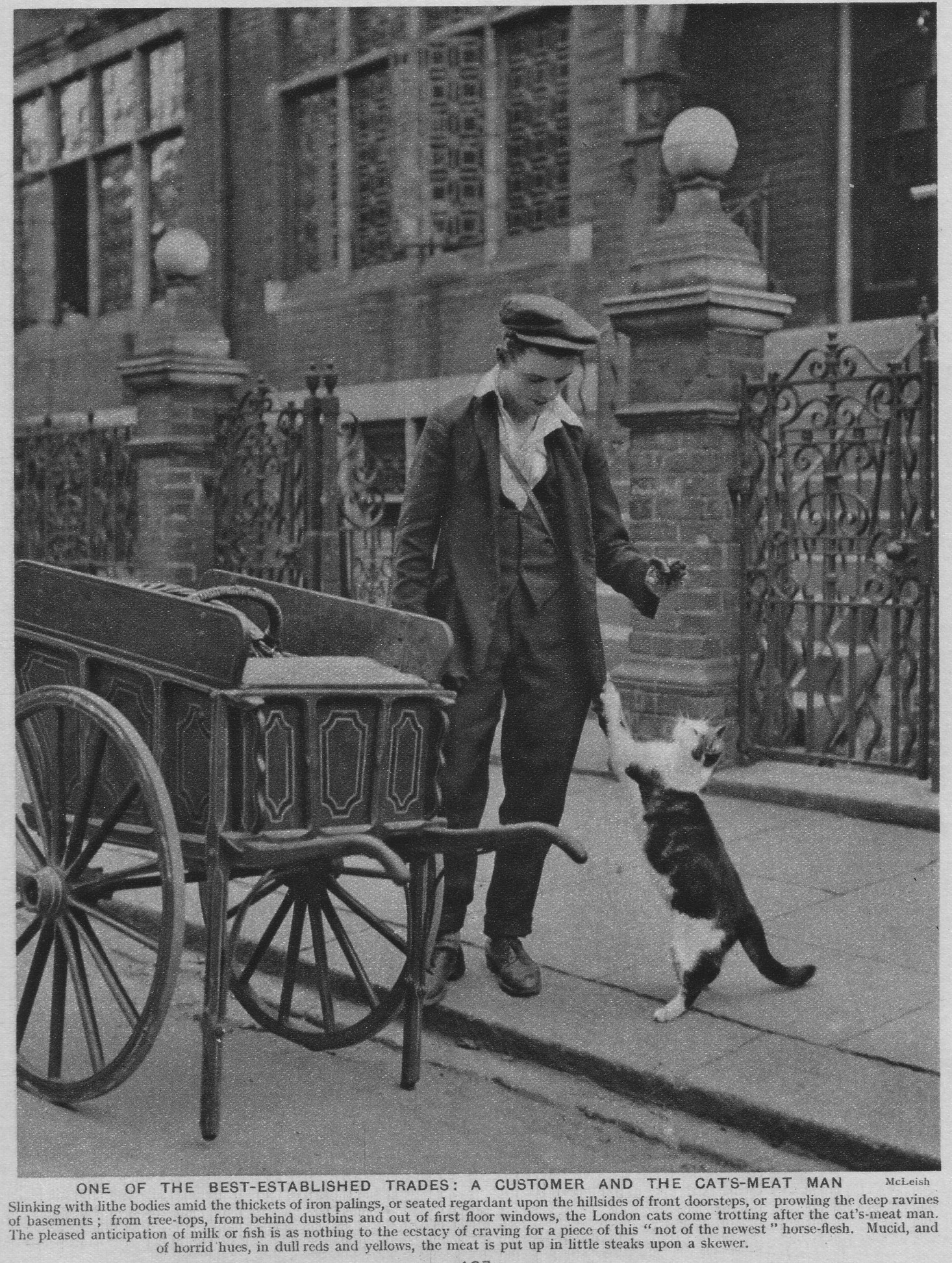 W. Baird also wrote about the trade in the children's periodical "Chatterbox" in 1868. Children of that age were probably much more aware of where meat came from than are children today:
IT is calculated that there are somewhere about 300,000 cats in London. This rough calculation was made some years ago, allowing a cat to every inhabited house — an allowance which is under the mark, for it takes no account of what may be called the ' itinerant cats,' who have no settled abode, but trust to casual hospitality. However, it is better to err on the safe side, and understate rather than overstate the case. Supposing, therefore, that there are only 300,000 cats in London, it is clear that even this modest number must be supplied with food. It is not with us as with country folks, where milk is no object. We set far too high a value upon the blue liquid, which does duty among Londoners for the produce of the cow, to set our cats down to lap up a basin of it. [Note: this bluish milk resulted from dilution and adulteration].
Hence the demand for cats' meat has created a supply, and the vending of food for the cats and dogs is a regular branch of street trade. If we take a walk in the morning in some quiet neighbourhood, we shall very likely meet with an elderly gentleman in a shiny hat, and black plush waistcoat, with his shirt-sleeves tucked up above the arm, his body tightly girt with a coarse blue apron, and a multitude of neckerchiefs encircling his bull-like neck. He wheels in front of him a small barrow very much like an ordinary gardener's wheelbarrow. This is filled with meat, part of which is cut up into fragments and spitted upon wooden skewers, and part left uncut in a rough mass of coarse offal, which certainly does not look very inviting, at least to the human appetite. The cart is provided with a small ledge or shelf in front, on which the remainder of the meat can be cut up into slices at the pleasure of various customers. This is a merchant who purveys for the wants of the cats and dogs of London. The meat in his little cart is not, as might be thought at first, the refuse of an ordinary market; it is meat which he specially provides, with a view to the palates of his customers. It is horse-flesh. The richer representatives of the trade buy it in large quantities from the ' knackers,' who carry away horses which die in the streets.
The writer remembers seeing a number of legs hanging up in the back-yard of one of these sellers of cats' meat. Though the flesh is generally kept in tolerable preservation, the odour arising from it is so disagreeable, that it is not always easy for an extensive dealer in cats' meat to secure a local habitation. People are naturally rather sensitive on the subject of having horse-flesh forced upon their notice. One dealer in the article told the writer that he had been driven from one place to another in London, owing to the objection of the neighbours to the stench arising from horse-flesh being kept on the premises. The cats, however, are by no means sharers in this prejudice. As the cats' meat man passes by the different houses, and announces his approach by a peculiar nasal yell, the cats may be seen furtively stealing up their respective areas, and eagerly seizing the meat which is thrown down to them. In large warehouses or breweries in the city, where numerous cats are kept, ' feeding-time' is a scene almost worthy of the Zoological Gardens.
For the convenience of all parties concerned, the meat is fastened on email white skewers and thrown down into the areas. Of course, casual customers pay for the meat as they get it, but it seems that people who deal in large quantities pay by the week, and look for the approach of the cats'-meat man with the same regularity as they would for the coming of the milk-man. So fond are our London cats of this meat, that after being long accustomed to it, they turn away with a well-bred disgust when anything else is offered to them as a substitute. Nor is this altogether matter for surprise. Unpalatable as the food would be to many of us, it may easily be believed that there is many a half-starved human being, buried in the hopeless abyss of some London court, who in his hungry agony would even swallow eagerly the worthless offal which is cast to our cats and dogs.
There is probably no branch of street-trade in which there are so many different degrees of success as in this. We find men, like our friend in the picture, who earn a very fair livelihood in this way, and do their best to maintain a respectable appearance. On the other hand, this branch of street trade numbers among it men, whose sole worldly possession is the miserable basket, in which they carry their merchandise, and women, who can just manage to crawl along from house to house with their scanty baskets of horseflesh. It is impossible exactly to state the number engaged in this business in our streets, but there must be many hundreds. And, if Mr. [Henry] Mayhew's calculation, that £100,000 is annually spent in London and the suburbs on the purchase of cats' meat be correct, the statement is a little startling. When it is remembered that human beings are sometimes left in this great Christian city to die of starvation, this care of dumb friends first seems very like reviving the old order, and casting ' the children's bread to dogs.' We would not have one cat or dog less well fed, but we should be thankful if the thought that these dumb animals are thus supplied, should stir men up to a more tender care for the bodily wants of many a brother and sister in Christ who is less carefully fed than many a cat, less tenderly housed than many a dog.
It's a strange irony that in modern times, horsemeat is not used in pet-food in the UK even though surplus wild ponies, failed racehorses and unwanted horses. The only reason for this is a strange English taboo against eating horsemeat. Previous generations were much more pragmatic about the disposal of horse carcases (for those interested, poleaxing – similar in its effect to a captive bolt pistol - was a usual method of dispatch).
According to Frances Simpson (1903): "One of the strangest and most profitable trades in London is the wholesale and retail business of horsemeat for cats. In barrows and carts the hawkers of this horse-flesh cry their wares throughout the city and suburbs, and find a ready sale for them. It is stated that 26,000 horses, maimed, or past work, are slaughtered and cut up each year to feed out household pets. Each horse means on an average 275 pounds of meat, and this is sold by pussy's butcher in half pennyworths skewered on bits of wood. The magnitude of this trade can be estimate by the fact that it keeps constantly employed thirty wholesale salesmen. I may mention that a cats'-meat men's supper was organised last year in London but the editor of Our Cats, assisted by Mr Louis Wain and others; and a most successful entertainment was given at the City of New York Restaurant. The applications for tickets were so numerous that 400 men had to be refused; and when the 250 guests were seated, it was clearly proved that every available inch of accommodation had been utilised. Having been present, I can testify to the excellent supper and entertainment provided for the cats'-meat men of London."
Not everyone saw the cat's meat trade as a valuable one. For example, in Beeton's Book of Poultry and Domestic Animals (1870), the authoress [the domestic goddess of her era] wrote: Never allow your dog to eat what is commonly known as " cat's meat." I am loth to say a word that may work ill towards any branch of industry, but there is little doubt that the abolition, of the "cat's-meat" business would be an immense benefit to the canine and feline races. Consider the long odds that exist against the chance of the horseflesh being nutritious? First, It may be safely reckoned that at least a fourth of the number of horses killed are diseased. Secondly, it is generally pitched into the cauldron almost before it is cold; and as it does not in the least concern either the wholesale or the retail dealer, whether the meat be lean or tough, very little attention is paid to the boiling. Thirdly, the retail dealer—the peripatetic cat'smeat man—as a rule, brings the meat hot from the copper, and though, perhaps, equally as a rule, yet by no means as an exception, souses it into cold water to make it cut "firm." After these explanations, the owner of a dog may judge of the nutriment to be derived from cat's-meat.
This excerpt from the memoir "Peter: A Cat o' One Tail" by Charles Morley (published c. 1917) illustrates a suspicion about the cat's meat man having the opportunity to poison cats if he disliked their owner badly enough. In this case the alleged motive was the fact the owner fed her cats on prime mutton from the butcher rather than discount meat from the cat's meat man. "We had often laughed at the odd old lady who lived two doors higher up, for the anxiety which she displayed when any of her pets were missing . . . This same old lady [Mrs. Mee] was very fond of her cats, and had nine of them at the time I am writing of. Mrs. Mee was not very popular in the neighborhood, except with the milkman and the butcher. The cats'-meat-man, indeed, who supplied various families in our road, positively hated her — so I gathered from our servant, — and had been heard to say sotto voce in unguarded moments, "Ha! ha! I'll be revenged." It was not unnatural, as the cats were fed on mutton cutlets and fresh milk, and cats' meat was at a discount. ... Mrs. Mee, in the short space of three or four days, had lost no less than five cats by a violent death [...]"
THE CAT'S MEAT MEN IN SONG AND STORY
TOM PAUNCH, THE CAT'S MEAT MAN
From "Streetology of London; or, The metropolitan papers of the Itinerant club", edited by Harcourt Brown (1837)
Our illustration of the cat's meat man is Tom Paunch, well known at Monk's the knacker's, near the London Hospital. Neither is he a stranger at the horse boilers of Haggerston, or Gray's Inn Lane, places notorious for the supply of cat's meat. Such is the immense demand for it, that men are employed to look about the streets of London, to buy up any poor animal that, from accident, or otherwise, may drop down dead; and such ,the competition, that they outbid each other for a good conditioned horse, in the proportion of £3 to £1, as was recently experienced at the Mansion House. However filthy the employment it is nevertheless profitable; a middling horse producing from £6 to £7. It may appear singular, but it is nevertheless true, that we never see the tongues of horses exposed for sale in the cat's meat barrows, nor could I find a cat's meat man who had ever bought one at the boiler's [renderer's]. It is said, that in Field Lane, Peter Street, Cow Cross Street, and other places, where they manufacture sausages, that they have tongues in them, which, if blessed with speech, would speak in most hoarse language.
Tom Paunch is a smart fellow, with his velveteen jacket, fustian trowsers, blue apron, and high-low shoes, blue bird's eye, and check shirt; a natty cart, well filled every morning with a bit of the best, drawn along by his faithful "Tray," whose cocked up tail, fox head, and sleek black skin, denotes that his inside is well supplied with the substantial. Tom is a great favourite with the kitchen maids, and frequently, while cutting out a nice bit of horse for pussy, cookey is carving a bit of beef, veal, lamb, or mutton, for Master Tommy. He may be found every morning in the week, about 10 or 11 o'clock, going up Holborn Hill, resting upon the tail of his cart, as our artist describes him, leaning forward with a splendid penn'orth, cut upon a skewer, ready for delivery. At certain periods of the year, horse flesh is scarce, and the dogs' and cats' meat men have to travel occasionally to all the knackers, before they can get a supply: their anxiety and that of their customers, for the expected cry of " cat's meat," seems to speak as plainly as the hero of Bosworth Field, "A horse, a horse, my kingdom for a horse:" but it must be a dead horse, for upon these emergencies they are obliged to search the butcher markets for the condemned meat, to satisfy the canine and feline cravings of their customers. I shall finish the sketch of the fancy cat's meat man with a chaunt, that used to be sung by one of the knights of the skewer at the Beggar's Opera.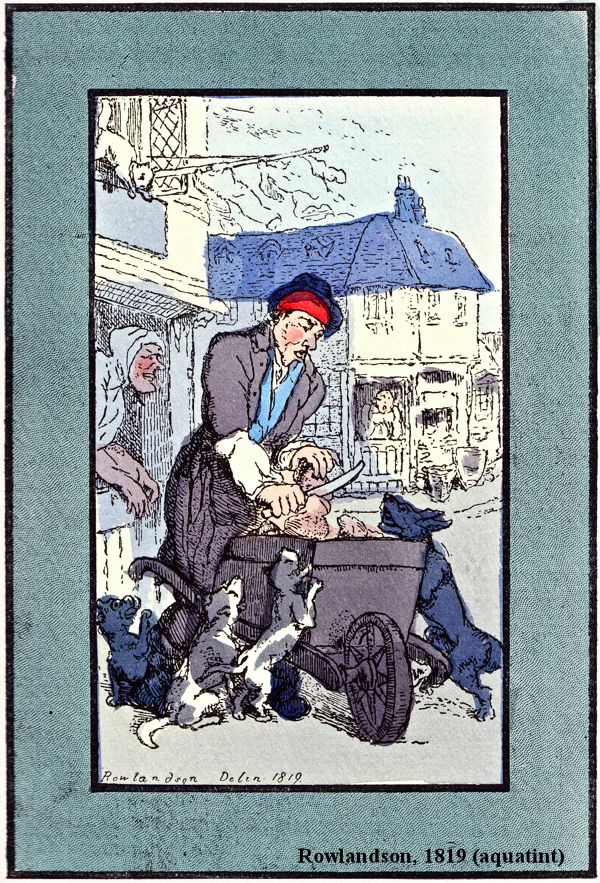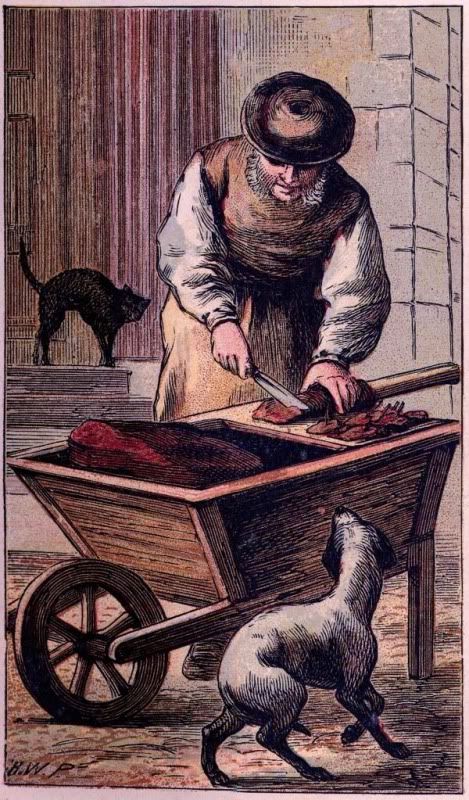 Vy need the ladies' cats to mew
Ven I'm in dog cart seated,
They know, as vell as me, as how
With dog's meat they'll he treated.
I'm reg'ler as the postman round,
To feed their mouse-traps daily
Fills my cart in Mile End Road,
I empts out in the Old Bailey.
There aint another chap like me,
I cuts such slashin slices,
And all the hanimals feeds,
Salutes me wi' their vices.
There's Jinny Grey, the grocer's cat,
A reg'ler out and outer,
She'll have her weight, full half pound,
For nothin less vill suit her.
Then there's an old maid's tabby Tom,
She says, he's sich a rover,
He never takes the slice I cuts
Vithout blessin over.
There's some vont take the last cuts,
Because they're wery dainty.
And some vot turns there noses up,
Ven it's little tainty.
They aint no easy job to please,
Their appetites so wary
But then the best of meat I buys
No rubbish don't I carry.
I never buys a bit o' slink,
Nor any thing vot's stinkin,
But out and out prime pony meat,
Vat can sell like vinkin.
Cats' meat! dogs' meat cats' meat! I cry
Rose barks, and brings me custom
I drops the flesh, they drops the browns,
Cats' meat never trusts 'em.
[Browns = coins; slink might refer to cat carcases from cat-skinners]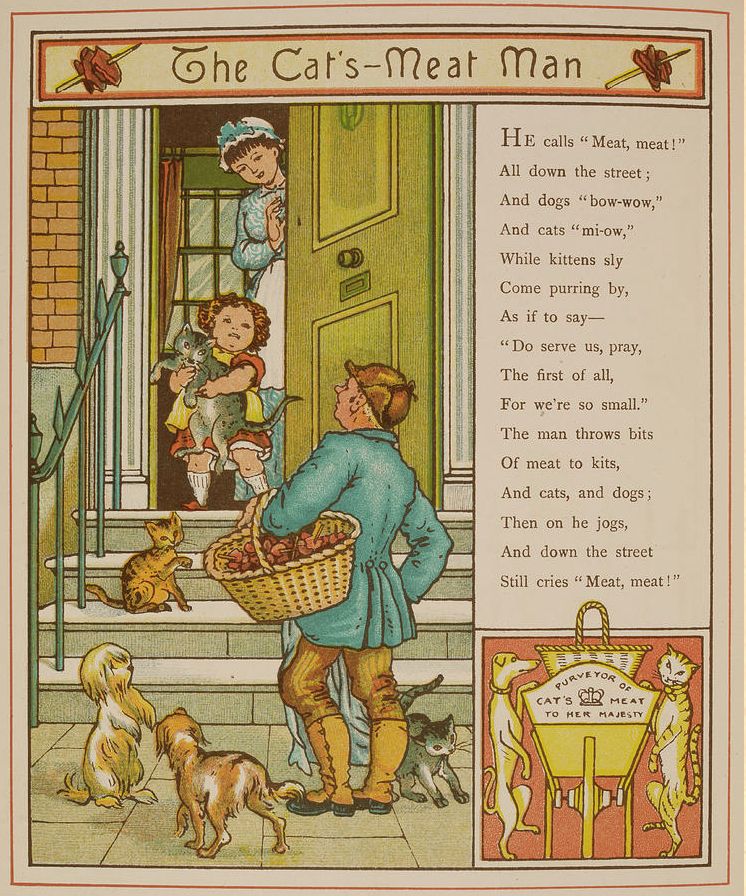 This illustration with its accompany verse is from 1883 "The Cat's-Meat Man" and is a song celebrating this "Purveyor of Cat's Meat to Her Majesty" (the legend on the basket and barrow in the bottom right corner). Such ditties were written to be sung around the piano, back in the days when families made their own musical entertainment. It went:
He calls 'Meat, Meat!',
All down the street;
And dogs 'bow-wow,'
And cats 'mi-ow,'
While kittens sly
Come purring by,
As if to say -
'Do serve us, pray,
For we're so small.'
The man throws bits
Of meat to kits,
And cats and dogs;
Then on he jogs,
And down the street
Still cries 'Meat, meat!'
The ditties served like the chimes on modern ice cream vans. Another one went:
Cat's-meat, cat's-meat, - meat, I cry,
On a skewer - come and buy;
From Hyde Park Corner to Wapping Wall
All the year I 'Cat's meat' bawl;
Cat's-meat, cat's-meat, - meat, I cry,
On a skewer - come and buy.
(Originally sung in the mid 1800s to the tune of 'Cherry Ripe')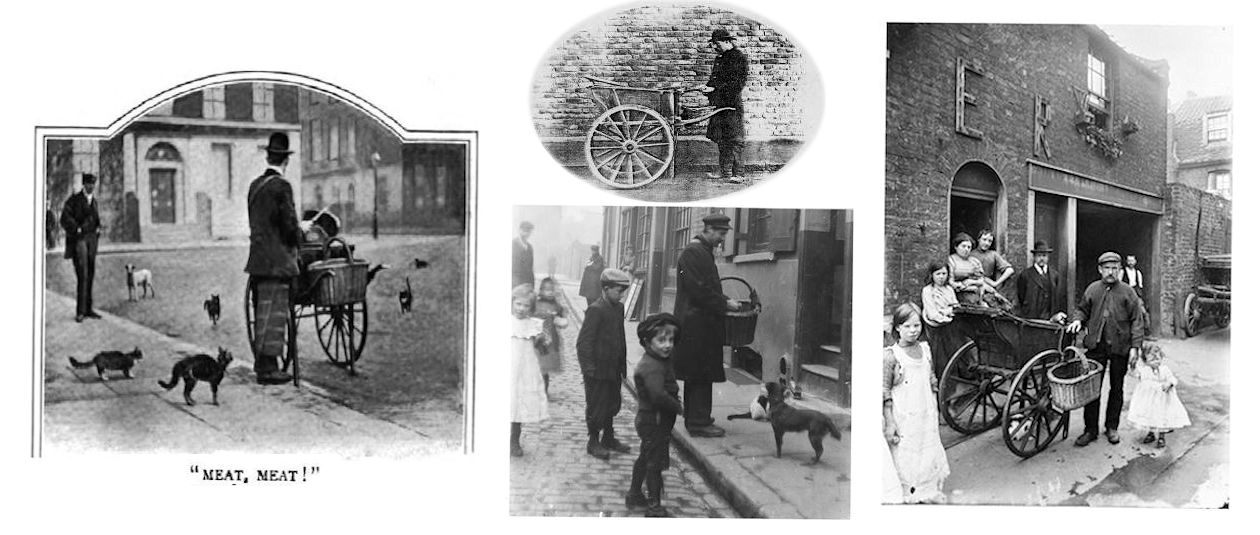 Further to Frances Simpson's notes, the cats' meat man sold meat on wooden skewers ranging from a ha'penny snack to a threepenny feast. With regular customers, he would post the skewer through the letterbox and be paid weekly. The meat was sometimes too rotten or foul for the cat to eat. Owners had to carefully inspect the meat, dipping it in weak vinegar and water, or in plain boiling water, then rubbing it with a cloth to remove flies' eggs and maggots. Occasionally the cat got their first and ate the skewer, which would cause bowel problems. Some customers paid him to deliver when they were away on holiday, though an unscrupulous vendor would push empty skewers through the letterbox leaving puss hungry.
THE CAT'S MEAT MEN'S SUPPER IN LONDON (1901)
The service of the itinerant meat traders was appreciated by their customers and was recognised by a dinner in their honour. In January 1901, the Editor of Our Cats, supported by the National Cat Club's Mr. Louis Wain among others, honoured the 'Cats Meat Men of London', with a dinner held at the City of New York Restaurant, Holborn. In "The Book of the Cat," Frances Simpson wrote: "The applications for tickets were so numerous, that 400 men had to be refused; and when the 250 guests were seated, it was clearly proved that every available inch of accommodation had been utilised. Having been present, I can testify to the excellent supper and entertainment provided for the 'Cats-Meat Men of London'."
PLACE AUX DAMES, BY LADY VIOLET GREVILLE - The Graphic, 19 January 1901
A delightfully eccentric dinner was that given to the cat's-meat men, to which the Princess of Wales was invited, and where the Duchess of Bedford handed round the vegetables. The Duchess, as the President of the National Cat Club, of course, assumed the lead among the ladies, who included Lady Reid and Mrs. Stannard Robinson. Mr. Louis Wain presided and Mlle. Janotha brought her black cat and her violin. Whether cat's-meat men are specially interested in cats may be open to doubt, but, at any rate, their raison d'etre is inextricably bound up in the existence of cats, so presumably there is love between them. Cat shows and cat lovers are much to be commended, but the keeping of ordinary cats in London should certainly be placed under restrictions. A small lax on cats would, no doubt, answer the purpose, prevent half the needless cruelly, and make night less hideous to the quiet sleeper, or, rather, the sleeper who aspires after quiet.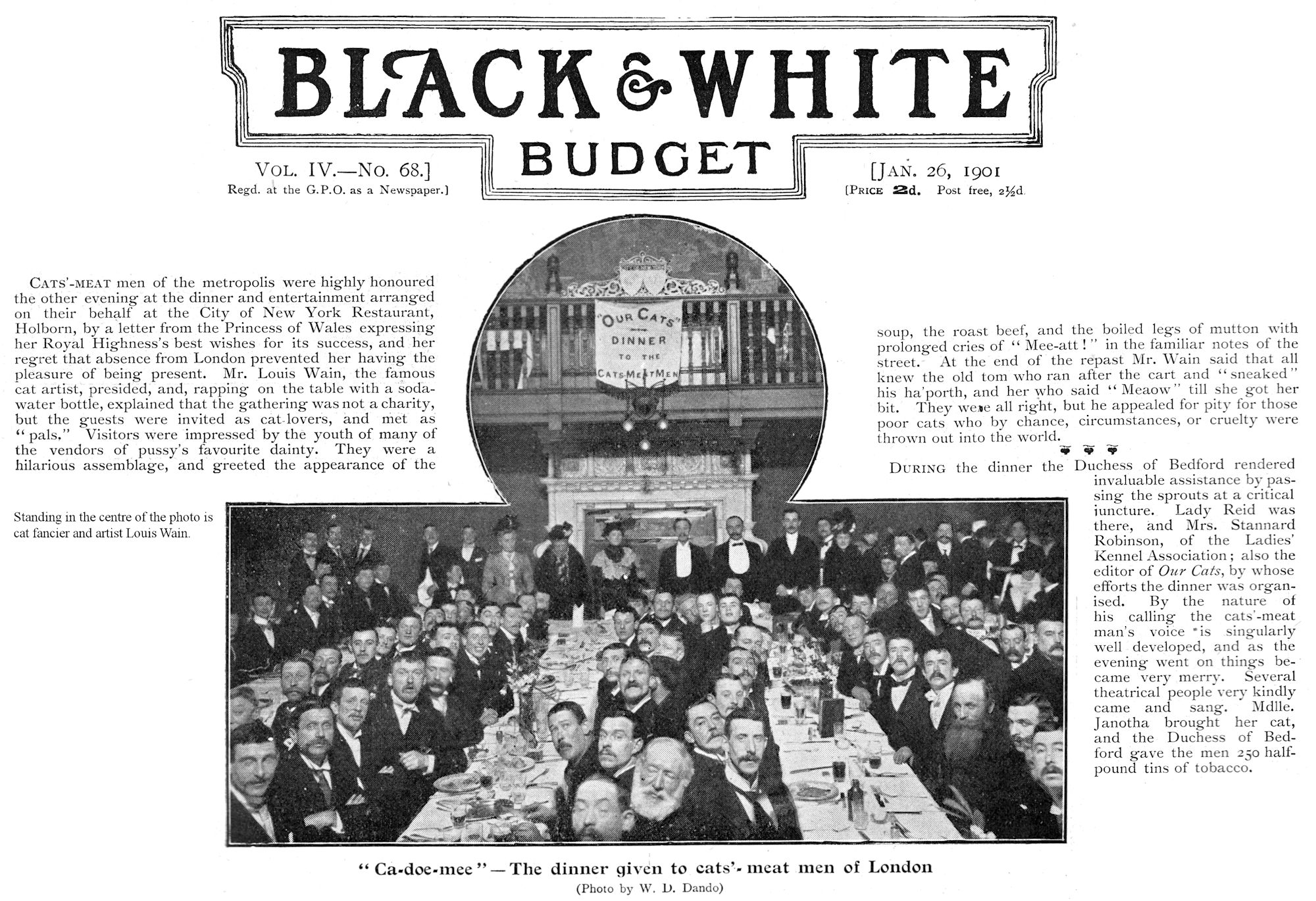 "CA-DOE-MEE" - THE DINNER GIVEN TO CATS'-MEAT MEN OF LONDON (Black and White Budget, 26th January, 1901): "CATS'-MEAT men of the metropolis were highly honoured the other evening at the dinner and entertainment arranged on their behalf at the City of New York Restaurant, Holborn, by a letter from the Princess of Wales, expressing Her Royal Highness's best wishes for its success, and her regret that absence from London prevented her from having the pleasure of being present. Mr. Louis Wain, the famous cat artist, presided, and, rapping on the table with a soda-water bottle, explained that the gathering was not a charity, but the guests were invited as cat lovers, and met as 'pals'. Visitors were impressed by the youth of many of the vendors of pussy's favourite dainty. They were a hilarious assemblage, and greeted the appearance of the soup, the roast beef, and the boiled legs of mutton with prolonged cries of 'Mee-att!' in the familiar notes of the street. At the end of the repast, Mr. Wain said that all knew the old tom who ran after the cart and sneaked his ha'porth, and her who said 'Meauw' till she got her bit.They were all right, but he appealed for pity for those poor cats who by chance, circumstances, or cruelty were thrown out into the world. During the dinner, the Duchess of Bedford, rendered invaluable assistance, by passing the sprouts at a critical juncture. Lady Reid was there, and Mrs. Stennard-Robinson, of The Ladies Kennel Association; also the Editor of 'Our Cats' by whose efforts the dinner was organised. By the nature of his calling, the 'cats-meat man's voice is singularly well developed, and as the evening went on things became very merry. Several theatrical people very kindly came and sang. Mdlle Janotha brought her cat, and the Duchess of Bedford gave the men 250 half pound tins of tobacco!"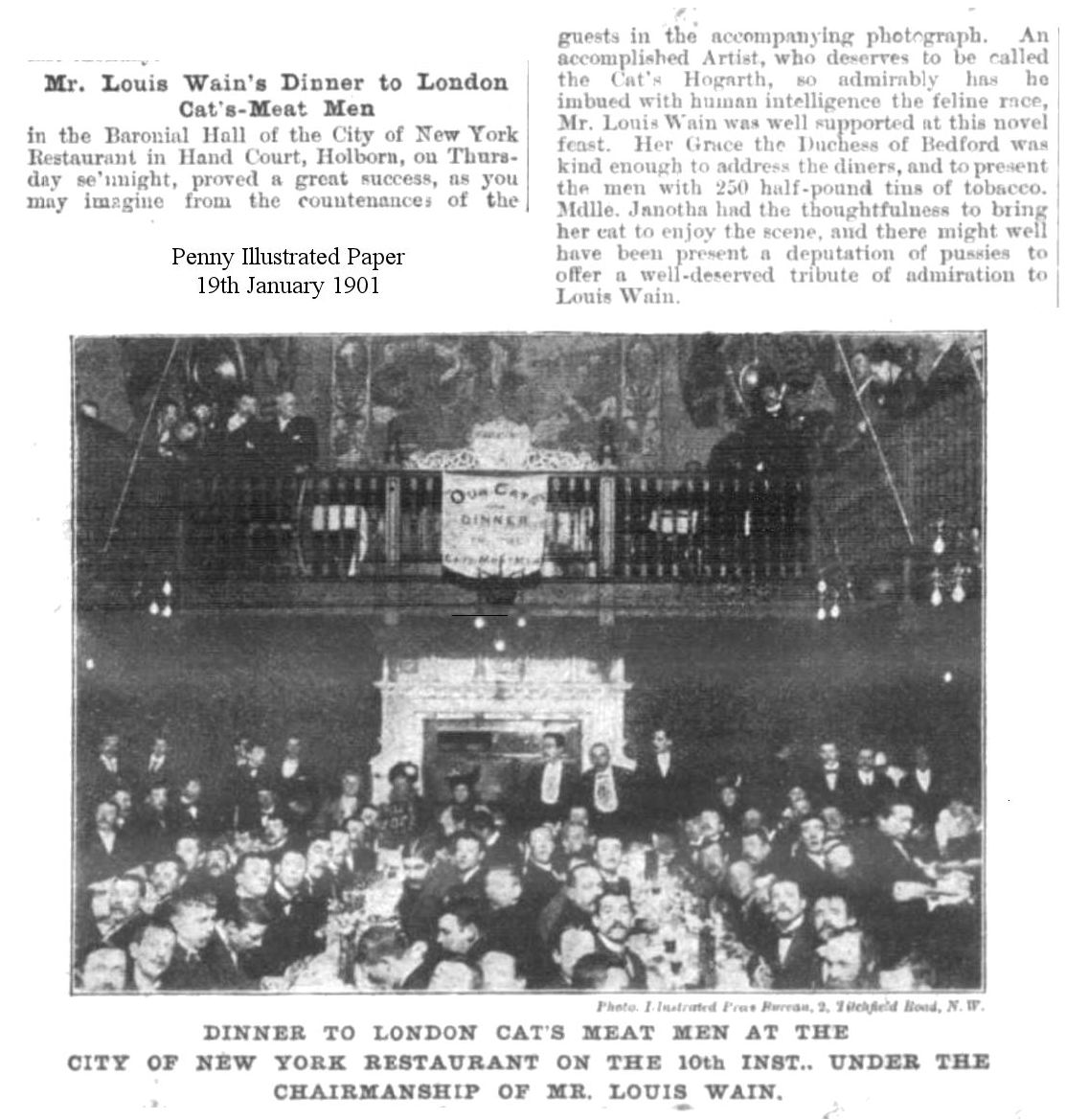 THE DECLINE OF THE CAT'S MEAT TRADE
In the years before World War II and rationing, the cats' meat man was still a familiar sight and many people remembered him with fondness in post-war years. He toured the streets with a usually gaily painted cart, selling skewers of meat which was unfit for human consumption. This was often horsemeat and trimmings of other meats. It was sometimes dyed blue-green, something done to prevent unscrupulous people from re-selling as fit for human consumption. After World War II, mechanisation had supplanted the horse as main motive power and, around the same time, commercially prepared cat foods were gaining in popularity. As the supply of broken-down cab horses and dray-horses petered out, horse-slaughterers closed down. Packets and cans of cat food could be purchased from grocers' shops. The cats' meat man, once a familiar sight, vanished.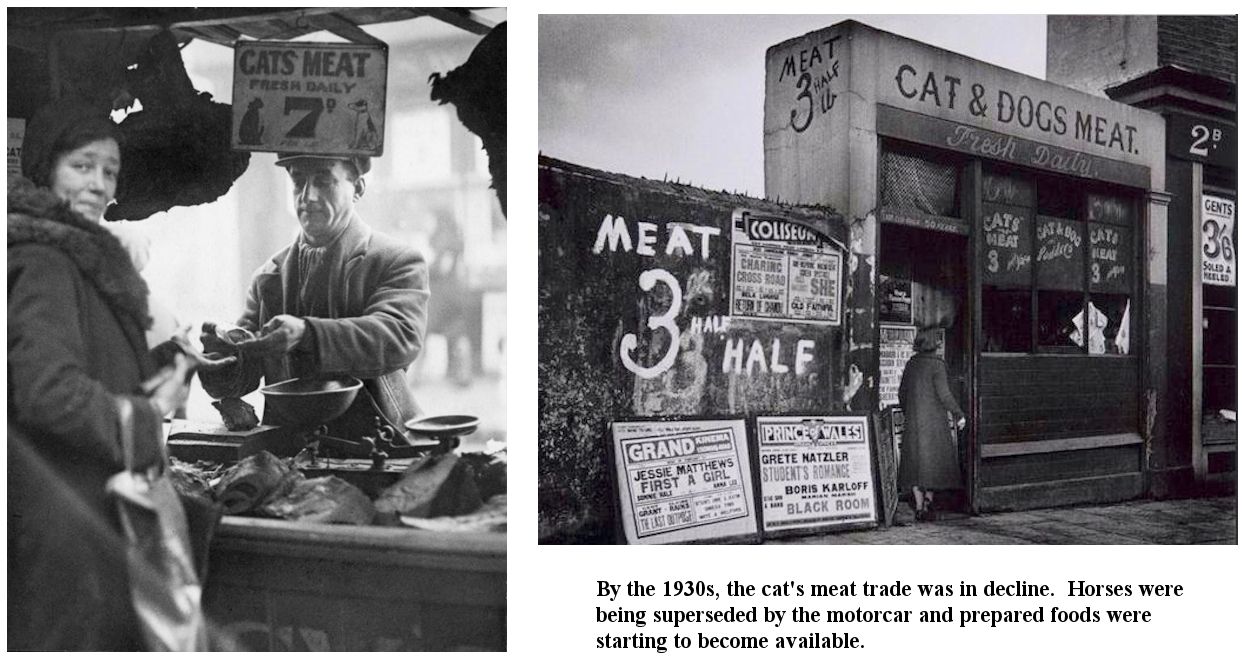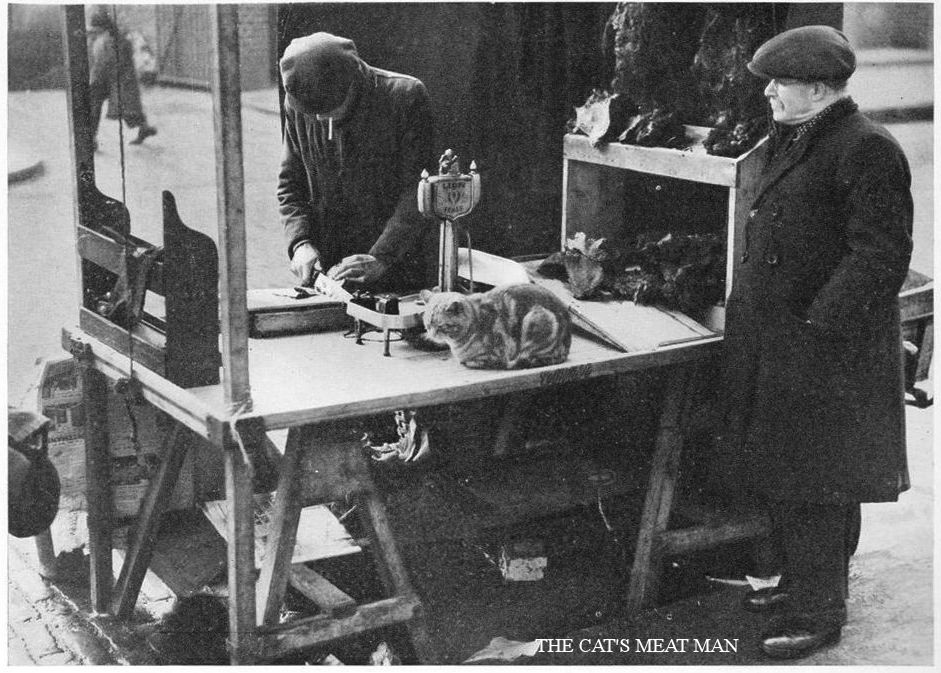 THE CAT'S-MEAT MAN (IN NEW YORK)
Harper's Young People, March 16, 1880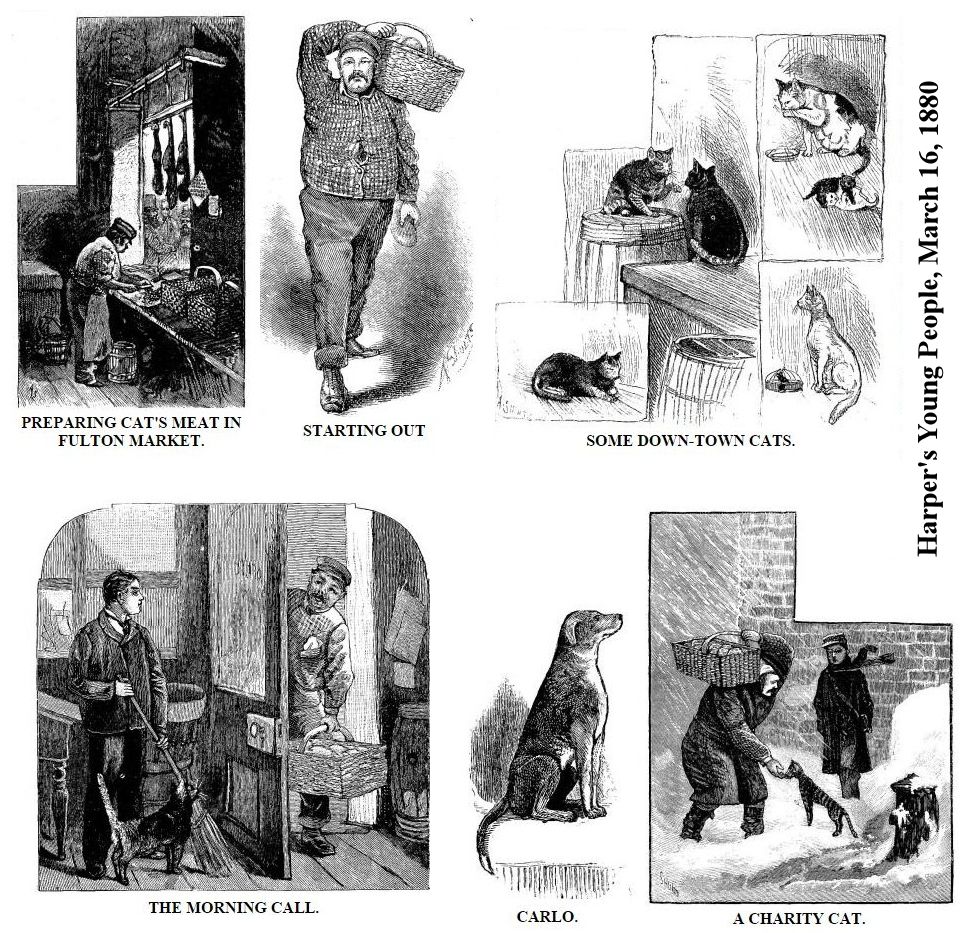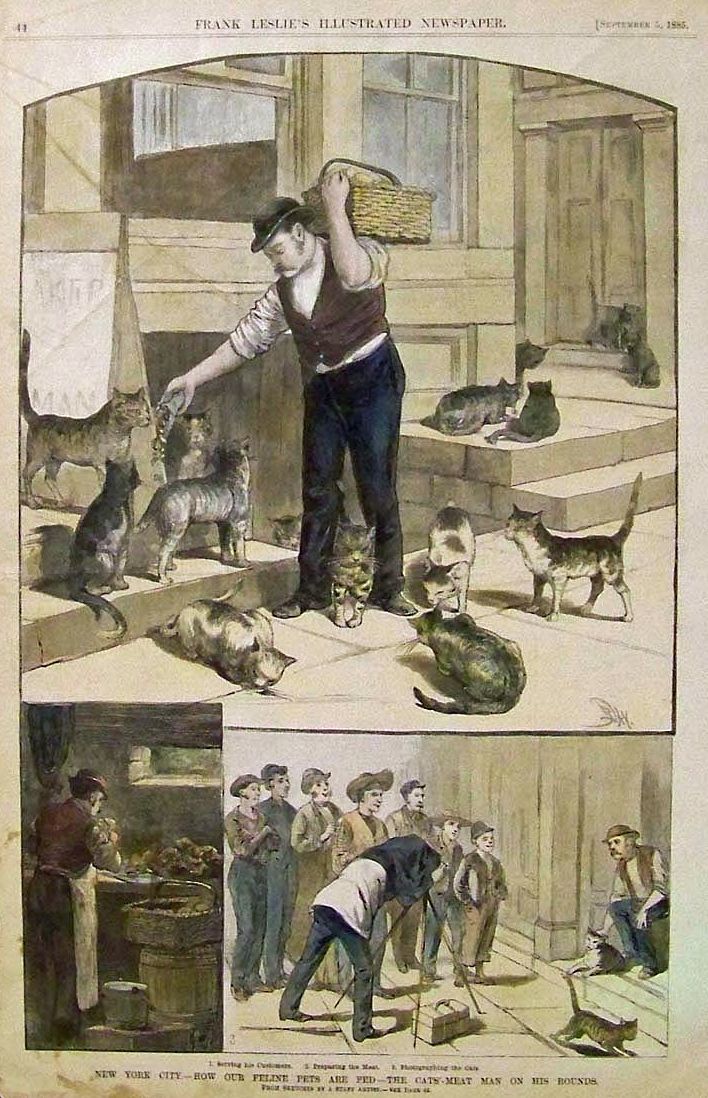 In one corner of Fulton Market in New York city is the snug little stall of the cat's-meat man. He is a jolly, merry-looking fellow, as you may see by his picture; and he sings and whistles as he works. In the morning he goes about the streets feeding his cats; but his afternoons are devoted to preparing their food for the next day. Most of this food is raw meat, which, with a sharp knife, he cuts up into very small pieces, until several hundred pounds are thus prepared. Sometimes a small portion of the meat is boiled; but this cooked meat is only intended for cats who are not very well, and who need something more delicate than raw meat. Once a week—on Thursdays—the cat's-meat man cuts up fish instead of meat; for on Fridays all his cats have a meal of fish, of which they are very fond, and which is very good for them. After the meat or fish has been nicely cut into bits, it is all done up in small brown-paper parcels, each of which weighs a pound; and these parcels are packed into great strong baskets. Each basket holds forty or fifty of these pound packages, and is pretty heavy for the cat's-meat man to carry.
Bright and early in the morning, soon after sunrise, the cat's-meat man begins to feed his cats, starting out from the market with a big basket of meat on his shoulder, and threading his way through the crooked streets and lanes of the lower part of the city to the homes of his little customers. Everywhere the cats and kittens are anxiously waiting and watching for him, and sometimes they run out and meet him at the corners half a block or more away from their homes. Often when he is feeding the cats on one side of the street, those living on the other side run across, and rubbing against his legs, mewing and purring, seem to beg him to hurry and get over to their side. Of course these cats do not belong to the cat's-meat man, though he takes just as much interest in them, and is just as fond of them, as though they were his own. They are the cats that live in the stores and warehouses of the lower portion of the city, where they are kept as a protection against the armies of fierce rats that come up from the wharves, and do terrible damage wherever the cats are not too strong for them. For this reason the cats are highly prized and well cared for in this part of the city, and the cat's-meat man finds plenty of work to do in feeding them. He is paid for this by the owners of the cats, and as he has about four hundred customers his business is quite a thriving one.
The cats all know and love him, and are generally expecting him; but if he opens the door of a store where one of his cats lives, and she is not to be seen, he calls "Pss-pss-pss," and the kitty comes racing down stairs, or from some distant corner, so fast that she nearly tumbles head over heels in her hurry to get at her breakfast. Some of the cats are only fed every other day, and they know just as well as anybody when it is "off day," as the cat's-meat man calls it. On these off days they lie perfectly still as he passes, paying no attention to him; but on the days they are to be fed, these "every-other-day cats" are the most eager of all, and travel the greatest distances to meet their friend.
Besides the cats, several dogs are fed daily by the cat's-meat man, and of these the most interesting is Carlo. Carlo used to be a sailor dog, but now he lives quietly in a store on Old Slip. His first master was a sea-captain, with whom Carlo made voyages to many different parts of the world. At last his kind master, who was as fond of Carlo as though he had been an only child, became very sick with a terrible fever, and when his ship reached New York, he was taken to a hospital to die. Carlo went to the hospital with him, and just before the dying sailor breathed his last, he begged a kind gentleman who stood beside his bed to take care of Carlo. The gentleman promised to do so, and has ever since kept his promise by giving Carlo a good home in his store, and paying the cat's-meat man to feed him every day. Carlo repays this kindness by keeping the store free from rats, and his reputation as a famous ratter has spread far and wide through the neighborhood.
Many stray cats watch for the coming of the cat's-meat man, for they know that he will befriend them, and many a tidbit does he give to some lean hungry creature as he merrily trudges along through the winter snow-drifts. At certain corners the cat's-meat man is met by one of his assistants, with whom he exchanges his empty basket for a full one. These halting-places are well known to all the forlorn and homeless cats and dogs, and at them a number of these always await his approach. He most always throws them a few bits from his well-filled basket, for which they seem very grateful, though they look as if they would be very glad of more.
Besides feeding cats and dogs, the cat's-meat man cares for them when they are sick, preparing special food for his patients, and sometimes giving them small doses of medicine. So, you see, the cat's-meat man is a real benefactor, and it is no wonder that all the cats and dogs in the lower part of the city watch for his coming, and are glad when they see him.
A CATS' MEAT MAN IN BOSTON, 1881
This account of a cat's meat man comes from The Boston Weekly News, March 2, 1881:
" A REGULAR ANGORY AND CAN'T BE BEAT. Would take a prize at any cat show, or at least ought to. There! ain't that a beauty?" continued the old man, as one of the most perfect specimens of its kind bounded forward for its breakfast. "Regular Angory. Keerful, keerful, there! It don't mean no harm, but it has no idea of how sharp its claws are.
"Should think it might catch enough for a living," continued The Globe man [reporter]. "No! rats and mice are scarce here, and livin' would be mighty uncertain." After passing by some of the smaller "fry" the merchant remarked, "Now I'll show you a cat that for size and knowledge can't be beat. There," said he, as with admiring eye he gazed upon an enormous feline that sprang from the counter, "how's that? Tips the beam at eighteen pounds and knows more tricks than Barnum's horses."
"Sell him."
"Well! I should judge not; never heard a price set on 'im, - but I know money wouldn't be any consideration. The most particuarl cat I feed belongs in the next office here, but I ain't fed her for some days; queer story, and p'raps you'll think it a leetle too strong. However, yer k'n take it at your own valuation. One day, when Mr.S—- was busy and the cat tumbling round in the way, in a cross sort er way be said: "Get out, I don't wan't yer round, aud if yer'l believe it, from that day to this the cat can't be coaxed into the house, do what they can; she jest stays round and looks sorrerful like but yer can't coax her in, not much. I've gone from hoof up to tenderloin and tried all the changes in my bill of fare, but she knows and won't touch it. What'll come of it, I can't imagine; knew some men were fools enough to starve themselves but didn't believe it of a cat."
"Any others following example?"
"No; not many. I keep pretty close, and few know what I do for a livin', and no one hardly believes I make anything out of it. One or two tried it, but they didn't have the capital or 'sperience, so I soon ran em off," and the veteran in the cat food business straightened himself up with a comical air of superiority."
"Well," continued he, "my first trip ends here, and I must return for another lot; good mornin'," and off he trudged to his place of business, while as the quill driver walked on the truth of the old saying came to him with greater force than ever that "truly one half the world knows not what the other half is doing."
CAT'S MEAT MEN IN PARIS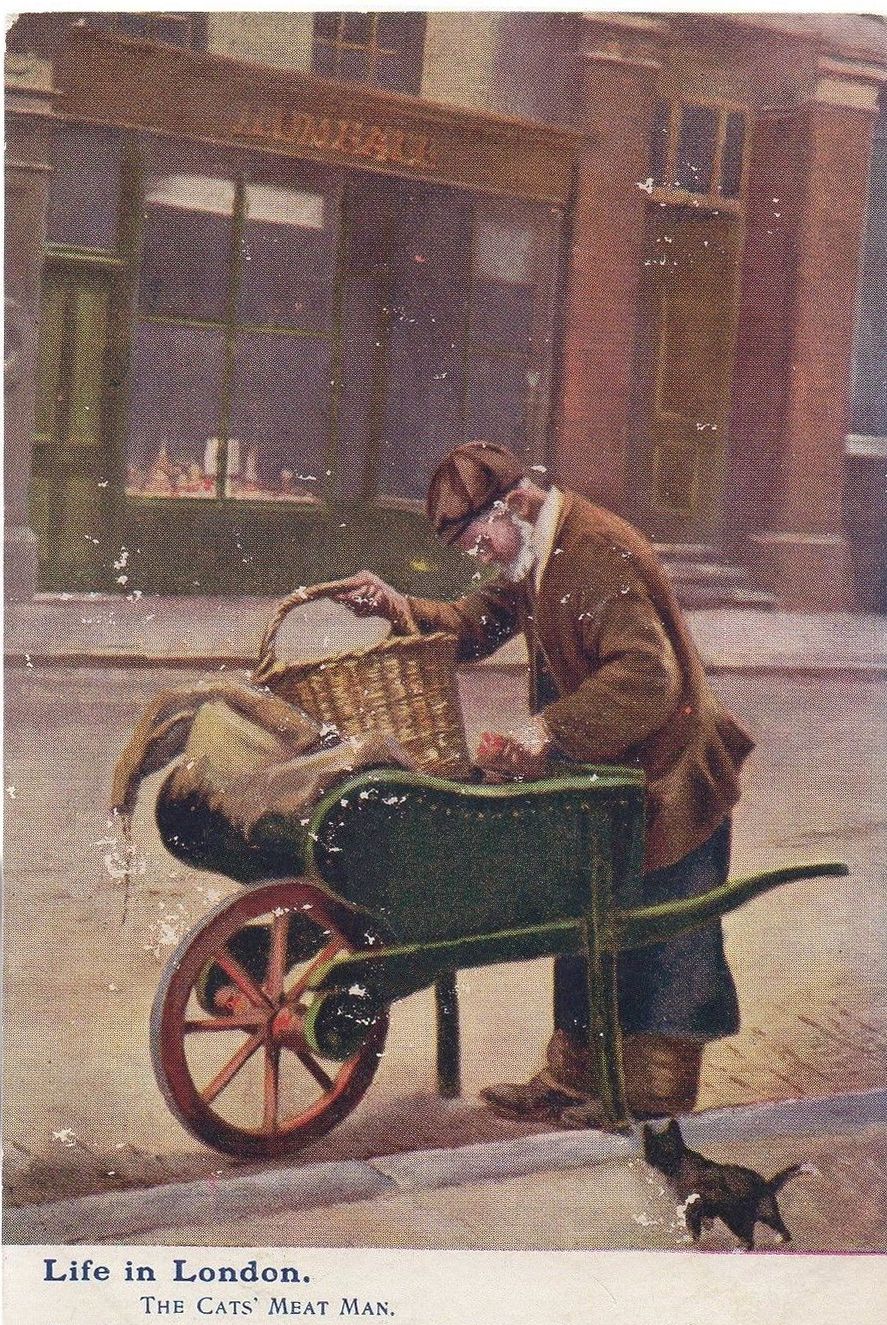 In Paris, France there was a substantial market in cat- and dog- food as this account from 1860 demonstrates. The French have never had the same taboo against eating horse-flesh as the British have so the trade seems to have had a more respectable image and the food was not merely meat scraps on skewers, but gruels and pates! My translation is inexact, but gives the relevant information.
The only food for cats in populous neighborhoods is a small branch of commerce. She provides a living for, among others, Bernier and his young family. Bernier is what you might call an interesting man; he makes gruel for cats in the true sense of the word. He is a child of the Anvergne. He was a coalman, but an accident forced him to leave this social position for the one just mentioned. The business is established in a good quarter for workers; each house has dogs and cats. He began to make gruel for some, and pate for others, attaching a small business selling soft calf. His reputation was soon established on a solid basis in the district; the well-to-do came knocking at his door. Nowadays, in the vicinity of the Temple, a favoured cat or a dog is considered abused if her dinner doesn't come from Bernier, who is top of this trade. Bernier does much the same in more remote areas, and many a Countess's Angora or a Marquise's bichon send their servants to do their food shopping at his modest shop. His trademark is "A old trusted name in the feeding of animals." For, it is necessary to say, many people have tried to do competition against Brillat-Savarin in trade in quadrupeds. His brand is a protest against plagiarism.
(La nourriture seule des chats dans les quartiers populeux est une branche de petit commerce. Elle fait vivre , entre autres , Bernier et sa jeune famille. Bernier est ce qu'on nomme un homme intéressant; il fait de la bouillie Pour les chats dans la véritable acception du mot. C'est un enfant de l'Anvergne. Il était charbonnier; un accident l'a obligé de quitter cette position sociale pour celle que nous venons de dire. ll est établi dans un bon quartierde travailleurs; chaque maison ayant ses chiens et ses chats , il se mit à fabriquer de la bouillie pour les uns, de la pâtée pour les autres, en y joignant un petit commerce de mou de veau. Sa réputation s'établit bientôt dans l'arrondissement sur des bases solides; la vogue était venue frapper a sa porte. Maintenant dans les environs du Temple , un chat ou un chien favori passerait pour être maltraité si son dîner ne venait de chez Bernier, le Vèfour du genre. Bernier fait même des envois dans les quartiers les plus éloignés, et plus d'un angora de comtesse et d'un bichon de marquise envoient chaque matin leurs valets faire emplette de pâture à sa modeste boutique. Elle a pour enseigne : A l'ancienne et 'véritable renommée de la nourriture des animauax. Car, il faut le dire, bien des gens ont essayé de faire concurrence à ce Brillat-Savarin de la gent quadrupède. Son enseigne est une protestation contre le plagiat.)
And according to the Conservateur des Abattoirs in Paris at that time, the cat's meat trade was a good source of income for slaughter-houses. Parisian cats received offal from cattle, in particular lights (lung) and heart (mous et coeurs) rather than horse-meat like their British and American cousins.
The results of all this work are huge when you consider the industries they fertilize. Thus the flesh is food, skins feed mills, tanners, leather-workers and jnégissiers, which in turn fertilize the industries of shoemakers, coach body makers, saddlers, layetiers, bookbinders; hatters, the glove makers, upholsterers, etc. The tallow, processed into candles and ointments (pommades), fuel the trades of grocers and perfumiers. Just after that, the specialist trades in tripes and offal which consists of various beasts. These offal from organs interiors, heads and feet of sheep and heads of oxen or cows. This trade, to give an idea of its importance, to Paris, annually furnishes 325,000 fr worth of ox and cow hearts and lungs for cat food alone to satisfy their appetite, that is to say 89,000 hearts and lungs, but another 12,000 soft hearts, surplus to the tripe-mongers' trade, can be acquired in the suburbs. The price of the heart and lungs is 2.50 francs.
Les résultats de tous ces travaux sont immenses quand on considère les industries qu'ils fécondent. Ainsi la chair sert de nourriture, les peaux alimentent les fabriques des tanneurs, corroyeurs et jnégissiers, qui fécondent à leur tour les industries des cordonniers, carrossiers, selliers, layetiers, relieurs; des chapeliers, des gantiers, tapissiers, etc. Les suif-, transformés enchandelles, eu pommades, vont alimenter le commerce des épiciers et des parfumeurs. Vient, après cela, le commerce spécial de la triperie qui se compose des abats des divers bestiaux. Ces abats proviennent des organes intérieurs, des têtes et des pieds des moutons et des têtes de boeufs ou de vaches. Ce commerce, pour donner une idée de son importance, à Paris, fournit par année seulement à la nourriture des chats pour 325,000 fr. de mous et de cœurs de bœufs et de vaches; il faut pour satisfaire leur appétit, nonroulement tous les cœurs et les mous îles bœufs et des vaches qui approvisionnent Paris, c'est-à-dire 89,000 cœurs et mous, mais encore 12,000 mous et cœurs auxiliaires que les tripiers vont acquérir dans la banlieue. Le prix du coeur et du mou est de 2 Ir. 50
You are visitor number