THE LIFE AND TIMES OF FRANCES SIMPSON
Compiled from Fur & Feather and her own publications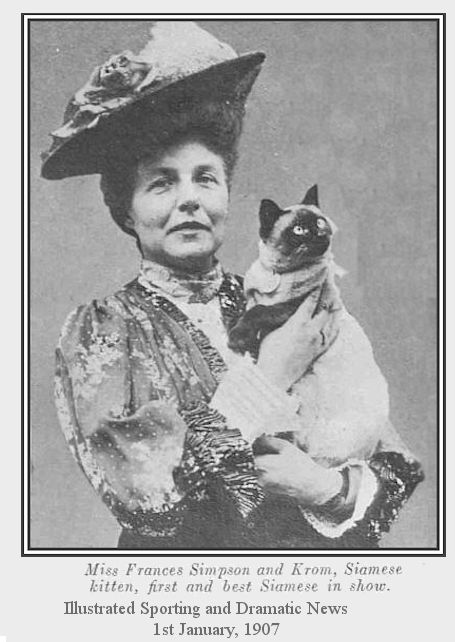 While other early cat fanciers have faded from memory, the names of Louis Wain, Harrison Weir and Miss Frances Simpson remain well known as early writers, judges or exhibitors of cats. They were there at the start of the organized cat fancy. While the lives of Louis Wain and Harrison Weir are relatively well-known, ther is far less known about Frances Simpson outside of her work in the cat fancy. Her writing style shows that she was well-educated and industrious, no doubt adhering to the Victorian ethic, and her father's religious ethic, of hard work. The early photos of her in her own books and in show reports in "Fur and Feather" and newspapers show an elegant, fashionable young woman.
Frances Simpson was probably the most prolific writer in the early years of the cat fancy and her books are now considered THE source-works of the time. Although often cited as the writer of "The Book of the Cat," (1903) Simpson was primarily its editor, commissioning and collating material from breeders, naturalists and veterinarians. As a fancier, breeder and show judge, she had to navigate the Victorian and Edwardian class system, being careful to give advice or admonishment without upsetting upper class sensibilities. Her background, as a the daughter of a Reverend, ensured a good level of education and social awareness. In that era, a common occupation for women prior to marriage - or if they remained unmarried - was that of governess or lady's companion. Frances became a journalist, never married and for at least part of her adult life she lived with her brother, John Percy Simpson, as testified by census reports. Had Simpson married and had children, she would not have been able to devote her time and energy to the cat world. In 1870, Rev Simpson had moved his family to St Clement Danes, London due to his new posting. It was in 1871 that the 14 year old Frances attended the 1871 Crystal Palace Cat Show at Sydenham, London where the cat fancy bug bit. As a well-educated and well-read young lady she would have seen Harrison Weir's illustrations in books, and journals and educational works. Weir was considered the founding father of the at fancy and, along with Wain and Elwes, an illustrator of books and articles about animals. Simpson would go on to become the "Fairy Godmother of the cat fancy." She became a breeder, writer, judge (and mentor to new judges), Show Manager (and mentor again) and a Club Secretary. All of these pursuits are evident in her books about cat breeding which contain a wealth of advice about breeding (for show and profit), judging and show arranging, along with frequent admonishments to the exhibitors who sent cats in unsuitable containers and expected the poor show organisers to rescue and revive their exhibits.
She served on several club committees. She was a prolific writer and had an advice column in the weekly "Fur & Feather" magazine; and much of the material in The Book of the Cat was drawn from those columns. She would make copies of pedigrees for other breeders, corresponded with cat fanciers in Britain and North America. She also exported Persian cats, and encouraged other breeders to do the same, to America where the cat fancy was in its infancy and quality breeding stock commanded considerable sums of money. Although her chosen breed was the Persian, she always encouraged other breeders, no matter what their chosen breed. She was Honorary Secretary of most of the early Clubs, including the Blue Persian Society and the National Cat Club. She sometimes served on 4 committees at once.
By the 1890s, she was respected as a foundations stone of the cat fancy. Her ties with the establishment helped her become a broker for exporting quality British feline bloodstock to the nascent cat fancy in the USA and she made a lot of influential contacts in North America. Simpson was very good at networking! However, Simpson is best remembered for two things: the first advocate of 'pure-bred' Blue Persians, and the authoress of "The Book of the Cat".
SIMPSON'S PERSONAL LIFE
Parents and Siblings
On the 9th September 1851, was the "marriage at Nettleham Church, the Rev. R. J. Simpson, M.A., of Whitburn, Durham, and son of Robert Simpson, Esq., of Rutland Square, Dublin, to Mary Elizabeth, second daughter of John Flood, Esq., of Nettleham Hall, Lincolnshire." This was reported in The Spectator in Sept 1851. At the time, R.J. Simpson was Curate at Whitburn. He married well and Mary would have likely have brought a good dowry to the marriage.
In birth order the children of Robert James Simpson and Mary Elizabeth Simpson (nee Flood) were:
Robert Arthur, b 1853, d. October 1872 in a train crash (medical student; his father's brother was a physician)
Harry Hood, b 1855, d. June 1872 of cholera in India (memorial tablet at St Clement Danes)
Elizabeth Frances Ann b 1857, d. 1926 (journalist, cat breeder, authoress etc)
John Percy in 1861, d 1938 (solicitor, recorded 1911 in Kensington,)
Grace Helen Mary b 1868 (a woman of that name was recorded 1891 at Paddington, London)
Edith b 1870 (I've not yet found further information)
Elizabeth Frances Ann Simpson was born in 1857 at Haughton le-Skerne, Durham, the third of 6 siblings (and the first daughter) in the family of Reverend Robert James Simpson. In June 1872, when Frances was 15, her 17 year old brother, Harry Hood Simpson, died of cholera in India and there is a report about his memorial stone. It appears that tragedy struck the family a second time that year because the St Clement Danes parish magazine of 1st Nov, 1872 reports the death of a Mr Simpson, medical student and son of Rev R J Simpson, in a train crash. Looking at railway records, this was possibly the Kirtlebridge crash of 2nd October 1872, in which 12 people died when the 6 a.m.from Carlisle, continuing from the 21.00 from Euston (possibly heading for the medical school in Edinburgh) collided with a freight train.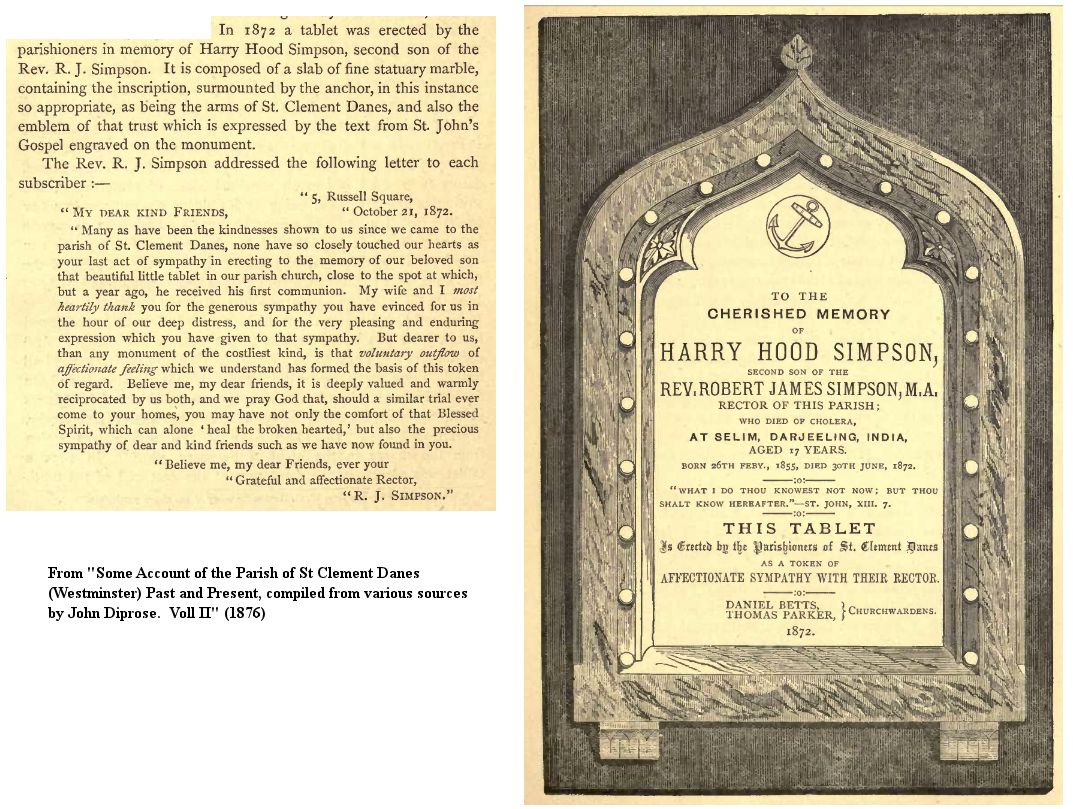 In March 1892, there was an announcement that one of Frances's sisters was to marry. Most likely it was Grace Helen Mary Simpson b 1868 (and possibly resident at Paddington, London in 1891) and I believe her husband's full name was "Theodore James Gordon Gudin," son of Margaret Louise Gudin (Hay). Here is the announcement: Marriage of Miss Simpson. The approaching marriage is announced of Miss Simpson, daughter of the Rev. R. J. Simpson, late Vicar of St. Peter's, Eltham-road, and Baron Gudin, grandson of Lord James Hay. – Blackheath Gazette, Friday 18th March, 1892

This obituary for her father held in the British Archives gives a useful list of the family's addresses: deeply regret to Record the death of the Rev Robert James Simpson took place at residence Durdans House, The Avenue, St Margaret's-on-Thames on Friday January 12 [1900]. His connection with the Society member of Committee Association Secretary and Clerical Secretary extends over thirty years. Held the office of Clerical Secretary for eighteen years when in March last ill-health compelled [him] to retire that post. He still occasionally attended meetings of the committee and gave the benefit of long experience and loving work for South America. At Oxford he entered at Oriel College and graduated in 1844, B.A. Durham in 1847 and Oxon in 1851. Ordained Deacon in 1847 and Priest in 1851. At Durham was Curate of Whitburn Durham 1846-51; Curate-in-charge of Haughton le-Skerne Durham 1851-60; Organising Secretary to the National Society 1860-62; curate of Windsor 1862-66; of Kensington 1866-68; Vicar of Slough 1868-70; Rector of St Clement Danes Strand 1870-79; Incumbent of Curzon Chapel 1880-86; Vicar of St Peter Lee 1886-90; and Clerical Secretary of the Society for eighteen years to 1899. As the modern traveller drives into London from the west and crosses Twickenham Bridge, there is Richmond riverside to the right, the Old Deer Park to the left, Kew Gardens pagoda in the distance and the weir at Richmond Lock. Just yards away and invisible from the street is the enclosed 12 acre St Margarets Pleasure Grounds gardens shared by the 140 Victorian properties that back on to it. Thanks to covenants that prevent it from being broken up into personal gardens, the area has hardly changed since the houses were built in 1854. Durdan's House was located on The Avenue.

Addresses associated with the Rev. R. J. Simpson, M. A, include 23, Redcliffe-square, Kensington (when at Curzon Chapel) and 11 Serjeants' Inn, Fleet Street, London (this is a solicitor's address). No 23 Redcliffe Sq (left) is now a hotel. It overlooks Redcliffe Square Gardens (shared garden) and is close to the fashionable Brompton area of London. We can further trace the addresses where Frances lived with her family through entries in stud books. The Report of the Rowland Hill Memorial And Benevolent Fund at their meeting at the Mansion House, London, on November 11, 1891, lists "Rev. R. J. Simpson, M.A., 12 Downe Terrace, Richmond Hill" as a trustee. Frances bred and sold Blue Longhairs (Persians) with the "Richmond" prefix at this time. Downe Terrace is now known as Stuart Court, 90-112 Richmond Hill; it overlooks Terrace Gardens. When her father became Vicar of St Peter Lee, Eltham Road, near Eltham, Kent (1886-90) the family resided at St Peter's Vicarage. St Peter's Lee, Eltham Road was redeveloped in the 1940s and the area became a housing development. The original church (consecrated 1871) and its accompanying vicarage have vanished. Coincidentally, both sets of my grandparents lived not far from here.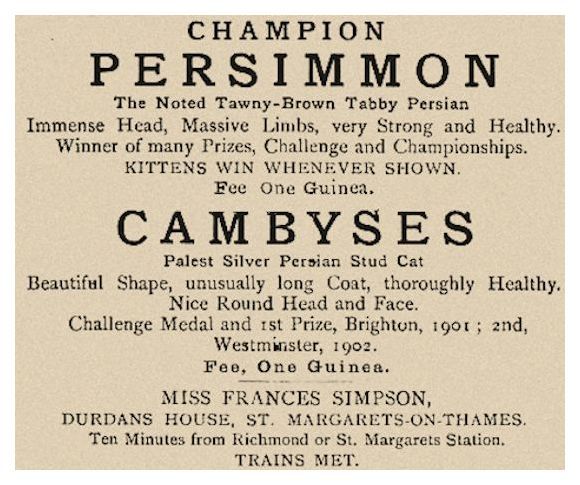 In 1903, her correspondence address was given as Durdans House, St Margaret's-on-Thames (in Richmond, London) not far from Twickenham. A later address given during her time as Hon Sec of the Blue Persian Cat Society was 9, Leonard Place, Kensington (West London); and then (published in a revised edition of "Cats for Pleasure and Profit" 1928, two years after her death) 16 Stafford Terrace, Phillimore Gardens, Kensington, which was less than a mile from Leonard Place. Richmond and Kensington were (and still are) quite fashionable places to live. Interestingly, she was President of the Brighton and District Cat Club, formed in the latter part of the 1920s - quite outside of her normal geograpical location, but it wasn't uncommon for fashionable ladies or whole families to take rooms at south coast seaside resorts and escape the often unsanitary conditions of London in high summer.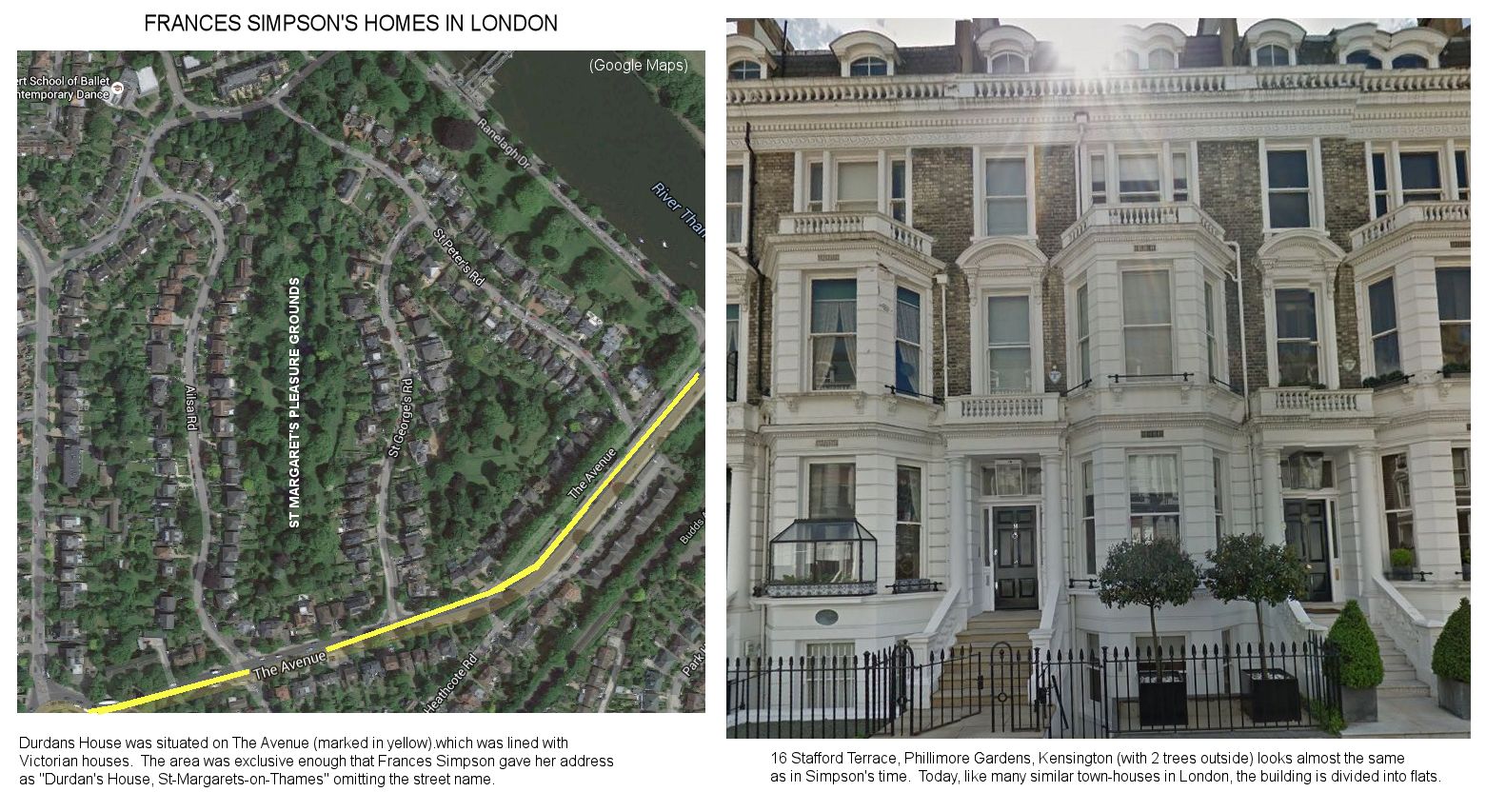 In 1903, The Book of The Cat lists her address as 9 Leonard Place, Kensington (off of Kensington High Street). The Edwardians replaced many of the older Georgian and early Victorian buildings in the Kensington area with mansion blocks and shopping frontages replacing the elegant terraces. Leonard Place was demolished in 1923 and replaced with the Kensington Cinema (later part of the Odeon Cinema chain) in 1924 and a short shopping frontage that was initially called Leonard Place and later called Leonard Court. Early photos of the Kensington Cinema refer to its "Leonard Place frontage" on Kensington High Street.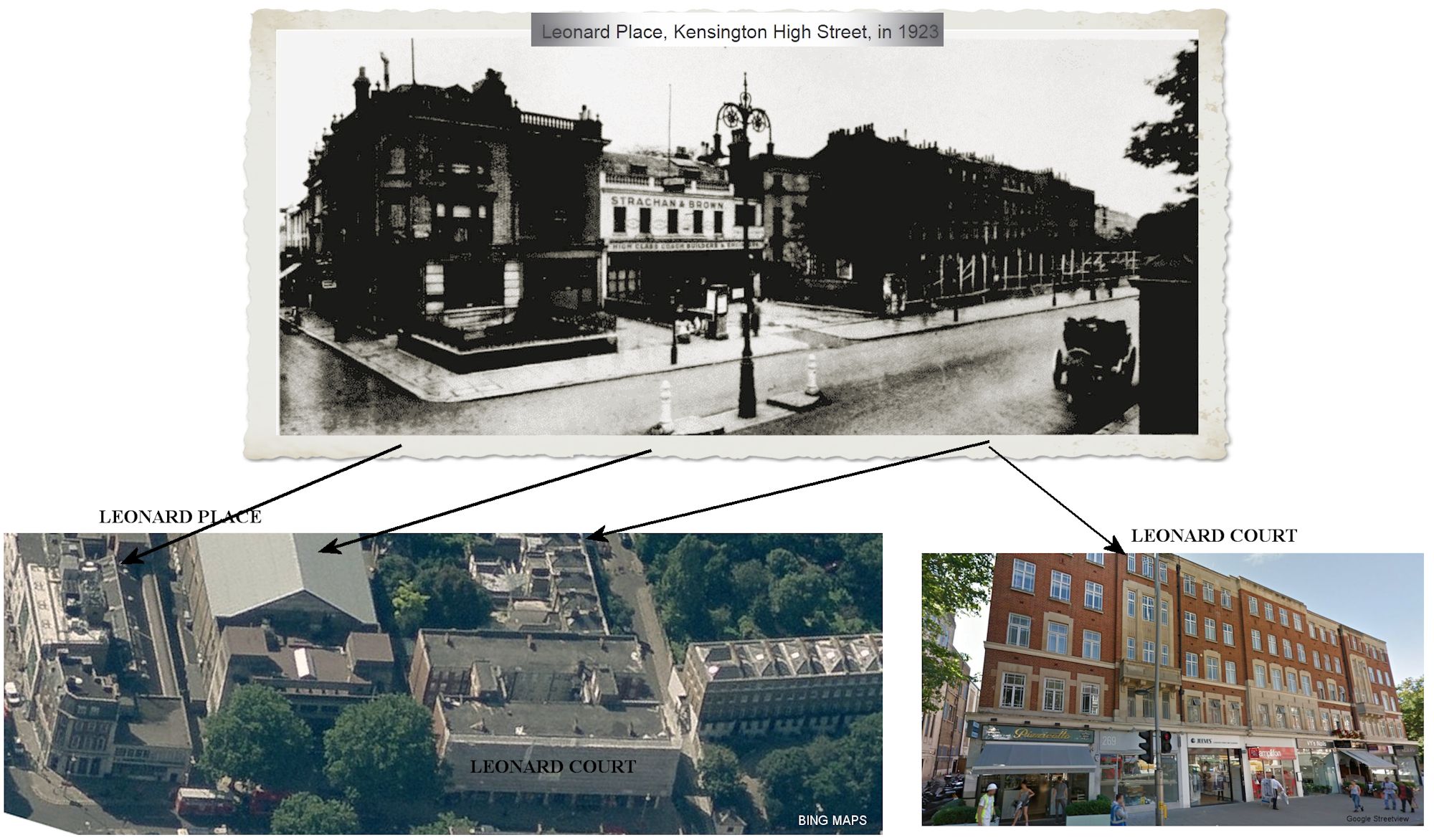 Why so many moves? At first her regular moves reflected her father's appointments in various churches. Later on, when Frances and her younger brother were sharing accommodation, it probably reflected changes in rent – someone else may have been willing to pay higher rent. Kensington and Brompton were fashionable areas of London and I doubt they rented a whole house, there being only the two of them. We know from her writings that her stud cats were housed in cattery accommodation in the garden of a friend (and co-owner of some of those studs), which made it far easier for Frances and her brother to move addresses.
FRANCES SIMPSON, GODMOTHER OF THE CAT FANCY
Frances moved to London with her family in 1870. 1871 was the year of the first Crystal Palace Cat Show. This evdently made a huge impression on the teenaged Frances, who went on to devote most of her life's work to the emerging cat fancy. She is listed among the "local winners" at the 1886 Crystal Palace Cat Show in The South London Press; this was the year her father took over at St Peter's in Lee.

Like many unmarried women of her station, Frances needed to take on paid work. Writing seems to have been her main source of income. She created for herself the role of cat show reporter and advisor on all cat-related matters. In that capacity she wrote for a number of animal fancy journals. Initially she contributed to "Fur & Feather" covered fancy animals such as rabbits, canaries and then cats. She later also wrote for the cat fancy's own journal "Our Cats" which was founded in 1899. Through self-promotion (the volume and useful content of letters to those journals) her name became well-known. She contributed articles to other journals and gained the image of an expert on fancy cats. She was also well able to name-drop since the cat fancy was one of the pursuits of upper classes and some of the cats Simpson bred had gone to the catteries of aristocratic ladies. By 1911, her profession was given as "journalist." On Messybeast, I've reproduced some of her articles from "Every Woman's Encyclopaedia" and I am certain that some of the pseudonymous or anonymus articles in that and similar journals were written by Simpson as they are in her style (slightly twee in their reference to "pussy" rather than to "cat"). There's also an article called "Cat and Dog London" published in Living London in 1902. Having created a niche for herself, Simpson appears to have dedicated her whole life and output to fancy cats.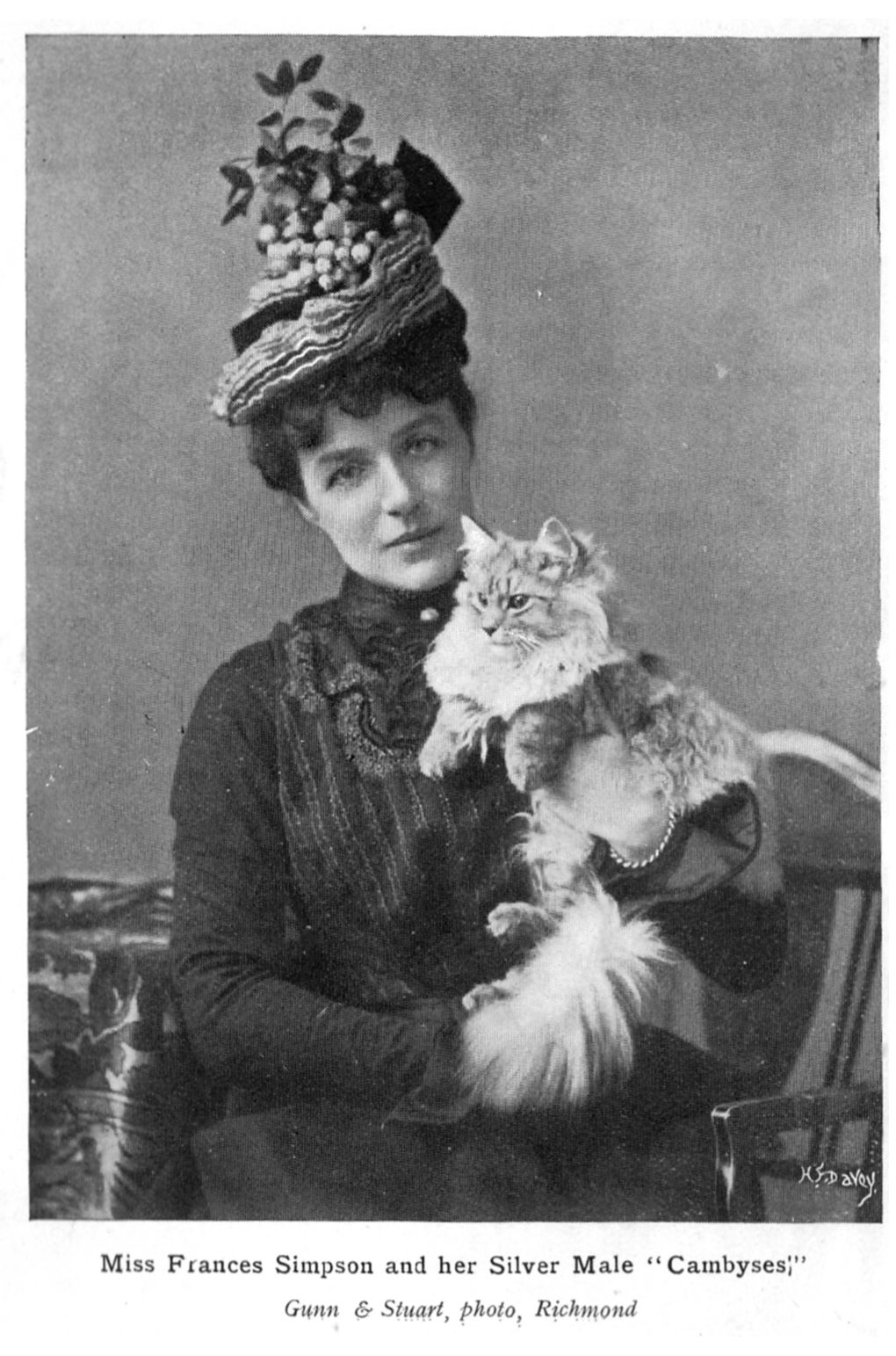 Here's one example of the name-dropping and flattery. In "A Cat and Dog London" published in "Living London" edited by George R. Sims she wrote "In St. Pancras Cemetery at Finchley there is a monument raised by the dogs of London to the memory of William French, who lost his life in saving Mr. George R. Sims' little Yorkshire terrier from drowning." She knew how to massage the egos of her editors!
In addition to her writing and editorial roles, she advertised her services writing out pedigree forms for sixpence each (increasing to 1 shilling by 1924). The sale of pedigree cats was also a source of income hence the title of one of her books "Cats for Pleasure and Profit." She also allowed her name to be used in advertising, endorsing Tinkers Kit-Kat Mixture ("Prevents and Cures Distemper, Fits and Fevers") and Nomis Powders ("Prevent Show Fever!"). While she was happy to be paid to endorse these remedies, she allegedly admitted in private that she would never use them! She also endorsed Wilson's Cat remedies, and Salvo's various treatments for feline ailments.
Even in her own books there are few photos of Simpson. In "Cats and All About Them" (1902) and the 1909 edition of "Cats for Pleasure and Profit" an elegant dark-haired Simpson is photographed with her Silver Persian stud, Cambyses (at the back of the book he is advertised at stud). In the 1924 edition of "Cats For Pleasure and Profit" a much older and greyer-haired Frances is plainly dressed and holds a Blue Persian kitten; this time she advertises stud services of Blue Persian Buzz-Buzz (son of Blue Britisher) and also "lovely pedigree Persian cats, or kittens of all breeds, long and shorthaired, at moderate prices, healthy and reliable, obtainable on application". Her plain style of dress is due to changing fashions, especially following the Great War.
Frances Simpson remained a "Miss" till the end of her life; whether she was ever romantically involved is unknown. She seems to have devoted all her energies to promoting cats and the cat fancy. However, prefaces in two of her books indicates that she also saw cat breeding as a source of profit, as well as pleasure. She died died on 19th January, 1926, aged 68, at 16 Stafford Terrace, Phillimore Gardens, Kensington (this address is in her final book) leaving £11,000 - a small fortune for a woman earning her own living. Her brother, John Percy Simpson, who lived at the same address, outlived her by 12 years. In "Cat Gossip" magazine of December 29th, 1926; editor HC Brooke wrote "The year which is now passing has brought about some sad partings. At the very outset we lost the "Fairy Godmother of the Cat Fancy," Miss Frances Simpson, whose tongue and pen for half a century have been placed at the service of Puss."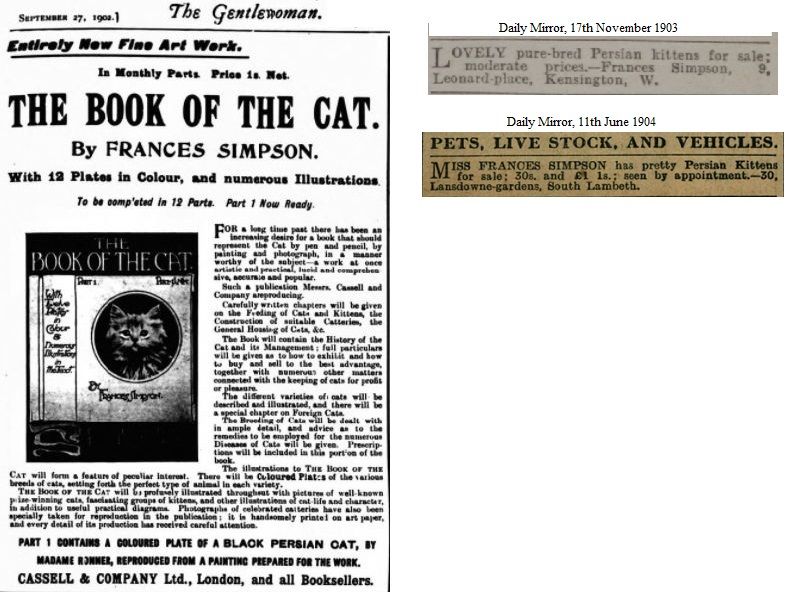 SIMPSON'S CATS
Although her name is nowadays associated with Persians, Simpson owned a Chocolate Point Siamese male called Netherland Tilu, and Tilu's sister Netherlands Ma, born in 1897 and Mai (Prince of Siam x Musidora). She acquired her first Persian cat in 1899; a Blue Persian called Melrose Lassie; bred by Miss Mercer. Like many of Simpson's Persians, Melrose Lassie was later exported to America, but did not leave any registered offspring in either country. Simpson's most famous Blue Persians were Blue Britisher (Vanity of Thorpe x Ruckholt Queenie) born in 1913, and Bonnie Ben (Lanark Lad x BeeBee) born in 1922. Her cats partial pedigrees, breeder and owner details are to be found in Cat Club stud books.
Simpson owned and bred Persians – mainly Blues, Blacks, Brown tabbies and Chinchillas – though even with a detailed study of stud books it's often impossible to determine which of "her" cats she bred herself, and which she bought from other breeders. Up until 1910, there was no standard policy for prefixes or suffixes; those breeders who did have a prefix could add this to cats they bought from others. Simpson did not have her own prefix, her name and fame were enough e.g. "Miss Simpson's Champion Persimmon" would have been perfectly adequate in identifying her cats in a pedigree! Up until 1910, cats were registered by individual cat clubs and not by a central governing body. It was common to see the same cat in different show reports, with a different prefix following its sale to another owner. She was instrumental in promoting Blue Persians. One of the most influential Blue Persians was Simpson's "Mater" ("mother") whose descendents (sired by "Rajah") helped establish a number of prominent catteries and breeding lines. In 1886, Mater and Rajah produced the very prolific "Fanny" (acquired by Mrs Hunt) who won a First at the 1887 Crystal Palace show. Fanny had several consorts and her descendents populated many Blue Persian breeding programmes.
Her first longhaired cat, as she records in her books, was a Brown Tabby: "I think it is generally known in the Fancy that I am partial to Brown Tabbies, and truly I believe they occupy the warmest corner of my cat-loving heart; perhaps, because I first started with a Brownie, or possibly because they have been a very looked-down-upon breed. "
Around 1881, she became closely associated with Blue Persians. In Cats and All About Them (1902) and in The Book of the Cat (1903) she wrote: "I exhibited the first pair of Blues at the Crystal Palace many years ago, and ever since we have lived and loved together!" and "It is over twenty years ago that I exhibited the first 'blues' at the Crystal Palace Cat Show and they created quite a sensation, for no-one seemed to have seen any cats of this peculiar shade before. Some called them grey or lilac, and others London smoke, or slate colour. One of my pair of blue kittens was quickly claimed at catalogue price, and I bought the other, fearing that I would lose her also. She in her turn became the mother of many celebrated blues." At the time she wrote of (1881/2), Blue Persians were shown as "Any Other Variety" and included Blue Tabby and Blue-and-White cats. In 1889, they gained their own class for "Blue - self-coloured without white."
Frances purchased Mrs Ackland's "Betsey" who was then bred to Mrs Ackland's "Lewis" resulting in a Blue Persian female (L.F. Blue in registry parlance) named "Mater" in 1885 (National Cat Club Register Vol 4, registration number 1094). Simpson advocated 3 generations of mating Blue Persian to Blue Persian to produce perfect offspring and guarantee only blue kittens; preferably the paler shades of blue without any vestige of white markings. She discouraged mating Blue Persians to Silvers as this resulted in indistinguished Smokes – and many early cat fanciers ruthlessly destroyed any kittens that did not meet expectations. Her breeding strategy necessitated the beginnings of the 3 generation pedigree. Blue Persians, supposedly favoured by Queen Victoria, became the most popular and numerous breed at early shows. The breed standard called for the paler shades and permitted green or yellow eyes. Simpson's advice extended to how best to exhibit the cats, including the colour of cushions and ribbons that complimented their eye colours and attracted the eye of the judges and the visitors.
Descendants of "Mater"' and "Rajah" (the latter being named after an Indian prince who visited her family) helped to establish the breed. First noted is "Fanny", b 1886, L.F. Blue (National Cat Club reg 1284) . One daughter of Fanny was "Blue Stella" [National Cat Club reg 1402) sired by "Champion. Glaucus."' Blue Stella was sold to Mrs. W. Wells and became in her turn a forebear of the Rev. P. Cosways 'Imperial Blue'. Fanny also produced Bluebell (National Cat Club reg 1004), sold to Mrs E S Walker. Mater x Rajah produced Queenie in 1887. Sold to the Hon. Miss E. Montague, she became "Farnham Royal Queenie" (National Cat Club reg 1022) who was mother of "Farnham Royal Silver" (despite her name, she was a Blue) who was mother pf "Blue Boy The Great (of Islington)." The pair also produced 'Queen Victoria' in 1888, (National Cat Club reg 1439). This was a Blue Tabby, demonstrating that 'Rajah' was not a Blue Persian male, but a Brown Tabby. Queen Victoria was sold to Mrs. Louisa Herring, of Lestock and won numerous Firsts.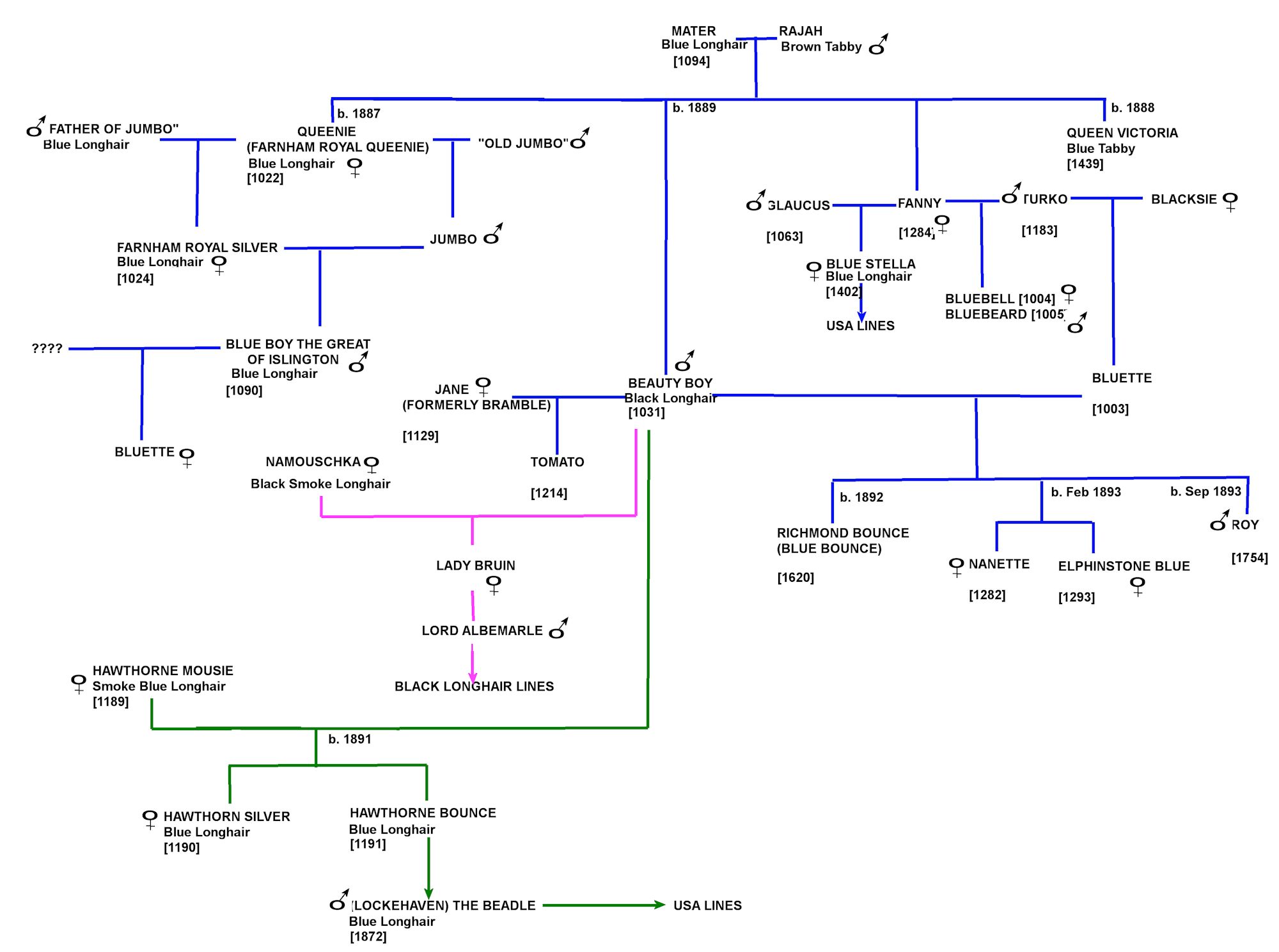 Mater x Rajah produced "Beauty Boy" (BlackPersian) in April 1889 (National Cat Club reg 1031). He was mated to several females belonging to other breeders. Later in 1889 she acquired the Blue female, 'Bluette' (not to be confused with a female of the same name, the much traded Bluette by Birkdale Boy ex Dainty). Beauty Boy's offspring include some well-known cats: Mrs. Dean's blue female, 'Hawthorne Bounce' born in 1891,(National Cat Club reg 1191) who was mother of 'The Beadle' who was exported to Mrs. Clinton Locke and became "Lockehaven The Beadle" (Beresford Cat Club reg 125), a founder of Blue Persian in North America. In Sept 1889, Simpson registered the L.F. Blue "Bluette" (National Cat Club reg no 1003) acquired from Miss Jevons as a mate for 'Beauty Boy.'. 'Beauty Boy' x 'Bluette' produced Richmond Bounce' in 1892 (National Cat Club reg 1620). A cat called 'Blue Bounce' (National Cat Club reg 1998) was sold to Mrs. Harton and was probably a re-registration of Richmond Bounce as the birth-date is the same. The pairing also produced 'Nanette' (National Cat Club reg 1282) and 'Elphinstone Blue' (National Cat Club reg 1293) in 1893. These were sold to Mrs. A.A. Clarke. A repeat mating produced Roy later in 1893. He was sold to Mr. J. Richard, Junior.
Another of Beauty Boy's progeny was Miss Stisted's 'Tomato' (National Cat Club reg 1214) . Beauty Boy x Mrs. Little's 'Namouschka' (Black Smoke Longhair) produced 'Lady Bruin' who founded a black dynasty via her son 'Lord Albemarle' . After his stint with Simpson, 'Beauty Boy' was sold to Mrs. Louisa Herring. In a day and age where slower transport restricted the distances a female could be sent (she might stop calling during a 2-day journey, not to mention the problem of food, water, poop and pee – things railways did not take care of!), it made sense to move studs around the country
Late in 1890, Frances became joint owner of a Blue male called 'Bootles' bred by Mrs. . In 1890 he won a 2nd at the Crystal palace. The owners sold him to Miss Molony of Lindfield and as 'Lindfield Bootles' he became a well-known sire
In 1897, when silvers were in vogue, she returned to her first love – brown tabbies – and purchased her beloved future Champion, 'Persimmon', from Mr. Charles Heslop. At one point she intended to develop a strain of self sables from his sable tabby descendants, but this did not come to fruition. 1899 was the year she succumbed to the lure of silvers, starting with the purchase of her Chinchilla male 'Cambyses' (a famous silver Persian who appears in photos with her), who was a grandson of Champion Silver Lambkin.
After her Brown Tabby longhair Champion Persimmon died, Simpson sought a suitable son (from his stud duties with other breeder's queens) to replace him. In 1903 she bought Persimmon II as her new stud cat. Persimmon II bore a great resemblance to his father. His mother was a descendant of her earlier breeding pair, Rajah (Brown Tabby) and Mater. Persimmon II went to live in his sire's house which was set up in her close friend Miss E Goddard's garden. This answers another question – considering Simpson's frequent house moves, where did her cats live? Terraced Kensington town-houses don't look suitable for cat breeding, especially for one or more studs (with their tendency to spray) and noisy oestrus females. The answer was that some lived with friends who had larger grounds, with Simpson paying their keep out of stud fees.
In summer 1903, Lady Marcus Beresford downsized her cattery and offered her stud "Blue Boy II" to Simpson. Blue Boy II duly went to stay with her cat-breeding partner and co-owner, Miss E. Goddard, who housed several of Simpson's cats in her garden, including brown tabby studs Champion Persimmon and Persimmon II.

One of her lesser known cats was this tortoiseshell-tabby longhair named Little Pix. Described as a Pekinese cat, it had a fluffy tail that was carried over its back and the forelegs were "quaintly shaped" (which does not show on the only photo I have uncovered). Little Pix has tiny ears and a snub face and was imported from Pekin (Beijing), in China.
Her other cats included Brushwood Persimmon (Brown Tabby Persian) and his son Persimmon II, Beauty Boy (Black Persian) (Rajah x Mater), born 1899, and Simon Pure (Brown Tabby Persian, Persimmon x Baronia), born 1901. There are also cats that probably belonged to Simpson in later days: Prince Mayo (Chinchilla, Simple Simon x Silverscent) born 1927, and Cheshire Puss, a Tortoiseshell-and-White Persian (Unknown stud x Queenie) born in 1925, towards the end of her life.
In 1919, she bred the blue Persian stud "Buzz-Buzz" from Mrs Forrest's Blue Britisher. She advertised his services in 1920 and he appears to have been a massively built cat.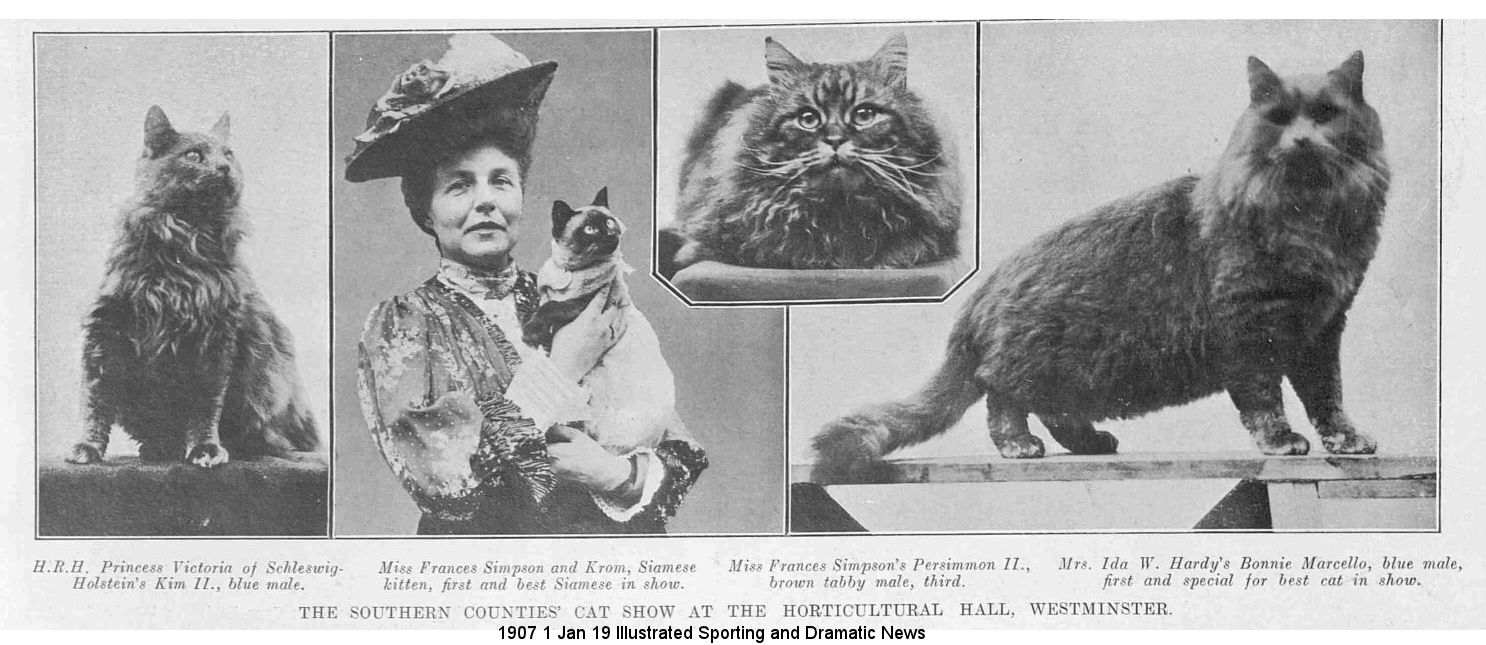 CAT CLUB COMMITTEES AND CAT SHOW ORGANISER …
Clubs, Societies and Registries
Her secretarial skills were put to good use, both at a club and National level, where she would be called upon to be minute taker or acting secretary.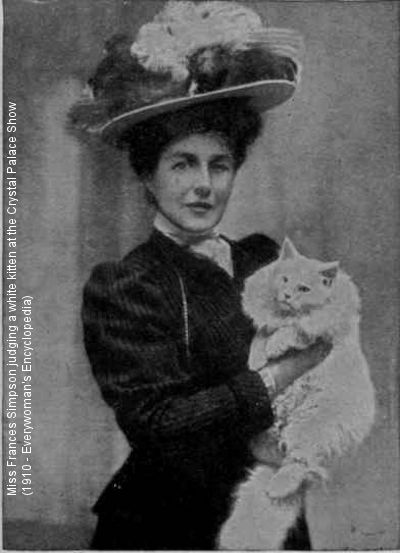 In April 1901, Simpson founded the Blue Persian Cat Society. Blues had become very popular and (bearing in mind "Pleasure and Profit") less valuable – from £5 in the early 1890s (and that was before they were actually born!) to around 3 Guineas (a little over £3) for a good blue kitten in 1901. She considered blues were ideal for beginning breeders due to the breed's health and hardiness. A book of rules was drawn up, and officials were appointed to the committee. The Hon. Secretary was Miss F. Simpson and the objectives were to set a modern breed standard, to educate breeders on best practices, to educate judges and breeders about that breed standard and to improve show classifications so that Self Blue Longhairs were assured their own classes. That opened the floodgates for the founding of specialist societies for other colours and types of cat.
Anecdotally, Frances Simpson was the first Hon Secretary of the Blue Persian Cat Society when it was founded in 1901. In fact the Blue Persian Cat Society's first secretary was a Miss Jay, who resigned. Simpson complained she had been asked to be secretary in her place, although someone else also seemed to have been nominated for the post. At the next meeting, Simpson signed as Club Secretary and retained the post for a number of years. She is said to have exhibited the first-ever Blue Persian in competition. She also owned and bred Black Persians, Brown Tabbies and Chinchilla Persians. What is beyond doubt, is that she was very much involved in the 19th Century cat fancy: author, breeder, show organizer, judge and fund-raiser (for cat rescues and for show prizes) and endorser of cat-related products.
A Single, Independent Registry
Before the formation of a single national registry, she had had to navigate the politics between the 2 registries (and their affiliated clubs), respecting the sensibilities of both while supporting the idea of a single register independent of both national bodies. If you read the early National Cat Club registers (easily found online) you'll see errors: the same cat with different birth-dates, complete name changes, various spelling variations of the same name, re-registration with a new number etc. Without a unique registration number, how can we be certain that Simpson's "Richmond Bounce" later became "Blue Bounce" (they have the same parentage and birth-date, but was this one cat or littermates?) Prefixes were not universally adopted and some cats were registered in the style of "Miss So-and-so's Queenie," but later became "Mrs Someone-else's Queenie" without a number to easily tie the identities together. Others were probably re-registered with no reference to their previous identities. Simpson seems to have been a methodical record-keeper (she may have helped her father in straightening out the records at St Clement Danes), and no doubt found this frustrating and open to abuse.
She was witness to the founding of the Governing Council of the Cat Fancy (GCCF), which is still the main British registry. The Cat Club, set up in 1898 by Lady Marcus Beresford in direct opposition to the National Cat Club, ceased in 1904. From 1904 to 1908, the National Cat Club was the sole registry. In 1908, several clubs broke away to form the Incorporated Cat Fanciers Association. In 1910, all concerned parties met at Westminster (a regular cat show venue) and agreed to the formation of a single body called the Governing Council of the Cat Fancy to which clubs and societies could be affiliated. The National Cat Club handed over all its governing powers in return for 4 delegate seats. Other participating clubs had only 1 or 2 delegate seats. As Secretary, and probably delegate, for the Blue Persian Cat Society, Simpson earned a GCCF seat. This is confirmed in "Our Cats, october 1953: "The Governing Council held its first general meeting in Holborn on 11th October 1910 [...] the names of those delegates who were present on this historic occasion. They were Mr. Russell Biggs (N.C.C.) Chairman, Mr. de Vere Brooke (N.C.C.), Mr. R. Little (N.C.C.), Miss Burton (Northern Counties Club), Mrs. T. B. Mason (Southern Counties Club), Miss Frances Simpson (Blue Persian Society) [...]"
Show Organiser
In her role of Club Secretary, it was her responsibility to receive and pen the cats when they arrived at the show. She had to unpack them, care for them for the duration of the show (most being 2 day shows) and return them to the correct owners, with their awards, following the show. In those early days, this was far from simple. Most cats arrived unaccompanied at the show by rail or carriage. She wrote that the cats were frequently nailed into a wooden transport crate and complained that the poor cats arrived at the show venue traumatized, dead or dying. She wrote that too many arrived in padlocked containers, but without a key and had to be broken out of their boxes. She had to deal with kittens crushed by their mothers in transit and cats half-dead of suffocation. After the show, cats would be returned in the same way. During the show, it was Simpson's task to feed the cats and keep them and their cages clean and hygienic and try to prevent the spread of "show fever" (a blanket term for enteritis and cat flu). Early fanciers did not know how feline diseases were spread, but understood the need for disinfectants. However, the disinfectants used at that time were the sorts now known to be poisonous to cats. Despite the risk of "show fever" and the inefficacy of the pills and potions "guaranteed" to prevent it, hundreds of exhibitors were willing to take the considerable risk of showing their cats. After the show, Simpson had to remember to pack the relevant prize cards and awards with the right cat. She had to be prepared to replace these if they got soiled or were destroyed on the homeward journey. It was the Club Secretary's job to arrange homeward transport for each unaccompanied cat. To her irritation and evident despair, many exhibitors failed to enclose return labels with their cats. In her columns, Simpson often reminded exhibitors that a note of thanks for the safe return of their cat would be appreciated by the Secretary though this actually made even more work for her as she replied to all of the thank you notes personally.
Sometimes her good advice about sending cats to shows was misunderstood by her audience. She advised cat owners to make little jackets to wrap around a cat to keep it warm on the way to a show. She would have been thinking of flannel jackets, such as were used for sickly cats. To her surprise, she once received at her cattery (for mating to her stud cat) a "little lady [...] clothed in a very smart jacket, through which her front paws were placed and it was buttoned up to the neck. This puss had also, a pair of washleather boots on her back legs, so that her appearance was a little startling."
It seemed that Simpson was not shy of promoting herself. In one of her replies to an exhibitor's thank you note, Simpson mentioned that she had personally packed and dispatched 150 cats after one show, and asked the exhibitor to thank her publicly in Fur & Feather. The exhibitor showed Simpson's reply to another exhibitor, who straight away complained to Fur & Feather about Miss Simpson's self-seeking ways because there were actually only 118 cats exhibited at the show in question. Being charitable, it's possible that Simpson had simply referred to the list of classes and exhibits and that 40 cats had been listed in multiple classes, but it also shows the cattiness of the cat fancy. Being uncharitable, it suggests that she wasn't immune from egotism. Perhaps this is why Simpson remains well-known today while her contemporary, Miss Higgins (pen name: "Dick Whittington") who wrote the cat gossip column in "The Ladies Field" and a book called "The Cat Manual" is a more obscure figure.
As a show organiser and judge, she had plenty of sensible advice for others, not just on how to judge cats against the standard, but also in how to make best use of their time; starting with eliminating "absentees" from the list and then eliminating poor quality or out-of-condition cats. Having whittled the final list down, perhaps to single figures, the remaining cats would be judged against the standard and each other. Despite this, she was well aware of accusations of favouritism levelled at even the most unbiased judge; the personal pride of titled personages (and their personal rivalries) was often at stake. These rivalries and accusations often spilled over into the letters columns of "Fur & Feather" or "Our Cats."
Show manager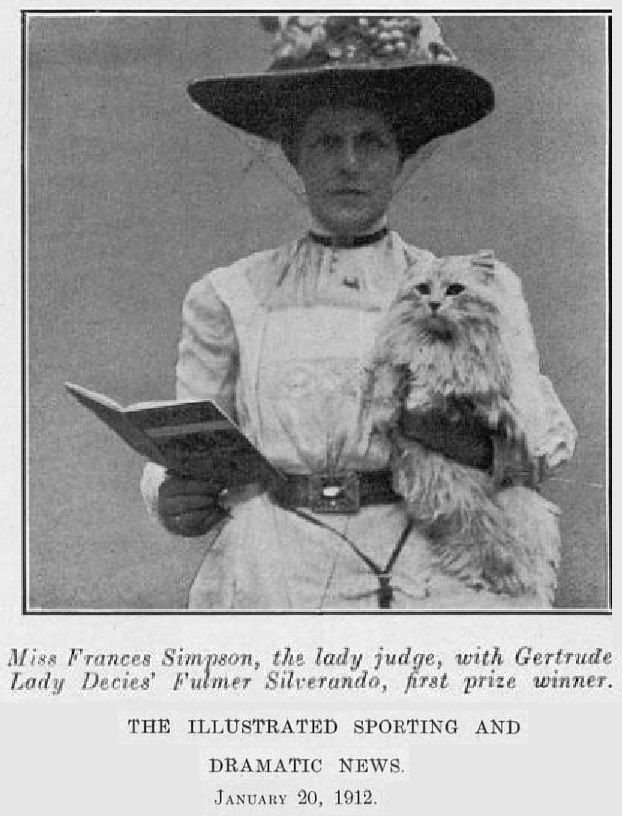 "I have acted as show manager and as show secretary to some of our largest exhibitions in London and at Brighton. The office is indeed no sinecure [easy posting] , and very few fanciers, exhibitors, or visitors have any idea of the enormous amount of forethought required, to say nothing of physical and secretarial labours, to make a big show run smoothly. The responsibility is also great, for a conscientious manager feels he has valuable live stock in his temporary possession."
Mentor
Her excellent advice to new breeders/exhibitors was summed up in these words in The Book of The Cat: "To the novice and the beginner I would say, Buy two or three good specimens, carefully selected; these will be worth quantities of doubtful ones, which, as a matter of fact, have, as a rule, no value at all. Seize every opportunity which comes across your path of seeing and examining well-bred, prize-winning cats, and attending shows. The cleverest fancier and most successful breeder can improve himself by observation and education.
"Do not be offended if you are told by those who have had a larger and longer experience in the fancy, and who are really experts, that you have made a mistake in any purchase. If you resent their criticisms, you may, and probably will, accumulate much rubbish as a monument of your own conceit. A great deal may be learnt from books, but more from observation. Above all, do not, when you have acquired some knowledge, form too high an estimate of your own powers and of your own cats; a true fancier is always ready - nay, anxious - to learn, well recognising that ignorance alone claims to be omniscient." [that last phrase sounds like one picked up from one of her father's sermons]
Judge
From The Book of the Cat "In judging a class, I go round and mark the absent cats; then I note down those that could not under any circumstances take a prize. If there is a large class- say, of twenty to thirty specimens - I mark off all poor or seedy looking cats until the number is reduced to about eight or ten; then I begin to search for the winners. At this point I take out each specimen, and if no judging pen is provided, I get someone to assist me, and by bringing out two cats at a time I can make comparisons and note down any remarks in my book for further reference. It often happens that one particular cat will stand out prominently from all the rest in a class, and then there is no difficulty about the first award. It is always well to give a 'reserve' and to distribute - but not too freely - the V.H.C., H.C., and C., cards.".... "A first prize cat should be a good specimen of its kind, and it is much better to withhold this award than to give it to a poor representative of his breed."
In The Book of the Cat she wrote these sage words of advice to cat fanciers: "Amongst cat fanciers there is a laudable ambition not only to breed good stock but to exhibit it. Certainly there is vastly more gratification and satisfaction in obtaining high honours for cats and kittens that we have bred ourselves, rather than for those specimens which money has purchased. If we consider that our cats have sufficiently good points to merit their being entered for a show, we must bear in mind that all the beauty and form and feature will be thrown away unless our pussies are in good show condition. For exhibition purposes condition means everything, and this is more especially the case with the long-haired breeds. A first-class specimen whose coat is ragged and matted cannot fail to suffer in the judges' estimation when compared with another cat, of inferior quality perhaps as regards points, but yet in the pink of condition, with its coat well groomed, its eye bright, its fur soft and silky. In the present day many of the specimens penned are so close together in point of breed merit that a very little turns the scale one way or the other. I have often said to myself, when judging a class of cats, "This exhibit would be a winner but for its condition," and I have had to put it down in the list.
"There is no doubt that with long-haired cats a fine full coat will cover a multitude of sins, but it cannot alter a long nose or poor shape and bad-coloured eye; and in urging the importance of condition, I at the same time deprecate the awarding of prizes to cats that have nothing to recommend them but their pelage. Seeing, therefore, that a handsome specimen may go to the wall for the lack of attention on the part of the owner, it behoves all cat fanciers and would-be exhibitors to do everything in their power to make their cats look their very best, so that their pets may be things of beauty in the show pen. In the dog, rabbit, and pigeon fancy a great deal more attention is given to condition than amongst cat fanciers, who need waking up to the fact that nothing goes so far to propitiate a judge as superb show form and general good appearance. There may be standards of points for the guidance of the awards, but assuredly a common-sense judge will look with disfavour on a specimen with excellence of breed and correct colour of eye if his coat is draggled and matted, his tail dirty, and his fur soiled.
"We have only to run our minds back to the various exhibits of well-known fanciers at our large shows, and we shall find that the most persistently successful exhibitors have been those who have sent their cats to the shows in the best condition. Some fanciers, wishing to help on entries at a show, will exhibit their Persian cats when quite out of coat. This is a mistake; send your entry money if you like to the secretary, but keep your coatless cats at home. As regards the short-haired breeds, these cats should have coats with a gloss and brilliancy like that of a well-groomed horse, shining like satin; a spiky appearance in the fur denotes poor condition in both long and short breeds.
"[. . .] It is hard when cat fanciers take to judging the judges and their judgements. A judge may be absolutely ignorant of the owners of the cats, and thus utterly unbiased; yet there will not be wanting those who will pick holes in their characters, and see in their awards clear proof of personal spite and party favour. The intense suspiciousness of some fanciers and the readiness with which they impute low motives to others is greatly to be deplored.
"Summing up the matter, my own opinion is, and has been for years, that the cat fancy has been hindered and hampered by judges judging the exhibits because they belong to so-and-so, or had won so-and-so under so-and-so.... I was much amused at one incident at Westminster where a big champion had suffered defeat. The fair owner was heckling the judge, and he in reply to her remarks made this answer: 'It makes no difference to me had the cat belonged to the Queen herself; I should then have done the same. I don't judge cats on what they have previously won or because they belong to any particular person. I judge them on their form at the time, and it makes no difference to me if a cat has won fifty firsts or none at all. ' This reply was more than the exhibitor had bargained for, but all honest-minded fanciers must acknowledge the judge was right. What is sadly needed in the cat fancy to-day is more of this sturdy, unflinching determination to judge cats and not their owners. Cat exhibitors have much to learn yet, and the sooner the morale of the judging arena is raised the more healthy will the fancy become and the more quickly will it advance.
"[. . .] All judges are expected to know the varieties they are called upon to judge, and to have the faculty to weigh up the good points and defects of the specimens before them, and place them accordingly."
… AND CAT CLUB POLITICS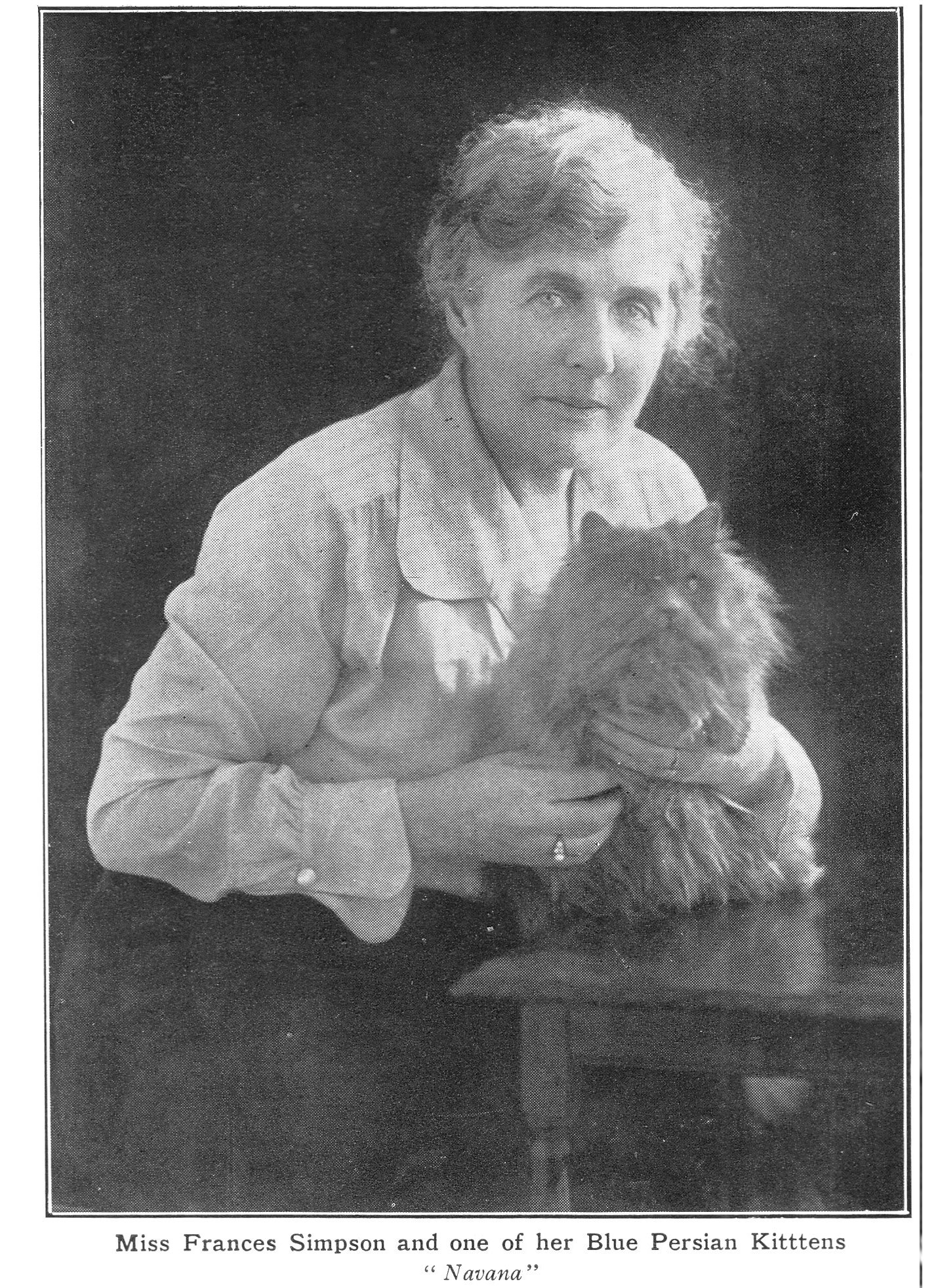 There was also a great deal of politics in the cat fancy, and much of this was aired very publicly through the letters pages of "Fur & Feather" and in "Our Cats" (a publication founded in 1899). Even Frances Simpson came in for criticism. One long and public correspondence related to her not "placing" (awarding 1st, 2nd or 3rd place) a Tabby that had previously beaten every other cat in competition, and that later went on to become Best Exhibit. Simpson herself referred to fanciers as a quarrelsome lot. Whether she despaired of the conflict or relished its challenge, we don't know.
On another occasion, Simpson was publicly accused of misappropriating money donated for a Special (i.e. special prize) at a big show. Specials were usually donated in the form of a trinket and were supposed to be awarded in that form to the winner. Simpson converted a gift of 15 shillings to a silver button-hook valued at nine shillings and sixpence. The winner of the "lovely button-hook" wrote to thank the donor of the Special and the discrepancy in value came to light. A heated correspondence went on for months, both privately and in public. At the time, Simpson was Secretary of the Blue Persian Society and its Committee backed her fully behind Miss Simpson. However, the Committee conducted special meetings in private … and did not invite those who thought Simpson was in the wrong! Those who weren't invited resigned, and aired their complaints about Simpson's behaviour (or alleged behaviour), both past and present, and in her various roles, in public. Simpson still had many supporters willing to defend her, but she found herself back-stabbed by people she had previously helped.
EXPERT WITNESS IN COURT CASES . . .
The very public dispute about the "Special" eventually gave way to what was considered an even greater scandal - a valuable female cat had been savagely mauled by a stud cat. Fur & Feather reported the whole court case. Simpson was called to give evidence that she supported the idea (in print, in the pages of Fur & Feather) that it was acceptable to leave two calling queens, unsupervised, with a stud male. Despite these two incidents; Simpson continued to work for the cat fancy so she was evidently a very resilient woman. Breeding practices in those days were quite different from now, I've not heard of leaving two queens together with a stud, but it was common to mate a single queen to two studs (in turn) to ensure a litter, which is why some of the colours on pedigrees don't always make sense.
Frances Simpson was also called as an expert witness in the case of Clinton V J. Lyons And Co (Limited), Cat Owner's Liability. The case was heard on May 10, 1912 and reported in The Times, May 24, 1912. The Plaintiff, Mrs Clinton, sued J. Lyons & Co. for damages for injuries to herself and her dog as the result of being bitten by the defendants' cat. Westminster County Court awarded the plaintiff £100 damages. Mrs Clinton claimed damages for injuries caused to herself and for those caused to her dog, from the bite of a cat in one of the defendants' tea shops. When Mr and Mrs Clinton went into the tea shop, Mrs Clinton had her Pomeranian dog in her arms. There was a cat on the premises which had kittens. Mrs Clinton put her dog on the floor and the cat, which had escaped from a store-room where she was normally shut in, attacked and bit the dog. There was evidence that the dog had been sniffing at the store-room door (where the kittens were), but the cat was not otherwise provoked. Mrs Clinton picked up her dog and handed it to her husband. She claimed that the cat then sprang on her shoulder and bit her. There was evidence of a "no dogs" notice, but the plaintiff denied having seen this, and the defendants had not enforced the rule. The manageress had told Mr Clinton "All cats with kittens are vicious, and naturally go for dogs." The court decided the cat was not normally vicious and J. Lyons & Co. were not liable to pay damages for the dog's injuries. The report says: "Miss Simpson, who was called as authoress of the 'Book of the Cat,' said, 'Cats rearing kittens are inclined to be savage and in a vicious state, even if gentle otherwise. If such a cat smelt the dress of the plaintiff, who had been carrying a dog, it might attack her, that is, if it was in a vicious state or had been frightened.' "
. . . AND PLAINTIFF IN COURT CASES
"CAT FANCIERS AT LAW. ALLEGED SLANDER ON A LADY JUDGE" is an account of a court case brought by Frances Simpson against Thomas Watson. It was tried on 20th June 1913 and reported in several newspaper including The Pall Mall Gazette (20th June), The Globe (20th June), Nottingham Evening Post (20th June) and Bedfordshire Times and Independent (27th June). To prove a case of slander Frances Simpson would have had to prove that other people had heard the alleged comments about her, and that she had – or would - suffered loss of reputation, social standing or material loss as a result. She obviously believed that her good reputation had been damaged, and she had already won a slander case against an exhibitor (Mrs Savory).
Mr. Justice Coleridge and a special jury had before them, in the King's Bench Division to-day, the action of Miss Frances Ann Simpson, a well-known cat show judge, who sued Mr. Thomas Watson, exhibitor at cat shows, for damages for alleged slander in regard to her actions as a judge at certain shows mentioned. Opening the case, Mr. Tindal Atkinson K.C., said that Miss Simpson, whose address is Leonard-place, Kensington, had for many years taken an interest in the breeding and care of cats. She was the writer of the standard English work on cats, "The Book of Cats." For 26 years, she had been employed to act as a judge at cat shows in various places in England. On August 29th, 1912, at Sandy Cat Show, in Bedfordshire, the plaintiff was acting as one of the judges. The defendant, an exhibitor at that show, falsely and maliciously spoke and published to a Mr. William J. Wilson and others the following words: "I told you how it would be, Mr. Wilson, Miss Simpson (meaning the plaintiff) was appointed the judge. Everything wrong. We shall get no-one to exhibit soon, I have had dozens letters about it, and I know as a fact that she received bribes from exhibitors, that is the reason. I am talking of what I know to be true and others are saying the same."
Miss Simpson found that rumours were about that she had been receiving bribes, and evidence would be called to prove that the defendant had made those remarks to a Mr. Wilson who had at once expostulated, and warned Mr Watson against repeating such a statement, Mr Watson had allegedly replied, "I am talking of what I know to be true, and others are saying the same." The only defence in this case, remarked counsel, was that the words were not uttered, but it would be shown in court that the defendant had subsequently repeated the alleged slanderous statement. Then on October 3rd, 1912, at a house in Narbonne-avenue, Clapham, Mr Watson had allegedly said: There you are; you have appointed Miss Simpson to judge at the Westminster Show. I shall not show under her at Westminster. As I told you before she takes bribes to award prizes, especially from Mrs. George Wilson. I warn everybody the same will happen at the Westminster Show.
Counsel said that when Miss Simpson had first heard the rumour that she was receiving bribes from exhibitors in order to induce her to give a certain exhibitor prizes at a show she was able to secure evidence against a Mrs. Savory. She had brought an action for slander against Mrs. Savory, and the action was settled, with Mrs. Savory making a public apology. Evidence on the current alleged slander was then called.
Miss Simpson gave evidence supporting the statement of counsel. She told the Court that she was judging the Southern Counties' Club Cat Show at Sandy on the 29th August, and Mr. Watson, the defendant, got a second prize. Afterwards Mr. Watson came along and asked her who had taken the first prize in a certain class. She gave him the information, and as he went away she heard him remark very angrily, "Well, there's no use exhibiting. I shan't do it anymore."
Mr. William James Wilson, who carries on business at Ashford, Middlesex, and also at Croydon, said he had attended at dog and cat shows for twenty years, but was not himself an exhibitor. At the show at Sandy last August Mr Watson made a statement to him that a Mrs. George Wilson, a large exhibitor was paying Miss Simpson to give her prizes. Mr. Wilson, for many years an expert in cats, stated that at the Sandy Show he heard Mr Watson say, "No one can win under Miss Simpson," adding that a Mrs. George Wilson was paying the plaintiff to give prizes to her. On another occasion, at a committee meeting, where Mr Mr Watson had repeated the libel, Mr Wilson had told Mr Watson that it was a foolish remark to make if he had no foundation for it. Mr Watson had also told Mr Wilson that he had letters where the same remarks had been made, and that he knew it for a fact. Mr Wilson stated that at the selection of the Westminster show judges at Clapham in October, 1912, Watson was against Miss Simpson's nomination.
Mr. Rose Innes, K.C., for Mr Watson, asked witness whether others were present at the committee meeting in question could have heard the alleged slander uttered by the defendant. - Witness: Perhaps you do not appreciate that it was a committee meeting of ladies. (Laughter.) - Counsel: Perhaps I don't. You mean they were talking about cats? - Witness: Yes. (Laughter.) - Counsel: I will try to appreciate it.
Mrs. Frances Selina Simpkins, wife of Colonel Simpkins, of Southampton, who stated that she was chairman of the Southern Counties' Cat Club, was next called as witness. She said that she took the chair at the meeting of the committee on October 3rd at the house of the secretary, Mrs. Miller. She explained that it was nothing out the way for people who exhibited either at cat or dog shows to say that they would not show under particular judges. She did not remember Mr. Watson making the remark alleged at the committee meeting. There was some discussion on Miss Simpson's appointment, and Mrs, Simpkins remarked that if they were going to discuss judges they must do it thoroughly and consider the meeting privileged.
Mr. Tindal Atkinson: Why did you make that observation? - Mrs Simpkins: Because they were discussing some judge, I believe it was Miss Simpson.
Miss Carsewell, of Kensington, a member of the Committee, also said she did not hear Mr Watson mention Miss Simpson's name.
Mr. Rose Innes, in opening the case for the defendant, reminded the jury that there was an old adage which ran, "Let sleeping cats He." (Laughter.) - His Lordship: Dogs. - Counsel : I beg pardon—" let sleeping dogs lie." (Loud laughter.)
Mr Watson, who lives in Barry-road, East Dulwich, denied having uttered the alleged slander. He said he had heard no rumours discrediting Miss Simpson's integrity as a judge. He said he was quite satisfied with the second prize he got at the Sandy Show.
Mrs. Priscilla Miller, of Narbonne-a venue, Clapham, hon. sec. of the Southern Counties Club, said that at the meeting at her house last October she heard a statement that some exhibitors would not show under Miss Simpson. She could not say who made the statement. It was a well-known fact that several exhibitors would not show under Miss Simpson. She had never heard it suggested that Miss Simpson was taking money from exhibitors.
After further evidence, counsel addressed the jury. The jury, without retiring, returned a verdict for Mr Watson that he was innocent of the alleged slander. Judgment was entered accordingly with costs against Miss Simpson.
AS A PUBLIC SPEAKER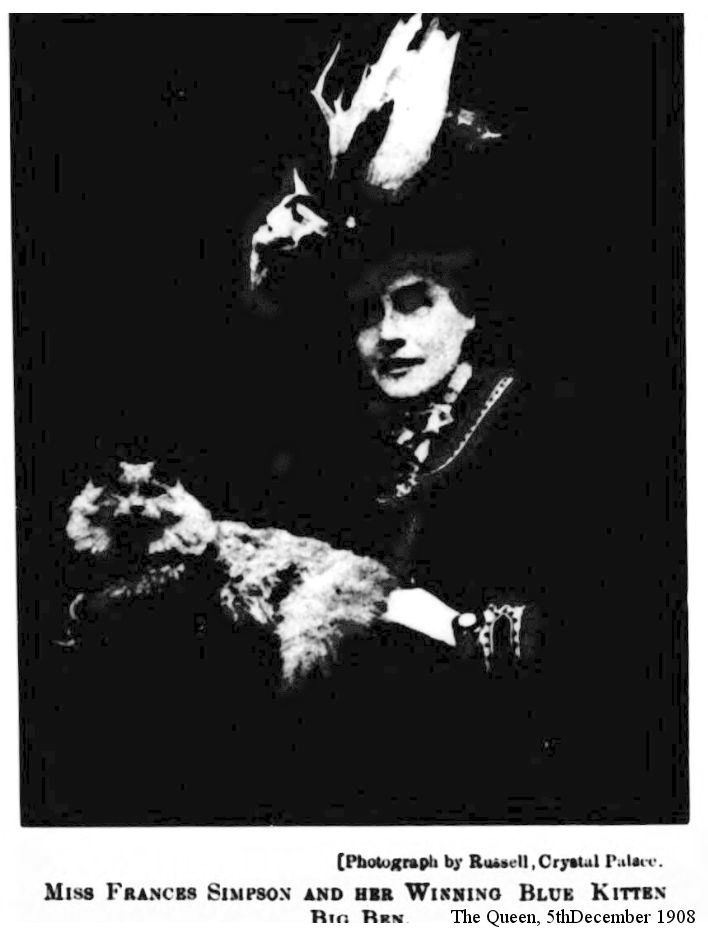 FACTS AND FICTION ABOUT FELINES. Croydon Guardian and Surrey County Gazette, 11th February 1905
Miss Frances Simpson, the eminent judge, breeder, and writer about cats, made her debut as a public lecturer at East Surrey Hall, Thornton-heath, on Tuesday evening. The occasion was a meeting of the Thornton-heath and District Fanciers' Association, Mr. P. H. Bayliss in the chair, supported by the hon. secretaries, Messrs. Hensley and Bulled. The use of the word lecture, however, is an altogether too severe term, for Miss Simpson, who remained seated at the Chairman's table, talked in a quiet, conversational way to her audience, which was a small one, and mostly composed of ladies. All were keenly pleased with the intelligent, lucid, and instructive manner in which the subject was dealt with. It came as an agreeable surprise that so much of real interest could be told about the commonest household pet. As this is a topic which more or less concerns every household, and as the "lecture" was so vastly entertaining in itself, we offer no excuse for an extended report.

Miss Simpson, in the course of her chat, mentioned that she was the first one to exhibit cats anywhere in this country. Her first prize was gained by an animal christened "London Smoke,' because of its extraordinary colour. In America it was extraordinary how "the fancy" had gone ahead. Our cousins over there vied with each other in obtaining the very best stock from England, and now applications were coining from Natal, New Zealand, and Tasmania. The feline race was therefore deservedly attracting attention in all parts of the world as being worthy of special care and cultivation. However much cats were crossed or re-crossed there were only two distinct breeds, viz., the longhaired or Persian cat, and the short-haired or English cat. White cats had two peculiarities for which no one could account—they were very frequently deaf, and often had odd-coloured eyes, one being blue and the other yellow or green. White cats, longhaired or short, ought to have a pair of heavenly blue eyes to find favour with the up-to-date judge. - Smoke" cats were a distinctive and handsome variety. The upper coat should be almost black, and the undercoat white. Orange cats seemed the least popular, for, as rule, their long faces and pink noses did not appeal to the general public. "Cream " cats were usually fawn. A cat of the tint which was desirable on the top of the milk was a great rarity. Besides, then was a general dislike to sandy and fawn cats.

There were cats, too, that changed their coats, and Miss Simpson instanced one that changed from a common hue to that of a silver tabby soon after birth, and then changed again, this time "taking after his father." Silver Persians, otherwise chinchillas, were very lovely, and these, with the blues, were decidedly the most fashionable at the present time. There was a great desire to breed silver as light as possible—with only delicate shadings, and no tabby markings. The chief beauty of silver tabbies was the dense and distinct markings on a clear SUM' ground. Still, Miss Simpson had a very good word for the homely and familiar brown tabby, which was much more affectionate than other kinds of cats. As for tortoiseshells, formerly known as chintz or patchwork cats, the remarkable peculiarity was the absence of males. Dozens of fanciers had been trying all their life-time to produce a tortoiseshell Tom. Miss Simpson only knew of one alive now, possessed by Lady Alexander, and named " Samson." Of two others she could remember, one had long since been "gathered to his fathers," and the other was drowned as a kitten ere the owner knew of its great value. A Cambridge professor had written asking her whether she could suggest any theory which would account for this scarcity of tortoiseshell males, and she could only reply, "Because there are so many females.' (Laughter.) Any fancier would give £20 for a tortoiseshell Tom.

Next Miss Simpson descanted upon the royal cats of Siam, which in colouring resemble pug dogs. When born they are white, but gradually the extremities deepen to a dark chocolate brown, and the body colour becomes fawn. These animals have almost human looks, but in voice cannot get beyond unmusical croaking. With Manx cats not a vestige of a stump at the end of the back should be seen or felt, only a boneless tuft of hair. There is a doggerel rhyme regarding the loss of the tail:—
Noah, sailing o'er the seas,
Ran high and dry on Ararat.
His dog then made a spring and took
The tail from off a pussy cat.
Puss through the window quick did fly,
And bravely through the waters swam,
Nor ever stopped till high and dry
She landed on the Isle of Man.
Thus tailless pussy earned Mona's thanks,
And ever after was called Manx.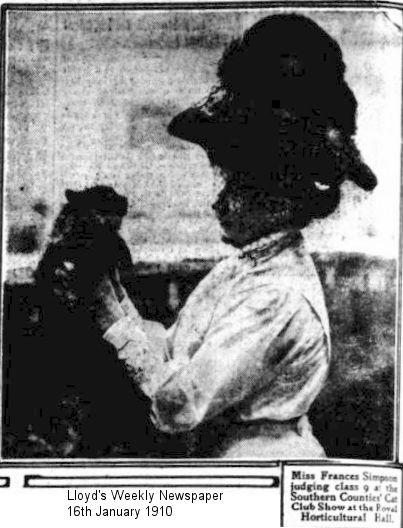 Manx cats were good ratters. Miss Simpson has provided two or three for the King's stables, because the men there said they were far better ratters than dogs, or other breeds of cats. There was one of Miss Simpson's now at Sandringham, and she hoped it was doing its duty to King and country.
On the subject of instinctive feelings of dread or of attraction for cats, the "lecturer" confirmed the story that Lord Roberts is nervously upset when there is a cat in the room. She knew it to be quite true that some people could tell at once, on entering a room, whether a cat was there or not. As regards instinctive sympathy between cats and human beings, Miss Simpson told a curious story. She is a member of Albert Hall choir, and in that building cats are kept to exterminate rats and mice. At one of the weekly practices she noticed a feline form wandering among the chairs in the vast auditorium. She remarked to a friend that she was sure the cat would come up to her. It found its way on to the orchestra, and, passing a row of people, came direct to Miss Simpson, and finished the evening on her knee. As for training cats, what a dog will learn in three weeks it takes a cat three years. It was very slow and patient work, and punishment was no good at all. Miss Simpson has a cat that can keep a cigarette in its mouth and hold newspaper in front. The secret was to puzzle out the individual characters of the cats, which were just as different from one another as human beings. There was a supreme independence, however, about all cats. Some might show appreciation of a caressing hand and a soothing voice, whilst others would not even condescend to give a purr of thanks. In return for a little understanding they would give a great deal of love. Indeed, Miss Simpson said she would be very sorry to dwell in a home that had no "fireside sphinx."
The Chairman was sorry more male members of the association were not present; he was afraid it was because they thought so little of the cat fancy. In moving a vote of thanks, Mr. Bayliss remarked that this had been the most interesting lecture of the winter. Mr. R. A. Bensley seconded. Miss Simpson, in replying, promised to guarantee some cat classes at the autumn show in connection with the association.
DOG AND CAT SALON AT SELFRIDGES
In May 1913, Frances Simpson opened a "Cat and Dog Salon" at 32 Duke Street, just behind the main Selfridges store. She had persuaded Mr. Selfridge that it would attract the public - and it did. Puppies and kittens were displayed during the day in the large shop windows and others were housed in white kennels in the main room. The place was kept scrupulously clean and the staff wore blue aprons to keep their clothes clean. For a fee, breeders could book a space for their puppies and kittens during the day (all animals were taken home at night). Until then, most dogs, and presumably many pedigree cats, were bought by haggling over the price. The animals at the Dog and Cat Salon had fixed prices attached to their kennel or display and haggling was not allowed. It proved highly successful with Simpson as Superintendant (and present 2 - 3 days in the week) and Miss Goddard as Manager.
Some people went in just to browse, while others ordered particular breeds which were acquired on their behalf. Not all of the animals were pedigree and a fair number of mongrels and pretty kittens were also sold. Some purchases went home on approval, the most notable being a Bulldog that proved too boisterous and inordinately fond of trying to get into pubs! People also went there for advice on their pet's health and welfare. Pugs and Pomeranians were most popular and the hardest to sell were she-cats because people did not want the trouble of kittens, even though vets had offered ovariectomy - removal of the ovaries which was safer at the time than complete spaying - since the 1890s.
"It is satisfactory to know that the great house of Selfridge has started a department for supplying dogs and cats, under the management of experts. This new salon is at 32, Duke Street, at the rear of the main building, and is under the charge of Miss Frances Simpson, the authority on cats, and Miss Goddard. Both ladies are in attendance for the sake of giving expert advice. Apart from the animals always on view, others can be procured at the shortest notice." – The Gentlewoman, 19th July 1913
EXPORTER OF PEDIGREE CATS TO NORTH AMERICA
To the confusion of some readers of oold registers and studbooks, Frances Simpson appeared to temporarily own two Chocolate Siamese cats, ultimately known as 'Netherlands Tilu' (sometimes mis-transcribed as Tibi) and his half-sister 'Netherlands Ma'. They were bred in England by Mrs. Sutherland, both sired by her 'Prince of Siam'. Mrs Sutherland sold them to Miss Hester Cochran who later sold them both to Lady Marcus Beresford. Lady Marcus Beresford renamed 'Tilu' to 'Windsor He' (The Cat Club Register includes the mis-transcription 'Tibi'). In 1900, 'Tilu' and 'Ma' were shown at Westminster. An entry in the Beresford Cat Club register Vol 2 (available online) lists Frances Simpson as their first owner. Simpson didn't register them in England, so she must have bought them for export to Mrs. Clinton Locke in the USA. Simpson brokered many deals to export breeding stock to the USA. The pair were exhibited in Chicago in 1901. Mrs. Clinton Locke sold them to Mrs. W.F. Hofstra, in New York, where they were registered as 'Netherlands Tilu' [Reg No 308) (losing the former name "He") and 'Netherlands Ma' (Reg No 309). This chain of events also shows how poorly the National Cat Club controlled the renaming of cats, and how badly they needed to assign a unique number to each cat.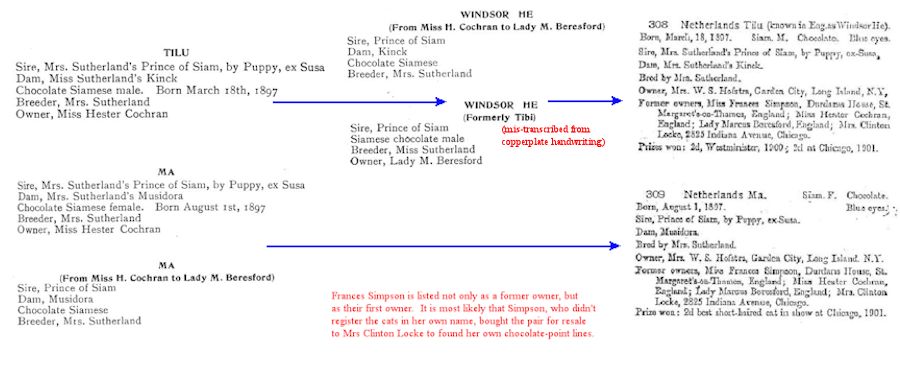 In the early 20th century, she became an agent for American breeders wanting to import good quality British bloodstock from a trustworthy agent who knew exactly what to look for in foundation cats . Following early shows in New York, "cat Fever" hit the USA and American hobbyists largely ignored their own shorthairs and longhairs and sought pedigreed fancy cats from Britain. The Book of the Cat describes and depicts a number of prominent American breeding catteries and their owners. "Many of the best cats exhibited at [American] shows have been exported from England, and Americans are very keen in trying to procure the very best possible stock - high prices in many cases being offered to induce English fanciers to part with prize-winning specimens." If you read early American registry yearbooks, you'll see Simpson listed as a former owner of several cats that she didn't register in her own name in Britain. This puzzles some cat fancy historians, but the explanation is simple – she acquired good quality cats that she knew she could sell to North American breeders (she writes ". . . I purchased to send out to . . . "). She didn't intend to register them in her own name and they only stayed in her possession until the export deal was completed and the cats were shipped. This also helps us to trace cats bought by Simpson for export.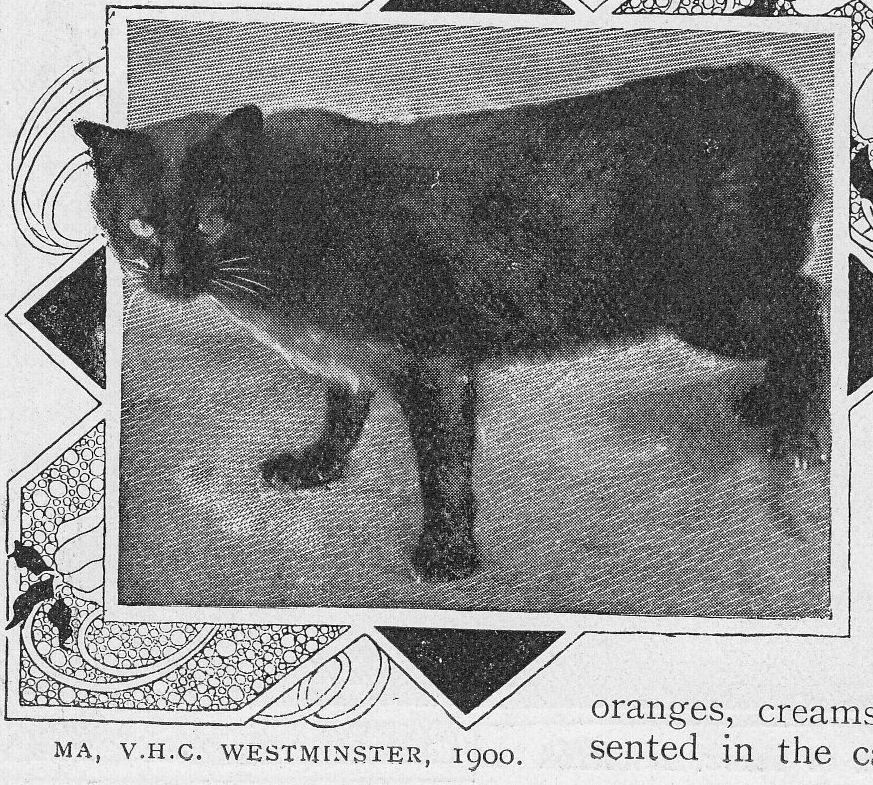 To Mrs. Clinton Locke (Lockehaven prefix), Simpson shipped Melrose Lassie, bought from breeder Mrs Mercer: "a blue sent over in 1900 from England by Miss Frances Simpson, and who developed into a beautiful quality cat with lovely orange eyes - was the best at the Chicago show in 1901." Of another export, Simpson wrote ""Kew Laddie" I purchased to send out to Mrs. Clinton Locke, in Chicago, and she presented him to the honorary secretary of the Beresford Club, Miss Johnstone. This lady exhibited "Laddie" at the big Chicago Cat Show, where he won high honours." In this instance, Simpson is not listed as a previous owner of Kew Laddie in the Beresford Cat Club Register.
"I sent a "Persimmon" kitten out by Mrs. Robert Locke to Mrs. Clinton Locke, the president of the Beresford Club. He was passed on to her honorary secretary, and in Field and Fancy of December, 1902, the following notice appears: "Miss Lucy Johnstone is the fortunate owner of' Persimmon Squirrel,' a son of the noted brown tabby' Persimmon.' " And then " Another American lady, Mrs. Gotwalts, of Pittsburg, wrote to me for a brownie, and I sent her one bred by Mrs. Bignell, and the cat has, I believe, had some good litters. " This was "Simon Pure" (who became "Bagdad Simon Pure) by Simpson's Champion Persimmon ex Baronia exported in in 1902/3. In 1902 she bought and exported Mrs Bignell's Bagdad Baronia (sable and black female longhair mother of Simon Pure, by Brown Prince ex Queenie) to Mrs Gotwalts.
The Beresford Cat Club Register and the American Cat Association Studbooks help us to identify more of Simpson's exports.
In 1900, she purchased Tilu (Windsor He) and Ma, chocolate Siamese for resale to Mrs Clinton Locke. In America they were known as Netherlands Tilu and Netherlands Ma. In 1901/2 she bought and exported the pale blue longhair Oasis Hoar Frost (bred by Rev C. L. Cosway of Wakefield) to Mrs Mary B Thurston of Rhode Island. Simpson's address is mis-typed in the Beresford Cat Club Register as "St Margates'-on-Thames. This cat was renamed and registered as Worcester Saracenesca.
In 1902/3 ahe she bought Mrs G.W. Vidal's "Red Knight" for export to Mrs W. Eames Colburn of Chicago where he became "Brushwood Torrington Red Knight." In The Book of The Cat, Simpson wrote " Red Knight was sent by [Simpson] to Mrs. Colburn, and in an article in the American Field and Fancy mention is thus made of him:- "Red Knight, an orange male, with deepest orange eyes, was imported from England." She also bought and exported Cowslip, bred by Miss A. Hall and described as Orange longhair female, to Mrs Frank L. Norton, Cazenovia, New York, as well as Imperial Blue (bred by Rev C. L. Cosway of Wakefield) to Mr. Frank L. Norton. Around 1903/4 (while living at St Leonard's Place) she bought and exported the chinchilla female Blondina, bred by Mrs Ward, to Mrs J.C. Mitchelson of Tarriffville, Connecticut. She also exported the brown tabby longhair male Mrs Ward's Brushwood Persimmon to Mrs W. Eames Colburn of Chicago.
Some of her own Blue Persians were sent over to found American lines: Bonnie Billy (b 1909) went to Mrs. J.B. Smith, in Cleveland, Ohio, and was registered as 'Coventry Medindie' (American Cat Association Vol IV). Her black Persian male, Egyptus (b 1909 by Hamilton Reou ex Zeida), went to Mrs. H.L. Pickett (Delphinium prefix) of Minneapolis (American Cat Association Vol V). Simpson's own Blue Persian kittens, 'Little Ben' and his littermate 'Lady Frances' (b 1909 by Big Ben ex Blue Weenie) went to Miss Ada Rhodes.
Her blue Persian male "Blue Britisher II" (b 1916 by Blue Britisher ex English Coquette) was exported to Mrs. W.A. Martel, of Los Angeles, California who later bought his sire, "Blue Britisher" around 4 years later from Mrs Forrest. Très Jolie, a litter-sister of Blue Britisher II, was exported to Mrs. G. Melbourne, Alameda, California. Simpson bred her next blue Persian stud cat "Buzz-Buzz" from "Blue Britisher" in 1919 before he was exported.
OTHER CHARITABLE WORK
Like her father, Frances Simpson was involved with multiple charitable causes. There is evidence of her non-cat-related activities and charitable work in newspapers where she can be identified through her address. She supported The Dumb Friends League and participated in events supporting soldiers and the war-wounded at the Kensington Hospital. This snippet from the Reading Mercury,14th November, 1914 "Blue Cross Day In Reading. £430 Collected" gives us a glimpse into her charitable work: "The first Blue Cross Day, for helping wounded horses at the War, was held at Reading, on Saturday, on behalf of the Blue Cross Fund of Our Dumb Friends' League, and was an immense success. A window, kindly lent by Mr. A. H. Bull, at 56, Broad-street, was dressed by Miss Frances Simpson, with all the articles requisite for wounded horses [. . .]."
BLUE CROSS DAY. Hampshire Advertiser, 4th September 1915: Southampton is to have its Blue Cross Day. All lovers of animals will be glad to hear of the effort, which is to take place on Thursday next, under the auspices of "Our Dumb Friends' League," and be organised and carried out by the Southampton Blue Cross Committee, of whom Mrs. Sinkins [a well-known cat-fancier] is the President, Mr. A. T. Dawson the hon. treasurer, and Mrs. Alan Covey, the hon. secretary. The Blue Cross Fund, of whom Lady Smith-Dorrien is the President, has for its object the help of wounded horses, and it is only fitting that in addition to the street collection on Thursday there will be a parade during the afternoon of a mounted military troop, accompanied by a band. In addition to this, there will be an exhibition of home comforts and veterinary requisites at the premises of Messrs. Tyrrell and Green. Above Bar. A small army of enthusiastic ladies have already promised their services as collectors, and to these Miss Frances Simpson, a member of the Blue Cross Committee, will distribute boxes, badges, or flags at the Constitutional Club on the evening of the 5th.
BLUE CROSS FLAG DAY.— - Hampshire Advertiser, 11th September 1915: Blue Cross Flag Day, held in aid of the hospitals in France for horses wounded and disabled through the war, was very successfully celebrated in Southampton on Thursday. The local event was initiated by Mr. Arthur J. Coke (secretary of the fund) and Miss Frances Simpson, the latter of whom is well-known as judge at cat shows. [. . .]
HER BOOKS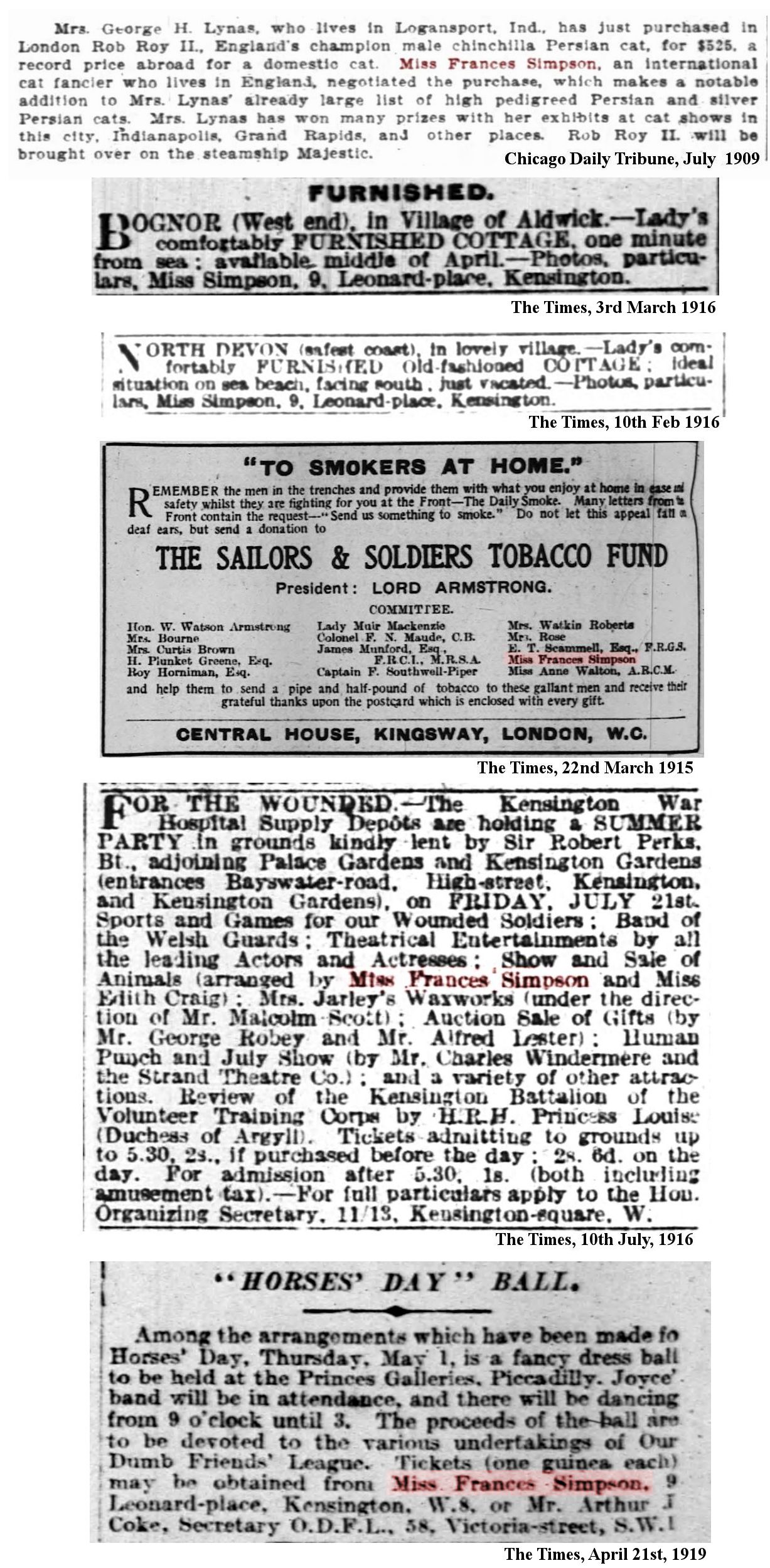 Frances Simpson's best-known legacy to cat lovers is the Book of the Cat in which she researched and reported on every cat breed recognized in 1901. Luckily for those wanting to read this book, several facsimile copies have been produced and there are several downloadable versions online. "The Book of the Cat" (1901), "Cats and All About Them" (1902) and "Cats for Pleasure and Profit" (1909) were compiled using material from her "Practical Pussyology" advice column in Our Cats magazine and her advice in Fur & Feather magazine. There are also downloadable versions online and facsimile copies of these.
Articles in Papers, Journals and Magazines
In 1899, Our Cats (weekly), became the first cat fancy newspaper. Frances Simpson became a prolific contributor of advice, opinion and show reports. Material from the "Practical Pussyology" advice column in this paper was later edited into "The Book of the Cat" and "Cats and All About Them." Her advice included how best to present a cat (e.g. neck ribbons) and how to send a cat to a show (or to a stud) in a suitable carrier. One of her advertised business ventures was the writing out of pedigrees in a neat hand. Prior to that, she contributed cat fancy items to Fur & Feather.
She wrote an article called "Cat and Dog London" published in "Living London" in 1902. Dundee Evening Post of 4th April 1904 refers to her article in "Madame" (a weekly newspaper) about breeding Persian cats for pleasure and profit. In its review of the weekly magazines, the Belfast News-Letter of 30th July 1904 says "Miss Frances Simpson contributes a readable article entitled "About Animals" in "Madame," and the same newspaper on 29th October 1904 mentions "Miss Frances Simpson writes about Siamese cats" in "Madame." In the 11th November issue of "Madame" (again according to the Belfast News-Letter) "The Crystal Palace Cat Show is described by Frances Simpson."
Cats and All About Them
During 1901, Simpson wrote her first book, "Cats, and All About Them" published by Isbister & Company (London) in 1902. It was well received by cat lovers and fanciers. As well as a wealth of practical advice on cat management, it contained photos of prize-winning cats. It contained a lot of material from her "Practical Pussyology" columns published in Our Cats as she acknowledged in her preface: "by arrangement with the Kennel Publishing Company I have been enabled to utilise the paragraphs of Practical Pussyology which have appeared during the last fifteen months in Our Cats." She hoped that her helpful and instructive "little book" would assist cat lovers in becoming cat fanciers. She was not wrong – less than a decade later, she had to revise and rename it. It was to cattery management what Mrs Beaton's work was to Household Management.
The preface of "Cats and All About Them" reads: "By arrangement with the Kennel Publishing Company I have been enabled to utilise the paragraphs of Practical Pussyology which have appeared during the last fifteen months in Our Cats. . . What is worth doing at all is worth doing well, and to combine profit with pleasure is a most desirable end to have in view. ".
The Book of the Cat
Cassell & Co had previously published highly successful The Book of the Dog by Youatt (easily found online) and the growing cat fancy, and increased interest in cats in general, made The Book of the Cat a logical move. They advertised The Book of The Cat in "Fur & Feather" magazine in September 1901. In accordance with the usual practice on any encyclopedic work, the chapters were published individually, in this case as a series of monthly parts (many other encyclopedic works were published in weekly instalments in magazine format e.g. Arthur Mee's The Children's Encyclopaedia). The compilation of each chapter would have been time consuming, but Simpson could draw upon her existing columns from "Fur & Feather" and "Our Cats" plus a wealth of correspondence, including letters from the USA. Nevertheless she also had to solicit material from breeders and fanciers, especially those in North America who provided material for chapters on the cat fancy in that country. Prominent breeders sent photos of their cats, catteries and themselves to illustrate the book. Colour plates were commissioned from Mme Ronner. Having collected all the parts and bought the binding, it was a case of taking these to the local bookbinder who would turn them into a single volume. In my summer job in a library in the early 1980s, part of my job involved collating magazines together ( year or quarter-year, depending on publication frequency) and sending them for binding, with instructions as to either stripping the magazine front and back covers or leaving them in place.
Simpson would have had to hand-write or type the text, or clip cuttings in relevant places with commentary in between. In pre-computer, pre-photocopier days, I did the same when compiling newsletters and rely on the printer to correctly typeset it. She would have to proof-read and check each typeset chapter for accuracy. It's likely that she got her younger brother, Percy, with whom she lived, to do some proof-reading as a "fresh pair of eyes." Percy was also a methodical researcher and author. Only someone dedicated and highly organised could have achieved the same result while juggling committees (where she was Hon Secretary), show organisation and cat breeding.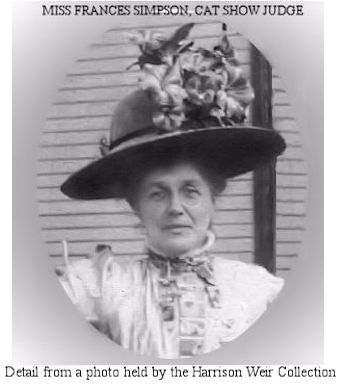 The Book of the Cat was originally published in monthly parts costing 1 shilling each. The first part was published on 25 September 1901 by Cassell & Co. Their advertisement in Fur & Feather read : "For a long time past there has been an increasing desire for a book that should represent the Cat by pen and pencil, by painting and photograph, in a manner worthy of the subject - - a work at once artistic and practical, lucid and comprehensive. accurate and popular. Such a publication Messrs Cassell & Co are about to produce. It is written by Miss Frances Simpson, a well-known and entertaining writer, whose name is a sufficient guarantee that the text will embrace all those features which are essential for a work of the highest excellence... The illustrations to the Book of the Cat will form a feature of peculiar interest. There will be COLOURED PLATES of the various breeds of Cats, setting forth the perfect type of animal in every variety. These plates will be produced by the three-colour process from original paintings expressly prepared for the work. The fact that this is the first occasion on which coloured plates have been given such a publication will, it is believed, render the book of additional interest to Fanciers and the Cat-loving public at large.. THE BOOK OF THE CAT will be profusely illustrated throughout with pictures of well-known prize-winners, fascinating groups of kittens, and other illustrations of Cat life and character, in addition to useful practical diagrams. Photographs of celebrated catteries have also been specially taken for reproduction in the publication. THE BOOK OF THE CAT will be handsomely printed on art paper... Part 1 will contain a coloured plate of a Black Persian Cat by Madame Ronner, from a painting expressly prepared for the work".
In August 1903, The Book of the Cat was complete and ready for binding. Pre-bound full volumes would also have been offered at this time. Cassell & Co offered a binding service to those who collected the parts. For the sum of one guinea, Cassells would bind the completed work in handsome, illustrated boards. Since book-binding was common practice, cat fanciers could also have the completed work bound by other companies and some chose to use more expensive leather bindings with gold-blocked lettering (a common style of binding for those with money). The completed work was warmly received. A review in Our Cats in September 1903 said: "The bound volume of Cassell's Book of the Cat which has been sent to us by the courtesy of the publishers, is a most handsome volume, really marking a epoch in the cat fancy. Each part has been criticised and commented upon as it made its appearance. Suffice it, therefore, to say that in every respect the whole is greater than the parts [the reviewer had probably collected and read the monthly parts], and quite exceeds any expectations which may have been raised as the book made its gradual appearance. No cat lover would fail to find it a most fascinating present. The contents are of course, completely up to date, whilst the illustrations, paper, and general get-up and quite exceptional."
Simpson was careful to show the cat fancy positively, diplomatically glossing over the registry bickering and the cattiness between competitors who accused judges of favouritism and rivals of cheating. Nowadays, The Book of the Cat is also a historical reference detailing – and illustrating – the early cat fancy and the development of breeds (and mentioning some that vanished). Another, not unexpected, result of its success was that Simpson gained the reputation of "feline expert" and historian. (It's worth noting that brother Percy was also a historian, researching and documenting certain aspects of Freemasonry.) Her advice and expertise was frequently sought and she became instrumental in selecting good foundation cats for export to the USA.
The Book of the Cat is full of photographs of a bygone era where cat-breeding was a hobby of the upper classes and the shows were held at the Crystal Palace, Alexandra Palace and Kensington Gardens. The men wore suits and hats and the lady exhibitors, and many were ladies in terms of title as well as gender, wore full length dresses and large hats – they saw no contradiction in wearing furs and feathers at the same time as displaying and admiring pedigree cats.
The review in "The Field" (essentially a country sports journal) on 3rd October, 1903 , was not entirely positive – the author thought that most people would find the idea of breeding fancy cats simply incomprehensible. To the audience of this journal cats were either "big cats" that were hunted as trophies, smaller cats that were turned into fur coats, or native wild and domestic cats that were a threat to game birds and were therefore shot as pests. "THE CAT. Since the establishment of cat shows, which took place nearly half a century since, works on cats have appeared in considerable number. By far the most important of these, regarded from a scientific point of view, is Professor Mivart's work, entitled "The Cat," a large octavo, published more than twenty years since, which contained an admirable description of the anatomy, physiology, and classification of the whole group of feline animals but its high scientific character was rather a disappointment to the fanciers who thought that this well-known author had written on the domestic cat. Wolf's magnificent folio of the Felidae, or cat tribe, is known to all zoologists, and, on the other hand, we may say the domestic cat has been most graphically pictured by Mme. Ronner in her beautiful book entitled "Cat life and Cat Character." Other books of a less ambitious form have appeared almost without number. But no work on the cat, regarded as a fancier's animal, capable of being bred in numerous varieties, has appeared at all approaching in size or amplitude of illustration that now under notice, which has been written and published by Miss Simpson. This ponderous quarto volume of some 400 pages treats exclusively of the cat from an exhibition point of view. It give us designs for construction of catteries, notes on the management of the animals, the best mode of exhibiting, and distinct chapters on nearly every variety of long-haired cat, as well as many of the short-haired breeds, though the latter, not being so much in fashion, are more curtly treated. The work is illustrated by many hundreds of pictures, mostly of a superior character. In order to show these in perfection the book is printed on an exceedingly heavy paper charged with mineral matter, so as to produce a bright shining surface, most unpleasant to read from, but admirably serving the purpose alluded to. In no sense can the book be regarded as one of a scientific character; it is simply one for the fancier and exhibitor. It is, however, only fair to say that it gives very full directions for the treatment, both at home and at shows, of these animals, together with accurate descriptions of their points, the best mode of feeding, breeding, and so forth, even to the extent of those artificial modifications of structure which are not generally openly discussed. Every variety of cat is represented in the most admirable manner, but the object of keeping cats in extensive catteries for the mere purpose of exhibition is a proceeding which many may find difficult to understand."
Review of "The Book of the Cat" from "The Queen" (a weekly journal for well-to-do ladies), 30th January, 1904:THERE HAVE BEEN SEVERAL VOLUMES of greater or less degree of merit published on the culture and exhibition of fancy cats but nothing at all equalising in extent or so fully illustrateded appeared as "The Book of the Cat," by Miss Frances Simpson. The volume is a quarto of some pages, illustrated by as many admirable engravings in the text, and a dozen full-pagecolour plates. No such work has ever been devoted to the consideration of the fancy cat. In one sense the illustrations might be objected to, as in order to bring them out in the most perfect manner the whole work is printed on an exceedingly heavy paper charged with mineral matter, which makes it most inconvenient to manipulate, inasmuch as the ponderous volume weighs nearly 6lb., and the glazed surface, although adapted to the exhibition of the pictures, is not pleasant to read from. As a fancier's book, the work may be regarded as most exhaustive. It commences with a short chapter on the cats of the past; then follow others on the care, housing, management, and the exhibition of cats; after which we have numerous chapters descriptive of every variety of long-haired exhibition cat, variations of all colours, black, white, blue, silver, &c., have separate chapters devoted to their consideration, whilst others contain full accounts of the singularly marked Siamese cats with black extremities, and the other short-haired breeds. The work concludes with distinct chapters on the cats in America, the photographing of cats by amateurs, the breeding for colour, with some further considerations of the cats' place in nature, and the diseases of the animal and their treatment. One chapter which we regret to see in the volume is that devoted to the consideration of neuter cats which now form fashionable classes at our cat shows. It is satisfactory to note from the text that a club was started in 1901 by the admirers of these mutilated cats, but we are happy to say it was not supported by the public, and has died a natural death. It is singular that the atrocious practice of mutilating cats [neutering!] in the most brutal manner for the purpose of exhibition has not met with the denunciation of any of the anti-vivisection societies, as might reasonably have been expected.
The short-haired cats, which to the eye of a naturalist, an admirer of animal form, are far more attractive than the long-haired fancy varieties, meet with comparatively scanty notice, the fashion in the cat fancy entirely at the present time running on the long-haired varieties. A sa specimen of the admirable illustrations which appear in the volume we reproduce a representation of a brown tabby and a plate of a singular variety of hairless cat from New Mexico. They are very rare, and it is possible that these may be the last of the race, as the male, escaping from the house, was killed by dogs. They differ in many respects from the ordinary cat being fond of bathing; weighing, the male 10lb., and his mate 8lb. We should be inclined to regard them not a distinct breed, but as an accidental variety that might have been perpetuated by careful breedinf. The chapter on diseases is much in advance of those usually found in books of a fancy character.
Cats For Pleasure and Profit
A review of "Cats for Pleasure and Profit" appeared in "The Queen," a weekly magazine for well-to-do ladies, published 12th August 1905: "Miss Simpson's very complete manual of cat-breeding is addressed to those whose pleasure is in producing and exhibiting animals that can compete for prizes. By selection and careful breeding, cats of fine proportions and good colour are obtained, greatly excelling - at any rate, to the trained eye of a fancier – the ordinary domestic pussy, though in grace of structure and movement this, too, like its wild ancestors, is one of the most admirable of creatures. But while the ordinary cat is of all domestic animals the least troublesome to rear, the cats of the fancy are, to judge from Miss Simpson's pages, liable to a great many weaknesses and ailments. In breeding for "points" and aiming at coat, colour, and shape one cannot also attach full importance to robustness. Indeed, it would seem that the show cat has been so far modified as to relinquish much of its feline nature. A carnivorous animal essentially, it is nevertheless to be fed partially on oatmeal; the restriction of its wholesome activities results in 'anaemia' being added to the list of the diseases to which it is liable. Sardines, asparagus, new-laid eggs, lentils, and Brand's essence are among the viands with which pussy's failing appetite may be tempted. The toilette of the cat is a matter of great importance to the successful exhibitor, and it may be necessary to apply dentistry when its teeth require scaling. In the long list of comforts , appliances, foods, drugs, and disinfectants enumerated, the cat breeder should surely find an answer to every possible question. It would appear that cats are particularly susceptible to patent medicines, and many of the pills and powders advertised for ordinary human use are prescribed by Miss Simpson for her pets. The story of Dr Sandwitt's cat, which, suffering from hunger during the siege of Kars consumed all the liquid preparations of a homeopathic medicine chest at one draught and was none the worse, may occur to the reader, but this was probably not a fancy animal. A chapter on the breeds and classes of cats, another on breeding, the rules which govern exhibition, and many hints which will enable an exhibitor to show the animals in the best possible condition are among the most useful portions of the book, which is illustrated with twenty-four fine photographic portraits of champions.
"Cats and All About Them" was revised and republished in 1909 as "Cats for Pleasure and Profit (which she modestly called her "little yellow book"). This new and revised edition was published by Sir Isaac Pitman and Sons. In the preface to this edition Frances wrote: "When it was suggested to me that I should write a handbook on cats, I had no idea that my little work would be so popular, or that I should be asked in so short a time to bring out a second edition. It is very gratifying to find that 'Cats and All About Them' has given such satisfaction to so many, for I have received hundreds of letter from all parts expressing great appreciation of the little book."
She wrote "My publishers gave an undertaking that if the work went into a second edition the title should be changed, as it was supposed it clashed with another older publication of a similar name, so with many regrets I acceded to their request. . . the object of my little book is to help those who desire to combine pleasure with profit . . . " "Cats for Pleasure and Profit" was reprinted in 1924 and a revised edition was printed in 1928, which is where we find the photo of Simpson in later life.
If anything, this was more successful than Cats and All About Them. It went through some minor revisions when reprinted and was fully revised for the post-war 1924 reprint. By 1924, Simpson herself had changed and the frontispiece shows an older, more casually dressed Frances, without hat and quite different from her younger self in long dress and elaborately-trimmed Victorian and Edwardian cats.
Every Woman's Encyclopedia
Between 1910 and 1912, Simpson wrote several short articles for "Every Woman's Encyclopaedia" (all can be found online). A few other "catty" articles were unattributed, but match her style (perhaps she risked becoming over-exposed). Her articles covered all the main breeds and colour divisions, including the Manx and Siamese breeds. She noted that Siamese came in 2 different styles, but erroneously predicted that the more cobby variety would find long term popularity. "There are two types of Siamese cats in England. The one is compactly built, short in body, low on the legs, and round in head, with rather thick and not very closely lying coat. The other type is longer in body, with a wedge-shaped head and face, and the coat is more glossy and the limbs more lithe and sinuous. This is the foreign variety, which, however, does not find so much favour with fanciers as the cobby type of Siamese."
Reception of The Book of the Cat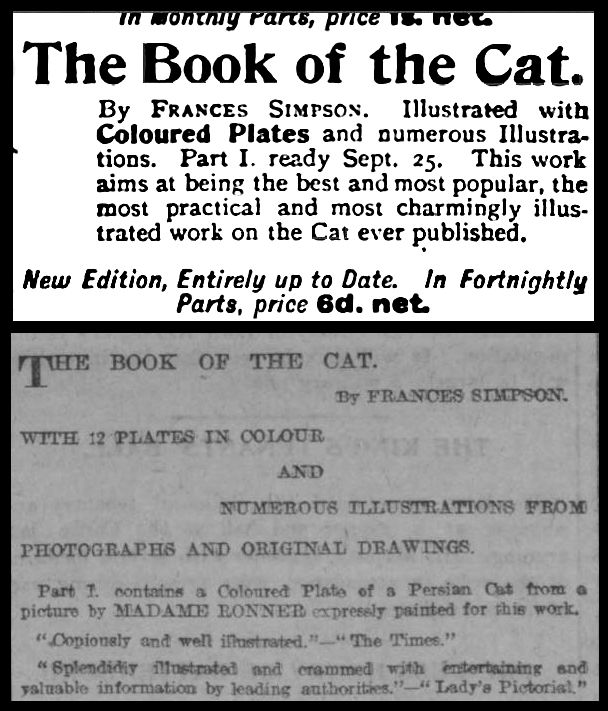 Waterford Standard, 8th October, 1902
Cassell & Co.'s Publications. The appearance of The Book of the Cat may be regarded as a sign of the times – an indication of the increased interest that is now felt in the cat by all classes, including the most cultured, and a proof that the old antipathy to it and misapprehension of its qualities are rapidly disappearing, if they have not altogether passed away. Such a publication Messrs Cassell and Co are about to produce. It is written by Miss Frances Simpson, a well-known expert and an entertaining writer, whose name is a sufficient guarantee that the text will embrace all those features which are essential for a work of the highest excellence.
Stamford Mercury, 7 November, 1902
The Book of the Cat. (London: and Co.).—There has been an Increasing desire for some time past for a book that should represent the cat by pen and pencil, by painting and photograph, in a way worthy of the subject. Such a publication Messrs. Cassell and Co. are now producing, to be completed in twelve parts, with twelve full-page plates in colour and numerous illustrations in the text. It is written by Miss Frances Simpson, a well-known expert and an entertaining writer, whose name is a sufficient guarantee that the text will embrace all those features which are essential for a work of the highest excellence. The text commences with an account of the cats of the past, from the time when these animals were worshipped by the Egyptians : thence it goes on trace the history of cats down to our own day. Carefully written chapters follow on the feeding cats and kittens, the construction of suitable catteries, the general housing of cats, etc. The different varieties of cats are to be described and illustrated, and there will be a special chapter on foreign cats. The breeding of cats will be dealt with in ample detail, and advice as to the remedies to be employed for the numerous diseases cats will given. "The Book of the Cat" will be profusely illustrated throughout with pictures of well-known prize-winning cats, fascinating groups of kittens, and other illustrations cat life and character, in addition to useful practical diagrams. Photographs of celebrated catteries have been specially taken for reproduction in the publication.
The Book of the Cat - Norwich Mercury
Messrs. Cassell and Co., in order to do for the Cat what has been so well done by them for the dog, the horse, the poultry, &c, have also begun the issue of a volume, to contain twelve monthly parts, that cannot fail to interest greatly all lovers of the domestic Cat in its many varieties. The frontispiece to the first part is a reproduction in colour of a Black Persian, whose portrait has been painted by that famous artist of Cat life, Madame Henriette Ronner. Cats of the Past are pictured from Egyptian paintings and from pottery; with, of course, a sufficiency of narrative respecting them. The Cat in heraldry offers to most readers a new aspect of the familiar fireside lover. But when it comes to the Cats of today, with portraits photographed from live, and the enthusiastic writing respecting them, the Book of the Cat becomes decidedly entertaining. Of course, the publishers have found it necessary to use a fine hot-pressed paper, so that the delicate process pictures may be produced to the best advantage; but there is no extra loading, and the book, when it is completed in some 370 pages, will not be unduly massive.
Berkshire Chronicle, 7th March, 1903
Among the best of the group is "The Book of the Cat" (1s [per part]), which has a beautiful coloured plate of tortoiseshell Persians, from Mr. W. Luker's painting, in addition to so many portraits of well-known prize-winners. Special chapters are devoted to silver-tabby Persians, smoke Persians and Orange Persians.
Western Daily press, 2nd March, 1903
Lovers of cats are well catered for in "The Book of the Cat" issued by Messrs Cassell and Company, Limited. The work has now reached part 6, and this, as was the case with the previous numbers, is filled with interesting and effective illustrations of the more striking examples of feline grace, beauty, and peculiarities.
Dundee Courier, 25th March, 1903
Book of the Cat. By Frances Simpson. Of this artistic publication six of the twelve monthly parts are already issued. As an illustrated work there has been nothing to equal it, and for many years to come there is little chance of it being improved upon. The author is an advanced authority on feline matters, and in the volume before us every chapter is treated with the greatest care. There is no padding, and yet every detail worthy of consideration is laid before the reader, and be one a cat fancier or merely the owner of a household pussy the perusal of this book will prove intensely interesting and instructive. To the uninitiated the pages of the "Book of the Cat" will prove a revelation, as they exhibit wonders in such varieties as the Persian, Manx, &c, little dreamt of before. The price is 12s complete, and no one who owns and cares for the "cat that killed the rat" ought to neglect having the volume on the shelves of his library. – Cassell & Co., Ltd.
THE BOOK OF THE CAT – Western Daily Press, 30th March, 1903
Cats have been dignified by the issue of a work, in serial parts, dealing exclusively with their Peculiarities and merits. This book has now reached part 7, which we have received from Messrs. Cassell and Company, Limited. Like the previous issues, it is full of interesting information concerning "who's who" in cat-land, the editorial duties being satisfactorily performed by Frances Simpson. Not only are particulars given concerning the more distinguished members of their species, but there are pictures in which, collectively and singly, they are shown in all their natural grace and dignity.
BOOKS – Reading Mercury, 6th June, 1903
The Book of the Cat (Cassell and Co.). Parts 8 and 9 of "The Book of the Cat" deal with the brown Tabby Persian, Neuter cats, the Manx cat, and the Siamese, examples being given in every stage of existence. The demand for the neuter cat, is, according to Miss Frances Simpson's experiences increasing, and this is not to be wondered at when one sees the beautiful specimens given as illustrations. As domestic pets they are more affectionate and with children more docile, and not less keen after rats and mice, are very clean in their habits, while they retain their lovely coats nearly all the year round. The Siamese cats are extremely quaint and bear the best of characters, but, in this country, they are delicate to a degree, and occasionally "go out like the snuffing of a candle with acute pneumonia almost before one has realised they were even ailing."
Berkshire Chronicle, 15th August, 1903
"The Book of the Cat" is a work that appeals to all overs of domestic pats, the numerous illustrations and the coloured plates adding immensely to the value of the test; in Part 11 we have a black Manx and a Royal Siamese cat depicted in colours, while some of the other illustrations are quaint and humorous.
Reading Mercury, 22nd August, 1903
Parts X and XI of "The Book of the Cat" concern themselves with short-haired specimens, foreign "examples" (of which the most extraordinary are the Mexican hairless cats) and American cats (one of which is justly styled "An American beauty"). Various "catteries" are described, and chapters are devoted to the rearing of kittens and breeding for colour. The illustrations are all that can be desired.
Sheffield Independent, 2nd September, 1903
Miss Simpson's "Book of the Cat" is completed with the twelfth part now issued. Messrs. Cassell and Co., the publishers, announce that cloth binding-cases may be procured. The illustrations throughout have been excellent in quality, and the publication as a whole is a sound popular contribution to the study of the cat.
BOOKS – Reading Mercury, 12th September 1903
The Book of the Cat. Part XII completes Cassell's handsomely illustrated work, the author of which is Miss Frances Simpson. The portraits of every kind of cat are most true to life – many in colours - and the variety here represented is astonishing. While instructive to cat fanciers the work appeals to those who care for the cats themselves rather than their pedigree and prizes. Even cat-haters must acknowledge the beauty of many of the specimens, notably the Persians. The concluding number contains a valuable chapter by a veterinary expert on the diseases and ailments which unfortunately afflict cats.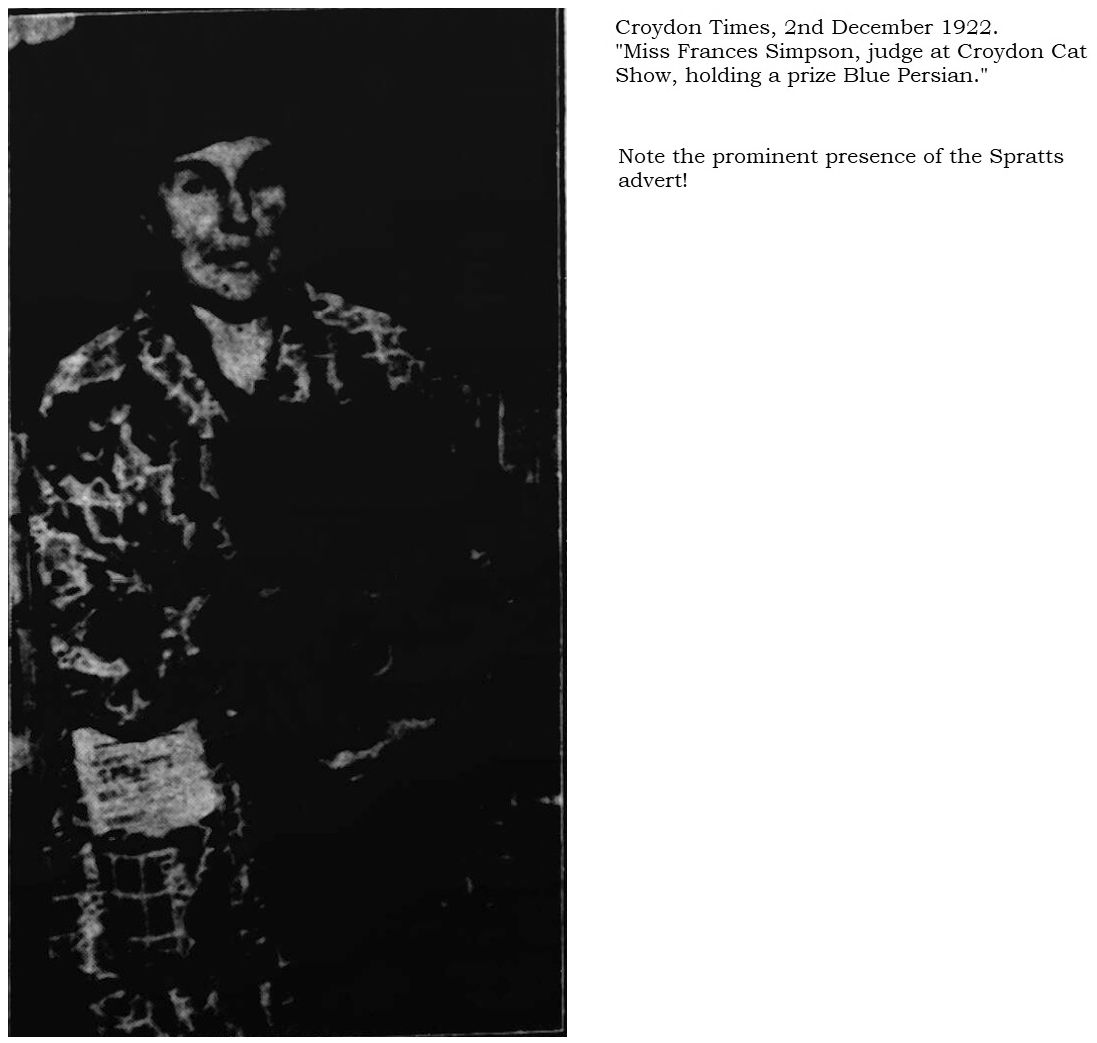 TO CLEAR UP SOME CONFUSION
COURT CASE OVER PRIZE WINNING BLUE PERSIAN KITTENS: This is a court case that tends to confuse cat fancy historians – the case of a blue Persian male called Roy who was sold by a Miss Simpson in 1898. Frances Simpson bred a blue Persian called "Roy" in 1893 and sold to Mr. J. Richard Jr. However, the prize-winning blue Persian "Roy" central to this case was bred by Mrs Thring (nee Simpson) in 1897. This account is drawn from "DIVIDED OWNERSHIP IN A CAT / FAMOUS CAT IN CHANCERY." Printed in various newspaper on 5th and 6th August 1898.
Harris v. Slater. Miss Elizabeth Harris sought an injunction to prevent Miss Slater from selling or exhibiting the cat without her consent, and from representing "Roy" as Miss Slater's sole property. Miss Harris, sought a half-share in the animal (prize monies, stud fees etc), and that the accounts of partnership should be taken. In May 1897, a certain Miss Simpson [later Mrs. Thring] had suggested that Miss Slater might buy a kitten from her for 30s, it not being in good health at the time. Miss Slater believed the kitten had potential and bought it. She housed it with Miss Harris who constructed a house for its convenience and kept it about 18 weeks. At his point, according to counsel, partnership was entered into and each lady had a half-share in the cat; any show prizes and stud fees were to be equally divided between them. At the 1897 Crystal Palace show, "Roy" won 2 firsts, 4 specials, the championship, and a silver medal and was valued at £100. According to the rules of the National Cat Club, who ran that show, "Roy" was registered and entered in the owners' names. Miss Harris paid the entry fee. A few days later, the ladies fell out and Miss Harris demanded her half-share of the prizes. Adjudicating on the matter, the committee of the National Cat Club had decided that she was entitled to a half-share. Miss Slater, contested that there was never any partnership created. All that was agreed on was that Miss Harris, in consideration of her accommodating the cat, should have half the prizes won at the Crystal Palace show. She contested that it was only after the cat turned out to be a valuable one, that Miss Harris wanted a half-share. Based on the actions of the two ladies before the falling-out, the judge, Mr Justice Stirling, ruled that a partnership existed between them, and he ordered that the accounts of the partnership be taken. He also granted the injunction restraining Miss Slater from selling or dealing with the cat in any way prejudicial to Miss Harris's property in it. The two ladies later sold it to Mss G Willoughby [who became Lady Decies] and is registered in her name in the 1899 stud book.

A LITTLE ABOUT HER FAMILY
Rev R.J. Simpson (Frances's Father)
From Diprose's work we have a good history of her father and also provides an engraving of Rev R.J. Simpson: Rev. R. J. Simpson, M.A., was born September 29th, 1824 ; educated at Bromsgrove Grammar School, under Dr. Jacob; graduated at Oriel College, Oxford, 1843, with the view of going to the Bar; became a member of the Inner Temple in 1845, and kept six terms. With the same object in view, went up at the earliest possible period for B.A. examination, but eventually decided on taking Holy Orders; took B.A. 1846, and M.A. in 1851; was ordained by the Bishop of Durham to the Curacy of Whitburn, near Sunderland, 1847 ; took priest's orders in 1850; promoted in 1852 to the sole charge of Haughton-le-Skerne, near Darlington; in 1862 became Curate of Windsor, afterwards undertook the charge of St. Paul's, Kensington; in 1866 promoted to the vicarage of Slough; and in 1869 became the Rector of St. Clement Danes. The reverend gentleman is very highly esteemed amongst his parishioners. He takes a very active part in all the institutions of the parish, and is most energetic in promoting its best interest. He is an eloquent preacher, and his ministerial labours give very great satisfaction to the parishioners.
Her father had aspired to become a lawyer and seemed on his way to achieving his ambition when he decided to enter the church. He was also a Freemason and, at one point, Chaplain to Earl Howe . The "Oration delivered by the V.W. the Grand Chaplain, Bro. Rev. R. J. Simpson, Vicar of Slough, on the occasion of the Inauguration Festival held at Freemasons' Hall, London on Wednesday April 14th, 1869" can be found online and gives an idea of his style. In 1869, the Rev. R.J. Simpson, who had been appointed Vicar in 1867, proposed to build an entirely new parish church in Slough. The proposal received the support of an influential committee, however, A long and acrimonious correspondence between the Vicar and W.G. Nixey (who had alternative plans) followed, and the scheme fell through. Nixey's alternative plan was also abandoned and Rev. R.J. Simpson, described elsewhere as a peace-maker and probably fed up of the bickering, resigned in September, 1869 and took a post at St Clement Danes where he did his most famous work.
Diprose wrote: In the year 1871, it was thought desirable by many members of the Order residing in the parish, to establish a Freemason's Lodge within its boundaries. At a meeting held in January of that year, it was unanimously resolved to petition the then Grand Master, the Earl de Grey and Ripon, for a warrant of constitution, the Lodge to be distinguished by the title of " The Saint Clement Danes Lodge." The names of the petitioners were : Bro. The Rev. R. J. Simpson. [. . .] Bro. the Rev. R. J. Simpson, P.G.C., being the Chaplain.
"Ars quatuor coronatorum : being the transactions of the Lodge Quatuor Coronati, no. 2076, London" 1906 described him thus "Rev. Robert J. Simpson, M.A., Oxon, Vicar of Slough, and afterwards well-known in London as Rector of St. Clement Danes, and then incumbent of Curzon Chapel. After being Provincial Grand Chaplain and Prov.G.S.W. of Durham, and Provincial Grand Chaplain of Berks and Bucks, he was, at the time of his death in 1900, Chaplain or Honorary Member of some twenty-five London Lodges. He delivered the oration at the re-opening of Freemasons' Hall in 1869." And "1867. Rev. R. J. Simpson, M.A., was initiated in No. 97, Sunderland, 1849, and was Chaplain of the Lodge; W.M. No. Ill, Darlington; Provincial G.Chap. and Provincial S.G.W. of Durham ; Provincial G.Chap. of Berks and Bucks, etc. Delivered the oration at Foundation Stone Laying of the New Buildings of Freemasons' Hall, London, and whilst Rector of St. Clement Danes from 1870, became Founder and Chaplain of several Lodges, and Chaplain to No. 10, No. 176, etc. He was pre-eminently a peacemaker. I remember well in the debates in Grand Lodge, 1876-7, relative to the " German Question," and the return of H.R.H. the Prince of Wales from India (re Thanksgiving), what an important part was taken by the late Bro. Simpson, and how beautifully he bore victory or defeat. His son, Bro. John Percy Simpson, was recently admitted to full membership in our Lodge, and has done some good masonic work."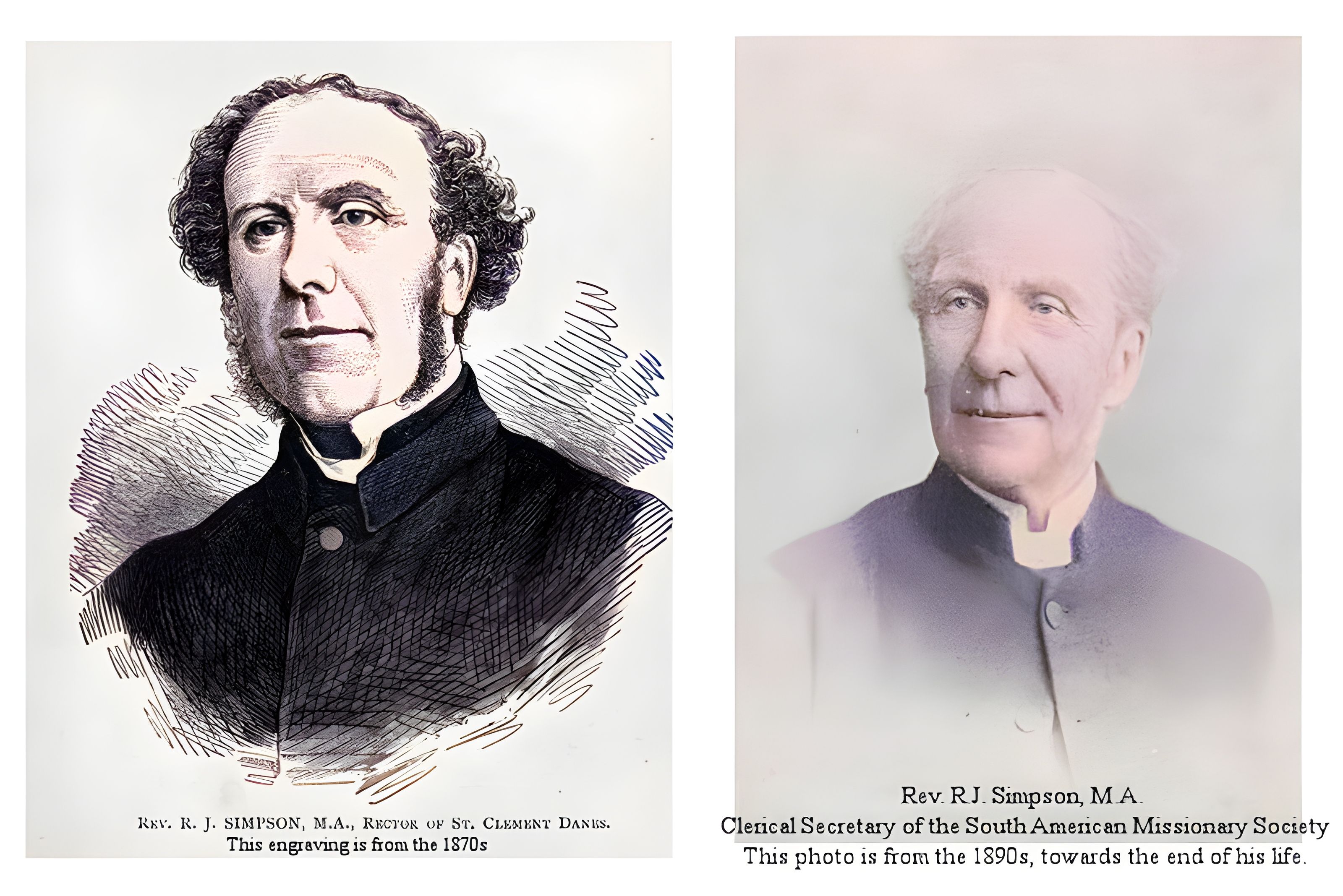 In 1890, scandal hit the Simpson family and was reported in the national media. Frances's father was taken into custody. This is from the "Police" section of The Times, Thursday 1st May, 1890. It must have caused much stress for the family at the time. At Bow-Street, before Mr. Lushington the Reverend Robert Simpson, 67, of St. Peter's-vicarage, Eltham-road, Lee, Kent, recently rector of St. Clement Danes, Strand, surrendered to his bail to answer a charge of inciting a boy named Joseph Sampson, to committ an unlawful offense in a railway carriage between cannon-street and Charing-cross (South-Eastern Railway) on Friday last. Mr. Crawshaw defended. The defendant was placed in the witness-box and gave a most emphatic denial to the allegations.. Admiral Hubert Campion, Sir James Whitehead, Archdeacon Sinclair, and Sir Alexander Grierson bore testimony to the excellence of the defendant's character as a man of the highest integrity and honour. Acquitted...., who would leave the court without the slightest possible stain upon his character. There was a more detailed report printed in Reynold's Newspaper and in Lloyd's Weekly London Newspaper on May 4th, 1890:
POLICE INTELLIGENCE. BOW STREET. SERIOUS CHARGE AGAINST A CLERGYMAN. The Rev. Robert James Simpson, aged 67, of St. Peter's, Eltham-road, Lee, Kent, and late rector of St. Clement Danes, Strand, was charged with inciting a lad named Joseph Sampson to commit an unlawful offence in a railway carriage on the South Eastern railway between Cannon-street and Charing-cross. The chief witness was Joseph Sampson, aged 15, son of a tailor, of 12, Scarborough-street, Whitechapel. Sergeant Wyatt, of the M division, deposed to accompanying the defendant and the boy Sampson to Cannon-street. He saw the accused approach the boy at Charing-cross. Simpson gave the lad his bag and 3d., and witness heard him say "London-bridge." The boy got the ticket and came back to the prisoner. They both walked to the local platform. The train was just leaving the station, so they went to the waiting-room until the departure of the 12:15 train. Witness accompanied them to Cannon-street, where the prisoner alighted. Witness stopped him and told him that he would have to accompany him and the boy to the station-master's office. The lad there repeated the accusations mentioned in evidence. The accused was then taken into custody. On the way to the station he said, "For God's sake, whatever shall I do? I have done wrong, I know I have done wrong; but it is not so bad as the boy has stated." Inspector Tildesley deposed to taking the charge at Bow-street police-station. It was read over, and Simpson remarked, "If I am to be ruined I must meet this charge and go to my ruin, but I would like to see the boy's father before this goes any further." Mr. Crawshaw asked for bail. Mr. Lushington replied that he had a difficulty, as there was no cross-examination. Mr. Crawshaw said the defendant through him absolutely denied the truth of the charge. The defendant was remanded from Monday to Wednesday. At the resumed hearing the boy's father was called, and, in cross-examination, denied that he had said, since the adjournment of the case, that if he had known, in the first place, what he knew now, he would not have brought the charge against the defendant. The defendant went into the witness box and offered an explanation of all the circumstances under which he met the prosecutor, denying absolutely that anything such as was suggested took place. Testimony as to the associations and the antecedents of the defendant was then given by Admiral Champion, Sir James Whitehead, High Sheriff of London and ex-Lord Mayor, Archdeacon Sinclair, and Sir Alexander Grierson. In adjudicating upon the case Mr. Lushington reviewed the evidence, and said, "I have no hesitation in saying that I should not be justified in sending such a case for trial before a jury. It is a great fortune for the defendant that he has been able to give his account on oath in the witness-box. I have no hesitation in saying that he leaves the court without a stain on his character." The decision was received with applause in court.
The Guardian February 4, 1891: The Rev. R. J. Simpson, before vacating the vicarage of St. Peter's, Eltham, was presented with a carved oak book case, inlaid corner cabinet, an arm chair, a beautiful inlaid occasional table, a reading lamp, also a cassock, and an album for parish portraits; the latter with the inscription, "The shadows of old friends, St. Peter's, Lee, 1890." It may be noted that the churchwardens merely received the contributions without personally soliciting a single donation. An illuminated address stated :— The connection between yourself and us in this parish has been marked by an earnest, assiduous, and kindly discharge of important duties on your part, and on our part, we venture to hope, by a sincere and hearty spirit of co-operation. The activity with which you have worked in this parish, without any abatement up to the close of your labours, is our warrant for believing, and most cordially do we hope it, that for many years to come you will continue vigorously and successfully engaged upon duties of one kind or another, serving the best interests of the Church and community. The following is from the parish magazine :— Most of our parishioners know the state in which our parochial affairs wore when Mr. Simpson took office, and can compare that with what they now find. All the various channels for doing good to our parishioners, both spiritually and bodily, are now in thorough working order, and, what is also of great satisfaction, our parish funds have not suffered, but are, owing in no small degree to Miss Simpson's [Frances?] kind exertions, in a far sounder condition than In fore. The vicar 's resignation is a loss to the parish which will be felt by all, and not least by those who have experienced Mr. and Mrs. Simpson's true friendship in cases of sickness and of sorrow. Our best wishes go with them and their family in the future, and, in saying this, we are confident we are only expressing the feelings of all. Mr. Simpson, in his letter to the parishioners announcing his resignation, says:— I have taken this step with much reluctance, but it has been brought about in this way :—My brother, a physician of thirty years' experience, has for the lust twelve months and more urged me to give up one or other of the two appointments I at present hold, as involving more work and care than I should now undertake, while the frequent illness of an important member of my family, attributed to our climate and surroundings, clearly pointed to my resignation of St. Peter's, and constrained me to come to the conclusion to which I have, already referred.
The Guardian, May 31, 1893: The annual meeting of the South American Missionary Society was held on the 2nd mat., at Sion College, under the presidency of the Archbishop of Dublin. The annual report, read by the Rev. R. J. Simpson, described the work of the society in the Falkland Islands and various parts of South America.
The Guardian, November 16, 1898: The Rev. R. J. Simpson, formerly rector of St. Clement Danes, was one of the few clergy of the Church of England who associated himself with the work of the first School Board for London, and has continued to act under the board to this day. He took this step by the advice and at the suggestion of the late Mr. W. H. Smith, and became for several years chairman of the Divisional Committee No. 1 for Westminster, hearing cases in St. Martin's Hall. At the same time Mr. Simpson, as rector of St. Clement Danes, secured the reconstruction of his old National Schools under a most favourable scheme for the great bulk of the children of the parish, and then not only supported the building of the board schools as supplementary but became chairman of the managers of the latter. The then Bishop of London (Dr. Jackson) fully approved of this course of action. On Michaelmas Day, Mr. Simpson attained the age of seventy-six, and also completed his ministerial jubilee. In order to mark these two events the staff of Vere-street School, Clare-market, sent, on the 12th ult,, an address to Mr. Simpson.
The Guardian, March 8, 1899: The Record states that the Rev. R. J. Simpson has been compelled by failing health to resign the clerical secretaryship of the South American Missionary Society. Mr. Simpson has been connected with the society since 1870, and as clerical secretary since 1881. A few months ago he kept his ministerial jubilee. He died at his home at Durdans House, The Avenue, St Margaret's-on-Thames on Friday January 12, 1900 (this was possibly a retirement address).
John Percy Simpson (Frances's Younger Brother)
After her father's death in 1900, his children would have had to find their own homes. J. Percy Simpson became a solicitor and he and Frances continued to live together, an economical and practical arrangement for unmarried siblings in the early 1900s (I haven't found any reference to a Mrs J.P. Simpson). He outlived his sister by 12 years, dying in 1938 aged 77.
"Ars quatuor coronatorum : being the transactions of the Lodge Quatuor Coronati, no. 2076, London" 1906 was a Freemason's publication that contains an essay "Old City Taverns and Masonry" by J. Percy Simpson (described elsewhere in the publication as the son of RJ Simpson of St Clement Danes). It received glowing reviews for the work that went into researching it. His details were given along with his business address: Bro. John Percy Simpson, (B.A. Oxon, 1884) 4, New Court, Lincoln's Inn, WC, London. Solicitor. Initiated in the Caveae Lodge No. 176 in 1890, P.M. Exalted in the Caveae Chapter No. 176 in 1899, P.Z. Masonic writings : — " The Origin and History of an old Masonic Lodge." On ballot taken, Bro. John Percy Simpson (B.A., Oxon.) 4, New Court, Lincoln's Inn, Solicitor, writer of papers on " Moses Mendez, Grand Steward, 1783," " Old City Taverns and Masonry,"

You are visitor number