A HISTORY OF CAT SHOWS IN NORTH AMERICA
2003 - 2014, Sarah Hartwell
This is not intended to be a definitive history of cat shows or cat fancies. Cat fancies themselves can provide far more detailed information, right down to names of prize-winners and their pedigrees. I've tried to give a flavour of the times as cat shows changed from novelties, reported by sceptical journalists, to cat club championship shows. More detailed newspaper reports on cat shows in North America can be found via the History index.
Contrary to popular belief, the 1895 cat show at Madison Square Garden, was not the first ever cat show in the USA. There had been cat shows at that venue the previous year and there had been several cat shows in New York during the 1870s and 1880s. What set the 1896 show apart as an important historical date, was the formation of the American Cat Club at the same time, making the 1896 show the first Championship Show under the auspices of a Cat Club where cats were judged against a breed standard rather than based on the judges' preferences or public votes.
THE FIRST AMERICAN CAT SHOWS (NON-CAT-CLUB)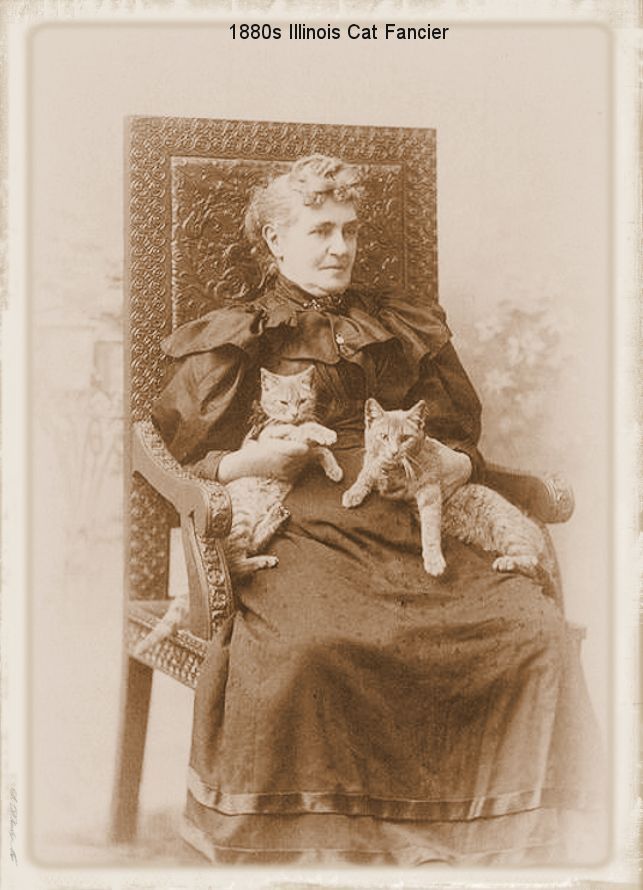 Nineteenth century American "poultry, pigeon and pet-stock" shows, "bench shows" (dog shows) , livestock shows and state fairs often included a cat show as part of the attraction. While the cats were described as Persian, Angora or Maltese, these were often "best guesses" and the shows were not necessarily "breed shows." There were classes for heavy cats, "happy families" (cats with other small animals" and curiosities. The exhibits weren't limited to domestic cats either and investigation reveals that some of the "tiger cats" weren't domestic tabbies, but ocelots! Some of the exhibitions were held in dime museums and the cats were on display for up to a week as part of a cat-themed event. Cages might be stacked two-high on benches (unthinkable at modern cat shows), while performing cats did their tricks on a stage (though the public found it more amusing when the cats got stage fright). Often the cat's purported life story was more interesting than its appearance. Enterprising young boys even resorted to stealing neighbourhood cats to send to the show. In some cases, the show managers stated that any cats not collected by the close of the exhibition would be turned loose!
The 1877 New York Cat Congress was held at the New American Museum and included a double-toed and web-footed Maltese cat, born in Germany, a three legged cat from Fortieth street, a nineteen pound cat called a tiger cat—from Jersey City, twenty-two pound cat from 210 Bowery, an eighteen pound cat from Thirty-third street, a sixteen year old cat, living in Twenty-sixth street, with a rolling gait, which has crossed the ocean three times, and a white cat with one blue and one black eye. One of the most valuable entries was a "show cat" which had travelled with Barnum's circus ever since its birth. An anecdote told of this cat relates that it was once left behind, but arrived at the next venue ahead of the main company (personally I think the cat had hidden itself in circus baggage) and a seven pawed cat which is called Young Briareus.
One newspaper reported "The New York cat show appears to be a sort of asylum for purse-proud aristocratic cats, or those which exhibit some exceptional intelligence or tail or something. The real old corsairs of the dark nights, whose voices have tunefully mingled with the clash of boot-jacks, tin dippers and no. 4 shot, are not there. Neither is there present the nervous old rounder who has escaped from the midnight melee with knotty protruberances on his head and a tail resembling a hair-mounted joint of stove-pipe. The show is very incomplete." (Lawrence Daily Journal, 25th December 1877)
The 1878 New York Cat Show was held at the Music Hall, and attracted two hundred and seventy-one cats noted for their large or small size, color and condition of fur, species, deformities, and so forth. Some of them are trained animals, and will perform their tricks in the hall on Friday evening. (Brooklyn Daily Eagle, 28th January 1878)
Due to the size of the country and the distances between major cities, the distinction of being the "first cat show" needs to be considered on a regional basis. A National Cat Show was held at the Music Hall, Boston, Mass. Between January 21st – 27th, 1878. A cat show was held at Brunnell's Museum in New Haven, Connecticut on February 6th, 1882. On April 5th-6th, 1895, Milwaukee, Wisconsin hosted a "Cat and Parrot Show" that attracted 2,000 spectators. There are detailed articles about the May, 1895 cat show at Madison Square Garden that describe tired, irritable and even runaway cats as well as the prize winners. This was the show where "Cosey" won the silver collar and medal . Cat shows were held at the Grand Central Palace in New York City from January, 1899.
Some of the other attractions at the pet-stock shows would shock the modern public, but were considered educational for "young visitors", although young women apparently sometimes complained about the cock-fight demonstration. As well as the competing exhibits, including cats, there might be:
- a live rat fed to a group of ferrets
- a cock-fight demonstration
- a constantly replenished display of newly hatched ducks or chicks that died in their incubator (seemingly of stress)
- a taxidermy tableaux of kittens posed in anthropomorphic settings (cats' tea party etc)
- a ratting demonstration by terriers
- a cat exhibited because it had killed 100 other cats
Local cat shows had been held in Philadelphia, Newburgh, NY and elsewhere in the 1880s. Judging didn't follow a set standard of points, and judges tended to choose the cat(s) they liked best. Because these were offshoots of poultry and livestock shows, there were often prizes for the heaviest cat and for the most prolific mother cat (despite most of the kittens being destroyed), or the winners were decided by public vote. Championship shows, arranged by cat fanciers and with cats competing for titles, began towards the end of the nineteenth century and were largely modelled on the now well-established Crystal Palace shows. They showed the same range of breeds as the British shows (blue cats might be lumped together as "Maltese"), with the addition of Australian cats, a breed not found at British shows, and Maine cats (which were often dismissed as a degenerate form of Angora). At first there was a preference for imported long-haired breeds and Siamese cats, these being most distinct from the short-haired alley cats derided by journalists and abused by citizens.
THE FELINE EXHIBITION IN THE NEW BROADWAY MUSEUM (The New York Times, March, 1881): Manager Bunnell stood in the center of his museum on Broadway, his hands in his hair, utterly perplexed, late last night. He was surrounded by cats in cages, cats in wooden boxes, cats in band-boxes, cats in bags, half of them yelling, spitting, and scratching, as mad as cats can be in uncomfortable quarters and in a strange place. A deep scratch on his nose and three gingers tied up in oil and rags told how inexperienced he was in the ways of cats. As fast as the cages were completed, and the cats placed in little sections, each one alone, they settled down for the night, and silence reigned.
Said Assistant Manager Starr: "We have all kinds of cats here, all sorts of species from the torrid zone to the North Pole. See, here is a comfortable pure-blooded maltese that reminds one of a happy fireside, and here is a great, shaggy, ugly fellow, who, I guess, was lassoed from off some back fence who could eat her up if he had half a chance. But they are all secure, and no one can get at another, nor at the thousands of ladies and children who will come to see them. Now here is a big gray cat, all the way from Jersey, entered by Henry Rengstorf, whose only peculiarity is that he will attend every Democratic meeting held in a hall near his owner's residence, but don't seem to care for any other meetings. There is Humpty Dumpty, well known in the theatrical profession, and who is now 43 years old. He used to belong to George L Fox, and though he is now a little stiff from old age, can perform a number of tricks learned from his old master. There is a handsome old black cat named Nig, who comes from East new-York; his oddity is that he makes playmates of canary birds, and several of them will be shown flying about his cage all the week. There is a splendid gray cat, as gentle as a kitten, which weighs 35 pounds, and that, you know, is an immense weight for a cat. There is an ugly striped tiger cat, which weighs 18 pounds. There is a decided curiosity, a French cat named Paris, which is 6 months old, has long silky hair of a bright purple color. In that cage is a magnificent tortoise-shell cat, which seems to have the power of fascinating rats/ There are two cats from Third-avenue who are regular circus performers, and can do a number of tricks, like trained dogs, at the word of command. Then we have a double-footed maltese cat, a two-legged cat, a three-legged cat and more odd and peculiar cats than I could tell you of."
There are many queer applicants for space. One lady was anxious to exhibit her pet provided she could send it fresh cream from Jersey every morning and be sure that the other cats would not get it. The daughters of a well-known physician were willing to exhibit their fondled feline darlings, which they are sure are handsomer and more intelligent than any other cats in this world, but they wanted the privilege of having one of their house-maids to be with them all the time to see that they were properly cared for and not teased. Mr Bunnell was obliged to refuse, saying that if all the cats had nurse maids he was afraid there would be no room for any one else in the hall. The cat show will be opened at 11 o'clock to-morrow morning.
CATS ON EXHIBITION ( The New York Times, March, 1881:) The cat show opened at Bunnell's Museum yesterday bids fair to divide public fervor and favor with the pedestrian match. The museum was crowded all the afternoon and evening with women, children, and even men. The women admired and caressed the 40 felines in wire cages, and the children pinched their tails and ears and stirred them up with sticks whenever the manager's eye was turned. Some of the cats are remarkable for their size, color, stripes, and weight. By far the greater number possess all the characteristics of the back-fence tenors. They may have been lassooed in the purlieus of this City, but Manager Starr, with uplifted hand, swears this is not the case. There have been entered in this cat contest 180 animals, all of whom are expected to be on exhibition by to-day noon. The expected animals number some remarkable specimens, it is said, possessing all the peculiarities possible to be found in the cat kingdom. John and Jane are two specimens that have frequently roused the residents of Westport, Conn, from midnight slumbers. Captain Williams is a pure black, whose gentle disposition, his placard announces, suggested his name. Clubs, the placard adds, have no effect upon him, and he does regular patrol duty when not on exhibition. Dick, a gray, weighing 15 pounds and valued at $100, is as mild a mannered cat as ever climbed down a division fence with a chimney brick in hot pursuit. Gen Washington is a black and white gentleman cat, with an intellectual breadth of forehead and a frank open face. His great-grandfather is alleged to have witnessed the surrender of Cornwallis some years ago. There may be some mistake about his ancestry, but it will not be denied that he himself is a handsome specimen. Tom is a tiger cat, weighing 18 pounds and valued at $150. He is striped like a tiger and has the heavy chops and the expression of untutored intelligence of a Tammany Alderman. Perhaps the comparison is a trifle unjust to Tom. The show will be continued during the week.
Some journalists and editors were sceptical of cat shows: Now they advertise for 500 cats to have a Cat show. I believe there is to be a "Bench" show soon – that is a Dog show – why it is called a Bench show I don't know. Why shouldn't a Cat show be called a "Concert in the Back Yard Show?" all for a dime. Mew-sic gratis, or thrown in "to boot." - (Freeport Journal Standard, June, 1883) while others were more enthusiastic: Cats have now succeeded dogs as fashionable pets, and it is understood that during Lent a cat show will be held, to give all the society women who own valuable and handsome cats an opportunity for displaying them to the gaze of an admiring public. (Newport Mercury, December, 1883)
The following facetious article dealt with a very real hazard for New York's cat owners before one of the cat exhibitions: the theft of cats by neighbourhood boys (and girls) wanting to win one of the valuable premiums. With the venues wanting as many entrants as possible in order to draw the crowds, and proof of ownership hard to prove, they accepted the family pets brought along by children. This could also account for why cats not claimed at the end of the show were turned loose by the management.
A PANIC AMONG CAT OWNERS (New York Journal, February 1884). The many advertisements of stolen cats in the daily newspapers of yesterday morning show that small boys of the city have early begun to get ready for the cat show. As this is but the final week of preparations it may be calculated that about 35,000 cats will have been stolen before the exhibition begins. As each boy will be able with only tolerable industry to steal from three to fourteen cats, according to the density of cats in the neighborhood in which he operates, it may be assumed that on the morning the show opens from three thousand to five thousand boys will be at the entrance of the Madison Square Garden, with from three to fourteen cats under his arm or in a bag. Each small boy will introduce each entry to the President of the show as "our family cat," and every one of the lads will expect to carry off from three to fourteen premiums. The advertisements read yesterday something like this:
Lost - $5 reward; a tortoise-shell cat; answers to the name of "Tramp." No questions asked. H. R. Plaisades, 4001 Murray Hill.
Lost - $10 reward; a Persian cat, jet black, four white paws. No questions asked. M. Bologno,7930 Madison ave.
Lost - $20 reward; a singed cat, arched spine, only four hairs on the back; beautiful singer; answers to the name of "Terror." Address J. M. Mosherry, No. 8123 Lexington ave.
Lost — $50 reward; a beautiful yellow and gray tom-cat; eyes the size of plates; one leg destroyed with a bootjack; one ear and a half bitten off in a fight; back slightly broken by falling off the roof of a fifteen-story flat; only seven hairs on his body, from having been in a warehouse fire. It is believed that someone has stolen him to enter him at the cat show: $50 will be paid for the return of this cat, who answers to the name "Phoenix." Cornelius Vanderbolt, No. -, Fifth ave.

It will be seen from these advertisement, selected at random from several thousand others, that most of these cats which are missing have been stolen from Murray Hill, obviously for the reason that up-town cats are more likely to receive prizes. Large prizes are offered by the managers of the Madison Square show for trained cats. About two thousand trained cats have been offered for entry through letters in the handwriting of very young boys. It is estimated that about three thousand boys who have stolen cats will give them a most elaborate training, and cats are expected at the show which may fire a gun, play the piano, stand on their heads, spar according to the Marquis of Queensberry's rules, wrestle in two styles, Graeco-Roman and Japanese, walk a wire, fiddle or thumb a banjo. Some of the cats will be entered in pairs and will dance a double clog, or give and acrobatic song and dance. Meanwhile the wealthy people up-town are taking great precautions to preserve their cats. No cat on Murray Hill is allowed to go out for a walk without a servant with him. No cat is allowed to be out later than nine o'clock. Every cat is required to give an account of his intended occupations for the day. The schedule which he presents for his master or mistress is criticised and revised for him. Many spinsters keep their cats tied to their charms by strings. A cat which returns home as late as ten o'clock at night finds the kitchen door closed in his face, and is often obliged to go and sleep at a police station.
POULTRY, PIGEONS, CATS, AND FISH. (The New York Times, January, 1884). The second annual exhibition of the New-York Fanciers' Club will be given in the Madison-Square Garden, beginning on Jan. 23 and continuing for one week. The exhibition this year will include, besides poultry and pigeons, fishing and pet stock of all kinds, including cats and fur-bearing animals. The entries will close on Jan 12, at the office of the secretary, Charles H Harker, No 62, Cortlandt-street, except those for incubators .. The other judges appointed are .... Dr A Watts, of Boston, for cats.
CHILDREN AMONG THE PETS; WATCHING THE FERRETS, THE CATS, AND THE HENS. MANY PEOPLE AT THE FANCIERS' EXHIBITION (The New York Times, January, 1884): It was Children's Day yesterday at Madison-Square Garden, where the second annual exhibition of the New-York Fanciers' Club is in progress, and young America and his little sisters turned out by the thousands to see the poultry, rabbits, cats, fish, turtles the incubating machines, the display of taxidermy, and all the other attractions . The exhibit of cats also attracted a large number of the spectators, and the felines were well worth inspection. There were savage Toms, black as the shades of night, who were uneasy in their cages, and seemed to be pining for a back fence or a wood-shed roof, and peaceful Tabbies who only wanted a hearth to purr and meditate upon. They were valued from $5 up to $75 by their owners. An affecting incident occurred about noon, in the cat neighbourhood, when a dudish youth, whose family cat was on exhibition in a railed box came to condole with the unfortunate beast. He took pussy from the cage and held her in his arms while he poured words of affection into her ear, and the cat refused to be returned to the box. She grabbed the youth around the neck with a tremendous collar-and-elbow grip, and put her hind claws clear through his coat, and fetched a wail that made everybody's hair rise. After she had scratched most of the skin from his neck and made his face look like a war map, he finally escaped by putting his head, cat and all, into the cage. A pair of white cats have been on exhibition in a cage labeled "Two White Angora Cats." Yesterday one of them was taken away, and a gentleman who saw the remaining beast sleeping in a corner of the cage spent some time in trying to discern if there were two cats curled up there, as the sign alleged. The display of taxidermy was also very fine, and a "cats' party" of stuffed kittens, in various poses about a dining-table, was much admired by the little ones.
EASTERN MAINE STATE FAIR (various, Maine, August 1884). Among the specialties of the Eastern Maine State Fair will be a cat show, and a large list premiums are offered. There are five premiums each offered on Angora or coon cats, tier cats, maltese cats, white cats, tortoise-shell cats, best trained cats, largest cats, Persian cats and black cat and three premiums for handsomest group of kittens. Gratuities will be given on all specialities. All the animals will be exhibited in large, airy cages, and the hall will be under the charge of capable and experienced men who will pay every attention to the comfort of the animals shown. The railroads and express companies will bring and return the cats for one fare. Address the managers for further particulars, premium lists, etc.
FOWLS, CATS, AND DOGS. –(The New York Times, January, 1885): The forthcoming week is the last in which entries can be made for the third annual exhibition of the New-York Fanciers' Club to begin Feb. 4 at Madison-Square Garden.... The first entry for cats was for an animal named Grover Cleveland, a fine Angora from Troy... Young girls in costume will attend to the wants of the cats and kittens.
CATS AND DOGS TOGETHER.; THE PRIZES AWARDED THEM AT THE FANCIERS' CLUB EXHIBITION. - The New York Times, February 6, 1885: Adam and Eve yesterday looked as though they wouldn't in the least have minded being turned out of the Garden of Madison. Most of their feline neighbors also had an air of wakefulness and all-night-up-ishness, presumably arising from the fact that they had been rigorously withheld from their harmonious nocturnal back fence exercises and kept as visitors to the New-York Fanciers Club. A number of the cats, however, had resigned themselves to the inevitable and lay down in the cages, purring when stroked, sleeping when left alone ... The following prizes were awarded yesterday: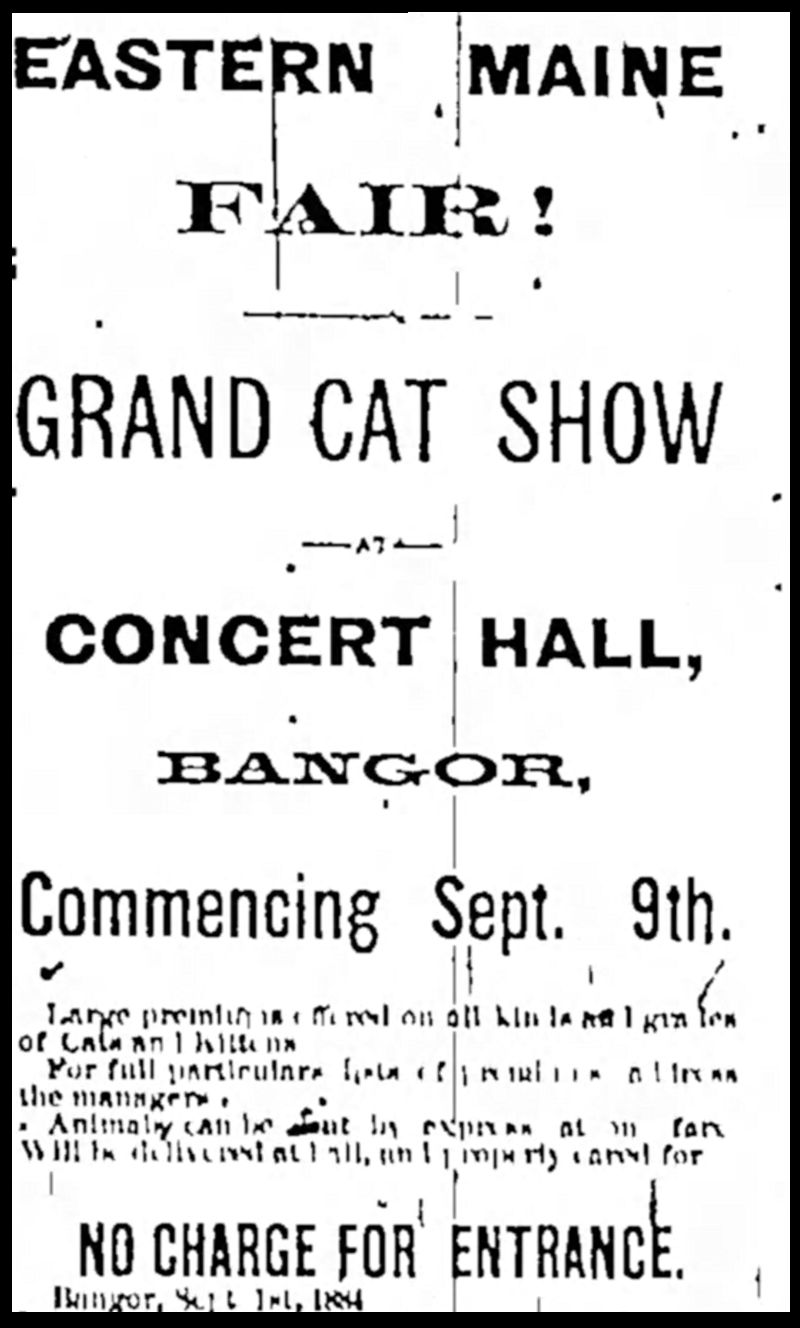 CATS.
First Prizes
Eve, a female Manx, Frank Smith.
Arthur, a tiger kitten, Ward H Wilkinson.
Billy, tiger marked, Mrs John Daniels.
Sam, brown, black, and striped, W H Huff.
Ben, white, Katy Opper.
Pish, white, Arthur James.
Bill, black, Miss Julia Hopkins.
Jennie, tortoise shell, Miss M E Hobby.
A Maltese cat, Mrs Frederick W Wright.
Tiger, gray and black striped, Messrs Buckner and Evans.
Tom Gloster, Young Tom Gloster and Ping Sue, Persian cats, F B Lucy
Tomie Blue Beard, Angora, F B Lucy
Egypt, tortoise-shell, imported from Singapore, F B Lucy.
Thomas, white, Charles Nettleton.
A white cat and a blue cat, W J Stanton.
Tom, Manx, Bryan G McSwycy
Second Prizes
Doc, steel gray Angora kitten, Ward H Wilkinson.
Jump, yellow and white, Miss Lena Schmidt.
Jim, gray, Patrick McCoy.
Dot and Tot, gray kittens, Miss Jennie Clark.
Dick, white, Susan Tucker.
Sir Marmalade, a blue Maltese age 16 years, John H Draper & Co
Tommie, G F Carr.
Col Tom Ochiltree, William Griffith.
A white cat, W J Stanton.
Third Prizes.
Adam, a male Manx cat, Frank Smith.
Grover, steel-gray Angora kitten, Ward H Wilkinson.
Gray and white, Maggie R Wright.
Special prizes.
Pug, a curl-tailed Maltese and white cat, Fannie J Daniels.
A cat born with three legs, William Barclay.
Eole, an orange and white.
Terror, a gray.
George Washington, a three-legged cat, Buckner and Evans.
POULTRY, CATS, AND DOGS; THE COMING ANNUAL SHOW OF THE NEW-YORK FANCIERS' CLUB. (The New York Times, January , 1886): The fourth annual exhibition of poultry, pigeons, pets, and dogs will be held in Madison-square Garden, under the auspices of the New-York Fanciers' Club, beginning on Feb. 3 and closing on Feb. 10, and from the interest which has already been manifested in the show by owners of fancy birds and pets, it is expected to be the largest and finest yet held. The entries will close on Jan. 26 and the Garden will be open for the reception of specimens on Tuesday, Feb. 2. All specimens competing for prizes must be entered in the name of the owner. Judges will be selected for their known experience with the different varieties to be judged, and none will be allowed to exhibit in the classes which they are to judge. They will award all prizes, both special and regular, and their decision will be final except in cases of fraud or error in footing up the score cards. The prizes offered are money and premium certificates, and in addition to those given by the club special donation prizes are offered in all the classes. Premiums are offered this year for all breeds of dogs … Cats and cage birds will also form a prominent feature of the exhibition.
"I observe that one of the dime museums is to have a cat show this week, presumably to profit by the interest in animated nature which was, so to speak, left over from the dog show. But it seems to me that the feline exhibition will appeal to a narrower circle than the canine; it is impossible to get up any enthusiasm over a cat ; a mild interest is all that can be expected, except, perhaps, from that class of women to whom this animal is a sort of deity, such as it was to the Egyptians. Cats are colorless in character as compared with dogs; they have no deep feeling; one can hardly imagine them grieving unto death for the loss of their owner; and although they have a confiding way of rubbing themselves against people, it always seemed to me as if there was some underhand motive for such manifestations. At the best, puss is but passively emotional; and when she comes purring round, there is a sense of physiological rather than of personal attachment. I think the essentially unimpressible nature of the animal was well suggested in old George Withers's saying; "Care will kill a cat," and it has sometimes seemed as if it might be well to try the experiment on a large scale." – Boston post, April 11, 1887
While cat shows (of various sorts) were taking off in New York during the 1880s, and had also been held in other major cities, they had not yet reached all states as this cutting shows: Horse, dog and cattle shows are frequently held in this country, but we have yet to hear of a cat show being held. We see it stated, however, that a very successful international cat show was recently held in London and no doubt before long the upper crust of society will be imitating the English cousins and holding pussy shows in this country. Many of this class of people have so little to do that they take at once to any fad that comes this way, just for the sake of killing time. (Lebanon Courier and Semi-Weekly Report, April 1894). It takes mighty little to interest great and cultured New York. Cats are never really interesting except when the tails of two are tied together and they are thrown over a clothes line, but the New Yorkers flocked in droves to a cat show which had been running for two weeks or more and which closed last Saturday. Ladies, in particular, paid their fifty cents per head to look at the "dear, lovely things," and the same visitors went time and again. (The Charlotte Observer, May 14, 1895) and also: Speaking of the cat show, it is very gratifying that pussy is at last to be exhibited with some of the honors that have thus far fallen exclusively to her canine tormentors. Mrs John Jacob Astor, Mrs Seward Webb, Mrs Richard Irvin, Mrs Fred Gebhard and others are to figure as pussy's patron and matron saints, and she is to be brought out with the honors due a distinguished debutante. (The Evening World, April 23, 1895)
The huge coverage of the 1895 National Cat Show in New York also triggered correspondence in the papers, reflecting a growing awareness of pet cats as more than just mousers: "There is in Somerville a kitty which outdoes the twenty-two-toed feline in the New York cat show, much talked about in the papers. My friend's pussy has five toes on each of its forefeet, six on one behind and seven on the other. Thus this one has twenty-three toes., and all of them are properly nailed. Further, this kitten, as described to me, is entirely black, with the exception of two white feet. The mother, by the way , as I am told, is a homely yellow and white creature, but can boast of as many toes as that alleged phenomenon in New York"(Boston Post, May 14, 1895)
Despite the cynical paragraphs in papers across the USA, it is obvious that cat shows and cat fancying were going from strength to strength and were becoming more organised, with cats competing in breed classes. The following few excerpts help to show the shift towards more formal championship shows.
CAT SHOWS ORDER OF THE DAY. - Detroit Free Press, Feb 17, 1895
Cat shows are now the order of the day, and the graceful feline is sunning herself in the smiles of popular favor. There is a cat hospital near Boston, where all the patients are tabbies and cat boarders are received at special prices. Families going abroad send their favorites there, and cat strays are picked up by compassionate people and sent to the hospital, where they are treated free, and if beyond help are "mercifully removed."
In London the cat shows of the Crystal palace, Westminster Aquarium, and the Clifton, have made the animal famous by a distribution of prizes to favorites. One cat owner, Mrs. Herring, is known as the champion lady prize winner at all the shows where puss is in competition. She is the owner of an ideal cattery, where famous beauties, Persian, Manx, Siamese, English and Chinchilla cats are kept in small pens isolated from each other, on account of a cattish propensity to scratch a rival. Among them are black cats, white cats, silver-gray cats, tortoise-shell tabbies, orange-colored cats, and blue cats. Their owner has their names, pedigrees and achievements in the prize line at her fingers' ends. As Mrs. Herring is not afraid of any of her pets, she allows them at different times to perambulate the house. Visitors who meet a tigerish looking animal of ab¬normal size, will often turn and fly, only to be told that it is a Cheetah cat from Siam, or an overgrown tiger tabby from Malay. Mrs. Herring is a member of the National Cat Club of England. Wherever her cats go on exhibition, the lady herself accompanies them. Her fad is looked upon with much approval, as she has developed some rare breeds of cats, and distinguished cat-collectors are in constant correspon¬dence with her. The sultan of Turkey has a beautiful brown tabby which follows him about, and purrs at his regal heels, and of which he is very fond, and this fine animal was sent to him from Mrs. Herring's cattery. In the drawing-room of the Herring menage there are numerous beautiful rugs made of the skins of pets who, having died, had no further use for them. Pictures of kittens painted by distinguished artists ornament the walls, and cases of stuffed cats are found in alcoves.
The cat specialist is a humanitarian, and thinks nothing of sitting up all night with delicate or ailing tabbies. Nor is this the solace of a lone woman, for the lady has a charming family, who are fully in accord with her peculiar fancies. There is also a mercantile side to the fad, as cats sold by a connoisseur fetch a big price. There is a charity supported in Chicago by the sale of Angora kittens, at $15 a head, and the favorite cat of Boston families, the long¬haired Maine tabbies, with a brush like a fox, go readily at $23 apiece. With care and cultivation, Pussy becomes a choice marketable article.
JIM KELLY TO HAVE A CAT SHOW. James H. Kelly: -"Talk about your dog shows. Why, they're not in it with an idea that I've got. Whirt is it? Why the biggest thing you ever heard of. Next to the white elephant I used to follow. It's a cat show, and I'll have it running here before long. We'll have some of those cats without tails that they raise in Wales, and they're beauties. H. P. Durand, of Hartford, Ct. will be in it with me. He's gone east just now to make arrangements, but our show will probably be in operation next May. We're going to have about 2,000 cats, and it will be better than all the dog shows you ever saw." – Detroit Free Press, March 10, 1895
CAT SHOW IN NEW YORK. The national cat show will hold its first annual exhibition in the Madison Square Garden the next week in May next. This will be the first show of its kind ever held in this city. About $1000 will be offered in prizes, and the show will be held on May 7, 8, 9 and 10– various, March 8 & 9, 1895
CATS OF HIGH DEGREE. SOME OF THE CHOICE FELINE SPECIMENS IN CHICAGO. - Chicago Daily Tribune, March 17, 1895
If A Show Is Held Here In The Spring, As Now Proposed, Here Are Some Of The Fine Animals That Will Appear – A Few Noted For Their Extreme Intelligence, Which Has Been Used In Learning Tricks - One Has A Fancy Society Head Shake.
If Chicago does not have a cat show this it will not be for lack of cats. They are here - Angora, Maltese, tiger, tortoise-shell, Chartreuse, old tabby, and even the mythical Manx. Should this exhibition take place, a treat is in store for those interested in the feline tribe. The surprises are likely to be many and agreeable. All unsuspected cats of every degree have been gathered from the four corners of the earth, and are sheltered under the hospitable roofs in this wide City. And if it comes to a test, Chicago can do battle for laurels with New York or any other town, latest Ki'kenny rules.
Commonly speaking the present generation does not love the "harmless, necessary cat." In ancient Egypt, the land of the lost arts, the cat was a venerated and sacred object. It was a privileged character in the retinue of Kings and Princes. Thus originated the saying that a cat may look at a King. It was at its demise embalmed at great expense and buried with the pomp and ceremonial of Kings. But with the age of superstition came the sentiment connecting the cat with witches. The black one especially was regarded as of Satanic origin. Later, with the present generation, the animal so worshiped by the ancients fell from its high estate to the lowest depths, becoming the object of ribald song, deadly bootjacks and other stray missiles. And up to now cats of every species have been so unpopular that their few adorers remain carefully unostentatious in speaking of their pets even among their best friends. But the devotion of the few has in a measure compensated for the lack of the many and by their efforts the tide is now setting in another direction. And the hopefulness of the signs is that almost without exception the people who declare they dislike cate will admit in their next breath they know nothing of them, that they never tried the experiment of a pet cat, or studied its points of interest or its good qualities.
A diligent search by a Tribune representative revealed the fact that the cat tribe in Chicago has many friends of both sexes. Cats are found that are petted and cared for in a manner that falls to the lot of few children, even. There are cats that are the comfort and solace of declining years, and handsome cats that submit uncomplainingly to being carried about by the tail in the hands of chubby, growing urchins; cats, the adored of enthusiastic maidens; and cats, the object of extravagant stories told by their bachelor owners. Aristocratic cats and cats of low degree, each in the estimation of its owner " a remarkable cat" and one about whose "cute tricks" a whole book could be written and then not tell half the tale. Many of these cats were asked to perform for the reporter for The Tribune, but in most cases they declined "just like babies," their foster mothers explained, being bashful and unwilling to show off before company.
Foremost among those who are interested in cats of pure breed is Mrs. Leland Norton of Drexel boulevard. Among her collection is a white Angora, "Echo," which Mrs. Norton believes to be the handsomest of its kind in States. "Echo " is of purest white, and its white raff curls around its Neck, almost covering the pink ribbon. It came direct from Persia with some emigrants to Chicago and when rescued by Mrs. Norton, like many another foreign prince, it was decidedly in hard straits financially. But American dollars, which means in its case plenty of rich cream and Hamburger steak, has had a wholesome effect The climate of Chicago is too severe for "Echo's" ruby blood. It does not go out in winter. Nor does it lap its milk like a plebeian cat. It is fed by its mistress' hand from a silver spoon. It has a mate, " Glen," a thoroughbred from California. Mrs. Norton expects to take Echo to the cat show in New York in May. Beside these two cats she has a pair of black German Maltese cats, splendid creatures with restless big amber eyes. Their mother was born on the ocean. Mrs. Norton has a number of other cats, fine cats, but she sets little store by these, as she is not absolutely sure of their pedigree. Two rooms in her home are set apart for the use of their catships. The polished floor is strewn with cushions and slumber robes. But at night the cats sleep on two large beds, each in its owne blanket, as there are less of drafts there than on the floor.
Sig. Tamagno will doubtless be pleased to learn that he has a namesake in Chicago; and that the said namesake is a handsome gray and black Russian tiger cat, which came over with him on the same ship on his first trip to America, Tamagno's success in America would indicate that cats are not such "dead bad luck" after all. This cat is owned by Mme. Meret, the Frenchwoman who is known in Chicago as the mother of all the French people here on account of her exceeding kindness to those of her countrymen who find themselves in bad luck. Madam makes luscious caramels, too, and as she stood in her little store on Wabash avenue stroking the silky coat of her beloved "Tamagno" she talked of the great artists she has known. "I know Mme. Patti well," she said, "and she is so good and so beautiful. Whenever she comes to Chicago she sends me seats, and the last time she sent me a whole lodge." And then Madam talked of the hard times and how she could not help her "friends" so much and she gave poor "Tamagno's" tail an unintentional tweak, at which it darted off the counter and made for the door. But once more the same bushy tail got him into trouble. Mat Madam grabbed it just as it was vanishing through the open door and dragged her pet back. Cuddling him in her arms she marched off to a back room whence sundry saccharine odors told the story of a fresh pan of candy over the fire.
Perhaps the most truly worshiped cat in Chicago is "Brownie" Kellogg, as his mistress calls him. Many cats carry with them the dignity of their owner's name and Mrs. Kellogg's cat is one of them. She is a business woman, a Notary Public in a big office building down-town. In her office, is a life size painting of "Brownie." "There it is," she said enthusiastically to her visitor. "That is my boy, and you have no idea what a comfort it is to my lonely life every evening when I go home it is waiting and watching for me at the window. And at night it sleeps on my arm." Mrs. Kellogg believes implicitly that " Brownie " knows every word she utters. A cruel person once threw a brick and mashed " Brownie's " foot Two physicians ware called and by a plentiful use of ether the foot was removed, so now Brownie moves about on three legs. During its convalescence its mistress carried it about for four weeks on a pillow, and since its recovery the friendship has been stronger than ever. "Brownie" tips the scales at twenty-one pounds. An offer of $50 for it was indignantly refused. It is a gray and black stripe of the tiger breed. It has made several trips to New York, and may be said to be a trained and educated specimen.
M. J. Asheldstan of Prairie avenue has a black tailless cat which he claims is a genuine Manx. But the cat is so wild that he was unable to coax it from under the woodshed for inspection, even with bread and meat. He describes it as having long legs, short fur, and of fierce disposition. Only two staring green eyes could be seen from its black cavernous retreat. Mrs. Thomas Gibson, No. 4825 Prairie avenue, baa a beautiful full blooded Angora, seven months old. Its name is "Trilby," in spite of which it is thriving and growing. Trilby's fur is over two inches long and its bushy tail is three and one-half inches broad. Miss Louise Boyle, No. 2126 Wabash avenue, has a big black German cat with not a white hair on its body. It wears red ribbons in its ears and sometimes eardrops, such as a woman wears. Its name is "Chico." Mrs. Bertha Stiles, No. 2601 Calumet avenue, has a fine Maltese of purest breed. It is of a dark-blue slate color, without a spot or a blemish. It receives ail of the care and attention that could be lavished on a pet child. It has never been out of doors except on moving day, when it was carried in a basket.
A curious collection is that of Mr. Houghson, No. 201 Lincoln avenue. Mr. Houghson received the reporter for The Tribune at his modest home, where he seemed to be all alone with his pets. He carefully bolted the door behind his visitor, which operation had rather a creepy effect until he explained that it would not stay closed without. Mr. Houghson is thin, and wears his long gray hair topped by a fez. He explained that he was formerly connected with Amberg's circus, and that this life had given him a fondness for pets. He gave a long, low whistle, and several pairs of bright eyes appeared simultaneously from under lounges and chairs about the room. They disappeared again almost at instantly when they raw a stranger. Mr. Houghson glided about the floor in soft felt slippers poking and coaxing here and there. But the exhibition was for the most part of the flash light order. The cats all appeared to be of the gray Tabby variety, but their number could scarcely be calculated. There might have been ten or not more than three. Mr. Houghson said if he could find suitable homes for his cats he might part with them. He thought a home ought to be established. He reluctantly admitted he had been somewhat battered up on several occasions in doing battle with his neighbors on account of his cats.
Miss Gertrude Estabrooks, the artist, lives with her mother in a cozy flat on the North Side. Each has a cat, and there is considerable good-natured rivalry as to which cat shall have the blue ribbon. Gertrude's cat is an Angora, as whit, as milk, with a big bushy tail, long, waving hair, and a pink nose. It can stand up and beg, will turn somersaults, and do everything but talk. Her mother's cat sports a bushy tail and is a tiger gray and intelligent and boasts pure Spanish blood. Miss Estabrooks has become so interested in cats that she is now attempting her first piece at animal-life. She will soon have finished a life-size oil of Mrs. Norton's cat Echo. It will be exhibited. Miss Mary F. Fontayne, No. 3210 Forest avenue, has two fine white cats, which she declares know more than some people. They are her constant companions, following her from one room to another and up and down the stairs. When she puts on her hat to start out they at once jump on the window to watch her off.
Speaking of cats, everyone knows about Mrs. Clinton's Locke's admiration for cats. In this she has always been upheld by her worthy husband, the Rev. Clinton Locke. And the great preacher has not thought it beneath him at times to regale his friends with stories of his wife's pets and protégés. Mrs. Locke picks up and shelters any poor, stray unfortunate that happens to cross her pathway, feeling that to succor the least of God's creatures is sufficient reward. The proceeds from the sale of her fine cats devoted to the bed which she endows at St Luke's Hospital.
A noted cat, and one which belongs to a charming woman, is "Buntin Wall," the pet of both Mr. and Mra. A. S. Wall, No. 440 East Forty-first street. " Buntin " was named for Arbuckle of the "Buntin's Baby" notoriety. It lays no claim to blood, but it is a thoroughbred sport. It walks about the room on its hind legs with a cigaret in its mouth. The mistress has only to say the word, " Charge," and it is down on the carpet as flat as a dead cat and flatter. Then she makes a hoop of her arms and "Buntin" chases through and round and round like a circus clown, jumping four feet from the floor. It goes through Mr. Wall's pockets every evening when he returns home and takes therefrom whatever suits it best. Catnip is the candy which " Buntin " hunts for in Mr. Wall's pockets. An offer of $100 has been refused for it. It is a blue maltese color with a white star on its breast weighs twenty-one pounds.
Miss Frances Willard owns a white Angora, which is as gentle as its mistress is good. "Toots" Willard is known by every man, woman, and child in Evanston, and so great is the regard for its mistress that no-one would molest the little pet even if they saw it a mile from home. " Toots " is not a good sailor, so was left behind at Rest Cottage when Miss Willard sailed for Europe. Mrs. G. E. MaoCoy of Austin has a remarkable cat, a sort of connecting link, as it were. It has thumbs on the fore feet and five toes on its hind feet, and is unusually amiable and intelligent. It is a maltese, and is as useful as a watchdog in warning the family of the approach of a stranger. It stands with sharp eyes by the door until the person has entered, and keeps watch until sure that the visitor is welcome. Mrs G. F. Swift. No. 5048 Woodlawn avenue, is a great lover of cats, although she has a family of growing young people around her. Just now she is lamenting a pair of silver gray Angoras, which mysteriously disappeared from her backyard while they were out for exercise. Miss Fox, No. 2019 Calumet, is anxiously watching every express for a pair of Angoras of fine and rare breed, which has ordered from Vermont. Miss Fox has several other pets including a Yorkshire terrier and a Japanese spaniel.
Mr G. L. McGill, No. 3034 Calumet avenue, has a strikingly marked white and yellow Angora, which he calls "Muff." "Muff" has the typical bushy tall deemed necessary by cat fanciers to indicate blood. Mrs. G. S. Biswell, No. 3311 Forest avenue, has an immense yellow coon cat, with a squirrel-like tail. He has big yellow eyes that shine like topaz. Mrs. D. Edison Hartwell, No. 4624 Emerald avenue, boasts of a black angora. Mrs. F. A. Root of Downer's Grove has a Maltese cat of finest breed named "Jerry," which she thinks is the handsomest cat in the State. Miss Mabel Hoey of Dwight, Ill., has a cat, "Bolivar," which she is anxious to exhibit, both for its beauty and good qualities, as it is an excellent "mouser." J. E. Grubb has a pet cat called "Sam." It is of a red brown color with big yellow eyes. "Sam" is bright and has many cute tricks. It is an adept at hand-shaking, and is docile and teachable. Mr. Grubb has a number of pets both at his store and at his home. Miss M. B. Wheatley, No. 28 Walnut street, has three full-grown Angora cats and three kittens, pure white. "Caprice," the mother of the kittens, on being shut in a room away from its little ones, climbed up a screen and out over the transom to its kittens.
Miss A. P. Hall of Glencoe, Ill., owns a cat which she regards as a prodigy. It has been taught to open the kitchen door with its paw, and numerous other tricks. Master George Morgan of Lake View High School tells of a curious family of cats next door to his home, No. 2595 Ashland avenue. The mother cat is coal black with not a white hair on it, and its five little kittens are pure white. Master Ray Fraser, No. 3210 Michigan avenue, has a pet cat of fine breed. Mr. W. V, Lankenan, Mo. 302 Washington boulevard, has two fine cats which he would exhibit if a proper and safe place were arranged for the show. Every one who has valuable cats expresses a fear that something might happen to their pets if they entered them for an exhibition. And almost every woman declared in case she did consent to send her cat in she certainly would accompany it herself and tend and feed it.
HOW TO REFORM CATS. – The Atlanta Constitution, May 1895
The cat show which will begin in Madison Square garden tomorrow is expected to be of substantial benefit to the owners and breeders of cats. The presentation in competition of many carefully selected specimens of rare breeds is counted upon to excite emulation and thus advance values. It will doubtless do more. It will establish values. The prices which rule at the public or private sales during or following the show will be precedents for future transactions. The exhibit will bring together great numbers of buyers and sellers, and from this meeting commercial good is certain to result. In this respect the show is assured of success, but it is to be hoped that the projectors of this excellent enterprise will not rest here. With the advancement in prices there should be an improvement in feline characteristics. This is a serious question, and one well worth the attention of every thoughtful feline culturist.
Does breeding help cats otherwise than to advance their value? We all know what breeding has done for horses and dogs. Will it do the same for cats? Is the cat with the spotless pedigree a better mouser than the speckled tabby of mongrel family or uncertain antecedents, or is she tidier in her habits? Is she less given to midnight prowlings and moonlight festivals of song on the backyard fence? Are her morals any better than those of her humble cousin? If high breeding does not work improvement along these lines, of what real benefit is it to the world? The rearing of costly, long-haired, albino, short-tailed and even tailless cats cannot be set down as an advancement in civilization unless there is a corresponding refinement in their nature. Environment may better feline nature, but, judging from the experience of the past, surroundings have little real influence upon heredity. Some of the noisiest and most wayward street cats are the offspring of most respectable tabbies accustomed from infancy to moral influences. Many of these abandoned characters are probably not wholly to blame for their condition, having been turned adrift early in life from motives of domestic economy, but the fact remains that the stay-at-home quality is not inherent in the cat. It is generally the result of restraint. It is only in the frolicsome days of her kittenhood that the cat is a home body. In its adult condition it is a roisterer and a profligate, a serenader and in many cases a sad ingrate. Can the cat show change these conditions? Is there something in feline culture that the world of science does not know which this exhibit can make plain? If there is, and if it be along the spiritual line, the show cannot begin too soon or last too long.
THE CAT SHOW - The Atlanta Constitution, May 12, 1895.
Cats are all the rage in New York at present. The Telegram says: "The cat show was successfully inaugurated yesterday at the Madison Square garden. The cat is certainly 'looking up,' and will soon be accorded a better place in public favor here than she has ever enjoyed before. In the orient she has long been cherished, and since the cat show in London last year, where a thousand cats, including kittens, were exhibited, this graceful, beautiful and quiet animal, unobtrusive in manner and dainty in taste, has received more appreciative attention in London. More royal honors and fewer kicks and curses are now bestowed on cats in general. It is interesting to learn that 'cats are the favorite pets of brain workers,' being more companionable than dogs, whose noisy demonstrations of affection disturb rather than please. The dog is just now at a discount. He is denounced for forcing his affection upon the object of his devotion in a blundering way, while puss, with fine repression, expresses her regard by gently touching with her velvety paw or rubbing quietly against the hand and face of the object of her friendship. It is also gratifying to know that the reason puss does not learn to do tricks like a dog is not because she 'lacks Intelligence,' as has been alleged of her by her enemies, but because 'she is too knowing to be driven to learn.' If she chooses, it is further stated of her she can 'learn more tricks than a dog.' These 'little lions, small and dainty, sweet, with sea-gray eyes and sofly stepping feet,' as one inspired by their distinctive charms poetically describes them, received no end of admiration yesterday."
CATS WIN BLUE RIBBONS.; Gen. Collis's Coco Beats Lord Bobs at the Poultry Show - The New York Times, January 25, 1901
Cats, rabbits, and guinea pigs received the blue-ribbon badge of high-class merit yesterday at the poultry show in the Madison Square Garden, as well as several hundred additional birds and other members of the feathered tribe. The attendance was much larger than on the opening day, and all the birds looked in the prime of condition.
The judging of cats attracted considerable attention, and, after it was all over, there was scarcely a cage that did not have either a blue, red, or yellow ribbon fastened upon. One of the fattest and handsomest looking cats is a long-haired blue cat, owned by Gen. Charles H. T. Collis, and is known by the name of "Coco." It is a great rival of another blue cat, known as "Lord Bobs," owned by J. Robins of this city. Only a critical judge could detect their superior merits, and when "Coco" received the blue ribbon, he maintained the picture of comfort and aristocratic bearing for the remainder of the day.
Miss L. C. Moeran of this city is the largest cat exhibitor, having eighteen different ones, and she captured five first prizes. Miss Mary B. Thurston of Newport won the same number of firsts with her six long-haired cats. Miss M. Hays and H. T. Draper of this city each won two awards.
MANY SAW THE CHICKENS Second Day of the Crowds - Prize Chickens and Cats. - The Minneapolis Journal, Minnesota. January 30, 1903
An attendance of 2,200 demonstrated yesterday the marked success of the annual exhibition of the Minnesota Poultry association. No previous display has received so large a patronage. The members of the Poultry association will dine to-night at the Commercial Club After dinner the association will hold its annual meeting. [...] In the cat department the greatest number of prizes was won by W R. H Sinnett. His cat Toodles, the winner of the Chicago cup, secured first prize, a silver bread tray. Toodles also gained for Mr. Sinnett the association cup as well as the Beresford medal for the best white cat. Additional prizes for Mr Sinnett were Beresford medal, for best female cat, Josephine, Boutell's donation rug, best female Angora, Josephine, pair ladies' kid gloves for best short-haired kitten Nellie, Boston prize for tes long-haired kitten Bonnie Eddie, and the prize for the best decorated cage. A pair of kid gloves for the best blue female cat went to Dr Patton of Minneapolis.
The Best Display. - A score of 18 points gave Mrs. E W Nettleton of St Paul the award for the best display of cats. Other awards in the cat department were Best blue male, a $15 vase, to Edwin Branch, Minneapolis. Best odd eyed cat, first, pair of skates, Mrs Nettleton's Peg, second subscription to Field and Fancy, Mrs Cummings' Fanchon. Best odd eyed female Mrs Nettleton's Peg Best tortoise shell kitten, box of bon bons, Isaac Tranter's Trix. Best common kitten J Peck's Lady Floss. Best tiger cat, pair of kid gloves, M A Booth's Minnie. Best short-haired kitten, palm, J Peck's Red Floss. Best orange female, cat crate; Mrs Searles' Pochantos. Best orange female second cat, german, Miss Frances Meeker's Mark Anthony. Best blue male under one year, Miss Emma Kress' Rado. Best cream kitten, Miss Frances Simpson's book on cats, Mrs Searles' Dudue. Best brace of White kittens, picture, Mrs W D Cary's St Gothard and Arnold Winkelried. Best short-haired neuter, bottle perfume, Mrs Schlenger's Topsy. Best white neuter, bottle perfume, Mrs Cummings' Cricket. Best orange male, bonbons, Mrs Searles. Best orange and white, Mrs. Van Metser's Prince Li Hung Chang.
FREE FOR NEWSIES - Sunday Afternoon They Will Be Admitted Free to Poultry Show. Tne newsboys of the city are going to have a chance to see the aristocratic chickens and cats at the poultry show. The show management will not keep open house for the general public Sunday, but Sunday afternoon from 2 until 6 properly accredited newsboys will be granted admission free and will be introduced to the cat and fowl nobility of the northwest.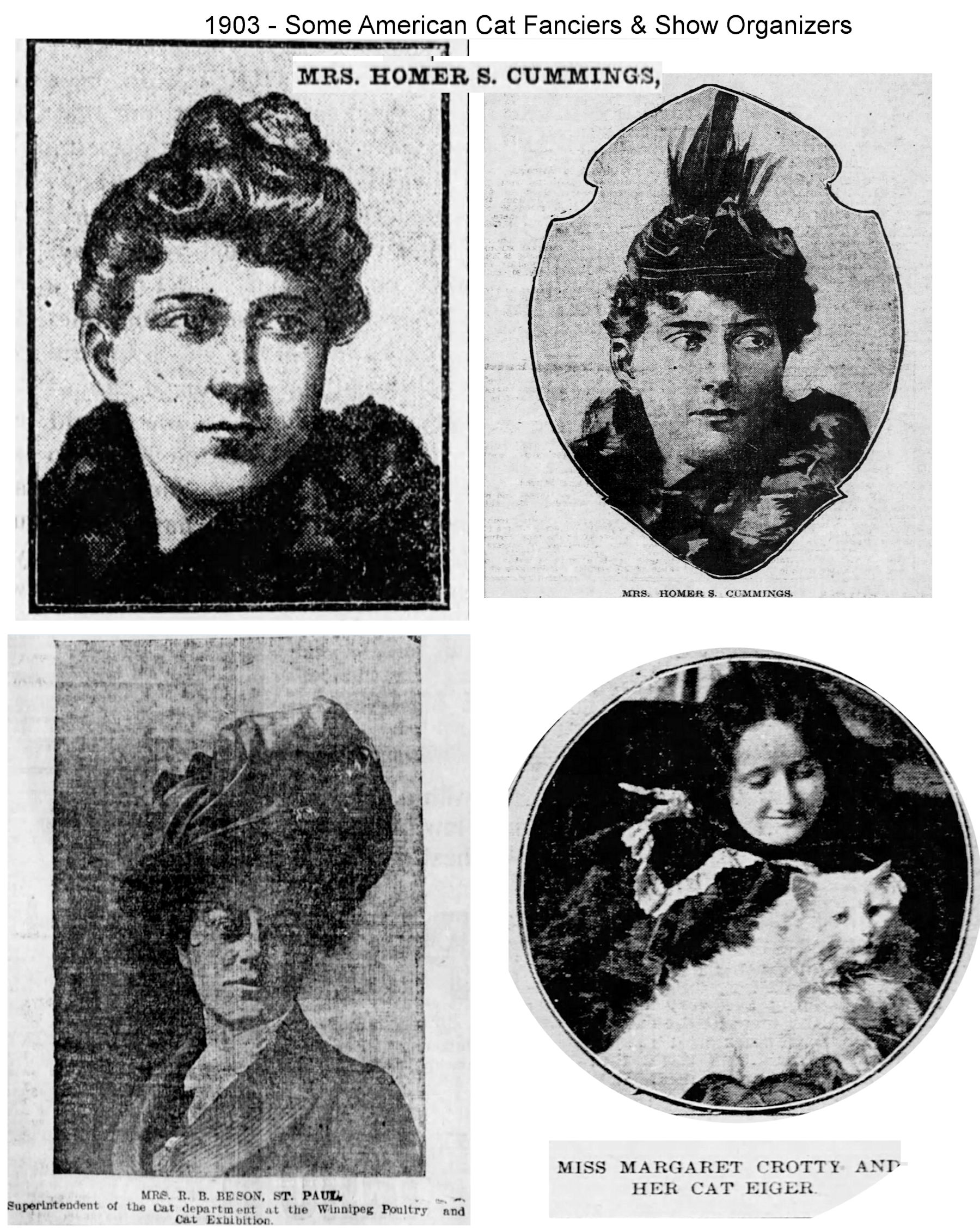 AMERICAN WOMEN CORNER ENGLAND'S FELINE MARKET - The Atlanta Constitution, January 11, 1903
THE latest American invasion is that of the American woman who snaps up prizes in the cat world of England. For several years she has dazzled staid old England by paying any price asked, and, as a result, she has a regular corner in the best English cats. She thinks nothing at all of paying $200 or $300 apiece for Persian pussies of "lang pedigree." The breeding of the long-haired cat been a pastime of wealthy women in England for years. The pedigrees of the pets are kept with as much care as those of the owners, while the death of a famous cat, or the joyous advent of a happy family, is chronicled with respectful solemnity in the cat page of the society journals.
These titled cats are now being brought in great numbers to America. Queen Victoria had a pet Persian named Duschar. Duschar had a son named Amesh, whom the queen gave to her daughter, Princess Victoria of Schleswig-Holstein. Amesh was a great pet in the royal household, and has often strolled over the ample person of King Edward. Today, however, he belongs to Mrs. J. V. Gotwalts, of Pottstown. Pa., and presides over the Bagdad cattery and a harem of Persian beauties.
AMERICAN MOST CELEBRATED CAT. In the Mohawk valley, at the very house where doughty old Sir William Johnson once ruled the Six Nations, lives the most celebrated stud cat in America, King of the Silvers, who has sired more winning kittens than any other tom In this country, just as his father, Lord Southampton, Southampton, sired more winners than any other cat in England. King's owner, Mrs H. A. Mix. has refused $500 for him, and William C. Whitney unsuccessfully offered $250 for one of his sons, Jack Frost. At one side of Sir William's stately old stone mansion, which has been in tie possession of Mrs. Mix's family ever since the revolution, is the Old Fort cattery. It is a neat, white cottage, in the midst of spreading lawns, with kitchen and sitting room, hospital and wide verandas, all kept in immaculate order for the tribe of pedigreed cats which occupies it.
At her pleasant country home in Elizabeth, N.J., Miss Ava Pollard has another of these model catteries, the Omar, where, in the midst of vines and roses, dwell Omar and a whole family of famous queens. Omar is the lightest chinchilla in America and was bred by Mrs E. H. Edmondson, of Springfield Hall, Knowle, Warwickshire, England. Lorraine of the Gables is called the finest silver queen In America, and Purity the finest white, her parents, White Friar and Crystal, having been the best whites in England. In the same cattery is a tortoise-shell queen who was bred by Hon. Philip Wodehouse, son of the earl of Kimberly.
SOCIETY WOMEN ARE CAT FANCIERS. One of Omar's sons, Honeyboy, went to Mrs. Clarence Mackay for a pet last fall. He journeyed to his country home on Long Island in an automobile, his wicker cage making a pretty picture in its hamper of fresh cut flowers. Mrs. Francis Burton Harrison is another New York society woman who dotes on Persians. Mrs. Sarmiento and Mrs. Cutler, two wealthy sisters of Detroit, are among the heaviest importers of English cats. Mrs. Frank L Norton, of Cazenovia, N. Y. has just brought in five or six for which she paid from $100 to $300 each. Her Imperial Blue is a famous cat. Mrs. Champion, of Hart Park, Staten Island, has a large cattery noted for its beautiful silvers. Mrs. S. H. Bond, of Washington; Mrs William Brandreth, of Ossining, N. Y. Mrs. George G. Brows, of East Cleveland, and Mrs. B. M. Gladding, of Memphis, are among the wealthy enthusiasts.
Mrs. W. S. Hofstra, of Garden City, L.I., president of the recently organised Atlantic Cat Club, which will probably become the national club, devotes herself to the breeding of the Siamese species. This is called the royal cat, because it has been bred for centuries in the Royal family of Siam. One of Mrs Hofstra's cats was a present from the crown prince of Siam, and its little brother went to the Queen of Portugal who is an enthusiastic cat fancier. Mrs Mitchelson, of Kansas City, recently paid $150 in New York for a 7-months-old kitten, Argent Sparks, a member of the famous Argent family of silver Persians. Sparks' little brothers and sisters sell for $50 or $70 at the age of 4 or 5 weeks. Miss Lillian C. Moeran, a wealthy New York woman, devotes herself to the breeding of the Manx tailless cats at her country place at Southampton, L. I. Miss Katherine L. Gage keeps at her country home in Brewster, N.Y, a celebrated cat named Whychwood, who was bred on the estate of Lady Florence Dillon in England, and named after one of its beautiful forests. His pedigree is calculated to strike awe to the plebian heart, and he has lent it the glory of traditional prizes. Seven of his descendants gather about the patriarch at mealtime, and special meats and fishes are sent out from New York for the Persian pets every day.
UNCLE RUSSELL PAGE'S CATS. Milo and Mellto, strictly American cats of the Maltese variety, have the run of the Fifth avenue mansion which shelters "Uncle Russell" and Mrs Russell Sage, and one of the few relaxations which the hard working multi-millionaire allows himself is a play with the pets after dinner.
Mrs. Clinton Locke, of Chicago, was the first woman to import Persian cats, and the Beresford Cat Club of that city was the first cat club in America. It was named after Lady Marcus Beresford, the most enthusiastic of the aristocratic women cat fanciers of England. These catteries are run upon the strictest of scientific principles. The care, the food, the grooming, the cleanliness and the hygiene are up to the standard of that accorded carefully reared children. The latest wrinkle in the cat world is the breeding of the short-haired cat for points, as the Persian has been bred. Poor puss is to be rescued from the humble hearthstone or the alley fence, transformed Into a thing of beauty, and then introduced to cat shows, blue ribbons and silver challenge cups.
FAKERY AND UNSPORTING BEHAVIOUR
No history of American cat show would be complete without a mention of "Nicodemus." He deserves an explanation as this was a practical joke played by Mr. Brian Hughes . Hughes died aged 75 in 1925 and was a successful banker and manufacturer who was better known as a practical joker. Hughes purchased a dark grey cat for ten cents in 1895 from a young bootblack on Hester Street who was just about to drown it. He claimed to have been attracted to the cat's six toes and intended to keep it as a mouser at his factory. It was never a good mouser, but apparently held its head at an "aristocratic angle" due to an old injury so he took it home, gave it a wash an brush-up and entered it in the National Cat Show as "Nicodemus, the last of the Dublin Brindle breed." He even invented a pedigree: Nicodemus, by Bowery, out of Dust-Pan, by Sweeper, by Ragtag-and-Bobtail – all quite plausible household pet nicknames! Nicodemus was displayed on a silk cushion inside a gold-plated cage surrounded by roses and attended to by a woman in a nurse's gown. Each day of the show, Sam Smith, an African-American livery footman delivered ice cream and chicken packed in the boxes of a celebrated caterer, and a florist delivered flowers. According to a report in The New York Times, one lady visitor commented that it was absurd for a cat to have its own nurse when so many children in the world did not receive half the amount of care and attention. In the catalogue, he was valued at $1,000 and "Not For Sale," but attracted offers of $2,000 from those who assumed such a (apparently) valuable cat must indeed be a rarity. He won the $50 prize in the class for brown and dark grey tom cats, being the only prize-winner in this class. Nicodemus did not take to cat show life and he escaped on the final day of the show, only to reappear at Hughes' Center Street market offices a few days later.
The following year, Hughes entered that rarest of creatures, a tortie tom cat … that turned out to be female when she produced two kittens, undoing his ruse. Undeterred, he formulated an elaborate hoax for the 1899 International Cat Show at the Grand Central Palace. Not all cats exhibited were there because of their pedigree. Some were there as curiosities or celebrities. Under the pseudonym "Nairb G. Sehguh" (his name backwards) he exhibited a cat named "Eulata," whom he alleged had been a mascot on the Spanish ship Vizcaya during the Spanish-American War and had been owned by no less a person than the King of Spain. She had been presented to the King of Spain by a Bombay merchant, before being presented to Captain Don Antonio Eulate of the Vizcaya. According to his yarn, Eulata was a native of Hindustan. When the Vizcaya was sunk in 1898, she swam to the USS Oregon and was rescued by sailors (shipwrecked cats had been exhibited at much earlier shows). Since no-one knew what a Hindustan cat looked like, she had been completely shaved, except for her head and tail-tip, giving her an exotic appearance never before seen by cat show judges. During the show, Eulata was displayed in a gilded cage, ate out of silver dishes, slept on velvet cushions, and was periodically sprayed with violet perfume (quite what she thought of this further indignity is not recorded). Her cage was covered with fresh roses, violets, hyacinths, and carnations alongside the American and Spanish flags, a doll's cabin trunk labeled "Eulata," and a box of food stamped "Sherry's." This time, the judges cottoned on to Hughes' style and to his pseudonym. While Eulata may not have fooled the judges, Hughes succeeded in entertaining the public.
I'll let some of the news reports tell the tale of Nicodemus!
TAKEN IN BY A BOGUS PEDIGREE. "Nicodemus," the Pet of the Cat Show, Turns Out To Be an Ordinary Bowery Yowler. If there was one cat in the recent show at Madison Square Garden that attracted the attention alike of experts and the public, it was Nicodemus. His catship was backed by a pedigree a yard long and quite as broad, and was offered for sale, pedigree and all, for $1.000. It now transpires that this cat of cats is a bogus nobleman whose owner, Bryan G. Hughes, a wholesale paper box manufacturer at No. 242 Center street, entered him at the show for a joke. Mr. Hughes bought Nicodemus, the "brindle Dublin tomcat," from a Bowery bootblack for 10 cents. Nicodemus, who was born in Hester street, was taken to the box factory for use as a mouse-killing device, but the cat was a failure in that direction. Mr. Hughes and his brother determined to give him a pedigree and enter him at the show. Nicodemus was a very well-favored creature, and with the pedigree and flowers tied to his cage the $1,000 price tag did not seem out of place. This won the day, and besides securing third prize, Nicodemus was coveted by fanciers, even at the large price of $1,000. When the show closed Mr. Hughes was besieged by offers for his pet. Every mail brought In a bid, some of which went up as high aa $1,500, but he only chuckled to himself and patted Nicodemus. Finally on Friday two ladies went in a carriage to Mr. Hughes's house and offered $2,000 for the beast. This was the last straw, and Mr. Hughes has owned up that he had humbugged the public $2,000 worth by an outlay of just 10 cents worth of Hester street cat. Mr. Hughes declines to part with Nicodemus under any consideration. - various, May 20, 1895
NATURE AND GULLIBILITY. Test the Honesty of a Man Who was Offered Two Thousand Dollars for a Ten-Cent Cat. There is a curious echo to the recent "national cat show." Bryan G. Hughes, who entered the "brindled Dublin tom-cat Nicodemus," with a big pedigree attached to him, showing that he was descended from a cat the mummy of which was found in an Egyptian tomb, and putting the price of $1,000 on him, confessed that the cat, for which he has had offers of $2,000, is a fraud. The confession of Mr. Hughes, who makes paper boxes in a wholesale manner at 242 Centre street and resides at 49 East One Hundred and Twenty-sixth street, shows, first, that he is an honest man, and, secondly, that New York is full of gullible peo¬ple. He tells a plain, unvarnished tale to the effect that he gave ten cents to a boy who had been given the cat to drown by a Hester-street woman. Hughes took the cat to his shop, which was infested with mice, but Nicodemus was no good whatever, and as a joke Hughes and his brother concluded to send him to the cat show, putting up a long pedigree, which they made up as they went along. They tacked the pedigree on the cage, along with a tag fixing the price at $1,000, and nature and gullibility did the rest. – various 23 May, 1895
The we come to the topic of unsporting behaviour. A Miss Beckett, certain that her well-known cat would win a second award for "best tabby" acted very unsportingly when the valuable "special" was awarded to a rival. The irate exhibitor (whom I'm ashamed to say was an Englishwoman), insulted the winner and threatened to take the matter to a court of law.
ALL OVER A CAT. NATIONAL TABBY SHOW ENDS IN A ROW WHICH MAY GO INTO COURT. (Boston Post, May 13, 1895): NEW YORK, May 12.— The national cat show closed in a row last night, a row which was all over a prize of $25 in gold which the fair owner of Grover Cleveland, a magnificent tiger tabby, thought should have been awarded to her pet. When Miss Rose Beckett, whose Grover Cleveland took the first prize for being the best short-haired tabby with no white, read in the morning paper yesterday that the special prize of $25 in gold for the best short-haired tiger-marked cat had been awarded to Mrs. A. Draper's Mete, she went immediately to the Garden with fire in her eye, but kept her wrath bottled up until she met one of the editors of the paper which offered the prize. She told him that their prize had gone to "a nasty, insignificant, carroty little old house cat that ought to have been drowned when it was born," and that she intended to enter a protest against the decision of the judges, as her Grover Cleveland had been voted the success of the show by an overwhelming majority. Miss Beckett is a ballet mistress. She came here from London four years ago, and is well known in theatrical circles. Miss Beckett told a reporter that she was going to law about the matter, and that bright and early on Monday morning she would employ a lawyer. After Grover got first prize, his mistress was so confident that he would win the special that she had a printed placard stating that he had won it put up in his cage before the cats were passed on by the Judges for the special. The management had this notice removed and destroyed, and this made Miss Beckett very angry. The Judges say that Mete is a yellow tiger-marked short-haired English cat with beautifully even stripes strongly contrasted with the ground color, and that he is decidedly one of the most symmetrical cats in the show.
THE UNIVERSAL EXPOSITION ST. LOUIS, U. S. A., 1904.
The exhibition of Live Stock will open August 22, and close November 12, 1904, and include the following Divisions [. . .]
DIVISION F.-CATS.
As a Universal Exposition Cat Show, owing to its international character, cannot be held by the Louisiana Purchase Exposition under the exclusive rules of any national cat club, it will therefore be conducted under the Exposition's own code of rules, to provide for the due recognition of the registration and exhibition of cats, with equal privileges, recorded in the home or foreign Stud Books approved by the respective governments represented in the show.
The Universal Exposition Cat Show of 1904 to be held by the Louisiana Purchase Exposition at St. Louis, Mo., U. S. A., October 25, 26, 27 and 28, 1904, will be for the promotion of the special interests of the breeders of pure-bred cats, and the exhibit consist of such cats and kittens over three months of age as are usually shown in the open class. No previous prize-winner properly entered will be debarred from competition.
Application for the entry of cats of the recognized breeds of record owned in the United States must be accompanied by a certificate on the prescribed form of the Exposition, showing registration in the Stud Book of the American Cat Association, or the United States Register and Stud Book for Cats, and otherwise conform to the following rules governing entries:
Application for the entry of cats of the recognized breeds of record owned by non-residents must be accompanied by a certificate on the prescribed form of the Exposition showing registration, signed by the Secretary of the Cat Club or association publishing the respective Stud Books, and such certificate must be attested by the Chairman of the National World's Fair Commission representing the country from which such cats come to the Louisiana Purchase Exposition, provided such animals are sent by and exhibited under the auspices of the country from which they come. The following rules will apply to the Universal Exposition Cat Show.
Entries of cats and kittens must be filed with the Chief of the Department of Live Stock on the prescribed form on or before September 10, 1904. The Exposition grounds will be open for the reception of cats on Saturday October 22, 1904. The exhibition will begin Tuesday, October 25, and close Friday, October 28, 1904.
An exhibitor of cats will be permitted to enter and present for award not to exceed two entries in any single competition. Each cat or kitten can be entered in one class only.
Every cat must be entered in the name of its bona-fide owner as the exhibitor, and the application for entry must be signed by the owner.
Labels will be sent upon receipt of application for entry of cats. reverse of each label must show the sender's name and address legibly written thereon and the name of the express company for return delivery. Express charges must in all cases be prepaid. Exhibitors before making shipment to the Exposition must attach to each cat a card of identification, giving the name of the animal and the class and section in which entered for exhibition.
The word cat where used in these rules includes both sexes over six months of age, and the word kitten includes both sexes under six months and over three months of age.
The owner of the dam at the time of service shall be considered the breeder of the animal exhibited.
The age of a cat or kitten shall be reckoned from the date of birth to the tenth day of September, 1904.
Unworthy or unhealthy specimens will be excluded from competition and the show.
No names, marks or decorations will be allowed on the cages until the prizes have been awarded.
All cats will be judged and awards made by comparison.
Prizes to the breeds named will be given cats and kittens, male and female, over six months, and three and under six months of age, as follows: A First-Prize of $5; a Second of $3; a Third of $2; Fourth, a certificate of High Commendation; Fifth, Commendation; Sixth, Second Commendation, and Seventh, Third Commendation.
Any cat winning champion honors in the cat club or association by which it is certified to the Exposition by reason of prizes received at the World's Fair of 1904, will upon official certification to the Chief of the Department of Live Stock by the cat club interested be given the diploma of the Universal Exposition setting forth said World's champion honors.
The American Cat Association will give full recognition in its Stud Book to champion honors won by its patrons at the Universal Exposition of 1904. In order to furnish data for such further recognition in the way of champion honors as the various National Cat Clubs may hereafter decide to award to their respective patrons for prizes won at the Universal Exposition Cat Show of 1904, all cats exhibited in each section will be placed by the judge in the order of merit from right to left beginning on the right with the best and rank consecutively to the left all other animals in the respective sections.
A committee of the American Cat Association has contracted with the Exposition to receive, cage, feed, water, exhibit and return in the best manner at the close of the exhibition, cats exhibited at the World's Fair at the very moderate expense to exhibitors of two dollars for each single specimen.
Cats must be consigned, prepaid, in care of the committee of the American Cat Association, to the Louisiana Purchase Exposition grounds, St. Louis, Mo., U. S. A. The committee has given bond to guarantee all exhibits proper caging, care, feed, supervision and exhibition, and the Exposition authorities are not to receive, feed, care for or assume any responsibility in connection therewith. No entry fee will be charged by the Exposition for exhibits of cats.
Standard-size cages will be provided by the committee of the American Cat Association on the Exposition grounds in sufficient numbers to meet all requirements, and the rental therefor must accompany the entry application on the form prescribed by the exposition. All cats must be exhibited in these cages. announcement following by committee of the American Cat Association).
The rules of the Department of Live Stock of the Universal Exposition will wherever applicable govern in this Division.
For information concerning the receiving, caging, feeding, watering, placing on exhibition and the return of the cats at the close of the exhibition address Charles A. White, Chairman of Committee of American Cat Association, 78 East 26th street, Chicago, Illinois. " 285 "
Class CCXLVIII." LONG-HAIRED CATS.
Open to All. (Cats, male and female; Kittens, male and female.)
Class CCXLIX." SHORT-HAIRED CATS.
Open to All. (Cats, male and female; Kittens, male and female.)
Section.
1. Abyssinian.
2. Black.
3. Blue.
4. Brown Tabby.
5. Manx, any Color.
6. Orange or Orange Tabby.
7. Orange and White.
8. Silver Tabby.
9. Siamese.
10. Tortoise Shell.
11. Tortoise Shell and White.
12. White.
13. Any other Tabby with White.
14. Any other Tabby without White.
15. Any member of American Wild Felidae.
16. Any other Color.
17. Any Foreign Variety not Named.
TO EXHIBITORS OF CATS AT THE UNIVERSAL EXPOSITION OF 1904.
The undersigned Committee of the American Cat Association has completed extremely satisfactory and advantageous arrangements with the Universal Exposition whereby the Committee is to receive, cage, feed, care for, exhibit, and return to their owners upon the close of the show the cats exhibited at the Louisiana Purchase Exposition, October 25 to October 28, 1904, inclusive. " 286 "
The Committee has arranged for standard-size benching and cages tor the cats and will provide at the Exposition grounds an ample supply for all requirements. The Committee will also provide feed and water for all the cats on exhibition and the necessary utensils for the same and furnish all needed attendants.
The Committee, for all the necessary accommodations other than the building, including cages, furniture and all services in connection with the receipt, feed, care and exhibition and return of cats and such as are usually provided for such exhibition, agree to accept from exhibitors in full for first-class service and attention two dollars for each cat or kitten exhibited.
The Committee will provide for the best sanitary arrangements for the proper care and feeding of the cats during the show, which will be held under the immediate personal supervision of competent attendants of cats and recognized authorities in such matters.
The Committee will use due diligence for the care and safety of all cats exhibited. Watchmen will be kept on duty day and night, but it must be distinctly understood by all exhibitors that the management will not be responsible for loss or damage to any cat exhibited, whether the result of accident or other cause.
The Cat Show of the Universal Exposition of 1904 has been planned on the most advanced and satisfactory lines for the promotion of the special interests of the breeders of pure-bred cats and has received pledges of the cordial and hearty support of the leading cat clubs of this and foreign countries.
The international character of this show and the necessity for the due recognition of the registration of cats from all countries recorded in the home and foreign Stud Books has made it necessary and desirable that the World's Fair Cat Show be held under the Exposition's own code of rules, which meets all the requirements necessary to insure competent and just awards and the best care of exhibits, and is fully approved by the American Cat Association.
It has been decided that inasmuch as the World's Fair show of cats is universal in character and is to be held under rules approved by the American Cat and other Associations, the wins at the Universal Exposition of 1904 shall be fully recognized and published in the stud books of the American Cat and other Associations the same as if held under the regular and exclusive cat show rules usually recognized.
In estimating the cost necessary for the benching, feeding, care and other expenses at the show this Committee has made the most careful estimate based upon the number of probable entries as indicated in correspondence with cat owners conducted by the Exposition management and through other channels. While it is not thought the sum named will more than equal expenses, yet if any surplus should result this Committee will employ the same for additional testimonial prizes to be awarded to the exhibitors winning prizes at the show.
For further information concerning the foregoing address Dr. C. A. White, Chairman, 78 Twenty-sixth Street, Chicago, Illinois.
(Signed) C. A. WHITE, Beresford Cat Club.
WILLIAM M. CHAPMAN, Michigan Cat Club.
MRS. ALFRED JACKSON, Lockehaven Cat Club.
THE FIRST AMERICAN CAT CHAMPIONSHIP SHOWS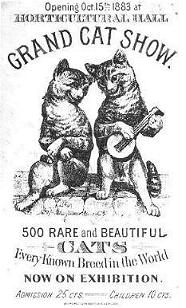 Though cat shows were featured at county fairs in 1860s New England, America, and as added attractions at the poultry shows in New York in the 1880s, most people date the beginning of the American cat fancy from a show organised in 1895. Enthused by a cat show at Crystal Palace, Englishman James Hyde, organised the show at the Madison Square Garden, New York. It promoted sufficient interest in cats to lead to the formation of many cat clubs. The 1899 show in Chicago led to the founding of the Chicago Cat Club and then the more powerful Beresford Cat Club, named in honour of Lady Marcus Beresford, founder of the short-lived The Cat Club in Britain.
Around 1890, the year "Fur and Feather" appeared in England, Mr C H Jones launched the American monthly "Cat Journal", probably the first magazine devoted exclusively to cats. American Helen M Winslow, was the auther of "Concerning Cats" (1900) , a book on cats and the cat fancy in America. At that time, the American cat fancy lagged behind the British scene hence her description of English shows written for the benefit of American cat fanciers! You can find more details on the British cat fancy in excerpts from Frances Simpson's book (published 1903) later on. This is the chapter entitled "Concerning Cats and Cat Shows" from her book. "High-bred" meant cats of recognised breeds and known ancestry, what would now be called purebreds and pedigrees. Winslow wrote:
The annual cat shows in England, which have been held successively for more than a quarter of a century, led to the establishment in 1887 of a National Cat Club, which has steadily grown in membership and interest, and by the establishment of the National Stud Book and Register has greatly raised the standard of felines in the mother country. It has many well-known people as members, life members, or associates; and from time to time people distinguished in the cat world have been added as honorary members. The officers of the National Cat Club of England, since its reconstruction in March, 1898, are as follows:-
Presidents:- Her Grace the Duchess of Bedford; Lord Marcus Beresford.
Vice-presidents:- Lily, Duchess of Marlborough, now Lady Wm. Beresford; the Countess of Warwick; Lady Granville Gordon; Hon. Mrs. McL. Morrison; Madame Ronner; Mr. Isaac Woodiwiss; the Countess of Sefton; Lady Hothfield; the Hon. Mrs. Brett; Mr. Sam Woodiwiss; Mr. H. W. Bullock.
President of Committee:- Mr. Louis Wain.
Committee:- Lady Marcus Beresford; Mrs. Balding; Mr. Sidney Woodiwiss; Mr. Hawkins; Mrs. Blair Maconochie; Mrs. Valiance; Mr. Brackett; Mr. F. Gresham.
Hon. Secretary and Hon. Treasurer:- Mrs. Stennard Robinson.
This club has a seal and a motto: "Beauty lives by kindness." It publishes a stud book in which are registered pedigrees and championship wins which are eligible for it. Only wins obtained from shows held under N. C. C. rules are recorded free of charge. The fee for ordinary registration is one shilling per cat, and the stud book is published annually. There are over two thousand cats now entered in this National Cat Club Stud Book, the form of entry being as follows (L. F. means long-haired female; C. P., Crystal Palace):-
No. 1593, Mimdatzi, L. F. Silver Tabby.
Miss Anna F. Gardner, Hamswell House, near Bath, shown as Mimi.
Bred by Miss How, Bridgeyate, near Bristol. Born April, 1893. Alive.
Sire, Blue Boy the Great of Islington, Io9o (Mrs H. B. Thompson).
Dam, Boots of Bridgeyate, 1225 (Miss How).
Prizes won— 1st Bilton, 2nd, C. P. 1893, Kitten Class.
No. 1225, Boots of Bridgeyate. L. F. Silver Tabby.
Miss E. How, Bridgeyate House, Warmly, Bristol.
Former owner, Mrs. Foote, 43 Palace Gardens, Kensington.
Born March, 1892. Alive.
Some of the cats entered have records of prizes covering nearly half a page of the book. The advantage of such a book to cat owners can be readily seen. A cat once entered never changes its number, no matter how many owners he may have, and his name cannot be changed after December 31 of the year in which he is registered. The more important rules of the English National Cat Club are given in condensed form as follows:-
The name is "The National Cat Club."
Objects: To promote honesty in the breeding of cats, so as to insure purity in each distinct breed or variety; to determine the classification required, and to insure the adoption of such classification by breeders, exhibitors, judges, and the committees of all cat shows; to encourage showing and breeding by giving championship and other prizes, and otherwise doing all in its power to protect and advance the interest of cats and their owners. The National Cat Club shall frame a separate set of rules for cat shows to be called "National Cat Club Rules," and the committees of those cat shows to which the rules are given, shall be called upon to sign a guarantee to the National Cat Club binding them to provide good penning and effectual sanitation, also to the punctual payment of prize money and to the proper adjudication of prizes.
Stud Book: The National Cat Club shall keep a stud book.
The club shall consist of (1) patrons, (2) life members, (3) president, (4) vice-presidents, (5) exhibiting members and (6) non-exhibiting members, an unlimited number whose names and addresses shall be kept by the honorable secretary. Each candidate for election shall be proposed by one member and seconded by another, and the election shall be vested absolutely in the committee.
The fee for each member shall be one guinea. Life members may be elected on the cash payment of eight guineas. No member whose subscription is unpaid shall be entitled to compete for any special prize, vote at any meeting, or enjoy any of the privileges of membership, until his or her subscription be paid. Every member shall strive to promote honorable dealing in feline matters by bringing to the notice of the club committee any apparent dishonesty at cat shows, etc. Every member to report the carelessness of the club attendant, etc., and to use his or her best endeavors to promote the success of the club by keeping "accuracy in pedigree and statements, and good faith in all his or her transactions." The committee shall endeavor to found a Library of Kennel Reference for the National Cat Club, and all members are invited to contribute gifts of books relating to cats, etc.
The cat-show rules, under which all shows connected with the N. C. C. are given, provide that no cats shall be shown, except in "Local Classes" or for litters of kittens, except such as have been previously registered at the Cat Club offices. Neuter (gelded) or spayed cats are allowed to compete for prizes, but are not eligible for entry on the stud book. A duly qualified veterinary surgeon is appointed at every show to act as inspector, who examines every cat before it is benched, and rejects any that exhibit any sign of disease.
The N. C. C. keeps a "black list." People eligible for this have been guilty, as members or otherwise, of fraudulent or discreditable conduct in regard to cats and cat shows, and are not countenanced by the N. C. C. in any capacity. All prizes won are recorded in the stud book. The other rules do not differ materially from the rules of cat shows in this country.
The offices of the National Cat Club are at 5 Great James Street, Bedford Row, London, W. C., and the annual and championship shows have so far been held at the Crystal Palace. There is also a Ladies' Kennel Association, which holds shows of great interest, many of its members being connected with the N. C. C. The definition of classes, both in England and America, is as follows:-
Open Classes. - Open to cats, prize winners or novices.
Novice Classes. - Open to cats of any age that have never won a prize.
Neuter Classes. - For gelded cats.
Kitten Classes. - Single entries over three and under eight months.
Kitten Brace. - Kittens of any age.
Brace. - For two cats of any age.
Team. - For three or more cats, any age.
In Paris, although cats have not been commonly appreciated as in England, there is an increasing interest in them, and cat shows are now a regular feature of the Jardin d'Acclimation. This suggests the subject of the cat's social position in France. Since the Revolution the animal has conquered in this country "toutes les liberties," excepting that of wearing an entire tail, for in many districts it is the fashion to cut the caudal appendage short. In Paris cats are much cherished wherever they can be without causing too much unpleasantness with the landlord. The system of living in flats is not favorable to cat culture, for the animal, not having access either to the tiles above or to the gutter below, is apt to pine for fresh air, and the society of its congeners. Probably in no other city do these creatures lie in shop windows and on counters with such an arrogant air of proprietorship. In restaurants, a very large and fat cat is kept as an advertisement of the good feeding to be obtained on the premises. There is invariably a cat in a charbonnier's shop, and the animal is generally one that was originally white, but long ago came to the conclusion that all attempts to keep itself clean were hopeless. Its only consolation is that it is never blacker than its master.
It is well known that the Persians and Angoras are much esteemed in Paris and are, to some extent, bred for sale. In the provinces, French cats are usually low-bred animals, with plebeian heads and tails, the stringlike appearance of the latter not being improved by cropping. Although not generally esteemed as an article of food in France, there are still many people scattered throughout the country who maintain that a civet de chat is as good, or better, than a civet de lièvre. M. François Coppée's fondness for cats as pets is so well known that there was great fitness in placing his name first upon the jury of awards at the 1896 cat show in Paris. Such other well-known men as Emile Zola, André Theuriet, and Catulle Mendes, also figured on the list. There is now an annual "Exposition Feline Internationale."
In this country the first cat show of general interest was held at Madison Square Garden, New York, in May, 1895. Some years before, there had been a cat show under the auspices of private parties in Boston, and several minor shows had been held at Newburgh, N. Y., and other places. But the New York shows were the first to attract general attention. One hundred and seventy-six cats were exhibited by one hundred and twenty-five owners, besides several ocelots, wild cats, and civets. For some reason the show at Madison Square Garden in March, 1896, catalogued only one hundred and thirty-two cats and eighty-two owners. Since that time there have been no large cat shows in New York.
There have been several cat shows in Boston since 1896, but these are so far only adjuncts to poultry and pigeon shows. Great interest has been manifest in them, however, and the entries have each year run above a hundred. Some magnificent cats are exhibited, although as a rule the animals shown are somewhat small, many kittens being placed there for sale by breeders.
Several attempts to start successful cat clubs in this country have been made. At the close of the New York show in 1896, an American Cat Club was organized for the purpose "of investigating, ascertaining, and keeping a record of the pedigrees of cats, and of instituting, maintaining, controlling, and publishing a stud book, or book of registry of such kind of domestic animals in the United States of America and Canada, and of promoting and holding exhibitions of such animals, and generally for the purpose of improving the breed thereof, and educating the public in its knowledge of the various breeds and varieties of cats." The officers were as follows:-
President:- Rush S. Huidekoper, 154 E. 57th St., New York City.
Vice-Presidents:- W. D. Mann, 208 Fifth Ave., New York City; Mrs. E. N. Barker, Newburgh, N. Y.
Secretary-treasurer:- James T. Hyde, 16 E. 23d St., New York City.
Executive Committee:- T. Farrar Rackham, E. Orange, N. J.; Miss Edith Newbold, Southampton, L. I.; Mrs. Harriet C. Clarke, 154 W. 82d St., New York City; Charles R. Pratt, St. James Hotel, New York City; Joseph W. Stray, 229 Division St., Brooklyn, N. Y.
More successful than this club, however, is the Beresford Cat Club formed in Chicago in the winter of 1899. The president is Mrs. Clinton Locke, who is a member of the English cat clubs, and whose kennel in Chicago contains some of the finest cats in America. The Beresford Cat Club has the sanction of John G. Shortall, of the American Humane Society, and on its honorary list are Miss Agnes Repplier, Madame Ronner, Lady Marcus Beresford, Miss Helen Winslow, and Mr. Louis Wain.
At their cat shows, which are held annually, prizes are offered for all classes of cats, from the common feline of the back alley up to the aristocratic resident of milady's boudoir. The Beresford Club Cat shows are the most successful of any yet given in America. One hundred and seventy-eight prizes were awarded in the show of January, 1900, and some magnificent cats were shown. It is said by those who are in a position to know that there are no better cats shown in England now than can be seen at the Beresford Show in Chicago. The exhibits cover short and long haired cats of all colors, sizes, and ages, with Siamese cats, Manx cats, and Russian cats. At the show in January, 1900, Mrs. Clinton Locke exhibited fourteen cats of one color, and Mrs. Josiah Cratty five white cats. This club numbers one hundred and seventy members and has a social position and consequent strength second to none in America. It is a fine, honorable club, which has for its objects the protection of the Humane Society and the caring for all cats reported as homeless or in distress. It aims also to establish straightforward and honest dealings among the catteries and to do away with the humbuggery which prevails in some quarters about the sales and valuation of high-bred cats. This club cannot fail to be of great benefit to such as want to carry on an honest industry by the raising and sale of fine cats. It will also improve the breeding of cats in this country, and thereby raise the standard and promote a more general intelligence among the people with regard to cats. Some of the best people in the United States belong to the Beresford Club, the membership of which is by no means confined to Chicago; on the contrary, the club is a national one and the officers and board of directors are:-
President:- Mrs. Clinton Locke.
1st Vice-president:- Mrs. W. F.ames Colburn.
2nd Vice-President:- Mrs. F. A. Howe.
Corresponding Secretary:- Mrs. Henry C. Clark.
Recording Secretary. — Miss Lucy Claire Johnstone.
Treasurer. — Mrs. Charles Hampton Lane.
Mrs. Elwood H. Tolman.
Mrs. J. H. Pratt.
Mrs. Mattie Fisk Green.
Mrs. F. A. Story.
Miss Louise L. Fergus.
The club is anxious to have members all over the United States, just as the English cat clubs do. The non-resident annual fees are only one dollar, and a member has to be proposed by one and endorsed by two other members. The register cats for the stud book are entered at one dollar each, and it is proposed to give shows once a year. The main objects of the club are to improve the breeds of fancy cats in America, to awaken a more general interest in them, and to secure better treatment for the ordinary common cat. The shows will be given for the benefit of the Humane Society.
The Chicago Cat Club has done excellent work also, having established a cat home, or refuge, for stray, homeless, or diseased cats, with a department for boarding pet cats during the absence of their owners. It is under the personal care and direction of Dr. C. A. White, 78 E. 26th Street. The first cat to be admitted there was one from Cleveland, Ohio, which was to be boarded for three months during the absence of its owner in Europe and also to be treated for disease. This club was incorporated under the state laws of Illinois, on January 26, 1899. In connection with it is a children's cat club, which has for its primary object the teaching of kindness to animals by awakening in the young people an appreciative love for cats. At the show of the Chicago Cat Club, small dogs and cavies are exhibited also, the Cavy Club and the Pet Dog Club having affiliated with the Chicago Cat Club.
The president of the Chicago Cat Club is Mrs. Leland Norton, of the Drexel Kennels, at 4011 Drexel Boulevard, Chicago. The corresponding secretary is Mrs. Laura Daunty Pelham, 315 Interocean Building, and the other officers are: Vice-president, Miss Gertrude Estabrooks; recording secretary, Miss Jennie Van Allen; and treasurer, Mrs. Ella B. Shepard. Membership is only one dollar a year, and the registration fee in the Chicago stud book fifty cents for each cat.
The cat shows already held and the flourishing state of our cat clubs have proved that America has as fine, if not finer, cats than can be found in England, and that interest in finely bred cats is on the increase in this country. The effect of the successful cat clubs and cat shows must be to train intelligent judges and to raise the standard of cats in this country. It will also tend to make the cat shows of such a character that kind-hearted owners need not hesitate to enter their choicest cats. As yet, however, the judging at cat shows is not so well managed as in England. It should be a rule that the judges of cats should not only understand their fine points, but should be in sympathy with the little pets.
Cat dealers who have a number of cats entered for competition, should not be allowed on the board of judges. In England, the cats to be judged are taken by classes into a tent for the purpose, and the door is fastened against all but the judges; whereas over here the cats are too often taken out of their cages in the presence of a crowd of spectators and judged on a table or some public place, thereby frightening the timid ones and bringing annoyance to the owners.
Again, there should be several judges. In England there are seven, including two or three women, and these are assigned to different classes: Mr. Harrison Weir, F.R.H.S., the well-known authority on cats, and Louis Wain, the well-known cat artist, are among them. In this country there are a number of women who are not dealers, but who are fully posted in the necessary qualifications for a high-bred cat. American cat shows should have at least three judges, one of whom, at least, should be a woman. A cat should be handled gently and kept as calm as possible during the judging. Women are naturally more gentle in their methods, and more tender­hearted. When my pets are entered for competition, may some wise, kind woman have the judging of them!
In judging a cat the quality and quantity of its fur is the first thing considered. In a long-haired cat this includes the "lord mayor's chain," or frill, the tail, and, most important of all, the ear-tufts. The tufts between the toes and the flexibility of the tail are other important points. The shape of head, eyes, and body are also carefully noted. A short-haired cat is judged first for color, then for eyes, head, symmetry, and ears.
In all cats the head should show breadth between the eyes. The eyes should be round and open. White cats to be really valuable should have blue eyes (without deafness); black cats should have yellow eyes; other cats should have pea-green eyes, or in some cases, as in the brown, self-colored eyes. The nose should be short and tapering. The teeth should be good, and the claws flat. The lower leg should be straight, and the upper hind leg lie at closed angles. The foot should be small and round (in the maltese, pointed). A good cat has a light frame, but a deep chest; a slim, graceful, and fine neck; medium-sized ears with rounded tips. The croup should be square and high; the tail of a short-haired cat long and tapering, and of a long-haired cat broad and bent over at the end.
The good results of a cat show are best told in a few words by one who has acted as judge at an American exhibition. "One year," he said, "people have to learn that there is such a thing as a cat; the next they come to the show and learn to tell the different breeds; another year they learn the difference between a good cat and a poor one; and the next year they become exhibitors, and tell the judges how to award the premiums."
SOME EARLY MADISON SQUARE GARDEN SHOW REPORTS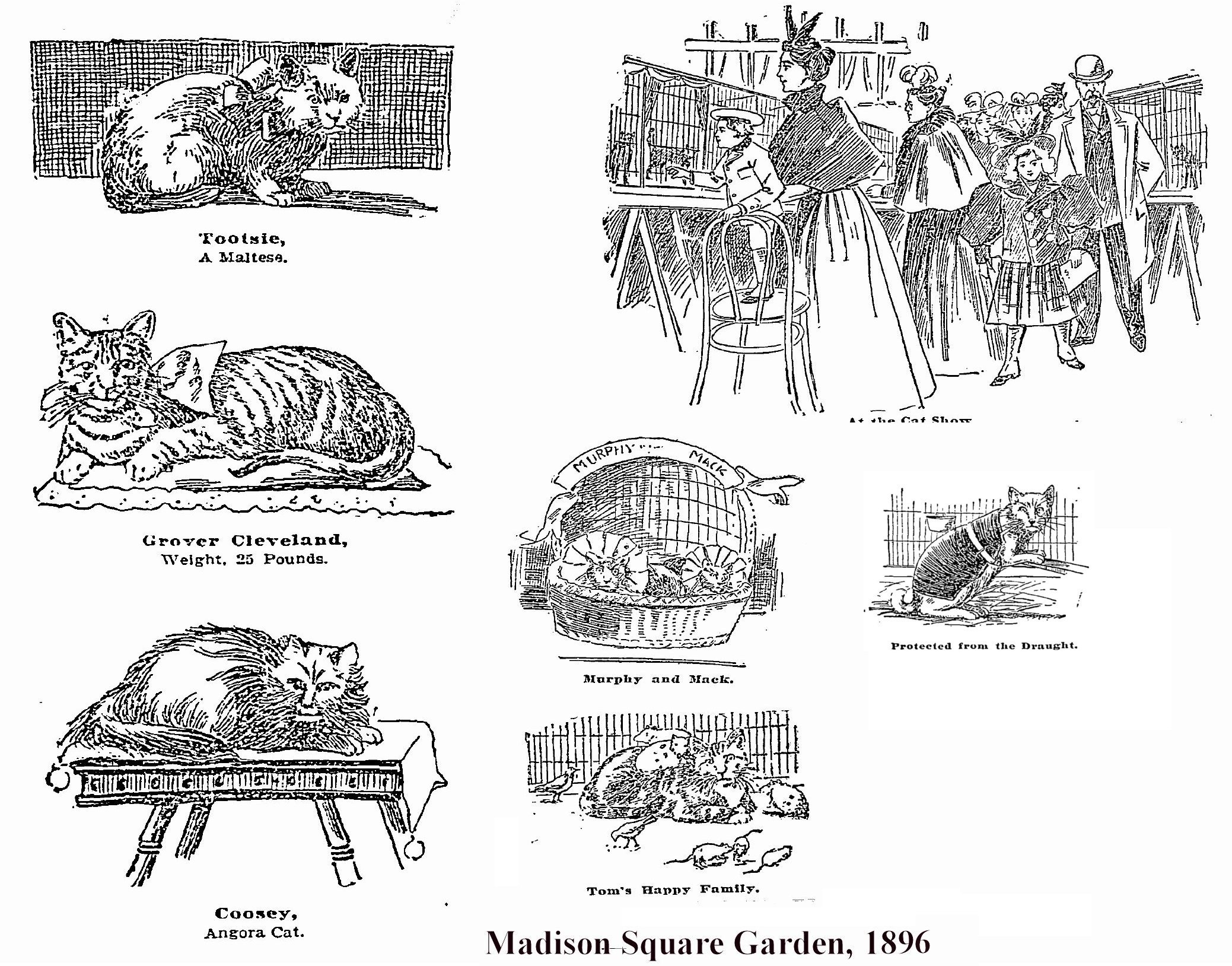 THE EARLY 1900s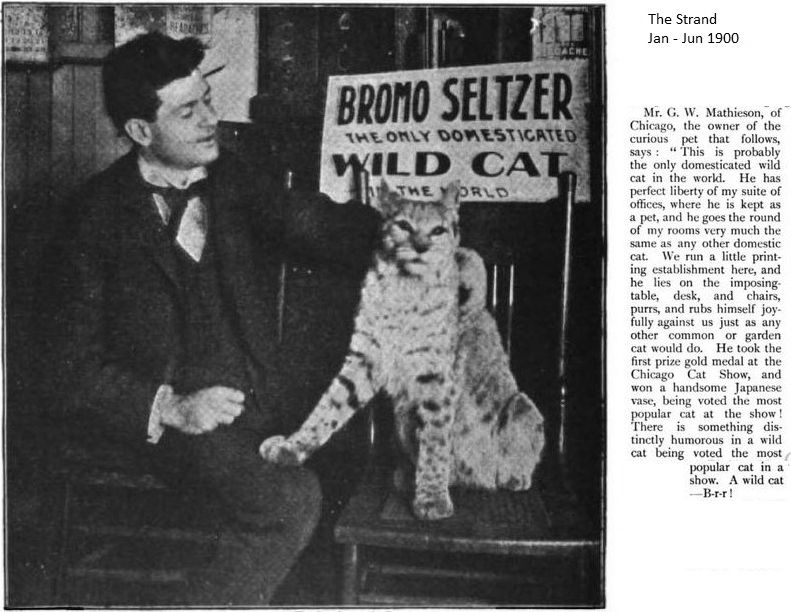 Early New York cat shows were held in conjunction with poultry and pet-stock shows, where the cats were generally a secondary attraction. Groups such as the New York Poultry, Pig and Stock Association managed the shows which often attracted thousands of entries, 200 of which were cats. The show that officially established the US cat fancy was organized by James T Hyde and held at Madison Square Garden, New York on May 8th, 1895. It attracted 176 entries and a male Maine Coon was declared Best Cat in show. The 1896 show had only 130 entries, but saw the creation of the American Cat Club. At the close of the 1896 NY show, an American Cat Club was organized with Dr. Huidekoper as President, for the purpose "of investigating, maintaining, controlling, and publishing a stud book, or book of registry of such kind of domestic animals in the United States of America and Canada, and of promoting and holding exhibitions of such animals, and generally for the purpose of improving the breed thereof, and educating the public in its knowledge of the various breeds and varieties of cats." Unfortunately, The American Cat Club closed after only a year (a mix of funding and personality issues seem to have been involved), and the next "cat fancy" show in New York was not until 1902, although cats continued to be exhibited at poultry and pet-stock shows. The American Cat Club was disbanded in 1897, but several other groups formed clubs.

After the first proper cat fancy show in New York in 1895, shows were held in Plainfield, New Jersey (no details found), and one in Newburgh, New York. Mrs E.N. Barker's imported brown tabby male, King Humbert, won Best in Show at Newburgh 1895. Several cat shows were held in North America in 1896: Madison Square Garden, NYC; Springfield, Massachusetts (shows on January 1st and October 21st); Toronto, Canada; Plainfield, New Jersey; and Newburgh, New York, where King Humbert again won Best Cat. In 1898, cat shows were held in Milwaukee (as part of a pet-stock exhibition), Boston and Hartford, Connecticut. In 1899, there was a show at Danbury, Connecticut. 1899 saw the first "cat fanciers" show in Chicago was in 1899, where cats had previously appeared at poultry, livestock and pet-stock shows as early as 1896. After this, cats were often shown as a separate division at National fanciers' poultry and pet-stock shows as a matter of practicality.

The Chicago Cat Club was formed in December 1899 following the show's success. The Beresford Cat Club, Chicago, created the first register and stud book in America in 1899. In January 1900, the stronger Beresford Cat Club, with a national membership, was formed and supplanted the Chicago Cat Club, 1900 also saw the first cat club in the West: the Pacific Cat Club, of San Francisco held shows in Los Angeles and Fresno, California in 1901. The Louisville (Kentucky) Cat Club was also founded in 1900 and held an exhibition in Memphis, Tennessee that same year.

In January 1902, a cat show was held at the concert hall adjacent to the main hall at Madison Square Garden. This generated sufficient enthusiasm for the organization of the Atlantic Cat Club in 1902. The January 1902 Beresford Cat Club attracted more than 250 cats; at least 100 more than any cat show ever held up to that time in America. The December 1902 show was really the Jan 1903 show brought forward by one month. At the December show, Mrs. Clinton Locke's string of Best Cat in Show wins was ended by an orange-eye White male, Bartimeus, owned by Mrs. Josiah Cratty. Another Beresford show was held at the concert hall in 1903. Many early cat shows were supported by the Atlantic Cat Club, founded in March, 1903.

Prior to 1904, cat shows had been held in Cleveland, Rochester, Cincinnati, Stamford, and Detroit, but details of these haven't surfaced. In 1904 and 1905, shows were held in New York, Detroit, Washington, Rochester, Albany, and Chicago. The same cities also held shows in 1906, as did Buffalo, Cleveland, Toronto, Danbury, Stamford and Milwaukee. In the 1905 Albany show there were 110 cats competing, including a number of top-ranking champions from the East and Midwest. Judge Mrs. E.N. Barker officiated, and selected a Black Domestic Shorthair "Black Peter" as Best Cat in Show (owner not recorded). By this time, the early 1900s Boston shows were an opportunity for northern exhibitors and cats to meet and compete together.

The American Cat Association (ACA) was incorporated as a national cat association in May, 1904 and the Atlantic Cat Club became a member club. The American Cat Association (ACA) gradually took over the duties of the Beresford Cat Club, and in 1906 the Beresford Cat Club ceased to exist as a registry, becoming Beresford Club, affiliated to the ACA. As yet, there was no general consensus on how to run and judge shows. In February 1906, a difference of opinion over show rules and regulations resulted in the resignation of several ACA members and the formation of The Cat Fanciers' Association (CFA); five cat clubs, including the Atlantic Cat Club, left the ACA and joined the CFA. By the end of 1906, the CFA had a total of nine clubs, including the Royal Canadian Cat Club. The first CFA show was held by Buffalo Cat Fanciers in Buffalo, NY during December, 1906 and attracted 168 entries. The second CFA show was hosted by the Royal Canadian Cat Club in Toronto in December, 1906.

On February 4-5-6, 1908, the Beresford Club held its annual show and secured the services of Mr. Louis Wain of England. Wain was well known as an authority on cats and he had served as president of the National Cat Club of England for many years. This gave him outstanding credentials. He chose as his Best Cat in Show Mrs. Clinton Locke's Seal-Point Siamese female, Lockehaven Elsa. Up until then, the Siamese had been considered a novelty cat, rather than a serious exhibition cat. In 1908 came the first major rift within the Cat Fancy, this one resulting in the formation of the Cat Fanciers Association.

The Empire Poultry Association began organising pet shows, including cats, in 1910 at New York's Grand Central Palace. A 1911 news report wrote "The cat department of the show is held under the auspices of the Cat Fanciers' Association, and is one of the most notable features, with prize winners from all the recent cat shows in England, France, Belgium, and Germany. There are 235 of them, including Mrs. Chester W. Chapin's prize collection of chinchillas and blues, which cost $10,000 in England". At the 1913 Empire Poultry Association show in December, a group of cat fanciers formed the Empire Cat Club . The Empire Cat Club became responsible for supporting the cat shows held in conjunction with the Empire Poultry Association shows.

In this letter to the editor: "A new cat club was organized at the Empire Poultry Association Show, to be known as the "Empire Cat Club," and will support the Empire Poultry Association Cat Show. Miss. J. R. Kroeh was chosen President; Mrs. J. Edward Davis, First Vice-President; Miss Carroll Macy, Second Vice-President; Mrs. I. J. Ketchen, Secretary; Mrs. E. A. Bigelow, Treasurer. Applications for membership was asked for at the annual meeting of The Cat Fanciers Association, and the acceptance was unanimous. Meetings will be held the second Tuesday of each month at the home of Mrs. E. A. Bigelow, 120 East 56 St., N.Y. City, except during the summer, it was voted to then hold the meetings with the out-of-town members. We have twenty charter members and a waiting list of twenty names. The first trophy was presented by Mrs. C. N. Bailey, a Sterling silver cup to be offered fro Blue kittens. Mrs. Ketchen offered the Club two trophies, one for the Best Short-Haired White Neuter, the other for Best Long-Haired Blue-eyed White Male. – I. J. KETCHEN, Secretary."

The Empire Cat Club became a member of the Cat Fanciers' Association in December 1913. Best Cat at the 1913 Empire Cat Club show was the famous Champion King Winter, a Shaded Silver Male. By the end of 1914, the Empire Cat Club had 45 members and introduced innovations into their show including a show class for Champions. Previously, only Opens and Novices had been allowed to compete for championship points . The club had already become prominent enough that the 1914 and 1915 CFA AGMs were held in conjunction with the New York City cat shows.

At the 1916 Empire Cat Club show, the Best Cat was Blue Lightning of Thorpe, an imported blue Persian male that became an influential stud. There was a hiatus during the Great War and shows resumed in January 1919 at the Hotel McAlpin in New York City. This attracted 80 entries and was a fundraiser for the Sun Tobacco Fund (organized by the New York Sun for providing "smokes" to American soldiers in France). In 1919, further cat clubs broke away from the CFA and formed the United Cat Fancier's Association, which soon became the Cat Fancier's Federation. In 1919, the Cat Fanciers' Association was incorporated in New York state and the Empire Cat Club, the Cleveland Persian Society, the New Rochelle Cat Club and McKeesport Persian Club were charter members. The Atlantic Cat Club resigned from the CFA in 1919, the year the CFA was incorporated in New York state, and formed the United Cat Fanciers Association, which changed its name to Cat Fanciers Federation (CFF) later that year. By 1929 the Cat Fancier's Association was the dominant registry. Due in part to the size of the country, other registries also sprang up.

In January, 1920, the Empire Cat Club show was held at Madison Square Garden, jointly with the Silver Cat Club of Brooklyn. This show marked the show debut of NeKong, a Siamese import from Bangkok . The odd-eyed white Persian, Houri, was considered an oddity when exhibited. Best Cat, for the second year in a row was the Chinchilla male, Hampton Brushwood Winter Wonder. The 1921 show was held at the Park Avenue Hotel. Champion Red Shadows II, a red Persian, was Best in Show. At the 1922 show, the club established a "Futurity Stakes" for blue eyed white Persian entries. In 1923, Lavender Supremacy was Best in Show, and in 1924, Lavender Blue Prospect was Best in Show. These were males from Elsie Hydon's famous Lavender cattery: "The sensation of the show was Lavender Blue Prospect - a big fellow who made his novice appearance in a huge coat of beautiful color and, with his copper eyes, won his way right through from Winner to Best Novice to Best Cat."

Red Shadows II, the 1921 overall winner, was awarded Best Red in 1924 for his " exceptional head and type. Most of the reds still show too much markings." In 1925, blue Persian female Miss Dennison won Best in Show and described thus: "Miss Dennison adheres closely to standard and is of the cobby type. She is of medium size and her coat indicated fine physical condition, being long and glossy and of fine texture." It can be seen from these results, that Blue persians wer very much to the fore in the early 1920s. There were 186 entries at the 1926 show at the Waldorf Hotel and then the club took a break in 1927. In 1928, it was back at The Waldorf Hotel with 250 entries, including 40 cats "of the house variety" (" The heads of the common cats will not be required to be as big as those of the thoroughbreds." ) The club took another break in 1929. In 1930 it returned to Madison Square Garden where it was held in conjunction with the 2nd National Pet Show and attracted 300 entries. The 1931 show was a part of the 3rd National Pet Show and attracted 400 entries. There were special classes held by The Siamese Cat Club and the Solid Color Cat Club.

The 1932 - 1935 championship shows were combined events between the Empire Cat Club, Siamese Cat Society, Silver Persian Fanciers and the Solid Color Cat Society. Each Club had its own speciality classes and awards, including their own Best in Show. A feature of the 1934 championship show was "Topaz Miau, a primitive Burmese, said to be the only one of its kind in the East. There are a few owned by a San Francisco breeder," and in 1935 there was "An Abyssinian female import, Woodroofe Ena, two years old, born in London and one of only two cats of its kind now in the country, was entered by Mrs. G. Fiske of Boston." The 1936 - 1939 shows were combined with the Siamese Cat Society show. In 1937, the show was held in conjunction with the American Mouse [and Rat] Fancier's Club, while in a "Long-Hair Siamese Makes Debut Here - Outstanding in the two-day show was a long-haired Siamese, four-month-old Pur Thai of Newton, a new breed introduced and developed by its owner, Mrs. Virginia Cobb of Newton, Mass., an eight years' process, under the direction of a professor of genetics at Harvard University."

Just to round off this tale of the North American registries, in 1979, a splinter group of the American Cat Fanciers Association (founded 1955 with an emphasis on fun) led to the creation of The International Cat Association (TICA). TICA soon became second in size and number of shows the the Cat Fancier's Association.

THE 1930S

'LAVENDER WHIRLWIND' BEST SOLID COLOR CAT
Brooklyn Daily Eagle, New York, Sunday Nov 20, 1932

More than 300 aristocrats of the cat world were on exhibit at the "Big Four in One" Championship Cat Show held Thursday and Friday at the Hotel Taft, Manhatten. Sponsoring the show were the Empire Cat Club, the Solid Color Cat Society, the Silver Persian Fanciers and the Siamese Cat Society of America. Thirty-two organisations, representing all of the sections of the country, make up the membership of the four sponsors.

Wins First Honors. "Lavender Whirlwind," a blue male Persian owned by Miss E G Hydon of Bogota, NJ, carried off first honors in the solid color show. This is the four-year old cat's first show in America, though as a kitten he was exhibited in England where Miss Hydon purchased him. "Dixie Land's Margaret Rose of Allington" in the blue champion female class, owned by Mrs J H Revington of Chattanooga, Tenn., was judged best "opposite sex." "Delmar Bridget," a blue kitten owned by Mrs E J Smith of Charlotte NC won the first kitten award. First prize in the silver Persian fanciers show was "Friendship's Spindrift of Coryton" in the chinchilla female champion class, owned by Miss L M Goodwin, Great Neck, LI. The best "opposite sex" award went to "Kose-Ishte of Edgewood," owned by Mrs Bertha Costello of Springfield Mass.

Kitten Award.

"Bonnie Cairngorm," in the shaded silver male senior class, owned by Mrs A E Townsend of Ardaley, NY, won the kitten award in the silver Persian fanciers show.

Brooklyn and Long Island exhibitors at the show were: Mrs Eugenie R Byrn, Mrs R Chatwin, Mrs Margaret L Byrne, Mrs George S Hamilton, Eric Lang, Miss Phyllis E Little, Miss H J McCoun, Mrs A Mertin, Mrs P S O'Neil, Miss Mildred T Sheridan, Mrs Paul Bohmer.

PET SHOW, MADISON SQUARE GARDEN, NOVEMBER 22 – 23 – 24 – 25 – 26
ALLEY CAT MAY NOW LOOK AT KINGS AND QUEENS OF THE FELINE WORLD
Brooklyn Daily Eagle, New York, Sunday Nov 20, 1932

Domestic Tabbies Now Clothed With Dignity Of Pedigree. The alley cat has now come into its own. Snubbed for years by its aristocratic relatives, the Angoras and the Persians, and completely ignored by fanciers, the ordinary domestic tabby has now attained the dignity of pedigree and recognition by the National Cat Fanciers Club. This year for the first time the club is sponsoring a speciality show for short-haired cats, including tortoise-shells, tiger-stripes, pure whites and grays. They will feature in the opening-day program in the cat division of the Madison Square garden this week.

Pioneer in Breeding. Mrs Olive E Gilbert is directing this first short-hair championship speciality show. One of the outstanding pioneers in the work of breeding short-haired cats is Mrs Helen o'Neil Palmer of Sandy Hook, Conn. At her half Way Kennels at Sandy Hook she has been carefully breeding and inbreeding the different varieties of the ordinary cats until at last she has developed pure grays, pure blacks, pure tortoise-shells and all the rest that are familiar sights on doorsteps and in alleyways. About seven generations are required to get a true type cat of any of these breeds she says. After the seventh generation, if the breeding has been selected, a fairly pure strain will be obtained, she states. Interestingly enough, it is these short-haired cats, more especially the striped tigers and tortoise-shells of the developed pure strain that resemble in appearance the earliest known domesticated cat.

Among Oldest. Cats are among the oldest domesticated animals. In nearly all languages there is a variation of the Latin word "cattus," which was the name given by the Romans for what were for them the only rat-chasing animals. The first records of cats as pets come down from the days of Egyptian Pharoahs. Vast numbers of embalmed cats have been found by archaeologists in the tombs along the Nile. The Egyptians are generally assumed to have tamed the African wild cat and passed it on to the Greeks and Romans, the African strain becoming mixed with the European wild cat to make the modern domestic cat. The long-haired Angoras and Persians came originally from Asia and have has all along better treatment than their mongrel cousins, the familiar tabbies. But now that the tabbies have made their debut in feline society, fanciers expect them to hold their own with older aristocracy.

A 1936 American essay on cat shows noted that the show season opened in November and "Among the first shows in New York City are those held by the Cat Fanciers' Association, Inc., and the United Cat Clubs of America, Inc. Each of these organizations has many member clubs in the United States and Canada. There are other large societies, such as the Cat Fanciers' Federation and the American Cat Association, and all of these, and their member clubs, have shows through the autumn and winter. There are cat shows from the Atlantic to the Pacific, from Maine to Florida." Each claimed to be the biggest and best of its kind. Persian cat clubs continued to outnumber all other breed clubs and long-hairs continued to dominate the multi-breed shows. Shows were considered necessary to the cat fancy, but an "ordeal for most home cats". Despite the many precautions taken by show manager, there was always the danger of infection where numbers of cats were gathered together. To be eligible for exhibition, the cat had to be registered with one of the recognized cat clubs and the owner had to be familiar with that club's standards, classifications and rules: "Select the club that is sponsoring the show you mean to enter, for rules differ". If the cats were well cared for, special conditioning was not necessary, but a neglected cat would have to be conditioned and groomed or would be rejected when it arrived.

In 1940, the Empire Cat Club show was a combined show with Siamese Cat Society, and Domestic Short Hair [i.e. American Shorthhair] and Manx Society joined with Empire and the Siamese Cat Society. This would be the last show until 1943 because of the Second World War. Annual shows resumed with The Empire Cat Club and Siamese Cat Society's combined show in 1943. From 1949 and through the 1950s, it was a joint event with, variously, the National Siamese Cat Club, the National Siamese Society, Solid Color Cat Club, the Solid Color Club of the East, the All Short Hair (except Siamese) Society, the California Silver Fanciers, the Eastern Tabby & Tortie Society and/or the Westchester Cat Club. The 1957 Empire show featured a special class for cats owned by under-privileged children and also two African Kafir cats from the zoo in Washington, DC. As if a pair of African Wildcats wasn't enough, Mrs. Lillian Pedulla's exhibited her South American Ocelot, Mr. Chuckle.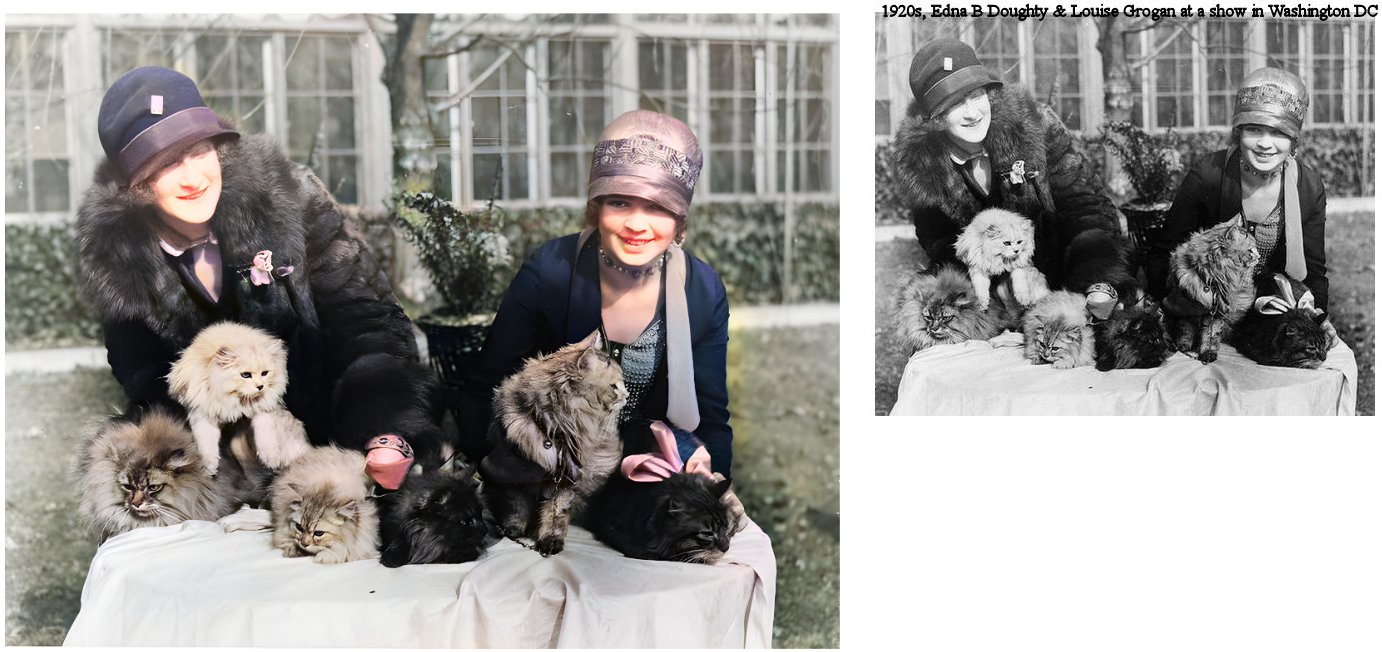 You are visitor number