REPORTS FROM EARLY CAT SHOWS IN NEW YORK - 1896 - 1900
1896 NATIONAL CAT SHOW, NEW YORK
CATS OF HIGH AND LOW DEGREE. Entries for the coming show at the Madison Square Garden. – New York Tribune, February 2nd, 1896
An army of cats will descend upon Madison Square Garden on March 3, and for the four following days the walls of this great amphitheatre will resound with that sort of music which, heard in the watches of the night when sweet slumber has deserted the couch, draws forth a shower of swift-flying bootjacks from the unappreciative householder. The occasion of this great concourse of cats is the second annual exhibition of the National Cat Show. Invitations have been extended to felines of unquestionable social position all over the country, and the acceptances have been so many and the regrets so few that the "function" will undoubtedly be the success of the social season of the purring tribe.
Among the cats which will grace the affair with their presence there are sure to be found short- haired cats, long-haired cats, tailless cats, bob- tailed cats, cats with kittens and cats without kittens, a few kittens without cats. Manx cats, wild cats, ocelots, civets, lynxes, tabby cats, tiger cats, maltese cats, blue cats, silver cats; in short, any and virtually every kind of cats.
Not only have Invitations been issued to cats of high degree, but pecuniary influences have even been brought to bear In order to induce their attendance. In fact there is to be a sort of cat cake walk, the prizes in which will amount to over $750. What a lot of silver collars, golden bells, blue ribbons and beefsteak that will buy! Special prizes of silver medals, walnut cat food, etc. are also offered by a number of women interested in the coming gathering.
But there will also be present a large number of birds, which will rival their feline friends both in music and in appearance. Prizes will be given to the best English, German and American canaries, robins, thrushes, mocking birds, nightingales, bobolinks, parrots, cockatoos, skylarks, bullfinches, blue-birds and all the thousand and one songsters that are half the beauty of the summer.
It is not yet too late for belated cats or birds to accept Invitations to the coming "function." J. T. Hyde is manager of the Cat Show, J.C. Young, secretary, and T.F. Rockham s superintendent. The list of patronesses includes Mrs J. J. Astor, Miss Bird, Mrs Fred. Gebhard, Mrs. Richard Irvin, Mrs. Prescott Lawrence, Mrs John Lowery, Mrs. Randolph, Mrs. Albert Stevens, Mrs. F. K. Sturgis, Mrs. W. Seward Webb, Mrs. Stanford White and Mrs. L. K. Wllmerding.
CATS OF HIGH DEGREE TO MINGLE WITH BIRDS IN MADISON SQUARE GARDEN – The Brooklyn Daily Eagle, February 7th, 1896.
They Will Be in Cages and No Trouble Is Looked for at the Show in March. Prizes for Pet Angoras and Other Species.
The second annual exhibition of the National Cat Show association is to be held at Madison Square garden, New York, on March 3, 4. 5, 6 and 7 next. The success achieved last year has induced its promoters to incorporate the association, with the view of holding shows annually. This year, however, another feature will be added, in the shape of a cage bird show. The mixture of the feline and feathery tribes may seem peculiar, but as they will all be caged - the felines as well as the birds — the show will probably be conducted without any serious outbreaks.
While the premiums for the cats and birds do not seem very large at first glance, they are, in comparison to the size of the exhibits, much larger than those given at the horse show. The premiums for the feline division, of the show are $8, $3 and $2 for first, second and third prizes, respectively, while in the bird department the prizes are, respectively, $3, $2 and $1 for the ordinary, small birds, and $5, $3 and $2 for the talking, whistling and singing species. Beside the regular prizes offered by the association, the following list of specials have been offered for competition:
Class 53 — Offered by Mrs. Richard F. Carman; a silver collar for the best long haired he cat entered in classes 25 to 30. A silver medal is also given by the National Cat show. t
Class 54 - Offered by Charles R. Pratt; a silver bowl, value $10, for the best long haired cat entered in classes 21 to 35, classes 37 to 40 excepted. A silver medal Is also given by the National Cat show.
Class 55 — Offered by James T. Hyde; $10 in plate for the best long haired kitten, either sex, not over 6 months old. A silver medal la also offered by the National Cat show.
Class 56 — Offered by Charles F. Bates; $10 In.' plate for the best short haired he cat entered in classes 1 to 8. A silver medal is also given by the National Cat show.
Class 57 — Offered by the American Cat club; $10 in plate for the best short haired cat entered in classes 9 to 24, classes 18 and 19 excepted. A silver medal is also offered by the National Cat show.
Class 58 - Offered by the American Cat club; $10 in plate for the largest and best exhibit of cats made by any one exhibitor. A silver medal is also given by the National Cat show.
Class 59 - Offered by the Madison Square Garden company: $10 in plate for the largest and heaviest cat In the exhibition.
Class 60 - Offered by the National Cat show; $10 in plate for the best short haired kitten, either sex, not over 6 months old. A silver medal is also given by the National Cat show.
Class 61 - Offered l>y Spratt's patent: $10 in plate, for cat and best litter of kittens, not under 1 month old. A silver medal is also given by the National Cat show.
Class 62 — Offered by T. Farrer Rackham; $10 in plate for the best exhibit of cats by any one exhibitor, to consist of one he, one she, one gelding and one kitten, the whole collection to be of the same color or markings, A silver medal is also given by the National Cat show.
Class 63 — Offered by Robert Kent James; one King Royal kitten, valued at $50 for the best male blue Angora cat of Walnut Ridge farm's stock.
Class 64 — One King Royal kitten, valued at $50, for the best male kitten, any color, of Walnut Ridge farm's stock.
Class 65 — One King Royal kitten, valued at $50, for the best exhibit of Angora kittens (more than two) of Walnut Ridge farm's stock.
Class 66 — Offered by Walnut Ridge farms: one box Walnut cat food, value $5, for the best buff Angora he cat.
Class 67 — One box Walnut cat food, value $5, for the largest short haired cat in the show.
The cat exhibition is made up of eight classes of short haired he cats of various colors; eleven classes of short haired she cats and kittens; five classes of short haired yellow cats, six classes of long haired he cats, ten classes of long haired she cats and kittens; five classes of long haired gelded cats, four classes of Manx cats, two classes of wild cats and one each of ocelots, civets and lynx. Entries close February 19.
Many Long Island women have interested themselves in the show, either as patronesses or otherwise, among them Mrs. Adolph Ladenberg, Miss Bird and Mrs. Richard F. Carman.
CATS AND BIRDS ON VIEW. The Kansas Gazette, February 13th, 1896. New Yorkers to Draw on Two Animal Kingdoms for Pastime.
There is going to be a whole lot of trouble in Madison Square garden from March 3 to March inclusive. The cat show will take place at that time, and there will be a cage-bird show in connection with it. The combined shows will have 12 patronesses, including Mrs. John Jacob Astor, Miss Bird, Mrs Freddy Gebhard and Mrs. Prescott Lawrence. The advisory committee consists of 19 gentlemen, among whom will be Mr. J. Pierpont Morgan. Mr. Morgan has never been an advisory committeeman for a combined oat and bird show before, but he has had other experiences which, it is said, fit him for the arduous duties.
The rules and regulations of the show have been drawn up and are interesting. The competition is open to all. The entrance fee per cat is two dollars, and the entrance fee for each bird is 60 cents. Cats and birds must be placed in separate cages, or the advisory committee will not be responsible for them.
"Each cat must be securely packed in a separate basket." In packing cats care should be taken to use the best quality of sawdust and to mark the boxes plainly: "This side up, with care." Kittens may be packed in excelsior.
"Each cat shown must be the bona fide property of the exhibitor." "Exhibitors of cats may, if they wish, take them home each day after the close of the show on deposit of five dollars with the manager."
"Those interested in cats and desirous of offering special prizes (none of less value than five dollars can be accepted) will please notify the secretary."
MEOWS FROM THE CAT SHOW – The Sun (NY), February 19, 1896. The Second Exhibit Begins at Madison Square Garden on Tuesday. Cats follow the dogs in the round of shows at Madison Square Garden. The second exhibition, of the National Cat Show Association will begin, on Tuesday morning and continue throughout the week. With premiums amounting to $1,000 and many fine felines entered to compete for them, the managers anticipate a "yowling" success. The last show proved that cats of pedigree and distinguished are drawing cards, the women taking an especial interest in the exhibits, and with an increased number of entries still better luck is expected for this season's event.
Those fashionable long-haired cats, the Angoras, who have tails as thick as feather boas, are entered by Miss Louise Morgan, Mrs. E. N. Barker, Charles R. Pratt, and Master Ray Livingston. Women are in the majority as xhibitors. Miss Munoz of Cranford. N.J., entered a white Maltese called Purity Parkhurst; Mrs. Fabius M. Clarke, two longhaired English cats; Mrs. R.S. McCreery, two tailless Manx cats; Mrs, J.H. Alexander, a black Persian cat named Cesar, and Miss Cecilia Ryan, with other entries, shows three generations of the short-haired breed. Other women sending cats to the show are Mrs. Charles Knapp. Mrs. Nina Morton, Mrs. F.H. Willice, Mrs A. J. Wheeler, Mrs. S.A. Clock, and Mrs. J.W. Barrow.
In the place of the wild cat, the novelty last season, there will be a unique cat brought from Venezuela, named Crespo and entered by C.G. Pratt. It is said to be built like an ordinary tabby in front and like a rabbit in its rear extension. A troop of trained cats will perform every afternoon and evening under the management of Mme. Elvira Sansom.
Hereafter the breeds of cats are to be registered in a stud book, and it is thought that the American felines will be raised to the standard of the varieties seen at the foreign shows. Articles of incorporation of the American Cat Club have been filed with the County Clerk, with James T. Hyde, Dr. Rush S. Huidekoper, W.D. Mann, and E.N. Barker as directors. It will try to do for the cats what the American Kennel Club has done for the dogs.
THE NATIONAL CAT SHOW will hold its second annual exhibition in Madison Square Garden, New York, on Tuesday, March 3. It will last five days. Over $1,000 will be awarded in prizes for all breeds and colors The Bird Show has been abandoned by the management, so scanty was the interest evinced in it by those who promised to make entries. – various, February 27, 1896.
TALES OF TOM AND TABITHA
Los Angeles Herald, Volume 45, Number 142, 1 March 1896
Felines of Social and Financial Standing on View
THE PROGRESS OF THE CAT
The Sacred Animal of the Ancient Egyptians Has Been Raised to a Position of Divinity and Prominence by the Smart Folks of Gotham
New York, Feb. 21.—Ordinarily cats are treated with contempt. Most people abuse them, a few tolerate them and a very few admire them. But cats are coming into prominence. Bricks and other hard things may be shied at them, secret kicks may greet them for a good part of the year, but for a few days, beginning March next, they will be lauded and petted and admired. The cat world will be placed on a pedestal and every one will be invited to bow down to them. And tens of thousands will do it.
All this means that the annual cat show is near at hand. It has become a settled institution in metropolitan life as it has been in London for many years. It is not as popular as the horse show, or as pleasing as the dog show, but the public is a strange animal and no one can tell to what heights of popularity the humble cat may climb in the future.
Three hundred of the finest cats in the land will be exhibited in the Madison Square Garden and about seventy-five of them will capture prizes. This means more than the average person would think. There are no accurate statistics at hand regarding the cat population of the country, but no one doubts that it is enormous. If there were only one cat to every ten persons It would mean 7,000,000 felines, and when the three hundred best cats are gathered into one bunch the glory of it all can be understood. The show is not frivolous in any way. It is marked with a dignity and a decorum suitable to the reception of a prime minister. The cats have a list of patronesses which would grace a ball at the White House. This list is formidably head by Mrs. John Jacob Astor and includes such familiar names as Mrs. August Belmont, Mrs. Frederick Gebhard, Mrs. Richard Irvin, Mrs. Frescott Lawrence, Mrs. W. Seward Webb, Mrs. Stanford White, Mrs. Albert Stevens, Mrs. Frank K. Sturgis and Mrs. L. K. Wilmerding. The cats have an advisory committee also, which in make-up is above reproach. In fact, it could handle a government bond issue ten times as big as the recent one, without trouble. The committee includes such financial and social giants as Frederic Bronson, F. O. De Luze, J. G. K. Duer, H.H. Hollister, Thomas Hitchcock, Jr., Colonel Lawrence Kip, Adolph Ladenburg, Charles Lanier, D. O. Mills, J. Fierpont Morgan, A. Newbold Morris, Hermann Oelrichs, F. K. Sturgis, George Peabody Wetmore, W. P. Wharton and Stanfold White. It can be readily seen from this that the social standing of the cats cannot be questioned. They have money and society behind them and the rest of the world is bound to follow in the wake of these potent influences. Last year's show was a success, and this year's practises to be more successful. The cat is not altogether without governmental recognition either. It is not generally known that there are between ten and eleven hundred felines on the pay roll of Uncle Sam. They do not get their pay in the hard coin of the realm like other government officials, but there is an appropriation made annually for their particular benefit and they earn every cent of it. This numerous army of cats is employed in the large poßtofru-.es of the country to protect the mails from visitation by rats and mice. It takes money to feed these animals properly; hence the appropriation. The back yard variety of feline may not amount to much in the popular estimation and it will play no part in the coming show. The plebeian feline would be out of place in the society of aristocratic Thomases and Tabithas, the cats who are given a warm bath every morning by a dainty French maid and who sleep in beribboned wicker baskets on pillows of silk and down. These cats have never known the excitement of dodging a brick by scrambling down the safe side of a fence and have never been mixed up in a nocturnal fight. The cost of some of these cats would pay off the mortgage on an average farm. Mrs. Bolton Hall, the daughter-in-law of the Rev. Dr. John Ball, has a black Angora cat called Siegfreid. This is a famous cat, and if any one offered Mrs. Hall $1000 for him she would not accept the offer.
There will be more than twenty cats in the show whose owners value them at between $1000 and $1500. One of the most noted cats is Grover B-, owned by Mrs. Buchanan of Philadelphia. He weighs thirty pounds and is chiefly remarkable on that account. Mrs. Ella Wheeler Wilcox will stop writing poetry any day to talk about cats. She has a collection of Persian felines which she claims is the finest in the world. Fabulous prices are given as the value of these cats and if she could sell them at the prices, Mrs. Wilcox would soon have the income of a millionaire. Her favorite is Madame Kef, a beautiful white Persian who will be exhibited with a couple of her most charming children. The wife at Dr. Hammond of Washington has long made a fad of collecting Australian cats. The hair on these is much shorter than on the average cat and their ears are much larger. They always have a surprised, questioning look, not unlike that of the kangaroo. The tailless Manx oat will be one of the features at the show and one of the species will be exhibited by young Mrs. Jack Astor. A rare blue tabby owned by Mrs. Stedman enjoys the distinction of having twenty-two toes, and should get some kind of a prize, although none is offered for the cat with the most toes.
The exhibits will be divided into six groupings, as follows. Short-haired he cats, short-haired she cats, shorthaired gelded cats, long-haired he oats, long-haired she cats, long-haired gelded cats, and are subdivided into forty-two classes, each class specifying the various colors and markings by which cats are generally known. The prizes offered are chiefly remarkable for their oddity. They include silver spoons suitably engraved, silver bonbon boxes, silver bowls, silver and gold medals and silver collars. From this it would seem that the aristocratic cat was in the habit of eating with a spoon and of gorging himself with costly bonbons. The cats will not be exhibited in the large amphitheater of the garden, as they wold be too lonely in such a large space. One of the smaller looms will be used, that is generally utilized for restaurant purposes, and the stall of each cat will be embellished with stands of growing palms and flowers. Stuffed tabbies and toms of all kinds will also be exhibited, but not with the idea of showing that there is an end even to the nine proverbial lives of a cat. Cat paintings by famous artists will be on view and everything possible displayed of a pussy flavor.
CATS ON EXHIBITION. Fewer Entries Than Usual at The New York Cat Show. Various, March 3, 1896. Less than 300 cats were on exhibition today at the opening of the second annual cat show in Madison Square garden. These highly prized creatures occupied roomy cages ranged upon six long rows of tables, which flank a little stage, upon which troupes of trick cats will be put through their performances several times each day during the continuance of the show. The prizes, amounting in all to $1,500 will be awarded by T. Farrar Rackham and Dr. Rush Huidekoper. In addition there are a number of special prizes to be given. The show is under society auspices [list of patron/esses]. The attendance today was not large, the weather being cold and blustering. A bird show was to have been given as an adjunct of the cat show, but there were so few entries that at the last moment the project was abandoned.
ALL READY FOR TRE CAT SHOW. TO OPEN AT THE MADISON SQUARE GARDEN AT 10 O'CLOCK THIS MORNING. New York Tribune, Tuesday March 3, 1896. There was much bustle at the Madison Square Garden yesterday in preparation for the Cat Show, which opens there at 10 o'clock this morning. The empty cages were waiting there for the cats and a number of men were busy making ready the big stage. If one may judge from the preparations, it is safe to say that the hopes and anticipations of some for the success of the show will be fully realized. Last year the cats were in the restaurant and concert hall, but the crowds of people who were anxious to look at the various prize-winners made the quarters somewhat cramped alike for exhibits and visitors. In order to accommodate the public and to give opportunity for the display of the performing cats, for which a stage is necessary, the show this year has been placed in the amphitheatre, one-half of which is utilized. The big stage, which occupies the back of that part of the amphitheatre devoted to the show, will be used by the D'Aquin Orchestra, which will give concerts every afternoon and evening, and will also furnish the incidental music for the performance of the trained cats to be exhibited by Mme. Elvira Sansoni. The performance will include jumping through ropes, a circus act and other interesting features. It is said that these animals are the most completely controlled of any of the feline species ever exhibited.
The Cat Show in itself is one of the most peculiar exhibitions of all those which take place In the Garden in the course of the winter. Any cat that is regarded as a pet at home is just as much of a pet at the show, and the friendliness of the cats during the exhibition to the casual visitors has been especially marked in the past.
None of the animals for the show this year had reached the Garden yesterday afternoon. Their mistresses were all too careful of their pets to allow them to be left alone all night, and they will not be sent until this morning. When all of them ate gathered together, however, there will be cats of all kinds, and most of them will be surrounded by every luxury known to the cat family. There will be cats on silken cushions and cats on beds of down; pretty cats and homely cats; cats with good tempers, and cats with bad, and from all those the winners of the prizes will be carefully picked.
The manager of the Cat Show is James T. Hyde, the secretary of the Horse Show Association, and Mr. Hyde knows as much about cats as he does about horses. In addition to the list of exhibitors printed in Sunday's Tribune, the following people have animals entered: Charles Knapp, W.E. Lambert, Mrs. Livingston, Mrs. R. McCreery, C.D. Miller, Mrs. Nina Morton, J.F. Oliver, Mrs. J.H. Umsted, Mrs. A. J. Wheeler. Mrs. J. H. Alexander, Mrs. J. Wylers Barrow, Mrs. Bradley, Mrs. Bellamy, Mrs. H Burnett. Mrs F. M. Clarke and Mrs. S. A. Clock.
OPENING OF THE CAT SHOW. ABOUT TWO HUNDRED FINE TABBIES ARE ON EXHIBITION. The Brooklyn Daily Eagle, March 3rd, 1896. The second annual exhibition of the National Cat Show association was opened in Madison Square garden, New York, this morning. Some two hundred choice specimens are entered and on exhibition in the main amphitheater, which has been partitioned in half with a background of scenery. Most of the cats did not seem to take kindly to their new quarters and indulged in a great deal of meowing during the morning hours. Later they seemed more contented and in the afternoon, when the band began to play, they became quite frisky. The association has offered over $1,600 in prizes, not to mention special prizes of medals, plate, etc. The gray Angora cats predominate and make a remarkably fine showing. Next in importance were the Manx or tailless cats, for which a number of special prizes have been offered. A few beautiful ring tailed cats attracted general attention, as did also the white and short haired felines, with their beautiful turquoise like eyes, and there are black cats with orange colored eyes and the tortoise shell cats with brown eyes and the most plaintive of meows. Conspicuous in the entire lot is Mete, a short haired yellow tabby, with clear brown eyes. Mete won first prize in last year's class for the best all around specimen. The judges are Dr. J. R. Huidekoper and T. Farrer Rack- ham. They will make their first awards to-day. The show will close on Saturday evening.
ALL IS HEADY FOR THE CAT SHOW. Chicago Daily Tribune, March 3, 1896. New York, March 2. — [Special.] — Now that New York's valuable dogs have had their day, the equally valuable cats will be given their nights. The exhibition is to open tomorrow under the auspices of the National Cat Show Association at Madison Square garden. There will be cats on exhibition of aristocratic connections, valued at $1,000 each. There will be tabbies from all lands and of all nationalities. Venezuela will be represented by a cat named Crespo, and it is half rabbit and half cat. Prizes amounting to $1,000 will be distributed when experts declare which particular cat or cats are entitled to the spoils.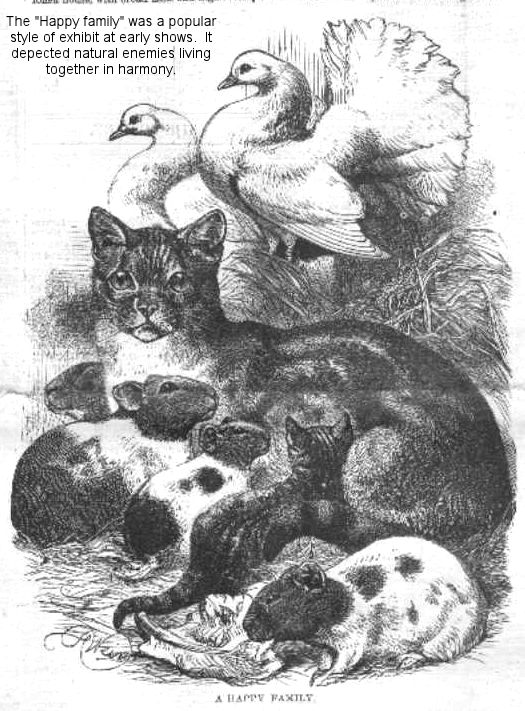 CATS NOW HAVE THEIR DAY
Society Visits the Tabbies at Madison Square Garden.
INTERESTING SHOW OF FELINES
A Happy Family That Visitors Cannot Leave - Marvels in the Way of Neck Decoration.
N.Y. Times, March 4th, 1896

Madison Square Garden is a bit too big for the Cat Show. So it has been cut down to accommodate itself to the size of the exhibition. A big curtain has been hung across the middle of the floor, a stage has been erected there, and on it are seated the musicians of D'Aquin's orchestra, which furnishes music both afternoon and evening.

The first of the Cat Shows was held a year ago, and Mr. James T. Hyde, the projector of the affair, was so much encouraged by the interest then taken that he was induced to go into the thing even more extensively this year. So he took the entire Garden, so as to have room enough. He finds himself with plenty of room, but is short on cats. The Concert Hall would have been large enough for the purposes of the show, as it turned out, but the present arrangement is far more pleasant for visitors, as they have ample room in which to move about to see the cats and to be seen.

The cages in which the cats are shown are large and roomy arrangements, more roomy than those in use at the dog show. The animals are benched after the fashion of the animals at that exhibition. In the centre of the rows of benches is a raised platform, on which are given exhibitions by a troupe of trained cats under the management of Mme. Elvira Sansoni, a show that is very clever and a source of much delight to the children and to people who are specially interested in tabbies and their development and education.

About the stage are gathered some 200 cats of all shapes and colors and sizes, from the mammoth "Dick," owned by Mrs. H. Burnett of 359 East Sixty-eighth Street, down to litters of kittens that are but a few days old, and which have not yet got their eyes open. Mrs. Draper's Beate and Torti, both tortoiseshell and white animals of the short-hair variety, each have litters of five little ones that are too small and too young to do anything but lie snug up to their mother and work the free lunch counter that they find so ready at hand. Then there is a. solid black cat, with a litter of four kittens that are fully as black as is their female parent. These little ones are a source of endless delight to the children and ladies, who were the principal patrons of the show yesterday.

" Tom's Happy Family " divided the hon ors with the litters in the way of special attractions for the visitors. The family is much like the "happy families "that were a feature of the old Barnum Museum, when that institution was located at the corner of Ann Street and Broadway, in the days "before the war." Tom is a huge tiger-marked cat, one of the largest and laziest in the show, and he contentedly occupies one corner of a large wire cage, allowing four Guinea pigs, three white rats, and three other rats, with mottled coats, to find on his back a safe resting place, and a warm and comfortable bed. There is absolutely no fear shown by either the Guinea pigs or the rats of their huge companion, the lot seeming to be on the most friendly terms not only among themselves, but with a party of feathered occupants of the cage, which include two turtle doves, two parokeets, two love birds, a couple of Java sparrows and three or four other birds of the varieties usually seen in aviaries. Fear seems to have been trained out of these natural-born enemies, and they mingle in a social way that is a surprise and source of constant annoyance, apparently, to many of the visitors.

Turn about the Garden as one will, the visitor is sure to drift back to the cage with the happy family. The visitor does not say why he comes back so frequently, but the careful observer will notice that the curious watcher will carefully count all the occupants of the cage over and over again. When he finds that the census is all right, he or she turns away with a look of disappointment. It is plainly to be seen that there is an expectation that at some time during the show the cat will assert itself and its nature and make a meal off some one of the strange occupants of his cage. Up to a late hour last evening no one of the inmates had been eaten by any of the others. How soon the catastrophe will take place the management will not announce. There are a number of people who believe that carnage is bound to occur in that cage before the week is out. The way in which they glue themselves to the floor about the cage is proof that when it does occur they wish to be there to see the fur and the feathers fly.

Recent storms account for the non-arrival of some of the cats that had been entered for the show, and to give them a chance to compete for the prizes for which they had been entered as competitors, the judging was not begun yesterday. Miss E N. Hurlburt, who is to act as one of the judges, was also detained, so the work of awarding the prizes will not be begun until this morning. Meantime the cats are being groomed and fed until they threaten to assume a degree of sleekness that, in an athlete, would be called "trained too fine." But the cats seem 'to like all the attention they receive, and only occasionally does the frightful wall of a tabby tell that he is getting altogether too much attention from humanity, and announce that he would like to strike up a flirtation with some of the cats he sees across the aisle from his cage.

The Garden is profusely draped with red and white, the official colors of the association, and some of the cages are also decorated by the fair owners of the occupants. The most pretentious cage in this direction is one occupied by a rather commonplace sort of appearing cat, a buff smooth-coated cat celled Jim, and owned by Miss Mary Cecelia Ryan of Elizabeth, N. J. who has a half-dozen cats in the Garden. Miss Ryan has decorated Jlm's cage with a festoon of flowers and greenery in which La France roses and huge sprays of mignonette play the principal parts. There are three or four other cages that have floral decorations, but none of them are so pretentious as is the cage occupied by Jim.

A huge cat is christened Grover Cleveland, and owned by Miss Rosa. Beckett of 214 West Forty-second Street. He wears an enormous ornament made of six strands of imitation pearls, as large as small peas, which is banded at intervals with Rhinestones of even larger size than the pearls, that glitter and glisten in the electric lights much as real gems of the same sort.

Mrs. A. J. Wheeler of 36 West Twenty-seventh Street has a couple of pets in Mack Wheeler and Murphy Wheeler, that are loaded with marvels in the way of neck decoration. About the neck of each-of these are placed huge Elizabethan ruffs of two shades of pale yellow silk which matches the color of the eye-balls of the cats. As a supplement to this huge ruff, there is another of white ribbon with a huge bow, the whole making a decoration that is, to say the least, unique. Both cats are black as night, and the decoration so overpowers the felines that they stick pretty closely to the baskets that are placed in their cages, as lounging places. No one but their mistress seems able to get them to leave the baskets and display the huge ruffs over which so much of time and care has been apparently expended.

A cat which has a peculiar claim for distinction is one that has, according to the announcement on his cage, "twenty-six nails." He is a freak in that he has seven claws on each of his fore feet and six on each of his hind feet. This is two claws better than any cat on record, and seems to be his only claim for one of the very many prizes that are offered for distribution during the week.

The show will open every morning during the week at 10 o'clock, and will remain open until 10:30 o'clock in the evening. There will be music daily, and the performances by the troupe of trained cats both afternoon and evening. While the show is smaller numerically than the managers had expected, it is nevertheless a very Interesting and instructive one, and is well worth looking over to see what the world is doing in the way of cats, tail-less and otherwise.

* * *

THOMAS AND TABBY ON THE BENCH. Chicago Daily Tribune, March 4th, 1896. Opening of the National Cat Show At New York [March 3] The purring aristocracy of the Nation met today at Madison Square Garden in a friendly competition for $16,000 [actually $1,600!] worth of prizes. The event is the second annual exhibition of the National Cat Show Association. It called together a collection of 150 felines, divided into two groups, aristocratic cats of registered pedigree and freaks. The freaks claimed the greatest attention of the few people who passed through the entrance. The garden was hardly ready for the opening and the cats shivered with cold and quaked with fear at the din of saws and hammers. The prospects are that the second show will not be as interesting as its predecessor was a year ago.

Included in the list of Thomases and tabbies are a few specimens worth mentioning. Brian G. Hughes is exhibiting a dark gray cat named Nicodemus worth $2,500 to him and to a few others — perhaps. Miss Louisa Morgan, a daughter of Pierpont Morgan, makes her appearance as a cat fancier by showing a dark brown Thomas, Svengali, who, by the way, is bearded like a pard. He is an Angora and as ugly as his breed suggests. Mrs. E. N. Barker has contributed a Persian tabby that is an old winner at cat contests.Among the freaks is a Venezuelan horror named Crespo which is half cat and half rabbit. A Pittsburg fancier comes to the front with a two-legged cat which hops like a kangaroo. Well-known women who have lent their names to the exhibition as patronesses are [standard list of patronesses] None of them or others of their set was to be seen at the Garden today.

* * *

AT THE CAT SHOW. The Allentown Leader, March 5, 1896
Feline Beauties That Command Attention at Madison Square Garden. Yesterday was the second day of the cat show in Madison Square Garden. From a show point it is a success, because there are cats of all kinds on exhibition. Every known breed is caged as tight as a canary bird, and many breeds that are unknown are also trapped. There is the regulation night owl and the blue eyed white kitten, the Manx and the Angora. There is also one cat without forelegs. This comes under the head of "freaks." In fact there is a greater variety of cats on the benches than were ever exhibited before in New York. Yesterday the cats were a bit uneasy, owing to being caged up in strange quarters. Yesterday they seemed contented with the surroundings. Probably the most disconsolate animals in the show are two coons, which walk around their cage like restless hyenas, while the most contented lot is the happy family in the cage in which birds, rats, mice, guinea pigs and a cat bunk together and eat out of the same nose can.

This country, for the most part, is represented by what are technically designated short-haired cats. These include all colors and sizes of all sexes. The best represented far-off country is Persia. A magnificent lot of fluffy longhaired creatures of all colors from pure white to glossy black have come to inquire into the cat systems of this country. They are essentially pets, and manifest interest in their surroundings. The tailless, or Manx cat, that comes from the Isle of Man, is not the success that he confidently expected to be. He is regarded very much in the nature of a freak. The Manx has a rounder and chubbier head than other varieties. His forelegs are shorter than his hind legs, and his action, which can't be seen while he is in a cage, resembles that of a rabbit rather than that of a cat. The Angoras are very much admired, and deservedly so, too. There are some magnificent specimens on exhibition.


* * *

MRS. FABIUS CLARKE'S PETS. Two Persian Cats Attracting Attention In New York. A "formerly of Topeka" woman will exhibit some cats at the cat show in that city, and from the notices the felines are getting in the papers, will, in all probability, carry : off some prizes. Mrs. Fabius M. Clarke is the lady. The New York Herald of Sunday had this to say of her pets: "Mrs. Fabius M. Clarke, of No. 134 West Eighty-second street, is a great lover of cats of fine quality. She was the owner of the Angora Ellen Terry, which, with her litter of seven white babies, won Mr. Charles F. Bates' silver bowl as a prize for the best family in last year's show. One of Ellen Terry's babies, the Princess Dinargarde, a dear little chubby ball of white fur, will be shown this year by Mrs. J.S.H. Winstead. Mrs. Clarke herself will show this week another interesting family. This consists of her beautiful gray Persian, named Persia, with her twin babies, Topso and Sylvie. Topso has a most beautiful ruff and tail, though only four months old, and is a very pretty contrast to his smaller and lighter colored sister. His coat is striped dark gray, almost black, with a lighter shade, while dear little Sylvie is a pale chinchilla, gray in stripes. Topso has already well developed the big brother instincts, for when seen the other day he was standing guard on his cushion over his sleeping sister, and meanwhile industriously washing her face for her." – The Topeka daily Capital, March 5, 1896

CATS THAT WON PRIZES
Strange Effects of Shrill Music on the Household Pets.
A BOY AND A WHISTLE MIGHT HAVE FUN
Scheherezade Gives an Answer as to Her Disposition - Razzle and Dazzle in a Flower-Decked Cage.


The New York Times, March 5th, 1896

When the Horse Show was on, the appearance of Mrs. George J. Gould in Madison Square Garden was a signal for a rush to her box and for an afternoon tea without any tea, but with plenty of small talk. Yesterday Mrs. Gould and her mother, Mrs. Kingdon, tore themselves away from the fascinations of Lakewood and spent the afternoon looking over the cats that were on exhibition at the Garden. But their appearance did not create anything of a sensation, and they had nothing to do in a social Way, save to exchange Lenten greetings with the ladies of their acquaintance whom they met.

This little incident goes to show the difference in the character of the attendance at the Cat Show and the Horse Show. Ladies and Children are the principal attendants at the afternoon receptions of the tabbies, and they are there for the sole purpose of looking at the cats. There is no such chance for flirtations as there is at the Horse Show. The evening, however, serves to bring out the escorts of the ladies. Some of the Club bachelors and men about town are sure to drop in for a bit of a chat and a possible flirtation. Still the cat dominates things at this show.

Visitors to the Garden have, besides me cats and the cat circus, to amuse them a chance to listen to music very cleverly performed by D'Aquin's orchestra. The ladies delight in the lively marches, dances, and popular songs that are played. No one of them frowns with Lenten severity on the musicians, but, but cats and music do not mix well. Music may have charms to soothe the savage, but it has a decidedly contrary effect on some of the cats in the show. As soon as a lively bit of music is played in which the sharp screech of the piccolo is heard, there goes up from some of the cats the piteous sort of a wail, and while the piccolo is making its shrill whistle heard, the tabbies are restless in the extreme. They get up and stroll about their cages much after the fashion of the larger members of the cat tribe to be seen in the Central Park menagerie. Their yowl is very like that of the midnight screech on the back-yard fence that the cats of lesser degree indulges in. It is ear-piercing, and the person that undertakes to stroke and pet tabby at that time is liable to find that there are sharp claws inside the velvet-covered paws.

It is perhaps well that the mischievous small boy does not happen to know of this peculiar dislike of cats to the shrill and piercing whistle. If he did, he would be apt to have fun at the Garden and cause a lot of trouble for the ladies who watch so tenderly and carefully over their pets. Recently a party of gentlemen investigating this dislike of the cat for the sharp, shrill whistle experimented with a sedate and tell-behaved grimalkin that happened to be within reach. The result was a more striking performance than that given by the cats in the circus when they leap through the hoops that are "rings or living fire," as the show people delight to put it. The cat in question at first scented the air as if a deadly enemy was within smelling distance. Then there came to the ears of the experimentalists a series of the most unearthly howls they had ever heard from a cat. This was soon followed with a series of performances that seemed to indicate that the cat had suddenly become violently insane, and the performance was kept up until the anime seemed on the verge of epilepsy. The cat was both tantalized and terrorized. Inability of the investigators to continue their whistling alone prevented the cat from being made fit for a cell at Bloomingdale or some other insane asylum. A continued series of shrill whistlings in the Garden at this time, particularly with such a lot of the naturally excitable animals on the benches, as there are, would probably result in breaking up the show.

Dr. Huiderkoper, who is an authority on all that relates to cats and the cat tribe, was asked to explain this peculiar effect at the whistle on the cat. It was a bit too much for him. He knew of the fact, but as for a. reason, he said that was beyond the range of his researches. "I know that some cats are driven almost insane by the shrill tones of the flute or the violin," he said, "and I imagine the same effect might be produced by the continued use of a shrill whistle. Why it is so I never could understand, and I have never found any one who could explain the mystery. I reckon it must be like some of Lord Dundreary's queer discoveries, 'one of those things that no fellow can find out.' Possibly Prof. Garner, with his alleged intimacy with animal language, could explain the reason for a cat's hatred for music. I confess that I cannot do so."

Miss Edith Newbold of Southampton stood in front of the cage occupied by her Angora cat, Scheherzade, stroking and petting her cat yesterday afternoon shortly after it had won the first prize in its class. A tall, blond Englishman, something after the Ouida type, stood admiring the animal as its mistress lifted it from its soft cushion better to caress the prize winner.

"Has that cat the charming disposition of members of its sex?" he asked.

Before the fair owner could reply to the query the cat answered for itself with a long-drawn-out noise that was a cross between a growl and a yowl, and a snap at the questioner, after which it clung frantically with all its claws to the garment of its mistress.

"There seems to be no necessity for a reply from me," she said, laughingly, while all the witnesses of the incident were convulsed with laughter.

Later an inquisitive and matronly old lady asked of Scheherezade's mistress, "What are you to the cat?"

"Only its nurse," was the quick response.

And that good old lady walked away and to a, young lady descanted at length upon the absurdity of having a nurse especially for a cat when there were so many children in the world that did not have one-half the care and attention that feline pet. That chance remark was how it happened to be noised about the Garden that there was one cat that had a trained nurse in attendance upon it.

The cage occupied by Razzle and Dazzle, a couple of kittens belonging to the Hanft brothers, attracted considerable attention yesterday. It was trimmed inside and out with festoons of smilax, with rich blooms of the Jacqueminot rose, and bunches of fragrant English violets. The combination of a couple of cunning black kittens and the flowers made the cage a centre of attraction and curiosity. Another cat that has created considerable interest is Peaslee, a blue and white Maltese from the office of The Spirit of the Times. Managing Editor W. B. Curtis, the veteran athletic authority, has had printed a record of the cat and its performances, which attracts much attention. It was a present to the editorial force of the paper and came to the office with a reputation of having whipped every cat in the neighborhood where it had previously been owned. So it had acquired such a fondness for chickens that it had to be sent to the city to be put out of the reach of temptation. Mr. Curtls is authority for the statement that whenever it catches an extra large rat, it brings its prey to the managing editor's desk and demands recognition for the duty performed. "He is good-natured if you don't scratch his back." Thus winds up the legend concerning this cat. It is an effective ending, for it causes people to let the animal alone. No one ever touches a cat except to scratch its back, and thus Mr. Curtis has his little joke with the visitors.

Among the visitors to the show were Mrs. George J. Gould, Mrs. Kingdon, Mr. and Mrs. Orme Wilson. Mrs. Joseph Choate, Mrs. Pierre Lorillard. Jr., Richard Carman and family, Mrs. Oliver Hoyt, Miss Hoyt, Mrs. J. H. Alexander, Miss Hehen Alexander, Mrs. George Parsons, Mrs. John H. Ehrich, Mrs. F, B. Talrcott, Mrs. H. Hugh Palmer, Mrs. F, L. Morrell, Mrs. William Pearson of Brooklyn, Mrs. W. D. Guthrie, the Misses Guthrie, Mrs. W. H. Knapp, Mrs, Daniel Bacon, Mrs. E. M. Curtis, Mrs. M. G. Reade, the Misses Reade, Mrs. De La Mar, Mrs. Sand, Mrs. Wright, and Mrs. Watson.

The Judges finished their work yesterday, awarding the following prizes:

SHORT-HAIRED HE CATS

Class 2 - Brown or Dark-Gray Tabby. - Brian G. Hughes's Nicodemus, third prize. No other prizes awarded.
Class 3 - Silver or Blue Tabby. - Mrs. A. Draper's Little Sassy, first; Miss Mary Cecilia Ryan's Punch, second.
Class 4 - Red or Red and White Tabby. - Mrs, A. Draper's Mete, first; Mrs. R. H. Hawthornes Killarney, second.
Class 6 – White. - Mrs. V. Piatz's Bismarck, first; Miss Kate L. Clarke's Frizzle, second.
Class 8 - Any Other Color. - Mrs. A. Draper's Piebald, first; Mrs A. Draper's Moses, second.

SHORT-HAIRED SHE CATS AND KITTENS.

Class 9 – Tortoiseshell. – Mrs. A Draper's Queenie, first.
Class 10 – Tortoiseshell and White. – Mr. T. Farrar Hackham's Emily, first; Mrs. A. Draper's Beate, second; Mrs. A. Draper's Torti, third.
Class 11 – Brown or Dark-Grey Tabby. – Miss Rose Beckett's Pearl's Little Irishman, first; Mrs A. Draper's Myrtle, second.
Class 12 – Silver or Blue Tabby. - Mrs. A. Draper's Silvia, first.
Class 13 - Red or Red and White Tabby. – Mrs. A. Draper's Reddy, first.
Class 14 – Black. – Miss Rose Beckett's Nickie, first; Mrs. A. Draper's Darkie, second.
Class 15 – White. - Mrs. A. Draper's Lulu, first; Miss Kate L. Clarke's Cynthia, second.
Class 16 – Blue or Silver. – Mrs. Nina Norton's Tootsie, first.
Class 17 - Any Other Color. – E. N. Barker's Victoria, first; Miss Mary Cecilia Ryan's Tip, second.
Class 18 – Two Short-haired Kittens, Under Six months Old. - Miss Kate L. Clarke's Tom and Jerry, first; Miss Mary Cecilia Ryan's Fawn and Friskie, second.
Class 19 – Short-Haired Single Kitten, Any Color or Either Sex, Under Six Months Old. – Mrs. A. J. Wheeler's Mack, first; Miss Mary Cecilia Ryan's Titmouse, second; Miss J. C. Draper's Trilby, third.

SHORT-HAIRED GELDED CATS

Class 20 - Tabby. – Any Color but with No White. - Miss Rose Beckett's Grover Cleveland, first; Miss Mary Cecilia Ryan's Jim, second; Charles F Bates's Tommy Doodles, third.
Class 21 – White. – P. A. Morris's Tom, first; Howard L. Van Norden's Blizzard, second; Miss Harriette Munoz's Purity Parkhurst, third.
Class 22 – Black. – Mrs. Edward L. Bailey's Cato, first; Francis Carey's Dan, second; Hanft Brothers' Dazzle, third.
Class 23 – Black and White. – Porter Fitch's Chimmie Fadden, first; Mrs. A. J. Wheeler's Murphy, second.
Class 24 – Any Other Color. – Mrs. H. Burnett's Dick, first; Randolph M. C. Ewer's Regalletto, second; Mrs. Lizzie A Turnbull's Tom, third.

LONG-HAIRED HE CATS.

Class 25 – White. – First prize withheld; Mrs. Ida Knapp's Pedro, second.
Class 26 – Black. – E. D. Joy's Joe Jenkins, first; Mrs. E. N. Barker's El Mahdi, second; Charles Knapp's N*gger, third.
Class 27 – Blue or Silver. – Mrs. Walter Eyre Lambert's Patrique, first; C. G. Lehman's Napoleon, second.
Class 28 – Brown, Dark Gray, or Red Tabby. - Mrs. E. N. Barker's King Humbert, first; Mrs. E. N. Barker's Jasper, second; Mrs. Albert Legg's Coonie, third.
Class 29 - Blue or Silver Tabby. – H. Karpenstein's King Tab, first; George McKee Jr's Tom, second.
Class 30 - Any Other Color. – Miss Georgiana Usher's Uncle Bob, first; Mrs. E. N. Barker's Paddles, second; Mrs. Charles Wood's Napoleon, third.

LONG-HAIRED SHE CATS AND KITTENS

Class 31 – White. – Miss Edith Newbold's Scheherezade, first; Mrs. J. S. H. Umsted's Princess Dinarzarde, second; Master Ray Livingston's Venus, third.
Class 34 - Brown, Dark Gray, or Red Tabby. – Hurlburt Chapman's Topsy, first; Mrs. E. N. Barker's Topaz, second; Mrs. E. N. Barker's Sapphire, third.
Class 35 - Blue or Silver Tabby. – Mrs. E. N. Barker's Lady Pudlicote, first; Miss Kate L. Clarke's Fluffy, third.
Class 36 - Any Other Color. – Miss Georgiana Usher's Queen Lil, first; George E. Moore's Plus, second; Marshall L. Bacon's Nicatous, third.
Class 40 - Single Kitten, Under Six Months Old, Any Color. – Mrs. Frederick B. Kimball's Tommy Britton, first; Mrs. Brian Brown's Muriel, second.

LONG-HAIRED GELDED CATS.

Class 41 – White. – Mrs. Lizzie A. Turnbull's Jerry, first.
Class 42 – Black. – Charles R. Pratt's Charlie, first.
Class 45 – Long-Haired Cat, Any Other Color. – Mrs Ferdinand Senn's Wasker, first; Miss Louisa Morgan's Svengali, second; Charles F. Eates's Chimmie Fadden, third.
Class 44 – Tabby, Any Color but with No White. – Mrs Frederick A. Brown's Cosey, first.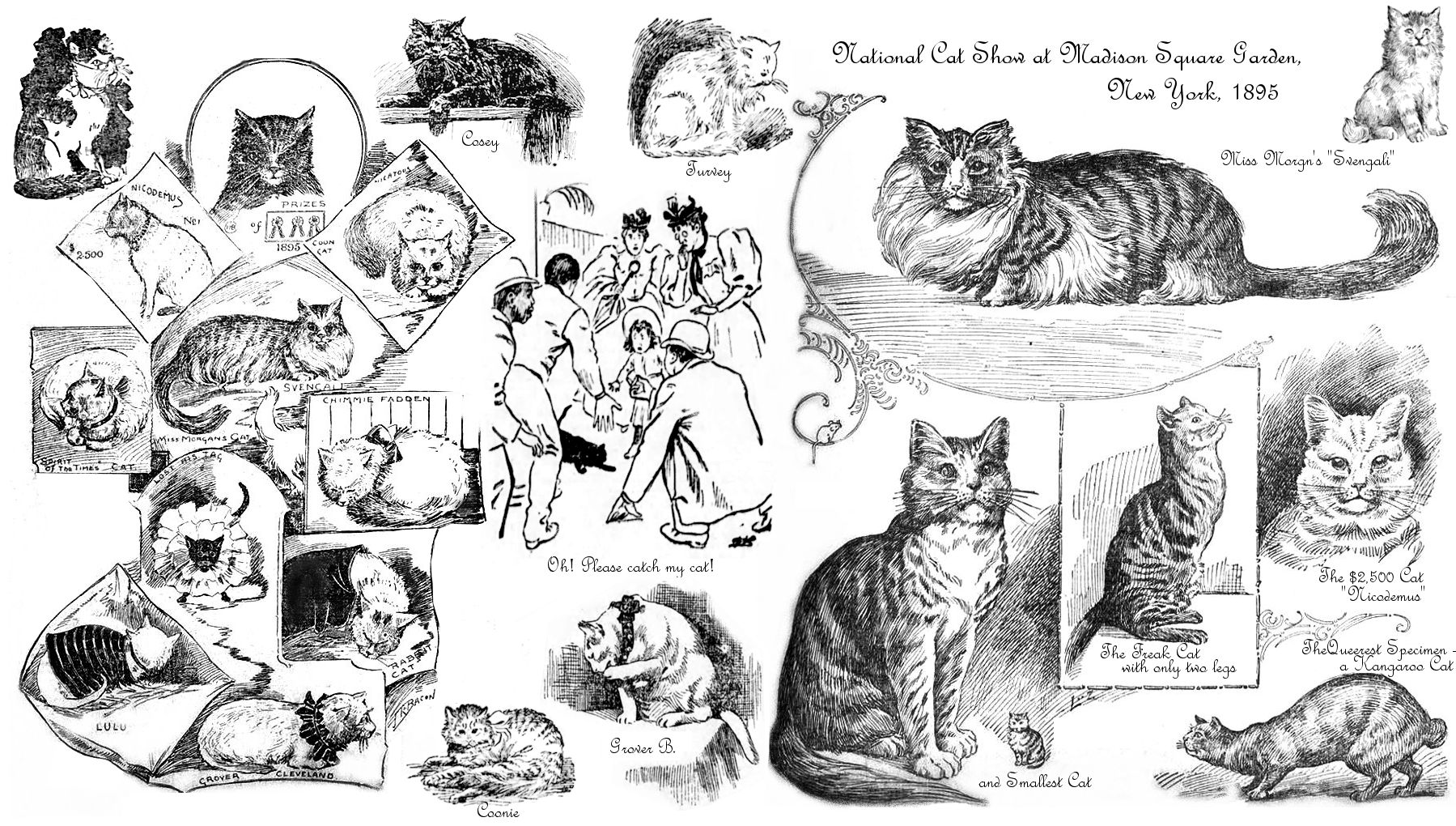 CATS WITH DECORATIONS.
Floral Tributes for Prize Winners at Madison Square Garden.
NICODEMUS THE JOKE OF THE SHOW
A Bigger Crowd to See the Tabbies Yesterday - Meeting of the Cat Club.
The New York Times, March 6th, 1896
There was a much better attendance at the cat show in Madison Square Garden yesterday than at any previous day of the exhibition. The change in the weather had much to do with this, and throughout the afternoon and evening, there was a procession passing in and out of the big doors on Madison Avenue. This change in attendance was most gratifying to the managers, who had feared that there was going to be for them something in the nature of a frost. The sunlight which streamed down through the glass roof of the big structure seemed to warm up the tabbies a bit, and most of them evinced some disposition to move about at other times than when their owners brought in to them their regular rations of chopped meat and liver. At the same time, the cats are showing the effects of their long confinement. At intervals, when being tickled with straws the cats now take offense, and resent this unique familiarity by a tiger-like snap at the would-be caressers.
Nicodemus continues to occupy his cage at the extreme southwest corner of the lines of benches, and rather revels in the fact that he, she, or it, is the biggest joke of the show, and is rather tending to make a huge joke of the pedigree cat business. Nicodemus is decidedly the unknown quantity among cats, and Dr. Huidekoper and T. Farrar Rackham, the judges now have to submit to a deal of chafing, all because of a mistake they have made about this " Chimmie Fadden " cat. A year ago Nicodemus was also given a prize, and it now appears that the feline in question has been sailing under false colors ever since it flashed on the horizon of catdom with a fairy story about being royally bred and with a pedigree as long as one's arm. Nicodemus, so far as is known, never had a pedigree, and how the animal came to be made famous is a part of the gigantic joke which the owner has played on the judges and the alleged cat experts. Nicodemus had been a common every-day Bowery cat until one day, when Brian G. Hughes was getting his shoes shined at the stand of an Italian. Hughes took a fancy to the cat and the Italian owner of the boot-blacking stand was very ready to part with him for a few small coins. This was just before the last cat show, and Mr. Hughes decided to have some fun with the cat. So this midnight prowler of the Bowery was brushed up, that pedigree, long and wondrous, and scintillating, was constructed for the animal-and so it was sent to the show labelled Nicodemus, when it should have been labelled Fanny, or some such feminine name.
To carry out the joke the price of the cat was put at $2,500, and that sum still figures in the official catalogues as the price at which the owner holds the common Bowery feline. Mr. Hughes was astonished that the cat should be able to capture a prize, but he kept his own counsel and entered the cat under about the same conditions again this year. Once more the mis-named feline captured a prize as a Thomas cat when it should have been hustling about among the Marias. That the cat should have gone through two campaigns without its sex being discovered was a bit too good a joke to be kept by the owner for another year, and so he gave the facts away. Those facts had not generally leaked out yesterday or Nicodemus would have been more of a lion than she now is. Dr. Huidekoper is a large man and a powerful one. Those who are discreet will refrain from saying "Nicodemus" in his presence, unless they are very much larger and more powerful than the doctor. The fact of the discovered change in the sex of Nicodemus was made a part of the official records of the show yesterday, when the prize that had been awarded to Nicodemus was declared to be withheld.
Grover Cleveland was taken out of his cage and subjected to the inspection and handling of the judges yesterday afternoon when they were passing on the special prizes offered by the management. The fact would not seem to strike one as being anything out of the common, yet it caused the fussy English caretaker who has charge of the big cat to come close to the verge of hysteria. A man dressed much like one of Col. Waring's street sweepers came to the cage and took the cat up to the cage near the stage, where the judges were examining the animals previous to the awards.
"I want that cat for the judges," said he.
"That cat cannot go away from its cage," answered the frightened maid who has charge of it.. "Who are you, anyway?" she asked in her broad cockney accent.
On being informed that he was an "official" of the show, and that he had been ordered to take the cat to the stage, Grover Cleveland's nurse finally allowed the petted puss to be carried off, but was in a state bordering on hysteria until the cat came back safe and sound. Before it was allowed to leave the cage, however, the maid insisted on taking oft the collar of imitation pearls and rhinestones with which it was decorated. She watched every motion of the attendants and judges until Grover Cleveland was landed back in his cage underneath the oil painting which is supposed to represent his catship. Grover didn't seem to mind it a bit, but his maid had another attack when the cat got back and she did not see the collar about its neck. She had forgotten the removal of the bauble and barely escaped a crying spell through the fortunate discovery of the trinket by a lady who had been watching the performance. When cat and collar had been properly united there was a sigh of relief from the maid, who sank wearily into a near-by chair, hid her face in her hands, and broke out in a half sob with:
"What shall I do? If his mistress knew that Grover had been taken from the cage by those horrid people and allowed to go near a lot of those common cats, she would go crazy; that's what she would do. What shall I do? `What shall I do? " It was the single tragedy of the show.
Razzle and Dazzle, even though they did not win any first prizes for their owners, had a new lot of floral decorations on their cage yesterday. The jack roses and the English violets that had faded were supplemented with a lot of richly colored tulips and yellow daffodils in the early afternoon, and thus the cats vied with their neighbors who had been more successful as prize winners. Miss Ryan also redecorated the cage occupied by her especial pet, Jim, who has the honor of being the only cat in the show that rests underneath a bower of La France roses. Jim seems satisfied with the roses as a substitute for the blue card which denotes the winner of a first prize. Siegfried, a huge white cat of the short-haired variety, was made proud yesterday by a decoration of unusual brilliancy. It was a wide collar of pink ribbon, tied with a huge bow, the latter held in place by the use of a huge six-pointed star of rhinestones. The much-talked-of kangaroo cat made its appearance at the show yesterday. It was stuffed, and badly stuffed and mounted at that, so that a little boy who saw it remarked: "Pshaw! I've got a better-looking cat than that in my Noah's ark."
The first regular meeting of the American Cat Club was held in the committee room at Madison Square Garden yesterday afternoon at 4 o'clock, the temporary President. Dr. Huidekoper, in the chair. The members of the club present were: Mr. S. Huidekoper, New-York; W. D. Mann, New-York; Mrs. F. M. Clarke, New-York; Mrs. Munoz, Crawford, N. J.; Miss Millhau, Brooklyn; Mrs. A. J. Wheeler, New-York; Mrs. Turnbull, Roxbury, Mass.: Mrs. H. C. Higginson, Newburg, N. Y.; Mrs. Dr. Clock, Mrs. E. N. Barker, Newburg, and Mr. E. N. Barker; Mr. T. Farrar Rackham, East 0range, N. J.; Mr. C. R. Pratt, New-York; Mr. James T. Hyde, New-York; Mr. Bruce Glasgow, New-York, and Mrs. Leland Norton. Chicago, Ill. The object of the club is for the purpose of investigating, ascertaining, and keeping a record of the pedigrees of cats, and of instituting, maintaining, controlling, and publishing a stud book or book of registry of cats ln the United States and Canada, and of promoting and holding exhibitions of such animals, and generally for the purpose of improving the breed thereof and educating the public in its knowledge of the various breeds and Varieties of cats.
The Directors elected were: Dr. R. S.Huidekoper. Mrs. H. C. Clarke. Mrs. E. N. Barker, Mr. E. N. Barker, Mr. T. Farrar Rackham, Mr. C. R. Pratt, Miss Edith Newbold and Mr. James T. Hyde. The officers elected from the Board of Directors were: President - Dr. Rush S. Huidekoper; Vice Presidents - Mrs. H. N. Barker, and Mr. W. D. Mann; Secretary Treasurer - Mr. James T. Hyde. The temporary Secretary reported that there were ample funds in the treasury and the Treasurer was authorized to pay all bills contracted for incorporation and all prizes offered by the club at the National Cat Show. The Board of Directors was empowered to draft by-laws, regulations of exhibitions, scale of points, and all conduct of business, the same to be reported at the next meeting of the club. The stud book is ready for registration of cats, and can be found in the office of the Secretary; and it was voted that all cats exhibited either at the show last year or at the present show be entitled to free registration, and that a fee of $1 be charged for registration to non-members of the club. There will be a special exhibition by the performing cats Saturday at 12 o'clock for the amusement of the children.
Prizes awarded:
MANX CATS.
Class 46 - He Cat, Any Color. F. W. Pierce's Bob, first prize, $8; Mrs. R. S. McCreery's The Deemster. second prize, $4; Mrs. R. S. McCreery's The Manxmam, third prize, $2.
Class 47 - She Cat, Any Color. Master J. L. Draper's Molly, first prize, $8; F. W. Pierce's Sweet, second prize, $4; Mrs. R. S. McCreery's The Deemstress, third prize, S2; Richard F. JenkIns's Monkey, very highly commended.
Class 48 Gelded Cat, Any Color. Mrs. Lucy E. Newcombe's Charlie, first prize, $8; Miss Sarah J. Smith's Max Smith, second prize, S4.
SPECIAL PRIZES.
Class 53 - Offered by Mrs. Richard F. Carman, a Silver Collar for the Best Long-Haired He Cat in Classes 25 to 30. - Awarded to Mrs. E. N. Barker's King Humbert; reserve, (in case winner is disqualified) Miss Georgiana Usher's Uncle Bob.
Class 56 - Offered by Charles F. Bates, $10 in Plate for the Best Short-Haired He Cat in Classes 1 to 8 - Mrs. V. Platz's Bismarck; reserve, Mrs. A. Draper's Little Sassy.
Class 57 - Offered by American Cat Club, S10 in Plate for the Best Short-Haired Cat Entered in
Classes 9 to 24, (18 to 24 excepted) - Mrs. H. Burnett's Dick; reserve, Samuel Rosenthal's Old Man.
Class 58-Offered by American Cat Club. - $10 in plate for the largest and best exhibit of cats made by any one exhibitor, to Mrs. A. Draper.
THE SECOND ANNUAL CAT SHOW is now on at the Madison Square Garden, in New York. A large list of entries has been obtained after industrious work on the part of the promoters of the show; bat the bird show had to be given up. It was not the fear that the cats would break out and eat up the birds that made managers give up their side of the show. It was the small interest taken in the show by owners of birds. They could not get up any public spirit in the matter. More than $1000 will be awarded in prizes for all breeds and various colors of the long and short-haired cats. There is a special prize for the biggest number of cats by one exhibitor and one for the biggest and heaviest cat. While merit and quality are being considered in cats, their vocal abilities and back- yard staying qualities should not be forgotten. The men who thought to mix cats and birds in one terrorizing and tantalizing show should be put on a bicycle committee. They have wheels in their heads. – The Times Picayune, March 6, 1896
HIGH PRICED KITTEN. Buyers Picking Up Cat Show Prize Winners. Now York, March 6. — An array of carriages drawn up before the doors of the Madison Square Garden demonstrated that the felines at the National Cat Show, have a city acquaintance which is not limited to the occupants of the back yards and fences. There was a larger attendance than on any day last spring. The feature of the afternoon was the classification of the different candidates by the judges and the distribution of the colored ribbons. The prize list aggregated $1,500. The cats were fixed up in state, fancy collars and ribbons and imitation pearls leading the styles, in the hope of impressing the judges, and many of the cages were trimmed in gay fashion, with ribbons, artificial flowers and silken American flags. Terry, a handsome white Persian, owned by Mrs. Lizzie A. Turnbull, is a swell on his own account, and needs only little aid from the decorator to heighten his natural and bizarre beauty. The possession of a blue and a green eye, each a shining and serviceable optic, is one of Jerry's distinctions. Many sales were reported to-day, one man paying $100 for an Angora kitten. The little thing just got its eyes open. – Harrisburg Telegraph, March 6, 1896
* **
MUSIC HATH NO CHARMS. The Evening Times, March 6, 1896. Mrs. Turnbull's "Nigger" Showed His Dislike to the Tooting Band Men. New York. March 6. — The second annual national cat show entered upon the fourth day of its existence today. Mrs Lizzie A. Turnbull is one of the largest exhibitors in the show. Nigger, a handsome black Persian, was very nervous, and yesterday morning while Mrs. Turnbull was trying to calm Nipper's nerves Nigger escaped and hid behind the proscenium boxes. A number of persons gave chase, and this only frightened Nigger more. Mrs. Turnbull did not worry about the lost Nigger. As soon as it became dark she went to the spot where Nigger disappeared and called her name several times. Nigger, looking very penitent, came out and was easily captured. This morning Nigger seemed better used to her surroundings. Neither Nigger nor the other cats approve of the band. It grates on their nerves, but beyond a slight sign of restlessness and a twitching of the muscles they show but little sign whether they like music or not. The cat fanciers say they do not like it.
Peaslee, the Spirit of the Times' mammoth blue and white Maltese, is enjoying the snow in his own peculiar way. When at home he occupies a chair at the entrance to the office. Nearly every caller who is not acquainted with Peaslee begins to pet him. This is just what Peaslee is in a prominent position for. He lets go the instant any one hand is in reach, with both paws, and seldom fails to leave his trademark on any stranger who attempts to be familiar. Those who know Peaslee never put their hands within three feet of him. He spends the time while on exhibition trying to induce visitors to caress him, and so get even with the human race. A few unsuspecting individuals have been sampled by Peaslee, and he is ready to meet all comers.
The Persian cat Jerry is one of the most singular-looking cats in the show. Jerry is a perfect white. He is of grand size, and a remarkably handsome specimen of his kind. Jerry's claim to fame is not so much his conformation, coat and appearance as his eye. He has one of azure blue, while his other eye is a bright emerald green. Jerry is expected to earn ribbons as blue as his right eye.
* * *
CATS RECEIVE VISITORS
School Girls in the Garden Hug and Pet the Exhibits.
CHILDREN TO SEE THEM THIS MORNING
The Judges Finish Their Work and Award the Special Prizes - Dick, the Giant Cat of the Show.
The New York Times, March 7, 1896
The cats now on exhibition in Madison Square Garden were li high fur yesterday. They were hugged and petted so much that they must have thought that they were out of the Garden and back in their own homes for a. time. They found out, though, that this was a delusion, for the petting only lasted for a, short time, and then they were put back in their cages to be admired and criticised again. The occasion of all the petting was visits paid to the Garden of several delegations of schoolgirls from some of the fashionable seminaries in this city. These girls had lots of fun during the two hours they were in the Garden. They induced the owners of the cats to let them take them out of the cages, and then they cuddled and stroked the cats as though they had never seen a cat before, and the cats turned their unsympathetic eyes on the girls, and seemed to wonder what it all meant. The new woman, who has been conspicuous by her absence at this show, may admire the dog, but lf there is one thing more than another that a schoolgirl will rave over, it is a cat.
This is to be children's day, and the cats will have to be petted and admired by the little ones. The children will appreciate this show more than they did the dog show because the cats will be quiet, and appreciate all the petting, while the dogs scared most of the children out of their wits by snapping and snarling at every one. For the children's special benefit the trained cats will give a matinee performance at noon. This will be in addition to the two performances at 3 and 4:30 o'clock in the afternoon and the one in the evening. The attendance all day yesterday was remarkably good, and the promoters of the show were very pleased. The attendance all through the week has been very good in spite of the fact that the show has had to contend with the worst weather New-York has had for some time.
The chief attraction at the Garden yesterday were the Happy Family, the Madison Square Garden Cat and Svengali. The Happy Family is watched all day long. It consists of Tom, a fine, big, black cat, two guinea pigs, some mice, and birds. The cat seems to take a paternal interest in all the others in the cage. The guinea pigs jump around and have a good time all by themselves. The mice are fond of resting on the cat's back, and the birds' favorite roosting place is on the cat's head. The members of this family never have a difference.
The Madison Square Garden Cat, now named Diana, by Charles Chamberlain, is the mother of four pretty kittens, and, of course, has to be seen by all who visit the Show, and so many have asked to have one of the kittens that Mr. Chamberlain is at his wits' end to know what to do. The attaches of the Garden insist on calling the cat Nig. Svengali, a dark brown tabby, is owned by Miss Louise Morgan, the daughter of the well-known banker. Svengali, in spite of his great wealth, is a very modest cat, and takes all the praise bestowed on him very quietly. He seemed to be as indifferent to the bank account of his owners as he was to losing a handsome silver bowl offered by Charles R. Pratt for the best long-haired cat in the show. This prize was won by Hurlburt Chapman's Marie, a brown and black importation from Paris.
There was quite a lively competition for the prize offered for the largest and heaviest cat in the show, and it was won by Mrs. H. Burnett's Dick, a gray, black, and white tiger-marked cat. Dick is a veritable giant. He is only nine months old, and weighs twenty-four pounds. The judges got through with their work yesterday, and, strange to say, there have been no complaints against the awards. There has been lots of friendly rivalry among the exhibitors, of course. The owners of the winners are well pleased, and the owners of the losers have taken their defeat in good part. The cats don't seem to care whether they wear blue ribbons or none at all. The prizes will be paid to-day.
Some of the visitors in attendance at the show were Capt George Anderson, Sixth United States Cavalry, Commandant in charge of Yellowstone National Park; James M. Horsfall, Lawrence Godkin, Mrs. Hermann Oelrichs and Mr. Charles Oelrichs, Brockholst Cutting, C. F. Havemeyer, Charles G. Francklyn, Mrs. Prescott Lawrence, Dr. G. Clinton Blakelock, Mrs. Horace Stokes. Mr. and Mrs. Stephen Barnum of Glen Ridge, N. J.; Mr. and Mrs. R. F. Carman, Miss Ethel Anderson, East Orange, N. J.; Mr. Richard C. Rathbourne, Miss Justice of Chicago, Mrs. E. Speck Sperry, Mrs. Herbert Carpenter, Mrs. Hattie Bannister, Mrs. Heldon, Philadelphia.; Mrs, J. Allen, Stephen Williams, Wilber Bloodgood, Mrs. F. F. Morrell, Mrs. Randolph, Mrs. John Lowrie, and Mr and Mrs G, Gordon Cloather.
The judges yesterday completed their work and the final awards were as follows;
LONG-HAIRED SHE CATS AND KITTENS.
Class 32-Pure Black.-Mrs. E. N. Barker's Egypt, First prize., $8. Mrs. Lizzie A. Turnbull's Rigger, second prize, $4.
Class 39- T wo Kittens, Either Sex, Between Three and Six Months Old. Any Other Color Than Specified in Class 38. - Mrs. H. Kip Woodruff's Fuss and Feathers, first prize $8. Mrs Lizzie A. Turnbull's Romulus and Remus second Prize, $4.
SPECIAL PRIZES.
Class 53 - Offered by Mrs. Richard B. Carman, an silver cat's collar for the best long-haired he-cat entered in Classes 25 to 50. - Mrs. E. N. Barker's King Humbert; reserved. Miss Georgiana Usher's Uncle Bob.
Class 54 - Offered by Mr. Charles R. Pratt a silver bowl for the best long-haired cat in Classes 31 to 49, Classes 37 to 40 excepted. - Mr. Hurlburt Chapman's Marie; reserved, Miss Georgiana Usher's Queen Lil.
Class 59 - Offered by the Madison Square Garden Company for the Largest and Heaviest Cat in the Exhibition Mrs H Burnett's Dick, 24 pounds.
Class 60 - Offered by the National Cat Show for the Best Short-Haired Kitten, Either Sex, Not Over Six Months Old. - Miss Kale L. Clarke's Tom and Jerry divided the honors; reserved, Mrs. A. J. Wheeler's black.
Class 61 - Offered by Spratt Patent, $10 in Plate for Cat and Best Litter of Kittens Not Under One Month Old -Mr. William Phllllps's Hilda; reserved, Mr. Frank S. Clark's Julia. And five kittens.
Class 63 - Offered by Robert Kent James, a King Royal Kitten Valued at $50, for the Best Male Blue Angora Cat of Walnut Ridge's Farm. - Mrs. Walter Rye Lambert's Patrique.
Class 67 - One Box Walnut Cat Food, Value $5 for the Largest Short-Haired Cat in the Show. – Mrs H. Burnett's Dick. Mrs Id Knapp's Susie, which was lost, and found after the class had been judged was assured a duplicate third prize of $2.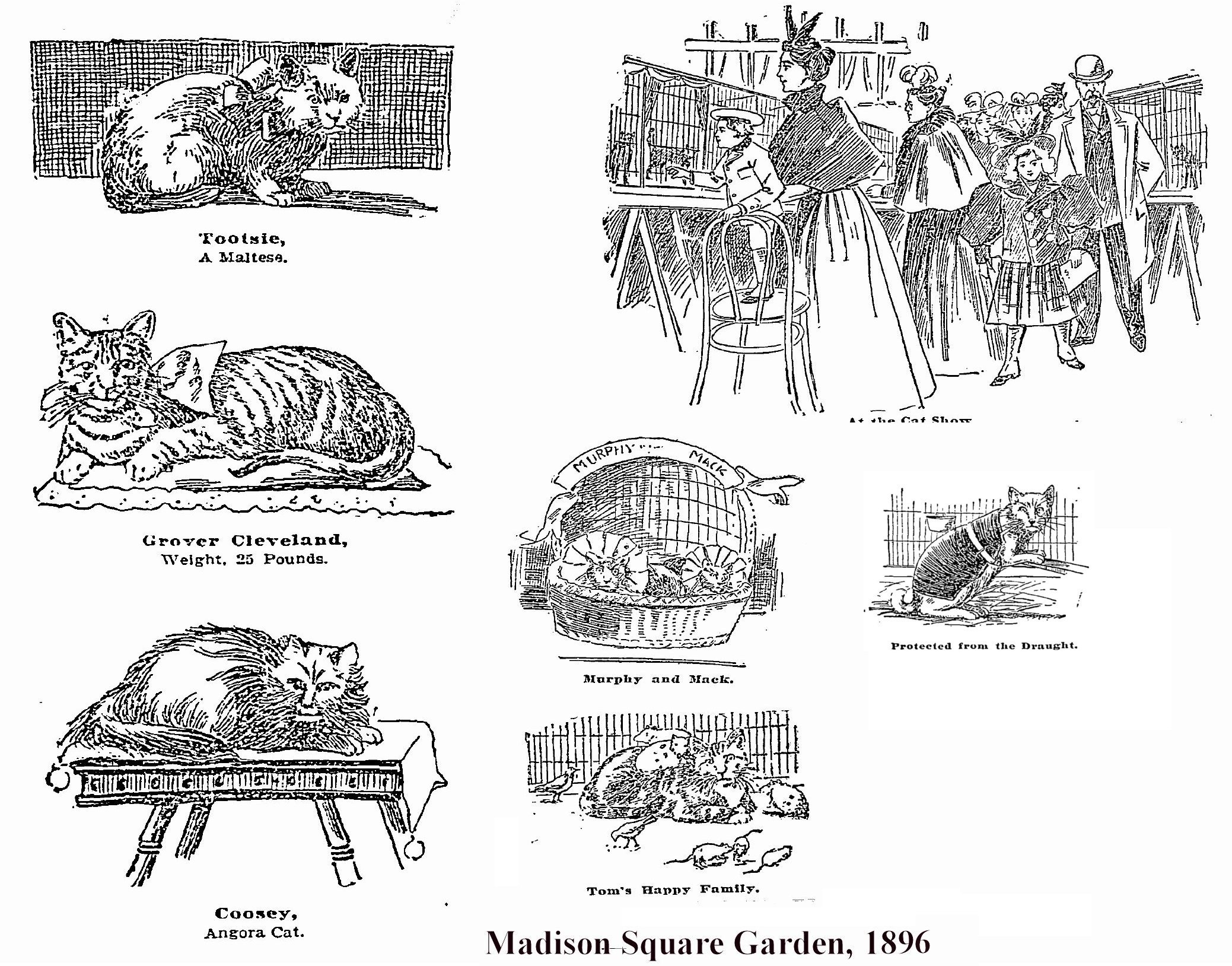 * * *

CHILDREN SEE THE PUSSIES. New York Tribune, Saturday March 7th, 1896. "Tom's Happy Family" The Centre Of Attraction At The Cat Show. Crowds Of people At The Garden – The Judges Award The Last Of The Special Prizes.
Tom's Happy Family continued to hold its own yesterday at the Cat Show as far as popularity is concerned. All day long the big cage containing the cat, the guinea pigs, the rats and the birds was the centre of attraction for a good-sized crowd. Late in the afternoon, when a number of people were interested in the "family," a boy and a girl, both about eight years old, came up to the cage. Among the inmates of the cage was a white rat that was particularly assiduous in his attention to Tom. He would be apparently interested in some bits of food at one end of the cage, and then suddenly would run up to Tom, and after hurriedly implanting an affectionate kiss on the chilly nose of that individual, would run back again to the car corner of the cage. This performance was repeated several times, and both of the eight-year-olds on the outside were deeply interested. The boy seemed puzzled for a while at the apparent indifference of the cat to all these attentions, but suddenly his face brightened up and, turning to the girl beside him, he exclaimed: "I really believe that that cat is flabbergasted!" The girl was visibly affected for a moment, and a gain turned her attention to the cage and its inmates. After a few moments' careful thought she said: "No, I think he is hypnotized." As usual, her masculine friend was convinced, and had no more suggestions to offer.

The crowd of visitors yesterday was larger than on any of the preceding days of the show, and the aisles were well filled from the opening hour until late last night. The judges had hard work yesterday in getting at the cats in order to award the last of the special prizes, the people being so close to the cages. In the daytime the sunshine made the Garden look bright and pleasant, and even the cats seemed to be in better spirits as an effect of the fine weather. T. Farrar Rackham, who is always on hand, reported everything in "ship-shape trim," and two cats, who had managed to escape for a time, properly housed once again in their cages.

The awards have all been satisfactory, as no protests have been made by exhibitors, and many of them have even gone so far as to inquire what time the show will open next year, so that they may be able to secure places for their cats. The trained cats, under the guidance of Mme. Sansoni, attracted considerable attention. In order to accommodate the children to-day, the last day of the show, a special performance, with additional cats in the troupe, will be given at noon.

Among those [high society people] present at the show yesterday were Captain George Anderson, USA commandant in charge of Yellowstone National Park; James M. Horsfall, Lawrence Godkin, Mrs. Herman Oelrichs, Mrs. Charles Oelrichs, Brockholst Cutting, C.F. Havemeyer, Charles G. Franklin, Mrs. Prescott Lawrence, G. Clinton Blakelock, Mrs. Horace Stokes, Mr. and Mrs. Stephen Barnum, of Glen Ridge, N.J.; Mr. and Mrs. R.F. Carman, Miss Ethel Anderson, of East Orange, N.J.; Richard C. Rathbone, Miss Justice, of Chicago; Mrs. E. Speck Sperry, mrs. Herbert Carpenter, Miss hattie bannister, Mrs. Heldon, of Philadelphia; Mrs. J. Allen, Stephen Williams, Wilbur Bloodgood, Mrs. F.F. Morrell, Mrs. Randolph, Mrs. John Lowrie and Mr. and Mrs. G. Gordon Cleather.

The judges completed their work yesterday, and the final awards were as follows:

Long-haired Cats and Kittens:
Class 32, pure black. Mrs. E. N. Barker's Egypt, first prize, $8; Mrs. Lizzie A. Turnbull's Nigger, second prize, $4.
Class 39, two kittens, either sex, between five and s months old, and other color than specified in Class 38. Mrs. N. Kip Woodruff's Fuss and Feathers, first prize, $8; Mrs. Lizzie A. Turnbull's Romulus and Remus, second prize, $4.

Special Prizes
Class 53, offered by Mrs. Richard F. Carman, a silver cat's collar for the best long-haired he cat entered in Classes 25 to 30. Mrs. L.M. Barker's King Humbert; reserved, Miss Georgiana Usher's Uncle Bob.
Class 54, offered by Charles R. Pratt, a silver bowl, for the best long-haired cat in Classes 31 to 43, Classes 37 to 40 excepted. Hurlburt Chapman's Marie; reserved, Miss Georgiana Usher's Queen Lil.
Class 59, offered by the Madison Square Garden Company for the largest and heaviest cat in the exhibition. Mrs. H. Burnett's Dick, 24lb.
Class 60, offered by the National Cat show, for the best short-haired kitten, either sex, not over six months old. Miss Kate L. Clark's Tom and Jerry divided the honors; reserved, Mrs. A.J. Wheeler's Mack.
Class 61, offered by Spratt's patent, $10 in plate for cat and best litter of kittens not under one month old, William Phillip's Hilda; reserved, Frank S. Clark's Julia and five kittens.
Class 63, offered by Robert Kent James, a King Royal kitten, valued at $50, for the best male blue Angora cat of Walnut Ridge Farm, Mrs. Walter Nye Lambert's Patrique.
Class 67, one box walnut cat food, value $5 for the best short haired cat in the show. Mrs. H. Burnett's Dick. Mrs Ida Knapp's Susie, which was lost, and found after its class had been judged, was awarded a duplicate third prize of $2.

* * *

A FRIEND TO THE ILL-TREATED KITTEN.
New York Tribune, Saturday March 7, 1896.

To the Editor of The Tribune.
Sir: I wish to protest against the ordeal of fire to which I saw a poor trembling kitten subjected at the Cat Show on Wednesday last. As the little creature came out a child near me said, "How forlorn it looks, it's half starved!" I told her probably it had been ill, but I believe now, that its life of fear caused its forlorn appearance. As it was urged to jump through the flame, it stood shrinking and uttering a low, plaintive cry. Finally it took the leap. I only regret I did not speak for it then and there, and demand its release from the torture of fear. The next cat took the leap after some hesitation, but the last one, a fine Angora, simply refused to move and was withdrawn. I was thankful to read in The Tribune of yesterday that at one of these cruel exhibitions a voice was raised against it, and that it was denounced as "mean and cruel." We are trying to educate our children to show kindness to all dumb creatures, and in their names I beg that never again may the Cat Show be so disgraced. - R.J.F., New-York. March 6, 1896.

CAT SHOW ENDS TO-DAY – The Sun (NY), March 7, 1896. Final Awards by the Judges in the Special Classes. Red-hearted tulips and yellow crocuses were displayed on some of the cages at the National Cat Show yesterday, a pleasing change from the flags and ribbons, which are pretty, but rather lacking in variety. The warmer weather has a soporific effect on the felines, and they were more than usually drowsy. When the band played hitherto there were always some cats to show disquietude, but now the music seems only to soothe their slumbers. Quite a number of the exhibits were taken to their homes last night by their owners, to be washed and brushed up for the final day and evening of the show.

One lesson taught by the show is that even the ordinary household cats have a place according to their colors in the classifications of the fanciers. The owner of a pet tortoise-shell, Maltese, black and white or red cat, may learn at the show just what class the home feline might have been entered in. As a result of this educational work, it is thought there will be no lack of entries in the short-haired classes at the next show. There seems to have been a general impression that only Angora, Persian, or Manx cats, or those of established pedigrees, were eligible. That this was a mistake is seen at the exhibition; in fact, many of the cats seem to be rather ordinary specimens. Fancy collars and lavishly decorated cages will not hide this fact, although the adornments undoubtedly give a fictitious value to the appearance of many exhibits. A common remark by the visitors is that they have just as fine cats at home. They forget that but for the popularity of cats as household adjuncts there would be no visitors to the show.

There is no lack of interest in the exhibitions by the troop of trained cats. Practice has increased their proficiency since the opening, and they now walk the tight rope, climb ladders, and jump through hoops with great celerity. In one act a dove and a cat do a double balancing feat on the ladder. Tom, the ruler of the "Happy Family," is as hard a sleeper as any of the cats in solitary confinement. The guinea pigs and white mice are also fond of long naps. They use Tom for a sofa, and almost hide the cat from sight, so closely are they packed around his body.

The judges completed their work, and gave first prizes in the special classes to the cats owned by Mrs. E. N. Barker, Mrs. H. Kip Woodruff, Hurlbut Chapman, Mrs. H. Burnett. Miss Kate L. Clarke. William Phillips, Mrs. Walter E. Lambert, and Mrs. Ida Knapp.

NICODEMUS. The Times, Saturday March 7th, 1896. There was a humorous incident at the cat show which has been in progress in Madison Square Garden this week. It happened thusly: There was a class for "he" cats with short hair. In this class were two entries, one named Nicodemus, the other Dot. The latter was disqualified by the judges because he had white whiskers, which was not allowable according to the conditions. As there were only two entries the first and second prizes were withheld and the third was awarded to Nicodemus. Everything was all right for a couple of days, when a protest was lodged by the owner of Dot against Nicodemus getting third prize. The committee had the owner of Dot on the carpet and asked him why he protested.

"The class calls for he cats, don't it?" said the owner of Dot.
"It does," replied the committee in chorus.
"Well, Nicodemus is not that kind of a cat."
The committee looked surprised and the judges pooh-poohed.
"Come and see for yourselves," said the owner of Dot.

Forthwith the committee attended the inspection in a body. One of the judges looked over Nicodemus critically, and there, sure enough, Nicodemus was discovered to be of the feminine gender. The committee was somewhat amused at the mistake, and of course disqualified Nicodemus. One of the judges was the well-known Dr. Huidekoper, the other Mr. Rackham. The laugh was on the judges. The mistake, however, might happen to any judge at a cat show, because some of the animals are so savage that it is dangerous to handle them. At least, this is the excuse handed out to the press by the management.

CHILDREN SEE THE CATS
They Have Lots of Fun in Madison Square Garden.
HAPPY TOM AND HIS BIG FAMILY
It Now Numbers Thirty-two, but Is to be Added To - The Cat Show Over.
The New York Times, March 8, 1896

There was a constant line of children passing through the turnstiles at Madison Square Garden yesterday morning and afternoon to see the cats. The little ones seemed to enjoy the show very much, and the cats were just as pleased to see the children, as they had more attention paid them. The children were more enthusiastic over the cats than the schoolgirls were on Friday. The owners and attendants were kept busy taking their pets out of the cages, and then the little visitors had a good frolic with them on the floor. One little miss, about three years old, furnished lots of amusement to the older visitors. She was a pretty little girl, with long, fair hair and bright blue eyes. She wore a dainty silk dress, and her nurse carried her hat and cloak while she was in the Garden. Charles R. Pratt's cat Charlie was on the floor when the little girl came up. Charlie is a brown Angora eight months old, and was just in the mood for play. The little girl sat down on the floor beside Charlie, and the two had lots of fun. They rolled over and over each other. The dainty dress suffered considerably, and the nurse was in a sad state of mind. This did not trouble the little girl, and when she was taken from the cat she was very much disappointed.

Svengali, Grover Cleveland, Dick, and other celebrities were in turn admired, and, of course, the kittens had to be inspected. The happy family and the performing cats, though, seemed to furnish the interest to the children. All day long there was a crowd around the family cage. This happy family is really a remarkable exhibit. E. N. Baumann of Norwich. Conn., the owner of the family, .has been trying to train one ever since he was a boy. He has owned several small ones, but this is the best and largest. He is going to add to it when he gets back home until it numbers fifty-two, with the cat as the joker. At present the family has thirty-two members. Happy Tom, a three-year-old tabby, is the head. Then there are four guinea pigs, two white mice, three white rats, three Japanese rats, two ring doves, two African dwarf doves, two Australian paroquets, two indigo birds, two white Java sparrows, two gray Java sparrows, six German canaries, and one English canary. Happy Tom regards himself as the protector of this family. He is a very intelligent cat. If a strange cat were put in the cage alone, it would probably be serious for the birds and mice; but with Happy Tom present they are safe. He will keep every one from being hurt. Lf an English sparrow or a common mouse or rat were put in the cage, Tom would kill it at once. Mr._Baumann thinks these acts show how intelligent the cat is. When a boy, Mr. Baumann had a family consisting of a robin, a chipmunk, and a field mouse; another family consisted of two owls and a red squirrel.

The successful exhibitors received their prizes yesterday, and at 10:30 last night the show came to an end. A few minutes later there was hardly a cat in the Garden. J. T. Hyde, the manager of the show, says it has been a success as an exhibition and financially, and will become one of the features of the Winter season in New-York, just as the Horse and Dog Shows have.

Several cats found new owners yesterday. Mr. Phillip's white and yellow Persian kitten, Shaughraun, was sold to Mrs. Francis Lee Morrell of 800 Fifth Avenue, New-York, for $50, and his white Persian kitten, Vandyke, was sold to Mr. Plum, the artist, Harlem, for $50. Miss Mary-Cecelia Ryan's short-haired kitten Friskle was sold for $15. Mrs. Lizzie Turnbull's Remus sold for $40. Mrs. Turnbull sold Tommy Britton.

The Superintendent received a telegram from a lady offering $60 for the line black Persian, Egypt, but Mrs. Barker, the owner, promptly refused the offer. Mrs. E. N. Barker's Suleiman has been, sold, and also her Persian Paddles, which the owner is to take to China Mrs, A Draper has sold her Darkie. Miss Kate L. Clarke's short-haired white, male kitten, Tom, sold for $20.

SUGGESTION'S FOR NEXT CAT SHOW. New York Times, March 8, 1896. Mrs. Albert Legg of Allendale, N.J., thinks that her cat Coonie did not receive all in the way of newspaper mentions, that it was entitled to during the Cat Show that has just ended. He is down in the catalogue as a "wild Angora," that will be sold to any-one who is willing to part with a couple of hundred dollars for him. Coonie is peculiar, because he is a cross between a short-haired domestic cat and a wildcat. He is the only one of the litter that had the characteristics of the father, and he is so full of them that he does not take kindly to civilization. He lives out in the woods most of the time, and has on, more than one occasion been followed to the house of his mistress by hunters who were anxious to get a shot at the animal the character of which they could not determine. Coonie is a sport from the ground u, and is famous as a hunter of feathered game. There is no marksman in Jersey who can bring down a bird so surely as he, and he never misses a shot when he is out after a robin lunch. All well regulated cats come down trees tail foremost, but Coonie differs from them, and comes down the trees when he has been out on hunting expeditions head first, as does a wild cat. He has a tail as bushy as that of a fox, and altogether seems to be the sort of a cat that is worthy of special newspaper notoriety.

* * *

PUSSY HERE AND PUSSY THERE - The Inter Ocean, March 8, 1896

Mrs. Leland Norton of Chicago, saw the cat show in New York Wednesday, and this is how she impressed a writer on the World: "Not the least Interesting of the many noteworthy features of the second annual cat show, now going on at Madison Square Garden, is the visit of Mrs. Leland Norton of No. 4011 Drexel boulevard, Chicago. Mrs. Norton is foremost among the cat cranks of the Windy City, and is regarded there as a high authority on the proper points of every breed of feline pet. She is the owner of the famous pure white Angora Echo and several other rare cats.

"She is here to gain for Chicago's coming show any instruction that she may pick up at the garden, and, if possible, to persuade New York owners to take their cats West next fall. As she walked up and down the large aisles of wire pens yesterday she criticised the show in general, the several classes of cats and the individual entries without fear or favor.

" 'I must admit I am a little disappointed,' she said. 'I fully expected to find better cats and many more entries here than we could ever hope for in Chicago, but, on the contrary, the cats do not compare with ours in any way. Of course, there are several notable exceptions. in the Angoras, for instance' — pointing to Miss Edith Newbold's Scheherazade, which won second prize last year and first this year in the pure white Angoras — 'this beauty is a cat that any one might be proud of. It is the very best white Angora in the show. It has nearly all the points of a perfect cat.

" 'This one, Mrs. J. S. H. Umsted's Princess Dinarzade, is a fine kitten and compares favorably with the other. She has the disadvantage of being immature and her coat sadly out of condition. In fact, that may be said of nearly all the cats. Shows of this kind should be held in October or November, for at this time of year the animals shed their coats. By the way, it is strange I don't see a single male cat among the long-haired whites. Mrs. Ida Knapp's Pedro is the best. Before we leave the white Angoras I want to say of Scheherazade that she is the only cat in the show that I would care to purchase if she were for sale.

" 'Now, here's King Humbert, Mrs. E. N. Barker's own imported Persian tabby. Of course, he carried off the first prize in his class. He is the best male dark tiger I have ever seen. With the exception of King Humbert and Scheherazade, Mrs. Frederick A. Brown's Cosey, this dark-gray Angora — it isn't Angora but a coon cat — is the best long-haired fellow here. He is excellently tufted, has unusually large, fine eyes, and his whiskers are simply marvelous. By the way, half of the so-called Angora cats here and everywhere else are nothing more or less than coon cats. Now, this coon cat, Cosey, justly won the first prize over real Angoras.

" 'This gelded Manx Charlie of Mrs. Lucy E. Newcomb is a fine fellow. His size is in his favor. See this pretty picture, William Phillip's white Persian Hilda and her five kittens. The eyes are not good, but they make the best family here. Mrs. Burnett's gray, black and white tiger-marked short-haired Dick is great. She tells me he weighs twenty-three pounds, and took first prize in his class. Well, he deserves it, he has a fine head.

" 'Ah! Here is a splendid red Angora, Charlie, Mrs. Ferdinand Senn's. He is unusually fine. He should have no markings, and has none. He is well — yes, excellently — tufted. The head is good; so is the tail and the hair. I don't see any very good Chartreuse blues. But here is a good brown Persian tabby, Mrs. Barker's Sardonyx.

" 'Queen Lil here, Miss Geòrgie Usher's smoky puss, is good, but her head is too small, and the tuftings are all absent. The coat, however, is good and heavy. This Persian female, Plus, of George E. More, shouldn't have won second prize. Her tall is too long.'

"And thus the learned little catologist from Chicago went on through the whole exhibit."

* * *

LONG-HAIRED FELINES FAVORED. The Wichita Daily Eagle, March 10, 1896
They Get All The Attention at the New York Cat Show. Although the high winds and cold weather have been a great drawback for the cat show in the Madison Square Garden, the attendance thus far has been fair, and with better weather it is expected that the number of spectators will be much larger. The exhibition is a good one and in some instances instructive. Another year, after the newly organized Cat club has done its work, the show may be better. The varieties of cats shown is large, even though the number of animals is small. There is a well-recognized standard for judging, and most of the women whose pets are caged, have well-founded ideas of it, although some have their pets which are by no means up to the standard, and find fault with the judges because their exhibits are passed by without award.

The average spectator cannot be forced to see much beauty in the short-haired cats, although some are fully as well-bred as those with long hair, probably owing to familiarity with that kind of animal. The cages of the long-haired specimens attract much attention, and as most of them will stand any amount of petting, there are many amusing scenes and a good deal of what is known as "baby talk." Few men are to be found at the show, as they do not take much interest in cats, but those who do go are interested at once.

Among the long-haired cats which attract attention are those belonging to Mrs. E. N. Barker, led by the Persian, El Mahdi, a beautiful jet-black animal, Then there are the brown Persian, King Humbert, a well-known winner; another brown Persian, Sardonyx, the black and white, Paddles, the black female Egypt, and two fine grey Persians. Hilda, belonging to Mrs. William Phillips, with a litter of kittens looking like their mother, is popular among the spectators, while the great orange Angora, a very woolly cat, is a fine specimen of the breed. Mrs. Charles Weed's Napoleon is a tawny Angora looking like a lion in miniature, and usually has a crowd around him. The owners of the cats have decorated the cages, and one cage is a mass of flowers; others are trimmed with ribbons, and many of the animals have ribbons around their necks. One in particular is gorgeous with a quintuple string of pearls around his neck.

The cats are not in the best of condition, as the show is a little too late in the season, and some have begun to shed their fur, the loss of the ruff being noticeable in many cases. The judges are old hands and will not regard condition as much as they would under other circumstances. There are several Persians which have not got the silky hair required for a first-class animal, and some of the Angoras are not as woolly as they should be. A few of the white cats have the turquoise eyes which are so desirable, while others have that green cast which is common, but is a fatal fault in the ring, although colored Persians may have green eyes.

* * *

POSTPONED [NY] CAT SHOW VEXES TABBIES – Chicago Daily Tribune, September 10th, 1896.
Back Alleys and Fences Resonant with the Caterwaulings of the Disappointed and Dejected Pussies. There is to be no cat show this fall. Mrs. Leland Norton, who conceived the idea of the feline show, and called a national convention of all cats of high degree, has decided that the public would be too much taken up with discussing silver and gold this fall to find time to attend the exhibition. There was great disappointment along all the back alleys last night, and from every woodshed and picket fence came angry caterwaulings from the dejected pussies which were trimming their whiskers and expecting to make a better show than was made at the St. Louis Populistic convention. People in the Michigan avenue hotels, who had laid up a supply of bootjacks to use during the cat convention in case any over flow meetings were held, carried them downstairs last night and threw them into the furnace.

All the cats in New York and other cities, which have a pedigree longer than their tails and whose distinguished ancestors were lineal descendants of the famous animal which was presented at court, are deeply grieved. These high-bred cats were to have competed at the show for medals and other marks of nobility to show their raising. There were to be Angora cats, maltese cats, and tortoise shell cats. Loud lunged yowlers and "high C" tenors that can purr like the exhaust on a steam engine have been practicing for months, and now that it is all over each cat has lost at least one of its nine lives.

* * *

A NOVELTY FOR THIS CITY was the cat show at the Young Men's Christian Association Hall. – New York Tribune, March 8th, 1896.

1898 CAT SHOW, NEW YORK

ANNUAL SHOW OF POULTRY. CATS, FOXES, AND PET STOCK HAVE A PLACE THIS YEAR. Gentleman farmers and fanciers will be rivals this week at Madison Square Garden, where the ninth annual exhibition of the New York Poultry and Pigeon Association will begin on Tuesday morning, to last until Saturday night. There will be fully 6,000 of the feathered champions on view, as well as a pet stock department with classes for [. . . ] and cats, for the Poultry Association has absorbed the cat show, formerly an independent fixture. There will be a hot time in the Garden should any of the cats, ferrets, or foxes break out at night from their cages. Escaping cats have always made the Garden a place of excitement during the regular cat shows, and now there is a probability of fowl murder to Increase the excitement – The N.Y. Sun, January 30, 1898.

PELINE BEAUTY ON PARADE. The Evening Times, February 1st, 1898.
Cat Show Opened in Madison Square Garden Today. Fleurie and L'Africaine, Two Children of Napoleon The Great, Placed on Exhibition. The dog, the horse, and even the bicycle, have had their day, and with it their share of transient glory, but they must all sink into oblivion during pussy's triumphant reign at the Madison Square Garden, New York. The "cat show" opened today, in connection with the Pigeon and Poultry Association, and New York is getting ready to say nice things about this beautiful domestic animal to be exhibited before the city's critical and beauty loving eye.

Mrs. Charles Weed, of Bound Brook. N. J., will have two of her pets on exhibition, Fleurie and L'Africaine. Fleurle is a French-wool Angora kitten, three and a half months old, colored black, brown and yellow. Half of her nose is black and the other half is bright yellow in color, and has the appearance of being decorated with a paintbrush. Two of her tiny feet are yellow, while the others are jet black. Fleurie is for sale at $200 and the price of the less-favored L'Africaine is $25. L'Africaine is a beautiful, black Maltese, four months old.

Napoleon the Great, the famous $5,000 French Angora prize cat whose long line of ancestry is only one of the causes of his prominence in the cat world, is the father of these two pets. He has a pedigree as long as the F.F.V.'s of Virginia, and has won innumerable prizes in Boston, New York, Plainfield and Philadelphia. He was born at the Chateau Fontainebleau, near Paris, in 1888, and was raised by a French nobleman. He belongs to the rare family of pure French Angoras, and is a magnificent specimen of his kind, weighing twenty-three pounds, and looking even larger than he really is on account of his bushy fur, which resembles long, crinkly hair, and has to be cut often in order to insure the health of this king of cats. His tawny color and noble-looking head gives him the appearance of a young lion. The family is a long-lived one. Napoleon's grandmother having lived to be nineteen years old.

Mrs. Weed recently refused an offer of $4,000 for her pet. Napoleon has a sister. Juno, who is four years old, and is valued at $1,500. She is a tortoiseshell and white French Angora, and is a beautiful creature. There are many other cats in this country worth $1,000. Ajax, an Angora belonging to D. W. Stevens, of Westfield, Mass., being considered one of the finest.

There will be many of these highbred pets at the show, among them being Maltese, black, blue and white: Australian, Siamese, tortoise-shell, tortoise-shell and white; Siberian, brown striped, brown spotted, red striped, red spotted, silver striped, silver spotted; Manx, Persian, Angora, white black and red; Abyssinian and Russian.

* * *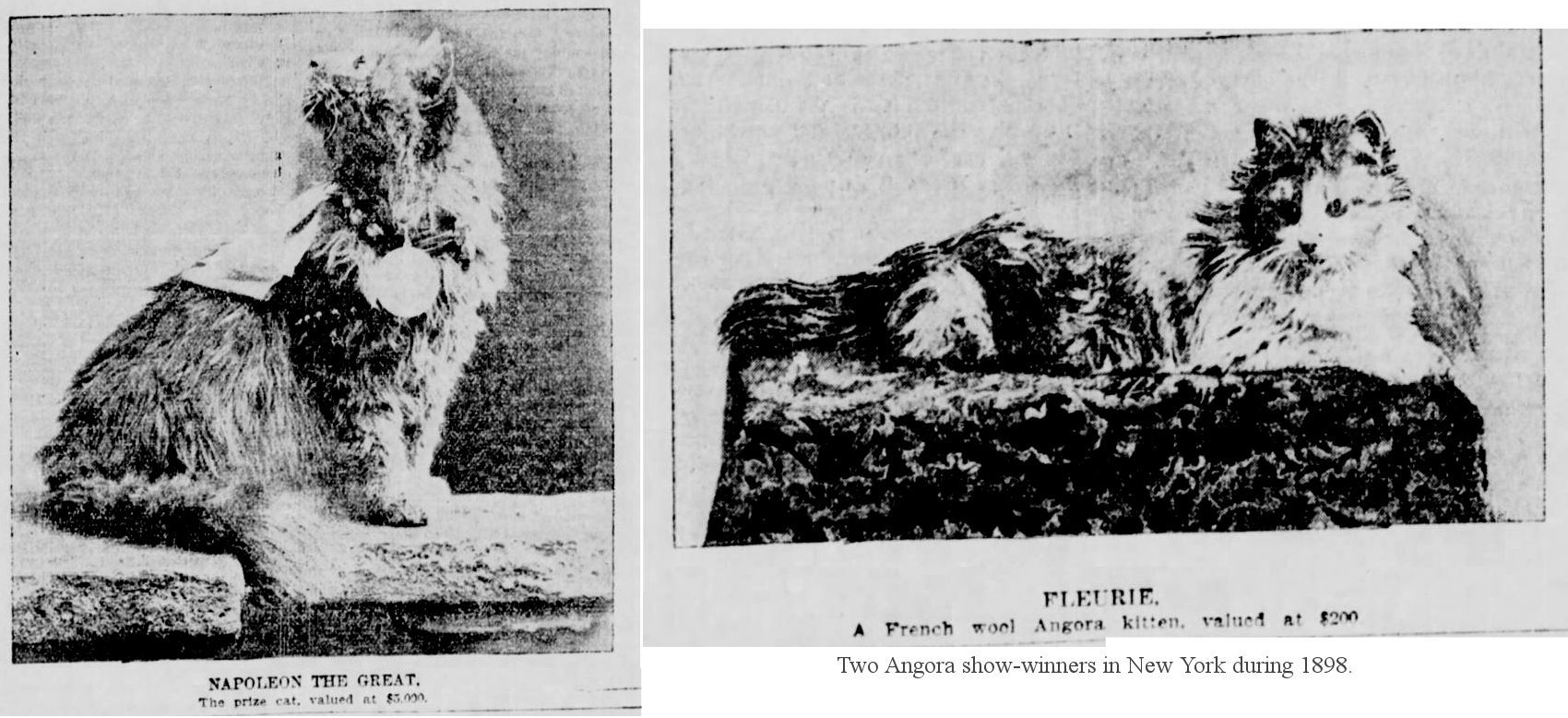 CATS OF HIGH DEGREE- The New York Times, February 13, 1898

THE wonderful strides made these last few years in the breeding of thoroughbred cats will surprise all save those who are within the charmed ring of catdom. Orders have gone abroad for the finest to be had, and the commissions have been so well filled that we have now among us many Crystal Palace winners, that were catalogued at that show for £120 to £150, and the owners were loath to sell them even at those prices. Nevertheless, we have them here, and the stock resultant from these importations is already winning on this bench, notably that of Mr. E. N. Barker's King Humbert, Mrs. Weed's Napoleon, the former for nine Years holding the championship at the Crystal Palace against all comers.

Visitors at the recent show had a treat in once more Seeing Siegfried, the winner of many prizes. He was there in all his glory of an absolutely pure white coat, and without a blemish. Many of our albinos have more or less s shade of yellow or red, silver or blue, but Siegfried is possessed of that white so pure and clear that no trace or even shade or an ultra color is to be round. His immense size will always give him an advantage over his competitors, for he tips the scale at twenty-four pounds, an unusual weight for an albino This was one of the years when he was obliged to share the attention of the visitors with a laddie Angora kitten, whose "Stage name" is Phoenix. It is not often that a youngster will enter a show and receive such marked attention from the public as was shown this kitten; yet he was surely worthy of it, as he is perhaps one of the sweetest headed and dispositioned kittens benched. His color is that of a rich orange tabby, not a single trace of white, the bars being unusually distinct, and the body color of the richest. He was groomed to perfection, his coat as glossy and shiny as a new dollar, while the quality was of the highest type. His tail too, was at marvel of beauty, rarely seen on a kitten of only eight months. He seemed to be conscious of the honor the ribbon he won had bestowed upon him, and was all in all worthy of it.

Mrs. Weed's Fleurie, a daughter of her great Napoleon, for whom $2,000 was offered at the last show and refused, has the sweetest sort of a kitten face, and her very profuse coat and swell ruffs did credit to her sire. She is a tortoiseshell of most charming disposition, and is destined to be heard from later when she shall have passed out of the kitten class. She won in her class. The some lady won first prize with her smooth or short coated "African," another kitten, hut this one is as black as Erebus, with great light eyes that seemed in strange contrast with its black coat, which, by the way, shone like silk.

Mr. H. G. Titus scored an easy w1n with the mother and three little muffs of beauty, Klondike, Tiger, and Sylvia, each of the kittens having white breasts and feet.

In the Gelded classes, Mr, H. W. Culberson won first and second with his red-striped specimens, and the awards were rightly placed. In the "any other variety" class Mr. Titus again scored with No. 2999, a beautiful black specimen, with yellow eyes.

The fancy for high-bred cats is rapidly growing in this country, and so great has been the demand for angoras, which are now, and probably always will be, the prime favorites, that the prices asked and paid are very large, $50 being at fair price for a medium well-bred kitten, while choice ones easily bring from $200 to $250, In order to show how great this love of the breed has grown within the past few years we are fortunate in being able to publish in this number a few half tones of some of the most noted specimens in America, all of them winners in their respective classes at the various shows. The special recommendations of this breed are their dispositions, which are about perfect, and the wonderful long, silky coat which they possess, increasing in quantity as it nears the head, and forming a most beautiful ruff which the illustrious Sir Walter Raleigh might have envied. Their lovely, playful eyes, great bushy tails, and exquisite colorings will always make them the most favoured and petted of the feline race. – H.W.H.

1899 CAT SHOW, NEW YORK

A CAT SHOW IN JANUARY [1899]. The practice of making a show of excellent and peculiar specimens of a chosen kind of animals is next to be exemplified by a Cat Show. It will be held January, at the Grand Central Palace. A successful Cat Show, which, judging by the reports in the local newspapers, proved interesting, has been going on at Chicago. Its star cat was Senor Cristobal, one of the two Spanish felines on the Cristobal Colon captured by Sampson and Schley on July 3 off Santiago. If his present owner, Capt. L.ioyd Clark of Bt. Joseph. Mich., to whom the historic puss was presented by his brother, Capt. Charles K. Clark. Commander of the Oregon, pleases, Senor Cristobal will have an opportunity to make a metropolitan debut. New York's Cat Show will be organised and managed by Allen S. Williams, the originator and manager of the World's Snake Show recently held at the Grand Central Palace. - The New York Times, December 18, 1898. [Note: Cristobal's death from was published the same date]

THE WRECK OF THE TERESA. Mr. Fleshman told how the natives of the Bahama Islands had discovered the wreck and were aboard it when they returned. They had plundered it of many things, among them being the ship's pet cat, which Ensign Gerald Holsinger prevailed upon one of the natives to return. This cat is now at a cat show in New York city, and will be sent to Kansas city soon. "They had a cat at the Chicago cat show recently," said Mr Fleshman, "that they were passing off for the Teresa cat, but I knew the instant I saw it that it was a 'fake.' I've had the Teresa cat in my arms dozens of times, and I was on board the Teresa every day in the week that we remained at Cat island after going back." – Kansas City Journal, January 7, 1899

[NY] The Sun told not long ago of the big wild cat which was killed by Judge William H. Crane, of Port Jervis. The skin was sent to a taxidermist and the animal will be at the cat show. [. . .] Exhibitors will not be compelled to leave their cats throughout the two weeks the show will be open, and some animals are to be exhibited for only a day or two. Ella Wheeler Wilcox has written to the management protesting against having a cat show during the winter. She says that it should not be held later than October or earlier than April and declares that, although she owns a splendid cat, she will not exhibit him. Still, the manager thinks he can get along if Nairb G. Sehguh does not throw him down [i.e. if practical joker Brian G. Hughes doesn't enter an alley cat with a fake background.]- The Sun (NY), January 8 1899

CAT SHOW WILL OPEN IN GRAND CENTRAL PALACE, NEW YORK. The first American International Cat Show will be opened for a two week's run in the Grand Central Palace tomorrow. Probably the most interesting features of the show will be the educated cats, and demonstrations of the methods employed in animals training. Many fine specimens of lions, tigers, leopards and pumas, as well as various fancy breeds of domestic cats, have been secured for the show. A performing den is to be erected in the Palace, a number of the [big cats] installed, and the work of training them started. The animals will be broken by two experience trainers, who expect before the show is ended to be able to give exhibitions with thoroughly trained animals – various, Jan 9, 1899.

AMONG THE EXHIBITS AT THE NATIONAL CAT SHOW, which will open at the Grand Central Palace to-day are some remarkable feline freaks. One owned by Charles Knap, of No 823 Sixth-ave, is a cat born with only two legs. It hops around in kangaroo fashion and seems to enjoy life as much as any of its four-footed companions. Another remarkable cat is one owned by J. Loughlin, of No. 1,264 Second-ave. it is pure white, but has one green and one pink eye. An unusual number of cats with long pedigrees has been entered, many of them ranging in price all the way from $100 to $1,000. Among them will be a son of the famous King Tab, imported from Fontainebleau, France, and valued at $5,000. Nearly all the famous prize-winners at previous shows, as well as a large number of high-bred debutantes, will be seen at this show. – New York Tribune, January 9, 1899

CATS HIGH AND LOW PUT UPON EXHIBITION. Such a yelling and howling as was heard at the Grand Central Palace tonight. The cat show opens there tomorrow, and more of the cats were installed today. They did not like their quarters in the least, as most of them are pets, accustomed to luxurious surroundings and much spoiling. They sang odes and dirges through the noisy watches of the night. The cat show includes lions and tigers, for these are only cats of larger growth. In Africa, lions sit on back fences and sing all night, and the natives throw bootjacks at them, just as Harlemites do at cats. There is a cage at the show containing al ion and lioness, Nero and Leona by name. They will be taught during the week to "do stunts" by Felix McDonald of Edinburg and Albert Stadler, a Swiss mountaineer, who learned the animal training business with Hagenbeck. It is reported that the lions are particularly fierce and have devoured everyone who ever tried to associate with them. This report, it is thought, will help the sale of tickets and is circulated for that reason. There is no entry fee for cats, and they may be taken home each night after the show is over. The management feeds all the exhibits and gives them suitable medical attendance. Every cat exhibit will receive a souvenir certificate, and prizes and special prizes will be awarded to the meritorious. One of the famous cats will be Tomaso Cervera, the "Jonah" of the Cristobal Colon, which like Casablanca, "stood on the burning deck and refused to leave the ship." - Chicago Daily Tribune, January 9, 1899

INTERNATIONAL CAT SHOW. The New York Times, January 10, 1899

The International Cat Show in the Grand Central Palace was opened yesterday afternoon. The plan of the present show is to exhibit as many different species of the feline tribe as possible; accordingly, in addition to the gentle cats, there are Iions, leopards, a civet cat, lynx, ocelot, and a black panther that is said to be the only one of its kind outside of Asia. Some tigers are expected. In all there are 100 animals on exhibition.

Among the distinguished domesticated cats is "Teddy Roosevelt," tiger and white, who has achieved fame as a ratter and Is owned by Miss M. Hays of this city. "Eulate" occupies a palatial cage trimmed with white and red roses. She is said to be a native of Hindustan, and her color is described as blue. She sleeps on velvet cushions, drinks and eats out of silver dishes, and is occasionally sprayed with perfume. The card on Eulate's cage says that she was presented to Capt. Eulate, formerly of the Viscaya, by the boy King of Spain, to whom she had been presented by a Bombay merchant; that she was a mascot on the Viscaya, but that when the warship was sunk she swam to the battleship Oregon, and was rescued by sailors. Her present owner is said to be one Nairb G. Sehguh. It has been discovered, however, that if the letters in this name are spelled backward the name Brian G. Hughes is disclosed, and it fits a gentleman who is famous as a practical joker.

"Admiral Dewey" is a red woolly Angora valued at $200. His sire was the famous prize cat "Napoleon the Great," who was valued at $5,000, and who came from a breed that was only possessed by the imperial family of France . "Admiral Dewey" is owned by Mrs. Charles Weed of Bound Brook. N. J.

"Fuzz," owned by Manager Allan S Williams, has made friends with a snake and seems to be content with her playmate. Another star of the show is "Thomas Cervera," who was taken off the Cristobal Colon at Santiago and is now the property of Ensign G. I. Holzinger of the United States repair snip Vulcan.

There is one poor little beast with no name and no forelegs. Like a kangaroo she hops about on her two rear legs. She is a freak of nature. Her owner is Charles Knapp of this city.

* * *

CAT RESCUED PROM THE CRISTOBAL COLON EXPIRES IN A FIT. New York, Jan. 20. —Tomas Cervera, a cat that has attracted much attention at the Cat Show, in the Grand Central Palace, was seized with a convulsion and died during the progress of the show yesterday afternoon. This cat had lived for twenty-six days on the wreck of the Spanish warship Cristobal Colon, off Santiago, Cuba, and was rescued by the crew of the tug Right Arm, of the Merritt-Chapman Wrecking Company. When the Maria Teresa was raised the cat was placed on board that vessel to be brought to this country. When the cruiser grounded off the Bahama Islands the cat was rescued by the crew of the United States repair ship Vulcan. The cat was the property of former Assistant Surgeon Thomas, of 68 West Fifty-second Street, and of Ensign. G. I. Holzinger, of the Vulcan, and was to be shipped to the latter's home, at Rosedale. Wyandotte county, Kan., at the conclusion of the show. - The Evening Times, Friday January 20, 1899

"TEDDY ROOSEVELT" IS ONE OF THE FIGHTING CATS and a star attraction of the [New York] cat show. "Teddy" has prominent teeth and long, sharp claws. He lets one paw hang out of his cage in a most formidable manner. "Tag, the Terror," a three-year-old white Angora, with an orange tail, occupies a cage near "Teddy." "Tag" is the property of Mrs. Reta L. Adams, of No. 254 Madison avenue, who values him at $1,000. – various, January 11, 1899

* * *

WONDERFUL CAT SHOW - New York Sun, Jan 13, 1899

There are almost 100 cats besides Eulata. Some of them are beauties. Some of them are well, they are cats, and therefore entitled to be in the exhibition, which is naively advertised as "a show for all cats." Some of the cats there wouldn't stand much of a show anywhere else, but most of them are interesting for one reason or another. For instance, one of them fell 55 feet not long ago and bobbed up serenely, quite unhurt, though it weighed 16 pounds. Most of the cats are entered by women, who attend faithfully every day in order to soften the grief of separation from their pets Siegfried is a great 20 pound white cat entered by Mrs. M. Horn. He is 14 and-a-half inches tall and measures 38 inches in length. A special box was built for him, but it proved to be too small, and the other afternoon Mrs. Horn had him in a basket.

The list of entries grew steadily all day for the simple reason that no sooner did a woman see the cats than she declared that they couldn't hold a candle to her own precious feline darling, and she'd prove it by bringing said darling to the show. Among the recent entries wag one which appears to be unique. The cat is Mudger, and she is entered by Mrs. A Loughlin of 66 Washington place. Mudger is an affectionate form of "mother," and if ever a cat deserved the name this one certainly does. Mudger has been in the Loughlin household for about five years, and during that time she has been assiduously engaged in providing kittens for the Loughlins to drown. Mudger has had over 250 kittens since she went to live in Washington place. Mrs. Loughlin says that the cat had been the mother of others before any record was kept, but that they know of 250 of Mudger's kittens by actual count

Some of the freak features of the show are a two legged cat, a snake catching cat, boxing cats and a mother cat with a wee bit of a kitten. There is a little black cat, Minnewaska, from the St Regis Indian reservation. It is a wild looking little thing with a wampum collar. It is owned by White Moon. Four beautiful coon cats are Coonie, Beauty, Dandy and Doodle, entered by Mrs. A Legg of Allendale, N. J. Thor is a handsome little dark Angora, born in Holland and entered by Miss Leonora Jones of New York. Thor is much more friendly than his name would indicate. There are two Teddy Roosevelts and two Deweys in the show.

* * *

CATS BORED BUT ADMIRED – The Sun, January 15, 1899. A Cat With Seven Newspaper Kittens – Rush To Look At And Vote For Teddies – Hollow Mockery Of Riches And A Colored Attendant – The Stars Of The Show

One of the "seven cats with seven kits" seems to have got out of the nursery riddle and into the Cat Show. Her name I» Blarney and she is the devoted spouse of one Brian Boru. She arrived at the show the other day accompanied by a large mottled family of kittens a week old and with their eyes not yet opened to a wicked world. The seven cats are named after seven morning papers and are labelled: "Office cats of the future." It is strange, perhaps, but true that two of the kitten a are so yellow that the crowd, which was present when they arrived, gleefully christened them after two familiar exponents of yellow journalism. Three others are all mixed up as to color, being yellow and black and white and brown. The crowd promptly nave them the names of certain wabbly papers of mugwump hue. The one which the onlookers picked out to bear The Sun's name was black and white with what one man culled "a high intellectual forehead." The first thing Tribune did was to fall into the water basin, from which he was recovered in a half-drowned condition. The physician in ordinary to the show said that Tribune's circulation seemed somewhat impaired by his misstep, but prophesied that he would soon be as dry as ever.

The cats which have been at the show all week seem to be getting pretty tired of it. From appearances, however, every cage could be refilled if all the cuts now in them should be taken away. The women who have cats at home are just aching to bring them and prove how much nicer they are than the cats on exhibition. They go from cage to cage, sizing up the animals, patronising them and saying In a superior way :

"He'd look a little bit like my Beauty If he had as kind an expression about the eyes."

The women who are really enjoying the show are those who love cats but don't happen to own one now. They spend hours over the cages, cooing to the cats, scratching them behind the ears, and making friends in all sorts of ways. Ever so many of these women are elderly. Two of these elderly women were spending the afternoon at the show the other day and they were having such a good time! Finally one of them overheard a woman speak of a cat as Teddy. The old lady's eyes shone.

She clutched the woman by the arm and demanded excitedly: "Where's Teddy?"
"Well, there are two Teddies."
"Two!" with another clutch.
"Yes; Teddy Roosevelt and Teddy the Rough Rider."
"Where are they?" clutching again.
"One of them is . ."
"Which aisle?" impatiently.

She could hardly wait to be told, and two of them rushed off at a regular rough riding gait. Politics, by the way, enters even into the cat show. Voting is going on to determine which is the most popular cat in the show, and Teddy Roosevelt leads. He belongs to Miss M. Hays of 24 East Sixtieth street. Teddy the Rough Rider is another favorite in the voting. He is a big yellow Angora, belonging to Hugh Clements of 120 West Twentieth street. The second on the list is Mrs. Horn's great white cat Siegfried. Beauty, a white Angora belonging to Albert Schwarger of Winfield. N. and Thor, an imported black Angora belonging to Miss Leonora Jones or 100 West ninety-seventh street, are near the head of the list.

The shaved cat which Brian G. Hughes entered as a joke has been the cause of some concern among other exhibitors. One of these, a woman, was highly indignant because the Hughes cat was, so she said, not properly fed. "They don't put a thing in there except water," she said. "It makes me angry to see that silver dish and those garlands of flowers and that colored attendant and then to see the poor cat's sides just getting hollower and hollower. Talk about the hollow mockery of riches! I guess that cat knows something about it. I've seen to it that there was milk in there lately, anal spoke to the manager and he's looking out for the cat. I supposed that, with a colored servant, the cat would at least be fed."

The cats are provided with food by the management if their owners do not prefer to bring food. Generally that is what they do prefer, and each woman, or man, as the case may be, has some special notions in the feeding line. Mrs. A. Legg of Allendale. N.J., has four cats that attract a good deal of attention. She says that the father of the head of this family was a wildcat and she is kept busy warning the women who want to scratch Coonie's ears and be otherwise agreeable. Mrs. Legg has a system of her own invention on which she brings up her cats. They get fish once a week, soup meat once a week, oatmeal and cream for breakfast, creamed potatoes for dinner and bread and butter for supper.

Owners of the cats spend most of every afternoon and evening at the show, and they get together and gossip about their pets as untiringly as mothers discuss their children. Of course, they are jealous of one another. The owner of one white cat tossed her head and confided to the reporter that she couldn't imagine how such a dirty cat as [blank] was allowed in the show.

" You'd never know it was meant to be white," she exclaimed " Now, look, at my darling! He has never had a bath. Never. I assure you. And yet look at him Isn't he the whitest thing you ever saw?"

Another woman curled her lip when she heard someone admiring Coonie. "Coonie!" she snorted, ''You can get millions of those coon cats up in Maine. They thank you for carrying 'em away."

The Hughes cat is not the only one with a colored attendant. Tag the Terror has a maid installed beside his cage, and she is kept busy answering questions about the animal and trying to get him to roll his famous amber eyes at the public. Tag's cage is one of the most gorgeous in the whole show. It is lined throughout with green, he sleeps on a great green satin cushion, drinks milk from a green and gold china dish, has a green and red rubber ball to play with, and has a green satin, hand-painted Irish flag on top of his cage, alongside of his photograph in a hand-painted frame. The maid says that Tag is of French origin, but has always shown such a love of green that his mistress suspects him of having Irish blood in his veins. A green satin Irish flag is always among his playthings. Tag, who belongs to Mrs. Reta L Adams of 254 Madison avenue, has not been well for a few days.

The doctor was just here." said the maid the other afternoon, "and told me to let him lie down quietly and not to disturb him until his mistress comes and gives him a bit of nourishment."

Great tales of serious and heart-breaking illness are told among the cat owners. Miss Leonora Jones, whose little Thor is such a favourite, tells of a white angora she lost recently. "We had three of the finest specimens In New York," she said, "and my cat's doctor's bill was over $100, but we couldn't save him."

One of Miss Jones's ancestors helped to found Princeton University, so Thor's cage is decorated in the Nassau orange and black. He himself is black to his uttermost hair, and arrayed in a gorgeous orange satin bow, reclining on a rug of orange lambs' wool in a cage lined with orange, he would stir the coldest Prlncetonian to enthusiasm.

Big Foot Sam is the name of a cat entered as a "Bachelor Maid's Pet." Peewee is a white cat in whose cage a bunch of heliotrope and roses may be seen dally. Jack Spratt, an aristocrat with a pedigree reaching back to the third generation and Messalina, described as a foundling, inhabit a fine two-story house On the lower floor are bathtubs and the dining room. By means of a flight of stairs the cats ascend to the drawing room above, where one of them constantly lies curled upon a round upholstered dais, elevated about 6 inches from the floor. Hanging from the tops of some of the cages at» objects for the cats to play with, the most noticeable one, being a rabbit's foot. King Tab II., a beautiful silver-blue angora, belongs to H.C. Karpenstein of 155 Vernon avenue, Blrooklyn. Mr Kerpenstein says he wouldn't sell the cat at any price.

Albert Stadler's end of the show is interesting, especially when goes into the lion's cage and trains Nero and Leona. [. . .] Three of the wild animals, an ocelot, a puma and a lynx, have been ill, but are pulling though now.

* * *

JUDGING AT THE INTERNATIONAL CAT SHOW was in progress throughout last week, and many of the awards will be announced to-day. Among those already made are the following:- Entry No. 81, Tomas Cervera, owned by Ensign G.I. Holzinger, United States ship Vulcan, first prize and a special silver cup for males; No. 67. Mudge (Mother,) owned by Mrs. A. Loughlin, first prize for females; Mudge has had over 250 kittens in five years; second prize, No. 73, Peewee, owned by Master John Laughlin; Peewee was the mascot of the United States ship Texas. – New York Times, January 16, 1899

* * *

WONDERFUL CAT SHOW
Logansport Tribune, Feb 1, 1899 (taken from the New York Sun)
New York The Scene Of An Odd Exhibit. Brian Hughes' Joke Cat Eulata. Mudger Well Advanced On Her Third Hundred Of Kittens. The Show Inspires Women To Back Their Own Pets, And Home They Go For Them.

There are almost 100 cats besides Eulata [Brian Hughes' practical joe entry]. Some of them are beauties. Some of them are — well, they are cats, and therefore entitled to be in the exhibition, which is natively advertised as "a show for all cats." Some of the cats there wouldn't stand much of a show anywhere else, but most of them are interesting for one reason or another. They may not possess "ancient lineage and beauty," as Mr. Sehguh said of his cat, but they have their good points. For instance, one of them fell 55 feet not long ago and bobbed up serenely, quite unhurt though it weighed 10 pounds.

Most of the cats ore entered by women, who attend faithfully every day in order to soften the grief of separation from their pets. Siegfried is a great 20 pound white cat entered by Mrs. M Horn. He is 14 and a half inches tall and measures 36 inches in length. A special box was built for him, but it proved to be too small, and the other afternoon Mrs. Horn had him in a basket.

The list of entries grew steadily all day for the simple reason that no sooner did a woman see the cats than she declared that they couldn't hold a candle to her own precious feline darling, and she'd prove it by bringing said darling to the show. Among the recent entries was one which appears to be unique. The cat is Mudger, and she is entered by Mrs A. Loughlin of 66, Washington place. Mudger is an affectionate form of "mother," and if ever a cat deserved the name this one certainly does. Mudger has been in the Loughlin household for about five years, and during that time she has been assiduously engaged in providing kittens for the Loughlins to drown. Mudger has had over 200 kittens since she went to live in Washington place. Mrs. Loughlin says that the cat had been the mother of others before any record was kept, but that they know of 350 of Mudger's kittens by actual count.

Some of the freak features of the show are a two legged cat, a snake catching cat, boxing cats and a mother cat with a wee bit of a kitten. There is a little black cat, Minnewaska, from the St Regis Indian reservation. It is a wild looking little thing with a wampum collar. It is owned by White Moon. Four beautiful coon cats are Coonie, Beauty, Dandy and Doodle, entered by Mrs. A. Legg of Allendale. N.J. Thor is a handsome little dark Angora, born In Holland and entered by Miss Leonora Jones of New York. Thor is much more friendly than his name would indicate. There are two Teddy Roosevelts and two Deweys in the show.

* * *

$50 FOR HER LOST CAT – The Sun, April 20, 1899

Lillian C. Moeran of 55 Irving place had five cats at the recent cat show in the Madison Square Garden. On the first day of the exhibition one of them escaped from its box and since then has been wandering about the Garden, eluding all attempts to capture it. The owner sued the New York Poultry, Pigeon and Pet Stock Association in the Yorkville Municipal Court yesterday for $50, the alleged value of the cat.

The plaintiff said she was much interested in aristocratic cats and had a number of them at her summer home at Southampton. L.I. She had at the cat show a Maltese cat, a mitten-toed cat, a Manx kitten, "Carmen;" a Manx cat, "Zenda," and another Manx cat "Lady Muff." Zenda was the one that escaped. The cat had won the blue ribbon at the Crystal Palace cat show in London, and had taken prizes at other English cat exhibitions.

"When Zenda escaped from the box it ran down into the cellar, I was informed," the plaintiff continued. "Nothing was seen of it for two days. Then it made an appearance one night pursuing a rat. The rat ran under a box and the cat went after it and the employees went after the cat. The rat got away from the cat and the cat got away from the employees. Nearly every night Zenda appeared in some part of the Garden, but kept out of reach of the men. I believe the cat is still somewhere in the building, for I am told that it is seen occasionally foraging for food." She said the cat had become gaunt and half wild.

"He didn't belong to the tribe of Kilkenny cats that hung over the clothes-line by their tails, did he?" asked Justice Wauhope Lynn.

"No, sir. He wasn't built that way; he had no tail," the plaintiff answered. ,

"You cut it off, eh? I don't approve that barbarous custom. It is an act of cruelty," observed the Justice.

"I didn't cut it off, sir." responded the plaintiff, "it never had a tail. I guess you're not familiar with the construction of the Manx cat."

Justice Lynn acknowledged that he was not.

"They have no tails," said the plaintiff.

Henry V. Crawford, Secretary of the Pet Stock Association, said that the association was not responsible for the loss by fire of otherwise of any of the animals on exhibition, though rule 4 of the prospectus declared: "All specimens sent will be properly cared for and retained at the close of the exhibition."

"You here contract to return the cat at the close of the exhibition," remarked Justice Lynn. "Have you carried out the contract?"

"We cannot catch her cat." the defendant replied. "It is there for her any time she can catch it. Besides, there is cat or kitten that was ever worth $50."

Thomas Farackham [Farrar Rackham] was called as an expert on cats. "No cat alive is worth $10," the expert declared, "Cats have no money value, and you cannot arbitrarily fix a market price on them. There is nothing cheaper than cats. You can get a carload of them for half a dollar."

"Some eats are valuable," said the Justice. "I have a big tom in my barn in the country that I would not sell for $10. It has saved me much more money than that by preventing rats from destroying grain."

Justice Lynn gave judgment to the plaintiff for the amount sued for.

1900 CAT SHOW, NEW YORK

POULTRY SHOW COMING SOON – The New York Times, January 14, 1900
Entries for the eleventh annual show of the New-York Poultry and Pigeon and Pet Stock Association will close tomorrow, with the secretary. H.V. Crawford, at Montclair, N.J., and the birds and pet stock will hold their own in Madison Square Garden for five days, beginning Tuesday, January 30. The cat show part of the exhibition has become a fixture and noted cats will fight hard for the blue ribbons. The special prizes given by the various clubs exceed in number and value those of any preceding year, while the club meetings will be important, representing all parts of the counties.

POULTRY SHOW OPENS – The Brooklyn Daily Eagle, January 30, 1900
All the Feathered Folk on Hand at Madison Square Garden — Cat Show a Hit.
[. . .] last, but not least, pet cats have decided to attend this year's show in force and are receiving much of the attention of visitors. In fact the cat show is making a big hit, to judge from the admiring remarks of the spectators. And, in truth, the tabby cats on exhibition are as fine a lot of felines as could well be imagined. All are sleek and well groomed and by the way in which they at once proceed to make friends with all who approach their cages, show that they are all great pets. In fact several of the pussies are plainly homesick and all of them seem to be a little ill at ease. They have evidently been accustomed to something better to lie on than the coarse straw which has been given them. Late arrivals are still coming in to swell the ranks of exhibits, but all are expected to be there to-day and tomorrow morning should see the show in full blast.

POULTRY AND PIGEON SHOW – The Charlotte News, January 30, 1900
NEW YORK, Jan. 30. — The eleventh annual show by the New York Poultry and Pigeon Association will open at Madison Square Garden in the evening and continue, as usual, for five days. Entries in all classes closed on January 15th. The New York Poultry Show is important to every breeder in the country, and it has taken its place among the popular and important exhibitions, increasing in its influence and patronage each year. With T. A., Havemeyer, president, and Mr. Crawford as secretary and superintendent, the association has representative men for officers, and the judges are the best known breeders and fanciers. [. . .] The addition of pet stock to the showing of birds gives the New York Cat Show, with eleven classes for short-haired and fifteen classes for long-haired, cats.

You are visitor number