REPORTS FROM EARLY CONTINENTAL EUROPEAN CAT SHOWS
AUSTRIA-HUNGARY
VIENNA CAT SHOW IN JUNE. Vienna has never had a cat show, and, In fact, such a thing has never been known in the empire. The Austro-Hungarian Bird Raisers' association has now taken the matter up and is planning an exposition to be held there in June. Many look upon the undertaking as a huge joke or as a strictly original idea – Independence Daily Reporter, August 1st, 1900.
1902 Budapest Cat Show - this fascinating show is on a separate page
BELGIUM
[1893 BRUSSELS SHOW] Yorkshire Evening Post, 5th December 1893
Brussels has started a Cat Club, which has just held a successful show. There were 117 entries, including five Siamese of great beauty, and three Manx cats.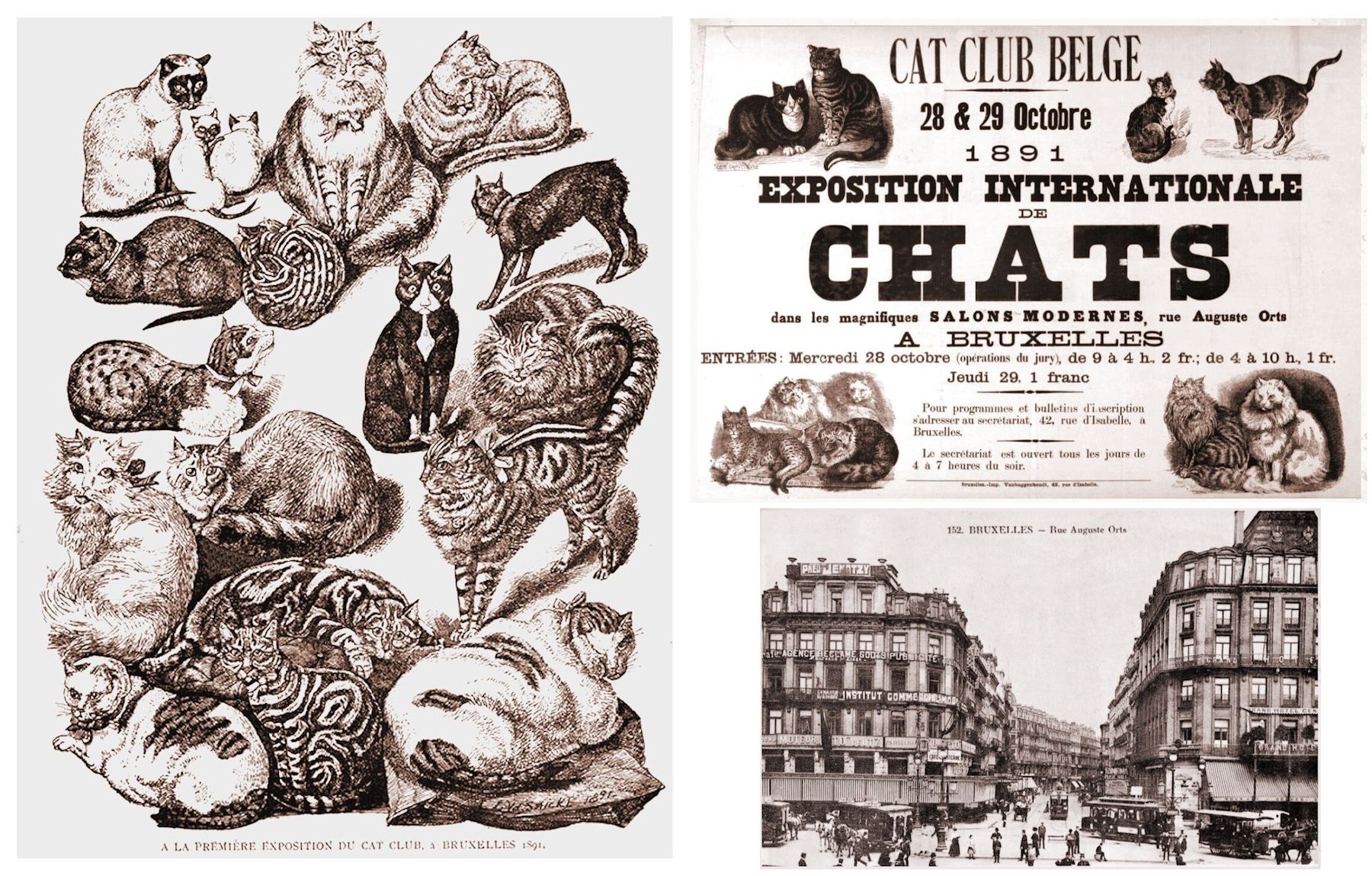 CAT SHOW, BRUSSELS The Queen, 9th December 1893
The cat show in Brussels was largely patronised, and included such novelties as a tortoiseshell Manx, two Bavarian wild cats, and a basket of Siamese kittens with their parents born in Bangkok. Romeo and Juliet, two superb cats, belonging to the Misses Mellin, carried off prizes.
[BRUSSELS CAT SHOW] Civil & Military Gazette (Lahore), 30th December 1893
So fond are Parisians becoming of cats, that the Brussels Cat Show is being much talked about. Seven hundred cats are to be exhibited. They will include three tortoiseshell Manx cats, three Siamese specimens, a couple of splendid wild cats, and eight cats termed blue, the colour of their coats being in reality a beautiful blue-grey chinchilla.
CAT SHOWS(OUR FRIEND THE CAT, PAUL MEGNIN, Published 1899)
In Holland, the first cat show dates from 1890 and in Belgium from 1891. Here is what a newspaper from Brussels, "Chasse et Pêche," [Hunting and Fishing] reported on that exhibition:
"The first cat show, organized by the Cat-Club, was incredibly successful as a curiosity to the point of causing coach congestion in front of the "Modern Salons" of the Flemish Brewery. Many cat lovers who have beautiful cats have again refrained, hesitating, not knowing exactly what the judges want. Now they are able to fix on the direction to take in breeding, on which offspring to choose from the litters that arrive due to fortuitous encounters on the roof gutters. Soon, perhaps, they will decide not to leave these liaisons to the whims of dark nights, which, as the saying goes, are favourable for producing grey cats.
"Judges like variety in colours, but their requirements are limited. Cats with short hair should be regularly marked, striped, banded or mottled, and the markings should contrast with the background colour. If the cats have spots, they must be regular; if they are solid coloured, not only must they be free of any white hairs, they must be a uniform hue all over the body.
"Among the long-haired cats, alas, we did not find our ideal, but there was an astonishing volume; the well-known Café Riche cat was eclipsed by a 15 kilo tomcat, which the judges awarded a special prize. The giant rabbit of Flanders is exceeded by a hundred cubits. Long-haired cats should be judged on the length and richness of the coats, with less regard given to the markings. Unfortunately, we are at the beginning of winter, in other words it is moulting time, and if only we could revisit in three months those specimens which, at the moment, are bereft of mane, inner-ear tufts, long fur on the back and legs, not to mention the plumy tail, then first prize winner might perhaps be placed last, and the modest ones mentioned might become the laureates.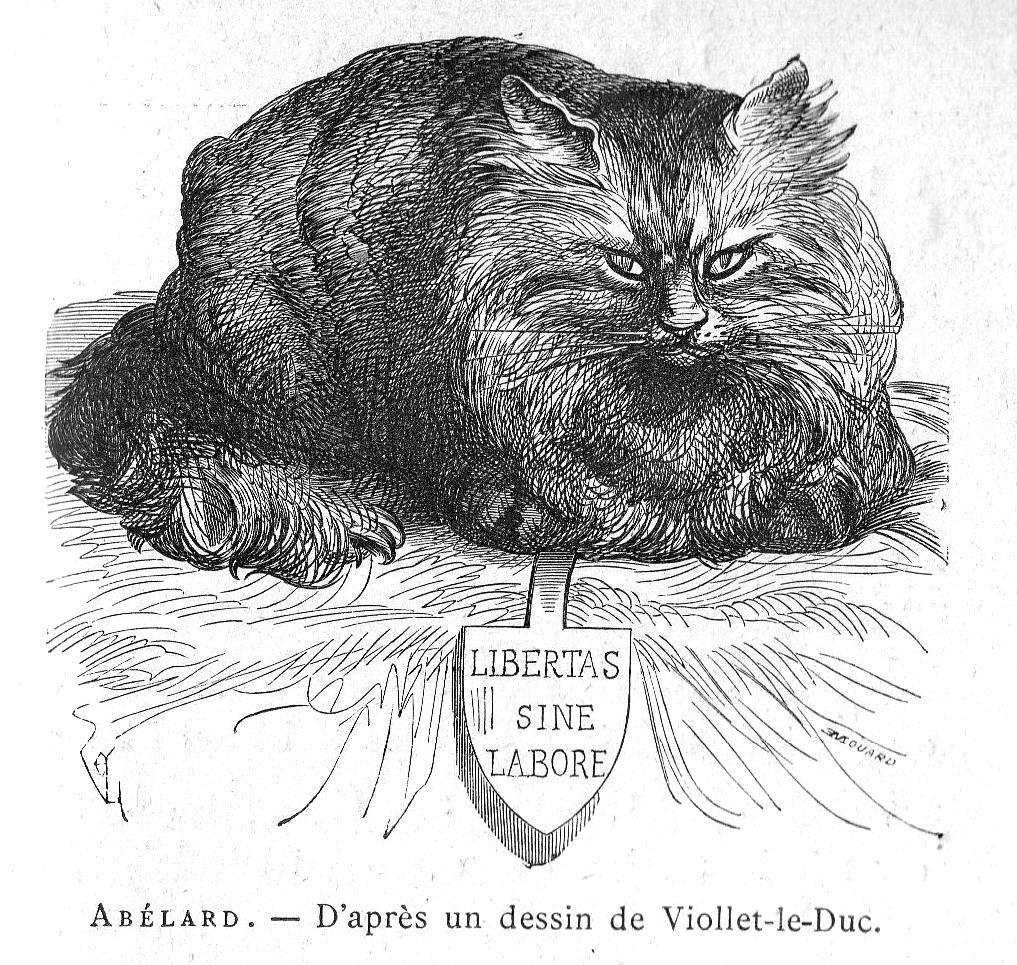 "Exhibitors still have a lot to learn, but so do the organisers. Thus, if there had been a class for tricolour cats i.e. white, black and red, which are quite abundant in the country, there would be no shortage of registrations as happened this time. Tortoiseshell cats were also conspicuous by their absence, but in the class established for them was four-coloured cat - white, red, gray and black – which was awarded second prize for the originality of its markings. Noteworthy among the kittens was a superb specimen who was raised in England, by the name of Abelard, who was well-striped and very dark. There are those whose baptism brings bad luck, otherwise Abelard would have featured with honour at the head of intact males."
THE CAT SHOW IN BRUSSELS where there are congregated felines of all kinds, and from all parts of the world to the number of several hundred, will without doubt be a howling success. – Bismarck Weekly Tribune, January 5 1894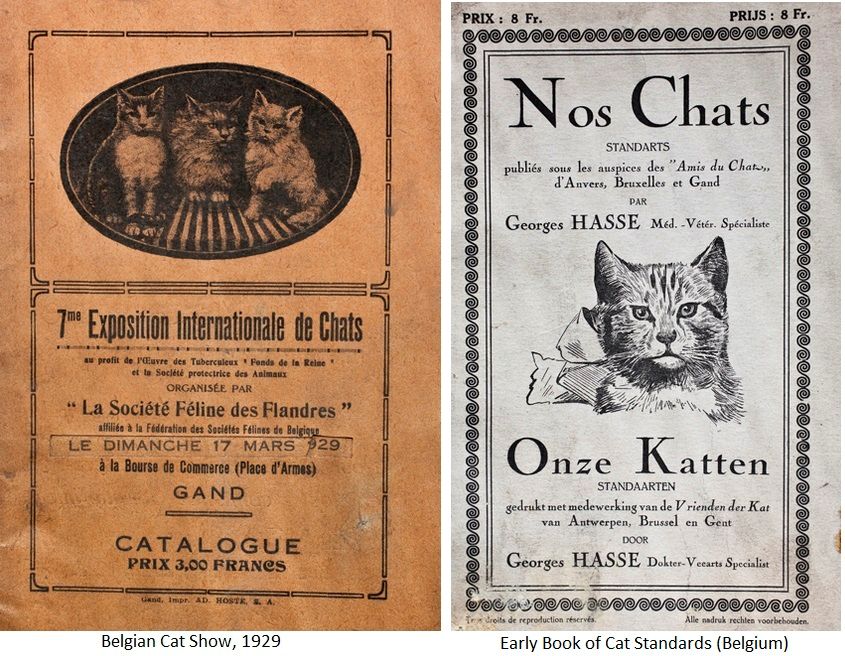 Exposition féline (Liége, 21 septembre). - L'eleveur - 14 sept 1930
La Société Féline Liégeoise, affiliée A la Fédération Féline de Belgique, organise pour le dimanche 21 septembre prochain, au sein de Exposition internationale ( salle des fêtes de la ville de Liége, secteur Sud), une exposition de chats, avec la bienveillante collaboration de la Société Royale Protectrice des Animaux. Cette exposition, placée sous le haut patronage de M. le ministre de l'Agriculture et son Comité d'honneur est composée de personnalités appartenant à la ville, à le province, à l'exposition, ainsi que de hautes compétences choisies parmi les amateurs de félins. Les propriétaires de chats primés recevront en récompense des diplômes officiels émanant de l'Exposition Internationale de Liége, ainsi que des prix en espèces, coupes, médailles et objets d'art. Le public liégeois se rappelant le succès de la première exposition de chats Liége, on février dernier, se prépare à faire un accueil enthousiaste à cette nouvelle manifestation de l'activité féline. Adresser les inscriptions au secrétariat de la Société Féline, 9, rue Fabry, Liége.
The Liége Feline Society, affiliated to the Feline Federation of Belgium, is organizing a cat show for Sunday September 21, within the International Exhibition (village hall of the city of Liége, southern sector), with the benevolent collaboration of the Royal Society for the Protection of Animals. This exhibition is under the high patronage of the Minister of Agriculture and his Honorary Committee made up of personalities belonging to the city, the province, the exhibition, as well as great skills chosen from among feline enthusiasts . Owners of award-winning cats will receive official diplomas from the Exposition Internationale de Liége, as well as cash prizes, cups, medals and works of art prizes. The Liege public remembering the success of the first Liége cat exhibition held last February, is preparing to give an enthusiastic welcome to this new manifestation of feline activity. Address registrations to the secretary of the Société Féline, 9, rue Fabry, Liége.
[ANTWERP, BELGIUM] THE INVALIDS HOME. The Flemish News, Monday 22nd October 1917. Third volume No. 292. [Translated]
A large exhibition of chickens, rabbits, cats, and canary birds (Belgian waterslagers), will be arranged in the El Bardo Theatre, Sint-Jacobs-markt, on December 24, 25 and 26. At the request of some members, the board has decided to add to its exhibition a section for cats, thus demonstrating its interest, especially in these sad times, in animals that are generally undervalued.
The General committee consists of: Mrs. Gevers-Grisat, Mrs. De Montigny, Mrs. Groetaers de Wael, Countess Genevieve van der Straten Ponthoz, M.de Baron de Bieberstein Zawadsky, Mr. George van der Heyden. Sitting in the institution committee: Mrs. Heimburger, Miss. A. Hasse, Mrs. Georges Hasse, of Messrs. Fritz Aghte and George Hasse. The judges are: Mrs. Charles Huckiembroich, Anderlecht (Persian cats); Mr. Georges Hasse, Antwerp (Siamese cats, Angoras and European cats). For any information, please contact the members of the Institution Committee.
FRANCE (moved to new page)
DENMARK
HOW CATS ARE JUDGED IN DENMARK. CRITIQUE POSTED ON EVERY SHOW PEN Fur and Feather, Rabbits and Rabbit Keeping, May 16, 1947
The Racekatten Club of Copenhagen held its show on April 25th, 26th and 27th at which I had the pleasure of judging the 106 exhibits. There was a fine array of nearly 40 Siamese, which appear to be the most popular variety in Denmark. I was impressed by the lovely texture and quality of their coats, which also conformed to the standard of our Siamese Cat Club by being short, fine and close-lying. In such a large entry, quality naturally varied, but I noticed a few faults which are prevalent in England. They [had] a tendency to round heads, and eyes set in such a way that they looked round. A few cats had really short tails, some of which were speckled near the foot, but I only felt one with a kink and that was very slight and towards the tip.
In many cases, eye colour would have been better if it had extended all over the iris, but a number of cats had brilliant blue round the pupil which paled towards the extremity. A notable exception was Zimlong of Menam, a cat which had travelled from Oslo. I liked him very much and awarded him a special prize, as there is no award equivalent to our reserve in Denmark. Zimlong also had a coat of exquisite texture and lovely seal points. His round head and the fact that he looked as though he had dined, "Not wisely, but too well" put him down on the day. but I was not surprised to hear he had won many prizes.
My selection for the best male was Fru Hamann's Phya Thaki El Haman by Puk of Chittagan ex Ch. Tuli of Menam, the latter a famous cat also owned by Fru. Hamann. Phya had a lovely wedge shaped head, a svelte body, a pale coat of lovely texture and colour. His points were rather pale and his long whip tail was speckled near the root, but he was a nice cat.
The first in a very good class of 22 females was Fru Jensen's Sitti Sherang El Haman, litter sister to the winning male. She was closely followed by Fru Poulsen's Chira of Manipur and Fru Hansen's very lovely queen Pudsig, also a former big winner. I awarded a special prize in this class to Fru Sitze's attractive Thailand Zolaevka. Much to mv regret several very good queens which deserved prizes had to be left cardless in this large class.
The only blue pointed Siamese, Fru Martha Hansen's Gitte of Hazan, had a lovely head and eyes. Her coat was palest cream and long on body and tail, but she was an excellent b.p. I was astonished that she could be so good when I learned she was the result of mating a Russian blue to a seal pointed Siamese male.
Some of the blue longhairs were good, but their lack of eye colour was startling after the brilliant eyes we expect in this variety nowadays. A few had pale gold eyes, but the majority were pale yellow and some of them failed in chin. The winning male, Callo Cerneville, had a very good coat for the time of the year and lovely tufted toes. His type and head were excellent and his ears small and well placed. The winning female Ch. Gayette of Gran¬ville, another cat similar to the above, was also attractive. Her coat was very sound and a very pleasing shade. She had a good head and her small ears had plenty of width between. She failed slightly in chin and eye colour. The best blue kitten, Miska of Bollemosen, excelled in type. Her head, muzzle, short, broad nose and small ears were lovely, but she also failed in eye colour.
The Chinchillas were very attractive and on the whole their physique was more robust and their eve colour much better than their British contemporaries, but they were more heavily ticked than ours and had a tendency to bars on paws and slight tabby markings on the face. Nearly all the Chinchillas were in good coat. The winning male, Julius Caesar v Ketting, was a fine cat in lovely condition, with a good broad head, neat ears and a wonderful coat for the time of the year. The winning female, Natascha of Gyldenlund, was a similar cat, her eyes were lovely for shape, size and colour. The two first prize winners in the kitten classes were an exceptionally nice pair. The female was exhibited by Fru Rholff from Oslo, and the male, litter brother, by his breeder Fru Ekelund.
The creams were dark, the winner Macbeth of Mosebakken, in every other respect was a very fine cat in good coat and condition. His head, eyes and ears were excellent. The winning red cats and kittens were excep¬tionally lovely and had there been any award equivalent to our best in show, my choice would have been Fru Martha Hansen's Red Queen of Tigris. She is one of the loveliest red females I have ever seen; her massive broad head, short nose, very good eyes, small, well placed ears, sweet express¬ion and depth of colour were a joy to behold. Her failing was that the colour on her back was solid and her markings not quite defined enough. The winning male, Herr Jepsen's Gylden¬lund Staerkodder, sire of the above queen, was a similar cat. The first prize red kitten, Fru Horby's Red Princess of Tigris, excelled in type and depth of colour and was in lovely condition. All the winners were good in this class.
The winning white male, Fru Ekelund's Birkedals Habakuk, was in very good coat. His type, head, eyes, ears and physique were excellent. The winning female, Fru Mundt's Nina Von Walden, also excelled in these qualities and her coat was pure and of lovely texture. Her eyes, however, were yellow and green, so I withheld the Grand Prix, which is the equivalent to our Challenge Certificates.
There was only one black longhair, Fru Raussell's Sjolund Carina. She is a nice cat but had green eyes.
The first Siamese litter was a nice level quartette with excellent eye-colour. These were in a pen about six feet long with their mother and another Siamese with a slightly younger litter. We had to sort these out as no exhibits have tallies on. First prize longhair litter went to two red Tabbies, and two very attractive Tortoiseshells.
A jet-black shorthair, nursing a litter of blacks, was the result of mating a Siamese to a black. She was a fine cat and her only fault was green eyes. Shorthairs numbered only three, but they were all good and in fine condition.
The method of judging was exacting, as all the 106 exhibits have a written report in triplicate, one copy of which is hung on the pen. The judging book is marked Type, Head, Eyes, (shape and colour), Ears, Pelt, Tail. One is expected to comment on each point in every cat and at the same time the exhibitors are allowed to crowd round the judge and stewards. To me it seems a debatable point as to whether it is to the advantage of the ex¬hibitor to give such publicity to the non-winner, which one is bound to criticise.
First in the stud class was awarded to Herr Jepsen's Gyldenlund Staerhadder, sire of the lovely red adult female, the winning red kitten, and four other red and tortoise¬shells. First in the brood queen was Fru Ekelund's Gyldenlund Lillemar, dam of three excellent Chinchillas, two of them first prize winners.
I had two excellent stewards in Fru Rohlff of Oslo, and Fru Carlson. They were thought¬ful and attentive, and handled the exhibits well. I appreciated their services very much and I thank them sincerely. The hall was very light and the pens varied from about 2 feet to C feet. All the litters were romping about in big pens.
The president and chairman of the Racekatten Club, Mr. Hamann, had a tiring time, as some cats arrived by air from Oslo on April 24th and did not leave until the 28th. He spent each night at the show guarding the exhibits and trophies, but whenever I saw him he was calm and un¬ruffled and doing his utmost to make the show a success. Fru Boyens, the secretary, and the committee, all worked hard and are to be congratulated. Their hospitality and kindness to me was wonderful, and they did everything to make my visit a pleasant one. I hope the Danish Cat Fancy has a very successful future, as there is great enthus¬iasm.
Mrs. Williams the secretary of the Southern Counties Cat Club, flew out on April 24th, and we shared the pleasure of dining with Herr Knud Hansen. president, of Darak, the oldest Danish cat club, and other well-known cat fanciers. Mr. Hansen owns Topothelot a winning blue male kitten of our 1945-1946 shows. He has grown into a most attractive cat, and has the good eye colour so essential for a blue stud. We had a very enjoyable evening, and I returned to England on May 4th with very happy recollections of all the friendliness and kindness which I enjoyed during mv visit. – Mrs. Joan Thompson, 130, Wickham Way, Beckenham, Kent.
GERMANY AND AUSTRIA
MUNICH CAT SHOW Greenock Telegraph and Clyde Shipping Gazette, 6th September 1897
A cat show is to be opened in Munich next month, and two animal painters are to be the judges.
MUNICH CAT SHOW Herts and Cambs Reporter & Royston Crow, 17th September 1897
Cat shows are ancient institutions with us but comparative novelties the Continent. One is to be held at Munich in the first week of October. The judges are to be two animal painters. A naturalist might have been added, but Munich evidently sets less store by "points" than by pussy's aesthetic claims.
THE GERMAN TABBY Greenock Telegraph and Clyde Shipping Gazette , 11th October 1897
An exhibition which is keeping the South German papers in state of wonder and merriment is just being held at Munich. It is the "first German cat-show" ever held, and, judging by the number of exhibits, it "supplies a long-felt want." The amazement among the visitors of the show knows no bounds at the fancy prices some of the exhibitors are asking for their cats, and the Frankfort stockbroker, who asks 1,000 marks for his lily-white tomcat, is the man of the moment whose name is in everybody's mouth. The show is held for the purpose of raising interest in the cat as a domestic animal. This may sound strange to British ears, but there is need for such a course in Germany, where, should you suggest, that a cat would be the better for an occasional drop of milk or dish of food, the surprised and surprising answer is "Feed the cat? Why, cats feed themselves, on birds and mice, and that sort thing." Wherefore, let us wish the Munich cat-show every success.
BERLIN, March 30 – The first International Cat Exposition will be held in Berlin next month.- Marietta Daily Leader, March 30, 1900.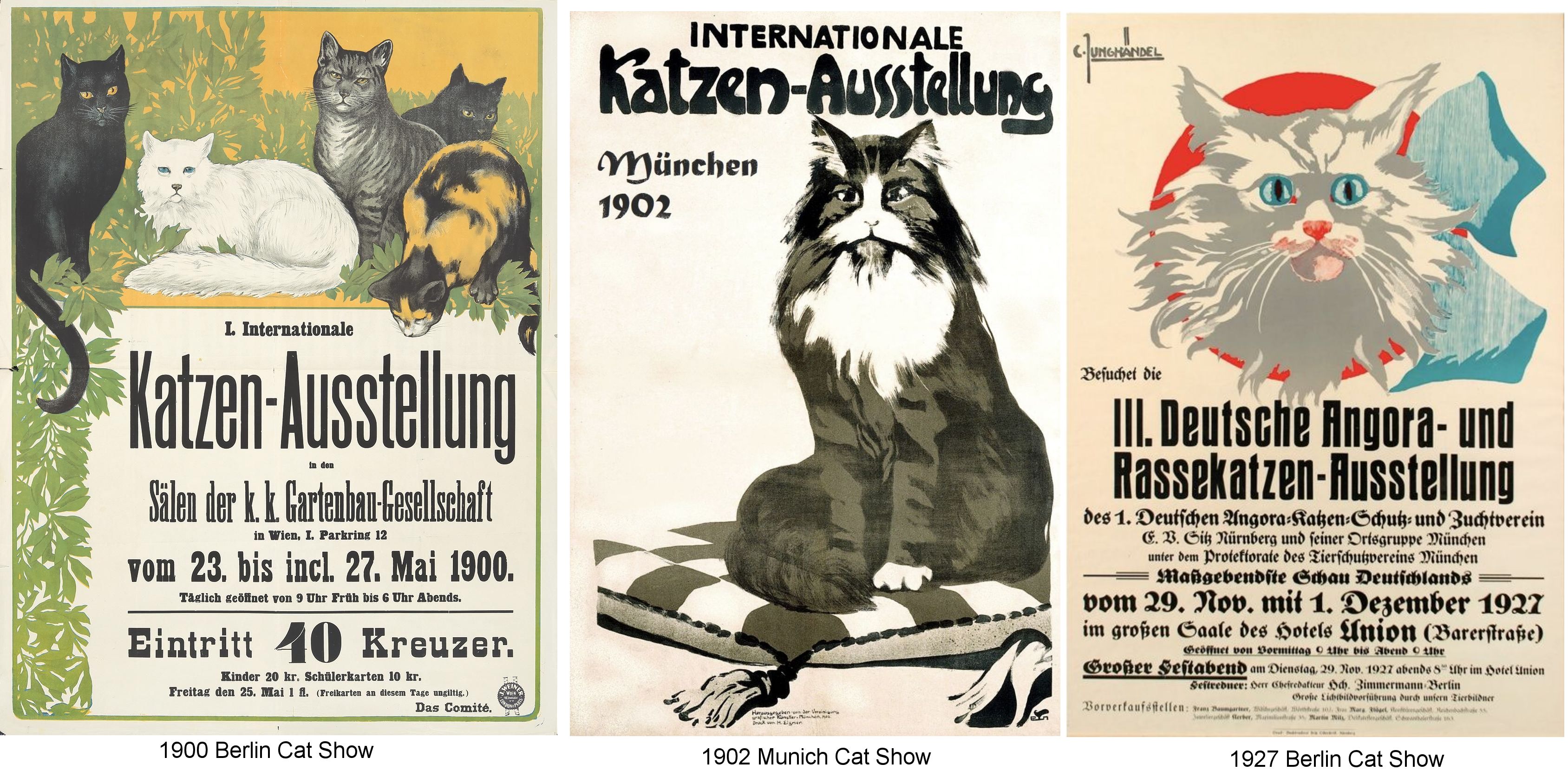 CAT'S LONG PEDIGREE – The Leavenworth Times, 1st June, 1905
The pride of the great cat show which was held at Hamburg was Dodo, a splendid [white] Angora female, who won the grand prize of £250 at Paris, and whose pedigree goes back to 1794.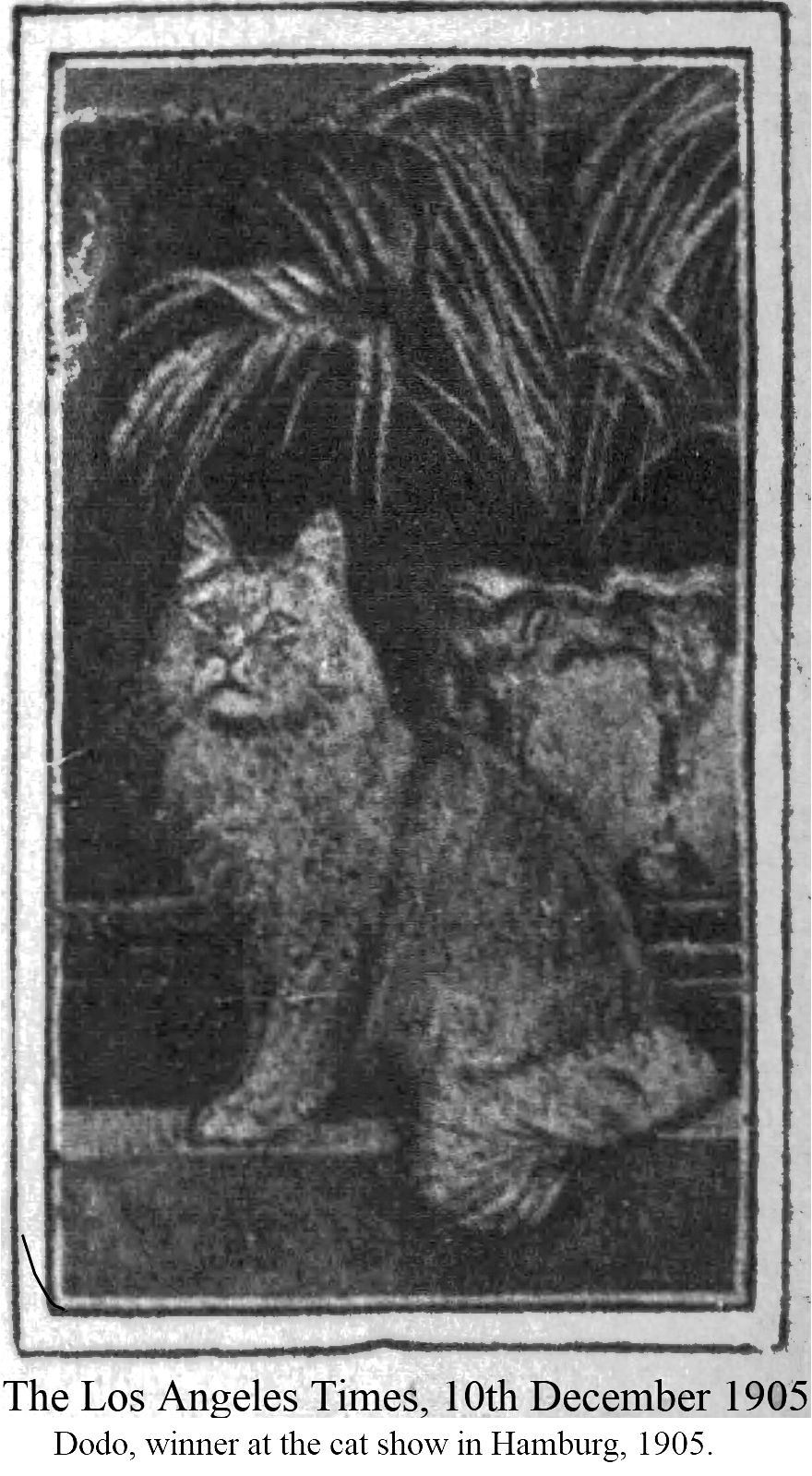 BERLIN CAT SHOW The Gentlewoman, 23rd December 1905
CATS IN BERLIN. Dundee Evening Telegraph, 27th December 1905
For the first time in the annals of Berlin a Cat Show has taken place within its precincts, which was got up chiefly by the Society for the Prevention of Cruelty to Animals, which, by the way, is a pet society of the German Crown Princess, who has undertaken the post of Honorary President. At present cats are by no means popular in Germany, as the Germans are great bird lovers, and look on cats as the natural enemies of their feathered favourites. A cat is regarded by law as a wild animal, and may be shot by anyone if found wandering from home.
Private Correspondence: In my (presumably first) edition of "The Book of the Cat" by Wolf von Metzsch-Schilbach, the author expressed hopes of the Dresden club co-operating with the other cat club in Nuremberg. In the Autumn 1926 edition, he wrote that in his experience co-operation with the club in Nuremberg was impossible and he lamented the typical German eccentricities. The Nuremberg Club's attitude towards Shorthair cats was quite different from the Dresden Club's attitude and they considered that only the Persian-type cats were valuable enough to be worth breeding. The Dresden club was supported by Schwangart who was a known opponent of Magerl who was affiliated to the Nuremberg club. Magerl was the author of a book called "Angora Cats." The Nuremberg club went on to become the German Fife member (DEKZV) and the continued mutual enmity between Magerl and Schwangart was one of the reasons that the German Longhair had no chance of being recognized by the DEKZV during the 1960s. For a long time in the 21st Century there were two opposing version of longhaired German Cats, the German Longhair and the German Angora.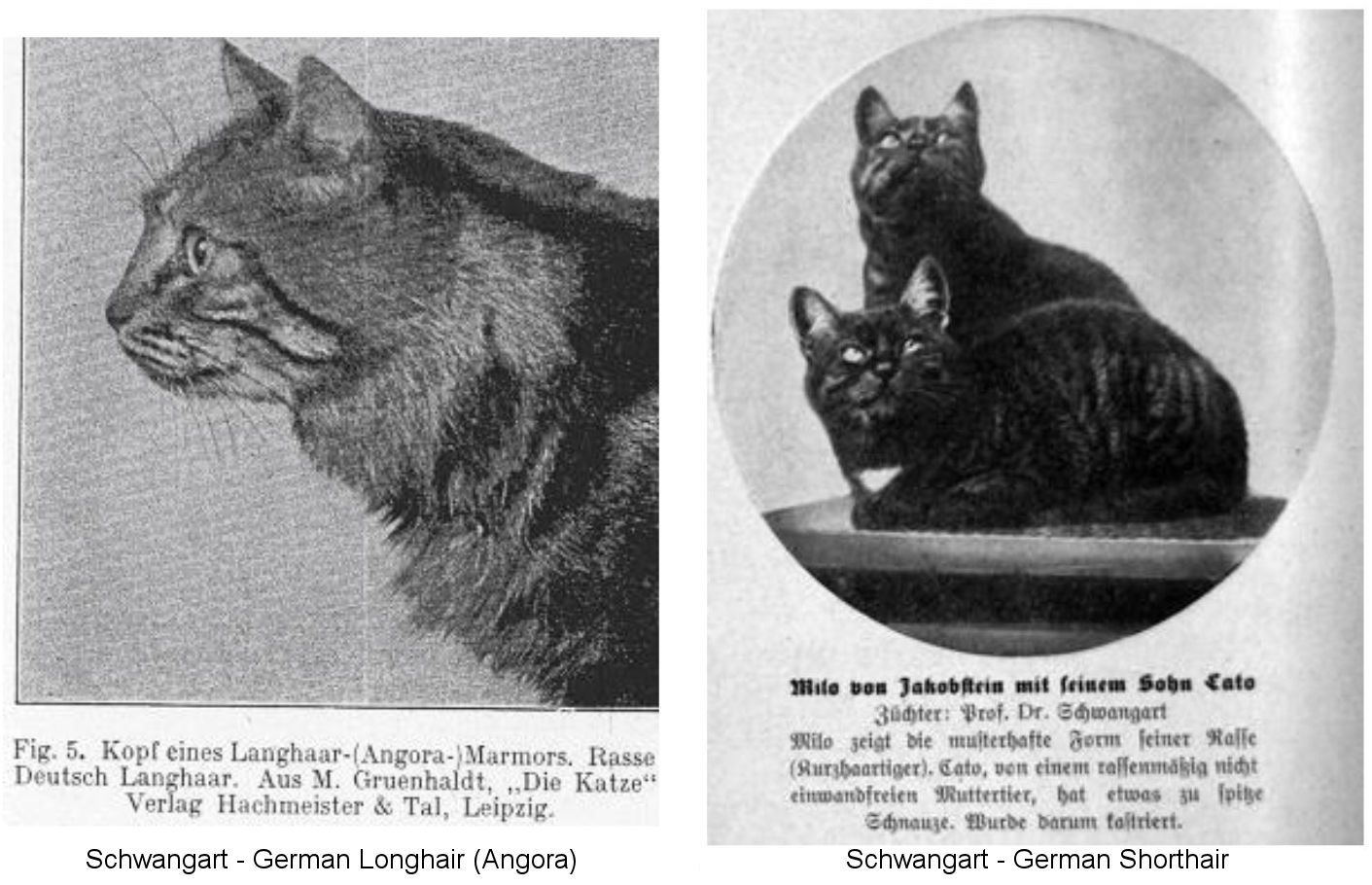 [BRESLAU SHOW] AGED CATS The Galveston Daily News, 28th March 1905
A passing mention of a "recent show in Breslau," which was a German city until 1945 when it became Wroclaw and part of Poland.
Some curiously interesting facts concerning the age of cats are given by the president of the German Cat Club. He writes: "An old and loyal member of our club, living on the verge of poverty, but sharing every meal with an Angora cat, has had this animal for fourteen years. Another member has a cat 16 years old, which is still a good mouser; a cat belonging to a village inn is 19 years old, and has had 150 kittens. My own grandparents had a cat which lived to be 27 years old, and in a sawmill in Alsace-Lorraine a cat has lately died which, its owners used to say, had been through the Franco-German war. At the recent cat show at Breslau, a white Prussian cat, 29 years old, was exhibited, and the only sign of old age in this case was that the creature had lost its magnificent long fur, and had now the look of an ordinary white cat. My own 'Fritz,' the pride of many a cat show, is just 16 years old and, and his fur is still as glossy as ever."
STRANGE FRIENDS. Falkirk Herald, 16th July 1927
Berlin recently had its first cat show, and in one of the cages people were amazed to see a cat, some chickens, three rats, and two squirrels all living quite happily together.
Cat Gossip 30 November, 1927: We have received from Berlin the first few numbers of the German cat paper, "Unsere Katze," ("Our Cat") and can safely say it absolutely puts in the shade any catty paper that has ever been produced in this or any other country. Whereas papers of this nature usually confine themselves mostly to purely "Fancy" and "Breeders'" matters — and thereby miss the support of the vastly more numerous body of cat-lovers who are not "Fanciers" (most of whom, as we know from our own correspondence, find purely Fancy matters very boring), the German paper, which is of good size, excellently printed on good paper, and beautifully illustrated, not only caters for "fanciers" — it is the organ of several Cat Clubs — but provides for the great body of cat-lovers. Whatever their tastes may be, matter of every kind connected with the cat is provided for them; poems and literature, by writers of all nations and all periods; portraits, and reproductions of the works of cat painters; veterinary, scientific, legendary, historical, natural history, and humanitarian matter dealing with the feline tribe is to be found in tins paper, which would be a credit to any country, and, considering that the Cult of the Cat is but in its infancy in Germany, is really a marvellous production. – HC Brooke
Cat Gossip, 18 April 1928: Yet a new cat paper has been started, this time by the Club of Friends of the Cat, in Vienna. The new undertaking, which starts in a very modest way, is to appear fortnightly, and is entitled "Die Katze" ("The Cat"). Our friend M. Armami Steens, that ideal of a genuine cat lover, has ceased contributing to "Chasse et Peche," (Hunting and Fishing) owing, we understand, to a difference of opinion with the directorate regarding the destruction of stray cats by shooting them with revolvers (a risky method unless the operator be a skilled shot) to feed the birds of prey in the Zoological Gardens. M. Steens now runs a separate column for the Belgian Cat Fancy in Dr. Jumaud's paper, "Les Tablettes." – HC Brooke
Cat Gossip June 27 1928: [Regard a show in Vienna] Did we mention that here the blues are called Persians, the others Angoras? — a foolish distinction. A class was provided for Zwerg-Angora — dwarf Angoras. If this class be retained care will have to be taken that it does not become the happy hunting-ground of "weeds." An exhibitor, who is doing good work in the production of amber-eyed whites, tells us he is producing a breed of dwarf cats, perfect and typical in every respect, but which he will not show until he has fixed a strain which, full grown, shall be but half the average size. Such a tiny cat would almost have the charm of perpetual kittenhood. – HC Brooke
CATS' AIR JOURNEY Lancashire Evening Post, 10th January 1931
A cat show is being held on Sunday at one of the big halls of Berlin. For the first time a large number of the competitors arrived at the Tempelhof Aerodrome by air mail from London, and this rare collection of cats from Siam, Persia, and the Chinese temples will be the chief attraction of the show. The London cats got over the air journey very well, and were asleep almost all the time.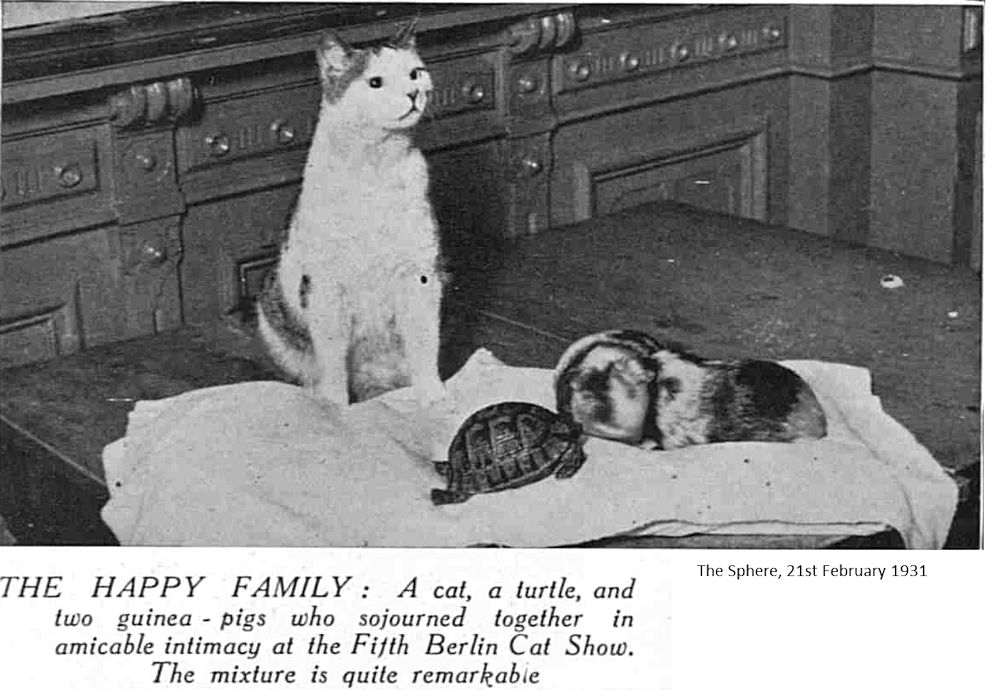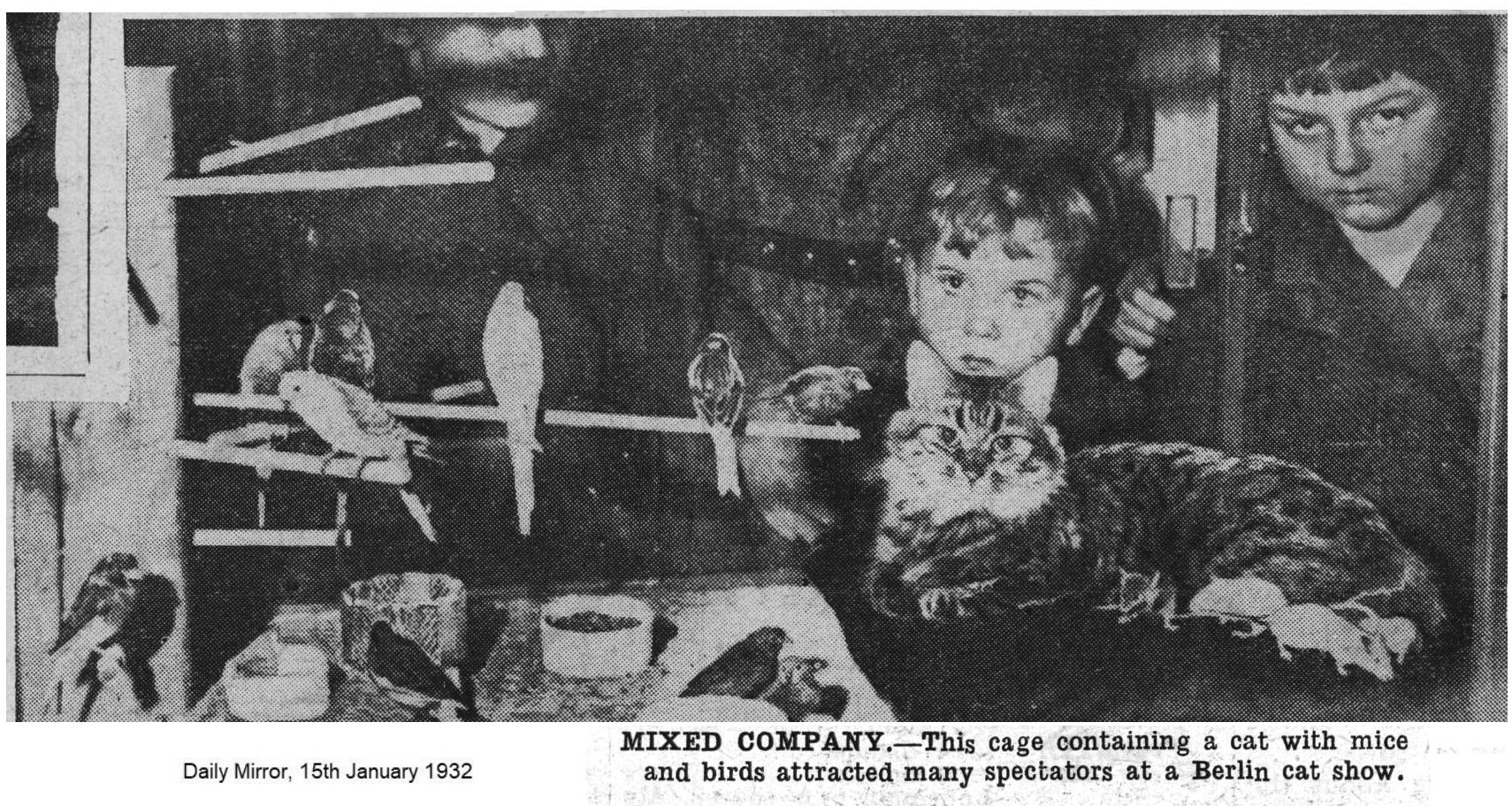 1938 NURNBERG INTERNATIONAL CAT SHOW Port-Glasgow Express, 14th December 1938
It is impossible to determine the exact cat population of this country, but there is an impression that animals of the feline species are more popular here than elsewhere. Whether it is correct is purely a matter for conjecture, but if it is, then Germany must hold a good second place. I hear that cats as pets are growing rapidly in popularity there, and in Berlin alone no fewer than 18,000 are treated every year for various complaints at the numerous dispensaries that are available. This month the German Association of cat-breeders is holding its first international cat show at Nurnberg. Cats of every breed. from Germany, France, Belgium, Switzerland, Holland and Denmark will foregather there, but unfortunately, owing to the stringency of our quarantine regulations, no cat will be able to do battle for the honour of Great Britain. There would be no difficulty about British cats going to Germany, but our law stipulates that no animal coming from a foreign country can be allowed to go to its owner until it has spent six months in a quarantine camp. Owners of British cats apparently do not want to be "robbed" of their pets for so long a period after the show.

ITALY

FLORENCE, ITALY CAT SHOW. When the Bayonne came to Philadelphia about seven weeks ago it had a pet, an ordinary black and white pussy, whose birthplace was far off beyond the Italian Alps. The cat was a present to Captain Von Hugro and had accompanied him on several voyages. It is, moreover, no ordinary tabby, as it is the proud possessor of a pedigree and appearance equally remarkable. Italy is not blessed with many cats — in fact, they are almost a rarity. Therefore, to the great cat show held last year at Florence there were vast crowds attracted. The mascot of the Bayonne was present and carried off a big gold medal, which Captain Von Hugo personally exhibits to visitors - a tribute to the finest specimen of feline aristocracy represented at the exhibition. – The Atlanta Constitution, December 11, 1898

[ROME CAT SHOW] BEST CAT various, 4th May 1951
Italian Premier Signor de Gasperi has given a prize for the best cat in Europe to be chosen in a cat show at Rome on Saturday and Sunday. Cats from Britain, France, Holland, and other countries, will compete.

NETHERLANDS (moved to new page)

SWITZERLAND

Marcel Chamonin, a Swiss breeder of Siamese and Birman cats, was an important figure in the Swiss cat fancy. In December 1932, Mr. Trachsel, President of l'Association des Intérêts de Genève, visited the Salle Wagram Cat Show in Paris and was hooked on the idea of cat shows. He decided to hold the first cat show in Geneva and his request for interested parties was published in the newspapers. M. Chamonin responded. The first Swiss cat show was held at the Kursaal in Geneva the following year and showcased 130 cats. In 1934, M. Chamonin became the first president of the Geneva Cat Club. It presented 130 cats and attracted 11,584 visitors.

THE CAT FANCY IN YUGOSLAVIA (1979)


Sasa Derzaj in Cat World (International) July/Aug 1979

The Union for Breeding and Protection of Little Animals in Yugoslavia was constituted in January, 1977, with separate sections for breeders of pigeons, birds, rabbits, cattle, cats and aquarium fish. Each section has its own Status with its President being a member of the Presidium of the Union. The committee for protecting and breeding all the species does intensive work on any problems. The idea for the formation of a Yugoslav Union as the official organization for the evolution and furthering of breeding and protection of felines was originated by Professor Szlivka Laszlo, a cooperator at the Yugo-Slav Academy of Science & Art. With the formation of the Union, a base has been established for the breeding of new lines. Previously, a small number of cat breeders were systematically working on the breeding of pedigreed cats. Some of them are members of Specialty clubs abroad, including organizations in Austria and West Germany, from which they obtained pedigrees.

Upon learning of the work of our organization, it is hoped that other breeders, too, will join the Yugoslav organization. By forming this Union, we want to build and reach a greater circle of breeders and fanciers. We feel that besides the breeding of cats in Special programs, a most important factor is the protection of cats in general and we have in our organization special members who are exclusively engaged with this question.

What has been done in this short time? First of all, arrangements were made to register, test, and publish the pedigrees for Yugoslav cats. We are sure that these were the most important obligations of our Union. Before this, we did not know what varieties and numbers we had, nor did we know the type of kittens and grown up cats or if their conformation is generally similar to those of the same breed in other European countries. In unison with other Yugoslav republics, a catalogue was made of pedigreed cats and their pedigrees in the same form as used in Other states. We have now:

1. Blue Persians Breed #3 - 178 cats registered
2. White Persians Breed #2 - 2 cats registered
3. White Persians Breed #2a - 11 cats registered
4. Cream Persians Breed #5 - 9 cats registered
5. Tortoiseshells Breed #11 - 4 cats registered
6. Blue-Creams Breed #13 - 16 cats registered
7. Colourpoint (Hims.) Breed #13-bii - 2 cats registered
8. Russian Blue Breed #15a - 1 cat registered
9. Chartreux (Brit.type) Breed #15bb - 3 cats registered
10. Siamese - Seal Point Breed #24 - 66 cats registered

These are the registered cats. Probably we have over 500 yet to be registered because we know definitely that in Ljubljana (Slovenija) there are Chinchillas and in Maribor (Slovenija) Brown Tabbies, and in Belgrade Red Tabbies. These cats have all been imported from Germany and England. Our Union is not yet a member of FIFE because up until now we did not have a sufficient number of pedigreed cats, but judging is done to FIFE Standards.

Research has revealed that the first breeder of pedigreed cats was Dr. Szlivka Aurel, a veterinarian who came in 1919 from Czechoslovakia. He has Blue and White Persians which, at that time, were known as "Angoras". After his death, his son, Szlivka Mihael, a chemist, continued his father's work and bred Turkish Cats with great success until 1949. This breeding program resumed in 1966 when Prof. Szlivka Juhasz Maria established a new cattery of Persian cats with the name: "Lotus". The foundation stock came from West Germany from the "Ramachersfeld - Hoburg-Stein-Holzle Konig" lines. The Professor's second bloodline came from Czechoslovakia. From the first, these cats have had excellent coats.

We must say that the feline population in Yugoslavia does not have the usual type of Persian cats. Lotus Cattery is trying to change this to modern-day type. At the moment, the main problems are head and length of tail. The cats are larger than required so Lotus has imported from Holland a short-bodied Blue-Cream female and, from Czechoslovakia, a Cream male, in hopes that future offspring will have better type.

It should be emphasized that the Lotus Cattery is not doing this work as a business but out of a great love of felines. The cattery is very modern with facilities for 24 breeding cats. Another cattery which, in the past, bred Blue Persians is located in Maribor but may not now exist. A cattery in Sarajevo (Bosna) breeds Blue and Blue-Cream Persians in small numbers. There are two catteries in Belgrade which breed Seal Point Siamese, as does one in Subotica (Vojvodina) and one in Sivac. All the Siamese are of the Old-type and, as a result of in-breeding, one can see a degeneration of quality. Plans are being made to import Lilac Point and Tortie Point Siamese.

The Presidium of the Yugoslav union is in Novi Sad (Vojvodina) in the main town of Vojvodina.

You are visitor number