REPORTS FROM EARLY BRITISH CAT SHOWS (1878 - 1879)

These are reports of the early British cat shows that I've collected from various newspapers and show catalogues. The earliest reports reflect the novelty of cat shows and describe only a few of the entrants.

1878 CRYSTAL PALACE CAT SHOW

CAT SHOW AT THE CRYSTAL PALACE. Morning Post, 16th October 1878
The tenth "National Cat Show " at the Crystal Palace opened yesterday and attracted a considerable number of visitors. On some previous occasions there have been larger numbers of these interesting domestic pets sent in for exhibition ; but the present show is a good average one as regards numbers, most of the ordinary classes being well filled, and in point of quality the display is of more than average merit. There are in all 48 classes and 223 exhibits. As might naturally be expected, the great majority of the cats' belong to residents in London and its suburbs, but many persons living at a considerable distance from the metropolis are among the competitors. The two principal divisions of the show consist of short-haired cats and long-haired cats, there being 23 classes of the former and 10 of the latter.

The short-haired variety is very well represented, the tortoiseshell and white and the brown tabby being the most numerous in this division. They include some very handsome specimens, but as a rule the long-haired cats are superior to them both as regards average merit and the beauty and size of the principal prize winners. The same remark is applicable to the kittens in both divisions. The numbers in both are nearly equal, but the beautiful Persian kittens appeared to be of higher quality than their short-haired rivals, and were certainly much more admired. The classes for cats of unusual colour or abnormal formation contained several noticeable animals, including three of the tallies Manx breed, and some beautifully formed cats of a remarkable mouse or slate colour. These, from the rarity of their colour, were the objects of no small curiosity and admiration. There are special classes for cats belonging to working men. There were 36 entries in these classes, and all the exhibits were excellent specimens of their kind. This is not the least Interesting feature of the show. The sleek condition and the docility and placid, contented aspect of the animals prove how kindly treated and petted they must have been in the humble dwellings from whence they came.

Many of the prize winners on the present occasion have been previously exhibited. Thus the winner of the prize for tortoiseshell and white he cats (short-haired) was Mr. John Hurry's "Totty," aged six years and nine months, which had already carried off six 1st prizes and one 2d at the Crystal Palace and other shows. In the class for short-haired brown tabby he cats, Mr. W. Flitton's cat, which had gained several 1st prizes, was awarded the prize, but it is right to say that there was but one entry in each of these classes. The 1st prize for blue or silver tabby he cats was won by Mr. William Sherwin, and the 1st for red tabby he cats by Mr. Alfred Bell. Two young gentlemen, Masters Tom and W. Kitching, obtained the 1st prize for a handsome cat aged one year. The black and black-and-white cats were rather scantily represented. In the class for he cats of unusual colour the prize was obtained by Miss Monk, for a large finely-formed cat of a beautiful mouse colour. Mrs. Clarke, Mr. Thomas Johnson, and Mrs. Monckton White won the 1st, 2d, and 3d prizes respectively in the class for Manx cats. The 1st prize for tortoiseshell she cats was won by Mr. R. Bailey for tortoioseshell and white she cats, by Mr. Charles Graves; for brown tabby she cats by Mr. Arthur Highton; and for blue or silver tabby she cats, by Miss H. King.

The 1st prize for the best marked kittens of any variety under six months old was won by Mrs. Barbery. In the division for long-haired cats the 1st prize for pure white cats was obtained by the Rsv. W. K. K. Chafy-Chafy for a cat only 11 months old. The prize for black he cats was taken by Miss Epps; for tabby he cats, by Mr. G. Markwick ; and for he cats of unusual colour, by Miss Rowley. In the class for pure white she cats Miss Eliza Ackland was adjudged the 1st prize, and Mr. Joseph Bristowe obtained the first place for tabby she cats with a beautiful young half-bred Persian. In the class for she cats of unusual colour, Miss Eliza Ackland's Tazza was deservedly placed first. Two pretty little Persian kittens, exhibited by Mr. E. Sheerman, were adjudged the 1st prize in their class.

There were several prizes given for the heaviest cats of various kinds. The 1st prize for the heaviest long-haired white cat was obtained by Miss E. Weightman for her Angora cat Mistletoe, the winner of innumerable prizes, and pronounced by the judges to be the best cat in the present show. The prize for the heaviest "cat belonging to working men" was taken by a brown tabby, weighing 16 and three quarter lb., the property of Mrs. Jane Bath. The judges were Mr. VV. B. Tegetmeier and Mr. George Billett. The show will be open to-day and tomorrow, and will close at five o'clock to-morrow evening.

CRYSTAL PALACE CAT SHOW. London Evening Standard, 16th October 1878
The tenth "National " Cat Show at the Crystal Palace was opened yesterday, and if not remarkable for its dimensions, it has at least the merit of good quality. Among more than two hundred entries the paucity of inferior specimens of the Fetis domestica is a noticeable feature of the exhibition, whilst the number of rarer kinds is in very large proportion. Although the cat is supposed to be the peculiar pet of the ladies - especially those of a "certain age" - the catalogue of exhibitors seems to comprise about equal members of the sexes. The show is divided into short-haired and long-haired cats, and cats of no sex, and these are subdivided into a great variety of classes, of which the long-haired white Angoras and Persians were evidently regarded as the favourites, though the collection of tabbies, both dark and silver, is very fine, and was much admired. There are some fine specimens of tortoiseshell and white, and several of unusual colour and formation, of which the Manx is one striking example. The prizes and commendations were so numerous that few of the competitors remained undistinguished.

In the short -haired male classes a first prize fell to a handsomely marked English tortoiseshell and white, belonging to Mr. J. Hurry, which had been the winner of six first prizes at previous shows; and among the other first prize animals under the same head we may mention Mr. W. Sherwin's fine blue or silver tabby, Master Kiching's light tabby, Mr. J. A. Winney's evenly marked black and white, Mrs. S. Browne's white, Miss Monk's dun or mouse colour, and Mrs. Clarke's black velvet coated, satin-faced Manx. In the short-haired she classes a first prize was awarded to Mr. C. Graves's tortoiseshell and white, which had achieved success at Birmingham, Burton, and the Crystal Palace; also to Mr. A. Highton's brown tabby, Miss H. King's blue or silver tabby, Mr. W. J. Nicholl's red tabby and white, Mr. W. Wookey's brown, with white nose, fore paws and breast, Mrs. M. White's black Manx, fore paws tipped with white, and Mrs. Barbery's two fine black kittens, five months old.

The principal prizes for long-haired male cats were won by the Rev. W. K. Chafy's pure white, Miss Epps's black, Mr. G. Markwick's tabby, and Miss Rowley's Angora. For long-haired she cats a first prize was taken by Miss E. Ackland's pure white, Miss E. Weightman's black, Mr. J. Bristow's tabby half bred Persian, Miss E. Ackland's brown, and Mr. E. Sheerman's pair of kittens, a white Persian female and black and white male, nine months old. In the classes of cats of no sex Mrs. G. J. Boorn's tabby took a first prize, as did also Mr. A. Aspinall's very large and handsome short haired tabby, Miss B. Lenox's half-bred Angora and English, Mr. F. H. Plummer's black, Miss A. Corney's yellow tabby, Miss Weightman's Angora, Mr. Harrison's half-bred Persian, and Miss Hamilton's Angora. All these were selected for weight. There was likewise a very fair display of cats of various colours belonging to working men.

CAT SHOW AT THE CRYSTAL PALACE. Globe, 16th October 1878
The tenth National Cat Show at the Crystal Palace commenced yesterday, and will remain open until to-morrow evening. Although in point of numbers it is hardly so good a show as some of its predecessors, it is as regards the quality of the exhibits, superior to any of them. There are 223 entries, divided into 49 classes, but by some mistake in the classification the almost unique specimen of a tortoiseshell Tom, which excited so much interest on former occasions, is this year excluded. The cat which takes the highest honours for weight is Mrs. Bath's "Tabby," seven years old and 16 and three quarter lb. weight. The best cat in the show is Miss Weightman's white Angora "Mistletoe," which in the course of eight years has won 28 first and seven special prizes.

LOCAL PRIZE WINNER THE CRYSTAL PALACE CAT SHOW. Derbyshire Times and Chesterfield Herald, 19th October 1878
At this show held this week, in Class 13 for tortoiseshell and white she Oats, there were 11 entries and the 1st prize was awarded to Mr. Charles Graves, of Boythorpe, Chesterfield. The same cat was awarded a 1st prize at Birmingham, and 1st at Burton, in 1875, and 2nd at the Crystal Palace Show in 1877, besides other honours.

A CAT SHOW Dublin Evening Mail, 19th October 1878
The tenth national cat show has commenced at the Crystal Palace, London. At the Crystal Palace the experiment has endured through a decade [note: actually 7 years, the shows began as 6-monthly] and with encouraging success. There are now ranged in four lines of miniature tigers' dens at Sydenham no less than 223 cats of both sexes, and including a sprinkling of those which possess the distinction of belonging to neither [neuters]. These specimens of the races are divided into 49 classes, and, on the whole, the show presents features proving that much, and indeed growing, interest is felt in the breeding of cats.

No-one will, of course, be disposed to attach the same amount of importance to the breeding of cats that belongs to the production of stout St. Bernards, useful sheep dogs, keen-scented pointers, setters or foxhounds, swift and far sighted hunters of "poor puss," or even of the humbler breeds of dogs, which, if they do not guard our homes, give timely notice of the area sneak's approach or the absolute arrival of the night burglar; but there are not many among us but possess a sneaking regard for the puss that purrs beside the evening fire, and would encourage by means of such shows as this a kindly treatment of it.

Either by accident or design, a trio, or perhaps more, of the most famous cats in the country were excluded from competition; the class for tortoise-shell Toms being confined to animals possessing a soupcon of white fur among the other colours which go to make the tortoiseshell combination. Probably amateurs will agree in thinking that the best classes in the show are those devoted to white mousers with long hair. Opinions differ as to the bulk, there can be no doubt that the best individual cat in the show is Miss Weightman's Angora "Mistletoe," which in the course of eight years has won 26 first and seven special prizes. The heaviest short-haired cat in the list is Mrs Jane Bath's "Tabby," a seven years old animal, which scales 14 and three quarter pounds. He does not come up to "Royal Tom," who caused the scales to kick the beam at 22 and one half pounds when shown in Edinburgh a few years ago, but is still a very respectable member of feline society.

CAT SHOW AT THE CRYSTAL PALACE. Kentish Mercury, 19th October 1878
The tenth natural exhibition of cats was held at the Crystal Palace, this week. The interest in the species of show did not appear to have declined as the novelty wore off. In every successive exhibition the entries keep up to a fair average, while there is no falling off to be observed in the number of those who come purely as spectators. In merit the show of this year stands well, though not at the highest point in comparison with its predecessors. The exhibits are more in number than they were last year, but they have been exceeded by those of previous years. As to the quality of the animals, we believe that Mr. B. Tegetmeier and Mr. George Billett, the judges, have every reason to be satisfied with the competitors to whom they are called upon award prizes. The exhibition is arranged in its usual place in the nave south of the centre transept, and the animals are confined in large cages, being provided with cushions and a liberal supply of food.

The grand division of the present show is into short haired and long haired cats, and these two descriptions are again subdivided into many classes, among which are he cats and she cats, families of kittens, cats of well known colours and cats of unusual colours ; a separate class being devoted to cats which do not come under any ordinary variety of colour or form. There are less than 223 cats the list, and more than 150 exhibitors. Seeing that there are 49 classes in the show, and that in each a first prize is taken, it is impossible to specify even a few of the finest animals in the different classes. Some of the animals come to the competition with the advantage of formidable records of previous successes, and one cat, for which the modest price of £2 is asked, displays a list of five prizes taken within two years. It would difficult to form an estimate of the commercial value of cats from the prices that are asked for the specimens at the Palace. Some of these are marked "Not for sale," while the prices of others range from £1 to £1,000. It is, of course, easy to understand that any figure much above the former price is to be taken as warning that the favourite is not intended to be sold ; but the reason putting down a couple of cats at £78 17s. 7d. apiece is not easily discovered.

In some cases prizes are awarded by weight, the champion animal in this respect turns the scale at 16 and a half lb. The prettiest candidates, and doubtless the most successful in popular favour, are the kittens, of which a good many families are shown, and these delight visitors, young and old, their beauty and their playfulness. Taken as a whole, the show is an excellent one, and if an excuse for its recurrence cannot be based on the same grounds as those urged for exhibitions of horses, dogs, and cattle, it is at all events interesting to a large class of society.

CRYSTAL PALACE Lloyd's Weekly Newspaper - Sunday 20 October 1878
The tenth National Cat show was held at the palace this week, and proved very successful. Messrs. Tegetmeier and Billett, the judges, must have had some difficulty in distributing the 223entries into the 49 classes, but they were fully equal to the task. A short-haired tortoiseshell and white he-cat, belonging to Mr. J. Hurry, was alone in its glory, and took the first prize in its class for the seventh time at recent shows. This animal is priced at £100, but he was altogether outdone by a very fine tortoiseshell and white she-cat, who took a first prize, and was catalogued at £1,000 by her owner, Mr. Charles Graves, A comparison with these fancy figures was afforded by an animal which took a first prize at the Aquarium last year, being only marked £2. Miss Weightman's white Angola, Mistletoe, was again one of the prettiest cats in the show. In eight years this animal has won 28 first and seven special prizes. The highest award for weight was carried off by Mrs. Bath's Tabby, seven years old, though it only reached 16 and three quarter pounds. Great interest appeared to be excited by the show, particularly among the lady visitors,

CRYSTAL PALACE CAT SHOW. The Era, 20th October 1878
No less than two hundred and twenty-three specimens of the domestic pet have been on view this week at the Crystal Palace. Something to please every taste. There were a host of admirers of Miss Weightmnan's Angora cat " Mistletoe " which in the course of eight years has won nearly thirty prizes. The heaviest short-haired cat in the list is Mrs Jane Bath's " Tabby," a seven years old animal, which scales 16 and three quarter lb. He does not come up to " Royal Tom," who caused the scale to kick the beam at 22 and a half lb. when shown in Edinburgh a few years ago, but is still a very respectable member of feline society, and "Royal Tom" having "passed to where beyond these voices there is peace" is perhaps, as heavy a cat as could reasonably be expected to put in a claim for honours even in a national show. While, as was to be expected, a considerable number of former prize winners, notably those shown by Mr Hurry, Mr Flitton, Miss Brander, Mrs Whiting, Mr Winney, Mrs Fossett, Mr Slater, and others, have secured premiums on the present occasion, it must be encouraging to cat breeders generally to learn that several among the younger competitors have gained awards. Mr Tegetmeier and Mr George Billett acted as judges.

NATIONAL CAT SHOW Rutland Echo and Leicestershire Advertiser, 25th October 1878
The tenth National Cat Show has just been held at the Crystal Palace, London. The exhibition, though perhaps showing fewer entries than some of its predecessors, was quite up to the mark in point of quality, and numbered a good many former prize winners, most of which were in an improved condition. In all there were 223 exhibits, divided into shorthaired and long-haired cats, and cats of no sex, and these were sub divided into a great variety of classes, of which the long-haired white Angoras and Persians were evidently regarded the favourites, though the collection of tabbies was very fine. There were some fine specimens of tortoiseshell and white, and several of unusual colour and formation, of which the Manx is one striking example.

In the short-haired male classes first prize fell to the handsomely marked English tortoiseshell and white, belonging to Mr. J. Hurry, which had been the winner of six first prizes at previous shows; and among the other first prize animals under the same head we may mention Mr. W. Sherwin's fine blue or silver tabby, Mr. J. A. Winneys evenly marked black and white, Mrs. S. Browne's white, Miss Monk's dun or mouse colour, and Mrs. Clarke's black velvet-coated, satin-faced Manx. In the short-haired she classes first prize was awarded to Mr. C. Graves's tortoiseshell and white, which had achieved success at Birmingham, Burton, and the Palace ; also Mr. A. Highton's brown tabby. Miss H. King's blue silver tabby, Mr. W. J. Nicholl's red tabby and white, Mrs. M. Whites black Manx, fore paws tipped with white, and Mrs, Barbery's two fine black kittens five months old. The principal prizes for long-haired male cats were ty the Rev, W. K. Chafy's pure white, Miss Epp's black, Mr. G. Markwick's tabby, and Miss Rowley's Angora. For long-haired she cats a first prize was taken by Miss E. Ackland's pure white, Miss E. Weightman black, Mr. J. Bristow's tabby half bred Persian, Miss E. Ackland's brown, and Mr. E. Sheerman's pair o kittens, a white Persian female and black and white male, nine months old.

In the classes of cats no sex Mrs. G. J. Boom's tabby took a first prize, as did also Mr. A. Aspinall's very large and handsome shorthaired tabby, Miss B. Lenox's half-bred Angora and English, Mr. F. H. Plummer's black, Miss A. Corney's yellow tabby, Miss Weightman's Angora, Mr. Harrison's half-bred Persian, and Miss Hamilton's Angora. All these were selected for weight. There was likewise a very fair display of cats of various colours belonging to working men. Mr. Tegetmeier and Mr. George Billett were the judges.

LOCAL PRIZE TAKER AT THE CRYSTAL PALACE CAT SHOW Weston mercury, 26th October 1878
"Shah" the property of Mr. S. Mills, of the York Hotel, in this town has been awarded the second prize at the above show, as a "long haired tabby." The 'live Stock Journal' says the class contained many splendid specimens. It will be remembered that "Shah" was last year awarded a silver cup, in addition to a first prize, for being the best cat in Clifton show.

1878 MARGATE CAT, DOG AND RABBIT DOG SHOW


The Illustrated Sporting and Dramatic News, March 9, 1878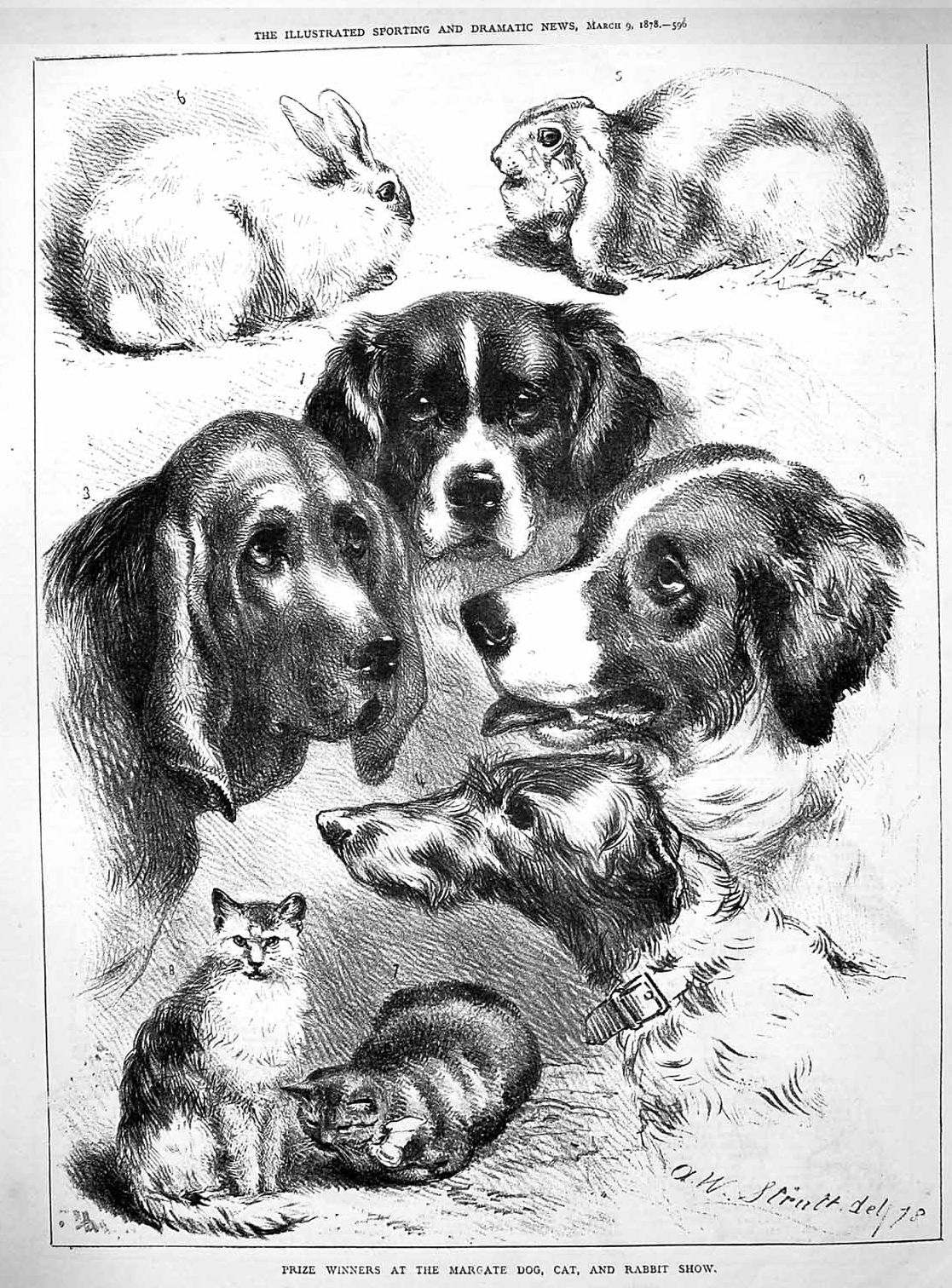 1878 CRYSTAL PALACE CAT AND PET DOG SHOW


The Illustrated Sporting and Dramatic News, August 17, 1878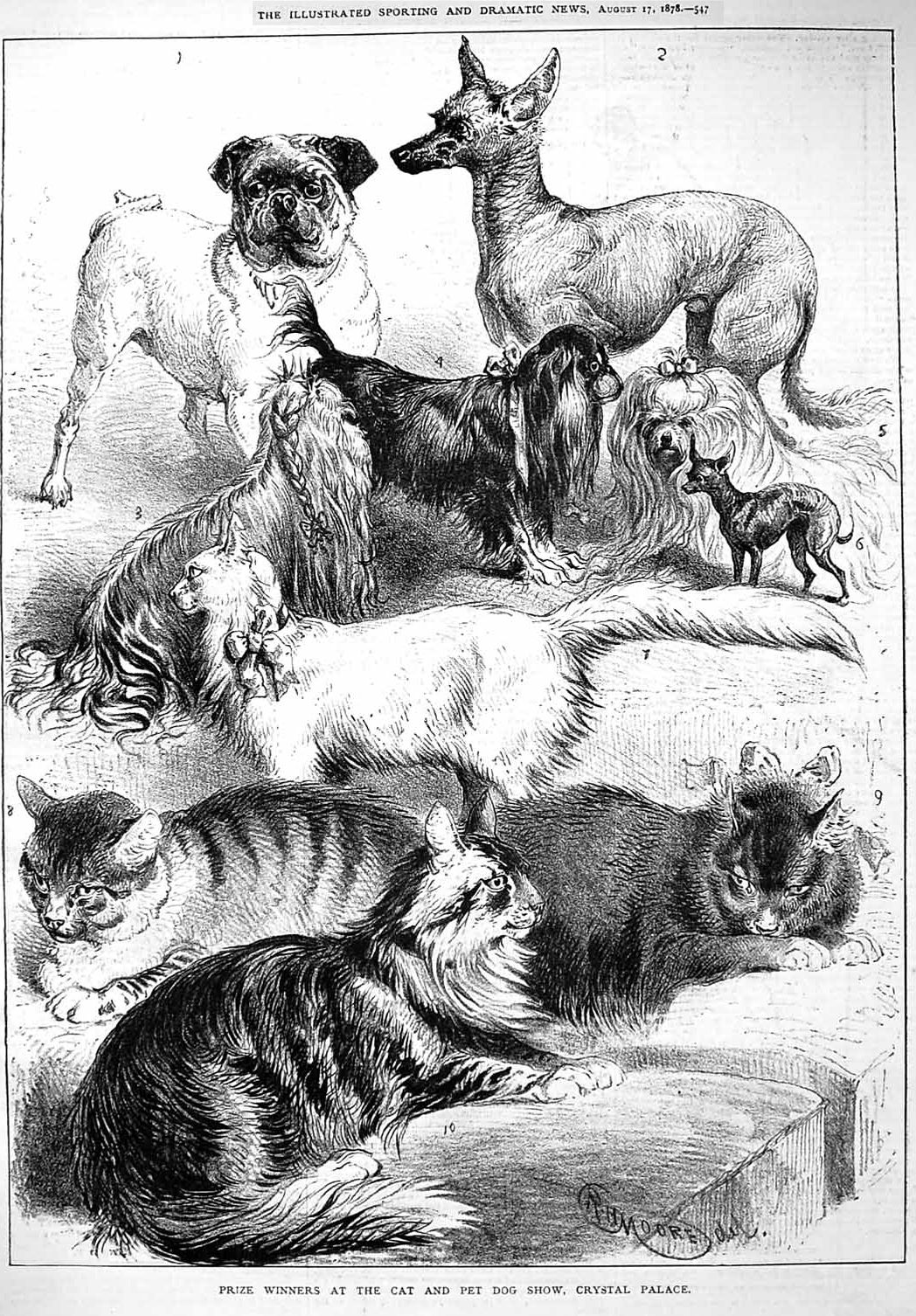 DOG AND CAT SHOW AT THE CRYSTAL PALACE. 10th August, 1878
The second United Kingdom Exhibition of Ladies' Pet Dogs and Cats was opened on Saturday at the Crystal Palace. There was a very large number of very liberal prizes offered for competition, and the show was a very good one.
1878 OTHER REGIONAL CAT SHOWS
HELSTON FLORA DAY. Western Morning News, 9th May 1878
Yesterday's holiday had an additional attraction this year, for, under the honorary secretaryship of Mr. H.L. Rogers, a dog, poultry, bird, and cat show was held in the market. The entries, more particularly of dogs, were numerous, and exhibits were, as a rule, decidedly beyond mediocre. The judges were - For dogs and cats Mr. F. Webber, Falmouth [. . .] The following is the list of awards:
Cats, Longhair, any colour – 1, Mr. E. Stephens, Helston; 2, Mr. Thomas Moyle, Boderwennack.
Any breed or colour, not before mentioned -1, Mr. J. G. Shakerley, Helston; 2, Mr. J.H. Willey, Helston; h.c. Mr. H. Francis, Helston.
Litter of Kittens, any breed, not exceeding six months - 2, Mr. T. Paynter, Sworan.
HELSTON FLORA DAY, DOG, POULTRY, AND CAT SHOW. Royal Cornwall Gazette - Friday 10 May 1878
The annual festival, yclept " Flora Day," [. . .] Not a little of the success of Flora Day must be attributed to the fact that there was a Dog and Poultry Show in the Market house, a report of which will be found below [. . .] The first annual Dog, Poultry, Bird, and Cat Show was held, as we have already said, in the Market House, which was beautifully fitted up and laid out for the occasion. There was a very large number of entries under each head, many of them coming in after the catalogue was issued, which resulted in some inconvenience to all concerned.
HORTICULTURAL, DOG AND POULTRY SHOW AT BARNSTAPLE. Western Morning News, 27th June 1878
The Devon flower show season may be said to have been inaugurated yesterday when Barnstaple held its annual horticultural exhibition. To this it would seem almost necessary to add that the season for exhibiting poultry and pigeons, as well as cats and dogs, was inaugurated at the same time, since there appears to be a desire to amalgamate shows of this kind. [. . .] it was held as usual in the Market-house, a building which is situated in a convenient part of the town, and admirably adapted to the purpose to which it is at present devoted.
The Cat Show: Of all the departments there is none perhaps so popular with the fair sex as the cat show, and very large was the number of North Devon ladies who yesterday scrutinised the various classes of the feline tribe on view. Some of the cats are very fine, and appear to be in capital order. They belong chiefly to people residing in the neighbourhood of Barnstaple.
BARNSTAPLE. DOG AND CAT SHOW. Bridport News, 5th July 1878
The annual show of the North Devon and Barnstaple Dog, Cat, and Horticultural Society took place last week. The entries were more numerous than last year, especially the dog and pigeon classes. The following are among the local exhibitors :- Cats — Any other variety – 1st and 2nd, Mrs Modridge, Broadclyst, Exeter.
FORESTERS' FETE. Royal Cornwall Gazette, 26th July 1878
The annual fete in connection with Court " One and All," whioh takes place to-day (Friday), at Tremorvah, promises to be a most success- ful affair. The entries in the various shows to be held are numerous, especially in the cat show, for which intending exhibitors have had to be refused, owing to want of accommodation. For the attraction of the day — the band contest — five bands have entered.
MALTON GALA – York Herald, 7th August, 1878
Malton Gala, Wednesday, Aug. 14 – Grand Floral Fete and Poultry, Pigeon, Cage Bird, Rabbit and Cat Show. Splendid display of fireworks at dusk. Special late trains [. . .]
THE LIABILITY OF AGRICULTURAL SHOW PROMOTERS. Hampshire Telegraph, 28th September 1878
At the Preston County Court, last week, Mr. James Walker, a frequent exhibitor of poultry at agricultural shows, brought an action against a number of gentlemen who formed the committee of management of the Preston Poultry, Pigeon, Dog, Rabbit, and Cat Show. The exhibition took place in January last, and the judges awarded Mr. Walker prices amounting to £15 6s., but from this amount the sum of £3 8s 6d. had to be deducted for entrance fees. From the evidence given it would appear that the show was not a financial success, and the treasurer had not the wherewith to pay the money. Several of the defendants stated that they had only permitted their names to be put on the committee to assist the working of the show, and did not suppose they were assuming any monetary obligation. His Honour, however, said they were all liable, and he found no difficulty in saying that the plaintiff was entitled to a verdict against all of them. He thought, however, that the secretary of the show (a person named Gardner) ought to pay the money. If plaintiff could not get the money from Gardner - and he supposed there would be no difficulty in that - he would be entitled to go against the others; but those persons who had guaranteed money ought to be resorted to before those who had merely come in to assist, and who never dreamt for a moment of being called up on to pay.-Mr.Forshaw (plaintiff's attorney) said he intended to issue an execution against Gardner if he did not pay. Mr. Blackhurst, for Gardner, said he would act upon His Honour's suggestion, and pay the money.
HAWICK ANNUAL SCOTTISH BORDER POULTRY, PIGEON, RABBIT AND CAT SHOW. Southern Reporter, 10th October, 1878
The Annual Scottish Border Poultry, Pigeon, Rabbit and Cat Show will be held in the Exchange Hall, Hawick, on 7th and 8th November. – H. Beldon, Esq. Judge.
ONGAR FAIR. Essex Standard, 19th October 1878
On Monday, the principal day of this annual fair, the town was thronged with visitors. In addition to the ordinary attractions, there was an interesting meeting for athletic sports in a field belonging to Dr. Clark ; and a donkey and cat show in the same place.
NORTHALLERTON POULTRY, PIGEON, CAGE BIRDS, RABBIT AND CAT SHOW. York Herald, 8th November, 1878
Northallerton Poultry, Pigeon, Cage Birds, Rabbit and Cat Show will be held in the Town Hall, December 17th and 18th, 1878. Schedules of Prizes may be had of Jos. Oliver, J. Rat – Hon. Secs.
1879 EDINBURGH CAT SHOW
EDINBURGH CAT SHOW. Edinburgh Evening News, 7th March 1879
The fifth annual Edinburgh cat show hold yesterday in the Athletic Hall of the Royal Gymnasium. The number of cats exhibited was 88, a smaller number than on previous years, but the show of Iong-haired cats and beautifully marked foreign sorts of the apecies was of exceptional excellence. The judge was Mr Alexander Fairgrieve, Gienview, Colinton, and Mr. W. M Lapsky superintended the arrangements. First prizes were awarded to the following:-
Tortoiseshell and white, J. McDonald, Haddington; black, A. Davidson, Edinburgh; spotted tabby, A. Whittaker, Liberton; long-haired white, A. Wilson, Edinburgh; brown tabby, Miss Dickson, Edinburgh ; D. Thomson. Edinburgh black ana white, Mrs Roxburgh, ; spotted tabby, Mrs Pottie, Edinburgh; short-haired white, J. Fraser, Edinburgh, long-haired ditto - "Mistletoe" (Angora cat), winner of 39 prizes, E. E. Wightman, London; best marked kitten, Persian cat, Miss R. C. Frew, Kirkcaldy; best litter of kittens, E. Davenport, Glasgow. The silver medal for the heaviest cat was awarded to Mrs Pottie: a prize for the best long-haired cat to E. E. Wightman; and a prize for the best marked tabby to Miss Dickson.
CAT SHOW IN EDINBURGH. The Scotsman, 7th March 1879
The fifth annual exhibition of cats at the Royal Gymnasium, Edinburgh, was opened yesterday, and throughout the day, as well as in the evening, attracted numerous visitors. The show on this occasion is held in the Athletic Hall – and arrangement which will be recognised as a decided improvement upon those of previous years. The collection of cats, though numbering well on for a hundred, is scarcely so large as formerly. The general character of the display is, however, equally good. In accordance with the regulations, several prizes were withheld, some of the animals in the various classes being considered deficient in merit or wrongly designated. In the first division, that of tortoiseshell and white, first honours went to a very distinctly marked two-year old, owned by Mr John McDonald, Hailes Cottage, Haddington, his most formidable opponent being a cat six years old, belonging to Mrs Middleton, Leven, Fife. In Class II, only one brown tabby was shown – namely that owned by Mr John Gray, 19 Dublin Street, Edinburgh. It did not, in the opinion of the judges, possess sufficient merit to carry any of the three prizes offered, but received commendation. In the class for blue or silver tabbies, there were but two exhibitors, and the first prize went to a handsome and well-marked five year old, owned by Dr Halliday Douglas, Edinburgh. A sombre but good looking "sweep," three years old, belonging to Mr Andrew Davidson, Raeburn Place, Edinburgh, attained the first place in the black class; Mrs Meikle, Balbirnie Place, standing second with a very nice glossy animal eighteen months old. There was not sufficient merit in the animals exhibited in class V – black and whites – to warrant the judge in giving first or second prizes; but the third prize was awarded to a one-year-old entered by Mr J H Robertson, Lothian Road. In the class for spotted tabbies, Mr Alfred Whittaker, Hilltown, Liberton, stood first with a beautiful headed three-year-old; Miss L Naismith, Eastfield, Leith, having in the estimation of the judge, the next best animal. The specimens in the long-haired white class were fairly good, the best being undoubtedly a cat two and a-half years old, with a fine head, sent by Mr Andrew Wilson, Young Street. The show of long-haired of any colour was also good, and the one-year-old entered by Mr Edward Caird, Belgrave Crescent, a very fine looking animal, was placed first, being closely pressed by an Angora cat owned by Mr Andrew Wilson, Young Street. The remaining classes comprised a number of beautifully-coated and fine-headed animals. Mr Alexander Fairgrieve, Glenview, Colinton, acted as judge. The following is the prize list:-
Tortoiseshell and White – 1, John McDonald, Hailes Cottaage, Haddington, 2, Mrs Middleton, Leven, Fife.
Blue or Silver Tabby – 2, Dr A Halliday Douglas, 30 Melville Street, Edinburgh.
Black-and-White – 3, J h Robertson, 21 Lothian Road, Edinburgh.
Spotted Tabby – 1, Alfred Whittaker, Hilltown, Liberton; 2, Miss L L Naismith, 7 Eastfield, Leith; 3, Mrs R Smith, Cumberland Street.
Long-haired White – 1, Andrew Wilson, 21 Young Street, Edinburgh.
Long-haired, any other colour – 1, Edward Caird, 15 Belgrave Crescent; 2 Andrew Wilson, 21 Young Street; 3, Peter kemp, 5 Tait Street.
Any Other Variety, such as Manx etc, or Unusual Colour – 2, John Mackenzie, 30 Reid terrace.
Brown Tabby – 1, Miss C Dickson, Inverleith Row.
Blue or Silver Tabby – 2, John Walker, Whitehill, by Dalkeith; 3, Miss Mary C Frame, Glenview, Larkhall, and John Mackay, 117 George Street, equal.
Black – 1, David Thompson, 33 Jamaica Street; 2, Mrs Sutherland, 23 Broughton Place; 3, W Turner, Crown Street, Leith.
Black and White – 1, Mrs Roxburgh, 1 Lindsay Place, North Leith; 3, Miss Copland, 37 Frederick Street.
Spotted Tabby – 1, Mrs Pottie, 8 Gladstone Terrace; 2 George Paterson, West Calder; 3, Miss M Ross, 5 Randolph Place.
Red tabby – 3, John Douglas, bonnyrigg Station.
Short-haired White – 1, John Fraser, 7 Church Lane.
Long-haired White – 1, E Weightman, 1 Connaught Mews, Edgware Road, London; 2, Andrew Wilson, 21 Young Street, Edinburgh; 3, Edward Caird, 15 Belgrave Crescent.
Long-haired, Any Other Colour – 1, Master T S Mitchell, 24 Merchiston Park; 2, Mrs Grant Wilkie, Falcon-hall, Mornigside.
Best Marked Kitten, any variety, under six months – 1, Miss Rachel C Frew, Sinclairtown, Kirkcalaldy, under six months; 2, miss Annie Dow, 12 Shandwick Place, Edinburgh, 5 months; 3, Dr A Halliday Douglas, 30 Melville Street, Edinburgh.
For the Best Litter of Kittens, not less than 3 in litter, under 3 months – E Davenport Adams, 25 Elmbank Crescent, Glasgow, "Hamlet," "Horatio," and "Bernardo."
1879 WHITBY CAT AND DOG SHOW
WHITBY DOG SHOW. York Herald, 19th May 1879
It was resolved to hold the next show on July 31st, thus keeping it clear of the cattle show. Mr. E. W. Chapman was re-elected president of the show, and Mr. W. Pattison secretary. It was decided to have a cat show in connection with the dog show, and the meeting placed £5 in the hands of the committee for that purpose. The schedule was revised, and a handsome sum will be given in prizes.
DOG AND CAT SHOW. Whitby Gazette, 2nd August 1879
The managing committee of this show made a very good hit when they fixed Thursday as the day for holding this show, it being the day immediately following the Pickering show, thus enabling the owners of animals to enter both shows, in some instances prizes being won in each. The exhibition was held in the Congress Hall grounds and building on the West Cliff. [. . .] With the addition of the cat exhibition, for which there was over 60 entries, their attraction was undoubtedly greatly enhanced. [. . .] [The President of the Society] mentioned the cat show, and the natural antipathy of the two animals to each other, but he had no doubt the attractions of the two combined would be greater than separately.
CATS. FOREIGN CAT (Any variety.) First, 10s., second 5s., third 2s. 6d. – 1 Miss Pitman, old Malton; 2 T g Walls, Stokesley; 3 Mrs Dixon, Whitby.
ENGLISH TIGER MARKED CAT. Grey or yellow. First, 10s., second 5s., third 2s. 6d. – 1 Dr Tinley, Whitby; 2 A heath, Newton Mulgrave; 3 T Smith; hc Miss M Breckon, W Hudson, j V Andrew, j Shaw, S Smith.
ENGLISH BLACK CAT. First, 10s., second 5s., third 2s. 6d. – 1 Mrs M Smith, Whitby; 2 G Remmer, Whitby; 3 T Warters, Whitby; vhc Mrs Greenbury.
ENGLISH WHITE CAT. First, 10s., second 5s., third 2s. 6d. – 1 W Stonehouse, Whitby; 2 T Smith; 3 G Remmer.
ENGLISH TORTOISESHELL OR CHINTZ. First, 10s., second 5s., third 2s. 6d. – 1 Miss E A Porritt, Ruswarp; 2 Thos Kidd, Lyth; 3 M Ewbank, Gilling East; vhc Mrs Noble.
ENGLISH CAT (Any variety) - First, 10s., second 5s., third 2s. 6d. – 1 A Russell, Malton; 2 G remmer; 3 Stephen Smith, Whitby; hc Miss J Taylor, Miss I Brown, G Swales; special J Muckell, Malton.
CAT AND FAMILY OF KITTENS. First a cruet stand, given by a lady, value £1 1s. second 5s., third 2s 6d. – 1 Miss E E Weightman, Hatfield; 2 W Marshall, Aislaby; 3 Mrs Mary Cook, Roxby; vhc H Cross, W Dotchon, W Iveson, G Remmer, J Legg, j Matson; hc T Brough, W Johnson, W Stonehouse.
1879 CRYSTAL PALACE CAT SHOW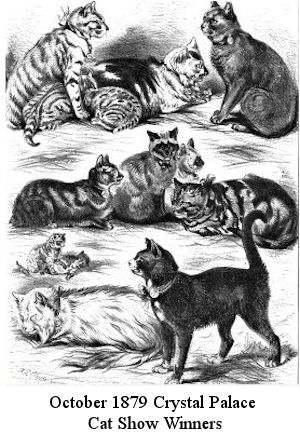 AN EXHIBITION OF CATS. GREAT VARIETY OF FELINE CURIOSITIES IN THE CRYSTAL PALACE (1879)
From the London Standard, October 10th, 1879
(Reprinted in the New York Times November 4th, 1879)

Among the foolings of humanity with which a philosophic student must reckon is the sentiment toward cats. Lord Herbert of Cherbury has put on record, among many personal facts which the coxcomb of chivalry thought interest to the universe, that he could not endure a cat, even though he did not see it. To ordinary mortals this extreme sensibility is unaccountable. Puss is a creature which seems to them more of less pretty, more of less interesting. Beyond the distinctive possession of a tail – which is denied the Manx-variety, and of long hair – which is peculiar to the Persian and Angora, the ordinary run of mankind sees no great difference between one cat and another. To the preserver of game he is the worst of all poachers; to the lady who goes to bed betimes, the most domestic of animals. But the connoisseur in cats will recognise by long practice and loving study a world of distinctions. The yearly show in the Crystal Palace has gathered and classified an immense quantity of minute knowledge. In the exhibition which opened yesterday there are 266 entries, which science has divided among 50 classes, no less; an average of something like 5 1/3 cats to a class. For those incompetent to question the merits of the arrangement, it is interesting at least to learn that such close distinctions can be made. Three prizes are allotted to each class, which fact, again, most graciously encourage the exhibitor. In a show of dogs there is something masculine, noisy, rather dirty, ill-smelling. The cat show is deliciously feminine. Little cages, disposed in four lines along the aisle of the Palace, hold each a cushion, a large basin of milk, a quantity of sawdust, and a cat. There is no such undignified eagerness for public attention as the dogs display. One-half of the animals simply and good-naturedly ignore the unwonted circumstances about them. They sit well back, curled upon the sawdust, and enjoy the slumbers of innocent beauty. Others do not trouble even to withdraw a little. They sleep upon the cushion, pressed against the bars, and all the blandishments of a passing crowd fail to stir a limb – if blandishment is a word that may be applied to prods with a lead pencil, raspings of the wire, and other such impatient tokens of admiration. Even those cats which are awake utter no sound. Some sit and amiably return the gaze of the multitude. Indifferent they are to signs of friendship, but if a long-fingered enthusiast contrive to reach their heads, they suddenly dive, arching the neck, purring, and pressing themselves against the friendly titillation. Some are ready to play, in that staid and condescending manner which led Montaigne to ask in an idle moment, whether the cat, whose gambols he contemptuously encouraged, might not think itself the bored entertainer, and feel scorn for such a childish playmate.

A very few crouch back and pant and stare with dilated eyes at the crowd; these are strangers, who for the first time make acquaintance with a Crystal Palace public. It may only have been chance that such timid creatures yesterday were all black, or unusual of colour; but it is well known at present that peculiarities of temper, disposition, and capacity are concomitant with certain hues of eye and skin. Among the first cases of the row is an empty one, which touchingly displays alike the affection of the exhibitor and the trust that she reposes in the universal love of mankind for cats. Miss Blander's "Puck" has died since the show opened. In a brief existence of five years and a half it won six prizes and the "Silver Cups of 1875 – 8." It place knows it no more, but a handsome photograph sat in the vacant cage recalls the features of the loved and lost. An inscription beneath informs the public that those who mourn the original may obtain his portrait for a modest sum at "the office."

The first class, of course, consists of tortoise-shell or tortoise-shell-and-white he-cats. There are but three entries, of which Mr John Hurry's Totty is the winner of seven first prizes and one second prize at the Crystal Palace, besides other honours too numerous to mention. Toms of every colour and description occupy the first 11 cases, after which the Tibbies come in. Exhibitors are required to put a price upon their pets – a "fancy" one if they choose – or to state that they are not for sale. Some quaint feeling, unintelligible at a hasty consideration, leads a great number of owners to value the household favourite at £79 10s 9d. It may be supposed that they would suffer torment rather than abate a penny. Has experience shown that a demand for £80 is liable to be honoured by an enthusiastic public? Or is it a fated number? These are mysteries one has no time to solve, while the little Russian, name unknown, is appealing to one's tenderest and noblest feelings from cage No 30. Whatever a man's political opinions of the Muscovite, he will scarcely resist the friendly advances of this pet, if he be lover of cats. It is grey, very smooth and soft, with green eyes, and an amiable disposition. In another place is found its unconscious enemy, the Turkish cat, of colour similar, but more elongated in shape, and less tame. This, Mrs Powell's "Moutza," has a kitten, almost black, but charmingly striped in hues still darker. There is another Russian in Class 21, Mr Hales's No 74. It is also grey, but a black stripe divides its back in a very pretty fashion, and on the forehead is a "V" well marked. By far the most beautiful of foreign cats is the pair of Siamese kittens belonging to Mrs Cunliffe Lee, No 96. Of the tenderest fawn-colour, they have a muzzle, ears, and a stripe down the back, of very dark brown. Full of fun they are, and the pretty yellow eyes have an expression of quaint drollery. Manx cats are very properly exhibited, for their strange want of tail is congenital, but one does not the motive of offering a prize for "abnormal formation." Mr Robert Dowle's specimen, with seven claws on the fore feet and five on the hind, is curious, but not the kind of thing to be encouraged. Very interesting in this class would have been a Malay cat, with its knotted tail; there are several in England, and many half-bred. These latter show a tail sharply diverted in the middle, as if broken.

The Persian and Angora classes are fairly represented as a whole, with several very fine examples. The humourous ways of the long-haired cat, its beauty, intelligence, companionable qualities, in all respects superior to the European breed, make it more and more a favourite. These animals come as a rule, through Afghanistan to Bombay. The horse-dealers, who trade so largely between India and Kandahar, bring them down in numbers. It is a very quaint and pretty sight to behold the horses exposed upon a meadow for sale. Each of them is fastened to a stake regularly aligned, and among them, at its due distance, one sees here and there a cat curled in the sun asleep, or washing its face, but always ready to play. Passing along the row of horses, the effect of this small creature tied up like the rest, is extremely droll. It seems rather a nuisance to give a prize for heavy cats without naming the weight. Some of those shown were so remarkable well-limbed, so large in the head and body, that one felt curious to know the actual weight which had gained the prize. Upon the whole the show is good, and all who can should see it. Those who love cats must be delighted, and those who do not run a chance of conversion.

NATIONAL CAT SHOW The Daily Telegraph, 16th October 1879.

In the Northern Nave of the Crystal Palace, the eleventh competitive exhibition of cats was opened yesterday, and will continue on view throughout this day. Experience has dictated certain improvements in the schedule, and, on the whole, it may be said that the arrangements of the show are now almost as good as they can be. The entries, reaching a total of 266, are somewhat in excess of last year, and probably the aggregate might stand yet higher in comparison were the number of kittens taken into account, the "maternity cases" being more than usually frequent.

As regards the long-haired cats, a slight falling-off from the old standard must, with a few marked exceptions, be recorded, and there may be a question whether the rule of judging in some classes solely by weight is not open to objection. Indeed, those gentlemen entrusted with the onerous task of deciding the relative merit of the animals were in several instances tied down to awards which they would not have given on any point of quality.

The heaviest cat in the show — a black, short-haired specimen, exhibited by Mrs. Knowles — scales the extraordinary weight of 20 lb. 4 oz.; and in this case, perhaps, the winning number is in all respects a good hit. So, too, an Angora, shown by Miss E. E. Weightman, is not only the heaviest in a class of three, but might possibly have been adjudged the winner by length of hair, though its most formidable competitor, exhibited by Mrs. King, is decidedly in better condition.

Model cats, to which prizes have been given on better grounds than surpassing heaviness, are Mr. A. Smith's Inky, a spotted he tabby with well-defined marks; Mr. Hugh Mason's black he-cat; Mrs. Staples Browne's Simon, a white male, that took the first prize of its class last year; Tottie, a tortoiseshcll-and-white female, shown by Mrs. Oakes; a remarkably well- marked silver tabby she cat, exhibited by Miss J. Gardiner, and closely rivalled by Miss H. King's second and third prize animals in the same class; Mrs. Newton's Tweets, a spotted tabby female; a magnificent white she-cat named Snow, which gained a first prize for Mrs. Staples Browne the year before last; Mr. Levi Reason's pair of beautifully-marked kittens, male and female; and a yet more curious, if less prepossessing, couple of juveniles, of Siamese extraction, with black muzzles, ears, feet, and tail, setting off a close yellowish drab coat, and completing the resemblance of the little brutes to a pair of pug puppies, the exhibitor of these curiosities being Mrs. Cunliffe-Lee.

Miss Gresham's little pair of longhaired kittens, two months old, take the lead in a numerous class, having many rivals, among which might have been those shown by Miss Eliza Auckland, had not the exhibitor heedlessly ruined her chance of a prize by putting three specimens instead of two only, as prescribed by the schedule, into her cage of Persian pets. This is not the only instance of failure ascribable to "wrong entry"; and a warning may thence be accepted by all who contemplate entering into future competitions. More deserving of condolence are the owners of animals which by mischance, rather than by any fault or oversight, have either lost a distinction or have been lowered to an inferior grade. Had not Mrs. Sheerman's Persine, a pure white and almost faultless female cat, brought from Persia in 1872, been accidentally injured about the head, so that an eye and ear are blemished, a first and not a second prize would in this case have been awarded.

One of the best marked cats ever shown is Mr. J. Smith's Chinchilla, a half-bred Persian which takes the first prize in the class of tabby gibs [males], and is especially notable for the great number and close regularity of its transverse stripes. The sole representative of a class for heavy long-haired gib-cats of unusual colour is Mrs. Pryce-Hamilton's imported Persian, bearing the name of Bismarck, a first-prize winner last year, when it made a highly successful début. The colour of this animal is a strangely-graduated grey. A female tabby, exhibited by Mrs. Foyle, might have gained a prize had it been as free from any speck of white as either of its five kittens, all of which are so exactly alike that it would be difficult to distinguish among them.

The judges were Mr. W. B. Tegetmeier, for long-haired, and Mr. George Billett, for short-haired varieties. A crowded assemblage testified to the widespread popularity of the show.

[The heaviest cat at the Crystal Palace Cat Show last week weighed 20lbs 4oz; the next something over 15lbs – Cornishman, 23rd October 1879]

* *

There has been a "National Cat Show" in the London Crystal Palace. The entries reached a total of 266. The leading feature was the unusual predominance of kittens, and "maternity cases." A "slight falling off as regards the long-haired cats" was noticed. The heaviest feline specimen weighed twenty pounds and four ounces. – Harrisburg Daily Independent, November 4, 1879

1879 DUNDEE CAT SHOW

DUNDEE DOG. POULTRY AND CAT SHOW Dundee Courier , 21 October 1879
Dundee Dog. Poultry and Cat Show will be held in the Drill Hall on Friday and Saturday, 7th and 8th November. Entries close on 25th October. Those intending entering should send for entries at once to D Angus, Secretary, 74 Commercial Street, Dundee.

DUNDEE DOG. POULTRY AND CAT SHOW Dundee Courier, 24th October 1879
A number of prize cats have been entered, some of them from England, and this department promises to an attractive feature in this year's show. We notice a special train is be run to Perth at 10.30 p.m. Saturday, the 8th November, so that those from that district will get home their pets, that evening, and thus avoid the confinement of Sunday.

THE DUNDEE DOG, POULTRY, AND CAT SHOW Dundee Evening Telegraph, 7th November 1879
The second annual show of the Dundee Dog and Poultry Association was opened to-day in the Drill Hall. Although was believed when the Association was inaugurated that it would hardly possible to hold a good show in Dundee annually, the success which attended last year's exhibition, and the number of competitors who came forward from all parts the country, prosed sufficient stimulus to the promoters to hold a show this year. The wisdom of tins decision has been fully justified by the fine display of all kinds of dogs and poultry which has been brought together, additional attraction this year being the exhibition of cats. Although the competitors this latter department are few and the animals shown have little out of the common to recommend them, still, as a beginning, the show must be considered satisfactory. [. . .] The arrangements are the same as last year. The dogs and cats are placed on benches the large hall; and the poultry are penned in the small hall. [. . .] The following were the judges :— For cats - T. H. Scott,.

DUNDEE DOG, POULTRY, AND CAT SHOW. Dundee Courier - Saturday 08 November 1879
The Dundee Dog, Poultry, and Cat Show may now be regarded as one of the established institutions of the town. The first exhibition of the kind, which was held last year, and which included only dogs and poultry, was in some respects an experiment, and was resolved upon, we may well suppose, with some misgivings as to its success. In every respect, however, it was found to come up to the wishes and expectations of the promoters, and, financially, the result was even more satisfactory than could have been anticipated from the first attempt at an undertaking of this nature. The continuance of the exhibition, therefore, was decided upon as a matter of course, and, encouraged by the gratifying success which attended the initial venture, it was this year determined to extend the scope of the show by causing it to include a department for those exceedingly useful and most domestic of animals - cats. This extension of the show was most natural and appropriate; and it is only surprising that, considering how almost universally the genus puss is to be found about our hearths and homes, there was not a much larger representation of these household pets. The show was again held in the Drill Hall, the arrangements being very similar to those which were found to answer so well last year.

THE CAT SHOW. As we have already said, the turnout of cats is rather smaller than what might have been expected, and much disappointment was in consequence expressed by the visitors. There are only twenty animals altogether, representing the most ordinary descriptions of the grimalkin, although all are passably good specimens of their kind. They are divided into two classes - Toms and Tabbies. In the former, Mr James Pow was awarded the first prize for a handsome grey cat, one year old. Mr John Fraser, who exhibits the three year old animal, with short white hair, which took the first prize at the last Edinburgh cat show, is assigned the second : while Mrs Frew's splendid tortoise shell cat with a magnificent tail, which was the first prize winner at the Edinburgh show in the current year, is here put off with "very highly commended." The Tabbies [females] are a splendid lot, and almost every animal receives recognition of some kind from the judges. Mr A. G. Duncan takes the first prize with a pretty white animal, aged five mouths. The judge of the cats was Mr Scott of Thirsk.

[By a printer's error in the catalogue it was omitted to be stated that Miss Kinloch's white cat, "Jim," No 10, was also awarded an extra first prize, and also the field glass. - Dundee Advertiser, 12th November 1879]

DOG, POULTRY, AND CAT SHOW. Fife Free Press, & Kirkcaldy Guardian, 15th November 1879
This show, by far the most important of the kind north the Forth, was held on Friday and Saturday last week in the Drill Hall, Dundee. There were 303 dogs entered, nearly a score of cats, and as many as 619 birds. [. . .] As regards attendance the show was a great success.

1879 DUBLIN CAT SHOW

NATIONAL CAT SHOW. Dublin Daily Express, 14th November 1879
A cat show, the first of the kind ever held in this country, is announced to take place at the Exhibition Palace on St Stephen's Day. Such shows have been held in England with very great success, as many as twenty six thousand persons visiting one held at the Crystal Palace. We do not wonder at this when we remember the favourite pet the cat is in nearly every household The prizes offered are in money, and will, we have no doubt, attract a considerable number of entries, whilst the show itself promises to be most interesting and attractive. The Lord Lieutenant and Duchess of Marlborough have kindly extended to it the honour of their distinguished patronage, besides which it has also secured that of the Lord Mayor and the Royal Zoological Society of Ireland. Exhibitors may be assured of every care being taken of their favourites, separate, comfortable cages being provided for each cat. The prize list can be obtaine4d on application to the Hon secretary. Exhibition Palace.

CAT SHOW AT THE EXHIBITION PALACE. Freeman's Journal, 14th November 1879
And why should not the members of the feline race have a grand festival on the same ground as that occupied on by-gone gay and festive occasions by their brethren of the canine tribe ? A thousand times have we heard of parties wedded, leaving what their generous neighbours term a "cat and dog life," and we have also heard of cats from a certain beautiful city, with smokeless coal, upon the gentle banks of the beautiful Nore. All this only goes to prove the importance of poor pussy, and no one, we are sure, will begrudge her a "good :time" of it up in the big building at Earlsfort-terrace. Fifty pounds will be given to the cats as prizes, and the programme before us shows that a master hand has compiled the prize schedule. The date for the opening of the show is December 26th (St. Stephen's Day), and each day military bands will be in attendance. The idea is certainly a novel one, and commends itself to the attention of the Dublin public.

THE FORTHCOMING CAT SHOW. Irish Times, 26th November 1879
We are promised at the Exhibition Palace a real novelty for St. Stephen's Day, when the first cat show ever held in Ireland is announced to take place. Similar shows have been frequently held in England, and with the greatest possible success, as many as twenty-six thousand persons attending during one day that was held some time back at the Crystal Palace. We cannot wonder at the interest shown, when we consider the strange history that cats enjoy, worshipped as a god by the ancient Egyptian who, when his cat died, gave it a state funeral, and ceremoniously mourned the loss, and who, if a fire took place in his house, first looked after the security of his cats, and then proceed to save his wife and children Despised, hated, and brutally treated in later times; preferred to the dog by Rousseau, beloved by Petrarch, the friend of Mahomet, whose disciples built hospitals for cats; bought and sold as a choice acquisition at the highest price amongst the ancient Britons, what a world of associations in conjured up in the mere idea of cats.

The first cat show was probably that opened in Edinburgh in 1831, but of late years the interest in those exhibitions has much increased, and numerous shows have taken place in England, the last being held a few days ago at the Crystal Palace. The show promised us here will take place with every prospect of success. It has already secured the honour of the Duke and Duchess of Marlborough's patronage, as well as that of the Lord Mayor and the Royal Zoological Society. The prize list is on a very liberal scale, and is sufficient to induce owners of valuable cats to exhibit. Indeed we anticipate a very large and varied collection will be brought together, and prophesy for this, the first cat show in Ireland, a brilliant success. The prize list can be had on application to the hon. Secretary at the Exhibition Palace.

THE FORTHCOMING CAT SHOW. Irish Times, 26th November, 1879
To the Editor of the Irish Times. Sir – I trust you will permit me, through your column, to draw the attention of exhibitors to what appears to me to be a grave mistake into which the proprietors of the approaching Cat Show have fallen. It appears, according to the schedule of prizes, that the latest date for receiving the animals intended for exhibition is Tuesday, December 23rd. This has, no doubt, arisen from the fact of Christmas Day intervening. Nevertheless, I apprehend that a great many will be deterred from sending exhibits so long before the Show, and, as an exhibitor myself, would urge upon the executive the advisability of extending this date to the morning of the Show so far as local entries are concerned. I am, sir, yours faithfully, W.M.S.

THE CAT SHOW AT THE EXHIBITION PALACE. Dublin Daily Express, 28th November 1879
To The Editior of the Daily Express. Sir - The novelty of a cat show in Dublin will doubtless prove both attractive and interesting. Ladies, both young and old, take a deep interest in their feline pets. Might I, however, suggest to the manager of the Exhibition Palace to supplement the cat show with other amusements calculated to give enjoyment the juveniles, who look forward to this festive season with anticipations of delight.- Yours faithfully, "Paterfamilias," Dublin, 27th November.

THE FORTHCOMING CAT SHOW. Dublin Daily Express, 29th November 1879
To The Editior of the Daily Express. Sir - Permit me state that the suggestions of Paterfamilias in your issue of yesterday have already been anticipated. Suitable amusements will be provided for children, and during the show numerous stalls, which have been allocated to exhibitors free of charge, will be found well furnished with all sorts of Christmas novelties, which cannot fail to enlist the interests of juveniles. While on this subject it may not be out of place to quote few lines from a letter I have receded this morning from the secretary to the Royal Society for the Prevention of Cruelty to Animals of England:- "I am desired by committee to state that this society cannot but rejoice to find you are projecting a cat show, which, in their opinion, is likely to raise the status of those animals in Ireland, as similar exhibitions have already done in this country." - l have the honour to be, sir, your obedient servant, Edward Lee, Exhibition Palace, Dublin, 28th November, 1879.

THE CAT SHOW. Irish Times, 8th December 1879
We have been requested to state that in compliance with a generally expected wish cats intended for exhibition will be received up to nine o'clock in the morning of the show. The cats will have each a separate cage and every care bestowed upon them. They will be exhibited in the large concert hall, which will be thoroughly heated day and night.

CAT SHOW. Freeman's Journal, 10th December 1879
Cat Show, Exhibition Palace; entries close December 15th; a few stalls for Sale of toys and Fancy Goods can be secured free, according to priority of application.

THE COMING CAT SHOW. Dublin Daily Express, 17th December 1879
The promoters of the cat show, if they were troubled by the doubts and fears that ordinarily attend an effort to gain the public suffrage for a novelty must have by this time had their anxieties greatly allayed. The number of entries up to the present has largely exceeded anything their most sanguine expectations led them hope for, and it is now certain that three hundred cats will be on view in the large Concert Hall at the Exhibition Palace on St. Stephen's Day. Some of the animals entered for competition have already distinguished themselves in shows of the kind, and ten of the most famous cats in England have been entered. Every conceivable variety of the feline race will be present, amongst them being Russian, Spanish and Persian cats, and the heaviest cat known to man - a Daniel Lambert amongst cats - will display there his portly proportions.

It may be mentioned that Sir Edward Lea, under whose direction the present show is being carried out, got up the first cat that was held in London at the Crystal Palace, and so great was the attraction created by it that in one day during the show 25,000 people passed the turnstiles. During the show the Concert Hall will be heated to a pleasant temperature, and the cats will be regularly fed while there and every care taken of their comfort. The cages in which they will be placed are those manufactured by Messrs Ford and Hopkins, of Bristol, and which have been adopted in all the shows throughout England. They are about two feet and a-half square, with zinc bottom and sides, having open wire work in the front and top. In addition to the cat show, in the transept a fancy fair on an expended scale will be held [etc]. On the whole it is to be hoped that the venture will meet with all the success it deserves, as it is every way worthy of support.

CHRISTMAS ATTRACTIONS AT THE EXHIBITION PALACE. Freeman's Journal, 19th December 1879
Sir Edward Lee, the spirited entrepreneur, has just arranged an exceptionally strong Christmas programme, and one too which seems especially well adapted for our juvenile friends. The chief feature of attraction will be the grand Cat Show, for which upwards of 250 entries have been received, including a number from England. The Persian classes have been particularly well patronised, and, the great feline festival at the Palace ought to bring thousands to the building on St. Stephen's Day. The exhibition will be held in the large Concert Hall, and Sir Edward has in the most considerate manner possible arranged to have the spacious salle well heated, so that none of the beauties are likely to suffer from cold. The popular opinion through the city is that none but !old maids are exhibitors of cats. This is not so, and amongst the nominators will be found representatives of all sections and grades of the community. The pens or cages have been specially hired from Bristol, and are of zinc "walls," with a neat wire-work front.

A splendid variety has been secured, and "Moll-row" will be found "at home" on the 26th, in all the varied garbs of her species. There will be soma heavy cats on view, and one in this class is, we learn, a perfect wonder of weight. The juvenile eye is sure to be delighted with a monster Christmas tree heavily laden with toys and decorated in snow and icicles [etc] No one with a shilling should forget the cats, etc., on Stephen's Day; no one will, we are sure.

OXFORD BIRD AND CAT SHOW. Reading Mercury 20th, December 1879
On Tuesday a Cat, Rabbit, and Bird Show was opened the Corn Exchange. The number of cats exhibited was rather limited, but the entries of birds and rabbits were very numerous.

THE EXHIBITION PALACE. Dublin Daily Express, 22nd December 1879
The attention of the many visitors who. It is fair to augur, will bestow their patronage in the Exhibition Palace on St. Stephen's Day, will be divided between the Cat Show in the large Concert Hall, and the fancy fair which has been arranged to take place in the transept. So decided a novelty in Dublin as a cat show cannot fail to create the larger share of interest, at least in the minds of the adults, whilst the Punch and Judy shows and kindred entertainments organised in connection with the fancy fair will necessarily absorb the attention of the juveniles. The cat show seems to have taken with the public more successfully than could have been expected of an initiatory venture of the kind. The promoters never doubted that the announcement of a cat show would "draw" the public, but they had serious apprehensions whether would "draw" the cats. The proprietorship of these interesting animals is generally supposed to rest with a class not disposed to entertain with favour new-fangled ideas and naturally opposed to any plan that would necessitate the removal, matter for how short a time, from their care their feline favourites These anticipations, however, turned out to be strikingly incorrect, and the number of animals entered for the show on (close on 300) has far exceeded anything that was expected. Cats of ail nations will be present, and the public will have an opportunity of contrasting the diversities of the various breeds represented. There is a general idea abroad that ail cats are the same excepting in variations colour, and the scared, thieving creature that the domestic cat generally is, is a type pf the entire species. Holders of this opinion, however, are destined to be grievously mistaken if they visit the cat show and see there what a splendid animal the cat can by proper treatment and proper care. [. . .] On the whole, Sir Edward Lee seems to have spared no exertion to make the affair worthy of the support of the public, and there can be no doubt that it will be entirely successful.

THE CAT SHOW. Dublin Daily Express, 27th December 1879
There was a most incongruous entertainment at the Exhibition Palace yesterday. [.. description of fair and amusements]. The cat show, which occupies the great Concert Hall, cannot legitimately be said to form any part of the Christmastide entertainment, and therefore it has not been referred to at an earlier period, but it nevertheless was one of the strongest sources of attraction. The cat is an animal about which the most conflicting opinions are entertained, and perhaps justly so. Some people believe the cat is a creature of many merits; others hold it in the most profound detestation, and there is probably no domestic animal – not even excluding the donkey – which has caused the use of more profane language. The cat which keeps late hours and holds levees outside bedroom windows in the small hours of the morning is not a favourite.

There are several hundred specimens in the show; quite a sufficient number to make a pretty fair moonlight concert; but they are not by any means all cats of bad character. There are several most steady and respectable cats, upon whose heads high prices have been placed; there are also very small and disreputable looking cats, which no-one would buy. There are fine cats of different breeds, which have been trained and have good manners; there are stray cats, which were never shown so much kindness before, and they seem to doubt whether it is all well-meant; there are cats as unlike cats as any animal of the feline genus could look; and there are kittens – some ugly – some beautiful. The common tabbies are in the majority, and some of them are exceedingly common, but they are nevertheless, cats, and this is a cat show. There are several very fine specimens of the Persian and Manx breeds. There are very few people who do not think they know as much about cats as anybody else, yet when two or three hundred cats are placed together there is greater difficulty in obtaining competent judges than anyone could imagine. This difficulty presented itself yesterday; but it is expected that two gentlemen in whom the public have confidence will undertake that arduous duty this morning, and the result will be duly made known to the public and the anxious exhibitors.

Today (Saturday) Dr McAllister and the Rev Professor Haughton will adjudicate, and the awards will be made public at two o'clock. As it is deemed likely that the judges will rule "no merit" in some of the classes, the prizes will not be given, but Sir Edward Lee has in the kindest manner possible offered to present all unawarded money to the fund now being raised by her Grace the Duchess of Marlborough.

THE EXHIBITION CAT SHOW. Freeman's Journal, 27th December 1879
The first cat show ever held in Ireland was held yesterday in the Exhibition Palace. The system of shows is certainly growing upon us lately. Nearly every form of animate creation that would submit to be exhibited in stall or cage has been collected for a show, Young mothers had their innings when babies were on exhibition - old maids must rejoice in the glorification of cats. There may, however, be a large neutral body to which neither class will be a subject of very lively interest or amusement. In truth, it might be suggested that both animals (if it be not desecration to call a baby an animal) are best fitted for the retirement of domestic life, and do not shine in the publicity of a show. A cat show will never rival a dog show in popularity. The great delight of a dog show is the delight of almost illimitable variety. Every form of grace, and strength, and beauty are there exhibited. But a cat is too monotonous animal, so to speak, for a show. One cat is very like an. other cat, as one baby is very like another, enthusiastic young mothers and politic old misses to the contrary, notwithstanding. As much as could be made of cats for the purposes of exhibition was made of them yesterday. There were in all about 250 specimens presented, divisible into twenty-eight classes, in which the most celebrated "Persian," "Manx," "Spanish," "Russian," and "Maltese" were largely represented. The cats took the novel honours of exhibition with all the self-complacent apathy peculiar to the race. They lay luxuriously on the soft cushions provided, and blinked lazily at their admiring visitors.

A quarter of an hour was quite sufficient for any one not a connoisseur to do the show. You saw cats of white, and black, and yellow, and cats of every possible combination of spot and stripe - cats with long hair and short hair, with long tails and short tails, and with no tails at all - cats whose deep rich coat of living velvet might excite the envy of a Russian grandee, and cats whose plump proportions might rejoice the heart of a sausage- manufacturer. Two very important species of cats were, however, absent from the show. Surely, the Secretary of War might have been ordered to forward a single specimen of the cat [o'nine tails] in whose natural history and habits the House of Commons were, during the recent session, so intensely interested, and for whose protection the maiden ladies of the Government are so anxious. Or, if that were impossible, could we not have, at least, an example of that scarcely less notorious animal with which harmless bachelors are so familiar, yclept the "lodging-house cat." But, in good truth, the cat show was but an incident in yesterday's assemblage at the Exhibition. [Description of the fair]

To-day (Saturday) Dr. M'Allister and the Rev. Professor Haughton will adjudicate, and the awards will be made public at two o'clock. In some sections there have been no entries, and it is deemed possible that the judges will rule "no merit" in others. In such cases, of course, the prizes cannot be awarded, but Sir Edward Lee has very liberally offered to present all unawarded prize money to the fund now being raised by her Grace the Duchess of Marlborough.

THE CAT SHOW. Irish Times, 27th December 1879
The first Cat Show ever held in Dublin was opened yesterday, and it is a most notable and interesting exhibition. Pussies of every species [breed], every age and size, and every imaginable colour are there – the household favourite, sleek and well fed, wild-looking animals of strange appearance, in which the ferocious attributes of the feline kind appear to be developed to an extraordinary degree; purring tabbies with large families of playful kittens, spoiled hearthrug favourites in solitary state, cats from Persia, Russia, Spain, and the Isle of Man, etc. the finest cats in England are amongst the number exhibited. An enormous number of visitors visited the Exhibition during the day – in fact, so large was the crowd that adjudication was rendered impossible, and was adjourned till today when the prizes will be awarded. We repeat that the show is a most interesting one, and well worth a visit. Dr Macalister and the Rev. Professor Haughton will adjudicate today and the wards will be made public at two o'clock. As it is deemed likely that the judges will rule "no merit" in some classes, the prizes will not be given, but Sir Edward Lee has in the kindest manner possible offered to present all unawarded prize money to the fund now being raised by her Grace the Duchess of Marlborough.

THE CAT SHOW. Dublin Daily Express, 29th December 1879
The adjudication of prizes took place at the Cat Show on Saturday, Rev. Dr Hlaughton and Dr Macalister were the judges, and there are few who would have the temerity to call in question the awards of authorities so competent. The task was a difficult one, and not altogether free from danger, and It is reassuring to hear that both gentlemen escaped serious injury. There was a large gathering of pussies' friends and the decisions of the judges were speedily made known to them. The number of prizes withheld, because there was no merit in certain classes, does not speak highly for the show, but the unsuccessful exhibitors can console themselves with the reflection that the £13 diverted from its intended purpose by the awards of the judges will be allocated to the Duchess of Marlborough's Relief Fund, and there can doubt the money will be better spent. The cat for which Mrs Wright, Herbert place, obtained first prize was declared to be the "rarest" animal in the show. Probably some of Mrs Wright's neighbours agree with the judges. The best cat exhibited was decreed to the specimen for which Mrs Edge was awarded first prize. Major Smyly was the exhibitor of the heaviest animal, weight 13 lbs 3 and a half ounces. There was a fine collection of Manx cats. One of the best specimens of this breed was that shown by Mrs Whitty, of Pembroke-road. Tho following is the prize list:-

Short haired male cats: Class 1 (for tortoiseshell and its varieties) 1st prize Mr C Murphy, Astons quay, 2nd Mr Atkinson, Lower Baggot street; 3rd no merit; 3rd not awarded.
Class 2 (for best tabby and its varieties) - 1st prize Mrs Hunt, Lansdowne terrace; 2nd Mr O'Donovan, Cabra; 3rd Miss Dancer, Morehampton road.
Class 3 no award.
Class 4 (black entirely) - 1st prize Miss Goodwillie, Harcourt street.
Class 5 (white entirely) – 1st prize no award; 2nd Samuel Cox, Sandymount; 3rd no award.
Short-haired female cats: Class 6 (tortoiseshell) – no awards.
Class 7 (tortoiseshell or tortoiseshell and tabby) – 1st prize no award; 2nd Miss Doyle, Blackrock; 3rd Mrs Harris Morrion.
Class 8 (tabby and its varieties) - 1st prize Mr Bond, Rathgar; 2nd Mr Doran, Lad lane; 3rd no award.
Class 9 (black and white) - no award.
Class 10 (black) - 1st prize Miss Waller, Dundrum; 2nd and 3rd no award.
Class 11 – No entry.
Longhaired Male Cats: Class 12 (white) – 1st prize, Mr S Martin, Sandymount; 2nd Mr Egas, 42 Wicklow street; 3rd Mr Mitchell, 10 Grafton street.
Class 13 - 1st and 2nd, no award; 3rd, Mrs Bishop, Rathfarnham.
Class 14 (Tabby) - 1st prize, Mr Kearney, Charlemont street; 2nd, Mr Hewson, Leeson Park; 3rd, Mr Bingham, Rathmines.
Long haired Sue Cats: Class 15 -1st prize Miss M C Sandes, Bayview House, Clontarf; 2nd Mr Bulfin, Templeogue; 3rd no award.
Class 16 (black) – 1st prize Mrs Scally, 2nd and 3rd, no awards.
Class 17 (Tabby) - no awards.
Short-haired kittens: Class 18 – 1st Mr Gard, Llanfair park; 2nd same.
Long-haired kittens: Class 19 – 1st Mr White, Dundrum; 2nd Rev Hinkson, Rathdrum; 3rd Mr Thomas Weightman, Herts;
Extra – Class 20 – For the heaviest cat in class, Major Smyly, Merion street.
Class 21 - For any variety not mentioned, foreign, etc - 1st Mrs Wright, Herbert place; 2nd Mr F Guerin, Rathmines; 3rd Mr Burke, Rathmines.
Short-haired gelded cats: Class 22 (black or black and white) – 1st Mr F Blacburne, Rathfarnham Castle; 2nd and 3rd, no award.
Class 23 (white) – 1st, Mrs Edge; 2nd and 3rd, no award.
Class 24 (tabby and colour) – 1st, Mrs Chamney, Kingstown: 2nd, no award: 3rd, Mr J C Smith. Donnybrook.
Long-haired gelded cats: Class 25 (black or black and white) - No entry.
Class 26 (white) – no entry.
Class 27 (tabby, any colour) – 1st, Mr J Anderson, Henry street; 2nd Captain Davison, Wodehouse terrace, North Circular road.
Selling Class - 1st Mrs Mullen, Grosvenor road, Rathmines; 2nd, Mr T Weightman, Herts; 3rd, Mrs Cockle, Palmerstown road, Rathmines.

THE CAT SHOW. Freeman's Journal, 30th December 1879
Yesterday the Cat Show was continued and again the attendance was numerous. Sir Edward Lee may be fairly congratulated on having made a hit this time, and the interest manifested in the Cat Show is the clearest indication of the popularity of the feline tribe amongst us. Cats are pretty animals to look at, if not pleasant to hear and during the day they were content to be admired without being heard. Today the show will be resumed and concluded. It is expected that the concluding day will be the crowning success of an eminently successful exhibition.

1879 OTHER REGIONAL CAT SHOWS

[1879] DORSET COUNTY POULTRY, PIGEON, RABBIT, AND CAT SHOW. Bridport news, 27th December, 1878
The Committee beg to announce that the Sixth Annual Exhibition of Poultry, Pigeons, Rabbits and Cats will be held in the Town Hall and Corn Exchange, Dorchester, on Wednesday and Thursday, January 15th and 16th, 1879, when £250 will be offered in prizes. Schedules and Particulars are now ready and can be obtained on application to Charles Parsons, Hon. Secretary, Dorchester. Entries close January 1st, 1879.

DORSET PIGEON, POULTRY, RABBIT AND CAT SHOW Western Gazette, 10th January 1879
Calendar: Jan 15 and 16: Dorset Pigeon, Roultry, Rabbit and Cat Show at Dorchester.

ORNITHOLOGICAL SOCIETY'S SHOW. Northampton Mercury, 8th February 1879
The fourth annual exhibition of poultry, pigeons, rabbits, canaries, and other cage birds, in connection with the Wellingborough Ornithological Society, took place in the Corn Exchange, Wellingborough, on Saturday and Monday last. [. . .] For some reason or other, the committee have thought well to discontinue, at all events for the present, the show of cats, and we have no wish or intention to quarrel with that determination. A cat show may, and doubtless does, present many attractions, but it is attended with many inconveniences, and it is doubtful whether the former would counterbalance the latter.

WHARFEDALE AGRICULTURAL SOCIETY. York Herald, 5th May 1879
The annual exhibition of the Wharfedale Agricultural Society was continued on Saturday. There was a very large attendance of the public [. . .] The cat show proved interesting to a great many. There were several good specimens, but Old Obadiah, the property of Mr. Edson, Quarry Cottage, Malton, beat all his opponents as the best male English cat, while the first award for females was won by Mr. W. Buckborough, Harewood. The judges were: - Pigeons, rabbits, and cats — Mr. J. Hawley, Bradford.
CATS. MaIe English cat - Geo Edson, Quarry Cottage, Kalton; 2, Miss Spence, Weston, near Otley. Female cat, English - Wm Buckbrough, Weardley, Harewood ; 2, Chas Orage, Idle.

CAT SHOW, BLACKBURN. Blackburn Standard, 31st May 1879
Blackburn, it is expected, will be unusually busy on Whit-Monday, should the weather prove favourable. Ordinarily at this pastime excursions are the order of the day, but on this occasion there will be a programme of amusement in the town, including the fire brigade contest in Witton Park, and the dog, poultry, and cat show on the Alexandra Meadows.

LIVERPOOL CAT SHOW Illustrated London News, 31st 31 May 1879
Tuesday, June 3 - Liverpool Dog, Poultry, Rabbit, and Cat show (two days)

BLAYDON DOG AND POULTRY SHOW. Newcastle Courant, 18th July 1879
The entries for the ninth annual dog, poultry, pigeon, rabbit, and cat show, to he held on the 23rd inst., under the management of Lieutenant-Colonel Cowen, have closed, and include many of the finest dogs in the country, together with a large and varied collection of poultry, pigeons, etc.

CHEADLE CAT SHOW Illustrated London News, 2nd August 1879
Calendar: Monday August 4th: Cheadle Dog and Cat Show.

MERTHYR DOG, POULTRY, PIGEON, AND CAT SHOW. South Wales Daily News, 12th August 1879
We learn that satisfactory arrangements are being made in connection with the forthcoming poultry, pigeon, and cat show Already some £140 have been subscribed, and an excellent schedule of prizes compiled, the prizes to be offered falling little short of £150 in value. It will be held in the Market House, on Wednesday and Thursday, October 8 and 9.

MERTHYR DOG, POULTHY, PIGEON AND CAT SHOW. South Wales Daily News, 8th September 1879
We would again refer our readers to the advertisement in another column of the coming exhibition of dogs, poultry, pigeon, and cat show, at Merthyr [. . .] Besides the above classes we may add that there are four for cats, and for the feline specimens two additional special prizes are offered by Mr R. T. Crawshay. There are a three-guinea prize for the best cat in the show, and two guineas for second best. The judge of the cats will be Mr [Hugh] Dalziel, London, assisted by Mr T. Harris, Merthyr. Entries should be made without delay. [The date of the show is the 8th and 9th of October. Entries close on the 19th of September next.]

MERTHYR DOG, POULTRY, PIGEON, AND CAT SHOW. South Wales Daily News, 29th September 1879
This exhibition, which mil be held in Merthyr in the course of next week, Oct, 13th and 9th, promises to be a most interesting one, judging From the number and variety of the entries in one department-cats. cats from all over the country, valuable pets that have carried off high honours at the Crystal Palace and other shows - are to be exhibited, and this new feature in exhibitions in this part of the country will we have no doubt, come in for not a little attention. Today (Monday) is the day announced for the closing of entries of dogs, poultry, pigeons, and cats but we understand that entries will be accepted up to the first post on Wednesday morning. Intending exhibitors are desired to forward their entries without delay.

THE MERTHYR SHOW. South Wales Daily News, 3rd October 1879
Numerous entries of Prize Cats at Crystal Palace and Provincial shows. Grand collection of Foreign and other cats.
As will be seen in another column, the Merthyr Dog, Poultry, Pigeon, and Cat Show, will be held on Wednesday and Thursday next. The exhibition will be very large, and special attention is directed to the superior specimens of cats that will be in the show.

ONGAR FAIR. Essex Herald , 7th October 1879
[There will be] a Cat Show. First prize, £1; Second prize, 10s.; Third prize, 5s. Exhibitors must enter Cats or Litters of Kittens a week previously, that cages may be provided.

PIGEON, RABBIT, AND CAT SHOW AT CHESTER. Nantwich Guardian, 24th December 1879
A novel, and at the same time interesting, exhibition was held at the Pavilion Rink, Chester, on Friday, and was visited by a large number of persons. The animals exhibited were rabbits and cats, together with pigeons, and, although this is the first show of the kind ever held in Chester there was a large number of entries – in fact little short of 300 pets being shown. Chester contains a fair number of fanciers, and the want of a show at which they could compete with one another has long been felt; the remedy this, and also to afford the public an opportunity of seeing their animals, a number of gentlemen decided to hold a show. The secretary, Mr E holson, and the treasurer, mr H Reddin, have succeeded in this direction, and deserve the thanks of t fanciers for the efforts they have made [. . .] Cats were an extraordinary class, and several extra prizes were awarded. For the future we would recommend that this class be divided into at least four sections, as the utmost difficulty must have been experienced by the judge in awarding the prizes. In point of merit the show was one of the best ever seen. The following is the Prize list:-

Cats. For the best domesticated cat – 1, Joseph Robertshaw; 2, G Hemming, Bromsgrove; 3 James Shiel; extra 4th J h Harding, Chester; extra 5th, John Dinsdale, Liverpool; very highly commended Miss Shiel, Liverpool, Mr Arthur Reynolds, Hayton; highly commended Wm Parry, Hoole; T Hobson, Chester; Louis George Passey, Chester; mark Wood, Rochdale, George garner, Birkenhead; commended W Denson, Chester; F Sprang, Chester; Charles Joseph Kendall, Little Sutton.
Extra prize presented by the treasurer (fancy water jug) for the heaviest cat in the exhibition – F Sprang, Chester.

You are visitor number