REPORTS FROM EARLY BRITISH CAT SHOWS (1876 - 1877)

These are reports of the early British cat shows that I've collected from various newspapers and show catalogues. The earliest reports reflect the novelty of cat shows and describe only a few of the entrants.

1876 EDINBURGH CAT SHOW

[1876] GREAT CAT SHOW. The Scotsman,22nd December 1875
Great Cat Show, Royal Gymnasium Show Hall, early in February. Date and prize lists in a few days. Ladies and gentlemen wishing to give special prizes should communicate at once (before Prize List is issued) with J.M.D. Brown.

DOG AND CAT SHOW IN GLASGOW. Dundee Courier , 4th January 1876
Mr Henry Martin, naturalist, Buchanan Street, Glasgow, opened yesterday morning in an erection specially put up for the purpose in Bathgate Street, an interesting exhibition of sporting and other dogs, cats, birds, etc. The exhibits number upwards of 400, and embrace some the finest specimens of their kind be met with in this country. [. . .] In a separate apartment, immediately adjoining the dog show, is an exhibition of cats, which in respect alike of numbers and quality, compares favourably with any previous cat show held in Glasgow. The chief attraction ere will undoubtedly be the Scotch wild cats, of which there is a male and a female, shown in a large cage by themselves. These animals are from Inverness-shire, and nave been secured Mr. Martin. The male is a large tiger-like savage, who will show fight on the slightest provocation. He has a very long tail, with a thick bushy brush at the end, somewhat resembling that of a fox, but of course much smaller, and presenting a marked contrast to the tapering appendage of the tame cat. Among the other cats there are long haired white Angolas, very pretty; Persian cats Manx tailless cats, some fine blacks, black and whites and greys, and one or two tortoiseshells. A. cat 'with three legs is the only monstrosity in the show.

CAT SHOW AT THE ROYAL GYMNASIUM. Edinburgh Evening News, 25th February 1876
The fourth annual cat show in connection with the Edinburgh Royal Gymnasium was opened this forenoon. The arrangements, which were carried out under the superintendence of Mr Brown, the secretary, were of the most complete description. The animals were exhibited in cages ranged on platforms standing across the whole length of the hall. Some very superior specimens of the feline race are shown, the Angora and Persian breeds being particularly noteworthy. The few specimens of the tortoise-shell species exhibited were of inferior quality; but the spotted, long haired, and blue and silver tabbies made a good show. There were upwards of 110 entries. The snowstorm has, no doubt, prevented many from stirring out of doors, and this will account for the small number of visitors present at the show. The hall however is comfortably heated, and in the evening a band will be in attendance.

CAT SHOW IN EDINBURGH The Scotsman, 26th February 1876
THE fourth annual cat show inaugurated by Mr John M . D . Brown was opened yesterday in the hall of the Royal Gymnasium. Embracing over a hundred very pretty specimens of the feline race, the exhibition is one not only of much excellence but of great interest. In the nice comfortable cages in which the cats are located pro tempore there may be seen pussies of every variety of shade, from pure white to jet black, from bright red to light yellow, from blue to grey or mouse colour . Nor is there greater variety of shade than beauty of form, and among the pets are many cats perfect miniatures of the tiger and the jaguar. Tortoiseshell cats are very rare,' and it was not matter of surprise that of the four in the class only one was really worthy of a prize. There were three brown tabbies, but all ware geldings and unclassed . Mr D . R . Dobie' s very handsomely marked tom weighed 17 lb, and was the second heaviest in the hall . Blue tabbies are also comparatively rare, but Mr Amos' silver grey puss was worthy of the award, not only from its fine expression but evenness of marking . The blacks were a good class, and the medal went to Mr J. Smeall for a handsome round-faced puss . Mr A . G . Anderson's second prize cat was heavier than, but not so symmetrical as, the first. Miss Andersen' s puss was only a kitten , and unclassed , but he was , though so small, of perfect shape .

Spotted tabbies always look pretty, and they form the most numerous and perhaps the most interesting sections of the show . Mr C . J. Couper ' s "Trot," which was awarded the silver medal , is an exquisite puss , with a round face, jet and grey striped coat , and white breast . A mistake was made in placing Mr J . Milligan's tabby third. He ought , from the symmetry of form and richness and regularity of his coat, at the least to have been second . Mr H. D . Cockburn's second prize cat has too small a head for the thick, heavy body , and lacks the lithe grace of a thoroughbred puss . Neither the red nor short white-haired tabbies wore of much account, but Mr Andrew Wilson's white long-haired Angora, which was awarded the silver medal, is a beauty . The longhaired any other colour" class is not large, but every individual is worthy of close inspection . Two silver medals were given - one to a silver-grey French cat, the property of Mr Smith, and another to an Angora, from Glasgow , whose head was the most attractive in the show . The kittens were very pretty indeed, and Miss Frew's long-haired Persian, which was placed first, was very attractive from its regular marking.

In the next division, which comprised male cats not entire, the classes were both larger and the competition keener. The brown tabbies were a splendid lot. The silver medal fell to Mrs Dickson's tom , which was also awarded the special medal for the best marked cat in the show . Miss Balfour's, which was placed second, is just as beautiful a cat, but wants [lacks] the marking on the back. Both the silver and the black classes were good - Mr Wilson's medal [winning] black tom possessing a magnificent soft and glossy coat. The black-and-whites were pretty , nothing more; but the gems of this section were the spotted tabbies . Mra Pottie' s puss secured the class medal , and a silver medal for the heaviest cat in the show. He is a long, shapely , round-faced cat , with beautiful regular markings. He weighs 17 and a half lbs, and if fed up might be got to weigh seven or eight pounds more . Mr W . Jackson ' s second prize is a silver-grey spotted puss, very attractive in expression; while the third prize cat is worthy of notice from his white face, white legs, and evenly stipped [spotted] body . There were half-a-dozen red tabbies, and Mr C . Sinclair's "Schneider" deservedly ranked first from the rich depth of the red colour, the regularity of the stripes, and his size .

Medals were given to each of the long-haired white cats - the head and brush of the one being his best points, while the silky coat of the other commanded attention. Mrs Gibson's "Gala" was first in the "any other colour" class, and received the medal for the best long-haired cat in the show. Of a white and bluish dun colour, he possesses a grand tiger head and splendid coat and brush. A pure black Manx or tailless cat is worthy of notice, as also two mouse coloured Siberian cats, with close thick fur like a seal's.

The show remains open to-day (Saturday). Mr Alex . Fairgrieve , late proprietor of Wombwell's Menagerie, acted as judge. The following are the prizes :-

Cats - Male or female .-Tortoiseshell and White - 2 , T . W. Brown, East Linton,. Prestonkirk. First and third prizes withheld from deficiency ot merit.
Brown Tabby - 2 . David R . Dobie , 17 Archibald Place , Edinburgh.
Blue or Silver Tabby - 2 , James Amos , West End, Loanhead ; 3 , MissYoung , 53 Couper Street, Leith.
Black - 1, John Smeall, 4 Roseburn Place, Edinburgh; 2, A . G . Anderson, 16 Church Hill, Edinburgh.
Spotted Tabby - 2 , G . J . Couper , 19 Warriston Crescent,. Edinburgh; 2 , Henry D. Cockburn, 63 Frederick Street , Edinburgh; 3 , J . Milligan, High Street, Portobello .
Red Tabby – 2, Andrew Wilson, 21 Young Street, Edinburgh.
Short-Haired White – 1, Mrs McMillan, 9 Junction Street , Leith.
Long-Haired White - 1, Andrew Wilson, 21 Young Street , Edinburgh.
Long-Haired any other Colour – 1, Henry Smith, Edmonston House, Liberton, and William Grieve, butcher, 171 Cowcaddens Street, Glasgow, equal; 3, Thomas Weightman, 3 Connaugbt Place, Edgware Road, London.
Any other Variety, such as Manx etc - 2, Wm. Brown, merchant, Tranent.
Best Marked Kitten, any variety, under 6 months - 1, Miss Robina Frew, Sinclairtown, Kirkcaldy; 2, Frank E . Dempster , 23 Warriston Crescent, Edinburgh; 3, Andrew Wilson, 21 Young Street , Edinburgh.
Brown Tabby – 1, Mrs Dickson, 8 Inverleith Bow , Edinburgh; 2, Miss Balfour, 27 Inverleith Row, Edinburgh; 3, Proudfoot & Grosset, 1 Grange Road, Edinburgh.
Blue or silver Tabby – 1, James Amos , West End, Loanhead; 3, John Black, Pitt Street, Edinburgh.
Black – 1, John Wilson, 3 Dairy Park Terrace, Edibburgh; 2, Mrs. Home, 23 Oxford Street, Edinburgh; 3, Mrs Munro , 6 Glen Street , Edinburgh .
Black and White – 1, Mrs Roxburgh, 29 James Street, Pilrig, Edinburgh; 2 , James Wood , 11 Gladstone Place, Edinburgh.
Spotted Tabby - 1, Mrs Pottie, 25 Haddington Place, Edinburgh – and silver medal for heaviest cat in show (17 and one half lbs); 2, William Jackson, Stockbridge Market , Edinburgh; 3 , James Dick, 65 Grassmarket, Edinburgh, and Mrs Munro , 16 Scotland Street, Edinburgh, equal.
Red Tabby - 1, Colin Sinclair, 93 Princes' Street, Edinburgh; 2 , James Brown, 329 High Street , Edinburgh; 3, John Irvine, 377 High Street , Edinburgh.
Short-Haired White – 1, James Brown, 329 High Street , Edinburgh.
Long-Haired White - 1, Thomas Weightman , 3 Connaught Place, Edgware Road, London, and E. Caird, 15 Belgrave Crescent, Edinburgh, equal.
Longhaired , any other Colour - 1 , and silver cup for best long-haired cat in show, Mrs Gibson, 29 Greenhill Gardens , Edinburgh; 2, Mrs T. B . Bell, 12 Viewforth Place , Edinburgh; 3, T . Sawers Mitchell, 12 Glengyle Terrace, Edinburgh .
Any other variety, such as Manx etc - 1, George Hendrie , 40 Richmond Street, Edinburgh.
Unusual Colour – 1, Lady Baxter , 5 Moray Place, Edinburgh (Russian cat), 17 years.

1876 ALEXANDRA PALACE CAT SHOW

1876 THE ALEXANDRA PALACE SHOW OF CATS, RABBITS AND GUINEA PIGS

The Illustrated Sporting and Dramatic News, April 1, 1876

To the presiding genius of Muswell Hill, the public were indebted for the first exhibitions of Balaclava heroes and Irishmen at the Alexandra Palace; and Sir Edward Lee has now crowned his previous efforts as a showman by holding a show unique in its way as a combination, we believe, the animals comprised in the exhibition thrown open on Saturday being cats, rabbits and guinea-pigs. They manage these affairs well enough at the Alexandra Palace. Whether these exhibits be dogs or dolls, rabbits or cats (why not have included squirrels and white mice?), they are invariably shown to the best advantage. As for the judging, there probably never has been a show the awards of which have given universal satisfaction, and the Cat, Rabbit and Guinea-Pig Show proved no exception to this rule. Not without interest, nevertheless, may be the accompanying portraits of a few of the prize winners, from the practised pencil of our Special Artist, Mr R H Moore. No. 1 is the very attractive group of Minnie with kittens and white puppy, exhibted by Mr S Collier. No 2 is Mr J Newland's tortoiseshell cat, that carried off a cup in its class. No 3 is Mr How's long-haired tabby, which also won a cup [...rabbit & guinea-pig results...]. It may be added that, out of the total of about 450 entries, the cats numbered nearly 250, being divided into forty classes, and the 200 rabbits formed some dozen classes. [only 7 guinea-pigs were entered]. Messrs P H Jones and W J Nichols were hon secretaries; and the judges were Mr Harrison Weir and Mr Jenner Weir for the cats, and Mr F Banks, Mr W Heath, and Mr W J Boyle for Rabbits.
CATS AND RABBITS AT THE ALEXANDRA PALACE. London Daily News, 27th March 1876
The largest attendance at the Alexandra Palace this year was that induced by the opening of a show of cats, rabbits, and guinea pigs on Saturday. Previous experience had shown that the cat, notwithstanding that she has detractors and shares abuse properly due only to that neglected portion of her tribe which disturbs the nightly rest of the metropolis, could be made the subject of much enthusiasm at a public exhibition, and would, of herself attract a goodly number of visitors. [. . .] Notwithstanding a famous show of rabbits, the domestic cat monopolised more than half the space, and a great deal more than half the attention of visitors. Pussy could hardly have been more petted at home than by the crowds that showed their interest in him or her on Saturday; and a pet at home every specimen undoubtedly was. So much was clear, from their general air of dignified repose and their complacent matter-of-course reception of every attention bestowed upon them.
Evidence of another kind was in possession of the managers of the exhibition; for they were not allowed to forget, the value set upon the animals by their owners. One gentleman wrote, "My wife is very anxious about the cat. Is it troubling you too much to drop me a line to say how she is getting on?" With some of the favourites were sent luxurious cushions, rich with all the splendour of gay colour and fancy braids or tassels. These being apparently the lounges to which they had been allowed to attach themselves at home, the animals in possession of them were easily reconciled to their otherwise strange surroundings. All were sufficiently well cared for to endure their temporary imprisonment with equanimity, and anxious ladies, such as the one above-mentioned, have apparently little reason to fear for the well-being of their pets.
The animals shown are of a kind that justified the interest bestowed upon them on Saturday. Among them were included, perhaps, all the beat cats shown at previous exhibitions, and some of these had to yield to the acknowledged-superiority of newer competitors. There were 246 entries in 42 classes. In the short-haired he-cat classes tortoiseshells were at their usual discount, and pure tortoiseshells entirely absent; but Mr. Newlands, a Warwickshire competitor, was awarded a cup for the comparative excellence of his cat. A Birmingham lady (Mrs. Dryhurst) was a victorious exhibitor in the brown tabbies, some of which were beautifully marked, though there was a deficiency in depth of colour. Beauty was the appropriate name of the best blue or silver tabby, the property of Miss Ida Cantrell, Upper Norwood. The red tabby is one of the sights of the fair, though he is not numerously represented. Mrs. W. J. Nichols, who has taken prizes at Birmingham and at the Crystal Palace, is first prize winner; and passing over other less unimportant classes, we may here remark that Wr. Nichols, the, secretary exhibits the only red she tabby believed to be in existence. To her accordingly was paid on Saturday that amount of attention, which her rarity demanded, and to which her beauty fairly entitles her.
One curiosity, however, among the short-haired tom-cats ought; not to be forgotten. Mr. J. Walter's "Dandy" (Class 9) deserves distinction as the only Siamese tom-cat in this country. After all, he is only a half-bred; but still even as that, he is a prodigy, and for that reason he has taken the prize which hitherto has three times been awarded to Mrs. S. Barnes, of Croydon, at the Crystal, Palace, for her beautiful slate-coloured animal. The mother of "'Dandy," whose cream- coloured coat, by the way, justifies his appellation, is to be seen in another part of the Exhibition. She is also the property of Mr. Walter, and has obtained a cup. The tortoiseshell she-cats, are an admirable class, and, the first prize-taker, the property of Mrs. Horn, Highbury-hill park, is notable for richness of colour. The cat Minnie, in Class 17, nursing as she does a white puppy as well as her own black progeny, is of course a means of great delight to the children, as are also an extremely frisky pair of prize kittens from Worcester (Mr. Somerton's), which are the constant entertainment of crowds that surround their pen.
The long-haired cats are really a creditable collection, though it is somewhat amusing to hear the variety of opinions which these animals elicit from visitors. Mr. Bristow's (Hatfield, Herts), raze-sized and finely-marked tabby was subject to the oddest criticisms, and none more contradictory than that of a lady and gentleman who passed in an interval of two minutes during which the writer inspected it. "Oh, you ugly thing!" said the lady. "That's a very handsome cat, isn't it?" was the gentleman's remark to his companion, as he stopped to admire the tabby thus alternately lauded and condemned. Miss Hales, of Canterbury, whose name is familiar to readers of the Tichborne trial shows numerous cats, but perhaps, none more admired than her black and white long-haired favourites, whose coats are of exquisite texture. The long-haired gelded cats are also of great excellence, especially in the tabby classes, in which Mr. G. How, of Devonshire-road, Holloway, wins the cup. It is significant of the high appreciation some exhibitors have of their cats that in the catalogue there are several animals valued at £1,000, while others range in price from five guineas to £300. It is only fair to say in this connection that a rule requiring exhibitors to state the price at which their animals may be sold contains a proviso allowing a prohibitive price to be named.
CAT SHOW AT THE ALEXANDRA PALACE The Sportsman, 27th March 1876
With their accustomed enterprise the directors provided, in addition to their usual entertainments on Saturday, an exhibition of prize cats, rabbits, and guinea-pigs, the show remaining open until tomorrow (Tuesday). The inducements offered by the management have evidently been attractive, and there are as many as 246 pens for cats, divided into forty-two classes, with first, second, third, and besides fourth prizes, in some cases, in exceptional instances, cups for superior animals. Every species [breed] of the feline tribe is represented, and, as there are some very rare specimens, the collection will well repay a visit.
NORFOLK PRIZE WINNER AT THE ALEXANDRA PALACE CAT SHOW. Norfolk News, 1st April 1876
At the Cat Show held at the Alexandra Palace, London, March 25th, 27th, and 28th. Master Louis H. Martin Sculthorpe [Fakenham] won the first prize for his cat "Charlie."
CATS, RABBITS, AND GUINEA-PIGS AT THE ALEXANDRA PALACE. Buckingham Advertiser and Free Press, 1st April 1876
A show of cats, rabbits, and guinea-pigs, which attracted large attendance, was opened at the Alexandra Palace on Saturday. "The Standard" gives the following account of the exhibition:- The exhibition takes place in the great central hall, along which, from end to end, are arranged three bays, with a double row of pens either hand. Here the creatures, which number considerably over 450, are comfortably housed, in a light not oppressive, and admirably regulated temperature. The cats, which are accommodated with crimson and purple covered cushions from which they blink lazily at the crowds who gaze admiringly on them, are given an unlimited supply of new milk and cat's meat "of the very best quality." At the back of each cage is spread a layer of mould, sprinkled with carbolic powder, for disinfecting and deodorising purposes, and thus the atmosphere is preserved from being in the least degree offensive to the visitors. [. . .] The prizes consist of £150 in money, divided into first, second, and third classes, and nine silver cups, the cups being bestowed upon those animals which were adjudged the best in all the classes to which they belonged, the prizes being awarded according to merit amongst the sub-classes. The cup for short-haired he cats went to Mr. Newlaud's Beauty which took the third prize the Birmingham show ; and the cup for short haired she cats to Mr. Walter's Siamese Mymie, which carried off the three first prizes at the Crystal Palace. Mr. John Somerton took the cup for the best pair of short haired kittens under six months old ; Mrs. Sargeant for long-haired he cats, and Miss Hales for long-haired she cats. This collection of cats is, beyond all question, a very splendid one. Some there are with heads as large as those of middle-sized bull terriers, whilst others are so diminutive that they look if they would scarcely serve luncheon for a rat of ordinary appetite. In every variety of colour are they, from the spotless white to the equally spotless black, tortoiseshell, brown, red, blue, and spotted. Dressed in all sorts of coats, too, from the rough bristly fur of the gentleman who does not attend overmuch to his toilette, and who lives great portion of his life upon the London tiles, to the silver-streaked silken dress of the Persian beauty. There are also to be seen two of those wonders in the feline world, a red she cat and tortoiseshell he. The prices set against each cat by no means represent the relative value of the animals, but rather the affection in which they are held by their owners. Some are set down at a very low figure, whilst against others is set the prohibitory price of £100, and very many are advertised as not for sale. In the majority of cases the highly prized social pets are not the public prize-takers.
1876 BRISTOL AND CLIFTON CAT SHOW
THE CAT SHOW. Western Daily Press, 18th July 1876
Last evening, in conformity with the rules, the cats entered for the show that commences at the Rifle Drill Hall, Queen's Road, were delivered at the hall, and the arrival of hampers, from which emanated most pitiable cries, attracted some attention in the neighbourhood. There are 82 entries, and this number is considered fairly encouraging for a first show, for there are many owners of cats who could not, without a pang, allow their pets to be away for four or five days. Probably the knowledge they will gain to-day or the succeeding days of the show of the provisions made for the comfort of the cats will go far to reconcile them to the separation. With several of the cats that arrived at the hall last evening there came most stringent injunctions as to the care be taken of the particular specimen forwarded, and if owners particularly desire it they will be allowed to feed their animals themselves, but Mr Cambridge, upon whom the responsibility of management rests, has made ample preparations for the welfare of his guests. The show promises to be exceedingly attractive, for apart from the novelty of the affair, locally, pet cats are animals that, judging from the prices affixed to some of them, are valued at a very high rate, and the owners will be slow to believe that other cats can possibly be better than their own. The competition in some classes will be exceedingly good, - for instance, there are no less than 31 male tabby cats entered, but as a set off to this, there are no entries whatever for the classes for black shorthaired cats. It was originally intended that the show should be a purely local one, but applications from owners of cats in other towns have been favourably considered, and several competitors from a distance were yesterday forwarded to the hall. The show will be open at eleven o clock today, and visitors may be glad to know that there will be plenty of seats provided (this is not the case at all shows), and during the day there will be performances by the Rifle Band.
THE CAT SHOW. Western Daily Press, 19th July 1876
The first cat show in the West of England was opened yesterday morning, at the Drill Hall, and for an exhibition that is in measure experimental the show is exceedingly interesting and should lead to still better competitions in the future. There are no doubt several handsome and valuable cats in the neighbourhood that have not been sent in at this show, and probably their owners will regret their backwardness when they see the other cats now on exhibition. The chief fear of the masters and particularly the mistresses of domestic pets would be that the animals made so much of home might not be comfortable during their four days' confinement in a cage, but from yesterday's experience it would seem that cats can quickly accommodate themselves to circumstances, and many of them contentedly slept away the afternoon regardless of critics and visitors. Some, evidently great pets, had been supplied with cushions upon which to rest, but the others seemed quite comfortable in their not so luxuriously-furnished pens. Mention was made in yesterday's [Western Daily] Press of tee large number of entries in the class for male tabbies, and it was the opinion of the judge, Dr. Gordon Stables, of Twyford, who has had great experience, that so good a show for this class has seldom been seen. Most of the cats were good, and it was decided to have two first and two second prizes, the competition being so keen. Of the first prizes, the cat belonging Mrs Stone is a beautifully marked grey tabby; its rival being a finer, but not so clearly marked, brown tabby, belonging to Mr. W. R. Stock. The second takers, belonging to Mr Parker and Mr Maine, were also respectively distinguished for beauty of marking, and for size and build.
Class 7, for short-haired cats, not included in previous classes, contains some beautiful animals, especially black and white cats, and some of the pens in class 8 are attractive because of the gambols of the kittens that found no end of amusement from playing with the straw in the cages. The first prize in this class is awarded to a strangely marked black, red, and white cat; one of the curiosities of the show. A very good class is number 9, white or black long-haired cats, every animal being either a prize taker or very highly commended, and the same remark very nearly applies to the next class, in which the first prize was taken by a little Persian white cat with clear eyes. This little favourite had a near chance of taking the cup for the best cat in the show; a trophy won, however, by a Persian tabby in the next class, having a most perfect head and face. Another cat sure to attract notice is the winner of the first prize in class 13; an immense red tabby (Angora), the property Mrs J. Sommerville. The second prize taken in class is also a very fine cat.
CAT SHOW BRISTOL. Monmouthshire Beacon, 22nd July 1876
The first cat show that has been held in Bristol was opened on Tuesday, the Drill-hall, Bristol, There were 81 entries, including almost every description of the domestic pet. The attendance was not very large.
BRISTOL AND CLIFTON CAT SHOW. Bristol Mercury, 22nd July 1876
The first cat show in this neighbourhood was held at the Rifle Drill-hall last Tuesday and the three following days. It was organised entirely by the efforts of one gentleman - Mr. E. Cambridge, the hon. secretary of the local poultry show; and so far as the show itself was concerned this first venture was a gratifying success, there being over eighty entries of household pets from Bristol, Clifton, Bath, Yatton, Keynsham, Bitton, Twyford, Berks, and other places. There were some very fine cats exhibited, and the judge, Dr. Gordon Stubbs, R.N,ocf Twyford, Berks, pronounced the collection of short-haired male tabbies the best class be had ever seen, either at the Crystal Palace, the Birmingham, or any other show. The Persian cats were also exceedingly good, and one of them, a tabby, carried off the prize cup for the best cat in the show. It belonged to Mr. L. Andrews, of Pennywell-road, and the contest for the cup lay between this cat and another Persian, a pure white, only eleven months old, and showing extraordinary quality and breed. The following was the prize-list:-
PRIZE LIST. SHORT HAIRED CATS.
Black-No entry.
Claus 3. White male – 1st prize, Mrs Bowles, Oakfield-road, Clifton; 2nd, Mr. O. H. Wherest, Zetland-road, Brlstol. Very highly commended, Mr. W. Loader, Henbury. Highly commended, Mr.Giles, Twyford, Berks.
Class 4. White female - 2nd, Mr. D. J. Harris, Berkeley- place, Clifton.
Class 6 Tabby male - 1st, Mrs Stone, 11 Gloucester-street, Clfton; extra 1st, Mr. W. R. Stock, Long Ashton; 2nd, Mr A. J. Parker, 10, Stephen-street, extra 2nd, Mr. P. Maine, 72, Colston-street, St. Michael's. Very highly commended, Mr. A. Belfield, Wine-street; Mr. E. Cooper, 40, Prince-street, Queen- square, Miss A. Morcom, 30 Redland grove. Highly commended, Mr. G. Nash, 2 Phippen-street; Mrs. Jefferies, 16, Charles-street, St. James's; Mr. F. Hurd, 4 Bath-parade.
Class 6. Tabby female - 1st, Mr. C. Chandler, Stoke's-croft.
Class 7. Any other colour or marking, male – 1st, Mr. T. P. Overbury, The Viaduct, Park street; 2nd, Mr. G.M. Eager, 60, Victoria-street. Very highly commended, Mr. T. P Baker, 4, Klngsdown-parade. Highly commended, Mrs. Pavey, 1, Cumberland-place; Mr. W. Price, 6 Cllfton-place.
Class 8. Any other colour or marking, female – 1st, Mr. E. Foxon, 8, Avon-street, St. Phillps; 2nd, Mrs. Ball, 66, St Michael's-hill.
LONG-HAIRED CATS.
Class 9. White or black male – 1st, Mr. W. Loader, Henbury; 2nd, Mrs Ford Burlington-villa, Cheltenham-road. Very highly commended, Mr. W. F. Spratt, Portland street, Clifton; Mr. W. Poole King, Avonslde, Clifton-down; Miss Allen, 84 St Michael's-hill.
Class 10. White or black female - 1st, Mr. E. Lane, 5 Byron- place, Triangle; 2nd, Mrs Dowell, Kingston-vilia, Richmond-hIll. Very highly commended, Miss E. Couleting, 45 College- green. Highly commended, Mr. W. Poole King, Avonside; Miss Knowland, Ashley-road.
Class 11. Tabby male - 1st and cup, Mr. L Andrews, 11, Charlton street, Pennywell-road.
Class 12. Tabby female - 2nd, Mrs. Crook, Upland-house, Keynsham.
Class 13. Any other colour or marking, male – 1st, Mrs J. Somervllle, The Lane, Bitton; 2nd, Mrs. Laws, 17, Berkeley- square.
Class 14. Any other colour or marking, female – 1st, Mr. J. Bridgman, Tyndal-lodge, Clifton; 2nd, Mr. G. Knowland, Ashley-road. Highly commended, Messrs. W. and S. Bennett, Felton, Winford.
A CAT'S PROTEST (Against a Four Days' Cat Show.) Western Daily Press , 24th July 1876
I know am pretty, and gentle, and sleek,
But think this no cause that, for nearly week,
I should pine in a cage, to be gazed at by men
Who would not care twopence to see me again;
Or know, if they care, that my purr and my face
Are best heard and seen in my home —my right place.
To be poked at by parasols, fingers, and sticks.
Is a trifle less nuisance than stonings and kicks;
But in weather like this it is trying, at least.
When sleep is dainty to man, bird, and beast.
Were you, my dear master, immured in a cage,
I can picture your face in a terrible rage;
And you, pretty mistress, if beauty like yours,
That shrinks from the gazes that beauty endures,
Were it thought that the public could better behold
Your charms by being labelled "commended" or sold,'
How would you like the life for four nights and four days,
With the whole solar system appearing ablaze ?
Believe me, all you who have found out our worth,
And who wish to increase our repute upon earth,
You best gain your ends if, at your next great cat show,
You keep us but two days, and then let us go!
Though, from my point of view, I do strongly demur
At all exhibitions of us who can purr.
[Anon] Clifton, July 22, 1876
1876 CRYSTAL PALACE CAT SHOW
THE CRYSTAL PALACE. Essex Herald, 4th October 1876
The eighth National Cat Show opened on Thursday at the Crystal Palace. The show was arranged under the immediate supervision of Mr. Wilson, the manager of the Natural History Department of the palace, in the north nave, along which ran four parallel rows of cages containing 398 beautiful creatures of all sexes, colours, and kinds. Some were arrayed in white and grey and silver silken dresses that one might fancy ought to rustle with every graceful movement of the wearer, and others in coats of wire-like fabric that would emit phosphoric sparks if rubbed the wrong way.
The eighth National Cat Show, which will continue up to next Tuesday evening, opened yesterday at the Crystal Palace. The show is being held in the north nave, along which run four parallel rows of cages containing 308 beautiful creatures of all sizes, colors, and kinds. Some are arrayed in white and gray and silver silken dresses, that one might fancy ought to rustle with every graceful movement of the wearer, and others in coats of wire-like fabric that would emit phosphoric sparks if rubbed the wrong way. There are cats of all nationalities - although this year, unlike the shows of former years, the contributors are confined to England, and indeed, it would appear for the majority, to persons residing in London, or within a radius of ten miles therefrom. In some cages there were majestic-looking monsters sitting with closed eyes on cushions emblazoned in purple and amber, as if they heeded not the curiosity they were exciting, or the admiration so lavishly bestowed upon them while round the corner or in the adjoining compartments were sulky or retiring witches that hid themselves away, and better still, twin kittens playing with the children's fingers thrust between the cage bars. Indeed the prettiest sight of the day was to watch the play between these junior generations, to see the pleasure light up the faces of the children, or to listen to the merry music of their laughter. The great majority of the visitors yesterday consisted of ladies and children, and it may be added that the majority of exhibitors are also ladies. One of the chief delights of the day was to see the creatures fed, and to witness this sight, which took place close upon 4 o'clock, almost every one in the building flocked. The event was interesting not only from the fact that the animals themselves took a lively interest in it, but that it provoked a curiosity among the spectators like to that which prevails when the great carnivora are being banqueted in the Regents Park Gardens. The howls of the eaters were not as loud in the palace as those heard on similar occasions in the park, but taking into account the relative size of the beasts, they were equally deep.
The prizes, which in the total amounted to about £120, were divided into three for each of the fifty classes of which the show consisted - the first prize in each being £1, the second 15s., and the third 10s. It cannot but be addeed to the labors of the judges to have to regard the value set upon the various animals by their owners - a a value which ranged from tens of thousands of pounds down to the modest sum of 1s. 6d. Every exhibitor was permitted by the rules laid down to set a prohibitory price upon the animal he or she exhibited, and one exhibitor took a very liberal advantage of this permission, for she set the value of £25,000 on vLittle Brownie, a short-haired she-tabby aged three years. This highly-esteemed puss, numbered ninety-two in the catalogue, is set forth by her owner, Miss Nellie Shorthouse, as of thoroughbred descent from cats in the possession of the owner and her father for nearly thirty years, and a tabulated pedigree for seven generations framed and glazed is affixed to the sales office in the palace. Notwithstanding the feats of Little Brownie, however, who is reported to be a famous rat-catcher, having on many occasions "dispatched" five rats in a minute, the judges awarded in this class the first prize to Miss H. King's cat, which the owner values at the more modest sum of £4. It would be impossible to give here the list of prize in extenso [in full detail], and it is almost invidious to single out any. But we cannot refrain from calling the attention of visitors to the show to a few animals, the merit of which struck us as being extraordinary. No 2 in the programme, a short-haired tortoise-shell, the property of Mr. John Hurry, is one of these; and among the others are those numbered 14, 20, 21, 26, 33, 41, 53, 62, 70, 107, 156, 157, 200, 212, and 245. Special attention should be called to a remarkably colored short-haired tom-cat, (No. 56,) the property of Mr John Walter, and to Mr. Hawthorn's tabby, valued by the owner at £1,000, and which weighs twenty-three pounds two ounces. On the whole, the show may be pronounced, so far as the quality of the exhibits goes, a decided success. - CAT SHOW AT THE CRYSTAL PALACE. THE FELINE RACE ON EXHIBITION - THREE HUNDRED AND EIGHT BEAUTIFUL TABBIES - A SHORT-HAIRED CAT VALUED AT $125,000 - THE PRIZES. The New York Times, November 4, 1876, Reprinted from the London Standard, October 21, 1876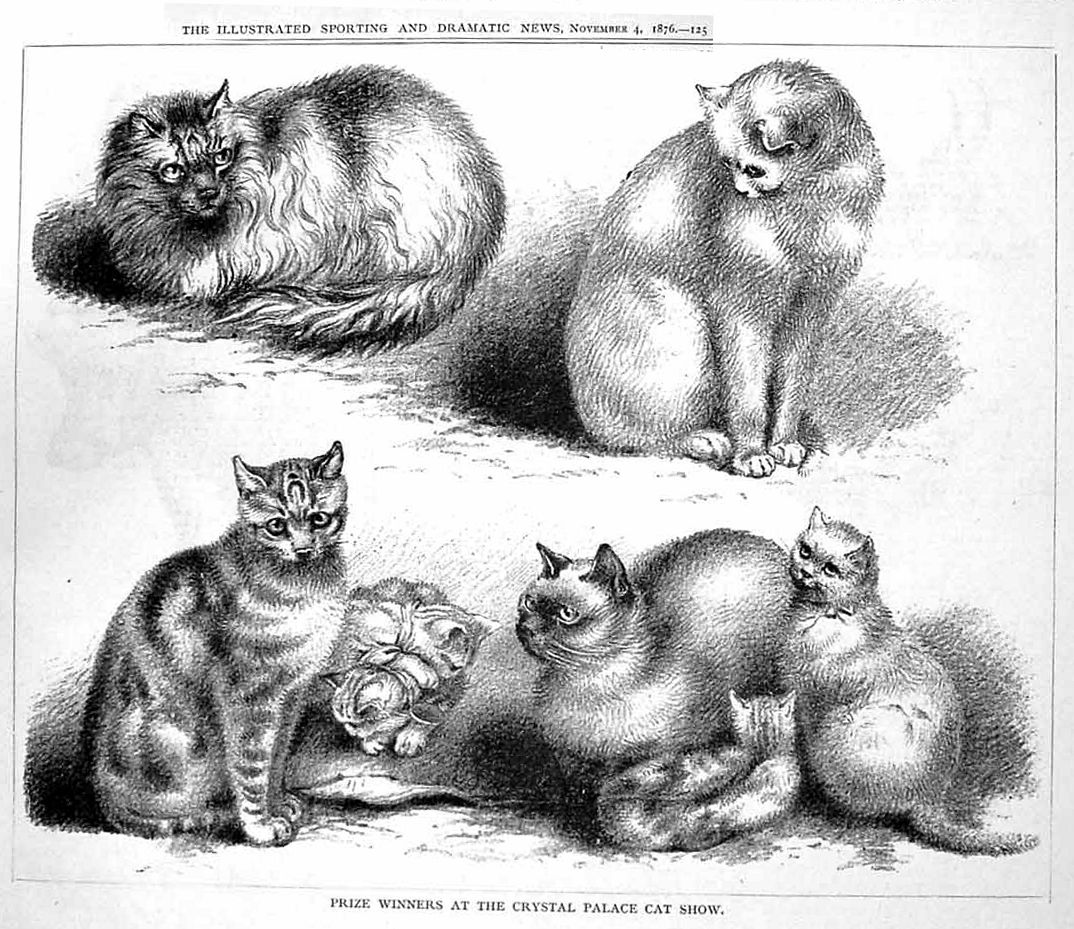 A TABBY VALUED AT £25,000. Edinburgh Evening News, 23rd October 1876
A cat show was opened at the Crystal Palace on Saturday. The value set upon the animals by their owners ranges from tens of thousands of pounds down to the modest sum of 1s 6d. One exhibitor set the value of £25,000 on "Little Brownie," a short-haired she tabby aged three years This highly esteemed puss is set forth by her owner, Miss Nellie Shorthouse, as of thoroughbred descent from cats in the possession of the owner and her father for nearly thirty years, and a tabulated pedigree for seven generations framed and glazed is affixed to the sales office in the Palace. Brownie is reported to be a famous rat-catcher, having on many occasions "dispatched" five rats in minute. One tabby shown by a Mr Hawthorn is valued by the owner at £1000. It weighs 23 lbs. 2 oz.

1876 OTHER REGIONAL CAT SHOWS

1876 GLASGOW DOG, CAT AND BIRD SHO The Scotsman,22nd December 1875
Grand National Exhibition of sporting and other dogs, cats, foreign and British birds will be held in handsome erection to be fitted up 9 to 13 Bath Street, between Buchanan and West Nile Street, from 3d till 6th January [1876]. Entries close tomorrow, 22d Inst. – Manager Henry Martin, 167 Buchanan Street, Glasgow.

SOUTH OF SCOTLAND DOG AND CAT SHOW. The Scotsman, 3rd January 1876
The first show of the canine and feline species held in the south of Scotland took place on Saturday within the Royal Bazaar , Dumfries . The show was confined to Dumfriesshire and Galloway , but the entries were numerous , 161 dogs and 23 cats being entered . [. . .] In the feline department , which attracted much attention, there were some nice animals shown Thea weather being very fine, there was a large attendance of visitors .

CORK POULTRY AND PIGEON SHOW. Northern Whig, 27th January 1876
The North of Ireland Ornithological Society has accomplished a great deal, considering that .it has only held three annual shows. If a cat show be held in connection with the exhibition next year it will be a novelty, as our friends this side the Channel have little idea of the beautiful Persian, Angora, tortoiseshell, and other varieties that English ladies can turn out.

LONDONDERRY POULTRY, PIGEON, AND CAGE-BIRD SHOW. Belfast Weekly News, 29th January 1876
The third show of the Londonderry Poultry, Pigeon, and Cage-bird Society opened in the Corporation Hall on Tuesday at noon. The exhibition as a whole was fully equal, if not superior, to that of last season. The entries in some departments were more numerous, and in others less so, the number being in the aggregate about the same as last season. [. . .] . If (as hear there is likely to be) a cat show held in connection with it next year it will be a novelty, our friends on this side of the channel have little idea of the beautiful Persian, Angora, tortoiseshell, and other varieties that English ladies can now possess. These exhibitions are very desirable, as they promote a love for the lower animals, and as a consequence cruelty is on the wane.

PIGEON, RABBIT, CAT, AND DOG SHOW IN HULL. Hull Packet, 17th March 1876
On Tuesday, Wednesday, and Thursday, a show of pigeons, rabbits, cats, and dogs was held at Mr. Fussey's Albert Hall, and the adjoining premises, Midland-street. T[. . .]There were only two classes and 16 entries of cats, but there were some capital pussies exhibited, including the well-known "Lion," the property of Mr. E. Baxter, 54, Chandos-street, Strand, W.C. This animal, which is six years old, carried off the first prize. He has taken 36 first prizes, 10 special prizes, and is valued by its fortunate owner at £1,000. In the long-haired class the prize was awarded to Mr. C. E. Berry's "Selim," winner of first prizes at Crystal Palace and at the Boston show. There are in this section of the show two fine specimens-of the tiger cat of Scotland, called felis catus.
CATS. Class 44, best tabby cat – 1st, E. Baxter, Lion; 2nd, A. Richardson; 3rd, F. Vivian, Peter; very highly commended, A. Cook; highly commended, J. Reeves, and A Rhaw.
Class 45, long-haired cat – 1st, C.E. Berry, Selim.

CAT SHOW, BARNSTAPLE. Exeter and Plymouth Gazette - Friday 31 March 1876
The Committee of the Barnstaple and North Devon Exhibition met on Tuesday evening last [. . .] It was subsequently resolved that a Cat Show should be added to the other attractions of the exhibition.

THE WANSBECK POULTRY PIGEON. CAGE BIRD AND CAT SHOW. Morpeth Herald, 29th April 1876
The second annual exhibition of the above was on Saturday last, the Com Market, Town Hall Morpeth, and was a very successful event in every respect. [. . .] 18 cats, in 8 classes -thus showing considerable increase every class, amounting to 318 in all, nearly double that of 1875. [. . .] In the poultry, pigeon and cat classes, the prizes were 10s for first, and 5s for second. [. . .]. The cats seemed to be the great feature of the show. The place in which they were caged was crowded during the whole time the exhibition was open; and the Toms and Tabbies bore the public scrutiny with an amount of coolness and confidence which was generally admired. The gold medal, for the best cat in the show, was awarded to Mr. Thomas Marshall, of Mitford, a well-known and persevering exhibitor at our local floral and poultry shows, beating the celebrated cat of Mr. Baxter, of London. Four of the cats, including those of the two exhibitors above-named, had the price of £1000 each set upon them.
CATS. - Toms, 1 and gold medal, given by Mr. W. Almond for best cat in show, T. Marshall, Mitford; 2, Miss Rachel C. Frew, Kirkcaldy; highly commended, W. Almond; commended Geo. Hatch, Choppington; 5 entries.
Queens, 1, Miss Taylor, Bedlington Colliery; 2, Miss Margaret Nichol, Morpeth; highly commended, James Dixon, Longhirst Colliery; George Wilkinson, Morpeth ; Miss Robina Frew, Kirkcaldy; Thos. Moffitt, Morpeth ; commended, Mrs. Glodson, Morpeth; Jas. Nelson; 5 entries.
Any other variety, 1, F. Baxter, London; 2, Mrs. Brown, Ulgham ; very highly commended, Adam Smith, Longhirst; highly commended, Thomas Marshall; Master F. R. Nichol, Morpeth.

NEWPORT DOG, CAT, AND BIRD SHOW. South Wales Daily News, 5th May 1876
On Thursday there was held at the Cattle Market, Newport, the first show of dogs, cats, caged birds, and donkeys. The splendid facilities of the Newport Cattle Market, the experience of gentlemen thoroughly acquainted with the mode of conducting a show of this description, combined with delightful weather, secured a really splendid show. With such a commencement there can be no doubt that steps will be taken to make the show an annual one, and under judicious management it will become one of the largest and most attractive exhibitions of the kind in the kingdom. [. . .] For dogs the judges were Mr. Hanley, of Manchester, and Mr T.L. Brewer; for cats and birds Mr Shiell and Mr Watts. [. . .] The cat show produced only 29 entries.

For the best Cat, (long haired, any colour) – 1st prize, 10s. Mr Thomas Weightman's [name not recorded]; 2nd, Mr W. M. Palmer's Tippo Sahib.
The best Tabby Cat (short-haired) - 1st prize, 10s, Mr J. Dennis's Lion; 2nd 5s, Mr Prothcroe's Lynx.
For the best Cat (of any other variety) – 1st prize, 10s. Mrs Fox's Minette; 2nd 5s Mr B. W. Winter's Judy.

[RUGBY] PIGEON, RABBIT, CAGE BIRD, AND CAT SHOW. Leicester Chronicle, 20th May 1876
The third annual show in connection with the Workmen's Club, of pigeons, rabbits, cage birds, and cats, was opened at the "Workmen's Rest," on Wednesday. The show was far superior to former years, and the entries in the various departments were: Pigeons 123, rabbits 100, cage birds 35, cats 20, total 278. As usual, the exhibitors came from all parts of the country, and local breeders has a fair show of exhibits. [. . .] The cat show was an exceptionally good one, Mr T.N. Gilbert's (25, High Street, Leicester) tabby taking the cup and 1st prize in the short-haired class, and beating M. Baxter's celebrated "Lion," who has won 41 first and 13 special prizes. The Leicester cat is far superior to any yet exhibited at Rugby. In the long-haired class some very large "pussies" were to be seen. Mr Cockerill's band was in attendance for dancing, and there was a good number of visitors. The show was also open on Thursday. Great credit is due to the committee, of which Mr H.E. Gilbert is hon sec., for their admirable arrangements in receiving and packing off the "household pets" to their various owners.

THE POULTRY AND DOG SHOW Hampshire Telegraph, 24th June 1876
The annual exhibition in connection with the Portsmouth Ornithological and Zoological Society was opened to the public on Wednesday, and continued open until yesterday.
THE CATS. There were altogether thirty-three entries in this class, ranging from the sleek and stately Tom to the diminutive kitten. The character of men is, in one of Dickens's works, judged by the appearance of their door-knockers; and it required no great flight of imagination to associate the feline animals exhibited with different phases of domestic life. In one cage a well-proportioned "Tabby" stretched comfortably on the bare boards, showing that the absence of carpets was no hardship to her, while "Titty," in the adjoining compartment, manifested unmistakable signs of having been reared amid scenes of luxury, and being used to constant petting and indulgences. Here was the good-tempered family cat, who would purr on the kitchen hearth, unmoved by the boisterous merriment of half a dozen juveniles. Close at hand dozed a juvenile "tortoiseshell " (with a showy piece of ribbon encircling its neck), whose whole appearance warranted the assumption that she possessed a spinster mistress, who by day allowed "pussy " to nestle in her lap, and at night snugly ensconced her in a cozy basket lined with flannel. Among the curiosities of the exhibits was a cat, and four kittens, whose paws were what is commonly known as "double-jointed." Each animal - mother and kittens – had a distinct double row of toes and claws, numbering between them just 100 claws. These curiosities were exhibited by Mr. T. I. Pharoab; of Eldon-street, Southsea. There were several long-haired cats, two being exhibited by Mr. Jamrach, of London. Mr. Thomas Weightman, of London, was also among the exhibitors in this class; and he carried off first prize. Mr. Jamrach took second, and was highly commended for another long black-haired animal. The long shaggy coat of one of Mr. Weightman's cats resembled the hair of a Poodle dog. For black and black and white cats there was only one entry each, and consequently no competition, although Mr. Samway's (Southampton) black and white cat was very highly commended. The " colour and variety" classes numbered among them a Siamese, a black Manx, a foreign tabby, a silver kitten, a blue tabby, a Persian kitten, and an Angora. Mr. C. King, of London, took first prize for a kitten, "Jimmy from Town," and Mr. Kitching's (London) blue tabby, which occupied second place, recently received a similar award at the Alexandra Palace Show. For any shade of tabbies, Mr: W. J. Jordan, Highbury-street, Portsmouth, was first, and Mr. E. Baxter, London, second. Mr. O. Nicholson, High-street, Portsmouth, was a.sucessful exhibiter, carrying off first prize for a foreign tabby. Mr. Nicholson also showed a blue tabby, but did not carry off a prize. Subjoined is the prize list complete:-

Class 103. - Tortoiseshell or tortoiseshell and white – First prize, Mr. J. Hurry, Norwich; highly commended, Mrs. M. Horn, Highbury-hill, London.
Class 104. – Tabbies – First prize, Mr. J. Jordan, Highbury- street, Portsmouth; second, Mr. E. Baxter, Chandos-street, Strand..
Class 105. – Black – No competition.
Class 106. – White – First prize, Mr S. hinkman, Corsham, Wilts.
Class 107 . -Black and White – Very highly commended, Mr. R. S. Samnways, Bevois Town Hotel, Southampton.
Class 108. - Long.haired Cats. - First prize, Mr. Thomas Weightman, Hyde-park, London; second, Mr. C. Jamrach; highly commended, Mr. C. Jamrach.
Class 109. - Kitten of, any Colour. Under Nine Months. - First prize, Mr. C. King; second, Mr. R. Kitching, Sheppard's-court,Grosvenor-square, London; highly commended, Miss L. Edwards.
Class 11.-Any Variety and Any Age. – First prize, Mr. C. Nicholson; second, Mrs. E. A. Collier, Barnsbury-road, near London.

BARNSTAPLE. EXHIBITION OF DOGS, CATS, POULTRY, FLOWERS ETC. Western Times, 30th June 1876
This show, which has been allowed to lapse for two years has had a most successful resuscitation and was re-opened on Wednesday under the most favourable circumstances. [. . .]. In the cat department [were entered] 4 long hairs, 5 tabbies, 5 tortoises[hells], any variety.
Prize List. Cats - (Long hair, males) - Mrs Agar.
Tabbies (male or female) - Samuel Hearn, John Colwill, Henry Copp; Miss Eihel Whitchurch h.c.
Tortoiseshells - Mrs T Joint, ditto, Mrs Dixon.
(Any variety) - Fred. Toogood, E.M. Voss, Miss Boyle ; h c, Charles Williams, Knill, John Garland, Thomas Garland.

FORESTERS' FETE AT TRURO. Royal Cornwall Gazette, 19th August 1876
A grand fete in connection with Court "One and All" Truro, took place on Monday. The weather was not all that could be desired, [ . . .] Numerous attractions were provided, the chief novelties being a cat and donkey show. The cat show was the first one ever held in the West and attracted considerable attention, over a thousand visitors paying the extra penny and passing through the tent in which it was held. There were about sixty entries, including some very fine specimens. Mr. S. Richards acted as judge. The cat with which Mr. Vautier took the first prize for the Persians was a splendid animal, and would no doubt have taken the same position had there been a better competition. There was only one Angora, but Manx, or tailless cats, mustered in a manner which surprised everyone. Some of the Tabbies were very good. The cat which took the second prize in the "other' varieties" was a very beautiful creature, perfectly black, which shared, with Mr. Vautier's Persian, the general admiration. Why it was second instead of first was scarcely apparent. Not a little amusement was created by someone with a sense of the ridiculous, exhibiting a crusty old customer, who used bad language on the slightest provocation, in a pen trimmed with laurel leaves, and bearing the following inscription: Independent Tom, that gets his living by his own industry. Lost his leg an' tail while young. Exhibited by C. B." The followin is the prize list:-
Persians : 1, Rev. R. Vautier ; 2, Thomas Treganowan, Kea.
Angoras . 1, W. H. Jenkins, Truro.
Tortoiseshell.- 1, Edwd. Cock, Lemon Kow ; 2, Samuel Foster, Carclew-street ; 3, W. Enseil, Lemon Row ; very highly commended, Minnie Nance, Daniel-street ; commended, J. C. Trudgeon, Kenwyn street, and Joseph Ivey, Fairmantle-street.
Tabbies. – 1, R. Burrow, Ferris-town; 2, J.Atkins, Boscawen-street; 3, H. Roberts, Kenwyn-street; highly commended, A Elliott, Station, and F. Hawke, James's Place.
Manx: 1, John Willcox, Truro ; 2, Thomas Kendall, Victoria Place; 3, Miss Hawken, Parade.
Other Varieties: 1, James Luke, Bosvige Lane; 2, T. Worth, Carclew Terrace ; 3, Hannah Sampson, Chapel Hill.

NEWTOWNARDS DOG AND CAT SHOW. Dublin Daily Express, 8th September 1876
The third annual show was held to-day in the grounds adjoining Messrs Dickson and Sons' Nursery. In connection with this exhibition classes have been added for cats and pigeons. [. . .] were 36 entries of cats. Mr Wm McAlister, North-street, Belfast, carried off the first prize for the best cat in the show. This feline hero is named the Artful Dodger, by Fagin out of Mrs Bumble.

NEWTOWNARDS DOG SHOW SOCIETY. Belfast Weekly News, 9th September 1876
Today the third show in connection with this society was held here,, in a field adjacent to the Messrs. Dickson & Sons' nursery, where the flower show took place. A new feature was introduced by the exhibition of cats and pigeons, and we believe we are correct in saying that this is the first time that a cat show has taken place in Ulster. [. . .] There were about forty entries of cats. The animals shown belonged to the Persian, Manx, and other breeds. The judges were – for dogs and cats, Mr. J.S. Skidmore, Nantwich, Cheshire, and Mr. S. Handley, Pendleton, Manchester.
Section II – CATS.
Class 1 – Tortoiseshell – Mr Hugh Colville, Killearn, Newtownards, 1; Miss Mary J. Allen, Crawfordsburn, 2; Mr. Alex Dickson, jun, Newtownards, 3. Special cup – Mr William McAlister, Belfast.
Class 2 – Black – Mr. G. Jamison, 1; Miss Simonton, 2.
Class 3 – Angora – Miss Sarah A. Pocock, London Road, Berkhampstead, 1; Miss M. Shane, Comber, 2.
Class 4 – Persian - Mr. G. Jamison, 1; Mr H.C. MacIlwaine, Belfast, 2.
Class 5 – Manx – Mr D. J. Ferguson, Ballyalton, Newtownards, 1; Mr H. Cargo, Conlig, 2; Miss Grace Beal, Comber, 3.
Class 6 – Any other – Mr J. Kelly, Groomsport, 1; r Alex Cairne, Booten Cottage, 2; Mr John Boyd, Belfast, 3.
Class 7 – Pair of kittens, under four months – Miss S.A. Pocock, 1; Mr H.C. MacIlwaine, 2; Mr G. Jamison, 3.

DOG, POULTRY, PIGEON, AND CAT SHOW. Nottinghamshire Guardian, 6th October 1876
There being no exhibition this year in Nottingham under the auspices of the National Canine Society, the members of the Nottingham Columbarian Society, who have held shows of pigeons for some years past, determined upon getting up one for Goose Fair, consisting of classes for dogs, poultry, pigeons, and cats. The society have pitched their tent (and a commodious one it is) on a site in Sherwood-street, opposite the Cattle Market. Throughout yesterday the show, which as a whole may be stamped a success, was well patronised, numerous visitors passing to and fro all day past the long stages of exhibits. [. . .] Of the cats we can only speak meritoriously. They were poor in point of numbers, but when "The Shah," who has done so well at Birmingham, Wolverhampton, and London, was not named amongst the winners, it will be seen that the feline representatives did not comparatively fail short in quality to any specimens in the tent. On the whole the members of the Nottingham Columbarian Society have little reason to be displeased with their inauguratory miscellaneous show. The following were the judges in the respective classes yesterday :- toy dogs and cats, Mr Joseph Forman of Leicester.
CATS. English Cat, Male or Female, smooth-haired. - 1st, Bobert Kitching, 7, Shepherd's-court, Upper Brook-street, London ; 2nd, Mrs. B. Hill, Parliament-street, Nottingham ; 3rd, Mr. C. W. Saywell, 1, Somers-street, Arkwright-street, Nottingham.
Foreign or Long-haired Cat, Male or Female. - 1st, Mrs. Cheadle, Black Bull Inn, Chapel Bar, Nottingham ; 2nd, Mrs. Briggs, 32, High-street, Burton-on-Trent ; 3rd, Mr. G. Osborne, 44, Caroline-street, Nottingham.

NOTTINGHAM DOG, POULTRY, AND CAT SHOW. Lloyd's Weekly Newspaper, 8th October 1876
At the annual Dog, Poultry, and Cat show, held at Nottingham this week, the prize for the best English cat, male or female, was taken by Robert Hitching, 7, Shepherd's-court, Upper Brook-street, London.

POULTRY, PIGEON, AND CAT SHOW. Gloucester Journal, 11th November 1876
These combined events commenced on Wednesday at the Corn Hall, Cirencester, and in every respect the exhibitions proved a great success. Entries reached upwards of 820 in all departments, and very few pens or cages were left unoccupied.

Rabbits, canaries, foreign and British birds, and cats, were judged by Mr. G. Billett, Southampton. [. . .] A show of cats was novel to the district, and entry of nearly eighty evidenced the good opinion owners held of their feline possessions. The first for tortoiseshells fell to a local exhibitor, but rewards in other and fancy classes went to greater distances.

1877 NORTHAMPTON CAT SHOW

POULTRY, PIGEON, RABBIT, AND CAT SHOW. Northampton Mercury, 17th February 1877
On Wednesday and Thursday last the eighth annual show of poultry, pigeons, rabbits, and cats took place in the Corn Exchange. [. . .] The show of cats was fair, the long-haired animals being in the largest numbers. There was a class for tabbies, which was well filled. There was [sic] some fine animals in all the classes, many of them being old prize-takers.
Cats. Class 85.—Long Hair, any colour, male, any age, Ist, 15s., Mr. G. Owen, Holloway ; 2nd, 10s., Mr. E. Cumpston, Pitsford; 3rd, 5., Mr. T. Weightmm, London. Very highly commended, Mr. J. Ward, Northampton; Mr. J. Brockliss, Moreton Pinkney ; Mr. Neep, Dallington. Highly commended, Mr. W. Walker, Warwick; Mrs. Serjeant, Kingsthorpe; Mr. L. Woodhouse, Harrold; Mrs. W. Spencer, Earls Barton ; Mr. T. Digby, Chapel Brampton; Mrs. E. Clarke, Huddersfield. Commended, Mr. D. Griffith, Northampton ; Mr. W. Bradley, Cransley; Mr. J. Boyson, Northampton ; Mr. J. Horsey, Northampton; Mr. A. Bedford, Leamington ; Mr. J. Dalton, Northampton; Mr. C. Berry, Tetford.
Class 86.—Long hair, any colour, female, any age, 1st, 15s., Mrs. E. Clarke; 2nd, 10s., Mrs. Faulkner, Northampton; 3rd, 5s., Mr. J. Howard, Northampton. Very highly commended, Mrs. A. Newton, Northampton. Highly commended, Mr. R. Pudd, Peterborough ; Mr. H. Hawkinson, Kimbolton; Mr. E. Robinson. Commended, Miss Rose, Cransley Hall; Mr. H. Beeby, Loughborough.
Class 87.—Tabbies, any shade, male or female, any age, 1st, 15s., Mr. F. Wright, Rugby ; 2nd, 10s., Mr. T. Weightman ; 3rd, 5s., Mr. S. Dean, Towcester. Very highly commended, Mr. R. Kitchen, London ; Mr. D. B. Smith. Highly commended, Mr. J. Clarke, Oundle ; Mr. W. Reeve, Wellingborough ; Mr. E. Williams, Mr. T. N. Gilbert, Leicester. Commended, Mr. A. Orton.
Class 88.— Any variety or colour, not before mentioned, male or female, any age, 1st, 15s., Mr. H. Hancock, Northampton; 2nd, 10s., Mrs. Slater, Northampton; 3rd, 5s., Mr. L. Gill, London. Very highly commended, Mr. J. Goodall, Northampton; Mr. J. Freear, Northampton ; Mr. C. Henshaw, Northampton. Highly commended, Mr. C. G. Chambers, Mr. T. Love, Mr. A. Orton, Mr. A. Tregenza, Dallington Moors; Mr. L. Gill, London; Mr. F. Mitchell, Stockholme ; Mr. H. Earl. Commended, Mr. T. Plumb, Mr. E. Warren, Bilston; Mr. C. Betts, Northampton ; Mr. J. Brazier, Kingsthorpe.

1877 BRISTOL AND CLIFTON CAT SHOW

THE CAT SHOW AT THE DRILL HALL. Western Daily Press, 4th July 1877
As yet there is a certain amount of novelty attaching to a cat show, the owners of this class of pets have not yet been induced to allow them to be sent to exhibition for three or four days to the same extent that owners of dogs and poultry have been persuaded to adopt that course. However, for a second show that is now being held at the Drill Hall is a most creditable one; and although numerically speaking, it may be considered below what ought be produced in large city like Bristol, it must be remembered that at the exhibition held last week at the Westminster Aquarium there were not more than about 150 entries; so that our local show with its seventy entries is not so insignificant as it may at first appear. But while there may be some doubt as to the success of the show, looking merely at the number of the entries, every visitor will agree that as far the quality of the animals is concerned there is no room for complaint. The cats are lodged in Turner's improved pens, and it is remarkable to observe the care that has been taken to provide tor their comfort during their temporary absence from home. In the majority of cases the temporary habitations have been furnished with soft cushions, and as an instance of the affections which some owners entertain for their pets, one or two persons declined to allow their animals to remain at the show, simply because the pens were not large enough to receive the cushions or beds that had been provided. The pets, however, do not in every instance , appreciate the kindness that has been shown them, for instead of using the cushions for the purpose for which they are provided, some of them utilise them as a covering wherewith to shield themselves from the public gaze.

Glancing at the animals in the order in which they are numbered in the catalogue, we come first to the male "blacks" (short-haired), which number four, and are a very good class. Mr J. Lockyer takes the first prize with a handsome creature, large, with good ears, and Mr Sibley's is also a very good cat, but does not show himself sufficiently. In the female class there is only one entry, but Miss Pearce's cat is worthy recipient of first honours, and looks very handsome as she reclines on her neatly-made cushion. In the classes for "whites" there are only two entries - both males - and only one of these is considered worthy of a prize, namely, that shown by Mr Pool, which is a good cat, but ought to be a little cleaner. The "tabby" male class is an excellent one, comprising no less than sixteen animals and the number of commendations given indicates a close competition. A very grand cat is that exhibited by Miss Mercer, and a strong proof of its merits is afforded by the fact that he was one of the three selected for the silver cup. Mr A. Belfield's cat deserves a prize, and that shown by Mr Bowles is a very good specimen but is smaller than the two previously mentioned, and does not show himself well. One or two the in this class have too much white about them, otherwise they might have been included in prize list.

The female tabbies are not so good as the males, and only one of the animals shown is deemed worthy of a prize in the estimation of the judge. In the male class for "any other colour or marking" there are thirteen entered, but owing to some misapprehension one two of the animals entered are tabbies. The prize goes to a large tiger-coloured cat, owned by Miss S.L. Tyndall. He has a good whole colour, and , the only defect noticeable is an consistency about the eyes, which should correspond as near as possible with the colour of the cat. Between the second prize taker and the two animals which are highly commended there is close competition, but Mr Baker's cat shows himself off to the greatest advantage. The animal shown by Miss Kidner is as yet rather small, but he has a good eye and may probably occupy a more favourable position at another show. The female class comprises five entries, and the first prize is awarded to a very good tortoiseshell cat with a kitten, belonging to Mr E. Foxon. Mr Wheare's' cat is also a tortoiseshell, but she has not so good colour as her more fortunate competitor. An animal exhibited by Mr Keough was, perhaps, the best colour of any in the class, but she is poor about the head, and does not look at all happy; there is also not so much style about her as is noticeable in the prize takers.

We come now to the long-haired cats, and, with regard to these, a departure from the pure breed is in some instances noticeable. In the class for white or black males, first honours are awarded to a nice white cat, but he seems to have an objection to show himself more than absolutely necessary, and has a habit of getting under his bed instead of upon it. No second is awarded, the only other animal exhibited, though in some respects a good animal, wears too short hair to come up to the character of a longhaired cat. The female class, although comprising only three entries, is noticeable for including one of the best specimens in the show, namely, that exhibited by Mr E. Lane, which takes the first prize. She is a handsome white Persian cat and possesses a pair of eyes of a rich blue colour. No other animal in the class can compete with her, and although Mr Knowland's cat has a very handsome look, the judge, although highly commending her, did not think her deserving a prize. Mr Lane's was also one of the three animals referred to as having been selected for the silver cup.

The male tabby class, in which there are four entries, includes a nicely marked cat, belonging to Mr Andrews. This animal took the silver cup last year, but this year he is considered to be fairly beaten by the cat shown in the male class of "any other colour marking,'' by Mr S. Mills, of Weston-super-Mare. The latter is undoubtedly one of the most perfect specimens of his class; his colour is tabby and white; he has good eyes and ears, and is nicely marked. He also takes the first prize in his class, the second going to a very good red shown by K. Matthews. The females (any other colour or marking) are an excellent class, and out of the seven animals shown five have either received prizes or commendations. Mr Bridgman's, who takes first prize, is a very nicely marked tortoiseshell cat, with long hair, and the second prize taker (Mlss Homfray's) has a good coat, but her colour is bad.

Perhaps it is not too much to say that the kittens form the most interesting feature of the show, for while the old cats, for the most part, lie in their pens, looking as serious as possible, the young ones frisk about, and are ever ready to with those who feel disposed to devote few moments to that purpose. The first prize is awarded to a pair of very fine kittens, belonging to Mr Bridgman, who delight in playing with a ball suspended from the top of the pen; Mr Goldsworth taking second with a pair of very handsome reds, very sharp looking, and exceedingly playful. In the absence of Dr. Gordon Stables who, it will be remembered, officiated as judge at the last show, the judging was this year undertaken by S. Lang, of Henbury, and the post of hon. secretary is filled by Mr E Cambridge, who is also the originator of the show, and who has been most indefatigable in his efforts to make it successful. A brass band under the direction of Mr T. Bigwood is engaged to play during the show, which will be continued till Friday, and is well worth a visit. The weather yesterday was rather unfavourable, and the attendance was somewhat limited; but fine weather for the remaining three days will doubtless ensure for the exhibition a large amount of patronage. Refreshments are supplied in a room adjoining the hail by Mr Brown, of the Drill Hail Restaurant. The following is the PRIZE LIST.

SHORT-HAIRED CATS - Black (male) - 1st, Mr J. Lockyer, Commercial Road, Temple Backs, 3 yrs; 2nd, Mr J. Sibley, 13 Prince Place, Clifton.
Black (femaJe) - 1st, Miss Pearce, the Vicarage, Long Ashton, 2 yrs.
White (male) – 1st, Mr B. Poel, Rownham Lodge, BowerAshton, Ashto, 2 yrs. Commended, Mr C. H. Whereat, Rock Hall Villa, Redland Road, 7 yrs.
White (female) - No competition.
Tabby (male) - 1st, Miss B. Mercer. 6 Belgrave Place, Clifton, 8 years; 2nd, Mr A. Belfield, 6 White Ladies' Road. Highly commended: Mr W. Bowles. St. George's Road, 3 years; commended: Mrs C Richardson, 10, Berkeley Square, 11 years; Mr Richardson, St. Vincent's Hall, Clifton.6 years; Mr W. Shrines, 6 Montague Street, 18 months; Mr J. Bracey, Hallen, Henbury, 2 yrs and Mr A. D. Morton, Totterdown, 2 years.
Tabby (female) - 1st, Mr C. Chandler. Stokes Croft.
Any other Colour or Marking (male) – 1st, Miss S. K. Tyndall, The Fort, 2nd, Mr T. P. Baker, 4, Prospect Cottages, Kingsdown, 3 yrs; highly commended, Mr W. Greening, 12 Alfred Place, Kingsdown, 3 yrs, and Mr T. Overbury, Park street, 6 yrs; commended, Mr W. Welsh, Grand Hotel Vaults, 8 months, and Miss A Kidner, Newton Street, Stapleton Road.
Any other colour or marking (female) – 1st, Mr E. Foxon, 3, Avon Street, St. Philip's; 2nd, Mrs Wheare, Abbot's Leigh, 16 months; highly commended, Mr T. Sheldon, Brislington, 5 yrs.
Long Haired Cats. - White or Black (male) - 1st, Mrs E. Ford, Minor Villa, Kingsley Road; commended, Mrs E. O. Treveiyan, 7. West Mall, Clifton, 3 yrs.
White or black (femaie) - 1st, Mr E. Lane, 5 Byron Place, Triangle, 22 months; highly commended, Mr G. Knowland Jun., Wine Street, 4 yrs.
Tabby male. - 1st, Mr L. Andrews, 29 Morley street, Russell Town, 9 years; 2nd. Mr L Andrews, 8 years: commended, Mr J. Pearce, 10 Queen Parade, Brandon Hill, 21 months.
Tabby, female - 2nd, Mrs Crook, Keynsham, 3 yrs.
Any other colour or marking (male) - 1st and silver cup for best cat in the show, Mr S. Mills, York Hotel, Weston-super-Mare, 4 yrs; 2nd, Mr R. Matthews, 1 Lawrence Hill.
Any other colour or marking (female) - 1st, Mr J. Bridgman, Tyndall's Lodge, Queen's Road, 2 an a half yrs; 2nd, Miss Homfray, Seaton Lodge, Fernbank Road; high y commended, Mr W. Gibbons, Cleeve, Yatton, 4 yrs. Mr G. Knowland Jun., Wine Street, 2 yrs; commended, Mr W. Gibbons, 2 yrs.
Long on Short Haired Cats (any colour). - For the best lot of two or more kittens, not exceeding three months' old - 1st, Mr J. Bridgman, 9 weeks; 2nd, Mr G. H. Goldsworthy, Weston-super-Mare; commended, Mr J. Blunsden, Zoological Gardens, 5 weeks.

WESTON CATS AT THE BRISTOL SHOW Weston Mercury, 7th July 1877
The second cat show was held the Drill-hall, Bristol, on Tuesday, when 70 owners of feline pets were induced to enter their specimens for competition. The show, the whole, was very good, and prominent amongst the prize-takers we notice the names of Mr. Mills, of the York Hotel, and Mr. G. H. Goldsworthy, of High-street—the first-named being awarded first prize (for long-haired cats, any colour, male) and a silver cup for the best cat in the show ; and the latter took the second prize for long or short hair cats, any colour. Mr. Mills' cat is spoken of as being "one of- the most perfect specimens of his class—he has good eyes and ears, and ia nicely marked and Mr. Goldsworthy's "handsome reds," although only five weeks old, attracted much attention for their style and show.

A contemporary relates the following amusing relative to the "hopes and fears" on the part of ladies who venture to trust their pet tortoiseshells, tabbies, blacks, whites and reds to temporary residence amongst the colony of cats at the show: "A lady at a distance forwarded a photograph, of 'her cat and herself,' with the polite request that the secretary would kindly tell her return of post whether he thought her cat would likely to win. Of course the cat, a great favourite, had been photographed with the lady, and sending the one she was compelled to send the other, or spoil the picture. But the position in which the secretary was placed must have been exceedingly delicate and difficult one. He ventured, however, the story goes, to express his firm conviction that the cat must win, and, as the event turned out, 'win it did' and not only in its own class, but we are much mistaken if it is not the remarkably fine puss which earned off the cup awarded by the judge, to 'the best cat in the show.'"

1877 OTHER REGIONAL CAT SHOWS

[1877] JERSEY SHOWS. The Star, 21st March 1876
At a meeting of the committee held in the Town-hall, St. Heiier's, on Friday afternoon, it was decided that the Jersey Dog, Rabbit and Cat Show is to be held on the 23rd and 24th of August, and that the Show of Poultry, Pigeons, and Cage-birds will take place on the 30th of December and on the 1st of January, 1877, when several silver cups and other valuable prizes will be given

THE WANSBECK POULTRY, PIGEON, CAGE BIRD AND CAT SHOW. Morpeth Herald, 21 April 1877
The third annual exhibition of the above was held on Saturday last, in two spacious tents erected in the Terrace, Morpeth, which the Mayor (G. B. Grey, Esq.) kindly placed at the disposal of the committee. The show continues to improve, and the number of entries were 419 in all, or about 109 over those of 1876, a circumstance which speaks most favourably for those who are engaged in its management. The quality of the occupants of the several pens and cages was, also, superior to those shown on any former occasion. [. . .]The cats, which are a great feature in the Wansbeck Show, were represented by some good specimens of 44 Toms" and " Queens," which appeared to excite a deal of admiration among the large number of visitors who so keenly inspected them [Prizes] for cats a cruet stand or butter cooler for first, and for second. In addition to these there were three silver cups and two gold medals given as special prizes. The whole of the above articles were exhibited at the entrance to the show, and formed a very handsome auxiliary thereto, coming in for a good deal of attention. Mr. Enoch Hutton, of Pudsey, Leeds, discharged the very onerous duties of judge in a careful manner.

Cats.—Toms, 1 and gold medal given by Mr. Wright Almond, for best cat in the show; Thomas Weightman, London ; 2, W. G. Bolam, Newcastle hc, Thomas Mofatt, Morpeth; c, William Almond, Sale, Cheshire ; T. Pinkey, Newcastle ; c, Thomas Marshall, Mitford; R. E. Frew; 14 entries.
Queens, 1, M. Nichol, Morpeth; 2, Miss Taylor, Bedlington Colliery; Miss J. Moradue, Bedlington ; 4 entries.
Any other variety, 1, George Owen, London; 2, Thomas Weightman.

NEWPORT DOG AND CAT SHOW. South Wales Daily News, 8th May 1877
There was an unusually attractive show held at the Newport Cattle Market on Thursdav, of dogs, cats and cage-birds. It was the second annual exhibition of its kind. Considerable improvement was this year made in the arrangements of the show, and particularly in the cat and cage-bird department. [. . .] Only 30 cats were entered for exhibition, but among these were several specimens of the feline tribe. [. . .] The judges were Mr W. Fothergill, Mr T. Llewellen Brewer and Mr C. E. Lewis.
CATS. Tabbies (short-haired, any variety). - 1st prize £1, Mr T. Weightman: 2nd 5s, Mr R, Burge.
Tabbies (long- haired, any variety). - 1st prize £ 1, Mr G. Owen.
Tortoiseshell (any variety). - 2nd prize 5s, Mr W. Williams.
Persian, or Angora.—1st prize £1, Mr T. Weightman; 2nd 5s, Mrs E. Martin.
For the best litter of kittens (any variety, under six months old). - 1st prize £1, Mr J. T. Enstone; 2nd 5s, Mr J. E. Williams.
For the best cat of any other variety. - 2nd prize 10s, Mrs C. Whitehouse.

WHARFEDALE AGRICULTURAL SOCIETY. Leeds Mercury, 14th May 1877
The attendance was much better on Saturday than on the previous day [. . .] In entries for cats not classed, the first prize was given to one shown by Mr. Horner, Harewood. It was a tortoiseshell, and has taken several prizes at the Sydenham. Cat Shows. The second place was given to a large grey-line marked cat, shown by Mr. J. Armstrong, Leeds.

RUGBY PIGEON, RABBIT AND CAT SHOW Rugby Advertiser, 9th June 1877
The 4th Annual Exhibition will be held at the Workmen's Club, Castle Street, on Wednesday and Thursday, June 27th and 28th 1877. Entries close on Wednesday June 13th. Local entries received at the Club house as above; and the Secretary will attend for that purpose on Monday, Tuesday, and Wednesday evenings June 11th, 12th, and 13th, from 8 o'clock till 9:30. Further Particulars and Schedules, on application to B. Robinson, Hon. Sec, The Lodge, Rugby.

WESTMINSTER SHOW Huddersfield Chronicle, 29th June 1877
The "United Kingdom Exhibition of Cats and Ladies' Pet Dogs" opened on Wednesday, at the Westminster Aquarium. There were no less than 38 classes of cats, in which there were 181 entries. There were 131 entries of dogs, divided into 14 classes.

PIGEON, RABBIT AND CAT SHOW. Leicester Chronicle, 30th June 1877
The fourth annual exhibition of the above in connection with the Workmen's Club took place on Wednesday and Thursday, and there was a fair attendance of visitors. The entries were far more numerous than on former occasions, and comprised pigeons 170, rabbits 106, cats 15, total entries, 291. Among the exhibits were found some of the finest specimens of domestic pets ever shown, and included the celebrated cat "Tigress," winner of first prizes at Northampton, Boston, etc.

RUGBY. PIGEON, RABBIT, AND CAT SHOW. Coventry Times, 4th July 1877
This annual show, held in connection with the Workmen's Rest, was opened on Wednesday, when the exhibits were much more numerous than last year, and the quality of very high character. [. . .] The cats were not numerous, but all the animals had very good points.

HORTICULTURAL, DOG, POULTRY, AND CAT SHOW AT BARNSTAPLE. Western Morning News, 6th July 1877
Barnstaple Market-house makes a capital exhibition hall. Nothing could look nicer or more inviting than this did on Wednesday, when the Barnstaple and North Devon Exhibition of Poultry, Dogs, Cats, Flowers, Birds etc – this is the title on the official catalogue – was held in it. [. . .] There were thirty-six entries of our domestic pets, the first class being for long haired "males," commonly called "Toms." There were only three of these, one which came from London to take the first prize. He was evidently a travelled cat and experienced in exhibition work for, notwithstanding his exciting position and the terrifying din caused by the howling of dogs and the crowing of cocks, he was quite cool and collected, with not a hair of his smooth white coal ruffled. Mr. W. P. Vile, of Barnstaple, exhibited the only long haired 'female," and for this he was awarded first. The tabbies were capital, Barnstaple cats off most of the prizes, the first coins to Mr. Samuel Hearn. The tortoiseshells were not particularly striking. Some litters of kittens were much admired.

[NEWTOWNARDS] SHOW OF CATS Northern Whig, 25th July 1877
A show of cats was held in the same field as the dog show. There were seven classes, and some twenty entries. They were regarded with some degree of curiosity on account of the novelty of the exhibition in this neighbourhood. The judges were Mr J S Skidmore, Nantwich, Cheshire; Mr S Handley, Pendleton, Manchester; MrJ J Pim, Lisnagarvey; and Mr T Sinclair, Moy. The following is the prize list.
Tortoise shell, or tortoise shell and white - 1, James Warden.
Tabby or tabby and white - 1, Wm McAlister.
Black 1, Godfrey Collings; highly commended, Miss Mary Devlin.
Manx - 1, Andrew McCutcheon
Angora or Persian 1 and cup, Leonard D Devlin ; 2, Thomas Montgomery; 3, Miss Lizzie Jamison.
Any other variety - No prize
Pair kittens under four months - 2, Miss Lizzie Jamison.

You are visitor number