REPORTS FROM EARLY BRITISH CAT SHOWS - 1898
1898 FALKIRK CAT SHOW
FALKIRK DOG AND CAT SHOW Edinburgh Evening News, 5th February 1898
The third annual dog and cat show held under the auspices of the Falkirk and District Canine Club took place in the Town Hall, Falkirk, on Wednesday. During the day and evening it was visited by a large number of people from the town, and from other towns in the country. The entries numbered over 700, as compared with last year. The show, taken all over, was the best ever held in Falkirk. [. . .] There was a large and very fine representation of cats. The judges were Messrs H. Ainscough and F. Gresham.
CATS.—Open Long-Haired Male—1 and 3, Mrs A. F. Young. Baillieston; 2 and special, Thomas M. Ogilvie,. Comely Bank, Edinburgh.
Open, Long- Haired Female—1 Mrs A. M'Kenzie Stewart, Seagate House, Irvine; 2, Miss Winifred Beal, Ronaldhub Rectory, Darlington; 3, Thomas Struthers, North Row, Laurieston; reserve, James H. Millar, High Street, Bonnyrigg.
Open Gelding— 1, Mr Ballantine; 2 and special, Alexander Morton, Lady's Mill, Falkirk; 3, John Balloch, Cistern Lane, Falkirk; reserve, Wm. S. Mitchell, Airth.
Open Male or Female (short hair, any colour)—1, 2, and two specials, Miss Martin, Ayton; special, John M. Robertson; reserve, Henry Murning, South Biggar Road, Airdrie.
Open, Male or Female, any variety (under six months) —1, 2, and special, John Page, Dunblane Hydropathic; 3, Mrs Frew, Barony House, Cupar Fife; reserve and special, Mrs Webster, Shieldhill; special, Thomas Jack, Eadieston House, Fairlie.
Male or Female (variety confined) - 1, Mrs Webster; 2, Mrs R. H. Learmonth, Shellybank House, Falkirk; 3, Alexander Morton.
1898 ELGINSHIRE CAT SHOW
ELGINSHIRE CANINE SOCIETY – THIRD ANNUAL DOG AND CAT SHOW Ross-shire Journal, 11th February 1898
Elginshire Canine Society Third Annual Dog and Cat Show at Elgin, Wednesday, 16th March, 57 prizes. Entries close on 8th. Judge – G Raper, Esq, Sheffield. Schedules and Prize-list on application to Secretaries.
ELGINSHIRE DOG AND CAT SHOW Aberdeen Press and Journal, 17th March 1898
Yesterday, the third annual show under the auspices of the Elginshire Canine Society, was held in the Market Green Mart, Elgin. The weather was mild and spring-like, and the show, both as regards numbers and quality, was the best ever held by the society. There was a good attendance of the public during the day, and they evinced the keenest interest in the awards. [. . .]Two exhibits which attracted much attention were a monkey shown by Mr J C M McGillivravy, Elgin and a four-eared cat, shown by Mr W D Smith, Cattinch, Duffue and Elgin.
CATS. Silver medal by Mr James Munro, joint secretary, for heaviest cat, any description, in show - Mrs Kay, 17 and one half lbs.
Long haired – 1, Mrs petrie, Wester Pittendreich; 2 George R Christies, Glenburgie; 3, Mrs Frew, Cupar, Fife.
Short haired – 1, Mrs Kay, Elgin; 2, Miss Nicholson, Elgin; 3 H Shewan, Elgin.
Gelding – 1, Mrs Kay; 2, Jas McDonald, Elgin; 3 Matthew Croll.
Kitten – 1, Alex Ogg; 2 Mrs Frew; 3, Mrs Shanks.
ELGIN DOG AND CAT SHOW. Dundee Courier, 17th March 1898
he annual show of the Elginshire Canine Society was held yesterday in the Elgin Market Grain Auction Company's premises. The entries were 234 in all classes. The show all over was very fair. Some classes, particularly collies, were excellent. Cats were rather a poor show.
1898 RHYL CAT SHOW
PROPOSED DOG AND CAT SHOW AT RHYL Rhyl Record and Advertiser, 5th March 1898
We hear that a Dog and Cat Show is to be held at the Palace Gardens Theatre, Rhyl, on Whit Monday next on a large scale.
RHYL WHITSUNTIDE DOG AND CAT SHOW Rhyl Record and Advertiser, 30th April 1898
The prize lists for the above show will be ready next week, and can be had of the secretary, Mr Thomas Welsby, at his offices, 5, Wellington Chambers. There will be 35 open classes for dogs, and 15 classes confined to Denbighshire and Flintshire three classes for cats open, and one confined to Rhyl.
RHYL. THE DOG AND CAT SHOW. North Wales Times, 14th May 1898
There is every probability that this show will be a most successful one. There are upwards of £ 150 offered in prizes. A post card to the Secretary asking for a schedule will bring one by return of post.
ENGLISH CAT CLUB Hull Daily Mail - Friday 20 May 1898
I notice that Mr J. A. Hewson has been elected president of the original English Cat Club, of which Mr E. Welburn, Mr J. R. Roberts, and Mr Hewson are also judges. [Presumably this meant a Shorthair Cat Club]

RHYL DOG AND CAT SHOW. North Wales Times, 4th June 1898
On Monday, the first annual dog and cat show was held at the Palace Theatre, and turned out a capital success. The show was inaugurated by Mr. T. Welsby, the secretary of the Denbigh and Flint Agricultural Society, and good prizes were offered in every class. With one exception the entries filled well in all classes, the Irish terrier section being the only one that had to be cancelled. In the egg, bread, and butter sections also there were large entries, while the attendance was all that could be desired.
CATS. Long-haired—1, Mrs. L. C. Dyer 2, Miss Foulds; 3, Mrs. Houlker.
Kitten, any variety, under six months - I, 2, and 3, Miss Foulds.
Cat, any variety, belonging to a resident in Rhyl - 2, E. Maltby; 3, Miss S. Ralli.
1898 DUNDEE CAT SHOW
DUNDEE DOG AND CAT SHOW Dundee Courier, 9th April 1898
Dundee Dog and Cat Show, Gymnasium, Ward Road, 20th and 21st April, 1898. Entries close 13th April.
DUNDEE DOG AND CAT SHOW Dundee Advertiser, 21st April 1898
The fifth annual show of dogs and cat under the auspices of Dundee Canine Club, was held in the Public Gymnasium, Ward Road, yesterday. The number of entries was larger than last year, [. . .] on the whole the quality is better than was the case last year.
Cats. Toms (long haired) -1 Mrs K Graham, Broughty Ferry; 2 Mrs William Thomson, Portobello, and Mrs Frew, Cupar; 3 Mrs Anderson, Dundee; hc Nellie D Ogilvie, Carnoustie; c Miss Lottie Warden Broughty Ferry.
Tibbies (long haired) – 1 James Winton, Dundee; 2 Mrs J Wilson Bagser, Maryfield.
Toms and Tibbies (short haired) - 1 John Dick, Kelts; 2 and hc Alexander Gilmour, Dundee; 3 Annie Robertson, Dundee; hc Miss Jane Ann Donald, Dundee.
Geldings (long or short haired) – 1 John Dick; 2 james Stiven, Newport; 3 Mrs D R Mitchell, Dundee; r Mr Page, Dunblane.
Kittens, any variety – 1 and c Mr Page; 2 Aggie Graham, Dundee; 3 and hc William H Kinnear, Dundee; vhc and Hc Mrs K Graham.
1898 BATH (BAND OF HOPE) CAT SHOW
FLOWER SHOW IN ST. JAMES'S. Bath Chronicle and Weekly Gazette, 23rd June 1898
The annual flower show of members of the St James's branch of the Band of Hope was held in the Memorial Hall on Friday afternoon and evening. The show, which was advance of that last year, was a good one, and indicated great care and energy on the part of the exhibitors. [. . .] There was also an open cat show, and the entries were much more numerous than last year, numbering 43. Some of the best known local cats competed, and there were some long-haired Russians for exhibition only. Mr. Pollard was the judge.
In connection with the above Flower Show, which took place on Friday in the Memorial Hall, a successful show of cats was held in a lower room, and brought together about 60 cats and kittens, which was far in advance of any previous year, well-known prize-takers putting in an appearance. Mr. Geo. Mariner, of feline fame, should have a word of praise, as he worked hard for the show, and had the complete management, which was carried out in capital style, the cats being staged around the sides of the room, and comfortably bedded with sweet hay. The show was disinfected by Mr. W. L. Langley with Oleusaban Eucalyptus Sawdust, this sending forth a pleasant perfume. The show was well attended, and among the visitors we were pleased see our ex-Mayor, Mr. Geo. Woodiwiss, again taking his usual interest, Mr. H. Butler, Alderman Taylor, Mr. Cotterell, Mr. T. T. Stone, Mr: W. L. Langley, Mr. J. Pollard, and Mr. G. Mariner. Mr. J. Pollard judged with his usual ability, and gave satisfaction.
Shorthaired brought together no fewer than 22 of all colours and varieties, from the Russian blue to the ordinary tabby. The winner was found in Mr. W. L. Langley's noted winning blue-eyed white cat, "Empress," a charming queen, which took the special for best shorthaired cat in show. The 2nd fell to Mr. Norris's blue Russian, which has a lovely head and colour, but unfortunately shows a white patch under hind quarters, while the 3rd was secured by a neuter black of Mr. Bray's, immense size, good colour, rather long in tail, nice eyes, few white hairs on chest; extra 2nd was awarded to another blue Russian of Mrs. Toogood, loses in colour to 2nd, and rather harsh in coat. The reserve goes to Mrs. Kelly's red tabby, of nice colour, trifle light on chest, v.h.c. falling to Messrs. Newton and Bray, h.c., Mr. Woodrow.
Longhairs.—A splendid lot of 13, and quality extra good. Although these were not quite coat, they made a pretty and interesting lot, and were greatly admired by the ladies. The special given by Mr. Geo. Woodiwiss. J.P., for best cat in show fell to a red tabby, beautiful frill and brush, grand head and eyes, shown in splendid form, the property of Miss Pearce, while the 2nd was secured by Mr. Hudson's Silver grey, of great size, little dark on back, and loses in frill; 3rd goes to Mr. T. T. Stone's Blue Persian, of grand colour, nice expression of face, and lovely eyes, rather too small and loses in frill; reserve, orange and white, belonging to Miss Knight, lovely rich orange colour, good size and condition, wants more length of fur, and shows too much white; v.h.c., Rev. G. L. James, black, loses in size and frill; h.c., Miss Pearce, good silver, "Peter," now showing age, and defective in one ear.
Kittens. —Mrs. Frost (nee Mrs. Drummond) takes first with a promising Chinchilla, with nice round head and well tufted ears; this lady also secures first and special for best litter, a charming lot of three Chinchillas of five weeks old, very pretty and promising; 3rd, falls to Mr. Goodenough's shorthaired dark tortoiseshell, might be better broken up in colour; equal 3rd, Mr. Adams; dark tabbies, two well-marked ones, the litter spoilt by the third kitten ; reserve going to black and whites.
The following special prizes were awarded: —Best litter of kittens, Mrs. Frost; best cat in show, Miss Pearce; best shorthaired cat in show, Mr. Langley; best cat owned by a scholar of Weymouth Day or Sunday Schools, Master Chas. Smith; best cat shown by a member of the St. James's Band of Hope, Miss Whittern.
Mr G Mariner exhibited two lovely blue Russian ' kittens eight months old, Robert and Blue Bell, not 'for competition. We liked Robert exceedingly, being shapely, lovely round head, and golden eyed. This cat should have a winning future front of him, both cats being sired by the redoubtable Lost "Bobby."
1898 ROYAL BOTANIC GARDENS CAT SHOW (LADIES KENNEL ASSOCIATION)
LADIES' KENNEL SHOW Lichfield Mercury, 15th April 1898
The Princess of Wales [. . .] is to be an exhibitor the Ladies' Kennel Show, which is be held on June 23rd and in the Botanic Gardens, Regent's Park. At this Show, the first to held under the Ladies' Kennel Association's own rules, £3,000 will be given away prizes. There are also silver challenge trophies to the value of £200, for competition ever- possible class of dog. The National Cat Club Show will be held at the same time and place. Part of the profits of the shows will he given the Society for the Prevention Cruelty to Animals.
LADIES' KENNEL SHOW St James's Gazette, 20th April 1898
The fourth summer show of the Ladies' Kennel Association will be held in the Royal Botanic Gardens on June 23 and 24. Sets of silver salt-cellars, silver pens and pencils, and silver-stoppered scent bottles will be given as prizes. In conjunction with it the National Cat Club will hold show of cats and kittens.
LADIES' KENNEL SHOW Hull Daily Mail, 3rd June 1898
The third championship show of National Cat Club will be held in conjunction with the Ladies' Association, Regent's Park, on June 23rd and 24th. It promises be a monster show. Mr E. Welburn figures amongst the judges. He will inspect all the English short-haired classes, and, in conjunction with Mr Louis Wain, place the awards for braces, and specials.
LADIES' KENNEL ASSOCIATION Morning Post, 24th June 1898
There is also a small tent devoted to cats, a Championship show arranged in conjunction with the National Cat Club. The weather was exceedingly favourable, and no more charming locality could have been selected. The attendance was large, and what with dogs and cats, music, rhododendrons, beautiful trees and elegant costumes, visitors must have been hard to please if they failed to find enjoyment.
THE LADIES KENNEL ASSOCIATION London Evening Standard, 24th June 1898
An extremely interesting exhibition of dogs and cats was opened yesterday in the Gardens of the Royal Botanic Society, Regent's Park. The dog show is held under the auspices of the Ladies' Kennel Association, and the entries are confined to animals which are the property of ladies, no male owner being allowed to compete. The Princess of Wales is the patron of the Association, and the Council includes the names of the Duchess of Bedford, the Countess of Lonsdale, the Countess of Ilchester, the Marchioness of Londonderry, the Countess of Warwick, Lady Adela Lar king, Lady Hothfield, Lady Helen Stewart, and Lady Arthur Grosvenor. Mrs. A. Stennard- Robinson is the honorary secretary and treasurer.
The third championship show of cats is promoted by the National Cat Club, the President of which is the Duchess of Bedford, the Committee Chairman, Mr. Louis Wain, and the Hon. Secretary Mrs. Stennard-Robinson. For the dogs and cats there are no fewer than 600 classes, the total number of entries and cross entries being over 2000, the animals staged making a total of 870. When it is said that there are nearly 2000 prizes to be awarded, the impossibility of mentioning in detail the winners of these trophies, cups, and medals must be obvious. [. . .] In the cat show there were over 200 entries and a number of beautiful animals were exhibited.
LADIES' KENNEL ASSOCIATION. A SUMMER SHOW. London Daily News, 25th June 1898
A better cat show was probably never seen than that in the independent tent near the Conservatory; of cats and kittens there were 300 exhibits. The Duchess of Bedford gave four prizes and lady Warwick two, and the exhibits would really seem to warrant the establishment of the National Cat Club which recently held its first meeting. [The report gave a list of aristocratic ladies, some with royal connections, who attended, demonstrating that this was very much a "society" event.]
1898 CRYSTAL PALACE CAT SHOW
NATIONAL CAT SHOW Edinburgh Evening News, 18th October 1898
A fashionable cat show. A lady journalist says that the forthcoming cat show promises to be exceptionally attractive, a large number of "entries" representing fashionable women.
1898 SOME COSTLY PETS
The Harmsworth London Magazine
(This Louis Wain illustration of champion cats is probably from the 1898 Crystal Palace Show, or the Westminster Show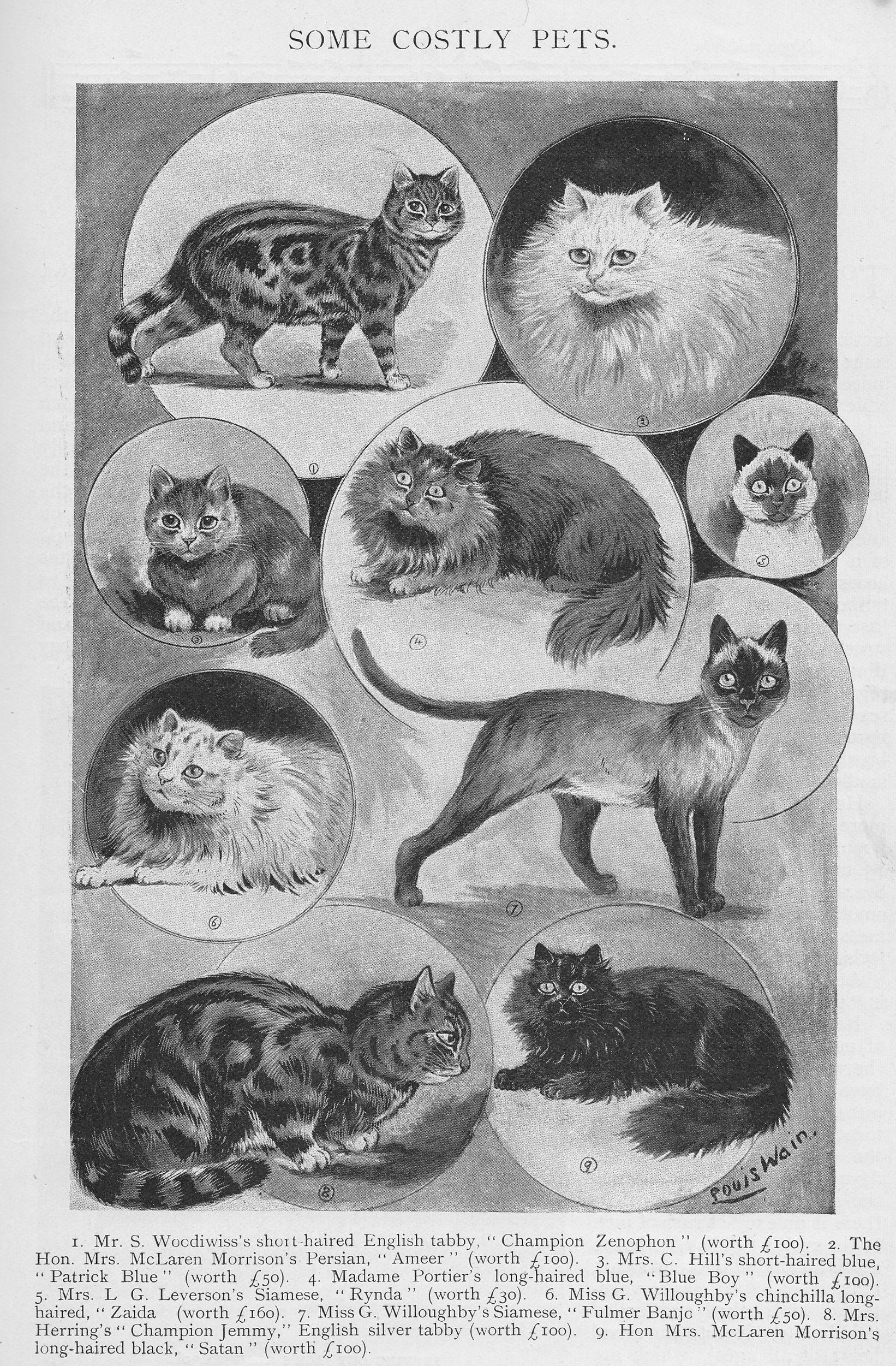 CRYSTAL PALACE CAT SHOW Sheffield Evening Telegraph, 21st October 1898
The cat show to be held Tuesday and Wednesday next at the Crystal Palace, under the auspices of the National Cat Club, promises, alike in number and quality, to be quite up to the standard of former shows. The entries number about 1.000, and include every variety of short and long-haired cat. Viscountess Maitland and many other ladies of distinction are amongst the exhibitors, and all die champion cats will be on view. The Siamese, Abyssinian, and Manx classes have filled exceedingly well, and these exhibits will no doubt prove very attractive, some very remarkable specimens being entered. The classes for cats the property working men are also very strong, and all through the show will be one of the most interesting of its kind ever held.

CRYSTAL PALACE CAT SHOW Morning Post, 26th October 1898
The annual Cat Show, held by the National Cat Club at the Crystal Palace, opened yesterday, and will be continued until this evening. The entries, which are well up to the average, number seven hundred and six, and there are nearly five hundred cats on view. All the well-known and popular kinds are to be seen, and among them are the tabby, tortoise-shell, Chinchilla, and all the other familiar varieties, short-haired and long-haired. To this last-named kind there seems to be a greater tendency to give prominence, as is shown by the large number of this description of animal as compared with the numbers of the short-haired cat. ln fact some of the largest classes are devoted to the long-haired variety, while the more old-fashioned short-haired cat has a comparatively small representation.

Of foreign cats there is a good number, among them being the tailless Manx cat, the curious Siamese cat with short fur and black face and paws and blue eyes, and some Russian cats of peculiar grey-blue colour. In a cage by itself is to be seen a wild cat from Hungary, who, in spite of a handsomely striped coat and magnificent eyes, is by reason of the warning label attached to it left severely alone.

At the head of all the animals shown and as the champion, the brown male short-haired tabby "Xenophon," owned by Mr. S. Woodiwiss, stood out as a remarkably handsome animal, who holds an unbroken record. There were also white, black, and blue cats with long and short hair, and an attractive feature was found in the various teams of kittens shown, some of whose surroundings were of a most appropriate character.

A special class was set apart for the cats of working men, and there were a good many entries, some of them being very sleek and contented looking. The benches on which the cats were placed were arranged in the transept under an awning, and the space specially adapted and lighted. The attendance yesterday, though the judging was not completed, was large and included many fanciers, and a considerable number of animals was sold in the course of the afternoon.

CRYSTAL PALACE CAT SHOW Gloucester Citizen, 26th October 1898
Judging by the very large increase in the number entries as compared with previous years, the National Cat Show, opened yesterday at the Crystal Palace, is growing in popularity. Outside interest also is greater, and that the public is becoming more familiar with the different varieties was clear by the remarks made as the classes were reviewed by the visitors. There is nothing new at the show, the long-haired varieties still predominating, and I looked in vain for Felis Catus, the animal lately imported by Mrs. H. C. Brooke from Hungary. This is the second time I have been disappointed in seeing this specimen of the cat in its wild -state, for a month or two ago, when down at Mr. Brooke's famous kennel of foreign dogs, I was refused permission see the latest arrival. This was the cat entered yesterday's show. "He may tear your eyes out," was Mr. Brooke's excuse. He must now be in one his periodical tantrums; hence his absence at the great show. But what an animal to enter for public competition!

CATS AT THE CRYSTAL PALACE London Evening Standard, 26th October 1898
No better all-round collection of every variety of cat has been got together than the one now on view at the Crystal Palace, the National Cat Club having secured a record entry for the fourth show, which opened yesterday afternoon. The arrangements also are excellent, Mr. J. B. Townend, of Leicester, having been retained by the Executive as responsible manager. Special precautions are being taken to prevent the recurrence of the serious mortality which caused so great a scare some two years ago. The animals are protected in every way, draught being almost impossible, whilst the show itself, although in the Centre Annexe, is enclosed under an awning. The aggregate entry is over 700, some 200 more than last year, this representing close on 500 animals, a splendid tribute to the growth of the fancy since the National Cat Club undertook the management of the Palace show three years ago.

With the exception of Mr. Enoch Welburn (Beverley) all the judges are south-country experts ; Mr. Fred Gresham and the Yorkshire gentleman taking the bulk of the classes, the remaining judges being Mrs. Baldwin, Mrs. Vallance, Miss Stisted, Miss Jay, and Mr. Louis Wain. These officials made an early start, and by noon many of the awards were out.

The section for the long-haired cats is very representative, and in whites there is nothing to beat White Friar, a fine male penned by Mrs. T. and Miss W. B. Champion (Chiswick). He is of immense size, and in splendid coat. A Scottish lady, Miss Mary Hunt (Bothwell), is to the front in females of the same variety with Crystal ; whilst in blacks Dr. Roper (Beckenham) is in the prize list, his Johnnie Fawe, a winner last year, heading a fairly strong section. In point of numbers, blues show a great improvement over any previous year, and one of the finest animals yet seen of this variety is penned. This is Champion Blue Jacket, exhibited by Mrs. Young (Bailliestown, N.B.) and with Tibbeboo (Mrs. Clunes. London) he shares all the honours in a particularly strong section. These animals are one of the features of the show. Smokes are not so numerous as chinchillas, but tortoiseshells of the old-fashioned variety are penned in very large numbers, and it is pleasing to note that in the rage for new combinations the claims of one of the oldest breeds have not been overlooked. Miss Kate Sangster (Southsea) and Mrs. A. M. Stead are among the principal winners. The quality of the tabbies is not nearly so high as might be expected considering the number of breeders of this variety, but Mrs Gregory, the well- known Lincolnshire breeder, is to the front, and with Mr. J. H. Millar, a Scottish exhibitor, wins several valuable specials.

Although much fewer in point of numbers the short-haired section is far more interesting than the one already reviewed, proving by its strength how the rage for fancy cats has increased during the last few years. Almost every variety is represented, but one looked in vain for the wild cat recently imported from Hungary by .Mr. H. C Brooks. This is Felis Catus, an animal of the same kind as the British wild cat now practically extinct in Great Britain, although of late years specimens have been captured m the north of Scotland. In Siamese, not a large section, although it is full of quality, Miss Gertrude Willoughby (Slough), one of our most successful breeders, .Mrs. Robinson ( Kensington), and Mrs Harold James (Bristol) are all winners; whilst the best of a poor lot of Manx cats is Mrs. H. C. Brooke's (Welling) Bonhaki, a winner of the championship at the Regent's Park show. In the classes for any variety of foreign cat. Miss A. E. Cartwright (Worcester), wins with her Prince Cangiad, one of the best kittens yet seen out. Short-haired silver tabbies are more numerous than usual, that particularly fine animal, Champion Jummy, owned by Mrs. Herring (Lee), and the Lancashire exhibit, Mr. Joseph Taylors Countess, obtaining prize money. Mrs. Herring again shows with success in tabbies (brown or grey), in which section, by the way, Champion Xenophon, the property of Mr. Sam Woodiwiss (Finchley), also puts in an appearance, and once again at the head of his class. He is penned in superb condition, and, although over six years old, is as good a specimen of his variety as he was when first shown by this gentleman. Mr. Towlerton, the Yorkshire exhibitor, and Miss R. Mortivals, better known as a most successful breeder of black pugs, are also represented, the latter young lady's Master Billie Blue Eyes, winner of a championship at the Regent's Park show, here being beaten by Mr. Sam Woodiwiss's Sedgemere Snow King. As his name implies, this lovely animal is pure white, with the bluest of blue eyes, and he well deserved the numerous special prizes he won later in the afternoon. Throughout the day the attendance was most satisfactory,

CAT SHOW AT THE CRYSTAL PALACE London Daily News, 26th October 1898
Yesterday, the National Cat Club opened their fourth Championship Show at the Crystal Palace, and the five hundred exhibits penned will remain open to public inspection to-day. The show practically marks the close of a year of unusual activity on the part of the Club, whose main object is to promote honesty in the breeding of cats, so as to ensure purity in each distinct breed or variety. A comprehensive programme has already been arranged for next year. In addition to the ordinary shows the Club will organize County Cat Exhibitions in conjunction with the shows of the Ladies' Kennel Association. The first of the series, will take place at Brighton towards the latter end of the month of January. In the last week of February or the first of March a large show will also be held in Ireland. Of the present display at the Palace it may broadly be stated that it is one of the best the Club has had. Many of the classes are of exceptional strength and merit, notably the Open Blues, male and female (long-haired), the Smoke, Chinchilla, and Silver tabbies. Most of the best-known animals are shown. Amongst the takers of the many-special prizes are: Mr Sam Woodiwiss (the owner of the championship tortoiseshell), Miss Kate Sangster, Miss B. Cartersmith, Mr. G. Towlerton, Mrs. A. M. Stead (who secured the championship for the best Smoke), Mrs. A. F. Young, Mrs. S. Clunes and Miss Ruth Clark. Special attention was paid by many of the visitors to a wild cat imported from Hungary - a savage but comely specimen - which was shown by Mrs. H. C. Brooke. -

A FINCHLEY TABBY. Hendon and Finchley Times, 28th October 1898
At the National Cat Show, held at the Crystal Palace on Tuesday, Mr. Sam Woodiwiss (Finchley), exhibited in the class for tabby cats, "Champion Xenophon," and it is almost unnecessary to say once again at the head of his class. He is penned in superb condition, and, although over six years old, is as good a specimen of his variety as he was when first shown by the ex-Derby gentleman.

CATS Kilburn Times, 4th November 1898
Mrs Little, the wife of the chairman of the Willesden School Board, has succeeded in winning two 1st prizes at the Crystal Palace Cat Show. One was for a black Persian and the other a smoke, and a recent number of the Ladies' Kennel Journal contains a picture of one of them, "Namoushka," a charming little long-furred cat

LOCAL HONOURS AT THE CRYSTAL PALACE CAT SHOW Durham County Advertiser, 4th November 1898
Mr B Allport, Cornsay Colliery, won the first and special with his Persian "Silver Chip," at the Crystal Palace Cat Show last week.

LOCAL WINNER Kentish Mercury, 4th November 1898
Mrs C Herring, or Lestock House, Leyland-road, Lee, was very successful at the Cat Show held at the Crystal Palace last week, the awards to her fine collection of cats comprising six first, one second, and six third prizes, two reserves, five vhc's and four hc's.

LOCAL SUCCESSES Hastings and St Leonards Observer, 29th October 1898
The National Cat Club held its fourth Championship Contest at the Crystal Palace, on Tuesday and Wednesday. Mrs L Crosbie, of 41 Robertson-street, Hastings, won the third prize for the two best kittens under six months; description "Blue Persian pedigree." One of the kittens was sold after the show. Miss B Cartwright [Carter-Smith], of Radcliffe House, Hastings, was highly commended for her cat, "Klondyke."

CAT SHOW Hastings and St Leonards Observer, 5th November 1898
Last week, in mentioning the local successes at the National Cat Club Show at the Crystal Palace, we referred to the cat "Klondyke," as owned by Miss Cartwright, whereas the possessor of the successful animal is Miss Carter Smith of Radcliffe Lodge, Hastings. Miss Carter Smith also won a prize and special prize with "Liverpool Princess."

NEW CAT CLUB Gloucester Citizen, 29th October 1898
Following the show of the National Cat Club, held the Crystal Palace this week, that of the Cat Club - surely a distinction without a difference - is announced. Certain members of the former, among whom were Lady Marcus Beresford and other aristocratic fanciers, found fault with the management and seceded; hence the formation of another club. It is indeed strange how members of these specialist clubs quarrel over matters seemingly very trifling. The Kennel Club, however, is a notable exception, and much interest is now being evinced as to the action of the governing body of the canine world in regard to the latest move of the Ladies' Kennel Association. This combination threatens to hold shows in defiance of the ruling of the Kennel Club that certain conditions must be complied with. In a dignified manner, quite in keeping with its reputation, the Old Burlington-street club may be depended upon to more than hold its own, even when opposed by ladies.

LOCAL SUCCESSES Hull Daily Mail, 4th November 1898
Several local fanciers gained distinction at the National Cat Club Show at the Crystal Palace. I learn that Mr W G Marshall, Redcliffe, Stoneferry, exhibited a litter of Persian Chinchilla kittens, which gained a first prize and special as the best litter in the show. Two of them were claimed at the catalogued price. Mrs Brewis, Bridlington, secured a second prize with a Persian silver tabby, and Mrs Martin, Wycombe Abbey, late of Beverley and Bridlington, won four seconds, a third, and a special, for the best Chinchilla kitten, over three months and under eight months, in the show. I believe Mrs Martin sold as many as six cats at the show, the price in one instance being several guineas.

AT LONDON'S CAT SHOW. - Various, November 18, 1898.
There were "ohs" and "aha" innumerable from the beauties of London society when they got inside of Crystal Palace and caught a glimpse of the 786 pussies who in bright new collars and well-washed faces, gazed at them and purred at them and miouwed at them from the places assigned them in the national cat sow. The show was in two sections. In one were the homely, lovable, everyday cats, resembling those common in almost everyone's home, and in the other the rarer md most costly Angoras, Siamese, Manx and other less well-known foreigners. One of the finest cats in the show was Mrs. A. M. Stead's Ranji, a smoke-colored tom, who secured prizes innumerable. Another beauty was Snow King, who, as his name implies, is a lovable animal, clothed in pure white with the bluest of blue eyes. Last year the mortality among the cats exhibited was so great that extra precautions were taken this year to protect them in every way from draughts, and an awning-like tent was built all around and over the tables where the beautiful creatures were placed.

THE LONDON CAT SHOW Weekly Irish Times, 5th November 1898
The Fourth Championship Show of the National cat Club opened last week under the best auspices; although the Princess of Wales, the Patroness, who had opened the recent one in the Botanical Gardens, was unavoidably absent. The show from the animal or "cat" point of view was admirable. There were the largest number of entries on record, and some of those wild tiger cats – who made the nervous thankfully remain outside the rope, and carefully abstain from feeding or caressing – were simply beautiful. The Chinchillas – now the fashion – had a wonderful representative in "Zaida," owned by Miss Willoughby, which has taken numberless prizes, but is not for sale. The same lady exhibited some fine Siamese, especially one "Kora." The Siamese cats were charming, the gem being "Phelim O'Connor," a perfect little kitten with white body and speckled face, born last July, and exhibited by Mrs Chapman. The cream or orange variety were also interesting, all being fine and handsome cats, especially "Midshipmite," owned by Miss W. Beale. Perhaps the great beauty of the show was "Ranji," owned by Mrs Stead, a "smoke," which has already taken many prizes, a dark "smoke" but with the right amber eyes. It had two first and three special prizes, and was an object of interest to all beholders. The honours of the show, that of "prize cat," seem to rest between this and "Zaida," the Chinchilla of Miss Willoughby. One enters rather fully into the history of these little animals, as in early spring they will be exhibited at Ball's Bridge, and the committee received by the Countess Cadogan. It will probably be [the] first great cat show held in Dublin.

1898 CARNOUSTIE CAT SHOW

CARNOUSTIE DOG AND CAT SHOW. Dundee Evening Telegraph, 3rd August 1898
The second annual exhibition of the Carnoustie Canine Society is being held to-day, the Y.M.C.A. Halls. The entries are fully above last year's show—collies and Scotch terriers being exceptionally strong classes. In the cat section there is very keen competition. Mr Bailie awarded the tickets in this section.

CARNOUSTIE DOG AND CAT SHOW. Arbroath Herald and Advertiser for the Montrose Burghs, 4th August 1898
The second annual exhibition of dogs and cats, under the auspices of the Carnoustie Canine Club, was held yesterday in the Y.M.C.A. Halls. There was a very large number of entries in both dogs and cats, the entries in the latter being much excess of the previous years, while dogs were about the same.
CATS. Long-haired geldings—2nd and 3rd, Mrs K Butter, Braehead, Carnoustie.
Short haired females—2nd, Miss Simpson, 13 Shore, Arbroath.
The judges were Mr D. Bailie, Kildean, Stirling, for dogs, and Mrs Bailie for cats.

1898 REGIONAL CAT SHOWS

CAT SHOW AT LEIGH. Leigh Chronicle and Weekly District Advertiser, 7th January 1898
A show In connection with the Leigh Rabbit, Cat and Cavy Society was held on Saturday in the White Horse rooms. There were 14 classes of rabbits. cats, and cavies, with an entry of 151. The arrangements were effectively carried out by Mr W Whalley, the secretary, and Mr Massey, the chairman. [. . .] Mr T B Mason was the judge and his awards were as follows:—
Cats- Tweedale 1 and special (silver Persian), Sugden 2 and 3, Tricket extra 3, Woodhead 4
Kittens - Gant 1 and special, Hadwin 2, Leigh 3

NORFOLK AND NORWICH ANNUAL DOG AND CAT SHOW Norfolk Chronicle, 9th April 1898
Tuesday next, the Norfolk and Norwich Kennel Club will hold their Annual Dog and Cat Show in the Corn Hall, Norwich. 300 specimens on view, including rare Chinese, Russian, Japanese, and other prize foreign and British exhibits. Admission from 10 a.m. to 5 p.m. 1s.:; from 5 p.m. to 10 p.m., sixpence. G. Cooper, secretary, Norwich.

SOUTHPORT DOG AND CAT SHOW Lancashire Evening Post, 12th April 1898
Yesterday the second Easter dog and cat show was held in the Drill Hall. The entries numbered 630 dogs (as against 589 last year), arranged in 60 classes, and 50 cats in eight classes.

RABBIT AND CAT SHOW Yorkshire Evening Post, 20th April 1898
The York Hand-in-Hand Society has engineered a successful rabbit and cat show. University lectures on the subject will no doubt come in time.

RABBIT, PIGEON AND CAT SHOW IN YORK Yorkshire Evening Press, 31st May 1898
The Hand-in-Hand Society held a very successful show on Monday night at the headquarters, Acorn Inn, St Martin's-lane. The entries numbered about 100. Some excellent specimens were penned, and competition was very keen. [Cat judge G E Skelton]
Cat – 1st Brown; 2nd Beck; 3rd Hiles.
Kitten – 1st Beck; 2nd and 3rd Brown.

LIGHTHORNE SHOW Warwick and Warwickshire Advertiser, 18th June 1898
This popular Flower Show will be held Thursday, 4th. Other attractions —John Gilpin's celebrated ride. The Forty Thieves. Cat Show. Athletic Sports. Pony Races. Concert. Dancing, etc.

DOG SHOW Dundee Advertiser, 25th June 1898
The Dog and Cat Show in connection with the Perthshire Canine Society was continued yesterday. The show was visited throughout the day and evening by a very large number of people, and proved a great success financially.

PIGEON, RABBIT AND CAT SHOW IN YORK Yorkshire Evening Press, 2nd August 1898
The Hand-in-Hand Society held their annual members' show of pigeons, rabbits, and cats on Monday, at the headquarters, Acorn Inn, St Martin's-lane. [Cat judge – R J Skelton, jun]
Cats: Rough hair – Special, 1st and 2nd – R Bullivant' 3rd – G Hiles.
Smooth hair – 1st and special – B Beck; 2nd – G Hiles; 3rd J A Hewson.
Kitten, smooth, under six months – Special and 1st – J A Hewson; 2nd – Lister; 3rd – B beck.
Kitten, rough, under six months – 1st – Paylor; 2nd – R bullivant; 3rd – Paylor.

BATH CAT SHOW Weston-super-Mare Gazette, and General Advertiser, 3rd September 1898
At the Bath Cat Show on Wednesday, Mr John Horril, of Clarence-building, secured first prize for a cat (long-hair, any variety).

DOG, CAVY, AND CAT SHOW, PERTH.— Dundee Courier, 29th August 1898
On Saturday the annual open-air show of dogs, cavies, cats, and mice for the Perth district took place in Mr Christie's kennels at the Shore. The number of entries was much in advance of the previous year's, and the quality of the exhibits all over was remarkably good [no prize list for cats]

DOGS AND CATS. EXHIBITION TO-DAY IN HULL Hull Daily Mail, 15th September 1898
The Hull and District Canine Society had a dog and cat show this afternoon, at the Central Hall. Exhibits were confined to a radius of 25 miles of the city, thus the show was by no means of such a magnitude as some previous exhibitions. A very good show, however, was the result. The afternoon had well advanced when Messrs Fleming, B. Gould, and E. Welburn, the judges entered upon their duties, hence it was very late before the complete prize list could be secured. The exhibits numbered close upon 150. Awards:
CATS. Rough cat: 1. Mrs G. Barton Collier, Wyton Hall, Hull; 2, Miss Good, Hull; 3, J. W. Locking, Hull; r, G. Linskill, Hull.
Smooth cat: 1, Mrs Shores, Hull; 2, Mrs Rickwood, Hull; 3, Mrs H. Radcliffe, Hull.

ROYAL LEAMINGTON SPA ANNUAL SHOW OF DOGS, POULTRY, PIGEONS, RABBITS, CATS, CAVIES, AND CAGE BIRDS Leamington Spa Courier, 17th September 1898
The Royal Leamington Spa Fanciers' Association. Fourth Annual Show Of Dogs, Poultry, Pigeons, Rabbits, Cats, Cavies, and Cage Birds, at the Drill Hall, October 19th and 20th, 1898. Schedules now ready, and may be obtained from the Hon. Sec., H. Hill, 57 and 59. Regent Street, and H. Hammond, 39, Bath Street, Leamington. Entries close October 8th. 1898.

TROWBRIDGE POULTRY, PIGEON, CAGE BIRD AND CAT SHOW Bristol Mercury, 6th October 1898
Yesterday, the High Sheriff of Wiltshire, Sir W Roger Brown, opened a two days' poultry, pigeon, cage bird, and cat show, held under the auspices of the local Fanciers' Society. [Cat judge Mr G H Billett, Reading]

BRIGHTON CAT SHOW Hull Daily Mail, 21st October 1898
The cat club has bestowed its patronage upon the Brighton Cat Show, on November 23rd and 24th. Lily, Duchess of Marlborough is a patroness of the show, and Lady Marcus Beresford will be one of the judges.

A PRIZE CATHastings and St Leonards Observer, 26th November 1898
Miss Sutherland, of Fairsea, Sedlescomb-road, St Leonards, at the Brighton Cat Show, under the patronage of the Cat Club, secured one second prize and one extra second prize for her stud Siamese cats Chiarmi and Moon Chow.

CHULMLEIGH AUTUMN SHOW AND DOG AND CAT SHOW Exeter and Plymouth Gazette, 28th October 1898
Chulmleigh Autumn Show. The Third Exhibition Of Chrysanthemums, Fruit, Vegetables, Roots, Grain, Butter, Cream, Eggs, Honey, and Dead Poultry will be held on Thursday, 10th November. In addition, there will be a DOG AND CAT SHOW. All Classes Open. Good Prizes. Several Specials. Entries close:—Dogs, 1st November; remainder, 5th November. Schedules and Entry Forms from E. J. Partridge, A. G. Hannaford, Hon. Secs., Chulmleigh.

SHOW AT LOWESTOFT. Eastern Evening News, 10th November 1898
The twelfth annual show of the Lowestoft Dog, Cat, Poultry, Pigeon, Cage Bird, and Rabbit Society was held at the Public Hall, Lowestoft, Wednesday afternoon. The number of entries was very much larger than has been the case in any previous year, and the show was in every way pronounced success. The secretary of the society is Ur. Howard Bunn, and it is to his energy and hard work that the success the show is due. The dog and cat show is the first the kind in Lowestoft, and the number of entries had to be restricted owing the limited space at the disposal oi the society. They were on view in an upper room, and notwithstanding the smallness of the exhibit, the total of dogs and cats only being about 60, attracted good deal of interest.

The first prise in rough coated cats, any variety, was won by Miss A. E. B. Williams' chinchilla Persian, Adrianna, with Mr. A. E. Daniels' blue Persian, Towser, a good second. Mr. F. Larke took first with a fine specimen of the smooth-coated variety, and Mr. A. E. Murton was second with a shapely and well-marked Cyprus [tabby].

CAT SHOW IN EDINBURGH. Edinburgh Evening News, 29th December 1898
The second annual exhibition promoted by the Scottish Cat Club, is being held to-day and tomorrow in the Central Hall, Nicolson Street, Edinburgh. The first venture a year ago attracted a large entry, some 180 animals being forwarded. As the habit of these things is to grow, especially with Mr J. F. Dewar in the position of secretary, it is not surprising to find the present numbers close on 200. The greater part of the entries are Scottish, but some good exhibits come from England, and some wonderfully fine specimens of the cat species are shown, particularly Persian, Siamese, and English. Among the prize-winners were Mrs Stewart Mackenzie, Irvine; Miss Clark, Edinburgh; A. Gairn, Edinburgh; Mrs Grieve, Edinburgh; T. M. Ogilvie, Edinburgh; Miss Beal, Darlington ; Mrs Boss, Edinburgh; and Barnes Brothers, Blackburn.

CAT SHOW IN EDINBURGH. Dundee Courier, 30th December 1898
At the Scottish Cat Club show in Edinburgh yesterday, Kenneth Graham, Broughty Ferry, was awarded a vhc ticket in the long-haired blue class.

CAT SHOW IN EDINBURGH. Southern Reporter, 5th January 1899
At the annual exhibition of the Scottish Cat Club in Edinburgh on Thursday, Mrs Monteith, Selkirk, secured first prize for a long haired male.

You are visitor number