REPORTS FROM EARLY BRITISH CAT SHOWS - 1895
1895 SOUTH OF ENGLAND (WINDSOR) CAT SHOW
LOCAL SUCCESS AT THE WINDSOR CAT SHOW Southern Echo, 10th October 1895
At the Windsor Cat Show, when there were between three and four hundred entries, last week, Mrs. R. Greenwood, or Kensington House, Bellevue-road, Southampton, was a most successful exhibitor. She entered four cats, and secured prizes with each of them, in addition to a special. Her "Southampton Ghost" was second in the white class. In Chinchilla "Lord Southampton" secured first, and was awarded special. "Fur and Feather" says that Mrs. Greenwood's "Lord Southampton" was far away the most correct in colour, and altogether the most beautiful cat in this class. "Lord Southampton's" dam, "Southampton Duchess," gained second prize; and "Duke of Southampton" took second in the class for Chinchilla kittens.
WITH "OUR CATS" ROYAL WINDSOR. Bath Chronicle and Weekly Gazette, 10th October 1895
Undoubtedly one of the finest exhibitions of the feline tribe ever brought together took place on Thursday and Friday in the Royal Borough of Windsor, under the most distinguished patronage, the patrons including many members of the nobility and the principal Fanciers of Great Britain. The Albert Institute, in which it was held, is a splendid hall, and the show was most prettily arranged and decorated throughout, and graced with a life-size statue of the late Prince Consort. There was an entry of 250 cats, and the quality of the exhibits has seldom been exceeded in any Cat Show held during the last few years, and this reflects the greatest credit on the promoters. The attendance was fairly good on both days, although the storms which prevailed will undoubtedly make a difference to the gate. We do not remember seeing so many exhibitors from a distance as at this show.
Amongst the well-known lovers of poor puss we noticed Mrs. Wardlaw (Midlothian, Scotland); Mr. Charles Hyslop [Heslop], of Darlington Mr. C H. Lane, Downend; Mrs. Herring, Lee, Kent; Mrs. Kennaway, of East Harling; Mrs. Spackman, Bath; Mr. B. Hooton, Kingswood, who acted as hon. supt. of the show; Miss Kate Sangster, Portsmouth; Mr. George Woodiwiss, Bath, and Mr. Sam Woodiwiss, East Finchley; Mr. Charles Cruft, London; also Mr. G. F. J. Buvington, who kindly undertook the secretarial duties on both days at the request of the promoters. Amongst the more distinguished visitors were the Duchess of Sutherland, Duchess of Marlborough, Lady Marcus Beresford, Rev. F. W. Cornish, Vice Provost of Eton College. The arrangements throughout were excellent, and our fellow townsman, Mr. George Woodiwiss, kindly looked after the care and comfort of the exhibits.
Bath Fanciers again held their own at this Show, Mrs. Spademan's well-known orange male " Puff" securing 3rd in good company, although hardly in coat yet, whilst a magnificent orange kitten exhibited by her " Puff, junior," secured 1st prize and special in a class of 19 entries; it was indeed a grand specimen, and the admiration of all who visited the Show, and we understand it has been purchased by Lady Marcus Beresford at a high figure. Mr. W. L. Langley, of Brooklyn Aviaries, secured v.h.c. with his shorthair white female "Empress," being beaten by two splendid specimens exhibited by Mrs. Herring, a Scotch exhibitor; his white kitten, "Emperor" securing third very strong class, being again beaten by Mrs. Herring, who exhibited a splendid specimen. Mr. F. A. Batters's "St. Patrick" was commended with a nice tabby 16 months, but against such exhibits as champion "Xenophon" and others, shown by Mr. Sam Woodiwiss and Mr. C. Heslop naturally stood no chance. Mr. C. H. Lane, Downend, was a most successful exhibitor.
We were pleased to notice that the awards of the judges gave the greatest satisfaction, in fact, we seldom heard less grumbling at any show, and we can only conclude that although the interest of the ladies and gentlemen residing in the district was very strong with the assistance rendered by the Western Fanciers, it is our pleasing duty to chronicle a decided and unqualified success for the South of England Great Cat Show, which will live long in the memories of the chief supporters of the cat fancy. We need hardly add that the attraction of the Castle, State apartments, Chapel, Stables, and Great Park, were fully appreciated by numerous visitors from all parts.
Mrs. J. Kelly, of the Harrington Club, obtained very highly commended with her orange tabby, Ginger.
SUCCESS OF LEIGH FANCIERS Leigh Chronicle and Weekly District Advertiser , 11th October 1895
At the South of England Cat Show, at the Albert Institute, Windsor, on October 3rd and 4th, Mr. R. Heap, of Leigh, won the first prize with his Persian cat.
1895 CRYSTAL PALACE CAT SHOW
1895. TOMS AND TABBIES. THE CAT SHOW AT THE CRYSTAL PALACE. - The Westminster Budget October
Before every dog has his day, at the Palace, towards the end of this month, every cat is allowed to have hers. Over 600 specimens have availed themselves of this permission, and are holding a reception in the gallery, which will close to-night (Wednesday). Of cat shows there have been many and various at the Crystal Palace, and each successive one of the twenty-six that have gone before has been better than the last. The present one is no exception. The 622 cats are all beauties, with the exception of the few who, having contracted a cold on the journey, look woebegone and dull-eyed. Perhaps it is the cheerful sunlight partly that makes them all appear in such splendid form, and of such marvellous amiability. Cats are condescending creatures on the whole. As the ancients had it, "the cat plays with you, and not you with it." But to-day it is quite otherwise. Wherever you, wander, wherever you roam, among those rows of sleek, owl-eyed Toms and Tabbies, friendly paws are extended to you through the wires of the cages, and tuneful voices tell you are welcome, welcome to stroke and to fondle to your heart's content, without ever a claw being unsheathed or a warning " spit" uttered.
But if the "grown-ups" in the show are fair to see, what is one to say to families of mothers and sons and daughters luxuriating here and there in a cage of greater popularity than the rest? Or what of the hundreds of kittens which, singly and in couples, toss, tumble, climb, and caper about in their part of the show? It is truly a most amusing show to see, these balls of fur and ribbon gambol about. The infinite variety of attitude and expression, the exquisite gracefulness of every movement, the abandon and eagerness, are more laughable far than most of the "comic" shows that have been prepared with infinite care. The white cats are perhaps the most "taking" of all the 600, especially those with sky-blue eyes and shell pink ears. Among these there is one "Wonder," which rejoices in the possession of seven toes on front and six on hind legs. This white wonder is wise in her generation, for, being of a reposeful disposition, she sleeps away the golden hours mainly. But in order that the curious public may gaze upon the seven and the six toes, she holds out while sleeping one dainty forepaw, showing all the seven pinkish "toes" and one little hind leg with the famous six. A little tiger cat, beautifully marked, with chestnut eyes and a nose of aristocratic length arid point, is another "wonder," though not a particularly amiable one.
The prize-winners, of which there are far too many for special mention to be made of them individually, bear the burden of celebrity with remarkable ease. They welter about on their backs, they ask for the favour of a caress from the crowd; they peer round the corner into the next cage with a view of obtaining, by whatever means they may, a morsel of meat, and they do other things which are as undignified as can be. The Siamese, blue Persian, and other foreign cats are loudly admired for the beauty of their "complexions," but of all the cats in the show there are none superior in this respect to some "carroty" ones, notably he who is enthroned in cage No. 88, and goes by the name of Sandy Boy. A fashionable beauty might envy this fellow the magnificent Venetian red of his hair. The "ordinary person" who has a sneaking preference for the common Tabby will find this specimen also well represented. And Tabby of the housetops does not look amiss even in this show.
NATIONAL CAT SHOW. AWARDS TO-DAY. The Globe, 15th October 1895
It is sometimes supposed that the keeping of cats as pets is the special prerogative or predilection of maiden ladies, but a visit to the twenty-seventh show, which opened at the Crystal Palace to-day, would speedily dispel such an error. More than 600 cats, in varying stages of irritation and resignation, found themselves penned in the gallery under the great clock, and a reference to the catalogue proved that by far the greater number of the gentle creatures were owned cither by a Mr. or a Mrs. Somebody. In the case of a toy dog competition, there is perhaps a warmer personal solicitude on the part of exhibitors for the personal appearance of their pets, but if the owners of the Persians and Russians do not feel called upon to comb and crimp pussy's fur, they evidently evince great concern as to diet. A common legend on the cages at the present show is "No meat" or "No milk," while others stipulate for "Water only," one owner going so far as to pen this injunction: "Please not feed this cat at all," although the animal referred to was not identical with the one over whose cage the following was hung: "You must not lift this cat by the back of the neck, is too heavy." Very able critics, including Sir Louis Wain, the artist, and president of the show, undertook the task of judging, but when the owners were admitted to the display, it was only natural that the biassed opinion of many a lady owner should heard in sharp questionings of the expert decisions.
With nearly sixty classes, and three prizes in each, not counting special awards, space will not admit of an exhaustive list of results. To indicate the more prominent winners with male cats, it may be mentioned that Mr. Sam Woodiwiss was first in the section for brown or dark-grey tabbies, with Champion Xenophon, priced at £1,000, that Mr. E. S. Woodiwiss carried off the first two prizes in the Manx class, Mr. H. Swinyard gaining honours with an Abyssinian. Among Siamese, Mrs. Herring was victor with a pretty dark-fawn having chocolate points, Lieutenant-Colonel A. C. Alexander, R.E., being second, the other award going to Mrs. Blackwood for an importation from the King's Palace, Bangkok. The best silver tabby was shown by Mr. C. H. Lane and the finest black by Mrs. A. C. Robinson, while in the department for "blue, self-colour, without white," Mrs. Pownall was the most successful, Mrs. Carew-Cox coming next with a good blue Russian. Mrs. Herring, who gained several prizes, exhibited a pretty white cat with pale blue eyes, and Mr. S. Pearson obtained two awards with lady tortoiseshells, Mr. C. Grave being top of the list among tortoiseshell and white. A first and silver medal went to Mr. G. Betts' red tabby, and a chief prize to Miss C. Radcliffe Hall's brown.
Looking at the display from the popular and not the expert standpoint, the kitten classes were both the prettiest and most interesting. For the best two short-haired and of any colour, but under six months old, Mrs. C. Bonny obtained a silver medal, Mrs. Chapman's pure bred Siamese securing premier honours for the best single kitten. Among the exhibitors of long-haired male cats, Mrs. McLaren Morrison, who figured in many classes, showed the finest white, and Mr. T. Newby the best black, a silver medal falling to Miss R. Bray for self-coloured blue without white, and first to Miss F. Moore in the section for silver blue tabby, Mr. W. M. Hunt contributing the best among the smokes, his Persian Pepper. Mrs. Graves was awarded a special prize in the class far cream or orange, and among the exhibitors of lady cats firsts went to Mrs. E. Davies (pure white) Persian, Miss Fanny Wells (black), Miss Jay (blue, self-colour), Mrs. Close (brown tabby) Persian. Mrs. R. W. Dibdin (silver). Miss P. Moore (smokes), and Mrs. McLaren Morrison (chinchilla). In the sections for long-haired kittens, Mrs. Mottram, Mr. A. Bles, and Dr. Godson gained first prizes, a special award presented by Mr. Louis Wain also falling to the last-named, and Mdme. E. Portier obtaining a silver medal in another department for long-haired cats.
CATS AT THE CRYSTAL PALACE Daily Telegraph & Courier (London), 16th October 1895
Few of the large displays of domestic pets that are held annually at Sydenham command wider public interest than the National Cat Show, which opened yesterday at the Crystal Palace. It is the twenty-seventh exhibition of the series, a fact which testifies to the continued popularity of the fixture. The total number of entries (630) approaches very closely the record of 1894, and probably it would have been larger had not the Windsor Show, which is a new departure, been inaugurated so very recently. One may visit an exhibition of "the harmless, necessary cat" with different motives. There are cat fanciers who take their pleasure in "points"; there are artists who dwell with enraptured eyes upon richness of colour, size, and beauty of form, which particularly distinguish the gelded cats; there are naturalists who delight in watching evolutions of breeding, and changes produced by food and climate, and, lastly, there are the general lovers of cats, of both sexes and of all ages, who lavish a wealth of endearing adjectives upon the pretty and engaging occupants of the cages, fondling them and coveting them not a little.
Probably the feline race appreciates the latter class the most, for they come to admire and not deprecate; they are not keen discover deficiencies, and they don't stir up pussy with pencils to ascertain whether she is of the tailless Maas variety. At all events it is a fact that the cats themselves take the judging very coolly and sleepily, for it is done in private, but immediately the public, on the withdrawal of the barriers, invade the gallery over the clock, near to the great stables that have been erected for the Christmas circus, they brighten up perceptibly and court compliments by their winning ways. Yesterday morning the sunshine put their coats into the pink of condition.
The whole show is most efficiently arranged under the experienced superintendence of Mr. Venables, of the Crystal Palace staff, and the judges are members pf the National Cat Club - Mr. Louis Wain, the well-known cat portrait painter, the President; Mr. A. A. Clarke, the Treasurer; and the Messrs. Billett.
Viewed a whole, it will be found by those who make the journey to Sydenham today that the show is fairly divided between short-haired and long-haired cats, the former being the English national type, which by judicious crossing has strengthened the constitution of the imported long-haired varieties. From year to year the trained observer may note various changes in progress. Careful breeding is getting rid of the white in tabby, blue, and black cats. White is permissible as whole colour when it is mixed with tortoiseshell, but scarcely otherwise. Yet one very rarely sees a genuinely black cat, for white hairs will here and there reveal themselves. A black cat, in the opinion of some experts, is the most perfect of any variety, and in this connection it may be noted with pleasure that the classes that are open working-men are particularly strong in black cats, and they afford no indication that the dishonest plucking of white hairs has been practised. A working-man, too, is generally good in spotted tabbies, and the glossy coats of their pets may be taken as evidence that cats are appreciated in many an artisan's home.
The Siamese cats are displaying a tendency to lose their rich cream colour, and to become instead muddy white, deepening with age into dark brown, which is a deterioration that one must regret. Cream Persians, a modification of the orange, are gaining ground; Chinchillas are apparently dying out. One great point of the show is the number of beautiful red tabbies of excellent quality, the definite character of the silver tabbies, and, as before mentioned, the splendid blacks. Smoke-coloured cats, and cats of that hardly-to-be-described tint known as "cat blue," find strong classes. The kittens are in great force and of high quality, although that is no proof of permanent improvement, as a most promising kitten, when it gets its second coat, may fall a long way behind a prize-winning standard.
To name some of the most successful competitors only, the Gold Medal of the National Cat Club, together with the piece of plate and a silver medal, presented by the Crystal Palace Company, the first prize in its class, and specials beside, are won by the best short-haired cat in the show – Mr. Sam Woodiwiss's handsome, well-marked, finely coated, and splendidly built "Champion Xenophon" (No. 2), a brown tabby tom, which bears the prohibitive price of £1,000. This animal, by the way, is the next-door neighbour to the only tortoiseshell tom exhibited, that of Mr. C. Heslop, which is, however, rather a poor specimen of this rarity, and is accorded a second prize only, the first having been withheld. A gold medal, with corresponding honours to the foregoing, is taken also by the best long-haired cat, numbered 168 in the catalogue, which is also the winner of a challenge vase. It is Miss E. Bray's Persian Monk, first prize taker, and silver medallist in the class for blue he cats, without white. In point of purity of colour, the second prize winner, Mrs. Herring's "Beauty Boy," would seem to have the advantage. Mrs. Herring is one of the most indefatigable of exhibitors, for she has no fewer than twenty-seven cats on view, many of them prize winners. Another lady, Miss Cockburn Dickinson, sends an equally large number, and a third, Mrs. McLaren Morrison is credited in the catalogue with twenty-five entries. Silver medals, besides first prizes, are awarded to Mr. George Betts (red tabby tom), Mrs. O. Bonny (best two short-haired kittens), Miss Jay (bleu self-colour queen cat without white), Mrs. Alfred Bles (best pair of long-haired kittens – blue, and very even in colour), Mr. C. heslop (best long-haired single kitten – a blue, with guinea-gold eyes), and to Madame E. Portier (pure blue, long-haired, first in the "any other variety" class).
In two classes, No. 47, reserved to the any other variety long-haired gelded cats, and No. 57, the best short-haired gelded cats belonging to the working-classes, the judge must have had a difficulty in picking out the best, for scarcely a cage is without some form of commendation. In other classes, the first-prize winner stands quite apart from its competitors, as in the case of Mr. C. Heslop's kitten 386A. The special prize for the best gelded cat in the exhibition not having taken a money prize, presented by Mr. Louis Wain, has been awarded to Miss Dickinson;s long-haired Shah, which has a pair of lovely blue eyes. It is noticeable this year that blue-eyed white-haired cats are numerous and certainly they are very bewitching.
CAT SHOW AT THE CRYSTAL PALACE – The Times, October 16th, 1895.
Yesterday, at the Crystal Palace, the National Cat Show was opened with every prospect of success. . The schedule showed nearly 60 classes, with three prizes in each, and in addition there were a number of special awards offered. Altogether there were nearly 600 entries, and the task of the judges, amongst whom was Mr. Louis Wain, was not an easy one. Perhaps the most important of the first prizes fell to Mr. Sam Woodiwiss, who won in the class for brown or dark gray tabbies with his splendid animal Champion Xenophon, on which a reserve price of £1,000 had been placed. In the class for silver tabbies the first award was given to Mr. C. H. Lane, whilst Mrs. A C. Robinson was successful with her black tabby. Two first prizes in the Manx class fell to Mr. E. S. Woodiwiss, and in the Siamese competition Mrs. Herring won with a very fine dark coloured animal. For Abyssinians Mr. Swinyard gained first honours, and in the class for "blue self-colour, without white" the chief award fell to Mrs. Pownall. Mrs. Herring, who was one of the most successful competitors in the show, won a first with a beautiful white cat, and two firsts fell to Mr. S. Pearson for his tortoiseshells. A silver medal was presented to Mrs. C. Bonny, in the kitten classes, for two short-haired kittens of any colour under six months old. The prize for the best kitten fell to Mrs. Chapman, who exhibited a magnificent pure-bred Siamese. Mr G. Betts won a first and silver medal for his red tabby, the chief prize in the brown tabby class falling to Miss C. Radcliffe Hall. In the section for long-haired cats there were many interesting exhibits. Mrs. M. Morrison secured a first for her white Persian, nd Mr. T. Newby for his black, other first prizes falling to Mr. Hunt, Miss R. Bray, and Miss F. Moore. In the cream or orange class a special prize was awarded Mrs. Graves, and other winners in the classes for ladies' cats were Miss F. Wells, Miss F. Moore, Mrs. R.W. Dibdin, Miss Jay, and Mrs. Close. Long-haired kittens were a capital show. In this section a special prize, offered by Mr. Louis Wain, was awarded to Dr. Godson, and amongst the other exhibitors who secured firsts were Mr. A. Bles and Mrs. L. Mottram. The show remains open to-day.
The ever-reliable Blackheath Gazette of October 18, 1895 reported on the show and listed some of the prominent entries and exhibitors.
"The Cat Show this year is neither better nor worse than last year's " — so say the authorities in the little "Sales Office" in the galleries of the Crystal Palace, where the 600 and odd cats of the twenty-seventh show are ranged. Cats, in Stock Exchange phrase, are "steady," and the National Cat Club is flourishing. The third volume of its Stud-book and register is ready, and "from time to time people distinguished in the cat world, or by their appreciation of the cat, have been added to the roll of the club."
Cats with pedigrees ; cats of no certain parentage ; cats long haired, cats short haired ; cats with tails as usual, and tails bushy : cats with no tails to speak of; cats Japanese, Abyssinian, Persian, Russian, Siamese ; cats with blue eyes ; cats with eyes of different colours ; cats from my lady's boudoir ; cats from the third storey back of the working classes - all were on view at the Crystal Palace on Tuesday and Wednesday last, comfortably housed, well fed, and sleepily content. Some were stretched out in "cushioned ease" on silk and satin ; others were coiled cosily in hollows of clean straw — all had the same cage room, and upon all rested impartially the collective cold grey eye of the four judges, the president, the treasurer and two prominent members of the National Cat Club.
In the prices affixed to the catalogue there is the same bewildering range as in all previous shows. Cat No. 418, for instance, could be bought for 5s. and cat No. 153 marked at £3,500, the latter being an eleven months old pure white tom cat. And the names of these animals! Mrs. Morrison exhibited a black tom, "Satan-up-to-date" ; while Mrs A.J. Butler, indulging in diabolical tautology, calls hers " Demon Le Diable." Then there was a " Royal Southsea Nigger," and a " Jumbo of Bayswater"; "Tommy Atkins" stood next to "The Silver Lambkin," and "Tom of Darlington" to "Lady Guinare."
Undoubtedly two of the most satisfactory cats were those in the short haired and long haired classes respectively, which carried off the principal prizes, Mr. Woodiwiss's "Champion Xenophon," 'and Miss B. Bray's "blue self colour, without white," Persian tom " Monk." Each of these took the gold medal at the National Cat Club and a Special prize of the Crystal Palace Company, and to " Monk " also fell the Company's silver medal and the special prize presented by Mr. A.A. Clarke, the treasurer of the club. "Monk" whose cage front was so covered with prize tickets as almost to hide him from view, was naturally a great attraction, and he received the caresses of dainty fingers with complacent dignity. Had there been a prize for the "cat with the most effective environment," it would assuredly have fallen to a charming little white cat, with a yellow ribbon about her neck, purring upon a blue satin cushion and with a cage festooned with dainty curtains of the same colour.
CAT SHOW AT THE CRYSTAL PALACE. London Evening Standard, 16th October 1895
The twenty-seventh National Cat Shew at the Crystal Palace was opened yesterday, and will remain on view to-day. The competition is as keen as ever, and in more than one class the level of excellence is so high that the judges have had great difficulty in awarding the prizes. The judges this year are Mr. Louis Wain, President of the National Cat Club, Mr. A. A. Clarke, Treasurer, Mr. G. Billett, and Mr. G. H. Billett, jun., both of whom are members of the Club. The Crystal Palace Company have presented two pieces of plate for the best short-haired and best long-haired cat in the exhibition, and nine silver medals; the National Cat Club contributes a gold medal to the owner of the best animal in the long-haired and short-haired varieties; and there are several special prizes. There are 58 classes, in some of which there are as many as thirty entries. The smallest is Class 1, for tortoiseshell or tortoiseshell and white tom cats, and here the irreducible minimum has been reached, for the class consists of one solitary tortoiseshell, Samson, belonging to Mr. C. Heslop, to whom a second prize has been awarded. Class 2, for brown or dark grey tabbies, coutains Champion Xenophon, a brown tabby, the property of Mr. Sam Woodiwiss. It carries off the first prize in its class, the silver medal of the Crystal Palace Company, and the gold medal of the National Cat Club for the best short-haired specimen. Among the silver tabbies, Class 3, Mr. C. H. Lane is successful with an animal aged three years and seven months, and Mrs. T. Sugden comes second with a very promising youngster of nine months. The best of the pure blacks or whites is Mrs. A. C. Robinson 's Bogie, who took the second prize at last year's Exhibition, while a pure white belonging to Mrs. F. W. Walker, which has achieved previous wins, takes the second prize. In the Class for blue, self-colour, without white, Mrs. Pownall carries off first honours with Brookside Jim, a noticeable creature, and Mrs. Carew Cox is second with Moscow, a blue Russian, which also has a substantial record. Mrs. Herring's blue and white tabby, Prince George, comes out first in the "any other variety" competition for short-haired tom cats.
In Class 7, Mr. Samuel Pearson wins with Jenny, whose coat shows but little black, and he also takes second prize with Duchess, a cat with a curiously mottled face. Among the tortoiseshell and white, Mr. C. Graves' sleek and richly-marked Maria is the chief winner. Another Duchess - this one belonging to Miss C. Radclyffe Hall - takes the first prize as a brown tabby, and thoroughly deserves it for its exquisitely shaped head and fine back lines. Mr. C. H. Lane's C. H. Laurel Queen is the best silver tabby, and Mrs. Herring's Queen Indiana, a pure white with turquoise blue eyes, is the champion of Class 11. Class 12 is an interesting one, as it is confined to the new blue colour, a so-called self-colour, without white. Both Mrs. Pownall's Brookside Tibby and Mrs. McLaren Morrison's Princess Alix, with its little round head, worthily uphold the credit of this class. Class 13 is for red tabbies, male or female, and Mr. G. Betts comes out first with Sandy Boy.
The Siamese cats form an attractive class. The first prize goes to Mrs. Herring's Champion Queen Rhea, the second to Lieut. Colonel Alexander's Ampat, and the third to Mrs. Blackwood's Dick, who hails from the King's Palace, Bangkok. Even better than these winners is Solomon, a pure-bred Siamese kitten in Class 18, belonging to Mrs. Chapman. This youngster, who is only five months old, promises to develop into a remarkably handsome and perfect creature, and the purchaser who obtained him for five guineas will probably have reason to congratulate himself on a bargain. The Manx is not a large or remarkable class, but one of the most curious exhibits is the one-year-old tiger cat (109), shown by Miss Cockburn Dickinson. This animal comes from Africa, and has only been in England six weeks, but it has already won a first prize at Windsor. It is remarkably affectionate and gentle, and gets on well with other cats of a more domesticated pedigree, but displays carnivorous propensities in its dealings with kittens.
Among the long-haired varieties, Miss R. Bray's blue Persian Monk carries off the first prize in its class, a silver medal, and a special prize for the best long-haired in the Show. Special prizes are also awarded to Miss Bell's smoke-coloured Sir Roger, Mr. R. Heap's orange Prince Lyne, Mrs. Graves' orange Ruby, and a silver medal to Miss Freeland's Blue Dora. There are several large classes for long-haired kittens that contain some most promising little animals. Among the gelded cats, Mr. Wain's special prize, as well as a silver medal, go to Blue Bay, a one-year-old, the property of Madame E. Portier.
The classes for cats belonging to working people are well filled ; and while their pets cannot compete with highly-bred Persians and English tabbies, yet, taken in the bulk, they are a finer set of exhibits than any other in the Show. They are all thoroughly good-tempered and domesticated - which is by no means the rule with a breeder's animals - and they show every sign of having been well cared for.
CAT SHOW AT THE CRYSTAL PALACE London Daily News, 16th October 1895
Could an ancient Egyptian have visited the Crystal Palace yesterday, he would have felt at home, for he would have found crowds of well-dressed persons engaged in a kind of worship od cats, opportunity for the exercise being afforded by the Palace Company's twenty-seventh show of those animals. The ancient Egyptian would have seen further proof or our reverence for his deity in the existence of a National Cat Club with a stud-book and register, institutions not unconcerned in the exhibition at the Palace. In spite of their lofty station, there was no appearance of undue pride in the 800 pussies assembled. It is true that the majority received with an air of clam repose, worthy of Lady Clara Vere de Vere, the hundreds of fingers poked into their cages, in defiance of warnings against teasing. They were bored, these distinguished captives. Only one or two deigned to be playful, while a large and handsome tabby, the property of Mrs. H. Warner, so far forgot himself, between four and five in the afternoon, as to howl and shake the bars of his cage fiercely, causing the ladies in the neighbourhood to declare that he was going mad. That was a mistake, he only wanted a constitutional, perhaps to inquire why he had not got a silver cup as well as a first prize.
Of course there was handsome provision for the comfort of the cats. Many were in state with curtains and cushions. Two had costly lined baskets for beds, but on the whole there was monotony in the luxury as compared with last year's. The two cats lay behind their own portraits, but none do so this year, although they have pedigrees, nobody had thought of furnishing them with coats of arms.
"Prize pedigree kittens, a guinea each," was one of the many notices on the cages. Most of them, however, proved the owners' anxiety for the welfare of their pets. "Please don't lift this cat by the back of the neck; he is too heavy," is Madame Portier's plea for her Boy Blue, who has gladdened her by winning a first prize and a silver cup. "Don't feed this cat" seems cruel, but it appears on several cages, and no doubt the owners reserve to themselves the joy of nourishing their toms or tabbies. An indulgent mistress had evidently just left a white cat, which was daintily picking a bit of fried sole, not the bones and skin, but the best part. "Please don't give meat to this kitten" is reasonable; but why the order for another should be "Water, no milk," is not clear, considering the universal connection between cats and milk.
According to the solemn decision of the judges – Mr. Louis Wain, president of the National Cat Club; Mr. A Clarke, treasurer of that body; Mr. G Billett and Mr G H Billett – the best short-haired cat in th show is Mr. Sam Woodiwiss's Champion Zenophon; while the best long-haired one is Miss H Bray's monk. The former, a large brown tabby, with very symmetrical marks, takes a piece of plate offered by the Palace Company, the Club's gold medal, and some unconsidered trifles besides. His long-haired comrade, a mouse-colooured Persian, is even more lucky, for in addition to prizes like those awarded to Champion Xenophon, he wins an emu egg challenge vase, presented by Mr. Clarke. His price is a thousand guineas, and no bidders; but "Monk" is sold, his exhibitor being content with ten guineas.
One who has not studied cats would probably say in his hast that there were animals in the collection more worthy of honour, either for size or strangeness, and on arguing the question with the judges he would perhaps find that he knew nothing about it. Nevertheless, he might continue to look with pleasure on many other exhibits, particularly the curious foreign ones. There are none of the large and dangerous wild cats, such as were seen last year. Miss Cockburn exhibits a little creature which belies its name. It is a tiger cat, apparently the meekest of its race, but noteworthy for its long nose and spotted fur like a leopard's. The show will remain open today.
THE NATIONAL CAT SHOW. . Morning Post, 16th October 1895
The Crystal Palace Company's 27th Great National Cat Show was opened yesterday in the galleries under the clock at the Palace, and will remain open to-day. The judging began at an early hour, and even when the public were admitted about half- past one o'clock a good deal remained to be done. The work of the four judges - Mr. L. Wain, President of the National Cat Club, Mr. A. A. Clarke, Mr. G. Billett, and Mr. G. H. Billett. jun. - was indeed heavy, as the show comprised no fewer than 50 classes with 620 entries, some of the latter being of two cats, and the total number of animals benched was quite 750. The entries fell just eight short of last year's show, which had a record number. The quality of the cats was high, indeed the very difficulty of judging them arose to a great extent from this cause, and in both the short and long haired classes some splendid animals were on view. The exhibitors, who sent from all parts of the country, numbered over 300. The prizes were numerous, the Crystal Palace Company giving two pieces of plate and nine silver medals ; the National Cat Club, two gold medals ; and Mr. J. Clarke, the treasurer of the Club, two mounted emu egg challenge vases (both held last year by Mrs. J. Horril) ; while special prizes were put at the disposal of the authorities by Mr. L. Wain, Mrs. Carew Cox, Mrs. J. Horril, Miss Taylor, Miss Stisted, Miss Sangster, Miss Cockburn Dickinson (three), and Messrs. Lever Brothers.
The principal prize winners were Mr. S. Woodiwiss's brown tabby male cat Champion Xenophon, which, besides obtaining the first prize in its class (confined to tabby cats without white marks), further secured a silver medal, one of the pieces of plate presented by the Palace Company, and the gold medal as the best short-haired cat in the exhibition. The champion among the long-haired cats was Miss K. Bray's blue Persian, without white, Monk, aged six months and a week, which had already secured a challenge cup at the Windsor Show this year. It was awarded a first prize in its class, a silver medal, the Society's gold medal as the best long-haired cat in the show, the Crystal Palace Company's piece of plate, and both the challenge cups. A curious difference presented itself in connection with these two animals. Mr. Woodiwiss, clearly appreciating the value of his cat, put upon it the prohibitive price of £1,000, the highest price in the catalogue, whereas Miss Bray, whose Persian cat was, if possible, a bigger prize-winner, only marked hers down at 10 guineas, at which price it was immediately snapped up by a willing purchaser.
Among the other winners of silver medals were Mr. G. Bett's red male tabby, Mrs. C. Bonny's two six-month-old short-haired kittens, which further secured Mrs. Carew Cox's special prize; Miss Jay's Holmwood Doris, a blue she Persian ; Mr. A. Bles's blue kittens, long-haired, five months old, which also obtained Mrs. J. Horril's special prize ; Mr. Heslop's kitten (long-haired, under six months of age, and without markings), and Madame E. Portier's Blue Boy, a very large, heavy cat, only a year old, which had already secured prizes at Cruft's Show and at Windsor this year. Each of these prize-winners was also first in its own special class. Among others who obtained prizes were Mrs. Herring's, two first prizes for short-haired cats, one of these animals being pure white with blue eyes, somewhat of a rarity; Mrs. Pownall and Mr. C. H. Lane also two 1st prizes each ; while, in the Siamese class, Mr. Herring's Champion Queen Rhea, a very successful animal at shows, a dark fawn colour with chocolate points, beat Mrs. Carew Cox's Cameo - thus winning a third 1st prize for its owner. Mr. E. S. Woodiwiss's brown tabby Manx King was at the head of the Manx class, and among other specimens were Japanese and Abyssinian cats, and a tiger-cat.
The best orange long-haired male cat in the show, for which a special prize given by Miss Taylor, was awarded, was Mrs. Graves's Ruby, 10 months old : and the best orange or cream long-haired female cat, which won Miss Stisted's special prize, was Mrs. Dean's Golden Butterfly. The special prizes for a smoke tabby, a silver tabby, and orange Persian, went respectively to Mr. Hunt's Pepper, Mr. Dibdin's Kara, and Mr. Heaps Prince Lyne. In the special classes for working people's cats Messrs. Lever's prize was awarded to Mr. Langley's Emperor, other winners of firsts in these clashes being Mrs. Head, Mrs. Byford, Mr. Lewcock, and Mrs. Coles. There were five of these special classes, and in judging them the condition and cleanliness of coat were particularly considered. In the afternoon a general meeting of the National Cat Club, which dates from 1887, was held in the Garden Hall of the Palace, when formal business was transacted, and some proposed alterations in the rules and regulations considered. The exhibitors with the most entries were Mrs. Herring and Miss Cockburn Dickinson, 27 each, and Mrs. McLaren Morrison 25, while several others had four and five each.
CATS AT THE PALACE. Sheffield Daily Telegraph, 17th October 1895
The National Cat Show at the Crystal Palace always attracts large crowds. It has now been in existence for 27 years [actually 24 years], and every exhibition but seems to increase its popularity. Of the variety of cats there appears to be no end, though roughly the feline exhibits may be divided into two classes, short-haired and long-haired. The former represent the English species, whilst in the latter may be classified the Siamese, Persians, Chinchillas, etc. Yet, with all these foreign importations, the opinion of most experts, a black cat is the most perfect of any variety. Genuine black cats are getting very scarce, though, white hairs will make themselves visible. The specimens on view at the Palace are excellent, and afford slight indications of dishonest plucking; another gratifying fact is that they are mostly the property of working men. Real tabbies, it will be surprising to learn, are also getting scarce. The gold medal of the exhibition has been awarded to a brown tabby-tom - Mr. Sam Woodiwiss' famous Champion Xenophon - which bears the prohibitive price of £1,000. Ladies are naturally prominent exhibitors, and three ladies send no fewer than 27 cats each - many prize-winners - to the show. There are 630 entries altogether, and most interesting they are.
CRYSTAL PALACE CAT SHOW Leigh Chronicle and Weekly District Advertiser , 18th October 1895
Mr R Heap, of Leigh, won the second and special prizes for best orange Persian oat in the Crystal Palace Cat Show with his young orange Persian "Prince Lyne." The noted orange Persian, ''Prince Charlie," lately owned by him, won the 3rd prize.
CAT SHOW AT THE CRYSTAL PALACE. Kentish Mercury, 18th October 1895
The twenty-seventh National Cat Show commenced on Tuesday the Crystal Palace, and remained open until the following evening. In all essential characteristics this year's exhibition was quite the equal of its predecessors, there being no less than 622 entries. A few of the classes were exceptionally strong, and the judges had great difficulty in making a selection. Two gold and nine silver medals, besides the usual number of prizes, were offered for competition, and special prizes were Mr. Louis Wain (president of the National Cat Club). Mrs. Carew Cox, Mrs.J. Harrill, Miss G. M. Taylor, Miss G. Stisted, Miss Kate Sangster, Miss Cockbum Dickinson, and Messrs. Lever Bros. Among the novelties displayed were Mr. W. L. Langley's "Emperor," a noted prize winner. This is pure white with perfect light blue eyes, and in every sense a rare specimen. It took first prize its class, and carried off the special prize in the short-haired classes. Amongst numerous prize winners, Mrs. C. Herring, of Lestock House, Lee, was again highly successful, and in the class for black or white her favourite white coated Queen Indiana came out first, whilst in the Siamese cat section her champion Queen Rhea, an animal well known at these shows, carried everything before it. Again amongst the smoothed coated Toms the same lady's beautiful blue and white tabby Prince George won easily, and Champion Jimmy only just missed carrying off the prize for silver tabbies.
CRYSTAL PALACE CAT SHOW Bedfordshire Mercury, 19th October 1895
At the Crystal Palace Cat Show recently a silver short-haired tabby cat exhibited by Mr C.R. King, of 26, Wellington-st., was highly commended.
CRYSTAL PALACE CAT SHOW Cheltenham Looker-On , 19th October 1895
The Cat Show at the Crystal Palace has given great deal of pleasure to people who follow at long distance the ancient Egyptians and make idols of their domestic pets. It may interest ladies to know that the craze for wild cats that prevailed last year is quite at end, for very obvious reasons. A cat that cannot be made to fit into family ways is a nuisance, and still worse the case of a creature whose wildness consists in flying at the eyes of inoffensive owners. The competitors last year complained of the mistaken kindness of the visitors who came provided with dainties for the exhibits. When the question is judicially considered it is quite as impertinent to feed a strange cat when it has a home, as it would to offer the child of prosperous parents an improvised meal. Notices have therefore been placed over a number of cages requesting visitors to abstain from feeding the cats that do not belong to them.
CRYSTAL PALACE CAT SHOW. South London Press, 19th October 1895
The annual cat show at the Crystal Palace, which was held on Tuesday and Wednesday, drew a goodly number of visitors, especially ladies. There were nearly 630 entries, the feline pets being caged in the south gallery, under the great clock. The novelty of the show was a tiger-cat, one year old, from Africa. All the classes were well represented, and there were a great number of South London prize-winners.
LOCAL SUCCESS AT THE CRYSTAL PALACE. Southern Echo, 25th October 1895
Mrs. R. Greenwood, or Kensington House, Bellevue-road, Southampton, with two exhibits at the recent Crystal Palace Cat Show, secured two prizes. "Fur and Feather," speaking of "Southampton Ghost," a long-haired white tom, says it was a nice headed cat, well shown, and with regard to the Chinchilla exhibit "Southampton Duchess," that it was not in full coat, but showing great quality and improving with age.
CATS AT THE CRYSTAL PALACE. Reynolds's Newspaper , 20th October 1895
A twenty-seventh annual show of toms and tabbies at the Crystal Palace is a startling announcement to those who look upon cats as merely commonplace animals. There is an astonishing variety in the caged pets exhibited, in all the luxury of cushions and other comforts, and the number of classes is bewildering to the uninitiated. Two gold and nine silver medals, and many other prizes were offered for competition. One gold medal fell to Mr. Samuel Woodiwiss's brown tabby Xenophon, the champion short-haired cat, priced at a thousand guineas, and the other was awarded to Miss Bray's Monk, the best long-haired one, which was sold for ten guineas. The class for working men's cats was exceptionally good, and the display of kittens exceeded in quality last year's stock. There is a curious tiger cat, with a long nose and leopard-like fur, belonging to Miss Cockburn; and among about 630 specimens on view there are many rare-looking and beautiful pets. The judges were Mr. Wain, president of the National Cat Club; Mr. Clarke, of the same body; and Mr. G Billett.
CAT SHOW AT THE CRYSTAL PALACE. Sussex Agricultural Express, 25th October 1895
The Cat Show at the Crystal Palace this year has been a great success. A decade ago the exhibition of choice feline specimens was chiefly confined to an odd corner at small poultry shows, but we have improved since those days, and as the more festive dog has and exhibition all to himself under Kennel Club rules, so too has the disturber of midnight slumbers, with the difference in her case that the rules under which the exhibits are brought together are those of the society which regulates the pedigree in cats. Some truly lovely animals were on view at the Palace, from the short-furred English-bred tabbies, with a taste for rats and mice, to the long-haired specimens from foreign shore, which are more ornamental than useful.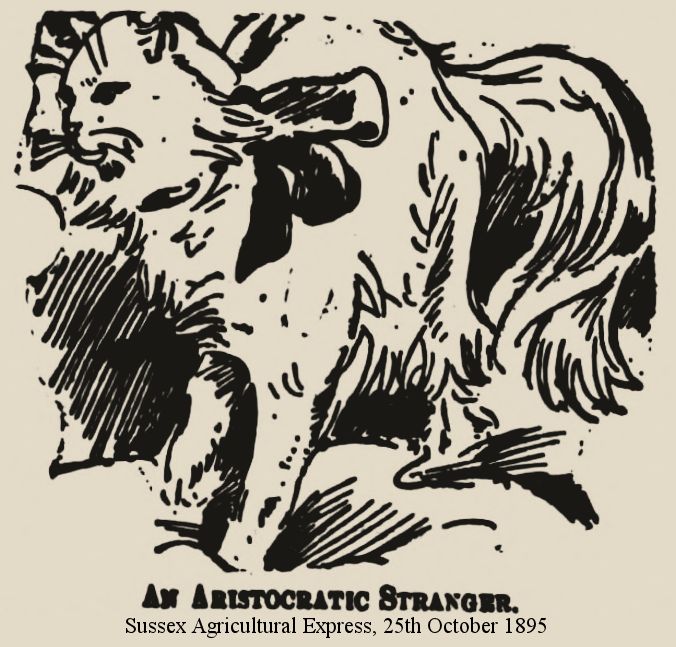 1895 BRIGHTON CAT SHOW
PUSSY (BRIGHTON CAT SHOW). South Wales Daily News , 21st November 1895.
The cat show at Brighton has of recent years become to be regarded as one of the functions of the year, and the exhibition just held has been pronounced even a greater success than that of last year, thanks to the local committee, who all worked manfully together and whose efforts have been supplemented by the generous assistance of large number of amateur cat fanciers throughout the kingdom. Mr Louis Wain, to whom we are indebted for the sketches of some of the principal prize winners, has furnished us with many interesting particulars of the most striking felines in the show; he informs us that Zenophon, the property of Mr Woodiwiss, who has bred more prize winners than any other man in the bulldog world, is a brown short-haired tabby, and the most perfect in regular markings and colour ever shown. This cat gained the gold medal and had previously won the Crystal Palace Challenge Vase on the 16th of last month. Mr Woodiwiss has a large collection of animals, including monkeys, goats, and birds.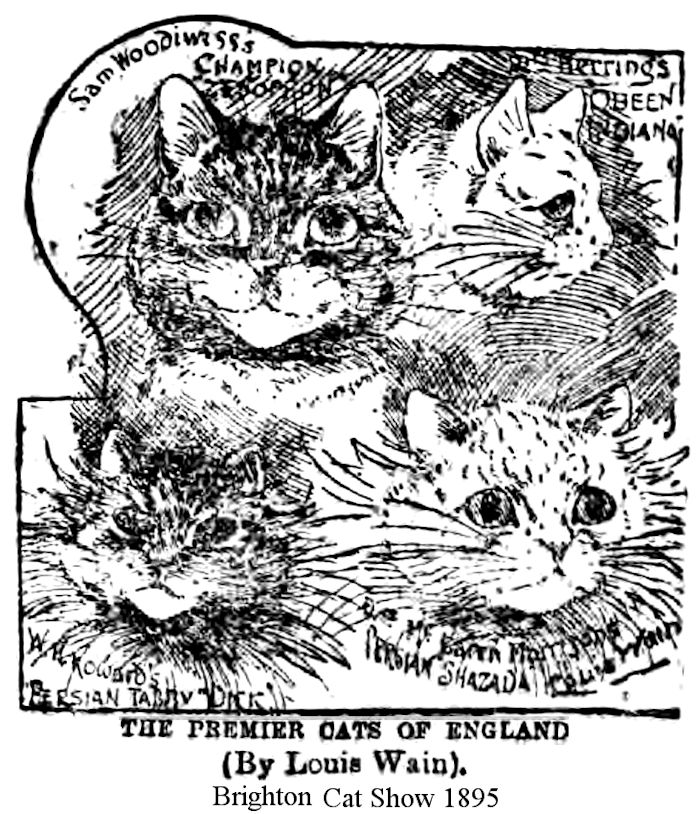 Another cat which has won numberless prizes is Queen Indiana, it is quite young, and is a short-haired white. Mrs Herring, its owner, has the largest cattery in England, and breeds hundreds of kittens every year. The great Persian tabby, Dick, is another rare specimen; he won the first prize for long-haired cats at the Palace, while a very excellent creature is shown by Mrs Morrison, who travels the whole world round for the best white and black Angoras, and Persians are represented by the Shabzada, a most appropriate name, considering how recently his Highness has been our guest. Altogether the Brighton Cat Show has displayed a vitality most refreshing to all those who love "puss," and the value of the prizes given suggest that in the future cat exhibitions will grow in number: as cat breeders of the better qualities are increasing among us, while the lower classes are being encouraged in similar manner to show kindness to the ordinary domestic cat by having a separate show instituted for themselves.

PUSSY Cardiff Times, 16th November 1895
The cat show at Brighton has of recent years become to be regarded as one of the functions of the year, and the exhibition just held has been pronounced even a greater success than that of last year, thanks to the local committee, who all worked manfully together and whose efforts have been supplemented by the generous assistance of a large number of amateur cat fanciers throughout the kingdom. Mr Louis Wain, to whom we are indebted for the sketches of some of the principal prize winners, has furnished us with many interesting particulars of the most striking felines in the show; he informs us that Zenophon [Xenophon], the property of Mr Woodiwiss, who has bred more prize winners than any other man in the bulldog world, is a brown short-haired tabby, and the most perfect in regular markings and colour ever shown. This cat gained the gold medal and had previously won the Crystal Palace Challenge Vase on the 16th of last month. Me Woodiwiss has a large collection of animals, including monkeys, goats, and birds.

Another cat, which has won numberless prizes, is Queen Indiana, it is quite young, and is a short-haired white. Mrs Herring, its owner, has the largest cattery in England, and breeds hundreds of kittens every year. The great Persian tabby. Dick, is another rare specimen; he won the first prize for long-haired cats at the Palace, while a very excellent creature is shown by Mrs Morrison, who travels the whole world round for the best white and black Angoras, and Persians are represented by the Shahzada, a most appropriate name, considering how recently his Highness has been our guest. Altogether the Brighton Cat Show has displayed a vitality most refreshing to all those who love puss," and the value of the prizes given suggest that in the future cat exhibitions will grow in numbers, as cat breeders of the better qualities are increasing among us, while the lower classes are being encouraged in similar manner to show kindness to the ordinary domestic cat by having a separate show instituted for themselves.

CAT SHOW AT BRIGHTON AQUARIUM. Mid Sussex Times, 19th November 1895
About 300 entries made up a capital cat show at the Aquarium, Brighton, on Wednesday and Thursday. Mrs. C. Hill, Maidstone, won two of the principal awards of the exhibition - the National Cat Club's gold medal for the best cat in the show and the Club's silver medal for the best long-haired cat. Mr. A. Stepney, Dane Hill, and Miss Molony, Lindfield, were highly commended for their exhibits.

LOCAL WINNERS Hull Daily Mail, 22nd November 1895
At the Brighton Cat Show, in the tortoiseshell or tortoiseshell and white class, Mr. S. Pearson, Hull, was first with a well-shaped female.

1895 REGIONAL CAT SHOWS

POULTRY AND CAT SHOW AT FORFAR. Dundee Courier, 2nd January 1895
The twenty-fourth annual show under the auspices of the Forfar Poultry and Pigeon Association was opened yesterday in the Reid Hall. So far as the number and quality of the exhibits are concerned the show is one of the most successful that has ever been held in Forfar. This is attributed to the fact that the prizes offered for competition to the various fanciers were numerous and of such value as induced competitors from all parts of the country to send exhibits. [. . .] Rabbits, cavies, and cats are of interest to the younger visitors.

CAT SHOW AT BATH [TRINITY PARISH] Western Daily Press, 10th January 1895
A show of feline specimens was held at Trinity Parish Schoolroom yesterday, the proceeds of which will go to the school fund. There was good entry – 112 - for a parochial show, and some admirable specimens of pussy were exhibited. The Rev. G.D. Truss, of Cam, Gloucestershire, was the judge.

CAT SHOW TRINITY PARISH. Bath Chronicle and Weekly Gazette, 10th January 1895
A cat show was held yesterday in the Trinity Parish School Room, got up by the vicar, Rev. T. L. Sissmore and the ladies of the Parish, the proceeds to be devoted to the School Fund. The assistance of several of the members of the Fanciers' Association was obtained, the names being Messrs. Wyatt, Mariner, Sparks, Batters, Sants, and Griffiths. Mr. Mariner acted as secretary. There were 112 entries, and for a Parish Show the quality of the exhibits was unusually high. Amongst the cats were two Russian Blues not for competition, both having won prizes at the Crystal Palace, Clifton, Brighton, and other great shows. There were 9 classes, and 30 money prizes and also several specials. The Rev. D. G. Truss, of Cam, Gloucester, acted in the capacity of judge, and gave universal satisfaction. Mr. Sheppy, of Walcot-street, kindly fed and disinfected, and the whole show was very well arranged, It is only open for ore day, but organizers hope to make it an annual show and extend as time goes on. A full description of the exhibits will appear in the Fanciers' Column of the Bath Daily Chronicle on Saturday next. The Prize List is appended:-
Class 1. —Short Hair Tabby any variety (Parish)—l and special, Phillips ; 2, Mrs. Lewis; 3, Hope : Huntley. Reserve, Windebank. Class 2.—Short hair any other variety (Parish) - 1 and special, Philips; 2, Mrs Lewis; 3, Hope; 4, Huntley. Reserve, Windebank.
Class 2. – Short hair any other variety (Parish) – 1 and special, Hudderd; 2, Cardwell; 3, Mrs. Wyatt. Reserve Miss Burge.
Class 3. - Long hair (Parish) - 1 and special, Webber; 2, Townsend; 3, Partridge. Reserve, Pike.
Class 4.—Short hair (open) - 1 and special, Mrs. Shum; 2, Rhymes; 3, Freeth. Reserve T. T. Stone.
Class 5 - —Long hair (open) - 1 and special, Mrs. Spackman; 2, Knight; 3, Mills. Reserve, Brackiston.
Class 6.—Short hair neuter (open and Parish) - 1 and special, Woodrow; 2, J. Smith; 3, Brimb!e; 4th, Cleaver. Reserve, Newton.
Class 7.—Long hair neuter (open and Parish) – 1 and special, Batters; 2, Knight; 3, Glisson; 4, E. White. Reserve, Maidment.
Class 8. - Long hair kitten (open and Parish) - 1 and special, Whatley ; 2, Elzy; 3, Bowles; 4, Miss Ferebee. Reserve. Maslen.
Class 9 - —Short hair kitten (open and Parish) - 1 and special, Mr. Burroughs; 2, Skevington; 3, Rev. T. L. Sissmore 4, Glisson. Reserve, Wyatt.

POULTRY AND PIGEON SHOW. Reading Mercury, 19th January 1895
The second annual show of poultry, pigeons, &c, was held St. Mary's Hall, on Wednesday and Thursday, and was a far greater success than last year, there being 220 more entries. [. . .] The judges were Mr. G. H. Billett, Cross-street, Reading, for poultry, cavies, cage-birds, and cats, and Mr. Houghton, Friar-street, Reading, for pigeons, and their task was by no means a light one, competition being very keen. The door-money amounted to about £17, and it is computed that the show was visited by nearly 2,000 persons. [. . .] The cats were a great attraction, and, though the silver medal, given by Mr. Aberdeen for the best cat in the show was awarded to Mr. Freemantle, of Bearwood Lodge, Mr. Aberdeen' s own exhibit - "Mousie," the blue Russian cat, of Crystal Palace fame - again took the first prize.

SHOWBanbury Advertiser, 24th January 1895
Leamington Spa Rabbit and Cat Show, held Jan 16th [no cat winners listed]

DUNDEE DOG AND CAT SHOW Dundee Evening Telegraph, 27th March 1895
In the Kinnaird Hall to-day is being held the second annual show of dogs, cats, and cavies under the auspices of Dundee Canine Club. In point of numbers and in the general excellence the exhibits the Club is to be congratulated on the show ranged on the benches. The entries number fully 600, being about 50 more than last year. The exhibits are classified under 42 different heads. [. . .] The show of cats, while not large, was of good quality. [. . .] The judges are : - Cats and Cavies - Mr James Garrow, Edinburgh. Judging is still going on. The following is the prize-list :-
Toms (Long-Haired).—1 and special Mrs John Anderson, Ruffus : 2 and special Misses Aitchison, Silver Star; 3 Mrs J. Stewart, Amandier.
Tibbies (Long-Haired). – 1 and special William Mather, Queen of Persia: Misses Aitchison, Silver Blaze; Mrs Armstrong, Min; special David Ovens, Blue-Eyed Ciss; vhc W. H. D. Walker, Budge.
Toms and Tibbies (Short-Haired). 1 and special Misses J. and J. Scott, Rollocking Roy: 2 Mr. Stiven, Beauty; 3 Jeannie Aitken, Bob; vhc George Morrison, Little Co; and Mrs B. B. Butcharft.
Geldings (long or short-haired) - 1 William Ballantyne, St Clair Bruce; 2 Mrs Miller, Jumbo; 3 Maggie Aitken.
Kittens (any under six months old on 27th March 1895. 1 Misses Aitchison, Silvar Star; 2 J. Boyd Scott, Fizzy Gow ; 3 Misses Aitchison, Silver Blaze; special Wm. Reid, Blue Queen ; vhc Alexander Mort, Sweep.

CAT SHOW Western Times, 21st May 1895
A two days' bazaar and cat show was concluded Friday evening in Teignmouth Temperance Hall in aid of that Institution and the Sailors' Home. The stallholders were the Misses Fry, Miss Barnsdale, Miss E Welsh, Miss B Polcy, and Miss Maunder. The prizes for cats were taken by Mr W Symons for Iceland breed [note: a blue shorthair breed]; Miss Lind for Persian ; Mrs Tancock for black and white domestic; and Mr W Williams' tabby and white; and Miss Welch's tabby. The show was a great success.

DOG AND CAT SHOW Edinburgh Evening News, 24th may 1895
At two o'clock to-day the Lord Provost and magistrates paid a visit to the dog and cat show in the Waverley Market and were shown various exhibits.

POULTRY, PIGEON, CAGE BIRD, RABBIT, AND CAT SHOW Western Gazette, 7th June 1895
Somerton, Somerset. A.O. Foresters' Fete. Poultry, Pigeon, Cage Bird, Rabbit, and Cat Show, together with a Military Tournament, Will be Held is the Erleigh Park on Wednesday, July 10th, A public luncheon will provided at One o'clock

CAT SHOW Northern Echo, 3rd July 1895
Boy's Brigade fete on Saturday July 13th in the grounds of Sir David and Lady Dale, West Lodge, Darlington. Band and various attractions. Good open rabbit and cat show. Send for schedule to Mr H D Pritchett, 24 High-row, Darlington. For Standing for Shows, etc, apply to same.

FORESTERS' POULTRY SHOW AND FETE Taunton Courier, and Western Advertiser, 17th July 1895
In connection with the annual fete and military tournament of the "Somerton Erleigh " Court of Foresters a poultry, cage-bird, rabbit, and cat show took place in hue weather on Wednesday in Erleigh Park, placed at the disposal of the Society by Colonel Pinney and Mr. J. Wyatt. Thanks to the energy of the courteous Secretary (Mr. 1. G. Coggan), aided committee, the occasion proved a thorough success. [. . .] Both as regards the number and quality of the exhibits at the show, a very considerable" advance was shown as compared with the last exhibition, many of the exhibitors living at long distances from Somerton. [. . .] The first prize in the section for cats was won by a silver Persian tabby, the second by a white English cat, and the third by a blue Persian cat.
Cats:- 1st and special, Miss Hillard, Somerton; 2nd H. Ray, Somerton; 3rd and hc, Mrs Forden, Ashcott; hc, Miss Eades, Lytes Carey; and J B Cole, Stoke Bishop, Bristol.

DOG AND CAT SHOW Luton Times and Advertiser, 2nd August 1895
Leighton Buzzard, Thursday, the 15th August, 1895. Annual Flower Show. Entries close August 10th. Dog and Cat Show, entries close August 7th, H.J. Oakley, Hon. Sec. Schedules and all Particulars from Aubrey Collier, Secretary.

PERTH RABBIT, CAVY, AND CAT SHOW.— Dundee Courier , 5th August 1895
The fourth annual exhibition of rabbits, cats, and cavies in connection with the Perth Society took place in the Perth Auction Hall on Saturday. The entries this year far exceeded that of any other show, and the exhibition on the whole showed a decided improvement. Some fine specimens were shown the rabbit section [. . .]There was also a fine display of cavies and cats. During the day a large number of fanciers visited the show, and at the close it was found that the exhibition was one of the most successful financially that has been held in Perth.

CHUMLEIGH POULTRY, PIGEON, CAGE BIRD, RABBIT AND CAT SHOW North Devon Journal, 8th August 1895
This Show was held on Thursday in a large marquee in the school grounds, Chulmleigh. The entries were good and were seen by the public to much better advantage than last year. The prize list was as follows:-
Cat (Persian) open – J. Webber, Chumleigh; E. Webber, Chumleigh; F. Webber, Chumleigh.
Any variety, confined to the parish – F.E. Lovell; R. Raymont; Harry Skinner.

LEIGHTON BUZZARD FLOWER SHOW. Luton Times and Advertiser, 16th August 1895
The eleventh annual exhibition of the Leighton Buzzard Horticultural Society (affiliated with the Royal Horticultural Society) was held on Thursday in the Bell Close, Leighton. [. . .] In the cats department of the show there were three classes and about 20 entries. The judge was Mr. L P. C. Astley, and the hon. veterinary Inspector Mr. G.F. Brown, M.R.C.V.S.L. [. . .] The cats all round were good but the rough haired were very much out of coat. [At the show luncheon] the Chairman, in proposing the toast, "The judges of the Cat and Dog Show," remarked that it was a new departure, which he hoped would ago on nd flourish. He believed the judge had performed his work satisfactorily to all. Mr. L. P. C. Astley, of Cheadle, Cheshire, responded, and said he was very pleased to act in the position of a judge at their first dog and cat show. He had had a good many years' experience, but he never remembered a show which gave such good promise of success, not only in the quality of the exhibits, but by the excellent management of the secretary and committee. Mr. Dixon proposed "Success to the Leighton Buzzard Cat and Dog Show." He said notwithstanding that this show was a new venture, it had every appearance of being a successful one. They had commenced well, and felt certain it would grow to the same proportions as the flower show.

Cat show results appeared in the Leighton Buzzard Observer and Linslade Gazette, 20th August 1895
Class 1. - Rough Coated, any Variety. Males and Females. 1. - T. J. Green, Tom, male ; 2. Miss Stevens, Tiny, female ; 3, Miss H. C. Walker; reserve, Miss Holt, rough female.
Class 2. - Smooth Coated, any Variety. Males and Females. 1. - Mr. Seaton, Mite, female ; 2, Miss H. C. Walker, Kitzawee, male ; 3, Miss L. Newton, Sambo, male; v.h.c., W. Farmbrough, Bob, male.
Class 3. - Kittens (Any Variety) Under Six Months Old. Males and Females. 1. – J. Stratton, Socks ; 2, R. Crisp, Minnie ; 3, Miss J. Willis, Nero; v.h.c., Mr. G. F. Brown, Wild Boy, French Tom.

PRIMROSE FETE AT CHARLECOTE Leamington Spa Courier, 24th August 1895
The annual fete in connection with the Stratford, Charlecote, Kineton, and Barford Habitations of the Primrose League was held in Charlecote Park, on Thursday. The weather was unreservedly favourable for the occasion, and it is probable that no previous fete has been so successful in bringing together so large a number of people. [. . .] Tents were erected in the front of the house for the purposes of holding a cat show, serving refreshment booth, and for the use of the officials. [. . .] In the cat show the awards were follows :—
Class i – 1, Cove Jones, 2 Howkins.
Class ii – 1, T. H. Meadows, 2 A. Gourlay.
Class iii – 1, F. Rose, 2 G. Clark;
Class iv - 1, Bennett, junior, 2 Bessie Edden
Cat and kittens - Miss Knightley.
Miss Cove Jones kindly superintended this department.

POULTRY, PIGEON, RABBIT, AND CAT SHOW Shields Daily Gazette, 9th September 1895
Remember the Poultry, Pigeon, Rabbit, and Cat Show, St. Thomas's Hall, Denmark Street, South shields, on Friday and Saturday, 13th and 14th September.

POULTRY, PIGEON, CAGE BIRD, AND CAT SHOW. Gloucester Citizen, 18th October 1895
The animal show of the Cheltenham Poultry, Pigeon, and Cage Bird Association will take place on Wednesday and Thursday of next week the Assembly Rooms, and we understand that entries will be accepted up to the first post on Saturday morning.

CHELTENHAM NEWS. POULTRY, PIGEON, CAGE BIRD, RABBIT, AND CAT SHOW. Gloucester Citizen, 24th October 1895
This show, which also includes and mice, was opened on Wednesday at the Assembly Rooms, with a fine lot of entries. The large concert-room is devoted exclusively to pigeons and poultry, and some of the latter have had to find places in the adjoining room with the rabbits, cavies, and mice. The front auction-room is given up to feline specimens [. . .] The Mayor [. . .] called attention to the interesting collection of cage birds, and gave a learned little dissertation on cats. [. . .] The cats were such as would delight the gentler sex and the children. Mrs. Brydges, of Charlton Kings, was awarded a 1st, 2nd, and third. Mrs. Block (Cheltenham) also had 1st and special, and 3rd.

ROYAL LEAMINGTON SPA DOG, POULTRY, PIGEON, RABBIT AND CAT SHOW Banbury Guardian, 31st October 1895
The Royal Leamington Spa Dog, Poultry, Pigeon, Rabbit and Cat Show [was] held in the Drill Hall last week. [No cat results mentioned]

CAT SHOW AT PRESTON Preston Herald, 13th November 1895
The Preston Rabbit, Cat, and Cavy Society held its third annual exhibition in the large room adjoining the Roe Buck Hotel, Lancaster-road, on Saturday. The present exhibition was confined to members, and considering it was thus a purely local show some capital animals were benched. There were 85 entries in the 13 classes; the quality throughout was very good, and would compare favourably with many open shows in the district. [. . .] In cats the successful Persian was a good exhibit, while in the English the winner, a tortoiseshell, is one of the best seen for some time. A special was offered for the best blue Persian, and as Mr. S.M. Blackston's Girl in Blue was the only specimen shown he was awarded the prize.
Cats - Persian cats. 1 and special and 2, Miss Leslie; 3 and special, J E Tootell, Preston; special, S M Blackston.
English. 1 and special, J E Tootell; 2 and 3, E Lofthouse, Preston.

FANCIERS' EXHIBITION EXMOUTH Exeter and Plymouth Gazette, 21st November 1895
Yesterday the annual Exhibition in connexion with the Exmouth and District Cage Bird, Pigeon, Poultry, and Rabbit Society was held the Town Hall, Exmouth. [. . .] The only special prize in the Show was won by Mr. A. G. Hoare, of Exeter, in the class for male cats. The judges were:- Poultry, Mr. J. Harwood, Tiverton; pigeons, rabbits, and cats, Mr. W. Edwards, Exeter; canaries, Mr. D. Browning, Exeter; and dogs, Mr. W. H. Pinder, Exeter. Following is the PRIZE LIST.
Cats. - —Male : 1 and special, A G Hoare (Exeter); 2, Miss Giddings; 3, E Bradford (Exmouth); vhc, Mrs Hume-Long (Exmouth) and F Delling; hc, SW Railway and Miss Groves.
Female, 1, Miss Moore Miller (Exmouth); hc, Mrs Hume-Long.
Special prizes:- Prettiest cat show: Miss Moore Miller, Exmouth. Best cat: A G Hoare, Exeter.

POULTRY, RABBIT AND CAT SHOW Chichester Observer, 27th November 1895
Tomorrow and next day, the Corn Exchange will be a popular centre of attraction, the Chichester Poultry, Rabbit, Pigeon, Cat and Local Cage Bird Show being then held then. It is an annual event, and it never fails to widely and greatly excite interest; and there is every reason this year why the entries should rejoice fanciers and "draw" crowds of the general public. Every effort is being made to ensure the utmost success; about £200 in prizes will be offered; and Mr. Fred Pitts, of Westgate, is the hon. Secretary. Further particulars are advertised.

GREAT DOG, POULTRY, AND CAT SHOW Glasgow Evening Post, 7th December 1895
The British public should come and see the Great Dog, Poultry, and Cat Show in the Grand National Halls, Main Street (South Side), Wednesday and Thursday, 11th and 12th Dec. Champions – Heather Bee, Roper's Nutcrack and Revival etc. Dogs and Cats valued at £1,000. Admission: Wednesday, 10 till 2, 2s 6d; 2 till 10, 1s; Thursday, 10 till 2, 6d.

DOG, POULTRY, AND CAT SHOW Glasgow Evening Post, 11th December 1895
The Glasgow Show of dogs, poultry, and cats is being held in the Grand National Halls today and tomorrow. In all classes the entries are numerous, and as a combined show it appears to be a complete success. Of its kind it is ranked as one of the largest ever held in Scotland. [. . .] Of tabbies there was a good variety, the entries numbering 52. Long-haired kittens were the most numerous, there being 16 on show. This section comprised four classes for long-haired variety.
Cats. Class 42 – Male or female, long-haired, blue or black – 1, Sister Mary Margaret's Shahzada; 2, P. Green's Beauty; 3, G. Scott's Rutherford's best.

CAVY CAT SHOW IN BEVERLEY. Beverley and East Riding Recorder, 21st December 1895
The annual exhibition of the Beverley Rabbit, Cavy, Cat, and Cage Bird Society took place on Wednesday and Thursday in the Assembly Rooms. There were 200 more entries than on any previous occasion, and the show was the best that has ever been seen in the North of England. The amount of prize money was about £100, and as the exhibition was open to all England the most renowned fanciers were represented at it. Silver medals were awarded as extra specials for rabbits, cavies and cats, and cups for cavies and mice, the latter being an important and interesting feature of the show. Judges declared the collection of cavies and cats to be the best they have seen. The following were the judges:- rabbits and cats, Mr. J E Aldred [. . .]
CATS. Foreign, male; R. Watkinson; 2, Miss L. Hadwen ; 3, T. H. Whitehead ; 4, G. H. Longster.
Foreign, female 1 and 2, Miss L. Hadwen ;3, Mrs. Paterson ;4. R. Watkinson.
English, male : Mrs. E. Welburn ; 2, S. Pearson ; 3. J. A. Hewson ; 4, Messrs Winter and Branton.
Kitten, any variety, under six months 1, R. Watkinson ; 2 and 4, Mrs. G. Collier; 3, L. Smith.
Cat, any variety, confined to residents of Beverley: 1 and special, T. Abbott ; 2, H. James; 3, Mrs. R. Beilby; 4, T. Wilkinson.

KIRKINTILLOCH AND LENZIE ORNITHOLOGICAL SOCIETY The Scotsman, 22nd December 1895
The fourteenth annual exhibition of the Kirkintilloch and Lenzie Ornithological Society was held in the Public Halls, Lenzie, on Saturday. In number the entries were about the same as last year, the classes being poultry, pigeons, rabbits, cats, canaries, British birds, and foreign birds. The cat show was the first in the history of the Society and the entries were not very encouraging.

BARRHEAD POULTRY SHOW The Scotsman, 22nd December 1895
The eleventh annual show of poultry, pigeons, etc of the Barrhead Ornithological Association tool place on Saturday in the Public and Lesser Halls. [. . .] The judges were; Cats and Rabbits – Mr S W Hallam.

You are visitor number