REPORTS FROM EARLY BRITISH CAT SHOWS - 1872
1872 NANTWICH POULTRY AND CAT SHOW
NANTWICH POULTRY AND CAT SHOW. Staffordshire Advertiser, 10th February 1872
On Friday and Saturday, the 2nd and 3rd last , the annual Poultry show was held In the Town Hall, when the committee introduced the novel feature (in this neighbourhood) of a Cat competition. On both days there was good attendance of visitorss, including many influential patrons. [. . .] The feline specimens, of which there were over a score, were an attractive feature in the show , though the desirability of such exhibition is questionable, seeing that it is a matter of conjecture what good end will be served, and more than one plain spoken visitor was heard to exclaim. "What next!" The following are the principal Items In the prize list: [. . .] The prize, etc.,. awarded to the feline tribe we give entire:-
Black: 1st, S. Charlesworth, Nantwich; highly commended, W. J, Wild, Nantwich.
Tortoiseshell: 1st. Miss Jessie Houlding, "Spot;"' 2nd, G. F. Ward.
Long Haired: 1st. Mrs Gilman, Worleston.
Tabbies: 1st and highly commended for Whittington breed, T. Provost, Dorfold Hall, 2nd, T Cureton, Nantwich, highly commended, J. Bowyer, Nantwich; S. Williamson, Nantwich; Mrs. Mottram, Natwich.
Cottager's Class: 1st W. Boole, Birchall Lane.
1872 SOUTHAMPTON CAT SHOW
SOUTHAMPTON POULTRY, PIGEON, RABBIT, AND CAT SHOW. Northampton Mercury, 9th March 1872
The annual Northampton Poultry, Pigeon, Rabbit, and Cat Show was held the Corn Exchange, Wednesday and Thursday last, under most favourable circumstances, the catalogue was large one, and contained no less than 815 entries, or double the number at last year's show. The exhibitors were divided into classes, 30 of which were taken up by the poultry, [. . .] and 10 by the cats. [. . .] In addition to the money prizes, six silver cups were given in the poultry, pigeon, and rabbit classes [. . .] and a silver j cream jug, value two guineas, by Mr. Billet, for the best pair of kittens. The judges were [. . .]. and of cats, Mr. G. Billet, naturalist.
Cats.
Class 52.—Tortoiseshell, male or female, any age. 1st, 15s, Mr. E. Homer; 2nd, 10s, Mr. Samuel P [newspaper torn]. . .thorpe; 3rd, 5s, Mr. C. Hadson, Northampton. . .entries.. . .
Class 53.—Tabbies, any shade, male or female, any age. 1st, 15s, Mr. Bates, Northampton; 2nd . . . 3rd, 5s, Mrs. Morbey, Northampton . . .; highly commended, Mr. Jesse Worthy Miss Amelia Lawton, Northampton. 11 entries.
Class 54.—Black, male female, any age. 1st prize, 15s, Mr. Geo. Edwards, Northampton. One entry.
Class 55. White, male female, any age.. 1st and 3rd prozes withheld. 2nd, Mr. Charles Betts, Northampton. Two entries.
Class 56. Black and white, male or female, any age. 1st prize withheld. 2nd, 10s, Mr. C. Sibley, Northampton. Four entries.
Class 57. Long hair, any shade, male or female. 1lst prize, 15s, Mr. E. Crampston, Pitsford; 2nd,10s, Mrs. Alfred Jeffery, Northampton; extra 2nd, Mr Marsh, Northampton; 3rd, Miss Hales, Canterbury; highly commended, Thomas Weightman, Esq., London; commended, Mr.Benjn. Cox. 22 entries.
Class 58. variety not before mentioned including all foreign varieties, male or female, any age. 1st prize witbheld. 2nd, 10s. Mr. Ward, Northampton. Four entries.
Class 59. Kittens, any variety or colour; silver cream jug, value two guineas for the best pair under f our months. 1st, Miss Ann Sergeant, Northampton; commended, Mr. A. Hughes, Northampton. Five entries.
1872 EDINBURGH CAT SHOW
CAT SHOW EDINBURGH. Brechin Advertiser - Tuesday 09 July 1872
On Friday, the Scottish Metropolitan Exhibition of Cats and Rabbits was opened in the Royal Gymnasium, Edinburgh. The show was very successful, and was visited by a large number of Visitors. Dr McBain, Trinity, and Mr Fairgrieve acted judges of the cats, and Mr Rayson, Manchester, for the rabbits. The show continued on Saturday.
1872 THIRD (MAY) CRYSTAL PALACE CAT SHOW
SHOW FOR CATS Penny Illustrated Paper, 18th May 1872
The Crystal Palace Company have held their third National Cat Show, and have thereby afforded, it is to be hoped, equal satisfaction to a considerable number of domestic animals—feline as well human. A talented pencil which lately furnished a contemporary with one of the most humorous society pictures that have been published for years — a picture, in fact, Hogarthian in the power of observation and study of character evidenced in it — has limned for ns this week the exhibition of bipeds as feline prize-winner. Whether the legend of "Tom and Harry" is in any way identified with the chubby paterfamilias stroking the cat's whiskers, and with the eye-glassed noir behind him, is not clear; but in the kitten-like prettiness of little Harold and Alice looking on pussy may find some affinity to her last litter at home; while the roguish look of the damsel to the left may not unlikely call recollections of the scapegrace and ne'er-do-well of a former member of her little family; and the contemplative and sympathetic gaze of the very ancient old maid to the right may by-and-by win from her a purring acknowledgment of gratitude for the cat's best friend.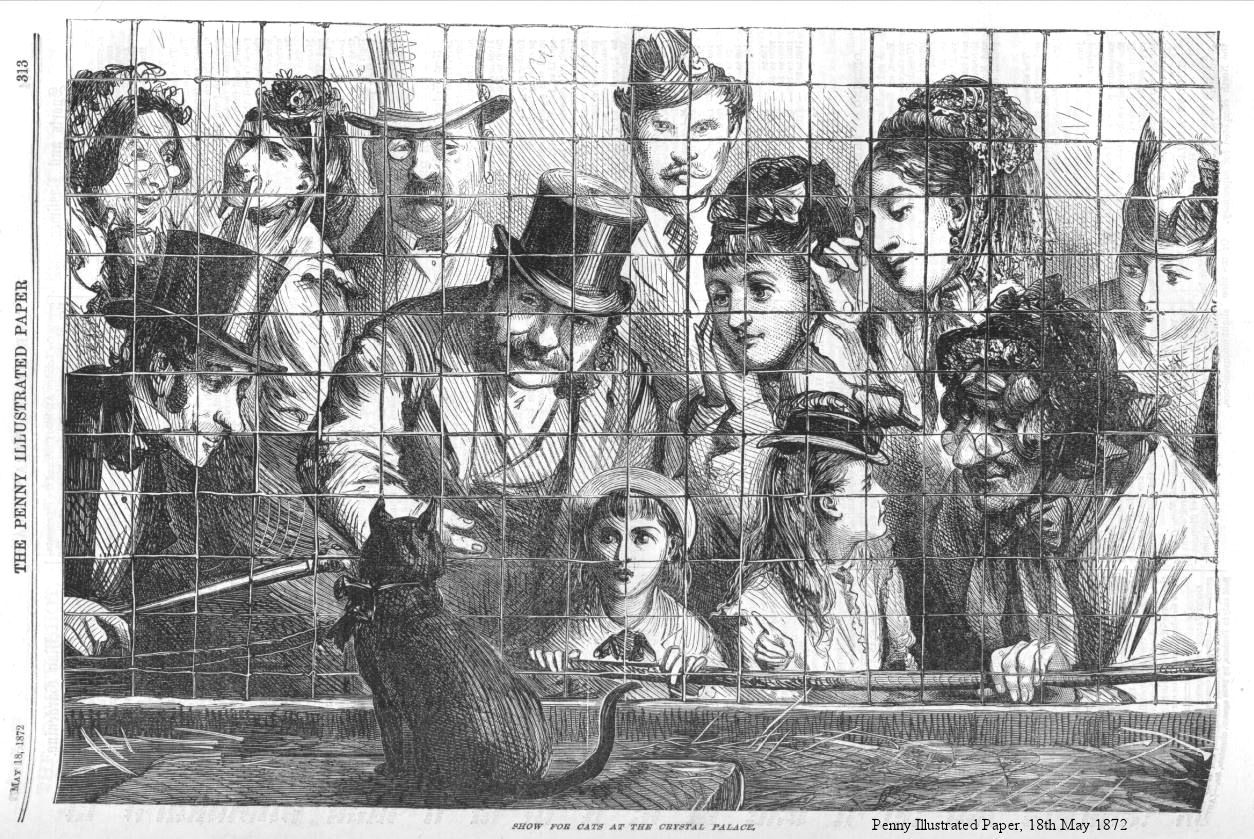 CAT SHOW AT THE CRYSTAL PALACE. London Daily News, 16th May 1872
This being the third of the Annual Cat Shows which have been instituted at the Crystal Palace, offers a fair test of the likelihood there Is of similar exhibitions becoming permanently popular with the public. Yesterday was the first open day, and judging by the number of visitors, and their style and appearance, we should be very much inclined to anticipate for the Cat Show a long succession of successful anniversaries The cages or pens are by an improved arrangement placed lengthways in the north nave, and their pedestals being much higher than they wore last year, little people and people in the back rows can get a fair look at the assembled grimalkins. The entries number 221 - No.1 being Mr. L. Smith's short-haired tortoiseshell Tom, value £50, and No. 201, Mr. W. C, Farne's Angora, value £10 10s. Of course there was a tremendous crowd all day round pen No. 1 to see what is believed to be the only genuine tortoiseshell Tom to be found even in England. The cat was exhibited at last year's show, and the eclat he then obtained has not in the interim produced any rivals of the pure breed and colour. The price put on him would hardly, we believe, induce Mr. Smith to part with his feline Koh-i-noor. Of the remainder of the show, which includes Persians, with their long hairy coats, looking as if ready to be turned at once into Kashmere shawls; the Angoras, which although also foreigners, are more familiar to our cat collectors; the Russians, cold and slaty, looking like Russia itself, and the wide varieties of " domestics," it may be said that it has been selected with greater care and a closer view to classification than that of previous years.
The first Cat Show, like the first baby show, was a mistake, the contributors thinking that size would carry away everything, and consequently the pens, like the cradles, were filled with unshapely, dull-looking monstrosities. This year we have colour, "marks," figure and pedigree all carefully attended to, and the result is a show, which, while it pleases the unskilful, will not make the judicious-that is to say, the judges – grieve. On the high authority of Lady Dorothy Nevill and of Mr. Harrison Weir, we can recommend Tortoiseshell No . 1 as combining every qualification of a cat of high degree, and worth alone a pilgrimage to Sydenham to " interview." Judges cannot be prize-seeking exhibitors, or else the lady whom we have taken the liberty of quoting, would certainly herself get a prize for her rare little Siamese cat, so like a pug dog, and so full of fire and intelligence. The "domestics" justified their designation by seeming to be quite at home; the various foreigners slept or yawned, and such cats as were accompanied by their interesting little kittens played materfamilias with an effusion that brought tears of sympathy into the eyes of the lady visitors. We do not know that there is anything more to be said about this year's Cat Show. We may remark, however, that autumn is considered to be the best time for holding these shows, as coats are glossier, and family cares less onerous, than in the spring time of the year.
NATIONAL CAT SHOW. Western Times, 17th May 1872
On Wednesday the third annual national cat show was held in the northern nave of the Crystal Palace. There were over two and kittens exhibited, including tortoiseshell cats, mouse cats, and Persian cats. The prizes included 45 first prizes, two silver medals, and five miscellaneous prizes, offered by some ladies and gentlemen for cats reared by working classes. The silver medals were given by Lady Dorothy Nevill and Miss M. Hales, and were gained respectively by a beautiful Persian cat belonging to a Miss Wilson, and a large foreign cat, aged two years, owned by Mr. Isaac Pochin. Mr. George Churcher exhibited a cat, nine and a half years old, which only weighed 2 and three quarter lbs, and sits up and begs for food like a dog. The prettiest sight in the show was a cage containing three pure white kittens, playing together. Mr. Frederick George exhibited a most unusual coloured cat, by which he gained a first prize. Mr. Buchan's black Manx cat was generally admired, as was Mr. L. Smith's short haired tortoiseshell cat, aged seven years. Madame Bodicleon had a cage containing a cat and kitten both of the same hue—tortoiseshell and white. Lady Burdett Coutts was one of the judges.
CAT SHOW AT THE CRYSTAL PALACE. Manchester Evening News, 16th May 1872
Once more—and for the third time—the nave of the Crystal Palace has been devoted to an exhibition of cats — he-cats and she-cats, striped cats and spotted cats, blue, black, brown, red, tortoiseshell, and tabby cats, cats of unusual colour, abnormal, grimalkins, and workmen's pussies. Yesterday was the first open day, and judging by the number of visitors, and their style and appearance, a long succession of successful anniversaries for the cat show may be anticipated. It is inevitable that such a show should be looked at from two points of view. Women and children regard it merely as a good bit of fun, a pretty show, an opportunity for omitting much cat-talk, a chance for ecstatic professions of regard for poor puss, for scratching and petting and pawing several beautiful creatures who don't at all look at home in their cages; while, on the other hand, earnest naturalists and students of the cat domestic and cat foreign, like Lady Mildred Hope, Lady Dorothy Nevill, Mrs. Dicey, Mrs. S. C. Hall, the Messrs. Weir, and Dr. Hogg, go to work in a determined, hearty, and honest fashion, to make us learned in an important and interesting branch of natural history to improve the breed of our cats, and in a humble way to make us kind and attentive to the occupant of the domestic hearth-rug and the most comfortable arm-chair in any habitable department.
The cats do pretty much as they did before; they scowl, they sulk, they sleep, they look stupid, and for the most part they appear to be distressingly bored. Old hands at cat-shows are up to the tricks of the old maids and playful children; and, with a healthy horror of pokes with catalogues, digs with parasols, routings with umbrellas, and incessant caressings, they retire well to the back of the cage, and repose out of reach and of harm's way, with a determined " Not if I know it" expression on their intelligent countenances. The cages or pens are by an improved arrangement placed lengthways in the north nave. The entries number 221—No. 1 being Mr. L. Smith's shorthaired tortoiseshell Tom, value £50, and No. 204, Mr. W. C. Farne's Angora, value £10. 10s.
"PUSSY" AT THE CRYSTAL PALACE. Huddersfield Chronicle, 18 May 1872
Another cat-show at the Crystal Palace is imminent, and donations flow in. One lady has just presented ten pounds to be given in prizes to workmen's cats. Two others give pieces of Plate to encourage the kind treatment of cats. Both objects are laudable. We cannot do without cats while we have mice, and cats should be as well-shaped, stylish, and fashionable as pigeons or Brahma fowls. They should also be equally well treated. But although cats may with advantage be made more ornamental and kept in greater comfort, any very large increase in their number, especially in London, is not desirable. Cats are apt to get into the wrong houses and into other peoples larders. And while all kindly-disposed people will on the whole wish the show success from the " bottom of their heart " to use the last trite phrase of Mr. Carlyle, it must be confessed that there is a shady side to the picture. If the cultivation of cats should receive a new impetus from this special encouragement the result might be disastrous, and pussy, like pig, become the object of cruel vituperation, or even provoke a deputation to Mr Stansfeld.
CAT SHOW John Bull, 18th May 1872
The cat show at the Crystal Palace on Wednesday and Thursday was a great success, several of the animals exhibited being very beautiful; the kittens, too, were in great force. One cat bore a singular resemblance to a magnified mouse. Another sat contentedly upon three legs - never had a fourth, or any indication of one. One cat hat taken to a couple of squirrels, and is rearing them with all the solicitude of mother. The patriarch of the exhibition was one shown by G. Ware. It is a Russian blue cat, and said to be eighteen years old. Baronets Burdett-Coutts and many ladies of title took great interest in the exhibition, as judges, etc. On Thursday evening, at the close of the show, there was a magnificent display of fireworks.
A LONDON CAT SHOW Belfast News-Letter , 18th May 1872
[. . .] The most distinguished visitor of the whole lot, the Royal cat of the King of Siam, kindly lent for the occasion by Lady Dorothy Nevill, had such a profound contempt for the whole thing, he was so utterly disgusted at being placed in a cage and treated with a cushion of red baize and a bed of silver sand instead of a fauteuil of cloth of gold prettily arranged on an ivory throne - that he coolly turned his Royal back on the audience, and would not condescend to so much as a look at his admirers. And this Royal example was, on the whole, consistently followed. As to the mewing, there was not a sound heard - nothing but the occasional click of a brass collar against the bars, and sometimes a sharpening of claws on the cushion, just for the sake of a stretch and something to do.
THOSE WHO ARE INTERESTED IN THE SUBJECT OF CATS will be gratified to learn that the third annual cat show was recently opened in the Crystal Palace, Sydenham, with every indication of a successful result. From the reports in the London papers we learn that there is only one genuine tortoise-shell Tom to be found in all England, and that animal was on exhibition at the Crystal Palace. Fifty pounds is the value placed on this rare grimalkin, which will doubtless be considered cheap by any one who wants a cat of that kind at that price. Persian cats, Angora cats, Russian cats, and a wide variety of the British domestic cats were included in the exhibition, and we are informed that such cats as were accompanied by their interesting little kittens manifested their motherly instincts with an effusion that brought tears of sympathy into the eyes of the lady visitors. – various, Jun 6, 1872
THE CAT SHOW (The Times, May 16, 1872): The "Third National Cat Show" at the Crystal Palace in London has brought together 221 cats of all countries, colors, sorts, sizes, sexes and ages. They are shown in nearly the same number of neat cages, arranged back to back in a double line in the center of the north nave of the palace, and set upon a stage of convenient height made seemly with red baize. Each cage is furnished with a cushion, which sets off the fur of the fortunate and indolent tabby, never in his life reduced to the necessity of catching a mouse, and now sleeping and purring from meat to meal in the face of the multitude of sightseers with as much equanimity as though the Crystal Palace were a village cottage, and the rolls of the grand organ the droning of the housewife's spinning wheel. Here are cats - English, Manx, French, Russian, African, Smyrniote, Angoran, Persian, Siamese and Australian ; cats remarkable for their smallness, such as Mr. Churcher's "Nip," which weighs only 2-and-three-quarter lbs, ; cats remarkable for their bigness, such as a monster of 19 lbs.; a sturdy veteran of 12 summers, price £5, charming kittens of a month, 5s "to be handed to All Saints' Church Restoration Fund," a cat which suckles two squirrels with her kittens, a cat which has three legs, a cat which has seven claws on each fore paw and five on each hinder one, cats white, black, brown, blue and red; cats long haired and short haired ; cats tortoise, mouse and fawn color; cats which win silver medals and a plated teapot; cats belonging to noble ladies and labouring men, and, chief of all, the famous tortoisehell Tom of Clerkenwell, who this year has but again to come forward and take in his class his uncontested prize of 30s.
If every dog has his day, it is only fair that every cat should have its chance, and accordingly we find the 221 cats parcelled into 52 classes, which claim among them 150 prizes. The Crystal Palace Company offer money-prizes in 47 classes, three to each, varying from one pound to half a sovereign, except in two instances, in which kittens can only claim five shillings. Lady Burdett-Coutts gives four money prizes on the same scale to cats of working men. Lady Dorothy Nevill and Miss Hales give silver medals to other varieties, and various cat-loving ladies come forward with a pint mug, a kettle, a teapot, and a fern case. The judges – Lady Mildred Beresford-Hope, Lady Dorothy Neville, Messrs. Harrison and Jenner Weir, and Dr. Hogg – seem to have discharged their difficult duties with care and impartiality. Yesterday the show began, to-day it ends, and those who care to see a well-got together and well-managed exhibition of some rare and pretty varieties of animal life cannot do better than turn their backs this afternoon on London in its fury of fashion and fine art and pay a visit to the cats.
For the sake of those who cannot do this, we will walk down and up the lines of cages. No. 1 contains Tom of Clerkenwell himself, and for 50 pounds one may become the owner of "the single wonder of a thousand years." Though this solitary Sovereign has no brother near his throne, he has next door to him a "tortoise and white" Tom, almost as rare. A physical fact gleaned as we go on, and which we believe holds good, is that white whiskers invariably follow the least white hair about the body of a black or other coloured cat. Pigeon fanciers can breed to a single feather of any given hue, but cats would appear to be as capricious in colour as in temper, for here, in cages 108 and 109, is a black cat with two white kittens, and a white cat with two black kittens. Yet sometimes marks are reproduced exactly, for here, cage 98, is a female whose tail is black and whose body fur is white, marked with black patches over each eye and on the poll, peculiarities which are repeated in small and tow a nicety on her kittens.
The Archangel cat in cage 53 has the brightest of yellow eyes and a coat of the softest gray with the least silver tinge throughout. Next door lives a yellow and white Australian, and at No 58 a yellow and white English tabby of immense size and build. Female red tabbies are even rare than tortoiseshell toms, and, though a class was appointed for them, not one was found to come and take the prize. The tortoiseshell cat itself is a cross between a red tabby tom and a black and white female, the three colours being so fused in the progeny that the white is yellowed; needless to say a hair of it is not to be tolerated in the real tortoiseshell.
Passing cats in blue bows or lace frills, one reposing royally on a rabbitskin rug, another nibbling confectionery (more than Paris to Americans must the Crystal palace be a paradise to these0, the spectators defile before the various long and short-haired European and Asian varieties, pausing at a peerless Persian, the winner of a double first, a prize in his class as well as a silver medal; noticing some fine fellows which have lost a certainty through being wrongly classed, noticing also a cat which its enthusiastic owner has sent all the way from Cowes, but making a long pause altogether before Lady Dorothy Nevill's "Royal Cat of the King of Siam," a creature most fascinating for the compact rotundity of its build, and wearing a deliciously sleek, dun-coloured fur, pointed about the ears and feet with black. This Siamese, as becomes the Royal dignity of its race, does not stoop to take a prize. Its mistress is one of the Judges, which is perhaps another reason why it leaves such baubles as a plated teapot or a pint mug to cats who have never looked at a king. The teapot, by the way, is a working man's prize, given by Mrs. S.C. Hall, and won by Mrs. Wickenden's fine cat in short white hair in cage 183.
The "cats of no sex" are an important class, but among them merit only goes by weight, and the heaviest falls two pounds short of the 21 pounder which took the prize last year. A black cat, in cage 197b, lives happily, and indeed inseparably, with a gray Siamese terrier. The nature of cats is to attach themselves to places, while the nature of dogs is to attach themselves to persons. This black cat, however, must be honourably excepted from the cold-heartedness of its kind, for its history proves that the bump of locality is not the only bump in its head. It returned continually to the house it had left, not for the sake of its familiar haunts, but for the tenderer reason of the society of the terrier, as is proved by the fact that "Smutt" could never be kept in her new abode till "Chin Chin" had been brought there too, and that since the terrier has changed houses the cat has been content to stay at home. With this touching anecdote and valuable precedent for natural historians, we conclude our notice of the "Third National Cat Show," which, if we may judge by the crowd about the cages yesterday, is held not only under the patronage of Lady Burdett-Coutts and others, but also under that of a goodly number of the public.
THE CAT SHOW AT SYDENHAM PALACE – Various, July 13-17, 1872
[From a London Letter.] The cats exhibited comprised — English, Manx, French, Russian, African, Smyrniote, Angoran, Persian, Siamese and Australian; cats remarkable for smallness (one in this class weighed only 2 and three quarter pounds), cats remarkable for bigness (one in this class weighing 19 pounds), old cats, young cats, knowing cats; a cat which suckled two squirrels with her kittens, a cat which was minus a leg;, a cat which had "seven claws on each fore paw, and five on each hinder one;" cats white, and grav, black, brown, blue and red; cats long-haired and cats short-haired; cats which knew what mousing was to a T, cats which never saw a mouse; cats which had won silver medals, and blue ribbons, and plated tea-pots; and cats belonging to noble ladies, and laboring men; and chief of all is this distinguished assemblage was the famous tortoise shell Tom who came forward again this year to claim the Blue Ribbon of Catdom, the first prize. The prime glories of the show were of course the tortoise-shell Tom A 1, class 1, who was for sale, "the single wonder of a thousand years," for a paltry two hundred and fifty gold dollars, and the royal cat of the Kings of Siam, a deliriously sleek dun colored creature of very compact form. The tortoise-shell cat itself is a cross between a red tabby Tom and a black and white female, the three colors being so fused in the progeny that the white is yellowed; needless to say a hair of it is not to be tolerated in in the real tortoise-shell ; so thus " for the second time in public" was his tortoise-shell Tomship a thoroughly pure tortoise-shell, as dark as a comb, without a white spot or blemish about him. The Royal puss was the most distinguished visitor of the whole lot, and very properly, as becomes a royal personage, haughty and indifferent. He turned his Royal back on the plebeian audience and would not condescend so much as to look at his admirers, and this royal example was on the whole consistently followed, notwithstanding the daring assaults with fans, parasols, catalogues and umbrellas made by the ladies on the occupants of the cages. Not any number of well-directed prods made the sleek creatures wake up from then Sleek creatures wake up from their dreamy indifference and persistent sulkiness, so that one was compelled to content one's self with looking at and admiring for the most part soft balls of fur. The sensations of the show was a black cat, "Miss Chin-Chin," who lived in a cage with one Mr. Smut, a remarkably knowing grey Siamese terrier; an "abnormal" cat which hopped about on three legs' a pure black cat with two pure white kittens, and a pure white cat with two pure black kittens; an Archangel cat with the brightest of snow eyes, and a coat of the softest grey; a yellow and white Australian cat, and last, though far from least, a cage containing a cat, her kittens, and a pair of impertinent squirrels, reared by Mrs Puss with her own children. This was the prettiest and most interesting sight at the show.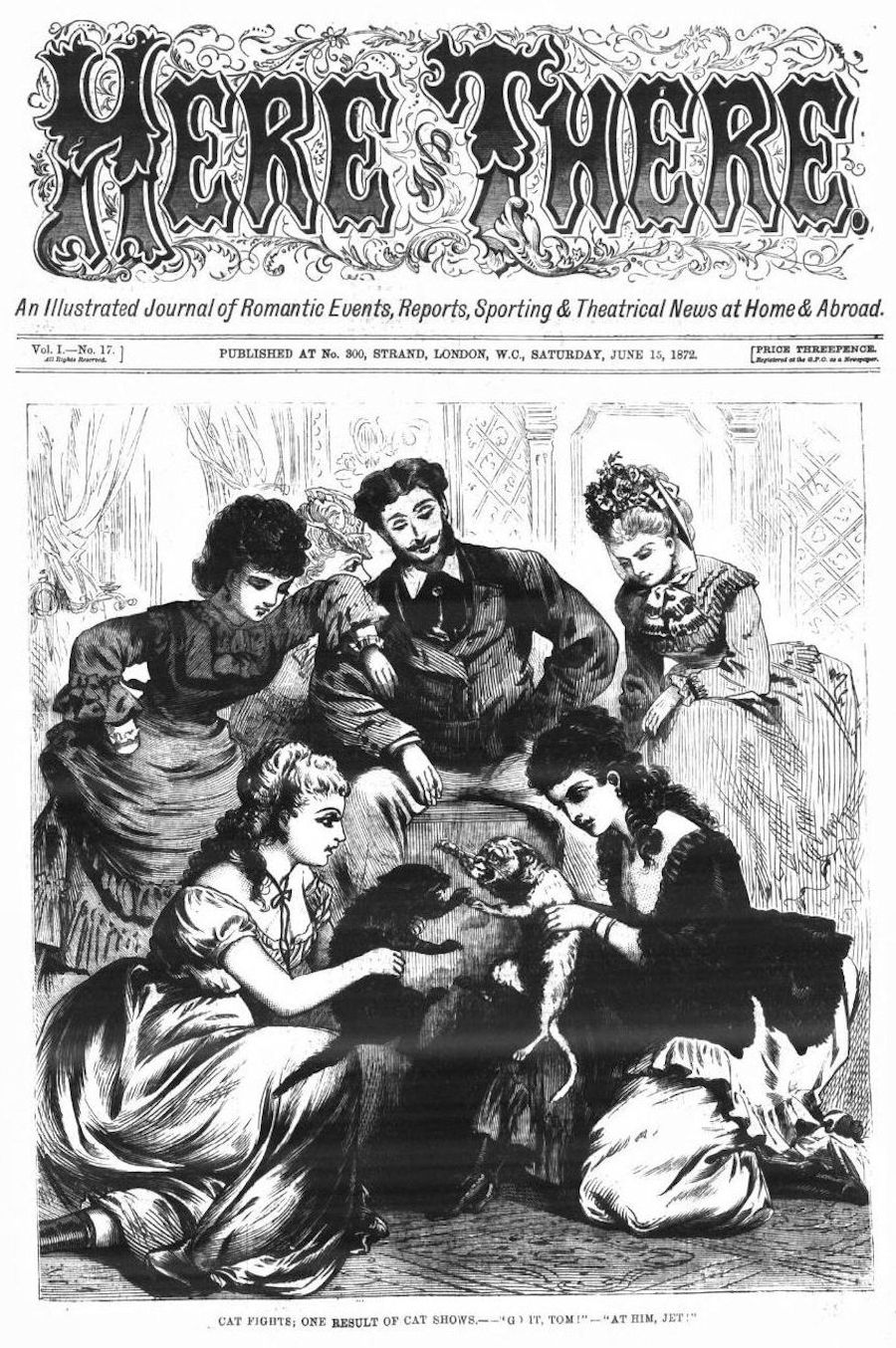 FATAL RESULTS OF A CAT SHOW. The Days' Doings, Saturday 15th June 1872 (A London Journal)
We have had shows of all kinds, for horses, dogs, pigeons, poultry, babies, barmaids, and even cats. The recent display of the latter animals has resulted in a contest, an engraving of which ornaments our front page. Two young ladies, cousins, had each sent her favourite mouser to the show in question, and, strange to relate, each had been rewarded with a prize ; only one was a second and the other a third prize. Hence much bitterness of feeling on the part of the recipient of the latter award and open expressions of disgust at the blindness of the judges in preferring an inferior animal. The fair owner of cat No. 1, bristling up in defence of the judgment, maintained her cat was in every way superior to its defeated rival. Long discussions ensued, and from the "points" they passed on to the abilities of the animals as mousers, etc., and as this was a matter which had not been taken into consideration at all at the show, it gave them a free and equal field for discussion. At length the brother of one of them suggested they should leave the settlement of the question of merit to the cats themselves, or, in other words, that they should let them fight it out between them. Sad to relate, his proposal was adopted, for this wickedly ingenious brother threw in an irresistible bait agreeing to furnish as a prize to the winner's owner a new bonnet, the sweetest and costliest head gear the milliner could supply. It was agreed that two female friends of the young ladies should act as umpires, and that the brother himself should undertake the onerous duties of referee.
And forthwith all was preparation for the fray. The cats were irritated to the necessary degree of ferocity by a course of starvation and confinement in the dark, and by a series of washings, as hateful to a cat almost as to mad dog; and finally, at the day and hour appointed, the fight between the two felines took place in an elegant apartment in the residence of one of the young ladies, both of whose parents were absent from the house at the time. The cats having been brought in and introduced to each other by their respective proprietors, and having taken their ''introduction" in the usual, way, under the circumstances, by a series of initiatory scratches, were " set upon " each other, and in about fifteen minutes had literally clawed each other into pieces. With ferocious visages, bloody instincts, and fearful cries of rage and pain, they tore each other with their sharp claws and horny tongues and powerful jaws, every muscle being strained to its utmost tension, until like rival tigers, they had completely exhausted each other's strength and their own. And then, when they could fight, and tear, and scratch, and claw no more, the poor cats died. The umpires and referee, meanwhile, were quietly and critically surveying their agonies, and the two fair mistresses, when not shouting "Go it Tom!" "At him Jot!'' were thinking, amidst death-throes of their "favourites," only of the promised bonnets. A refreshing spectacle, and a creditable situation, truly. At least, there is one pleasing reflection which suggests itself about the repulsive affair. As both cats died, neither could be declared the winner, and so neither the young ladies won. Each lost a cat —but neither gained a bonnet.
1872 BODMIN CAT SHOW
CAT SHOW FOR BODMIN Royal Cornwall Gazette, 1st June 1872
[Bodmin] Not only are we to have dog, poultry and horticultural shows, as at Truro [. . .] and last, though by no means least, we are to be provided with that interesting novelty in public exhibitions – a cat show! And all these attractions are wholly got up by local enterprise and public spirit.
ROYAL CORNWALL AGRICULTURAL SOCIETY. Royal Cornwall Gazette, 15th June 1872
The annual exhibition of the Royal Cornwall Agricultural Society was held at Bodmin on Wednesday and Thursday. [. . .] The Dog, Poultry, and Cat Show occupied two large tents, which were continuously crowded with interested visitors. It was noticed that great numbers of people enquired for the cats immediately upon entering ; but we cannot say that there was much of a treat in store for them. Excepting one Persian cat and a couple of tabbies, the 40 specimens of this species of the genus felis were an ordinary lot. There were neither Australian, French, Russian, African, Smyrniote, or Siamese importations to dispute the sovereignty with the English tabby. There were, however, a few Manx cats not distinguished for beauty. The most attractive little creature was a white kitten, with a blue ribbon round its neck, which elicited a volume of endearments by its pretty antics. In one pen originally allotted to a Tom cat — was a novelty — three handsome but fierce badgers, sent by Mr. Kundell, of Lantyne, and there was also a pen of Guinea pigs. We cannot but think that many much finer cats than have been shown might be found without going far from Bod min, and that their mistresses were only prevented from entering by the novelty of the venture ; but it is an exhibition that will be certain to become popular.
1872 IPSWICH CAT SHOW
THE FORTHCOMING SHOW OF POULTRY, ETC.-The Ipswich Journal , 15th October 1872
The entries for the great Poultry, Pigeon, Rabbit and Cat Show have closed with a marked success both as to numbers and quality, [. . .] there are 120 pens of pigeons, rabbits, and cats of almost all known varieties, many of the latter are remarkable specimens of the feline race, and include several winners at the recent Metropolitan exhibitions, some pure white with black tails, others with no tails at all, some with long handsome downy coats like floss silk, while one is entered as white with sky-blue eyes; there are the Persians, Angoras, and varieties of English cats.
POULTRY, PIGEON, RABBIT, AND CAT SHOW AT IPSWICH, Essex Standard, 25th October 1872
At a Poultry, Pigeon, Rabbit, and Cat show at Ipswich on Wednesday, Thursday, and Friday, of last week, the following honours were brought into Essex:— [. . .] Cats - Selling class, 2nd, Mrs. Sheerman, Springfield.
1872 FOURTH (OCTOBER) CRYSTAL PALACE CAT SHOW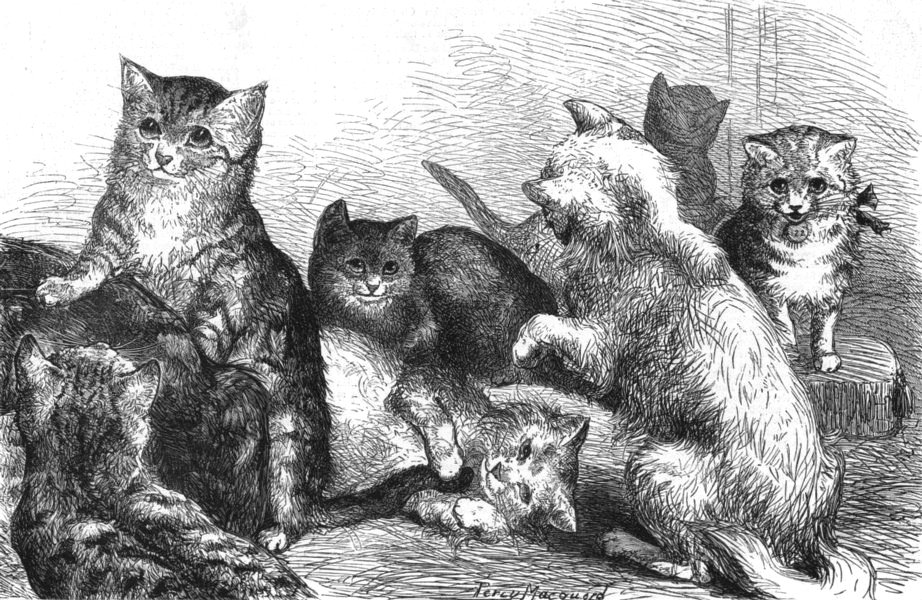 CAT SHOW AT THE CRYSTAL PALACE. Morning Post, 26th October 1872

The fourth National Cat Show at the Palace was opened yesterday afternoon for private view, and also for the awarding of prizes, by the judges. This show, which will be thrown open to the public to-day, and again on Monday and Tuesday, is the largest that has yet been held here, or indeed anywhere else in the country, there being 300 entries, which include, with kittens, no less than about 370 specimens of the domesticated feline race. Although exhibition of cats on so extensive a scale may be said to have chiefly originated with Mr. Harrison Weir, the artist, and Mr. F. W. Wilson, of the Natural History Department at the Crystal Palace, yet the credit of the idea should be given to the Baroness Burdett Coutts, the Duchess of Sutherland, and a few other ladies, who, with a view to encourage the humbler classes to take an interest in and treat with kindness poor Puss, had previously given rewards for the beat specimens of cats, bred by working men. Indeed, one of the chief recommendations of these shows is that they have that tendency as regards all classes ; and they also serve to bring before the public rare and curious specimens of the animal which could not otherwise be seen, except by a limited private circle.

The present show is placed in the south nave of the palace, and consists of two long rows of commodious cages, in which the occupants are provided with every comfort that a cat can desire, except, perhaps, a fire. The most attached owner sending his grimalkin to the Palace need not therefore have any apprehension on the score of its treatment, the authorities erring, if they err at all, rather on the side of over indulgence and a kindness approaching almost to weakness. The amount of horse flesh, liver, biscuits, and milk, independently of what the exhibitors themselves daily bring for their pets, is something positively alarming in these days of scarcity and high prices. But the liberality of the managers is not confined to food alone, for each cage is furnished with a warm, crimson-covered cushion, and also where there are delicate specimens or families of kittens, with a bag or basket warmly lined with wool. And lest these arrangements should not be deemed sufficient by intending exhibitors whose affection for their cats is deep and sincere, this rule has been laid down :— " If desired, owners of cats may take them home each day after the close of the show, on deposit of £1, and producing receipt for entry fee, which sum will be forfeited should the cats not be returned by nine o'clock on the following mornings, before the show opens.'' But the best proof that the cats are well cared for is that yesterday not a cry of dissatisfaction — scarcely a mew — escaped from the army of favourites during the inspection.

The peculiarities of the show, which is thought to surpass any that has preceded it, are various, but it may be sufficient to mention only the most prominent ones. There is a pure Siamese she cat, "Mrs. Poodles," exhibited by Lady Dorothy Nevill, a beautiful specimen of that royal breed- called "royal " because it was once confined to the King of Siam's palace, death being the punishment to anyone who dared to possess in his kingdom a member of the same precious race. Mrs. Poodles is a small cat with a rich darkish brown coat, very graceful in figure and very intelligent, good-natured, and lively. The marks are like those on a pug dog, to which she has some resemblance. Another feature of the show is a short-haired tortoiseshell he cat, in Class 1. - a perfect specimen of the kind. Its interest consists in this— that in 999 cases out of 1,000 a real tortoiseshell is found to be a female. This cat has been exhibited at the Palace before, but it is the only male tortoiseshell that has been seen at any cat show. The next greatest novelties are numbers 95 and 96 in the catalogue—two red tabby she cats, those of this colour being in the same proportion as in the instance just given males. There is a small but choice collection of cats of a delicate slate colour, described as blue, or silver tabbies, which cannot fail to be greatly admired. But in addition to breed and colour, the gloss and silkiness of the hair and the character and expression of the eye form important ingredients in estimating a cat's merits, and on these points ample scope is afforded for the study of the skilled or curious in such matters. The black and white cats are beautifully marked. There is also a good display of purely black ones, including two or three with long white whiskers, which give them a very peculiar effect. A tortoiseshell and white cat sent by a working man, is noticeable from having its front legs imperfectly developed and from imitating in its movements the action of a kangaroo. Another curiosity is a white cat, with one eye blue or azure, and the other yellow. The tailless pusses— Manx cats, which have stumps instead of tails - are limited to two, a black and a tabby ; but they are good samples of the class. A few clusters of kittens of different breeds, all very pretty and engaging, wind up the collection of short-haired cats.

The long-haired specimens comprise the Angora and Persian and every description of breed and colour. Many of these are very beautiful, particularly in respect of figure and the length and softness of their coats. Most are very docile and gentle, but a few have deep-seated, angry eyes, formidable claws, and a corresponding threatening demeanour. One white Angora has bright blue eyes— a distinction that is seldom seen in cats of this description. Prizes having been offered for working- men's cats, a considerable collection of these has been brought together and they do great credit to the exhibitors. They are all in good condition; some are of the rarer sorts, and not a few eclipse in point of size similar breeds sent by well-to-do- exhibitors. The cats, however, of the greatest bulk are those entered as of "no sex," which are judged by weight only. More magnificent creatures it would be impossible to see but one— a veritable "Claimant" in his way— far outstrips all the rest in weight, and may justly be dubbed the king of the show. The last entry is that of a fine wild tiger cat, six months old, imported from Santos, South America, which, being untamable, seems ill at ease and out of place among his civilised and domesticated brethren.

The judges— Messrs. Harrison Weir, J. Jenner Weir, and W. B. Tegettweir- -were occupied the whole afternoon in estimating the relative merits of the different animals, a by no means easy task, where general excellence constitutes the main characteristic of the show. The prices attached to the different entries in the catalogue vary from 5s. to £1,000, but of course most of the out-of-the- way sums serve simply as an intimation that the owner values his cat too much to part with it for money.

THE CATS AT THE CRYSTAL PALACE, The Spectator, 2nd November 1872
THE Fourth Cat Show at the Crystal Palace was a pretty and pleasant spectacle. On a raised platform, which occupied a great space between the marble basin and the centre of the building, stood a long range of light, strong, commodious pens, each handsomely furnished with a raised cushion of crimson baize, a delft basin for purposes of refreshment, and a selection of fine gravel in a kind of lane at the back, whither the exhibited tenant might retire to scratch, tread, or meditate, whenever publicity should become wearisome to him. These pens were occupied by 285 cats, for whose comfort and safety arrangements of the most admirable and ingenious kind were made. Whatever the vicissitudes or hardships of the journey, the competing quadruped who had once reached Mr. Wilson's hands, and had attached to his neck his little leaden label, whereby his identity was established, and his safe restoration to proprietorial embraces secured, was a cat to be congratulated. For the furry family twenty gallons of milk and twenty pounds of meat were provided per diem ; their temporary dwellings were specially constructed for this show, and tended with the scrupulous cleanliness essential to the happiness of every well-regulated cat. There were no casualties, and the only mistakes were made by exhibitors who did not comply with the rules forwarded to them - rules which were drawn up with perfect distinctness - and whose cats were wrongly classified or debarred from competition in consequence.

A few of the most beautiful of the competitors have appeared at one or more of the former shows. Among them is No. 1, Class 1, a short-haired tortoiseshell he-cat, who has had the honour of disproving the prevalent belief that no such animal existed. He is a grave and beautiful creature, with an air of wisdom aided by a quaint little spot of white hair under the lower lip. He seems to know that he is No. 1, and a unique specimen, and yet he is not unduly proud, but betrays a lively interest in the admiring crowd, and some curiosity respecting his immediate neighbours, three very handsome tortoiseshell-and-white he-cats, who seem shy and unused to public life. The male cats are calm and contemplative ; their toilet for the day has been carefully made before noon ; they are for the most part inclined to doze ; but the females are very lively, and such of their number as are not engaged in maternal duties are stretching and looking about them. It takes some time to discern this difference, however, for the line of he-cats is a long one, and several are so beautiful that the visitor lingers before them, following their graceful lines, their rich colouring, their soft, silent movements with delight.

The brown tabbies are especially beautiful. No 10, who has carried off the first prize, and wears gracefully, just blending it with his rich brown-and-black fur, in which not a white hair is to be seen, is, of course, but there are many who nearly approach him in dark sleekiness. There is not among them that variety of names which which one would wish. They all suggest the homely, comfortable, inti mate love, the nicety of care with which they are regarded, and in most instances their collars or neck ribbons are assorted to their colouring with delicate appreciation ; but, on the whole, their names are feeble. Bobby, Toby, Billy, Tom, Tig, even Tiger, - these are not impressive appellations, and Whiskerandos is insult ing to its truly noble-looking bearer. That splendid brown tabby should not have been called after a caricature, and by a name which must naturally dwindle down to "Andy." " Crystal " has no meaning, and Dick is too familiar for a grand creature eyes like great topazes, and shining black forepaws folded on his red cushion with perfect indolent grace. The red tabbies are very handsome, and their eyes are large and golden in colour, but they do not look so sociable as the others, and the largest and handsomest lies down in his house, and refuses to tumble to the admiring audience. The variety of countenance and shape of face among the cats is very curious, and it grows on one's perception as one passes down the long line. The visitor is not distressed by the painful wistfulness always seen in the faces of imprisoned wild animals. Only two or three of the cats looked as if they did not like it, only one was jumping at the bars in any earnest.

There was a good deal of unembarrassed play under kindly maternal superintendence among the kittens, and there was hardly any noise. Among the silver-grey tabbies, both male and female, are many remarkably handsome faces ; and No. 31, a black-and-white he-cat of perfect form, evenly marked in white under the neck, with white whiskers and white-topped paws, has such an expression of sagacity, that one turns to the catalogue confident that he is "not for sale." Of course not ; and he lays his paw gravely against his nose, and winks slowly, in confirmation of the fact. No. 36 is perfectly black, with soft fur, like satin for sheen. No. 46 is pure white, with a sad face, as of a eat who, though only a year old, has out-lived pomps and vanities, and does not care for shows or bows. He wears his ribbon carelessly, and lets his nose droop listlessly towards the cushion-edge. Not so a neighbour of his, aged six, who has reached middle-life and likes it, who is a roystering brigand with a rusty face, unutterably knowing, a cat whose home life is plainly untrammelled by restrictions, who has a latch-key, and who, if by reason of a town residence he does not "know where the wood-pigeons breed," is familiar with the best preserves of sparrows. He arches his back, squeezes himself against the wires, gives his head a shake, twitches his ears with a click, and lies down, having said "I don't mind this for three days, you know, just to oblige them at home, but it couldn't last." Among the short- haired he-cats of unusual colour is a handsome creature named "Amontillado," who lives at the Crystal Palace, and has an amusing air of at-homishness. "Ha, ha!" he seems to say, as he licks his lips and blinks, "if I were to be let out, I should be all right, no one would be alarmed, there would be no running after me ; I know all about it, I hadn't to be brought here in a basket with a label on it describing me as a 'live cat ;' I came of myself, and I know where the milk-cans are kept, and where they cut the meat up." No blandishments disturb his profound calm, and when a lady rattled her parasol against the bars, he shrugged his shoulders as naturally as if he had been born in a Parisian café, and did not even glance in her direction.

Among the short-haired female cats there are two red tabbies, the only specimens ever exhibited of animals almost as rare as the "Tortoiseshell Tom." They are both exceedingly handsome, and of course form a distinct class. But they are of unequal value. " Zoonie," the first, aged four years and three months, is the proud mother of fifty-three kittens, and her price is prohibitory, £500. The second has no name, is four and a half months old, and may be purchased for five guineas. The cats are divided into forty-eight classes, a variety very surprising to persons who have not studied the subject ; and very interesting to trace, in the difference and resemblance between the short-haired and long- haired animals. The former occupied one side of the raised plat form ; the latter, in corresponding order, were placed dos-a-dos [back-to-back] to them ; while the pens at the end, facing the crystal fountain, were occupied by numbers of beautiful kittens, whose innocent dewy eyes and playful restlessness contrasted with the preponderating expression of reserved and watchful gravity among the elders on either side.

That many a cat there had a story, it was easy to see, but in some instances the story was told. One pen was occupied by a beautiful tortoiseshell she-cat, her jet-black kitten, and two fine solemn-looking bull-terrier pups, which she his blue bow so had brought up from their birth to their present prosperous stage of existence. Complete harmony reigns in this happy family, the finest, and in another—resident, like Amontillado, on the premises—is composed of a dog, a cat, a jackdaw, and a bantam hen. Then, in Class 22, among she-cats of abnormal qualities, sits " Blackie," a lady of mixed descent, Java and Manx, who has a handy milk-jug hanging on a peg in her pen, and helps herself to its contents by dipping her dainty little paw in the milk and then licking it. Here is a unique specimen of a long-haired red tabby she-cat, who is very beautiful, has wild light eyes, and is uncomfortably like the " tawny " heroines of several modern novels. Here is Lady Dorothy Neville's "Mrs. Poodles," a pure Siamese of royal extraction, the daughter of the famous race of which the King of Siam never permits a male to leave the sacred precincts of his palace. She is an exquisitely beautiful creature, with wonderful limbs, and head, and ears, with an indescribable gracefulness, as of a fairy-queen among cats, and fur like the richest sealskin, when the first faint tinge of the lurking yellow suggests itself amid the brown. Indolent, nonchalant, but perfectly aware that she is the observed of all observers, "Mrs. Poodles" lies upon her supplementary cushion, in the warmth of the crimson and the gold, with one soft brown leg and languid paw curved, half open, round her breast, like the hand of a fine lady from which a fan has just dropped. And "she must lend those beauties to the grave and give the world no copy" (she has a kitten on the other side, but it is of mixed race), unless some traveller as enterprising as M. de Beauvoir will beg or steal a royal consort for her from King Mongkut.

Here is a pretty little tortoiseshell-and-white she-cat, very intelligent and active, with short fore-paws like a kangaroo, so that it cannot climb ; but it bounds and hops through life like the creature it resembles, and is quite happy. To a black-and-white she-cat, whose name is Dinah Stumps, a story attaches which does great credit to the human actors in it. It is too long for repetition here, but "The Autobiography of a Cat," printed and hung beneath the pen which contained Dinah Stumps, was eagerly read by thousands at the Cat Show, and we hope it will be widely circulated by all who desire to teach the love and the care of these dear dumb creatures to men, women, and children, who are often cruel mainly because they know no better, and have no notion of the consolation and joy which may be imparted by the love and gratitude of a saved and succoured animal. Long may Dinah live to reward such a master as John Saffery.

The institution of the Crystal Palace Cat Shows has led to the importation of foreign, especially Eastern cats in considerable numbers. Several very beautiful specimens were exhibited among the long-haired classes ; two by Mr. Jamrach, who, it was painful to plainly, observe, was not animated by that fine feeling which inspired other owners. His cats had no necklaces, not as much as a scrap of ribbon ; their labels were merely tied on with common twine. Now, that is cruel ! one might as well send a child to a children's party in a pinafore and boots. A superb wild cat, or ocelot, marked "dangerous," occupied the last pen. He is a most beautiful creature, striped yellow and black, like a tiger, but his fur is fine, his limbs are delicate, and his eyes, not blinking, or crafty, but wide, wild, brilliant, and pathetic, with a strange liquid blue tinge in them. He comes from South America, and he looks as if he wanted to go home very much indeed.

No section of the Cat Show afforded more pleasure to the visitors, or more amply fulfilled the designs of the projectors, than that which comprised the competitors for the prizes offered for cats belonging to working-men. The only class in which there was no entry was Class 38, "for the oldest white she-cat." The others were well represented, and among the competitors were four splendid Angoras, who presented an appearance of bien etre not surpassed by that of "Mrs. Poodles" herself. The English tabby-and-white cat, than which no kind is more beautiful or intelligentmustered strong, and in fine condition. Among the very hand- some cats belonging to Class 42, was one splendid creature sent by "The Staff of Penge Station, L. C. and D. Railway." It is much to be desired that the prizes offered to working-men should be more numerous next year ; and that the public should co-operate heartily with the directors of the Crystal Palace Company in one of their most estimable enterprises.

THE CRYSTAL PALACE CAT SHOW. Derbyshire Courier, 2nd November 1872
A show which will have interest alike for those who regard the cat as a domestic pet, and for those who regard it as a domestic annoyance was opened in the Southern nave of the Crystal Palace, on Saturday. Of the 300 specimens the feline tribe exhibited, no small number are remarkable in some way either for beauty of coat, peculiarity of marking, pureness of white or black, or singularity of species. The last in the show will attract the first notice. This is among open class of wild or hybrid cats, and is called, what it appears, a tiger cat. It has the peculiar retreating head of the animal after which it is named, is marked like a tiger, and has so doubtful a look that any one will think twice before attempting to caress the beast. It is said to be imported from Santos, in South America. This has the first prize in its class. The next-door neighbour, the first in the first-class, is spoken of as the only "Tom" real tortoiseshell known, it certainly is finely marked, not with distinct patches of red, black, and white which form the tortoiseshell now generally held, but with the colour seen on the polished shell. This takes the first prize. The tabbies of everyday life are present in great variety, and by the prices attached to some they have qualities in the eyes of their owners which class them above all other cats. Several are ticketed at £l,000 one at £500, one at £200, one at a hundred guineas, and several at £100, while crowds are valued at £10. One remarkable cage of pets is that of purely white mother with kittens—one purely while, the other purely black. Lady Dorothy Neville exhibits several lots. Some are very pretty, and she shows her interest in the tribe by giving a silver medal for the best in one class. The Angora, Russian, Persian, Spanish, Siamese, and other foreign cats will attract attention by the marked peculiarities of breed, altogether distinct from the English. The animals are all caged, and are evidently in good hands, with every comfort which cat life can desire, but it was easy to see that the older cats especially felt no pride in their show condition, and, regarding themselves as trapped, were shy of all humankind. Many hid their dismay and trouble, others gave vent to sorrow as cats only can, while others took matters easily, and purred and slept as if on their own hearthrug.

THE CAT SHOW AT THE CRYSTAL PALACE Penny Illustrated Paper, 2nd November 1872
The Cat Show at the Crystal palace produced some novelties – viz, a singular, coloured cat from the Azores; a characteristic example from Java, which has one eye blue and the other green; and a remarkable animal, which does not lap milk, but puts it into her mouth with her paw.

* *

THE CRYSTAL PALACE CAT SHOW. Tabby again claims the services of the descriptive talent of all journalistic London, as the great show at the Crystal Palace, Sydenham, fascinates all the lovers of the purring race from far and from near. The exhibition is most attractively arranged for spectators, and most luxuriously for the cat. Each cat is inclosed in a neat wire-work cage, with plenty of room for the biggest of them. In each cage is a cushion for the inmate to repose upon. They are well supplied with both meat and milk. The number exhibited, including kittens, is nearly 400. They are divided into four great classes, with prizes ranging from two guineas to five shillings, including short haired, long-haired, and cats belonging exclusively to workingmen. These are again divided into forty-eight classes, beginning with the short-haired tortoise-shell he cat and going through all the varieties of brown tabbies, blue or silver tabbies, black and whiles, pure white and unusual colors. Among the interesting animals in the show is an ocelot, or young tiger cat. There is a tortoise-shell he-cat valued by his owner at £50. A tortoise-shell he-cat, short-haired, is something entirely new — cats of that marking being almost invariably "shes." No. 95 is valued by his owners, two maiden ladies, at £ 500. To crown all, there is a cat weighing twenty-three pounds without his collar. - Pittsburgh Daily post, November 21, 1872

THE ANNUAL CAT SHOW has just been opened at the London Crystal Palace. It is said to be the most complete collection of domestic and foreign cats that has ever been exhibited. The specimens include importations from Siam, Java, Smyrna, Algeria, Archangel,&c. There is also a specialty in the shape of a tiger-cat from Santos, in South America, which, while in repose, does not look very fierce, Among the prizes gained was one for an Angora cat, and two others for the best tabby and white cats. Some curiosities are a singular cat from the Azores, a characteristic example from Java, which has one eye blue and the other green ; and there is one remarkable animal which does not lap milk, but puts it into her mouth with her paw. The tail-less cat, which is a favorite household divinity in Honolulu, Sandwich Islands, does not appear in the exhibition. Perhaps it is too comical a creature for the English people, who, especially the old ladies, have a wonderful fondness for cats. – various, December 1872

THER IS SOME JUSTIFICATION for tho belief that a new career of honour is opening for puss. Cat shows are likely to become institutions among us. When the Crystal Palace folk entered upon this matter half a year ago, there were no data from which the probable degree of success could be inferred. It was not known whether the owners of fine or rare cats would submit them to public view. But they did ; and the display was a success. The famous question of questions was not quite solved. There was a tortoiseshell tom, but it was admitted that he had a few white hairs about him. People flocked in very large number to tho north nave of the Palace, where the cats were ranged in cages; and newspapers and family circles were, for a week afterwards, discussing the merits of the Duchess of Sutherland's British wild cat, the white Persian cats, the blue-eyed deaf cats, the Siamese cat with the puppy pug-like nose, cats without tails, cats with superabundant toes, cats with less than the proper number of toes, cats weighing more than 21 lbs. each, cats with the brown tabby coat, so rarely seen. And so this first Cat Show having been a success, a second was determined on ; and still more decidedly is pussy now in favour than before. The cats were vastly more numerous ; and so were the visitors. No fewer than 349 mewing, purring beauties competed for public admiration and favour, reclining pleasantly on their cushions. The animals were grouped in forty classes, and three prizes were given in each class: so that about every third exhibitor had a prize, of course much to his or her satisfaction. The shorthaired and the long-haired were duly classified ; while the Society for the Prevention of Cruelty to Animals offered prizes for choice examples of workmen's cats. Good; kindness to animals ennobles a dustman and a duke alike. The brown, blue, and gray tabbies were in strong muster ; the rare mauve colour was present ; the Australian and the Abyssinian had not been forgotten ; there was a cream colour, which the enraptured owner valued at 100/. ; there were 20 lb. cats, and hybrid white cats, and fawn coloured cats, and — oh, rarity of rarities ! — a real tortoiseshell tom, in whose coat not one white hair could be found ! -- Philo-felis. - "ABOUT CATS" (Excerpt) published in "London Society: An Illustrated Magazine" Vol. 21, 1872.

* *

Would you like to hear about the Cat Show at the Crystal Palace, which I went to when was staying with Aunt Carrie in London? Very well then I will try and tell you about it. First, however, I had better say that am Rosa Crawler, aged nine, and that I came to London to visit the dentist. I did not mind that, he was very kind. I need to go and see him about every other day, and the between day generally went to some sight or entertainment. When we heard of the Cat Show, Aunt Carrie said we must see that, for we thought it would be very amusing. Fancy, therefore, what fright was I in when the dentist said one day, 'Miss, must see you again on Thursday!' Thursday was the Cat Show day. I looked at Aunt Carrie; she was saying very quietly, 'Is it necessary to come on Thursday, for we have an engagement?' I could not keep still, but called out, Oh it's the Cat Show indeed we can't come.' The dentist smiled, and said then he must try and do without me one day longer, as he could not think of making me lose the Cat Show. I was glad he was so polite, for I was quite trembling in the big chair lest he should say he must have me.

But I must go on to the real day. It was so fine and hot when we started, every one hoped it was summer beginning. There were numbers of people on the platform at the Victoria Station, and just near the tram was big picture of cat's head on the wall, so we were sure we were all right. How the people did squeeze and push. Now, ladies, take your time the cats won't run away,' said witty porter. But still they pushed, and we were very glad to jump into our carriage, followed by some very grand people, or, at least, they wore very fine clothes. I like to watch the grandly dressed ladies, because then I get new patterns for my doll and think she would look very well in sky-blue and white, with salmon petticoat, red and white and green wrap, and three different necklaces on, like the lady opposite me.

I seemed to know the Crystal Palace quite well by sight, though I had never been there before: this puzzled me, till remembered the picture of it on nurse's cotton-box, which came from London but of course it looked much prettier in real life, with the sun shining on the glass. We lost no time in finding out the cats, though in such great building even two hundred and twenty one cats in cages take up very little room. They were all ranged rows — the cages, I mean and each cage had red cushion in it, and on nearly every cushion lay cat fast asleep, and generally with its back to the company. That was provoking but Aunt Carrie said she did not wonder at it, as it was very hot, and the cats had already been two whole days in the cages, and were beginning, daresay, to wonder when it would all end. Presently, however, we came to a lovely white cat, in grand collar, who liked to be patted and coaxed, and rubbed her head against the bars when any one came near. There were placards put up every now and then, Please to keep moving. Some one fond of scribbling had put in the cats before the last word, so it read, 'Please to keep the cats moving;' and the people seemed determined to do so, for they kept stirring them up with their fingers and parasol-points till some people cried Shame. On the whole, though, we agreed that the cats liked it, it prevented them feeling so dull.

I could not describe every cat if wrote till my fingers ached, so must only tell you of those I liked best. There was the royal cat of the King of Siam he was lying on his back yawning, and looking rather like brown dog with black nose. And there was dear old cat, purring and looking very contented, with two children of her own lying by her and nestled on her neck two real little squirrels, whisking their bushy tails, and looking just the colour of the new mother who had brought them up. Some cages had large families of kittens in them, and it was so amusing to see them at play; one little cat had found a play-fellow in the next cage, and was shaking hands with it, each curling their paw in the funniest way through the wide bars. One old mother was quite black, while her two kittens were snow-white, and next door was a white mother with black kittens. One cat, called Smut, had been sent to the show with a friend, shaggy dog called Chin-chin. I think the dog thought the show was intended for him, for he kept well to the front, and quite hid Smut, who lay asleep behind the cushion, perfectly satisfied that she was doing her duty if Chin-chin was exhibiting himself.

Then there were workmen's cats such big fellows with gay ribbons round their necks, looking so sleek and solemn, with their broad noses. I could not have lifted some of them, am sure, they must be so heavy. Some ladies had offered special prizes for these cats, to encourage the poor to be kind to them and feed them well. I went and looked at the prizes as they stood on table near: there was tea-kettle, and tea-pot, and mug, and fern-case, and framed photograph of cat but the prizes were chiefly in money.

Then there was Nip, who sat up and begged and Felix and Charlie, who were Manx cats, and had no tails and cat who had never had more than three legs, but hopped about quite contentedly; and another cat, with a great many more claws to its paws than it had any right to besides. Tom and Toby, Nero and Nigger, Pluto and Proserpine, cats red, and blue, and spotted, and striped, all sorts and all sizes. I got quite tired at last looking at them all. Each cat seemed more beautiful than the last, especially the large ones, one or two of which had faces like a lion, and yet were so gentle and tame they almost asked to be stroked. And I thought how tired the cats must be of looking at us, and how glad and pleased they would be when six o'clock came and they were all to go to their homes. Some came from very grand houses, one from palace, as told you before, and many of them from working-men's cottages but for these two show-days they had all sat alike on scarlet cushions behind glittering bars, and in some cases the workman's cat had got a prize while the great lady's cat had none just according to their real worth.

It was wonderful how little noise they made; every now and then some petted cat made tiny little mew to tell you how tired it was, and to ask you what it all meant but for the most part they seemed quite resigned, and slept, and stretched, and ate, and drank, waiting quietly for the end. It would have been better fun, thought, if we could have seen them in their own homes, and stroked them and nursed them; but that could not be. When we had made the round of the cages we had our luncheon, and went over the rest of the Palace; but shall not attempt to tell you about that, as this is only an account of the Cat Show. - H. A. F. - "AT THE CAT SHOW" "Chatterbox" No. XLIX, 1872

THE FOURTH CAT SHOW has just taken place at the Crystal Palace, London. Tabby was in all her glory, and her comfort was duly and carefully considered. On a raised platform, which occupied a great space between the marble basin and the centre of the building, stood a long range of light, strong, commodious pens, each handsomely furnished with a raised cushion of crimson baize, a delf basin for purposes of refreshment, and a selection of fine gravel in a kind of lane at the back. Two hundred and eighty-four cats were on exhibition, and a constant stream of admiring ladies defiled before them. There were forty-eight separate clashes of cats, but the grand distinction was into the "short haired" and the "long haired" species. Here were Java and Manx cats, pure Siamese oats of royal extraction, coming of a race the males of which the King of Siam never permits to leave the royal premises. As this royal animal is valued at two thousand five hundred dollars — a neat little sum for a cat — she is worth describing, and the London Spectator grows quite poetical in admiration: "She is an exquisitely beautiful creature, with wonderful limbs and head and ears, with an indescribable gracefulness, as of a fairy queen among cats, and fur like the richest of seal-skin when the first faint tinge of the lurking yellow suggests itself amid the brown. Indolent, nonchalant, but perfectly aware that she is the observed of all observers. She lies upon her supplementary cushion in the warmth of the crimson and gold, with one soft brown leg and languid paw curved, half open, round her breast, like the hand of a fine lady from which a fan has just dropped." - Charleston Daily News, Jan 16, 1873

1872 OTHER CAT SHOWS

BOSTON (LINCS) HORSE, DOG, POULTRY, PIGEON AND CAT SHOW. Stamford Mercury, 17th June 1872
Boston Horse, Dog, Poultry, Pigeon And Cat Show will take place on Tuesday ad Wednesday, July 2nd and 3rd, 1872. Prize lists and Entry Forms may be had from the manager, Mr. E.S. Smith, or the Secretary, Mr. C. Ingamells, Boston.

CAERMARTHEN CAT SHOW Exeter Flying Post, 31 July 1872
A cat show is being held in Caermarthen this week.

DOG AND CAT SHOW AT NORTHAMPTON. Birmingham Daily Post, 19th August 1872
The second annual Midland Counties Dog and Cat Show commenced at Nortbampton on Saturday, in the Melbourne Pleasure Gardens, and will continue today and to-morrow. The various classes of animals were well represented, especially bull-dogs [. . . no further mention of cats].

NORTHAMPTON DOG AND CAT SHOW. Leicester Chronicle, 31st August 1872
It is said that Leicester was not unrepresented at the late Midland Counties Dog and Cat Show at Northampton, but though it is added that the "foreigners" carried off more than half the prizes, yet the awards proves that this county seems, to have been singularly unfortunate in its selections.

BIRMINGHAM CAT SHOW, Sheffield Daily Telegraph, 26th October 1872
A cat show is about to be held in Birmingham.

LEEDS CAT SHOW. Yorkshire Post and Leeds Intelligencer, 23rd November 1872
LEEDS ROYAL PARK.—Music and Dancing Evening. Know and Spell Match This Day. 24th, 25th, 20th December, Great Cat Show.

A CAT SHOW FOR JERSEY. The Star, 3rd December 1872
We perceive by an advertisement in our third page that a cat show is to be held in connection with the Jersey Poultry and Dog Society, on the 1st and 2nd of January next, instead of on December 31st and January 1st as previously advertised. A cat show for Jersey is a novelty, and no doubt the feline species will be well represented, and more especially will such be the case if the old maids only determine upon exhibiting their favourite tabbies, tortoise-shell, et hoc genus.

CAT SHOW, DOVER. Whitstable Times and Herne Bay Herald, 28th December 1872
The first committee meeting for this year of the Dover and Cinque Ports Poultry Show was held on Thursday. The Mayor has kindly consented to be the president, Mr. E. P. Robinson chairman, Mr. C. Pain treasurer, and Mr. John William Bacon hon. secretary and manager. In addition to the show of poultry and pigeons, there will be cat show, on the 26th and 27th of March, at the Wellington Hall.

You are visitor number