SAINT AELWAER AND HER CAT
At first glance this Dutch woodcut of 1550 by Cornelis Anthonisz looks like a Middle Ages image of a donkey-riding witch accompanied by her animal familiars. Indeed, some writers have looked no further than their own preconceptions and described her as a demonic anti-saint, the mother of all vices and a 'Virgin Mary in reverse'. Although the portrayal is a parody of the Virgin Mary in Durer's "Flight into Egypt," with the pig replacing the infant and the magpie replacing the Holy Ghost, Saint Aelwaer is not demonic, nor is her uplifted cat a symbol of the forces of evil. Below the woodcut, the sixteenth century verse explains her attributes.
"Aelwaer" means "contempt and in English we might call her either "Saint All-True" (ironically) or "Saint Quarrelsome." A broadsheet printed 1550 was a brazen parody of holy images. The foolish prattler was a standard and often bitter subject of jest. In the topsy-turvy carnival tradition in Europe, slaves became masters and wise men became fools. Religion was similarly parodied. Saint Aelwaer is a carnival figure and has several sister saints in the form of St Luyaert (St Sluggard), St Reijnuut (St Spendthrift) and St Babbler (St Babille). She's not a witch - she's poking fun at religion.
She was the (joke) patron saint of quarrels, rioters, troublemakers, revellers, musicians and similar rowdy folks, particularly those of Flanders and Amsterdam. She is a nagging, scolding, malicious, gossiping busybody. Those who blow on Saint Aelwaer's horn, i.e. those who argue, will not profit from doing so. There were many joke saints in Middle Dutch literature. Sinte Ver-Leghe (Saint Emptiness), Sinte Luyaert (Saint Lazybones), Sinte Noywerc (Saint Never-Work), Sinte Niemant (Saint Nobody) and whole parody religious legends such as the Holy Drincatus (drunkard), the Holy Haring (herring) and various others.
She is portrayed riding a donkey, which, according to the verse "does not mess with and go" which is an expression for stubbornness or obstinacy. The screeching magpie on her head symbolises scolding not, as suggested by some, immortality. This bird is a trickster and here it represents malicious gossip or its benign variant, idle chatter. It's a symbol of someone with a big mouth, who always wants to be right. Gossip was considered to be one of woman's main faults. The squealing pig under her arm represents the injustices of her life and how she is seen by others, rather than symbolising the vice of gluttony. The cat held aloft in her right hand is not a symbol of evil. Or of being in league with the devil – its cry is calling her a quarrel. Think "cat fight" rather than a witch's familiar. While cats were persecuted in the Middle Ages Europe, this particular cat is a sign of quarrelsomeness, not witchcraft.
The woodcut also shows a rat although it is not mentioned in the verse. The rat is almost completely hidden on Aelwaer's shoulder. The rat might symbolise backbiting, but it also represents death – maybe the rat is at Saint Aelwaer's throat, and according to the medieval conception, sin leads to spiritual and physical death.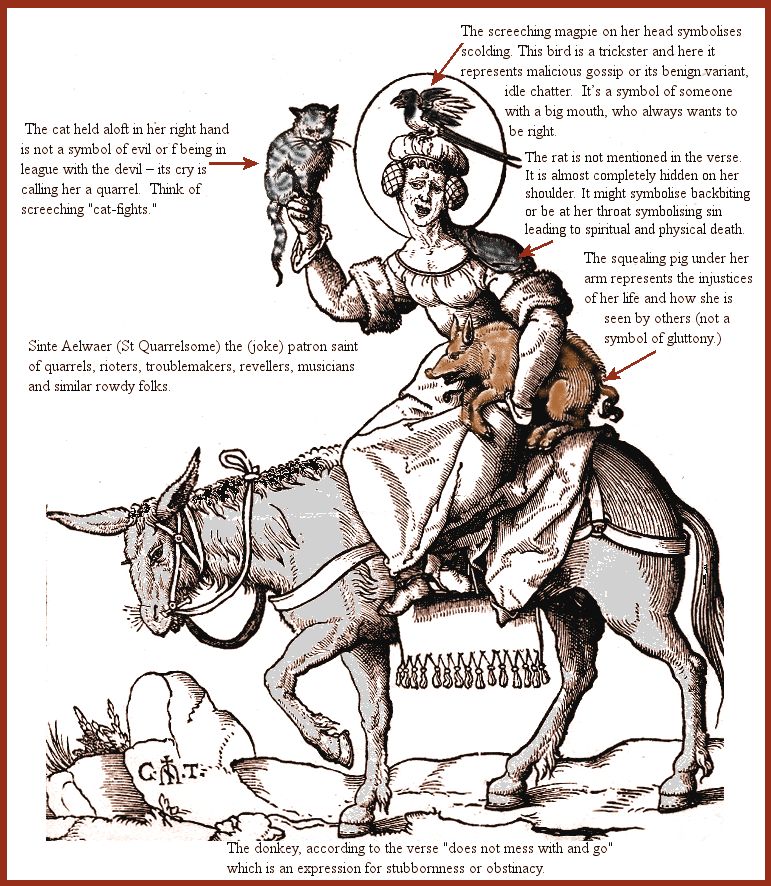 The image is accompanied by a long anonymous ballad poking fun at many quarrelsome men as well as celebrating St Aelwaer's powers. The chorus calls for everyone to join in worshipping the great Saint Aelwaer, the presiding genius of all uproar, for at the end of the day the gravity of such noise has been much exaggerated …. When carnival is over, the slaves and masters go back to their proper position in life.
On Saint Aelwaer's head sits a bird
Called a magpie, that chatters always,
Just so is a quarrelsome man who never shuts up
And who never has anything good to say.
Aelwaer also gives her grace to religious sisters and brothers, lollaertkens (Lollards) and bagijnkens (Beguines', which were religious lay orders active in Northern Europe, particularly in the Low Countries at the time. These lay orders did not have an official clergy and tended to disagree with each other and disagree with Catholicism over how to practise Christianity.
She was also no stranger to tavern and becomes a trusted guest in the home of the man who always goes home drunk in the evening. The next morning his wife starts to argue about that, but he dares not say anything. He regrets his actions, but cannot give a satisfactory response. She harangues him, but he doesn't believe it of himself. At 'Bordeus', i.e. in a brothel pub (meaning Bordeaux, the wine town), Aelwaer can be found among the guildswomen i.e. the guild of whores – which existed only in the minds of poets. She also influences those who sing songs, dice, play cards and other gambling games. The verse ties in with the late-medieval belief that quarrelsomeness is one of the four consequences of drinking.
The first stanza of the ballad of Saint Aelwaer is a call to venerate the saint. The next four describe the characteristics of the saint and her followers, and the sixth calls everyone to join the religious guild of Aelwaer. These joke saints mock the practices around the religious fraternities that existed at the time. At their peak, these fraternities worshipped the relics (real or fake) or saints (real or imaginary) and for a fee would pray for the deceased to ensure entry into heaven (selling indulgences). Hence the verses speak of setting up a "guild" and a brotherhood to protect and nurture Aelwaer's relics.
The verse is in old Dutch, which I can't translate, though the first lines go something like:
"Each serves Sinte Aelwaer with greater respect,
Though she's lamented by many people. "
Elck dient Sinte Aelwaer met grooter begheert,
die van veel menschen wordt gheeert.
Gheestelick, waerlick, comt al ghelijcke
om te versoecken dese groote santinne,
een patroenerse van arm ende rijcke,
edel, onedel. Twaer tot uwer gewinne.
Sinte Aelwaer heet sy; verstaet wel den sinne.
Dus brengt haer uut minne u offerhande,
want si heeft gheregteert van swerelts beghinne
oost, west, suyt, noorden, in allen landen.
Daerder twe vergadert zijn (opent u verstanden),
daer is si int middel, soot heeft ghebleken.
Wilt haer verlichten. U licht laet branden
ende wilt haer dach daghelicx een kaers ontsteken,
opdat ghi by haer moecht worden gheleken.
Twordt u gheraden ter goeder trouwen.
Haer gracie en sal u niet ontbreken.
Wiltse doch met ooghen aenschouwen,
waer dat ghi zijt voor ende na.
Praise great St. Aelwaer.
Op een eezel is si gheseten,
die niet haest uut sinen treet en gaet.
So ist oock mede, so elck mach weeten,
met Alwaerts kinderen; dit wel verstaet.
Sy willen doch recht hebben, tsi goet of quaet.
Niemant en wilt verloren gheven.
Sy en vraghender niet na, wat hindert of baet,
al soyden si altijt onrustelick leven.
Dese waerde grote santinne voorschreven,
onder den eenen arm heeft si een vercken
ende in dander hant een kat op gheheven,
twelck is tot Aelwaers verstercken:
een vercken moet guorten in allen percken,
twelck alle onrust heeft te beduyen;
doort lollen der katten so mach men bemercken
donvredelicheyt van daelwarighe luyden.
Waer ick vaer, noorden of suyden,
ick moet haer aenroepen vroech ende spa.
Lof grote Santinne Aelwaria. (Praise great St. Aelwaer. )
Op Sinte Aelwaers hooft een voghelken sticht,
een aecxter gheheten, die altijt schatert.
So is een aelwarich mensen, die nemmermeer swicht,
die zijn kinnbacken nemmermeer goet en snatert.
Heeft hi recht, onrecht, zijn tonghe die clatert
met luttel bescheyts; ramp heb zijn kiesen.
Dus moetet wel wesen een onghevallice pratert,
die altijd winnen wil ende niet verliesen.
Onder duysent Walen ende Vriesen
daer is Sinte Aelwaer wel bekent.
Ick weetse die met Aelwaers horen so sterck bliesen,
dat si daer door int eynde werden gheschent.
Maer Tamstelredame, der stede present,
daer is Sinte Aelwaer hooch op gheresen.
Haer figuere worter door liefde gheprent.
Sy wort vanden menighen int herte ghepresen.
Dunct u niet dat ick die waerheyt ra?
Lof grote Santinne Aelwaria. (Praise great St. Aelwaer. )
'Sinte Aelwaer begint tonsen huyse heel te bomen',
sprack daer een man van vremde faetsoene.
Alsmen hem des avents droncken thuys siet comen,
soe stoot hij teghen den drompel zijn schoene.
Maer sanderendaechs smorgens vroech voorde noene,
dan hoortmen Sinte Aelwaer thooft op steken.
Dan swijcht hi ende en is niet so coene,
dat hi niet een woort wederom en darft spreken.
Al slumerende overdenct hi zijne ghebreken,
hoe dat hi sijn ghestelicke schult niet can betalen.
Daerom moet si een gordijn preken,
mer tgeloof vandien is verde te halen.
Sinte Aelwaers gheest sietmen oock dickmael dalen,
daer si met die canneken cloppen ende clincken.
Tbier ende wijn en laten si oock niet verscalen,
totdat si van mijn heer van Valckesteyn singhen.
Al dese religie van Sinte Aelwaers dinghen
moet ick vercondighen, waer ick sit of sta.
Lof grote Santinne Aelwaria. (Praise great St. Aelwaer. )
Te Bordeus hout Sinte Aelwaer dick haer stacie,
daer die behulpelicke vroukens vander gilde wonen.
Susterkens, broerkens sentse oock haer gracie;
lollaertkens, bagijnkens, so si kan betonen.
Dit volck en aelwaert niet om malcander te hoonen,
maer elck wilt liefste kint gheacht zijn.
Si schickent, so si mogen, om hem selven te verscoonen,
op si so moghen vanden pater bedacht zijn.
Sinte Aelwaer toont oock haer moghende cracht fijn
op dobbelaers, fluysers ende sanghers mede.
Dat die hoofden staen en roken, tmoet oock gesacht zijn.
Verkeerders, tictackers sijnt oock haer seden.
Retorijckers, muysikers claghen seer met reden;
organisten, herpenisten, alle konstenaers tsamen,
hoe dat si vergheten sijn in dorpen, in steden
van Sinte Aelwaers gracie, twelck si haer namen.
Maer al dese ander moeten haer tot dancbaerheyt ramen
van Sinte Aelwaers gracie buyten haer sca.
Lof grote Santinne Aelwaria. (Praise great St. Aelwaer. )
Den abt van Grimberghen met mijn heer van Kijfhoeck,
die sachmen verheffen ende canonizeeren
met doctor Muylaert. Hoet in gherijf cloeck
Sinte Aelwaria niet om vol te eeren.
Oock ginghen si een costelick gilt ordineeren,
opdat die relequien nyet en soude verdwalen.
Om een commers gulden is dit goet te ontbeeren.
Daer moecht ghi dit ghilde wel mede betalen.
Comt Noormans, Denen, Duytsen ende Walen.
Dese gracie moechdi altsamen verwerven.
Met sanck salmense eerlick te kercken halen.
Al die ghene die in dit ghilde sullen sterven,
een eewighe memorije moecht ghi u selver erven.
U kints kinderen, die sullent ghenieten.
Sinte Aelwaers gheest salder oock om sterven.
Mit den dou haers gracijs sal sise beghieten.
Haer te bewijsen laet u niet verdrieten.
Godt weet, dat ickse niet en versma.
Lof grote Santinne Aelwaria. (Praise great St. Aelwaer. )
You are visitor number