RUGS - TIPS FROM INSTRUCTION SHEETS


Sarah Hartwell, 2014

WORKING THE RUG

Regardless of which latch-hooking method you use, the completed rows will be closest to you and the unworked canvas further away. That's because it's much easier to latch-hook in that direction. For most of us, when working picture rugs, that means working bottom-up/away from you. It's important to stick to one method so that the knots all face the same direction - otherwise, as the rug wears, the knots will settle unevenly and leave gaps in the rug. Apart from that, we all develop our favourtie techniques. Some like to work in strict rows from one side to the other. I like to work in blocks of about 10 rows by 20 squares. When I get to an intricate area, I tend to work that area as a block. Every so often, it's a good idea to turn the rug over and check for missed knots. The thing to avoid is filling in one colour at a time on the canvas - not only will this get fiddly, there is a likelihood of missing squares or pulling the canvas out of shape as you struggle to fit a knot into a gap.

Circular or shaped edges need binding, but with straight edged rugs you only need to turn the cut edges and knot through the double thickness. Whether you turn these over upwards or downwards is really a matter of preference (Readicut tell you to fold them upwards). Folding them over upwards makes sure the back of the rug is perfectly flat, which is essential if you expect it to get a lot of wear. For purely decorative rugs, it doesn't really matter.

INSTRUCTIONS FROM 1970S LATCH-HOOKING SUPPLIERS BOYE

This set of instructions from the now defunct latch-hooking suppliers "Boye" are some of the most comprehensive I've come across in pattern books of the time. It advises the rug-maker to hem the rug after hoooking it, even with rectangular canvases(unlike the Readicut instructions).

INSTRUCTIONS FROM 1977 "RUG MAKING - CREATIVE PATTERNS" LEAFLET

This set of instructions comes from a leaflet from Publishing Innovations Ltd (London). The leaflet covered all different types of rug making methods. Unlike the Readicut instructions, this told the rug-crafter to turn the edges of the canvas under, rather than over.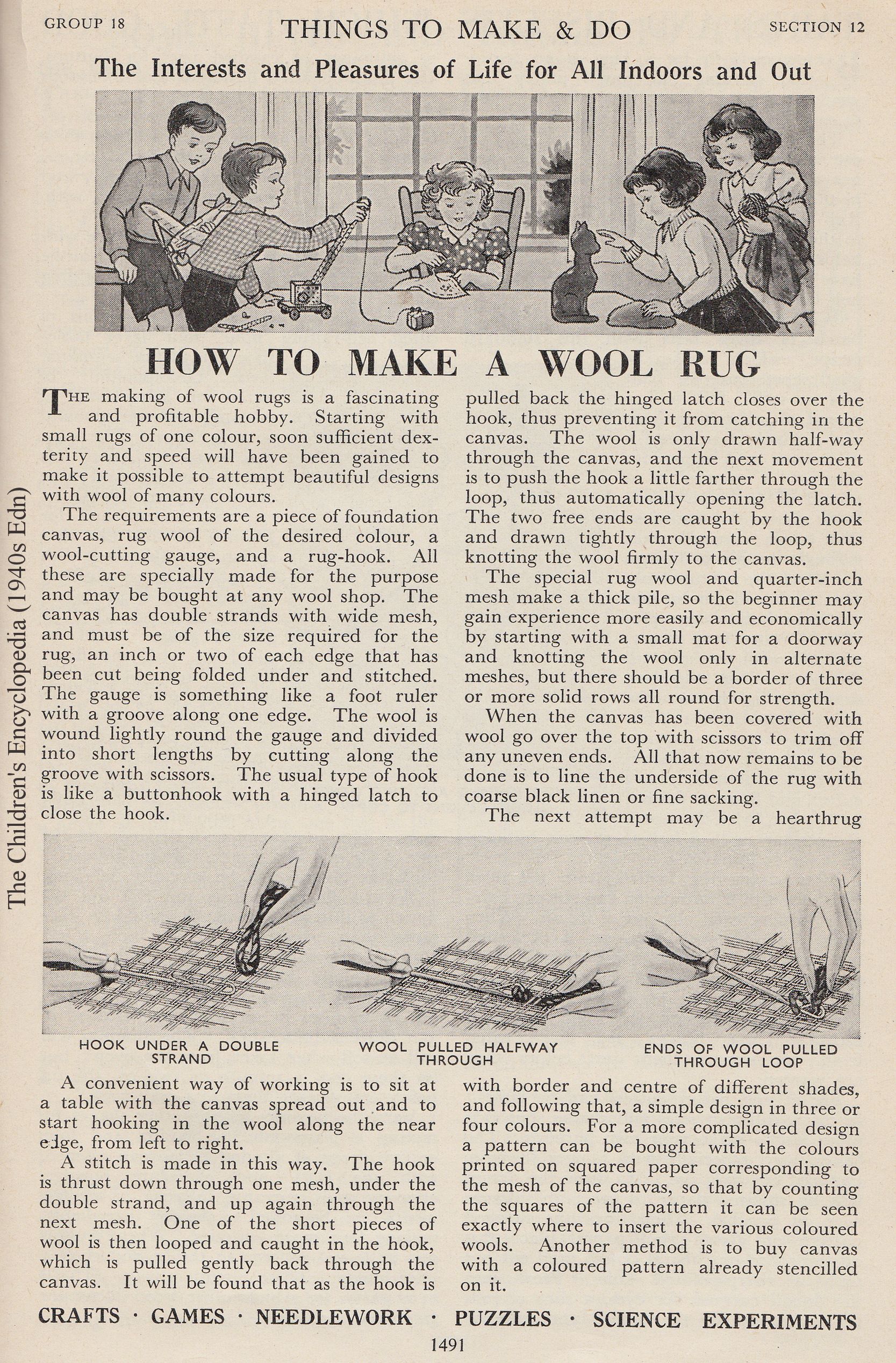 You are visitor number: