RUG SUPPLIES (INCLUDING VINTAGE YARNS AND KITS)


Sarah Hartwell, 2014-2018

MODERN RUG WOOL AND KIT SUPPLIERS

These days I bulk buy pre-cut packs from Iriss (their own brand). Iriss also stock Anchor rug wools, which seems to be the main brand stocked in knitting and sewing shops. Well into the 1980s, Readicut was widely stocked in shops in 2 pack sizes (320 and 160 pieces; though kits might contain 80 piece packs as well), and craft shops were happy to order shades in bulk for their customers. When my local craft shop closed I couldn't find any local sources of rug wool, so I made regular pilgrimages to Selfridges in London for packs of Coats rug wool. These days I can buy Anchor packs in a local knitting and sewing shop, and larger quantities using the Internet. Iriss also stock balls of rug wool for cutting at home; which is essential when making deeper pile rugs. Skeins are sometimes available, but I find them awkward to unravel and cut.

Balls or skeins of wool can be cut to length using Patons "Turkey Rug Wool" cutter - a simple but effective design comprising a length of wood with a lengthwise groove along one surface. You wind the wool around the wood (heeding the warning "do not double wrap") and cut along the groove. You can increase the strand length by nailing a thin piece of wood to the bottom of it. These wooden cutters also turn up second hand, but are not hard to make. All mine are for stand length pieces, but you used to be able to buy different size wooden guides for different depth of pile.

Synthetic and semi-synthetic fibres are hard-wearing, colour-fast and washable hence their appeal. In yarn form they have a silky texture. If used until worn out and then recycled (either into plastic pellets for reuse, or shredded as insulating fibre in garments) these have a carbon footprint similar to natural wool. However, in the modern "disposable" society, these decompose slowly in landfill sites, or produce toxic fumes when incinerated, hence they contribute to environmental problems.
Acrylic fibres are synthetic fibres made from a polymer. Brands found in rug yarns include Acrilan (Monsanto) and Orlon (DuPont).
Nylon is a generic name for synthetic polymers known as aliphatic polyamides. It is most often encountered in stockings and tights. Nylon melts when heated, gives off toxic smoke when burned and decays very slowly, but can be industrially recycled.
Polyester is a category of polymers which contain an ester in their main chain. Natural polyesters and a few synthetic ones are biodegradable, but most synthetic polyesters are not, though many can be recycled.
Shillcraft (not the same as Readicut Shillcraft) produce a number of lovely designs, but their kits use 2 x 3 ply (equivalent to 6 ply) acrylic yarn – I'd certainly try one second hand! Once again, I'd prefer to buy those patterns in chart form and use pure wool. Caron kits use acrylic yarn and 4 hpi canvas, but most of their designs are too cutesy for me. Vervaco also produce rug kits with acrylic yarns. The patterns may be lovely, but I'm very biased against acrylic yarns. Anchor acrylic yarn rug-kits use a higher hole count to give a tighter pile and more detailed patterns. Mary Maxim is a Canadian company, founded 1954 and still trading, whose rug wools and kits can be found online.
If you're just starting out, choose a kit that you find attractive, that isn't too large, and then see if latch-hooking is for you!
Rug wool from historical suppliers still turns up often on ebay or in charity shops.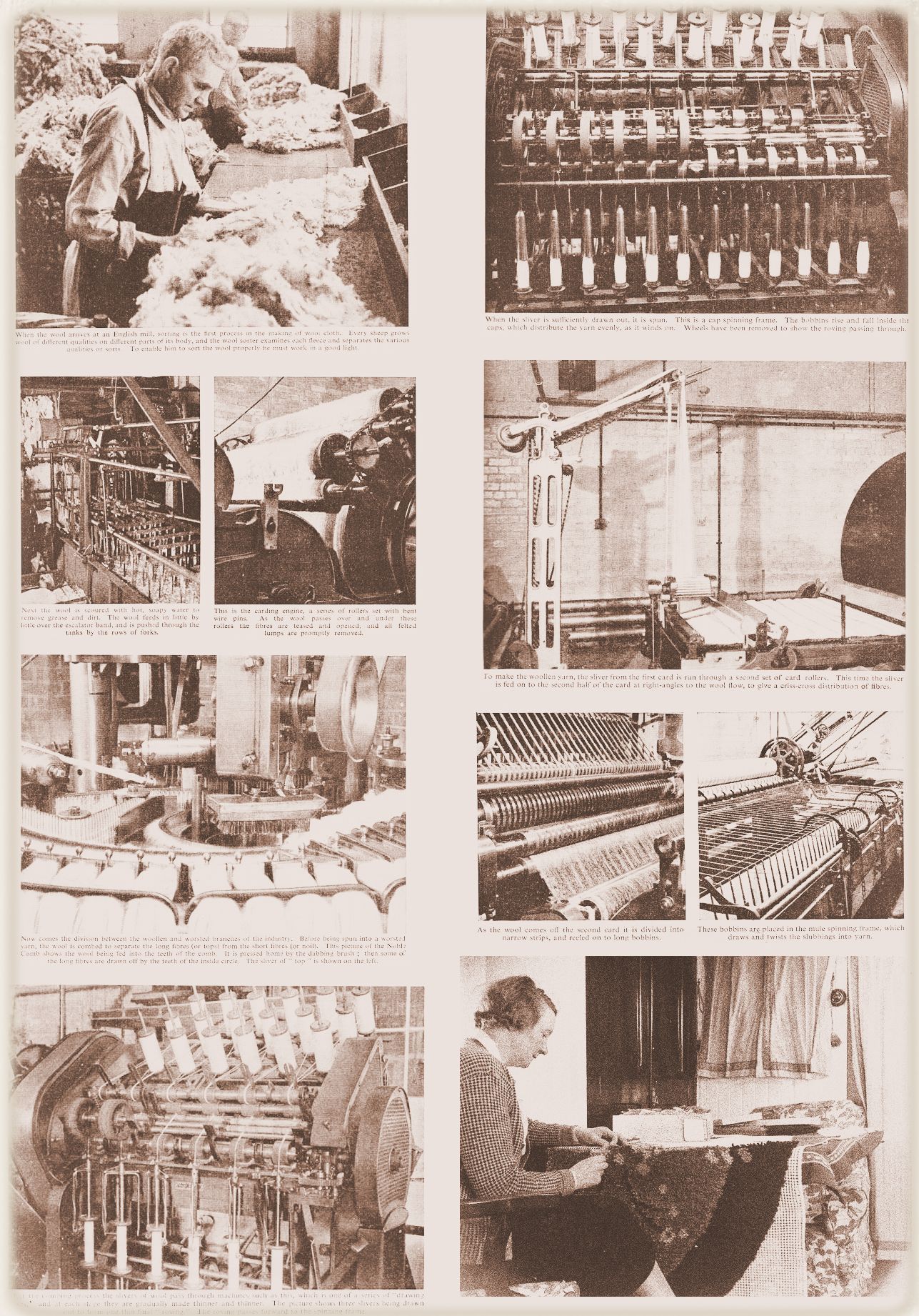 Rug yarn suppliers were often keen to educate their customers in how their product was made.
Anchor (formerly Coats)
Anchor Mills was built for John Clark, of Paisley. The Clark family were successful thread manufacturers and, along with the Coats family, established Paisley as a world leader in thread manufacture. The Clark company logo was an anchor, hence the mill's name and the brand name of the products. Clark became part of Coats & Clark, which became Coats plc who still own the Anchor brand. Coats & Clark entered a rug-craft marketplace ominated by Readicut and Patwin (Patons & Baldwin), but ultimately bought out Patons & Baldwin. Anchor is probably the most widely available pouches of pre-cut wool, though I'm sure I used to buy pouches of Coats brand rug wool from Selfridges in London back in the 1980s when my local supply of Readicut dried up. A decade or more earlier, Coats also produced rug making catalogues and kits. Anchor produced some charted kits sold by third parties with pure wool yarn. There are also Anchor rug kits using acrylic yarn on 4.5 hpi canvas which gives better detail and a pusher pile though personally I'd prefer to buy the pattern chart and use Iriss or Anchor wools on 3.3 hpi.
Iriss
My personal favourite, Iriss produce their own rug wools in colours compatible with Anchor (they also stock Anchor wools). I use Iriss wools for most of my rugs, only switching to Anchor if there isn't an Iriss equivalent. You can mix Iriss and Anchor yarns in the same rug without affecting the texture. Iriss also have some lovely kits, that I'd love to make were I not producing my own patterns! Their pure wool range of designs come from Georgina Martin, Mariarosa Martin, Susie Huntington, Alison Davies and Anchor (the same as the Readicut / Craft Collection Homemakers) range.
Junghans-Wolle
In 1950 Erhard Junghans opened the first Junghans dealer in Aachen. This led to the birth of the Junghans-Wolle mail order company in 1954. Today, there are Junghans-Wolle Creativ outlets in Germany, Austria and Switzerland by catalogue, as well as the Aachen store. Junghans Wollversand GmbH & Co. KG is still family owned and managed by Dieter Junghans (managing partner) and Ulf Berg Johann (Managing Director). In addition to other textile crafts, Junghans-Wolle offers a wide variety of latch-hook kits and yarns. Some are the familiar Disney kits and others are Oriental, Berber or modern designs. These are mostly made with Junghans Acrylsmyrna wool (100% acrylic) in cut packs. 50g balls of Smyrna wool is available in a limited colour range (cream, brown etc). The rug-related services available from this company suggest that Germans, Austrians and Swiss are more enthusiastic rugmakers than Britons.
What really puts Junghans-Wolle in the Readicut mould of yesteryear is their customisation service. If the colour scheme of a chosen design doesn't fit your home decor, they can customise the colour range. Many of their designs can be scaled up or down. They even offer format changes: changing a design from square to round, oval, triangular or octagonal are not a problem for Junghans-Wolle. They then go beyond the Readicut model: if you don't have time to make the rug yourself, you can pay Junghans-Wolle to make the rug for you. If you make a start on one of their rugs, but can't finish it, you can pay them to complete it for you. They can also create rug patterns from photos and supply the appropriate amount of Acrylsmyrna. I have a 1978/9 Junghans-Wolle rug book, wool samples and other ephemera.
Mary Maxim
Mary Maxim is a family-owned hobby mail-order company with offices in Port Huron (Michigan), Paris (Ontario) and a retail store in Toronto. They produce their own brand rug kits, their own brand 100% acrylic 4-ply rug yarn and sell latch-hooking accessories. The company began in Sifton, Manitoba, Canada where Willard and Olive McPhedrain, began manufacturing and selling spinning wheels. Willard began a mail order company called "Sifton Products." In 1954 he relocated to Paris, Ontario. The "Mary Maxim" name honours the work of a shop girl called Mary Maximchuk. In 1956, Willard's son Larry expanded the company with an office in Port Huron, Michigan. In the late 1950s they became well known for patterns for chunky-knit sweaters. The company is now run by the third generation of McPhedrains.
Semco (New Zealand)
Semco Rug Yarn was previously known as Coats Patons Turkey Rug Yarn and is now produced by Elite Crafts & Products Ltd in North Canterbury, New Zealand. Elite Crafts & Products Limited were founded 2010 and operate a trade only wholesale company. When Brandcorp Ltd (formerly Semco Crafts) closed, Elite Crafts purchased the original Coats Patons Turkey rug wool machine. They are reintroducing the full colour range of the rug wool plugs (packs) using 100% New Zealand wool. Brandcorp Pty Ltd evolved from a company originally founded in 1907. It designed, manufactured and supplied needlecraft and art products in Australia and New Zealand. Its predecessors include Sir William Holdings Ltd (incorporated in 2004), Semco Crafts (NZ) Ltd (2004 to 2008) and then Brandcorp Ltd from 2008 until dissolution in 2012. Semco Crafts Ltd also traded as Aotearoa Products Ltd (incorporated 2000, dissolved 2009). other business names for this company include Baci Beads, Finecraft Design and Maria George Craft Shop. The Sewcraft trademark was registered by Semco Crafts Pty Ltd in 2000 and expired in 2009. In general, this was a handcrafts and haberdashery operation.
HISTORICAL RUG WOOL AND KIT SUPPLIERS
The 1950s to 1970s seem to have been the heyday of rug-making with the Readicut and Patwin (or Turkey) brands, dominating the market for rug-making yarns and supplies and Coats also having a presence. There were several companies producing rug yarns, some of whom also offered kits and design charts. Maybe it was the post-war era, with more women in the home, that saw people making their own rugs as well as knitting, crocheting and sewing their own garments. It was something you could do while listening to the wireless or gramophone in the evening. Some of these can still be found second hand; dug out of older relative's attics. Common yarns used were Axminster, cable and worsted. Axminster is used in broad-loom carpet weaving and feels rough when the yarn is handled, but the cut pile is soft and resilient. Axminster thrums (loom offcuts) were economical to use, but it could also be bought in skeins. Cable is a thick yarn that is best pre-shrunk before use. When used in latch-hooking, only alternating holes are used because of cable wool's thickness. Worsted is made from the long-staple pasture wool from long-wooled sheep breeds; the worsted preparation method involves combing rather than carding. Many rug yarns were described as worsted because of the production method which produced a weaving yarn rather than a knitting yarn.
These are adverts for brands of wool and suppliers in the 1920s (before Readicut revolutionised rug wool). Most of it is for cable wool. Brands include J & J Baldwin, Patons, Sirdar and Stoddarts.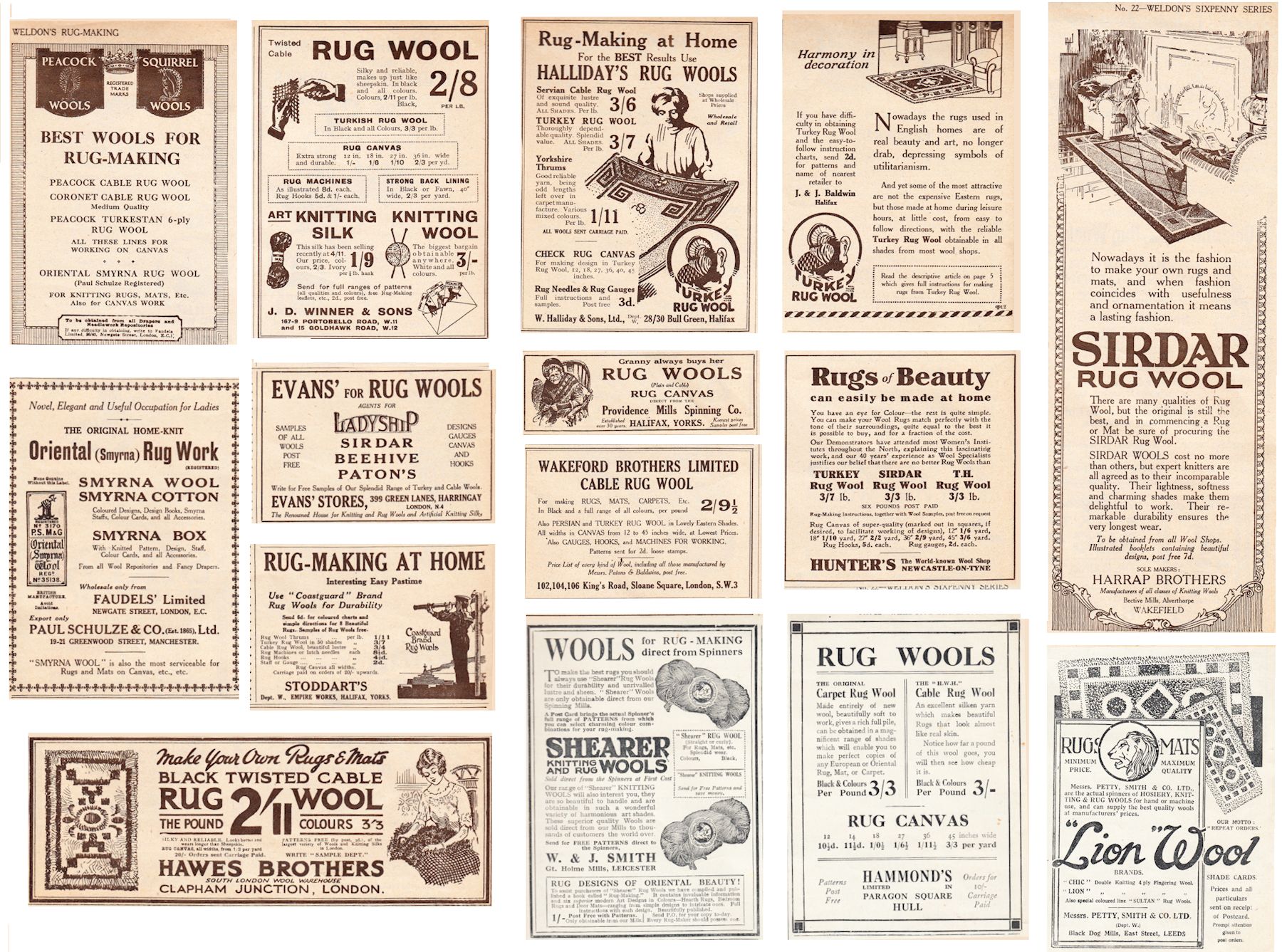 Archer. I know nothing about this brand, except for a rug wool gauge with the name and logo.

Bates & Co (Huddersfield) Limited, of Huddersfield, Yorkshire produced Batella brand yarn. The brand was registered in 1946 and expired in 1992 for yarn made mainly of wool or worsted. Bates Mill began life at the start of the 1900s as a spinning mill making woollen yarn. It is now operated by 2 brothers who are the third generation of the Bates family, but is now offices, studios and an event space.
Boye Needle Company was founded in 1906 and manufactured precision crochet hooks and knitting needles, along with tatting shuttles and bobbins. It later became part of Newell Companies of Freeport, Illinois. Newell Companies began as W F Linton Company (incorporated 1902; bankrupted 1903) who made brass curtain rods. Edgar A Newell took control and renamed it Newell Manufacturing Company, Inc. and it expanded into other household fittings with a brass, zinc, or lacquer finish. In 1971 , as Newell Companies, Inc, it acquired the Boye Needle Company. Boye produced latch-hooking accessories including the "Cut Up" yarn gauge, canvases and latch-hooks. In 1985 Newell acquired a stake in home-sewing company William E. Wright Company (founded 1897) and by 1987 had complete control of Wright which it merged with Boye Needle Co. By 1989 it had sold off the William E. Wright/Boye Needle home-sewing business. The Boye trademark (first used in 1913; formally registered in 1949) was allowed to expire in 1992. In 2001 Conso International Corporation, owners of the Simplicity Creative Group, bought Wrights, but no longer produces rug kits or accessories under the Boye name.
Bucilla was founded in 1867 by Bernhard Ulmann, a European emigrant who lived in Woodside, New York. He originally sold napkins, doilies and handkerchiefs printed with silk-screened embroidery designs from a hand-barrow on the streets of east New York. In 1870, he opened a retail store and in 1875, he began to sell his products to other retailers. His company was Bernhard Ulmann Company, Inc (Lace, Linen, and Accessories), which was later shortened to its acronym of Bucilla. In the early 1900s, the company developed Mellina knitting yarn which accounted for nearly 70% of Bucilla's total sales. its other products were needlecraft supplies and pattern books. Bucilla remained in the Ulmann family until 1922, when it was sold to its employees as an Employee Stock Option Purchase. The employee-owned Bucilla company flourished until 1962, when it was sold to Indian Head Corporation, a well-known conglomerate of the time. The popularity of hand-knitting was declining so Bucilla sold its mellina brand and concentrated on needlework kits, including latch-hook rugs. Indian Head was purchased by Hannson Trust, a Swedish company, who owned Bucilla until 1977. In 1977, it was sold to Armour-Dial, a division of Greyhound Corporation. Armour-Dial sold Bucilla to a group of private investors in 1983. In 1996, the company was purchased by the Dyson-Kissner-Moran Corporation and is now under the direction of Plaid Enterprises. Each time, Bucilla had to adjust to consumer needs and it evolved from a textiles seller and needlework company to a more general crafts company.
Columbia-Minerva Corporation and Caron - Edward C. Bettem was already well-established in the carpet industry in Carlisle, PA, USA, when he built a new factory in 1902 at Minerva Mills (The Minerva Yarn Mills). By 1936 E.C. Bettem & Son, Inc. had relocated and The James Lee & Sons Co were manufacturing their hand knitting yarns at The Minerva Yarn Mills. By 1955 James Lee & Sons had become part of the Columbia-Minerva Corp. In 1980, Columbia-Minerva became a division of Caron International. As well as yarns, Columbia-Minerva, and later Caron, produced rug yarns and latch-hook rug kits. Meanwhile, in 1929 William Mueller built a factory in Robesonia, PA where he manufactured women's hosiery. During WWII, the vacated building was used for the manufacture of radio and radar detection equipment. In 1946 the building was sold to Caron Spinning Co. of Rochelle, IL to manufacture yarn. That company underwent several name changes and absorbed Columbia-Minerva Corp. Caron International became one of the world's largest providers of hand-knitting yarns, latch hook kits and knitting machines.
Below are adverts for various haberdashery departments and wool brands.



















Dixon Rom - thecahrts are marked For rug making with eaase and pleasure" and the address is simply "Dixon Rom, London, N.8. I have not found any more information about Dixon Rom.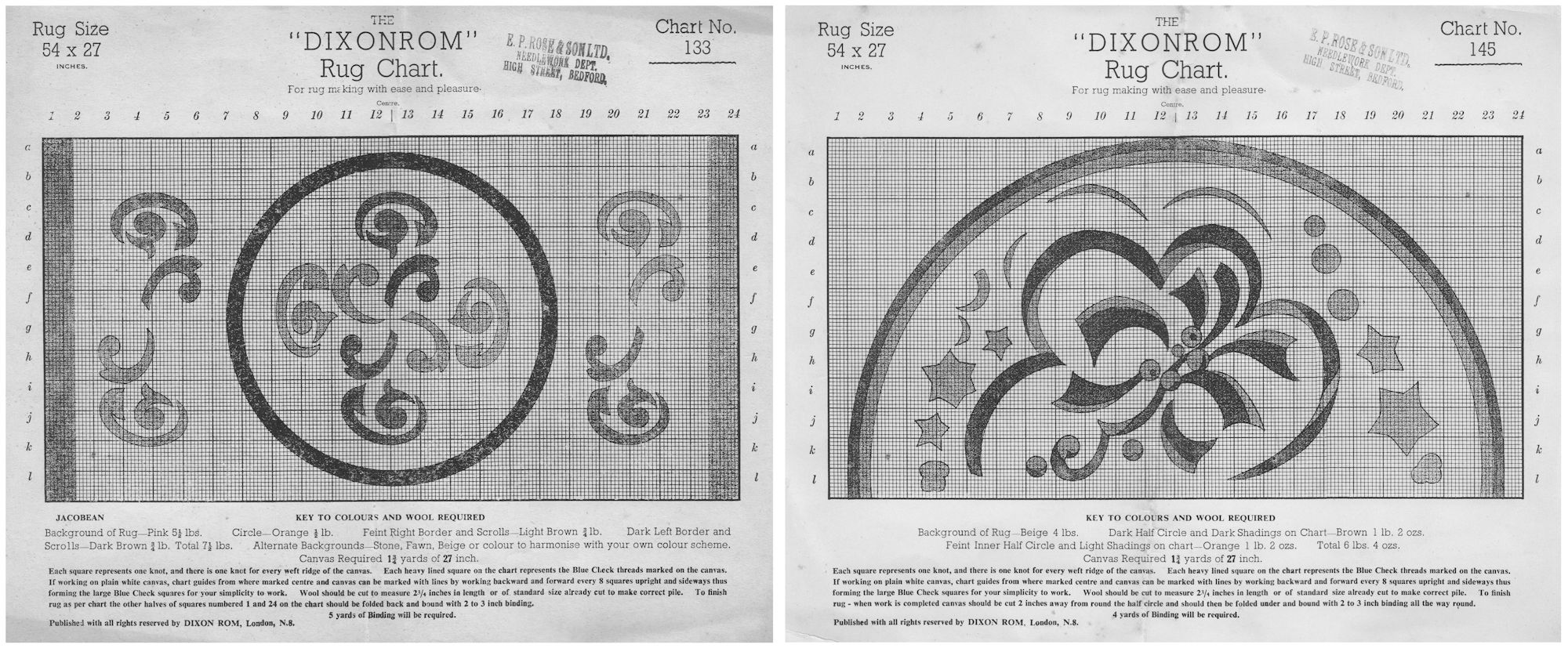 Emu Wools, trading from Emu House, Oxford Circus, London, W1 (Tel: Mayfair 7531) sold "Emu" Rug Wool in addition to their knitting wool (I have references to it from the mid 1940s to the 1960s). The trademark for Emu Rajah Rug Wool was registered on 12/12/1947 as "Classed 23. Yarns and Threads Yarns made wholly or substantially wholly of wool for use in rug making." The Dundee Courier (Dundee, Angus, Scotland) carried this advert on April 30, 1953: "EMU RAJAH RUG WOOL - 13/4 Per Lb. STENCILLED CANVASES - 4/11 to 21/9. STENCILLED HESSIANS - 6/11. AND A LARGE RANGE OF RUGMAKING ACCESSORIES. 82 PRINCES ST., DUNDEE". The Emu brand is now owned by Thomas B Ramsden & Co. (Bradford) Limited (founded in 1960). This company also owns the Wendy and Robin brands. Thomas B Ramsden & Co have several subsidiaries including Richard Poppleton and Sons Limited (incorporated 1900) and Carter & Parker Limited (founded 1925). The now company produces hand-knitting wool and knitting/crochet accessories. Emu rug wools are no longer available.

Falcon (Needlecraft International), a mail order company whose fliers were inserted into various magazines, offered a rug in its catalogue. It was a 3D rug, using mixed strand lengths worked in Tabriz wool. The koala design, with the onger strands for foliage, appears rather effective. This appears to be in the 1980s or 1990s.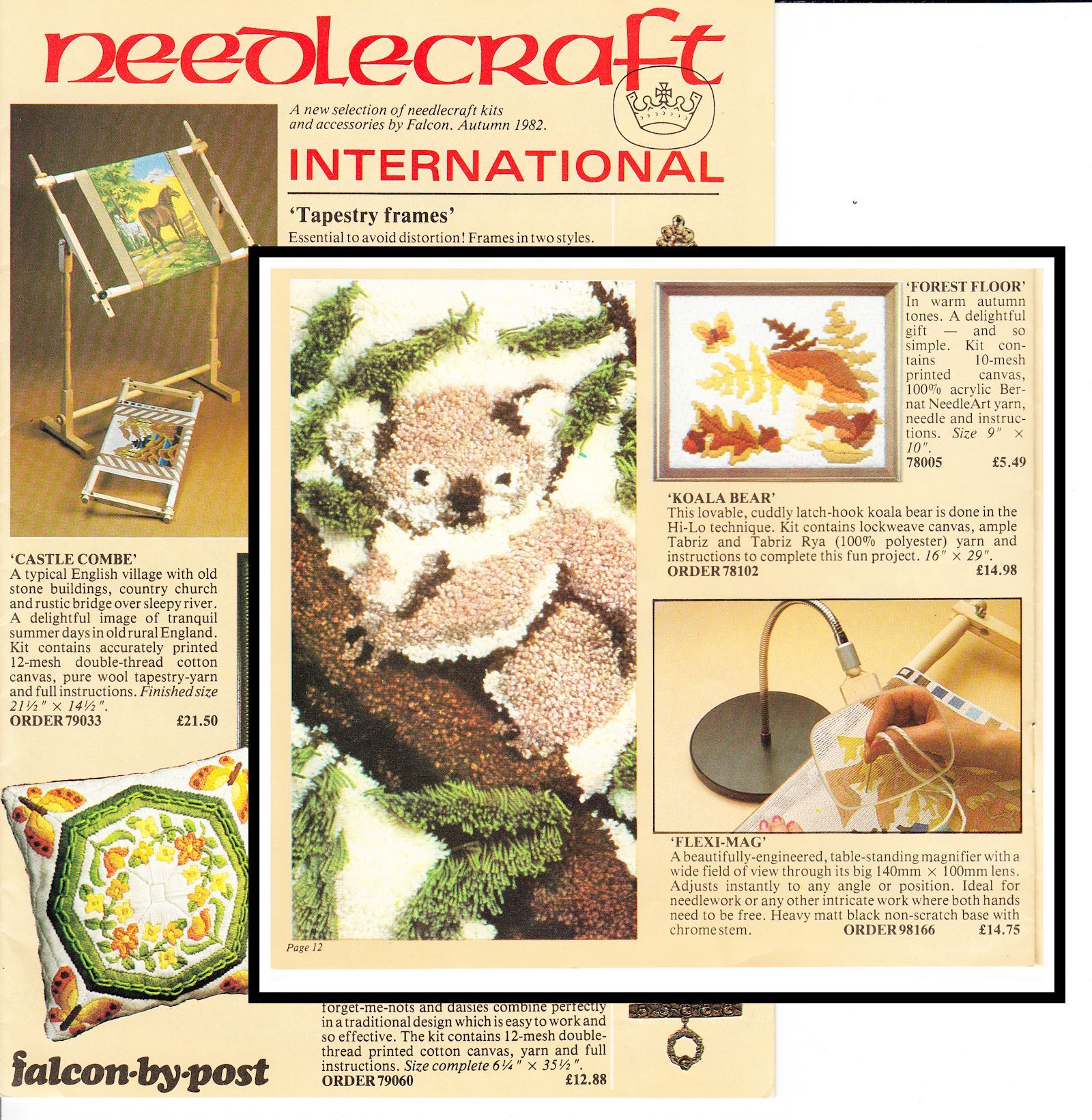 Granby Rug Wool was stocked by Rowe's Wool Shop (Leicester & Branches) whose flagship store seems to have been an impressive building at 70 Granby Street, Leicester (built in 1903 and notable for its three Wagnerian Viking heads and the ornate carvings in the panels between the second and third floor windows). This used to be occupied by Rowe's Wool Shop, but in January 1965 (according to the Leicester Mercury), rising costs and parking difficulties meant Rowe's had to move to 152 Evington Road, Leicester - over a mile away and 25 minutes' walk from the Granby Street premises. Rowe's Wool Shop was established in 1909 in Granby Street by two brothers, Mr Shirley Rowe and Mr Claude Rowe, both of whom had retired by that time. Governing Director at the time of the move, Mr R G Pateman, was their nephew, thus maintaining the family tradition. Mr Pateman, explained that their difficulties began with parking problems about four years ago and this, combined with increased operating costs, had made it impossible for a small firm to continue to trade in Granby Street. A new warehouse was built in Rowsley Street behind the new Evington Road premises and Rowe's continued to supply to a string of eight shops at Burton, Nuneaton, Northampton, Peterborough, Rugby, Loughborough and Coventry from their Leicester headquarters.
Handymaid Wool Company, Barkerend Mills, Bradford. I have their 1951 catalogue, but it's evident that they had been producing wool and rug kits for some years previously. Barkerend Mills produced the wool and the base cloth/canvas which could be ordered as complete "Handymaid" rug outfits. The face of Handymaid was their "Rug Stylist" was Beryl Bradford. The company catered for both traditional rug hooking/punching and latch-hooking/knotting. Their "Supereze" method used a "Nifty" punch needle and uncut wool on "Supereze" base cloth; a "scientifically spaced" fine-gauge pre-printed squared canvas, rather than traditional hessian. This was worked on a rug frame to hold the canvas taut and the resulting loops could either be left as loops or could be cut (in which case the rug-maker would probably have used a backing to hold the tufts in place). Alternatively, the "Simple Way" used latch-hook knotting and "Simple Way" canvas, which was ordinary latch hook canvas.
What happened to Handymaid Wool Company Limited (Company number 00476448)? I can't find any records about the company except for two mentions regarding its dissolution in 1968. The London Gazette, 23rd April, 1968, and the same publication on 20th June, 1968, reported: Notice is hereby given, pursuant to section 353 (3) of the Companies Act, 1948, that at the expiration of three months from the date of the publication of this notice, the names of the Companies mentioned in the list hereunder will, unless cause is shown to the contrary, be struck off the Register, and the Companies will be dissolved. Barkerend Mills, the address of the Handymaid Wool Company, was established and expanded between 1815 and 1852 as a steam-powered worsted spinning mill. The main building was listed and saw a variety of uses. The circa 1870 mill building is all that remains, minus its chimney; the rest (which had recently been converted into flats) was demolished following a serious fire in 2009. The fire was partly fuelled by oil that had soaked into floorboards during its years of use as a mill.
Hammonds of Hull was a department store. The company produced at least one leaflet giving ideas for rug-making. In 1821 H W Hammond opened a drapery shop on the old North Bridge in Hull. In 1861. the business moved to Osborne Street. In 1889 the business was sold to James Powell and Sons. It was incorporated as a company in 1913. In 1916, a new modern two-storey store was built, complete with elevators and a restaurant. A third storey was added in the 1930s, but the building was destroyed by enemy bombing in 1947. It continued in temporary premises until 1952 when it was rebuilt on Paragon Square. It continued to expand throughout the 1950s and 1960s when it added a fourth floor. In 1969, Hammonds of Hull took over the Carlton department store in Bridlington. This was demolished and rebuilt. In 1972 House of Fraser purchased the business from the Powell family and rebranded the stores as branches of Binns. The Bridlington store was closed and the Hull store was re-branded as House of Fraser.
LeeWards Creative Crafts was a North American crafts and fabrics retailer founded in Elgin, Illinois in 1947. In 1994, it was purchased by arts and crafts chain Michaels Stores, Inc. LeeWards produced latch hook kits and accessories; LeeWards pre-cut acrylic rug yarn and branded latch-hooks can be found on online auction sites. LeeWards began with mergers of Rudolph Petzelt's Chicago-based Mid-City Engineering Company with Elgin-based Collingbourne Mills, Inc. in 1943, forming Dexter Thread, Inc. Petzelt was only interested in the machinery, so former Collingbourne Mills employees Sidney Fink and Ralph Fried purchased the leftover Collingbourne inventory and in 1947, they registered their mail-order company as LeeWard Products Ltd. In 1948 they changed the company name to Dexter Thread Mills, Inc –confusingly similar, but unrelated, to Petzelt's company, with LeeWards as a brand-name. They were heavily involved in nylon thread. In 1969 LeeWards became a division of General Mills, Inc. and became a store-oriented art hobbies and needlecraft outlet. By 1974 the LeeWards chain of retail stores were a huge success due to variety and pricing (with discounts on bulk buys). In 1985, General Mills Inc sold LeeWards Creative Crafts, Inc to Munford, Inc; a company that had recently moved into the arts and craft market with its "Craft Bazaar" store. Munford wanted to expand by acquisition and the chain became LeeWards Craft Bazaar. In 1988, LeeWards was bought by their Elgin-based management team backed by outside investors. It began to cater more for crafters interested in "quick gratification" rather than longer term projects which were falling out of favour. One of LeeWards' main competitors was Texas-based Michael's Stores and in 1994, the privately held LeeWards Creative Crafts, Inc of Elgin, Illinois merged with Michael's.
Liberty (the London store) branded packs of rug wool can sometimes be found at auction. I bought a vintage remaindered lot of Liberty rug wool; it's 100% wool and was almost certainly produced by one of the rug yarn main suppliers (I don't know which) and labelled for sale at Liberty. Liberty of London was well known for selling Turkish and Oriental rugs and for their printed fabrics. The business was founded in 1875 by Arthur Lasenby Liberty, a former draper's apprentice who envisaged an Eastern Bazaar style store. His collection of ornaments, fabric and objets d'art proved irresistible to a society fascinated by all things oriental. By 1884, Liberty had expanded into fashion and fabric and had developed its soft palette of "Liberty colours." Liberty outlets opened in major British cities as well as in the USA and France, although these were later closed in favour of a single flagship store in London. Liberty fashions kept track with artistic movements such as the Aesthetic Movement and Art Nouveau. In the 1920s, Liberty began producing small floral prints that became famous as Liberty Prints. As well as their Costume (clothing) department, the shop sold fabric, drapery and wool. I'm not sure what era the Liberty branded latch hooking wool fitted into, but Liberty did have an extensive haberdashery department.
One of my oldest rug wool adverts comes from the 1898 Price List and Diary of Spencer, Turner and Boldero Ltd. "Perseverance" Rug Wool has only a brief listing so I've included the illustrations for "Perseverance" and "Rodbard" knitting wools to give a flavour of that era. I'm guessing that the rug wool was cable wool. As an aside, Patons wools and Baldwin's wools were also listed by type and weight.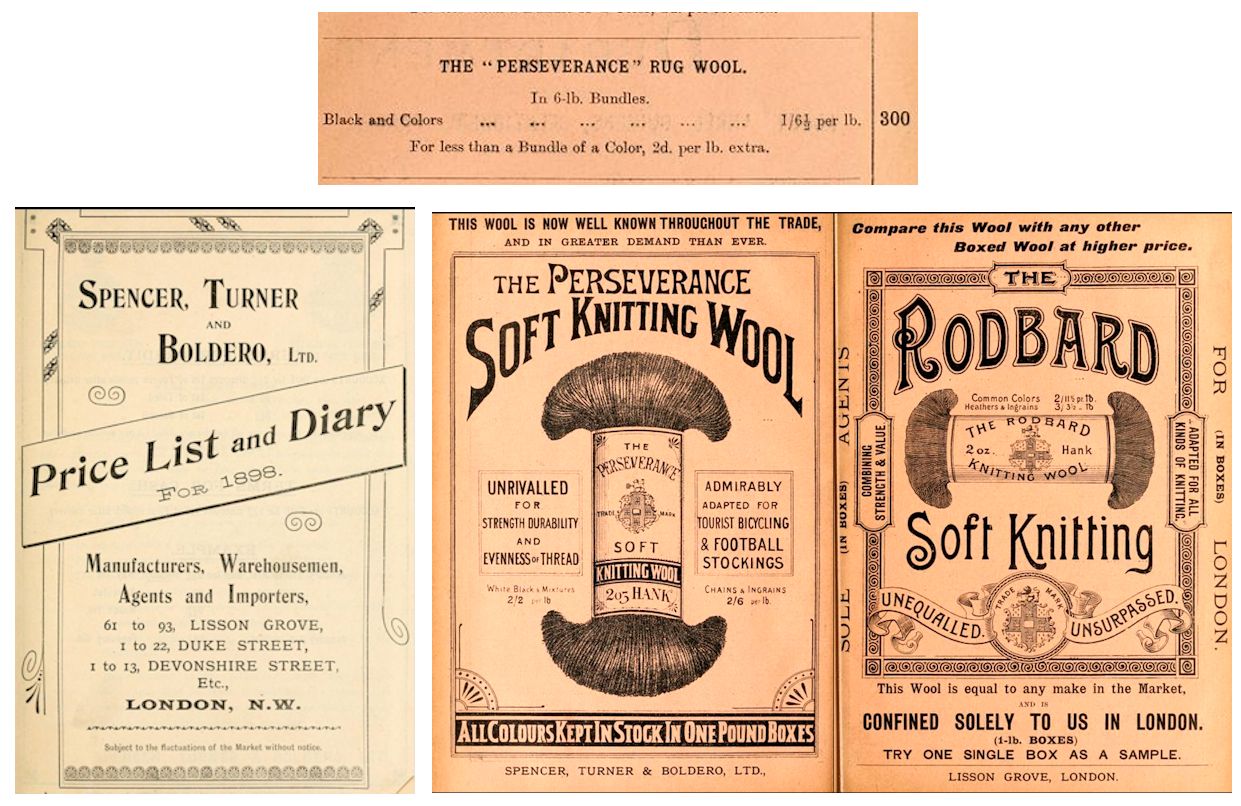 "Spencer, Turner and Boldero, linen drapers" began around 1855 on Lisson Grove, Marylebone, London. Much of Lisson Grove was run-down; in the 1890s homes were demolished to make way for the railway and the company diversified into wholesale dealers and "Textile and General Warehousemen, Drapers, Outfitters, Carpet and Furniture Dealers." This included the sale of wool and haberdashery. Their extensive corner premises incorporated 61-93 Lisson Grove and part of Duke Street (later Boldero Street), Devonshire Street (later Ashmill Street) and Exeter Street (later Ashbridge Street). By 1900 they were also tea merchants, wine and spirit merchants and "complete home furnishers" (a department store). They benefited from the post First World War housing boom in the immediate area. The company remained at 61-93 Lisson Grove as textile merchants until 1969 when the area was redeveloped into offices.
Malina (Borden) was a north American latch hooking supplier whose Hook-a-Rug kits can be found on auction sites and which appear to use good quality acrylic yarn.
The Malina name was first used in commerce in January 1971 (Yarns and threads for textile use) and with expanded cope in January 1976 (Lace and embroidery, ribbons and braid; buttons, hooks and eyes, pins and needles; artificial flowers) i.e. handicrafts. In September 1980, a U.S. federal trademark registration was filed for Malina by Armour Handcrafts, Inc., New Jersey, and given the trademark serial number 73277828 in the Yarns and Threads, Lace, Ribbons, Embroidery and Fancy Goods category. By April 1989 its status became "Continued Use Not Filed Within Grace Period, Un-Revivable." In December 1980, a Canadian trademark registration was filed for "Malina" by Malina, Inc of Providence, Rhode Island, USA and was given the application number 463347. The Canadian Trademark database listed it as producing "hand knitting yarns and kits containing canvas backing and yarn to be used in making art needlecraft products," but by 2014 it had issued a trademark abandonment notice and the MALINA trademark was listed as "Registration cancelled."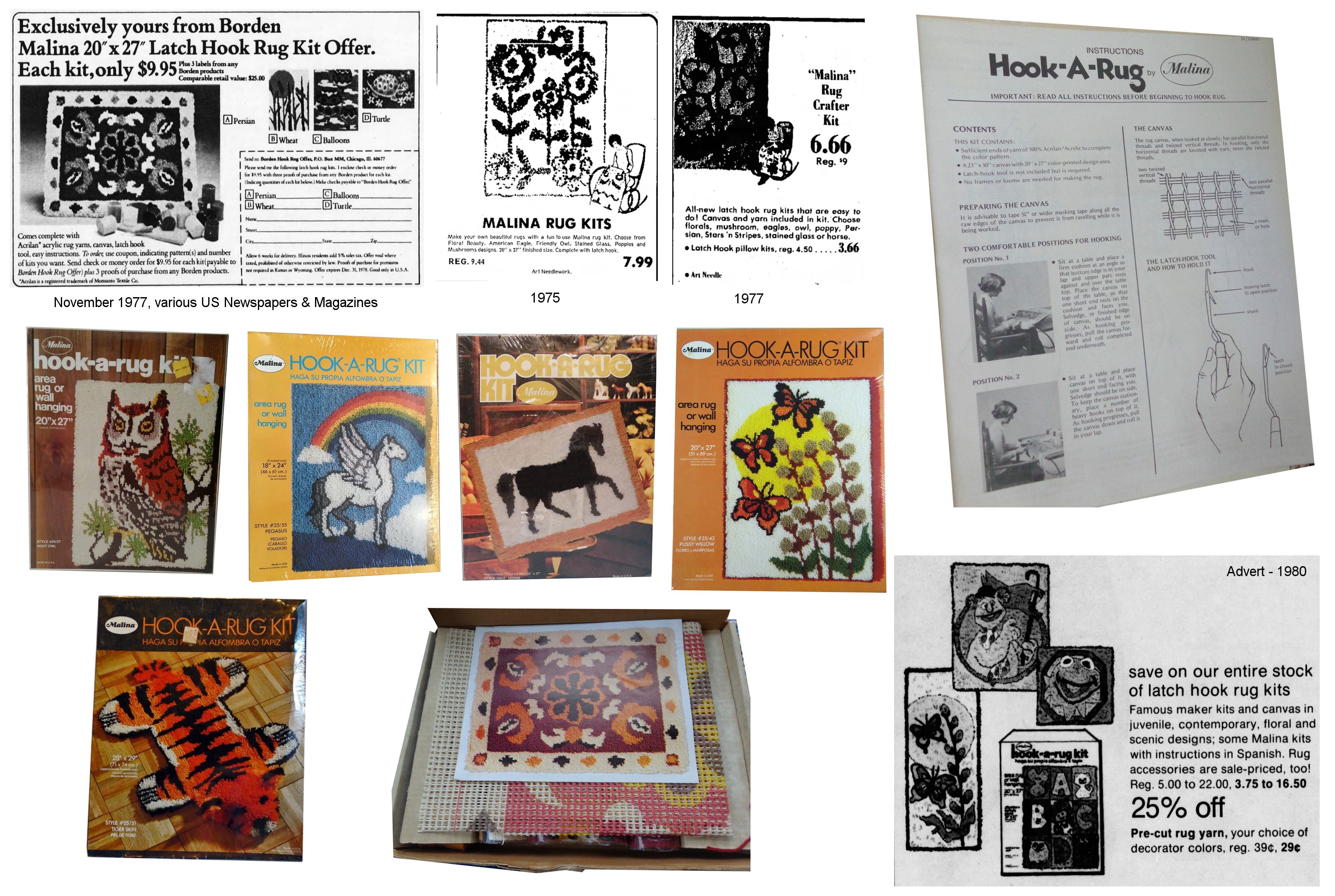 Prior to 1971, Malina Company were involved in a 1965 court case: Empire Rayon Yarn Co., Inc., v. (co-defendants) American Viscose Corporation, Fred Malina, Arthur Malina, Edythe M. Charnas and Fred H. Diamond Doing Business As Malina Company, Gutner Brothers Corporation. Empire Rayon Yarn Co., Inc. (Empire) bought unprocessed rayon yarn from manufacturers, processed part of it for the textile trade and resold the rest in its original packaging. Empire functioned as a "jobber" i.e. they bought the yarn from the manufacturer, stored it at their own cost and resold it. The defendant, American Viscose Corporation (American), manufactured and sold viscose rayon yarn in the USA under the tradename "AVISCO." As of 1958 (they date the case first went to court) American manufactured over 35% of viscose rayon yarn in the USA.
In 1949, American had established a distribution policy for selling its yarn directly to consumers and to two selected jobbers, Malina Company (Malina) and Gutner Brothers Corporation (Gutner Brothers), who were contracted to resell the yarn in smaller units. As part of their contracts they had to have their own warehouses, their own staff and maintain certain stock levels. They could choose to sell it more cheaply than American, but they got a price discount if they resold it at the list price. They were Americans "appointed jobbers." American had contracts with both Malina and Gutner Brothers from 1949 through 1955. Other companies could buy and resell yarn from American, but were not contractually appointed jobbers and were not entitled to any discounts and from 1952 to 1959, American sold smaller amounts of yarn at list price without discount to Empire (who also bought and resold rayon yarn from other manufacturers). Empire repeatedly asked American for treatment equal to that given Malina and Gutner Brothers and in 1956 American offered them a contract virtually identical to those of Malina and Gutner Brothers, but then withdrew the offer because the volume of yarn sold by the jobbing trade did not justify having any more appointed jobbers.
Empire had a history of threatening manufacturers. In 1953, they demanded discounts from American Enka Corporation and E. I. du Pont de Nemours. American Enka Corporation agreed a discount in 1958 but du Pont refused. After American refused to a discount, Empire sued American, Malina, Gutner Brothers and another distributor, Shawmut, Inc., claiming price-discrimination. (They withdrew the Shawmut case.) The court decided that reselling at American's list price was part of a buyer's contract, not a brokerage service rendered to American (brokers put buyer and seller in contact with each other). If Malina and Gutner Brothers chose to resell at American's list price they were entitled to a discount. American did not have to appoint Empire, or anyone else, as a jobber. Empire could still buy all the yarn it wanted from American, and could sell it for any price it could get. Empire argued that they could not sell yarn at a competing price because Malina and Gutner Brothers got discounts, but Empire didn't and this prevented free and competitive trade. It was not the place of the court to impose an unwanted distributor on a manufacturing company, so Empire's complaint was ultimately dismissed.
There's very little on the company itself. The Supreme Court of Rhode Island lists the case of Estrela F. Ponte v. Malina Company (doing business as Armour Handcrafts) which was decided in January 2000 and related to compensation due to an industrial accident in 1986. Ms Ponte, an employee, was injured while working as a machine operator at her employer's place of business. A little could be gleaned from the 2010 obituary of Edwin J. Skerry, a resident of Uxbridge, Massachusetts, who had been a Superintendent at Malina Inc in Providence, Rhode Island where he worked for 20 years. Prior to that, he had worked for 10 years at Bernat Yarns and was part of the relocation team when that company moved to Uxbridge.
For a while, Malina (Hook-a-Rug) was part of the Dial empire. Dial began as a brand of soap manufactured by Armour and Company, a Chicago, Illinois, meat-packing firm in 1948. Armour had been producing soap (from tallow, a meat by-product) since 1888. By the 1960s Armour's consumer products business became known as Armour-Dial. In 1970, Greyhound Lines, as part of their diversification strategy, purchased Armour, forming Greyhound-Dial (commonly called Greyhound-Armour). Greyhound Corporation bought Armour Handicraft, formerly Malina Co, in 1974 ("Malina yarn product lines," "Malina handknitting yarns and needle products") and sold it to its subsidiary, Armour-Dial Handicrafts in 1977, but the Malina yarns brand seems to have vanished in 1979. In 1987 Greyhound-Dial sold the Greyhound bus operation and it became the Dial Corporation. By 1996 it only retained its core business of personal- and household-care brands and was bought by Henkel in 2004. In 1996, Viad Corp was spun off the Dial Corporation and owned the Bucilla and Malina textile manufacturing divisions.
The website now associated with the Malina Inc name in the USA is that of Bedford Cottage/Kennebunk Home in New Hampshire, which has manufactured decorative throws since 1982. Malina Inc is still registered as a Yarn Spinning Mill in Allenstown, New Hampshire.
MCG Textile who produce Graph'N'Latch is a family owned business founded in 1972. It produces latch hook canvas, rug yarn, rug kits and other needlecraft supplies and accessories at affordable prices.
Paternayan Yarn was designed and branded by two Armenian brothers, Harry and Karnig, who began selling their yarn in New York in 1916. In 1936, they began dyeing and marketing their woolen yarn. In 1986, it was sold to Johnson Wax and the dyehouse operation was moved to Pepperall, Massachusetts. It was then sold to Alan Getz who continued to develop the business. Saco River Dyehouse acquired the rights to the Paternayan line when they bought the Massachusetts-based Dyehouse. They are reintroducing the Paternayan lines of needlecraft and rug yarns.
Pedigree Rug Wool This one is a bit of an enigma. They sold wool in skeins that were equivalent to 360 cut pieces.
Perlon (Perlon Industries Inc, New York, USA) produced rug kits in the 1970s and 1980s. The company was founded in 1978 and dissolved in 1991. From what I've seen of their vintage kits available through online auction sites, the designs were along the lines of Wonderart, rather than being classic floor rugs. From the name, I'm guessing their rug kits used synthetic yarn. Perlon is a synthetic fibre similar to the American nylon and was invented by the German chemist Dr Paul Schlack at I.G.-Farben in 1938.
Promafil (Caravelle) This one is a bit of a mystery. They produced rug kits.
Sears included latch hook rugs in their famous catalogues.
Scheepjes is a Dutch company, and like Readicut the brand has been revived. The Scheepjeswol brand began in Veenendaal in the province of Utrecht around 1750 when wool processing became the region's most important industry. Prior to that, the area was known for the peat industry until the peat beds were exhausted. In 1799, Dirk Steven van Schuppen was a wool comber employing thirteen helpers. He bought untreated wool which was processed, dyed and woven. In 1855 it became "Widow D.S. Van Schuppen and Son" and was run by his widow and widow and their seventeen-year-old son. In 1885, Van Schuppen's Wool Business employed nearly 300 people. In the 1930s, despite global recession, the company invested in new premises and rebranded as "Scheepjeswol." In 1949 the company received a royal warrant and at its height, in 1962, Scheepjeswol had 900 employees. In the latter part of the 1960s, wages in The Netherlands increased rapidly – 10% per year for several consecutive years at Scheepjeswol – and this was not allowed to be passed on to the customer. A five-day working week was introduced and production fell. In the 1970s Scheepjeswol had to compete with cheaper products from outside of Europe and a shrinking market. In 1988 Scheepjeswol declared bankruptcy and in 1989 their Veenendaal factory was demolished and redeveloped as housing and a shopping centre. , the buildings on the factory site in Veenendaal were torn down. That seemed to be the end of the 190 year old company, but the brand-name still had value. In 2010 the Scheepjeswol brand name was acquired by the family-owned business De Bondt, a haberdashery wholesaler in Tynaarlo, Drenthe, reviving it as a Dutch brand. Nowadays, Scheepjes is a well-known brand of knitting and crochet yarn and also produces cut-packs of rug wool. Its logo is a ship based on a "Samoereus", an inland vessel used to transport peat from the bogs around Veenendaal as well as other goods. This ship also appears on Veenendaal's coat of arms and refers to the town's original industry of peat-cutting.
Schoeller Handarbeiten (Schoeller Handicraft) was another German company that used to produce latch-hook rug kits in addition to manufacturing Smyrna carpets. In 1854, Leopold Schoeller founded a carpet-making company, Gebrüder Schoeller in Düren. Their trademark was an anchor. The company now appears to be part of Schoeller & Stahl, a textiles, knitting and handicraft company, but I haven't been able to find any further information about their latch-hook kits.
Texet This one is a bit of a mystery. They produced rug wool.
Till's Yorkshire Wools Ltd are a bit of a mystery. They were registered as company no. 00370410, but there are no details available on its registration date or dissolution date. They failed to file accounts in 1970. They manufactured skeins of 6-ply rug wool under the name of Grenadier.
Vicars' Rug Wool. I don't know much about this apart from a Vicars' "Pera" Rug Gauge Vicars' Latchet Hooks and my searches could only find "Vicars Woollen Mills" which was the first and largest woollen mill in Marrickville, New South Wales, Australia. Pera seems to have been a thinner wool (like Sirdar) where several strands were used at once to get the correct thickness. The original mill was founded by Thomas Barker in 1852 and taken over by John and William Vicars in 1871 (they originated from Tillicoultry, Clackmannanshire, Scotland). They relocated Vicars' Woollen Mill relocated from a Sydney factory to Victoria Road, Marrickville in 1893. It was an important supplier to the military during WWI and was involved in benevolent work such as helping hospitals for convalescing soldiers. It was proud of its products "Made in Australia by Australians for Australians," and played a large part in the rise of Australian woollen manufacturing immediately after WWI. Vicars Woollen Mills (John Vicars and Co Ltd) employed predominantly women, partly because of their more delicate hands and partly because a woman's wage was less than half of a man's wage. Vicars' fulfilled extensive contracts during WW II and had additional factories in St Marys and Woonona, but increased competition during the 1960s and 1970s led to the mill's closure in 1976. The Vicars' Woollen Mills was incorporated into the Macquarie Worsteds Group in the 1980s.
Vogart. Vogart Crafts Corporation was a United States corporation who did business from about 1930 until around 1990. In 199, its parent corporation, Pioneer Systems, Inc., caused it to file for bankruptcy.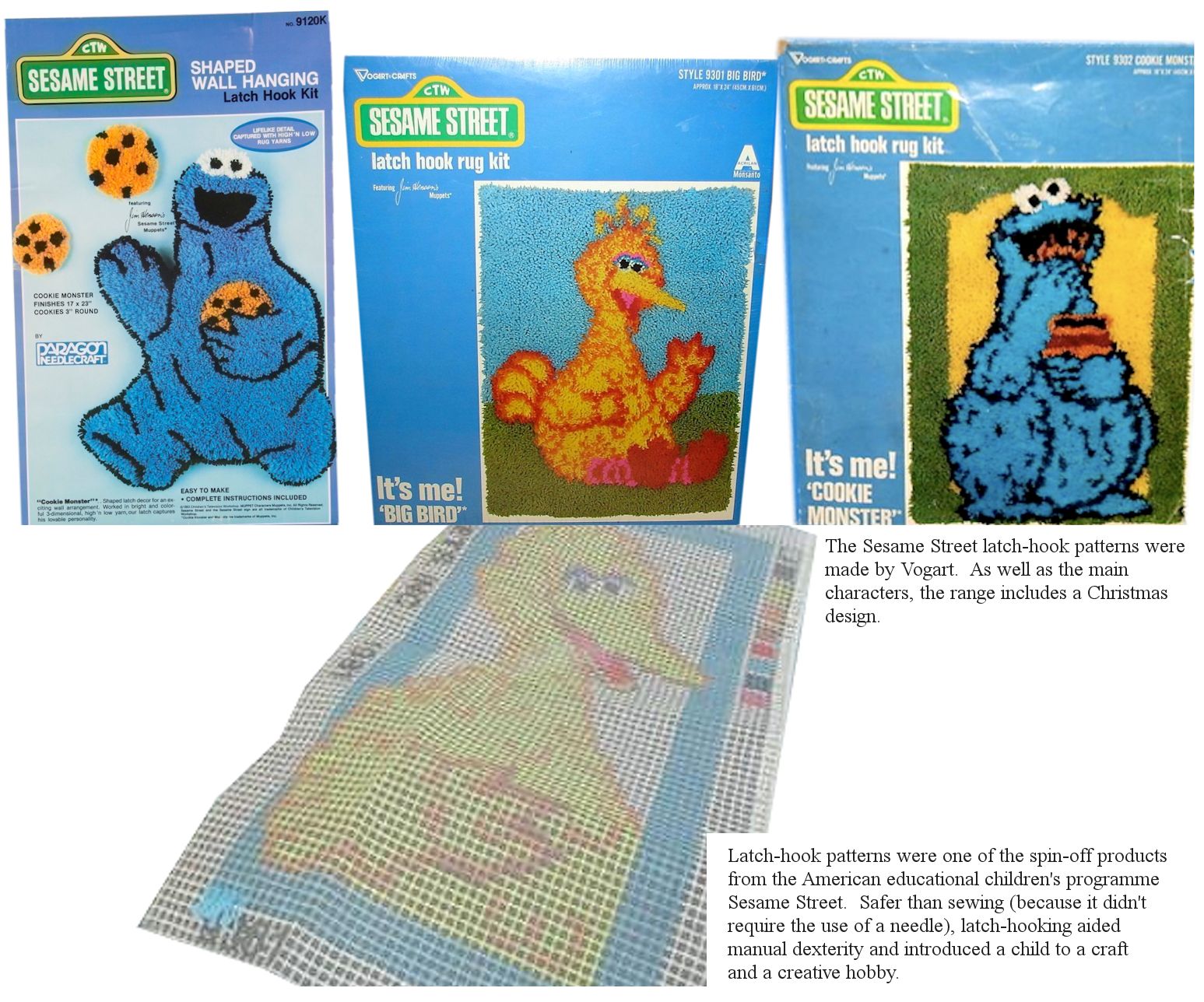 Walco / Edinburgh Royal. Walco Products Inc (Bronx, New York) sold 4 ply rug wool, both under the Walco brand and the Edinburgh Royal brand. Walco were primarily involved in crafts relating to beading, including beaded doll kits and ornaments (Walco Bead Co was one of the largest bead companies in the United States at the start of the 1900s), but late expanded into other craft supplies. In 1976, its bead-craft division became part of Holiday Industries. Walco Products Inc is listed as "merged out" as of 1979 and the Walco "flower" trademark expired in 1991.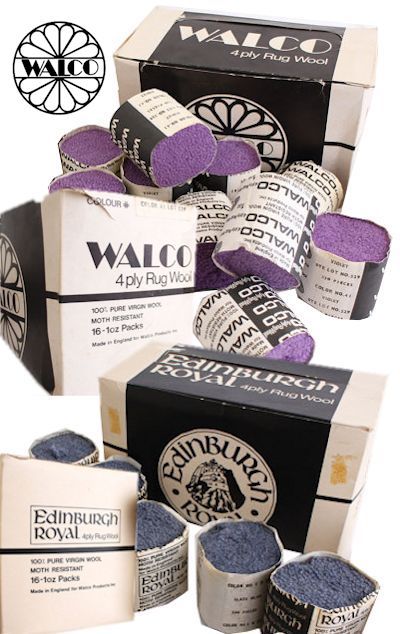 William Jones & Co (Bridgnorth) Ltd. Judging from advertising William Jones & Co (Bridgnorth) Ltd were drapers, hosiers, tailors, clothiers and undertakers located at Waterloo House (now Waterloo Terrace) in Bridgnorth. Like many drapers they may have diversified into wool sales and become an early department store. Their advertising goes back to the 1860s and they were wound up in 1866. I have their rugmaking instruction leaflet (dated 1927) and the accompanying booklet of 12 charted rug designs. "William Jones" is an extremely common name combination in both Wales and England. Although there was a "W Jones & Co" sewing machines company and some machines were labelled "Wm Jones & Company, Bridgnorth," the sewing machine company was based in Manchester and founded by an engineer. I don't know if there was any link between the two companies.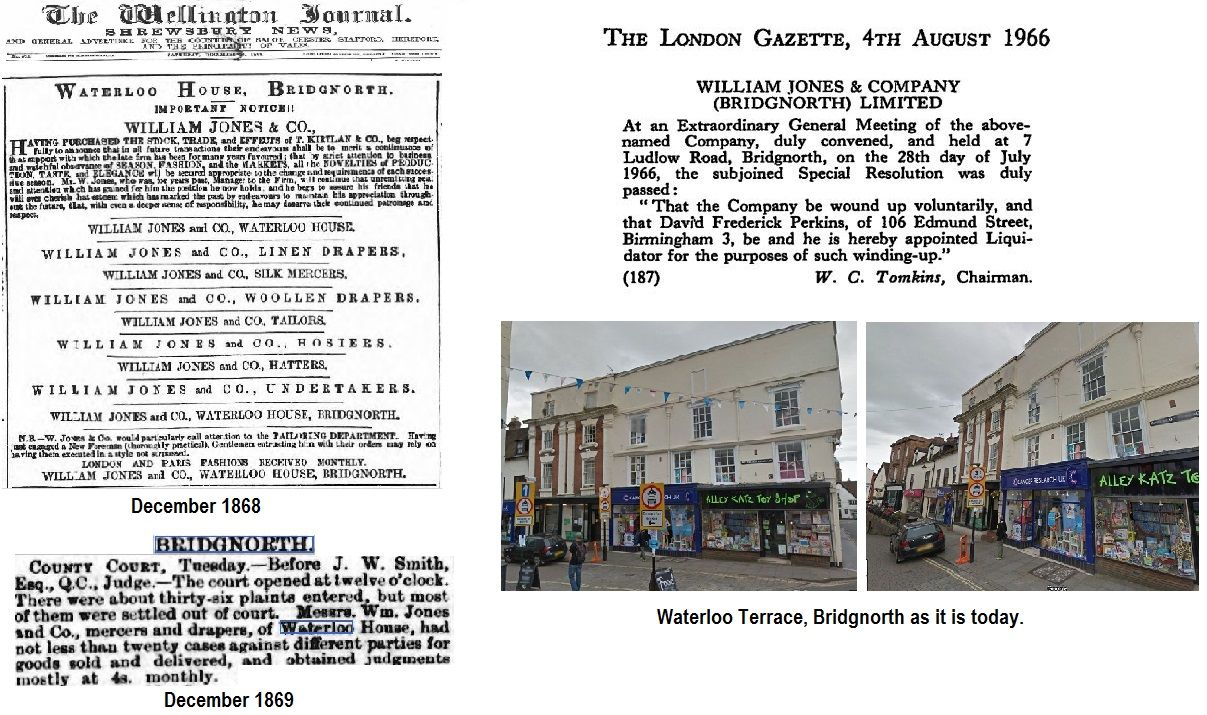 Other brands sometimes found in charity shops are Cronit Melrose (wool/polyester mix) and Bernat Tabriz (polyester yarn), both sold in ready-cut strands. Cronit Melrose 6 ply 52% wool/48% nylon wool yarn was available uncut "also suitable for macrame" or in packs of 160/320 pre-cut pieces.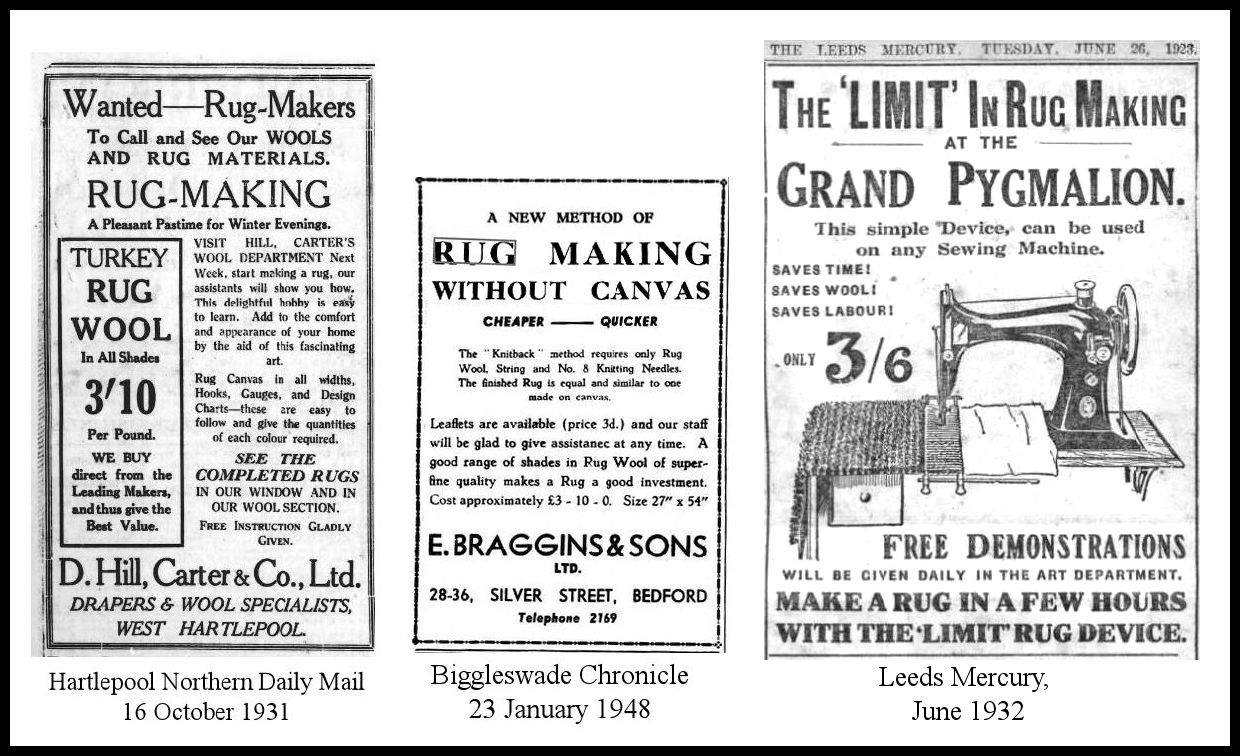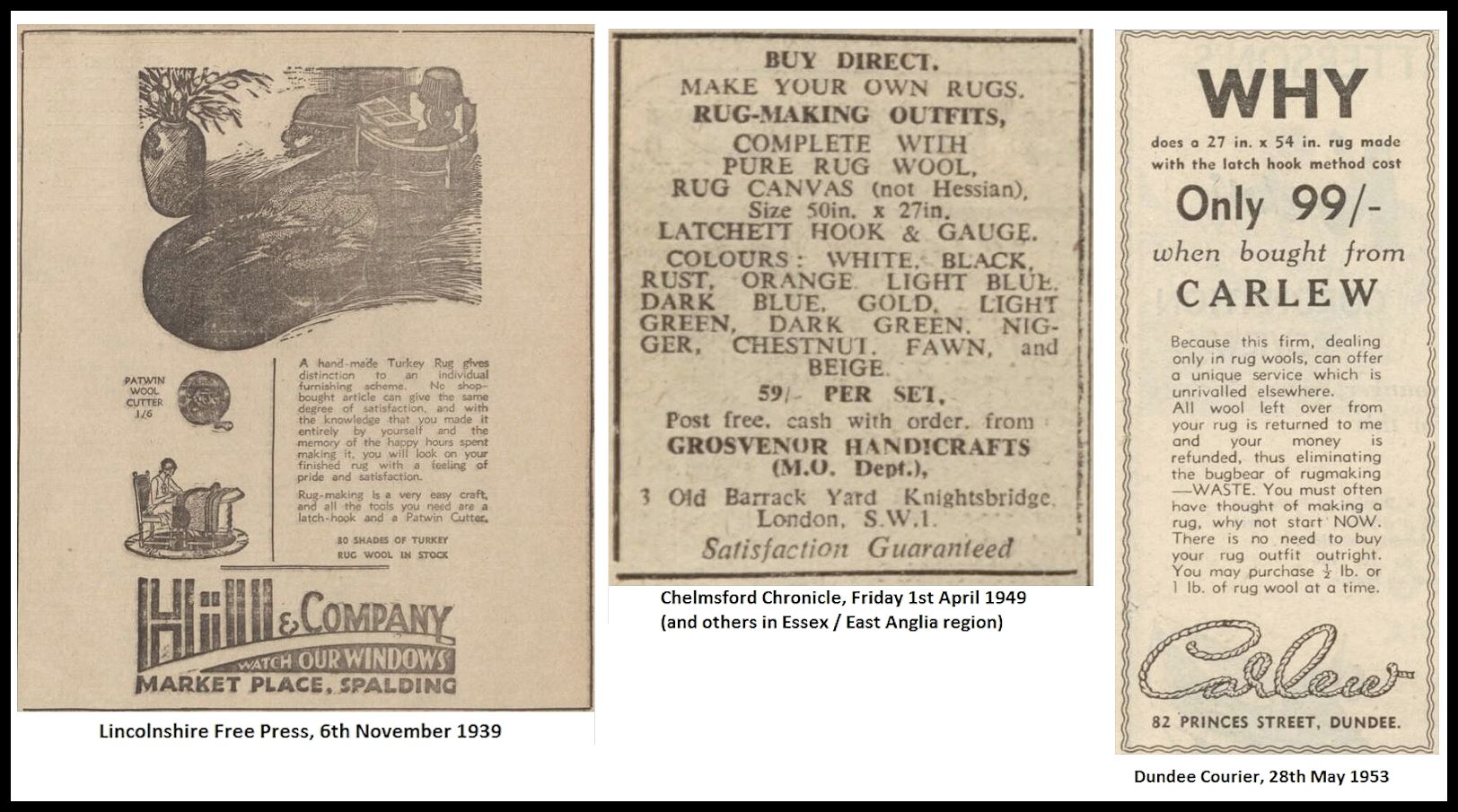 THRUMS
"Thrums" was originally a northern British term for textile waste, for example the tail-ends of the warp thread left behind when a finished carpet was cut from the loom. A thrum was any short piece of waste thread or yarn, or a tuft or fringe of such pieces. These were collected together and sold by weight, making it an economical way of buying rug wool. Iriss of Penzance still do something very similar with their bargain bags of leftovers from the wool-cutting process. The thrums sold by Stoddarts of Halifax came from the Axminster carpet industry. Although there would be enough yarn, sold by weight, for a rug, the colours in each bargain package depended on the pattern of the carpet they had come from. You could either make a random coloured rug ("Scrambled Egg" pattern as Stoddarts called it) or buy a printed canvas designed to be used with thrums. With the pre-printed canvas you didn't match the yarn colours to the canvas colours, but instead worked the pattern according to how much you had of each colour yarn.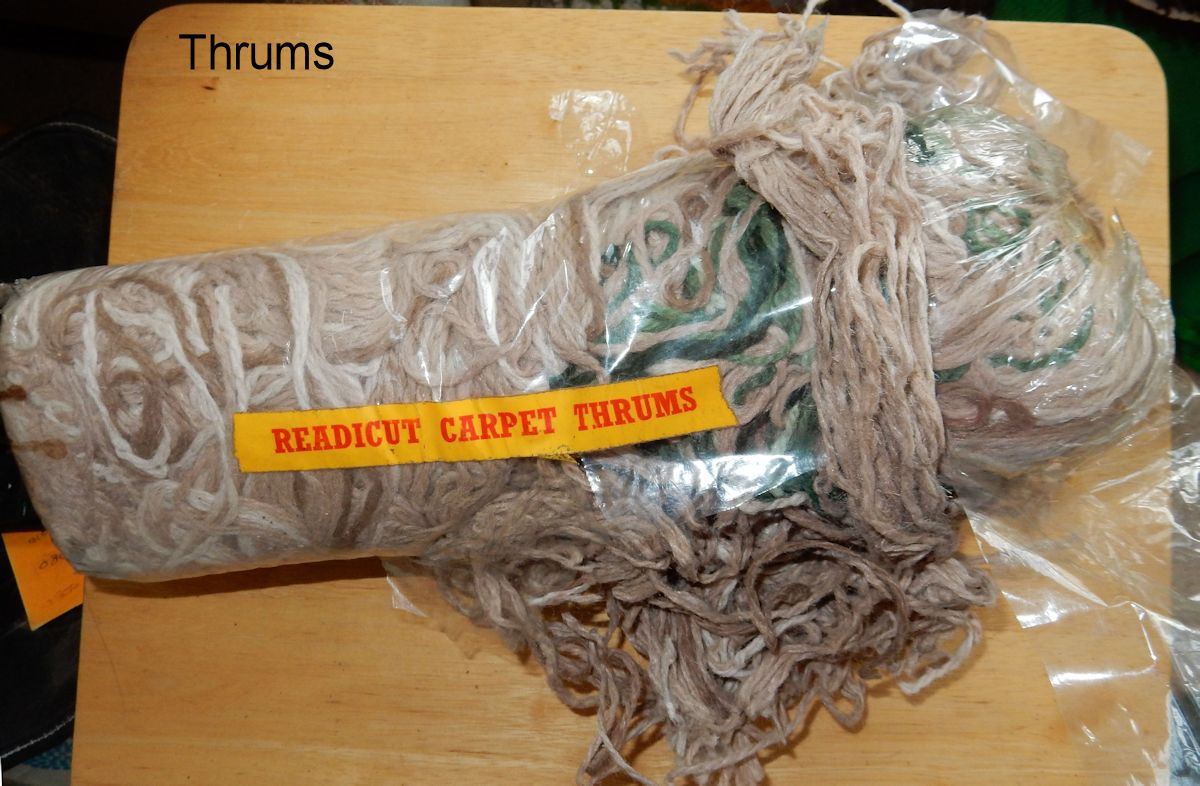 Unless you were making a random coloured rug, the first task was to sort the thrums by colour. For most of us, this meant e.g. blues, greens, reds rather than into exact shades. These then had to be cut to the desired length. The thrums were used 2 or more to a hole and Stoddarts suggested blending colours to make the best use of the threads. Because thrum means a tuft of yarn, some folks refer to all pre-cut rug-yarn as thrums, especially if it's bought in a mixed bag of leftovers, which isn't strictly correct as the thrums in this case would be the varying lengths of yarn left over from the cutting process!
The use of thrums in latch-hooking goes back to when Workers in weaving mills were allowed to collect waste pieces of yarn (up to 9 inches long) that were useless to the mill. The weavers took these home and pulled the thrums through burlap or hessian sacking to make rugs. The two rug supply companies that sold thrums, along with tips on how to use them, were Jacksons of Hebden Bridge and Stoddarts of Halifax. Jacksons is still in the needlecraft business, but Stoddarts has vanished.
There's a Scottish folksong "The Three Threads" that goes "Hirple, dirple, dirrum dum, Three threads and a thrum," where the refrain is supposedly what a cat is saying as it purrs. The term itself seems to come from the Old English word for a ligament (a sinewy fibre), via the Middle English "throm" meaning an endpiece. The Old English "thrum" is related to the Old High German "drum" and the Dutch "dreum" meaning a remnant, which may be related to the Old Norse "thromr"meaning a brim or edge.

You are visitor number: