WELDON'S SIXPENNY SERIES (1920s - 1930s)


Sarah Hartwell, 2014

This sixpenny guide appears to be from the 1920s and shows the knot worked on canvas with a crochet hook. It recommends either J & J Baldwin's or Beehive (i.e. patons) rug wool and 8-hole canvas. Baldwin's 8-hole canvas had tramlines on the warp and weft. Later on, latch hook Method 1 and Method 2 became more widely used. Rugmaking with a patent hook was also shown and there were several colour charts in the book (Baldwins pattern charts were recommended).
Walter Weldon was the brother of Ernest J Weldon, founder of Weldon & Wilkinson Ltd (Weldons). In 1854, Walter began work as a journalist in London with The Dial (later incorporated into The Morning Star), and in 1860 he founded a short-lived monthly magazine called Weldon's Register of Facts and Occurrences relating to Literature, the Sciences and the Arts. He also founded Weldon's Fashion Journal, Weldon's Patterns, and Weldon's Household Encyclopaedia. Walter's late 1800s newsletters and journals were published by Weldon & Company, a pattern company that produced hundreds of patterns and projects for numerous types of Victorian needlework. Around 1888, Weldon & Company began to publish a series of books entitled Weldon's Practical Needlework, each volume comprising one year's worth of various newsletters bound with a cloth cover and costing 2 shilling/6 pence.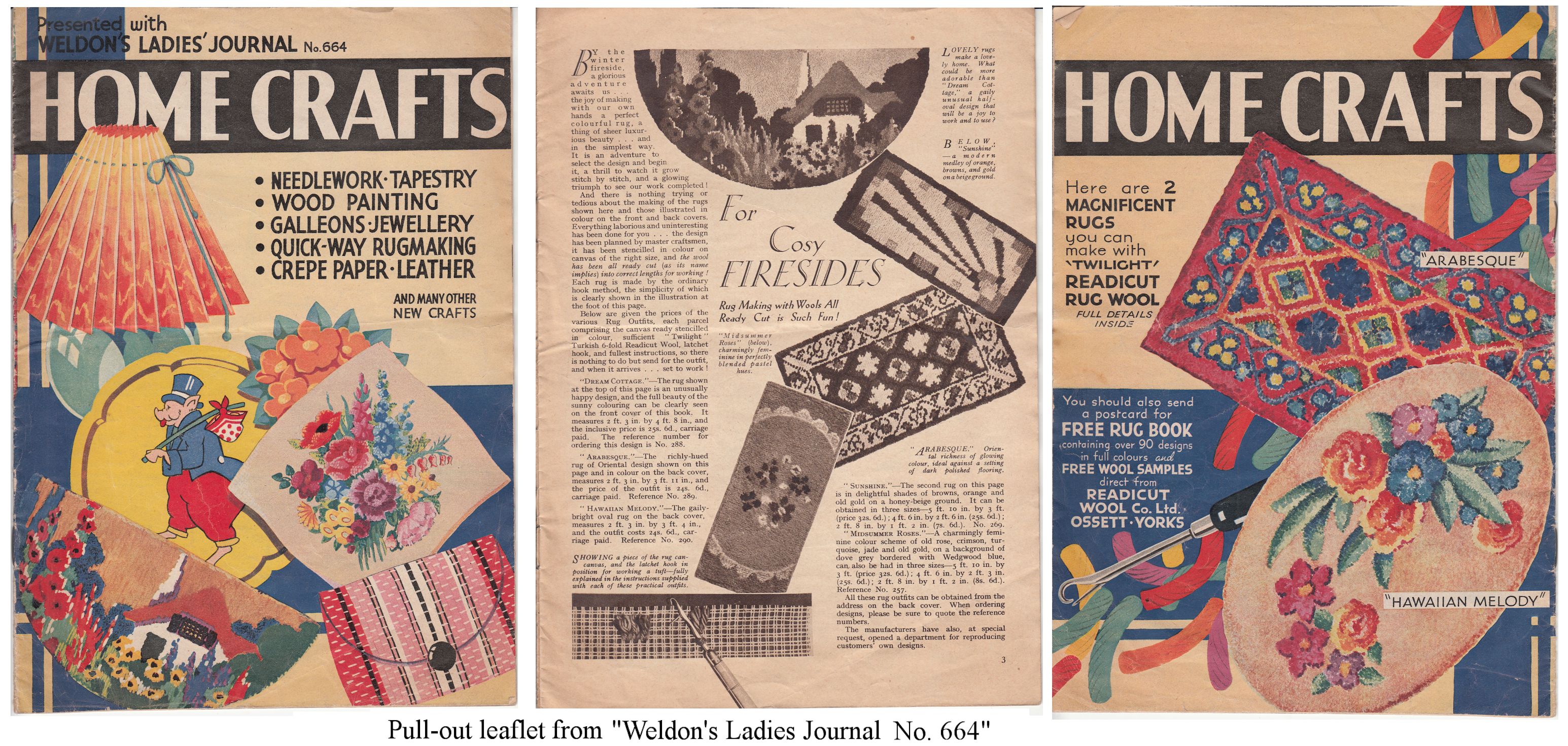 Weldon's Ladies' Journal (1875–1954) supplied dressmaking patterns and became a blueprint for subsequent women's home weeklies. In the 1870s-1890s, Weldons Limited, Fashion Publishers boasted that their journals were always in print. They were well known around the British Empire. The Australian Town and Country Journal (Wednesday 24 February 1904) refers to "one of Weldon's sixpenny books, obtainable in Sydney. If you like to send me seven stamps, to include postage, I will order you a copy of the book" in its Answers to Correspondents section (p 43).
Looking online, there is a Weldon's Practical Needlework (twopenny series) series, a Sixpenny Series and a Ninepenny Series. Weldon's various series ranged from crafts and embroidery through to "Cure of Simple Ailments." They are undated, but the illustrations and adverts give clues to their dates. Weldon's Sixpenny Series seem to date to the 1920s and 1930s. I don't know how many were in each series altogether, but I've the numbers for some series are well into the 200s!
See Flickr where images and patterns can be downloaded at full resolution for your own use.

You are visitor number: