RUG-MAKING SUPPLIES - STODDARTS


Sarah Hartwell, 2014

Stoddarts (John Stoddart) specialised in the supply of wool and rug making accessories (including latch hooking). The company traded from two shops, one in George Square and the other at 28 Broad Street, in Halifax, Yorkshire during the 1930s. Apart from a couple of catalogues and adverts, there is little information on this company so I am guessing it became part of one of the larger textile companies in the region (Halifax is 20 miles from Wakefield, home of Readicut). The Victoria & Albert Museums hold a sample card of rug canvas made by John Stoddart. There is some information on the Stoddart family of Halifax, West Yorkshire. In the 1880s, James Stoddart invented a crochet machine and established a business as a wholesale and retail manufacturer of knitted hosiery and crochet shawls at Woolshops and Cross Hills, Halifax. He also produced other woollen goods, hosiery and antimacassars and had premises first in Bridge Lane, and then (1895) at Union Mills, Pellon Lane, Halifax. Stoddart had branches in the New Arcade, Halifax New Market, Morecambe and Sheffield. In 1905, Stoddart &amp Company Limited were manufacturers and makers-up at Charles Street, Halifax and had a side-business printing postcards, especially heraldic ones, until 1917 (an extension of the screen printing process used in the textile industry?). In the 1930s we come to John Stoddart and "Stoddarts of Halifax." Stoddarts also published a craft book called "Rugs to Be proud Of".

With very little online about Stoddarts (Halifax) I was lucky enough to find one of their catalogues with plenty of information in it. These are direct quotes.

LIKE most of our Bargain Bundles, the materials for this Rug include a best English String Canvas Foundation on which the complete design is stamped in colour thus providing a simple and effective guide for you to work by. All you have then to do is to sort out your wool Thrums into suitable groups of colours, cut them into lengths, by using the cutting gauge, and then you are ready to commence work. A very popular Bargain Bundle - Contains (a) Best English string Canvas Foundation, with design size 54 ins. by 27 ins. stamped in colours, with allowance for turning in ; (b) Sufficient selected 2-fold Axminster Carpet Thrums ; (c) Latch Hook ; (d) Cutting Gauge ; (e) Binding for raw edges. Follow the simple instructions on page 5 for using the Latch Hook, inserting two strands of wool in each hole of the Canvas, to give a good firm upstanding pile. Do not cut the Canvas to shape until the Rug is completed. Then turn in about 2 ins. around the curve and stitch down firmly using binding provided. This will give you a lovely Rug that will serve you a lifetime. IMPORTANT : Thrums are sent as received from the Mills. We cannot therefore guarantee to match the colours of the printed designs, which are given merely as a guide to blending.

***

We make more and more friends [among Women's] Institute members, due no doubt to the fact that Rug-making is such an interesting and lucrative pastime for evening work, particularly during the winter months. To encourage collective buying we can offer special terms to Women's Institutes. Secretaries who have not yet done so should write for particulars. To save the time and trouble in weighing-out materials we shall be pleased to make separate bundles for each member providing they can be packed in one consignment. There are a number of efficient Demonstrators taking classes in Rugmaking, and many of them use our materials. We do not send out demonstrators but any Institute member intending to demonstrate need only write and say which method is to be employed and we will send material on which members may practice. As an instance of what wonderful and pleasing results can be obtained by Home Rug-makers, we should like to draw special attention to the Prize-winning Rug made by Miss Helen Andrews of Cloughton-Newlands, near Scarborough, which we illustrate of page 6. This Rug was made from STODDARTS THRUMS, and shows what remarkable results can be obtained with a little care and perseverance. Miss Andrews has given us a short description of how she made her Rug and we gladly print this for your guidance. If you have not yet made one of our Rugs, ask your Secretary to write for our special terms and a full range of samples. We shall be pleased to give you any information and advice. Finally, where Women's Institute Stationery is not used, please mark your letter clearly "W.I."

The CROSS-STITCH Method. BELOW we illustrate two methods of Cross Stitch on Open Mesh Cotton Rug Canvas which make beautiful and very economical Rugs, Doormats, Stair-Carpets, etc., and in the case of METHOD 2, lovely chair seats and backs. Either Six-fold Rug Wool or THRUMS can be used with equal success. A Rug size 54 ins. x 27 ins. takes approximately 4-lbs of Wool. METHOD 1 (Diagrams I and 2): The stitch is a simple double cross stitch worked with a Tapestry Needle, using the ordinary mesh Cotton String Rug Canvas. Start at the corner nearest to you and work an ordinary cross stitch over three threads of the canvas. Then work an upright cross stitch over the first exactly in the centre of each (see Diagram I). The result shown in Diagram 2 has been worked in 6-fold Wool, but THRUMS (using, B strands) can be used with equal success. METHOD 2 (Diagrams 3 and 4): For this stitch use our fine mesh Cotton Rug Canvas and work a row of cross stitches (as Diagram 3), using 2 strands of Thrums covering 2 holes of the canvas, or 6-fold Wool, Covering every 3 holes of the canvas. Then work a further cross stitch back over the original stitch. The finished result is shewn in Diagram 4. NOTE : It is important when working both Methods to insert the stitch on the second and succeeding rows, otherwise the canvas foundation will show through the wool between the rows. Please note the illustrations shown have been worked on our Coastguard Canvas which at the moment is not available. This canvas has more holes to the inch than the Open Mesh Cotton Rug Canvas.

No charts for designs are at present available, but it is very easy to make your own simple designs, using the mixed Blended THRUMS. Sort the Thrums into separate colours first. Work as many plain colour rows as you wish round the canvas and then plan your design. A rough sketch of the main lines will be helpful and the details can be worked out as the work proceeds. It is helpful to work out the design in mind on squared paper. One square on the paper might represent nine cross stitches on the canvas, that is three rows of three stitches if a bold effect is desired, or for small patterns one square might represent one cross stitch. It is not essential to have a central motif although it is probably easier to begin with.

***

Rugs made with STODDARTS Wools have many times taken Big Prizes in the many competitions organised by the Daily Press and Monthly Journals. Our Service Department is always ready to help you with regard to colour schemes, designs, etc. A STODDART Rug has the hall-mark of Quality and Durability and gives undoubtedly Hard Wear.

OUR AIM is to secure your confidence and continued business, and we thus supply the best value possible with this end in view.

REMITTANCES MAY BE SENT WITH PERFECT SAFETY IF THE FOLLOWING SUGGESTIONS ARE OBSERVED:— All Postal Orders, Money Orders or Cheques should be made payable to "STODDART'S (HALIFAX) LTD.' and crossed "Lloyd's Bank". Coins or notes should only be sent in Registered Envelopes. Stamps for small amounts accepted—at your risk.

GOODS ARE DESPATCHED AS SOON AS POSSIBLE, but during the busy season delay is sometimes unavoidable owing to the heavy demand for our materials. When this occurs an acknowledgement is posted to you stating that your order has been received and giving approximate date of delivery. Name and Address should be on every letter or order. Believe it or not, we often receive letters (and even remittances) with no signatures, or any trace of senders, and can only wait until we hear further.

Matching : Owing to the difficulty in matching successive dyes exactly, please make sure to order sufficient to complete mended work.

REMEMBER ALWAYS! If there's anything you require connected with Rugs or Wools, you can rely upon getting sound Advice and good Service from

STODDART'S of HALIFAX. EVERY PILLAR BOX IS A RECEIVING STATION for STODDART'S. WE HAVE NO AGENTS

C.O.D. (Cash on Delivery) If desired, we will gladly despatch Parcels C.O.D., you paying the postman at the door. For parcels under 10/-, there is a fee of 4d. to pay; from 10/- to 20/v 6d.; from 20/- to 40/-, 8d. On parcels over 40/- value we pay all postage and C.O.D. charges. For small amounts, it is better to enclose stamps with order. Parcels over 15 lbs. in weight may be sent C.O.D. in two or more parcels. Stoddart's (Halifax) Ltd., Empire Works, Halifax, Yorks,
| | |
| --- | --- |
| Stoddarts Advert from the 1930s. | From the Stoddarts catalogue and its inserts. |
Our "Scrambled Egg" Design. For those who do not want to go to the trouble of creating a formal design, this type of Rug provides a very pleasing form of relaxation. You can work straight ahead without bothering yourself about building up a pattern .... and curiously enough the result is very pleasing and satisfying. The colour and comfort are there without the trouble. We supply this Bargain Bundle in two sizes, each with plain white English string Canvas as follows : Bundle A 301 consisting of (a) Plain white English string Canvas Foundation, size 72 ins. by 36 ins. ; (b) Sufficient best Axminster Carpet Thrums; (c) Rug Needle (d) Cutting Gauge (e) Binding for raw edges. Post Paid. [or] Bundle A 301B as above; but Canvas size 54 ins. by 27 ins. Sufficient Thrums for this size; Rug Needle and cutting Gauge and Binding complete. Postage I/- extra. Please deduct 1/10 in each case if Hook and Gauge not required.
***
A final word about THRUMS. You may wonder why we are so enthusiastic about our Thrums. Cur answer is that we have supplied so many thousands of these Thrums Bargain Bundles, and received so many hundreds of appreciative letters from satisfied customers, that we know exactly how pleased you will be when you have made your first Rug from one of our Thrums Bundles. When you handle this Wool you will realise at once that it is Wool which the normal individual cannot buy in the ordinary way : in other words, it is made specially for Carpet weaving, and it is only because when a Carpet is finished, there are always some loose ends left of the warp, which have to be cut away that we are provided with "Thrums" as we in Yorkshire call them. This Carpet Wool is specially spun with long fibres which, because it does not easily "brush out" provides a longer wearing Rug than those made with short fibre wool. Although every Bargain Bundle of Thrums is composed of what appears to be a jumble of colours, these can be sorted out, with very little care, into a useful assortment of different coloured lengths, to form blends to suit your own fancy. The difference in cost between Thrums and ordinary Rug Wool is considerable, as will be seen by a comparison of the prices given on page 4 of this Booklet. Stoddart's (Halifax) Ltd., Halifax, Yorks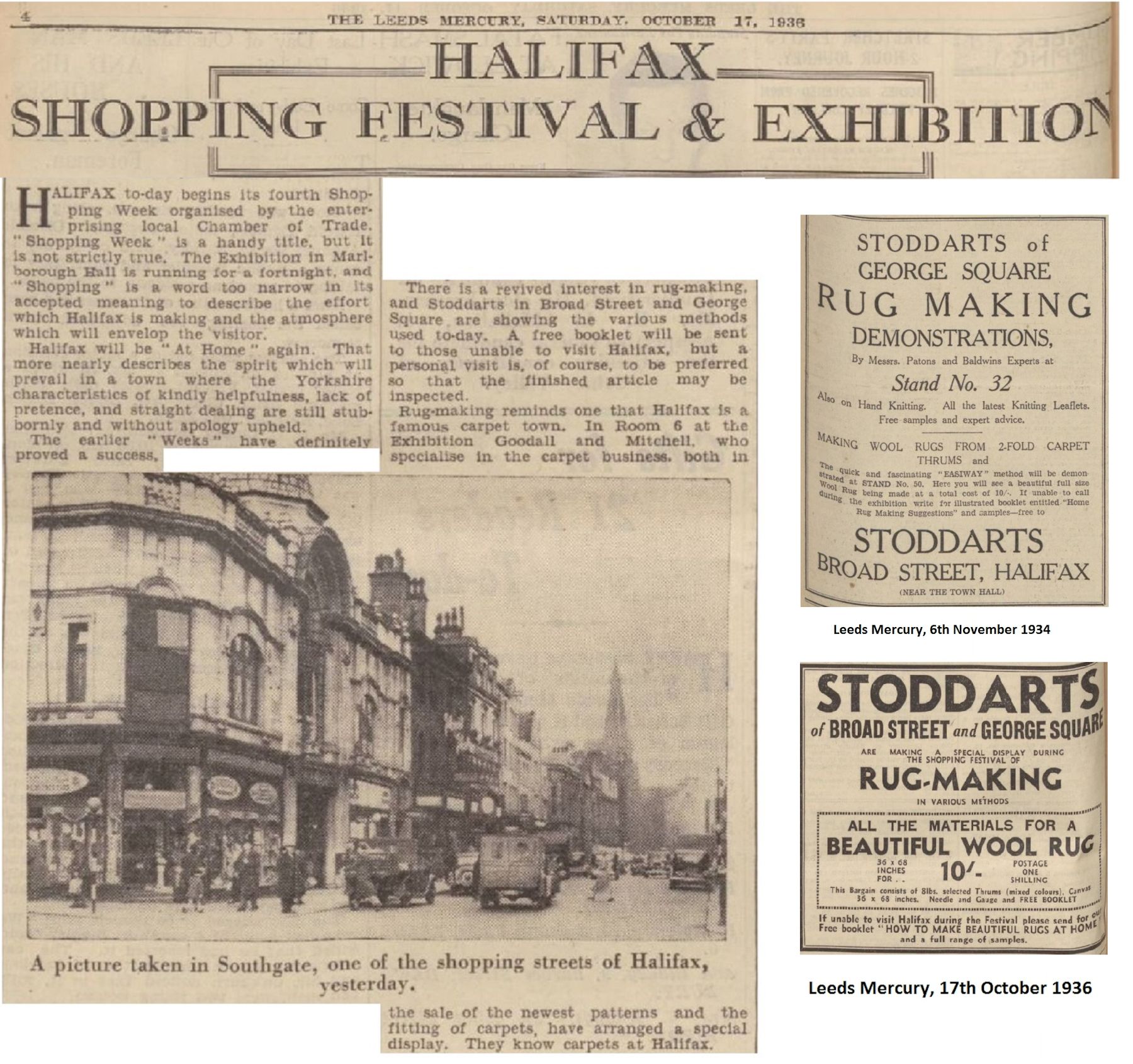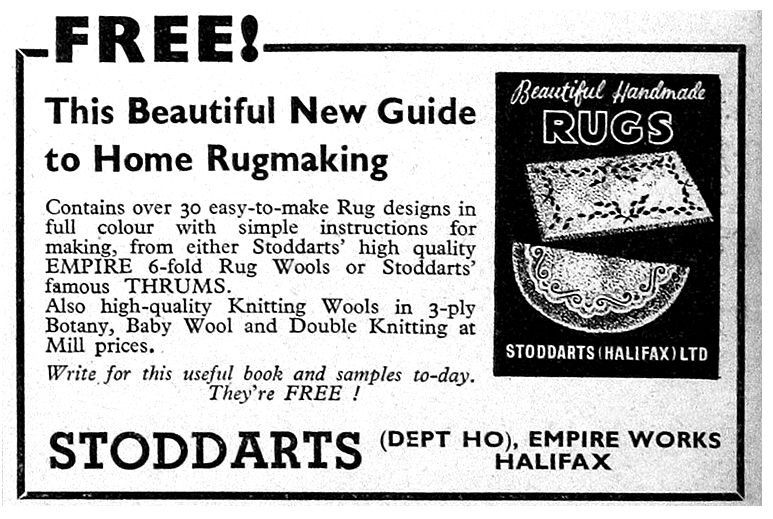 Stoddarts Advert from 1956.

You are visitor number: