SHILLCRAFT


Sarah Hartwell, 2015 A &amp H Shillman Co. Inc.

In North America, Readicut rug kits were distributed by Shillcraft. Shillcraft was the trademark of A & H Shillman Co Inc and covered "Kits for making rugs, including a mat, and pre-cut lengths of yarn for hooking, knotting, or inserting into the mat." Albert Shillman was born in Russia but moved to Baltimore aged 5 years. He became a yarn wholesaler and founded his mail-order latch-hook rug company in 1949. After World War II, Albert and Mrs Shillman had travelled to Europe to find replacement sources for their wholesale needlepoint business. On their return trip aboard the Queen Mary, Mrs Shillman struck up a conversation with an English passenger whose husband was in in a wool-craft business known as latchet-hooking and looking to expand his business into North America. The two women arranged for their husbands to meet and, as a result, Albert Shillman became the North American distributor for Readicut rug kits. The stylised Shillcraft logo was registered in 1949.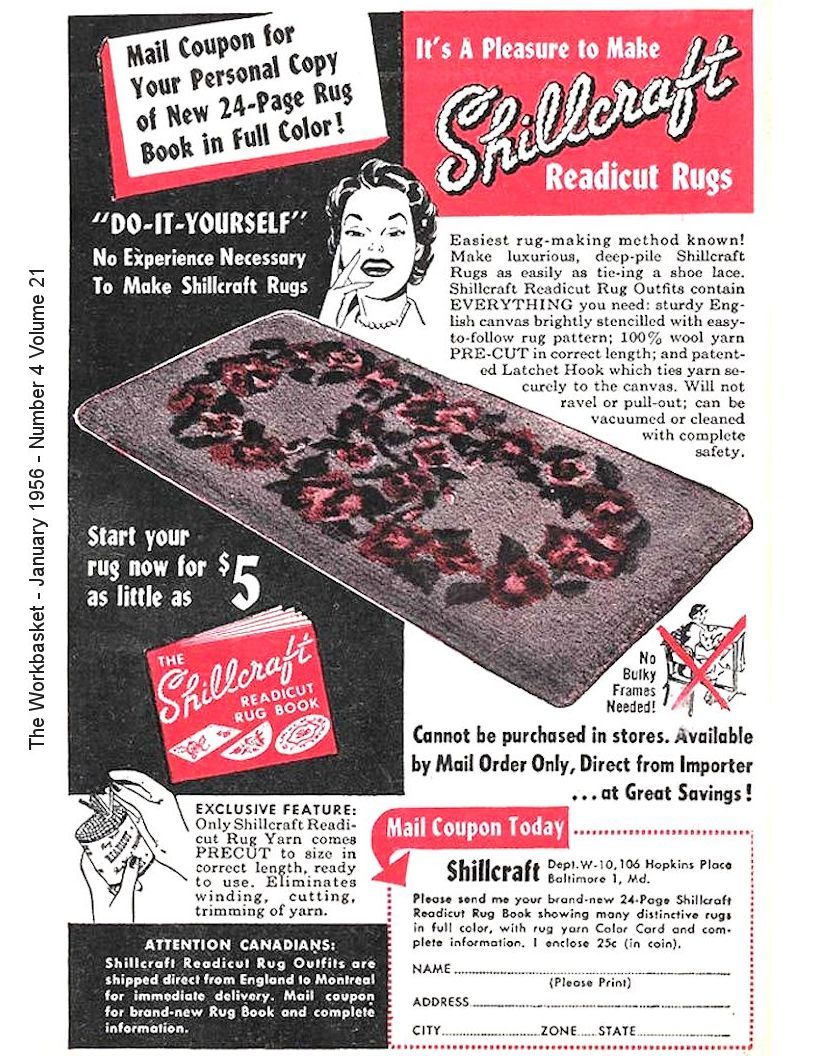 Because there was a 40% import duty on wool, the kits were too expensive to sell well, but the Shillmans knew the idea was sound. In the early 1950s, their son, Norman, visited the Readicut factory in England and realised that the Shillmans could operate the same way - from manufacturing through to mail order. US-made Shillcraft/Readicut Latch Hook kits were born. The kits were not available in stores. Adverts for the Shillcraft mail order catalogue appeared in numerous magazines and newspapers. Like Readicut in the UK, Shillcraft offered instalment plans, alternative colour schemes and requests for custom-designs (these were sent to Readicut to produce). The seasonal catalogues ("The Shillcraft Book of Readicut Rugs" or "Shillcraft Readicut Rug Book") largely mirrored the equivalent Readicut catalogue, but with some American-oriented designs added or substituted.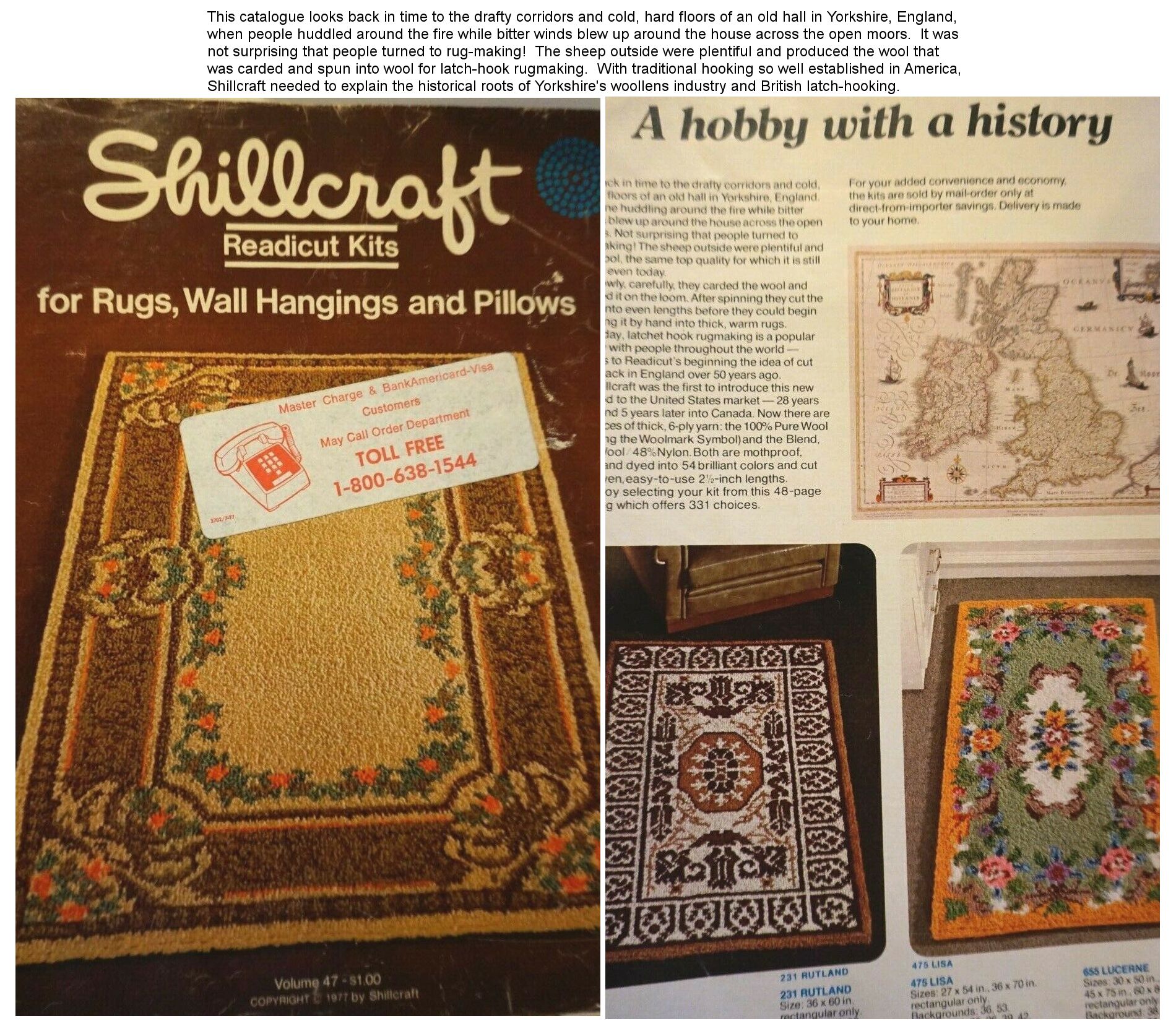 Shillcraft's Exactagraph method was picked up by Readicut in Britain - as can be seen from this page of a Readicut UK catalogue below.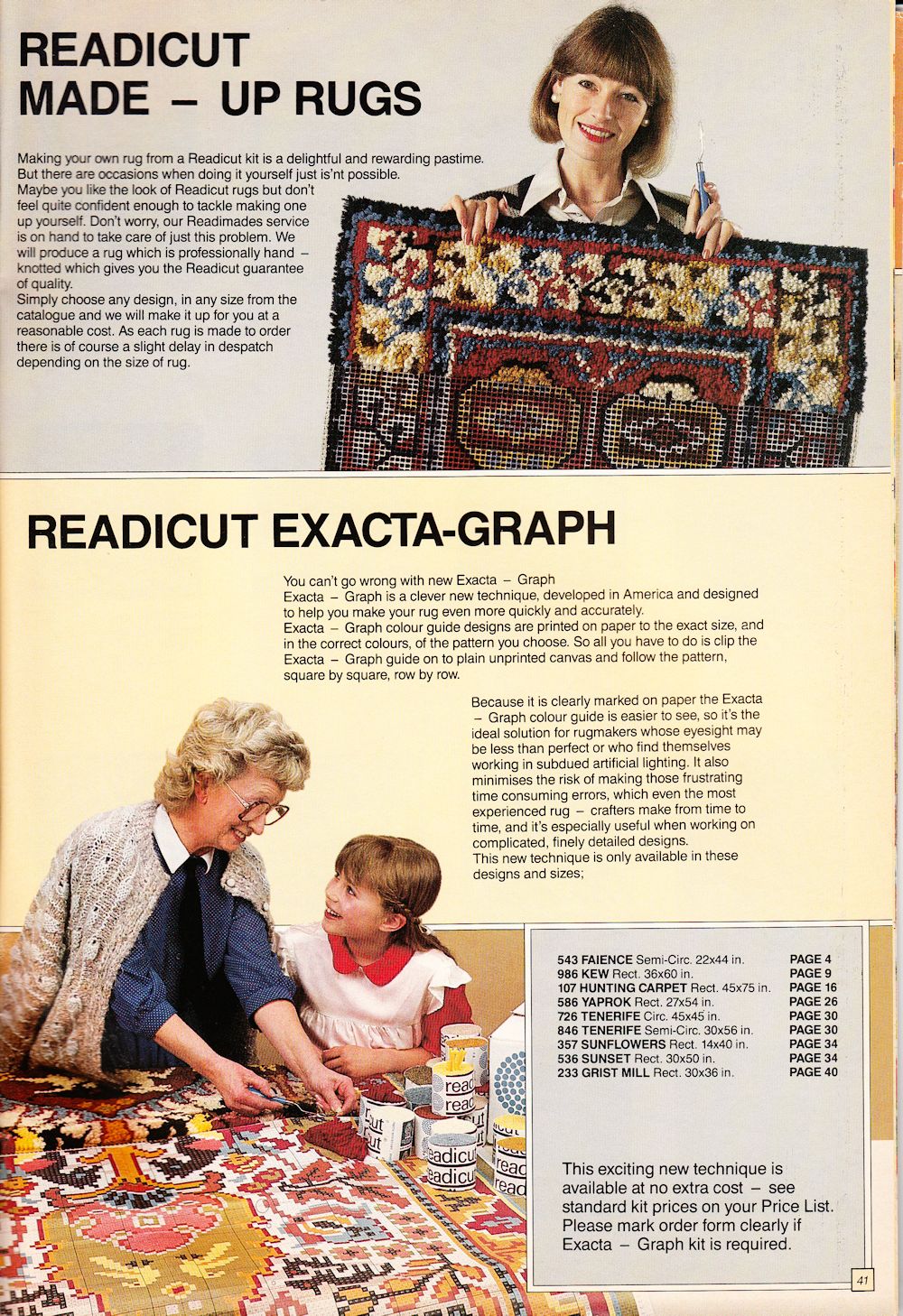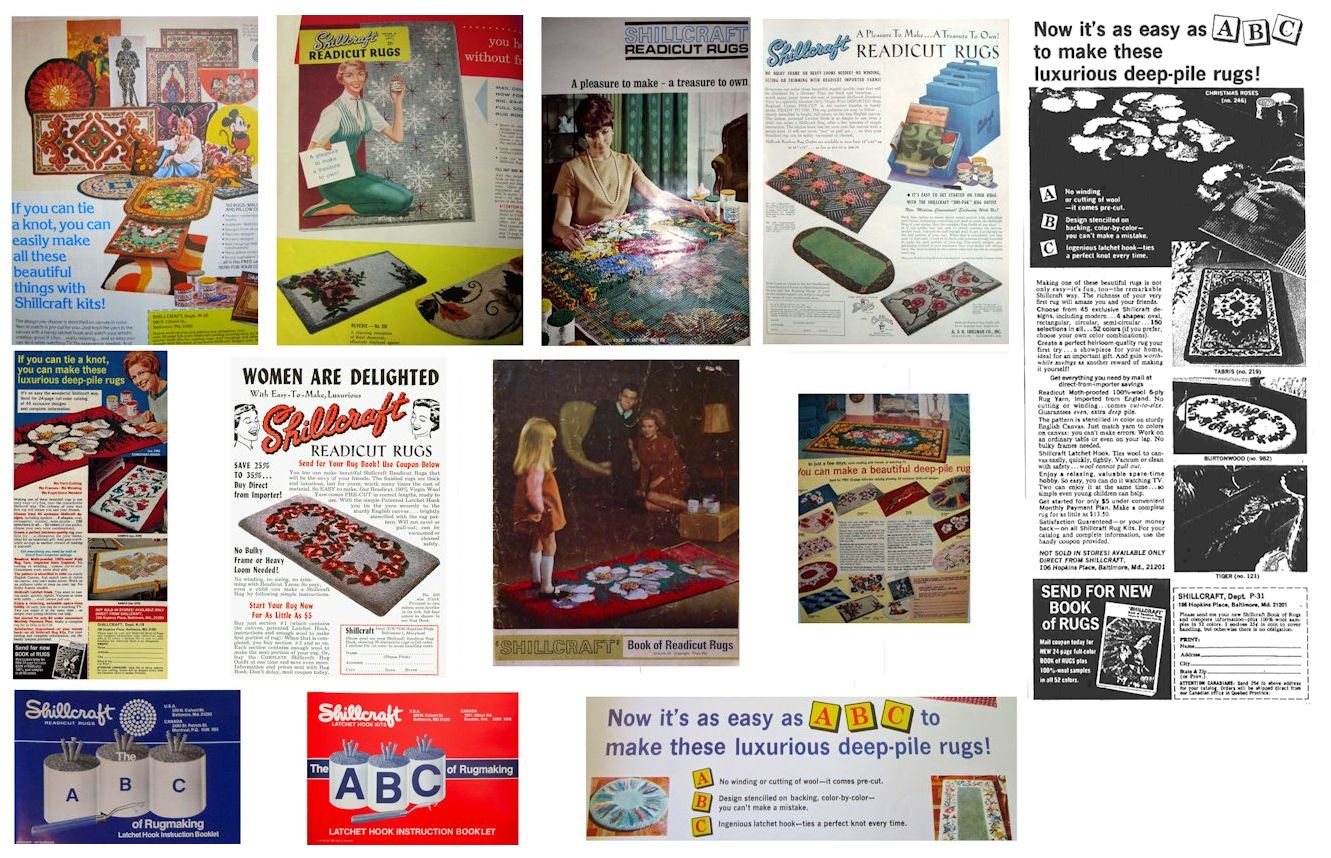 A selection of Shillcraft catalogue covers and miscellanea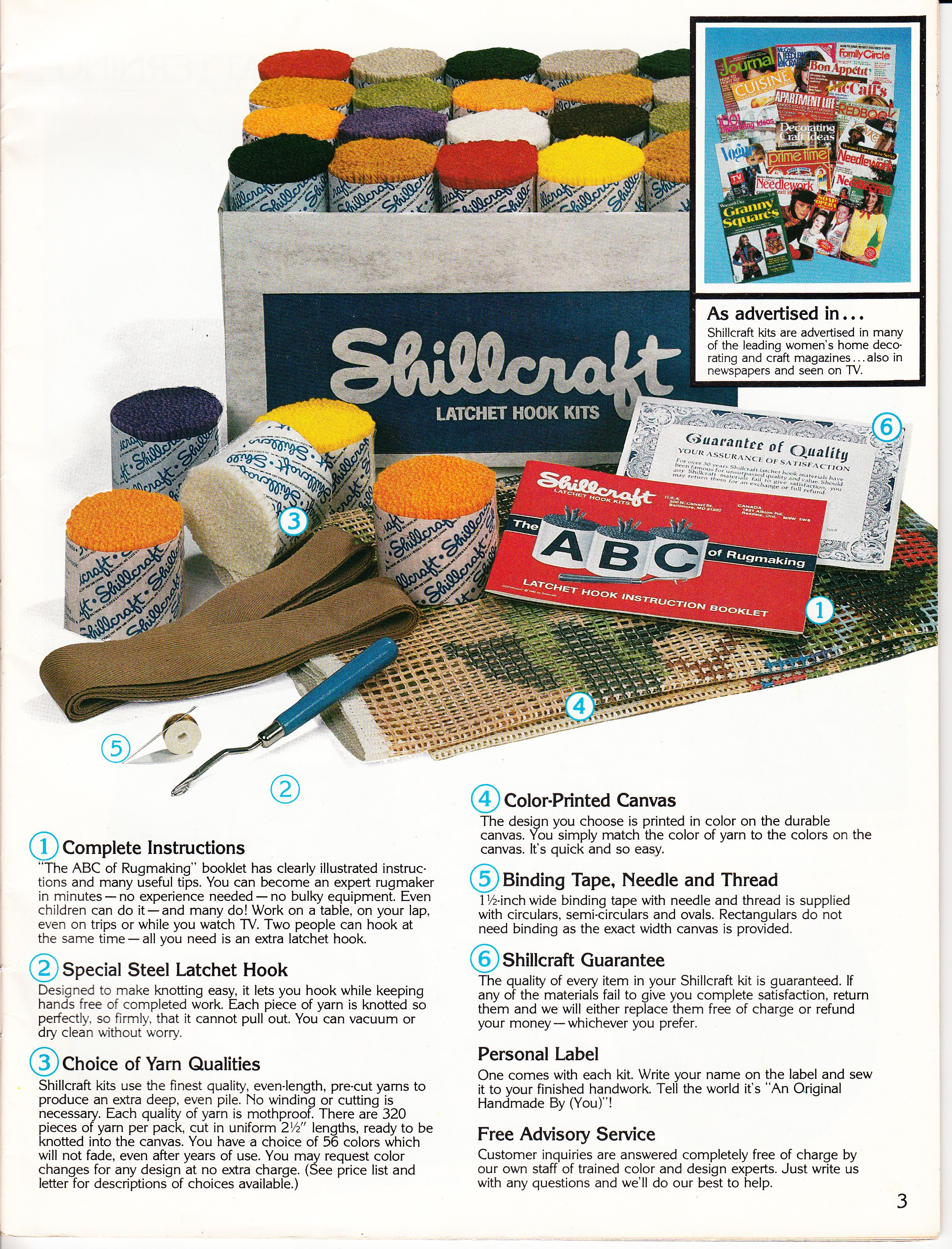 Shillcraft rug outfit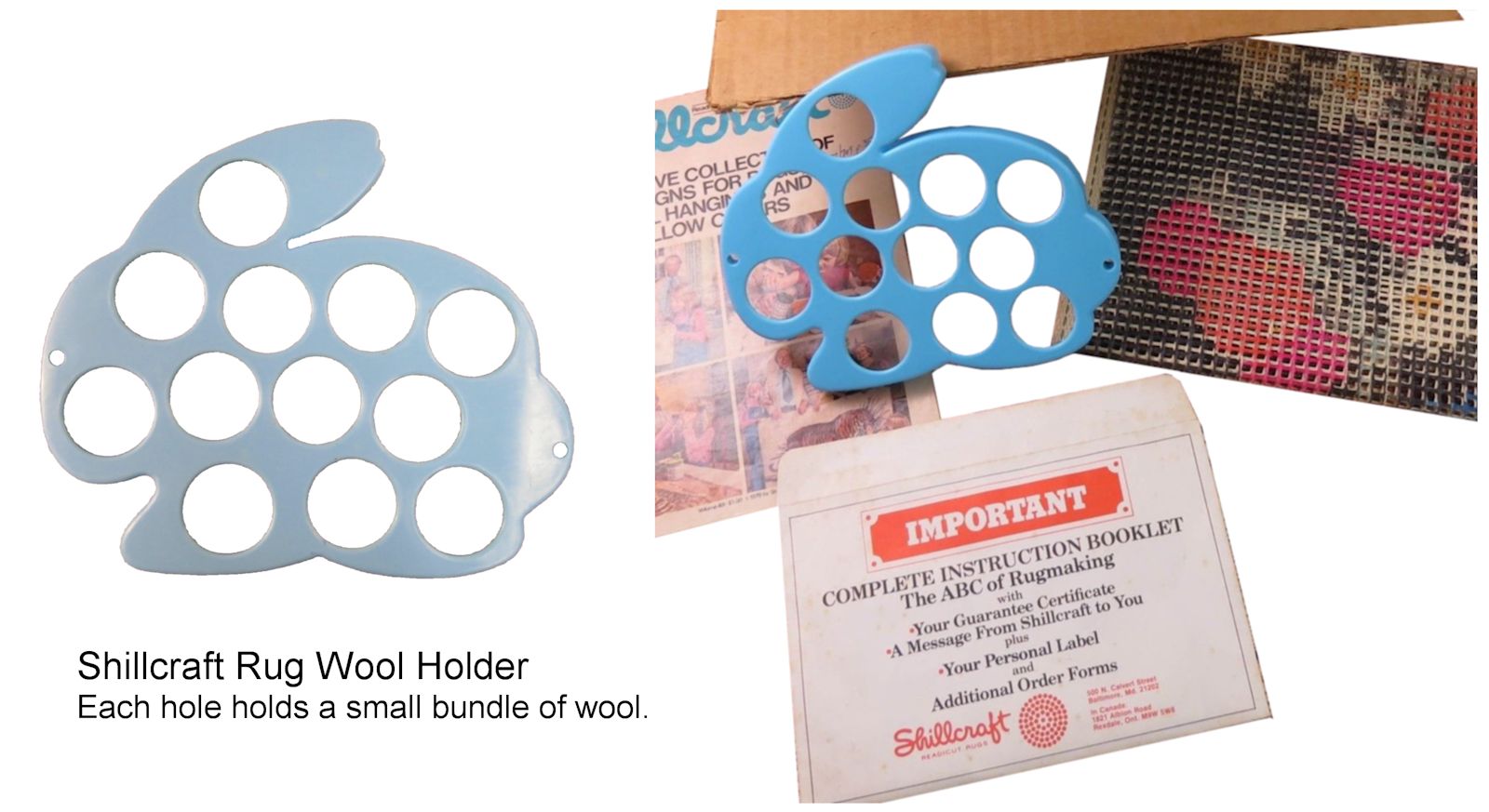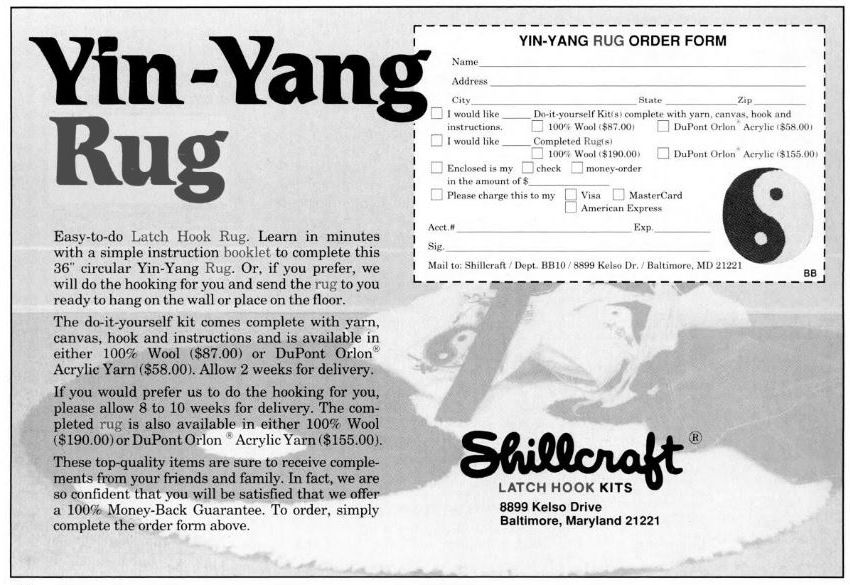 LADIES' HOME "THE MAGAZINE WOMEN BELIEVE IN" WINTER JANUARY 1963 35 cents . . . VOLUME LXXX NUMBER 1
The advert depicts "Persian Tiles," No. 88 (held); "Rosemary," No. 945 Circular (on floor) and "Russet" No. 609 (semi-circular) and tells the reader:
You can make any of 75 LUXURIOUS HOOKED RUGS without frames, yarn-cutting or experience. You can create a perfect rug of heirloom quality, your very first try — without experience, without frames, without yarn-winding or cutting. You can enjoy the luxury of fine hooked rugs in every room in your home. Prices start at $11! New, colorful, 24-page booklet presents 75 exquisite "Shillcraft" designs — ovals, rectangles, circulars and semi-circulars — all available in many sizes. Book tells you how to make, and how to order everything you need, by mail, direct from importer (not sold in stores).
* "Readicut" Moth-proofed 100% wool 6-ply rug yarn imported from England. Only Shillcraft offers Readicut rug yarn cut to size. No winding or cutting. Guarantees evenly rich, extra thick, deep and luxurious rug pile.
* Sturdy English Canvas pattern stencilled in color. Match "Readicut" rug yarn to colors on the canvas. You can't make an error.
* Shillcraft patented latchet hook. Ties wool to canvas easily, quickly and so tightly it cannot pull out, even vacuuming. Instructions in Rug Book.
* Make a complete rug for as little $11. Use our pay-as-you-go plan if you wish. As little as $5 gets you started. (See 24-page Rug Book.)
* Shillcraft rug kits backed by unconditional money-back guarantee.
MAIL COUPON NOW - get new 24-page book in full color plus wool color card immediately.
"SHILLCRAFT" Dept. L-5, 106 Hopkins Place, Baltimore 1, Md.
Please send me your new 24 page Shillcraft Readicut Rug Book plus samples of 100% Wool Rug Yarn. I enclose 25c in coin to cover handling but otherwise there is no cost or obligation.
In Canada write "Shillcraft", Dept. L-5. 2485 St. Patrick St.. Montreal 22. P.Q.
Shillcraft built a new headquarters at 500 N. Calvert Sreet, Baltimore and this opened in 1973. At its peak, the company had about 225,000 regular customers. A New York advertising firm managed to get Shillcraft featured on the Today show, and companies like Disney licensed Shillcraft (and Readicut in the UK) to use its characters in rug designs. As more women went into the workplace, home crafts such as rug-making began to decline. Their unfinished Shillcraft canvases, discovered during house clearances, frequently turn up on online auction sites. The Shillman family sold Shillcraft to an employee. Albert Shillman died in 1987. The Calvert Street headquarters has since become a state office building. This city block is now considered historically significant, albeit not for the Shillman Building/Warehouse. The company reappeared in Bonsall, California and established a web presence, including a UK website. It also includes Candamar Designs Inc needlepoint kits. The original Candamar Designs Inc of La Habra, California is listed as dissolved/suspended on company databases so I am guessing this is now a trading name for the embroidery side of the business.

The Presidential Rug
Albert Shillman, and his company, were mentioned in the Baltimore Sun of December 29th, 2006. It related to an october 1974 thank you letter from Jerry Ford - President Ford - on White House Stationery. The president's sister-in-law, Ellen Ford, was making him a hand-hooked rug for his new office in the White House. Ellen Ford made rugs as a hobby, and when her brother-in-law became president she decided to make him a rug based on the seal of the office. She used kits from Shillcraft, based in Baltimore, so she got in contact with the company and spoke to Albert Shillman himself. She explained that she needed the design of the seal transferred onto latch-hook canvas. A picture of the seal was sent to Readicut who created the stencilled canvas and sent it to Shillman. Shillman sent this, along with the necessary quantities of yarn, to Ellen Ford. To her immense surprise, the "little rug" she'd anticipated, was 6 ft in diameter. It had to be that size to show all the details of the seal. Luckily for her, the rug canvas and the wool were donated by Shillcraft (an excellent piece of publicity for the company) and it took 4 months to complete. The story of the rug was featured in several newspapers and was hungon the wall of a study off of the Oval Office where it often appeared as a backdrop to photographs. I have seen stencilled canvases with this design.
After his term ended, President Ford took the rug back to his office in California, where it was again hung on the wall. It may now be in Ford's presidential museum in Grand Rapids.
Shillcraft Designs and Themes
Many of the familiar mid-20th Century Readicut catalogues had an equivalent Shillcraft edition in North America. The products had bilingual instructions in Canada. The contents were a mix of seasonal British Readicut designs (especially Middle Eastern, Oriental and floral styles) and North American specials based on cultural themes, sports, native flora and fauna and the aforementioned seal of office.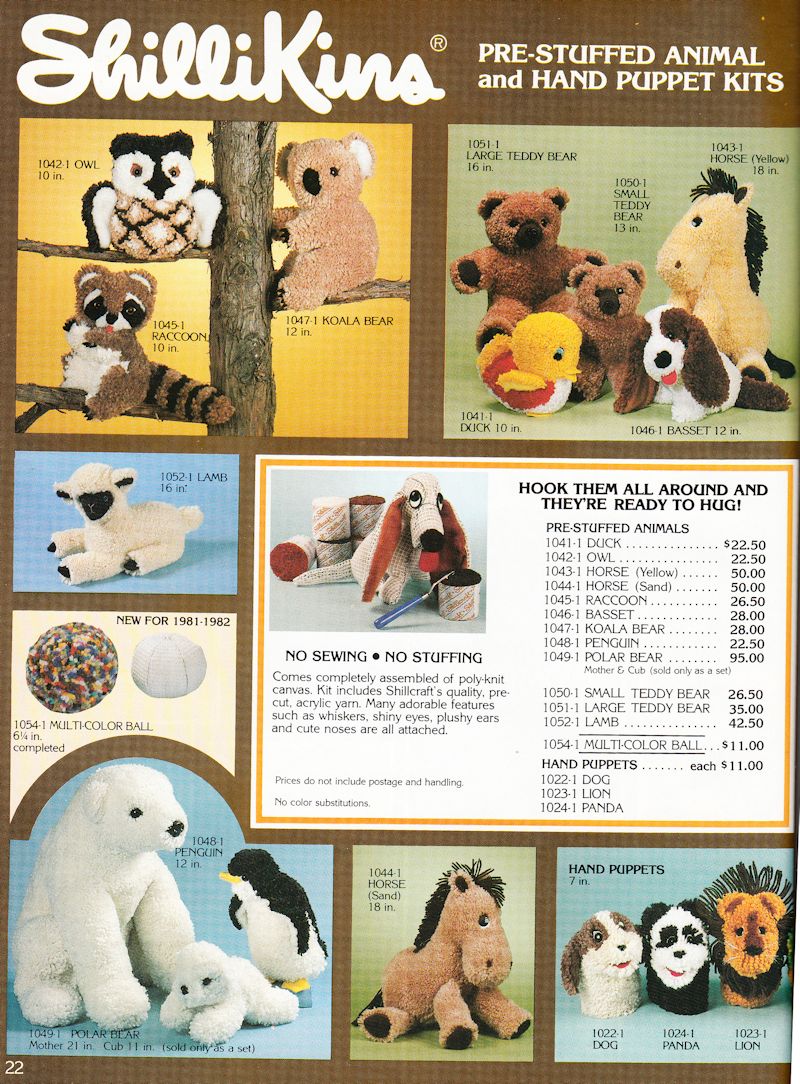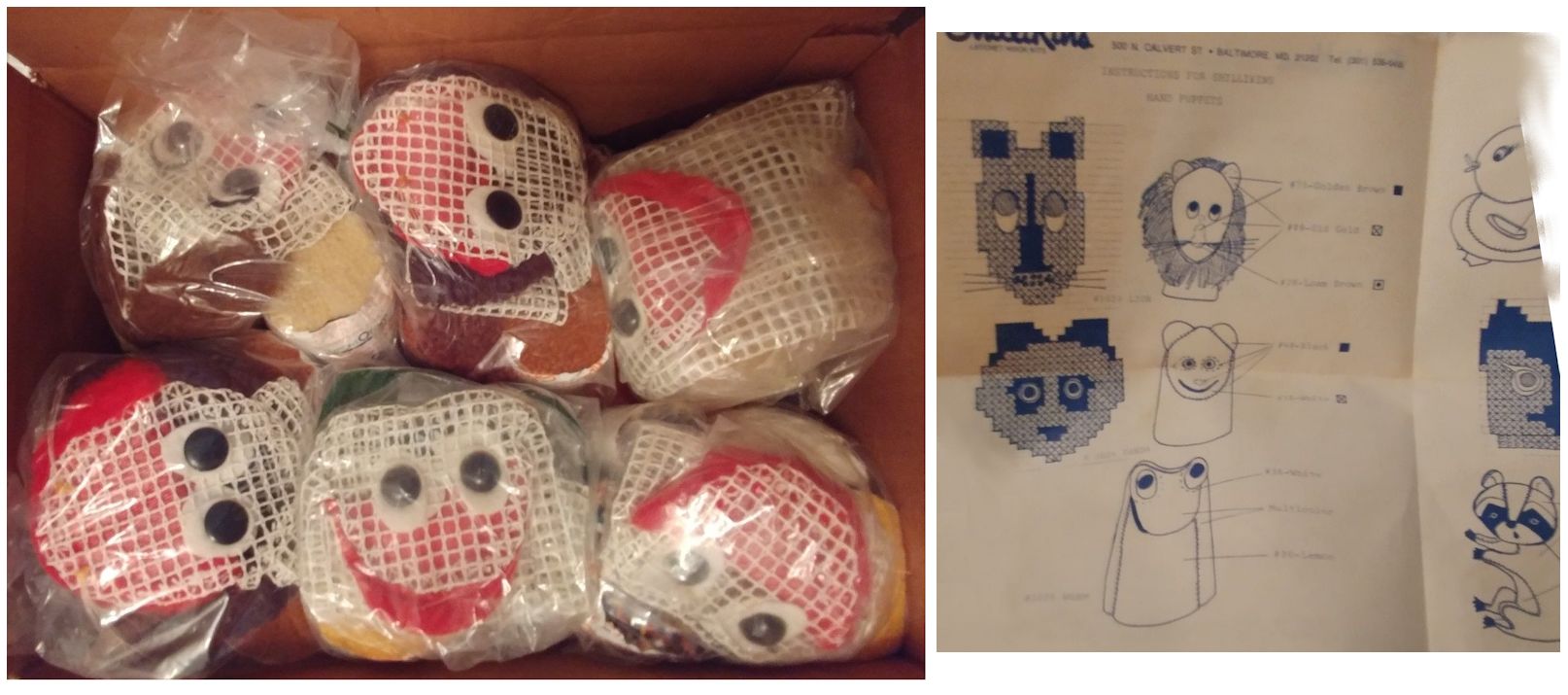 Shillikins soft toys
Later Shillcraft catalogues dropped the prominent Readicut wordmark, but still carried many Readicut rug designs alongside their own designs and a more diverse range of needlecrafts. One interesting latch-hook related range was "Shillikins" - soft toys made from latch hook canvas, already stuffed and assembled and ready for the latch-hooker to add the wool tufts in their choice of colours (Shillikins Trademark - Application 1980, Registration 1982, Cancelled 1989). There were also more festive rugs and shaped rugs such as Christmas tree skirts (round rugs with a central hole for the tree base) and Christmas stockings. These latter would have been a little too twee for many British households.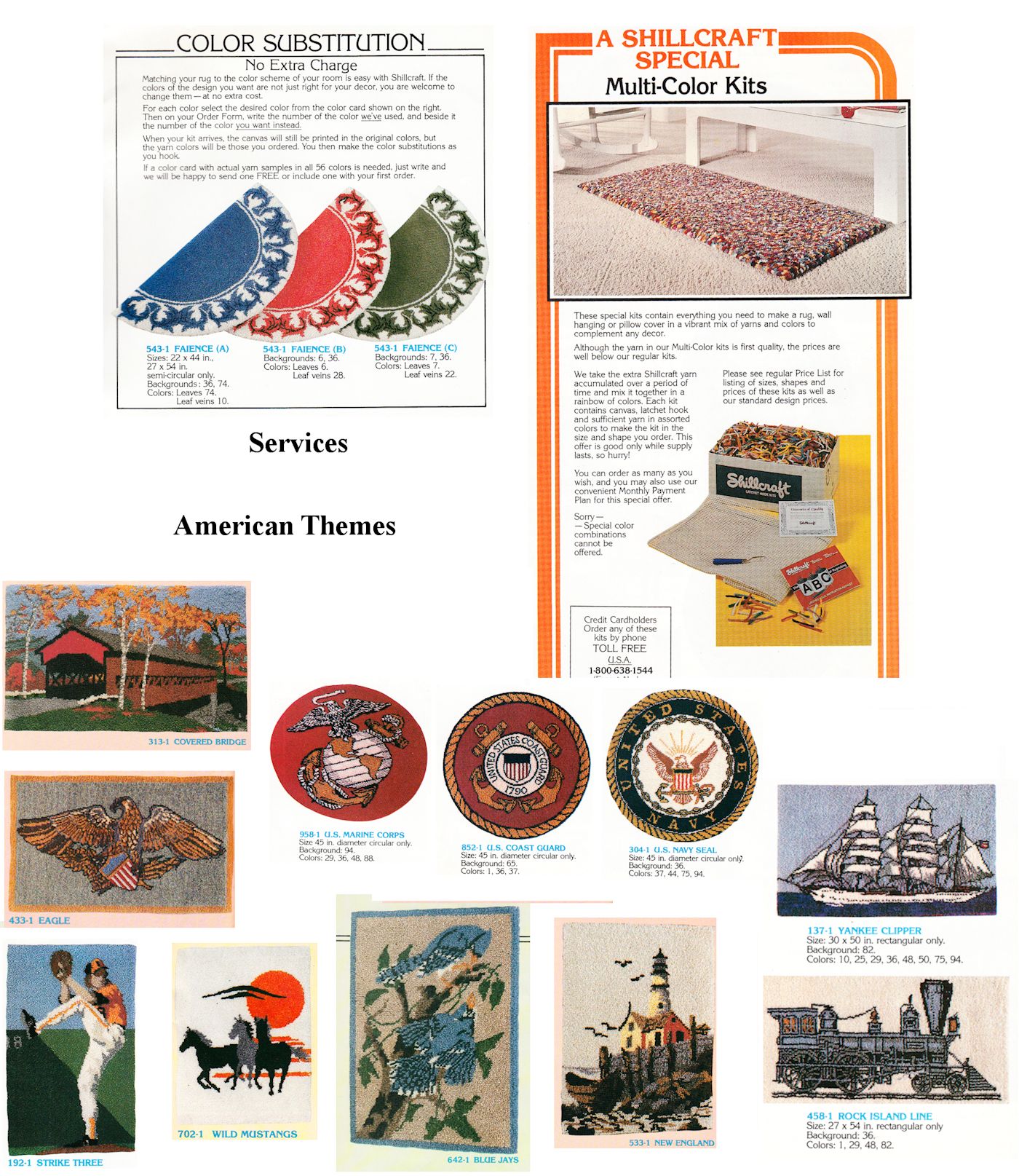 Like Readicut, Shillcraft allowed colour schemes to be customised - here we have Faience in 3 colour options.
They also offered thrums for random coloured rugs.
As well as Readicut designs familiar in Britain, they offered North American themes.


For that finishing touch, Shillcraft sold labels for your rug (these were bilingual in Canada).
New Shillcraft
Today, Shillcraft and Candamar (Candamar Designs Inc, 1991, a needlework design company) produce and sell latch hook and needlepoint kits in the USA. (New) Shillcraft have run down their stocks of 100% pre-cut rug wool (I checked in Aug 2015 and only 5 shades were available). They now stock 56 shades of 3-ply acrylic yarn (use 2 strands per hole). They also sell 3.3 hpi and 3.75 hpi canvases. Some patterns are stencilled on canvas and the others are charted on paper. They produce some lovely designs, but I'd prefer to buy a pattern chart or stencilled canvas and use pure or blended wool instead of pure acrylic.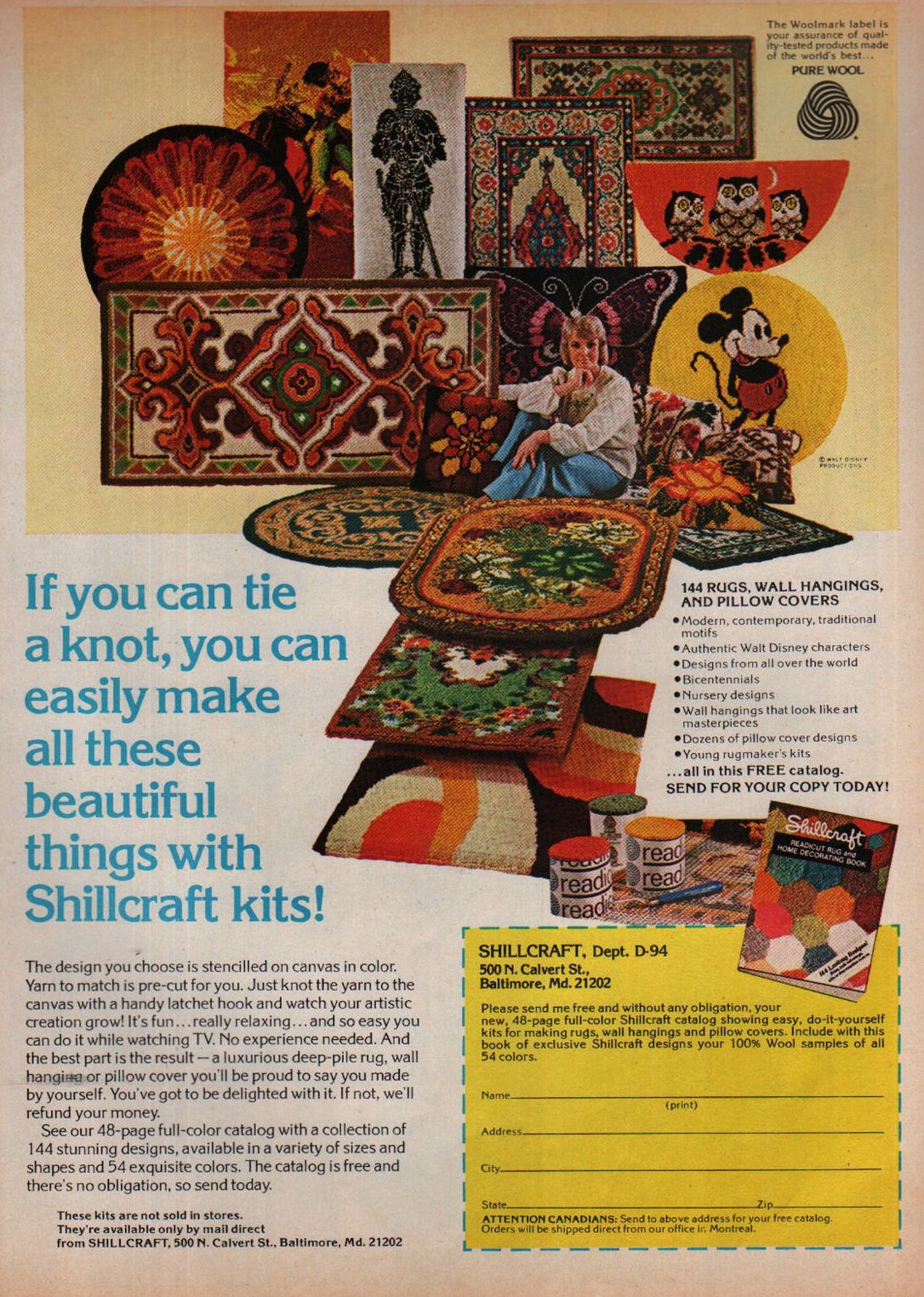 You are visitor number: