RUG-MAKING SUPPLIES - THE SCOTIA WOOL COMPANY


Sarah Hartwell, 2014

The Scotia Wool Company (Scotia Wools Ltd) also produced ready cut rug wool during the 1930s and were based at 158 New Bridge Street, Newcastle-upon-Tyne. They offered 2 types of rug kit (1) stencilled canvas, pre-cut yarn sufficient for completing the rug and latch-hook or (2) stencilled hessian, rug frame and patent tool for working on hessian, plus Scotia wool rug hanks sufficient for completing the rug. They also produced a leaflet of 60 rug designs, available free of charge upon application. The Teesdale Mercury, April 25th, 1934 wrote: The Scotia Wool Co., of Newcastle, sent two representatives, who gave a practical demonstration on the use of wools for rugmaking, and this was much enjoyed [by the Staindrop WI].

The address at 158 New Bridge Street which would put them next door to the Newcastle Wool Company. Scotia Wools offered "Ready Cut" rug wool, Thrums, "Van Dycke", "Nu-Persian" and "Artiste" rug wools as well as rug-hooking tools (e.g. Airlyne). The company had an thriving overseas trade during the inter-war period, but the name seems to have disappeared in the 1950s when the founders died. Some information about Scotia Wools has been chronicled by R.D. Peacock of Leicester, whose grandparents founded and ran the company.

Scotia Wool Company, Newcastle-upon-Tyne.

Scotia Wools Ltd was founded by Joseph (Joe) Dixon (1865-1956) and his wife Jane (1866-1950). Dixon was a draper by trade, but later became General Manager of Beavans' Department Store on Shields Road, Newcastle. When Beavans replaced him with one of their own family members, Dixon became Chief Buyer instead. At that point (c. 1900) Joe and Jane set up their own business; selling rug wool from their kitchen and this led (unsurprisingly) to Joe being sacked from Beavans' Department Store. Joe became a wool merchant by trade and appears to have been very hard-working and pragmatic as the company was very successful. The Dixon's business thrived, first in partnership as the "Border Wool Company." When the partnership was dissolved, the Dixons continued as the "Scotia Wools Co." The change from "Border" to "Scotia" clears up one mystery - the name referred to Scottish wool, not to Nova Scotia. According to Peacock's account, it was very much a Dixon family business. His daughter Adeline was the youngest of the three Dixon sisters and was Secretary at the Scotia Wools for a number of years. Robert (Bob) Dixon was the youngest of the Dixon family, a banker by profession he was a director of Scotia Wools until the company was sold. Adeline's cousin, Dora Mortimer, worked at Scotia Wools during the War after Sam (I assume her husband) retired in 1942.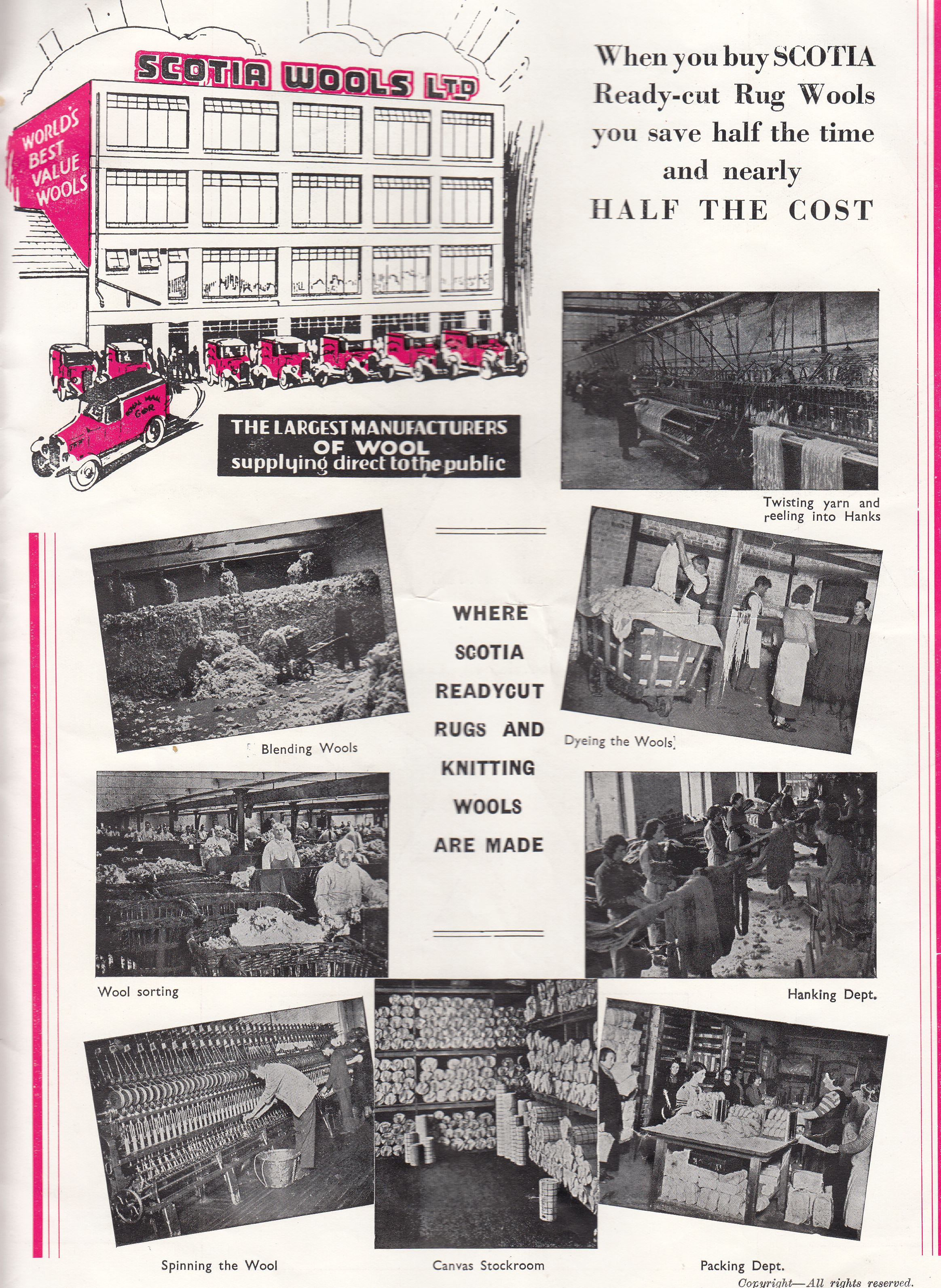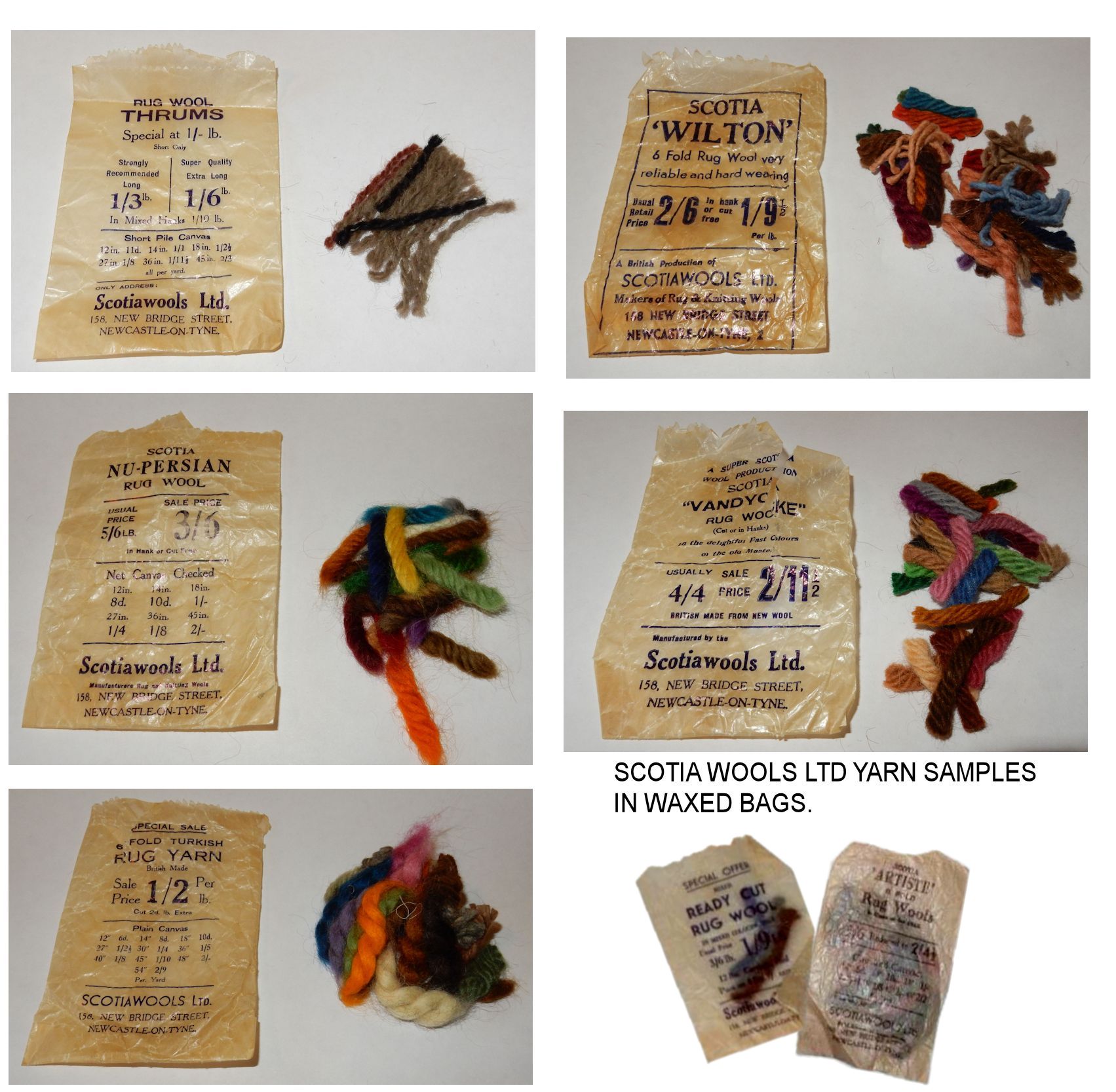 It appears that Scotia Wools were defendants in a trademark dispute. The case of Carter & Parker Ltd. vs. Scotia Wools Ltd is cited in a number of trademark dispute cases. I can't find the date of the court case, but this quote appears in some trademark infringement cases heard at Bombay High Court: "It does seem to me that as long as there is on the Register a trade mark ..... however wrongly it may be there - I do not know what the rights or wrongs of that are - it is not desirable that other people should use what is substantially exactly the same trade description." Here's a summary of the case: Carter & Parker Ltd. vs. Scotia Wools Ltd, before Mr. Justice Cross, 8th April, 1960 (Patent, Design, and Trade Mark Case - High Court Of Justice - Chancery Division). Carter & Parker Ltd, had registered" Fashionfleck" (one word) for knitting wools and wanted an interim injunction restraining Scotia Wools Ltd from dealing in or selling knitting wool under the name "Fashion Fleck" (two words). Scotia Wools Ltd gave evidence that they had for many years sold wool under name "Fashion" and that" Fleck" was merely descriptive of certain sorts of wool. Scotia Wools Ltd brought a cross-motion to expunge the mark" Fashionfleck". An interim injunction was granted preventing Scotia Wools Ltd from using "Fashion Fleck" either as one word or two consecutive words. Scotia Wools Ltd's cross-motion was dismissed as ill-conceived and Scotia Wools Ltd were ordered to pay the Registrar of Trademarks' costs. It was not disputed that Scotia Wools had used "Fashion" as a trade mark for many years, but there was no evidence as to just what goods it had been used on since Carter & Parker's first use of their mark. There was no evidence of any reputation in "Fashion", whilst the reputation of "Fashionfleck" was not challenged. (I can't find any follow-up to this interim judgment so it's likely Scotia Wools backed down at this stage rather than pay more costs.)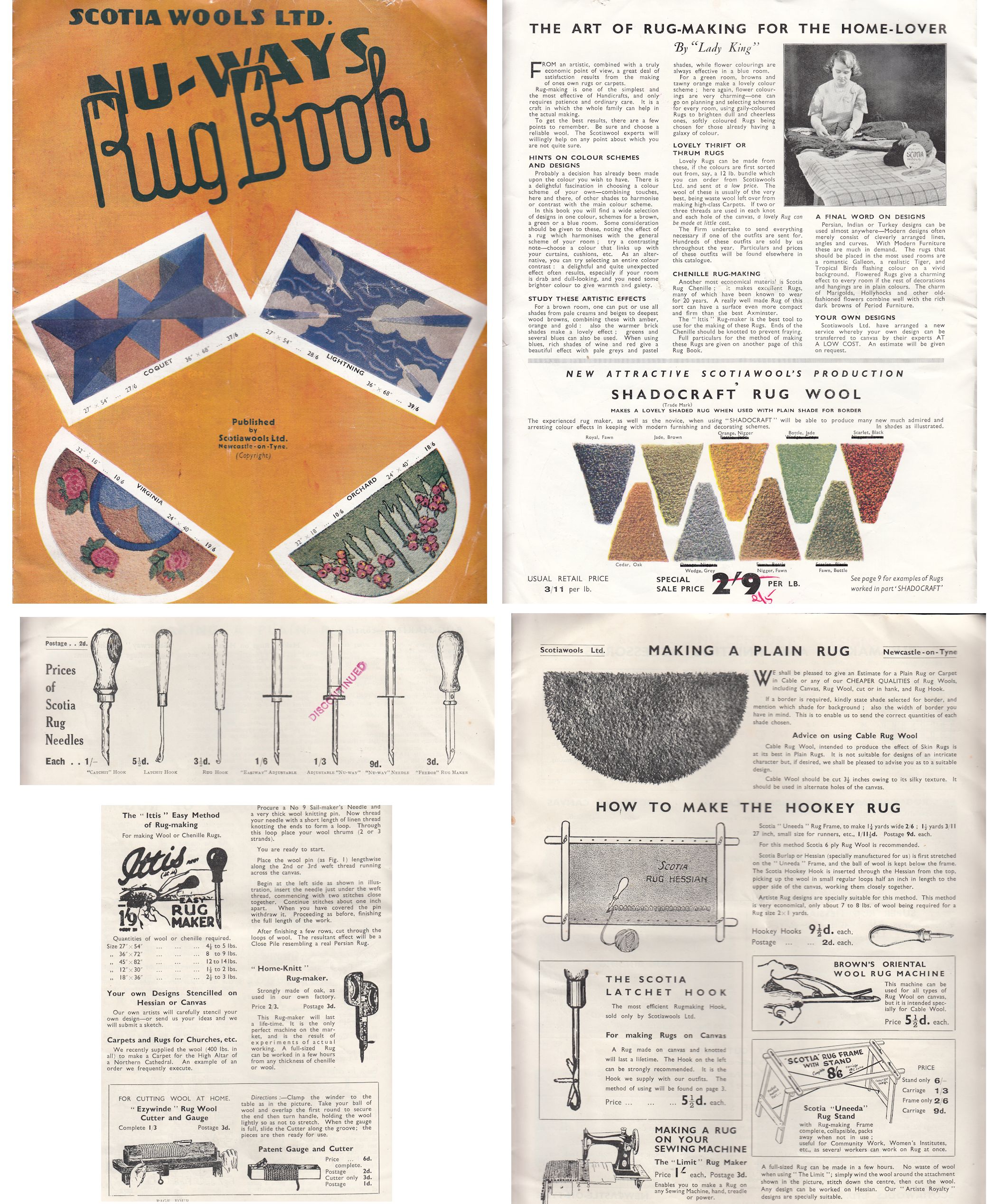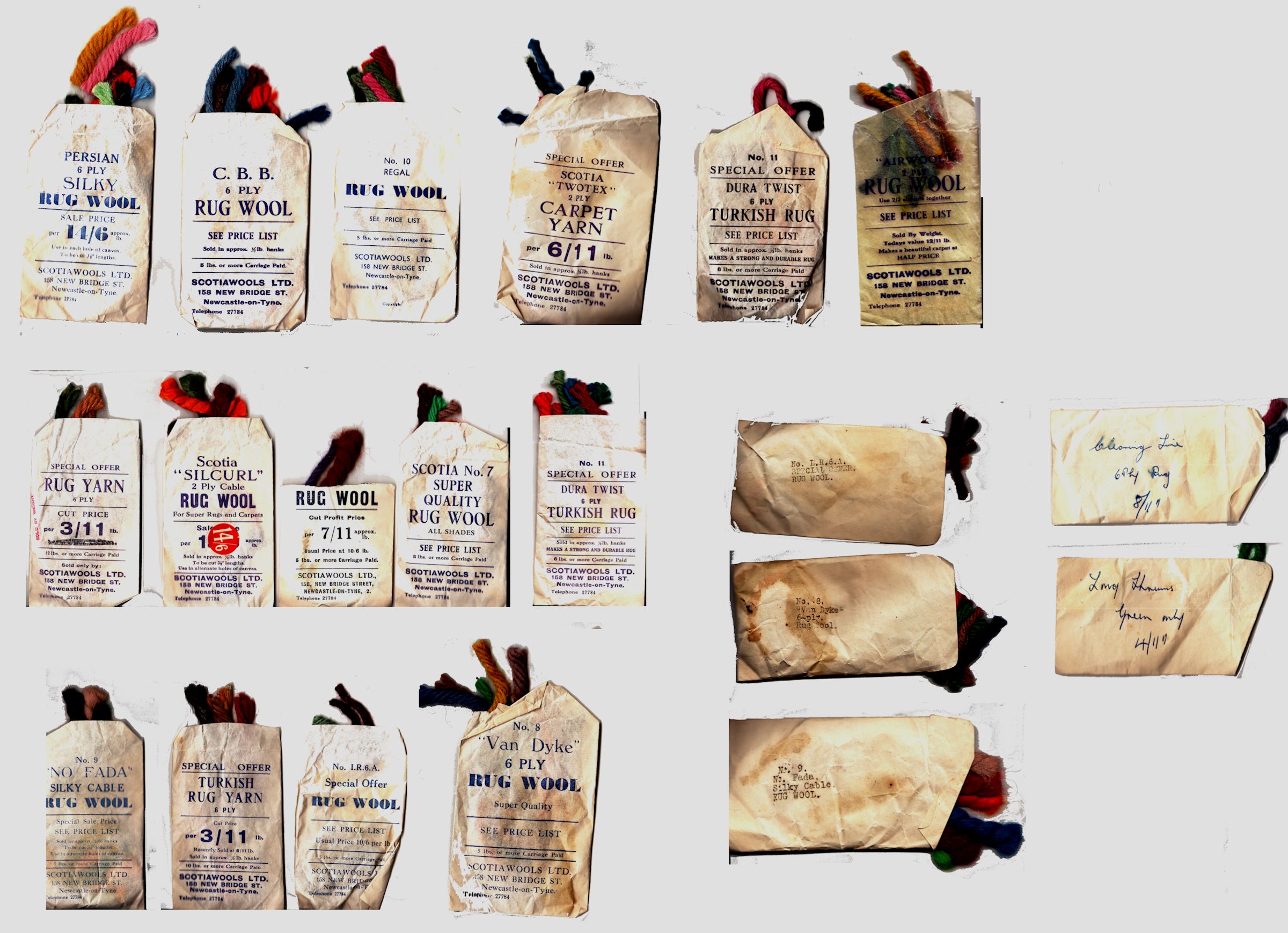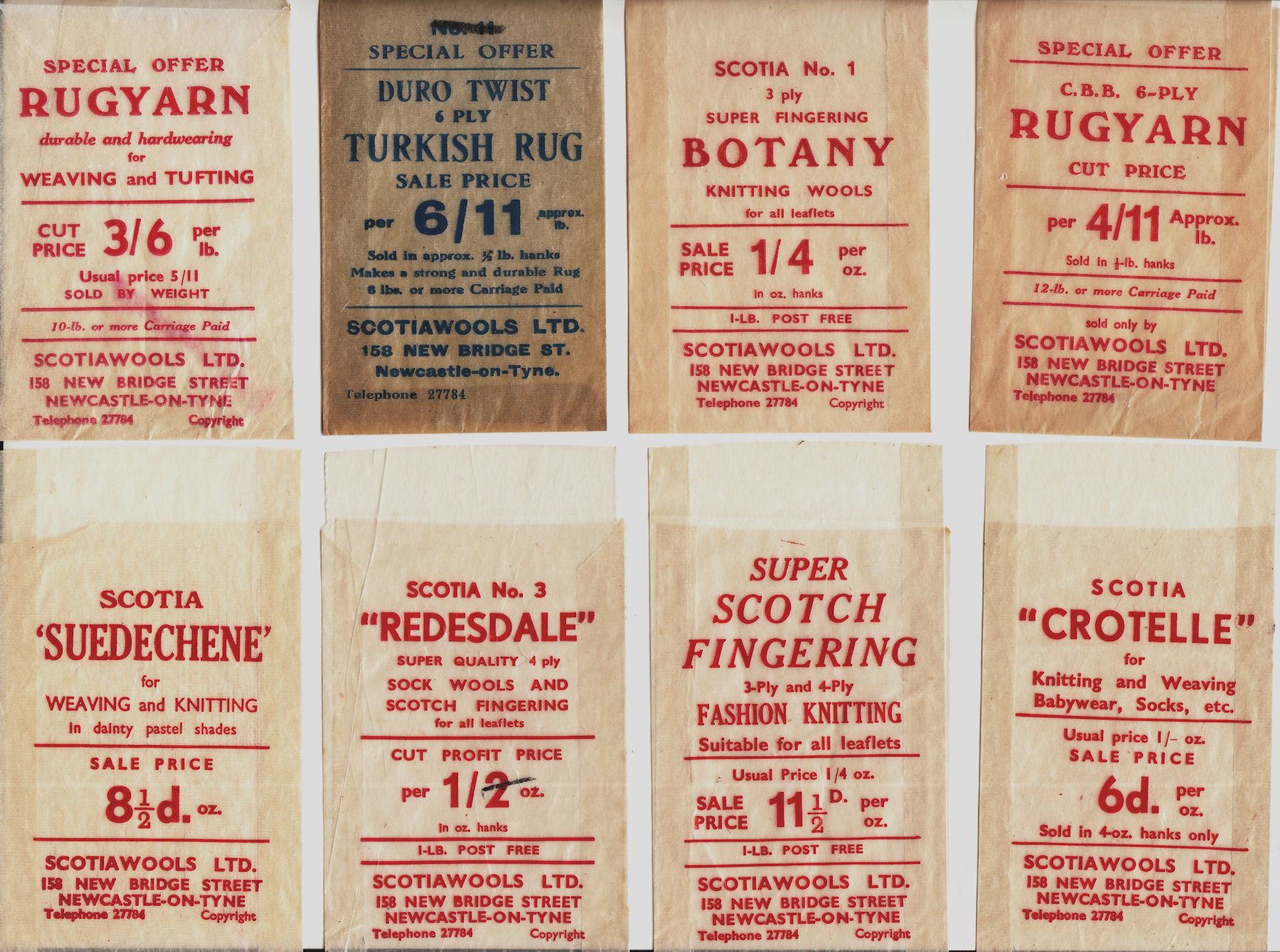 See Flickr where images and patterns can be downloaded at full resolution for your own use.

You are visitor number: