RUG-MAKING SUPPLIES - READICUT


Sarah Hartwell, 2014
| | | |
| --- | --- | --- |
| Readicut catalogue that came with "Texas Rose" (front cover) | Readicut advertisement/order form | In North American, Readicut traded as Shillcraft (founded 1949), offering the same patterns and blue dots logo. The Shillcraft name is now used by a different company (founded 1986, based in Baltimore) that produces acrylic rugs. |
Readicut of Ossett, Yorkshire is synonymous with rug-making. Their pre-cut yarn, latch hooks and other accessories were available separately, but they were famous for their kits containing everything you needed. They produced rug kits ("complete rug outfits" with printed canvases), pre-cut rug wools (in 2 different size packs) and rug-making accessories such as table-clamps and 2 latch hooks (so that 2 people could work on the rug, one at each end- one using hooking Method 1 and the other using Method 2 so that the knots all lay in the same direction)). Readicut was founded by Ralph Hirst and was the first company to sell ready cut lengths of rug wool instead of skeins. Depending on era, their pre-cut yarns were either pure wool or wool/acrylic mixes. Early on, the consumer could choose either "Twilight" (wool) or cheaper "Terry" (mixed fibres) yarns. In 1978, Readicut announced they were discontinuing the wool/acrylic mix and introducing 4-ply wool in its place. Rug-making seemed to decline from the mid 1980s, as did the specialist craft shops that stocked Readicut yarns. They closed in the early 2000s and the modern Readicut brand only produces acrylic latch hook kits with twee or cartoon-like designs. Readicut set the standard palette for rug yarns and were matched by the Anchor colour range.
US patent US-4417409-A – "Canvarex" A canvas support frame for handiwork stitching crafts such as latch hooking, or needlepoint. The frame can fit either onto the operator's lap or onto a table. A canvas is mounted onto the frame whereby the height and the angle of the material can be adjusted by the operator for comfort and easy use. The frame is lightweight and portable, and when not in use, can be closed for easy storage. Filed in 1983.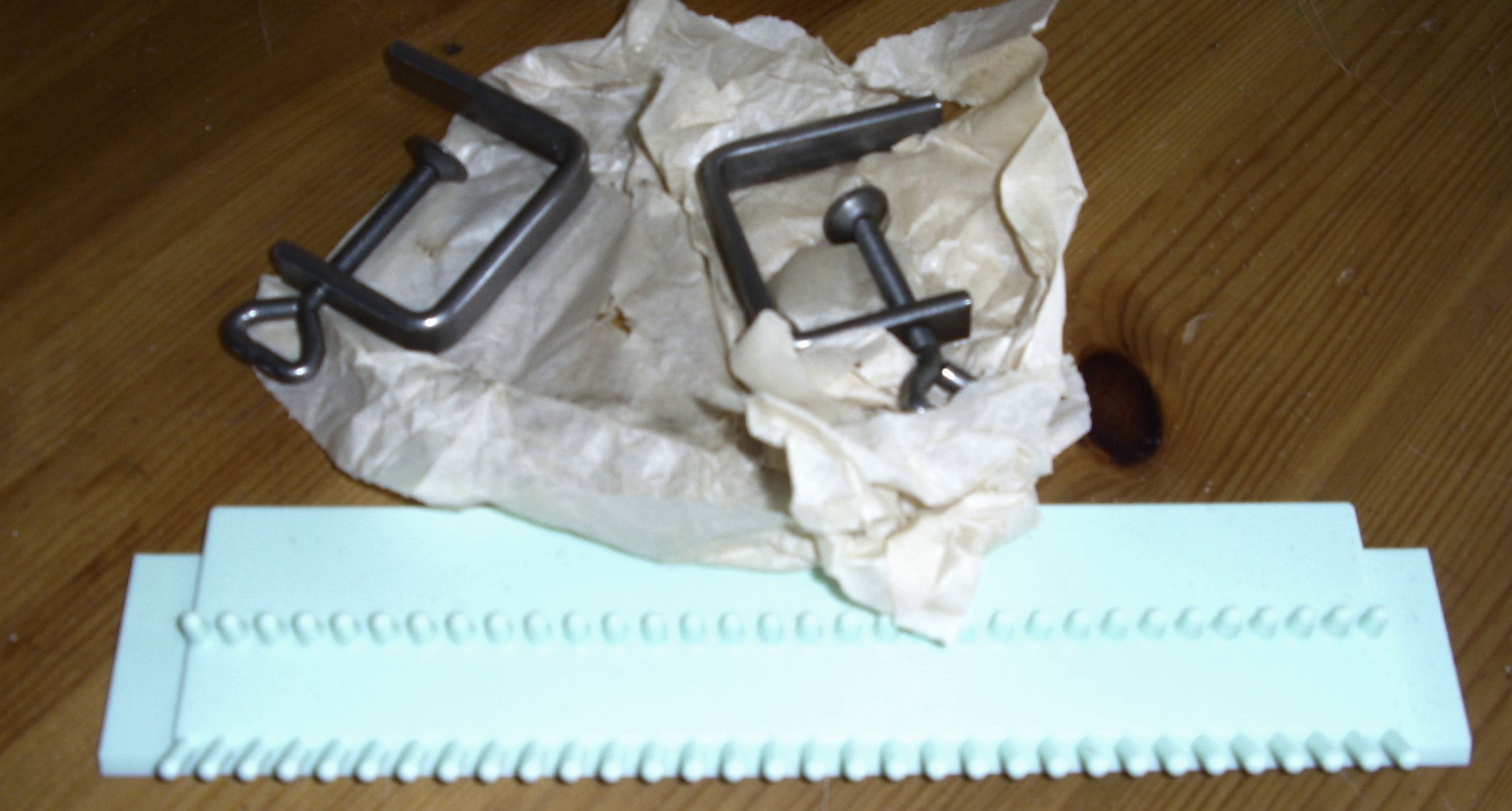 Readicut "Canvarex" Table clamp
(Original) Readicut canvases, packs of yarn, and even whole rug kits turn up occasionally in charity shops. It's also possible to recreate their design from the flip-side of a completed rug, or from some of their catalogue sheets. This is worth the effort if you like traditional patterns. Some long-term latch-hookers refer to any brand of pre-cut wool as "Readicut" in conversation – "I need to get a few more packs or Readicut."
| | | |
| --- | --- | --- |
| Readicut Instruction Leaflet | Readicut Factory (part of an early advertisement) | A certificate for 750 shares in the Readicut company |
| 1936 Readicut advert. | 1952 Readicut advert. | Readicut Mixed Colours Pack (mixed fibres yarn) - an economical way to get small quantities of several colours for a patterned rug |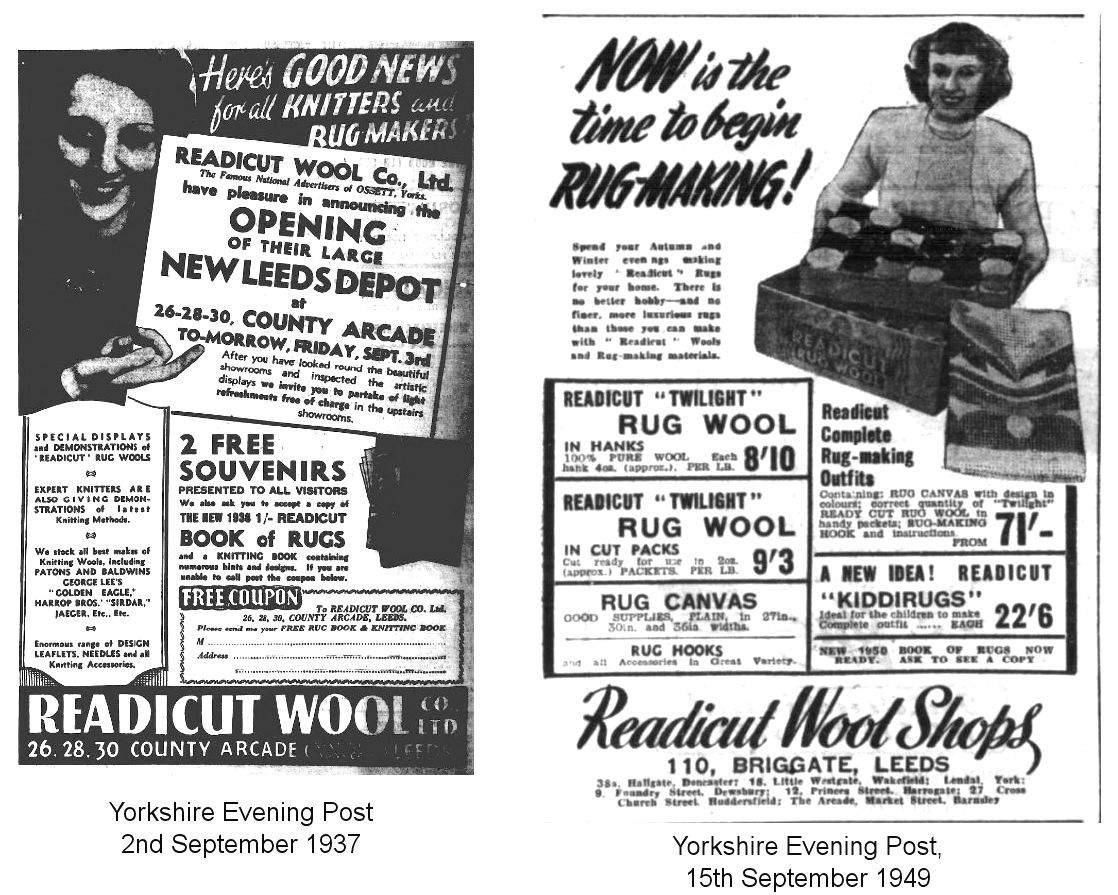 READICUT ROOTS
F Firth & Co
In 1922, Edwin Firth erected a weaving shed in Heckmondwike, Yorkshire, where he manufactured blankets. He was joined in business by his five sons, including Thomas Freeman (T. F.) Firth. By the 1860s, the firm was producing, among other things, railway and carriage rugs, and in 1863 it began manufacturing Scotch or Kidderminster and Dutch carpets at Flush Mills. TF Firth & Company, manufacturers of carpets and other textiles, dates back to a merger of the businesses of Edwin Firth of Heckmondwike and Firth Willans's carpet manufacturer of Bailiff Bridge, Yorksire in 1860. Thomas Freeman Firth (Edwin's son) and his brother in law, JW Willans formed a partnership called Firth Willans & Company of Heckmondwike. In 1867, Firth Willans &amp Co was formally established at Bailiff Bridge. In 1875, Willans left the company for unknown reasons, and it became TF Firth & Company run by Thomas Freeman Firth. It was registered as TF Firth & Sons in 1889. in 1909 his son, Sir Algernon Firth took over the running of the company. Some years earlier, in 1888, Sir Algernon Firth had opened factories in the USA, including one at Firthcliffe, NY, as part of a worldwide expansion plan. Meanwhile, it continued to expand its premises in Bailiff Bridge, Yorkshire. In 1921, Sir Algernon Firth retired and his nephew, Sir William Akroyd, took over. He was succeeded by his eldest son Major Sir Alfred Hammond Aykroyd, who in turn was succeeded in 1962 by Harold Hammond Aykroyd. In 1968, the company was bought out by the Readicut Group and its rug-yarn factory was based at Terry Mills, Ossett, Wakefield. There is a fuller history at T F Firth & Company
Readicut (Original)
In parallel with this, Readicut was founded by Ralph Hirst in 1928 from a shop in Wakefield. Their innovation was the brilliant idea of supplying pre-cut wool for rug making. Previously, wool was purchased in skeins and had to be cut to length by the crafter; a quite tedious and time-consuming process (and one often delegated to the children!). At the same time, Readicut introduced a mail order service. The company was registered in 1932 as Readicut Ltd and was incorporated in 1933.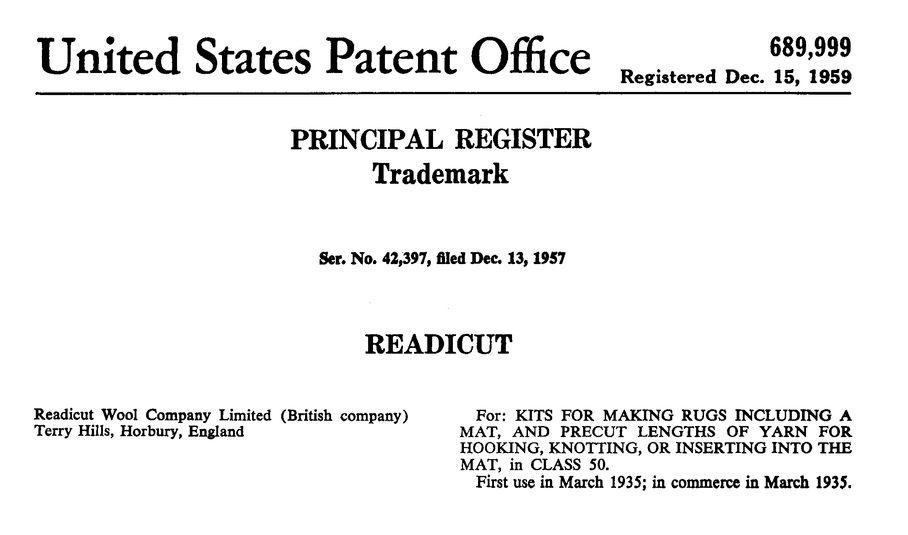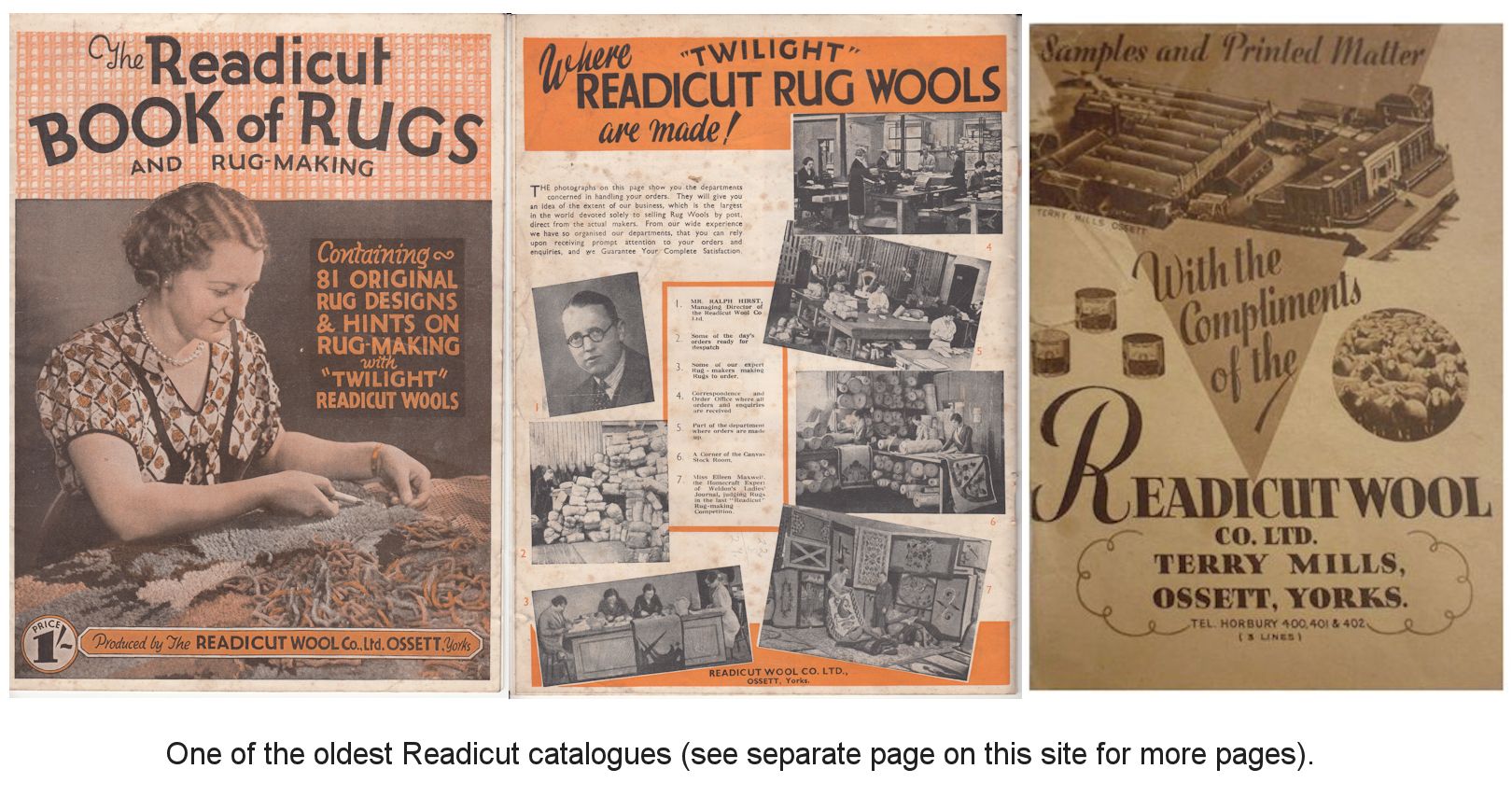 Ralph Hirst held two patents: "Improvements in display or pattern cards for yarns and methods for producing the same. Ralph Hirst, Readicut Wool Company February 26, 1937: GB461973-A" (filed Aug 1935, published Feb 1937) Packages. HIRST, R., and READICUT WOOL CO., Ltd. Aug. 26, 1935, No. 23847. [Class 94 (i)] [Also in Group XVIII] A method of making pattern cards for yarns comprises feeding the yarns a together with an adhesive strip b through rollers e, f, the roller f being heated to soften the adhesive, cutting the sheet with the attached yarns into strips a' and attaching the strips to cards c in some such manner as shown. The second was "Improvements in rug making implements. Ralph Hirst July 5, 1950: GB639845-A" (filed April 1947, Published July 1950) Sewing. HIRST, R. April 3, 1947, No. 9129. [Class 112] Tufting needles.-A yarn-carrying tufting needle 7, shown as of the tubular type, carries a peg 13 adapted to pierce the base fabric when the needle is thrust in ; the next insertion of the needle is made through the hole formed by the peg, thus ensuring uniform spacing of the stitches. In the form shown the peg 13 is carried on an adjustable gauge plate 10 determining the length of loop in the usual way ; it may be attached adjustably to the gauge plate to allow of the stitch spacing being varied. Two or more needles, with corresponding pegs, may be carried on one handle. The wordmark of concentric circles of dots next to "readicut" was registered in the 1950s, but allowed to expire in the 1980s.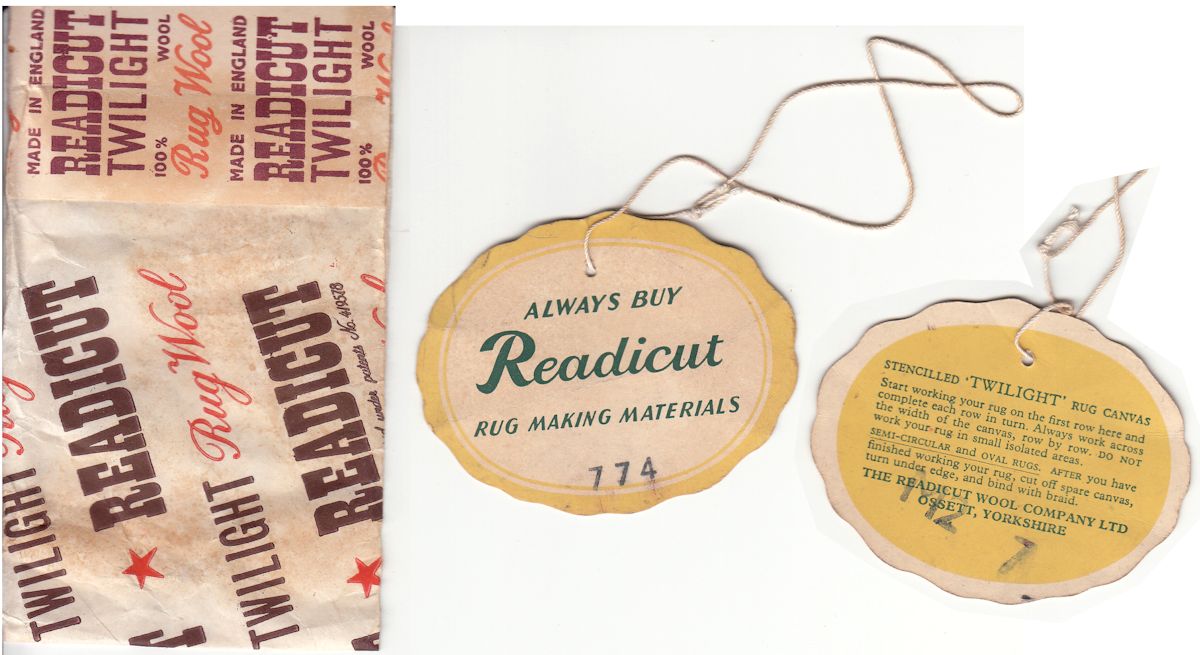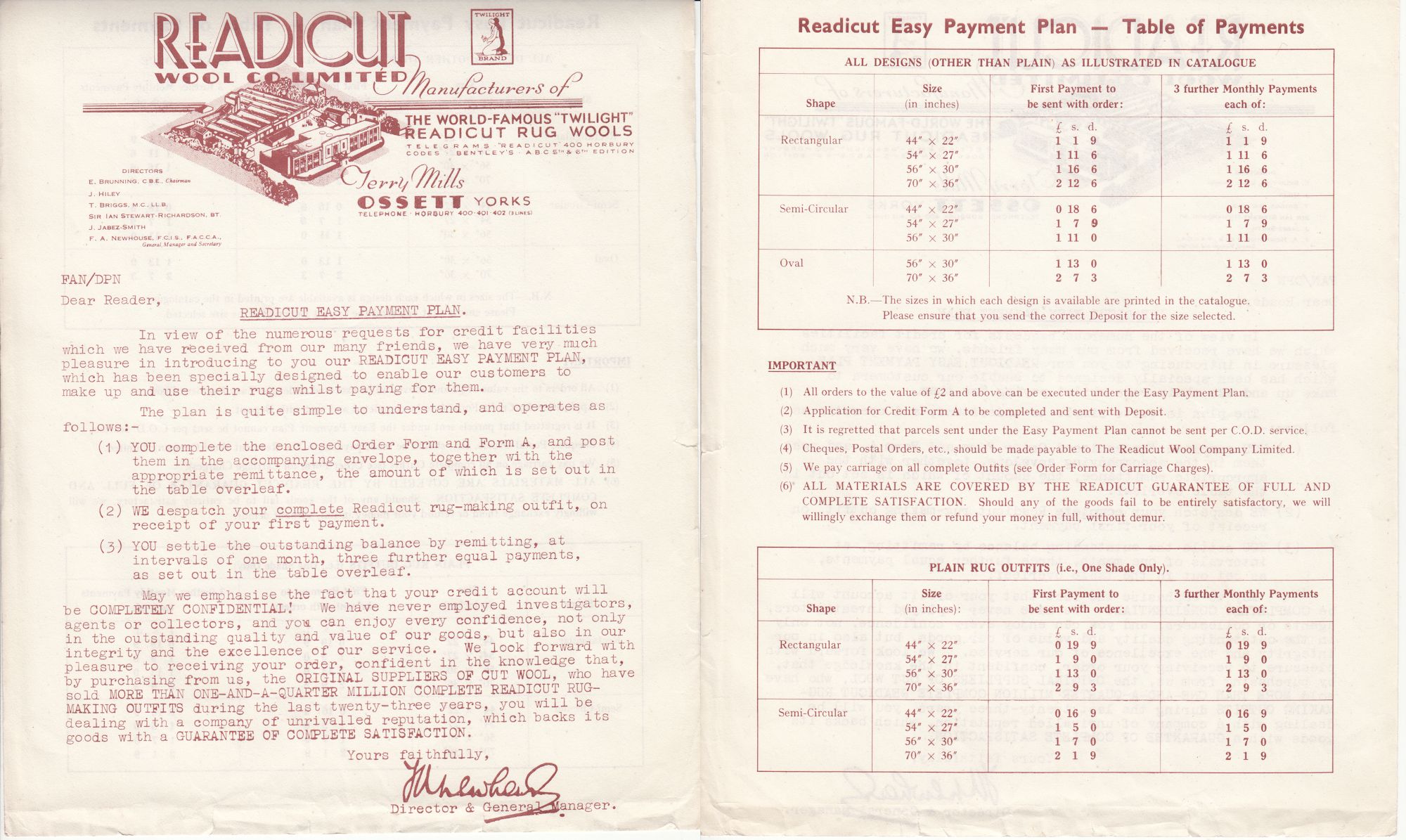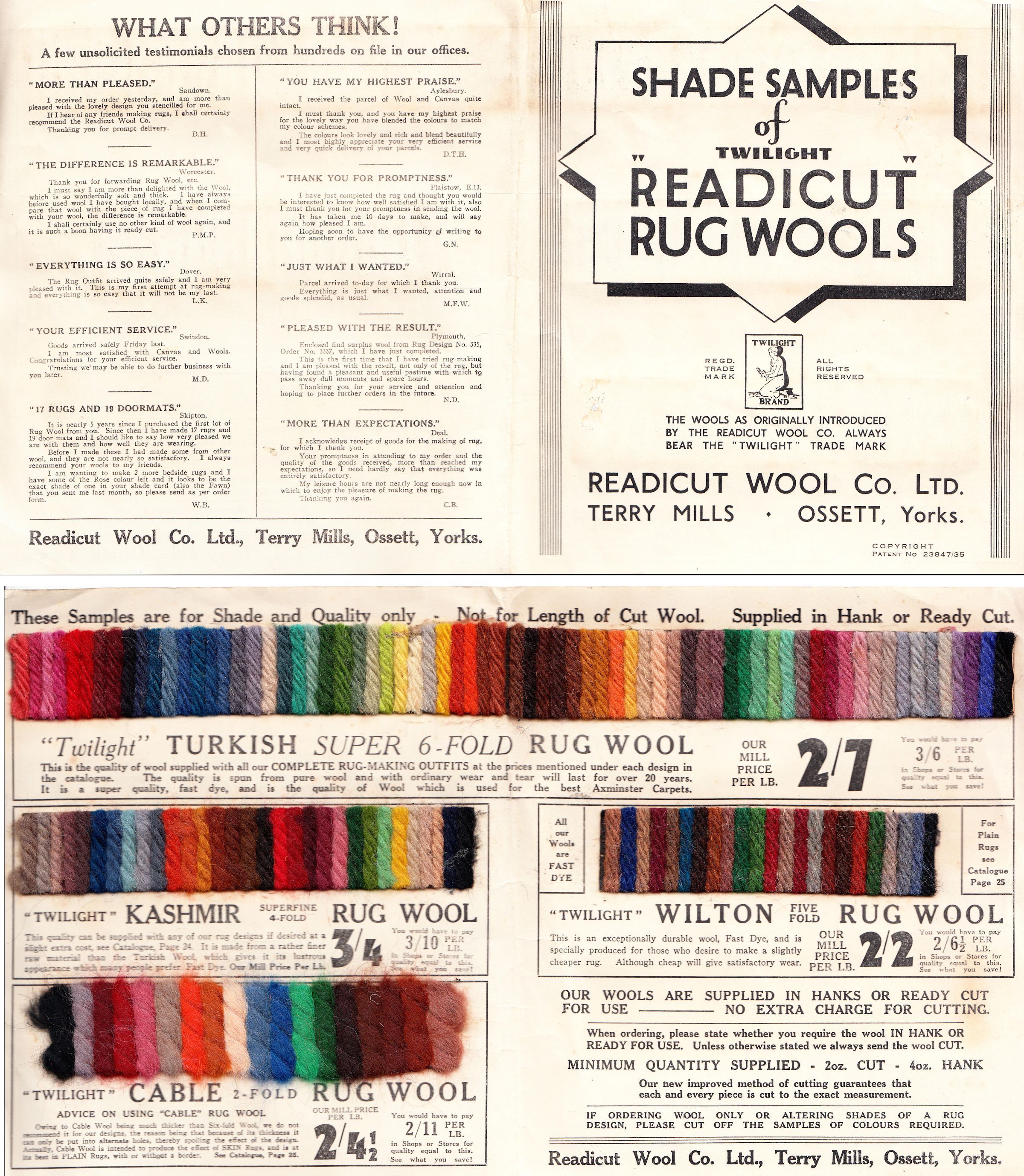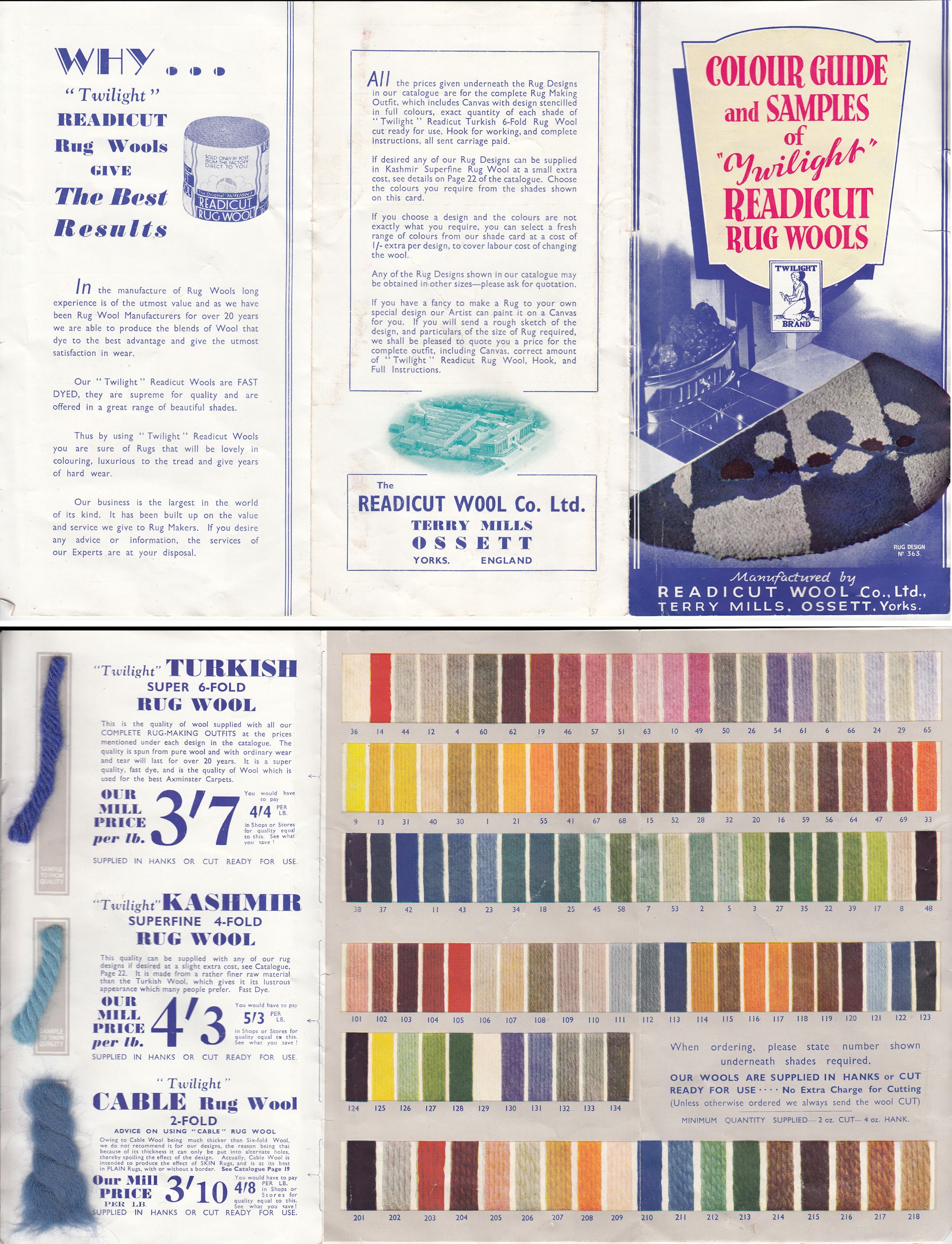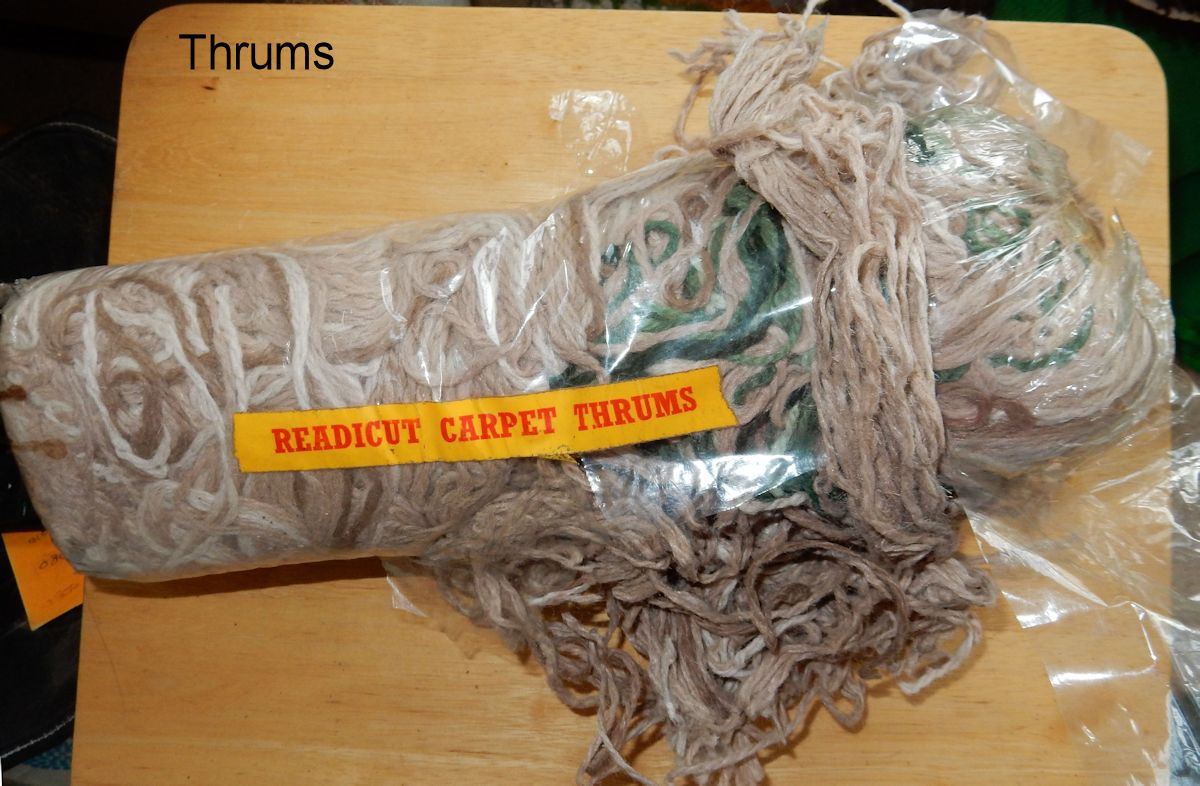 I picked this latch-hook up because of the stamped numbers on the metal shaft. It's a Readicut's Offset latch-hook, patented and introduced at the start of the 1950s, however the numbers aren't the patent number, but may well be the Readicut part number or serial number as they start "Re."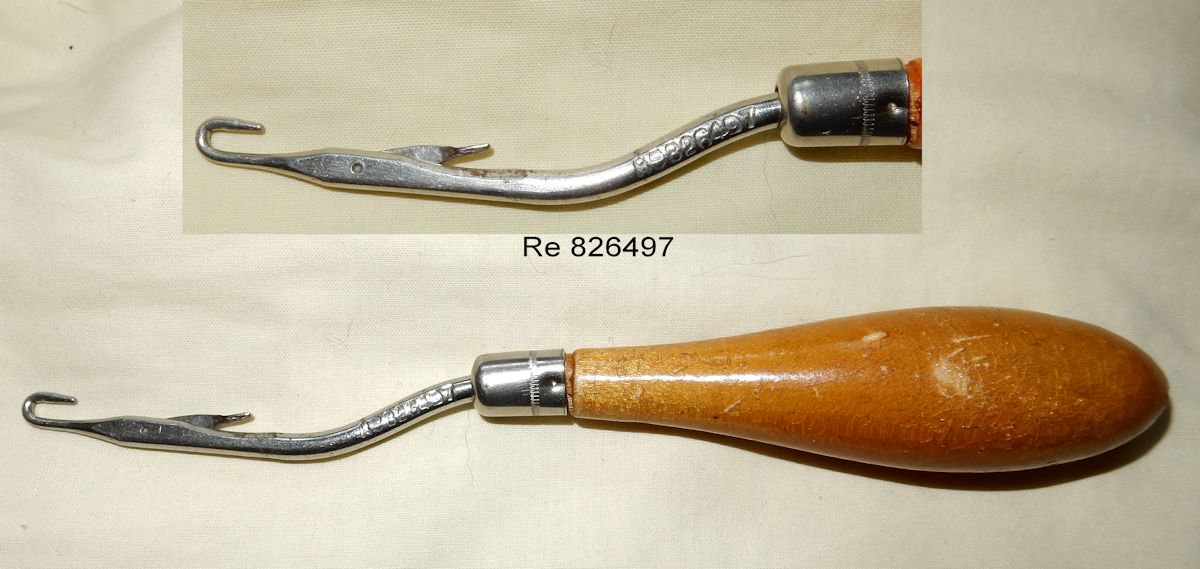 Many people had fond memories of the Readicut Rug Outfits, as shown in this reference to a Readicut Rug Outfit in "Life in the Royal Navy, Memoirs of Clarrie Gibson, Part One 1951 - 1955 HMS Maidstone.": "After work when the checking of paperwork had been completed in the Naval Store Office by the duty S.A. I would sit in the office and make a rug using a Readicut rug outfit. It took a long time to complete it and when going on leave the Customs people at the Dockyard Gate were unsure as to whether it should be opened to see if any contraband had been concealed or charge me Purchase Tax on it, in the end I was allowed through the Gates and took it home. " and in "Back Along the Track: Scenes from an Ashford Childhood" By Lynne O'Sullivan: Sometimes Nan and I would work on a 'Readicut" rug together. We'd sit for hours at a stretch, pulling wool through the holes with the funny shaped hooks designed for the purpose." and this from Jom Bryce: "When I was on Ark Royal, 1964, we were accommodated in the huts next to the Field Gun track at Drake Barracks. Because of the distance and travelling times, I didnt get home between main leave periods and was introduced to rug making by another mess member. He was in the process of making a rug and I thought "I can do that". So I sent away from a kit from the Readicut Wool Company. The kit comprised all of the wool, cut to lengths in the various colours, a progging tool and a mesh sheet, with the pattern marked out. The particular rug that I made was bright red, with a leaping tiger on it. The rug took several months to make, in my spare time, but it looked great finished and took pride of place in our first house, and came with us in our various moves. "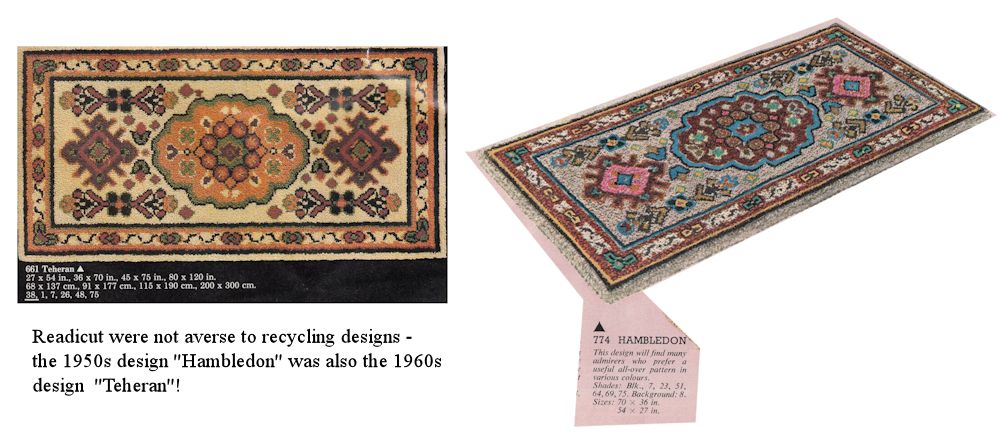 In 1965 there was an informational film about Readicut, passed by the British Film Industry for cinema screening (as a short film screened before the main feature). "Readicut Rugs" (1965) (also known as "Readicut") was directed by Bertram Tyler and produced by Five Cities Films in conjunction with Readicut International. Photographic director was Stuart J. Josephs. The documentary showed the process of manufacture of Readicut rug wool and traced the manufacture of various designs of rug from the factory to home use. Six copies of a 16mm movie reel (presumably the film that the BFI catalogued) was found in the archives of the Readicut factory in Horbury prior to its demolition. The 16mm movie reel was distributed by Rank Film Distribution in the 1960s, when production at the rug making firm was in full swing. Film archivist Kenny Smith, manager of Photomakeover in Horbury, transferred the 19 minute colour film to DVD. Six cans of film, all identical copies, showed workers making rugs in the Readicut factory. Another copy can be found in New Zealand and is described as a 12mm 16 minute film, described as a sponsored film which showed the process of preparing lengths of wool and stencilled canvases. Filmed in the Readicut factory in Yorkshire, it shows the process of manufacturing Readicut rug wool and various designs of rugs, and traces their manufacture from the factory to home use. It was probably shown as the documentary support feature before the main feature at cinemas. (The news report in The Wakefield Express (2007) referred to the film being on U-matic film. I think this mistake may have been due to the "U" (Universal rating) marking on the reels. U-matic was an early recordable 19mm videotape, in cassettes, not cans, and was not introduced until 1971)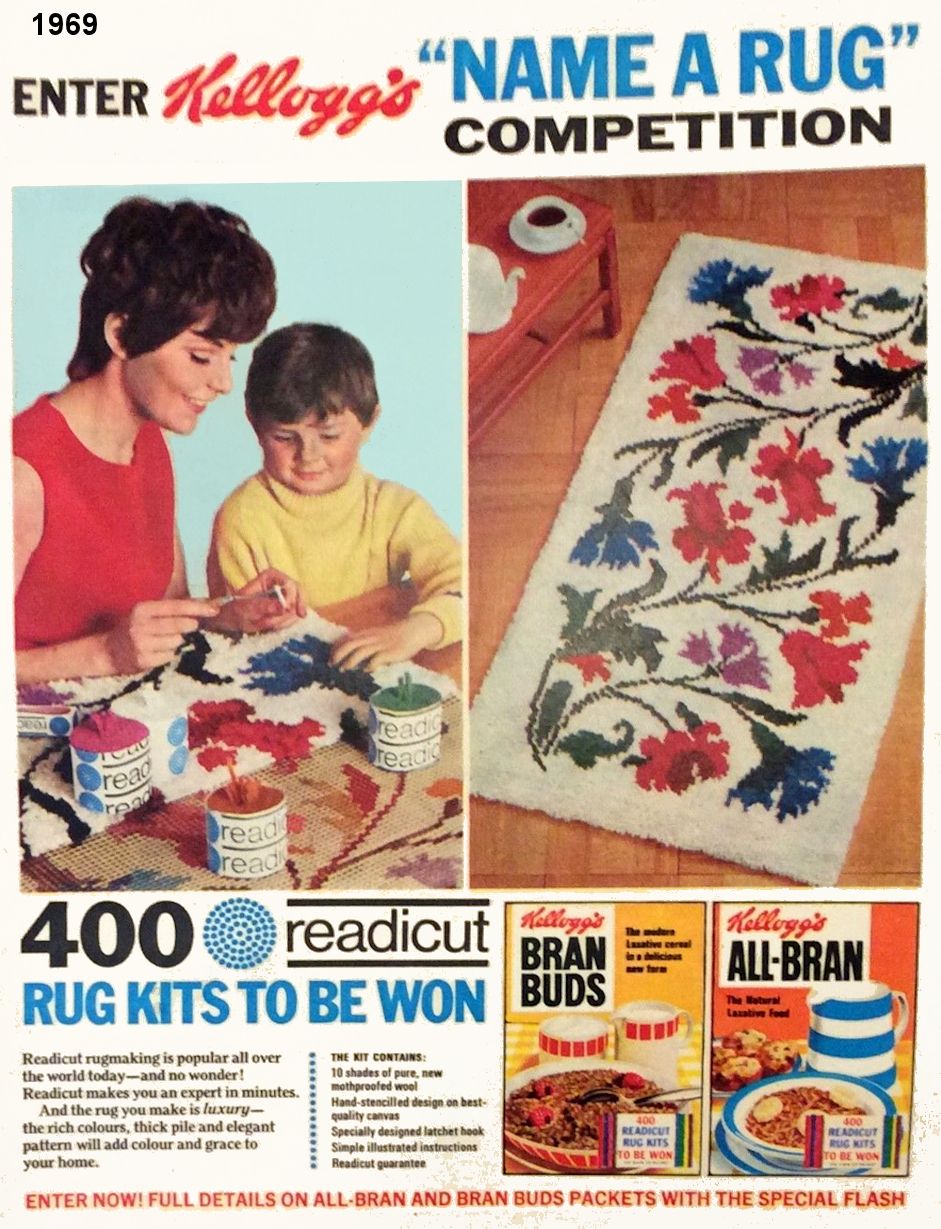 In 1968 Readicut took over TF Firth & Sons when rugmaking was a booming hobby. The rug-making firm became one of the area's largest employers. Readicut (Ireland) Ltd., Kiltimagh, Co Mayo - Stencilled rug canvases was founded in 1966, and Readicut Spinning (Ireland) Limited, Kiltimagh, Co Mayo - Rug wool yarn followed in 1968. At its height, in the 1970s, Readicut was a multi-million pound industry with several factories in the district manufacturing rug kits. Its size meant Readicut was not one, but a number of companies or divisions (making it harder to trace history from the 1990s onward). Its last registered address was in Gildersome, Leeds.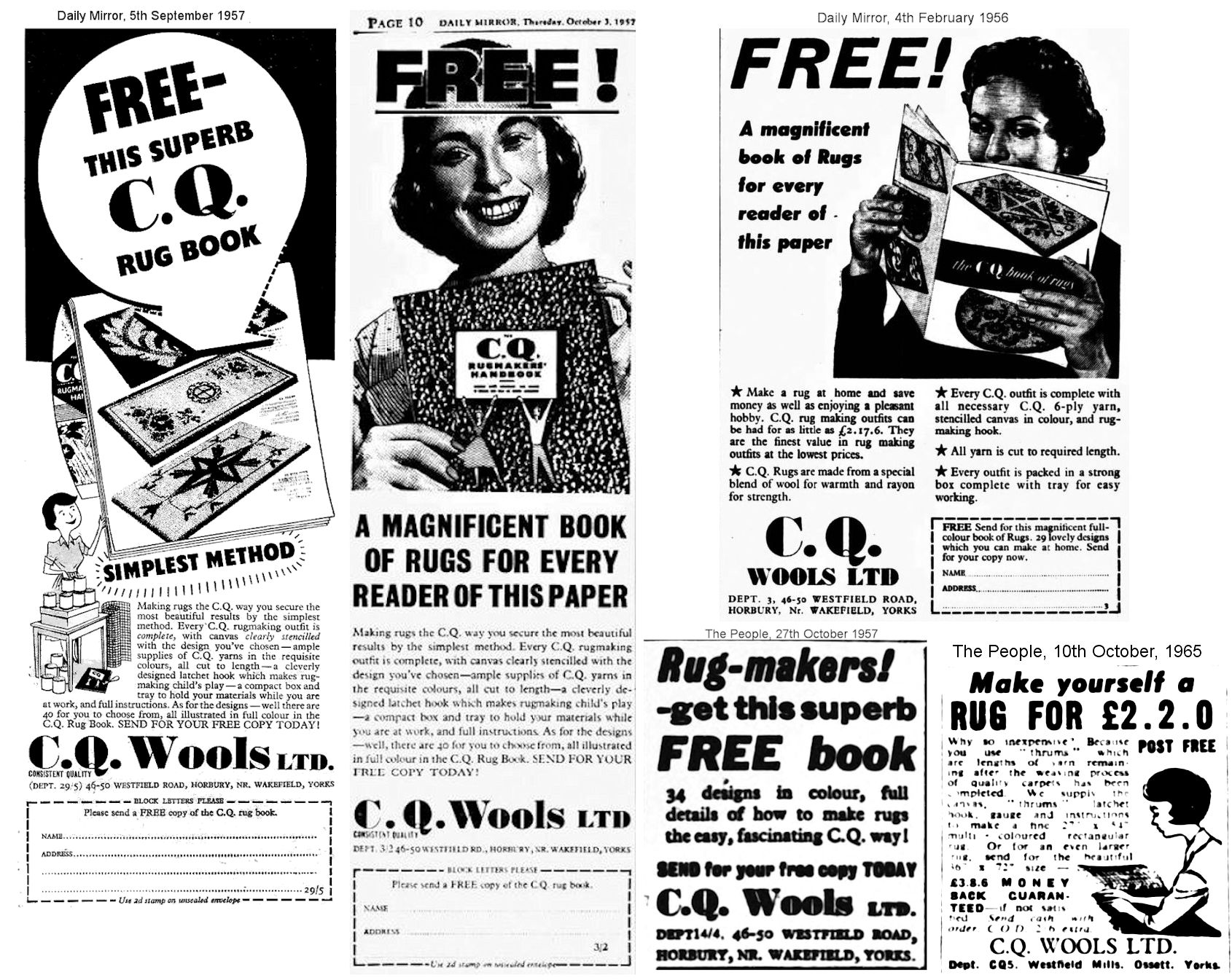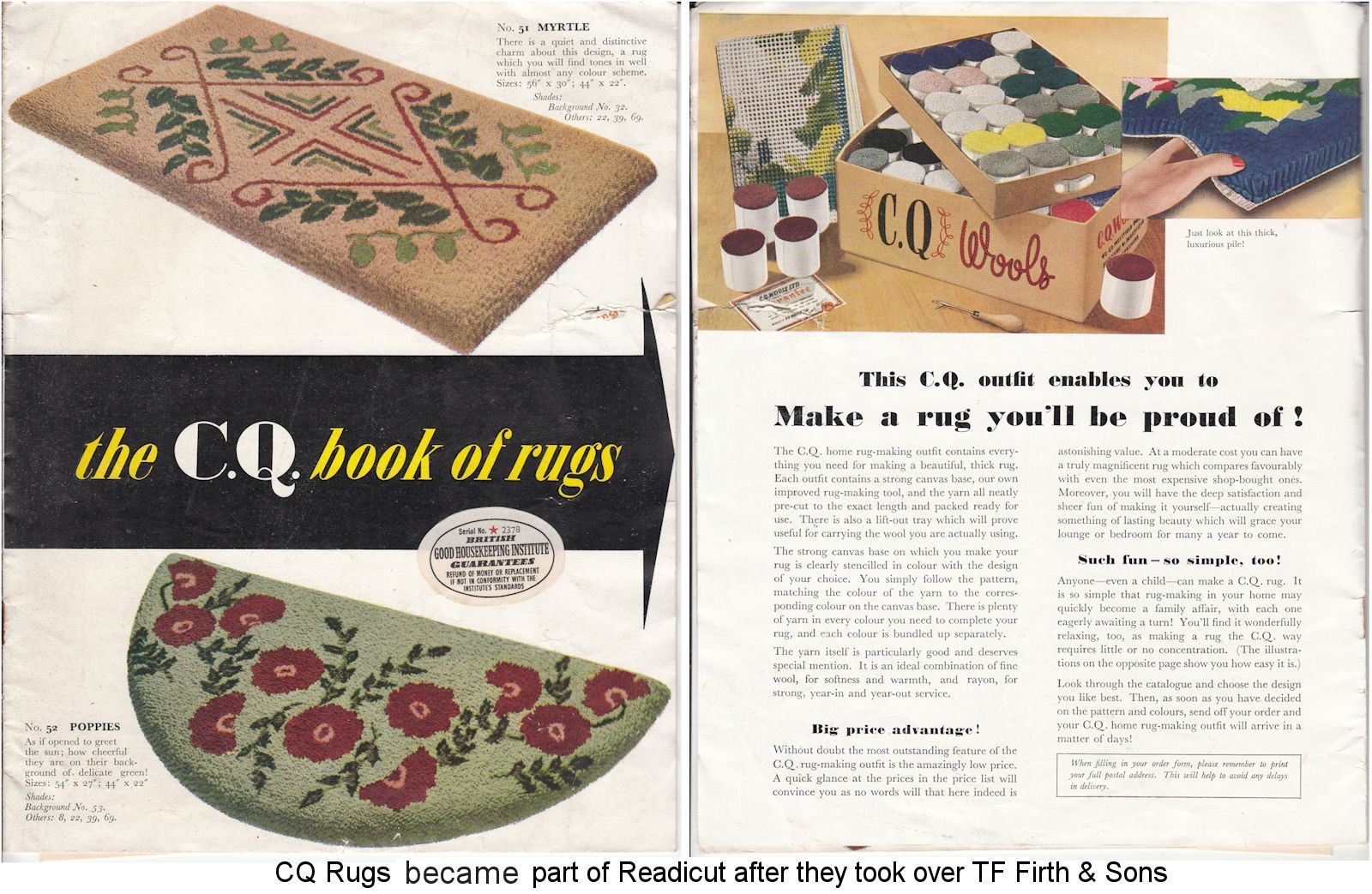 If this CQ Book of Rugs catalogue (1956) looks familiar that's because it was part of TF Firth & Sons. CQ (Wools) Ltd ("CQ" standing for "Consistent Quality") existed since at least the 1950s, trading from Westfield Road, Horbury. Firth Fabrics became CQ Wools Ltd in November, 1970 (after the takeover by Readicut in 1968) and traded from Old Mills, Drighlington, Bradford, West Yorkshire, then from 1982 to 1991 it became known as Readicraft Limited. This branch of the Readicut group last filed accounts in June 2011 after which the company was dissolved.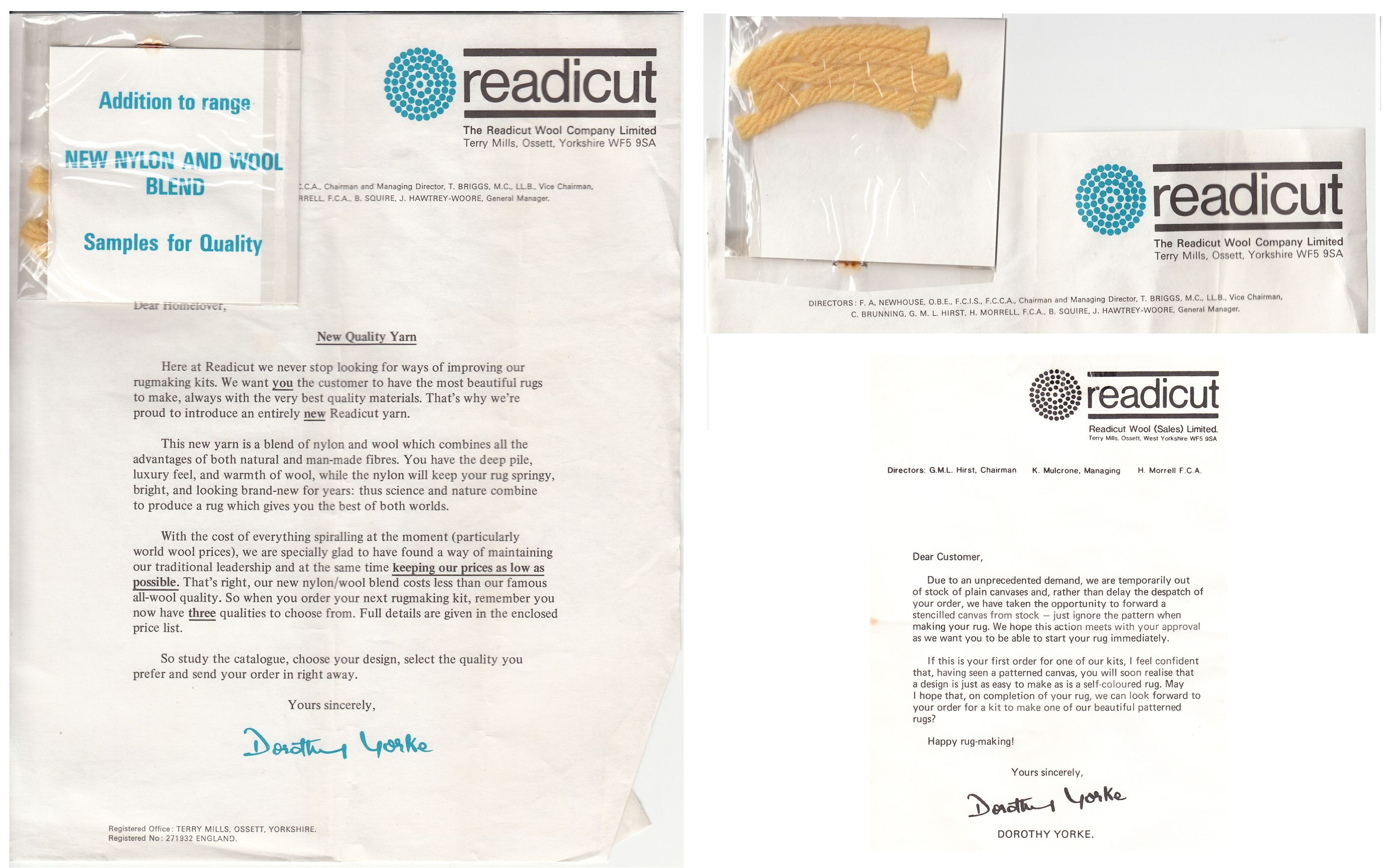 For a short while in the 1970s, Readicut offered their 6-ply wool cut to rya length (twice the usual length) on request. A short note in their catalogues stated that rya rugs could be made on their standard canvas by hooking the 1st, 3rd, 5th etc rows and leaving the other rows unworked. The rug used the same overall quantity of wool, but could be finished in half the time. Their catalogues included a number of abstract designs that were also suitable for rya rug-hooking.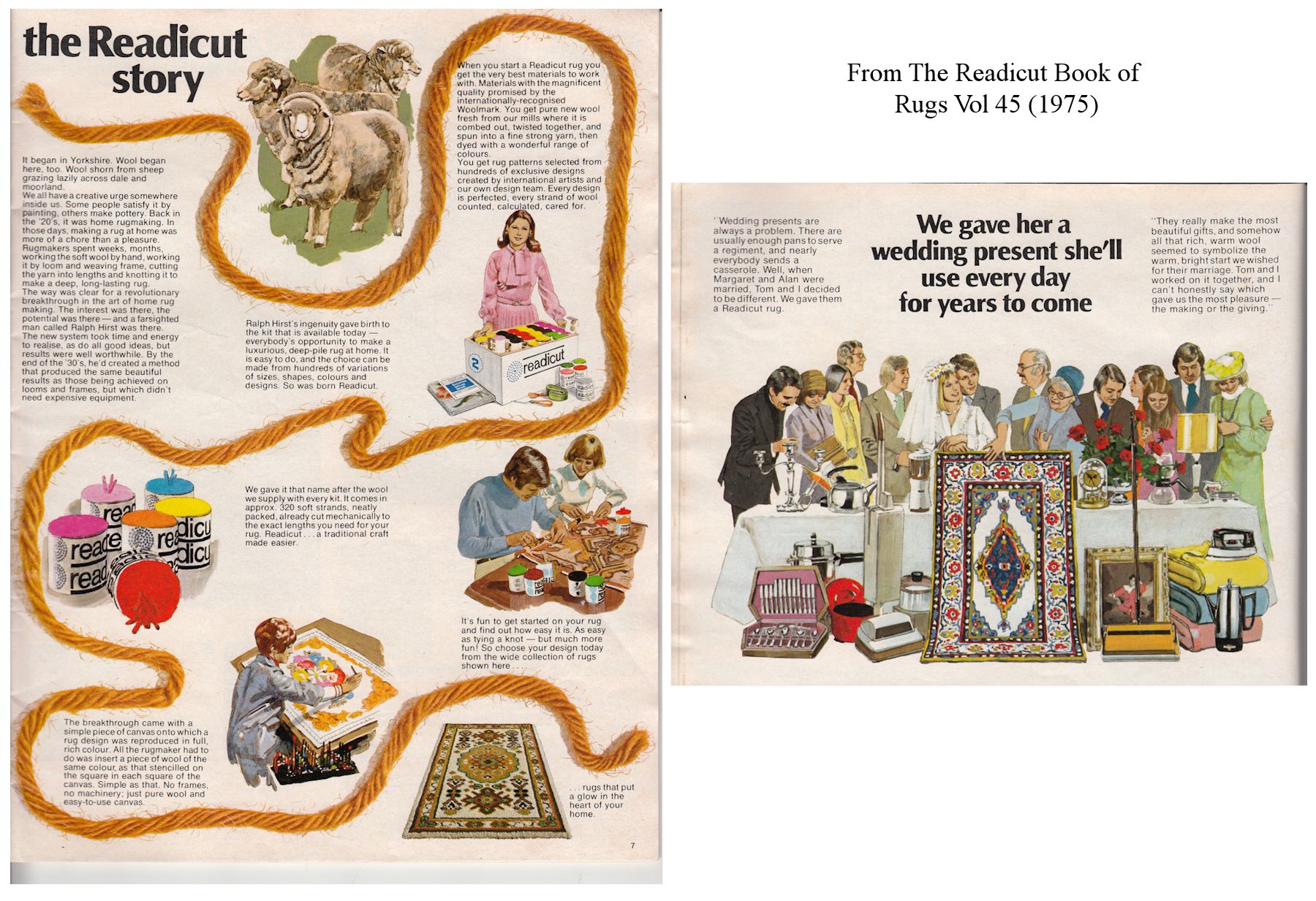 In 1978, Readicut celebrated its Golden Jubilee. Over the next few years, they introduced new ideas into their range. They offered a range of finer mesh rugs to be made with 3-ply wool to give much more detailed rug, somewhat like a tapestry with a rug pile. The children's and "young designer" ranges expanded because their customer base was now ageing. They offered the "Readimades" service where you could get your 3.3 hpi rug made for you if you weren't able to tackle the job yourself.Cross-stitch rugs were also introduced, though many of the patterns look as though they could be stitched, hooked or even mixed. At the end of the 70s/start of the 80s Readicut UK also offered the full colour Exacta Graph method that was already used in the USA (Readicut-Shillcraft). Exacta Graph was printed on full-size perforated paper and the colours exactly matched the shade of wool and made it easier to make rugs under artificial light. As the rug-maker finished a row, they could fold back or tear off the perforated section so they coulddn't lose their place. Each pattern had a colour chart at the top right of the pattern, and each grid square had a number printed in it to correspond to the colour chart. It was easier to read than a conventional rug chart which (on A4 or A3 paper) and much harder to lose your place. The pattern was laid out exactly for a 3.3 hpi canvas. If the paper was placed on top of the stencilled pattern, it would match the pattern perfectly. It could also be used on plain canvas. To use it, you had to work strictly in rows, rather than sections.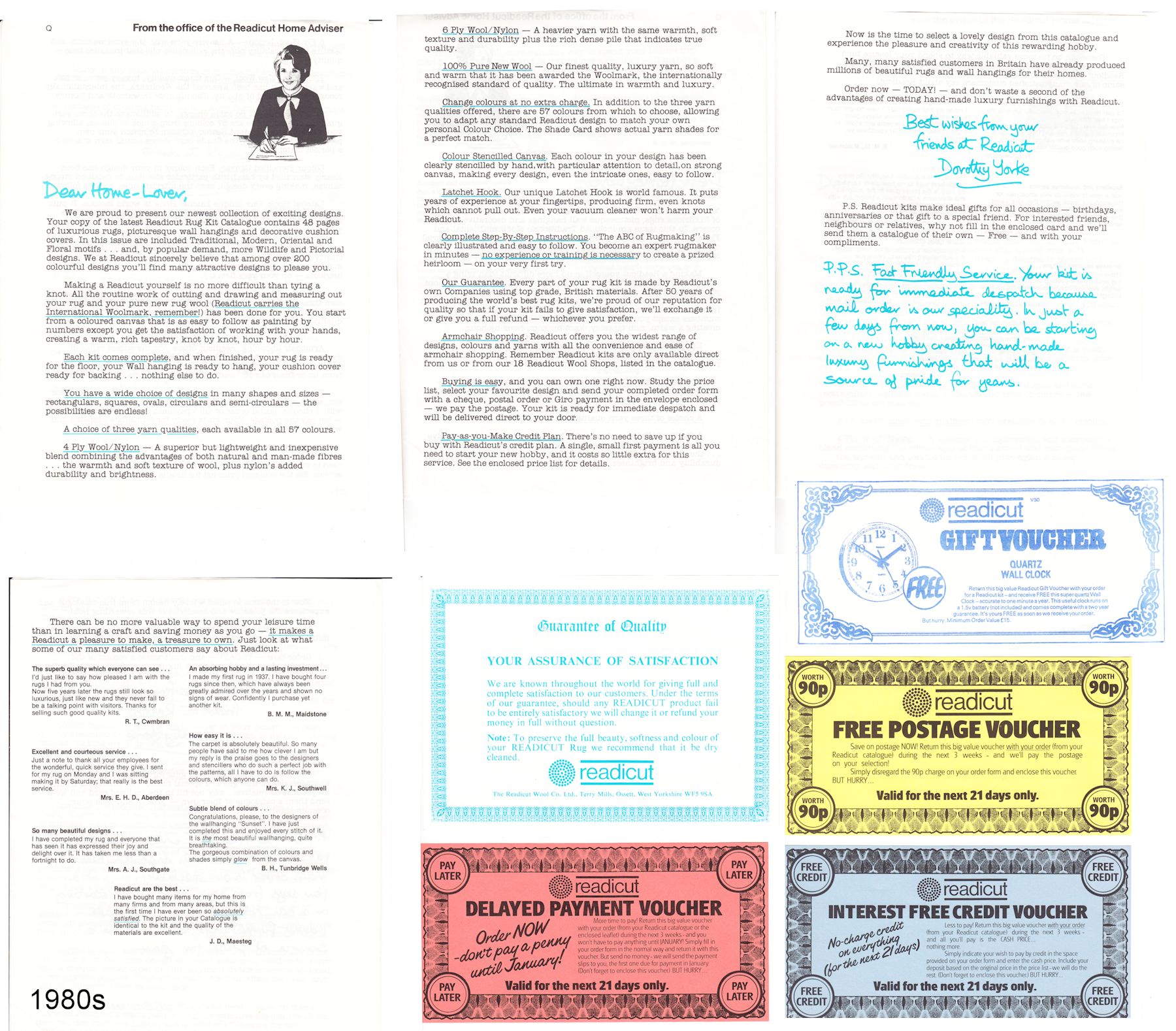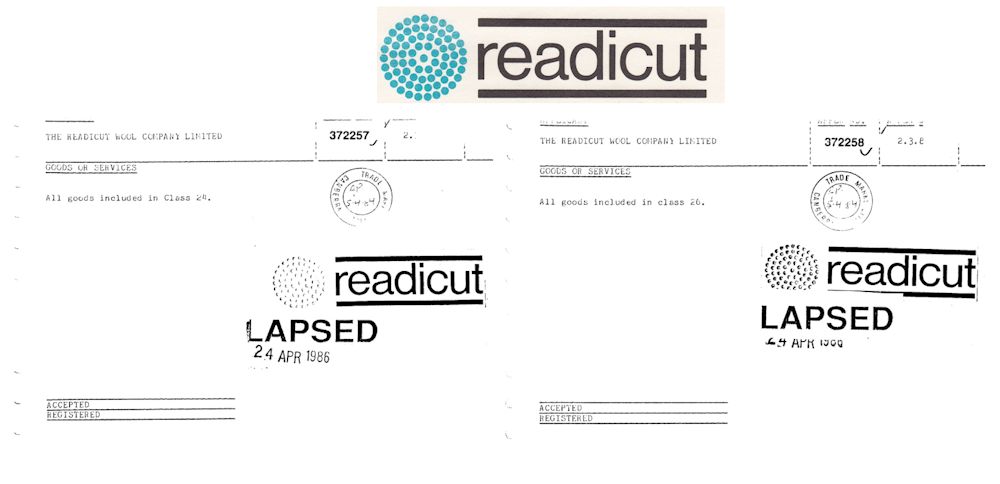 In 1992, the Readicut Wool (Sales) subsidiary was dissolved and its operations taken over by Readicut Ltd (John Bowskill & Jean Bowskill are shown as directors of both). In November 1993, Readicut announced optimistic half-year trading figures: control of overheads resulted in a 12% profit rise, and turnover increased by almost 11%. These also benefited from a drive to secure more export orders and the devaluation of sterling. The company invested in new production equipment and reduced the workforce from 3773 to 3700. Its share price was 97.5p. Despite this, in 1994, Readicut Crafts went into liquidation. By now, the company was being broken up and sold off.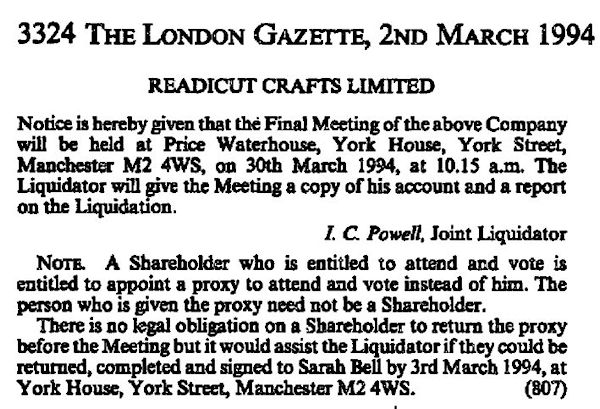 In December 1997, Interface, Inc. a worldwide commercial interiors products and services company, acquired the European carpet businesses of Readicut International plc, which included Firth Carpets Ltd of Brighouse, West Yorkshire ("manufactures and markets floor-coverings, specialty textile products, household products, and yarns and fibers"). The acquisition cost an estimated $50 million, subject to final adjustments. After the planned divestiture of certain assets of Readicut, including its Network Flooring dealer division and Joseph, Hamilton & Seaton Ltd., the Company's final investment for the retained Readicut businesses was expected to be less than $15 million. The retained businesses included Firth Carpets Ltd., based in Brighouse, West Yorkshire, a leading manufacturer of high quality woven and tufted carpet primarily for the contract markets; and a 40% interest in Vebe Floorcoverings BV, located in the Netherlands, a leading manufacturer of needle punch carpet, and also Joseph, Hamilton & Seaton Ltd., a distributor of private label contract carpet based in Tamworth. Interface also acquired Firth's Network Flooring division, a provider of installation services which it sold off, along with certain other assets to outside parties. Interface saw the transaction as a basis to build their European broadloom tufting business.
Jan 1999 (Lancashire Telegraph): Textiles group Readicut International, which owns a number of East Lancashire firms, announced it was expanding its wallcovering business with the acquisition of Chamberlain Coatings (County Durham) for £13.25m; the latest step in a major shake-up. Readicut already owned Speciality Coatings, Darwen Coatings and Adhesives and Blackburn Gravure - all part of its wallcoverings division. Chamberlain manufactured the base paper for leading wallpaper manufacturers. This was optimism on the part of Readicut as the wallpaper market was in decline. The Chamberlain acquisition also allowed economies of scale in Readicut's existing wallcoverings business. The strength of Sterling and downturns in Russian and Far Eastern economies had hit Readicut's business. Readicut's pre-tax losses in the year to March 1998 were £28.4 million on sales of £258.3 million. Interim results in Dec 1998 showed pre-tax profits of £4.8 million. What remained of Readicut International changed its name to Chapelthorpe plc in 1999 as part of a major restructuring. Chapelthorpe made fibres, wallcoverings and umbrella frames and was frequently referred to as "Chapelthorpe, formerly known as Readicut International". That same year, Springs Industries Inc. acquired Regal Rugs Inc., the U.S. subsidiary of British company Readicut International PLC, for $30 million. Regal produced high-end and accent rugs for the department and specialty store retail channels and had been in operation since 1939.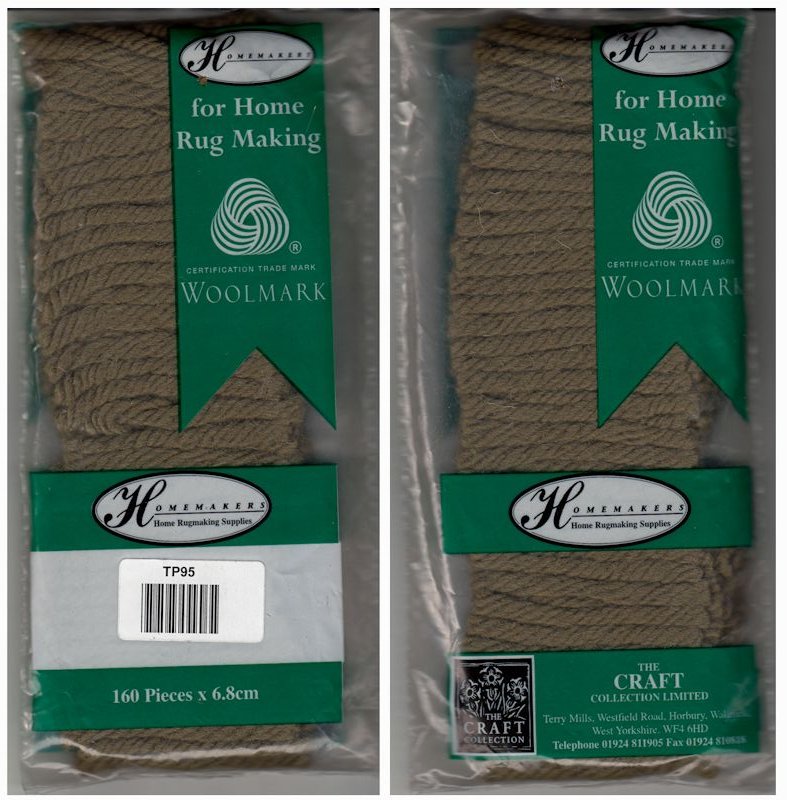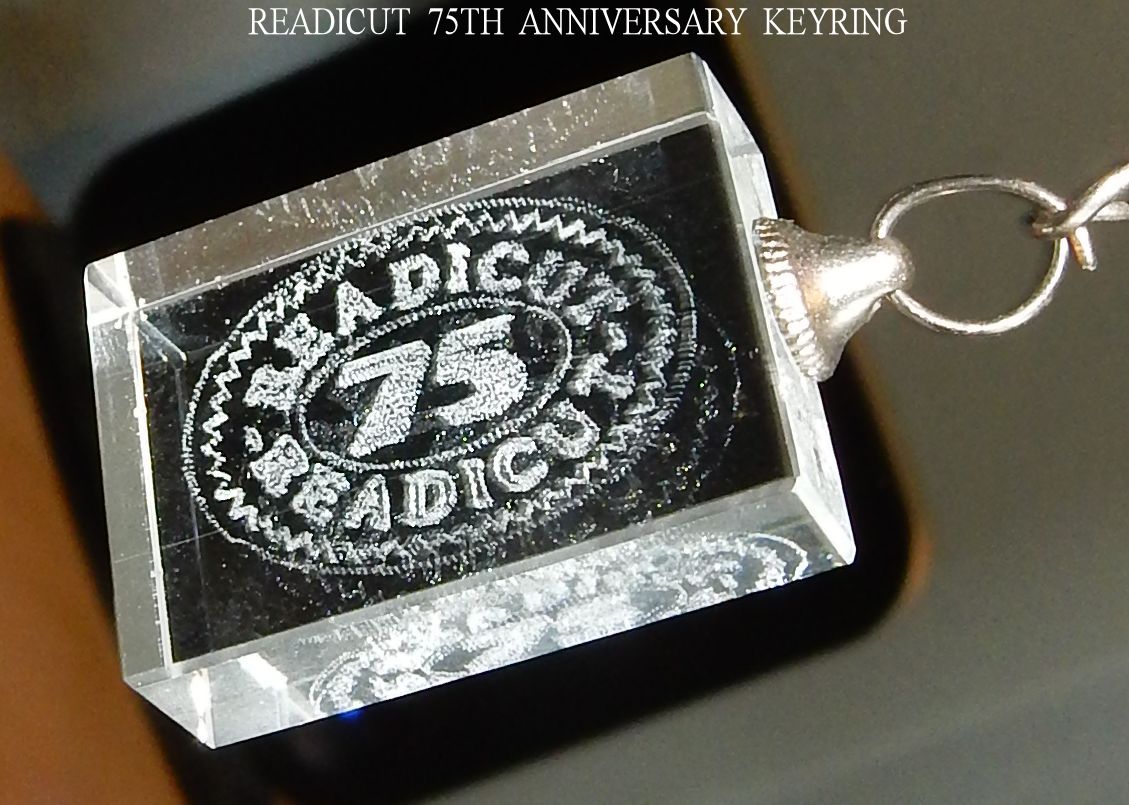 In 2006, Readicut (presumably Readicut Crafts) became The Craft Collection Ltd of Terry Mills, Wakefield. Rug wool was sold in pouches as "Homemakers Home Rugmaking Supplies." The Craft Collection was a screen printing company run by John Bowskill so I assume this was to do with the canvas-printing side of the business. I can't find anything further on The Craft Collection on company registration websites and its website no longer operates.
In 2011 Readicut Wool Co Ltd (aka Readicut Ltd) filed its last annual return. Administrators were appointed in Jun 2011. In May 2012, Readicut Wool Co Ltd went from "in administration" to "voluntary liquidation." The liquidator's report was filed in July 2013.
Readicut's premises, Westfield Mill, Wesley Street, Ossett, was built by John Westerman in the 1850s. In the 1940s it stood empty before Readicut International trading as Velmar Printed Fabrics took over the premises. It was demolished in 1983 after Readicut finally closed their Velmar operation. The Millfields housing estate now stands on the site. For decades, Readicut's address was a simple "Terry Mills, Ossett" though the more precise address was "Westfield Road, Horbury, Wakefield" The demolition was announced in The Wakefield Express of 9th January, 2007:
"Piece of History is Reduced to Rubble.
A PIECE of Horbury history will soon disappear as bulldozers have moved in to start demolition work at the town's Readicut factory. Terry Mills, which has stood on the Westfield Road site since 1935 and was once one of the town's biggest employers, will make way for a housing development with work set to start in the next few months. Between the First and Second World War the factory provided mail order materials for people to make their own rugs – once a popular pastime. The business became so popular it even employed show business stars such as Gracie Fields to advertise its goods and was a multi-million pound industry. The factory will be demolished to make way for a £15million Persimmon Homes residential development of 70 two, three and four bedroom homes."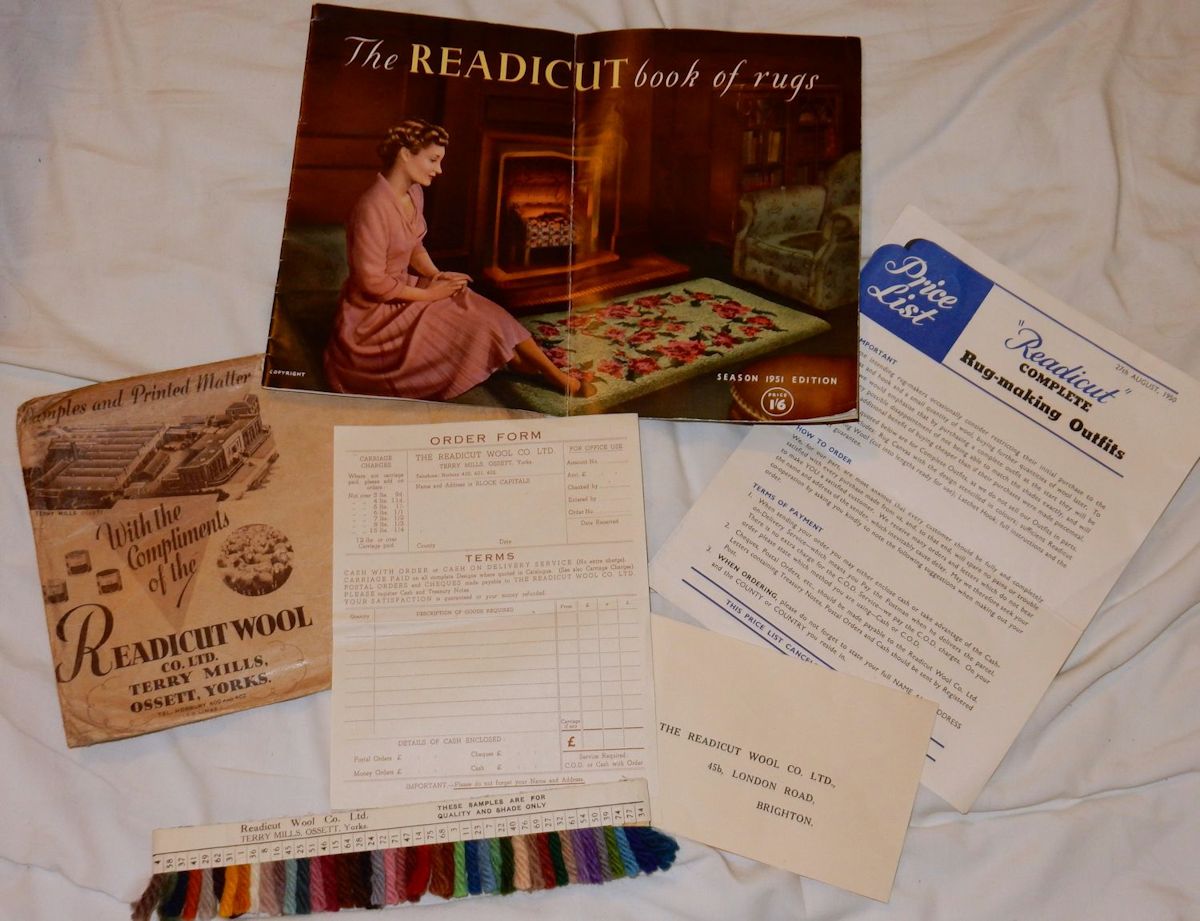 Readicut (Modern)
The modern Readicut Crafts Online is based in Leicestershire and its product areas are knitting, papercraft and needlecraft, each with its own seasonal catalogue. Readicut is now a trading name of Creative World Of Crafts Ltd, based in Oadby, Leicester. Creative World of Crafts Ltd was registered on 28 October 2010 and has a registered address in Nottingham. Until August 2011, it traded as Doolicraft Ltd. Doolicraft Ltd was established in 2005, based in Nottingham, and dissolved in 2013 (last accounts 2012). In August 2011, Readicut was purchased from the Administrator by Orbital Marketing Services Group. Readicut had already been outsourcing their fulfilment function to Orbital Response for nearly two years. When Readicut went into Administration, Orbital decided to buy the assets and continue serving Readicut's database of 200,000 customers. Trading continued while Orbital reviewed the Readicut marketing strategy and product range. One of their first moves was to update and revitalise the brand with a new logo that work well across the three sub-brands. Orbital Response's General Manager, Nick Williams, stated "Readicut is a well-known brand and has a loyal customer base, 60,000 which were active in the last year, with a high level of repeat purchasing. Forecasts of a return to traditional home crafts augur well for this venture and we're excited about Readicut's potential." Readicut Crafts Online states that the Readicut name has long been trusted and it has a mail-order service for rugs, but it is not otherwise related to the original Readicut group of companies. The Readicut name lives on, but is no longer synonymous with pre-cut rug wool and stencilled canvases.
THE SHILLCRAFT CONNECTION
In North America, Readicut rug kits were distributed by Shillcraft. Shillcraft was the trademark of A & H Shillman Co Inc and covered "Kits for making rugs, including a mat, and precut lengths of yarn for hooking, knotting, or inserting into the mat." After World War II, Albert and Mrs Shillman travelled to Europe to find replacement sources for their wholesale needlepoint business. On their return trip aboard the Queen Mary, Mrs Shillman struck up a conversation with an English passenger whose husband was in in a wool-craft business known as latchet-hooking. The two women arranged for their husbands to meet and, as a result, Albert Shillman became the North American distributor for Readicut rug kits. The stylised Shillcraft logo was registered in 1949. Because there was a 40% import duty on wool, the kits were too expensive to sell well, but the Shillmans knew the idea was sound. In the early 1950s, their son, Norman, visited the Readicut factory in England and realised that the Shillmans could operate the same way - from manufacturing through to mail order. US-made Shillcraft/Readicut Latch Hook kits were born.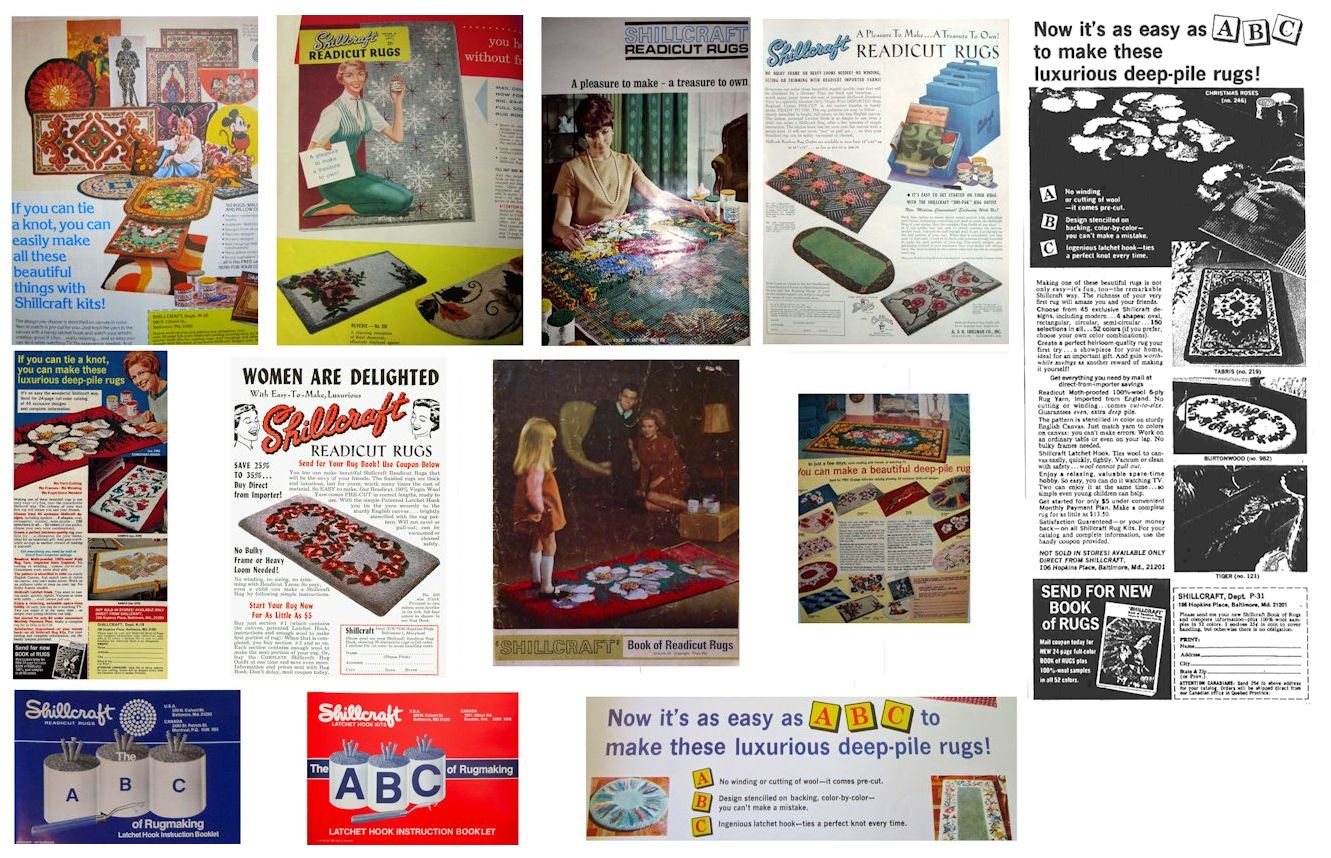 For that finishing touch, Shillcraft sold labels for your rug.
LADIES' HOME "THE MAGAZINE WOMEN BELIEVE IN" WINTER JANUARY 1963 35 cents . . . VOLUME LXXX NUMBER 1
The advert depicts "Persian Tiles," No. 88 (held); "Rosemary," No. 945 Circular (on floor) and "Russet" No. 609 (semi-circular) and tells the reader:
You can make any of 75 LUXURIOUS HOOKED RUGS without frames, yarn-cutting or experience. You can create a perfect rug of heirloom quality, your very first try — without experience, without frames, without yarn-winding or cutting. You can enjoy the luxury of fine hooked rugs in every room in your home. Prices start at $11! New, colorful, 24-page booklet presents 75 exquisite "Shillcraft" designs — ovals, rectangles, circulars and semi-circulars — all available in many sizes. Book tells you how to make, and how to order everything you need, by mail, direct from importer (not sold in stores).
* "Readicut" Moth-proofed 100% wool 6-ply rug yarn imported from England. Only Shillcraft offers Readicut rug yarn cut to size. No winding or cutting. Guarantees evenly rich, extra thick, deep and luxurious rug pile.
* Sturdy English Canvas pattern stencilled in color. Match "Readicut" rug yarn to colors on the canvas. You can't make an error.
* Shillcraft patented latchet hook. Ties wool to canvas easily, quickly and so tightly it cannot pull out, even vacuuming. Instructions in Rug Book.
* Make a complete rug for as little $11. Use our pay-as-you-go plan, you wish. As little as $5 gets you started. (See 24-page Rug Book.)
* Shillcraft rug kits backed by unconditional money-back guarantee.
MAIL COUPON NOW - get new 24-page book in full color plus wool color card immediately.
"SHILLCRAFT" Dept. L-5, 106 Hopkins Place, Baltimore 1, Md.
Please send me your new 24 page Shillcraft Readicut Rug Book plus samples of 100% Wool Rug Yarn. I enclose 25c in coin to cover handling but otherwise there is no cost or obligation.
In Canada write "Shillcraft", Dept. L-5. 2485 St. Patrick St.. Montreal 22. P.Q.
Today, Shillcraft and Candamar (Candamar Designs Inc, 1991, a needlework design company) produce and sell latch hook and needlepoint kits in the USA. The kits contain 3.3 mesh plain canvas, a colour-coded chart and 100% acrylic yarn. This is a far cry from the stencilled canvas and pure wool or wool/acrylic mix of the Readicut days.
The modern Shillcraft company (not the same as Readicut Shillcraft) produce a number of lovely designs, but their kits use 2 x 3 ply (equivalent to 6 ply) acrylic yarn – I'd certainly try one, but I'd prefer to buy a pattern chart or stencilled canvas and use pure wool.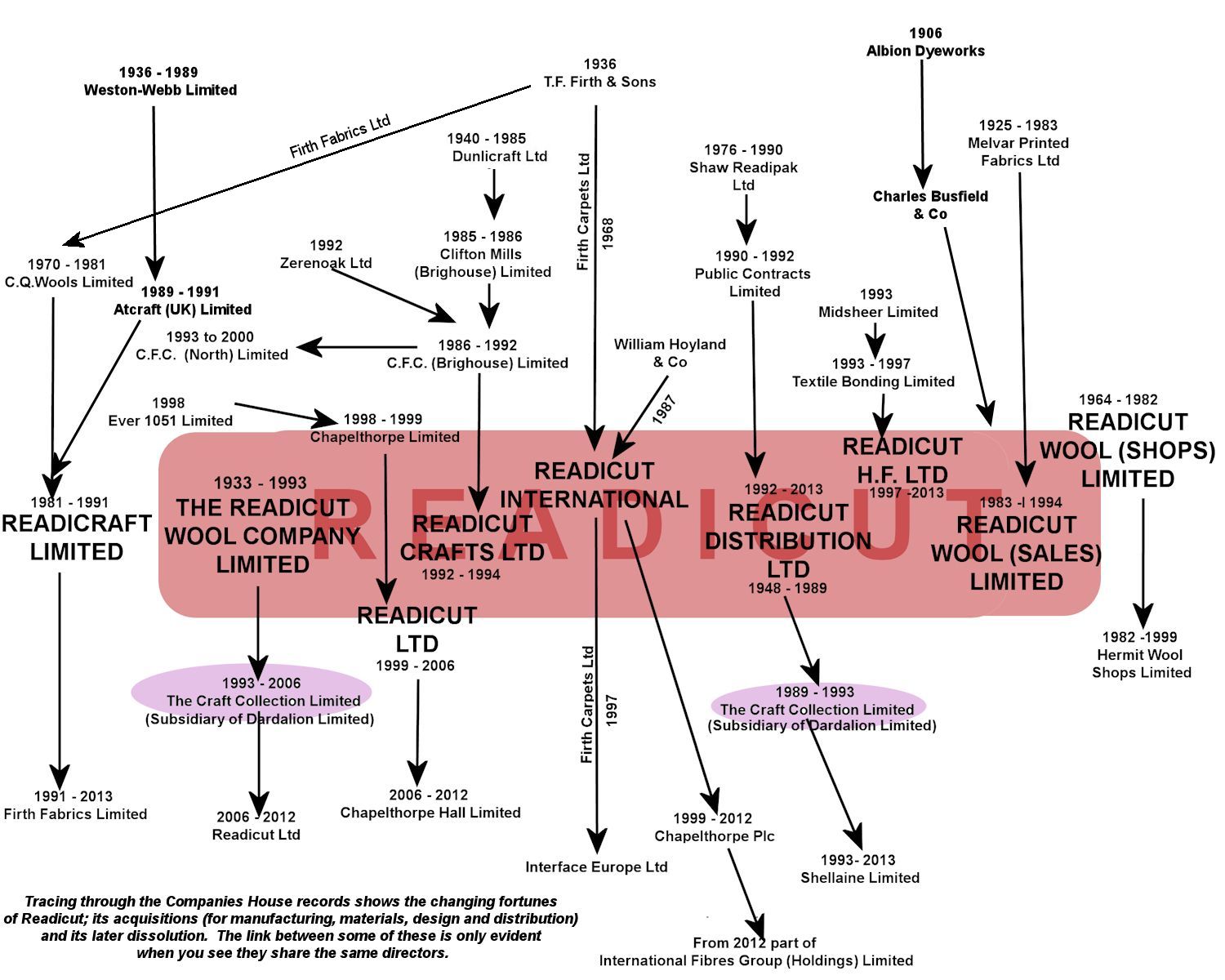 You are visitor number: