RUG SUPPLIES - MALINA (USA)


Sarah Hartwell, 2014-2018

Malina (Borden) was a north American latch hooking supplier whose Hook-a-Rug kits can be found on auction sites and which appear to use good quality acrylic yarn.

The Malina name was first used in commerce in January 1971 (Yarns and threads for textile use) and with expanded cope in January 1976 (Lace and embroidery, ribbons and braid; buttons, hooks and eyes, pins and needles; artificial flowers) i.e. handicrafts. In September 1980, a U.S. federal trademark registration was filed for Malina by Armour Handcrafts, Inc., New Jersey, and given the trademark serial number 73277828 in the Yarns and Threads, Lace, Ribbons, Embroidery and Fancy Goods category. By April 1989 its status became "Continued Use Not Filed Within Grace Period, Un-Revivable." In December 1980, a Canadian trademark registration was filed for "Malina" by Malina, Inc of Providence, Rhode Island, USA and was given the application number 463347. The Canadian Trademark database listed it as producing "hand knitting yarns and kits containing canvas backing and yarn to be used in making art needlecraft products," but by 2014 it had issued a trademark abandonment notice and the MALINA trademark was listed as "Registration cancelled."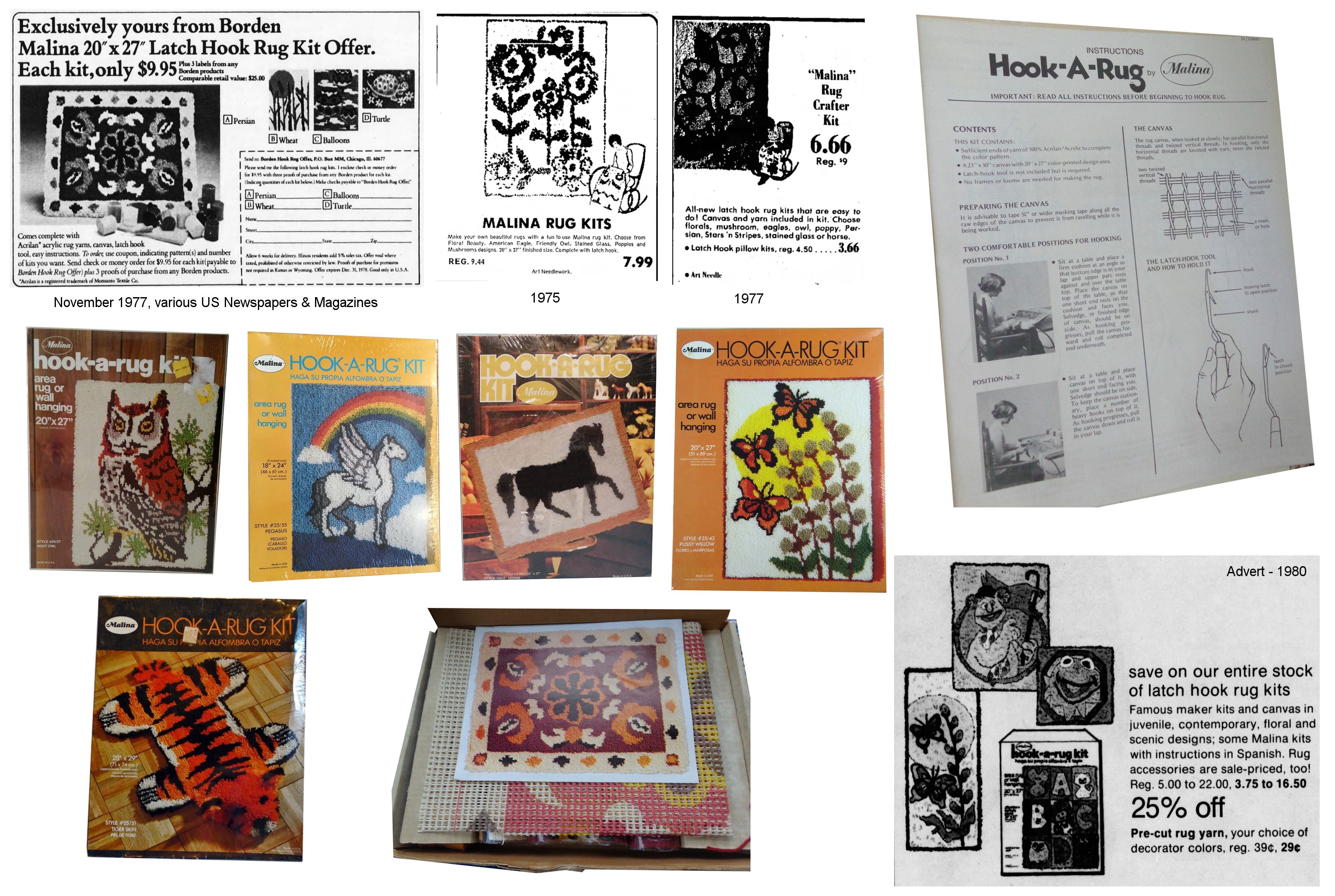 Prior to 1971, Malina Company were involved in a 1965 court case: Empire Rayon Yarn Co., Inc., v. (co-defendants) American Viscose Corporation, Fred Malina, Arthur Malina, Edythe M. Charnas and Fred H. Diamond Doing Business As Malina Company, Gutner Brothers Corporation. Empire Rayon Yarn Co., Inc. (Empire) bought unprocessed rayon yarn from manufacturers, processed part of it for the textile trade and resold the rest in its original packaging. Empire functioned as a "jobber" i.e. they bought the yarn from the manufacturer, stored it at their own cost and resold it. The defendant, American Viscose Corporation (American), manufactured and sold viscose rayon yarn in the USA under the tradename "AVISCO." As of 1958 (they date the case first went to court) American manufactured over 35% of viscose rayon yarn in the USA.
In 1949, American had established a distribution policy for selling its yarn directly to consumers and to two selected jobbers, Malina Company (Malina) and Gutner Brothers Corporation (Gutner Brothers), who were contracted to resell the yarn in smaller units. As part of their contracts they had to have their own warehouses, their own staff and maintain certain stock levels. They could choose to sell it more cheaply than American, but they got a price discount if they resold it at the list price. They were Americans "appointed jobbers." American had contracts with both Malina and Gutner Brothers from 1949 through 1955. Other companies could buy and resell yarn from American, but were not contractually appointed jobbers and were not entitled to any discounts and from 1952 to 1959, American sold smaller amounts of yarn at list price without discount to Empire (who also bought and resold rayon yarn from other manufacturers). Empire repeatedly asked American for treatment equal to that given Malina and Gutner Brothers and in 1956 American offered them a contract virtually identical to those of Malina and Gutner Brothers, but then withdrew the offer because the volume of yarn sold by the jobbing trade did not justify having any more appointed jobbers.
Empire had a history of threatening manufacturers. In 1953, they demanded discounts from American Enka Corporation and E. I. du Pont de Nemours. American Enka Corporation agreed a discount in 1958 but du Pont refused. After American refused to a discount, Empire sued American, Malina, Gutner Brothers and another distributor, Shawmut, Inc., claiming price-discrimination. (They withdrew the Shawmut case.) The court decided that reselling at American's list price was part of a buyer's contract, not a brokerage service rendered to American (brokers put buyer and seller in contact with each other). If Malina and Gutner Brothers chose to resell at American's list price they were entitled to a discount. American did not have to appoint Empire, or anyone else, as a jobber. Empire could still buy all the yarn it wanted from American, and could sell it for any price it could get. Empire argued that they could not sell yarn at a competing price because Malina and Gutner Brothers got discounts, but Empire didn't and this prevented free and competitive trade. It was not the place of the court to impose an unwanted distributor on a manufacturing company, so Empire's complaint was ultimately dismissed.
There's very little on the company itself. The Supreme Court of Rhode Island lists the case of Estrela F. Ponte v. Malina Company (doing business as Armour Handcrafts) which was decided in January 2000 and related to compensation due to an industrial accident in 1986. Ms Ponte, an employee, was injured while working as a machine operator at her employer's place of business. A little could be gleaned from the 2010 obituary of Edwin J. Skerry, a resident of Uxbridge, Massachusetts, who had been a Superintendent at Malina Inc in Providence, Rhode Island where he worked for 20 years. Prior to that, he had worked for 10 years at Bernat Yarns and was part of the relocation team when that company moved to Uxbridge.
For a while, Malina (Hook-a-Rug) was part of the Dial empire. Dial began as a brand of soap manufactured by Armour and Company, a Chicago, Illinois, meat-packing firm in 1948. Armour had been producing soap (from tallow, a meat by-product) since 1888. By the 1960s Armour's consumer products business became known as Armour-Dial. In 1970, Greyhound Lines, as part of their diversification strategy, purchased Armour, forming Greyhound-Dial (commonly called Greyhound-Armour). Greyhound Corporation bought Armour Handicraft, formerly Malina Co, in 1974 ("Malina yarn product lines," "Malina handknitting yarns and needle products") and sold it to its subsidiary, Armour-Dial Handicrafts in 1977, but the Malina yarns brand seems to have vanished in 1979. In 1987 Greyhound-Dial sold the Greyhound bus operation and it became the Dial Corporation. By 1996 it only retained its core business of personal- and household-care brands and was bought by Henkel in 2004. In 1996, Viad Corp was spun off the Dial Corporation and owned the Bucilla and Malina textile manufacturing divisions.
The website now associated with the Malina Inc name in the USA is that of Bedford Cottage/Kennebunk Home in New Hampshire, which has manufactured decorative throws since 1982. Malina Inc is still registered as a Yarn Spinning Mill in Allenstown, New Hampshire.

You are visitor number: