RUG-MAKING SUPPLIES - COATS (COATS & CLARK, ANCHOR, RED HEART)


Sarah Hartwell, 2014

This company became part of Coats Paton in the 1960s. It once produced pre-cut rug yarn and rug kits under the Red Heart brand in the USA. Coats Anchor "Penelope" brand is mostly associated with printed tapestry canvases, but used to include Penelope latch hook rug designs. The history of Anchor rug yarn and Penelope rug kits starts with cotton manufacturing in Paisley, Scotland. This takes a bit of unravelling as a number of mergers, takeovers and name changes have occurred along the way.

Coats & Clark

In 1802, James Coats Snr, who was born into a family of weavers in Paisley, Scotland, set up his own business. He tried to reproduce Canton Crape, an imported material made from Chinese silk, but with limited success. James Whyte, was also trying to produce Canton Crape, and also with limited success. Whyte and Coats combined their knowledge and were so successful that they dominated the domestic market for Canton Crape. The material required thread with a particular twist so James Coats became a sleeping partner in the thread twisting Paisley firm of Ross & Duncan. In 1826, James Coats opened a rival factory to Clark & Co at Ferguslie Mill, Paisley, Scotland. In 1830 he passed his manufacturing department to his partners and his son William, and his thread business to his sons James Coats Jnr and Peter Coats who renamed the company J & P Coats. His other son, Thomas, became a partner in J & P Coats. Each brother brought a valuable skill to the business: James in manufacturing, Peter in merchandising, and Thomas in engineering. They expanded rapidly and by the 1840s, 75% of their trade was with the USA. This trade was overseen by Andrew Coats, a younger brother. In addition to the Paisley mills, J & P Coats founded mills at Pawtucket, Rhode Island State between 1870 and 1883. James Coats, son of Sir Peter Coats, managed these. The sons of Peter and Thomas Coats also entered the firm as partners, maintaining the family tradition. The company overcame high customs duties in Europe by building mills in the countries they traded with. In 1890, they became a public limited company and were listed on the London Stock Exchange.

One of their main competitors was the Paisley-based thread company (also with American interests) Clark &amp Co which had grown up during the same period as J & P Coats. Since 1755, James and Patrick Clark had run a silk thread business in Paisley. In 1806, Patrick invented a method to twist cotton threads together to produce sewing thread that rivalled silk. It became a substitute for silk thread which had become unavailable due to France's blockade of Great Britain. In 1812, the Clarks opened a cotton thread factory in Paisley. Their company logo was an anchor, which explains the Anchor brand name. John and Thomas Clark were responsible for the expansion of the business. In 1864 the Clark family also set up The Clark Thread Company factory in Newark, New Jersey, USA. In 1886, Anchor Mills in Paisley was built for John Clark.

The cotton thread business boomed and Paisley soon became the centre of its manufacture. Clark &amp, Co, based at Anchor Mills, became the unrivalled sewing thread for machines. In the late 1880s, the two companies cooperated to combat the price-cutting trend that was reducing profits. By the 1890's they had merged to become the "Spool Cotton Company". They also traded cotton thread under their own names: The Clark Thread Company and J & P Coats. When John Clark died in 1896, J & P Coats took the company over. By 1914 they were one of the largest industrial companies in the world. Despite much overlap and common ownership, they remained independent until the two firms elected a single president. In 1931, John B Clark became president of the combined companies which continued to expand globally. Coats also took over Brook of Meltham and Chadwick of Eagley Mills, Bolton, England. They traded as J & P Coats Ltd throughout the first half of the 20th century and expanded by acquisition. In 1952, the two original companies integrated completely to become Coats & Clark Incorporated. In 1960/61 they took over Patons & Baldwins and created Coats Patons (Paton & Baldwin Ltd, becoming J & P Coats, Paton & Baldwin Ltd), adding wool and other yarns to their portfolio. In 1967 a merger with Vantona Viyella created Coats Viyella (they dropped the Vantona name in 1986). In 2003 the merger with Guinness Peat Group plc resulted in "Coats plc".
| | |
| --- | --- |
| JP Coats, 1947. This pattern book is for crochet rugs, though Coats also produced pre-cut rug-yarn and rug kits (Red Heart brand) and now own Anchor brand pre-cut rug yarn. | |
Coats plc
Coats plc is closely tied to the name of Sir David Alliance, part of a textiles family that arrived in Britain from Iran in 1951. At the beginning of the 1980s, there were four large British textile companies: Carrington Viyella, Coats Patons, Courtaulds, and Tootal Group. By the end of the 1980s, Alliance owned two of those and was about to acquire a third.
Between the 1950s and 1970s, he had acquired textiles firms and operated as Alliance Brothers. After acquiring Spirella Company this became Spirella group Ltd. These became the nucleus of Coats Viyella. He continued to acquire household textiles companies. In the mid 1970s, he took over Vantona Ltd - a company that had previously wanted to take over Spirella Company. The Spirella name, once closely linked to old-fashioned corsetry, vanished and Vantona Group was born. it was the third-largest producer of household textiles in the UK, but still a minor player in the industru overall. In 1978 Vantona beat off two major players, Carrington Viyella and Courtaulds, when it acquired J Compton, Sons & Webb Ltd. Then in 1982 it put in a bid for ICI-owned Carrington Viyella, eight times Vantona's size, owners of several famous brands, but severly troubled by debt. This created Vantona Viyella plc. After a friendly merger with the cash-rich Nottingham Manufacturing Company plc, Vantona Viyella set its sights on Coats Patons plc, then the largest textile firm in Britain and with factories worldwide.
Vantona Viyella outbid knitwear group, Dawson International plc, to buy Coats Patons. This gave rise to Coats Viyella plc. It later bought out Tootal Group plc, another of the "big four", in its first ever hostile takeover bid. During the 1990s, a major restructuring divested most of the Viyella division except for the profitable retail fashion brands. Alliance retired in 1999 and by 2001 Coats Viyella changed its name to Coats plc, however it was entering difficult times.
Meanwhile, in the 1980s, Guinness Peat Group had been created as an investment offshoot of the London-based Guinness Mahon investment bank. In 1990 this was acquired by Brierley Investments Limited and it was listed on the New Zealand, Australia and London Stock Exchanges by 1993. In 2003/4 it acquired 100% of Coats plc and in 2015 it changed its name to Coats Group plc. The individual names Anchor, Coats, Coats & Clark Inc, and Patons continue to be used as trademarks and brand-names of various products.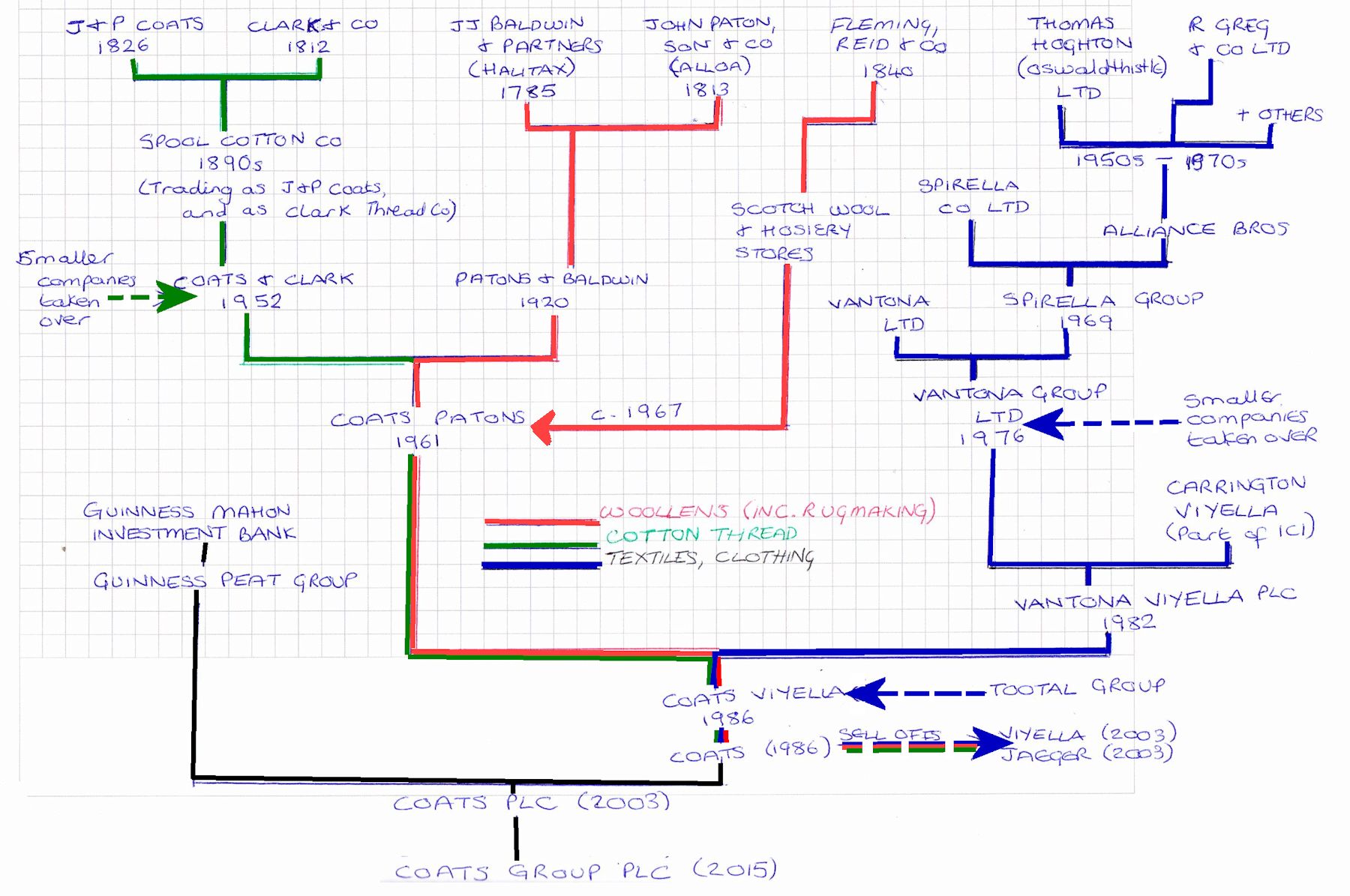 Anchor, Red Heart & Penelope Brands
By this route, we get to Coats Group plc who still own the Anchor brand. Anchor is probably the most widely available pouches of pre-cut wool and its colour range is the de facto standard in for rug wool in the UK. I'm sure I used to buy pouches of Coats brand rug wool from Selfridges in London back in the 1980s when my local supply of Readicut dried up. A decade or more earlier, Coats also produced rug making catalogues and kits. Anchor produced some charted kits sold by third parties with pure wool yarn. Nowadays there are also still rug kits, but these use acrylic yarn on 4.5 hpi canvas. The finer gauge canvas gives better detail, compensates for the thinness of the yarn and gives a plusher pile though personally I would prefer to buy the pattern chart and use 6 ply wool on 3.3 hpi canvas.
Coats & Clark had entered a rug-craft marketplace dominated by Readicut and Patons & Baldwin (Patwin brand). They had merged with one of those major players, Patons & Baldwin, to become Coats Patons and owned Anchor brand rug and tapestry wools. In the USA, they took their inspiration from Patons & Baldwin and produced Red Heart yarn. This was marketed as "Chadwick's Red Heart" until 1955 when it became "Coats & Clark Red Heart". They later introduced acrylic yarns. The Coats brand concentrated on crochet yarns and sewing thread, but also produced Red Heart pre-cut "Bulky Rug Yarn" and Red Heart latch hook kits. The "Red Heart" brand (yarns and knitting, crochet etc accessories) was registered in 1954, first to J & P Coats Ltd (of Glasgow) and currently to Coats & Clark Inc. Red Heart acrylic rug yarn (100% orlon) is basically the same as Patons Mogul rug yarn.
The company sold Red Heart rug kits in the USA and for a while they sold Penelope Rug Kits in Britain.
Coats own the Anchor (craft wool) and Patons (knitting/crochet) brands. Coats Patons Turkey Rug Yarn vanished, leaving only Anchor brand pre-cut rug wool which matches the Readicut shades. Elite Crafts & Products Ltd in North Canterbury, New Zealand have purchased the original Coats Patons Turkey rug wool machine and are reintroducing the full colour range of the rug wool plugs (packs) using 100% New Zealand wool which they sell to the wholesale trade only. Coats Patons Turkey Rug Yarn was sold there as Semco Rug Yarn before Semco closed down. The name J & P Coats Ltd is listed as an active (subsidiary) company of Coats PLC.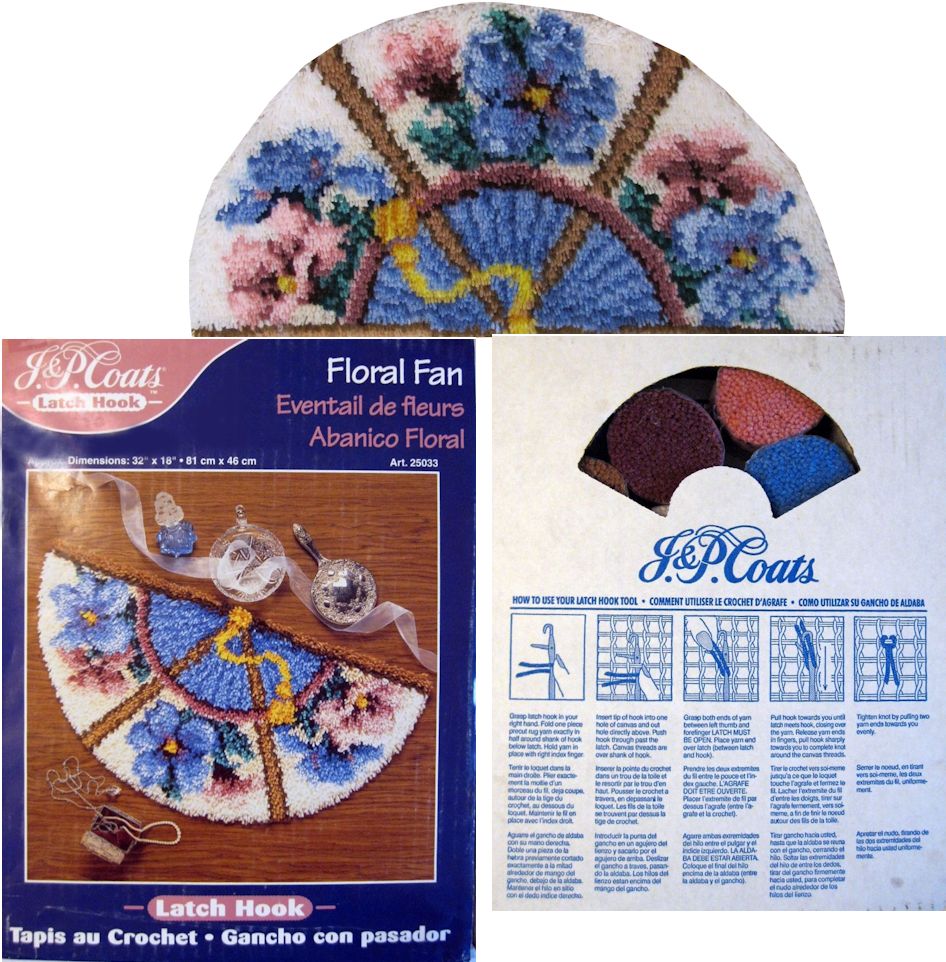 J & P Coats "Floral Fan" design.
The "Penelope" brand, which is best known for printed tapestry canvases and tpestry kits, once included latch hooking. This booklet is from the 1960s, when the brand was owned by WM Briggs & Co. Ltd of Bolton, founded in 1874. Today it is Coats Anchor Penelope brand. William Briggs became Coats's specialist printing and kit making operation and William Briggs produces tapestry wool and needlework kits for Coats companies around the world. They maintain a library of around 800 active needlework patterns, but no longer produce rug designs.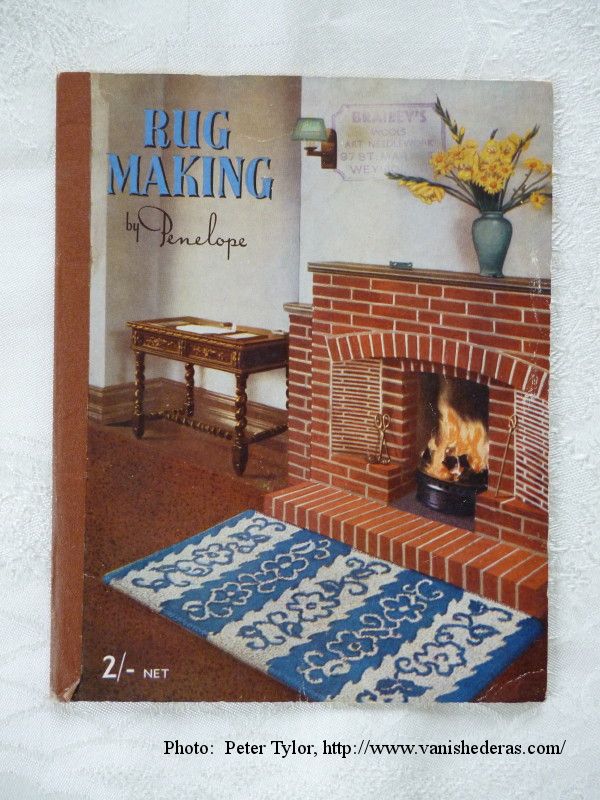 "Rug Making by Penelope" Booklet.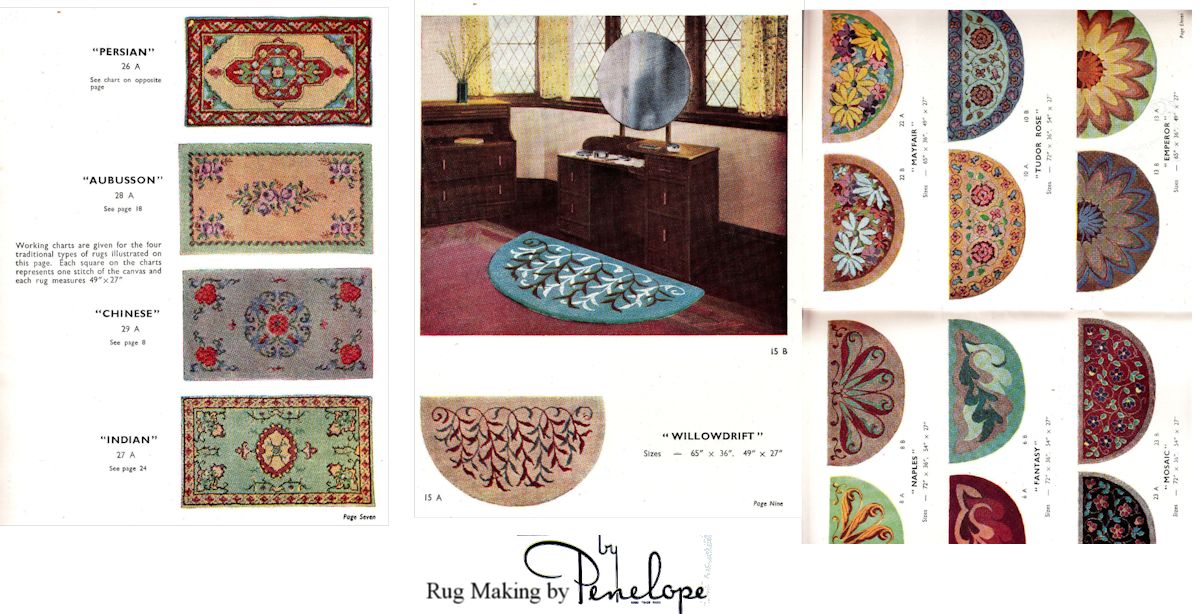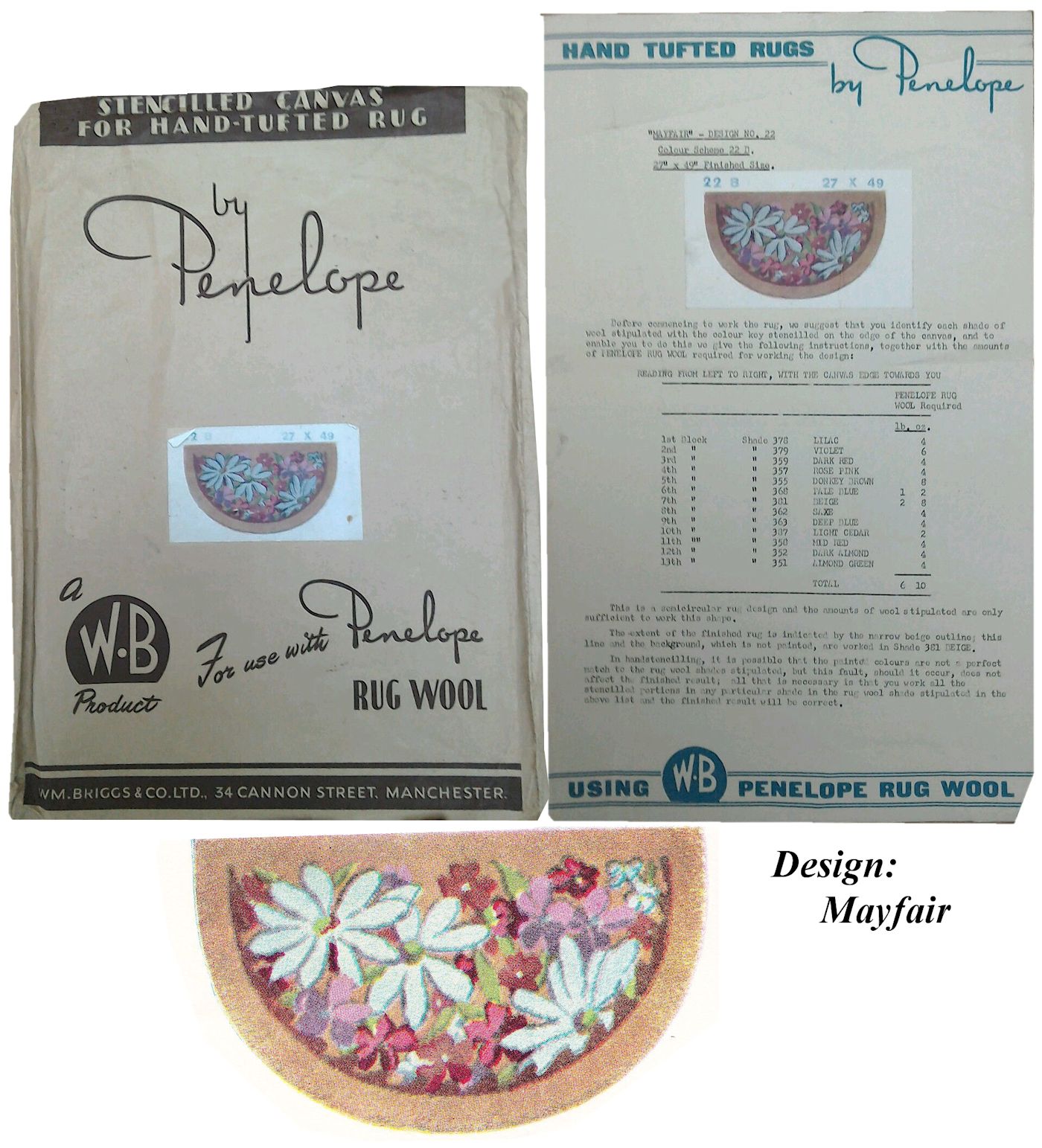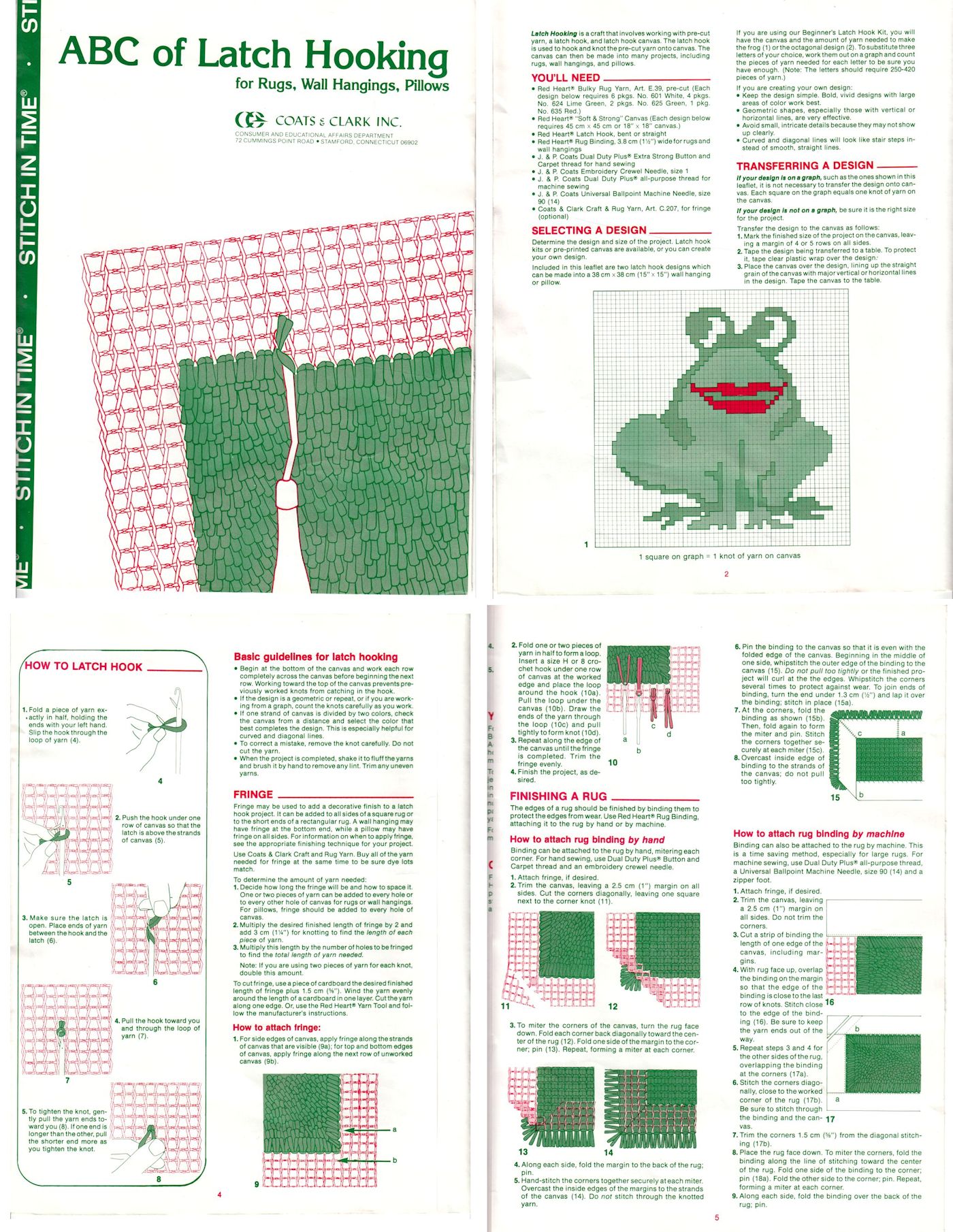 Part of a Coats & Clark Inc instruction leaflet.

You are visitor number: