RUG-MAKING SUPPLIES - BERNAT


Sarah Hartwell, 2014

Hungarian national Emile Bernat petitioned for Naturalization in the USA in 1910, having settled in the District of Massachusetts in 1903. His company, Emile Bernat & Sons Co had a factory in Massachusetts, USA and a registered address in Uxbridge, Massachusetts. It filed a number of patents and registed a number of trademarks relating to weaving, yarns and associated handicrafts (it later registered some trademarks for candle-crafts, but its major business remained textiles). In the 1930s, it filed trademarks for goods and services in the "woolen, cotton, linen, silk, and artifical silk yarn" category.

Emile Bernat &amp Co, handicraft yarns, was based in Jamaica Plain, Massachusettes. Their motto "So soft so strong" was accompanies by a trademark drawing of a lion and lamb.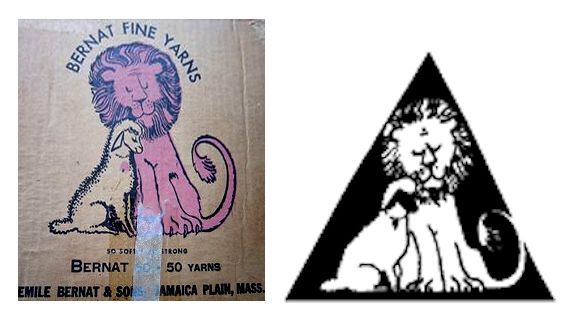 The Bernat name is now associated with synthetic and synthetic-blend yarns for knitting and crochet, but during the 1950s and through into the 1980s (approx), Emile Bernat &amp Co produced rug kits and sold pre-cut rug yarn. It published "The Bernat rug manual: no-frame rugs in latch hook, cross-stitch, needlepoint" in 1953 and "Bernat no-frame rugs. The big book of designs and directions." They also sold the British-made Patwin rotary cutter under licence in the Bernat name. Their cut-packs of rug hooking yarn were Bernat Craftsman (100% wool) and Bernat Tabriz and Bernat Tabrette (both 100% polyester), both of which can still be found on Ebay and Etsy as can Bernat rug kits. They also produced 50/50 wool/synthetic mix craft wool that could be used multi-stranded in rugs.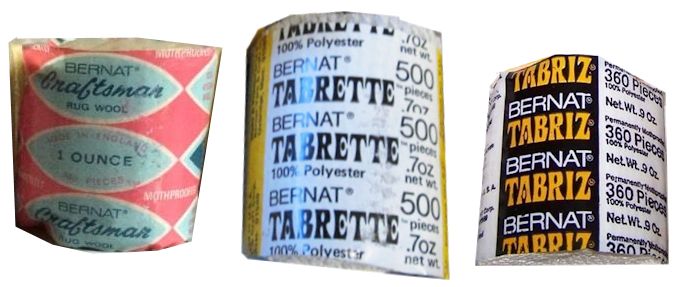 The Bernat name is licensed to Spinrite LP (Yarnspirations.com), who also produce and distribute the Patons and Caron brands under licence in North America. Licensing a brand is beneficial in terms of buying into the brand's existing reputation. In 2004/5 it cost Spinrite LP $200,000 to licence the Patons name from Coats & Clark; but in return the Patons brand provided almost one fifth of Spinrite's total sales. for that period. The Canadian company Spinrite LP (Limited partnership) was established in 1952 and is the largest producer and marketer of craft yarn in North America. It has a distribution centre in Listowel, Ontario and a design studio in Toronto. I have also seen Spinrite packs of rug yarn.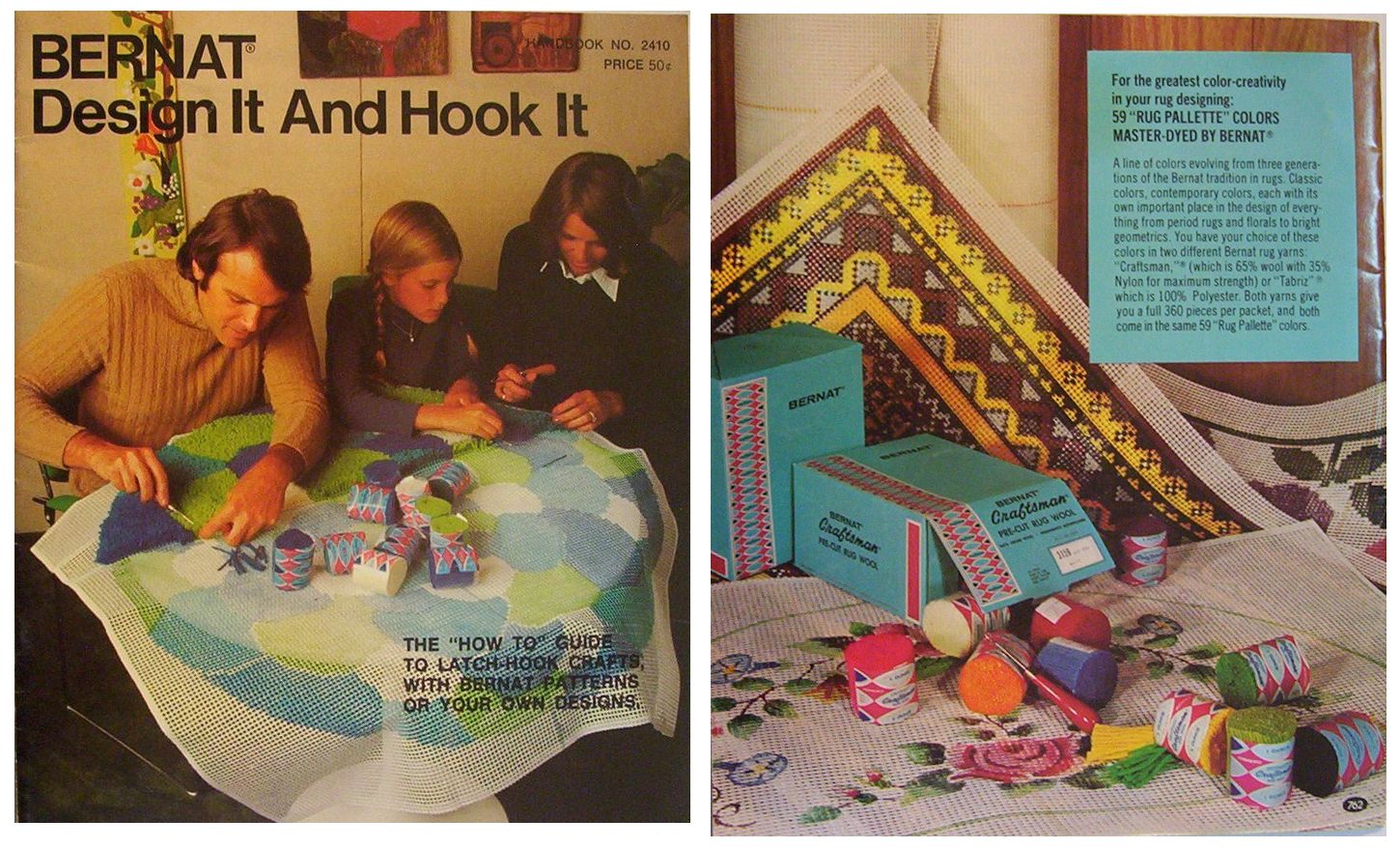 The Bernat Hook Book contained copious instructions on how to design rugs, transfer and resize patterns (using varous methods) and calculate the amount of Bernat Craftsman wool required for a rug made on their canvas. It worked from the assumption that the user had no prior latch-hooking experience. The rugs were advertised as "no frame" and a family activity, which meant no bulky wooden frame as used by older hooking or prodding methods. This meant they also showed how to sit when making a latch hook rug.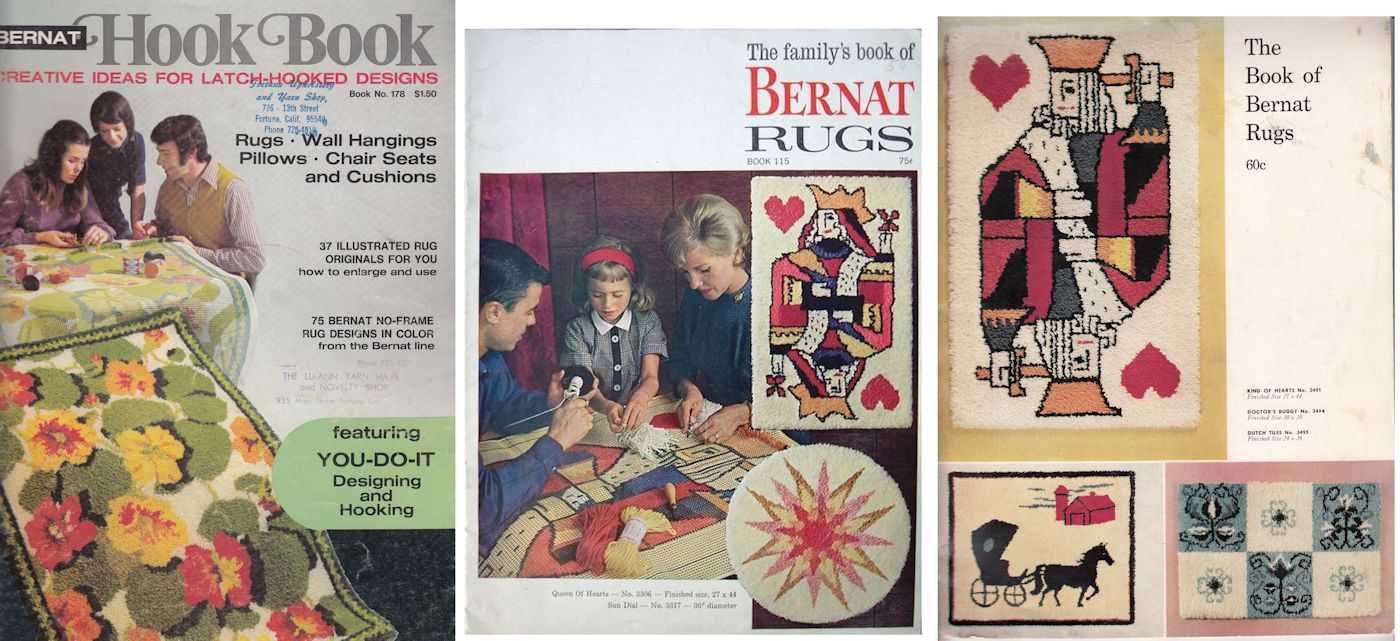 Bernat pattern books were a mix of stencilled canvases that could be mail-ordered, and how to design rugs on plain canvases. Because canvas had a set number of squares per inch, it was less flexible (in terms of curves or tufts-per-inch) than burlap. From reading the "Bernat Hook Book", I get the feeling that they knew that many of their readers were used to rug hooking and were transitioning to latch-hooking. One very useful section, not covered by many other latch hook pattern books, was how to make larger rugs by joining canvases together. It showed 2 methods - joining the canvases before working the design, or working the design in sections and joining them afterwards. Whereas Readicut etc gave 2 methods for latch-hooking so that 2 people could work on a rug from either end and meetin in the middled, the Bernat booky showed only one method of latch-hooking. It therefore provided a solution to the problem of knots lying in different directions where the 2 workers met - an extra row of knots could be inserted at right angles to close up the space.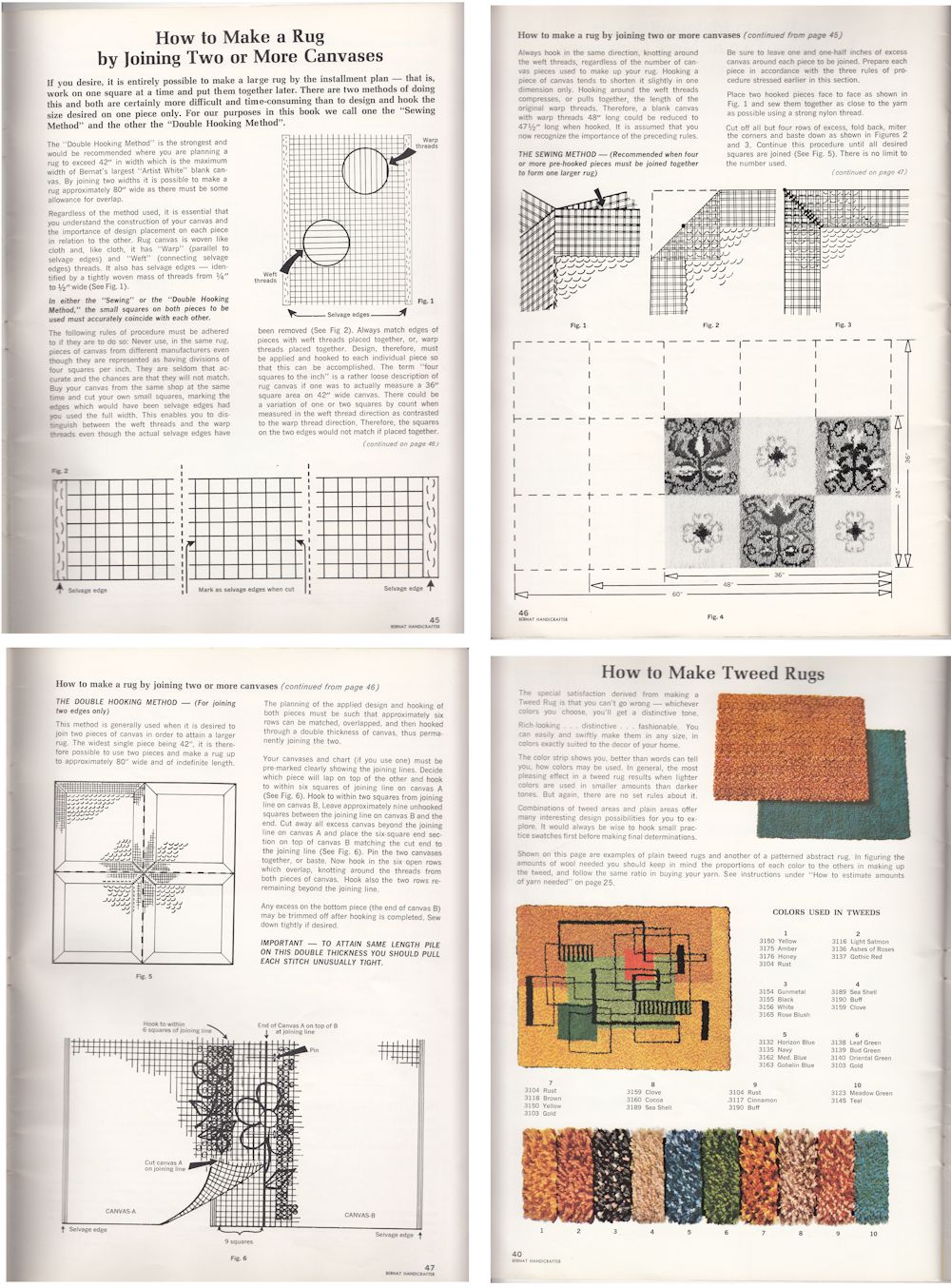 You are visitor number: