RUG-MAKING SUPPLIES - BAIRNS WEAR (BLUE FEZ)


Sarah Hartwell, 2014

Bairns-Wear Limited was registered on 05 Apr 1935 with its registered office in Nottinghamshire. it is still listed as active (a subsidiary of Courtaulds). Bairns-Wear (Overseas) Limited was set up on 30 Dec 1938 and had its registered office in Manchester; it was dissolved in 1996. Courtaulds Clothing Brands Limited was set up on 11 Mar 1920 with its registered office in Nottinghamshire; it had 8 subsidiaries, one of which was Bairns-Wear Ltd. The trademark "BAIRNS-WEAR FOR BABIES AND CHILDREN" was registered in 1948 and expired in 1992.

During the 1940s, Bairns-Wear was forward thinking in providing a children's nursery for its women workers as women were in great demand in the workforce at the time. In 1953 Bairns-Wear Knitwear opened a factory in Raymoth Lane, Worksop, where it made hosiery and children's (bairn's) wear, but in 1963, Bairns-Wear hit financial problems and was taken over by textiles giant Courtaulds who produced synthetic yarns such as Courtelle (in the 1960s, synthetic yarns were new and exciting). During the 1970s, the company again faced problems due to competition from cheap overseas hosiery and knitwear. 70 women were made redundant when the "cut and sew" section was closed. In 1975, production was temporarily halted due to industrial action over pay-rates.
| | | |
| --- | --- | --- |
| | | |
In his book "The Onion Peeler" by Malcolm Whyman, the author describes working at Bairnswear, Nottingham Road, in Sherwood when he was a lad in the 1940s and 1950s. Here's a synopsis of the Bairnswear rug wool process based on his descriptions. At first, Malcolm's job was to help transport the bales of rug wool from the bale store and distribute them among the "winders"; the women who, with the aid of a machine, wound the hanks of wool from the bales onto cones. His next task was to load up the creels; large, aluminium constructions with a hundred and seventy pegs on either side i.e. totalling 340 pegs, which meant 340 strands in each pre-cut pack of rug wool at the other end of the process. The cones of wool were fitted onto the pegs of the creels, and the loose ends of the 340 cones of wool were drawn together and tied with a length of sisal twine. The creel was wheeled into position behind one of the two cutting machines(which he describes as resembling Heath Robinson contraptions). The bundle of wool threads was drawn along the machine through a series of grabs which pulled the wool past a roll of paper that wrapped itself around the bundle of threads. A roll of gummed tape was moistened by the machine and stuck the two sides of the paper together. The wool resembled a paper-covered sausage. After being packaged into this roll it passed under a guarded blade, similar to a bacon slicer, that chopped the sausage into individual packs of 2 and 7/8ths of an inch long. The cutting machine operator checked the packs against a wooden block then packed them into cardboard boxes and labelled the box. The cutting machines were efficient, but not high-tech, and had been invented by company employees. They were the only two of their kind in the world and Bairnswear held the patents, which meant that their main competitor(s) had to sell cutting gauges so that customers could cut their own wool. At the time, those two cutting machines gave Bairnswear the competitive edge. After labelling, the boxes of rug wool were stacked on a palette, and using a truck known as a Colis, I wheeled them round to the warehouse. Another employee took charge of them and assembled the rug wool orders. Malcolm describes the main competitor's cutter as being like a been slicer that cut one piece of yarn at a time so I'm guessing he meant the Patwin rotary cutter. Bairnswear's patent meant that competitors would either have to invent their own machinery that didn't infringe the patent. Readicut, whose very name meant the yarn was already cut to length, must have had a packing and cutting machine of their own; their pre-cut packs contained 330 strands.
From the 1980s to 2000, Bairns-Wear was rebranded as Meridian Knitwear, part of Courtaulds Knitwear Ltd, no doubt to expand its appeal beyond its traditional children's wear niche. However there were several rounds of lay-offs and in 1989, there were rumours that the site faced closure. Throughout the 1990s, the factory continued to shed jobs as the British textiles market shrank in the face of cheap overseas competition. In 2000, the US food conglomerate Sara Lee made a £150-million takeover bid. In spite of assurances given in May of 2000 that no more workers would be laid off, in August of that year the closure of Courtauld's manufacturing arm was announced with the loss of 650 jobs (the moral is: never trust American takeovers as the same happened to Cadbury confectionery a decade later). The Worksop factory closed in 2000 and the site was redeveloped in 2004.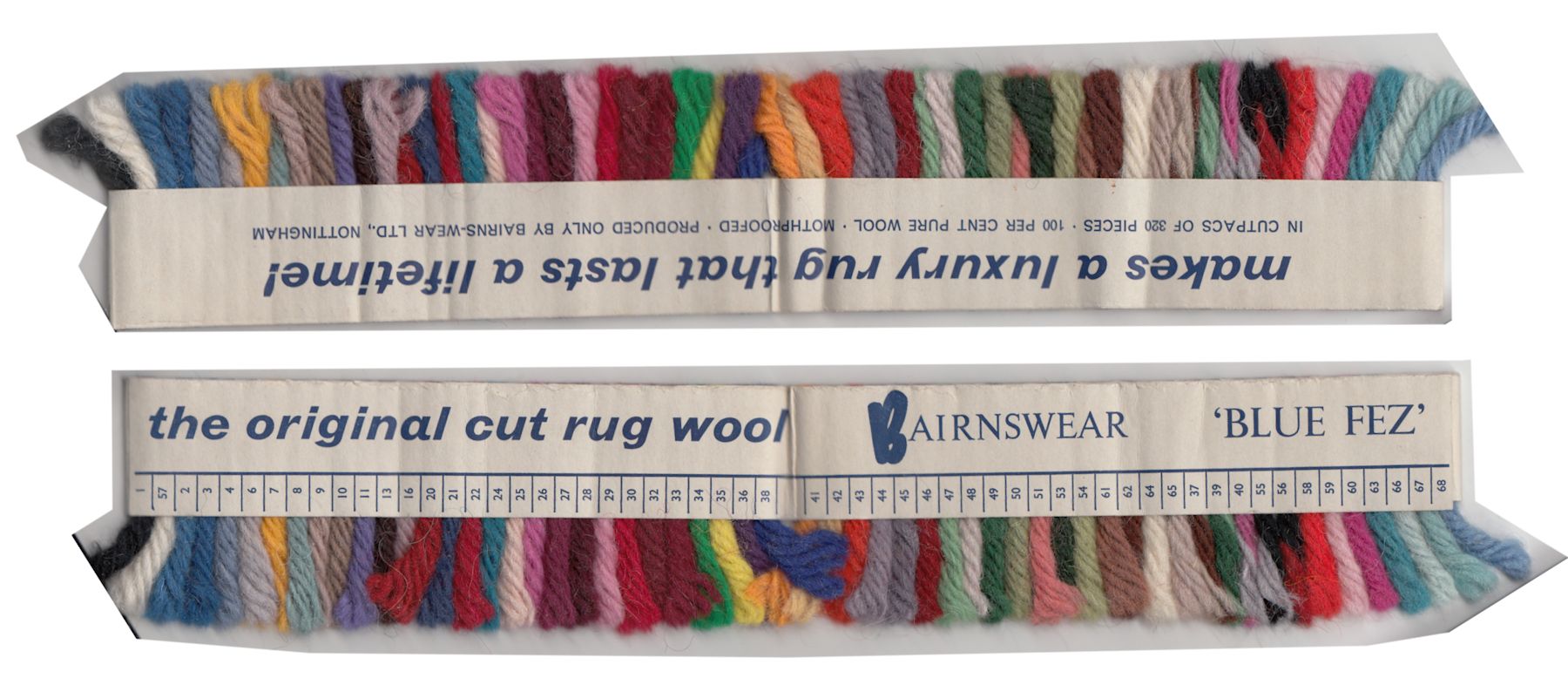 I can find much less about their rug wools and canvases operation. This was active in the 1950s when latch-hooking was very popular and a number of textiles companies had a sideline in latch-hooking supplies. Blue Fez was a trading name of Worksop-based Bairnswear in the 1950s. They produced rug kits, printed canvases and cut packs of rug wool. Blue Fez brand pre-cut rug yarn remained available long after the rug kit operation ceased (there's still plenty around if you check ebay etc). Bairns-Wear registered the Blue Fez trademark (covering "yarns of wool, worsted and hair") in 1966 and allowed it to expire in 1989. Fez rug yarns came in "Skinny Fez" (4 ply, 52% wool/48% nylon mix, 2/3rds as thick as New Fez – used on 5 hpi canvas or doubled up for 3.3 hpi canvas) and "New Fez" (6 ply, 100% British wool). Skinny Fez and New Fez were finally discontinued in 2012. The the colour range was identical to Anchor (Readicut). 6-ply Blue Fez could originally be bought in a 2 oz "cutpac" of 320 pieces; but later 160 pieces became the standard pack size for pre-cut rug yarns.
In the 1960s/70s, Bairnswear also produced the wholly synthetic "Red Fez" brand of pre-cut 6 ply rug yarn. The packs I have are 60% acrylic/25% modacrylic/15% nylon mix and 85% Courtelle acrylic/15% nylon polymide mix. Courtelle was a synthetic yarn made by Courtaulds who had bought out Bairnswear in 1963.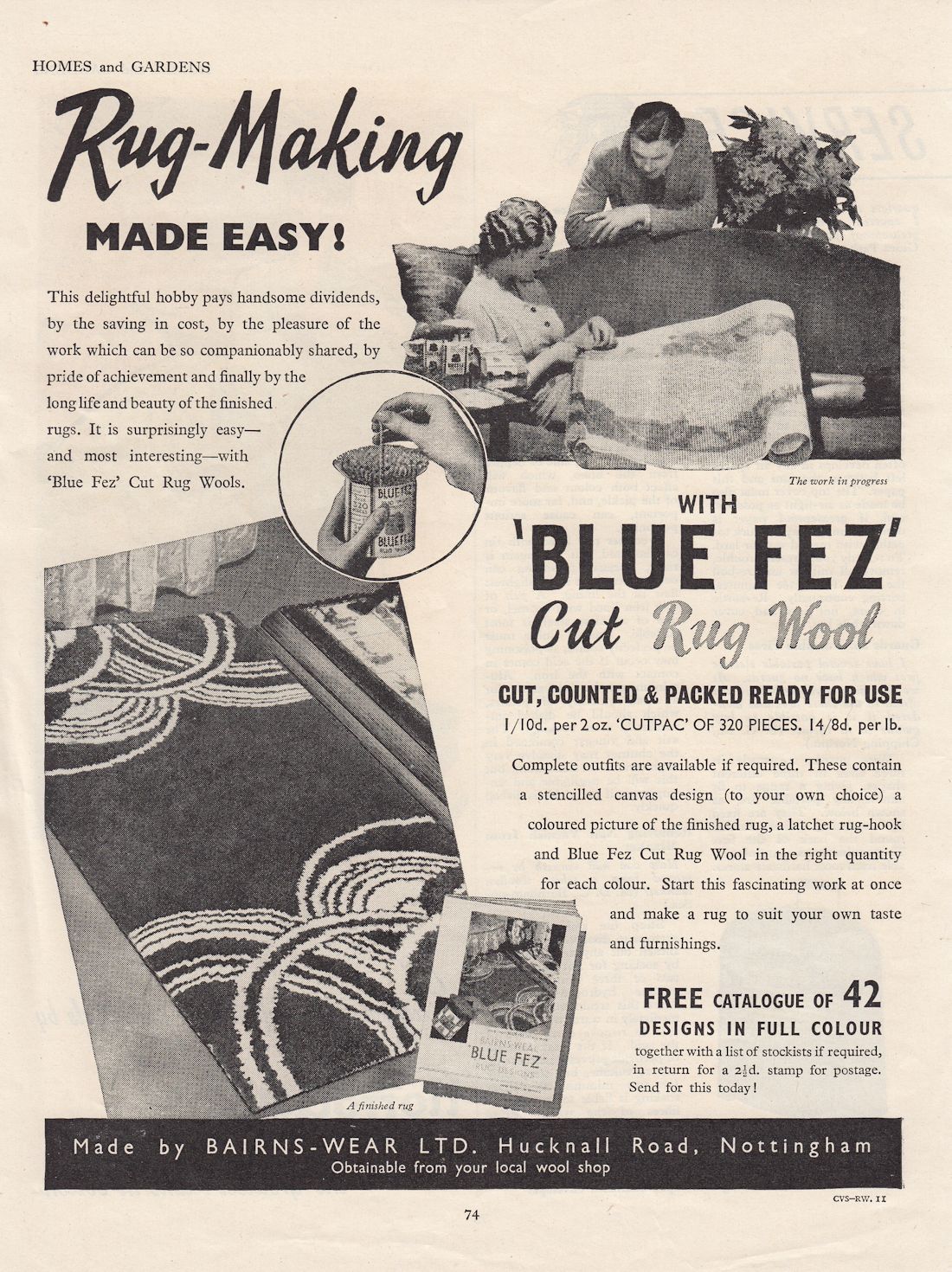 Another Courtaulds connection: Airlyne, of Abergele, Denbighshire, North Wales produced a punch needle machine to speed up rug-making. Their skeins of Axminster weight rug wools were suitable for latch-hook as well as needle-punched rugs. In the 1960s, Airlyne became part of textiles giant, Courtaulds, who had a factory just down the street from my childhood home.
Airlyne's skeins were intended for use with their home rug-maker machines, but could also be cut to length for rug hooking. Vintage skeins are sometimes available from online auction sites. Although this engineering company was are not directly linked to latch-hooking, I was intrigued enough to look into the company's history. Airlyne Products was part of Slater & Wheeler (Airlyne) Ltd, incorporated in 1951. William Edward Humphreys "Ted" Jones invented the home-rug making machine while working at Airlyne Products during the 1950s. Slater and Wheeler Airlyne was set up at Slaters Motors garage at the beginning of the World War II to make aircraft parts, while the motors division assembled jeeps and shell casings. Presumably, the company diversified into household mechanical and electrical products after the war as they did electrical repairs (radios, and later televisions) from retail shops in Rhyl and Abergele. Slater Motors opened a car showroom and 24hr petrol station in 1969. Airlyne Products was sold to Courtaulds and Slater & Wheeler (Airlyne) Ltd was finally dissolved in 1998, by which time their business had become the "letting of own property." Meanwhile, Slater & Wheeler Ltd, incorporated 1978, remains a car dealership (Slaters Vauxhall).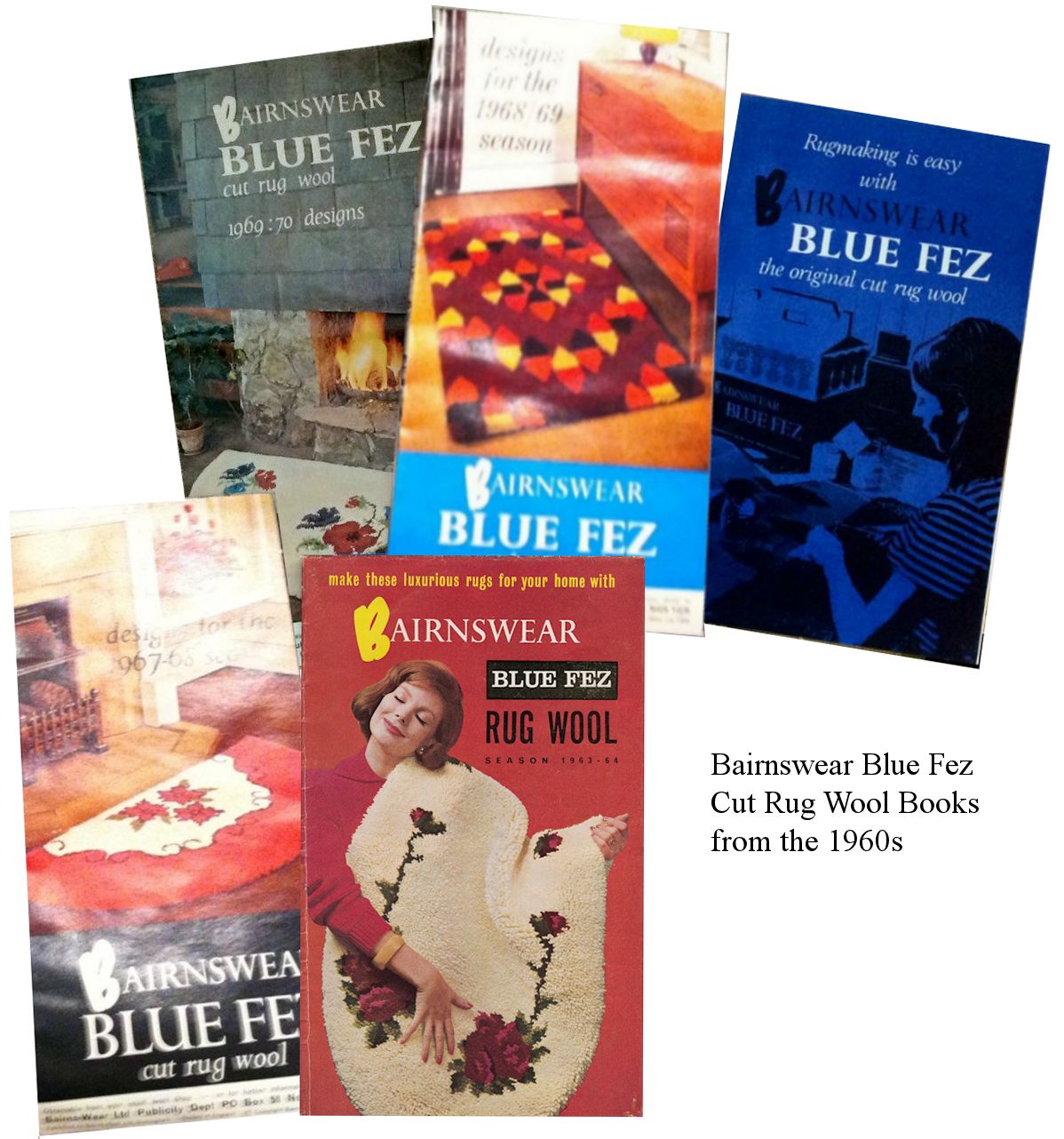 The advert below was on the back cover of a Bairnswear crochet pattern (undated, but looks 1960s).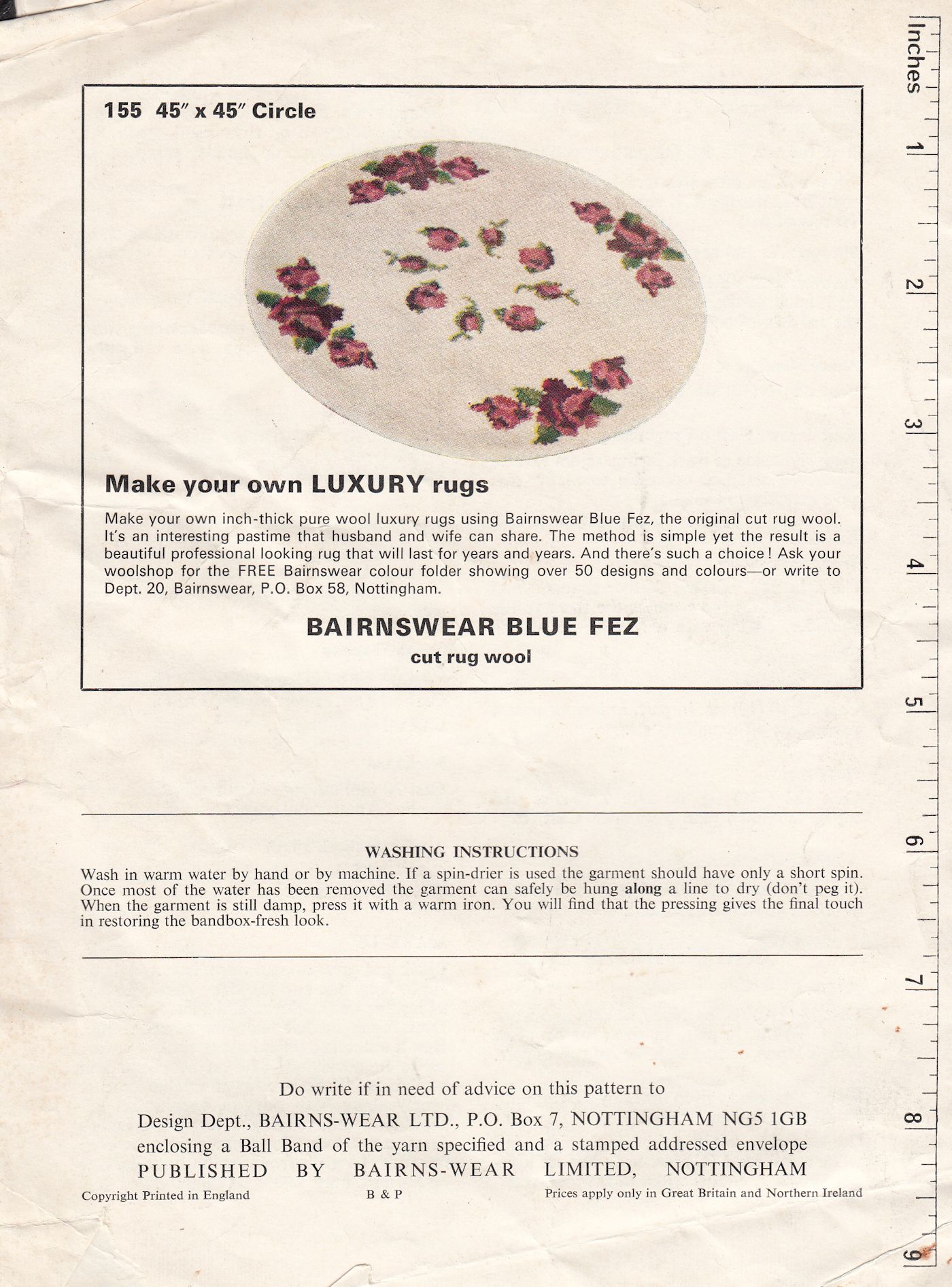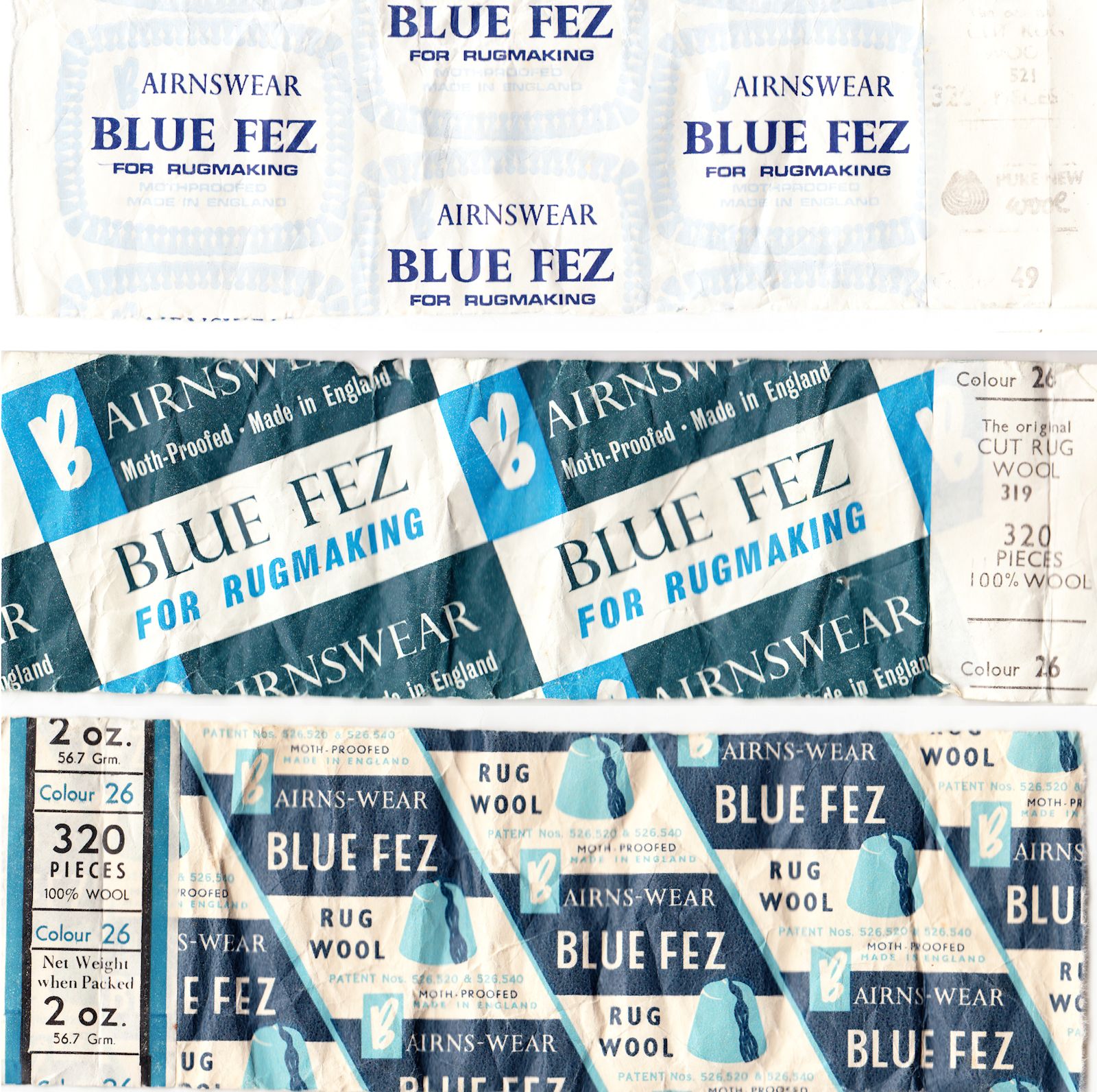 In the 1960s/70s, Bairnswear also produced synthetic "Red Fez" rug yarn.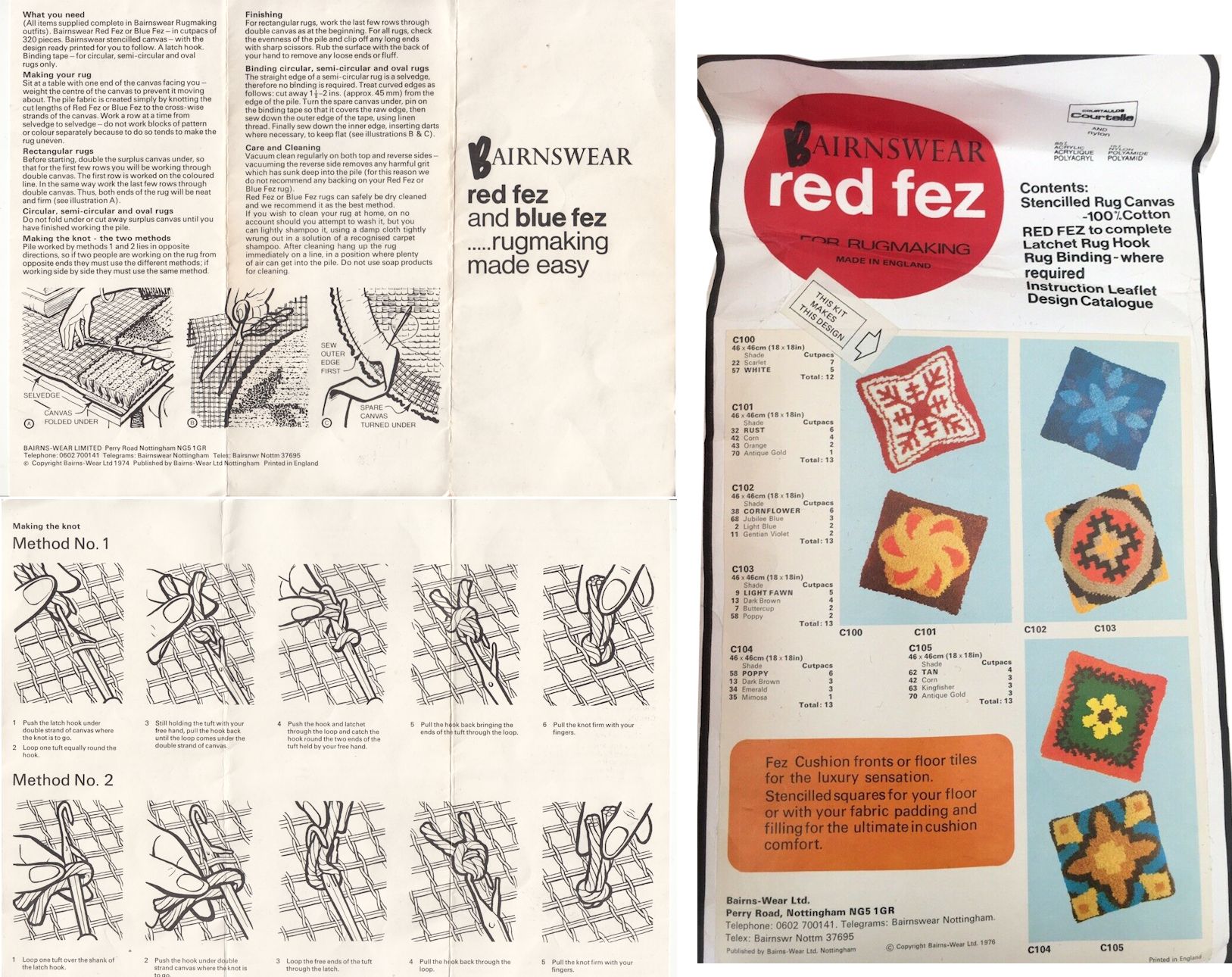 See Flickr where images and patterns can be downloaded at full resolution for your own use.

You are visitor number: