POM-PON (POM-POM), TUFT AND FLUFF RUGS


Sarah Hartwell, 2015

Coats advertised its latch-hooked Acrilan rugs as "Tuftrugs". Pom-pon [sic], tuft rugs and fluff rugs were popular methods for making rugs in the 1930's and early 1940's North America. The Lily Mills Company produced a wooden pom-pon (pom-pom) former, a range of yarn and a series of pattern and instruction booklets. These rugs consisted of a lot of hand-made pom-poms that were stitched or tied to a backing. The patterns were small, with dots to mark the placement of pom-poms or tufts. The main difference was fullness of the tuft or pom-pom - this meant the texture could resemble a hooked rug (tufts comprising several strands of yarn) through to a bobbly texture (pom-poms comprising a lot of yarn).

Originally, "fluff rugs" were made by reweaving old carpet strips (as mentioned in the 1911 news cutting), this was very labour-intensive, but specialist companies existed to create new carpets from old. Later on, fluff rugs included those made from strips of recycled yarn or old fabric, tied into tufts and turned into new rugs in various ways: tied to a backing canvas or tufted into braids/strips that were stitched together. There might be tufts on both sides of the rug, making it reversible (chenille rugs). When it comes to using new (not recycled) yarn, the main difference I could find between fluff rugs and tuft rugs is that tuft rugs used some sort of frame, form or wooden gauge to make the tufts an even length and thickness.
| | |
| --- | --- |
| This cutting is from the Chicago tribune in 1911. | Here's an excerpt from Popular Mechanics in 1939 describing one method of making fluff rugs. |
Between 1895 and 1936, thrifty home owners from all over the USA could send their old rugs and carpets to The Ann Arbor Fluff Rug Company for recycling into new rugs. The worn carpets were cleaned then cut into 2-inch wide strips which were twisted vertically, then woven using conventional looms. The end product was a new rug that was hard-wearing and usable on both sides. The last step was hand-tying the warp into Turkish knots, leaving about four inches of fringe at each end of the rug. The new rugs were more mottled than the original and were softer, albeit not really fluffier. This was all done using machinery developed by company owner Henry Schlemmer, but it was still a labour-intensive process. The Ann Arbor Fluff Rug Company produced rugs of any size up to 9 ft x 12 ft (maximum loom size), depending on the amount of material sent by the customer. Several old rugs could be combined into a single, larger rug, with the different colours used as stripes or borders. Customers always got back rugs made with their own materials, but they could request the use of extra rugs (from those on hand at the company) to give them a larger size recycled rug. They could also request additional materials be added to brighten or pattern the finished product. Using the same machinery and methods, chenille curtains and lightweight or loosely-woven rugs unsuitable for reuse as fluff rugs, could be turned into lighter-weight recycled rugs. Even with Schlemmer's machinery, it was a labour-intensive process, but for the home-owner it was still cheaper than buying a completely new rug. During the same time frame in Wisconsin, Frank William Fransway also perfected a way to make fluff rugs from worn carpets. Fransway designed and manufactured his own machinery to carry out this work at the Oshkosh Fluff Rug Co. Old American newspapers have adverts for similar companies and services around the country.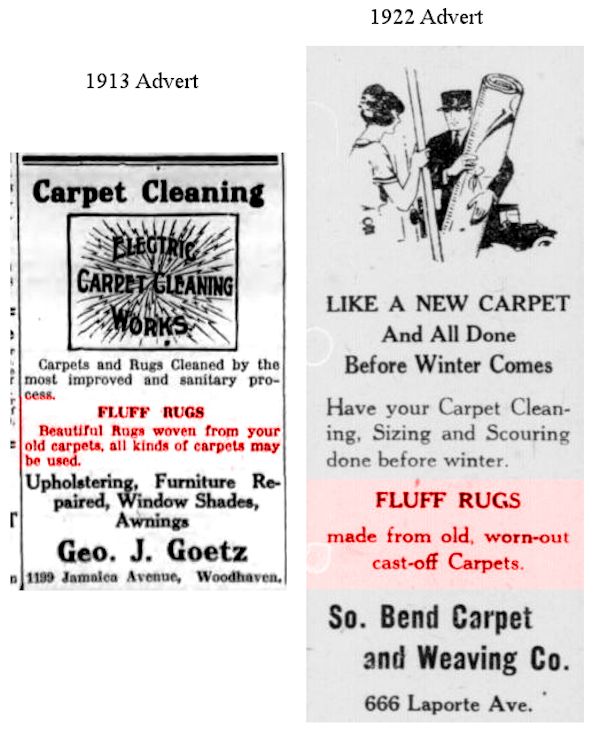 LILY MILLS COMPANY
The Lily Mills company was originally founded in 1903 by John Schenck as the Lily Mill Power Company in Shelby, North Carolina. This is a major cotton-producing region which peaked in the mid-to-late 1940s. By the 1940s, there were twenty cotton-spinning mills in the Shelby area. t the time of its incorporation the petitioner manufactured combed yarn. Shortly after its incorporation it began to specialize in thread yarn for the manufacturing trade. In 1927 the production of sewing thread for domestic consumption was begun which was soon followed by the addition of a line of needlecraft products for home use. The name was changed to Lily Mills Company on July 16, 1934. Lily Mills produced threads and yarns for sewing, crochet, tatting, and weaving. They published numerous booklets to promote the different ways to use those products. In August 1939 they offered a unique boxed rug making yarn product for making pom-pom or fluff rugs at home. Lily Mills did not actually manufacture their own rug yarn, but purchased it ready-packaged for resale from Cleveland Mills Company. It would took rival companies 18 months to compete with this product, but Lily Mills retained the edge because they had also developed a cardboard pompom-making/fluff-making form for use with their rug yarn. This was given away free at first and later developed into a wooden form that was patented and sold. As well as the "pom-pon" forming frame (for rug and edgings/trim making), they produced a table-top weaving loom.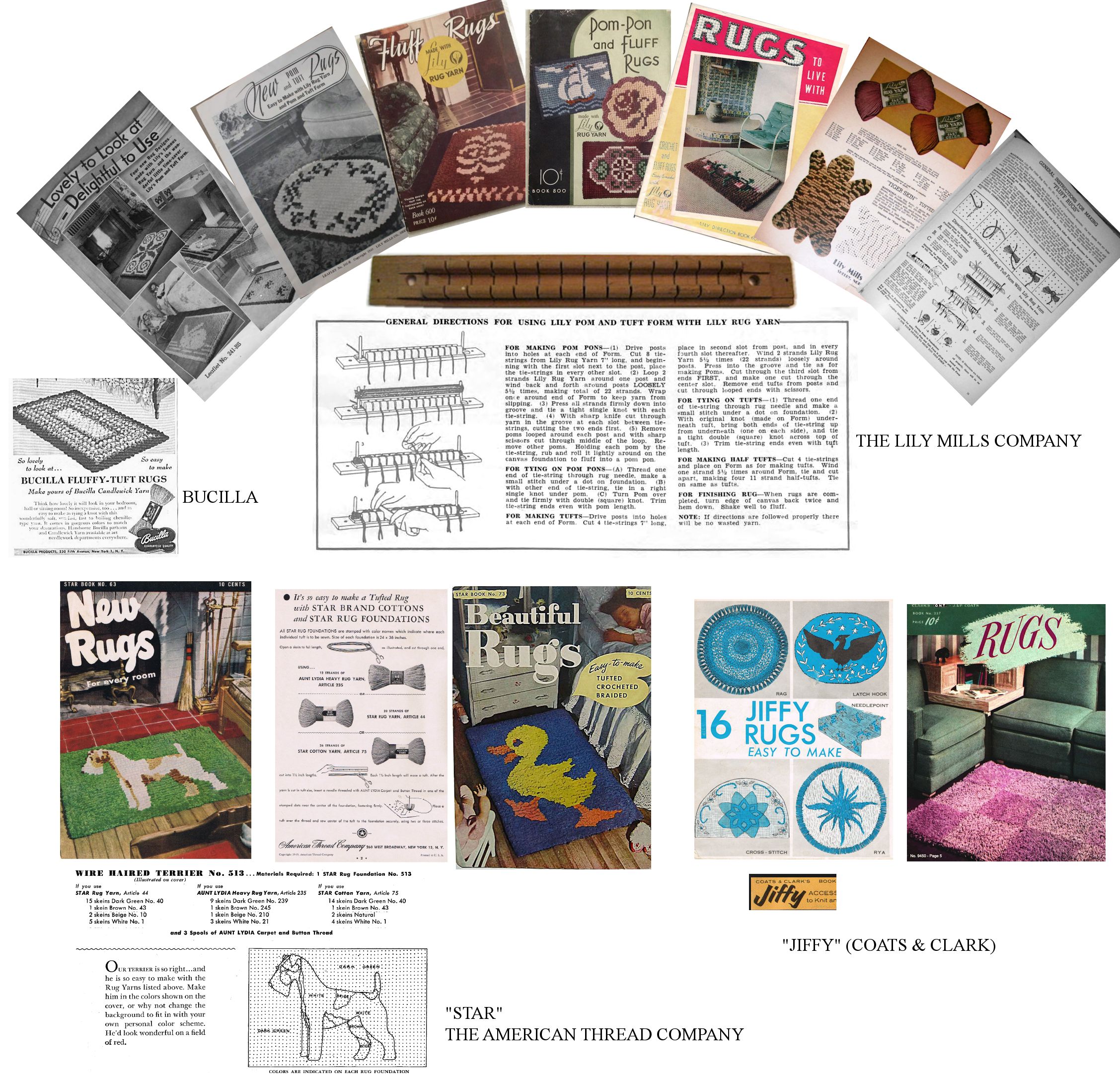 The Lily Mills Company is known mostly for crochet patterns (anything from filet crochet and doilies to crocheted rugs and bedspreads) and crochet supplies. It published "Pom - Pon and Fluff Rugs Made with Lily Rug Yarn Book No. 800" in 1943. In 1960, they merged with Belding Brothers, an American Silk manufacturing company. This merger was announced in October 1960. This description is from the Hendersonville News-Times: The Belding Heminway Company, Inc, and the Lily Mills Company have announced that agreement has been reached on the terms of merging these two leading manufacturers and marketers of sewing thread […] The Lily Mills Company will continue […] as a wholly owned subsidiary of Belding Heminway Company, Inc. The Lily name will be retained." The Lily Mills Company continued publishing booklets until the early 1970s, but the name has since disappeared.
The pom-pom making forms can be found online; these made a series of pom-poms at a time. The yarn is strung from end to end of the former to make several tufts or pom-poms at a time. It's not hard to improvise - you need a length of wood and two wooden pegs. There are also plenty of plastic pom-pom making rings available (these are great for a family or class project where children each make pom-poms). The patterns showed the design in the form of outlines and showed the placement of pompons/tufts as dots on the backing canvas. The tufts were either stitched or tied in place, while the pompoms were tied in place.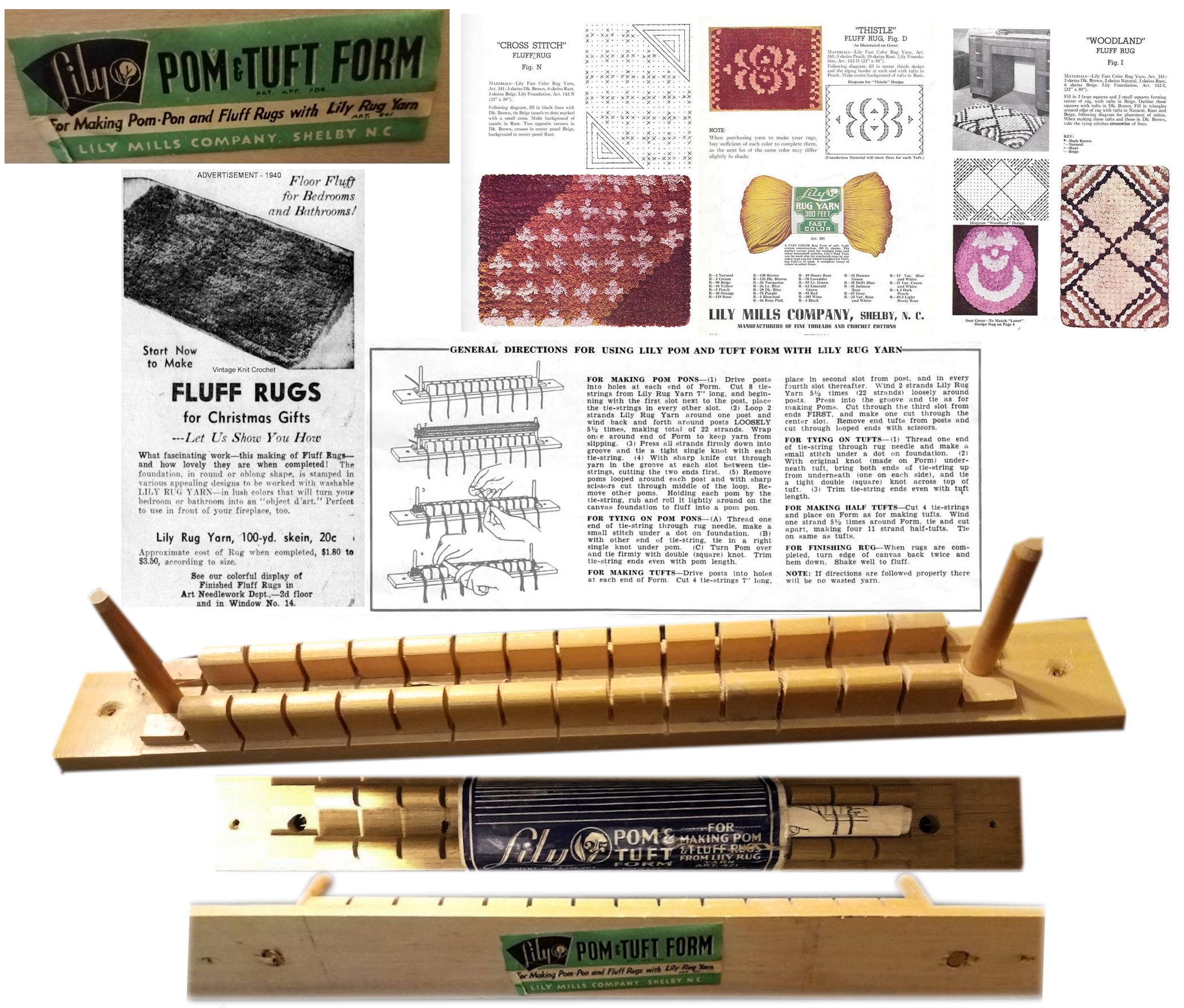 "JIFFY" and "STAR"
"Star" tufted rugs books and supplies weres produced by The American Thread Company, the Lily Mills Company's main competitor (they constituted 90% of the competition in the 1940/50s). In 1898, the American Thread Company was incorporated in New Jersey through the merger of 13 New England firms. The parent company was actually the English Sewing Cotton Company, formed through a 14-way merger a year earlier. In 1901, the main competitor for American Thread was the British-owned Coats operation. A significant part of The American Thread Company was British-owned; meaning that around two thirds of the thread sold and used in the United States was produced by these intertwined companies. In 1913, this was judged to be an unfair monopoly and fell foul of the Sherman Antitrust Act so the companies in the USA were restructured to ensure fair competition. It appears that a British Trust ran the American Thread Company (ATCO) until 1985.
Coats & Clark was formed through the 1896 merger of Scottish-based firms that had mills in North America. They produced the "Jiffy" range which included tuft rugs. As mentioned previously, their 1970s "Tuftrugs" catalogue was actually latch-hooking. The company history is given at Coats and Clark.
MYRTLE B McHALE'S RUG MAKING DEVICE AND METHOD OF USE
Inventor: Myrtle B. McHale, Calif. Patent filed: May 1971
In the background to her patent application, McHale wrote: "There is presently available a rug configuration known as a "Fluff Rug"; and when such a Fluff rug is made by a hobbyist, it becomes an extremely decorative item; not only as a rug, but also as a cover for chairs, furniture, and the like. Unfortunately, however, Fluff rugs are not widely used, primarily because of the difficulty of making them. Illustrated instructions for making Fluff rugs are available in several publications; attention being directed particularly to NEW IDEAS IN RUG YARN and to FLUFF RUGS, both issued by the Lily Mills Company of Shelby, North Carolina. The prior art method of making a Fluff rug is to use a "rug base" or "rug foundation" of material such as burlap; this having a plurality of "marking dots" that may be spaced as closely as one quarter of an inch apart. A length of "rug yarn".is then formed into individual bundles, each bundle containing about 17 strands of rug yarn about two or three inches long; the size of the bundle depending upon the desired effect, the marking dot spacing, the diameter of the rug yarn, etc. The bundle is then formed to a "tuft" or "tassel," by stitching a short length of suitably colored thread or rug yarn to the rug base adjacent one of the marking dots; leaving a loop into which the above mentioned bundle is inserted about half way. The loop is then tightened, and knotted; this holding the bundle firmly in place, and forming a tuft. A plurality of such tufts are positioned in accordance with the marking dots; and the tufts are then fluffed out to form the finished rug. For a more decorative effect, the pattern of marking dots is suitably coded by size, color, darkness, etc.; each of these code indications representing a different color tuft to be used at that marking dot location. The end result is thus an extremely decorative and useful rug or covering. As may be realized from the above discussion, the preparation and sewing of many such individual tufts becomes a onerous task. Moreover, when the tufting is performed by a novice, there is a tendency for the tufts to be irregularly spaced and of irregular height. Therefore, many people shy away from making Fluff rugs."
In fact, what Ms McHale had patented worked in the same way as a Singercraft rugmaking guide described on Making Rugs on your Sewing Machine.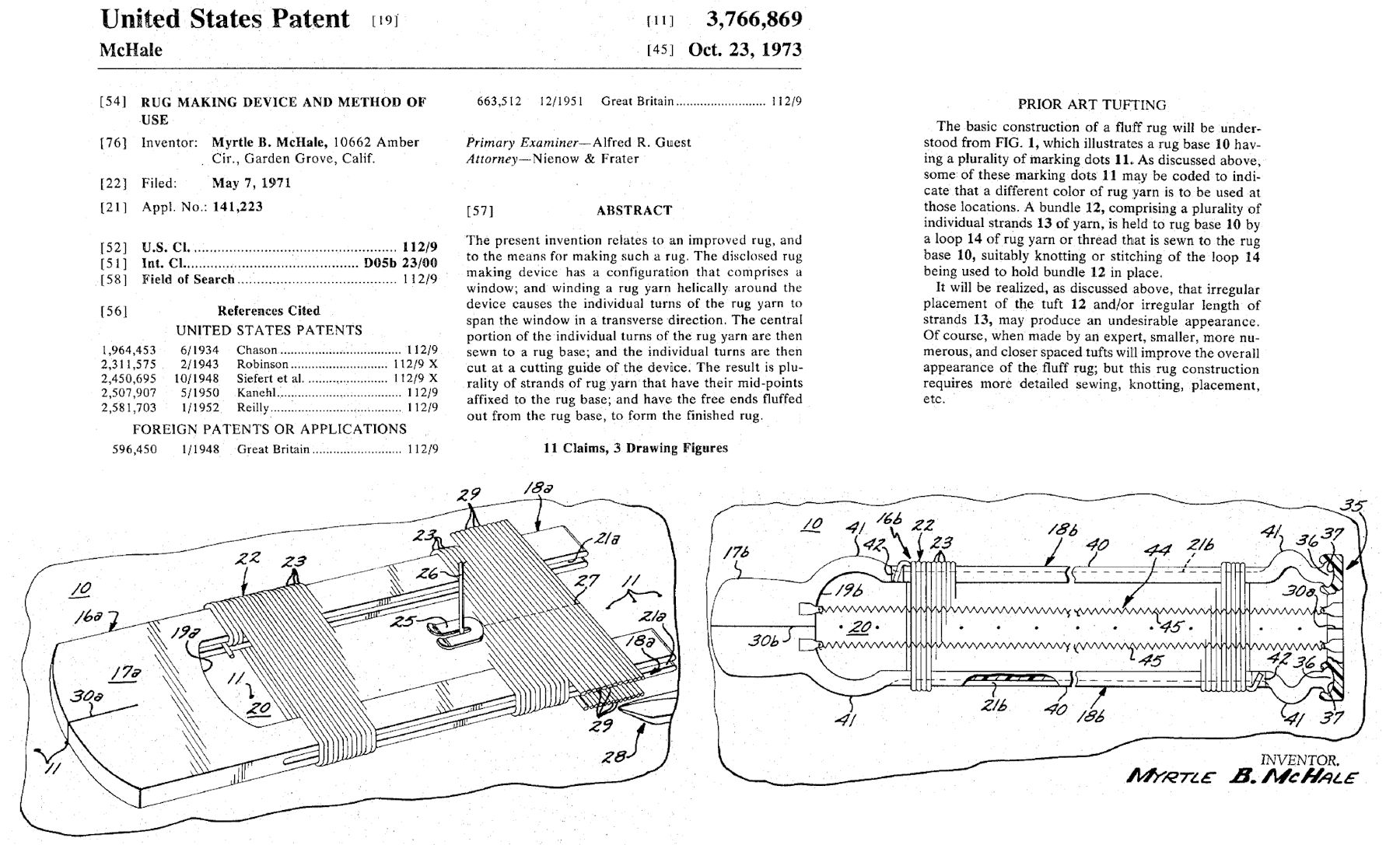 In the 1970s, there was a variation on McHale's theme: the Leonora "Shaggy Spinner" which was patented in South Africa and Australia.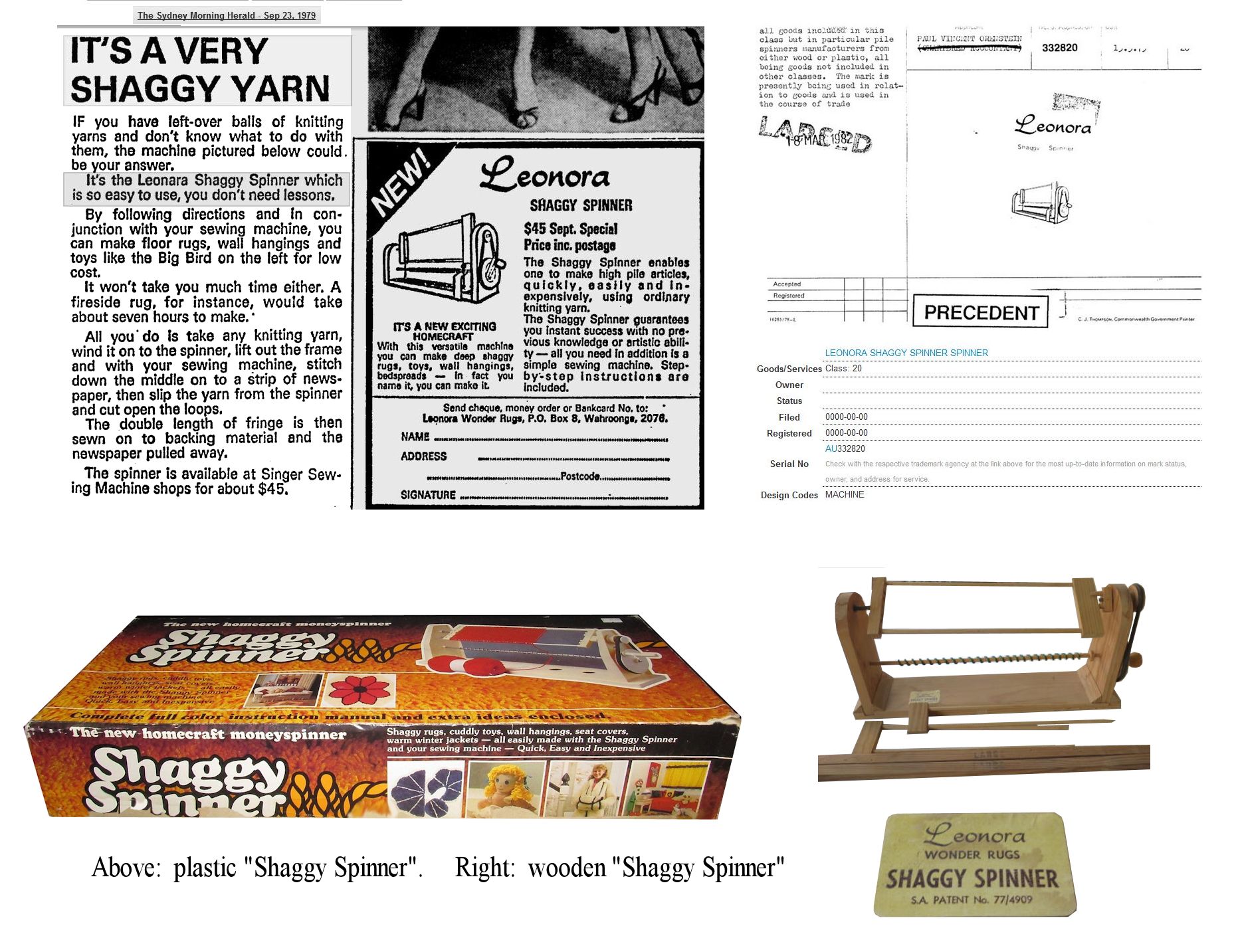 You are visitor number: