RUGS - TOOLS AND ACCESSORIES: HOOKS, CLAMPS AND RAPID METHODS


Sarah Hartwell, 2014

Readicut, Stoddart etc rug outfits contained two latch-hooks so that two people could work on the rug; one at each ends (one using Method 1 and the other using Method 2 so that the knots all lay in the same direction). Some companies offered a discount if you ordered a kit without latch-hooks. Companies that provided skeins instead of cut-packs provided a free wooden cutting gauge, or would often supply a Patwin rotary cutter for an extra fee. This is why I have a box full of spare latch-hooks and wooden cutting guides!



Brown's rug tool, and similar types such as the Stoddart Rug Machine, were widely used for making rag rugs through hessian. Some people preferred these to latch hooks when making wool rugs.

Law's rug tool was similar to Brown's rug tool except for the placement of the spring. Law's tool had a coiled spring between the wooden handle and metal lever.
The Irish Latch Needle
The latch hook began life in 1847 as the "latch needle" used in knitting machines. According to one school of study, it was invented in Ireland by Robert Flower (1836-1919), the eighth Viscount Ashbrook of Durrow and was patented by him in 1904; Flower's patented design had a hinged latchet that kept the yarn hooked so that it could be drawn through the canvas and knotted. This simplified the process of hand-tufting rugs and carpets. According to another school of thought, in the 1920s, the hand hook and latch needle were combined into the modern latch hook. Either way, latch hooks could be used with both yarn and with strips of fabric. Flower's latch needle simplified the hand-tufting process. Traditionally, hand-tufted carpets were made on large upright looms where heavy beams supported the fabric rolls. Flower patented a simpler, faster system for use with his latch needle: his carpet was made on a small flat-bed loom while the canvas foundation was made on a separate automatic loom (Flower was an enthusiastic inventor in the textiles industry). Philanthopist Ivo de Vesci was keen to provide local employment, and in 1904 he opened a carpet factory in Abbeyleix using Flower's system. Such factories in Ireland created work for local families who would otherwise emigrate. The factory produced high quality carpets, but was not commercially successful. In 1909 it merged with Naas carpet factory (founded by the Mercy Sisters in 1902), to form Kildare Carpets. As a result, Flower's innovations were discarded and the traditional upright beam looms were installed. At the end of 1912, disruption to yarn supplies in England resulted in the closure of Abbeyleix, but the latch needle went on to become the latch-hook.
The addition of the latch allows the hook to be used in two ways which means two people can work from opposite ends of the rug and the knots will all lie in the same direction. A wide variety of so-called latch hooks or latch needles became available; in patent-speake these comprised a shank (shaft) terminating at its forward end in a hook. A latch pin is pivotally mounted on the shank and movable between a closed position in engagement with the free end of the hook and an open position away from the hook free end.
The Readicut Patent Offset Latch hook
Collectors of rug-making tools will have noticed that older latch hooks have straight metal shafts like crochet hooks, while more recent ones have a bent shaft. The bent, or offset, latch hook is easier to use on hand-hooked canvases and can be held at a more convenient angle. This shape is now the default for latch-hooking. I can't find details of exactly when their offset design was patented, but based on depictions of latch hooks in instruction sheets it would appear to be the late 1940s or early 1950s. My 1951 Readicut Book of Rugs depicts the offset latch hook refers to it as their patent latch hook.
PRE-CUT WOOL
Nowadays we take it for granted that we can buy rug wool in cut packs; either in pouches or in round packs. There have been other proposals for packaging pre-cut wool.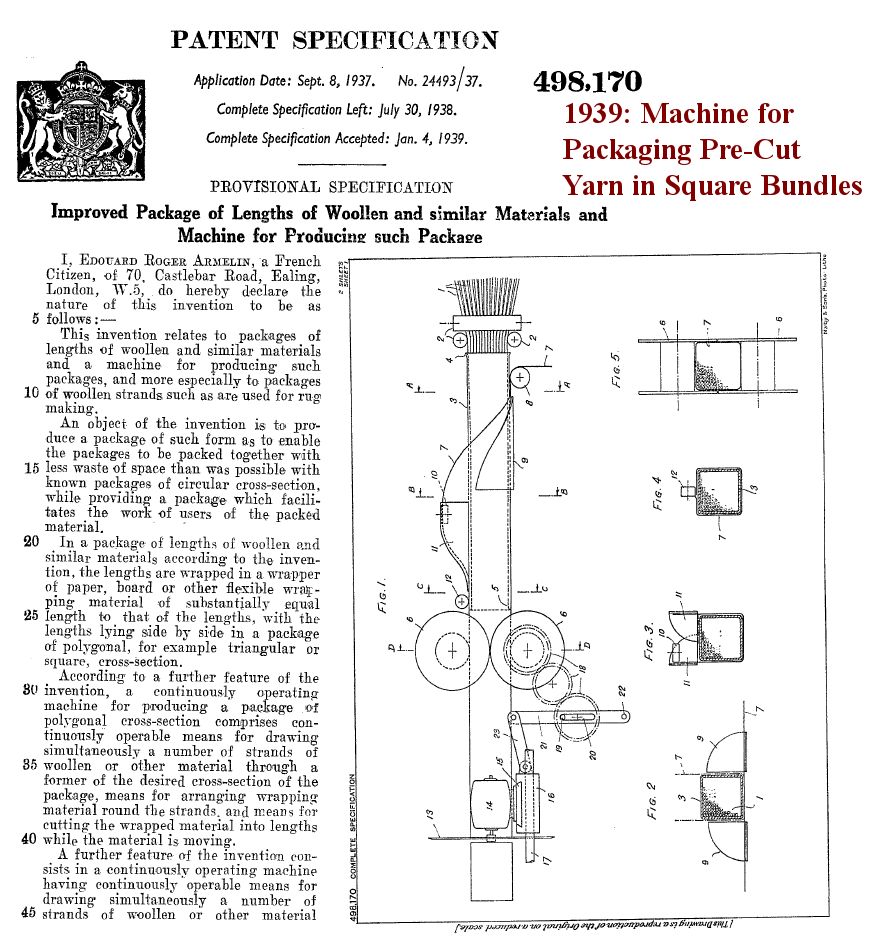 LAP FRAMES AND TABLE CLAMPS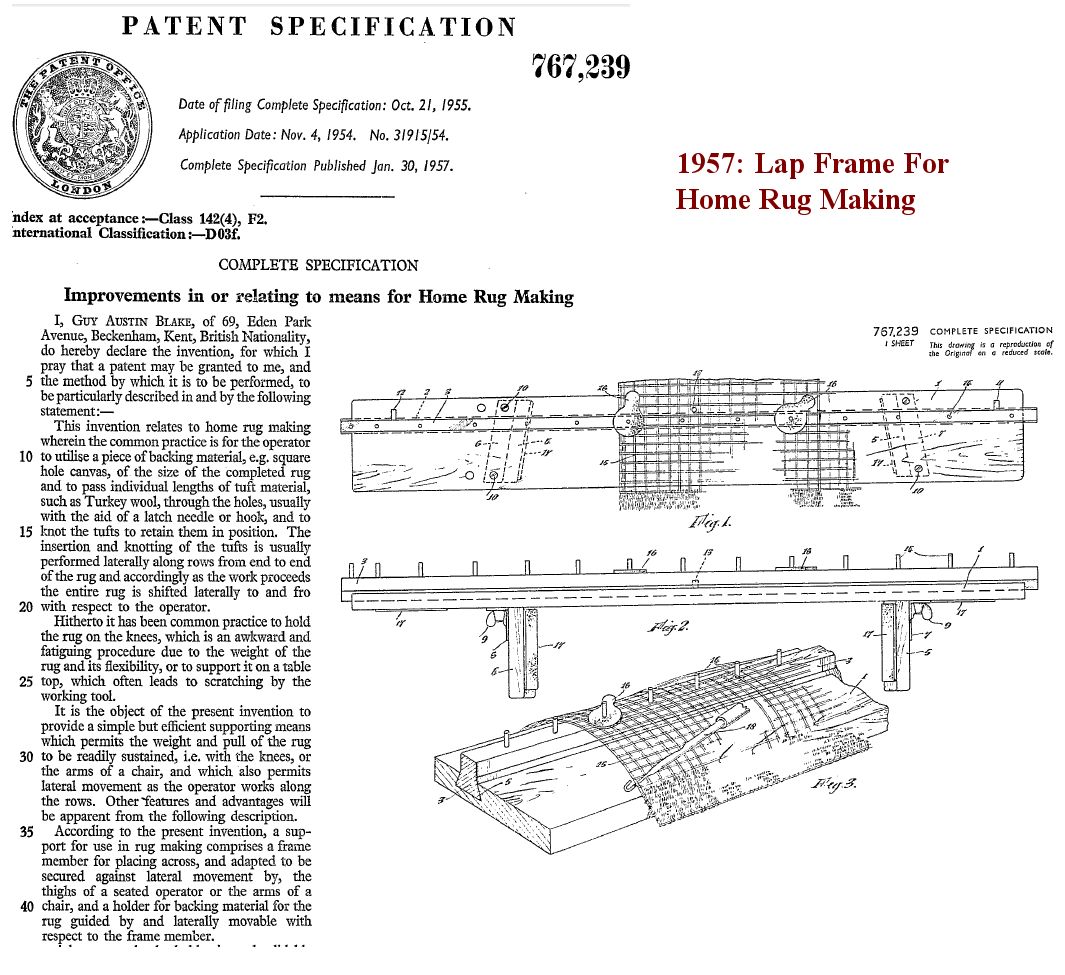 | | |
| --- | --- |
| Readicut Canvarex - can be clamped to table. | |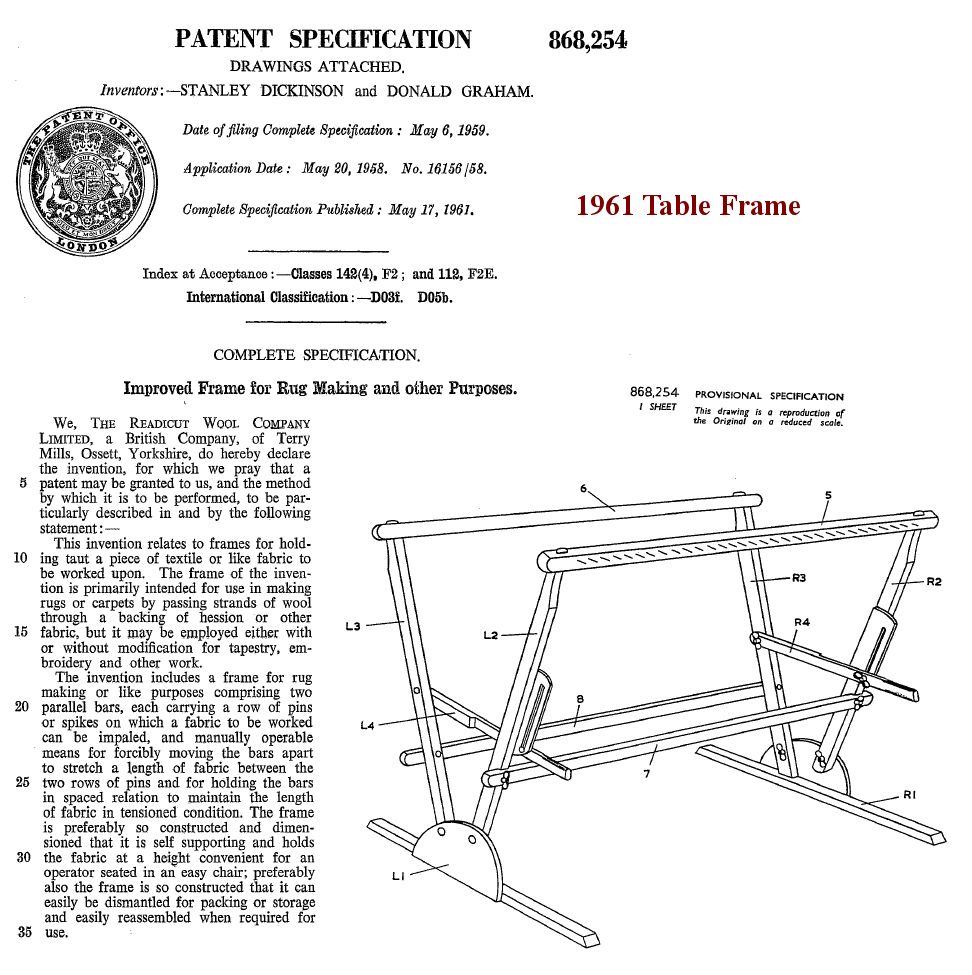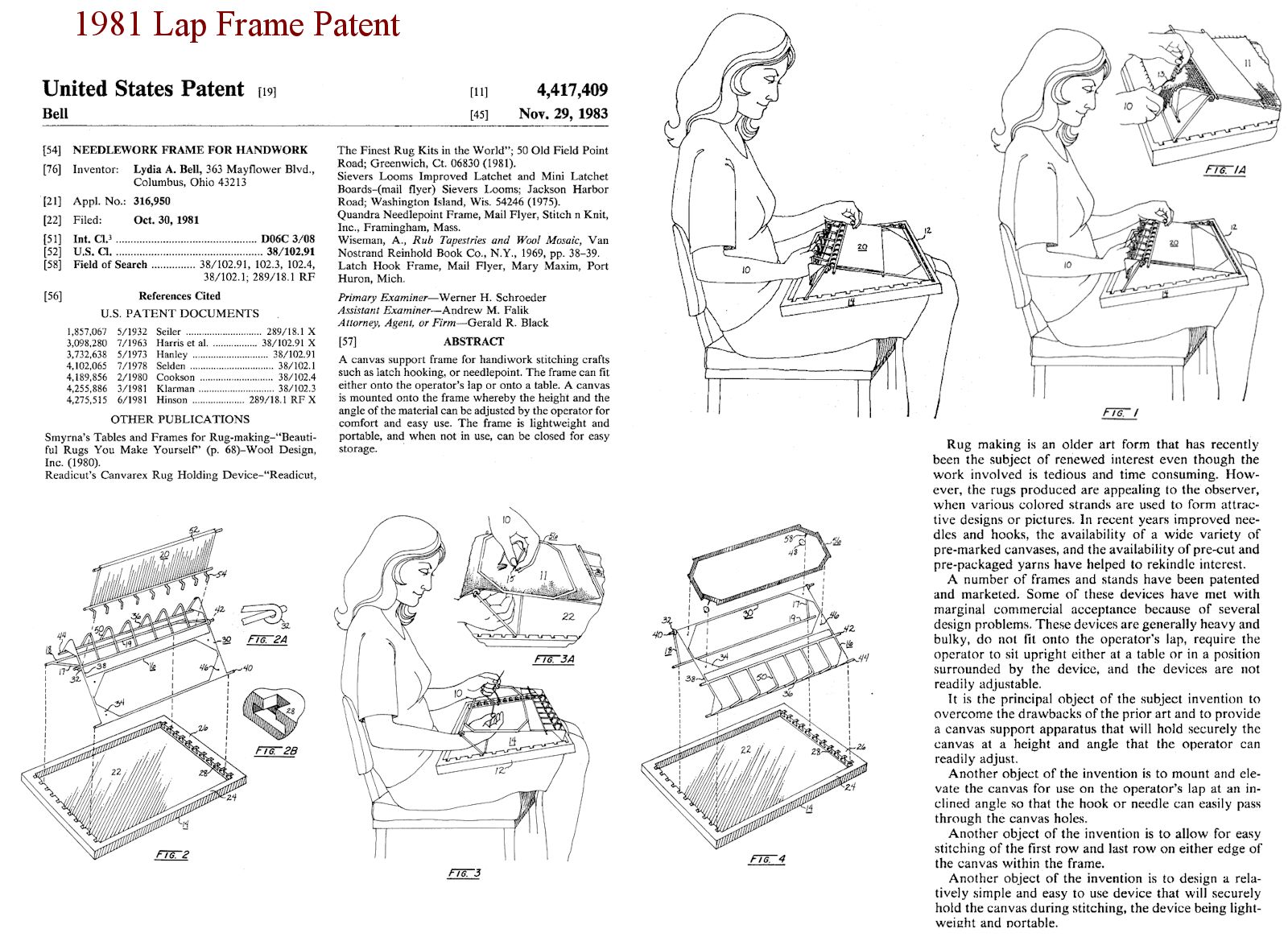 INSTRUCTION SHEETS
These usually give the two methods of latch-hooking and guidelines for finishing off a rug, plus care instructions. This leaflet is from the Unicorn acrylic rug kit from Designer Stitches (this company now mostly makes Disney character rugs). The diagrams are much the same as those on the old Readicut leaflets.
RAPID RUG GUNS & LATCH-A-MATIC
An alternative to the latch-hook was the spring-loaded "knot gun" or "rapid rug gun" that, according to its advertising, allowed the user to complete a rug more quickly. This sounded great for those used to speed-tufting who wanted to quickly complete a latch-hook project equally fast. It also claimed to be more relaxing, but probably made a sound akin to a spring-loaded hole-punch. With more moving parts to go wrong or wear out, the noisier plastic knot gun did not supplant the simple, silent and robust wooden latch hook. The advert in a Canadian newspaper is from 1978. It lasted long enough for cheap imitations to appear, however, simple latch hooks are often still going strong after several decades of use! Personally, I find the gentle speed of rug-making one of the most relaxing aspects.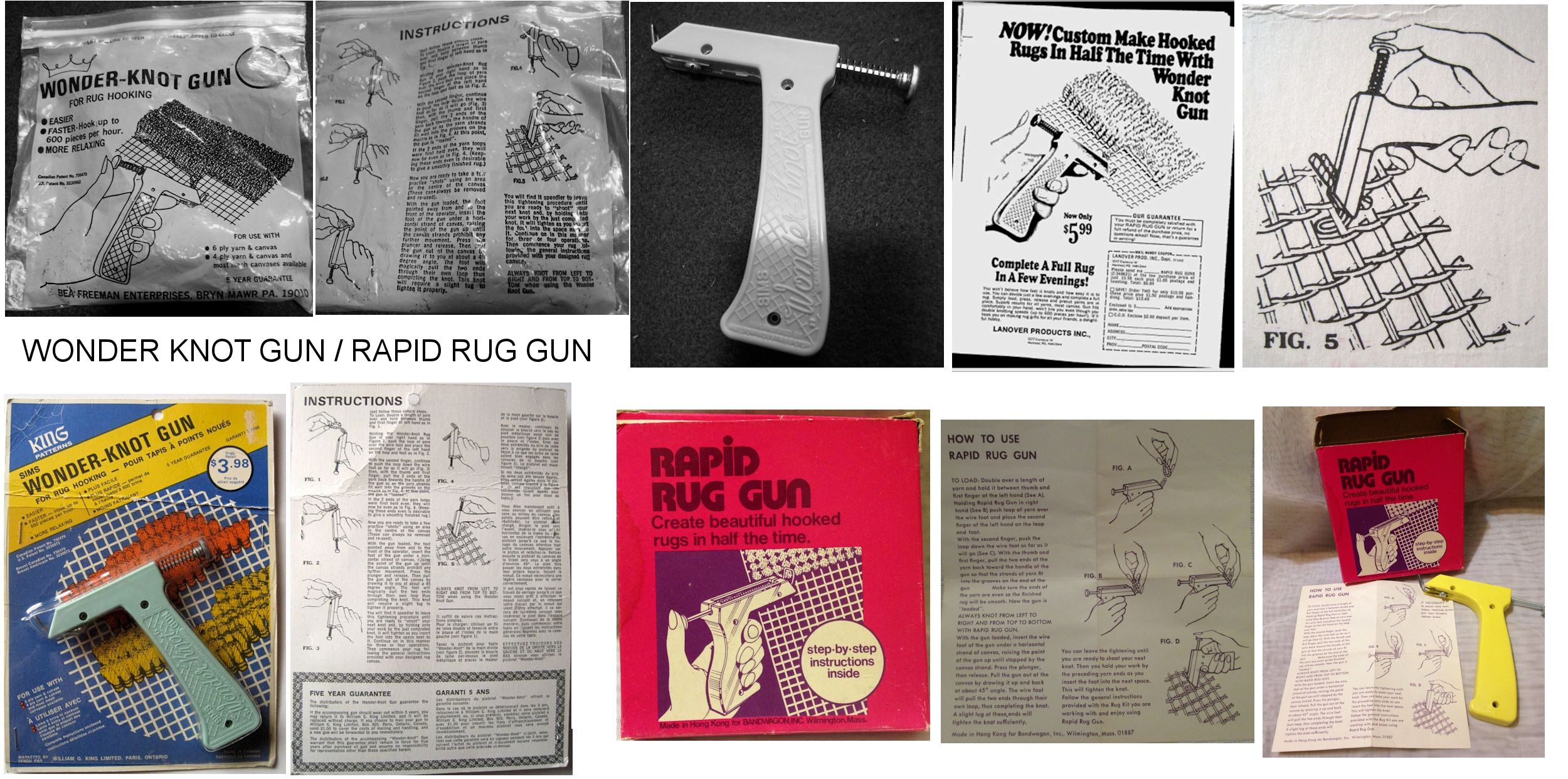 The Latch-a-matic New Quick Latch System was a latch-hook tool you loaded with a cartridge of pre-cut yarn. It was marketed by Southbury Manufacturing Corporation (of South Britain, Southbury, Connecticut, USA) and the trademark register described it as a "Rug Hooking Kit Comprising Rug Hooking Tool, Yarn Loaders, Instructions and Yarn Organizer". The yarn oganizer resembled a plastic muffin tray with room for six thrums of pre-cut wool. It evidently wasn't that popular as the trademark was filed in 1981 and cancelled in 1989.
Just to show that speed-hooking (albeit not latch-hooking) isn't a new idea: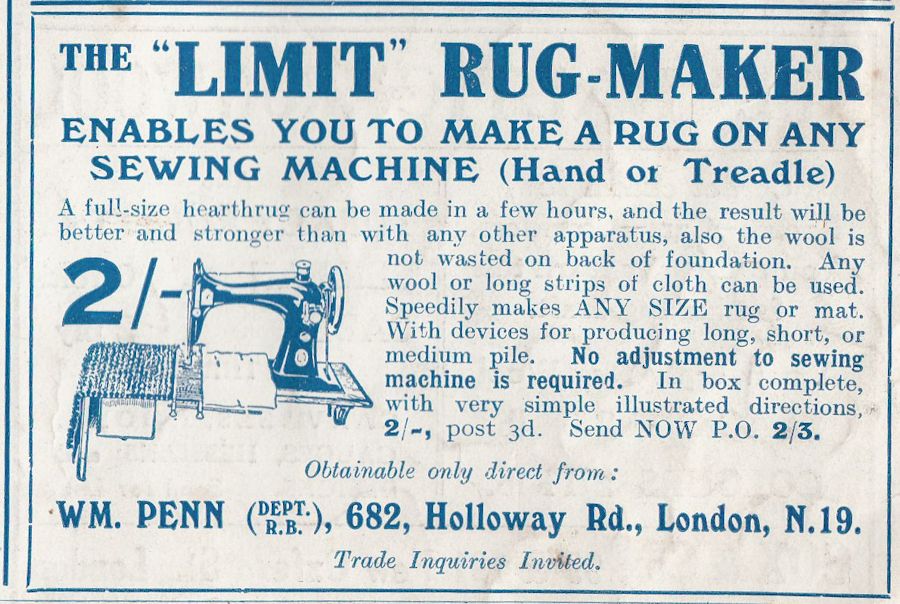 RUGWORK FRAMES
Frames for rug-making vary from smaller frames that fit on the lap to free-standing frames the height of a table. The latter are based on a saw-horse design (but taller and wider), with clamps to hold the rug and slots for the cut pieces of wool. Personally, I put the rugwork on my lap and the wool in Ikea storage boxes on a coffee table. For those who don't like the weight or bulk of a rug on their knees, a dining table, or an adjustable height work-bench and a some G-clamps from a DIY store, works perfectly well.

You are visitor number: