RUGS - TOOLS AND ACCESSORIES: CUTTING GUIDES AND GAUGES


Sarah Hartwell, 2014-2017

Rug wools were originally available in skeins or balls that had to cut into strands at home. Even into the ready-cut era of rug wool, many latch-hookers cut their own strands from balls or skeins of yarn. It was usually cheaper to buy uncut yarn, especially when buying in bulk (one of my inherited projects came with a bale of skeins). Some shades were not available in ready-cut packs, plus many people recycled old knitting yarn from knitwear or crochet into rugs.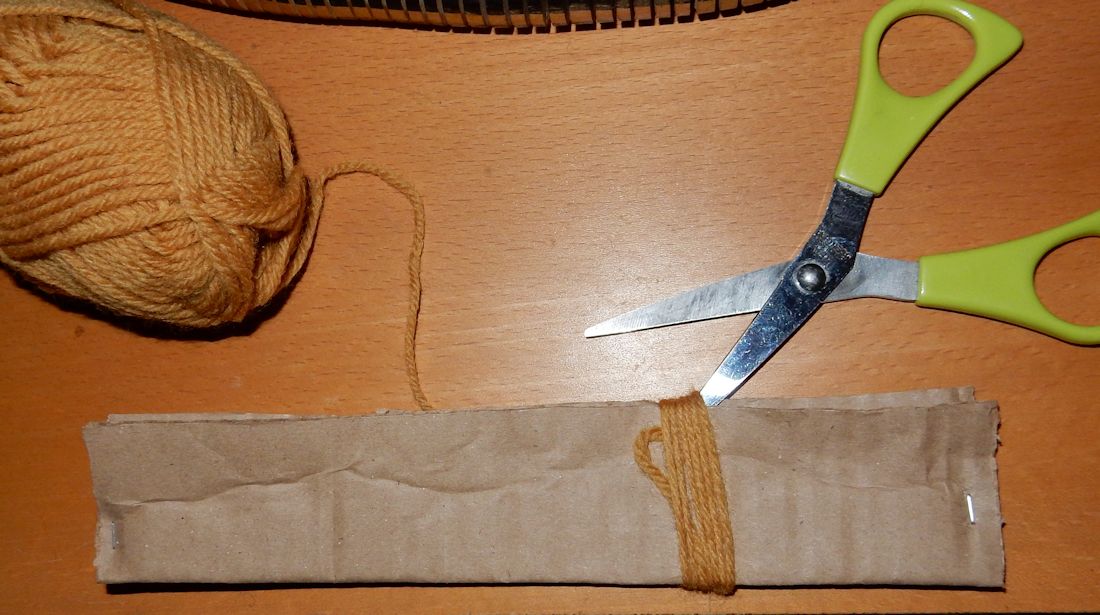 The simplest of all cutting gauges is a piece of folded cardboard, but these tend to wear quickly and are easily damaged if the wool is wound too tightly. On the other hand, if you are making a rug with different lengths and textures, it's easy to make (or replace) the cutting guide. To make it you simply cut a 15 cm (6 inch) long piece of cardboard that is as wide as the desired strand length. Then fold the card in half along its length. Use this in the same way as a wooden cutting guide.
Apart from cardboard, the simplest and cheapest cutters were wooden strips with a central groove along one of the long surfaces. Just add wool and scissors to operate! Wind the wool (do not double wind) around the cutting guide and use scissors to cut along the groove. As long as the wool is wound evenly around the guide and is parallel to the end of the cutting guide, this produces dozens of strands at a time. The advantages of the wooden or card "cutting guide" are its durability (mine have seen a half century of use), they work with different yarn thicknesses - from Patons Turkey to Readicut - and they can be made at home to create different strand lengths. One of my wooden guides originally had an extra wooden strip nailed to it for cutting longer strands. The photos below show a Beehive wooden gauge for a deeper pile. Some of the home made wooden guides I've seen were made from curtain poles with a longitudinal groove, instead of from a flat piece of wood.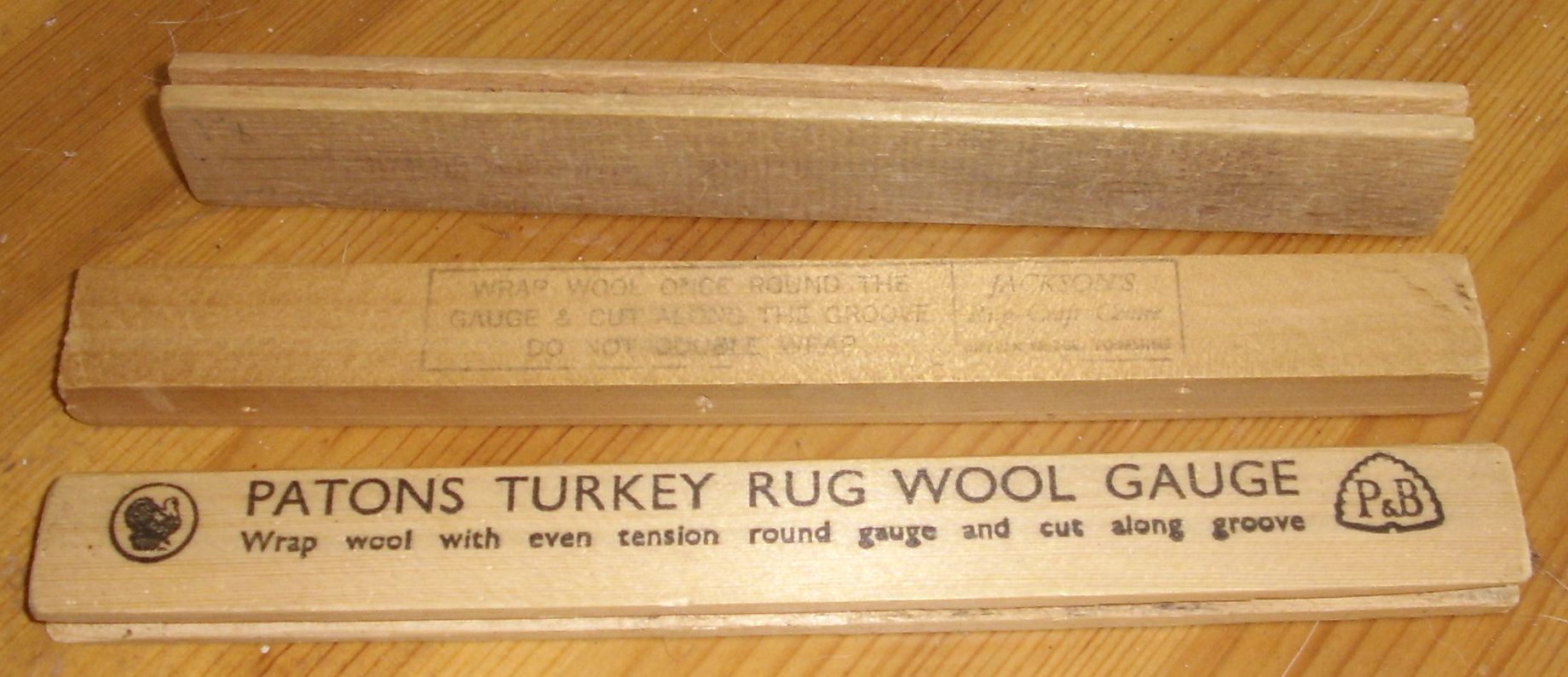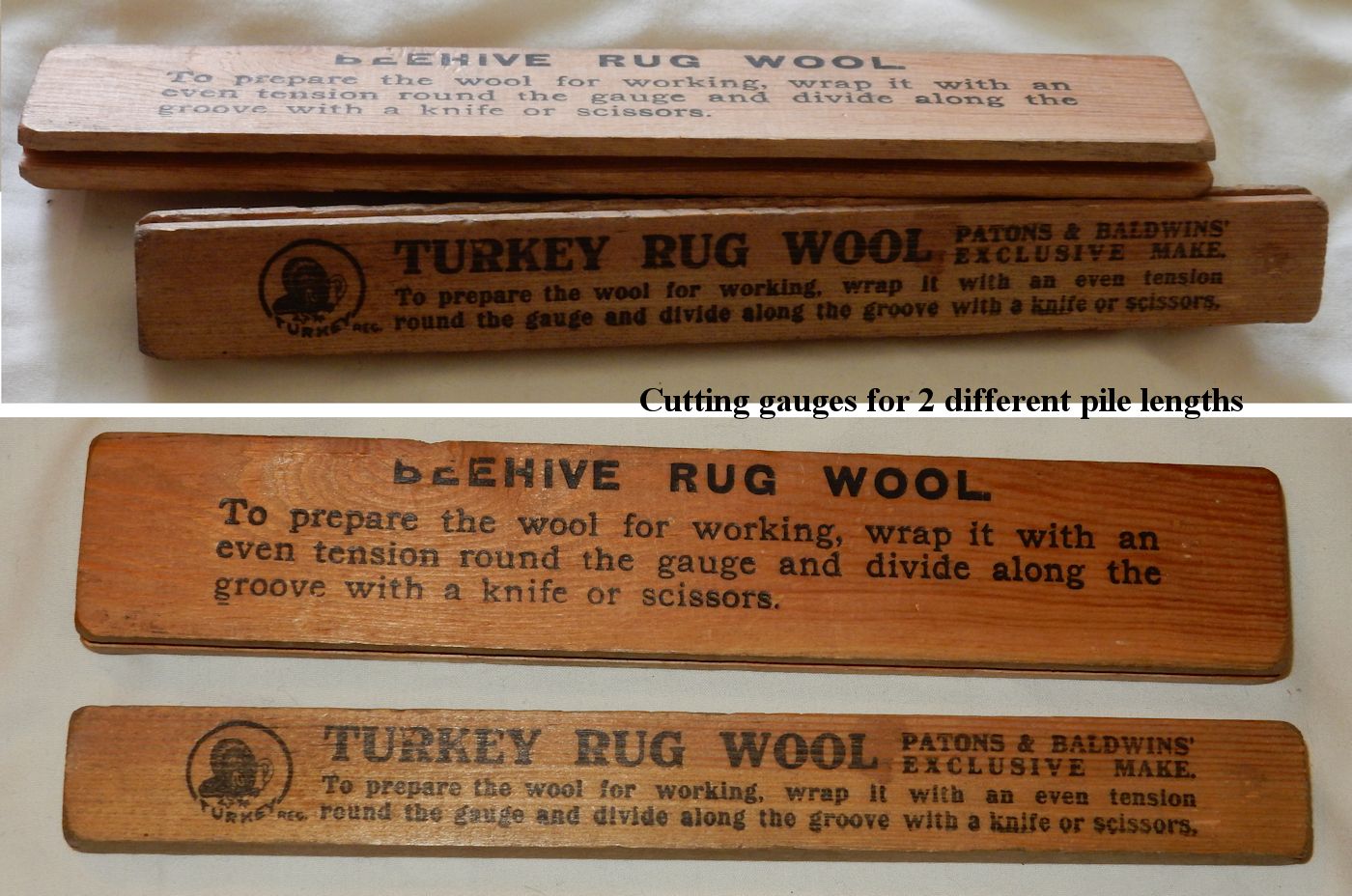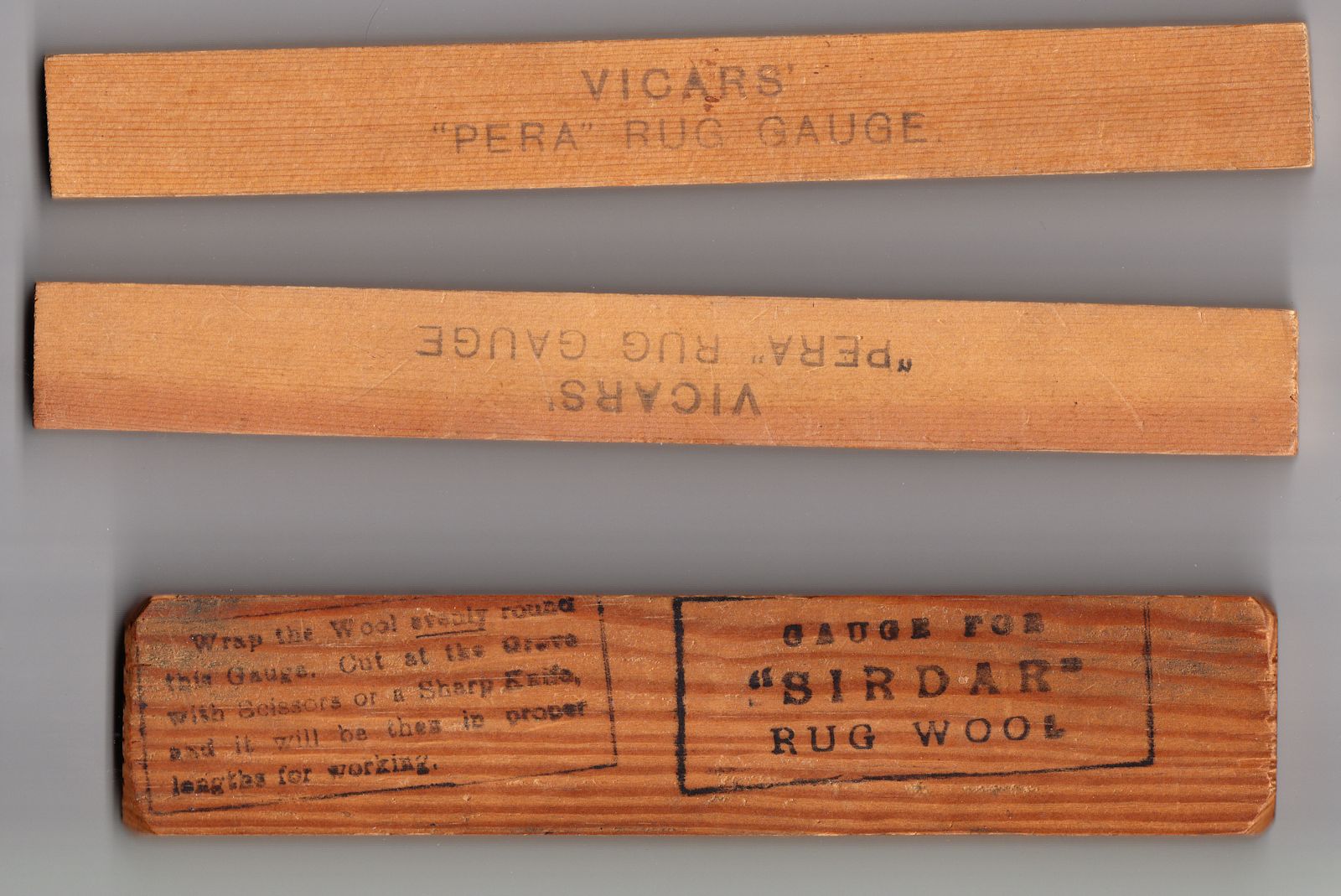 | | |
| --- | --- |
| | < |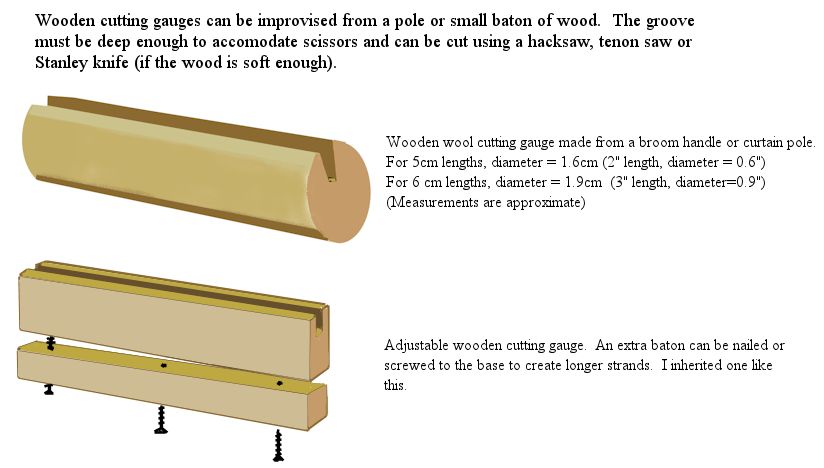 Brown's Ezywinde and Cutter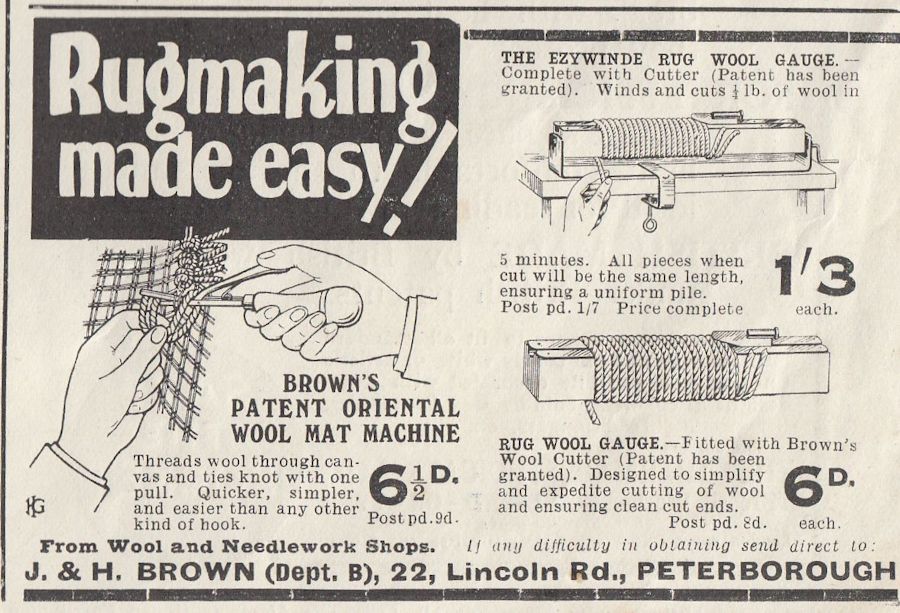 The Ezywinde and Brown's Cutter - two variations on the wooden cutter. Here is an excerpt from Charles Leeds' 1925 winding wool gauge and cutter. It is similar in concept to the Ezywinde.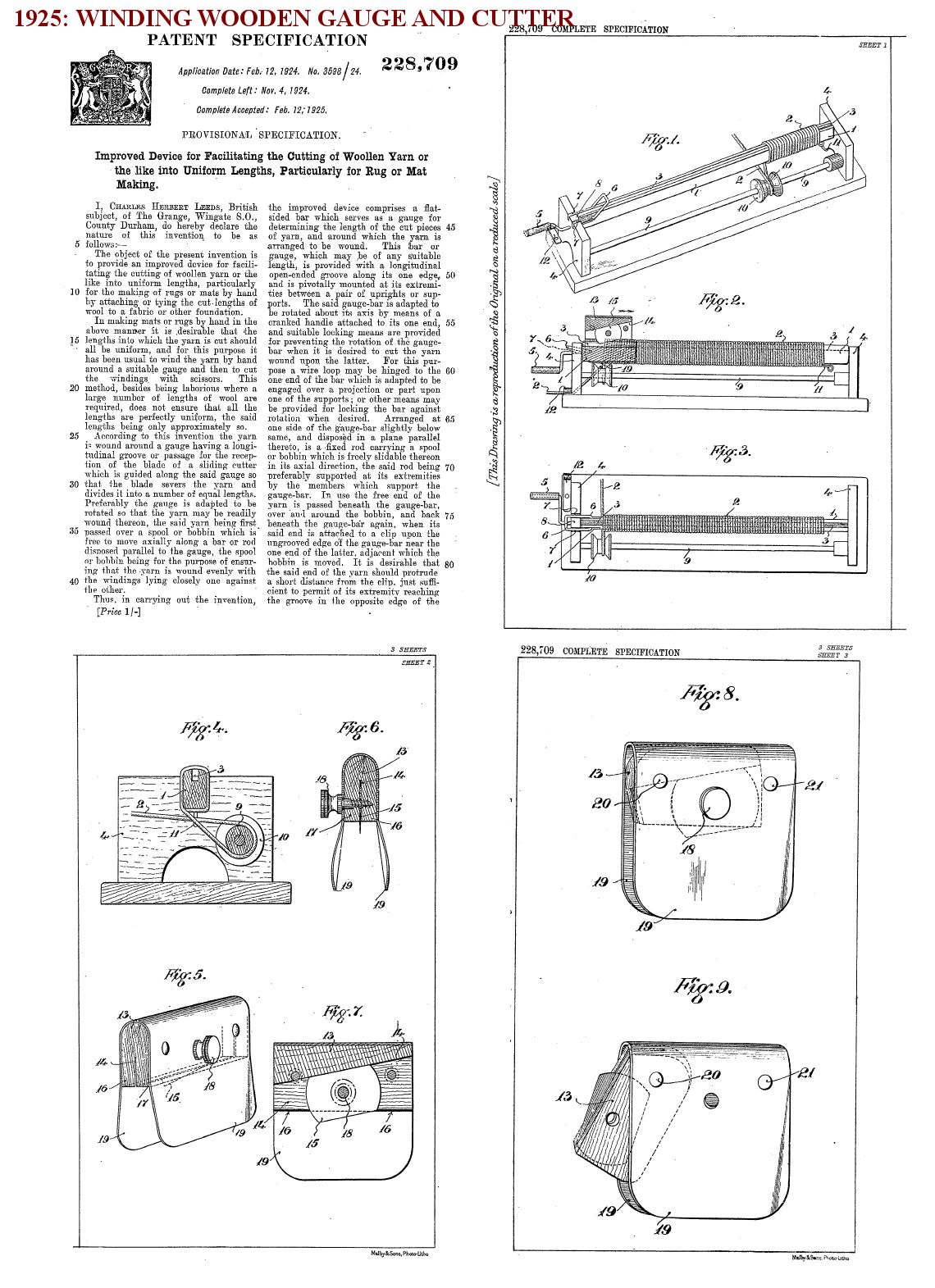 Moore's Improved Wool Cutter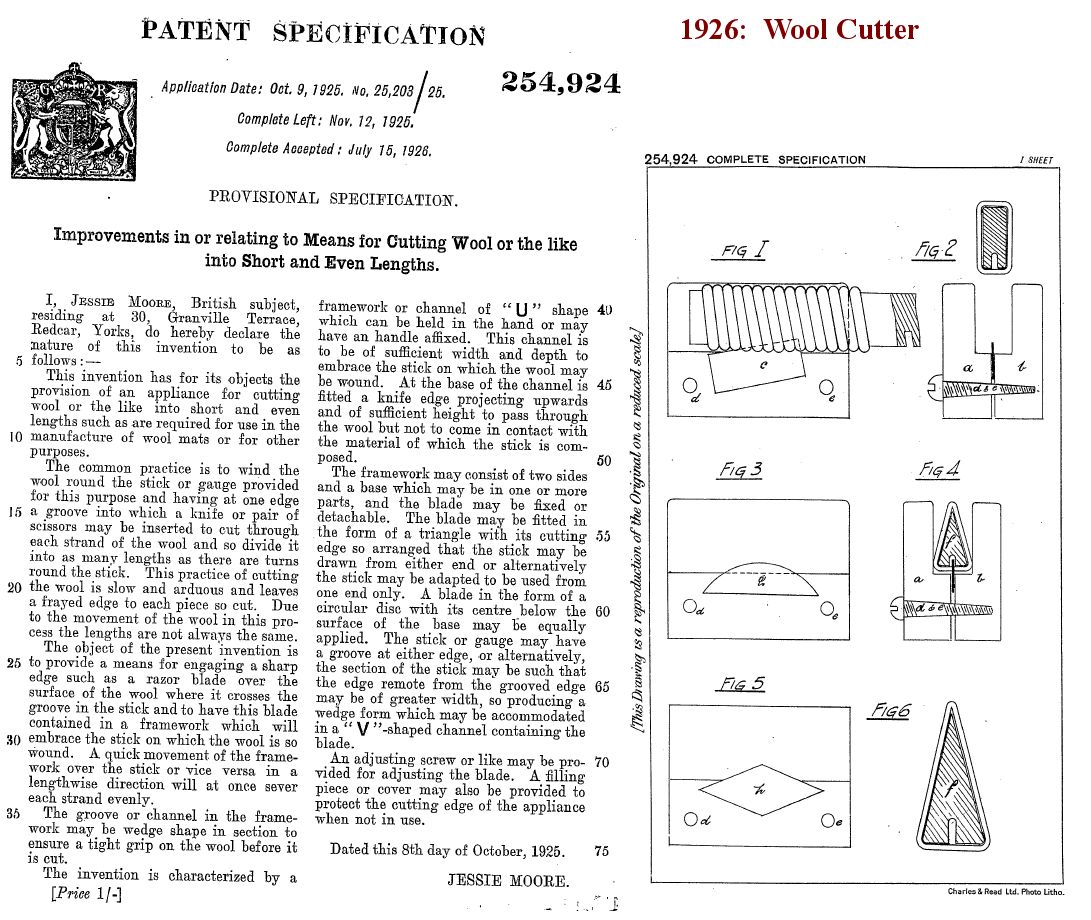 Copley's Improved Knife (for Use With Wooden Wool Gauge)

Copley's improved knife was sold under the trademark "Zip" and made out of Bakelite. I finally found one for sale in 2017.

Was the cutting tool patented in 1926 by Jessie Moore, or that patented in 1929 by George Copley-Smith, Fred Stockdale and Arthur Jepson Leigh the inspiration for, or inspired by, the very similar "Cuteesie" or "Rapid" knife below? Without patent information on the Cuteesie and "Rapid", I wasn't able to find out.

The "RAPID" Rugwool Cutter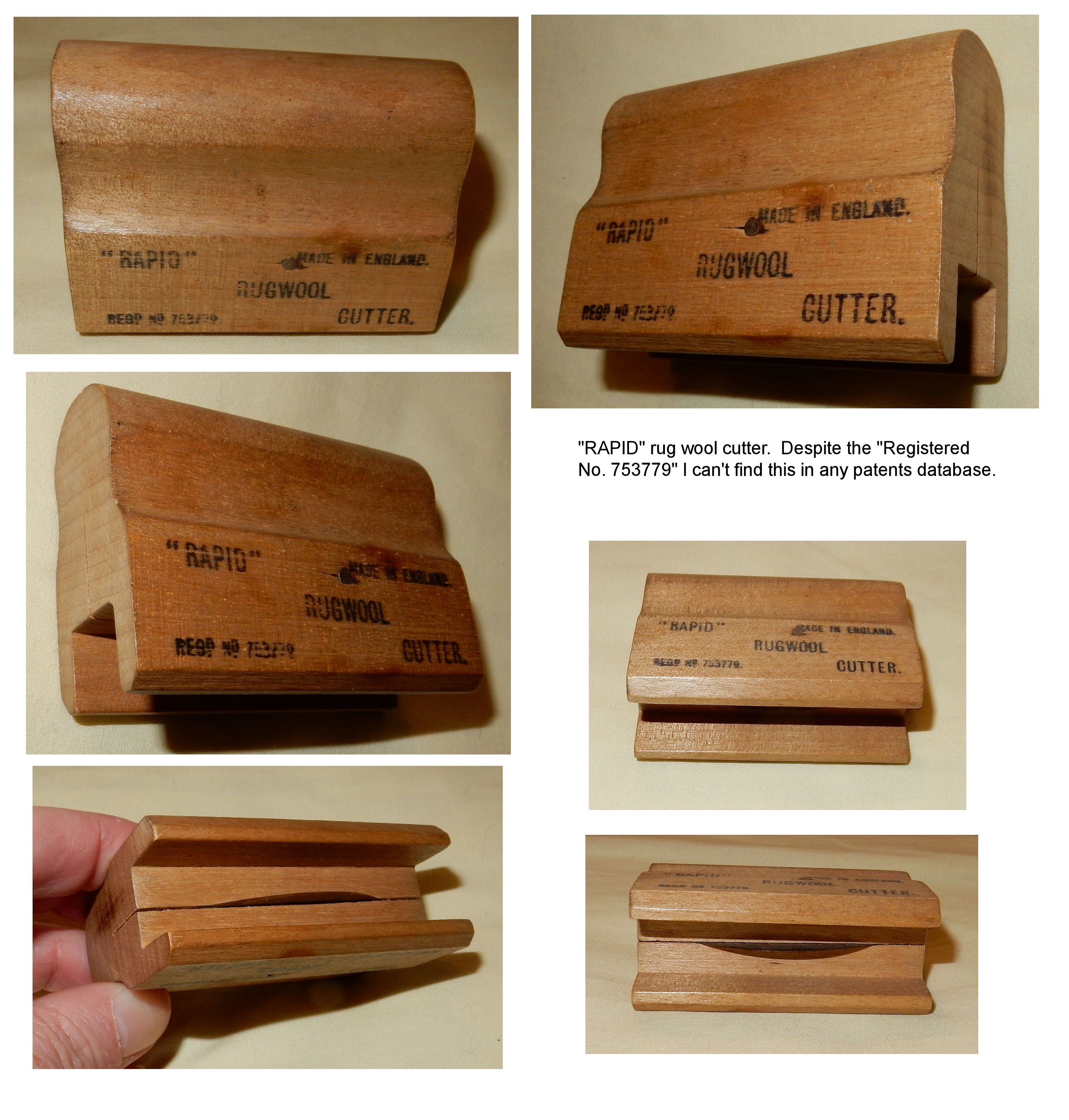 The "Cuteesie" Safety Cutter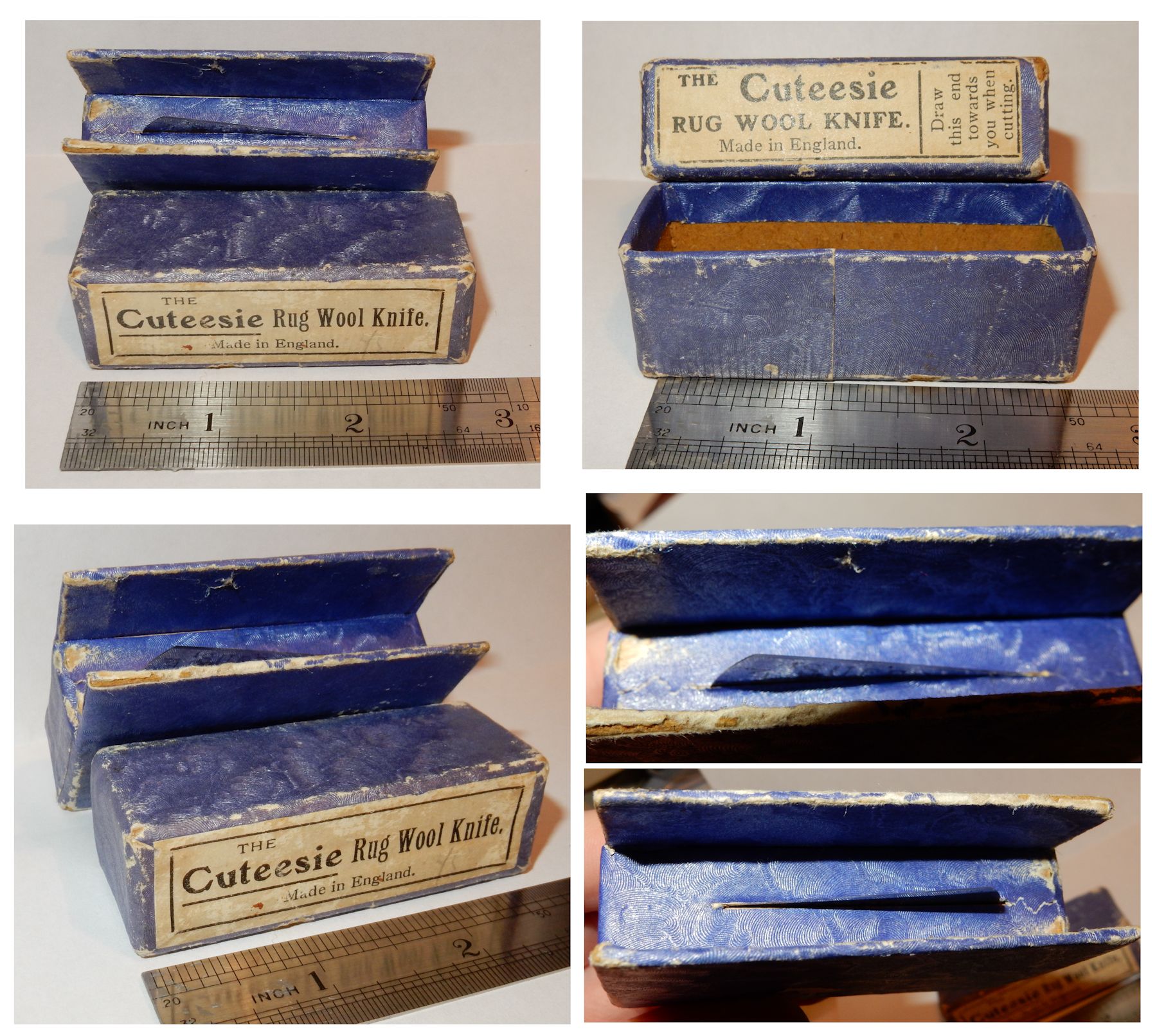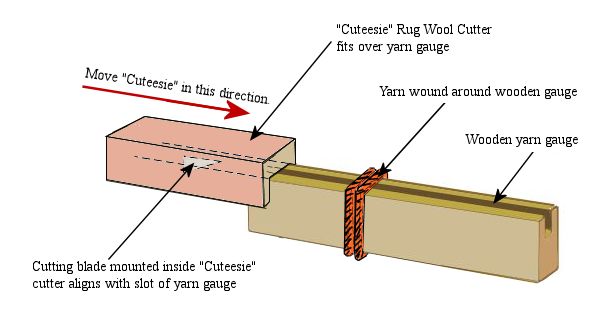 The "Cuteesie" safety cutter fitted on top of a wooden cutting gauge and sliced the wool while holding it in position on the gauge. This gave a uniform, precise cut. The blade was mounted on the centre-line of a slot that was wide enough to accommodate a wooden cutting gauge. The cutter and its slip-case were covered in red fabric-covered card, much like a book binding.
Schul-sons Cutting Knife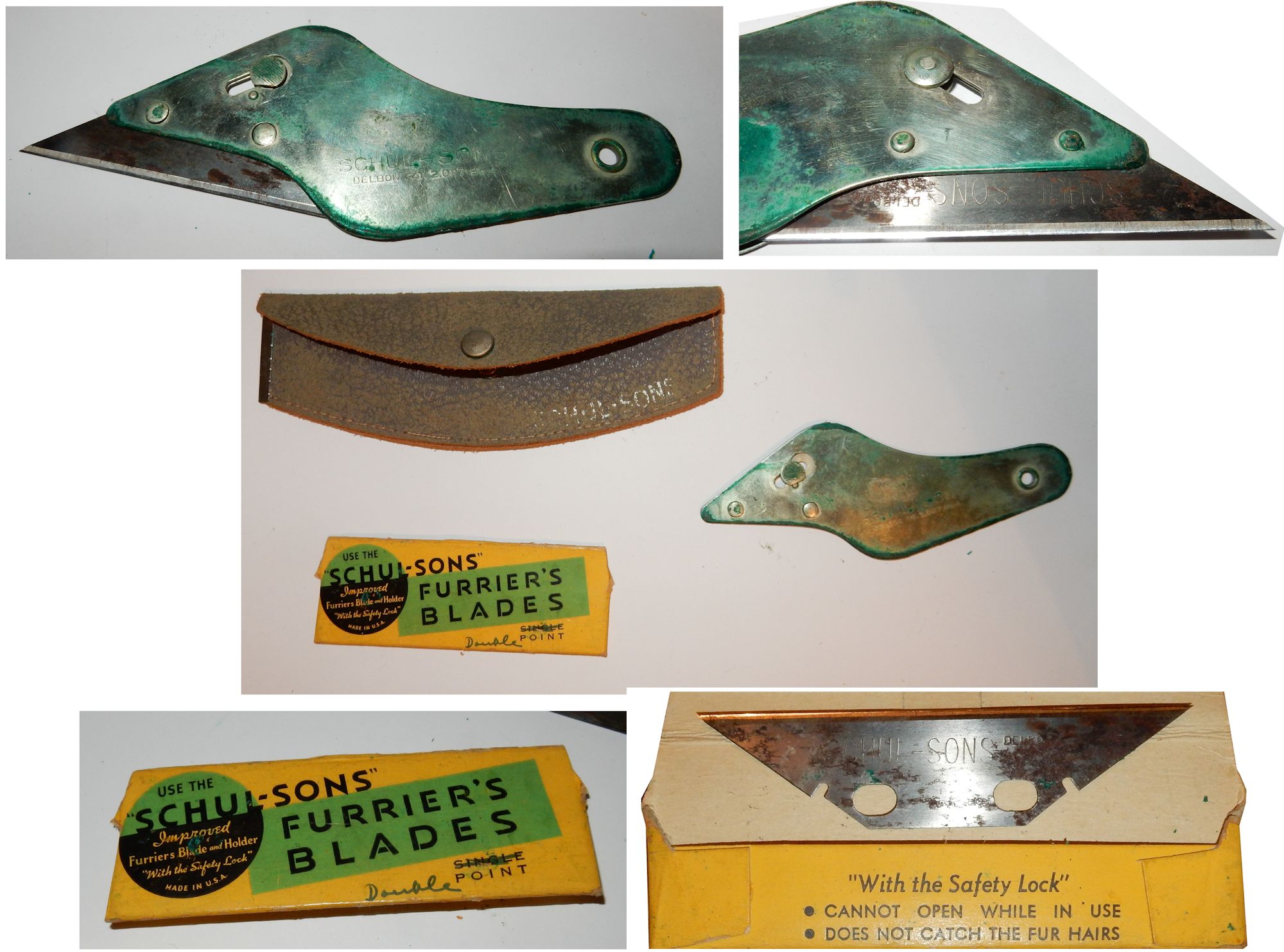 This was sold as a furrier's knife, but came to me as part of a rugmaking bundle. It would have been used with a wooden cutting gauge. Del-Bon Patent 2.027 964. It comes in a leather pouch and a choice of double or single point blades. The blade clipped into the handle using the holes and notches shown, the a safety slide kept the handle closed, with the blade secured in place, while the knife was in use.

Combined Cutter and Wool Holder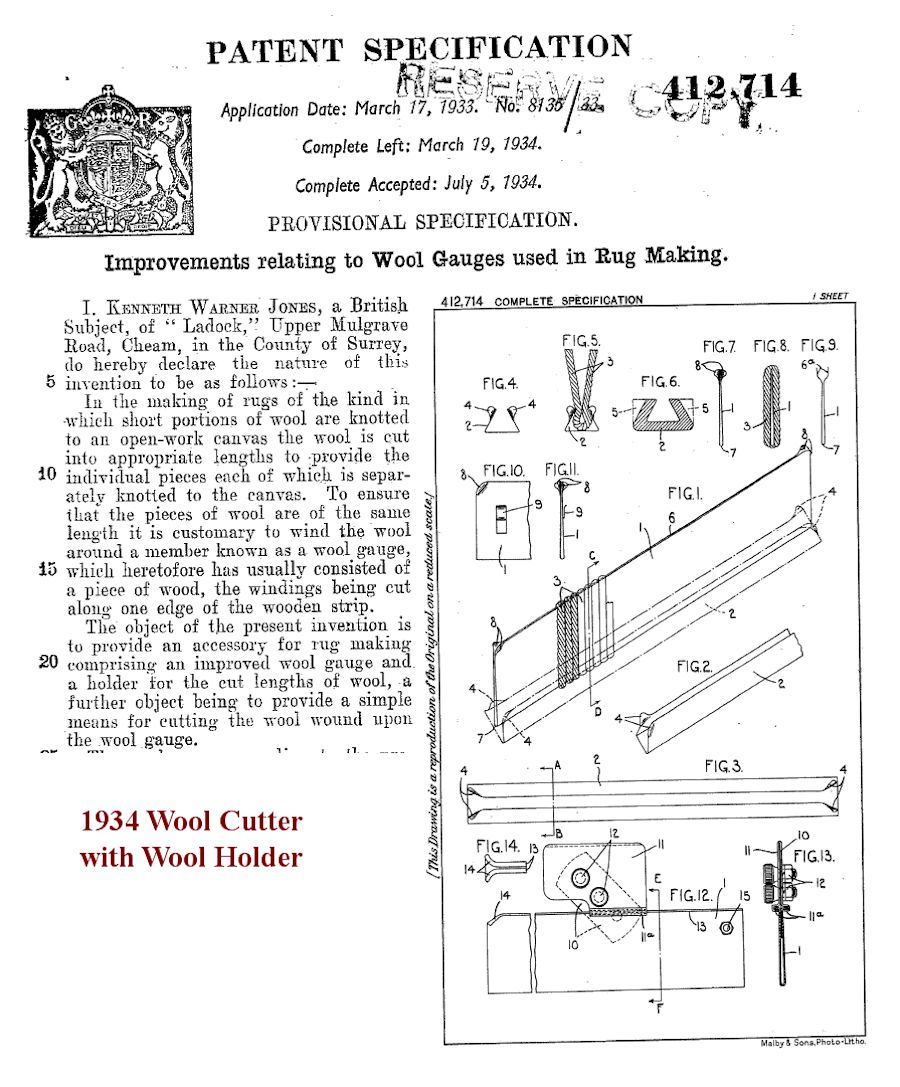 Cutting Tool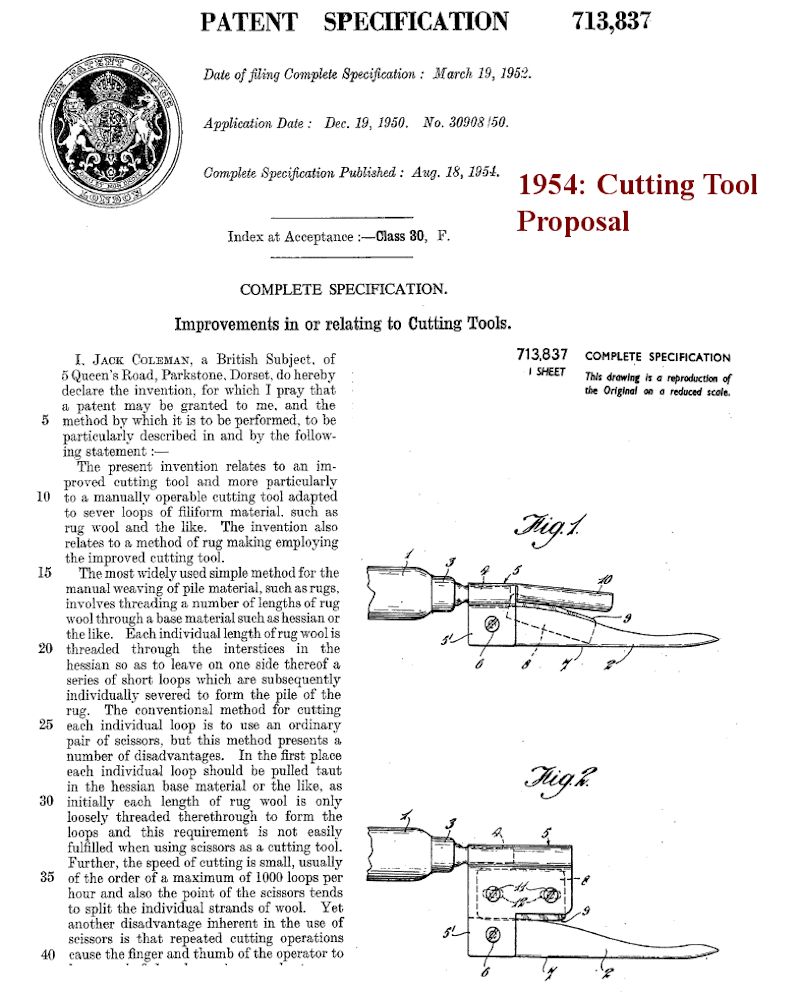 The Boye "Cut Up" Cutting Tool
The Boye "Cut Up" Yarn Cutting Tool For Latch Hooking was a simple, 12 inch long slotted plastic tool for cutting latch hook yarn from a skein to either 2.5 inches or 5 inches depending on whether you cut through one layer of yarn or both layers through the slot. I think this is a rather clever design.
Homemade Gauge for Long Strands ....
Acquired with other wooden gauges - and shown with a regular rug gauge for comparison

...and an Unknown Wooden Tool
Acquired as part of a job lot of rugmaking tools including wooden gauges - but what is it?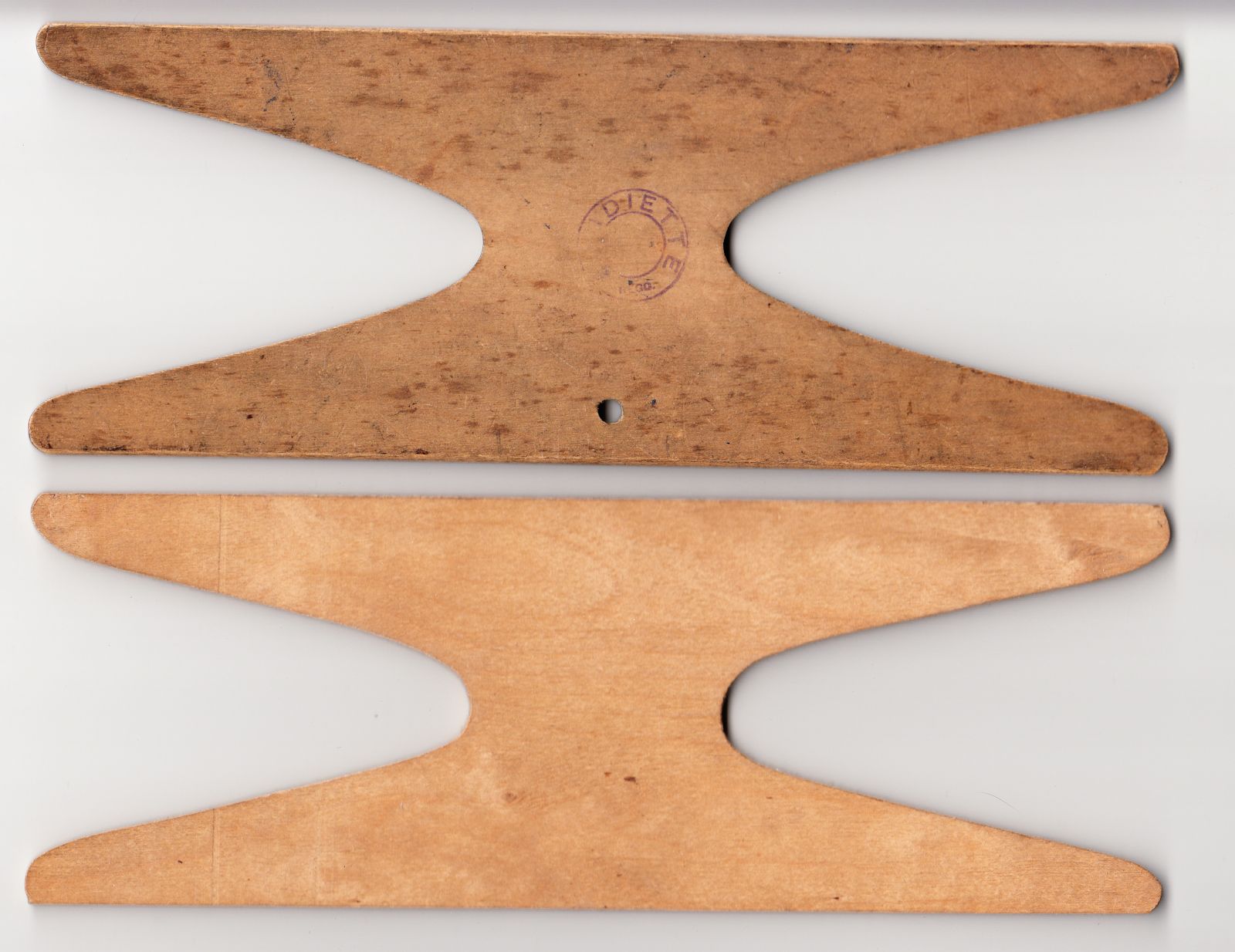 You are visitor number: