JOHN STODDART, HALIFAX (1940)


Sarah Hartwell, 2019

Stoddarts 1940 catalogue reflects the rationing or unavailability of some items due to wartime. The whole catalogue is printed in black and white. It features several rugmaking methods including traditional hooked, latch hooked and various stitched methods. Stoddarts had an emphasis on using thrums (tail-ends) from the Axminster carpet industry.

Jan. 1940. KNITTING WOOL, RUG WOOL, CANVASSES & ACCESSORIES. IMPORTANT PRICES INCREASE DUE TO WAR CONDITIONS.

OUR RUG BOOK was issued in August and all prices were based on normal trade. We held these prices until October when the Government control began. So much raw material was and stilliis required for Military and Naval purposes that the civilian demands have been compelled to take second place. The added expenses of war risk insurance, A.R. P. requirements, black-out, &c. have all tended to make everything dearer. Such materials as Hessian which is used for sandbags has gone up more than 50%. We are now compelled to increase our advance to 15%. When ordering therefore please calculate the total cost of your order and add 15%. A glance at the simple table of percentages below will help in arriving at the new price.

PAGE 32, CANVAS REMNANT BARGAIN at 4/- IS CANCELLED, BARGAIN BUNDLE IN 4 PLY KNITTING WOOL IS CANCELLED.
All the raw material for making Linen Goods has been taken over by the Government and may only be manufactured for export to Canada and America. This is to obtain dollars with which to buy munitions. We have already been compelled to cancel two items. The altered prices quoted below are new nett prices, January 1940.

COLOURED LINEN BUNDLE – CANCELLED. CREAM LINEN SQUARES, TRAYS, ETC – CANCELLED.

NOTE. Owing to the control and rationing of wool, the prices quoted in the catalogue are subject to alteration at short notice.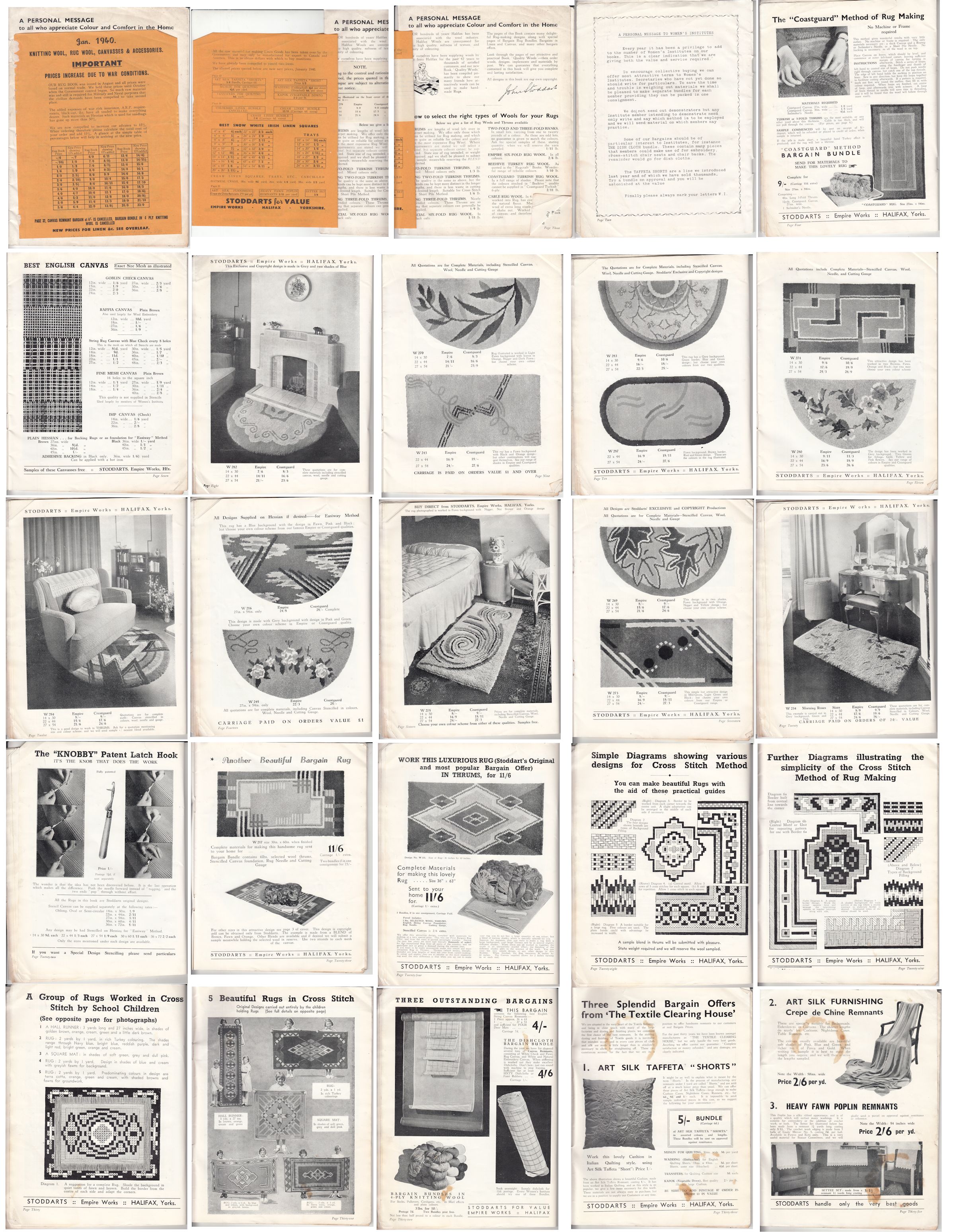 See Flickr where images and patterns can be downloaded at full resolution for your own use.

You are visitor number: