1969 CLASSIC READICUT RUG KIT


Sarah Hartwell, 2014

During 2014, I found another Readicut Texas Rose hearth rug kit in Oxfam; this was barely started and on a maroon background (possibly an earlier version of the pattern). This came in its original packaging with colour insert, instructions, binding and latch hooks. It also contained a Victor Rug and Embroidery tool. Perhaps this kit was bought as a gift, but the recipient lost interest.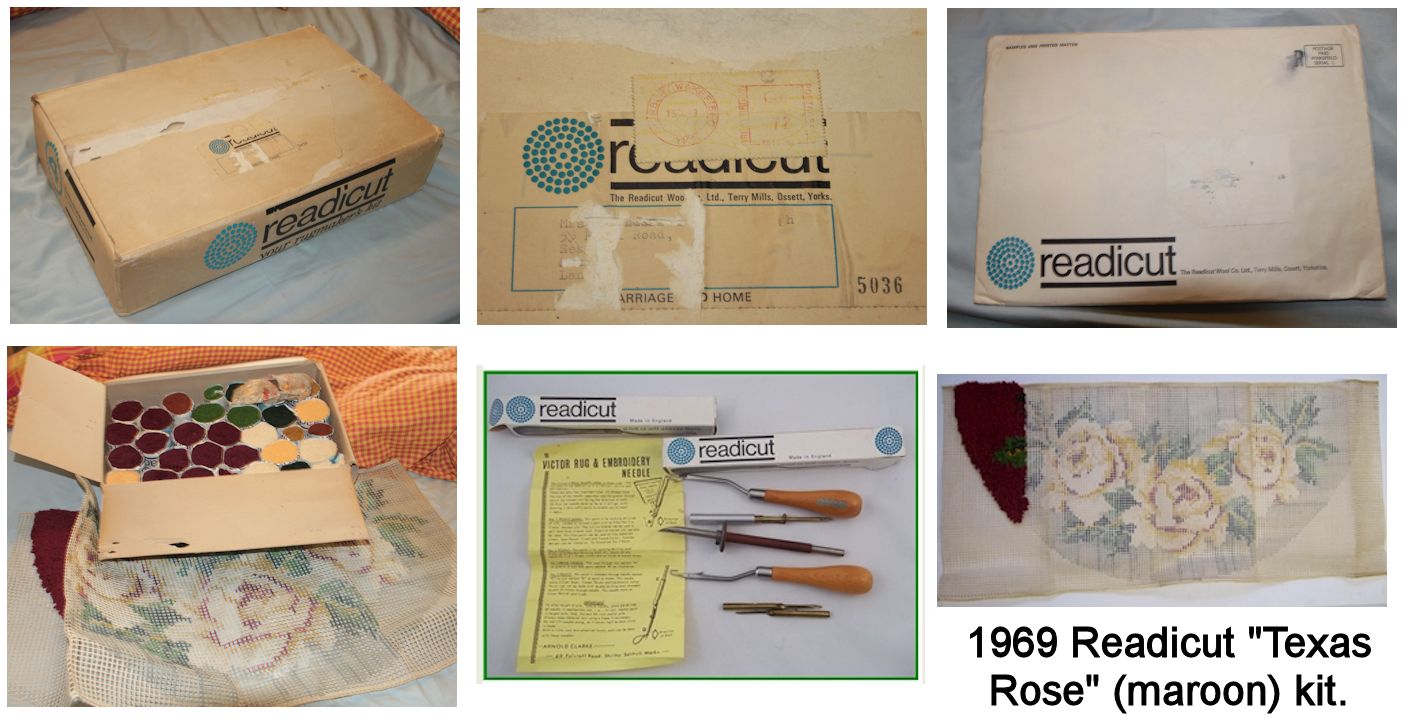 Readicut: Maroon Texas Rose Kit; the envelope contains the instructions, guarantee and extra order forms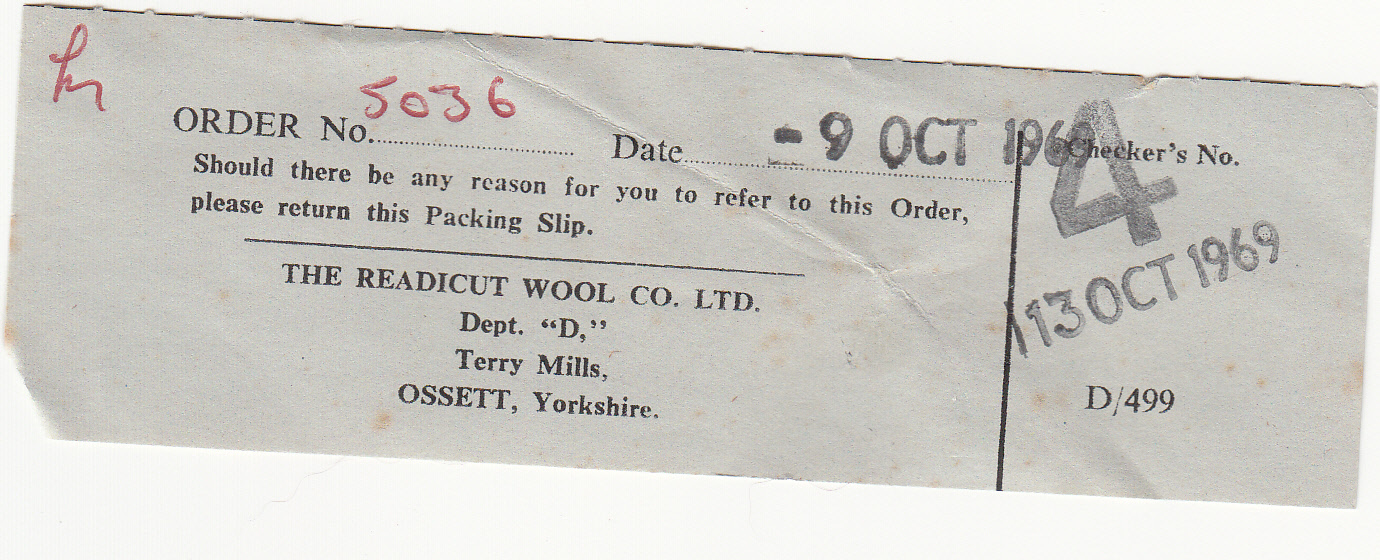 The original order slip and the date the order was processed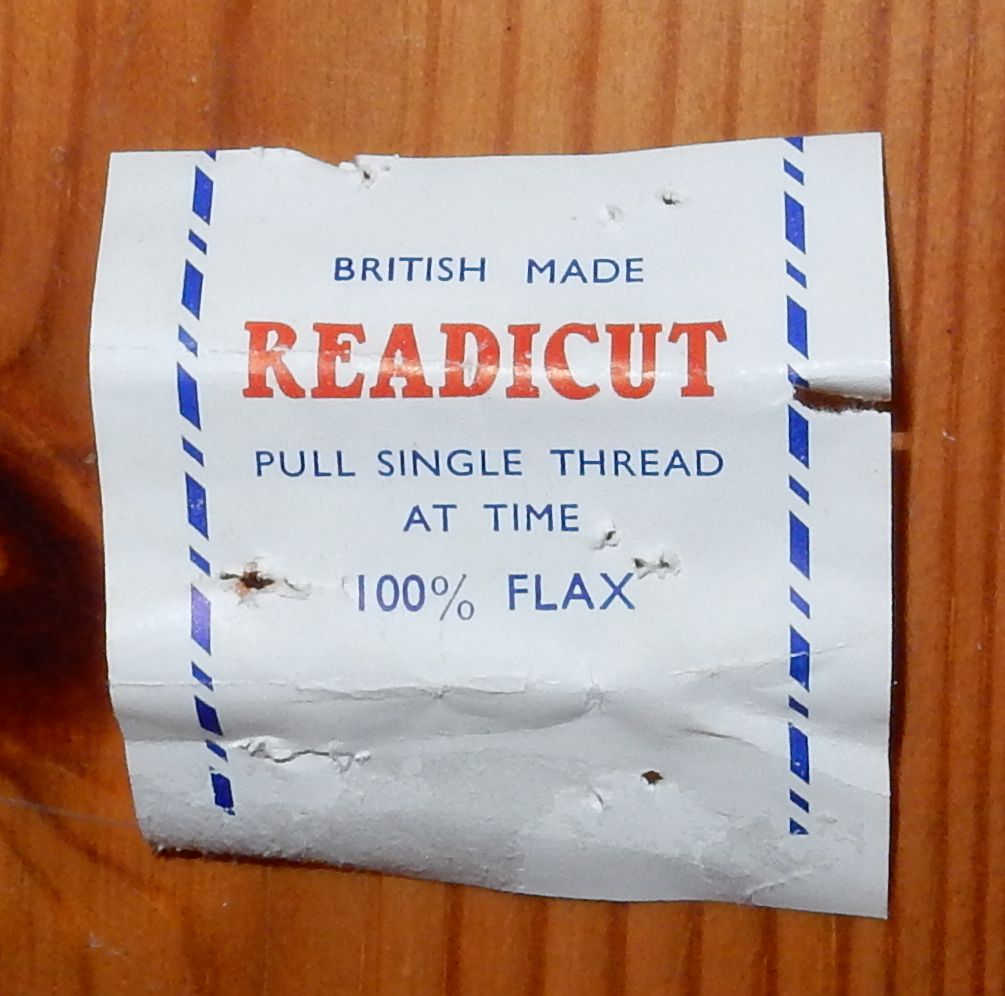 Flax for whipping cut edges and stitching the binding.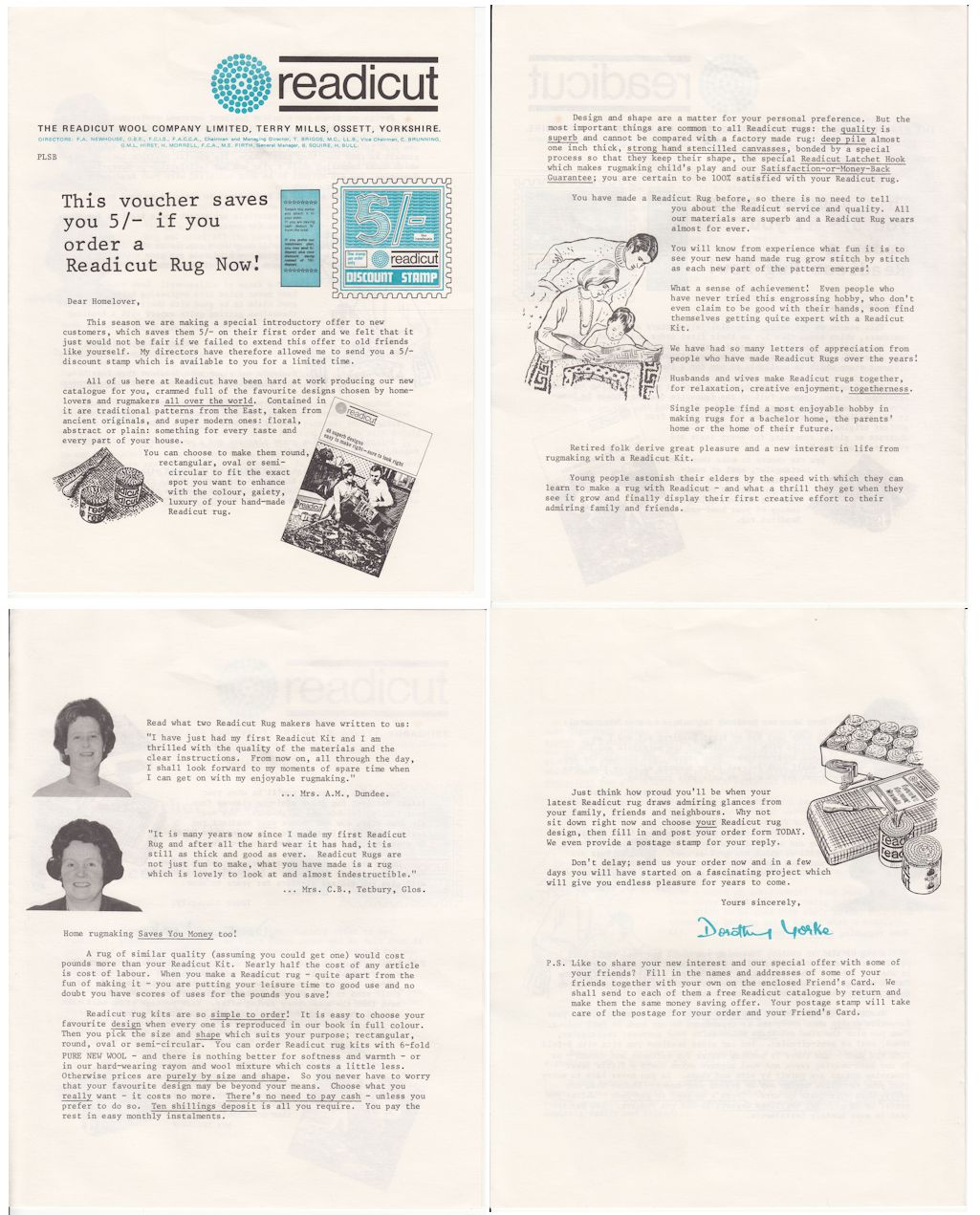 Leaflet about Readicut rugs.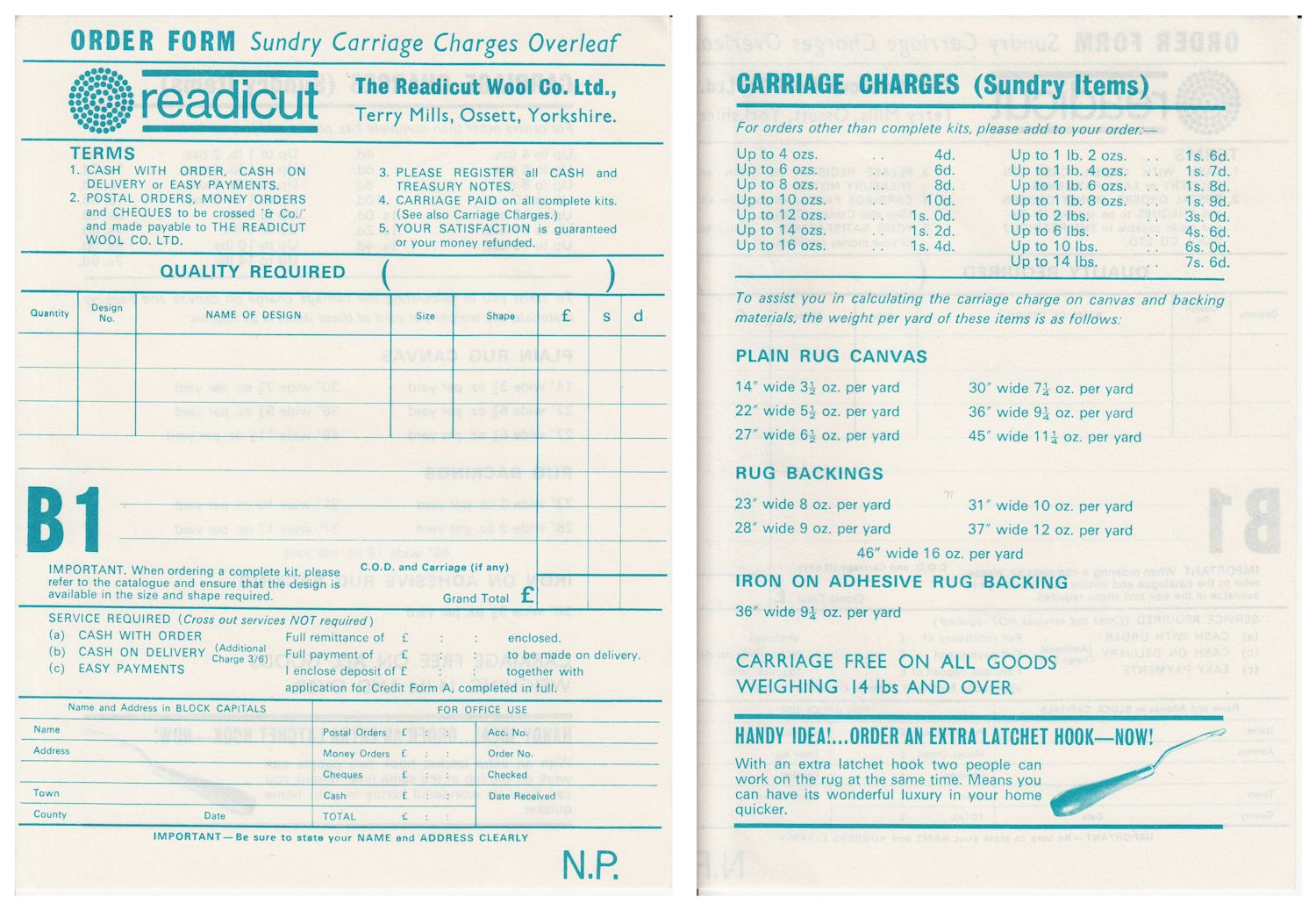 Order Form.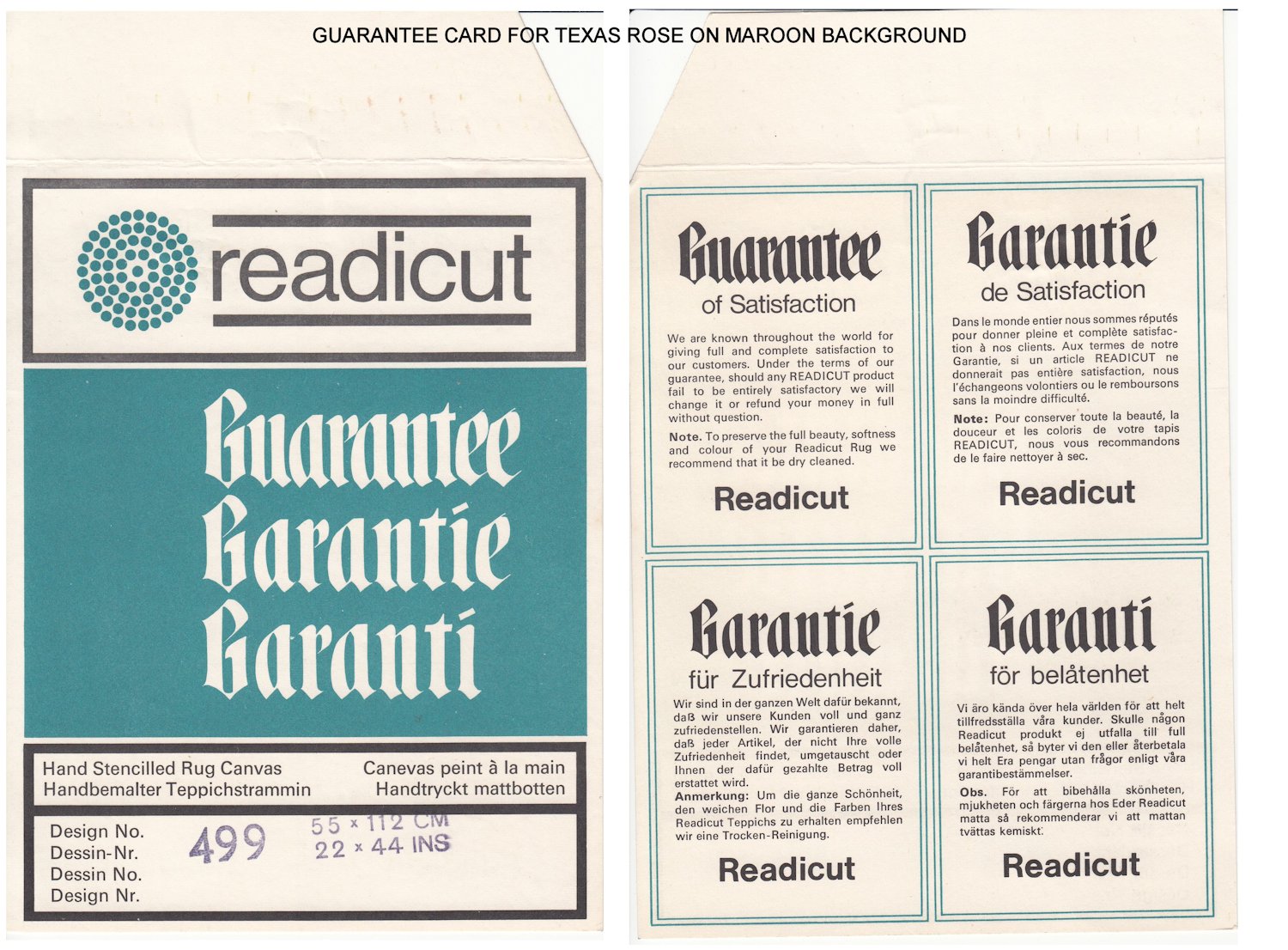 Guarantee
Originally, Readicut referred to their boxed kits as "Readicut Rug Outfits" and I found this reference to a Readicut Rug Outfit in "Life in the Royal Navy, Memoirs of Clarrie Gibson, Part One 1951 - 1955 HMS Maidstone."
"After work when the checking of paperwork had been completed in the Naval Store Office by the duty S.A. I would sit in the office and make a rug using a Readicut rug outfit. It took a long time to complete it and when going on leave the Customs people at the Dockyard Gate were unsure as to whether it should be opened to see if any contraband had been concealed or charge me Purchase Tax on it, in the end I was allowed through the Gates and took it home. "
My 1969 kit is for a small semi-circular rug. Readicut took great care over the packaging, and the larger Rug Outfits included a cardboard tray that fitted inside the main packaging. This meant the rug-maker could keep several packs of wool to hand while the rest remained tidily in the box and out of the way. They devised this packaging design right back in the 1930s and it remained that way for several decades. Plain cardboard cartons were fine in the mail order era when a customer selected a design from a magazine or catalogue and ordered it, either directly from Readicut or through a needlecraft store, but department stores and larger needlecraft stores needed to display the contents to the customer. Some of my later Readicut kits were acquired in large clear plastic bags with carry-handles, just as modern rug kits are packaged.
Readicut also used word-of-mouth advertising and their kits (or outfits) contained several pre-addressed envelopes and postcards so that friends could receive a Readicut Book of Rugs. A handy wool colour guide was also included for those who made their own colour schemes. The Readicut shades available in the 1960s differ from the modern Anchor-based range.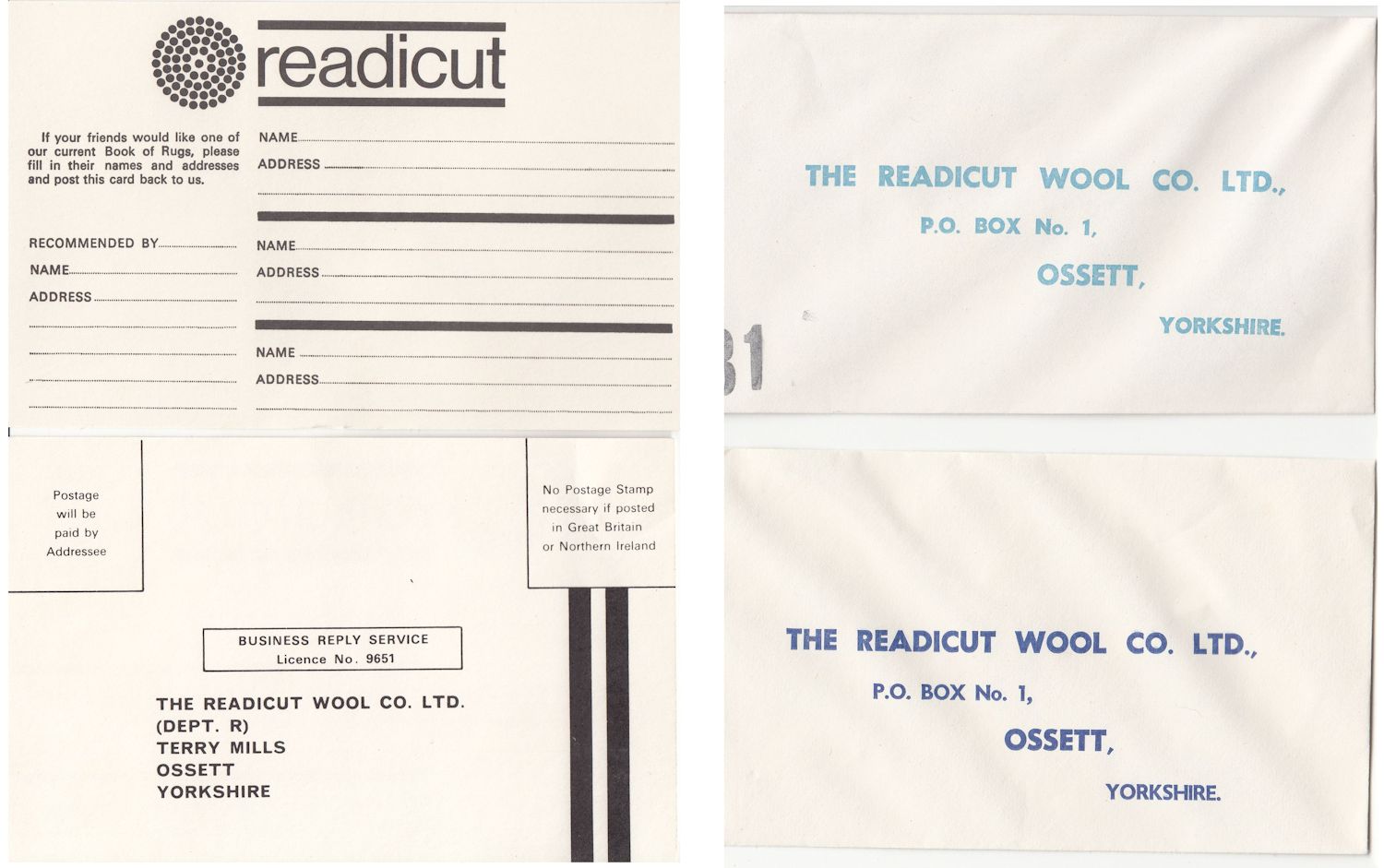 Postcards and Envelopes included with 1969 kit.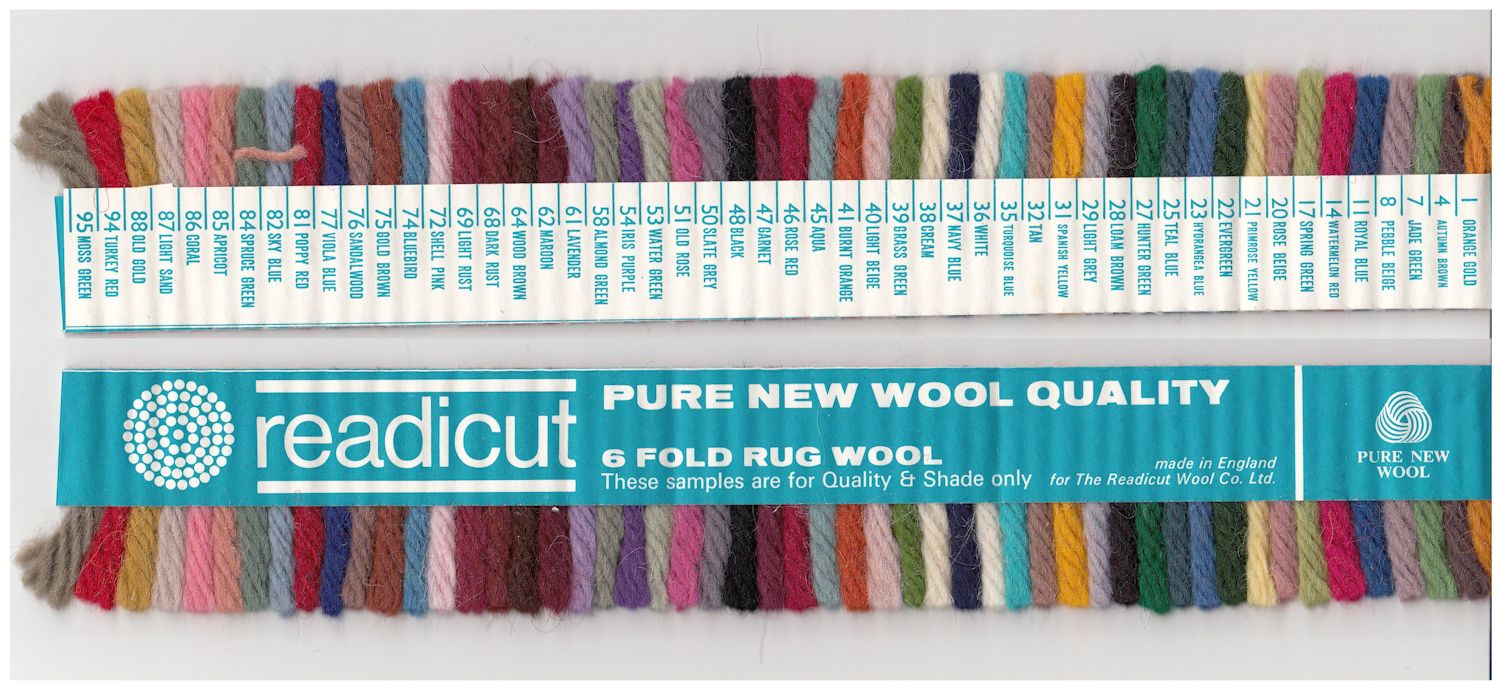 1969 Readicut shades.
READICUT PERSONALISED DESIGN SERVICE
The Readicut "Personal Touch" explains why I have a Texas Rose design on a maroon background. Customers could specify different colours when ordering a rug kit. The canvas was stencilled in the standard colours, but the wool was supplied in the alternative shades specified by the customer. And if a customer wanted a truly personal service, Readicut would to create a rug kit based on a clear photograph or illustration!

JUNIOR READICUT
Junior Readicut kits were available in the 1960s and early 1970s. These were marketed as "A Tri-ang Product." The Tri-ang brand was owned by Lines Bros Ltd, a 20th Century British toy manufacturer. This company was founded by brothers George and Joseph (Joe) Lines (G & G Lines Ltd) in the Victoria era and began by making wooden toys. Joe's three sons, William, Walter and Arthur, formed Lines Bros Ltd soon after First World War and the brand-name came about because three Lines made a triangle! At their peak they also owned Hornby, Meccano and Dinky brands, but in 1971, overseas losses meant they had to call in the Official Receiver and the Tri-ang group was broken up. The kit depicted is the swan design. I began not with junior rug kits, but with tapestry kits, before moving straight onto the regular Readicut range.


Junior Readicut Kit

You are visitor number: