I'm pretty sure I first discovered latch-hook rug-making from my paternal grand-dad, Thomas Smith. Grand-dad was disabled due to injured legs and latch-hooking was a hobby he could pursue while sitting down. My nan, Violet, was great at various needlecrafts and encouraged my poor attempts at knitting. I was very keen on Penelope tapestry kits, but my fingers weren't nimble enough for embroidery or cross-stitch (for some reason, woollen cross stitch on canvas didn't appeal to me) so I took up latch-hooking rugs. Part of the appeal was creating something useful as well as attractive. Mum's side of the family also made rugs; grand-dad John Saunders used to make rag-rugs, recycling old garments into something practical.
My first rug was a large tapestry style rug (more of mat) which mum had started with recycled yarn from old sweaters. It was serviceable and very hard-wearing, but like all my tapestries it ended up on the skew due to uneven tension. My first tufted rugs were unfinished efforts inherited from grand-dad and from a friend's grand-dad when I was 16. These small rugs got finished in random swirling designs using wool oddments and were later used as doormats just inside the front and back door. Along with the canvases, I inherited the latch hooks and some wooden guides for cutting wool to size (these are easy to make for different strand lengths if you have a woodwork router).
I also picked up some tricks along the way. It's easiest to start at the bottom and work upwards. If you want to add fine detail, such as facial features, as well as knotting on the straight strands, you can add a knot on the adjacent twisted strands at 90 degrees. A few extra knots won't affect the overall texture. If you want to add textures to the rug, you can use the same trick (extra knots at 90 degrees) over larger areas to make the pile denser.
Over the years I've been collecting vintage rug pattern catalogues and ephemera. I'm scanning the catalogues, some of which date back to the 1920s, and putting them online at Flickr where they can be downloaded at full resolution for your own use. The ephemera includes adverts, cuttings, leaflets and the "printed matter" that Readicut supplied with their rug outfits. I've also put together as much relevant information as I can find on the British latch-hook rug wool/kit/accessories industry as these are part of our shared social history.
THE LATCH HOOKING BUG BITES
After my doormat sized "practice pieces" came this design, which I bought from a jumble sale or boot fair when I was about 18. It was half-done and when finished was given to my parents for their annexe. It's not quite true to the pattern as there wasn't enough wool so I used some of the oddments from earlier projects. I think it's been relegated to the garage now, which is a pity. From there I moved on to making my own designs. First was "Enjoy Cocaine" subversion of a popular drinks logo; I made this to accompany an "Enjoy Coca Cola" seat/table in my first home (I was 19 at the time). Mum made me keep it folded whenever we went to watch dad sail (mum took knitting, I took the rug) so no-one could see the scandalous message! I quickly learnt that rugs where one colour dominates can be quite boring to do. I marked out the design in emulsion paint on the canvas.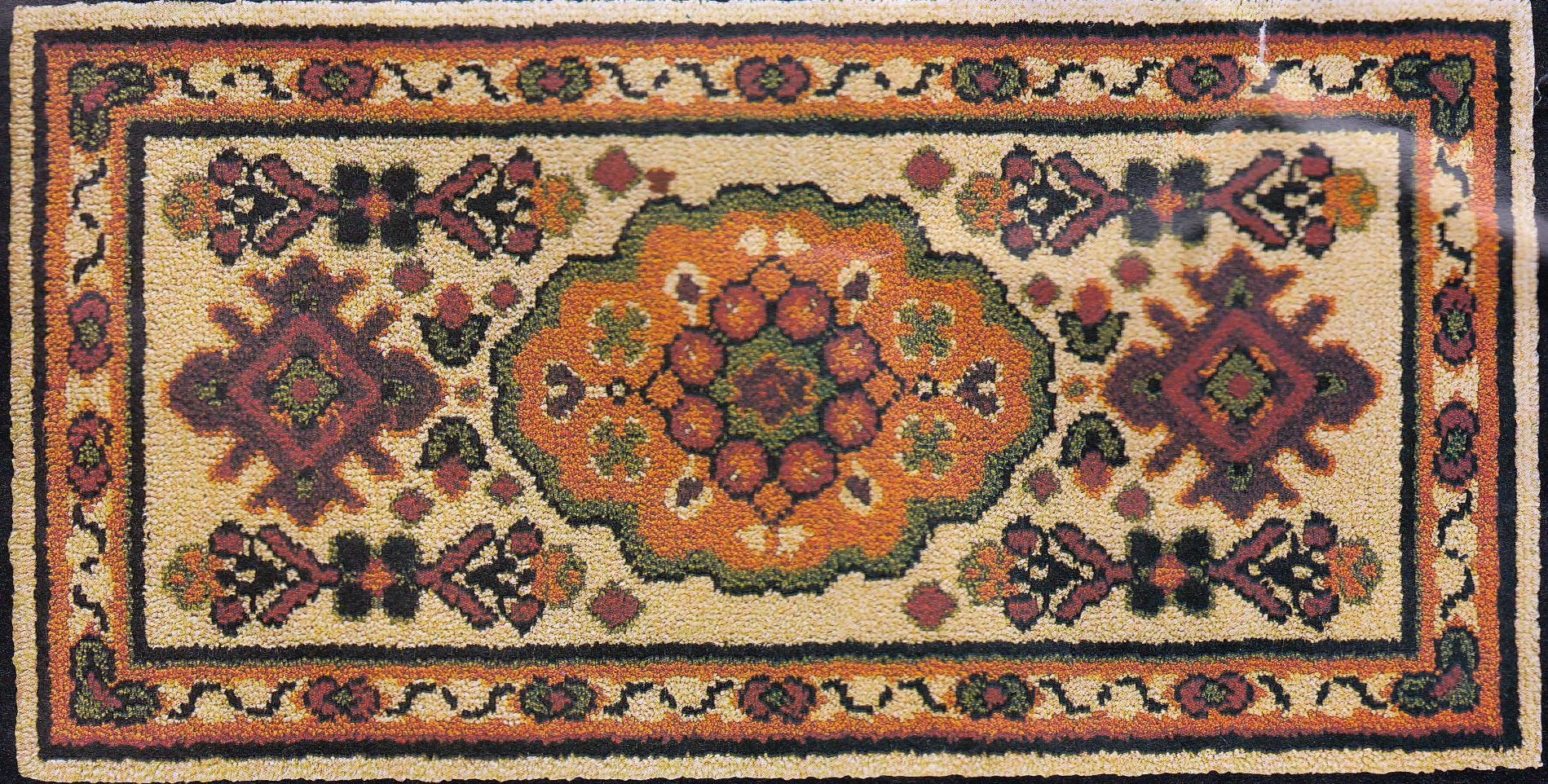 Readicut: Teheran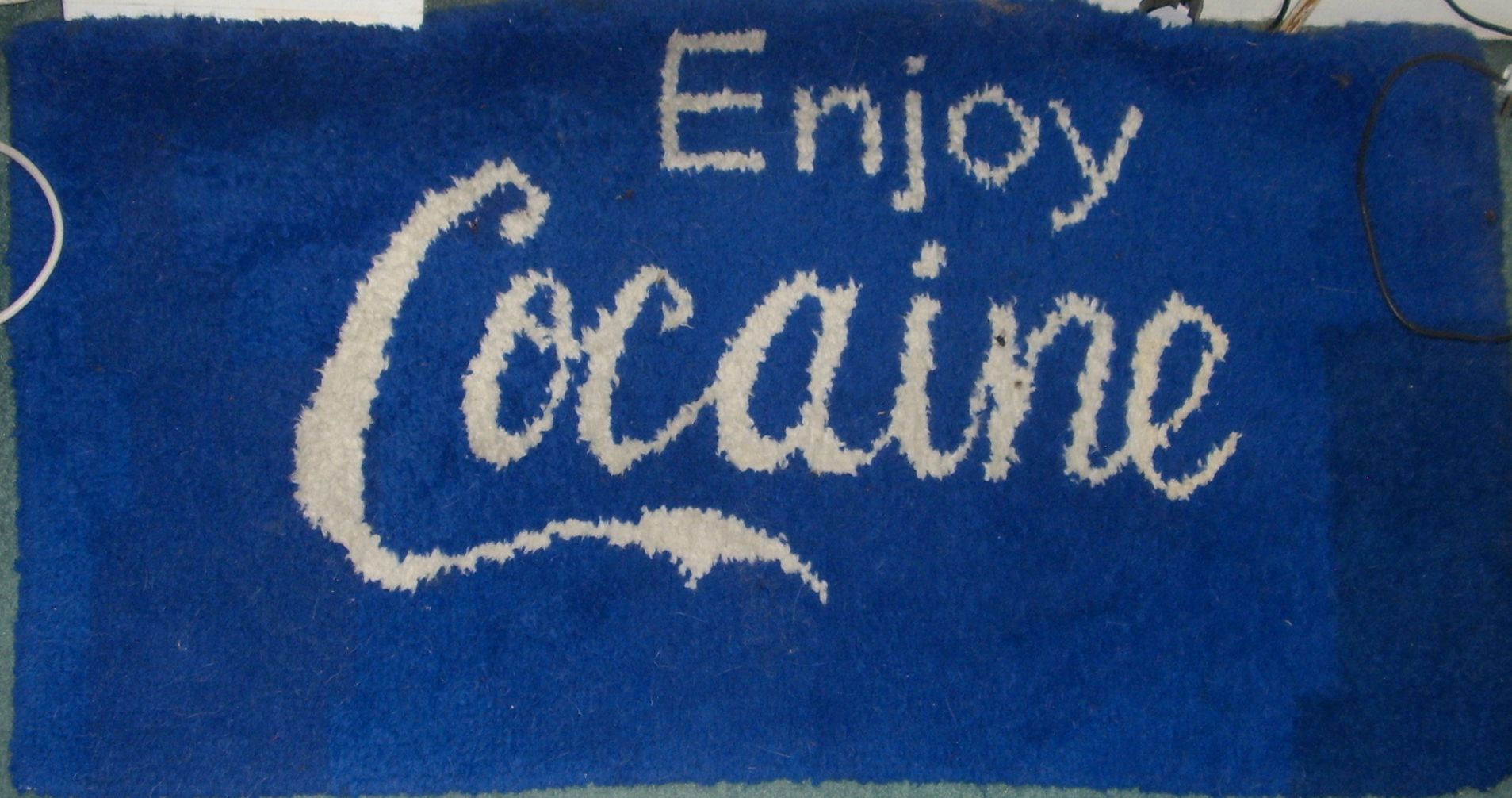 Own Design: Cocaine
The next one, a couple of years later, was based on the Lynx (a 1980s anti-fur organisation) logo and was a stylized lynx face on a black background. I'd learnt to make the design fill as much of the canvas as possible. My only deviation from the black, grey and white logo was to have bright yellow eyes. I sent photos of it to Lynx. This time, I drew the design onto the canvas with black permanent marker. The "Affy Rug" was a larger endeavour based on a photo of my beloved ginger longhair moggy of that name. It was completed in shades of cream through to ginger set on a green background with pawprints up and down the sides. The main design was marked using thread instead of marker pen, and I also had a colour/pattern chart on paper showing which wools went where. For 25 years it has been my living room rug and will soon be retired to the spare room to make way for an even larger rug (more of that later). This was the most complex rug I'd attempted and I was very pleased to see it turn out so well.
| | |
| --- | --- |
| Own Design: Lynx Face | Own Design: Affy Cat Rug |
On the Lynx and Affy Cat rugs, I've used extra knots at 90 degrees to better define the eyes and other small markings.
A colleague dug out an unfinished rug she had started while hospitalised for several months. Seeing her design, I could understand why it was unfinished – the only colours were beige and red supplied in bales – at least twice as much as the size of rug required! The design was to have been a Mary Quant flower on a plain background and she'd fallen into the common trap of having too little design on too much plain background, which made it a boring project to work on. I unpicked part of it and, using some of my collected oddments, turned the design into a long-stemmed red rose (from a cross-stitch pattern) on a beige background, with a red Greek key design running round the edge.
I sometimes found small unused canvases or bags of assorted pre-cut rug wool at jumble sales and charity shops. I also had a surplus of beige wool from the revamped rose rug. These were turned into several rugs with Greek key and other repeating patterns around the edge and a central motif. One has a Roman vase with 2 fern leaves (from different cross-stitch patterns) and used some stiffer yard to produce a texture around the border. Another is just a series of Greek key motifs. To avoid the beige being a dominant them in my home, I added flecks of paler brown to give it the appearance of stone. Sadly I failed to buy a rug kit that turned up in the British Heart Foundation shop in Chelmsford as I didn't have cash or chequebook on me and it had gone when I returned.
| | | |
| --- | --- | --- |
| Modified Cross-stitch/Own Design: Rose with Greek Key Border | Own Design: Roman Vase | Own Design: Greek Keys |
My golden griffin rug is 6 ft x 6 ft and based on a popular knitwear design from the early 1990s. I transcribed the griffin rampant design onto graph paper and it quickly became clear this would be a major project! I made a few adjustments to the pattern because the design would be flat on the ground and not contoured around my bust. I wanted a heraldic look and added a simple border, and a motif in each corner to break up the solid background. The border and corner motif was based on counts of 4-knots and 8-knots. The original sweater was white on black, but I wanted a golden griffin on a contrasting background. The two colours I considered for the background were deep mauve and deep turquoise; eventually I chose the Anchor "Dark Peacock" shade. The gold border has occasional flecks of a duller yellow, while the griffin has occasional flecks of a paler yellow; this seemed to bring the otherwise flat design to life. The rug periodically went on hold because my wool supply was erratic, but when I discovered Iriss of Penzance's online ordering service, the project went into overdrive. Overall, it's about a year's worth of spare-time activity, but spread over almost 10 years due to wool supply and domestic upheaval. It occupies almost the whole of the available floorspace in the living room.
| | |
| --- | --- |
| Adapted knitting pattern: Griffin | Adapted knitting pattern: Griffin (perspective adjusted) |
I still had a big bag of rug wool oddments picked up in Braintree years previously, along with more skeins of beige. I found a cross-stitch pattern for a large rose and began working this on a beige background. The beige was heavily flecked with a pinkish wool to make it warmer in tone. To prevent it being too boring and to use up oddments, I added a border of smaller roses and sprays with buds, also from cross-stitch patterns. A friend mentioned needing a bedroom rug and now has the rug.
| | |
| --- | --- |
| Modified Cross-stitch/Own Design: Roses | Readicut pattern: Floral Splendour |
In 2013, a large bag of assorted rug wool turned up in Chelmsford's Oxfam shop and 2 large bags of assorted tapestry wools turned up at a jumble sale in Haverhill. At the same time, a Disney rug kit turned up. This was my first encounter with cheap, thin acrylic rug wools. I like my rugs thickly tufted. Ignoring the Disney pattern, I used a combination of Readicut wool, Anchor tapestry wool (6-8 pieces together make a good tuft) and the supplied acrylic wool (using 2 or 3 pieces together to make thicker tufts). The end result was Cretan kri-kri (goats), a Cretan axe and a spray of foliage set on a background that mimics stone tiles and sliced geodes and with a Greek key effort around the edge in various shades of blue. The kri-kri, axe and foliage patterns were all created on my computer by overlaying a grid onto a photograph. The background pattern uses beige heavily flecks with other brown tones, a tile of slate grey/blue (also flecked), a tile of patterned greens that mimics a geode and a tile of blues, pinks and yellows based on folded and disrupted strata on sedimentary rock. These strata used up oddments and ended up a bit more garish than anticipated - not the best rug I've done, but a great way to use recycled materials and lovely and warm for my toes!
| | |
| --- | --- |
| Own Design: Kri-Kri | Modified Kit: Unicorn |
While buying a few extra packs of certain colours in Franklins, I found that the assistant had a part-done rug she wanted rid of so I bought it from her. It's a cutesy unicorn on a plain green (grass) and blue (sky) background. This was revamped so the unicorn now has contrasting dapples and has sparkles coming from its horn. I edged it in bright pink fancy yarn for my friend's daughter (who is into My Little Pony); she loves it so much she keeps it on her bed instead of the bedroom floor.
Another couple of rug kits turned up in Oxfam (you wait ages and then three come along at once!). One was the Readicut "Texas Rose" semi-circular rug. The canvas was badly faded and I had to rely on the illustration booklet to make sure the yellow and cream went in the right places. It's now in my spare room in front of the book-case. During 2014, I found another Readicut Texas Rose hearth rug kit in Oxfam; this was barely started and on a maroon background (possibly an earlier version of the pattern or special customer request). This came in its original packaging with colour insert, instructions and latch hooks. The other looked like an occupational therapy effort: plain blue background with white daisies in the middle. I had to unpick almost all of it because the previous owner had often hooked around 2 canvas threads at once and meandered around the canvas rather than following rows.

Adapted Cross-stitch: Floral


Using up oddments - Celtic Knot Runner

Readicut: Texas Rose
(It is actually semicircular, the photo perspective has distorted it)

Readicut: Texas Rose
A 1969 kit, customised for the customer with maroon background.


"Persian Tiles" a Readicut design with repeating pattern that can be made to any length. It's a wall hanging in my house.
Oxfam also had a big bag of Readicut wool in reds, oranges and cream. I already had a large spare canvas and several skeins of "multipurpose" wool (actually meant for macramé) that I'd picked up in my travels around boot fairs and I decided on a 1400s-ish design of unicorns, feathers and trees (a cross-stitch pattern). Each row of unicorns has a different colour scheme which also used up the remaining oddments of cheap acrylic rug wool and the tapestry wool. The macramé wool made beautiful soft tufts and it's a lovely rug to sprawl on when playing with the cats.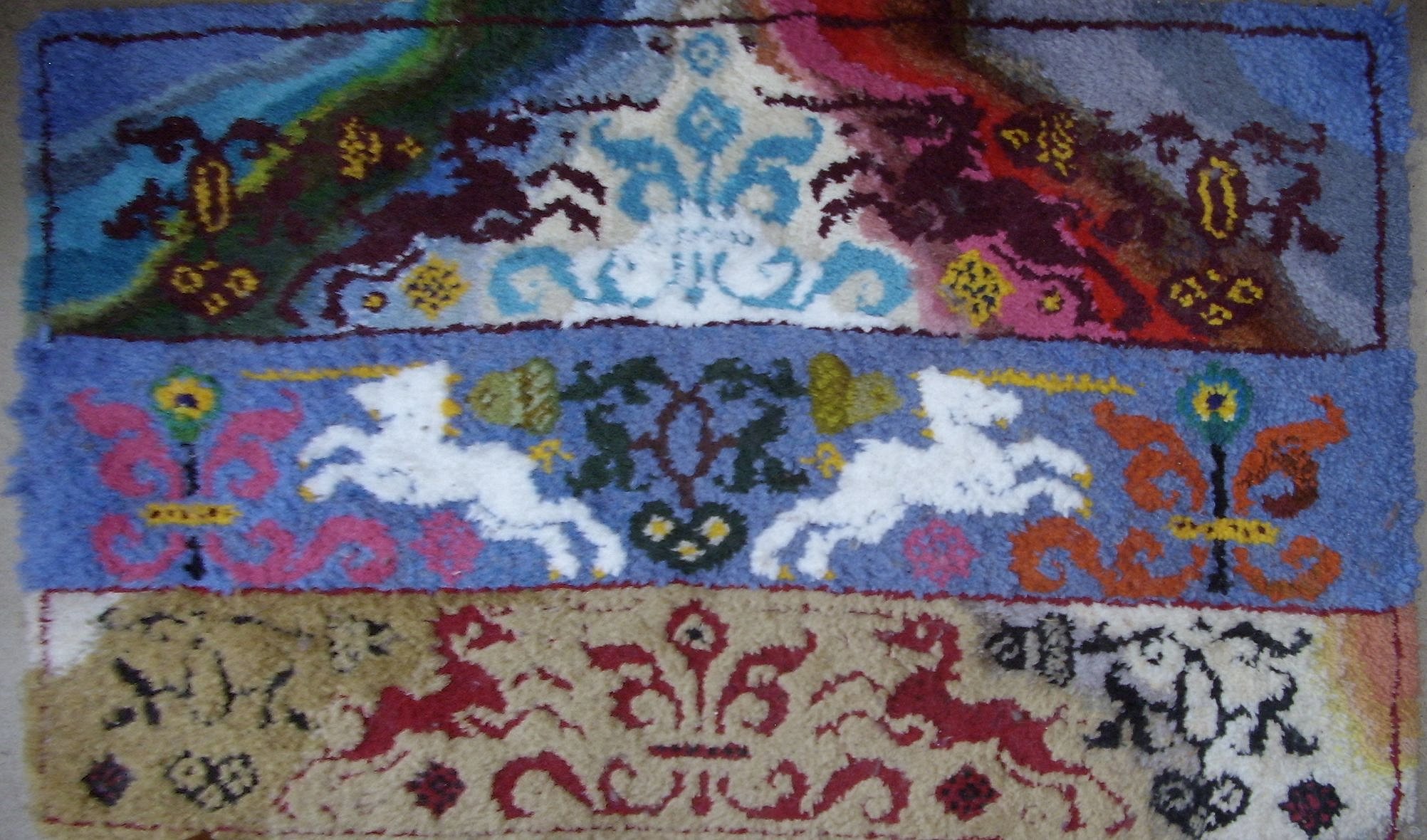 Own Design: Unicorns
This left only the rather mangled "daisies" canvas to recycle and the griffin to finish off. The large griffin rug/carpet can only be worked on in spring and summer when my tabby moggy detaches himself from my lap. Hence the smaller rug is being turned into – if it works out – a blue border around cream/white centre on which there will be sprays of flowers from a cross-stitch pattern book. It has a lot of different colours and ended up looking rather cottagey.
I don't usually buy completed rugs, but "Turkish" (pink) and "Yaprok" (white and brown) were completed Iriss pure wool rugs (£3 each!) with minimal wear and these are the sort of patterns I make myself so they complemented my other rugs.
| | | |
| --- | --- | --- |
| Readicut/Anchor: Turkey | Readicut: Yaprok | Reworked Secondhand Rug: Unknown Pattern |
I don't yet know the pattern name of this rug; the wool/acrylic mix yarn was very badly worn, but the canvas was still in good condition. I replaced the worn yarn with pure wool, recreating the original pattern, albeit in slightly different shades. I noticed that the canvas was pre-printed and this was probably a Readicut kit that used yarn with a high percentage of acrylic in the blend.
| | |
| --- | --- |
| Adapted from cross-stitch: Totem Bird | Adapted from cross-stitch: Peacock |
"Totem Bird" and "Peacock" also used up oddments (apart from the champagne background of Totem Bird) from boot sales and other projects. I've now amassed a stockpile of wool and hope to revive 2 Readicut designs: "Leaping Tiger" and "Rosemary" (circular). But first I used up a 60 year old piece of part-worked 8-hole canvas and vintage Axminster rug wool into my Celtic Knot runner Parts of the canvas had been worked using the short-pile method so I designed around those areas. In time the texture will look the same across the rug.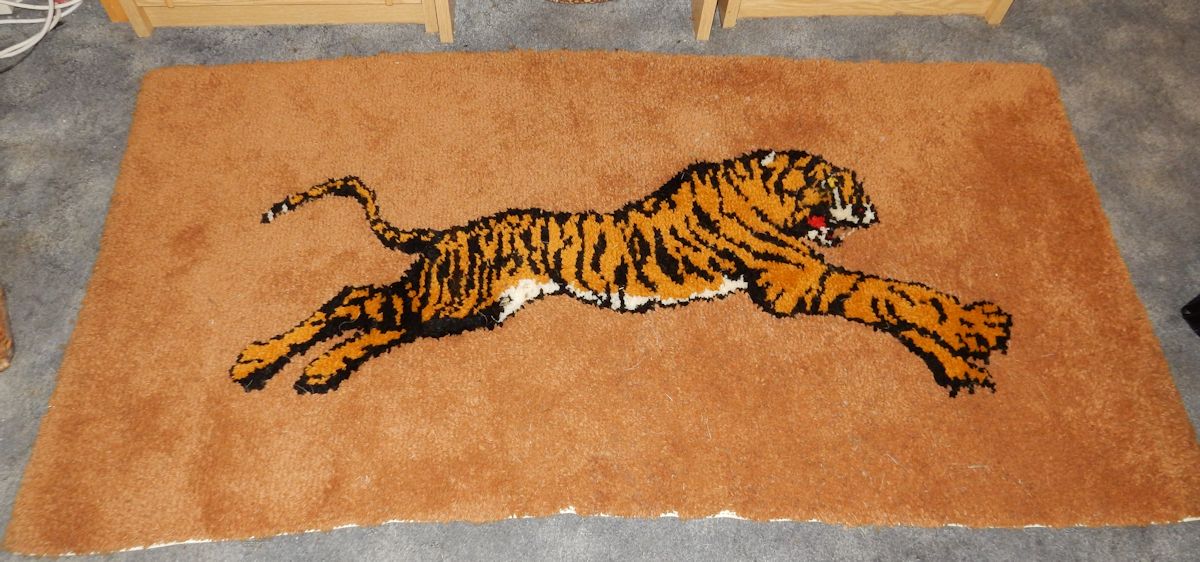 I used a large partly worked beige rug (second-hand) and downloaded the Readicut "Leaping Tiger" (which is actually their rendering of the Esso "Happy Motoring" logo) from a seller on Bonanza.com. In the catalogues, the tiger is bright orange and the background is bright blue, red or green. I used the existing beige and a more muted orange and there is a wider boarder around the design - which I think sets it off rather better than the Readicut size in the catalogues. I also added a little white on the tail-tip, ear and face.
| | | | |
| --- | --- | --- | --- |
| Readicut: Festoons | Readicut: Chintz | RugPlan: Unknown Pattern | Unknown Pattern |
| Bairnswear Blue Fezdesign, bought partly worked and hanging in my stairwell. | Readicut: Rococo (rectangular). I also have Rococo circular. | Nursery pattern. I worked it on pink because I had a large amount of that colour. | Readicut Caiscais. (Bought) |
I bought the RugPlan rug one-fifth done and completed it in March 2015. It's a 1970s (name unknown) and I found the Irish-produced RugPlan wool lovely to work with (so nice that I found some more online). Irritatingly, I had to find extra mustard-colour wool from my hoard as the amount supplied was insufficient by about 40 strands. The RugPlan canvas was very precisely stencilled and there was green whipping wool for the edges though I haven't done this. I have to admit that early 1970s murky green and mustard (or gamboge) isn't my favourite colour scheme. Readicut "Chintz" was partly worked, but the owner's arthritis meant he couldn't finish it. It was one of their classic patterns. I got Readicut "Festoons" rug already made. This was a popular design, originally only available in blue until a customer requested a pink version in the late 1970s (part of the customising service). Readicut liked the outcome so much they added the pink version to their catalogue. This rug simply needs cleaning and fluffing up to return it to its original glory. Readicut recommended dry cleaning only, but I'll test the wool for colour fastness and if the colour doesn't run I'll shampoo it in the bathtub on a warm day. The Festoons (blue) design chart is available via Bonanza and can be adapted to any colour scheme you like to match your décor (I think it would be interesting in yellow). Finally in these pictures is the 1950s blue roses on a golden-brown background rug.
| | |
| --- | --- |
| Readicut: Autumn Braid | Readicut "Bouquet" 1950s hearth rug. This has been customised by using pink roses on a beige background. The standard options were yellow on beige, yellow on pale yellow-green or pink on pale grey. |
| Unknown 1950s floral rug | Bairnswear 1950s hearth rug (made using wool from my stash) |
| 1950s small rectangular Rose Rug and any ivy rug from the same era. | Readicut Peter rabbit (a perfect fit for my smallest room!) |
| 3D Ladybird design cushion cover. Showing what can be done with areas of different length wool. | |
The large oval rug is Readicut "Autumn Braid" which I picked up remarkably cheaply and needing nothing more than a wash and fluff up. Even before washing it looks really nice at the foot of the stairs. Readicut produced several intricate floral/foliage designs that moved away from roses or cottage flowers. The other one here is a 1950s semi-circular roses and ribbon rug (I haven't found the design name). It needs a bit of a clean and maybe a few knots replacing to spruce it up. Semi-circle (or half-moon) rugs were originally intended as hearth rugs in the days when the open fire was a focal point of the living room. My home doesn't have fireplace, but the semi-circle rugs work nicely at the base of bookcases and I can did my toes into the pile when doing some book research. I have a part-made rug (red roses on light brown) that will complement this one nicely when finished.
| | |
| --- | --- |
| Readicut: Kew | Readicut: Tiger (wallhanging) |
| Readicut (I think): Circular floral design. | A lovely rug made by an elderly lady at a Jewish community centre and now on my sofa. |
Under my desk I have a large dark pink rug to keep my toes warm. I didn't want to hide any of my patterned rugs away and this was exactly the right size and the cats love it too. Plain colour rugs can be more tedious to make because you can't see a pattern emerging. I like to add a border, if nothing else, when making a rug. My tiger rug started life as an unfinished plain beige rug and I unpicked part of the worked section when adding the central design. Patons Mogul "Corn Poppies" was a wall hanging bought as "canvas only." I worked it in pure wool instead of Mogul acrylic and it keeps my dad's feet cosy under his PC desk. Currently in my "partly made" pile are: Readicut "Chintz" (half-made), and a couple of partly-made floral rugs. I also have enough canvas and wool for Patons semi-circle "Willow Pattern" and for a Chinese Dragon.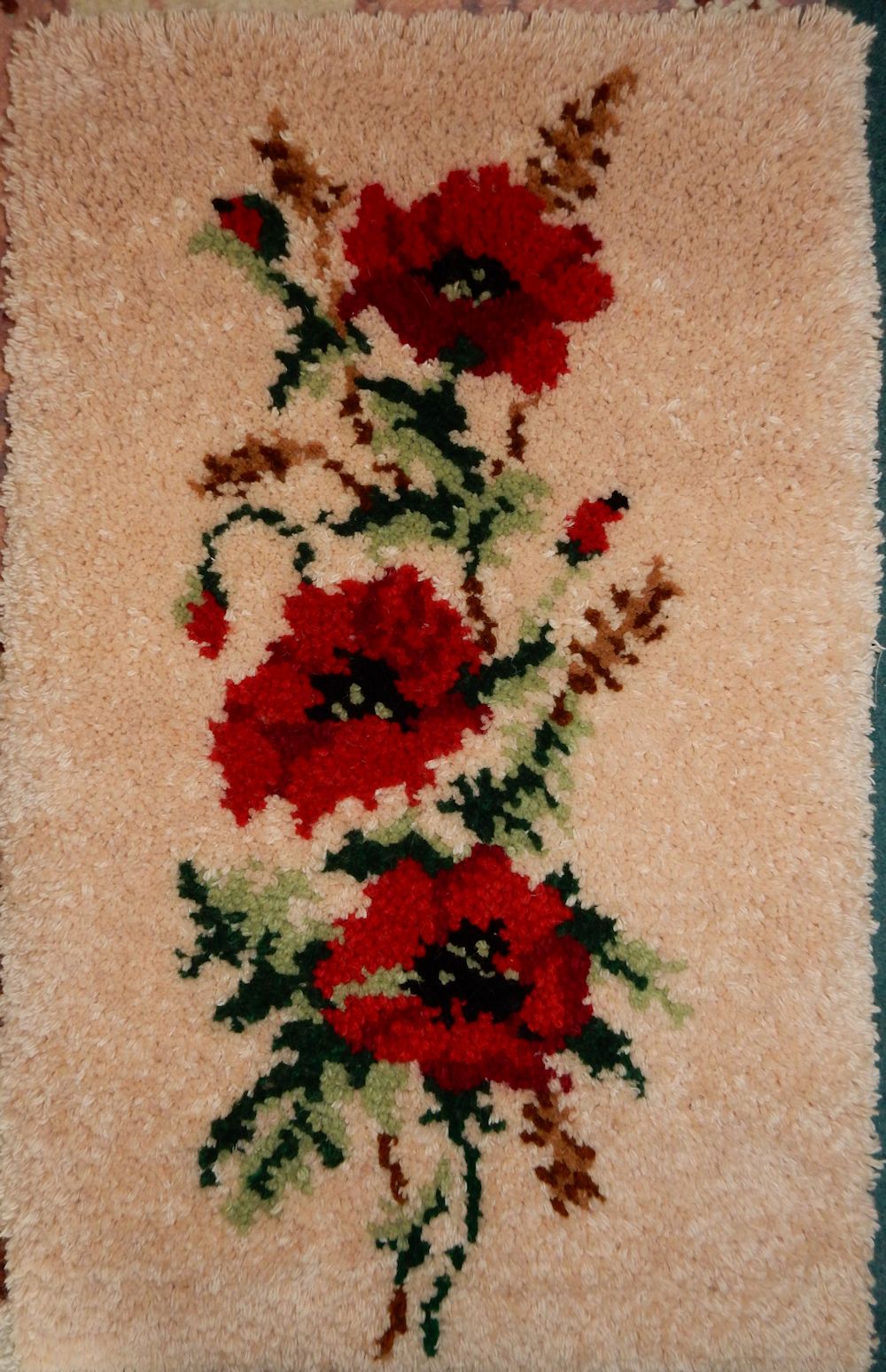 Patons: Corn Poppies (but worked in wool instead of Mogul acrylic yarn).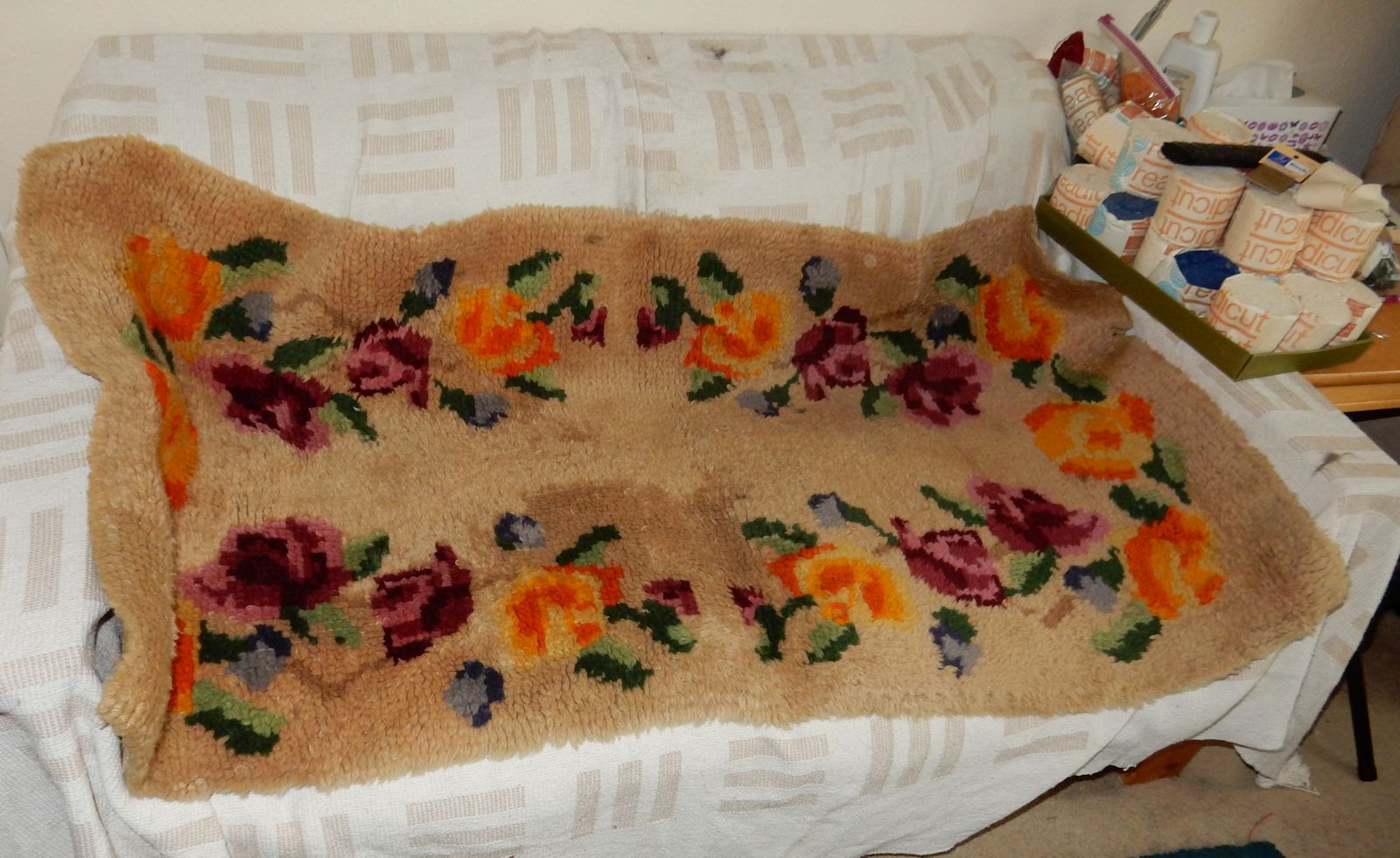 Unknown 1950s floral rug - rugs aren't just for floors or wallhangings!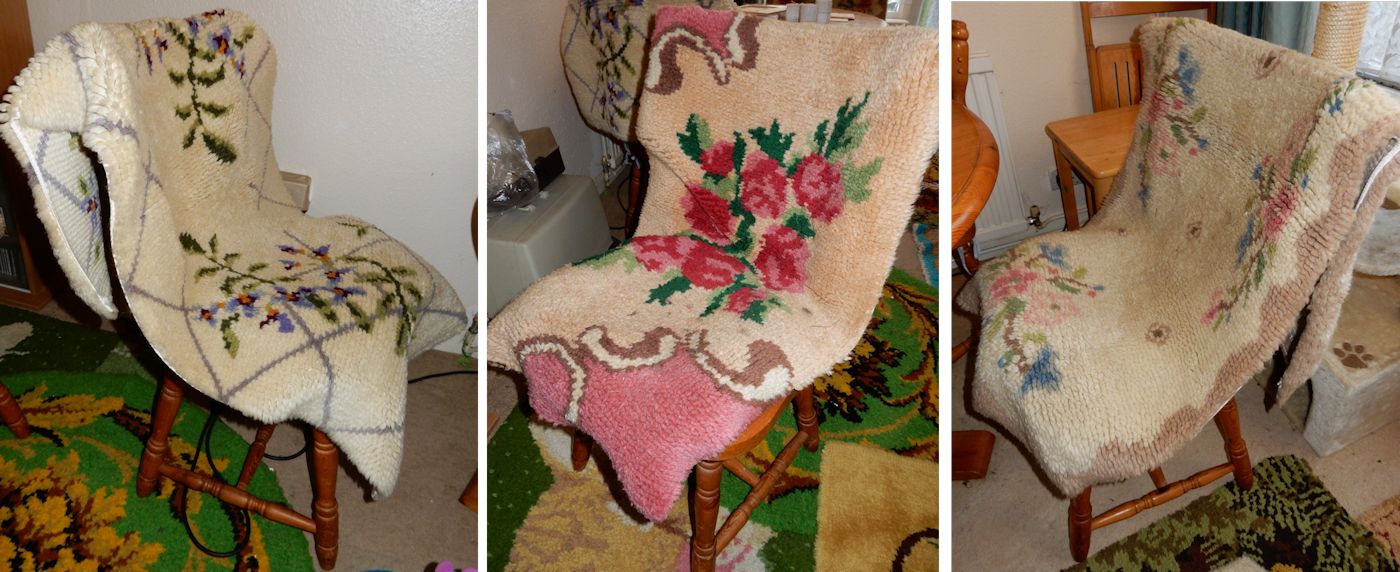 Readicut: "Coral".





Readicut: Teheran (large)

My version of a rug pictured earlier on this page, bought part-worked.

Bought. Deco Peacock - nicely covers the space where my gas fire used to be!

Patons. Classic willow pattern worked from a chart. I've used multiple shades of green oddments instead blues.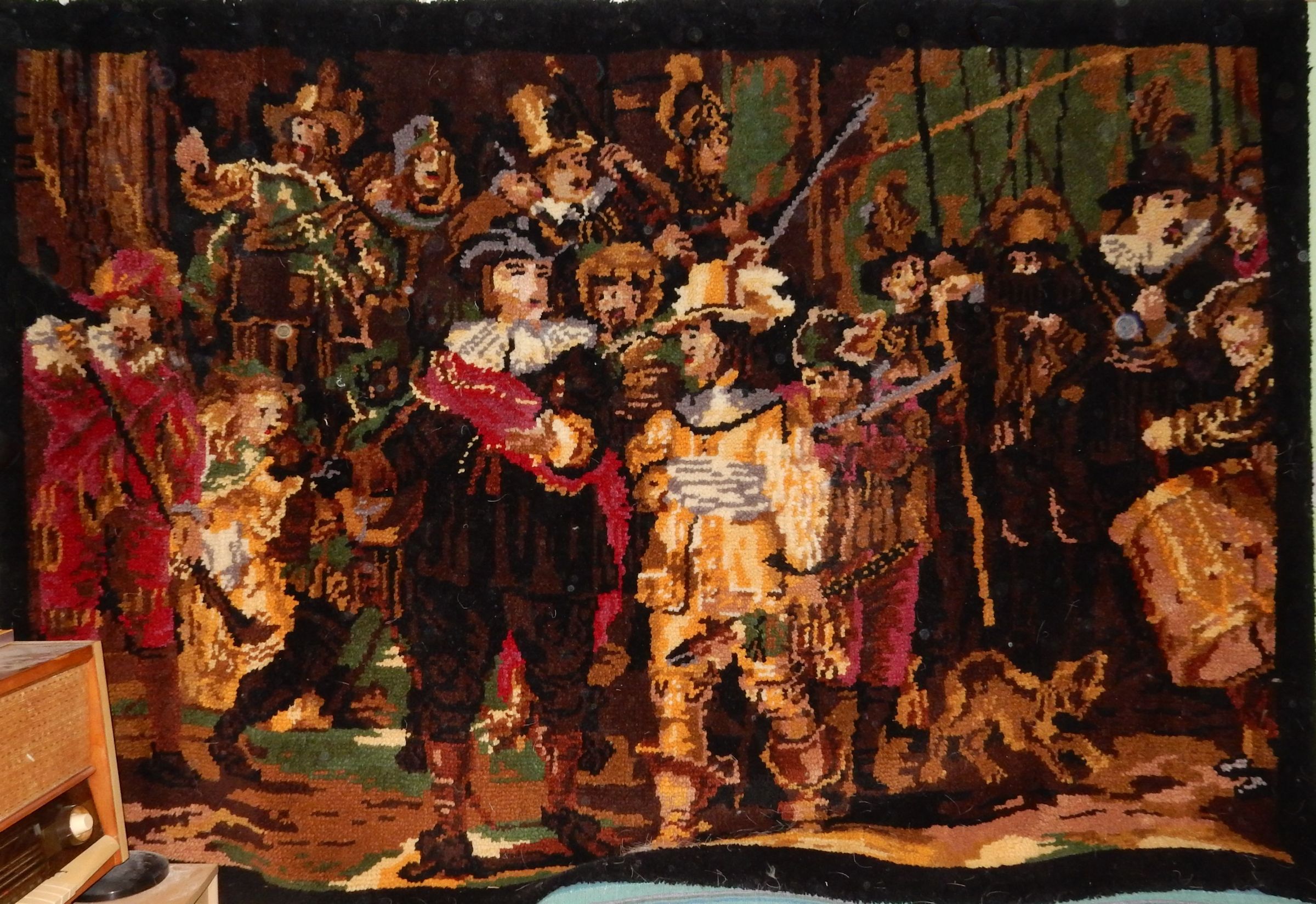 Night Watch, a huge custom design rug (bought).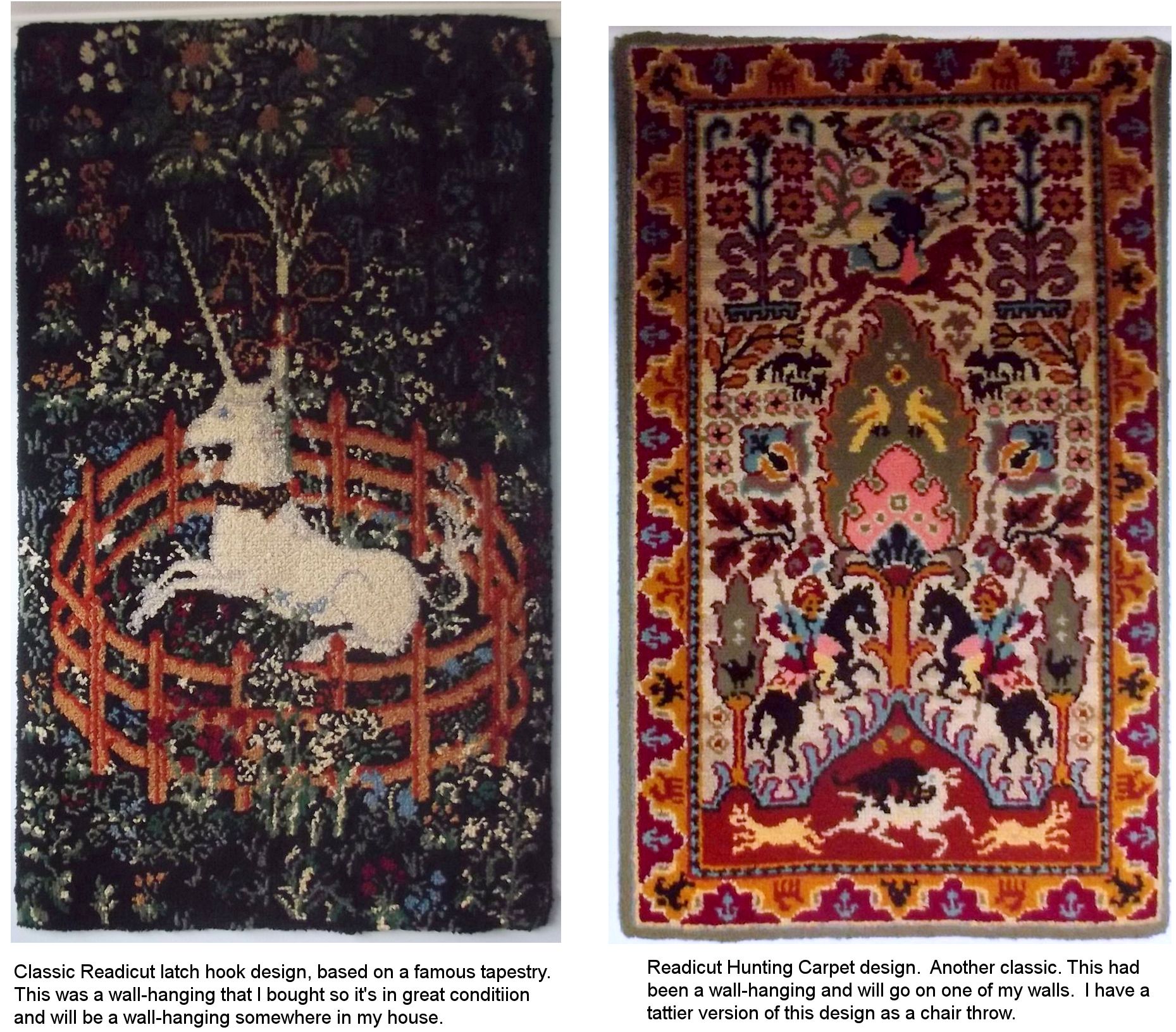 | | |
| --- | --- |
| Unicorn. Acrylic yarn is not me favourite, but I love the design so I imported this kit from the USA at a rather high price due to import duties. | A vintage readicut design. |
| A vintage Readicut design. Bought part done. The faded design made it a challenge to complete. | Patons design, bought as potential rework project. Currently hanging on a wall. |
| A vintage Readicut design. Bought. | Seashells - classic readicut design (bought). |
| | | |
| --- | --- | --- |
| Readicut: Guardsman. Bought part worked and completed. This will later hang in my hallway. | Egyotian design. Bought part worked and completed. This will later hang in my hallway. | Readicut Nefertiti (bought). I want to get my hands on the Tutankhamen companion piece. |
FUTURE PROJECTS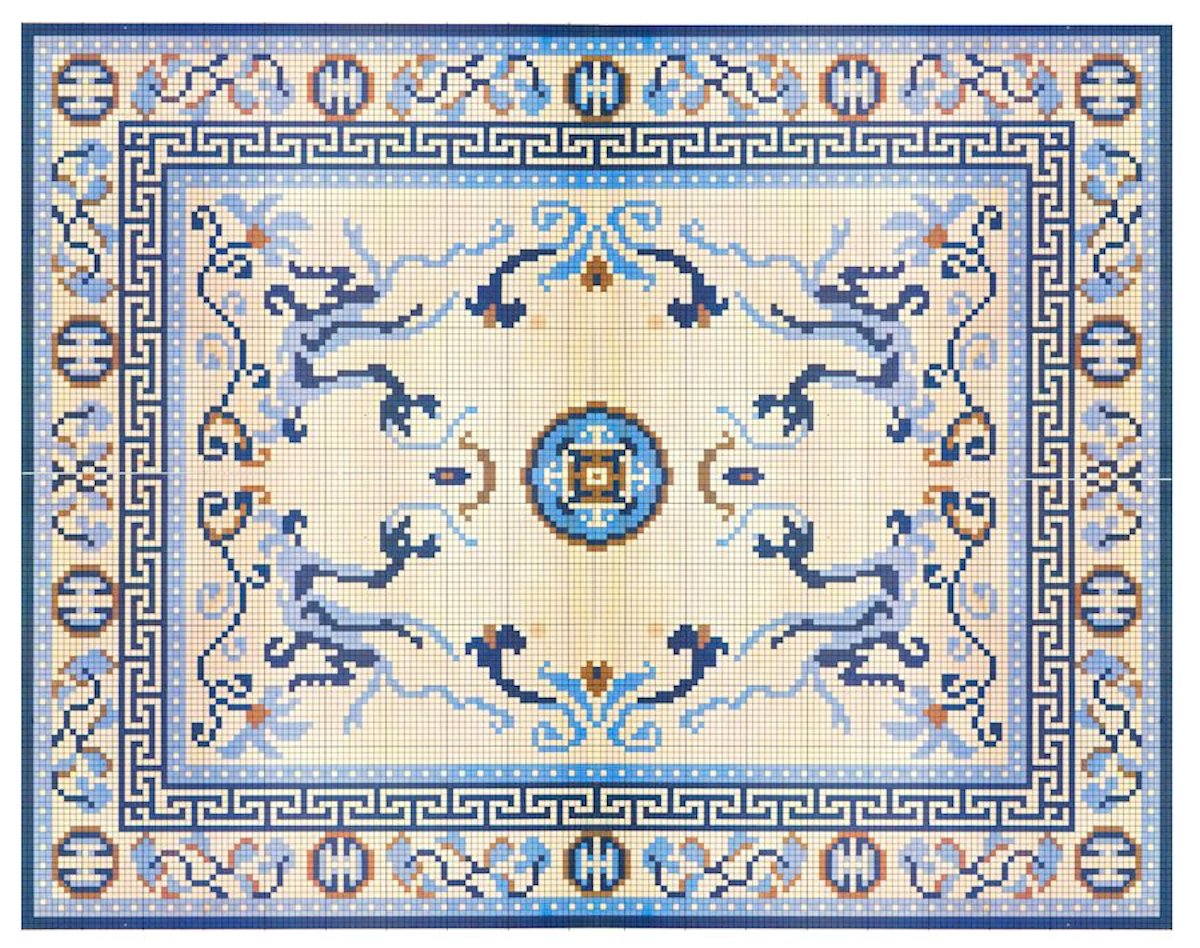 Paton's "Oriental" - one of my planned projects.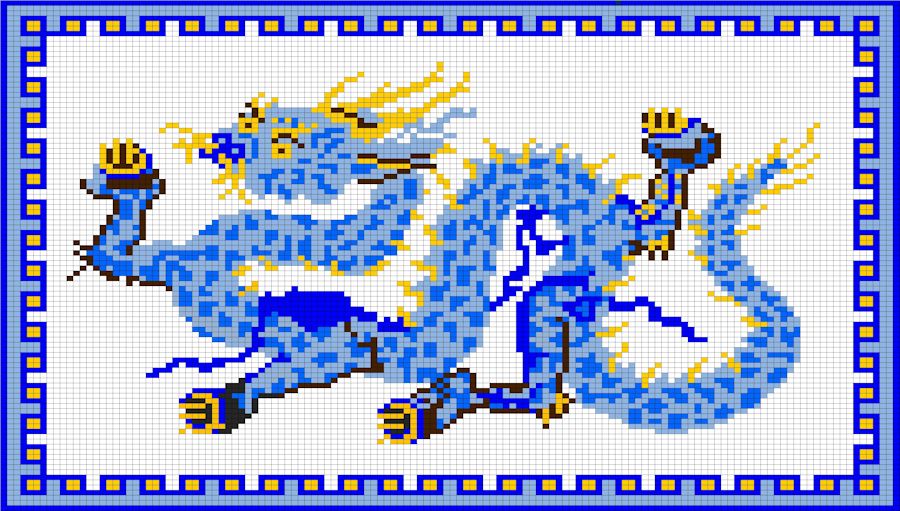 Another of my planned projects!
I'm also working on a sun/moon/astrology design on paper at the moment. The problem is, there aren't enough hours in the day and night for all the designs I like!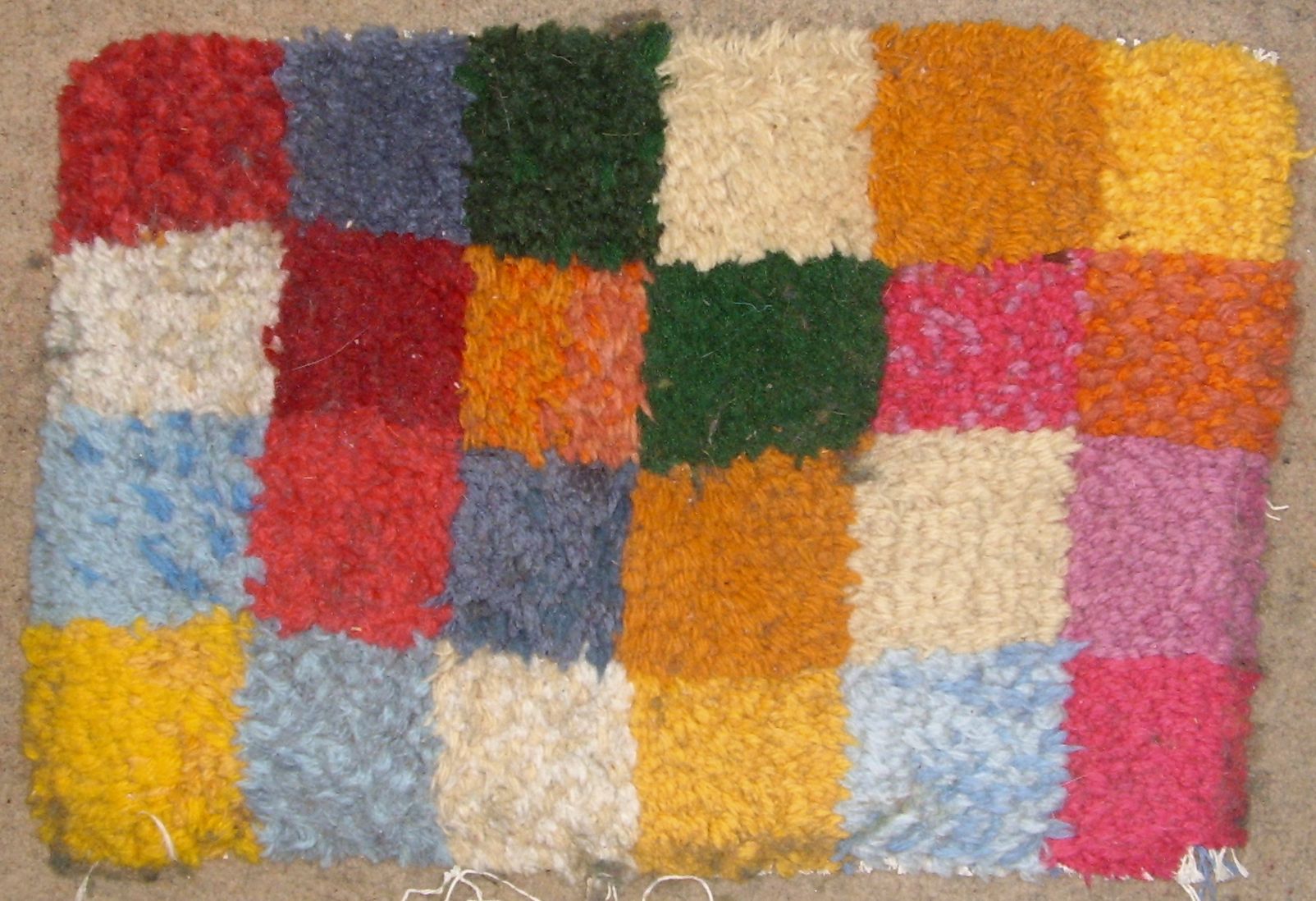 Scraps

You are visitor number: