A LITTLE LATCH HOOK HISTORY


Sarah Hartwell, 2014

Most rug-making histories on the web are Americentric and will tell you about rug-hooking being popular in North America for more than 200 years. Of necessity, early colonists from Europe recycled yarn and fabric into hooked rugs to furnish their homes. This craft born of necessity remains popular on the eastern seaboard of North America where it has become an art form. Latch-hooking came along in the early twentieth century. In northern Europe, hooked woollen rugs were made by the Vikings, who took the technique with them wherever they settled. Similar techniques arose in the Middle East.

Early hooked rugs in Britain were made by 19th century mill-workers in Yorkshire using "thrums". These were the waste pieces of yarn, about 9 inches (23 cm long) that attached weaving to a loom. The thrums were trimmed away and the workers allowed to keep the waste. These were pulled through a backing material such as hessian.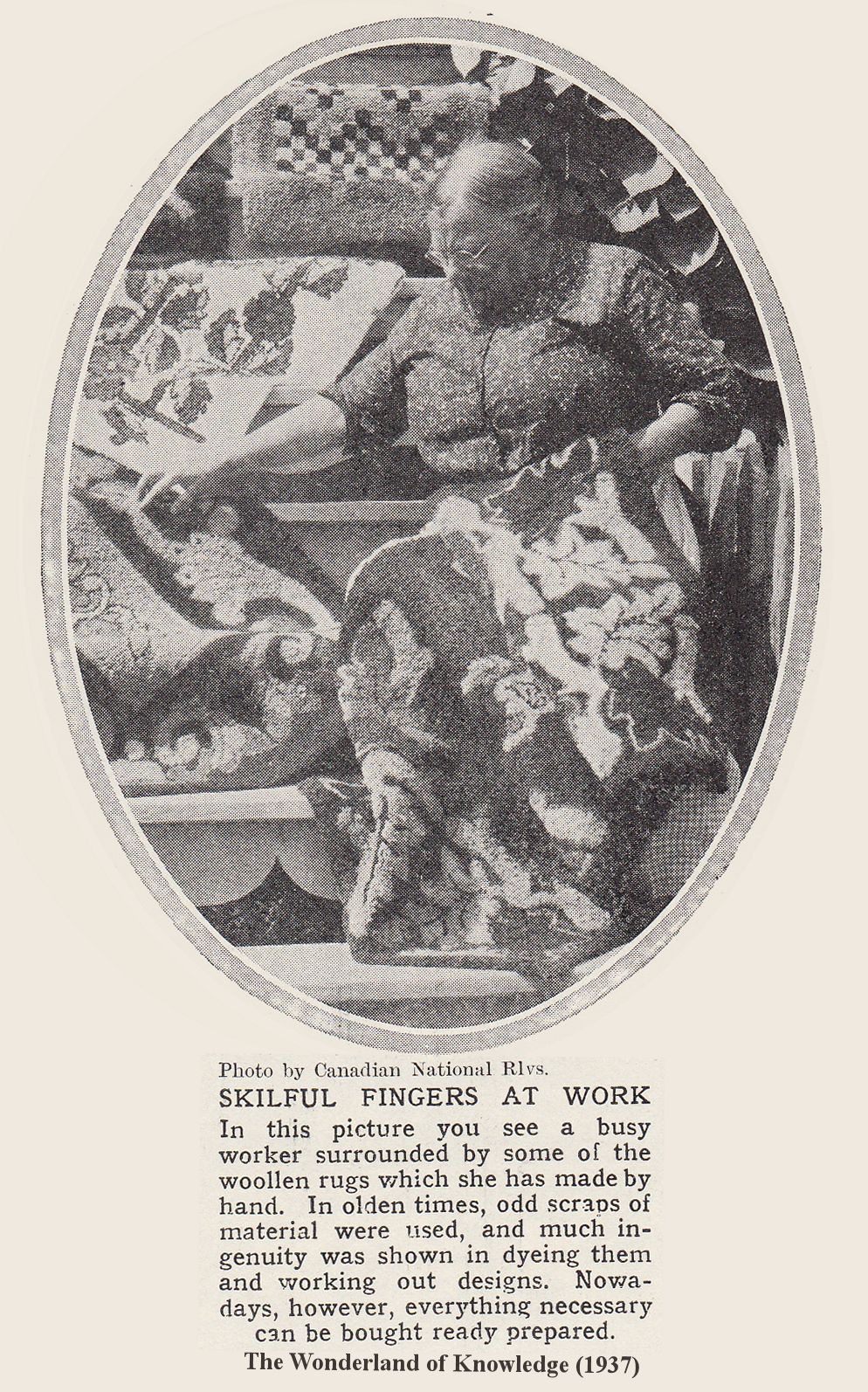 Rug hooking in the USA developed along the Eastern Seaboard of North America, from Canada and along the northern states of the USA. From the 1830s, the rich could buy machine-made carpets, while the poor recycled yarn and fabric strips into hooked rugs. Traditional hooked rugs are made by pulling loops of yarn or fabric through a stiff woven base such as hessian or rug canvas. The loops are pulled through the backing material with a crochet-type hook set in a wooden or plastic handle. Latch-hooking uses a hinged hook to form a knotted pile from short pieces of yarn or fabric strips.
The latch hook began life in 1847 as the "latch needle" used in knitting machines. According to one school of study, it was invented in Ireland by Robert Flower (1836-1919), the eighth Viscount Ashbrook of Durrow and was patented by him in 1904; Flower's patented design had a hinged latchet that kept the yarn hooked so that it could be drawn through the canvas and knotted. This simplified the process of hand-tufting rugs and carpets. According to another school of thought, in the 1920s, the hand hook and latch needle were combined into the modern latch hook. Either way, latch hooks could be used with both yarn and with strips of fabric.
Originally, the rug was worked on burlap, hessian or some other form of sacking. The yarn or fabric strips could be worked in several ways: it could be pulled in loops through from the back (hooked), pulled through and "locked" in place with twine (locker-hooking), prodded through in loops (proddy) or pushed from the front under a few strands of sacking and back through to the front again. There are plenty of websites discussing these forms of rug-hooking. Rug-making using the hinged latchet to knot the tufts is often referred to as latch-hooking to distinguish it from other methods.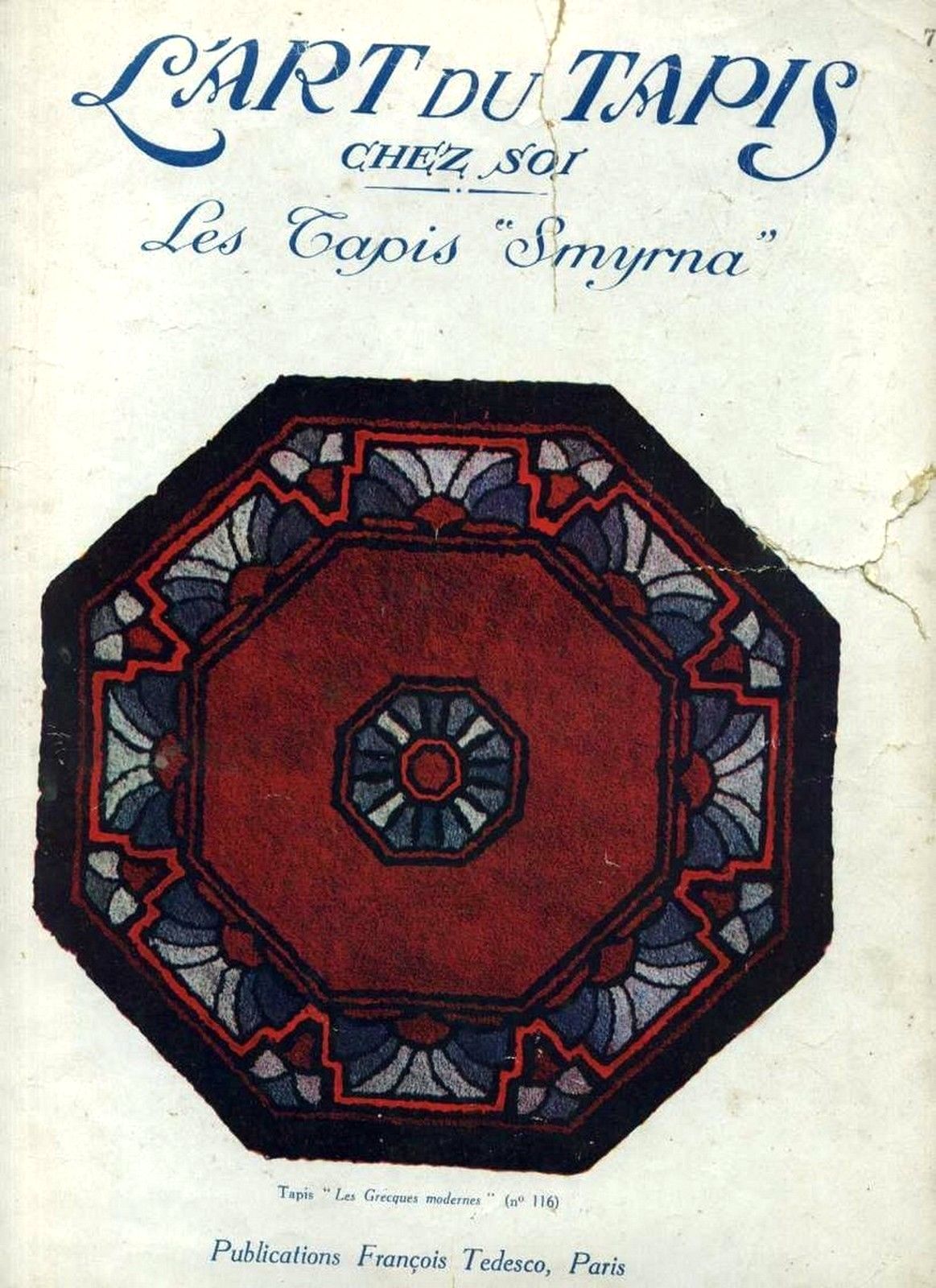 Circa 1920s rug catalogue and instruction book (for both punch-needle and latch-hook methods)
This is an excerpt from "The Hooked Rug" by American writer William Winthrop Kent in 1930 (A Record of Its Ancient Origin Modern Development Methods of Making Sources of Design Value as a Handicraft. The Growth of Collections. Probable Future in America And Other Data): Another method of rug making, now practiced in England is revealed by an advertisement. It surely must have come from the prodding or brodding and hooking processes or is at least closely akin to these and to the hooked tambour work. A canvas is used like cross-stitch canvas only coarser, which has every third mesh a large one. It is held on the knee or on a table. The pieces of wool yarn are cut exactly the same length by a gauge. The hook used has a catch or latch on it, (see illustration, ' English,' in plate #i), and is inserted in one hole and out the next in the next row, as follows: The wool is held in the left hand and above the canvas, then doubled and the double end is slipped over the hook, the catch being up or open. The hook is then drawn out through the canvas toward the worker, the cut ends being kept in the left hand. The catch by this action drops down and secures the wool. The tool is next pushed forward through the wool loop and catches the two ends held in the left hand, then the loop is held in the left hand and has the two ends pulled through it with the hook. To pull out hook and draw tight the two cut ends finishes the knot. This is really a pile fabric and is known as a Turkey Rug but sprang from the hooking process as the earlier hook used was of the crochet hook form. All the -implements for this are on sale at "The Pattern Shop,' 13 Southampton St. Strand, London W. C. and the wools are made and sold by J. & J. Baldwin, Halifax, England. A full account of the process was recently printed in 'Leach's Sixpenny Knitting Series, 23."
In the 1930s, latch-hook wool rugs became popular and latch-hooking guidelines helped standardise the craft. Instead of being hooked through sacking, 3.3 holes/inch canvas became standard. This meant commercial patterns and kits became feasible. The heyday of latch-hooking with yarn in Britain was just after WW2. There were several companies, based near the textile mills in the north of England, offering rug supplies. Some only produced and sold wool, while others sold kits containing everything required to make a rug. The canvas in the kits could be plain and accompanied by a pattern chart, or could be printed in colour with the design. The kits contained sufficient wool to complete the rug, plus latch-hook, edge binding and an instruction sheet for novices. With at least one latch-hook supplied with each kit, unless you somehow broke them (which wasn't easy), they tended to accumulate.
Accessories for latch hooking included cutting implements, table clamps, spare latch-hooks and a few short-lived "twice as fast" alternatives to the simple latch-hook. Haberdashery and craft shops sold canvas in various widths by the yard along with seasonal pattern books from companies such as Patons (Rugcraft) and Sirdar (Bestway). Some mail-order companies sold "bargain bags" of woollen offcuts from the carpet-making industry. In the days of radio, latch-hooking was a popular craft while listening to the "Light Programme" or the "Home Service". It was possible for two people to work on a rug from each end and meet in the middle.
In the 1970s and 1980s, latch-hooking was further popularised through the use of synthetic yarns, especially now that Courtauld had entered the field with their acquisition of Bairns-Wear. The late 1960s and the 1970s was a time when everything synthetic was good and futuristic ... and ultimately cheaper. Many of the kits and pre-cut packs of the time moved from pure wool to a wool/acrylic mix (this kept cosgts down and also overcame wool supply problems). Some moved wholly to acrylic yarn. Synthetic fibres tend to be more easily damaged by heat and go brittle, however the synthetic yarns tended to be colour-fast making them easier to wash if needed (the dye was added to the chemical mix and became part of the fibre itself whereas wool has to be bleached and then dyed). The early synthetic fibres were fire-traps - hardly the thing for hearth rugs as the yarn shrivelled and went hard, reverting to a type of plastic! Acrylics have improved greatly, but tend to be thin.
The image below is from a 1940s edition of "The Children's Encyclopedia" and teaches youngsters the basics of latch-hooking.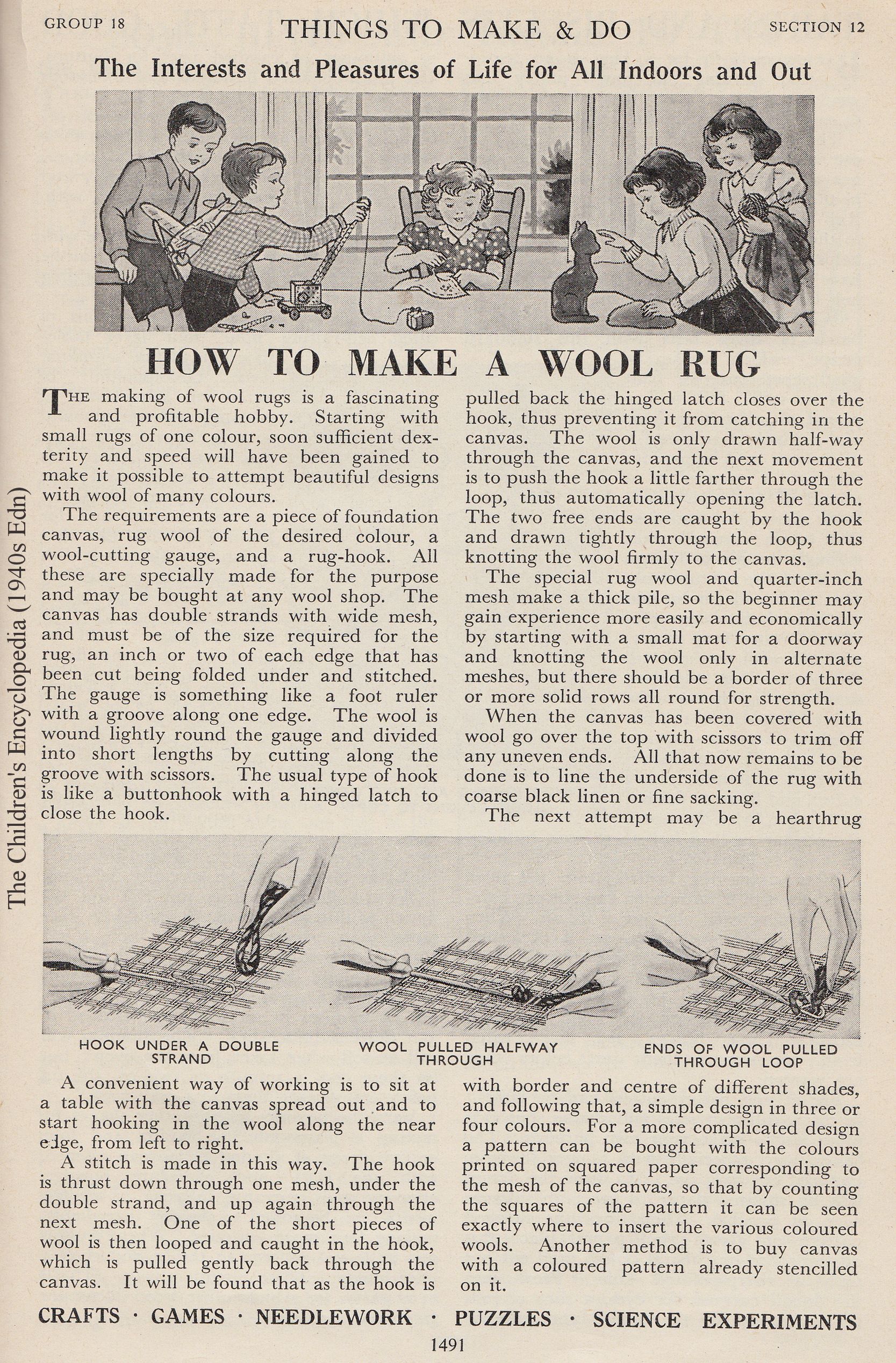 Latch hooking, and rug-hooking in general, was one of the activities available to convalescing hospital patients and care home residents. Women's Institutes could get discounts on bulk-buys and make rugs for sale. Convalescing WWII soldiers could make rugs and there are accounts of sailors making Readicut rugs while at sea. Although it's probbly now considered a mainly female pursuit, plenty of Readicut adverts featured couples latch-hooking and plenty of men made rugs.
Now we come to the argument of "printed chart & plain canvas vs printed canvas." As long as the printing is clear and unfaded, it's simple to follow without having to look away from the rug or count squares. However, two printed colours might meet at the same hole leaving the rug-maker to decide which colour to work (and this is where a crafty 90 degrees knot is sometimes needed!). A printed chart is far more precise, but involves more counting of squares and of knots. If you want simplicity, a printed canvas is the way to go (these are also easiest for children). If you want precision, then a plain canvas an accompanying chart will be best for you. If you're already well practiced, you'll know how to compensate for glitches on a printed canvas.
Textile mills were often keen to educate their customers in how a product was made and the uses it could be put to. Below is an abbreviated story of how fleece is turned into yarn.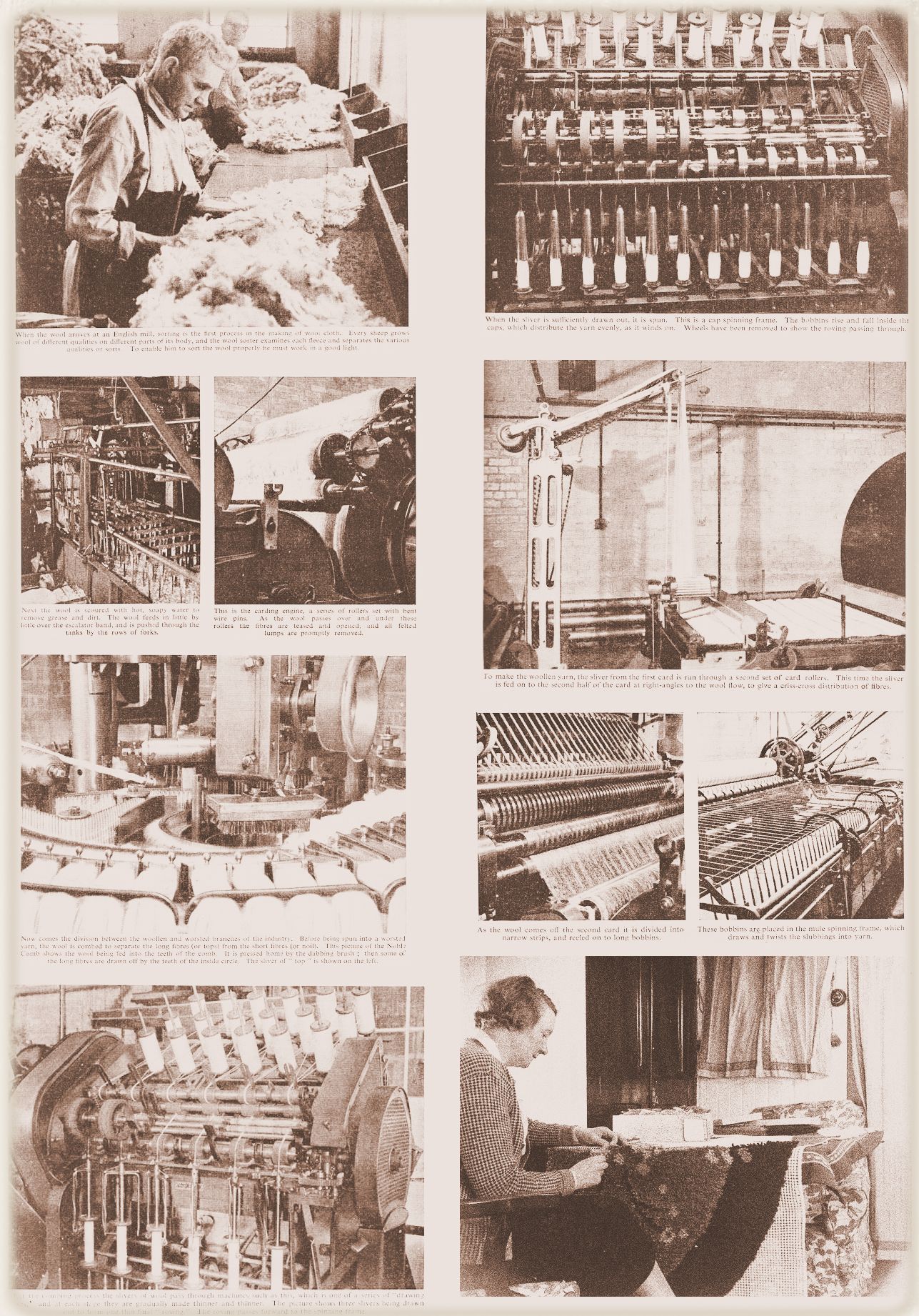 Now we come full circle back to "using off-cuts". Woollen/yarn oddments tend to accumulate. Cheap balls of yarn can often be found in charity shops. Canvas occasionally turns up in charity shops (otherwise it's the only expensive thing you'll need to buy). Armed with leftover yarn, a wooden cutting gauge, a latch-hook and some canvas, you can make a rug. Remember to use sufficient strands of yarn per knot to be equivalent to rug yarn.
THE ROLE OF THE HABERDASHER
Today, latch-hooking supplies are easily available online, both new and vintage. If you're lucky, you'll have access to a hobby or handicraft store. In my home town we have Hobbycraft (sells acrylic rug yarns) and the needlecraft store Franklins (sells Anchor rug wool). In the past, rug wool was either stocked by a department store or the store held a seasonal catalogue and had to order it from the supplier. If you lived in a smaller town or a village, this would be ordered through the village store or even the Post Office. Adverts for stockists, or for free catalogues, could be found in magazines such as "Home & Garden." Some towns had specialist wool stockists such as "Scotch Wool and Hosiery" (suppliers of Greenock brand), but many home rug-makers relied on a haberdashery store or the haberdashery department of the department store in the nearest major town.
Haberdashers sell needlecraft items such as threads, buttons, needles, ribbons and trim. They also sold knitting supplies and rug-making supplies and accessories. Haberdashery means small articles for sewing, and originally referred to those items sold by a street peddler from a tray or barrow. If the store didn't stock what you needed, they could order it for their customers. Not all companies wanted to deal directly with individual customers wanting relatively small quantities through mail order or telegram. It was cheaper and easier for them to sdeal with department stores.
Most larger towns used to have an independent department store. In my home region we had Bolingbroke & Wenley (Chelmsford), Bond's (Chelmsford), Townrow (Braintree) and William & Griffin (Colchester). Bond's was notable for its wonderful haberdashery department; it began as a draper's shop which prospered and grew and was taken over by Debenhams before the Second World War, though the store itself remained "Bonds" until the 1970s. There are also haberdashery departments in chains such as John Lewis, Co-op and Debenhams. When I relied on stores for my supplies, I found that John Lewis stocked Coats pre-cut yarn, while the Co-op stocked Readicut packs. In wool craft magazines, stores such as Binns of Sunderland, Beavan's of Newcastle and Grey's of Birmingham all advertised rug wool from major suppliers.
Below are adverts for various haberdashery departments and wool brands.
While some rug making catalogues directed you to "your local stockist," other companies offered mail order direct to the customer. Stoddarts (Halifax) boasted that they had no agents and "Every pillar box is a receiving station." Up until the 1960s, mail order rug supplies companies accepted payment by personal cheque (which not everyone had at the time), postal orders or even in postage stamps if it was just a small sum. Some would deliver parcels C.O.D. (Cash on Delivery) and the parcels could be collected and paid for at the Post Office. Despite the mail order alternatives, there was still a thrill of choosing wool by inspecting sample swatches in a haberdashery department and, for me at least, there was the smell of wool, wooden cabinets and moth-proofing.
Rug yarns and canvases are bulky items to have sitting around, so when latch-hooking became less popular, fewer department stores wanted to stock those things. In the 1980s, a craft shop in Chelmsford became the only local rug yarn supplier and stocked Readicut. I ordered large amounts of Readicut from there. I bought up all the remaining rug yarn in the Chelmsford Co-op when they closed that department and sold the stock at clearance prices.

You are visitor number: