A SOCIAL HISTORY OF LATCH-HOOK RUG-MAKING


Sarah Hartwell, 2014

Social history is the study of the experiences of ordinary people in the past: what they did and how they lived. There are many specialised branches of social history, e.g. (sport, rural life, education, advertising, food and drink, etc, and many people are simply interested in the past. Much of this website is the social history of latch-hook rug-making. I've compiled the histories of several rug supplies companies, a history of latch hooks and even notes about changing tastes in designs and home décor. Reading old rug booklets, and completing old rug kits with original materials, lets me step back in time and reflect the changing tastes in home decor. As in the early days of latch-hooking, all of my rugs are intended to practical and not just decorative. Rugs aren't just floor-coverings, they can also be used on sofas and settees, as bedcovers and as wall hangings or door coverings. Good quality wool rugs are good insulators. Although leisure time is limited, latch-hooking is a great way to keep my legs warm and my fingers nimble during winter evenings while listening to the radio or watching TV.

The main reason I love latch hooking is that the end result is something useful as well as decorative, but I'm also interested in the social history of home rug making. In the early days, it was an economical way for people to have good quality carpet (a luxury item) in their homes, and they could reuse scraps of wool or fabric. Mum recalls her father designing rugs on hessian by drawing circles around saucepans; my mum and aunts then spent their evenings unpicking old woollens or cutting fabric strips for my grandmother to make the rug. Early on, I made a stitched rug on latch-hook canvas using wool from unravelled sweaters.

The Women's Institute, champions of self-sufficiency, recycling and traditional crafts, wrote instructions for different types of rug-making. The photo is from one of their 1970s "Home Skills" books.

Latch-hooking was also a popular occupational health activity, and Dryad Handicrafts sold latch hook materials in bulk quantities for Occupation Therapy Departments. On dad's side of the family, granddad started latch-hooking in later life when he became chair-bound. He didn't really take to it and I inherited all his wool and canvases in the late 1970s.

Latch hooking experienced a boom during the 20th century, with changing rug designs reflecting changing fashions in home decor. Companies such as Readicut helped keep latch-hooking affordable by offering stage payment plans – a sort of pay-as-you-latch-hook scheme - to allow people to spread the cost of the kit over weeks or months.

My various latch hook booklets gave me a view of changing styles of home décor. Although there was always a place for latch hooked Persian and Oriental patterns, the other patterns reflected the eras.

INTERIOR DECOR AND RUG DESIGNS

Changes in home décor are reflected in the books of rugs produced by various suppliers. These show the changing tastes in colour and pattern as well as the transition of latch-hooking from an economical way of having carpeting to a leisure activity. They also show and how latch-hook rugs evolved into wall-mounted artwork rather than floor-coverings and they also reflect the rise and decline of different companies as several dropped out of the marketplace over the decades e.g. Aspinall Bros, and Stoddarts.

1920s -1930s: The commercial latch hooked patterns of this era were a mix of art nouveau (curves, flourishes and natural forms) and the rising popularity of art deco (angular shapes, geometric designs, symmetry, limited colour palette). Many rugs were stark and simple. Modernism was notable for its lack of colour, its clean streamlined shapes and lack of ornamentation and looking at Patons Rugcraft, many rug patterns involved a lot of beige or greyish backgrounds! The patterns involved lots of straight lines and a limited number of strong colours, such as yellow, orange and black, which stood out against the plain background. There were also patterns for bold floral designs, on beige or a strongly coloured background, but the flowers were simple and stylised rather than naturalistic.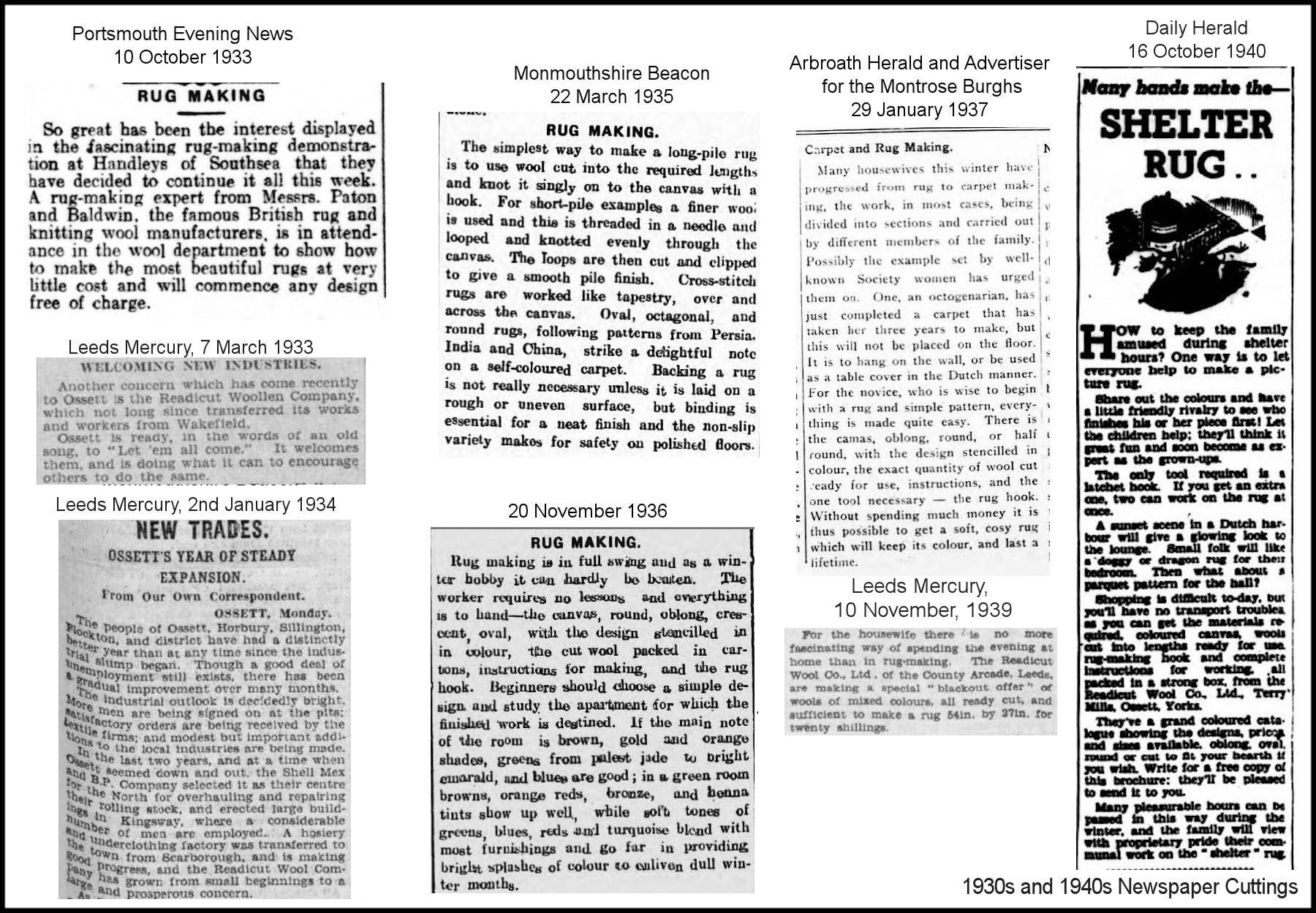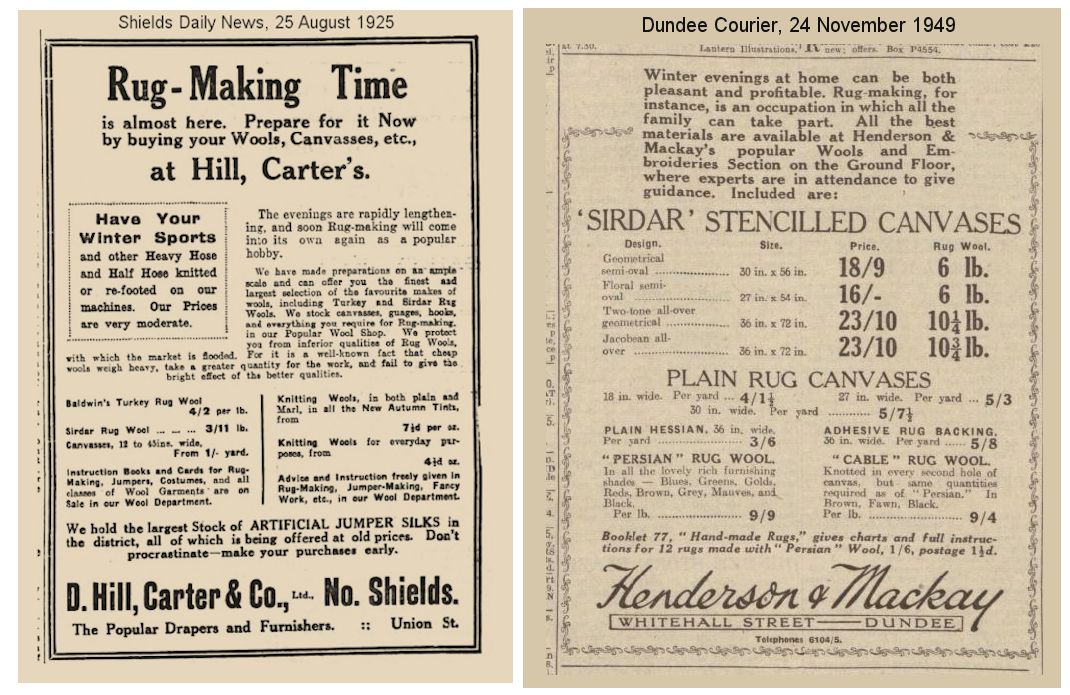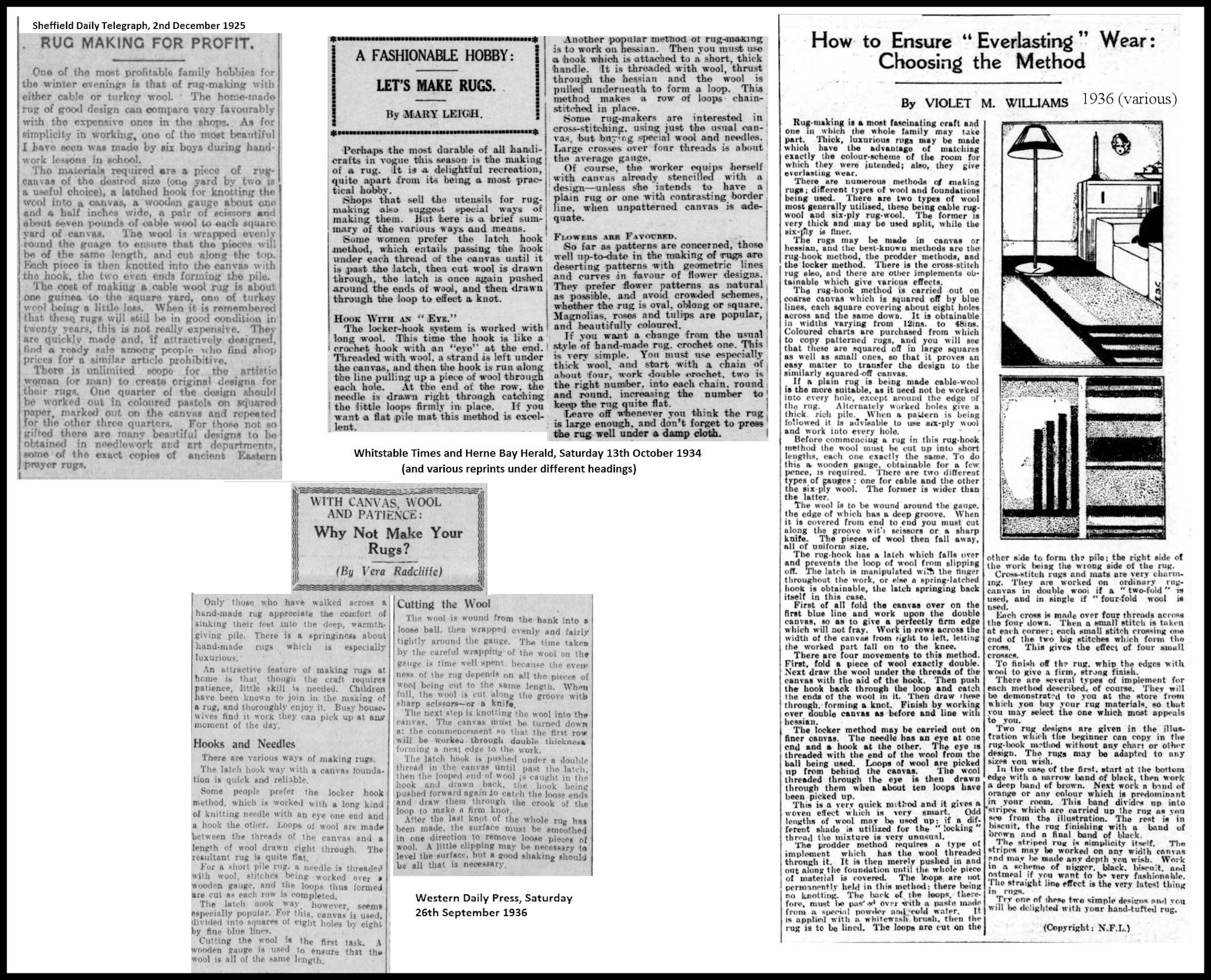 From the 1920s to the 1960s, rug-making was suggested as an ideal project for evenings – particularly winter evenings - around the fireside and chatting at the same time, or while listening to the wireless (much as I spend winter evenings rug-making while watching TV). According to "The Needlewoman" magazine in November 1935, a fire, a rug-making project and a congenial companion, preferably similarly occupied, was all that was required to enjoy winter afternoons and evenings to the utmost. My former neighbours, Dennis and Jean, then in their 80s, told me that they used to work at either end of a rug in the evening.
| | |
| --- | --- |
| Patons designs from the 1920 and 1930s | Patons designs from the 1920 and 1930s |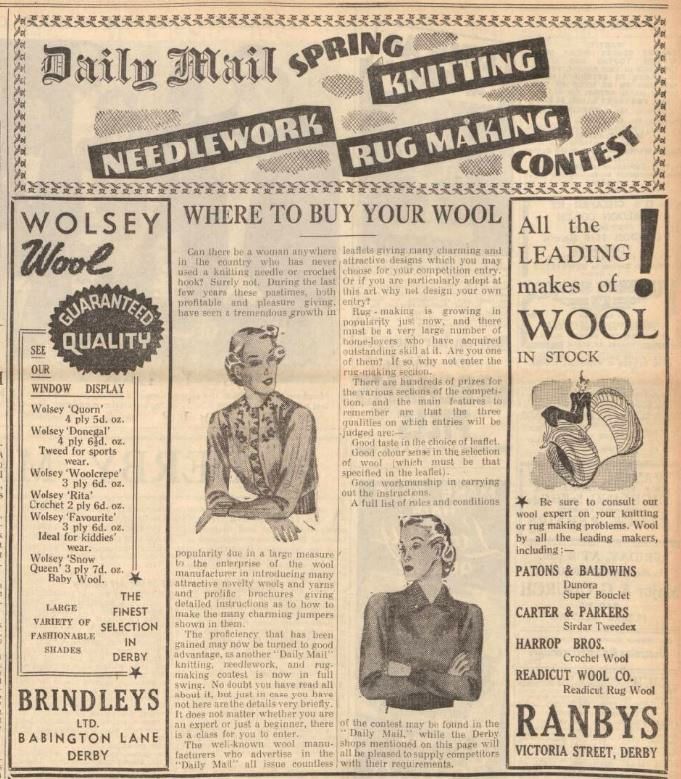 1940s - 1950s: This era seemed to have more emphasis on creating a more domestic look with patterned rugs. Semi-circular hearth rugs were popular, reflecting the living room fireplace as the centre of family activity. Motifs included flowers, swirls and geometrics, but cosy patterns were becoming popular – dovecotes, country cottages nestled between hills and Chinese willow pattern. Readicut booklets gave ideas for colour co-ordination – in particular greens. A few art deco patterns were still in the catalogues, carried over from previous decades. Moving through the 1950s, textiles featured abstract patterns and, on the other hand, sprigged floral patterns. Polka dots in bubblegum hues competed with animal stripes and spots.
| | |
| --- | --- |
| Stoddarts - 1950s. | Readicut - 1950s |
During the 1940s, magazines and advertisers often commented that rug making could be an activity for the whole family, sometimes explicitly mentioning or depicting men. Latch-hooking was one of the home crafts acceptable for men, hence the accounts of sailors who went to sea with a Readicut rug outfit and returned with a completed rug.
During wartime and the post-war period, dyes were rationed and home rugmakers had to substitute the colour indicated on the chart with a colour that was still available. Rug backgrounds tended to be various shades of light brown or green. At times, rug wool wasn't available at all. My mother recalls her father making rugs out of unpicked knitting wool that wasn't good enough to be re-knitted. In the early 1980s I made a stitched rug from recycled knitting wool – huge balls of maroon, light green and beige unpicked wool that mum had inherited!
In November 1943, Stitchcraft carried directions for making a bag out of rug wool, however the magazine noted "The original bag was made of lengths of plaited rug wool, but by this time you will probably have used all yours up and won't be able to buy any more in the shops." Some suppliers announced that their wools wouldn't be available until the end of the war. In October 1947 Stitchcraft welcomed the return of Turkey Rug Wool to shops, but had to give instructions on how to crochet rugs because there was "no canvas available for making rugs by the usual long-pile method."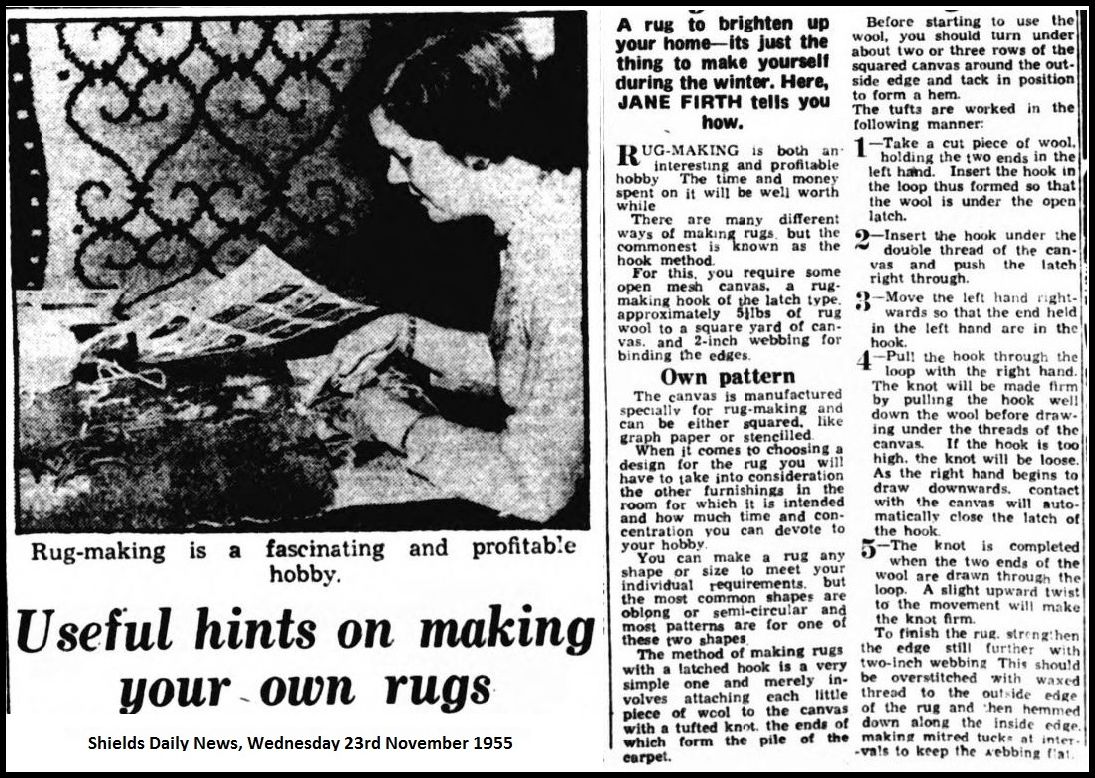 In the mid-20th century, manufacturing processes changed and man-made fibres became cheaper and more popular. Commercially made rugs and wall-to-wall carpets became affordable for many, if not most, people. Latch hooking became a hobby rather than a practical way to acquire floor coverings. As it stopped being a necessity, fewer people picked it up; it competed with other, less space-consuming, handicrafts such as tapestry or cross-stitch. What was the point of spending each evening latch-hooking when you could buy a ready-made rug from good old Woolworths?
1960s - 1970s: This is where my personal memories really start – the advent of huge repeat patterns and a lot of browns, rusts and tangerine orange. Swirls, clashing colours and shaggy rugs were very late 1960s. The psychedelic and futuristic trend continued through into the 1970s which I recall as being an assault on the eyes! This was funk-art. Older, traditional designs still had their place, but when asked to design a rug pattern, a friend based her design on the Mary Quant flower motif.
| | |
| --- | --- |
| Patons design from early 1960s | Readicut - late 1960s/early 1970s |
| Readicut - mid-1970s | Readicut - mid/late 1970s - wall-hangings |
In its January 1960 issue, "Stitchcraft" magazine suggested that rugs were "very satisfying to make by the fireside on winter evenings." Although making a rug was not a project that would entertain its readers through the whole season, the magazine wrote that a smaller rug could be completed comfortably in 2 weeks, filling in 2 or 3 checks [guide squares] each evening. The reference to checks indicated a charted pattern rather than a patterned canvas.
This picture from a 1976 Patons catalogue shows that latch-hooked rugs had even made it into the bathroom as pedestal mats, toilet tank covers and toilet lid covers. By the 1970s, you could also make latched hook animal toys, latched hooked "animal skin" rugs (the head had to be stuffed for the full effect) and latch hooked bags. MCG still produce kits for latch-hooked teddy bears
| | |
| --- | --- |
| Patons mid-1970s bathset | Late 1970s -latch-hooked bedspread |
1980s - 1990s: In the home, pastel patterns rubbed shoulders with dense floral patterns, but latch-hooking was on the wane. Instead of regular patterns, latch hook designs were becoming pictures – animals, cartoon characters – painting with acrylic yarn rather than creating floor rugs in wool. Latch hooked rugs moved from the floor to the wall.
| | |
| --- | --- |
| Latch hooked toy | Readicut late 1970s, showing the Disney trend. |
By the 1980s, mass-produced Chinese rugs were easily obtainable, further reducing the appeal of latch hooking. In many ways, this was a decade of instant gratification, rather than the satisfaction of doing something slowly. Rug designs reflected this: while there were traditional designs for those of us who enjoyed latch-hooking as a hobby, these were out of step with mainstream fashion. To offset the expense of rug-making, kits were all too often wool/acrylic mixes rather than pure wool. Axminster wool, which was rough on the fingers and had to be cut using a gauge, was not easily found. By now the designs were moving into tapestry territory, being latch-hooked pictures (to appeal to hobbyists) rather than traditional rug designs. Despite the popularity of man-made yarns, latch-hooking was a costly hobby compared to tapestry or cross-stitch, and the finished item was large and harder to display.
By the 1990s, rugs were easily and cheaply available at Habitat, Ikea and Homebase. Scandinavian minimalism was becoming more popular, especially sheepskin rugs, though rya shaggy rugs didn't seem to catch on. We're into the era of cheap, disposable homewares – why spend weeks making a rug when you could buy a cheap rug and change your decore every few months? Most of the companies making good quality rug kits went out of business, while those that had offered rug kits as a part of their wool business, stopped stocking rug making supplies and stuck with knitting wool.
Although handicrafts are popular again, the latch-hook kits available from mainstream craft suppliers such as Hobbycraft are, in my opinion, dire: cartoon designs, garish hues, thin acrylic wools and no binding tape, nor even instructions to turn the edges of the canvas. Cheap and cheerful for those who don't want to spend too much money, but cheap and nasty for those of us who grew up making pure wool rugs from Readicut, Patons and Sirdar etc. A good rug means commitment in terms of time and good quality wool. Thankfully many people are transcribing discontinued patterns into graph format and/or scanning their old pattern books. I've put a large number of latch hook patterns on Flickr and I still have plenty of old designs to work through. Bonanza and Etsy are great places to find downloadable versions of patterns. Etsy and Ebay are good places to find old Rug design booklets and canvases and rug wool that other people are clearing out. Expect to pay upwards of £50 (plus postage) for a second-hand rug kit, either unworked or partly worked.
ADVERTISING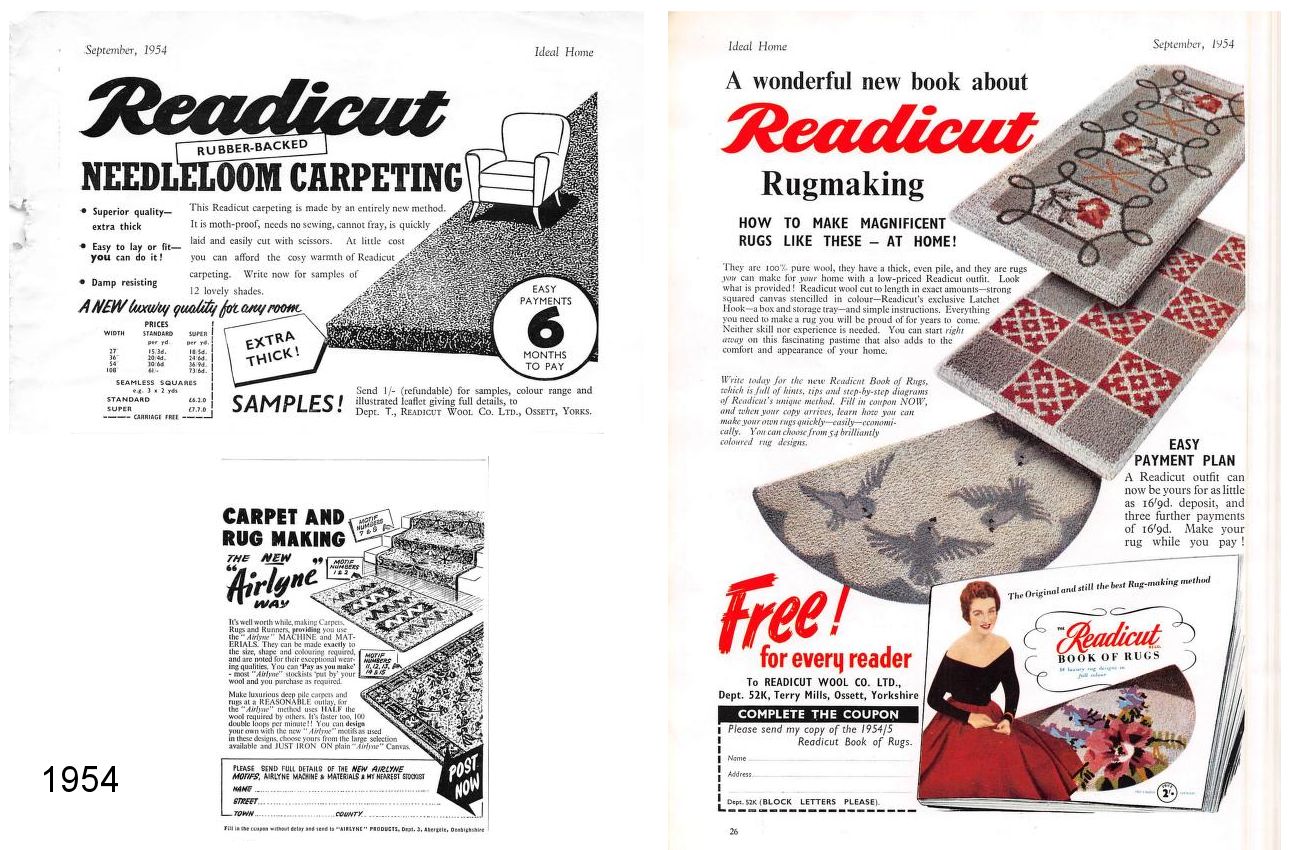 Advertising material can be fascinating. These reflect the changing styles of the day from early wordy adverts that described the merits of the product in great detail, through to the relatively terse post-1970s full-colour adverts. In an increasingly competitive market a bright, colourful "buy yours today!" advert caught the eye much better that the column of descriptive text of yesteryear. As companies became better known, they could rely on their brand name or logo to speak for them. Readicut became almost a synonym for anything latch-hook related and even today you'll see vintage kits, wools or stencilled canvases described as "similar to Readicut." Readicut's innovations helped to shape the 20th Century latch-hooking market: packs of pre-cut wool, the offset latch-hook, stencilled canvases and a stage-payment scheme so you could buy rug wool over a period of time and spread the cost of your rug. Adverts from different eras are depicted on some of my other pages.
TOOLS AND KITS
Researching the history of the tools and accessories led me to patents databases. The latch hook is a simple and effective tool and it's hard to think of any way to improve upon the design, yet several people tried, usually in the name of efficiency. The only long-lasting improvement was Readicut's invention of the "offset latch hook." Other ideas to improve upon it concentrated on the time and effort needed to cut wool to length and to load it onto the hook. Proposed improvements included a blade mounted in the metal shaft (which would have cut the canvas as well as being a safety hazard) or a cartridge to hold several pre-cut pieces of wool (which would have taken as long to load as using single pieces). Home rug-making focuses on quality rather than speed, especially with "pay as you make" plans, and the latch hook survived in its simple form. The other improvement concerned wool cutting and this saw several useful improvements including safety cutting blades (for use with the wooden wool gauge), windable wooden gauges, and the Patons & Baldwin "Patwin" rotary cutter. Different accessories and essentials are depicted on some of my other pages.
Home latch-hookers find that latch hooks breed. Every rug kit includes at least one latch hook; older kits included two. Many online auctions throw in a latch hook or three with job lots of wool. I have never yet managed to wear out a latch hook and some of my inherited hooks are still going strong after 50 years. Considering their robustness, it's a wonder that anyone ever sells latch hooks; the only one I needed to buy was for working with finer mesh canvas where my standard 3.3 hpi gauge latch hooks weren't suitable. There are a few interesting latch-hooks out there – a golden colour commemorative Readicut "Golden Jubilee" hook, and a nicely decorated black Readicut hook. I have a few interesting ones, though collectors and completists might want to collect branded latch hooks: Patons, Readicut, Boye etc.
Rug wool labels and rug kit packaging have also changed over the decades; changes reflect cost-cutting and the way in which stores displayed their wares. Mail order kits arrived in sturdy cardboard boxes, often with compartments for the packs of wool, but modern kits feature at least a transparent plastic window, and many are designed to hang from hobby shop display racks rather than being stacked on a haberdasher's shelves.
It always amazes me how many vintage rug kits are out there, still in their boxes, either incomplete or unopened. These are usually good value for money, especially if they used pure wool or wool/nylon mix. The quality of vintage kits is much better than kits from mainstream hobby stores and you should end up with a hard-wearing, dense floor rug rather than a garish design in thin acrylic yarn on poor quality canvas.
ODD DIVERSIONS
Along the way, I came across a few oddities included in job lots of rug making supplies. Some of these weren't properly documented online so I trawled patent databases to find out more; for example the "Speedeway" (for cutting pile on stitched rugs) and the "Argyll Ali" (a rug punch tool with egg-whisk handle), neither part of latch-hooking, but entertaining diversions and part of handicraft history nonetheless. You can find these on separate pages (see Index page).
Lanigraphy (writing or drawing with wool)
Lanigrafia is a Spanish word that roughly translates as "thread painting" or even as "woollography" (drawing with wool) and refers to the art of depicting landscapes or objects using different embroidery stitches and colours. This sounds analogous to crewel, but "drawing with wool" is a good description of rugs and tapestries that use texture as well as colour in their motifs. There's no direct English equivalent word, but theoretically it should be lanigraphy (Latin lana (wool) + the suffix -graphie (Latin for both writing and field of study).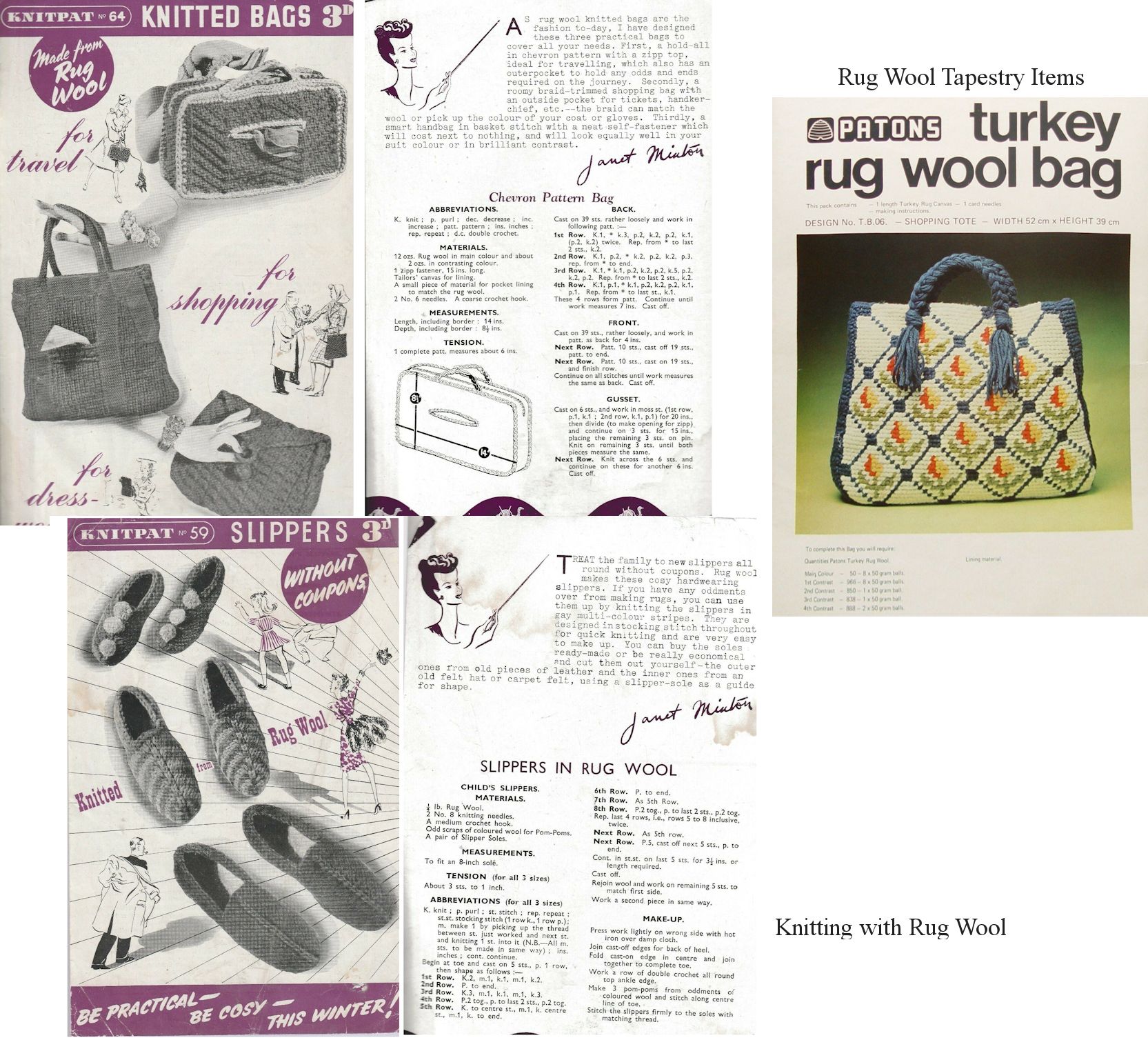 You are visitor number: