SHORTHAIRED CATS OF THE 19TH CENTURY - SIAMESE AND BLUE SIAMESE
Siamese (Harrison Weir)
Among the beautiful varieties of the domestic cat brought into notice by the cat shows, none deserve more attention than "The Royal Cat of Siam." In form, colour, texture, and length, or rather shortness of its coat, it is widely different from other short-haired varieties; yet there is but little difference in its mode of life or habit. I have not had the pleasure of owning one of this breed, though when on a visit to Lady Dorothy Nevill, at Dangstien, near Petersfield, I had several opportunities for observation. I noticed in particular the intense liking of these cats for "the woods" not passing along the hedgerows like the ordinary cat, but quickly and quietly creeping from bush to bush, then away in the shaws; not that they displayed a wildness of nature, in being shy or distrustful, nor did they seem to care about getting wet like many cats do, though apparently they suffer much when it is cold and damp weather, as would be likely on account of the extreme shortness of their fur, which is of both a hairy and a woolly texture, and not so glossy as our ordinary common domestic cat, nor is the tail, which is thin. Lady Dorothy Nevill informed me that those which belonged to her were imported from Siam and presented by Sir R Herbert of the Colonial Office; the late Duke of Wellington imported the breed, also Mr Scott of Rotherfield. Lady Dorothy Nevill thought them exceedingly docile and domestic, but delicate in their constitution although her ladyship kept one for two years, another over a year, hut eventually all died of the same complaint, that of worms, which permeated every part of their body.
Mr Young, of Harrogate, possesses a chocolate variety of this Royal Siamese cat; it was sent from Singapore to Mr Brennand, from whom he purchased it, and is described as "most loving and affectionate," which I believe is usually the case. Although this peculiar colour is very beautiful and scarce, I am of opinion that the light gray or fawn colour with black and well-marked muzzle, ears, and legs is the typical variety, the markings being the same as the Himalayan rabbits. There are cavies so marked; and many years ago I saw a mouse similarly coloured. Mr. Young informs me that the kittens he has bred from his dark variety have invariably come the usual gray or light dun colour with dark points. I therefore take that to be the correct form and colour, and the darker colour to be an accidental deviation. In pug-dogs such a depth of colour would be considered a blemish, however beautiful it might be; even black pugs do not obtain prizes in competition with a true-marked light dun; but whatever colour the body is it should be clear and firm, rich and not clouded in any way. But I give Mr Young's own views:
"The dun Siamese we have has won whenever shown; the body is of a dun colour, nose, part of the face, ears, feet, and tail of a very dark chocolate brown, nearly black, eyes of a beautiful blue by day, and a red colour at night! My other prize cat is of a very rich chocolate or seal, with darker face, ears and tail; the legs are a shade darker which intensifies towards the feet. The eyes small, of a rich amber colour, the ears are bare of hair, and not so much hair between the eyes and the ears as the English cats have. The dun, unless under special judges, invariably beats the chocolate at the shows. The tail is shorter and finer than our English cats. I may add that we lately have had four kittens from the chocolate cat by a pure dun Siamese he-cat. All the young are dun coloured, and when born were very light, nearly white, but are gradually getting the dark points of the parents; in fact I expect that one will turn chocolate. The cats are very affectionate, and make charming ladies' pets, hut are rather more delicate than our cats, but after they have once wintered in England they seem to get acclimatised. Mr Brennand, who brought the chocolate one and another, a male, from Singapore last year informs me that there are two varieties, a large and small. Ours are the small; he also tells me the chocolate is the most rare.
I have heard a little more regarding the Siamese cats from Miss Walker, the daughter of General Walker, who brought over one male and three females. It seems the only pure breed is kept at the King of Siam's palace, and the cats are very difficult to procure, for in Siam it took three different gentlemen of great influence three months before they could get any. Their food is fish and rice boiled together until quite soft, and Miss Walker finds the kittens bred have thriven on it. It is my intention to try and breed from a white English female with blue eyes, and a Siamese male.The Siamese cats are very prolific breeders, having generally five at each. litter, and three litters a year. We have never succeeded in breeding any like our chocolate cat; they all come fawn, with black or dark brown points; the last family are a little darker on their backs, which gives them a richer appearance than the pale fawn. Hitherto we have never had any half-bred Siamese; but there used to be a male Siamese at Hurworth-on-Tees, and there were many young bred from English cats. They invariably showed the Siamese cross in the ground colour."

From the foregoing it will be seen how very difficult it is to obtain the pure breed, even in Siam, and on reference to the Crystal Palace catalogues from the year 1871 until 1887, I find that there were fifteen females and only four males, and some of these were not entire; and I have always understood that the latter were not allowed to be exported, and were only got by those so fortunate as a most extraordinary favour, as the King of Siam is most jealous of keeping the breed entirely in Siam as royal cats. The one exhibited by Lady Dorothy Nevill (Mrs Poodle) had three kittens by an English cat; but none showed any trace of the Siamese, being all tabby.
Although Mr. Herbert Young was informed by Mr Brennand that there is another and a larger breed in Siam, it does not appear that any of these have been imported; nor have we any description of them, either as to colour, size, form, or quality of coat, or whether they resemble the lesser variety in this or any respect, yet it is to be hoped that, ere long, some specimens may be secured for this country. Besides Mr. Herbert Young, I am also indebted to the courtesy of Mrs. Vyvyan, of Dover, who is a lover of this beautiful breed, and who kindly sends the following information:
"The original pair were sent from Bangkok, and it is believed that they came from the King's Palace, where alone the breed are said to be kept pure. At any rate they were procured as a great favour, after much delay and great difficulty, and since that time no others have been attainable by the same person. We were in China when they reached us, and the following year 1886, we brought the father, mother, and a pair of kittens to England. Their habits are in general the same as the common cat, though it has been observed by strangers, 'there is a pleasant wild animal odour,' which is not apparent to us. Most of the kittens have a kink in the tail; it varies in position, sometimes in the middle, close to the body, or at the extreme end like a hook."
This tallies with the description given by Mr Darwin of the Malayan and also the Siamese cats. See my notes on the Manx cat Mr. Young had also noted this peculiarity in "the Royal cat of Siam." Mrs. Vyvyan further remarks "They are very affectionate and personally attached to their human friends, not liking to be left alone, and following us from room to room more after the manner of dogs than cats. They are devoted parents, the old father taking the greatest interest in the young ones. They are friendly with the dogs of the house, occupying the same baskets; but the males are very strong, and fight with great persistency with strange dogs, and conquer all other tom-cats in their neighbourhood. We lost one, however, a very fine cat, in China in this way, as he returned to the house almost torn to pieces and in a dying condition, from an encounter with some animal which we think was one of the wild cats of the hills.
We feed them on fresh fish boiled with rice, until the two are nearly amalgamated; they also take bread and milk warm, the milk having been boiled, and this diet seems to suit them better than any other. They also like chicken and game. We have proved the fish diet is not essential, as two of our cats (in Cornwall) never get it. Rather a free life seems necessary to their perfect acclimatisation, where they can go out and provide themselves with raw animal food, 'feather and fur.' We find these cats require a great deal of care, unless they live in the country, and become hardy through being constantly out of doors. The kittens are difficult to rear unless they are born late in the spring, thus having the warm weather before them. Most deaths occur before they are six months old.
We have lost several kittens from worms, which they endeavour to vomit; as relief we give them raw chicken heads, with the feathers on, with success. We also give cod-liver oil, if the appetite fails and weight diminishes. When first born the colour is nearly pure white, the only trace of 'points' being a fine line of dark gray at the edge of the ears; a gradual alteration takes place, the body becoming creamy, the ears, face, tail, and feet darkening, until, about a year old, they attain perfection, when the points should be the deepest brown, nearly black, and the body ash or fawn colour, eyes opal or blue, looking red in the dark. After maturity they are apt to darken considerably, though not in all specimens. They are most interesting and delightful pets. But owing to their delicacy and the great care they require, no one, unless a real cat lover, should attempt to keep them; they cannot with safety to their health be treated as common cats.
"During 'Susan's' (one of the cats) illness, the old he-cat came daily to condole with her, bringing delicate 'attentions' in the form of freshly-caught mice. 'Loquat' also provided this for a young family for whom she had no milk. Another, 'Saiwan,' is very clever at undoing the latch of the window in order to let himself out; tying it up with string is of no use, and he has even managed to untwist wire that has been used to prevent his going out in the snow. We have at present two males, four adult females, and five kittens." One of our kittens sent to Scotland last August, has done well."
Mrs Lee, of Penshurst, also has some fine specimens of the breed, and of the same colours as described, I take it, therefore, that the true breed, by consensus of opinion, is that of the dun, fawn, or ash-coloured ground, with black points. Other colours should be shown in the variety classes. The head should be long from the ears to the eyes, and not over broad, and then rather sharply taper off towards the muzzle, the forehead flat, and receding, the eyes somewhat aslant downwards towards the nose, and the eyes of a pearly, yet bright blue colour, the ears usual size and black, with little or no hair on the inside, with black muzzle, and round the eyes black. The form should be slight, graceful, and delicately made, body long, tail rather short and thin, and the legs somewhat short, slender, and the feet oval, not so round as the ordinary English cat. The body should be one bright, uniform, even colour, not clouded, either rich fawn, dun, or ash. The legs, feet, and tail black. The back slightly darker is allowable, if of a rich colour, and the colour softened, not clouded.
Siamese (Early Imports)

The catalogue of the Fourth National Cat Show held at Sydenham, England, October 26th, 28th and 29th, 1872, lists on page 15 under the heading " Class 21 -Short-haired Unusual Colour She-Cats " the entry " 127 Lady Dorothy Nevill, Pure Siamese ' Mrs. Poodles '." Page 12 of the 1875 catalogue carries under the same heading the entry: " 112 Mr.J. Walter, Siamese, 'Mymie,' aged five years. Winner of First Prizes Crystal Palace 1873 and 1874." At this time there were Chinese and Japanese cats as well as Siamese and Abyssinian, so the early "Siamese" cats may have been different to those sent to England in 1884. Some of those pre-1884 "Unusual colour" cats might have been brown Burmese cats or the intermediates now called Tonkinese.
Siamese cats had been imported into England as early as the 1860s, but it was not until the Crystal Palace Cat Shows that they attracted the public's attention and took off as a breed. One of the earliest proponents of the Siamese breed was Lady Dorothy Nevill, of 'Dangstein' (an estate), near Petersfield. She was an owner, breeder and cat show judge. She had a gold-prizewinning Siamese female called 'Mrs. Poodle' who three kittens by an English cat, none of which showed any trace of Siamese, being all tabby. Her Siamese cats were imported from Siam and presented to her by Sir R. Herbert of the Colonial Office. Others also imported Siamese cats including the late Duke of Wellington and a 'Mr. Scott of Rotherfield'. The first Siamese cats known to have been exhibited at a cat show belonged to Mr. J. Maxwell at 1871 (First) Crystal Palace Cat Show, Lady Dorothy Nevill judged at the Second Crystal Palace Cat show and exhibited her cats at the Third Crystal Palace Cat Show (1872). Mr. Maxwell's 5 year old 'Mimie' and a litter of young kittens were exhibted at the 1875 Cat Show.
Another early breeder was Mrs. Cunliffe Lee whose cat 'Meo' appears in the pedigrees of the famous Tiam-o-Shian dynasty (sometimes rendered Tiam O'Shian as though they were Irish cats!) The sisters Mrs. Vyvyan and Miss Forestier Walker imported a pair of Royal Siamese, Susan and Samuel, from Bangkok, followed later by Tiam-o-Shian (Tiam-o-Shian I) who became one of the founding sires of the Siamese breed in Britain. In 1886, Mrs. Vyvyan arranged to import another breeding pair, along with their two kittens. In 1884, Edward Blencoe Gould, the British Consul General in Bangkok, had brought home a breeding pair of Siamese called 'Pho' and 'Mia' as a gift for his sister, Lilian Jane Gould (better known as Mrs. Veley). Pho and Mia had two litters, producing 'Duen Ngai', 'Kalohom' and 'Khromata,' but they died not long after being exhibited as kittens.
Siamese males were evidently not delicate. In June 1899 a case came to court for £2 damages to a cat owned by Victor Herbert Veley, M.A., F.R.S. (husband of Lilian Jane Gould). The injured cat was described as a "a most valuable animal, being of a rare species known as 'Royal Siamese,' or Lady O'Malley's breed." The next door neighbour's cat, which had reputation for being a bit of a thug, came over the wall from the neighbour's garden and flew at his Siamese tomcat. The Siamese male, valued at "£30 at least", then continued the battle in the neighbour's garden and sustained cuts to its legs and elsewhere, and its vet bill came to 3s 6d. The fight had continued on the neighbour's greenhouse so it wasn't clear if the cuts were from the neighbour's cat or from greenhouse glass. "Lilian Jane Veley, wife of plaintiff, corroborated. She added that she saw the remainder of the fight on the west greenhouse. She saw defendant's cat strike her animal through the glass of the greenhouse, and they eventually rolled down together."
The cat was taken into court and its scars exhibited by Mr. Veley. The Judge asked if it was a good mouser and ratter and Mr Veley said it would also catch rabbits. Mrs. Veley stated that the cat was of a very rare species. "The King of Siam had come to know that they were very valuable animals and had stopped their exportation. - His Honour: This will be a good advertisement for their importation – (laughter) - There seemed to him there was a little bit of Zoological Gardens about the face of the animal.- Witness: It is a domestic animal and is regarded as such by the authorities at the Zoological Gardens." In cross-examination, Mrs Veley said she believed two of the gashes were caused by glass. The injuries would leave permanent marks, and the slightest mark detracted from its sale value, and rendered it unshowable. It could not be proved that any of the injuries on the Veleys' cat were inflicted in his own garden. There would consequently be a non suit without costs and the judge suggested the cats should have been left to finish the fight as they would have become friends afterwards.
In the early 1890's Lady Marcus Beresford imported 'Tachin' (born c. 1890) and 'Cambodia,' who were described as having perfect points, via her brother-in-law William Beresford who had acquired them from the Palace at Bangkok (The Book of the Cat). The cats resided at her Bishopsgate catteries which were tree-lined idylls on what was then the outskirt of Victorian London. Tachin was an excellent stud (and was at public stud for a relatively high sum) and Cambodia an excellent brood queen. Their son 'Cuss', born in 1897 and owned by Mrs. Hawkins, was a winner in the Siamese class at Westminster in 1899. An un-named daughter of Tachin was also owned by Mrs. Hawkins so presumably these were to be founders of Mrs. Hawkins' breeding programme. During this time, Mr. Elliott Hill, in Ireland, imported a breeding pair called 'Siam I' and 'Siamese Cheetah'. Siamese Cheetah was another excellent breeding female.
The finest known specimens of the Siamese cats are lodged in the Bishopsgate catteries, quite regardless of expense. They are named Tachin and Cambodia. These cats cost £50 each, or more than their own weight in gold. In and of themselves they are most dainty, shy creatures. In color they are very like the familiar pug dog — a soft fawn, marked with deep velvety brown. As Tachin and Cambodia and their descendants are alone in their glory in England, such a gift proves a veritable cornerstone of good fortune to the skillful breeder of these charming animals. Great skill is needed in rearing them. So far, no other Royal Siamese have been so successfully imported to this country of fog and damp. Their extreme delicacy cannot be over-estimated. Even in the land of their home these pets of the aristocratic wives of the king are not blessed with the traditional nine lives of our own howling Thomas and humble Tabby. And where the environment is so different the task of rearing demands the utmost care. – Hornellsville Weekly Tribune, April 21, 1899
Lady Marcus Beresford noted: "I never once had any trouble or anxiety with them, - dear, gentle, friendly little people, so clever and attractive. I have never seen any I have so admired. They had many fine, healthy litters, scattered about now, amongst various friends. My success all round was great with them - no illness of any kind, till one day a fiend poisoned both 'Tachin' and 'Cambodia' and some of their six months kittens. I have replaced them with some bred in England; and my opinion is that, as a rule, the imported ones are much the stronger. A pair of Siamese imported from the Temple at Bangkok I purchased from Mrs. Vary Campbell, and had the great misfortune to lose them. They differed from the royal Siamese being darker and having a more pointed head and face, and their eyes were larger and fuller." Tachin, Cambodia and their 6 month old kittens were among more than twenty valuable show cats killed by a malicious poisoner in 1899.

Note: According to Mrs Sutherland, the King of Siam said the pure-bred Royal Cat of Siam did not have kinked tails. The King's Private Secretary wrote to Mrs Vary Campbell that the Palace's Siamese cats had no tail kinks, but occasionally a liaison with a tramp cat of Malay origin produced kittens with kinked tails. This suggests the kinked-tail cats were seen as mongrels. However Miss Forestier Walker claimed the kinked tail was highly prized, and such cats were more valuable and were gifted to important people. Since the kinked tail is widespread in the local free-roaming population, it's more likely the King would give away the impure Siamese/Malayan crosses and was amused that Europeans valued the kink-tailed cats.
Siamese (Daily Telegraph, 1879)
A yet more curious, if less prepossessing, couple of juveniles of Siamese extraction with black muzzles, ears, feet and tail setting off a close, yellowish drab coat and completing the resemblance of the little brutes to a pair of pug puppies.
The Siamese (from Domestic and Fancy Cats, by John Jennings (1893))
The Siamese, or Royal Cat of Siam, by which name it is also distinguished, from the fact that it is propagated and protected under Royal supervision, is without doubt a magnificent animal and well worthy of the kingly patronage. A pure-bred Siamese is a valuable cat, especially the male, for like the Chartreuse monks' productions, as previously described, the majority are rendered neuter. This, when we consider how the male influences outward characteristics, may, in a measure, explain why several what I call "off colours" are now and again exhibited as Siamese, a cross probably between a purebred Siamese female and our short-haired self-coloured male cat. The special colour of the Siamese is a clean dun, with no trace of sooty blemishes on body. The extremities, viz. nose, ears, feet, and tail, have black markings, and those on the nose should extend and encircle the eyes. The coat is particularly short and close in texture, even, and brilliant ; the tail is not so tapering as in ordinary cats, while as regards size, medium and certainly not large, can be taken as a correct description. The eyes are deep blue in the pure breed, and are therefore important.
From the foregoing descriptive remarks, my readers will gain a good insight into the classification of varieties ; and will have little difficulty in recognizing typical specimens at our Standard Exhibition
Siamese ("Domestic and Fancy Cats", John Jennings)
The strain shown by Mrs. Vyvyan and Miss Forestier Walker was stated to be in direct descent from the first cats exhibited in England. These were Tiam o' Shan and Susan (first prizes Crystal Palace and Alexandra Palace), imported by these ladies many years ago. Their influence has practically preserved the breed and established it, the pedigree of nearly all the well-known cats that have appeared in the show world in the meantime being traceable to the original strain, either in direct outcome or by crossing imported females with Mrs. Vyvyan's stud cats.
Siamese Cats (Linlithgowshire Gazette, 30th March 1895)
Ladies who love cats enjoyed some pleasant days last week at the Cat Show in St. Stephen's Hall, adjoining the Royal Aquarium. In pets there is a fashion, just as there is in furniture, or in clothes. Dogs are abiding in the favour of owners, but the species that belongs to drawing-room life varies from year to year. [. . .] But for a house pet the cat is now in the ascendant, it has not yet attained to the position of deity like its ancestor in ancient Egypt, and we hope that it never may. The Princess of Wales has some very fine blue Persians - so called - at Sandringham. The smoke-coloured Persian is quite a novelty this year. The show entries were divided into 69 classes, but to the ignorant outsider, not cat worshipper, it was difficult to see any distinction between some of the varieties. We never knew before that there is in England but one veritable tortoise-shell cat, for novelists are so fond introducing tortoiseshell cats into their stories as furniture, or stage property, to make domestic interiors. The only tortoiseshell was at the show Westminster last week. [Note – the cat referred to was the only tortie Tomcat.]
The cat of fashion is the Siamese, a wild-looking creature, so far as expression is concerned, short haired, and brindled in splotches. The temper of a Siamese cat is described as demoniacal, which, perhaps, is accounted a virtue. It will not tolerate another cat in the establishment, and flies at the intruder in a murderous manner. The Princess of Wales sent, a photograph of her Siamese cat, and the Duchess of Bedford the portrait of hers, so there was but one of these un amiable creatures on view.
The Duchess of Bedford has rooms at Woburn allotted to her cats, and covered exercise courts arranged with trees and shrubs. She has neat little covered wicker baskets for travelling, in which she brings selections with her when she comes to town, where special apartments are kept, fitted up suitably. Last year the Queen took her favourite cat to Florence with her, but this year there is no mention made of the cat, nor of the dogs that made the foreign tour in former years. Mrs. Winans, wife of the American millionaire, has large establishment of cats at Brighton. Hers must be well educated and well disciplined, for they go out to take the air in a sort of glorified bath chair, and behave with much dignity.
Miss Rieke's Siamese Kitten "Rimo" – Ladies Kennel Club Journal, 5th December, 1896
Rimo, the much admired Siamese kitten, whose first appearance in public was, alas, but the prelude to his death, resulting from acute inflammation of the lungs, was bred by Mrs Robbins and sold by her at Holland Park to Miss Rieke, who took him home only to lose him. Rimo was one of the handsomest kittens benched, having a lovely toned coat and grand markings, with good eyes. His sire was Mrs. Carew-Cox's King Kesho, a descendant of Her Grace the Duchess of Bedford's Siamese cats Saitu and Saiwan, and his dam, Lady Betty.
Royal Cats (The Courier Journal, December 4th, 1897)
Among the famous breed of royal cats from Siam, the most important is today known as Sura, having been renamed. Formerly he was Prince Damrong. Last year he was purchased by the Hon. Mrs. McLaren Morrison, of London, but she was obliged to leave England for India, and so placed her pet in the care of Miss Manley, who is well known abroad as a capable and popular judge of dogs and cats at shows. Sura was taken to Kensington, and became devoted to Miss Manley's little King Charles spaniel, Boscobel. The beautiful pair are never apart, thus rending in tatters the old theory that a dog and a cat can never agree. They eat out of the same dish and sleep on the same hearth rug, the cat pillowing its head on the glossy King Charles. They often go out for a walk together. Recently Miss Manley took them to a studio to be photographed, but Sura proved perfectly obdurate till his friend was placed on the table beside him, when he calmed down and condescended to have his portrait taken. At home Sura is a charming cat, showing a pleasing curiosity about visitors and their doings. He has the close fine fur – cream-colored, marked with chocolate – brilliant china blue eyes and the requisite kink at the end of his tail which mark him aa one of the royal cats of Siam. He was born in July, 1896.
Siamese in The Ladies' Kennel Journal The Gentlewoman, 11th June 1898
The Ladies' Kennel Journal [. . .] An article on Siamese cats should still further add to the popularity of these charming specimens of the feline race. The Siamese cat, we are told, is highly sensitive, very nervous, and easily excited. He becomes much attached to particular individuals. The writer considers him a perfect house pet, defending him from imputations of viciousness with children. Of course, he objects to having his tail pulled, but what cat does not? He is of most cleanly habits, and has absolutely no smell. As he grows up he can be taught tricks, 'to fetch and carry, beg, or lie down at bidding.
Home Pets. The Siamese Cat. (Lloyd's Weekly Newspaper, 28th August 1898)
Those who are fond of cats, and who wish to have one that is unlike those of their neighbours,, will find the Siamese very different in appearance to the ordinary cat, but yet a very striking and handsome animal. The desire for novelty, which is as pronounced among keepers of livestock as it is in other phases of life, has caused every quarter of the globe to be ransacked for rare dogs, cats, birds, and every other possible live pet. And among the numerous creatures that have been brought to light in the search the Siamese cat has made its appearance. It was first brought to this country about twelve years since, and was then called " The Royal Cat of Siam," as the breed had been carefully confined to the King's palace, none being allowed to be possessed by the public. The first specimens were procured with great difficulty, and, f or a time, they resented their change oi abode by refusing to live through the cold and damp of our winter. But, as their constitution and habits became better understood, they grew acclimatised, and are now bred and reared with little more difficulty than Persian cats.
The Siamese is a peculiar and striking looking cat. In colour it strongly resembles a fawn pug dog. This colour should be either rich fawn, ash, or dun, on the body, while the legs, feet, tail, ear, and muzzle are black, a black margin also surrounding the eyes. The eyes are bright blue, set aslant, and giving an odd expression ' to the face. The coat is short, and inclined to be hard or harsh. In shape the Siamese has a long body, rather short legs and tail, pointed ears, head long from the ears to the eyes, and flat forehead. When the kittens are born they are almost white, and show but slight markings. By degrees the colour deepens, the black points at first appearing brown, and the body generally becoming a very pale fawn. Between the age of three and six months is their most difficult time, and the one at which they are most liable to die off -as with Persian and other highly bred kittens.
The food for Siamese should be much the same as for other cats. Bread and milk, fish and rice cooked, a little chopped raw lean meat, and about three times a week some cooked green vegetables. Some fresh, finely-cut grass should often be supplied, in the event of their not having access to a lawn or grass run. High or tainted meat should never be given, and if bones are allowed they should be of good size, so that they cannot be broken and splintered, and there should be very little meat on them. Clean fresh water should always be provided. A few small pieces of lightly cooked liver now and then will be beneficial. The state of health has a good deal to do with the appearance of this cat, for the colour and markings become dull and clouded when it is out of condition. A few years ago Siamese cats were a great curiosity at the different exhibitions, but there are now many more shown, and separate classes are frequently given for the breed. It is well worthwhile for any intending cat fancier to give the Siamese a trial, for the kittens will sell readily at from£3 to £5 each. They make intelligent and interesting pets, and the peculiar colour and markings render them handsome inmates of the home.
Siamese ("Notre Ami Le Chat" [Our Friend the Cat] (1899), Paul Megnin)
(Being almost a copy of Weir's description)
A little smaller than our European cat, an elegant profile, low and long. Legs thin and rather short. Feet longer and less round than those of the ordinary cat. Back long and thin. Head small, broad between the eyes, narrowing between the ears. Forehead flat. Nose long and big. Cheeks getting thinner towards the mouth. Lips full and round. Ears big and large at the base, with no fur inside. Eye almond-shaped, oblique towards the nose, iris is a beautiful opal blue, with a luminous pupil which is reddish both in semi-darkness and in the light. Tail is shorter than that of the ordinary cat, thick at the root and getting thinner towards the tip. Fur short, rather woolly, soft and silky to the touch, brilliant and lustrous on the face, the legs and the tail
Colour is uniform, a little darker on the back […] Points black ears, this colour must not go behind these organs. Black mask tail and legs, The black must not go on the body nor mark it. In full health the Siamese cat should not be too fat; the coat should be soft, clear, brilliant and shining, lying flat on the body, which should also show firm and hard muscles.
Mammals of Siam and the Malay Peninsula [Cats] - Proceedings of the Zoological Society, April 3, 1900.
(This reported debunked the myth that the Siamese was a royal cat.)
Felis domestica Briss. The Common Cat. " Kuching" of the Malays. " Mow " of the Siamese. The ordinary domestic cat of the Malaya has a very short twisted or knotted tail, or else a mere bob. In Johore I have seen a very remarkably coloured variety of cat, somewhat like the English "tortoise-shell," but the different colours arranged more in spots than in blotches. The "Siamese" cat is fairly common in Siam, and not "reserved for royalty" (Lydekker, Royal Nat. Hist. i. p. 429, line 7). In Bangkok and the Straits Settlements it is not so much prized as a domestic pet as is the somewhat similar, but darker coloured, "Laos" cat from Northern Siam. In this region as elsewhere cats "frequently relapse from a state of domestication, resort to the jungle, and shun the presence of man." (Cantor, p. 38).
Royal Siamese (Anon)
Of the Royal Siamese, it can be said that he is a most curious creature, quite unlike our familiar English house-cat. He is more refined in his type, and his close-lying fur makes him seem delicate in his make. In his colour and manner both, he is less like a cat than like a dog. His colour is dun with a darker brown at the head, tail and on the legs, although his feet may sometimes be white, and this is regarded as somewhat of a fault by those breeders perfecting his kind. His back is, in general, darker than his underneath, so that he seems to wear a saddle. His tail may be kinked or knotted, and is frequently foreshortened; breeders regard the latter as a great fault, more so than the former two traits.
If in his colour he is like the pug, with his darker points, in his head and face he is more like a little fox, for his face is curiously elongated, or "foreign" or "wedge-shaped" as the breeders like to call it, and less round than the English types of cat, and his eyes should be blue. In his limbs he is more gracile and less sturdy than the house-cat, and, I am made to understand, in his health he is also more delicate. In his manner, the Royal Siamese is more of a wild creature than a domestic one; his cry sounding like to a human infant. The male of this race is easily moved to fight our native English tom-cats.
A lesser relative to him is the Temple Cat, who is dark brown in body, with limbs yet a little darker, and whose eyes are the proper orange. When bred to the Royal Cat, the progeny are neither brown, nor dun, but a dull and undistinguished colour, and with poor contrast between points and body.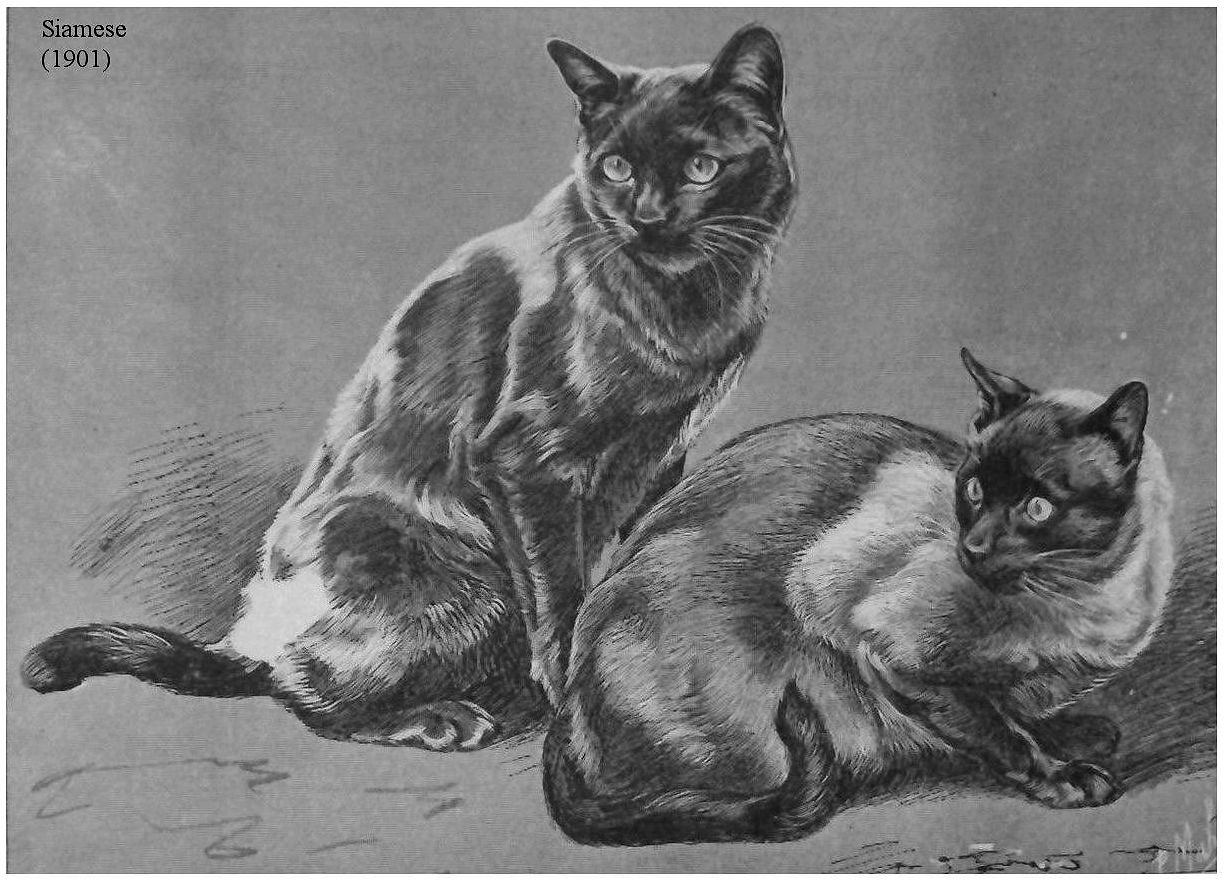 Traits of the Siamese Cats - The Inter Ocean, February 24, 1901
Siamese cats, with their curious markings and loud, discordant voices, are now favor¬ites with fashionable women in England. In many respects the animals of Siamese breed are unique among cats. They follow their owners as a dog would; they are exceedingly affectionate and insist upon being nursed, and they meow loudly and constantly, as If try¬ing to talk, and to a deaf person at that. They have more vivacity than usually falls to the lot of cats, and less dignity. In color they vary from pale fawn through shades of brown to chocolate. There are two varieties, the temple cats and the palace cats; about the only difference between the two varieties being that the palace breed is darker in color. The only sacred-temple cats that ever left the land of their birth were given to Dr. Nightingale as a mark of special favor by the King of Siam. They were named by their new owner Romeo and Juliet, and are now the property of Lard Marcus Beresford. They are very expensive, moderate specimens sell¬ing for $50 and finely marked ones bringing from $75 to $300.
Mrs. Clinton Locke's Siamese Cats – Chicago Daily Tribune, January 19, 1902
Did you ever see a cat which wasn't so much like a cat as like a pug dog? Did you ever see a cat whose claws were not retractable — could act be drawn back and hidden by the soft flesh and fur of the paws? Did you ever see a cat with kinks in its tail? All these peculiarities are distinctive with and characteristic of the Siamese cats, which are said to belong to an era of humanity and evolution that far preceded our own. Even in their own land the Siamese cats are far from common; they are regarded as something rare and choice even there, although occasionally seen in China and heard of in far Eastern countries. In England and upon the continent Siamese cats are catalogued with quaint tradition rather than as actual facts. And in America they are still quite few enough, though said to be the nicest and most ideal pets possible to be counted.
The only Siamese cats imported to this country so far have come through Mrs. A.H. Hoag of California and Mrs. Clinton Locke of Chicago. Quite recently, Mrs. Locke has sold a pair of chocolate Siams to Mrs. Hoffstra of Garden City L.I., and an exquisite fawn-colored beauty to Mrs. Clifford Payson of Winnetka, but no others are to be found east of San Francisco. Fawn and chocolate in coloring are these strange felines, whose faces look oddly owlish and almost uncanny. Occasionally a black kitten is noticed, but no full grown black Siamese has evern been discovered. These cats have blue eyes always, and - nearly always – the two or three kinks in the tail which seem to hint at a prehensile origin and which are as peculiar to the Siamese family as the fine sharp claws which are so troublesome both to themselves and to their human friends. The chief drawbacks of the Siamese cat family, according to Mrs. Locke, are to be found in the distinctive Siamese voice. "It is," she says, "exceedingly human – and that of the English quality – and insistent, calling constantly for the people and things the strange pussies love."
These queer cats, moreover, are affectionate and responsive to human beings, but will not associate with other cats. The Angoras, on the other hand, once more to quote Mrs. Locke, seem to regard the Siamese as members of the dog family, and dislike them. The fawn-colored cats are known as Royal Siamese, those of chocolate tint taking their family name from their colour. In character as well as in appearance the strange felines are said to closely resemble pug dogs.
Five of these wonderful, remarkable, un-cat-like cats will be on exhibition at the poultry, cat, dog, pigeon, and pet stock show which opens at the Coliseum tomorrow morning and which is to be given under the combined auspices of the National Fanciers' association and the Beresford Cat club of Chicago.
Four of the Siamese cats which will smile at the public from Wednesday morning until Saturday night - the aristocrats being unable to stand the strain of an entire week of exhibition — will be owned and shown by the Beresford President-founder, Mrs. "Clinton Locke. "Calif" and "Bangkok" are wonderful twins and fawn-colored; "Siam" and "Sally" are equally rare and unusual. The handsome "Kinko" of Mrs. Clifford Payson is expected to be present also, and the strange dog-cats will undoubtedly rank among the finest and most interesting novelties of the «how.
Most Expensive Cat – The Pittsburgh Press, December 12, 1902
The most delicate and expensive of all cats is the Siamese. This is called the Royal cat, because it has long been bred in the family of the King of Siam. It is a short-haired cat which looks curiously like a dog. Its coat is pug dog color, and very short, firm and silky, more like a dog's than a cat's. It has black paws and nose, and a kink in its tail. Mrs. W.S. Hofstra, president of the Atlantic Cat Club, makes a specialty of the Siamese, of which she has the finest specimens in the country. The Siamese is very hard to raise and Mrs. Hofstra has lost five beauties, including one whose parents were presents from the Crown Prince of Siam. The little brother of this kitten went to the Queen of Portugal, who is a fancier of Siamese. Mrs. Hofstra's Siamese pair, Tiln [Tilu] and Ma, formerly belonged to Lady Marcus Beresford. Lord Beresford has one Siamese which stays in his room and attaches himself to his master like a dog. Lady Beresford is the great cat fancier of England, and Lady Decius [Decies] and Lady Alexander are other titled dames who have exhibited in every cat show. – Brooklyn Eagle.
Siamese (Frances Simpson)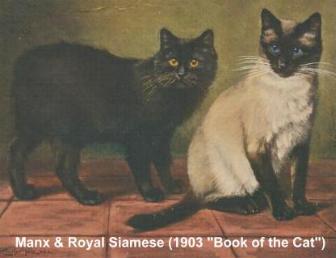 As an owner/breeder, Simpson is associated with Persians, especially blue Persians. Her first Persian, acquired in 1899, appears to have been Miss Mercer's Melrose Lassie. However, she also owned a pair of chocolate point Siamese, Netherland Tilu and his sister, Netherlands Ma, born in 1897 - in a time when only the seal-points were considered true Siamese.
"The Book of the Cat" contains contributions and quotes from various breeders representing a variety of views and experiences, sometimes quite contradictory, about the Siamese cat. It was evident that there were two different colours of Siamese and also two different body types. Simpson wrote, "While admitting that blues, blacks, whites, tabbies and other cats may also be cats of Siam, these being common to all parts of the world, this [Siamese Cat] Club recognises only as Siamese cats those cats […] known to British cat fanciers as the 'royal' Siamese."
The Seal (royal) and the Chocolate Siamese were both recognised and some breeders recommended that they be mated to each other, while others vehemently disagreed with this practice. More than one breeder/exhibitor was apparently breeding prize-winning Siamese through crossing a blue-eyed white cat with a Siamese female; probably because the English type was preferred over the foreign type (the same was true of Russian Blues). In a letter to "Fur and Feather", Mrs Carew-Cox and others recommended against breeding Siamese to white short-hair as the kittens always favoured the English parent in type. In addition, all Siamese kittens were born white and it was impossible to say which kittens would develop the Siamese colouration and which would stay white (note: this was because poor quality kittens would be destroyed at birth). The kittens from such a mating might also turn out to be, or pass on, other colours. Carew-Cox and her fellow breeders were speaking from observation; the genetics of dominant white masking other colours was not understood.
Miss Forestier-Walker and her sister, Mrs Vyvyan, had received a pair of Siamese cats from the Siamese Palace in 1884-5; Miss Forestier-Walker wrote "Siamese cats were first introduced into England about twenty-five years ago, but were not often seen until a few years later. […] Since then they have become fairly common. There are two distinct varieties in the present day. (1) The royal cat of Siam" by which she meant the seal point Siamese, "(2) The chocolate cats are deep brown in colour showing hardly any markings, and have blue eyes. […] The tails are sometimes straight, which is not a fault; but a knot or kink in the tail is a peculiarity of the breed, and therefore desirable. In England it has been asserted that this is a defect, but in Siam it is highly prized […] In the East a cat with a kinked tail fetches a higher price.
There is a legend that the light-coloured cats with blue eyes represent silver; the dark cats with yellow eyes, gold; and that the possessor of both will have plenty. This rather gives the idea that originally the eyes of the pure chocolate cat were yellow, and that the present variety has been crossed with the royal cat. […] It is a great mistake to mix the varieties, as the result after they become adult is a blurring of the markings and a patchy coat."
What Miss Forestier-Walker was describing was the range of colours from the brown Burmese (though the "Burmese cat" of 1903 was a very different cat), through the "blurred" or less distinct markings of the mink range (Tonkinese) to the sharply defined colourpoint of the Siamese. The brown or sable version is sometimes erroneously identified by modern readers as the Havana Brown. (As a sidenote, in 1928, the British Siamese Cat Club gave a special recognition award to the cat with "the best chocolate body [...] Siamese with coats of burnished chestnut with greeny-blue eyes [...] Chocolate colored Siamese with the same color all over"..)
Forestier-Walker continued, "The males are extremely powerful, and will kill strange cats and fight dogs. They are devoted to their wives and children, and to their owners. They are exceedingly intelligent. With the dogs of the house they will be on excellent terms. […] The kittens are difficult to rear, as they suffer from worms and teething […] I find it satisfactory to bring them up on lighter food, such as Ridge's food, milk, gravy, and fish, until they begin to cut their teeth, when meat is required." It was common to foster Siamese kittens on English house cats as this supposedly made them more robust and healthier. While most considered the imported cats to be delicate and disadvantaged in the English climate, Lady Marcus Beresford considered imported kittens to be much the stronger. Another breeder, Mrs A Hawkins was more perceptive on this matter: "When newly imported they are naturally delicate, and must be hardened off, so to speak […] that is to say, you cannot treat them at first as you would our ordinary fireside cats."
Of temperament, Mrs A Hawkins found "Siamese are particularly gentle and affectionate." and Miss Forestier Walker stated "They are very intelligent, almost doggy in their ways, and very affectionate, but not universally friendly. The males are great fighters, and freely use their terrible voices; but they are well suited for house pets, as they seem happiest with their human friends."
One of the great Champion cats of the time, "Wankee" was bred in Hong Kong in 1895, the offspring of a female kitten stolen from the Palace in Siam. Wankee was imported to England aged 6 months and his owner, Mrs Robinson, contributed further words on the breed. "One of the most beautiful of the short-haired cats is undoubtedly the royal cat of Siam, and the breed is increasing in popularity; but is never likely to be common, as the cats are delicate in this country. […] The [standard of] points of the chocolate Siamese are the same as the royal, with the exception of body colour, which is a dark rich brown all over, thus making the markings less noticeable. All Siamese darken with age, and when they get dark there is a tendency to call them chocolates. I know of only one real chocolate - Mr C Cooke's 'Zetland Wanzies' - so consider them more likely to be a freak than a distinct variety."
Mrs Robinson wrote, "Of the royals there seem to be two types in England: the one - rather a small, long-headed cat, with glossy, close lying coat and deep blue eyes, and with a decided tendency to darken with age - is generally the imported cat or having imported parents; the other is a larger cat, with a rounder head, a much thicker, longer and less close-lying coat, and the eyes a paler blue (these cats do not darken as much or as soon as the other type, and have generally been bred for several generations in England)."
Miss Forestier Walker continued "This breed is said to be kept very carefully in the palace in Bangkok - hence the title 'royal' - and is by no means the common cat of Siam. One gentleman (a missionary), who had lived there fifteen years, had during that time seen only three. A few years ago there was a pair of these cats in the Zoological Gardens at Bangkok, but they were very poor specimens. […] The first specimens were brought to England about twenty-five or thirty years ago, and Mr Harrison Weir says that among those who possessed them were Lady Dorothy Nevill, whose cats were 'imported and presented by Sir R Herbert of the Colonial Office. The late Duke of Wellington imported the breed, also Mr Scott of Rotherfield.' "
According to yet another authority on Siamese cats, Mrs Parker Brough, "There are distinct varieties of Siamese known to fanciers - the palace or royal cat, the temple cat (chocolate), and there is likewise the common cat of the country, which is also found within the palace. The points of the chocolate cat are identical for shows with those of the royal except body colour, but the imported chocolate is often dark chocolate, with blue eyes, stumpy tail with a marked kink, short legs, and heavy, thick body. There are not many chocolates exhibited, owing to the preference given to the royal variety. It must be understood that there is no definite royal breed as such, but the palace breed seems to have originated by selection." Lady Marcus Beresford wrote of her Siamese imported from a Bangkok temple "They differed from the royal Siamese, being darker and having a more pointed head and face, and their eyes were larger and fuller."
| | |
| --- | --- |
| | "Ma" a "Chocolate Siamese" |
Mrs Parker Brough wrote "Until recently the Siamese was but little known in Europe, but occasionally was to be found in the various zoological gardens. At present there is a fine female specimen to be seen at the Zoo at Frankfort-on-the-Main, having been purchased from the King of Roumania. One or two are to be seen at the Hague. London has the first one it has had for six years, but it is not shown owing to its want of condition. […] A point on which the Siamese fancy is divided is where the ideal cat should have a kink in the tail or not.[…] There is a peculiarity in breeding the Siamese - i.e. the rarity of female kittens in a litter, the average seeming to be five males to two females. […] They have naturally rather delicate lungs."
The Siamese cats described included 'Attache' (a neuter) who was "a very large and powerful creature, with massive limbs, and an unconquerable antipathy to all other cats of any description" except for a blue Russian neuter. It was also noted that "The males are, however, antagonistic to others of their sex, and fight with a terrible persistency. I have heard of a stalwart fellow who, being allowed his liberty, cleared the neighbourhood of all other wandering toms. When made neuter, Siamese become most charming home pets."
A pair of Siamese cats had been sent by Lady Marcus Beresford to Mrs Clinton Locke in America, but the breed had not yet become established there. Simpson summed up by saying "I do not believe that Siamese will ever become common in England, for many reasons. These cats are expensive to purchase, difficult to rear, and fancier are afraid to risk them in the show pen [i.e. due to delicate nature of the cats and risk of show fever]; but in spite of these drawbacks, I think as time goes on and the Siamese Club extends its labours, we shall see and hear more of these really curious creatures, for what we call the royal Siamese bears no resemblance to any other cat, and the distinguishing difference, being so great, tend to make the breed one of our best show cats and a clear class to itself, for the Siamese of the purest blood should not be crossed with other cats. We have heard of 'any other colour' Siamese, but these cats of varied hue claiming to be Siamese are but the offspring of a cross. We have been told of black and blue and tabby Siamese; but the fanciers of Siamese look askance at these freaks, and feel that it is worse than useless to attempt to produce any other variety than that which we have learned by custom to designate the Royal cat of Siam."
Siamese Cats. "Quaint Beauty and Attractive Ways." (Various British Newspapers, December 1904)
Siamese cats were but little known in this country while ago, but they have become, says a writer in the Lady," very great favourites among cat-lovers account of their quaint beauty and singularly attractive ways. To deal with them properly they should he divided into three classes - the Sacred, or Temple, cats, the Royal Siamese, and the chocolate-coloured Siamese - and all of these are conspicuously possessed of the real bright blue Siamese eyes. Rumour has it that the first of these interesting cats were brought to England 20 years ago by the daughters of General Forestier-Walker, to whom they were presented by the King of Siam from his own Royal Cattery in the Palace Bangkok. At first it was exceedingly difficult to obtain them, and they are rather delicate when first imported, but now quite a number are bred in this country, and at all the cat shows there are worthy specimens shown of the Royal cat of Siam. None the less, there are several fanciers who declare these cats cannot stand our climate. It is really damp, however, that gives them consumption. They can stand cold very well, but not the dampness of our English winters, and breeders often have bitter disappointments to suffer when their cats are allowed to run the risk an open-air life in winter.
However, after the first year in England, they seem to grow acclimatised, and so, if they can be carefully nursed over the first winter's damp and cold, there is every chance of their surviving the following ones. Certain it is that they are very fascinating pets, and have great powers of attaching themselves to human beings. They are very intelligent and companionable, and follow their masters or mistresses about a house or garden, and come to call more like dogs than cats. Their special features are different from any other cats, for they are entirely original in shape and colour. When they are born, they are nearly white, and they gradually turn a pale fawn, very much like pug-dogs. Their mask, ears, tail, and legs should be dense, deep brown, almost black, which is called "seal." The eyes are a lovely colour, a bright, light convolvulus-blue, and they are large and round. The tails are sometimes "kinked," like a bulldog's. Indeed, some aver that a perfect Siamese must have a kink in the tail. But fanciers differ, and opinions are never the same on this subject.
It is said that the King of Siam is in favour of the kinked tail. The Temple, or Sacred, cats are larger and darker than the others, and have more pointed faces; but they all are subject to variations or exceptions. For instance, Lady Marcus Beresford has bred two Royal cats that have dense blue points, and it appears that such exceptional variations do occur in their own country. The Royal cat deepens in colour as it grows older. At one year old it is in its prime, and after this age the fawn grows so much darker as to cause the general points of colouring to become somewhat blurred. The head is small, rather long, and pointed. The body should be graceful, elegant, and of medium size, set on slight legs, with a very glossy, close-lying, velvety coat. The Siamese is an active cat, and springs high in the air when bounding about at play, rather more after the manner of a young kid than a kitten. The Queen, who purchased some Siamese cats from Mrs. Wernher's stall at the Albert Hall Bazaar, is particularly pleased with them, and has bought more since to present to some her friends. One of the most successful breeders of Siamese cats of all three classes is Lady Marcus Beresford, whose cattery at Bishopsgate was for some years represented at all the shows. She has given up all her general cat-breeding, and, except for a few old favourites, has none now but Siamese.
The Cats of Siam (Our Cats, October 12th, 1907 p. 828)
Puss of Persia every cat lover knows, but there are a good many people who have never seen the Royal cat of Siam, as this animal is called, owing to the belief that the breed hails from the palace of the Siamese monarchs, it is curious how most distinguished foreigners which are brought to the notice of English fanciers claim to have moved amongst the most exalted circles in their own country. Indeed, if we are to believe all we hear the palaces of the East must have suffered sadly at the hands of English fanciers with a weakness for toy dogs and curious cats !
The Siamese cat is a rather fascinating animal and would be far more frequently met with but for the fact that it is not easily bred in England and has a name for being somewhat delicate. Remembering as one does how for very many years the Persian cat lived under a similar cloud and was looked upon as a most delicate creature, whereas it is the very reverse; and having known of Siamese living in our climate a long time, and without any signs of suffering ill effects, we should not be surprised if before long cat fanciers discover that Siamese are just as well suited for pets as any others. All who have had any experience of these animals speak enthusiastically, declaring that their intelligence is simply extraordinary, and that they "seem to have great powers of attaching themselves to human beings."
The shape of a good Siamese is difficult to describe. They always strike one as being shorter in the front legs and higher in the hind quarters than English cats, and this gives them a curiously characteristic walk, while their powers of springing a considerable height are great. It is, however, their colour which constitutes their chief charm. As kittens they are nearly white, but soon turn a pale fawn. As time goes on this shade becomes darker, while their ears, muzzle, tail, and legs deepen to a dense chocolate brown. The eyes should be large and round, and of a beautiful rich blue. Many of the cats possess a curious "kink" in their tail, though there seems to be some doubt as to whether this is an essential feature or not.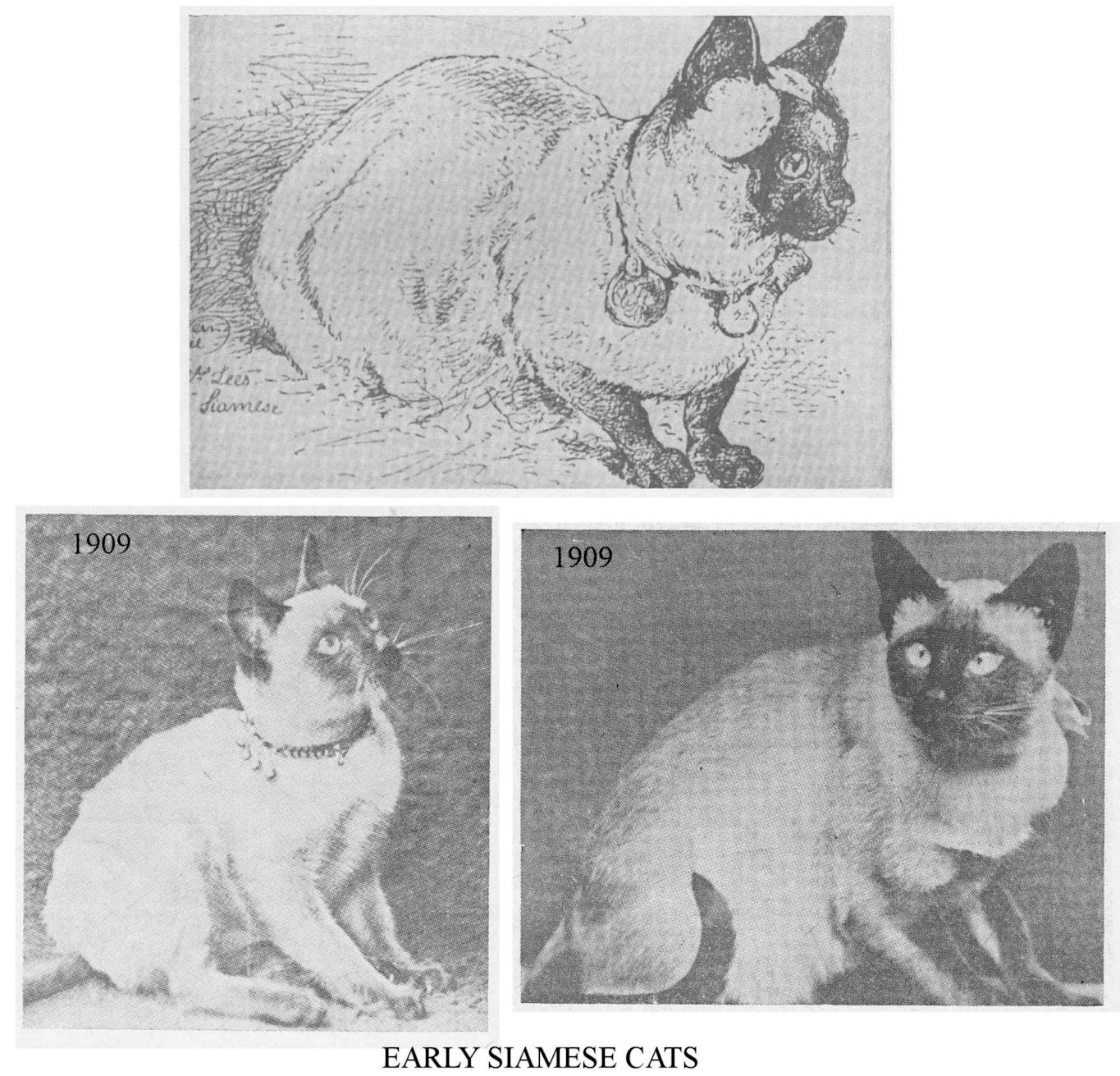 The Siamese Temple Cat by H. D. Bassett (Our Cats, July 24th 1909 pp. 647, 648)

A visitor to the temples in Siam and Anam occasionally sees a seal coloured cat with blue eyes therein and on inquiry will be told that the "hao mao" (pretty cat) belongs there. If that does not satisfy him the bonze (priest) becomes very vague in his replies and the visitor gives up the attempt at extracting information, setting the bonze down as stupid. He is not stupid at all, but not desiring to talk about the cat and at the same time desiring to show the visitor every courtesy (at a price), he changes the subject. The writer studied and questioned without avail all of the bonzes with whom he came in contact and also sought information from the people, but while admitting that the cat was of some use in their religious ceremonies, they declined to state anything else. That the Temple Cat does enter into their religious ceremonies I am quite convinced, and this is especially the case with the black ones. These I have seen on two occasions enclosed in gilded cages with incense burning in front of them and with offerings of food placed before their domiciles. Among the Anamites the cat is regarded with great affection and is guarded as being of great value. No woman's jewelry is more carefully guarded than is her cat. I once made an aged bonze an offer for a huge black specimen which was contentedly reposing on a cushion in a very richly ornamented cage and was very severely shunned by himself and his fellows, besides being an object of suspicion all the time that I remained in the Temple.

In the coast cities there are any number of so-called Siamese Cats, which are in reality genuine Siamese Cats, but they are of a mongrel breed and generally distinguished by some imperfection of either colour or malformation of the body. These seem to have come into view about the time of the Boxer trouble and are undoubtedly the result of the mixing of the Temple Cat with the common cat which is found all over China. The breed is very quickly discovered as the results of the cross are not happy ones, the progeny being distinguished by deformed tails, short hooks, bad eyes, poor markings and other disfigurements too numerous to mention. These are the cats which are very frequently shown in the exhibitions and are always the ones which are carried away from Cochine-China. There are at the present time but three genuine Siamese Temple Cats on record that are of the pure Royal Temple strain. In fact, as far as the principal line is concerned they are the only ones living'. Two of them, I am informed, are in the possession of the King- of Belgium, the other, a male, is owned by Madame Blanche Arral. Mr. John D. Archbold owned one, but I am informed that it is dead.
The present King of Siam presented Mme. Arral with a beautiful pair from the Royal Temple. These had kittens and it was from them that the pair were raised which were sent by the writer to the exposition at Liege, Belgium, where they were sold, so I am told, for six thousand francs. There were two sent to the Zoological Garden at Sydney, Australia, but they have since died, and a third sent to New York for Mr. Archbold. While still in the East (I spent several years there), the entire line of Royal Temple Cats together with the Temple was destroyed by a typhoon which partially wrecked the towns all along the coast of China. Cochine-China especially suffered. Undoubtedly there were cats taken from other temples to replace the ones killed, but of the old Royal Lines only the three I mention are alive.

The Siamese Temple cat differs from the common or garden variety in the same manner as a thoroughbred race horse differs from the wild horse of the prairies. The Temple Cat is the outcome of long years of careful breeding and anxious care. He is very fragile when taken from the temples and for that reason is very difficult to raise. Out of ten kittens, in the same climate, I have only been able to raise two and that was a big average. It is extremely advisable not to inbreed, as doing so destroys the colour of the eyes and also mottles the fur.

The pure race is born white with no markings at all; as they grow older they begin to show on their feet, tail, ears, and face a slight colour which gradually deepens until it is decidedly brown. This "colour" is really no colour, but a smudge, looking as if the kitten was dirty. These markings gradually change to a brown which gradually grows darker until the points mentioned, feet, ears, face and tail are of a very decided brown colour, which grows deeper with age until at maturity the shade is deep chocolate, or burnt umber. The body, at about six months, commences to change from white to a light seal colour until as the cat increases is age the entire body is of a beautiful seal (natural) or fawn colour, shading off to nearly pure white on the belly. This colour deepens with age but always retains its tonal characteristics (i.e. the parts which are dark deepen in shade as the lighter colours become deeper). There are nine points which always are to be noted : four feet, two ears, tail, face and a patch between the shoulder blades; these are always strongly identified and any deviation is sure to show a bad streak in the line.

The eyes are of a beautiful azure, generally darker in the females than in the males. The tail is long and lithe and pointed. Any specimen having a knob, kink or imperfection in this respect shows that there has been a cross with the common strain and should be destroyed, as it is absolutely useless for breeding purposes. The body is like that of a tiger and in walking the cat exhibits the same gliding, lurching gait as that animal. The body sinks down between the shoulders and the hind legs are let down until the cat rests on its hocks. (I believe that this is a characteristic of the race which remains from his savage ancestor. From specimens of the jungle or wild cat which I have found I am inclined to the belief that the Temple Cat owes his existence to them; probably being domesticated in the Temples and thus losing his more pronounced stripes and body markings.)

My experience, extending over seven years, has proven one very extraordinary thing; In about every fifth generation there will be found a black kitten and in every case it is a male. I have never known this to fail. Coal black from top to tip, with eyes of a deep golden colour ; not yellow, but more on the orange colour. His get are normal, and I believe that this is the reason that the colour remains with the breed in the Temples. (I have seen a great many specimens of the Siamese Temple Cats which have been raised in confinement and they have all shown decided white tendencies.) Only one (black) have I been able to raise and unfortunately he was killed after fathering two litters of kittens. I have seen two, however, in the Temples and they were of extraordinary size.

The race is of exceptional intelligence and if taken young can be taught the usual tricks acquired by a pet terrier. The male in possession of Madame Arral retrieves like a spaniel, but not in water; at Sydney they had a male which sat up, shook hands and performed various tricks. Of affectionate nature, they will follow one around like a dog, and make very companionable pets.

THE SIAMESE CAT (The York Daily, 1st October, 1909)
From "The Cat Review,
The Siamese comes from the kingdom of Siam, where I first met him, and is of two classes; the common and the temple cat. The common or garden variety differs from the temple in the same manner as a thoroughbred differs from the mongrel, whether cat, horse, or dog. The temple cat is the outcome of long years of careful breeding and anxious care. He is jealously guarded by the bouzes (priests) of the temple, and enters in some way which I have never been able to discover into their religious rites and sacrificial offerings. His exportations has been prohibited for many years as he has always been in great demand among cat fanciers, and so many were carried off that the prices became fabulous, and the priests objected, as there was fear that the royal line might become extinct. Oh, yes, there la a royal line of cats, of which there were two in this country,

The pure Siamese temple cat is born pure white and at the age of two or three months shows markings of blue gray on tail, legs, and ears. As time passes these turn brown and at six months the face, tail, ears and feet show a beautiful brown color, like young seal, while the body is as yet white with just enough color to warm it. The greater the age of the cat the deeper will be the color of the fur. The eyes are of a beautiful azure; blue in daylight, they flow like live coals at night. I have had thirty at a time. I sent a pair to the exhibition at Liege, which were sold for six thousand francs. Five hundred dollars is not an excessive price for a pure specimen.

Siamese Cats, comment by Frances Simpson in 1909

In a 1909 article on Siamese by Frances Simpson, she says, "There are two types of Siamese cats in England, the one is compactly built, short in body, low on legs, and round in head, with rather thick and not very close lying coat. The other type is longer in body with a wedge shaped head and face, and the coat is more glossy and the limbs more lithe and sinuous, this is the foreign variety, which however, does not find favour with fanciers as the cobby type of Siamese." While many breeds developed in Britain did indeed go down the "cobbier is better" route, the Siamese took the opposite direction, although it would be breeders in the USA who took it to the extremes we see today.

Siamese ("The Cat Its Points and Management in Health and Disease" (1908), Frank Townend Barton MRCVS)

When the kittens are born they are white, but subsequently change into a deep fawn or dun, with black points. The coat should be smooth, lustrous and fine in texture. The eyes large, and of an intense blue with markings round. The ears small, and carried erect with a slightly forward incline at the tips. The head lacks the massiveness of the English cat, being more wedge shaped.

Some Siamese cats have a little white about their feet, but they are better without this yet it is not a disqualification. There is another colour for the Siamese - the chocolate body with pure black points.

Diverse Breeds - Siamese (Frances Simpson)

Siamese are a special breed and should be kept as such - the same may be said of the Manx and Blues. All attempts to cross those cats with other breeds should be discouraged.

Blue Siamese (Korat)

In Bangkok's National Museum resides the "Smud Khoi", the Thai Book of the Cat describing cats of different types and colours, some dating from the Ayutthaya period of Thai history (1350 - 1767). Wichianmaad (Wichien Mas/Vichien Mas) is the cat known in the west as the Siamese. Thong Daeng is the Thai Copper (probably Brown Burmese or Tonkinese) and the description of the Doklao indicates the Korat (Si-Sawat). All of these are authentic Siamese (i.e. Thai) cats although only one of those varieties is known by that name and its standard - essentially for a dun cat with black points - was written in the 19th century. Fanciers imported some of the other cats from Thailand, but they were judged to be not Siamese cats according to the breed standard.

In Frances Simpson's "The Book of the Cat" (1903), Mrs Constance Carew-Cox wrote of a Blue Siamese she registered and bred (as she bred Russian Blues, the cat would have contributed to that breed). "In 1889, however, I purchased a smooth blue, whose owners declared her to be a Siamese - she certainly resembled a puma-shaped Siamese in her body outline and movements - and I believe I entered her in the stud books as such. 'Dwina' won many prizes at Crystal Palace and other shows in 'Any Variety' classes, was a most faithful creature, reared many families, and lived until June 1901."

Seven years after Carew-Cox's "Dwina", a "Blue Siamese" was exhibited at Holland House, London during the summer of 1896. The existence of this cat is documented in newspaper reports from that time and the cat was described as both a Siamese and a Russian Blue; the Korat not being a recognised breed at the time. The National Cat Club registered the cat in May 1896 as a male Siamese called "Nam Noi" of unknown parentage imported by Mrs B Spearman in January 1895 (interestingly, from that show we have the description "Mrs Carew Cox, full of irritating murmurs and discontent"). In June 1896, Nam Noi was exhibited as a Siamese and the show report "Around The Pens" says he attracted a lot of attention: "The Siamese were a striking lot, and among them Nam Noi, a blue one, caused much discussion, though, to my mind, there is no room for doubt, as he is Siamese in every detail, shape, tail and eyes. .."

Nam Noi was disqualified from the Siamese class by judge Louis Wain because his colouring was not the accepted biscuit fawn with black points (regardless of him being an import from Siame). Disqualified from being shown in the Siamese class, he was exhibited in the Russian or Any Other Blue Cat" class where he was awarded first prize. According to WR Hawkins in the July edition of Around the Pens: "Siamese were plentiful. Raheng was a really good male. Nam Noi, a Blue, was entered as a Siamese, and very possibly came from Siam; but that does not make him a Siamese any more than an English cat coming from Persia would be a Persian. To my thinking, Nam Noi was an undoubted Russian. The pick of all the Siamese, however was Rimo and when full grown he ought to figure well and be a credit to that excellent studcat, King Kesho. In Russians Nam Noi in its right class won." Judges had decided he was a Russian/Other Blue and not any type of Siamese they were comfortable with.

The Siamese in 1896 were not the extreme, tubular cats we are used to on modern showbenches. Nam Noi's Thai (Siamese) origin was not in any doubt. A report in November 1896 stated: "Mrs Spearman is disappointed on the non arrival of the Blue Siamese which were to have been landed to her order this month, as the antive who was to buy them for her had left the district, and so her commission was not executed; but she hopes to have them in March next" and one of Mrs Spearman's friends from Thailand added: "A friend who is now staying with her confirms the existence of the Blue Siamese, as she herself possesses no fewer than eight Blues, and says they are quite common on the Burmese frontier, where they are called Shan cats, as belonging to the Shan tribes"

Mrs Spearman then vanished from reports, perhaps accompanying her husband on a posting somewhere in the British Empire. No more Blue Siamese were imported to confuse the judges. As for Nam Moi, he wasn't pointed and he definitely came from Thailand so he was most likely the first Korat to be exhibited at a British cat show.

Not until the 1960s, did the Korat finally came to the west as a breed in its own right when a brother/sister pair (Nara and Darra) was sent from Bangkok to Mrs Jean Johnson of Cedar Glen cattery in the USA. More were imported during the 1960s. They didn't return to Britain until the 1970s/80s, more than half a century after Nam Noi was exhibited.

Cat World (International) May-June 1978 contains a quote from the "Stud Book Fanciers Association Newsletter", No. 11, Summer 1974 relating to the origin of the blue gene in Siamese cats: "Some years ago, an attempt was made to trace the source of the blue gene in Siamese cats. The group, which included a geneticist, found that virtually all the early blue points they traced could be taken back to CARLISLE LAD and concluded that he carried the factor even though he was himself a seal point. Unfortunately, the Korat being unknown in the western world at that time, they also concluded that he could only have acquired the gene for blue through the cross breeding of a Siamese and a British, or possibly a Russian Blue. This seems grossly unfair to both CARLISLE LAD and his owner who, having registered him as born 1910 in Siam and imported into England, is thus accused, ipso facto, of falsifying. Knowing as we do now, that the Korat cat is native to that part of Asia, there seems little reason to doubt that this was the true source of the blue gene, not some cross to a western cat."
You are visitor number