THE LONDON INSTITUTION FOR LOST AND STARVING CATS
It was really a night on which, proverbially speaking, you would not turn a dog or cat into the street that I journeyed to St. George's Hall to assist (as one of the audience) at an entertainment given to help provide a comfortable home to those harmless, necessary animals to which I have referred. Notwithstanding the unwelcome attentions of the Clerk of the Weather, I was glad to find the hall fairly well filled, and to learn that that much-deserving charity, the Home for Lost and Starving Cats and Dogs, had a large number of enthusiastic supporters, which I am sure every dog- and cat-lover (and their name is legion) will agree with me such an excellent institution should possess. The entertainment was as excellent as the object for which it was given, and I was particularly pleased — and so was the audience, if enthusiasm be a proof — with the recitation by Mr. Oscar Berry of a humorous poem entitled, "What is Home without a Cat?" — a really admirable piece of work, bright, original, and well put together, by Miss Grace Ernestine Becks, which had an effective musical accompaniment. When Mr. Berry told us in a feeling (I had almost been betrayed into saying "feline") manner how the real hero of the story, who had been banished from his home through jealousy, came back —
And so, of course, "the cat came back"
To kisses, love, and laughter;
And Angelina, Tom, and Jack
Lived happy ever after.
I really believe (among the elderly maiden ladies) there was "not a dry eye in the house." I am glad to know that the Home for Lost and Starving Cats and Dogs reaped a substantial benefit from this entertainment. (The Sketch, 4th December 1895)
THE OUTCAST CAT. HER HAVEN AT HAVERSTOCK HILL. (The Westminster Budget, July 3, 1896)
The Duke of Portland, the Countesses of Warwick and Dudley, and other well-known society leaders have once more asserted their sympathy with the outcasts among " dumb things " by giving their patronage to the new " London Home for Lost and Starving Cats," which has recently been opened at 80, Park-road, Haverstock Hill. There are one or two other "Homes" of this class, but what are these among the millions of cats in and about London? If there were a dozen more there would not be too many, for an altogether appalling number of cats are every year and every day left to join the number of "outcasts." The dog, when the family removes, or when its owner "has had enough " of him, is provided for in one way or another. No one would dream of leaving him alone in or about an empty house. The cat, because it asks so little at all times, and forages for itself as far as it can seize an opportunity in the shape of London mice or sparrows, is left to its own resources, to make its living, to escape as best it may the fiendish cruelties which threaten it at the hands of many enemies, or to perish in the attempt. As a rule it perishes, after suffering slow martyrdom in one form or another, for the cat is a domestic animal which requires care, and not a wild beast that may be trusted to " manage " for itself. This being the time of year when cats suffer most, through removals of their owners, or other causes, the following account of the new "Home," as a correspondent gathered it from Mrs. Williams, the manageress, will be read with interest.
The Home, said Mrs. Williams, was entirely a work of charity, and not undertaken with any idea of profit. In fact, since the Home had been opened, in the latter part of January this year, the expenses had not nearly been met.. The expenses had come to £89 7shillings, 7-and-a-half pence during that period, and the subscriptions of the public to £51 and 4-and-a-half-pence. Mrs. Williams, who, by the way, speaks with a French accent, explained that she had been led to open the Home on account of her sympathy with poor "puss." And, quite in the orthodox way of older "cruelty" societies, she related the "experiences" of her officer — in this case a stripling in livery, who goes forth on his missions of rescue mounted on a tricycle, which is fitted with a receptacle for cats. Empty houses are rare hunting-grounds for the cat lover. People go away, it seems, and leave the cat, all heedless of its fate. " The other day," said Mrs. Williams, " we found in a house a cat which had been a week without food, and in another case a fortnight. The boy had to rescue this latter unfortunate creature by descending to the cellar by means of a rope. Then wounded cats are brought here. Their injuries are sometimes perfectly horrible, and point to dreadful cruelty.
" You would be astonished," continued the manageress, " at the warmness with which my plan has been taken up. People write to me from all parts of London about their cats. Some want them destroyed, others taken care of. I get as many as twenty letters a day." One or two of the letters, as we glanced over the budget received by the day's post, struck us as being slightly humorous ; such, for instance, as the lady who wished her cat to be "put quietly to sleep" because he had "an abscess on his nose." Poor beast !
Two rooms in the basement of Mrs. Williams's house have been set aside for the purposes of the Home. Just before our arrival some cats had been despatched to Battersea, where they are painlessly put out of the way at sixpence per head. When a cat is too ill to live his end is hastened by the administration of prussic acid by the Home's " vet." Then there is the hospital cage, which had several occupants the other afternoon suffering from cold, distemper, and other cat disorders. Another wired-off section received the " cats for sale," and in a room all to themselves were the " private and boarder cats" — a distinction which seemed quite Mayfair in its overwhelming respectability. Cats are boarded at the home at 1s. 6d. or 2s., according to the means of the owner. In the case of poor persons who desire their cats taken care of for some temporary reason, nothing is charged. Generally speaking, they are not of blue blood, these cats. We detected something of the silver-blue Persian strain in one, but the generality are of the homely English tabby type. You can buy them at a shilling apiece, or for nothing if your means are lacking and you have an idea that a cat would set off the hearth-rug.
THE DESERTED CAT. TO THE EDITOR Of THE MORNING POST. Sir, — "The harmless necessary cat" will, in many cases, soon be the starving, melancholy cat if the practice which too often obtains at this season of the year finds its customary observance. I allude to the practice of leaving town and closing the house without a thought for the dumb creature who up to the family departure has been a member of the household. The practice is not only inherently objectionable, but betrays the selfish indifference of the person responsible; it not only is a cruelty, but oftentimes leads to further cruelty and is calculated to be dangerous to the community. Of course it is a difficulty to know what to do with a cat when you are leaving town and know of no one to whom you can trust the creature until your return. The difficulty is partly solved in London, at least by three charitable institutions, for cats can be boarded out at a small charge at the Dogs Home, Battersea, for the south side of the Thames; at the Cats' Home, College-park, Harrow-road, for West London; and at the London Home for Lost and Starving Cats, 80, Park-road, Haverstock-hill, for the northern and north-western districts.— Yours etc THE EDITOR OF THE "ANIMALS' FRIEND." 20, Victoria-street, Westminster, July 21. (Morning Post, 25th July 1896)
THE RESCUED PUSSY CATS OF THE LONDON HOME FOR LOST AND STARVING CATS, 80 Park-road, Hampstead, earnestly appeal this Christmas time to the animal-loving public for funds to held in the rescue work, and save more of the London beggar cats from starvation – 2,267 taken off the streets in 11 months. Patron – The Duke of Portland. (Morning Post, 22nd December 1896)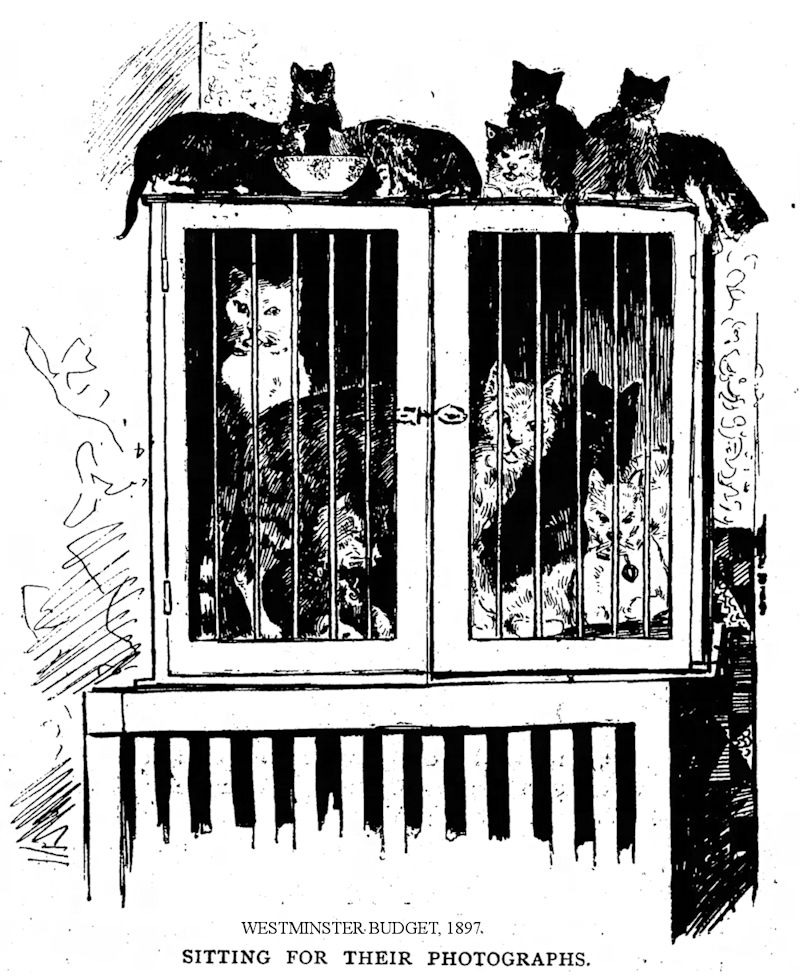 A "HARBOUR OF REFUGE" FOR CATS. - The Westminster Budget, May 7, 1897
According to the late Dr. Norman Macleod, a man's religion is not worth much unless his dog and cat are the better for it. One remembers the saying in reading through the second half- yearly report of the London Temporary Home for Lost and Starving; Cats, which has just been published. Mrs. Williams, to whose deep pity for the host of hungry, helpless, and homeless London cats the home owes its existence, ought to be regarded as a public benefactor by those who dislike cats as well as by those who are fond of them. For while to the latter the thought is very painful of thousands of poor starving cats and kittens dying a slow and cruel death in the midst of plenty, the former will no doubt see the advantages of stray and starving cats being cleared off the highways and byways.
The Home (80, Park-road, Hampstead) is admirably managed, and deserves the widest support. The cats at the present moment have some £50 "in hand," but what is that among so many, seeing that every week a band of from sixty to eighty poor creatures are brought in to be saved from as cruel a death as any living creature is ever exposed to, or, if they are past help, to be mercifully destroyed? The following facts, which we take from the report, speak for themselves, and we hope that Mrs. Williams will be encouraged and generously supported in her endeavour to minimise the suffering of one of the creatures which is more dependent on human kindness and mercy, and more persecuted than any other of our domestic animals :
Two little three-weeks-old kittens, with large blue eyes, the prettiest and softest little creatures imaginable, were found shut up in an empty house, the brutal owners taking the mother away with them. Another poor cat was locked up for a whole fortnight in an uninhabited house ; my servant,, who had to be lowered with a rope down a steep area, found the wretched animal trying to eat cinders. Her colour then was black, now she is a beautiful pure white pussey, and we have christened her "Snow." She is now fat, sleek, and happy, the domineering mistress of the catteries. Another case, a cat left for a week in an empty house tied to the leg of the kitchen dresser. "This Cat was raving mad when found, and had to be killed by a policeman with his staff."
An excerpt from an article in The Sketch, 3rd November 1897: Speaking of cats (writes a correspondent), I may draw attention to the pussies' home on Haverstock Hill. It is a charming villa, by the way, and as unlike the usual "refuge" as can well be imagined. The honorary superintendent, "Mrs. William," gave me an interesting account of her work on behalf of lost and starving cats, and showed me some wretched-looking animals just brought in by her servants. These would be restored to health, if possible, and new homes found for them if not, they would be sent to Battersea to be painlessly removed, and their bodies afterwards cremated. With reference to one nice animal which attracted my notice she had a comical story to tell. We take boarders in sometimes," she said. "That is an exception, however. Charlie belongs to an old woman in the Hampstead Workhouse - Mrs. Gifford, I think, her name is. She was on the out-relief list, but the Guardians thought it desirable to get her into the 'house.' Mrs. Gifford was quite willing to go with Mr. Wheatley, but only on condition that he took care of her cats. The Relieving Officer, like enough, was in a quandary, and sent me this letter. I consented to look after her two pets, and so here they've remained ever since, free of charge, of course for the Guardians won't pay for them, and the poor old woman cannot. She comes to see them, though, every week, in her poke-bonnet and blue frock. She always brings some milk and fish or other food with her, and the three of them renew their old relationship over the meal, which generally lasts, I am sorry to say, a couple of hours or more."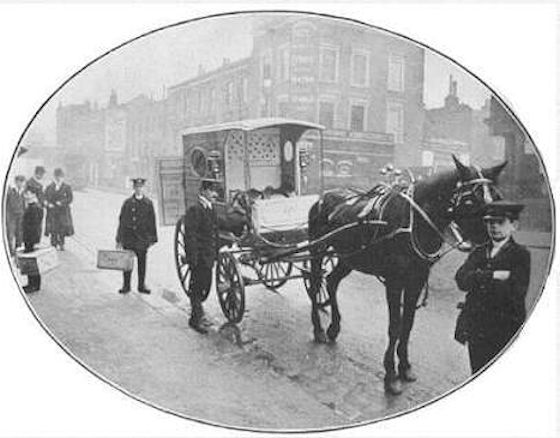 The London Home for Lost and Starving Cats, 80, Park-road, Hampstead, N.W. Mrs. William, Hon. Manageress, urgently pleads for funds both to enlarge the Home (Building Funds) and Subscriptions for Maintenance urgently required. Help is earnestly entreated; however small, the donation will be gratefully received, and building fund paid to deposit account. Unless the public assist this charitable work will have to be abandoned. Over 100 cats are received every week, and 4,534 taken in since January 1896 to August 1897. Please help. (Morning Post, 5th August 1897)
An Appeal to the Liberal-Minded. Morning Post, 9th December 1897
The London Home For Lost And Starving Cats, 80, Park-hill-road, Haverstock-hill, Hampstead. N.W Honorary Manageress – Mrs. William; Veterinary Surgeon – Mr. Alex Daniels, M.R.C.V.S. 39, Fortress-road, Kentish-town, N.W. Kept up by voluntary contributions. Visiting hours twelve to six, except Sunday and Bank Holidays. Cats taken in all hours and days.
Stray cats are taken in, sick or well, free of all charge to the poor, at the London Home for Lost Cats. 80, Park-hill-road, Haverstock-hill, Hampstead. N.W., and either have homes found for them or in default of which are sent three times a week to Battersea Home for Dogs, where they are immediately upon admittance painlessly destroyed in the lethal chamber.
The London Home for Lost Cats has only been opened since the 22nd of January, 1896,, and in one year and a half up to 4th October, 1897. the enormous number of 5,460 lost and starving cats have been received, and now they average over 100 weekly. No cat has over been refused admittance, and they have been brought to the Home some in the most dreadful state of broken limbs, hunger, distemper, blind, caught in traps, or mauled by dogs. These are immediately destroyed in the chloroform box on the premises.
Inspection of Cattery invited between twelve and six. Cats taken in at all hours, Sundays included, but no visitors admitted Sunday. No experiments allowed on animals. It should not be forgotten that the humane work of feeding these poor cats is performed by the Home without any subsidy whatever. A BUILDING FUND has been opened, as the present Catteries are quite inadequate for the enormous number of strays received. A wing for boarders will also be opened at the same time in the new Catteries. DONATIONS are most urgently needed. A Special Appeal is made to all lovers of animals for help to raise the sum of £160 before the end of the year for the Building Fund.
THE CAUSE OF THE CATS. (Lloyd's Weekly Newspaper, 23rd January 1898)
The second year of the existence of the Temporary Home for Lost and Starving Cats was completed yesterday. During this period no fewer than 4,000 animals, rescued mostly in a wretched state of starvation and suffering, have been painlessly put out of their misery by a final sleep in the lethal chamber. The institution, which is kept going by voluntary contributions, numbers a great many members of the nobility amongst its most enthusiastic patrons. The institution, which is situated at 80 Park-hill-road, Hampstead, is not to provide a permanent home for cats, but to reduce the terribly large number of homeless ones. Servants attached to the home search empty houses etc. for any cats that may be starving that they may be put out of their misery. There is one particularly interesting pussy at park-hill-road who, when a kitten, was locked up in an empty house for a fortnight and one of the officials had to be let down a deep area to rescue her, where she was found trying to eat cinders. The poor frightened little mite was then black, but is now so white that her name "Snow," eminently becomes her.
Friendless and starving cats, for whom there is no room in the home, are painlessly despatched, the process being simplicity itself. The condemned animal is placed in a box into which an ounce of chloroform is poured, and pussy falls into a sleep from which she never awakes. Cats that are so killed are afterwards cremated at the Dogs' home, Battersea.
The manageress, who is devoted to her work, to which she gives up a large portion of her handsomely-furnished house, receives no remuneration, although all other officials are paid. Formerly well known in society, until a bicycle accident rendered her a cripple for life, she took up the cause of the cats as a hobby. On receipt of a postcard she is always willing to send her cart for a cat to be destroyed, a small fee – a shilling or whatever the sender can afford – being expected, except in the case of really poor persons.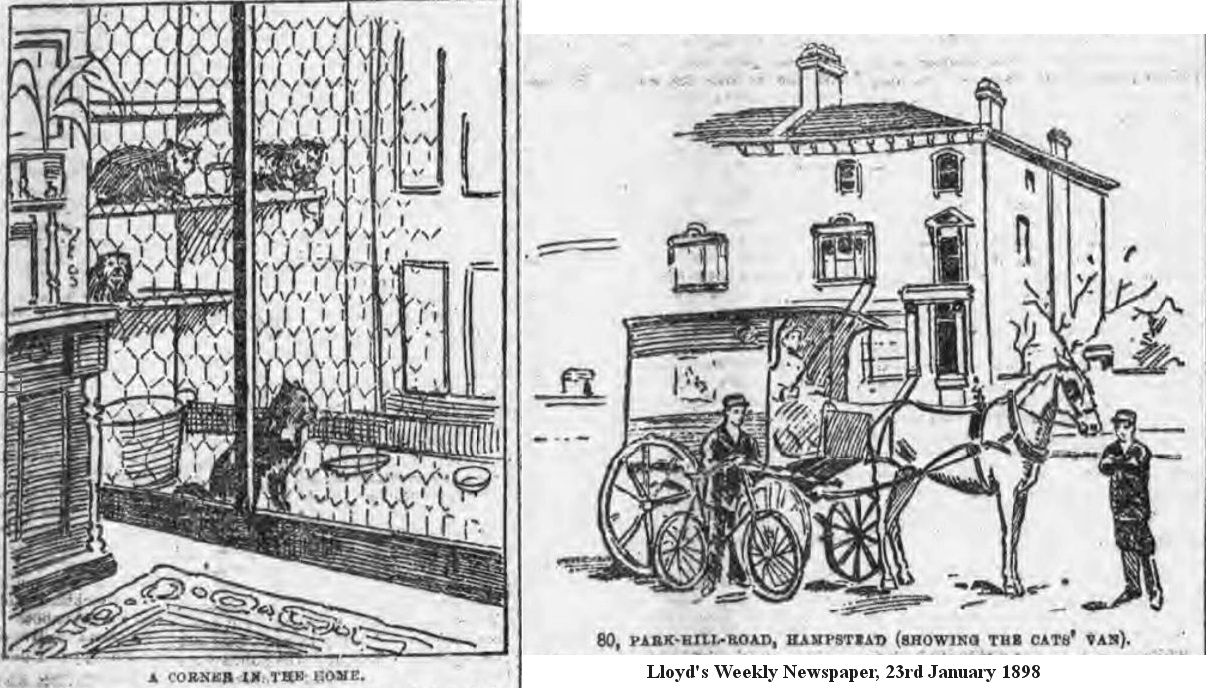 THE CATS' HOME. (Lloyd's Weekly Newspaper, 27th February 1898) The manageress of the London Home for Lost or Starving Cats, whilst wishing to thank the Editor of Lloyd's for his kindly meant article on the Catteries recently published in this paper, fears that a great many persons did not understand that a small fee is expected with every cat except from the very poor. She writes: -"The article brought us by the next post forty orders to fetch cats from every corner in London and the suburbs, and every post brought shoals of letters, We nearly lost our heads, working from half-past six a.m. to eleven p.m. with extra hands. And this has been going on ever since the article appeared. We receive some thirty cats a day now, and with our limited accommodation it is simply awful. The worst of it is that with all these orders we have not received a penny, and are nearly £8 a week out of pocket. If the institution is to carry on its humane work we are bound to have more support from the animal-loving public. The Duke of Portland, and the Duchesses of Bedford, Wellington, and Sutherland, are amongst the more enthusiastic patrons of the home, which, situated at 80, Park-hill-road, Hampstead, is open for inspection from twelve to six.
It is perhaps only poetic justice (says a London contemporary) that the passion for cats should not always be consistent with tenderness to boys, who are too often as much the natural enemies of the feline as dogs are. Mr Plowden on Friday dismissed the case against a boy who had been charged by the keeper of an "institution" for lost and starving cats with embezzling 2s. The magistrate thought some of the large-hearted sympathy shown by the prosecutrix her cats might have been extended to the boy; and the evidence certainly inclines ordinary people to the same opinion. In the "catteries" — so the lady named her "institution" — there were strict rules for those who were not cats. Fines were imposed on the boy when he did not keep his clothes clean, or when he smoked, and there was a rule against taking gratuities. It is a rule not unknown in houses of refreshment; but if a police prosecution should follow every violation of that rule the magistrates will certainly have enough to do. The boy in this cats' home had taken his gratuity as earned by special advice of his own; and the magistrate could not blame him; but gave his censure to the lover of the cats and a discharge to the boy (Shields Daily News, 2nd May 1898)
LOST AND STARVING CATS. London Evening Standard, 16th April 1898, Illustrated Police News 23rd April 1898

Among the cases before Mr. Plowden, at the Marylebone Police-court, yesterday, was that of Frederick Preston, aged 18, who was accused of having embezzled 2 shillings belonging to the London Institution for Lost and Starving Cats, 80, Park-hill-road, Haverstock-hill. Mr. Freke Palmer appeared for the defence. Detective-sergeant Taylor, who arrested the Defendant, said that Preston, in reply to the charge, remarked, "Then I'll round on the other lads. One has done her (the Prosecutrix) for 25 shillings. They put me up to it, and she cops me the first time."
Cross-examined, the Officer stated that the money was given to the Prisoner by a lady who had wished to get rid of a cat, but afterwards changed her mind. The Prosecutrix had written to the Prisoner's father, saying that if the money was paid there would be no prosecution. Miss Zoe Constance Morgan, the hon. manageress of the Institution, said it was under distinguished patronage.
Mr. Freke Palmer.— Then I am one of the distinguished patrons, I suppose, for I had one of my cats killed there the other day (laughter).
Miss Morgan, continuing, said the Prisoner was in her employ at a wage of 18 shillings a week and overtime money. He was sent to a lady who wished her cat conveyed to the home to be killed. He returned without it, and made two explanations — one that the lady wished to delay the matter until after Easter, and the other that she meant to keep the cat. In consequence of that the Witness wrote to the lady, and having ascertained that she had paid the Prisoner two shillings, she now charged him with embezzling that amount.
Mr. Palmer.— I think you impose fines on your employes?
Mr. Plowden.— Fines?
The Witness.— Yes.
Mr. Palmer. — If his brass buttons are not cleaned he is fined? — No; if his clothes are not clean.
Mr. Plowden. — What is the amount of the fines? — From 3d. to 6d. for unpunctuality.
Mr. Palmer. — Don't you impose a fine of 1s. for smoking? (laughter.) — Oh, yes. How much for drinking? — He is at liberty to drink. You draw the line at smoking? — Yes, because they once set the place on fire. Have you not stopped as much as 3s. 6d. out of his 18s. in one week ? — That was his own fault. He agreed to the terms. But the money went into your pocket. Have you the contract? — It was verbal. Gratuities are sometimes given?— He knows that gratuities are prohibited. You dismissed the Prisoner because he wanted an Easter holiday? — I said he could only have half a day, and that if be disobeyed my orders he should not come back, and he would owe me a week's wages (laughter). He left the "Cateries."
Plowden. — The what? — The "Cateries" (laughter) by climbing over the railings and bolting.
Replying to the Magistrate, Miss Morgan said her institution was for taking cats off the streets. If those who owned them were poor no charge was made, but those in a position to pay were expected to do so. On the application of Mr. Hill (who prosecuted), the case was adjourned for the attendance of the lady who paid the two shillings. Mr. Plowden liberated the Defendant on his own recognisances.
THE OLD LADY'S CATS. The London Institution for Lost and Starving Cats superintended the removal yesterday from the yard of John's Mews, Rosebery-avenue, of the remaining cats which Miss Margaret Scott had, according to her own version, collected in the cause of art. Eight cats that had survived the systematic starvation with which they had been treated were at once secured by the employees of the home for conveyance to the lethal chamber of the institution in the Hampstsad home. The proceedings were watched by a crowd, who hung about the approaches of the yard for some time after the "catch" had been effected. The incident which attracted most curiosity on the part of the crowd was the removal of the dead cats and the fumigation of the artist's studio. There was nothing to hinder the crowd from personally watching the work from the very threshold of the room, but the stench was such that even the faces of intrepid dustmen wore an expression of surprise as they assisted in the disagreeable task. But they stuck manfully to the work, and the accumulated remains were in due course removed in dust carts to Lambeth to be destroyed, while the studio" itself was subjected to a thorough fumigation. (South Wales Echo, 2nd September 1898)
THE CATTERIES. Globe - Friday 05 May 1899
A vein of unconscious humour winds itself round certain passages of the apparently severely business-like circular issued by Mrs. Morgan, on behalf of the London Institution (late the Home) for Lost and Starving Cats, which is situated in the charming and healthy neighbourhood of Hampstead. The first signal of distress appears in the personally-addressed letter to prospective helpers in the cause of the homeless cats. The passage runs as follows: "The landlord will not renew the lease, as he objects to the Catteries." It is evident that the landlord's character is of a decisive pattern, and his attitude is firm towards cats. The four-footed songster finds no favour in sight. Perhaps he esteems the cat in the singular, and maybe he makes a great pet of the one specimen of the "felis domestica" that monopolises his own family hearth-rug. But a large number confined in a limited area on his property, giving voice to different views on feline politics, would tax the patience of any properly brought-up landlord. There are other strong objections, but experience teaches us to leave them severely alone. Our sympathy is with that particular landlord.
An impressive array of well-known leaders of society, in the shape of patrons, leads up to the circular paper. The first page is headed with a passage of singular import:— "N.B.—Boarders Are Not Token In." This is easily explained by the following somewhat sinister announcement that "cats are taken free of charge, and destroyed by the lady manageress herself by chloroform in lethal boxes on the premises, and sent to Battersea for cremation." The passing away of the overplus [surplus] of the prolific London cat is explained by the fact that the home the first three years of its existence, has taken in — and mostly done for [destroyed] - 15,594 lost and starving cats. The statement. "No Boarders Taken In" once more looms gloomily, when the manageress blithely states that "95 per cent" were destroyed by her own relentless hand within twenty-four hours of their admittance to the home.
The lady head of the establishment is all destroying in her self-elected post as chief cat executioner the home. The terms for the "spifflication" [destruction] of pet pussies is 3s. 6d. per head, hut a liberal discount is allowed for families. "Mother and baby kittens counted one." A reluctance is evinced in the circular to destroying dogs; it takes so much chloroform to kill them, thus at once destroying the cherished illusion of the nine lives that centuries have apportioned to the tenacious cat. "Fish-bones extracted from cat's jaws, or any other little acts kindness," ere undertaken by the thoughtful lady. An illustrated post-card is attached to the circular and depicted on the reverse side, in highest form of Continental colour printing, is a large number of cats of every shape and colour. A party of them, evidently of strong suicidal tendencies, is evidently endeavouring to gain admittance to a house across whose front runs a large board on which is written "To Let." In the distance is a modest, broken-down tenement, with the word "Full" emblazoned thereon. The whole country beyond is swarming with serried battalions of cats. Not a living human being is to be seen; they have evidently all emigrated. At the end of what is virtually three years' return of cat mortality are the following tender lines:-
"It seems to me so beautiful,
So blessed thing to do,
To make God's innocent creatures see
In everyone a friend,
And on out faithful kindness
So fearlessly depend."
How is it possible to resist such a touching appeal!
"DUMB THINGS ALL." A FRIEND IN NEED. (The Westminster Budget, 3rd November, 1899)
Of making many reports there is no end. At this time of year they come before the public in bewildering multitudes. To those interested in the charitable institutions with which these pamphlets deal they are interesting enough. Not so, however, as a rule, to the general public. Still there are exceptions, and I doubt whether any man, woman, or child, unless they have hearts of stone, will read the Annual Report of the London Institution for Lost and Starving Cats without a throb of sympathy with the poor creatures that necessitate such a report and such an institution, and without many throbs of thankfulness that there should be somebody like Mrs. Morgan, the hon. manageress, and, in fact, its founder and best friend.
Only three years ago Mrs. Morgan, unable to bear any longer the sight of all the poor outcast cats which creep with an apologetic air about the streets of London, as if they, and not their inhuman owners, were responsible for the pitiful sight such cats represent, opened a home for these starvelings. And what fact could plead more eloquently for the institution than this, that up to date 20,950 starving cats have been received? At the rate of forty per day they are sent or brought into this place of mercy, where quickly and painlessly they are put out of their misery. Once the London Institution became known it grew rapidly, for there are few people who will not take the trouble of seeing that a
homeless or diseased animal is taken care of, so long as there is somebody who will take the trouble of actually handling and dealing with the patients.
Together with the report a letter has been received from Mrs. Morgan, from which we quote a few passages, firmly convinced that whosoever has any pity for so helpless a little dumb thing as a homeless cat will do his or her best to help this excellent institution, which is founded and maintained for no other reason than that of removing pain and suffering. The institution is not a money-making affair in any sense of the term ; on the contrary, not only the entire time, but a great deal of substantial help, has been given to it by Mrs. Morgan, who, we trust, will be generously supported in continuing her good work, as she deserves :
"The term of our present premises being up at Christmas, we have, after much trouble, secured suitable ones in Camden Town. But, to add to our difficulties, the place has now been condemned by the district surveyors, and before entering into possession we are compelled to construct drains, asphalte, construct a damp course round the entire buildings, pull down two walls, and rebuild everything, at a cost of £500. This must be done by Christmas. Therefore, I earnestly entreat all lovers of poor pussy to help me this once again, and to those who have no love for our little fireside friend, I would say, give a sixpence in return for the midnight sleep which my endeavours to strike at the root of the evil by reducing the terrible over-population of the feline tribe will ensure them. There are few people who have not had their feelings harassed by the sight of some wretched, starving, gaunt, hollow-eyed cat, now vainly craving for a crust of bread, shrinking from an outstretched hand, crawling down the alley way, dying on our very doorstep.
We reproduce, by permission of Mrs. Morgan, a few of the illustrations interspersed in the report. They speak for themselves, louder than words.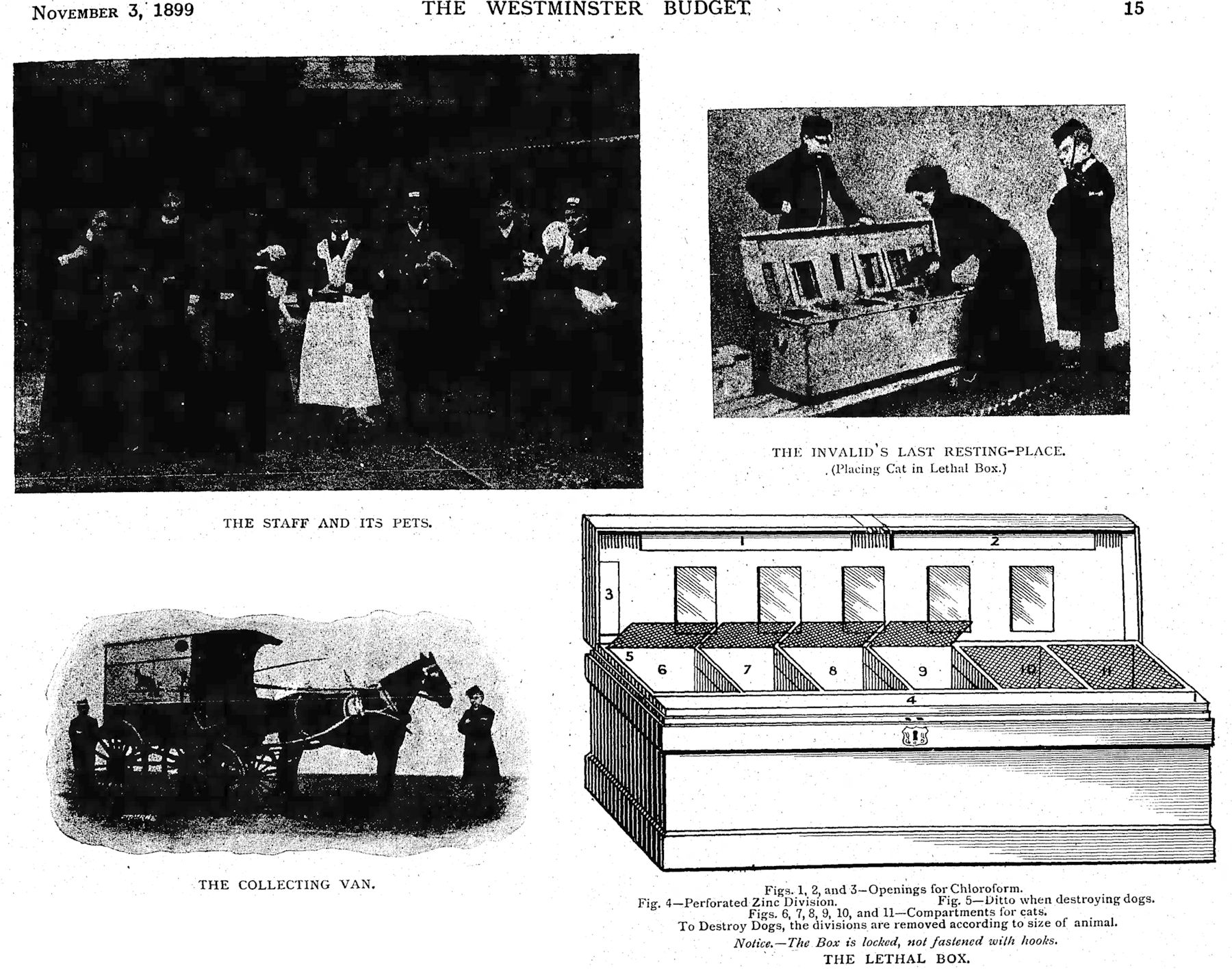 THE CAUSE OF THE CAT. (The Westminster Budget, 17th November, 1899). Several of our readers have written to ask for the address of Mrs. Morgan's Home for Starving Cats of which we gave an account the other day, in order that they may send contributions towards the good cause. All letters should be addressed to the Manageress, the London Institution for Lost and Starving Cats, 1, Albert-road Gloucester Gate, N.W.
LONDON INSTITUTION FOR LOST AND STARVING CATS. "The terrible increase of cats received." That phrase seems to stare out prominently from a page of the appeal for funds for the Institution for Lost and Starving Cats at 80, Park-hill-road, Haverstock-hill, N.W. It is a "terrible increase" indeed. Here are the figures:—ln 1896, 2,450 cats received, in 1897, 4,010, in 1893, 7,337. The institution is for lost and starving cats only, and contains also a lethal chamber in which diseased or aged cats may be painlessly destroyed. From a paragraph in the appeal for funds I gather that well-to-do people are in the habit of sending their pets there for a final quietus, but neglecting to pay the fee. To do this they have pose as belonging the working clashes; but what does that matter as compared with the lordly sum of eighteen pence? These pennies are actually saved by owners who prefer to throw the expense upon the institution. Owners who wish to see their pets destroyed can do so by making an appointment with the manageress and paying 2s 6d. Some poor things have been taken to the home in a shocking condition, with broken limbs, starved, blind, and so on. (Lincolnshire Echo, 4th January 1900)
WHERE STRAY CATS GO. (Dundee Evening Post, 23rd June 1900)
GATHERED IN BY A BEAUTIFUL MAID AND CREMATED. Is your back garden a gathering place for cats? If so, drop a line to the hon. secretary of the London Institution for Lost and Starving Cats, Ferdinand Street, Camden Town, notifying her of your distress. In the course of the next day a well-appointed cart with a prancing cat blazoned its hood will pull up at your door. From it will descend a young lady with a gold-lettered hat-band and a smart boy in buttons. You will be asked to point out the distressful animal, and, if it not on the spot, James, the boy in buttons will seek it out, and lure to his arms with desirable cat's meat. When found, the young lady will, on the principle of Captain Cuttle, make a note of it. You will be required to declare that the cat is a genuine "stray," and immediately it will be whisked off, to seen by you no more.
"Oh, yes," the young lady replied, in response to inquiry. "Sometimes we get many as twenty and thirty cats a day. "We put them in here," she continued, leading the way to a bright room gay with pictures by Louis Wain, and flowers in pots. "Here," she went on, waving her hand towards numerous cats lying about in all direction, after ticketing them we leave them for a day. During that time they can help themselves to much meat and milk as they like. Then we put them into a chloroform box, and they die painlessly. We received about 4000 last year. We keep pretty ones for a few Mays sometimes, and try to find them homes. We have another room for boarders upstairs, and a playground the roof."
"This," she said, leading the way to another apartment, "is the infirmary. Yes, the patients have various ailments. Now, this is a case of nerves and hysteria. Her people went away. She sulked and made herself ill. But you're better now, aren't you, puss?" and she chucked a dyspeptic-looking Persian under the chin.
"This," she continued, lowering her voice and opening another door, "is the mortuary." The press representative removed his hat entered softly. The young lady opened a long wooden box, smelling faintly sweet of chloroform. At the bottom lay something fluffy, very quiet and still. "In the evening," whispered the young lady, "they will be cremated."
"Woking?" – "No, a knacker's yard at King's Cross."
A CORRESPONDENT, who says she has read with painful interest the two letters that have appeared in The Standard with respect to lost and starving cats, writes: — "There are two excellent Institutions, to both of which I am a subscriber, whose object is to mitigate the sufferings of these poor helpless animals, which are caused by the callous indifference of those to whom they have belonged. It would occupy too much space if I were to describe what I know of the lingering misery of these poor creatures. For all humane persons who may see this letter it will be sufficient for them to know the two following addresses: — Mrs. Z. C. Morgan, 38, Ferdinand-street, Chalk Farm-road, Camden Town, London, N.W. (The London Institution for Lost and Starving Cats), and Mrs. Gordon, 7, Nevern-road, Earls-court, London, S.W. (The Society for the Protection of Cats). At this last Institution cats may be boarded at a moderate cost." (London Evening Standard, 18th July 1900)
A CATS' PARADISE. (New Zealand Herald, 1st December 1900, Supplement)
THE HOME FOR THE HOMELESS AT CAMDEN TOWN. The homeless London cat no longer cries in vain. For four years it has received the sympathetic attention of Mrs. Z. C. Morgan, whose good work on, pussy's behalf has so grown that a new home had to be erected at Camden Town in place of the old. This new cats' workhouse is a paradise for the pauper pussy. When an Express representative visited the scene of feline felicity there were eighty cats upon the premises, including thirty-four who are on the permanent staff "kept for the inspection and amusement of visitors;" eight in the infirmary wards receiving the most delicate attentions, and thirty-eight strays having a few hours of domestic felicity before sleeping the last long sleep in the lethal boxes. In response to appeals received, twenty-one boxes were being sent out to bring back twenty-one more of the stray or diseased animals who would otherwise have been left to starve and suffer unpitied. The growth and usefulness of the work is amply shown by some telling figures in the report, which give the subscriptions (voluntary) and the number of cats dealt with during the four years : —
Already this year 7900 cats have been dealt with, and they are coming in at the rate of 150 and 200 per week. Of course, the great majority of these have to be destroyed, but they are destroyed painlessly. The society have a mandate from the London County Council to clear all squares, recreation grounds, etc., of stray cats, and they have already dealt with many such areas.
Poor pussy's remains are cremated by contract at King's Cross at three-pence a cat. Cats entitled to a permanent residence at "The Catteries" are provided with a "playground" in which are various aids to catathletics, while their boarding room is furnished with suitable toys such as elastic-hung balls of mixed colours, etc.
Four pages wait upon them, and a caretaker on the premises "has been specially appointed to spend several hours daily playing, feeding, and coaxing the cats to eat." Mr. Louis Wain is a regular visitor and benefactor of this happy home for pussies that were once homeless.
All that is needed is funds to complete the payment for the new premises.
1896: 2,450 Cats Received, £455 Expenditure, £505 Receipts
1897: 4,019 Cats Received, £789 Expenditure, £840 Receipts
1898: 7,525 Cats Received, £1,050 Expenditure, £965 Receipts
1899: 8,381 Cats Received, £2,100 Expenditure, £2,239 Receipts
THE PUSSY CATS OF THE LONDON INSTITUTION FOR LOST AND STARVING CATS. The following advertisement, cut from the daily papers, speaks for itself, and I beg my humane Editor give it free insertion. "The Pussy Cats of the London Institution for Lost and Starving Cats present their humble love and respects to all their kind friends, and hope they will enjoy a merrier Christmas and happier New Year than they themselves anticipate, with the very small funds their disposal at present." - The above institution is well-managed and deserving, so any your readers might do worse than spare it just a trifle. (Bury Free Press, 22nd December 1900)
THE QUEEN HAS GIVEN HER PATRONAGE TO THE LONDON INSTITUTION FOR LOST AND STARVING CATS, Ferdinand Street, Camden Town. (Sheffield Evening Telegraph, 9th February 1901)
AT THE CATTERIES, by J. A. Middleton. (The Lady's Magazine, 1901. Vol II, No 4.)
This is an account of Pussy's Paradise, to which she can be sent when deserted by her owners. A good home may be found for her, or death may come painlessly in the lethal box.
It was an unfortunate day for cats when someone discovered they had nine lives, for since then the loss of two or three of these is considered of no consequence. Although cats, under happy conditions, always manage to get the best out of life - the softest cushion, the warmest corner - the choicest tit-bit, there is not a single member of the animal world more cruelly sinned against. Three-quarters of a million of cats in London, and of these 80,000 to 100,000 homeless - think of it!
A cats' home is quite as much needed, in its way, as a hospital for human beings, and the idea of starting one on novel lines occurred about five years ago, to a kind-hearted lady named Mrs. Morgan, living at Hampstead. Previous to this, her own house had always been open to the waifs and strays of cat-dom, and great was the persecution she suffered in consequence. Her servants were stoned and pelted with mud; cats were left in hampers and sacks on the doorsteps, and dropped over the wall, and anonymous letters of the most insulting nature were frequently received.
At last, the Home for Lost and Starving Cats was opened at 80 Parkhill Road, Hampstead, on January 22nd, 1896, and removed to 38 Ferdinand Street, Camden Town, on February 19th, 1900, and, as a clergyman who visited it once said : "It is like coming from the slums into a little Paradise." Passing through the gaily-painted green door which is kept by a boy in neat livery, the visitor finds himself in a well-paved yard with garden-seats, and flower-boxes and pretty hanging baskets filled with ferns, and a general air of brightness and cleanliness. Round this yard are the catteries and outbuildings. The first cattery on the right is devoted to strays, and is, as can be imagined, never empty. Here are cats of all sorts, colours, and sizes, in every stage of destitution. They arrive at the rate of about sixty a day - sometimes as many as ninety-seven in twenty-four hours, for the Institution never shuts its doors to any starving animal, and, moreover, sends its carts to collect the wretched creatures from the cellars and areas of empty houses and other places where forsaken cats congregate.
The strays are, naturally, for the most part in a pitiable condition, with broken limbs, injured spines, and loathsome diseases, mauled by dogs, scalded with boiling water, or daubed with pitch or lime, their tails cut off, some poisoned, some having been set on fire, and others, again, with even more terrible injuries. The worst cases are destroyed at once; the more hopeful ones, after being fed and made happy and comfortable for twenty-four hours are examined and reported upon, after which the valuable ones are picked out and kept, and the rest painlessly put to sleep. The doomed cats are destroyed by means of methylated chloroform in a large lethal box with six divisions; but a large lethal chamber is being built. The process is absolutely free from pain or suffocation and death comes speedily. The bodies are afterwards conveyed to Battersea Dogs' Home, where they are cremated, at a cost of threepence per cat, by special contract.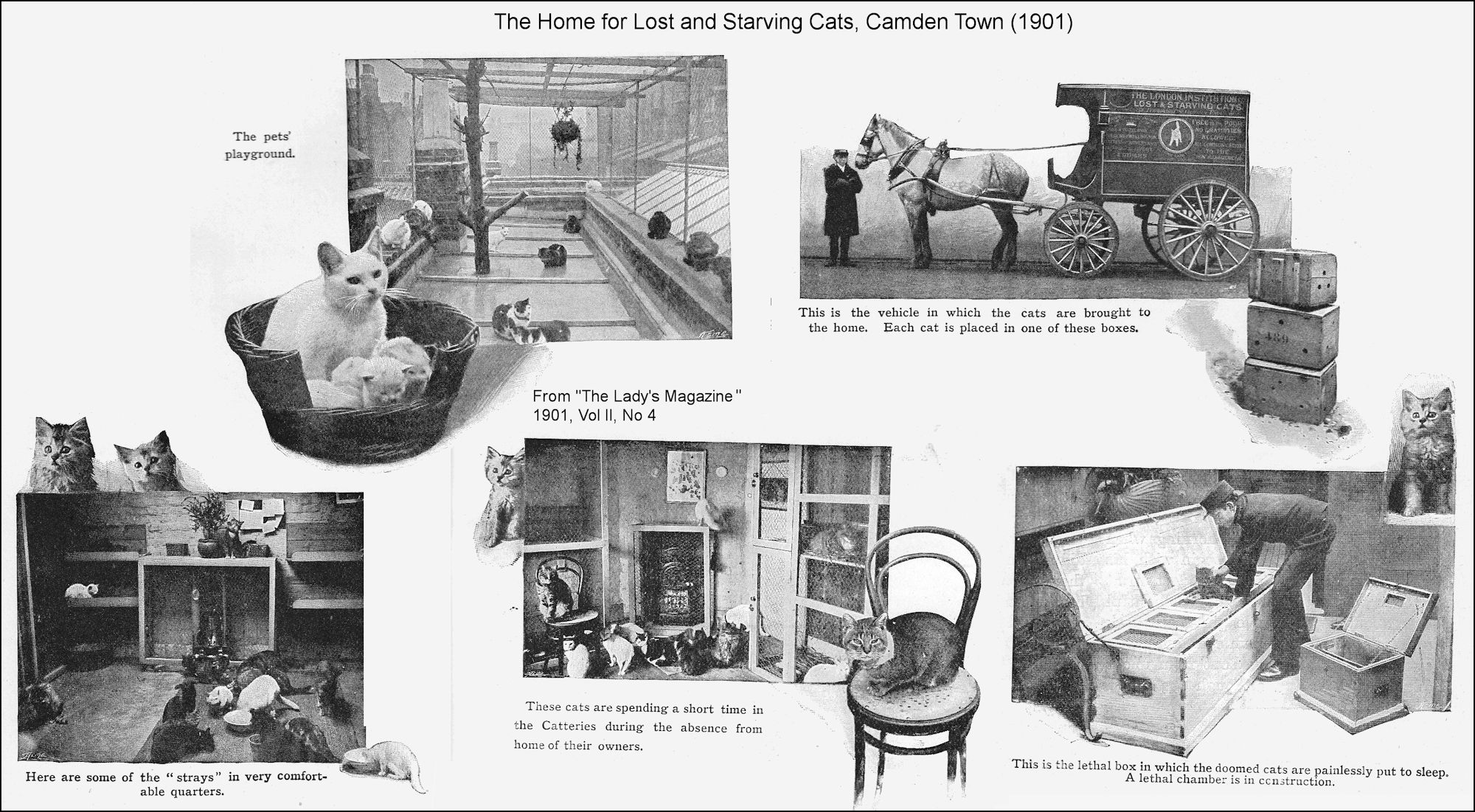 Upstairs is the Pets' Room, in which the favourites of the institution disport themselves. Round the walls are hung some of Mr. Louis Wain's delightful cat pictures, and the room is furnished with suitable toys, such as elastic-hung balls of various colours. Leading out of it is a large verandah supplied with fresh grass and other luxuries. This is the pets' playground, in which they run about and play, and sun themselves. The pets' room is, perhaps, the most amusing spot in the building. Its inmates assume a certain dignity, which is lacking in the unfortunate "strays," although, as a matter of fact, all of the pets were originally "strays" themselves, and have been exalted on account of their good looks or some similar qualification. Here is "Bruno," the Belle of the Catteries, a lovely blonde Persian, with a lemon-coloured ruffle. Rumour has it that she was found destitute in one of the squares, but she is such a fine lady that this is hard to believe. Here, also, is "Mark Anthony," a white Persian, singularly un-like Mr. Beerbohm Tree. By-the-bye, white cats are quite a feature of the Home, being a fad of the Manageress, who never destroys one if possible. Consequently there are no fewer than twenty-three white inmates at present, two of them with kittens.
Another illustrious boarder is "Master Perky," a valuable blue pedigree Persian, pointed out proudly as a son of "Woolomoloo." He is aristocratic in appearance and manners, and a thorough contrast to "Jacky Boy," a facetious old white cat, aged twelve, who is the Nestor of the Catteries. The latter wears a collar and bells, and, like the Abbot in "Ingoldsby," has a merry eye. He plays, somewhat languidly, with "Bobby," a gaunt cat with a sore throat, who is wearing a flannel band round his throat, and likewise suffers from ennui, for if ever a cat's face wore a bored look it is his. A small room is set apart for sick cats, with separate cages for each disease. The invalids are visited twice a day by their nurse and the vet, when required, and are fed by hand. Brandy, eggs, bovril, Brand's extract, minced beef and other luxuries are included in their menu, and every attention is paid to the sufferers.
The cart belonging to the Home is a very smart affair, blue and gold, with a picture of a cat on the panels. The lady-collector, who accompanies it on its rounds, wears a brass plate on her hat, with the name of the Institution engraved upon it. Cats coming from a distance arrive in railway boxes, supplied by the Home, and travel at special contract prices. Orders to fetch cats pour in by every post — as many as 11,267 last year — and to cope with these orders requires a great amount of organisation. Sometimes they come by telegram, and in all cases are attended to as quickly as possible, either by box or van. Some idea of the amount of work done by the Catteries may be gleaned from the following table, which gives the subscriptions (voluntary), and the number of cats dealt with during the last five years:
Date
1896: 2,450 Cats Received, £454 Expenditure, £504 Receipts
1897: 4,019 Cats Received, £789 Expenditure, £841 Receipts
1898: 7,525 Cats Received, £1,058 Expenditure, £964 Receipts
1899: 8,381 Cats Received, £2,102 Expenditure, £2,229 Receipts
1900: 11,267 Cats Received, £2,542 Expenditure, £2,432 Receipts
(Receipts include loans)
The animals of the poor, or of the needy working classes are received absolutely free of charge.
The Institution is now placed under the patronage of H.M. the Queen Alexandra, who thinks the Home is doing good, kind, and useful work. Visitors are invited to view the Catteries between the hours of 11 and 5, Sundays excepted. Funds are urgently required, for the heavy building expenses has left the Institution, which has no subsidy whatsoever, in debt, the annual subscriptions only to £279 3s.
Such is, briefly, the kind of work done by Mrs. Morgan and her staff, and it is of a sort to commend itself to all lovers of dumb animals, and to all those who view with regret the neglect with which the moving population of London treats its domestic pets. "I would give nothing," said Dr. Norman Macleod, "for that man's religion whose cat and dog are not the better for it." Tenderness to animals is one of the greatest of human virtues, and it is impossible to prize too highly the great value of such an institution as the Catteries.
HOW THE CAT WAS CAPTURED. A somewhat amusing scene was witnessed yesterday in Holywell-street, which is now being rapidly demolished, illustrating the instinct of the cat and its strong attachment to home. Several cats have been either left behind by tenants who have gone, or have refused to accompany them, and they are being removed by the Royal London Institution for Lost and Starving Cats, situate in Camden Town, in which the late Queen took considerable interest and became its patron. When the society's van drew up in Holywell-street in quest of a tabby on "the list of the lost," which was wandering about the old dilapidated place, the cat instinctively apprehended that it was wanted, and made a desperate effort escape the driver of the van and a young woman who accompanied him. It was chased upstairs and downstairs and into the street, where it was captured after pursuit. Placed in box pierced with airholes, brought for the purpose, the animal was removed amid the laughter of a little crowd who had witnessed the incident. (Pall Mall Gazette, 1st August 1901)
GETTING RID OF STRAY CATS. Sir.— I beg you kindly in common fairness to grant space in your valuable paper to contradict a most erroneous and misleading statement published in your issue of the 8th inst., and which is likely to cause the London Institution and Home for Lost and Starving Cats much harm. I wrote to the St. Pancras Guardians offering them one penny a head for each dead cat or kitten to cremate, and I have been in the habit for years of paying 3d for each dead cat and one penny for each dead kitten to the Battersea Dogs' Home. But our work increases and the number of cats get more and more, the price is getting much too heavy for our resources, besides the distance to send the dead bodies to Battersea. You further state "on what authority I know not" that we receive 1 shilling for each animal which enters our gates. I should be only too grateful if I could count on sixpence a head, in fact we not get l shilling a dozen pussies, and any one most welcome to start a cats' home and I will gladly give them all advice they may wish for.
To be brief, each cat costs us, chloroform, 3d.; cremation, 3d.; carriage of L.P.D.C., both ways, 7d. for our cat- travelling boxes: total. 1s. 1d. Our own cart works out at about 6d. as we pay for two good job horses £2 10s weekly, have our own cart, but pay our driver 25 shillings, and besides boys and collectors' wages on cart. There is food (we never have less than 60 cats here), wages, etc., etc. Never till I started this home did I have such insight into the callousness, cruelty, meanness, and uncharitableness of human nature. Often and often, and this from well-to-do people, after sending a very long way are told, "This is a stray, it came to us five or even ten years ago; so, of course, I won't give anything." Were it not for kind friends and for the loving patronage of our gracious Queen who so well knows that tenderness to animals is one of the greatest of virtues, our institution would long ago have had to be closed. I cordially invite all visitors to call and judge for themselves and will gladly send a report free to anyone asking for same. — I remain, Sir, faithfully yours. Z. C. MORGAN. Hon. Manageress, London Institution for Lost and Starving Cats, Ferdinand-street, N.W. (London Daily News, 11th October 1901)
HOME FOR LOST AND STARVING CATS. In six years this institution, in Ferdinand-street, Camden-town, has provided happiness [note: merciful death] for nearly 50,000 lost and starving cats. (Morning Post, 20th December 1901)
Writing in 1903, Frances Simpson mentioned a number of societies which rescued cats. One such society was located at Gordon Cottage at Argyle Road, Hammersmith and the other was the London Institution for Lost and Starving Cats at Ferdinand Street, Camden Town. The aims of both were very similar: To receive and collect homeless diseased cats and painlessly destroy them; To provide a temporary home for lost cats; To board cats at a moderate weekly fee
| | |
| --- | --- |
| (Royal) London Institution "Cats' Playground" | (Royal) London Institution Lethal Chamber. This could painlessly destroy 12 animals at a time. |
The Camden Town Institution to which HM the Queen had graciously given Her Patronage, was founded by Mrs Morgan in 1896. It received 300 cats per week on average. The sorry state that the cats were in meant that every day, "several wretched cats" were found to be beyond help and had to be destroyed on admission while 80% of cats were destroyed within 24 hours. Many would have been admitted with distemper, others would quite simply have been starving. Members of the public could also take their cats there for euthanasia and Simpson wrote "No charge is made to the poor and only 1s 6d for a painless death in the lethal chamber is asked from those who can afford this most merciful mode of destroying life." (the lethal box was a small air-tight container into which the cat was put along with a chloroform-soaked rag or sponge, occasionally other vapours might be used). The dead cats were cremated at the Battersea Dogs home, at a cost of 3d per body. A motorcar was employed to go round and collect stray cats and would call at any house if due notice was given to the manageress. In Ireland there was a Cats' Home established 16 years ago (1903 - 16) by Miss Swifte in Dublin.
For small shelters and individuals without the room for a large lethal box, or for breeders who sometimes had to dispose of surplus kittens or sick cats, small lethal boxes were required. The simplest, for very young or sick kittens, was an airtight biscuit tin in which a chloroform-soaked rag was placed. Simpson described a commercially available lethal box in her chapter on building a cattery: "Mr Ward, the well-known feline specialist, has patented a lethal box of more moderate dimensions. Mr Ward, not yet having a description of it, kindly writes the description as follows:- "The box inside is 15 inches by 12 inches by 12 inches. A sheet of glass is inserted in the lid, so that the operator may watch the process. The vapour - coal-gas passed through chloroform - enters through a tube at end. Two minutes is sufficient time." Fanciers, I think, will agree that this simple peace-giving box is not among the least of Mr Ward's kindly ministrations to the cat he loves so well. Few amongst as can bear to see unmoved the terrible last pains of a pet who in its days of health delighted us with its beauty."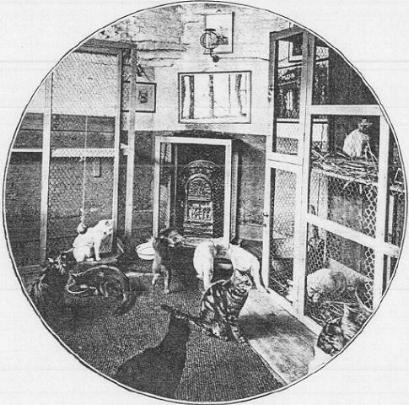 (Royal) London Institution
MISANTHROPIC "CHARITY" (St James's Gazette, 20th December 1902)
Among the flood of appeals for charity which reach us at this time of year it is seldom that any actually fill us with indignation. But this we confess is the effect on our mind of receiving an appeal from some sort of an institution for lost and starving cats. We hope none of the public are so lost to all sense of decency as to subscribe money for such a purpose at a time like this when human distress is widespread and severe. The appeal before us has the impudence try to commend itself to the charitable by stating that owing to the many other public appeals both for philanthropic and patriotic purposes and now the cry of the poor —the cats are left out in the cold! I do not wish suffering to any creature on earth, but we do not hesitate to say we would rather every cat in London starved to death than that a single woman or child should beg in vain for bread. Every shilling subscribed for these semi-wild beasts — lost cats soon run wild — might and should go to some really deserving cause, and for our part we regard anyone capable of assisting such a charity guilty of a sin against humanity.
KIND TO CATS BUT UNJUST TO THE SERVANT. (Illustrated Police News, 1st August 1903)
An amusing case was heard in Bloomsbury County Court, when Mrs. Morgan, the honorary manageress of a home for lost and starving cats, at 38, Ferdinand Road, Camden Town, was sued by a young lady for four guineas for seven weeks' wages, including one week in lieu of notice. Plaintiff stated that she was engaged in February as collector to the home at a salary of 12s. a week and commission. After working for a few weeks the manageress told her that her services would not required for a month, but that she could resume work again after that time, if in the meantime she did not find a situation to suit her. She was not given notice of dismissal, nor did she receive a week's wages in lieu of notice. Defendant explained that some weeks after she had engaged the plaintiff she was compelled to abandon the system of sending round a collecting van owing to lack of funds. She therefore dismissed the plaintiff, on the understanding that if funds permitted she would be re-engaged. She did not pay a week's wages in lieu of notice, but she gave the plaintiff a very good reference.
In answer to some questions by Judge Bacon, defendant proceeded in a very voluble way to show that the home was not in a strong financial position.
Judge Bacon: Oh, shut it up!
Witness (indignantly): Sir!
Judge Bacon : I don't mean that you are to hold your tongue; I merely suggest that you should close the institution. (Laughter.)
I think the defendant made a mistake sending away a servant in this way, and if she had been as kind to human beings as she pretends to be to cats, this would not have happened. Judgment for plaintiff for four guineas.
SHUT IT UP! (Bournemouth Daily Echo, 25th July 1903) Judge Bacon displays such unvarying courtesy towards ladies who attend his court as witnesses that those present at Birmingham on Thursday were considerably shocked when he affected to be guilty of an act of unaccountable rudeness. A: lady who had got into financial difficulties through the insufficient support accorded to her Home for Lost and Starving Cats was pouring her troubles into the ear of the judge in a manner more voluble than interesting when his Honour suddenly interrupted her with the interjection. "Oh, shut it up!'" "Sir!" indignantly responded the lady, shocked at the apparent rudeness, not to say vulgarity, of the remark. Then the judge hastened to explain that his interjection had been misinterpreted. "I don't mean that you are to hold your tongue," said his Honour. "I merely suggest you should close the institution." Thereupon, the reporter adds, the lady seemed mollified and the Court looked much relieved.
REPUDIATION. (London Daily News, 7th September 1903)
The Secretary of the Royal Society for the Prevention of Cruelty to Animals, 105 Jermyn-street, S.W., herby announced that, three months ago, he formally, by legal notice, WITHDREW his name as Vice-President from Mrs. Morgan's London Institution and Home for Lost and Starving Cats, 38, Ferdinand-street, Camden-town. In consequence of that demand being systematically ignored by the Manageress up to present date, he is compelled to give this Notice. 105, Jermyn-street, St. James's. August 28, 1903.
The Queen has withdrawn her name as patroness of the Royal London Institution and Home for Lost and Starving Cats, which thus ceases to be a "Royal" Institution. (St James's Gazette, 4th November 1903)
PUSSY'S MILK BILL. THE AFFAIRS OF A BLOOMSBURY CATS HOME. (St James's Gazette, 4th March 1904)
At the Bloomsbury County-court, before his Honour Judge Bacon, Mrs. Morgan, described as the honorary manageress of The London Institution for Lost and Starving Cats," 35, Ferdinand-street, N.W., was sued for a debt of £l5 6s. 1d. for milk supplied by Messrs. J. Richardson, Ltd., dairymen, of 41, England's-lane, N.W. Defendant had written a letter to the Court, in which she acknowledged her liability, but said "the home was very hard up, and had several judgment summonses against it, which had to paid monthly, that it was quite impossible for her to pay more than £1 a month." Judge Bacon: Why are such institutions started? I suppose for people to indulge in fads. A gentleman who appeared for the defendant said Mrs. Morgan had asked him to attend the Court, as she was not very well. He was now engaged in going through the books of the institution, and there had been a great falling off in the subscriptions during the past year.
Judge Bacon (examining defendant's letter paper): Do you mean to say people subscribe to such things? The London Institution and Home for Lost and Starving Cats, under the patronage of Princess - - -"
Plaintiffs' Solicitor: Very distinguished patronage, your honour.
Judge Bacon: Such a piece of paper does not impose upon me. Probably the printer has not even paid for it. But how is it that the defendant holds herself answerable for this?
Witness: When the money does not come in Mrs. Morgan makes up the money to keep the home going out of her private income, but her income is limited.
Judge Bacon: Ah! Most incomes are limited. (To plaintiffs' solicitor): Why did you give credit to an old woman like this? Well, she may not be an old woman, but I should think she is.
Plaintiffs' Solicitor: We were impressed by the distinguished patronage. We know the home has been criticised lately, and is somewhat under a cloud.
Judge Bacon: You can't get more from the cat than the skin You'd better take her offer.
An order for the payment of 20 shillings a month was made.
DENIAL. The Committee of the London Institution and Home for Lost and Starving Cats, Ferdinand-street, Camden Town, N.W. ABSOLUTELY contradict and deny false and malicious report circulated that this Institution is closed, or under new management, or amalgamated with any other Society. All cats sent for at once on receipt of post-card. The cart of the Institution will call for cats within reasonable distance. If too far for carrier will call with cats' boxes for cat. Average 40, 50, 60 and more cats received daily. Visitors cordially invited 11 to 4 [o'clock] week days. Strong Antivivisectionist. Free to the poor. Cats taken in at all hours, Sundays included. 84,230 cats received in 8 years up to 18th March. Average 50 to 60 cats always kept on premises. Boarders received. Report for 1902, with balance-sheet on application. New report for 1903 issued to May next. Funds most urgently and earnestly entreated for to help this humane work. All communications to be addressed to Mrs. Morgan, Hon. Manageress. (London Evening Standard, 22nd March 1904)
THE BLACK CAT OF HOLBORN. The black cat of Holborn, who pined three weeks in a deserted confectionery shop in that thoroughfare, has been rescued. It now reposes in the boarders' room of the London Institution for Lost and Starving Cats, Ferdinand-street, Camden Town. As soon as it reached that home it ran away from its rescuers and traversed the yard of that institution with its tail in the air, swearing horribly. (Portsmouth Evening News, 22nd August 1904)
Yet in our New Year appeals we must not quite overlook those on behalf of the lesser brethren," and do not think any cat lover into whose hands chances to fall the pathetic little card voicing a plea for the London Institution for Lost and Starving Cats, 38, Ferdinand street, Camden Town, N.W., can be deaf to its appeal for a home which counts among its supporters Princess Dolgouruki, the Duchess of Sutherland, Princess Lowenstein Wertheim, and other warm champions of our dumb friends. And the reclaimed are ill-used and starved to a shocking extent to judge by the photographs from life on the card. The record of 108,814 cats mercifully saved from cruelty and starvation, and relegated, where no other alternative offers, to the kindly lethal chamber, in the last nine and a half years, speaks volumes for the need of such an institution, and ought to bring in many more voluntary contributions to this labour of mercy, to which the manageress devotes her life. (London Daily News, 5th January 1906)
The annual report of the London Institution and Home for Lost and Starving Cats, 36 and 38, Ferdinand-street, Camden Town, shows that to May 16 of this year it had received no fewer than 112,555, and that it has been the means of ridding the squares, streets, empty houses, and parks of the poor suffering creatures which formerly haunted them, it estimated that there are about 750,000 cats in the Metropolis, and that from 80,000 to 100,000 of them are homeless. The institution is maintained by voluntary contributions, and an appeal is made for funds to complete the payment of £230, the balance of debt upon the building and meet the general expenses. Subscriptions should be sent to Mrs. Z. C. Morgan, the foundress and treasurer (Morning Post, 6th September 1906)
The East London Coroner held an inquest a few clays ago on an elderly woman named Hazlett, who was found dead in her bed at 7, Elder-square, Spitalfield, with seven Persian cats "keeping guard" round her. The mangeress of the London Institute and Home for Lost and Starving Cats on Saturday applied to the coroner for the address, so that she might send for the cats and provide a good home for them. (Gloucestershire Chronicle, 19th January 1907)
A young man, who represented the manageress of the London Institution for Lost and Starving Cats Kentish Town, complained to Mr. Plowden, the Magistrate the Marylebone Police-court, of the noise made by family of children at the back the cats' home. Mr. Plowden promised to send a policeman to admonish the mother of the children. (Exeter and Plymouth Gazette, 13th April 1907)
The London Institution for Lost and Starving Cats has issued a very interesting report describing the excellent work it is doing. An average of sixty to seventy cats are received daily, and further assistance is urgently needed to enable the institution to carry on its notations. Intending holiday-makers are informed that boarders accepted, and that their pets will well cared for during their absence. (Morning Post, 9th July 1907)
WILL CASE SETTLED. Before Mr Bargrave Deane and a Jury. (London Standard, May 20, 1908). The action concerning part of the estate of Mrs. Maria Rebecca Bey, formerly of Jersey, who died at the Home for Lost and Starving Cats, Ferdinand-street, Camden Town, in December 1906, leaving property valued at £18,000, was settled. The plaintiff, Mr. John Harold Milton, of Staple Inn, a solicitor, and one of the executors, propounded her will of August 15, 1900, and two codicils dated respectively November 5, 1900, and August 9, 1902. Only the last document, leaving the plaintiff property said to be worth £10,800, was contested by the defendants, who were Mrs. Josephine Marie Constance Ruttledge (connected with the Home for Lost and Starving Cats), a niece of Mrs. Bey, her husband Captain John Knox Ruttledge, a nephew, Captain Harry de Longueville, and an executor, Mr. le Huquet. They said in their defence that Mrs. Bey at the time the last codicil was executed was of unsound mind. Mr. Milton denied all the allegations against him, and in the course of his case proved that the codicil was drawn up by an independent solicitor. Counsel had a consultation and it was announced that the parties had settled all their differences and come to an amicable arrangement. Accordingly, the jury were discharged, end his lordship pronounced for the documents propounded by the plaintiff.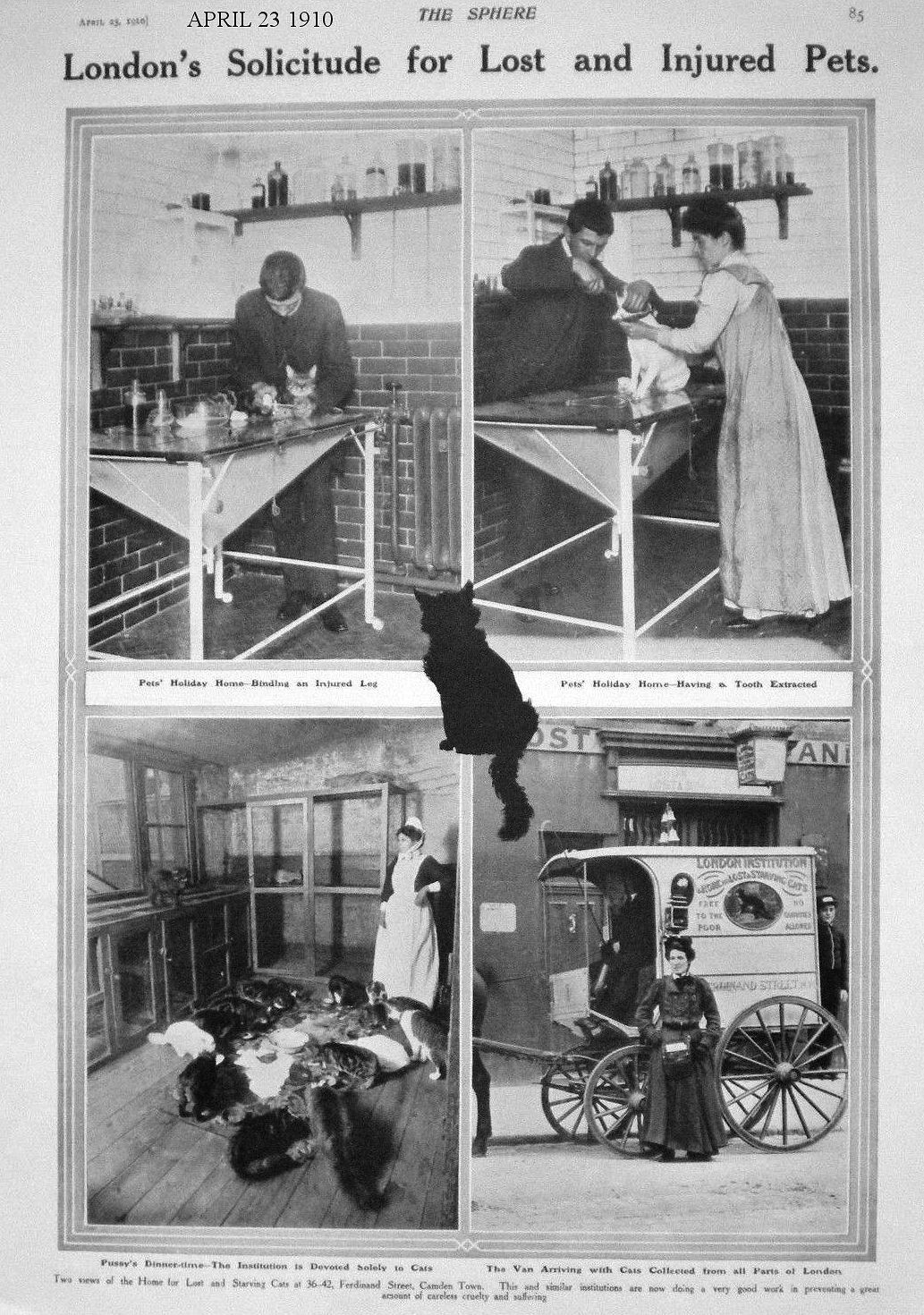 PAINLESS DEATH FOR KITTENS. (Aberdeen People's Journal, 3rd October 1908) How to destroy kittens or puppies in a painless if somewhat expensive way, without calling into use the old-fashioned method of a bag and a pail of water, is told in the annual report just published of the London Institute for Lost and Starving Cats. The directions are as follows: Take a dish cover, place it where it can be pressed into the mould of the garden, or, in default of this, on an old cushion, so that the latter bulges out all round and makes the cover airtight. Place the animals beneath, and pour four ounces of pure chloroform on wadding. Push the wadding under the cover, hold the cover down for three or four minutes, and then leave undisturbed for an hour. The body must he stiff before burial.
LONDON KIND TO HOMELESS CATS (The Philadelphia Inquirer, May 8, 1910) Its Institution for Lost or Starving Felines Is Very Well Patronized. Sends Out Van to Gather in Derelicts Which Are Put to Painless Deaths
LONDON, May 7. — To save the stray cats of London from miserable deaths, from starvation or ill-usage in the streets, or from the worse end of the vivisector's knife, is the object of the London Institution for Lost or Starving Cats. Night and day, week day or Sunday, the doors of the home are ready to open to the cat for which the word "home" has no meaning — the cat which nobody wants. There, for once in its life, at any rate, a cat will find a kindly hand, good food, a warm bed, and, at the last, a painless release from its troubles.
The tale of London's stray cats, as revealed in the records of the institution, makes pathetic reading. Since the home was founded in 1896, nearly one hundred and seventy thousand cats have been cared for. Of these unfortunates some few have been saved, to become the pets of the institution. For the rest, nothing could be done, but to give them as painless a death as science can devise.
Often enough one may see in the streets a gaily painted van bearing on its side a picture typical of the friendless cats, collected from all parts of London, which it contains. The institution is well known; every day and at almost every hour of the day, news of starving and ownerless cats comes to the home by letter, telephone or word of mouth. Every morning the van goes out laden with specially constructed cat boxes, to return at night carrying twenty or thirty miserable animals. These numbers represent the average number of cats taken in every day.
Once in the chamber, there need be no fear of a cat undergoing any suffering in its death. Chloroform sends it into its last seep, and then carbonic acid gas is used to make matters doubly sure. Happier cats than those that are kept it would be difficult to find. They live in bright sunny rooms, their meals come with the regularity of a clock, and no pet of a palace could be better looked after. Many of the pet cats have quite romantic histories; two have lost their tails in some way not explained; another tailless cat is treasured because he is a Manx, and never had a tail to lose; and a great gray fellow, the official collecting cat, has collected great sums for the home.
Another animal befriending institution, which does no small amount of good, is the Animals' Hospital, in Pimlico, supported by Our Dumb Friends League. This hospital is for the animals of poor people and it proves a great boon to those who, like the coster[monger] with his donkey, depend to a great extent on an animal to earn a living. Horses and donkeys form a great proportion of the patients, but dogs and cats and birds also are found in the wards.
CAT SKINS BEING USED. (The Boston Post, 1st December, 1912)
High Price of Fur Causes a Demand for the Domestic Tabby. According to the Daily Mirror, with the steady rise in the cost of furs the demand for cat skins is increasing, and the manufacturer of imitation furs is casting a hunter's eye on the despised denizens of the back yard. Every year thousands of cats are reared abroad for their skins, while at home cat stealing is on the increase, for some cat skins are worth $2.50 each.
"The fur is often used to line motor coats," said a London furrier yesterday, "and I believe in a few cases the skins of white cats are used in making 'ermine.'"
"About six persons a day inquire of us whether we have found their cats," said a member of the London Institution for Starving Cats, "and we have also had applications from people offering money for cat skins."
A Cannon Street furrier said that thousands of cat skins were imported by England every year from China and Holland, where cats are roared solely for their skins. He added, "There are some furriers who buy skins of the English domestic cat, but big firms do not deal in small quantities of skins. The skin of the English domestic cat is perhaps supplied to small firms. A good quality of fur from a white cat would sell for 50 cents, but the fur from a Dutch black cat sometimes realises $2.50.
"Every year sales of cat skins are held," said another furrier, "and sometimes as many as 7000 skins are sold."
Stray cats to the number of 14,223 were received at the London Institution for Lost and Starving Cats during the past year. (Nottingham Evening Post, 11th January 1913)
CAT FAMINE STRIKES ENGLAND'S CAPITAL. (The Indianapolis Star, 14th September, 1913). Lack of House Pets Due to Prevalence of Professional Thieves.
London. Sept. 13. There I a cat famine in London. Dealers in these domestic pets are unable to meet the demand. "With an increasing demand, the supply has been steadily diminishing during the last year," said a leading London cat dealer. "Twelve months ago stock of cats and any given time was twenty; it gradually dropped to ten, and today we have not a single cat in the place, while we have orders on our books which we are unable to fill. Why is it? The professional cat thief – it has recently become a profession among a certain type of men – could tell you better than any man in London.
"Cat catching has become a new art, and a very profitable one, too. There is a growing demand for furs in this country and there you have the secret of the approaching scarcity of cats. These men go about, chiefly at night, and sometimes with bicycle and basket. They usually know where good specimens of cats are to be found, and these they entice with meats and different foods. It is a tame and comparatively safe pursuit.
"Once caught, pussy is doomed. Its owner, after fruitless enquiries, may sometimes all unconsciously meet the late lamented pet's fur as lining of her motor coat of see it round the neck of a poorer class woman."
Mrs. Z.C. Morgan, manageress and foundress of the London Institution for lost and starving cats, said an enormous number of cats were being stolen at the present time for the sake of their fur. "We are receiving five or six times as many inquiries this year for lost cats as compared with previous years," she said. "For the last seven months of this year the inquiries for lost cats number 150, as compared with an average of twenty-five annually in recent years. It is very seldom that we have been able to find the lost cat, and there can be no doubt that the reason it is never seen again is that it has been stolen. Judging by the inquiries we receive, the proportion of the various kinds of pets stolen or lost is in the following order:
"Black cats, 60 per cent; white cats, 20 per cent; tabby, 15 per cent; other kinds, 5 percent. The black cat is undoubtedly the favourite with the cat thief; its skin is more valuable because it needs no dyeing process."
Another authority said: "Fewer people are keeping really good cats now, simply because of the difficulty of avoiding the cat thief. People won't pay high prices for good cats because of the fear of the present danger of their being stolen."
A striking commentary on the present decreasing number of cats is afforded by the figures given by a leading dealer in cat skins. At the biggest London sale of cat skins the comparative figures for this year and last year were:
Sins sold in 1912, 25,911; in 1913, 32,234. These of course represent only the house cat, or the domestic pet, and not the civet cat or wildcat. The prices for cat skins vary from 8 cents to $1 each.
CATS AND SOME OF THEIR FRIENDS IN LONDON (The Brooklyn Daily Eagle, December 14th, 1913)
$50,000 By New York Woman. Felines to Be Made Comfortable and Their Ills Treated. $400 A Year For Chloroform To Put Ailing Animals Out of Their Misery — Institution to Have Automobile Ambulance.
(Special Correspondence of The Eagle.)
London. December 6 — The announcement that Miss Caroline Ewen of New York has left by her will $50,000 to the Cats Home in London, has caused quite a flutter of excitement among cats and lawyers In the British metropolis. American lawyers are already busy preparing the legal documents that will place this magnificent legacy at the disposal of Madam Morgan, the foundress and manageress of what is grandiloquently styled "The London Institution for Lost and Starving Cats." The cats, on the other hand, are seriously considering whether the good lady's benevolence is not calculated to restrict their liberty, and with feline sagacity are marking time and waiting for developments. Altogether, there is quite a noticeable change in the conduct of the ordinary London cat since the news of this remarkable legacy reached this side. He evidently realizes that a substantial bank balance at the Institution means a curtailment of his liberty and an earlier consignment to the lethal chamber unless he is able to carry about with him evidence of a distinguished pedigree. There is no secret as to the real objects of the Cats Home, but why it should be called a home is hard to understand. It might, more fittingly, be described a slaughter house. Here are its primary objects:
1. To collect and receive homeless and diseased cats, and such as their owners wish to dispose of, which shall be mercifully destroyed.
2. To provide a temporary home for a few of the best "strays," and a permanent home for a limited number for the inspection and amusement of visitors and as pets of the Institution.
Twenty-four hours is the usual time for keeping cats that do not belong to the "best stray" variety. The democratic cat, the product of the London slum, that does not care to go into genealogical details, is invariably dispatched to another world shortly after his captor places him within the gates of the institution. But the aristocratic gentleman who carries traces of a distinguished ancestry in the correct angle at which he rubs up against a visitor's legs, runs more than a sporting chance of escaping destruction. He is retained pending possible inquiries as to ownership, and if he is not claimed within a reasonable time, or a happy home found for him, he may, at the discretion of the committee of management, become one of the pampered pets of the Institution, to "amuse and entertain" visitors.
Considering that half the aristocracy of England, from marchioness down to ladies-in-waiting at the British royal palaces, are patrons of the "Home," there is no difficulty in finding a cat with good manners a comfortable habitation. Lonely spinsters and confirmed bachelors who desire something to remove the monotony of their surroundings send word to the Manageress, and in an hour or two a beautiful specimen of the Persian or some other distinguished breed is planted on their doorstep by a liveried servant from the "Home" It would be impossible, of course, to house even half the healthy cats that reach the Institution from one source and another. Two hundred to two hundred and fifty a day is regarded as a fair average, and when one realizes the propensity to increase and multiply among the feline tribe, it would, according to recent calculation, require a Texas or a Colorado ranch to accommodate the family at the end of a twelvemonth.
In the eighteen years that this charity has been in existence it claims to have received 250,000 cats, derelicts and otherwise, and, according to the yearly reports that are published, there is no reason to doubt it. The foundress admits that she invested $50 in the experiment of saving the homeless, forsaken "puss" from the brutalities of the human monster, who has no spark of feeling or sympathy for dumb animals, and that now, at the end of all this time, she is able to command a subscription list amounting to a figure approaching $10,000 a year. But this is not sufficient to meet current expenses, and so the New York legacy, when it materializes, will not only put the Home on a paying basis, but it will enable the committee of management to extend its operations. For Instance, cats, like human beings, like to conform to modern ideas. They object to be jolted along in ramshackle horse-drawn vehicles, and demand an automobile. When the late Miss Even's legacy comes along the first thing the London "Cats' Home" will invest in will be a luxurious auto in which no derelict tomcat will be ashamed to travel. By the aid of an auto cats can be collected at a more expeditious rate, and this is the idea that the cat with Bohemian views will not appreciate. There is another side to the activities of the institution which might fully entitle it to the designation of a "Home." Boarders are taken in, fed, nursed and professionally attended, to in case of illness, during the absence of the owners. They are invariably the pets of aristocratic women who "do" the Riviera, and perhaps a little Swiss mountaineering in the season. These have separate apartments and playgrounds, because it would be beneath the dignity of a cat brought up in aristocratic environment to associate with a poor thing that is living on charity.
The "Home" gives employment to some twenty-five people, but, with the exception of the van driver and the accountant, men are rigidly excluded. Madam Morgan believes, rightly or wrongly, that men do not understand dumb animals — especially cats — and so she determined some time ago to run the establishment on "petticoat" lines. The women employed in rescue work are noted for their agility. They can negotiate a ladder with the ease and expertness of a telegraph linesman, and as far as climbing a tree after some frightened puss is concerned, no monkey could be half so handy. They will follow cats singing love serenades on the top of six-story mansions when the majority of London's citizens are in dreamland, and at 6 o'clock in the morning they will return to the "Home" with the result of their night's work. In spite of the fact that every one of them is a cat lover, the majority of their captures find their way to the lethal chamber, because they are either maimed, suffering from distemper, or in a condition of starvation from which It would be impossible to save them.
In the destruction of these cats the institution spends $400 a year in chloroform alone. Apart from the "strays" and "forsaken," which are the special objects of the "Home's" attention, cats of an objectionable nature, or those suffering from diseases will be called for on request, and no charge made, unless the owners feel disposed to defray the necessary expenses. The "Home" will also receive dogs, but only on condition that they are sent at once to the lethal house, so there is a decided feeling in the mind of the management that much of the sufferings of their own favorite animal is due to the over-zealous attentions of badly conducted dogs, and so there is no effort to try to cultivate a spirit of fraternity between him and pussy, as far as this establishment is concerned.
During the last, year or two a number of enterprising men and women have tried to run "Homes" competing with the London institution for Lost and Starving Cats, but up to the present there is no indention that they are in anything like a flourishing condition. The outstanding desire of Madam Morgan is to see her "Home" receive a government charter, and have its affairs handled by the department of the public trustee.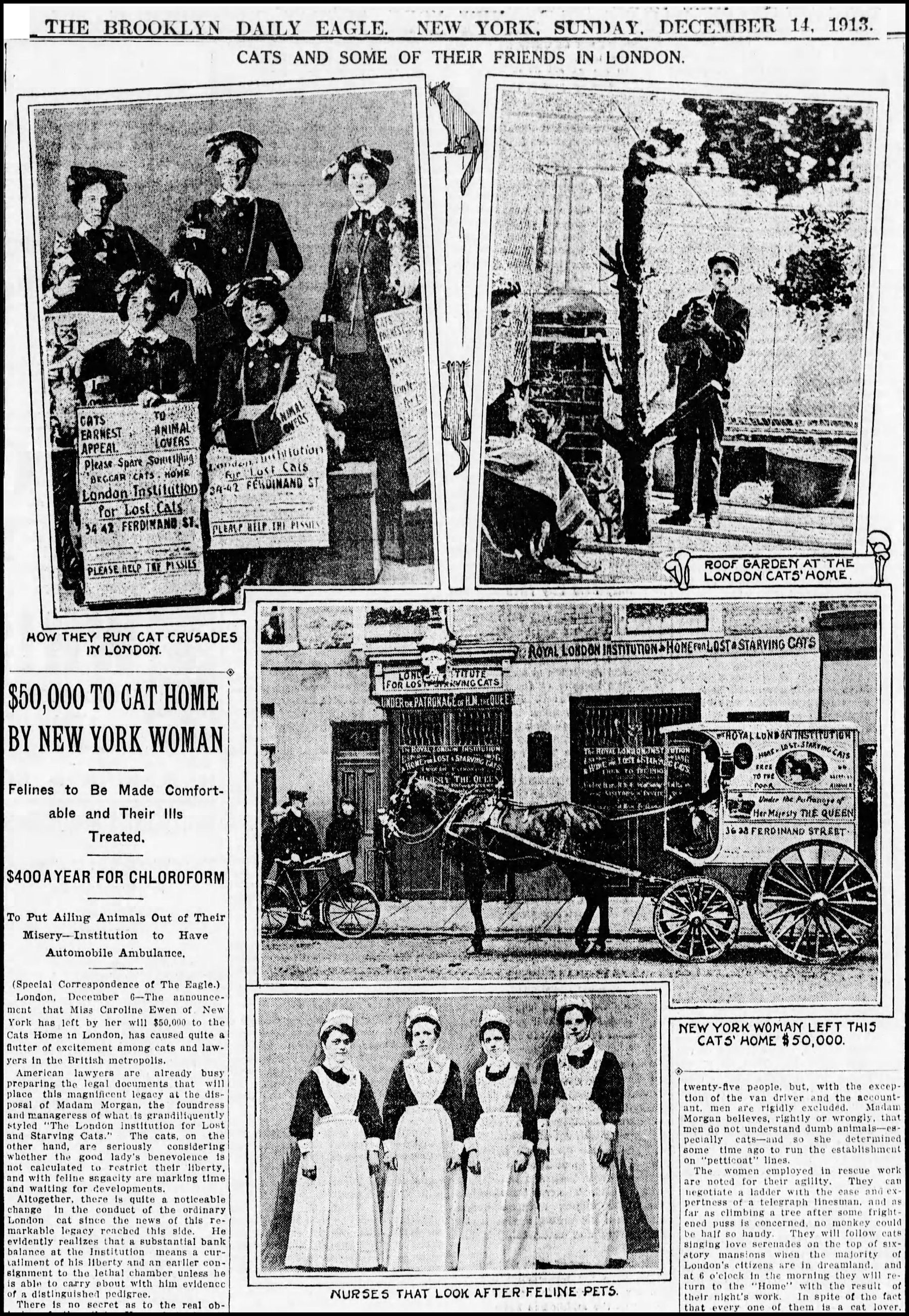 CATS ARE IN DEMAND (Natchez Democrat, 26th February, 1914)
Mrs. Z. G. Morgan, manager and founder of the London Institution of Lost and Starving Cats, says that an enormous number of cats are being stolen for the sake of their fur. Black cats seem to be most in demand, 60 per cent of those stolen being of that color. Tabbies form only 16 per cent
The black cat's skin can be used without dyeing. The skins sell for less than a dollar apiece, but nevertheless the business is a paying one, something' like 33,000 skins having been sold this year. The cat thief is now recognized as such a peril that many women have ceased to keep good cats.
PETS DOOMED TO DIE. Directions in a Woman's Will. Home Founder. Sheffield Independent, 22nd May 1929
A direction that all her household pets should be chloroformed at her death is contained in the will of Mrs. Zoe Constance Marie de Longrevill [sic] Ruttledge, founder of the London Institution for Lost and Starving Cats and Dogs. Besides various bequests to servants, she left to Harold Percy Carter her automatic pocket revolver and q00 cartridges, p"perfectly new."
She desired all her photos, miniatures and family portraits and family seals whatsoever shall be destroyed, "as I am the last of the family," [actually she had always been rather deceptive about what her family name really was!] and stated "In case my three dogs, two love birds and two canaries be alive at my death," the trustees are to instruct Florence Boast to chloroform the said animals in a box specially constructed for them and it the said Florence Boast shall painlessly destroy them she is to receive £20; the trustees to see "that all animals and cats on the premises on the day of my death be chloroformed at once."
She stated "whereas I have founded and devoted the greater part of my life and spent several thousands of pounds of own money on the maintenance of a Home for Lost and Starving Cats and Dogs carried on by me under the name of Mrs. Morgan since 1896 which Home I have named the London Institution for Lost and Starving Cats and Dogs and as I believe the said institution has done a vast amount of good and whereas being desirous that after my death the said Institution shall continue to be conducted and carried on in the same manner as during my lifetime or as near thereto as circumstances will permit and in particular that no vivisection experiments upon living animals shall permitted on the premises or in any way connected therewith," she left the institution to Our Dumb Friends League, as she was satisfied that the aims she had in view would most likely be accomplished by the League, or if the League refuse this bequest the Institution shall form part of her residuary estate.
WHO WAS ZOE CONSTANCE MORGAN?
The Hon. Manageress of the Institution, Mrs Zoe Constance Morgan had a colourful life and several surnames. In her obituary in 1929 she was recorded as Mrs. Zoe Constance Marie de Longueville Ruttledge. She was born at Fort William in Calcutta and had a brother, Harry Brooke de Longueville.
The Longueville Clark family (later "de Longueville") appear to have sailed between Calcutta and Hampshire for several generations.
Nineteen year old Josephine "Zoe" Marie Constance de Longueville (b. 1852) married 34 year old Lieutenant Samuel Masters Davies (an officer in the Military Train) on 2nd March 1871 at St Stephen's Church in Dulwich. In 1876 Davies filed for divorce, claiming Zoe had committed adultery with various men, names unknown, in various places including a cab on the road between Beckenham and Robin Hood Hill; in a railway carriage between Crystal Palace and Victoria Station; at the Charing Cross Hotel; in a house in Jermyn Street; in Brighton and with a man she'd met at London Zoo. She had also spent an entire month in 1875 cohabiting at a hotel in Portsea with John Knox Ruttledge (the only named co-respondent), an Irish army captain closer to her own age. Samuel was claiming damages from Ruttledge to the tune of £5000. Zoe made a counter-claim against Samuel of neglect, cruelty (he hit her when he was drunk, which was frequently) and adultery. His extramarital affairs took place at the Crooked Tree in Penge and in a field behind the Robin Hood Tavern, not far from their matrimonial home.
The divorce petition was granted. Davies wasn't awarded any damages as it couldn't be that Ruttledge had known that Zoe was a married woman. The Berkshire Chronicle, 30th November 1878 records the marriage "Nov. 25, at Holy Trinity Church, Gray's-inn-road, John Knox Ruttledge, formerly of the Bays and 3rd Dragoon Guards, to Josephine (Zoe) Constance de Longueville, only daughter of Col. de Longueville, of Langley Broom, Bucks." Ruttledge had been married previously as The Naval and Military Gazette of 25th January 1873 announced a birth on 24th December 1872 of a son to the wife of John Knox Ruttledge, Esq, 2nd (Queen's Bays) Dragoon Guards (at 46, Bessborough-street, Pimlico).
Capt. Ruttledge retired from military service on half-pay in April 1878. In 1880 he tried to divorce Zoe for her adultery, but failed. In 1883, he tried again, this time naming two co-respondents instead of one, and failed again. Mentions in a 1908 probate case and in a Zoe's 1929 obituary shows they were never legally divorced, but from 1898 Zoe called herself Miss/Mrs. Zoe Constance Morgan.
According to Frances Simpson, writing in 1903, the Institution was founded by Mrs Morgan in 1896. In 1896, according to the Westminster Budget, the manageress was the French-accented Mrs. Williams.
Why all the different surnames? After failing to get a divorce, I'm guessing the couple were estranged. Perhaps "Morgan" and possibly "Williams" represented common-law marriages - not uncommon at the time - hiding the fact that she was estranged from Ruttledge.
According to Lloyds Weekly Newspaper of 23rd January 1898, Zoe had been well-known in society until a bicycle accident rendered her "a cripple for life." She probably walked with a cane, or at least with a bad limp.
The Yorkshire Post and Leeds Intelligencer of 22nd May 1929 reported that Mrs. Zoe Constance Marie Longueville Ruttledge, widow of Capt. John Knox Ruttledge, 2nd Dragoon Guards, left gross estate valued at £3,271.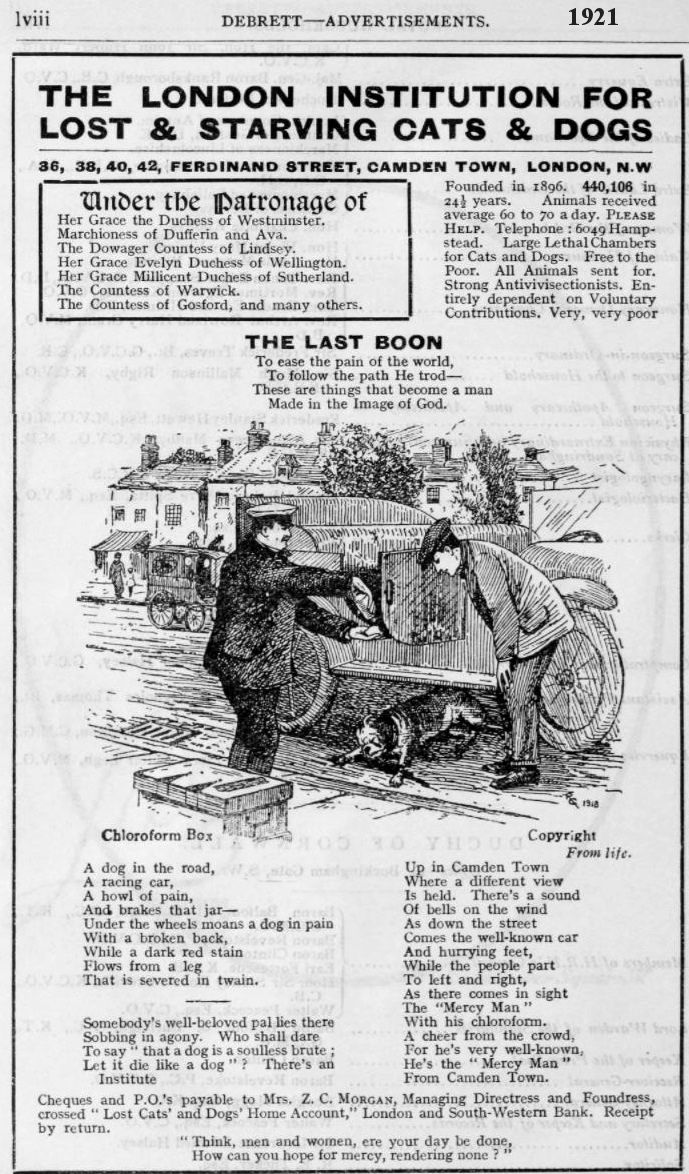 You are visitor number