PROMINENT EARLY CAT FANCIERS

Using various online archives and my own files, I thought it would be interesting to flesh out some of the prominent early cat fanciers on both sides of the Atlantic, most of whom were "society" people. In doing so, I also found tales of scandal and financial ruin that beset the British aristocracy, as well as accounts of upstanding families involved in their community.

THE COUNTESS OF ABERDEEN

Another prominent aristocratic cat lover and, according to The Tatler (29th July, 1908), among her pet animals were some blue Persian cats which were most precious and which she had exhibited with success at the National Cat Show at the Crystal Palace.

Lady Aberdeen, formerly Ishbel Maria Marjoribanks, established the Haddo cattery, which was most famous for its silver tabbies. She married John Campbell Hamilton-Gordon (a cat and dog lover), 7th Earl of Aberdeen, and Haddo House was the ancestral home of the Gordons. She was very well educated and when, between 1893 and 1898 Lord Aberdeen was Governor General of Canada, Lady Aberdeen became the first president of the International Council of Women, an organisation that campaigned for women's rights. She also sponsored the Women's Art Association of Canada and helped establish the Victorian Order of Nurses. The couple returned to their homeland in 1898. Between 1906 and 1915, Lord Aberdeen was Lord Lieutenant of Ireland, and during that time Lady Aberdeen took an interest in the treatment and prevention of tuberculosis and improving children's health. She was committed to improving the lot of women and children and in social reform, but despite this she found time to breed Persian cats.

The men in her life were noted animal breeds; her husband bred and exhibited Skye Terriers, and her father, Lord Tweedmouth, was instrumental in developing the Golden Retriever. Before the establishment of the cat fancy, it had been common for aristocratic wives to take up breeding toy dogs, while their husbands bred sporting dogs. Lady Aberdeen's breeding hobby was longhair cats; primarily Silver Tabbies (for which she was most famous) and Blue Persians, and to a lesser extent Black, Smoke, Brown Tabby and a Tortoiseshell and White Persian. She was one of many early aristocratic ladies involved in the 1890s cat fancy, and remained involved into the early 1900s. The aristocratic lady breeders were well connected with each other, buying and selling breeding cats between themselves. Her choice of breeding cats demonstrate an understanding of line-breeding and matching cats with complementary traits to produce healthy cats, not just winning cats or large numbers of saleable kittens, at a time when too many breeders/exhibitors were "pot-hunters" (to paraphrase Lady Marcus Beresford). She appeared interested in improving all qualities of her chosen breeds, not just the show-bench potential.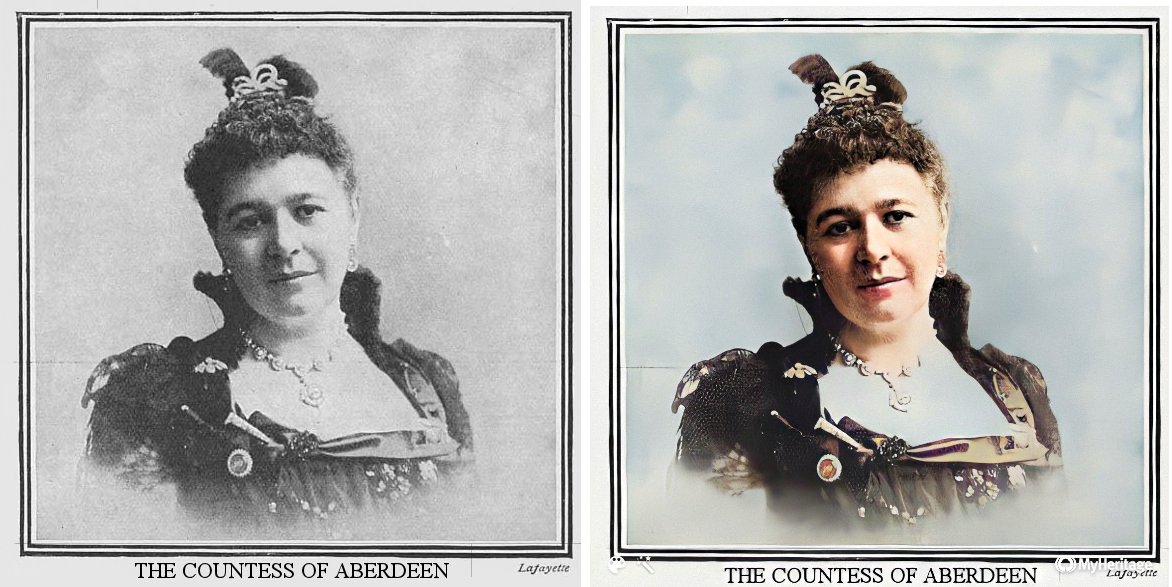 LADY ABERDEEN AND CATS. Aberdeen Press and Journal, 17th September 1901
Lady Aberdeen shows her interest in the fashionable cat cult by offering a silver model of a cat as a challenge trophy for the best silver tabby, to be competed for at the cat show which is being organised by Lady Marcus Beresford in aid of Princess Christian's Nursing Home at Windsor. The Princess has promised her patronage for the show, which to be held on September 27 at the Leopold Institute, Slough. Mrs Mackenzie Stewart and Mrs Vary Campbell will be among the judges, and cups and money prizes are being offered by Lord and Lady Marcus Beresford, Lily, Duchess of Marlborough, and others interested in the rearing of prize cats and in the object of the show, as well as by the various cat societies. Cat culture is now quite a society craze, and not a little money is made by successful votaries of the cult who acquire a reputation for certain varieties such as silver or blue or tortoiseshell, Persians, or Siamese cats. There is a fashion in the colour and species of cat, as in most other things, and just now cream-coloured Persians are in the ascendant. Lady Marcus Beresford is one the most successful of the society breeders of cats.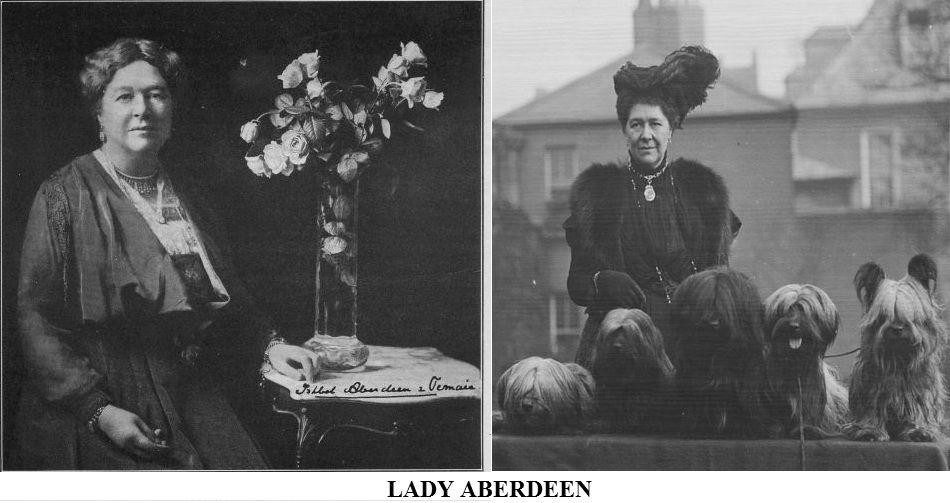 Aberdeen Press and Journal - Thursday 19 September 1901
Lady Aberdeen, who is to present a handsome trophy for the best silver tabby at the forthcoming cat show, to be held in aid of Princess Christian's Nursing Home at Windsor, is very fond of cats. She has a number of fine silver-grey tabbies at Haddo House, where they have comfortable quarters in the poultry buildings. The pussies are extremely friendly towards visitors, and if one receives more than its share of attention, the remainder are not slack in putting forward their claims. While Lady Aberdeen keeps her cats because she is attached to them [goes on to discuss poultry]
ADIEU TO VICEREGAL PETS. Daily Mirror, 23rd December 1913
Dec. 22.— The Countess of Aberdeen has said "'Good-bye" to her pets, for she has given up her interesting kennels of dogs and cats at the Viceregal Lodge. These kennels formed her chief hobby, and she now intends to devote herself to health work. Her collection of dogs and cats was a splendid one.
MRS. BAZELEY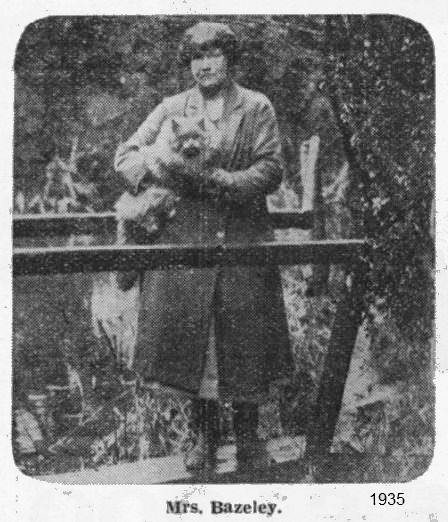 ISLE OF CATS. PERSIANS THAT HAVE WON 300 PRIZES. Reynolds's Newspaper, 13th January 1935
Near West Drayton, Middlesex, there is an island of the Thames devoted to the comfort of cats. The only other occupant is Mrs. Hazeley, a breeder of blue and cream Persian-
Mrs. Bazeley told "Reynolds's" - "I feed them on fish, milk, raw eggs, and brown bread. My Persians have won nearly 300 prizes, including gold medals."
Blue Benjamin, a member of the National Cat Club. weighs 15 lb. He has many kittens now living on the Continent.
"People send their cats to be mated, and I then dispatch them by air to France, Belgium, and Holland," Mrs. Barkley said. "I bred Billy Bumpet, who was claimed to be the world's most famous cat. He is buried on this island."
LUXURY ISLE FOR CATS. RIVER HAVEN NEAR LONDON. Sunday Mirror, 13th January 1935
I have just visited an isolated island near West Drayton (Middlesex), on the River Colne, where cats from all over the country are sent to mate with prize Persians. Accompanied by Mrs. Bazeley, England's most successful breeder of Persian cats. I inspected the luxury homes of cats who are fed on fish, milk, raw eggs and brown bread.
"Cats are now sent to me to be mated, and then dispatched by air to France, Belgium and Holland. I have nearly 300 prizes including gold medals for prize Persians," Mrs. Bazeley said.
Benjamin, a 15 lb. blue Persian, appeared nonchalant to the fact that nearly a hundred of his kittens were now residing on the Continent. "He is the grandson of Billy Bumpet who was claimed to be the world's most famous cat. Billy is buried on this island," Mrs. Bazeley told me.
All her cats are members of the National Cat Club, and she has secured as much as £65 for a prize kitten. Mrs. Bazeley and her husband are the only inhabitants of the island where they have to use oil lamps and draw well water.
MRS. BULLER
PROFITABLE ANIMALS. Belfast News-Letter, 1st September 1894
In these days, when most of us are ever seeking new ideas for the accumulation of that excellent thing which paltry poets describe as paltry dross, a new idea is always welcome, though one would scarcely expect the humble grimalkin to be a source of wealth. Nevertheless, "Sylvia's Journal" for this month shows us that nice little sums are to be made out of the careful treatment and breeding of cats. One of the most successful amateur cat fanciers is Mrs. Buller, who has a "cattery" at her picturesque country house in Surrey. In reply to "Sylvia's" interviewer, Mrs. Builer showed that pussy can be made a profitable as well as an affectionate pet.
"If properly managed," said Mrs. Buller, "cats can be made to pay well. A friend of mine made £240 in two years by prizes, sales, and stud fees. Of course, you must start with pedigree animals, and these are costly. The best plan is to choose one or two breeds, and try to perfect them. I am endeavouring to produce unmarked orange Persians, and am succeeding beyond my expectations. You shall see my lovely Marigold, with tier superb brush; Cowslip, too, and Buttercup, for I name them all after golden flowers. They are worth a considerable sum, orange Persian kittens fetching three guineas for females, and four guineas for toms. Long-haired cats are the most popular and, in my opinion, the most attractive. You must come and see my pets, although they all appear at a great disadvantage just now. It is the cats' moulting season, and every one of them is out of coat. Besides, a dreadful epidemic of influenza has been right through my cattery, and the poor things are only just recovering. Some were so ill that my maid and I took it in turns to sit up all night with them."
Then Zula was introduced, a splendid fellow, whose tint to the initiated is light blue, but to the common mind more like slate colour. Afterwards followed Miss Betty, a beautifully-marked tortoise-shell, who took first prize at Cruft's Aquarium Show, and a pair of royal cats of Siam, from whom great things are expected.
"Of course," continued Mrs.Buller, "I have to take great care of mv pets. The secret of success is judicious feeding and an avoidance of coddling. My kittens spend the day in the garden whenever the weather permits. The flower beds are covered with cocoanut fibre, in which they frollick about. You must never let Persians be out of doors in the wet. Their thick coats will not dry easily, and they get chills and die. I lost a superb tom from that cause a little while ago."
MISS GLADYS CHEETHAM
Gladys Cheetham was a young, but very organised and competitive cat fancier who bred blue Persians at Oaklands, Brighouse. She had also exhibited pigeons at local fanciers' shows. Her father, Mr. J.A. Cheetham of the silk-spinners' firm of Messrs. J. Cheetham and Sons Ltd, was a successful breeder and exhibitor of pigeons and poultry and he would have preferred his daughter to breed and exhibit Pomeranian dogs rather than longhair cats. Gladys, however, was not to be dissuaded so her father obtained the best possible foundation stock for her cattery, and then left her to it, though he expressed pleasure at her triumphs. In 1916, Gladys married into another family of silk spinners and became Mrs. Gladys Wood, although cat fanciers continued to recall her as Miss Cheetham.
A BRIGHOUSE WEDDING. WELL-KNOWN LOCAL FAMILIES UNITED Leeds Mercury, 27th January 1916
A wedding of considerable interest took place at St. Martin's Church, Brighouse, yesterday afternoon, by which families well known in the industrial life of Brighouse were linked. The bride was Miss Gladys Cheetham, elder daughter of Mr. and Mrs. John A. Cheetham, Oaklands, Brighouse, and the bridegroom Mr. Herbert Wood, only son of Mr. Thomas H. Wood, J.P.. and Mrs. Wood, Glenthorne, Brighouse. The bride's father is a member of the firm of Messrs. J. Cheetham and Sons Ltd., silk spinners, Brighouse, while the bridegroom is connected with the firm of Messrs. Wood Bros, and Sons Ltd., silk spinners, Brighouse. The bride, who was given away by her father, wore a simple but effective gown of ivory satin duchesse, the overskirt and coatee being of Bruxelles lace, finished with iridescent pearl tassels, and the long sleeves and Medici collar also of Bruxelles net. She wore her mother's wedding veil, which, in cap fashion, was held in place with a wreath of white heather and orange blossoms. The bridesmaids were Miss Dorothy Cheetham (sister of the bride). Miss Winnie Cheetham (cousin of the bride), and Miss Cabert, of Southport (cousin of the bride). Mr. Harold Edwards, of Brighouse, was best man.
The couple had one daughter and moved to Green Royd, Rastrick, and later to Southport. Herbert Wood died in 1950 and Gladys died 31st July 1968.
PHARAOH'S LEGACY. FROM GARDEN VARIETY TO CRYSTAL PALACE WINNER. By W. Hanson. - Todmorden & District News, 17th August 1928
But there are cats and cats. I have here a photo of "Sceptre," then the champion of the British Islands, and foremost of first and special prize winners at the Crystal Palace and everywhere else. A magnificent Persian, of a rare slatey blue colour, with orange eyes. It belonged to Miss Gladys Cheetham, "Oaklands," Brighouse, and niece of Miss Fanny Lord, of Cliffe Villas. Though not more than 18, Miss Cheetham had no less than 27 valuable Persia cats, which were kept outside in aviaries, among the grounds at Brighouse, and whatever might be each cat's name, it always began with "S," as, for instance, "Spartan," "Seabreeze," or "Snowball." But the "Feathered World," "Bazaar," "Fur and Feather," and such journals were eloquent in description and pictures of Miss Cheetham's peerless "Sceptre." Naturally, high prices were offered for the Crystal Palace winner, but she refused to take a £200 offer for the cat which had won its weight in gold, though £5, £10, or £20 might, or might not, be taken for a Persian kitten.
Miss Gladys and Dorothy Cheetham were what you would call prepossessing, clear-complexioned girls, with deep blue eyes, and a profusion of dark, chestnut hair, each of a jolly disposition, and perfect adepts with the embroidery needle, or with many coloured wools and silks, Usually the sisters wore each a sealskin coat lined with silk when going on a journey. Thus Miss Cheetham would stay overnight at the Crystal Palace on the morrow. But let it be the Duchess of -----, Lady ----, The Right Honourable ----, or any renowned exhibitor of Persian or Abyssinian cats, the eighteen-year-old girl from "Oaklands," Brighouse, would sweep the deck of its coveted golden trophies as sure as they were there, literally by the wielding of her "Sceptre," the most perfect Persian in the British Isles. Ultimately, she married a commissioned officer of the Great War, since elect as the High Sheriff of Carnarvon, North Wales, the son of a silk manufacturer of Brighouse who received a knighthood. She and her husband keep a large house at Llandudno during the summer months, but Dorothy Cheetham became the daughter-in-law of the Mayor of Southport, where she lives.
MRS. G. J. COCHRANE
Mrs. G. J. Cochrane, of Cambridge Gardens, Pilrig, Leith, N.B . . .In addition to Pomeranians, Mrs. Cochrane is a breeder and exhibitor of Persian cats, Chittieh, one of her successful exhibits being illustrated. In both cats and dogs it is Mrs. Cochrane's opinion that they are what the owner makes them. – The Gentlewoman, 13th September 1919
REV. P. L. COSWAY
THE CURATE AND HIS CATS. VALUABLE COLLECTION OF PERSIANS AT OUTWOOD. HOW THEY ARE FED AND REARED.
Yorkshire Evening Post, 7th November 1901
For good coals and pretty cats there is place like Outwood, near Wakefield. The feline fame of the village is of quite recent creation. Eighteen months ago the bachelor-curate of Outwood (the Rev. P. L. Cosway) sold off his Bassett hounds, his fox-terriers, and his Blenheim spaniels, and took to cats. Acting on the advice of an eminent catologist he purchased the most beautiful blue Persian Queen Angela mated her one Blue Noble—a Thomas cat very high degree-and there were kittens, the family now comprising three sons—Rupert. Imperial Blue, and Blue Knight—and one daughter, the lovely Lurline. All these reside in the green-painted cage-windowed apartments in Mr. Cosway's pretty back garden. An orange Persian cat, two smoke Persian cats, and one real bloodhound also occupy little wooden houses in the same back garden. The cats are fed on Neaves's food and raw meat, with occasional dose of sulphur and salts to keep their complexions clear. Cold milk is never given, and warm milk only very sparingly. Each cat-house has two apartments, and at night and in cold weather shutters are drawn down over the barred front of the living-room. The cats are not permitted to leave the back garden, being too valuable to lose and too respectable to associate with the vulgar cats of the neighbourhood. Like true aristocrats these thoroughbred Persian cats are very dignified and gentle. Take for example Queen Angela, the proud daughter of Big Ben and Jill. She moves gracefully, shaking her rich blue fur demurely as a lady does her new silk dress. When endearing terms are showered on her through the grating her deep orange-coloured eyes sparkle, and rubbing her fluffy head against the bars she purrs as much as to say "Good morning, have you come to admire me?" The youngsters are more lively. They gambol about like little tigers, but following the excellent example of their mamma they never so far forget themselves as to bite or swear.
To be esteemed amongst cat connoisseurs a Persian cat, whatever its colour, must have long and thick fur, a full frill round the neck and down the front, a short bushy tail, soft in texture; a head broad and round and wide between the ears, a very short face, small nose and ears, large round eyes, and little stumpy legs. A good blue Persian must be entirely free from markings, and the paler the colour the more valuable the cat. The eyes should be deep orange. Black cats and orange cats are likewise expected have orange-shaded eyes, but cats with a silver-tinted fur usually have green eyes, whilst white cats, with plenty of good blood them, always possess pretty blue eyes. The children of the blue Queen Angela are marvels. The five months' old Blue Knight has already won four first prizes, one second, one third, and 11 specials. His sister Lurline, who has only been shown twice, has taken three first prizes, one second, and five special awards. Rupert, aged 14 months, is credited with winning two challenge cups, four first prizes, and four specials.
No wonder Mr. Cosway says he has found cat-keeping a profitable hobby. Apart from the return by prizes, he can at any time get three guineas for a genuine Persian kitten, while the market value of a Persian cat a year old runs as high as £10. Good oranges—the word is used its feline sense—are particularly difficult to breed, for they must not have a single white hair on the chin or tail, or, indeed, anywhere. In smoke Persians, such as Mr. Cosway's Iron Duke and Maritana, the fur is shaded, the root every hair being perfectly white. They have amber-coloured eyes. Maritana, who was just a fortnight too old to be entered as kitten at the recent show at Slough, took her place in the open class, and created a profound sensation by winning the first prize, a silver cup, a silver bowl, a gold medal, and a silver medal.
The North of England seems suit Persian cats much better than the South. They have fairly hardy constitutions, and thrive best when kept in boxes or hutches cut of doors. Up to a week ago Mr. Cosway numbered amongst his pets a Siamese cat with bright blue eyes. Its fur was short and pinky-cream in colour, while its head, tail, legs, and ears were dark chocolate. Remarkably intelligent, it would go just where it was bidden, and when its name was called it would answer back like a dog. It was jealous of its Persian brethren, and would spit and swear at them in the most profane fashion whenever it got an opportunity. Strange to say, however, this Siamese cat never used its teeth or bad language any human being, with which species it seemed the most affectionate terms.
Cat-keeping is becoming increasingly popular in the country, Lady Marcus Beresford being the chief patron of the fancy. In the near future Leeds will doubtless have its cat show.
COUNTESS OF HARDWICKE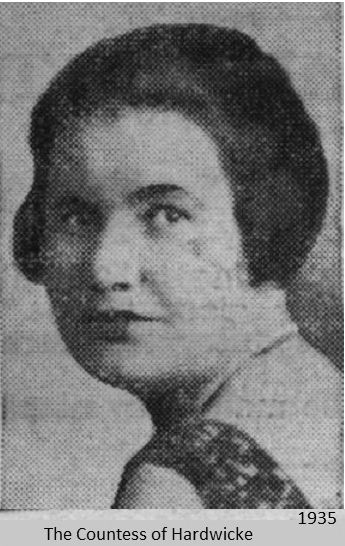 COUNTESS RUNS A BOARDING-HOUSE FOR CATS! FORTY "LODGERS" MEAN A 17-AND-A-HALF-HOUR DAY. Daily Mirror, 2nd September 1935
BOURNEMOUTH, Sunday. To-day I talked with a countess who is earning her living by running a boarding-house for cats at Longham, a village near here. She is the Countess of Hardwicke, who once hated cats, but now is not happy unless she has one or two purring round her. She has no assistant, cheerfully doing all the work herself. For seventeen hours every day she tends her forty charges, many of which are valuable Siamese. Rising at six each morning, she dons overalls and gives the cats a good breakfast, which includes hot milk. Then she cleans out their houses. Each cat has its own little house, its own garden to scratch in and its own tree to climb. Later on the Countess grooms the long-haired boarders and then starts preparing the cats' luncheon of fish or minced meat. When I called at the Countess's flourishing cattery, I found her watching over two sick cats in the little hospital on the premises. Anxious owners had taken them to her, knowing her skill in curing the various diseases that attack cats.
"People ring me up at all hours of the day and night, but I don't mind," she told me. "They often want advice about what to do with a cat which has picked up poison laid down for rats. A man clad only in pyjamas called early one morning and insisted on taking me in a car to see his wife's cat, which had been suddenly taken ill. Sometimes I am called out by the villagers to attend to cows and horses which are queer; I have even been asked to visit sick pigs. But cats are my speciality. I have studied them closely for some years and understand their ailments and their ways."
The Countess has won over 300 prizes and cups at championship cat shows. She started her cattery with a Siamese worth 30s. Now she breeds a great many, and sells about a hundred kittens a year to purchasers from all over the country. A number of distinguished people place their cats under her care, including the wife of a famous artist and a famous author. One of her cats - a " life boarder" - is fifteen years old.
MRS. R. GIBSON
Mrs. R. Gibson, of Annandale, Lenzie, N.B. . .In addition to dogs, Mrs. Gibson is interested in Persian cats, and has a large aviary of canaries, British finches, and other birds. – The Gentlewoman, 4th 1918
MISS C. A. D. HAMILTON
Miss C. A. D. Hamilton, of Bannerdown House, Batheaston, Bath [her childhood home was Rozelle, about two miles from Ayr] at one time she bred and exhibited Blue Persians, and was a member of the Cat Club. [As a dog breeder her prefix was Rozelle.] – The Gentlewoman, 7th July 1917
MR C. A. HOUSE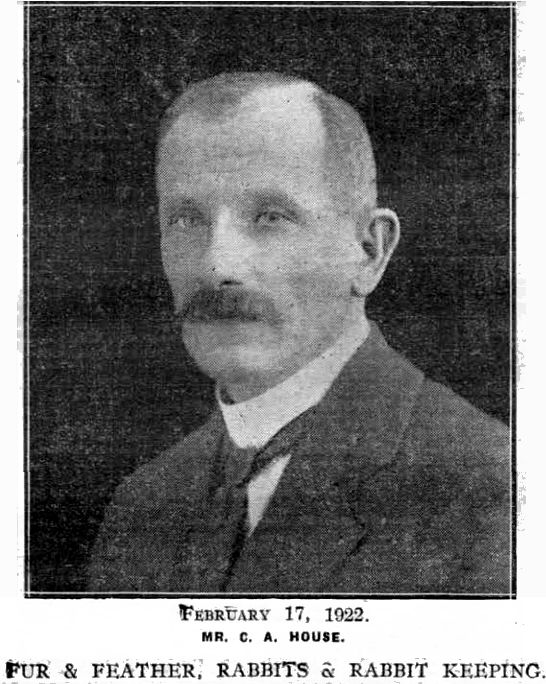 MR. C. A. HOUSE GOES TO AUSTRALIA TO JUDGE. A GREAT HONOUR TO HIM AND TO THE BRITISH FANCY.
Fur and Feather, Rabbits and Rabbit Keeping, February 17, 1922.
As many of our readers already know, Mr. C. A. House has been specially invited by a committee of Australian fanciers to go out to Australia to judge, and on the 18th inst. he leaves London by the Orient liner "Osterley," and will arrive at Sydney early in April. This is, indeed, a great honour both to Mr. House and the British Fancy, and as one of that gentleman's oldest fancier friends and fellow-workers, I am very pleased that an old colleague should be so honoured.
Mr. House has been primarily invited to judge the big International Show at Sydney, New South Wales, Australia, to be held in June. The Hon. Dr. Wall, M.L.C., is the president. and Mr. C. W. Bushell, proprietor of "The Australasian Pigeon," the secretary of the committee responsible for Mr. House's visit. But this show is only one of a series for which Mr. House's services have been requisitioned. His first engagement as a judge will be at Sydney at the great Easter Show, which will last from April 12th to April 20th. At 16 other important shows, in which every State will participate, will Mr. House officiate as judge. From the time he leaves London till he returns in September he will have travelled over 30,000 miles.
Mr. House will deliver a number of lectures to Australian fanciers, and will not only visit practically every part of Australia, but New Zealand as well, and if he has an opportunity he will also cross to Tasmania, returning across the Pacific and visiting Canada and America. He will get in touch with all the principal fanciers, ascertain their views, investigate their methods, and later give the results in our papers, "Fur and Feather" and "Pigeons and the Short Distance Flyer."
Mr. House's career as a fancier and judge is, of course, well known to practically all our readers, he having been
most prominently before the public in both capacities for over 40 years. He was born on July 13th, 1862. He has successfully bred, exhibited and judged dogs, poultry, pigeons, rabbits, cats and cavies, and he is acquainted with most followers of all these.
He is equally well known as an author of many books on live stock and as a Fancy editor and journalist. In the latter 'eighties he became sub-editor of the old "Fanciers' Gazette," under Mr. Edward Brown. In association with Mr. Brown, he also acted as editor of "Pet Stock." Since then he has acted as editor of "The Fanciers' Gazette," "Fur and Feather," "Poultry and Pigeons," " The Homing World," "The Bird World." He was the first editor of "The Poultry World," and left it - after my serious illness and my then inability to resume active management – to take up the position of manager of our concern, "The Fanciers' Newspaper, etc., Co." - now Watmoughs Limited, of which Mr. House is a director – which position he held for eight years, returning in the autumn of 1919 to again take up the editorship of "The Poultry World." and to act as chief of the staff of its sister journals, "Cage Birds" and "Smallholding and Allotment."
The personal note underlying this reference to the great compliment paid to Mr. House by our Australian friends, and which mainly prompts these lines, is the fad that I have known our friend so long and have had such a close and intimate association with him in so many phases of the Fancy and Fancy journalism. Such being the case, I could not possibly refrain from adding to the send-off to Mr. House of our live-stock contemporaries, and saying a few words of appreciation of my old-time colleague.
My first venture in Fancy newspaper ownership was "Fur and Feather" - first called "The Rabbit-keeper." This was in 1888. Practically at the very commencement Mr. House joined the staff – along with, by the way, another esteemed friend, Mr. T. B. Mason – and he has remained on the staff, inside or outside, ever since.
This long and close association probably causes both Mr. House and myself to know more of each other's little faults and weaknesses than most men, and, on the other hand, to better and more fully realise and appreciate, as we do, each other's good properties. It is, at any rate, so with respect to my opinion of Mr. House, and I trust and believe it is the same with that gentleman's regard for myself.
In heartily wishing Mr. House "bon voyage," I would add that I think our friend's visit to the Antipodes will do a great deal of good to the Fancy both at home and "out there." It can hardly fail to be helpful all round. Mr. House will have much to tell the Antipodenians about the Fancy in this country, and upon his return home he will have a lot to tell us about the position and doings of the Fancy in Australia. Altogether, Mr. House's visit to Australia must bring oversea fanciers and ourselves appreciably closer together, which, obviously, will be beneficial to all concerned. - J. E. Watmough
MRS. C.L. KENNAWAY
SPETISBURY'S LOSS. DEATH OF MRS. C. L. KENNAWAY (Western Gazette, 26th February 1932)
A Long and Notable Life. Work for Church and Charity. The parishioners of this village and a large circle of friends over a wide area are mourning the passing of Mrs. Edith Letitia Kennaway, wife of the Rev. C. L. Kennaway, of Stephen's Plot, which occurred with suddenness on Friday. Mrs. Kennaway had as usual conducted her Mothers Union meeting in the village, and had walked home with some of the members. Soon after arriving at her home she passed away while seated in her chair. The news was received by the parishioners with the deepest regret, because she was one of the most popular figures in the life of the village.
The deceased lady's life and career was a notable one. Born in 1848, she was married at Sturminster Marshall from her old home at Henbury, and in 1927 she and Mr. Kennaway celebrated their golden wedding. During her long residence in this parish Mrs. Kennaway took an active interest in many of the parochial activities. Amongst her other local associations, she was the leader of the local branch of the Mothers' Union, and the president of the Spetisbury and Charlton Marshall branch of the Women's Institute, an organisation which owes much of its success to her interest and influence. She was also a honorary associate the Girls' Friendly Society, and previously for many years a working associate. In political life occupied the position of chairman of the local branch of the North Dorset Conservative Association. She held a seat on the Committee of the local Nursing Association. An institution that was very near her heart was the Swanage Red Cross Hospital, and she was a tireless worker in its interests. She collected funds for the hospital in many of the surrounding villages and was constantly making arrangements for the children who were wanting admission to this beneficent institution. Mrs. Kennaway also took constant interest in the Village Hall, which building was secured for the use of the parish a few years ago, and had on numerous occasions taken a prominent part in the effots that were made locally to wipe out the debt on the building, now practically accomplished.
Mrs. Kennaway, in common with her husband, was a lover of the sport of foxhunting. She held the distinction of being the oldest original member of the South Dorset Hunt, and first rode with the pack in 1863, in the timne of Mr. C. Radclyffe's mastership. She was still riding with the South Dorset and the Portman packs at the end of last season. A very pleasing incident occurred on the occasion of Mr. and Mrs. Kennaway's golden wedding in 1927. A meet of the South Dorset Hounds was held at Stephen's Plot during that season, and Mr. and Mrs. Kennaway were presented with a beautiful piece of plate, on behalf of the Hunt. Mrs. Kennaway was a successful exhibitor of tortoiseshell cats.
[There was a very long list of people attending the funeral including] Mrs. Campbell Frazer, representing Southern Counties Cat Club.
MR KUHNEL
DON'T DROWN KITTENS! THEY MAY BE WORTH SCORES OF POUNDS. Batley News, 14th June 1907
Interesting Notes on a Profitable Hobby. A Local Fancier Interviewed. When the domestic feline surprises the household by appearing in the family circle tenderly carrying a kitten in her mouth, two things generally happen. First, every likely and unlikely corner of the house is searched to find the remainder of Puss's family, and then a pail of water is obtained in which to consign the little animals to a watery grave. Never do anything of the kind, because even in an ordinary litter there may be a potential champion, who will win honour and glory on the prize bench, and bring its owner a fancy price when sold.
According to Mr. Richard Kuhnel, of Providence Street, Batley, there are thousands of pounds worth of cats drowned every year. And Mr. Kuhnel should know what he is talking about. He has made a study of cats for many years past. As a judge he has been in request at shows all over the country, and his successes as an exhibitor are well known to all cat fanciers. Over 1000 prizes have fallen to him, including the National Cat Club medals, twelve championship medals, 40 cups, silver plates, numerous challenge bowls, and the American Club medal. At present Mr. Kuhnel does not keep a large stud, but while living in Bradford his cattery was like a miniature menagerie. He then had as many as forty cats, thirty of which were champions, and he often won prizes at two or three shows on the same day. The hobby, he says, is a very profitable one. Be has sold prize-winning cats at prices ranging from £40 to £50, and has received over £30 for kittens which had never been shown. Amongst his patrons have been Lord and Lady Alexandra (Balmoral) and Lady Decies (York), names well known in the cat fanciers' world. He was also the originator of the North of England Cat Club, and has filled the office of vice-President and treasurer.
LOCAL FANCIERS. Is the Heavy Woollen district the fancy is fast growing in favour, and there are quite a number who possess animals of first class quality. Amongst these are Mr. J. Redfearn, the well-known rabbit specialist. Mr. Tom Hanley (Batley). Mr. Crawshaw (Heckmondwike), Mr. Rhodes, Miss Ashton, and Miss Burton, and Mr. Wainwright (Ossett).
Our representative gathered from Mr. Kuhnel that one of the fascinations of the fancy was its uncertainty. In the progeny of the most unlikely domestic mouser champions are often found, and from these fanciers have been able to build up a strong stud. He related an instance in which a red tabby kitten was destined to be drowned, but was saved at the solicitation of a fancier, and afterwards won innumerable prizes.
Promoters of cat shows at one time confined their exhibits to fancy animals, such as Persians. It is only within comparatively recent years that the ordinary house cat has come into its own. These are of the shorthaired variety, of which Mr. Kuhnel has made a speciality, and the chief merits about them are markings, shape of head and ears, and length of legs. One advantage which the fancier of cats possess over those who go in for dog breeding is that they have not to pay any license for the animals they keep – a very great consideration when the stud is a large one. In order to encourage would-be fanciers, our representative gleaned from Mr. Kuhnel the principal points that are necessary for shorthaired cats.
HOW TO TELL A GOOD CAT. The principal varieties are the silver and red tabbies. Colour is the outstanding point, followed by marking and shape. The prevailing colour about a silver should be that of a new shining, with black markings round the body and three black streaks from the back of the neck to the end of the tail. The head must be broad and chubby, and the ears small and well separated, a cat with ears too near its eyes being "no class." The tail should be nicely ringed, but with not more than four rings, and the animal must stand on short legs and small feet. The markings on a good red tabby are exactly similar to those on a silver. In red tabbies nut brown or deep orange eyes are an essential, and silvers should possess either green or amber optics, the former being preferred. Another favourite English cat is the pure white. These must possess China blue eyes, otherwise they are valueless. When first introduced to the Show bench yellow eyes predominated in this breed, and there were some with odd eyes, but at the present time a pair of perfect blue eyes are a sina qua non.
One of the most difficult animals to breed in the whole feline world is a perfect tortoiseshell; in fact, Mr. Kuhnel says that a perfect specimen has not yet been produced, the best being one owned by Mr. J. Rhodes, of Ossett, which fails in the eyes. The perfect tortoiseshell should have patches of red, black, and amber equally distributed all over its body, tail, and legs, and the eyes should be orange colour. Another peculiarity about the tortoiseshell is that very rarely is an animal of the male persuasion to be found in the breed. The only one at present known on the Show bench was bred by a Darlington man, and is now owned by Lady Alexandra. This animal is far from being a perfect specimen, but being by itself is able to carry off the Crystal Palace prize of £5 given every year for the best tortoiseshell "Tom." Tortoiseshells are generally bred from a cross between a black English cat and a red tabby, although cases have been known in which cats of another colour have bred them. The tortoiseshell, in fact, must be regarded as somewhat of a freak in the cat fancy.
A new short-haired variety which is rapidly coming to the front is the Abyssinian bunny cat. These are of a brown colour, but the chief point about them is the "ticking." They are most peculiar looking animals, but are gaining in favour day by day. Yet another variety is the Siamese, which is exactly like a pug dog in markings, the body being fawn, with black muzzles, while some have fawn bodies with blue or chocolate muzzles. The eyes of the Siamese, like the English white, must be a China blue.
A favourite with cat fanciers is the tortoiseshell and white, a variety quite distinct from the ordinary tortoiseshell. These are red, black and white in patches, the more patches there are the better the quality of the cat. One with patches equally distributed on the back is, said Mr. Kuhnel, worth from £20 to £30. An orange eye is another point in favour of this breed. Mr. Tom Hanley possesses one with which he secured a first and special and second at the Batley Show. Mr. Hanley is also the possessor of "Coronation King," a red tabby bred by Mr Kuhnel. and which is regarded as one of the best of its breed. The Blue Russian, though regarded as a short-haired cat, is rather more wooly than the other varieties. They are slaty blue in colour, and should have short stumpy bodies, massive heads and bones, and orange eyes.
FEEDING AND KEEPING. So much for the different varieties. Now for a word or two about the feeding and keeping of show cats. They should, says Mr Kuhnel, be penned like rabbits, but given a little more room. The show cat is the aristocrat of the feline world, and must not be allowed to rom about at will, and stay out late at nights like the common or garden tabby. A cat should be places in a pen about a yard and a half in length, and about three quarters of a yard broad. By placing in the pen an earth box and teaching the animal cleanly habits, disagreeable smells are avoided.
With regard to the feeding of cats, Mr Kuhnel deprecates pampering or over-feeding. Cats, he says, thrive best on a diet of fish heads and boiled rice. The latter should be boiled to a jelly, and then allowed to cool, when it can be given with fish heads, which must also be boiled. Cats do not require much milk, a supply of clean water being preferable for drinking.
With the above hints before them, lovers of cats should be able to improve their knowledge of the show points of their favourites.
MISS LEA
MISS H.M. LEA. Sydenham, Forest Hill & Penge Gazette, 19th October 1934
We regret to learn of the death of Miss Henrietta Maria Lea. who resided at 1, The Firs, Westwood-road, Sydenham, and who passed away on Friday. Her death will be keenly regretted by lovers of animals, in which she took great interest. She was a well-known judge at cat shows. The funeral, which was entrusted to Messrs. Walter Cobb, Kirkdale, took place on Tuesday, when the remains were cremated at the West Norwood Crematorium. The Vicar of St. Bartholomew's (Rev. L. P. Smith) officiated at the religious service, which was attended by a number of friends. Numerous beautiful floral tributes were received.
MISS LIVINGSTONE
MISS LIVINGSTONE'S CATS - The Ladies' Field, February 15, 1908, by Dick Whittington
MISS LIVINGSTONE of Glencairn, Lanark; is well-known as a most successful exhibitor of neuter cats. She has in all ten cats, six of which, a long-haired white, a short-haired white, an orange, a cream, a chinchilla, two Siamese and a white Manx, are neuters. There are but two female cats, Dolly, a large blue daughter of Mark Antony, and Phyllis, a pretty orange-eyed white. Both these were bought from Mrs. Longwill about six years ago, but Miss Livingstone does not go in for breeding, as she does not care to part with her pets. The two Siamese are Eoin and Togo of Drayton, and are from the Royal Siam and King Kesho strain. Togo is perhaps the better marked cat, but he has a badly kinked tail, while Eoin's tail is straight. These cats have won a number of firsts, specials and medals, but Miss Livingstone does not intend to risk them at any more shows.
Sam was once a beautiful blue-eyed white, but many thrilling adventures and misfortunes have rubbed the polish off a little. Once, when on a visit, he disappeared from Sunday until Friday night, when he was discovered by the organist concealed in the organ in church. On another occasion he tried conclusions with an express train and lost half his tail, one eye and all but one of his teeth. Since then a gathering in his ear has caused it to shrivel up; so, though strong and well, he presents a somewhat battered appearance. Monxie is an imported white Manx, winner of four firsts, two seconds, two medals, some specials and the S.H.C.S. cup for best neuter at Edinburgh, though he has only been to five shows. He could not be exhibited last year, as he was then recovering from an attack of inflammation of the lungs. Glencairn Chrystal II, is a lovely long-haired blue-eyed white. He is by Ch. Lord Abercorn ex a daughter of Ch. White Friar. Glencairn Frederick is a fine orange, very sound in colour, and winner of many firsts and specials. Alphonso, his brother, a pale cream, has not yet been shown. Muffy, the chinchilla, is also a winner, but rats and mice are his speciality.
Miss Livingstone's cats and dogs are, as may be seen, great friends. The cats have a very varied diet, which includes raw and cooked meat, fish, milk, porridge, arrowroot, vegetables, etc. The cats all sleep indoors, and have as much liberty as possible during the day. They have little outdoor houses and runs, but these are never used during bad weather. Miss Livingstone believes in washing her cats; she also cleans them with hot bran or with fuller's-earth.
MR. T.B. MASON (SHOW JUDGE)
[T.B. MASON] Bradford Weekly Telegraph, 24th January 1903
A contemporary [journal] devoted to cats - a fancy so popular in fashionable society - has something very complimentary to say about Mr. T. B. Mason, of Idle, the well-known judge, of the smaller species of live-stock. The journal says: "It is curious and interesting to note the great popularity of Mr. T. B. Mason as an all-round judge of cats. He seems to have slipped into the shoes of poor Welburn, and now no big cat show is complete without him. All the specialist societies gladly support him, and, as is well-known, specialist societies are hard to please. Mr. Mason has a thoroughly sound knowledge of cats, he keeps cool, and goes on his way caring for nobody; he does not show annoyance, and is always ready to discuss an award in an amiable spirit; the result is that I have yet to meet an exhibitor who will not show under him."
[T B MASON] Shipley Times and Express, 10th July 1908
Mr. T. B. Mason, of Idle, the well-known pet livestock judge, has been invited by the committee of the Atlantic Cat Club to officiate as one of the judges at the great show to be held in the Madison Square Gardens, New York, on December30th and 31st, and January 1st, 1909. Owing to previous engagements, Mr. Mason has had to decline the invitation. But I understand that he is contemplating taking a trip to Canada and the United States a little later and will arrange to visit some the big shows during his stay. Evidently the Yankees think something of the Idle cat judge, who, wherever goes, lets the people know that he is proud of being Yorkshireman.
MARRIAGE OF MR. T. B. MASON. (Shipley Times and Express, 6th August 1909)
The marriage took place yesterday (Thursday) at Croydon of Mr. T. B. Mason, Idle, and Miss Kate Sangster [a noted breeder of cats]. Southampton, hon. secretary of the Southern Counties' Cat Club. In order to mark the occasion of the marriage the staff and employees of the Fanciers' Newspaper and General Printing and Publishing Co . Idle, with which Mr. Mason has been concerned for over twenty years, have presented him with a handsome smoker's cabinet. Mr. and Mrs. Mason are to reside at Lincoln House, 12b. Benshaw Manor Road, Thornton Heath.
DEATH OF MR. T. B. MASON Shipley Times and Express, 14th December 1923
One of the best known judges of rabbits, cavies and cats in the country, Mr. Tom B. Mason, died Southport on Thursday of last week. Mr. Mason, who was a native of Idle, had grown up in the fancy, and was known as a most competent judge in practically every city and town in the kingdom. Had he so desired, he could have allowed his activities to cover a wider zone, for he was several times invited to visit America during the Belgian hare boom in that country. Mr. Mason never accepted these invitations, but became a great authority on these animals and was frequently "called-in" by ladies who indulged in the craze at that time, and who sought advice from the best possible sources. The interment took place at Idle on Tuesday afternoon, following a service at Idle Upper Chapel, conducted by the Rev. F. C. Vaughan Bishop. Mr. Mason had been connected with the firm of "Fur and Feather," and employers from the machine-room department of Watmough's, Ltd., acted as bearers. Mr. John Garnett represented the firm of Watmough's, Ltd., Mr. E. Grey the printing department, Mr. Allan Watson "Fur and Feather." The Airedale Agricultural show was represented by Messrs. B. Battle (secretary), . . . [there was no mention of a widow.]
MRS. M. VLASTO
Mrs. M. Vlasto [. . .] Previously she bred cats, specializing in brown tabby, and long-hairs, but though very successful in showing was discouraged by the extreme difficulty in rearing kittens. The experience gained, however, has stood her in good stead with Pekingese. – The Gentlewoman, 12th December 1925
MR F.W. WESTERN
SEVERE LOSS TO THE COUNTY. DEATH IN NURSING HOME OF MR. F. W. WESTERN, SECRETARY OF SANDY SHOW Bedfordshire Times and Independent, 8th December 1939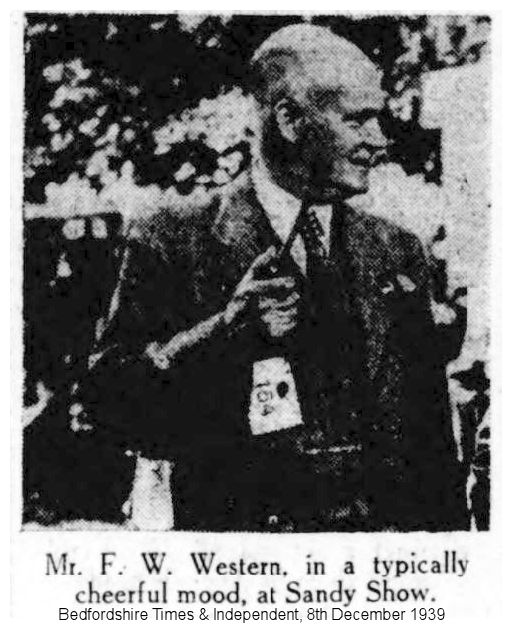 A keen sense of regret was experienced in East Bedfordshire, indeed throughout the County, on Tuesday morning when it was learned that the death had occurred the previous evening of Mr. Frederick William Western, JP, of Holme Grove, Biggleswade. He was sixty-four. He was taken ill early in October, having to be driven home from his market. On 11th November he was admitted to a Bedford nursing home where he was given every care and attention by the staff - but in vain. He underwent an operation on 18th November.
Born in Torquay, Mr. Western came at the age of seven with his parents, the late Mr. and Mrs. William Western, to live at Sandy, where Mr. Western, senior, established the tailoring and outfitting business now under the proprietorship of Mr. F. W. Western's brother, Mr. George Western. He leaves a widow and one daughter, Mrs. C. R. Westlake. of Finchley. There are two grandchildren.
Multifarious Interests. Few men in Bedfordshire could have been more intimately connected with the public life than Mr. Western. His interests were legion. But that which must have been most close to his heart, for which he would undoubtedly rather be remembered that anything else, and in connexion with which his name was a household word, was the Sandy Horticultural Society. For years he had been the mainspring in the complicated machinery which year after year raised the Society's annual show from local to County and then to national fame. His calm confidence in this organization was a byword, and even this year, although on the brink of what he must have known would be a serious illness, that organization did not suffer. With the imminent threat of war hanging over the arrangements he calmly went ahead, rallying one or tow of his more pessimistic followers, and despite every handicap rescued the Society from a loss which, had the show been cancelled, would have swallowed up all the reserves.
His connexion with the show, in an official capacity, began in 1898, when he was appointed livestock clerk. In 1902 he became livestock secretary and in 1913 general secretary. This position he has held ever since, except of course, for the inevitable break during the last war.
Biggleswade Auctioneer. In his business Mr. Western was principal of the firms of F. W. Western and Co. and Maddison and Western, both of which he established in 1897, the latter firm running the weekly cattle market at Biggleswade. The firms were joined by Mr. Brian S. Porter in 1936 as partner. In his capacity as auctioneer he was a Fellow of the Auctioneers' Institute and had recently been appointed District Chairman of Auctioneers under the Food Control Scheme. Even here his auctioneering abilities did not end. for he was honorary auctioneer to Crufts Show. Mr. Western was reputed to be one of the best judges of cats in Europe and last year he was secretary of the Southern Counties Cat Show. He judged at many livestock shows of all kinds all over this country and on the Continent Several years ago he was a prominent cat fancier himself.
All his life Mr. Western was a Methodist, and here again the ramifications of his work were amazing. He had been a local preacher since 1902 and was a fluent and forceful speaker. He was secretary of the Biggleswade Methodist Circuit Quarterly meetings, and joint secretary of the Foreign Missions branch of the Circuit. He was treasurer of the Beeston Methodist Church Trust and always had a warm spot in his heart for this little church. He was a Circuit representative on the North London District Methodist Synod.
Local Government Activities. For years he was a member of the bench of magistrates, of which at one time he was vice-chairman. For election after election he was re-appointed a member of the Biggleswade Urban Council. He first became member in April 1925 and remained so until he died. In the year 1927-1928 he was elected chairman. His extraordinary mastery of figures led to his appointment as chairman of the Finance Committee and his summing up of the financial situation at the end of each of his nine years of office earned him the title of "The Chancellor of the Exchequer". He was succeeded in this position eighteen months ago by Mr. H. Phillips. For a time also he was chairman of the Highways Committee. Local government also claimed him among the ranks of its officials. On 26th November 1896 he was appointed Clerk to the old Sandy Parish Council and Assistant Overseer at Sandy. When the town gained urban status on 1st April 1927 he continued in his capacity as Clerk, in which position his judgment was trusted implicitly by the members whenever they needed advice. He was also Clerk to the Northill, Tempsford. and Blunham Parish Councils. He was secretary of the Sandy Town Hall Company.
In politics he had always embraced the Liberal traditions, although he had not been so intimately connected with this phase of his activities as in other directions, mainly because of his business. He was a vice-president of the Sandy Liberal Club and of the Biggleswade Liberal Club. Freemasonry had claimed his interests for about twenty years, and he was a Past Master of the St. Andrew's Lodge at Biggleswade. In addition, he was Past-Grand Deacon of the Provincial Lodge, and member of the Ampthill Royal Arch Chapter.
Sport. Last but by no means least was his interest in sport. Probably the sport he loved most, at least in later years, was bowls. He was a playing member of the Sandy and Biggleswade Conservative Bowls Clubs and became almost as well known on the Clacton bowls greens, where he competed year after year, as on those of his home district. Years ago, he played cricket for the now non-existent Sandy club. Football also numbered him among the ranks of its devotees. He was president of the Biggleswade and District Football Club and of the North Bedfordshire Charity Football Cup competition. In their more palmy days he would nearly always be found on the grandstand at the Waders' matches. He was president of the Biggleswade Billiards League.
The Funeral. The funeral has been arranged to take place to-day (Friday). A service at Trinity Methodist Church, Biggleswade, conducted by the Superintendent Minister (the Rev. Ernest Nicholas) at 2 p.m.. will precede the interment at Sandy Cemetery at 2.45 p.m.
Court Tribute. Before the business at the Biggleswade Sessions Wednesday, the Chairman (Mr. F. W. Braybrooks) said that since they had last met a fellow-magistrate had been taken from them. He had been a magistrate for twenty-one years and for a number of years he had been vice chairman of the Bench. They remembered him from those early days when Mr. Alfred Inskip was chairman; how eager, capable, gifted, and willing he was to pull his weight in every good cause. They greatly regretted his loss. Mr P. R. Chaundler, on behalf of the solicitors practising at the Court, and Superintendent C. Leist associated themselves with the Chairman's remarks.
An Appreciation. Mr. W. H. McKelvey (chairman of the Sandy Show Committee) writes: "Frederick William Western attended every Sandy Show from 1898 to 1939 and was known and respected throughout the British Isles. He first became prominent as an exhibitor of cats (which were shown in the name of his wife). Later he became a judge and after the death of Mr. T. B. Mason was considered the finest judge cat in England, perhaps in the world. Practically every cat show in England had him as judge at some time or other, and he also judged on the Continent. He was particularly interested in tortoiseshells and whites, and many local people have been surprised and delighted to receive an offer of a pound from Mr. Western for a cat thought to be fit only for catching mice. Later this same cat would be groomed to stardom and would astound some judge. He progressed from cats to dogs and took up the breeding, exhibiting, and judging of collies. His collie. 'Charles Rosdew' will be remembered by the older collie exhibitors as an outstanding specimen of what a good collie should be. Immediately after the war, when rabbits became fashionable in the show world, he became interested in silver-grey rabbits, and here again his enthusiasm for anything to which he put his hand enabled him become the foremost breeder and exhibitor and judge of this variety. In later years he gave up exhibiting and confined himself to judging, and in this sphere his services were in such demand that he was not able to accept all the appointments offered him.
" 'Freddy Western' and 'Sandy Show' are synonymous terms. No one spoke of the one without mentioning the other. His knowledge of organization and detail was unrivalled and the Society cannot hope to adequately to fill his place. He knew all the leading exhibitors personally, and on the day of the show was their guide, philosopher, and friend. His good humour and 'hail-fellow-well-met' attitude on show day—when he was burdened with a thousand details and difficulties—were something to marvel at. He was never too busy to smooth away any troubles and set the perplexed exhibitor's mind at rest. He worked with complete harmony with his show committee and often managed to get his own way without them knowing it. The work tor Sandy Show will go on, as he would have wished. We know that the thousands of well-wishers of this old-established Society will look forward to the days of peace and a return of Sandy Show on the last Thursday in August. 'Freddy' will not be there—but his spirit will.''
MR CYRIL YEATES
A biography appeared in "Cat Gossip," 7th December, 1927, with the note "The biographical notes and portraits are taken from our late contemporary, 'Animals.' "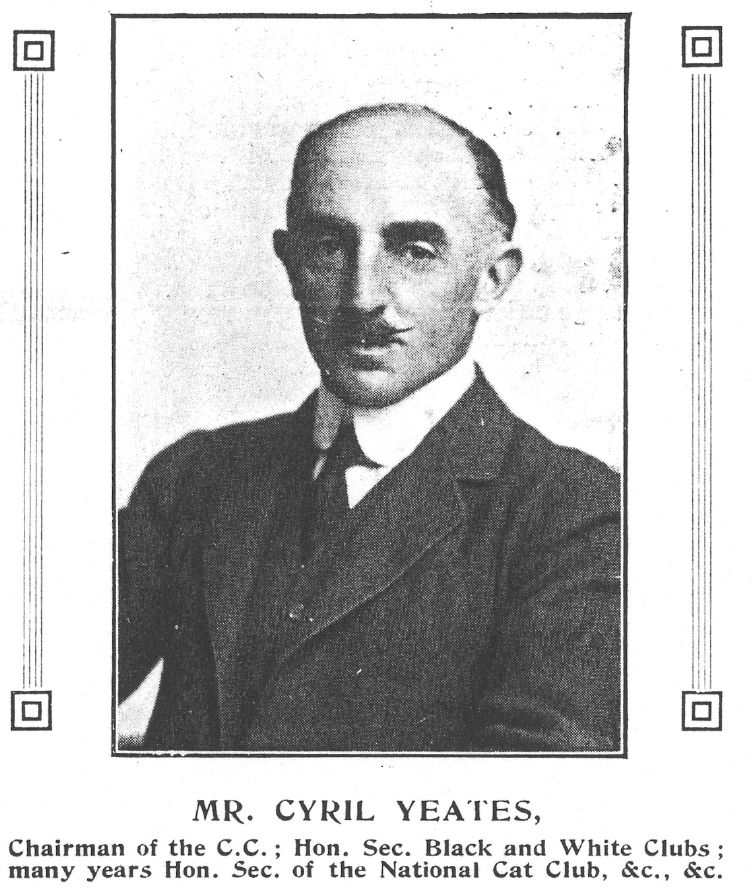 Mr. Cyril Yeates, Hon. Sec. National Cat Club. A native of Kendal, Westmoreland. Educated at Haleybury and the R.M.C., Sandhurst. Has only shown one cat, but as it was through this cat's mother he met Mrs. Ycates, firmly believes black cats are lucky! First took interest in Cat Shows in 1906. Became Hon. Sec. of the Black and White Club 1921. Hon. Sec. N.C.C. in 1923. Ran Kensington Show with Miss Frances Simpson in 1922; Show Manager S.C.C.C., 1925; and ran 1923-7 Palace Shows. Has been on G.C. since 1921. Favoourite cats, tortie-and-white and Dutch-marked L.H., silver tabby S.H. Compiler of the Supplement to Vols. I. and II. of the G.C. Stud Book. A member of the Dumb Friends' League for 26 years. Favourite hobbies - Yachting, horse-racing, and the theatre.
MRS CLINTON LOCKE
Chicago started a Cat Club in 1898, largely due to Mrs. Clinton Locke, who founded the Beresford Cat Club, named in honour of Lady Marcus Beresford. She used the prefix Lockehaven. "Mrs Clinton Locke, one of the first American women to start a cattery had innumerable cats, and even before the turn of the century she had acquired a choice pair of Siamese cats called 'Siam' and 'Sally Ward' and from these she bred 'Calif' and 'Bangkok'. 'Siam' was a big, round-faced substantial-looking gentleman, but 'Chom', his son, bred by Mrs Cronise of San Francisco, was quite as elegant-looking and refined as many of our show cats today, his only blemish being a shortish, kinked tail." - May Eustace and Elizabeth Towe, Fifty Years of pedigree Cats, 1967.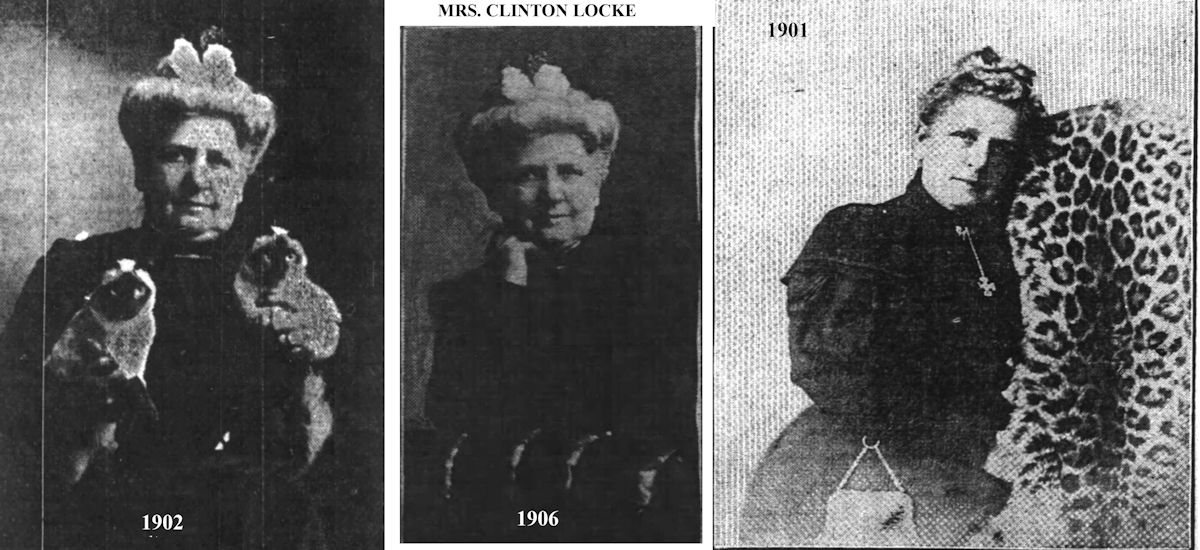 Adele Gleim Douthitt Locke was born around 1839 and married to Reverend Dr. Clinton Locke (born 1829) of Grace Episcopal church in Chicago. The couple were the originators of the movement to establish Saint Luke's Hospital. They had four children, three boys and one girl, but only Robert and Fanny survived. Robert D. Locke (b 1868) had a chequered history, being accused of attempted murder in 1895 and committing suicide in San Francisco in 1900 while his wife was in Paris. Mrs. Clinton Locke's only daughter, Fanny Cottinet Locke, married John Kenneth Mackenzie in 1890, in a huge "society" event documented in detail in The Inter Ocean of 2nd October 1890. Her father, Rev. Clinton Locke officiated, so Fanny was given away by her brother Robert (a Rev. Chester Locke is also mentioned in the account). Fanny was widowed in 1905 and later married Fredrick H. Hatton, a Chicago drama critic, becoming Mrs. Fanny Locke Hatton.
More about the family can be found in The Inter Ocean, Saturday May 15th, 1897, when they celebrated Mrs. Clinton Locke's mother's 85th birthday. Her mother was Adela (or Adele) Gleim Douthitt. Her father was Robert H. Douthitt, a banker in Pittsburg who had died when Adela was only in her 30s. Adele Clinton Locke also had a sister, Mrs. George G. Plant of St Louis, who had died a little before Adela Douthitt's 85th birthday. Mrs. Douthitt had not remarried, and from the age of 65 had lived at Grace Church rectory (presumably Rev. & Mrs. Clinton Locke's home).
Also present at the birthday was Mrs. Robert Locke (whom we can deduce was her daughter-in-law) although Dr. Robert Locke was out of town. Mrs. Kenneth Mackenzie (Fanny) was in Kentucky, but her husband John Kenneth Mackenzie and their son Jack Donald Mackenzie were there. Clinton Locke Plant (Rev. & Mrs Locke's nephew) was also present.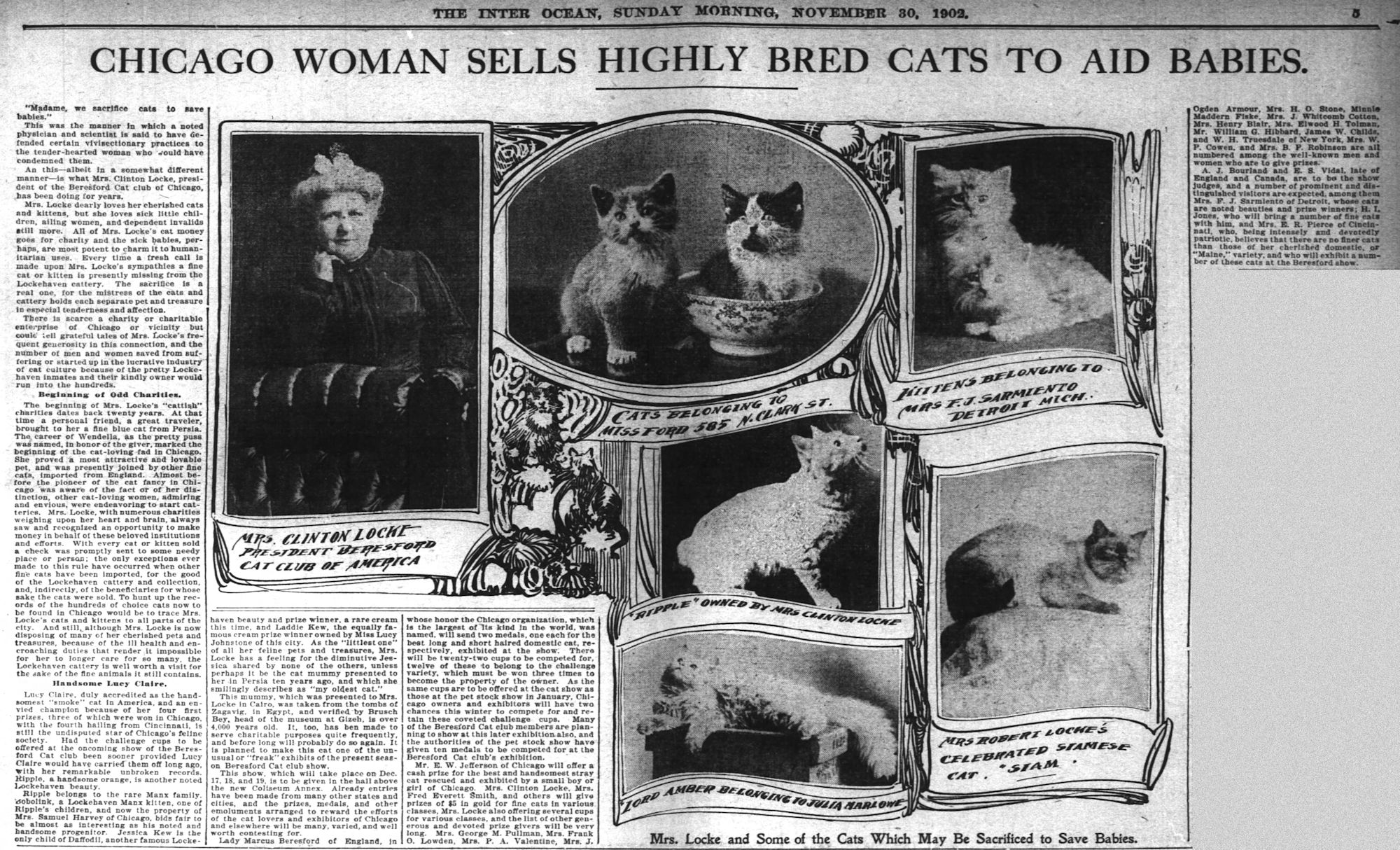 CHICAGO WOMAN SELLS HIGHLY BRED CATS TO AID BABIES (The Inter Ocean, November 30, 1902): "Mrs. Locke dearly loves her cherished cats and kittens, but she loves sick little children, ailing women, and dependent invalids still more. All of Mrs. Locke's cat money goes for charity and the sick babies, perhaps, are most potent to charm it to humanitarian uses. Every time a fresh call is made upon Mrs. Locke's sympathies a fine cat or kitten is presently missing from the Lockehaven cattery. The sacrifice is a real one, for the mistress of the cats and cattery holds each separate pet and treasure in especial tenderness and affection. There is scarce a charity of charitable enterprise of Chicago or vicinity but could tell grateful tales of Mrs. Locke's frequent generosity in this connection, and the number of men and women saved from suffering or started up in the lucrative industry of cat culture because of the pretty Lockehaven inmates and their kindly owner would run into the hundreds. The beginning of Mrs. Locke's "cattish" charities dates back twenty years. At that time a personal friend, a great traveller, brought to her a fine blue cat from Persia. The career of Wendella, as the pretty puss was named, in honor of the giver, marked the beginning of the cat-loving fad in Chicago. She proved a most attractive and lovable pet, and was presently joined by other fine cats, imported from England. Almost before the pioneer of the cat fancy in Chicago was aware of the fact or of her distinction, other cat-loving women, admiring and envious, were endeavouring to start catteries. Mrs. Locke, with numerous charities weighing upon her heart and brain, always saw and recognized an opportunity to make money in behalf of these beloved institutions and efforts. With every cat or kitten sold a check was promptly sent to some needy place or person; the only exceptions ever made to this rule have occurred when other fine cats have been imported, for the good of the Lockehaven cattery and collection, and, indirectly, of the beneficiaries for whose sake the cats were sold. To hunt up the records of the hundreds of choice cats now to be found in Chicago would be to trace Mrs. Locke's cats and kittens to all parts of the city. And still, although Mrs Locke is now disposing of many of her cherished pets and treasures, because of the ill health and encroaching duties that render it impossible for her to longer care for so many, the Lockehaven cattery is will worth a visit for the sake of the fine animals it still contains."
Mrs Clinton Locke died at the age of 70.
MRS ROBERT LOCKE
Mrs. Robert Locke owned the first registered Siamese cats in America: Bangkok, Siam and Calif. Apart from her Siamese cats and her relationship (daughter-in-law) to Mrs. Clinton Locke, there is little to be found on Mrs. Robert Locke, but it appears she suffered tragedy quite early in her married life. Her husband, Dr. Robert Locke was a talented linguist and traveled widely. Prior to his medical career he had been a cadet at West point Academy, but decided against a military career and went to Rush Medical College instead. He spent several years in post graduate work in Vienna and Berlin, and later worked for the Ward line of steamers plying to South American ports. In 1895 was arrested for attempted murder: it was charged that, while intoxicated, he tried to kill a watchman at Von Herman's drug store. He was shot in the leg during the scuffle. Nothing seems to have come of this and in 1898/9 he was posted to the Philippines, working for the Associated Press. According to the New York Times, June 10th, 1900 "Dr. Robert Locke, who committed suicide in San Francisco [...] had traveled in all parts of the world, was a proficient linguist, and was one of twelve men to go to the Philippines to act as press censors for the Government. The strain told upon his health, and the climate was such that he decided to return. On arriving at San Francisco he wrote his mother that he was in ill-health and would rest for a time before coming to Chicago. From his letter they gathered the idea that he was suffering from malaria."
On June 9th, 1900, it was widely reported in the press that Locke had committed Suicide at the Occidental Hotel. His widow, was believed to be in Paris at the time. He had returned from Manila, in poor health, in May 1900 and had been in San Francisco "to recuperate" ever since. He had thrown his personal effects around his hotel room before shooting himself through the heart with an army revolver he had stolen from the hotel room of Lt. George S. Newhall. He was found in bed, undressed, with a sheet wrapped about the lower part of his body. Although he left no explanation, his correspondence and repeated threats of suicide while at the hotel, showed he was likely deranged by fever developed during his 18 months in the Philippines where he was a correspondent for the Associate Press and also did voluntary work as a surgeon. (Details from the Chicago Daily Tribune, June 10th, 1900)
Mrs. Robert Locke continued to work with Mrs. Clinton Locke and the Chicago Cat Club and its shows.
MISS FRANCES WILLARD
The life of Frances Elizabeth Caroline Willard (1839 - 1898), owner of the much-exhibited cat Toots Willard is very well documented. She was an educator and social reformer, and was instrumental in the passage of the Eighteenth (Prohibition) and Nineteenth (Women Suffrage) Amendments to the United States Constitution. She was also a national president of Woman's Christian Temperance Union (WCTU).
She was the daughter of Josiah Flint Willard and Mary Thompson Hill Willard and was the middle of three children. In the 1860s, both her father and her younger sister, Mary, died, and her brother, Oliver, became an alcoholic and a gambler who caused the family a deal of financial hardship. Although once engaged to Charles Henry Fowler, she remained unmarried and her emotional attachments were towards women, including her long-time companion Anna Adams Gordon. She died from influenza in 1898. Her famous – and much spoiled - cat Toots Willard, a popular feline figure at cat shows, passed into the care of Mrs. Leland Norton where his acquired habits continued to be indulged. His frequent appearance at early cat club shows, which tended to be arranged and attended by women, was largely to do with the fame of his owner - she likely thought his appearances a good way to promote her causes to other women.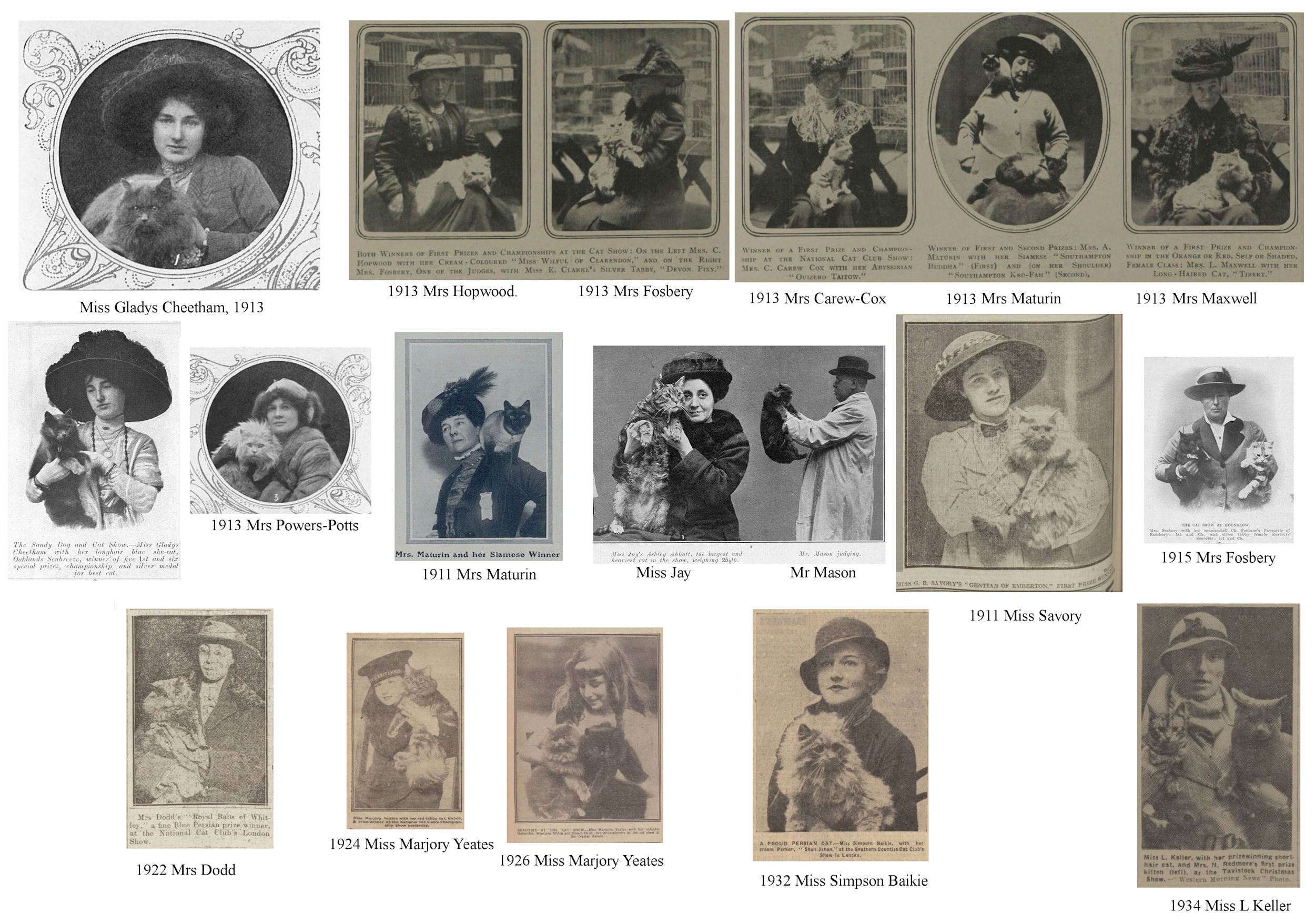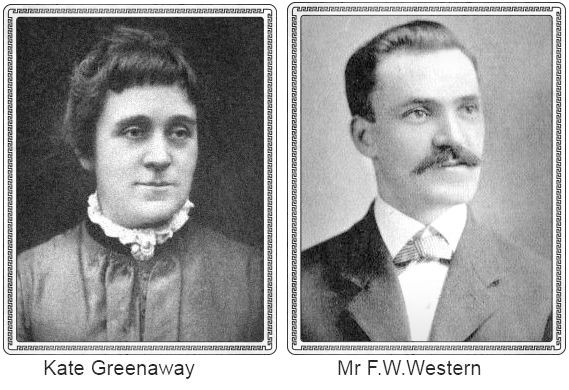 HELEN WINSLOW (Author of "Concerning Cats")
I have included this brief biography of Helen Winslow not because she was a prominent cat fancier, but because she wrote "Concerning Cats" and corresponded with Frances Simpson.
Helen Maria Winslow was born in 1851 in Westfield, Vermont, and died in 1938 in Shirley, Massachusetts. She is best known to cat-lovers as the authoress of "Concerning Cats," American contributor to Frances Simpson's "Bok of the Cat," and various articles on cats for American magazines. As well as being an author and journalist, Winslow was an editor and publisher who started out as dramatic editor on the Boston paper "The Beacon, "1891–97, and later as editor of the Woman's Club Department of the "Boston Transcript," 1893–98; editor, Woman's Club Department of the "Delineator," 1897 and 1912. She was also editor and publisher of "The Club Woman," 1897-1904; and the publisher of the "Official Register of Women's Clubs in America" from 1897.
Winslow was in the ninth generation of descent from Kenelm Winslow, a brother of Governor Edward Winslow, of the Plymouth Colony (i.e. a Mayflower colonist). She was educated at the Vermont Academy and State Normal schools, with special studies in languages and literature in Boston. Her father, Don Avery Winslow was a noted composer and a member of the first English opera company organized in the United States. Her mother, Mary F. (Newton) Winslow (died 1882), was a scholar, linguist and poet. Helen's siblings were Edward W. Winslow (drowned in early youth), Mary A. Winslow, Isabel N. Winslow, and Harriet P. Winslow.
She became a writer early in life, and sometimes used the pen name, "Aunt Philury". Her first published works were "Aunt Philury Papers" and "Jack." Her first serial story, "The Shawsheen Mills," was published in the Yankee Blade. In 1886, she published "A Bohemian Chapter" (about a struggling female artist) as a serial in the "Boston Beacon." She also wrote poetry, much of which was devoted to nature. Other notable works were Salome Shepard: Reformer (1893), Concerning Cats (1900), Concerning Polly (1902), Literary Boston or To-day (1902), The Woman of To-morrow (1905), The President of Quex (1906), Peggy at Spinster Farm (1908), A Woman for Mayor (1910), The Pleasuring of Susan Smith (1912) and At the Sign of the Town Pump (1913). She also collaborated with Frances Willard (a noted temperance reformer and women's suffragist) in "Occupations for Women," and with Marie Wright in "Picturesque Mexico."
As a journalist, Winslow wrote for the "Boston Transcript," and later the" Boston Advertiser" and the "Boston Saturday Evening Gazette." In addition to these, she wrote on a wide range of topics for "The Christian Union," "Christian at Work," "Interior," "Drake's Magazine," "Demorest's Magazine," "Iroquois" magazine, the "Arena," "Journal of Education," "Wide Awake," "Youth's Companion," and "Cottage Hearth" among others. In religious life she was a Congregationalist.
Helen Winslow served as commissioner from Massachusetts to the Cotton States and International Exposition of Atlanta, 1893; director of Board of Trustees of the Frances Willard Hospital, Bedford, Massachusetts; and State regent of the Massachusetts Daughters of the American Revolution, 1901-2. She served as treasurer of the New England Woman's Press Association, and was one of its six founders. She was also the founder of the Boston Authors' Club; and served as vice-president of the Press League. She lectured before many women's clubs and societies and was a member of The National Society of the Colonial Dames of America, the Ex-Club of Boston, Pioneer Workers, the Lyceum Club of England, Professional Woman's Club, the Daughters of Vermont, Roxburghe Club, and the Altrurian Club.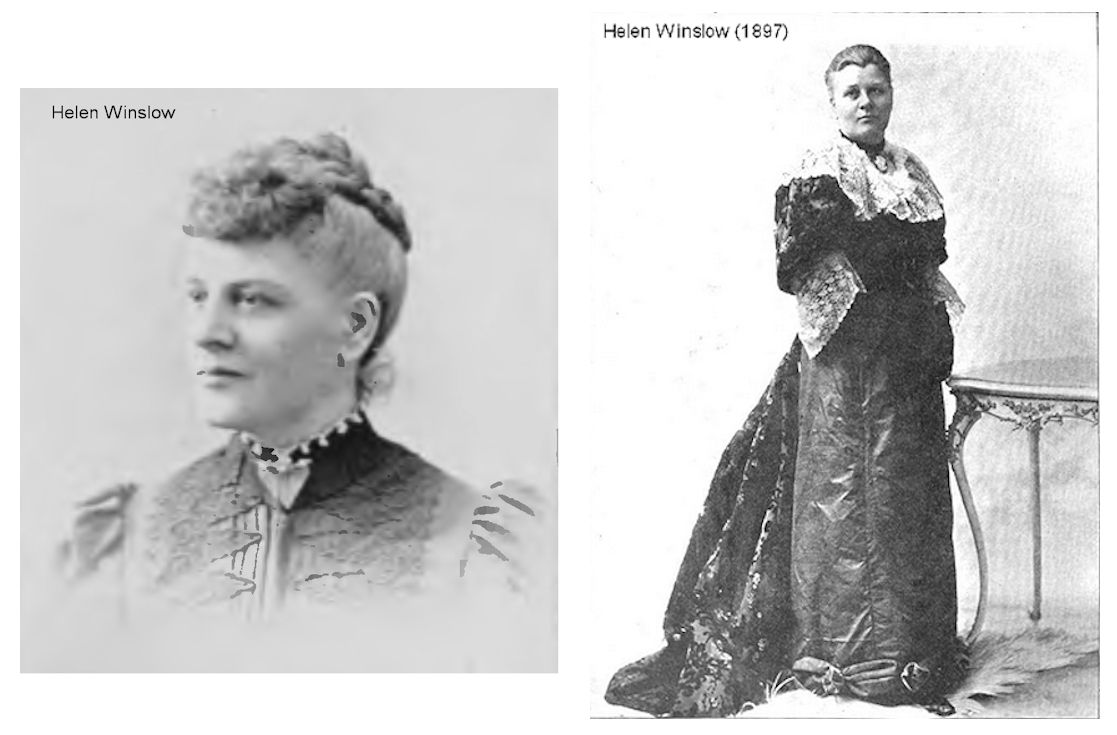 You are visitor number