PROMINENT EARLY CAT FANCIERS
Using various online archives and my own files, I thought it would be interesting to flesh out some of the prominent early cat fanciers on both sides of the Atlantic, most of whom were "society" people. In doing so, I also found tales of scandal and financial ruin that beset the British aristocracy, as well as accounts of upstanding families involved in their community.
THE COUNTESS OF ABERDEEN
Another prominent aristocratic cat lover and, according to The Tatler (29th July, 1908), among her pet animals were some blue Persian cats which were most precious and which she had exhibited with success at the National Cat Show at the Crystal Palace.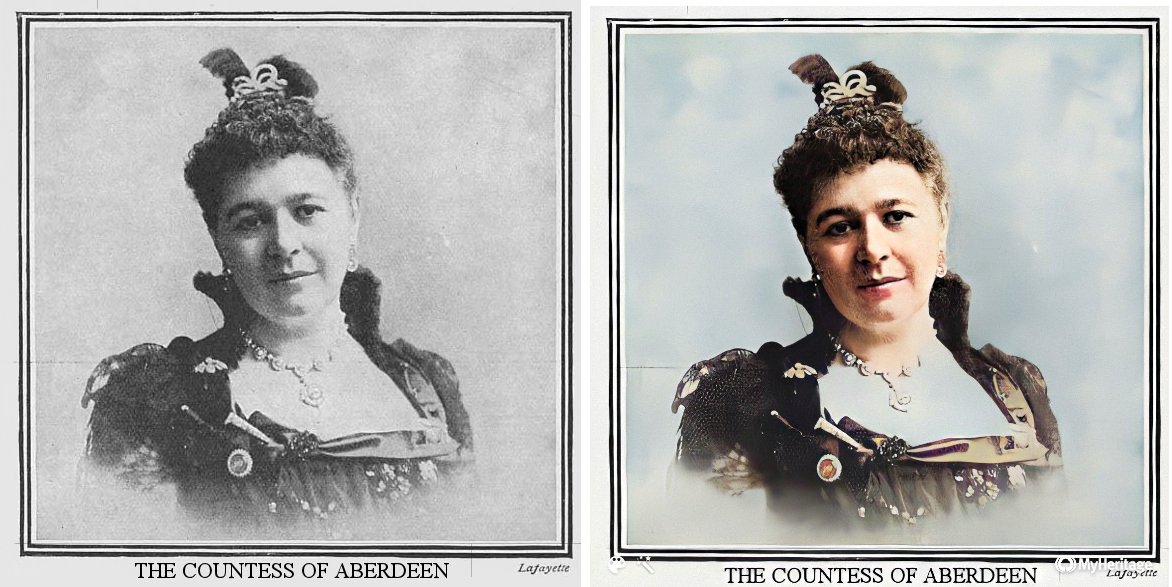 MRS. BULLER
PROFITABLE ANIMALS. Belfast News-Letter, 1st September 1894
In these days, when most of us are ever seeking new ideas for the accumulation of that excellent thing which paltry poets describe as paltry dross, a new idea is always welcome, though one would scarcely expect the humble grimalkin to be a source of wealth. Nevertheless, "Sylvia's Journal" for this month shows us that nice little sums are to be made out of the careful treatment and breeding of cats. One of the most successful amateur cat fanciers is Mrs. Buller, who has a "cattery" at her picturesque country house in Surrey. In reply to "Sylvia's" interviewer, Mrs. Builer showed that pussy can be made a profitable as well as an affectionate pet.
"If properly managed," said Mrs. Buller, "cats can be made to pay well. A friend of mine made £240 in two years by prizes, sales, and stud fees. Of course, you must start with pedigree animals, and these are costly. The best plan is to choose one or two breeds, and try to perfect them. I am endeavouring to produce unmarked orange Persians, and am succeeding beyond my expectations. You shall see my lovely Marigold, with tier superb brush; Cowslip, too, and Buttercup, for I name them all after golden flowers. They are worth a considerable sum, orange Persian kittens fetching three guineas for females, and four guineas for toms. Long-haired cats are the most popular and, in my opinion, the most attractive. You must come and see my pets, although they all appear at a great disadvantage just now. It is the cats' moulting season, and every one of them is out of coat. Besides, a dreadful epidemic of influenza has been right through my cattery, and the poor things are only just recovering. Some were so ill that my maid and I took it in turns to sit up all night with them."
Then Zula was introduced, a splendid fellow, whose tint to the initiated is light blue, but to the common mind more like slate colour. Afterwards followed Miss Betty, a beautifully-marked tortoise-shell, who took first prize at Cruft's Aquarium Show, and a pair of royal cats of Siam, from whom great things are expected.
"Of course," continued Mrs.Buller, "I have to take great care of mv pets. The secret of success is judicious feeding and an avoidance of coddling. My kittens spend the day in the garden whenever the weather permits. The flower beds are covered with cocoanut fibre, in which they frollick about. You must never let Persians be out of doors in the wet. Their thick coats will not dry easily, and they get chills and die. I lost a superb tom from that cause a little while ago."
MAJOR E. S. WOODIWISS (SYDNEY) AND SAMUEL WOODIWISS
One branch of the Woodiwiiss family were local to where I now live, hence this short mention. Major E.S. (Sydney) Woodiwiss (son of Sir Abraham Woodiwiss of Derby) lived at Danbury, a few miles east of me and judged cattle and exhibited dogs. Mrs G Woodiwiss, Danbury, exhibited poultry bred at Woodrooffe Poultry Farm, Danbury; this was sold off in 1927. In 1931 their bungalow was sold (applications to "Woodrooffe"). The best I can make out is that Woodrooffe was situated where a road called "Woodside" is now located (CM3 4SR). Sam Woodiwiss (son of Sir Peter Woodiwiss) owned a cattle farm called Sedgemere in Gt Waltham, Essex, only a few miles north of me. He was a judge in the goat classes at our agricultural shows and a member of the British Goat Society. His corresponding address in North London would have been his town home.
They were founders of the Abyssinian Cat Club and used the famous prefixes "Sedgemere" and "Woodrooffe." Because they both went by "S. Woodiwiss" their accomplishments are often confused together. They registered some of the earliest Abyssinians in the studbook. Sam also had an interest in more exotic cats such the Indian Fishing Cats, "Sedgemere Hateful" and "Sedgemere Spiteful" that he bought, registered in the National Cat Club studbook and exhibited. The newspaper article below shows he had a collection of many types of animal at his "Sedgemere," estate on the outskirts of London
MR SAM WOODIWISS, F.Z.S. Bath Chronicle and Weekly Gazette, 7th November 1895
It is always a pleasure to pay a visit to a genuine Fancier, and that pleasure is greatly enhanced when one is assured of a hearty welcome. I was spending a short holiday near the Metropolis a few weeks since, when I received a pressing invitation from Mr. Sam Woodiwiss (son of the late Sir Peter Woodiwiss), to visit his kennels and estate at East Finchley. It is needless to say I accepted the kind offer with the greatest pleasure, knowing that this gentleman (who may be just styled one of the Kings of the Dog World), is possessed of the pride of the Fancy, and that the visit would undoubtedly prove a rich treat to one who, like your humble servant, is so interested in pure-bred live stock. Well, on arrival at Paddington I found a well-appointed brougham waiting to convey me to Sedgemere, which is situated in the outskirts of London. Mr. Woodiwiss gave me a most hearty welcome to his mansion, and after a capital lunch we proceeded to the Kennels.
My readers may imagine my surprise when, after walking through the charming grounds at the rear of the house, we entered an extensive space of ground asphalted over and surrounded by close on 50 good sized houses or dog kennels, each being perfection in itself, sleeping house, and all necessaries for the comfort and health of the distinguished canine inmates. There is a strong iron railed frontage, whilst two large doors at night protect the valuable dogs from the weather and cold winds. First we came to the noted Bull Dogs, and here let me state that no man has done more to perfect this particular breed than the gentleman whose name heads this article, spending both time and money in raising the Bull Dog Fancy to the high position it holds at the present time. House after house contained typical specimens of the wonderful breed, showing splendid faces, wide and deep, big skulls, and broad shoulders and bone, so necessary to the Bull Dog, also the all important wrinkles of the head, to perfection. The noted winner, Blackberry, winner of innumerable first prizes, was pointed out to me, truly a massive bitch with great width of body and grand muscular developments in forearms. Other great winners were present, including Sheffield Barry, Bilberry, Brassy Sal, etc. House after house was visited, containing grand massive Bull Dogs, very few indeed lacking the necessary points for the show bench.
We next came to a new variety of dog lately introduced into this country, the "Dogues de Bordeaux." These wonderful specimens (of which there are only six in England and four of these in Sedgemere Kennels), are somewhat of the Bull Dog species, but very much larger, and bolder in appearance and shape of body. Then we came to favourite varieties of mine, the old English Sheep dogs, looking perfection, with grand coats; also rough and smooth Collies of various ages, Fox and Irish Terriers of the best stamp, especially the latter, one of the litters having some puppies already showing great promise, and will be probably heard of to advantage later on. An interesting specimen was a Thibet Mastiff (imported), a massive looking animal in superb condition. We passed several kennels containing Greyhounds, and came to the well-known crack, Real Jam, a noted winner of first prizes whenever shown in best of company.
After looking over the extensive canine collection we glanced at the veterinary-room, fitted with all the needful medicines and appliances, also the kitchen, for my readers may readily imagine it takes something substantial to feed such a stock of valuable dogs and champion specimens. We passed out from the well-kept kennels, the like of which I doubt is to be seen in this part of the country, to view the other stock, and on the way passed the rabbitries where, in properly built and excellently arranged hutches, were over 30 capital specimens of Flemish Giants, Belgian Hares, Himalayans, Polish, Dutch, Angoras, Silver Greys, and Creams. Most of them were prize bred and would certainly hold their own in good company. Next we saw several aviaries and lofts containing pigeons, and I noticed Fantails, Turbits, Archangels and Satinettes, and although Mr. Woodiwiss seldom exhibits I am of opinion the pigeon fancy would have a hot time of it were he to enter the lists. In various parts of the extensive grounds were pens of Wyandottes, Brown Leghorns, Langshans, Black Minorcas, etc. Most of the birds were of prize strain, and typical specimens were to be seen in some of the runs. I may here say that Mr. Woodiwiss intends to take up one of the breeds of poultry, and should he do so in the excellent manner in which he has supported the other sections of the fancy, poultry breeders will have to look to their laurels.
THE CATTERY. We now entered a large building which I discovered was a Cattery, specially erected for the benefit of "poor puss." Here, though in confinement, "pussy" is allowed to ramble in large runs, and even to climb the proverbial " tiles," though with the aid of wire netting she is confined within certain limits. It was truly the perfection of a Cattery, and its owners did credit to the establishment. The wonderful Tabby champion Xenophon first claimed attention. This is acknowledged to be the finest specimen ever produced or exhibited; it has won whilst in Mr. Woodiwiss's possession six times the championship for best smooth hair, and seven firsts and 19 specials at first class shows. It has a wonderful head, grand markings, and perfection of colour. Next we found a splendid black female, Sedgemere Darkie, another noted winner with lovely head and eye, and colour of the deepest jet. A Silver Tabby female showed good points and looked in splendid condition. Then we came to a house containing a recent purchase of two Abyssinian cats, exceedingly pretty specimens of the feline race, the colour approaching that of the Silver Agouti Cavy, and when exhibited will doubtless be a great attraction. Many specimens owned Mr. Woodiwiss last year have been disposed of or have died, viz., the wonderful Iceland [actually Indian] Fishing Cat, and the African Tiger Cats, which were much admired when exhibited at the Bath and Clifton Cat Shows.
THE MONKEY HOUSE. I thought I had seen all the livestock to this enthusiastic Fancier when I was directed to a large glass roofed building, which to great surprise was full of monkeys! Yes, my readers, and wonderfully pretty specimens too. Nine of the most rare monkeys were caged in various compartments. I was shown a marvellous Japanese ape with a strange looking face, also a Diana monkey, with a lovely tail of coloured fur. The small Bonnet monkey was a strange looking animal, whilst the Capuchin and Jew were rather too ferocious to please a modest Fancier like myself. Four Resnes completed the collection. Though several showed signs of fierceness to a stranger, to my friend and his son they seemed quite friendly. Probably they knew I was not an F.Z.S., and did not understand their "funny little ways." I have visited most of the English Zoos, and can confidently say none excelled the Sedgemere "pets."
BIRDS AND MICE. At the end of the monkey house we came to an aviary full of lovely canaries in grand colour and plumage, also three parrots, looking well cared for, whilst in another corner were to be found cages of fancy mice of various colours, cinnamon, silver, self coloured, and Dutch marked specimens of the rodent tribe. "And now we have reached the goat houses and piggeries," said mine host. "What, more live stock?" "Yes" replied Mr. Woodiwiss, and more useful fancies, too. Well, we wandered through another portion of the grounds and passed a large lake where swans, ducks and geese were regaling themselves, and came to a large paddock where close by were stables and sheds in well bricked and concrete yards. I found my friend possessed no fewer than eight goats, two Angora (a very pretty long-haired variety) one Joggenburg, one Somali, one Ibex and three British Billies and Nannies. Goat breeding I learnt, is on the increase, and through the efforts of the British Goat Society is being brought more to the front as a useful fancy. Some of those seen at Sedgemere were certainly charming looking animals. The piggeries contained ten Berkshire, two Tamworth and two Yorkshire pigs, all pure bred and looking as if good food and comfortable quarters suited their natures. The stables are on an extensive scale, containing nine horses, five being in hard work on the estate, two pony hackney mares, and two foals.
RELICS AND TROPHIES. This concluded my survey of the out-door department, and I was invited to a smoke and chat, etc., in the study, which to my surprise contained skeletons of the noted champion Bull Dogs owned by Mr. Woodiwiss, and well known in the Dog World, for who does not revere the memories of such famous winners as Dockleaf, British Monarch, and Grabber, and to see the bones of these champions gracing their master's study brought back pleasant recollections of their winning days, whilst in the drawing-room adjoining I was shown the preserved skins of these noble creatures. In a bookcase close by me were handsomely-bound catalogues of all the principal shows of the last 12 years, and even the walls were adorned with drawings of the many Bull Dogs of past and present shows, whilst a large glass case contained dozens of gold, silver, and bronze medals, out of the 300 which have been won by this great Fancier. In the library I was afterwards shown the largest collection of pen and ink drawings of Bull Dogs to be seen in this country. From top to bottom all the four walls were covered with pictures of the canine species, in addition to which I viewed with admiration a large glass case containing 31 silver cups and challenge vases of various sizes won since 1888. I also noticed a case of three live lizards of great size, the remains of a large vivarium kept. These three reptiles were three years old, and just going off for their winter's sleep.
MODEL FANCIER. I spent several days at this Fancier's charming home, and found Mr. Woodiwiss to be a thorough Fancier in the true sense of the word, keeping livestock, as he does, of all possible varieties, purely for the love of the Fancy, and not for what may or may not be made out of it, and whilst displaying a decided partiality for Bull Dogs, is equally willing to advance other branches of the fancy, whether fur or feather. In fact, the Fancy world has one of the strongest supporters it possesses in the family of Woodiwiss, both in him and his esteemed brother, Mr. George Woodiwiss, our energetic Bath president, so respected in the West. Mine host has endeavoured by his personal efforts, his liberality, also by his time and experience, to advance its interests and to purify it.
I elicited the fact that Mr. Sam Woodiwiss is as ardent a fancier to-day as he was 12 years since when he first won his laurels. Two great points I found this gentleman was strong upon and these were: —"Pedigrees" and "Blood," truly two grand essentials to bear in mind, and without which no fancier can reach the pinnacle of success. But I must now conclude this sketch of one of the best fanciers this country possesses. Brief and imperfect as it is, it will give my readers some idea of this model fancier's home, and I am sure Western fanciers will join with me in wishing long life, success and happiness to the proud owner of "Sedgemere." – Bladud.
MR CYRIL YEATES
A biography appeared in "Cat Gossip," 7th December, 1927, with the note "The biographical notes and portraits are taken from our late contemporary, 'Animals.' "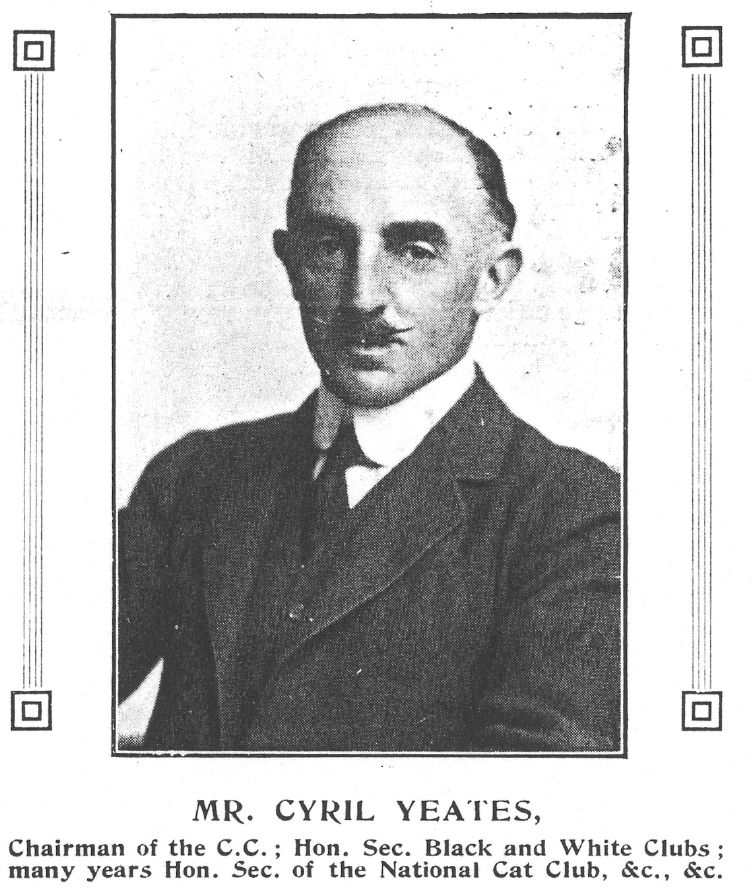 Mr. Cyril Yeates, Hon. Sec. National Cat Club. A native of Kendal, Westmoreland. Educated at Haleybury and the R.M.C., Sandhurst. Has only shown one cat, but as it was through this cat's mother he met Mrs. Ycates, firmly believes black cats are lucky! First took interest in Cat Shows in 1906. Became Hon. Sec. of the Black and White Club 1921. Hon. Sec. N.C.C. in 1923. Ran Kensington Show with Miss Frances Simpson in 1922; Show Manager S.C.C.C., 1925; and ran 1923-7 Palace Shows. Has been on G.C. since 1921. Favoourite cats, tortie-and-white and Dutch-marked L.H., silver tabby S.H. Compiler of the Supplement to Vols. I. and II. of the G.C. Stud Book. A member of the Dumb Friends' League for 26 years. Favourite hobbies - Yachting, horse-racing, and the theatre.
MRS CLINTON LOCKE
Chicago started a Cat Club in 1898, largely due to Mrs. Clinton Locke, who founded the Beresford Cat Club, named in honour of Lady Marcus Beresford. She used the prefix Lockehaven.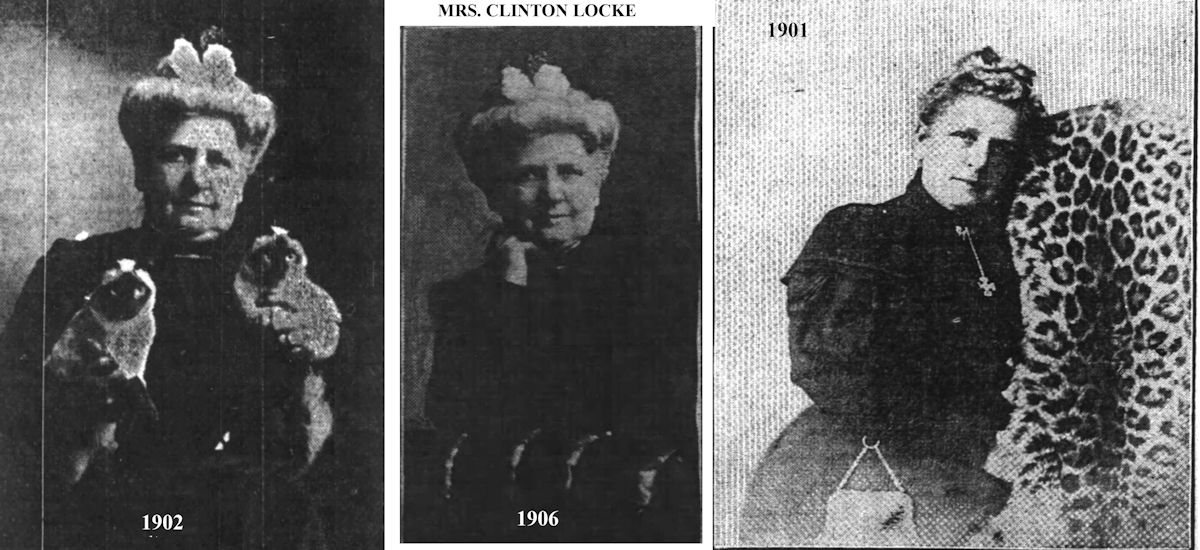 Adele Gleim Douthitt Locke was born around 1839 and married to Reverend Dr. Clinton Locke (born 1829) of Grace Episcopal church in Chicago. The couple were the originators of the movement to establish Saint Luke's Hospital. They had four children, three boys and one girl, but only Robert and Fanny survived. Robert D. Locke (b 1868) had a chequered history, being accused of attempted murder in 1895 and committing suicide in San Francisco in 1900 while his wife was in Paris. Mrs. Clinton Locke's only daughter, Fanny Cottinet Locke, married John Kenneth Mackenzie in 1890, in a huge "society" event documented in detail in The Inter Ocean of 2nd October 1890. Her father, Rev. Clinton Locke officiated, so Fanny was given away by her brother Robert (a Rev. Chester Locke is also mentioned in the account). Fanny was widowed in 1905 and later married Fredrick H. Hatton, a Chicago drama critic, becoming Mrs. Fanny Locke Hatton.
More about the family can be found in The Inter Ocean, Saturday May 15th, 1897, when they celebrated Mrs. Clinton Locke's mother's 85th birthday. Her mother was Adela (or Adele) Gleim Douthitt. Her father was Robert H. Douthitt, a banker in Pittsburg who had died when Adela was only in her 30s. Adele Clinton Locke also had a sister, Mrs. George G. Plant of St Louis, who had died a little before Adela Douthitt's 85th birthday. Mrs. Douthitt had not remarried, and from the age of 65 had lived at Grace Church rectory (presumably Rev. & Mrs. Clinton Locke's home).
Also present at the birthday was Mrs. Robert Locke (whom we can deduce was her daughter-in-law) although Dr. Robert Locke was out of town. Mrs. Kenneth Mackenzie (Fanny) was in Kentucky, but her husband John Kenneth Mackenzie and their son Jack Donald Mackenzie were there. Clinton Locke Plant (Rev. & Mrs Locke's nephew) was also present.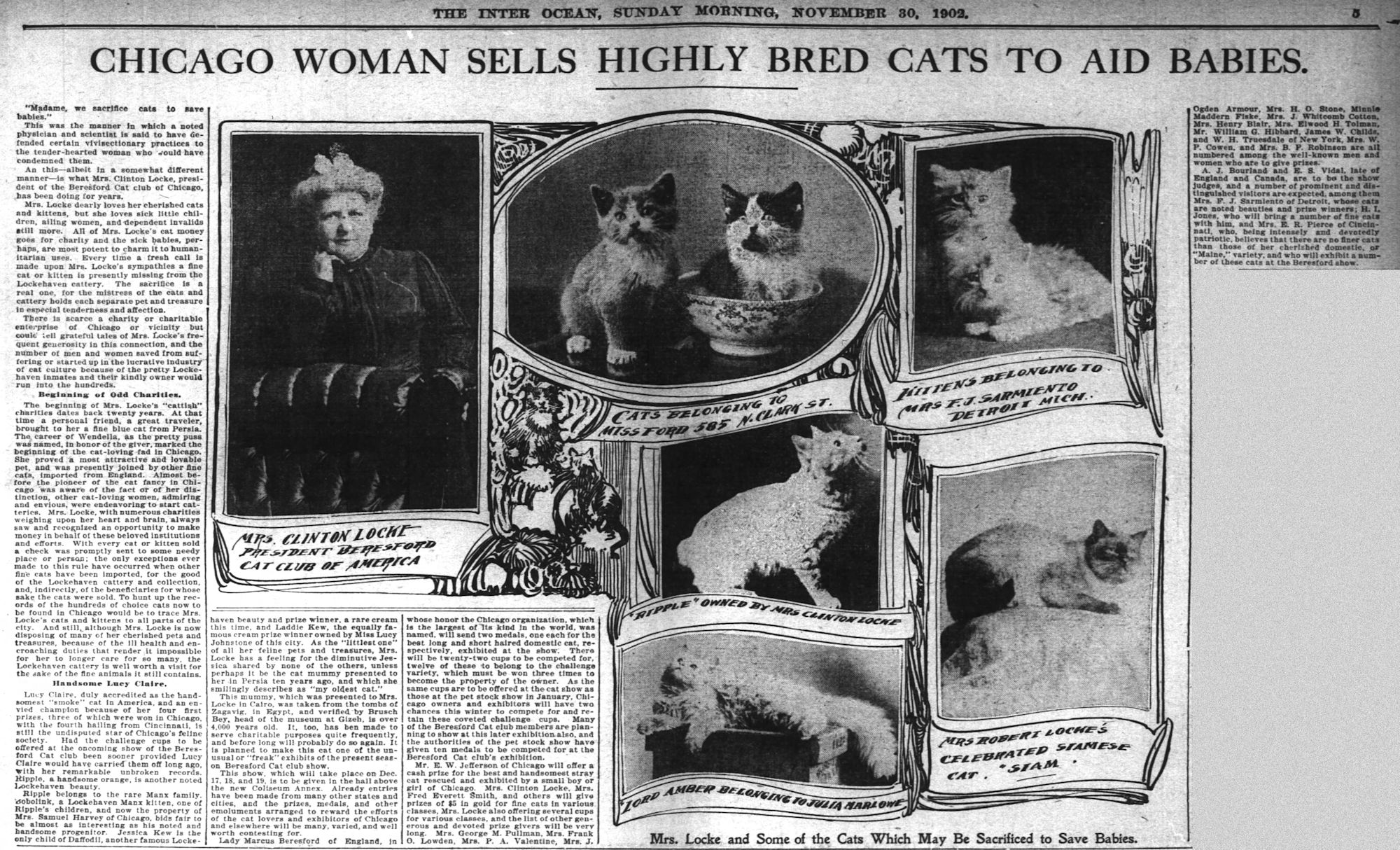 CHICAGO WOMAN SELLS HIGHLY BRED CATS TO AID BABIES (The Inter Ocean, November 30, 1902): "Mrs. Locke dearly loves her cherished cats and kittens, but she loves sick little children, ailing women, and dependent invalids still more. All of Mrs. Locke's cat money goes for charity and the sick babies, perhaps, are most potent to charm it to humanitarian uses. Every time a fresh call is made upon Mrs. Locke's sympathies a fine cat or kitten is presently missing from the Lockehaven cattery. The sacrifice is a real one, for the mistress of the cats and cattery holds each separate pet and treasure in especial tenderness and affection. There is scarce a charity of charitable enterprise of Chicago or vicinity but could tell grateful tales of Mrs. Locke's frequent generosity in this connection, and the number of men and women saved from suffering or started up in the lucrative industry of cat culture because of the pretty Lockehaven inmates and their kindly owner would run into the hundreds. The beginning of Mrs. Locke's "cattish" charities dates back twenty years. At that time a personal friend, a great traveller, brought to her a fine blue cat from Persia. The career of Wendella, as the pretty puss was named, in honor of the giver, marked the beginning of the cat-loving fad in Chicago. She proved a most attractive and lovable pet, and was presently joined by other fine cats, imported from England. Almost before the pioneer of the cat fancy in Chicago was aware of the fact or of her distinction, other cat-loving women, admiring and envious, were endeavouring to start catteries. Mrs. Locke, with numerous charities weighing upon her heart and brain, always saw and recognized an opportunity to make money in behalf of these beloved institutions and efforts. With every cat or kitten sold a check was promptly sent to some needy place or person; the only exceptions ever made to this rule have occurred when other fine cats have been imported, for the good of the Lockehaven cattery and collection, and, indirectly, of the beneficiaries for whose sake the cats were sold. To hunt up the records of the hundreds of choice cats now to be found in Chicago would be to trace Mrs. Locke's cats and kittens to all parts of the city. And still, although Mrs Locke is now disposing of many of her cherished pets and treasures, because of the ill health and encroaching duties that render it impossible for her to longer care for so many, the Lockehaven cattery is will worth a visit for the sake of the fine animals it still contains."
Mrs Clinton Locke died at the age of 70.
MRS ROBERT LOCKE
Mrs. Robert Locke owned the first registered Siamese cats in America: Bangkok, Siam and Calif. Apart from her Siamese cats and her relationship (daughter-in-law) to Mrs. Clinton Locke, there is little to be found on Mrs. Robert Locke, but it appears she suffered tragedy quite early in her married life. Her husband, Dr. Robert Locke was a talented linguist and traveled widely. Prior to his medical career he had been a cadet at West point Academy, but decided against a military career and went to Rush Medical College instead. He spent several years in post graduate work in Vienna and Berlin, and later worked for the Ward line of steamers plying to South American ports. In 1895 was arrested for attempted murder: it was charged that, while intoxicated, he tried to kill a watchman at Von Herman's drug store. He was shot in the leg during the scuffle. Nothing seems to have come of this and in 1898/9 he was posted to the Philippines, working for the Associated Press. According to the New York Times, June 10th, 1900 "Dr. Robert Locke, who committed suicide in San Francisco [...] had traveled in all parts of the world, was a proficient linguist, and was one of twelve men to go to the Philippines to act as press censors for the Government. The strain told upon his health, and the climate was such that he decided to return. On arriving at San Francisco he wrote his mother that he was in ill-health and would rest for a time before coming to Chicago. From his letter they gathered the idea that he was suffering from malaria."
On June 9th, 1900, it was widely reported in the press that Locke had committed Suicide at the Occidental Hotel. His widow, was believed to be in Paris at the time. He had returned from Manila, in poor health, in May 1900 and had been in San Francisco "to recuperate" ever since. He had thrown his personal effects around his hotel room before shooting himself through the heart with an army revolver he had stolen from the hotel room of Lt. George S. Newhall. He was found in bed, undressed, with a sheet wrapped about the lower part of his body. Although he left no explanation, his correspondence and repeated threats of suicide while at the hotel, showed he was likely deranged by fever developed during his 18 months in the Philippines where he was a correspondent for the Associate Press and also did voluntary work as a surgeon. (Details from the Chicago Daily Tribune, June 10th, 1900)
Mrs. Robert Locke continued to work with Mrs. Clinton Locke and the Chicago Cat Club and its shows.
MISS FRANCES WILLARD
The life of Frances Elizabeth Caroline Willard (1839 - 1898), owner of the much-exhibited cat Toots Willard is very well documented. She was an educator and social reformer, and was instrumental in the passage of the Eighteenth (Prohibition) and Nineteenth (Women Suffrage) Amendments to the United States Constitution. She was also a national president of Woman's Christian Temperance Union (WCTU).
She was the daughter of Josiah Flint Willard and Mary Thompson Hill Willard and was the middle of three children. In the 1860s, both her father and her younger sister, Mary, died, and her brother, Oliver, became an alcoholic and a gambler who caused the family a deal of financial hardship. Although once engaged to Charles Henry Fowler, she remained unmarried and her emotional attachments were towards women, including her long-time companion Anna Adams Gordon. She died from influenza in 1898. Her famous – and much spoiled - cat Toots Willard, a popular feline figure at cat shows, passed into the care of Mrs. Leland Norton where his acquired habits continued to be indulged. His frequent appearance at early cat club shows, which tended to be arranged and attended by women, was largely to do with the fame of his owner - she likely thought his appearances a good way to promote her causes to other women.
MRS. STENNARD ROBINSON
Mrs. Stennard Robinson, Secretary of the National Cat Club, was also active in the Ladies' Kennel Association, more for her administrative skills than as a breeder or exhibitor.
From "Dog Shows And Doggy People", by Charles H. Lane comes this piece reproduced from The Kennel Gazette: "Although some members of her family have long been known as exhibitors of dogs - mostly Pugs, I think - and have bred some very good specimens, as I know from having them sometimes before me to judge, I do not think this lady has done much, if anything, in that way. But she has been for some years a very prominent figure amongst Doggy People, and probably is on intimate terms with more exhibitors and breeders of the fair sex than any other lady in this or other countries.
As Secretary of the Ladies' Kennel Association, of which she was, if not the founder, certainly closely connected with it from its first inception, as the initiator of the International Kennel Club, inaugurated under such distinguished patronage, with branches throughout the Continent and Colonies, also of the Ladies' Country House Club, which seems to embrace all the various sections of live stock hobbies, and Secretary of the National Cat Club, Mrs. Stennard Robinson has shown an amount of ability, perseverance, and resource which are almost incredible, and quite unexampled in the history of this country.
Of course, matters have not always run smoothly - it is not to be expected they could; but the manner in which this lady has overcome obstacles and opposition, and brought many and important undertakings to a successful issue, has compelled admiration even from those who might differ from her on some matters of detail.
I think there is no doubt this lady is entitled to the thanks of Doggy People in general for enlisting the sympathies and influence of the higher classes in dogs and dog shows, etc., and obtaining the active patronage of the highest in the land, from the Royal Family downwards, and making the exhibition of dogs, cats, and other live stock "social functions " in which the best people are not ashamed to take part."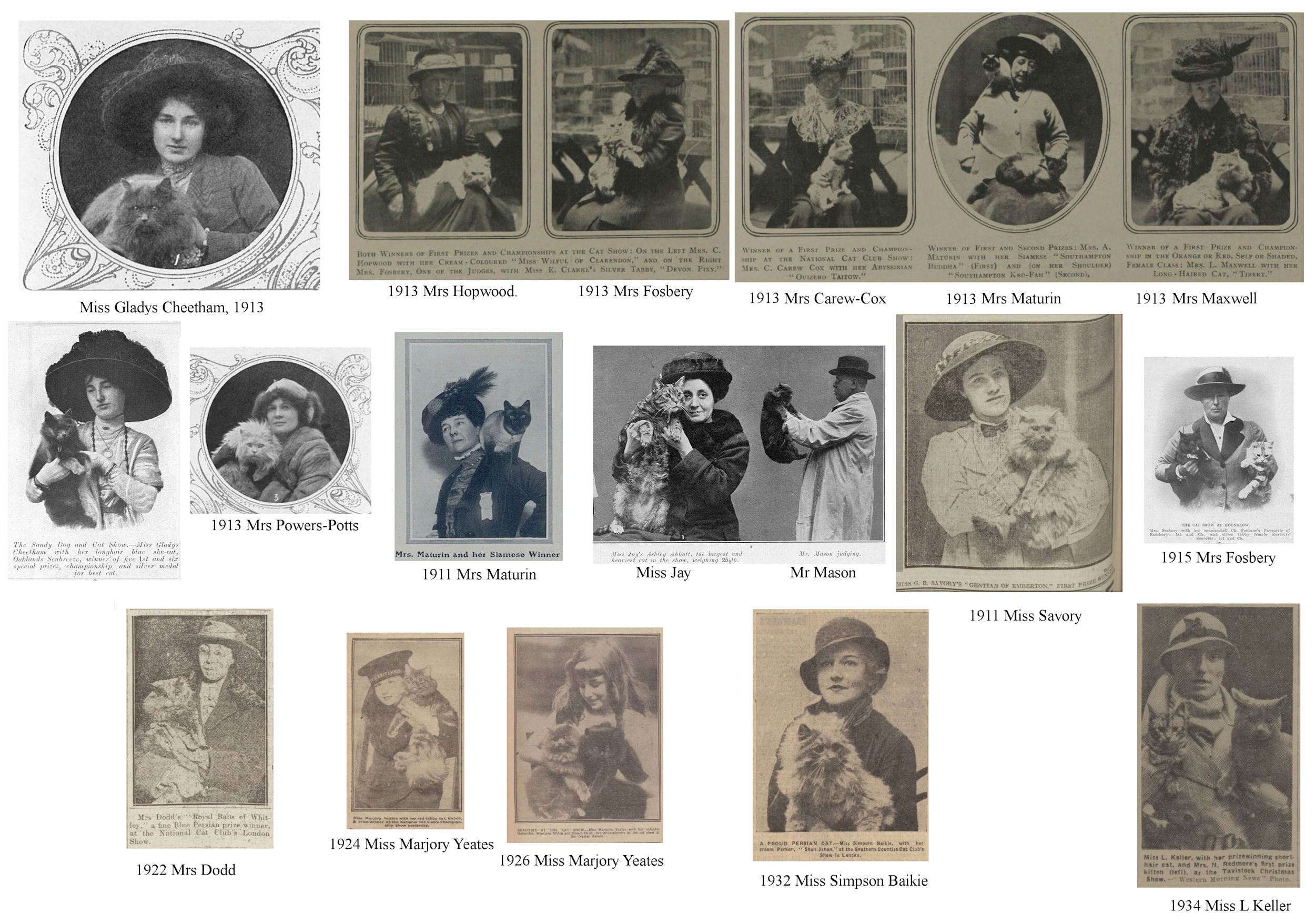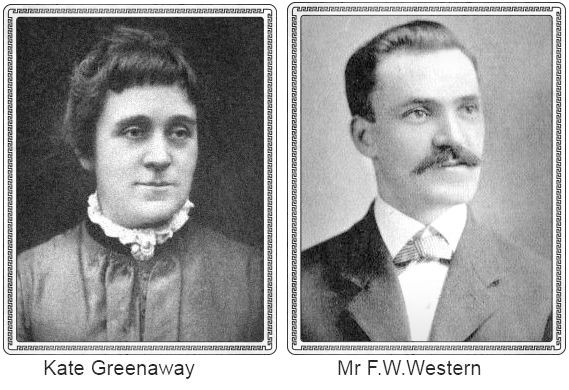 HELEN WINSLOW (Author of "Concerning Cats")
I have included this brief biography of Helen Winslow not because she was a prominent cat fancier, but because she wrote "Concerning Cats" and corresponded with Frances Simpson.
Helen Maria Winslow was born in 1851 in Westfield, Vermont, and died in 1938 in Shirley, Massachusetts. She is best known to cat-lovers as the authoress of "Concerning Cats," American contributor to Frances Simpson's "Bok of the Cat," and various articles on cats for American magazines. As well as being an author and journalist, Winslow was an editor and publisher who started out as dramatic editor on the Boston paper "The Beacon, "1891–97, and later as editor of the Woman's Club Department of the "Boston Transcript," 1893–98; editor, Woman's Club Department of the "Delineator," 1897 and 1912. She was also editor and publisher of "The Club Woman," 1897-1904; and the publisher of the "Official Register of Women's Clubs in America" from 1897.
Winslow was in the ninth generation of descent from Kenelm Winslow, a brother of Governor Edward Winslow, of the Plymouth Colony (i.e. a Mayflower colonist). She was educated at the Vermont Academy and State Normal schools, with special studies in languages and literature in Boston. Her father, Don Avery Winslow was a noted composer and a member of the first English opera company organized in the United States. Her mother, Mary F. (Newton) Winslow (died 1882), was a scholar, linguist and poet. Helen's siblings were Edward W. Winslow (drowned in early youth), Mary A. Winslow, Isabel N. Winslow, and Harriet P. Winslow.
She became a writer early in life, and sometimes used the pen name, "Aunt Philury". Her first published works were "Aunt Philury Papers" and "Jack." Her first serial story, "The Shawsheen Mills," was published in the Yankee Blade. In 1886, she published "A Bohemian Chapter" (about a struggling female artist) as a serial in the "Boston Beacon." She also wrote poetry, much of which was devoted to nature. Other notable works were Salome Shepard: Reformer (1893), Concerning Cats (1900), Concerning Polly (1902), Literary Boston or To-day (1902), The Woman of To-morrow (1905), The President of Quex (1906), Peggy at Spinster Farm (1908), A Woman for Mayor (1910), The Pleasuring of Susan Smith (1912) and At the Sign of the Town Pump (1913). She also collaborated with Frances Willard (a noted temperance reformer and women's suffragist) in "Occupations for Women," and with Marie Wright in "Picturesque Mexico."
As a journalist, Winslow wrote for the "Boston Transcript," and later the" Boston Advertiser" and the "Boston Saturday Evening Gazette." In addition to these, she wrote on a wide range of topics for "The Christian Union," "Christian at Work," "Interior," "Drake's Magazine," "Demorest's Magazine," "Iroquois" magazine, the "Arena," "Journal of Education," "Wide Awake," "Youth's Companion," and "Cottage Hearth" among others. In religious life she was a Congregationalist.
Helen Winslow served as commissioner from Massachusetts to the Cotton States and International Exposition of Atlanta, 1893; director of Board of Trustees of the Frances Willard Hospital, Bedford, Massachusetts; and State regent of the Massachusetts Daughters of the American Revolution, 1901-2. She served as treasurer of the New England Woman's Press Association, and was one of its six founders. She was also the founder of the Boston Authors' Club; and served as vice-president of the Press League. She lectured before many women's clubs and societies and was a member of The National Society of the Colonial Dames of America, the Ex-Club of Boston, Pioneer Workers, the Lyceum Club of England, Professional Woman's Club, the Daughters of Vermont, Roxburghe Club, and the Altrurian Club.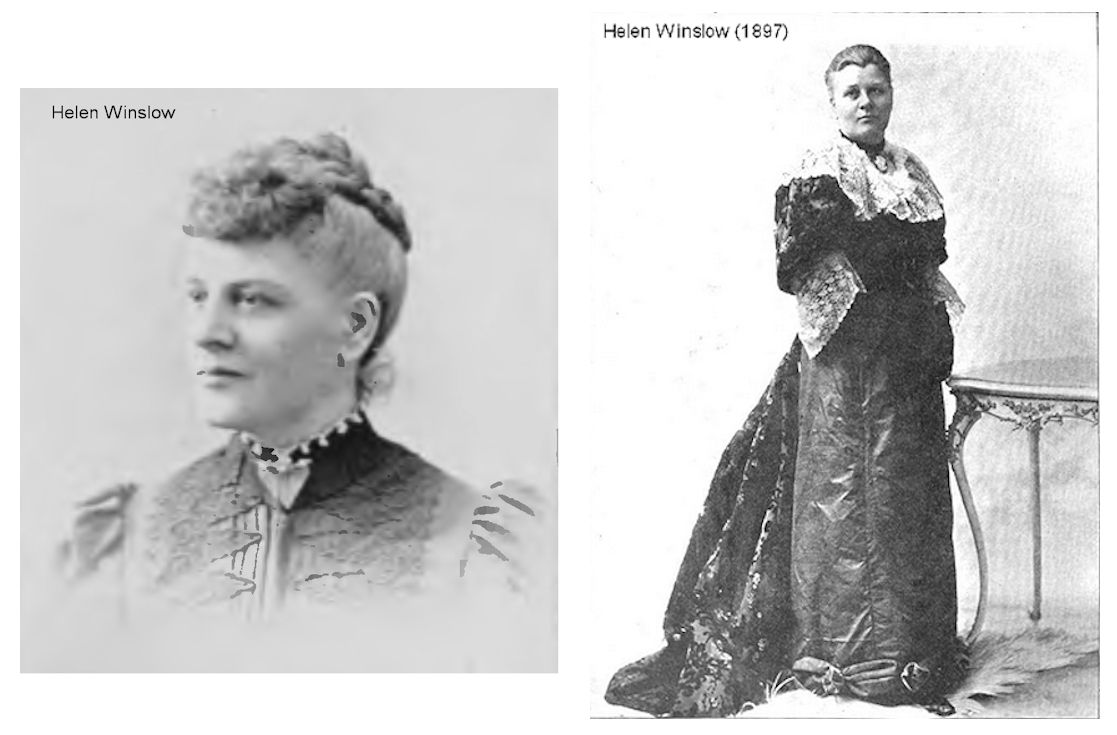 You are visitor number