PROMINENT EARLY CAT FANCIERS - LADY DECIES (MISS GERTRUDE WILLOUGHBY)
Miss Gertrude Willoughby of Slough had already established herself as an important breeder (Fulmer prefix) before she married into a branch of the Beresford family and became Lady Decies (pronounced Dee-seez). Her married name became Maria Gertrude Horsley-Beresford.
In Peerage lists, the children of Sir John Pollard Willoughby and his second wife Maria Elizabeth Hawkes are listed as Maria Gertrude Willoughby (died 4 Apr 1939) and Mary Sophia Willoughby (died 6 Oct 1853) with no mention of his son John Christopher Willoughby (born 1859, died 1918). However John Christopher Willoughby was to play a major role in his sister's life later on. (For completeness of the record, J.P. Willoughby's first wife had died childless.) The family residence was Fulmer Hall, near Beaconsfield, Buckinghamshire, hence the "Fulmer" prefix used by his daughter.
Maria Gertrude Willoughby, 2nd daughter of Sir John Pollard Willoughby, 4th Baronet, married William Marcus de la Poer Horsley-Beresford, 4th Baron Decies (1865–1910) , son of William Robert John Horsley-Beresford, 3rd Baron Decies and Catherine Anne Dent, on 12 March 1901. It was to be a tragically short marriage and though she is usually reported as having no children, I found mention of a little son who died. As Lady Decies, she was the chief organizer of The Ladies Field Club, based in London. The committee was formed almost entirely of titled women, of whom Lady Decies was the moving spirit.
She had already established a significant cattery at Slough, and given one of her kittens to the Queen: "Her Majesty [. . .] was pleased to accept a blue Persian kitten (which she kissed) from Miss Gertrude Willoughby." (The Times, July 20th, 1899). William Marcus de la Poer (Horsley-Beresford), Baron Decies had been born in January 1865. He was a sporting man, kept racehorses, and was Master of the Thanet Harriers. He and three brothers had all served in the South African War. Catty society wondered whether Lord Decies would indulge – or even share – this passionate interest of hers after the couple had married on 12th Mar 1901. It seems their fears were unfounded as Lady Decies managed two catteries, one at her usual residence at Beresford Lodge, and the other, formerly her Slough cattery, at her summer residence at Birchington-on-Sea. In 1903 (Our Cats, December 19th) they could breathe a sigh of relief upon learning that Lord Decies also had a warm interest in his wife's hobby of cats. Newspaper reports after his death referred to him as being devoted to his wife.
Like many men of his class, he was a keen dog fancier and sportsman (huntsman). He was master of the harriers, and though greatly attached to his stables and kennels, he did not look upon the cat as an inferior animal. In fact he had bred cats himself for 15 years, and had a number of other small pets, ranging from cage-birds to a mongoose! However, the couple favoured cats and displayed their many trophies and painting around Beresford Lodge. In April 1905, The Inter-Ocean (a Chicago paper) reported "Lady Decies, the daughter of the late Sir John Willoughby, wose interests in animals is well known, has taken up the latest craze - pet mice - with considerable zest, and has some fine specimens of the crack breeds in her 'mousery'."
The Leavenworth Times of October 8th, 1902 provides more information on Lord and Lady Decies' animals: "DEVOTED TO ANIMAL PETS. English Woman of Title Cares for Cats, Dogs and Bullfinches. Lady Decies, one of England's most popular women of rank, who only last year became a bride, is a noted cat fancier. She is an energetic lady, who does nothing by halves, and her Chinchilla and Siamese pets are housed and taken care of in the most luxurious way. The "catteries" at Beresford lodge, Birchington, Lord and Lady Decies' seaside place, are novel features, which were designed by Lady Decies herself, who has a large share of the inventive and creative faculty, in which the average woman is supposed to be so deficient. Each room hae a fireplace and cork carpet and ladders by which the fortunate animals mount to their beds. Their toilets and menus are attended to by domestics specially told off for that purpose. Lady Decies, who is a sister of Sir John Willoughby, has a clever performing dog, and she also possesses a large aviary, where some bullfinches have been taught to perform a number of tricks. As a debutante Lady Decies distinguished herself by making some ingenious toys and puzzles, which had a great success and brought her in a good deal of pin money. Now she devotes herself to an outdoor life and the care of her small menagerie, and is only seen in London occasionally, though she finds time to carry out much unobtrusive philanthropy."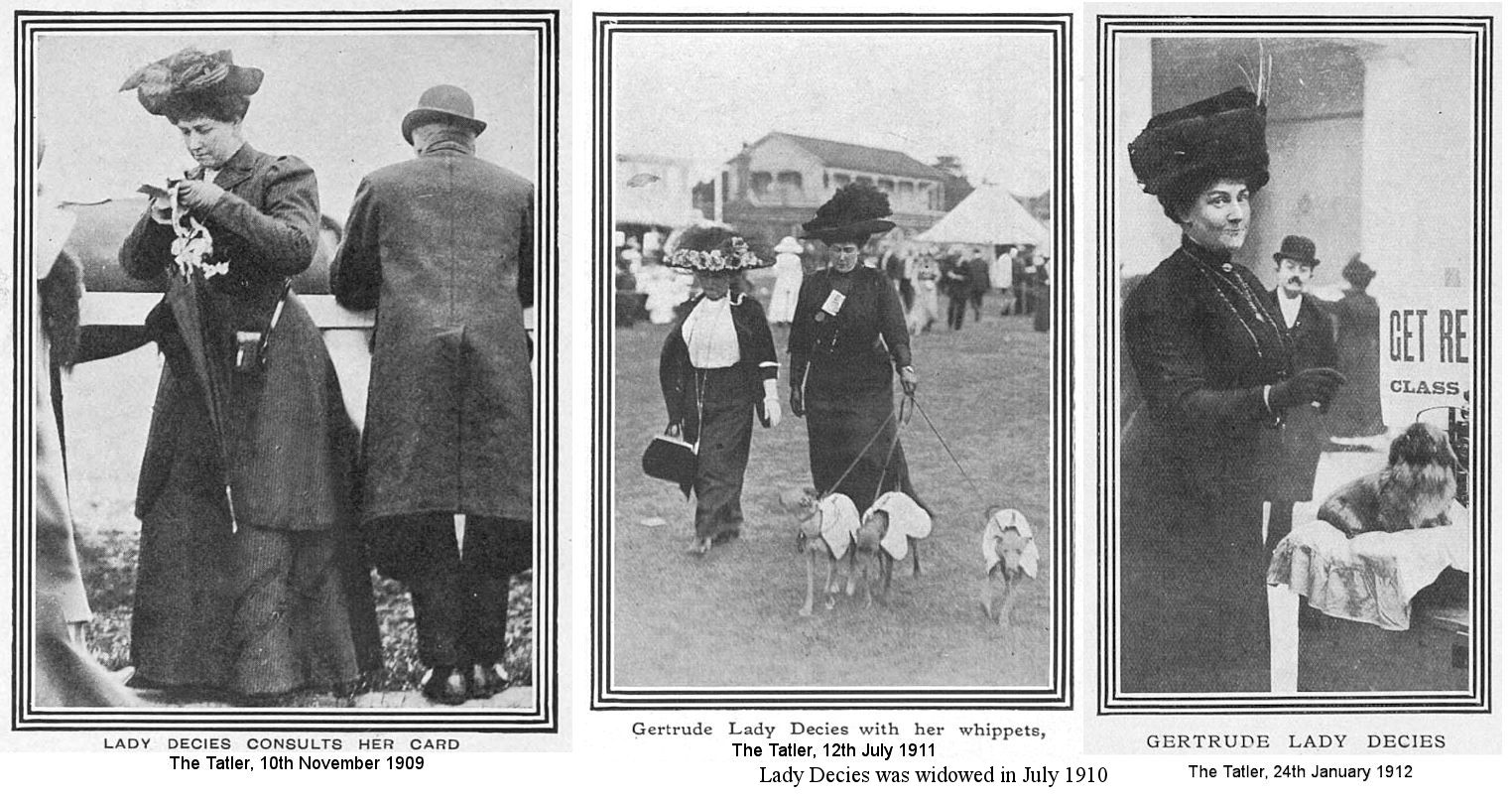 The Sphere, 17th April, 1909 "LADY DECIES Owner of many prize-winning cats and Pekinese spaniels [ . . .] among other enthusiasts is Lady Decies, who in her beautiful home, Sefton Park, near Slough, has several fine specimens. She has also extensive catteries, though nothing like so large as when she lived at her Birchington bungalow, where amongst her treasured cats was one valued at £1,000 and which had taken every possible prize at the leading cat shows."
An interesting chapter in the couple's life occurred on July 2nd, 1910, before Mr Justice and a Special Jury of the King's Bench Division. The case is recorded as "Lyons v. 'The Financial News (limited)' and Others" and involved an allegation of libel. Mr. Maurice Barnett held a watching brief on behalf of Lord Decies, whose property, Beresford Lodge, was at the centre of the case. The action had been brought by a Mr Lyons (plaintiff) to recover damages for libel from the proprietors and printers of the "The Financial News." Lyons, had arranged to buy Beresford Lodge, Birchington-on-Sea from Lord Decies. Lyons proposed to float a company on the Stock Exchange and to sell the property to this company at a considerable profit; the company would convert Beresford Lodge into a hotel, with Lyons as managing director on a salary of £600 a year. Lyons issued a prospectus for the proposed company, but the Financial News published two articles that criticized his estimated profits, and warned the public to have nothing to do with the scheme. The articles criticised the prospectus of Lyons' company known as the Cliff Palace Hotel (Limited). As a result, Lyons failed to attract investors and had lost the expected profits (the material damages required for a libel case), while the Financial News claimed the articles to be truthful and fair comment on a matter of public interest.
Birchington was "not on the motorists' road to anywhere" and existing hotels in the area already did very badly. Lyons had a good knowledge of catering, but hoped to make more money by promoting a company. In a previous scheme, Lyons had failed to find partners for a Limited Company, so he created the Premier Catering Syndicate. Using his own name, Lyons, he allowed people to think he was connected to the well-respected company, Messrs. Lyons. The shareholders lost their money and the syndicate's creditors were never paid. Lyons had wasted £17,000 of the public money in his Premier Catering Syndicate. The Financial News considered it their duty to warn the public of Lyons' previous schemes and dishonesty.
Lyons had acquired a lease with an option of purchase of Beresford Lodge at Birchington-on-Sea from Lord Decies. The fact that £10,000 out of the £12,000 purchase money was to be allowed to remain on mortgage showed just how anxious Lord Decies was to get rid of Beresford Lodge, and how impossible it had been to obtain its suggested value. A Mr. Cousins, deceased at the date of the case, had valued the property at £20,000, but there was doubt as to his credentials, especially as Lyons seemed to be looking for a dodgy valuer who would to over-value the property! Evidence was given by an estate agent that Beresford Lodge was only worth £12,000. Leaving aside the libel case, this meant that Lord Decies hadn't been able to sell Beresford Lodge and was probably under a lot of stress which may have contributed to his sudden death a few weeks later.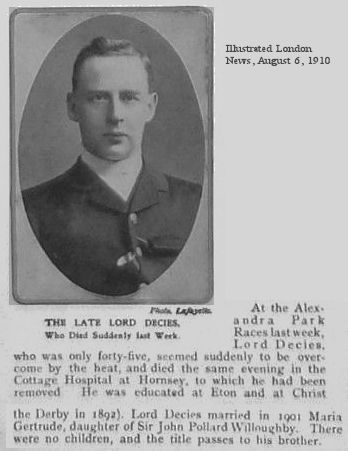 Lord Decies died, aged 45, suddenly, at the Cottage Hospital, Hornsey, having been "overcome by the heat" (also described as an "apoplectic stroke") when attending the Races at Alexandra Park that same day (30th July, 1910) and was buried Stoke Poges, Buckinghamshire. He left £97,484 (gross; £82,499 net) and was succeeded in his title by his brother John Graham Hope de la Poer Beresford (who had married the American Helen Vivien Gould) which means that the couple had no living children. Probate was granted to Sir John C Willoughy (Gertrude's brother). The 5th Baron Decies inherited Beresford Lodge, Birchington-on-Sea and in 1915 allowed it to be used as a convalescent home for officers. It was 3 miles outside of Margate and had its own private stairs to the sands. All that remains today is Beresford Gap, a slipway. Beresford Lodge became a hotel in the 1920s and survived in that form into the early 1970s. In 1975, the hotel was demolished and the site cleared to make way for housing.

Lady Decies' brother, Major Sir John Christopher Willoughby (born 1859), served in Royal Horse Guards. He was known for his interest in "sports" such as big game hunting in Africa, horse-racing and gambling and had been caricatured in Vanity Fair. He had paid the incredible sum of 8,600 guineas for the race-horse Harvester which dead-heated the 1883 Derby. It later turns out that he was relying on hand-outs from his sister who depleted her estate, and then took out loans, to pay off her brother's debts. In 1896, her brother appeared before the Queen's Bench for an offence under the Foreign Enlistment Act 1870 (Queen's Bench: R v Leander Starr Jameson, Sir John Christopher Willoughby Baronet, Henry Frederick White, Raleigh Grey and Charles John Coventry; preparation of a military expedition to South African Republic). Willoughby was sentenced to 10 months imprisonment, but was subsequently released and headed back to the Cape by steamer.

Her relationship to the famous Sir John was mentioned in the press at the time: The National Cat Show, which recently closed at the Crystal palace, has been an event of interest to the women in London society. Miss Gertrude Willoughby took no fewer than ten first prizes. Miss Willoughby, who is the sister of the Sir John Willoughby who was connected with the famous raid, makes a hobby of her cats. Her "catteries" at Fulmer are models of their kind." In addition to cats, she was a very keen sportswoman, and was among the number of women who ran their own horses.

War Time

The Pantagraph of August 3rd, 1914 reprinted this piece from the Woman's National Weekly: "'Trade' has lost its stigma in England since land taxes and death dues bore down on the 'H'upper classes. Society women keep shops nowadays almost as a matter of course. All the world says [. . .] that Gertrude Lady Decies (mother-in-law [sic] of George Gould's daughter) is marketing her patented remedy "No Germo," a preventive of influenza." (she was sister-in-law, of course) On the morning of December 4th, 1914, London suffered one of its pea-souper fogs that caused traffic chaos and the Associate Press reported "Gertrude Lady Decies, widow of the fourth baron and sister-in-law of Vivien Lady Decies, nee Gould, was badly injured in a collision involving four busses and her taxicab near the Crystal palace. She was taken to a hospital with a bad wound in the face."

During the Great War, many anestral homes opened as hospitals for soldiers that were invalided home. Lady Decies did her bit, both at home and overseas. In May 1916, many papers reported that Gertrude Lady Decies did frequent duty as a kitchenmaid in cap and apron at the Alexandra hospital for officers, but we get a more detailed picture of her work from an article entitled "An American Girl's Picture Of War Horrors," which contained an account told by her to her sister-in-law, the former Vivien Gould and current Lady Decies. It appeared in The Saturday Evening Post (22nd May, 1915): That night in my hotel after dinner, Gertrude, Lady Decies, told [Vivien] the following story: "I Had only twelve hours' notice to start for the front. I am not a hospital nurse, but I have taken for several years three months each summer of special training. So I felt that I would be useful if I could get over. It was November and very cold. When I got to Calais there was not a room to be had anywhere. But at the Hotel Central they told me I might have a bathroom to sleep in. At the last moment a gentleman volunteered to exchange with me. But the next day he left, so that night I slept in a bathtub with a mattress in it!

The following day I got a train for Dunkirk. On the way the train was wrecked. Several coaches left the track, and there was nothing to do but to wait until they were put back on. I went to the British consul at Dunkirk and asked him where I could be most useful, he said to go to the railroad station at once. I went to the station. The situation there was horrible. Three doctors and seven dressers were working on four-hour shifts. As the wounded came in only at night, that was when we were needed. I worked all night from that time on. My first night we had eleven hundred men. Some of them were dead when they were lifted out onto the stone floor of the station shed. One boy flung himself out of the door. I caught him as he fell and he died in my arms. He had diphtheria, as well as being wounded. The station was frightfully cold, and the men had to be laid on the stone floors with just room for moving about between them. There was no heat of any sort. The dead were laid in rows, one on top of another, on cattle trucks. As fast as a man died they took his body away and brought in another wounded man.

Every now and then the electric lights would go out and leave us there in black darkness. Finally we got candles and lamps for emergencies. We had no surgical dressings, but we had some iodine. The odors were fearful. Some of the men had not had their clothes off for five weeks. Their garments were like boards. It was almost impossible to cut through them. And underneath they were coated with vermin. Their bodies were black with them frequently. In many cases the wounds were green through lack of attention. One man, I remember, had fifteen. The first two nights I was there we had no water, which made it terrible. There was a pump outside, but the water was bad. At last we had a little stove set up, and I got some kettles and jugs and boiled the water.

We were obliged to throw the bandages in a heap on the floor, and night after night we walked about in blood. My clothing and stockings were stained with blood to my knees. After the first five nights I kept no record of the number of wounded; but the first right we had eleven hundred; the second night, nine hundred; the third night, seven hundred and fifty; the fourth night, two thousand, the fifth night, fifteen hundred. The men who were working at the station were English Quakers [i.e. conscientious objectors]. They were splendid men. I have never known more heroic work than they did, and the cure was a splendid fellow. There was nothing too menial for him to do. He was everywhere."

An injury, to which Lady Gertrude Decies made only passing reference in her letters home, was dismissed by her as "a mere scratch on the arm". It happened at the beginning of December 1914 and by December 10 she had already returned to her hospital duties, this time near Boulogne.

"Our progress on the journey was terribly slow, the train crawled and, although we left Boulogne shortly after twelve, we did not arrive at our hotel in Paris until long after ten. The station looked deserted and dreary, few porters were to be seen, and none yielded to our blandishments, so that at last resourceful Gertrude, Lady Decies, finding an empty trolley, wheeled it up to our carriage, and we prepared to load it ourselves. (Notes of a Nomad, by Lady Jephson in the section "War Time Journal— Germany. 1914"). And more from another source: "The Transport hospital, which used to be at the main station, in Dunkirk itself, but which has now been done away with, was under the charge of Gertrude, Lady Decies. Sometimes they had as many as two thousand men in a night, all sorts, French, Belgians, Turcos and a small sprinkling of Tommies." (France In War Time 1914-1915 by Maud Fortescue Sutton-Pickhard). And more: "Gertrude, Lady Decies has turned up here, and works at the station with us. She is rather a ludicrous spectacle, but is frightfully kind." (A World War I Journal, Rosabelle Brand's Diary, October – November 1914, entry for November 6th)

She took part in the Roumanian retreat, was wounded by shrapnel and blown up by a shell. Later on she had terrible experiences in Russia under the Bolshevist regime.

Upon her return from the continent, she spent some time recuperating at the Cavell Home at Westcliff-on-Sea (now part of Southend-on-Sea). This letter, written from there, appeared in The Spectator, 31 March 1917, Page 12: [To The Editor] Sir - May I, through the medium of your most valuable paper, appeal for the Cavell Memorial Holiday Home at Westcliff-on-Sea? The Home has existed for nine years for working gentle-women, but in December, 1915, it was renamed in honour of Edith Cavell, and specially helps our splendid body of nurses to take a well-earned rest by the sea. The Home is always full, but the fees paid by the visitors are so small that the Home is obliged to rely upon the generosity of the public for its maintenance. Subscriptions and donations are very urgently needed, and may be sent to the Secretary at the Home, or the bankers, Messrs. Barclay and Co., 1 Pall Mall East, London, S.W. — I am, Sir, &c., M Gertrude Decies, First Avenue, Westcliff-on-Sea, Essex.

According to The Tatler (20th February, 1918) "Gertrude Lady Decies is once more in England for a short spell of much-needed rest. Ever since the outbreak of war this noble woman has worked "in the forefront of the battle," and only her most intimate friends know the terrible hardships and privations she has undergone, for " Sister Mollie," as she prefers to be known, is one of those who work silently and unselfishly, without any thought of fame or reward. The [Ladies Kennel Association] does, indeed, feel proud of owning her as a member, and offers her a hearty welcome back to '' Blighty." And the 10th July 1918 issue of the same periodical tells us "Gertrude Lady Decies is numbered amongst those who 'are never wearied in well doing.' Only recently' she was obliged to return from her strenuous hospital labours in Serbia as her medical advisers said a complete rest was absolutely necessary for her; but no sooner had she settled in England than she set in motion a scheme which she had formulated for the benefit of disabled soldiers in the first place and secondarily for the increase of the food supply. Depots are to be started in London and other places, where all instructions on the rearing, food, etc., of pedigree rabbits will be given, showing how these may be kept at a profit in towns as well as in the country. The first of these depots, The Hutch, 57, Lower Belgrave Street, is managed by Lady Decies and her sister, Miss Willoughby, and was opened on June 4."

The Milwaukee Journal, September 19, 1920 tells us another of her wartime initiatives. "Early in the war, Lady Decies decided that prize dogs should become war workers. She therefore enrolled canine recruits for her collecting corps on behalf of the British Red Cross society. She conscripted her own prize Pekingese and such aristocrats as Lady Londonderry's bloodhounds and the Duchess of Newcastle's fox terriers. This specially conscripted "army" was not as successful as her optimistic ideas had hoped." Despite being generous and good-hearted, the initiative was probably seen as posh ladies playing at fundraising. The Windsor Magazine (1916) describes the canine army thus "Gertrude Lady Decies enrolled quite a canine army on behalf of the Westminster section of the Red Cross. The headquarters of this movement was the Ladies' Kennel Association. Each recruit was, of course, a "private" to begin with, but multiples of five pounds brought him promotion. Thus the first live pounds makes the dog-collector a corporal, and the second a sergeant. The attainment, of twenty pounds confers on him "officer" rank and a decoration. Members of the pioneer battalion, with really remarkable collecting cards, include Lady Decies' own Pekingese, the Duchess of Newcastle's terriers, and those bloodhounds for which the Marchioness of Londonderry's kennels are so well known."

I found two other mentions. One in The Cambrian Daily Leader, 3rd March 1916, "War work for dogs on novel lines has been initiated by Gertrude lady Decies, who is now enrolling canine recruits to a collecting corps on behalf of the Westminster division of the British Red Cross Society. Each collecting dog joins Lady Decies's battalion – the headquarters of which is at the offices of the Ladies Kennel Association – as a private [. . .] collecting of £20 carries with it the rank of full lieutenant and a gold medal." The other was in The Tatler, Sporting and Country House Supplement, Ladies' Kennel Association Notes (August 1916): "Gertrude, Lady Decies has just added a "cat section" to her "Four-footed Forces," and any members owning cats can obtain full particulars, with collecting cards, from the honorary secretary, Mrs. Carew Cox, 71 Clyde Road, East Croydon. The "dogs" have already collected nearly £500 in six months, and it is hoped the "cats" will do equally well."

The Sketch, 23rd February, 1916, details some of her war work: "Gertrude Lady Decies has taken to heart the case of the wounded in East Africa, and is throwing over many smaller interests in order to be free to give herself for their service. She is selling of her Pekingese; the cats are, so to speak, going to the dogs; and her horses, even, are to be banished from her thoughts for the time being. It was she who appealed a few years ago, for First Aid for Cats, took six prizes at a single National Cat Club Show, and was always busy with her animals and collections – with bullfinches, chow-chows, her husband's orchids, blue-and-white china, her golf-sticks or with the puzzles that she had a very pretty knack of inventing. And when she was not busy with one or the other of these things, she had her race-card. Gertrude Lady Decies has stood in other words for a type of woman who had a thousand-and-one things to do, some considerable, some inconsiderable, but none of them, according to our new standards, of the first importance. She had no children. Now she has her wounded. Her practical knowledge of the world in detail will stand her, and them, in good stead. She has been full of war-work of other sorts, but her African enterprise is the real, big thing. It reminds one irresistibly of that tale of transformations in the breast of a Grosvenor Square lady, 'Aunt Sarah and the War.'"

In June 1915, The Washington Times tried to explain to its readers the difference between the two Lady Decies (the eldest Lady Decies had died a few years earlier) "Lady Decies, Vivien Gould that was, stamped her foot very emphatically the other morning and said she "would not be associated with cats in any circumstances." Now the fact is since the arrival of the little heir she has been very much to the fore in the society papers, the writers in some of which [. . .] have been mixing up the present Lady Decies with the wife of the late peer, Gertrude Lady Decies, who is a tremendous cat fancier. The new American peeress [. . .] dislikes cats almost as much as the late Lord Roberts himself, and hence her rage at having been described as a cat fancier."

The Hotel

"In latter years the feminine section of the nobility have often indicated an inclination to take to business. Now Gertrude Lady Decies, daughter of the late Sir John Willoughby and widow of the fourth Lord Decies is about to start a golf hotel. She will convert her house, Scots wood, near scot, into such an establishment, and will manage it herself on the lines of a continental hotel. It will be called the Scotswood Golf Hotel, is near to the Sunningdale and other courses, and will be opened before these lines are in print. Within the 40 acres of ground will be a clock golf course and tennis and croquet courts. Lady Decies has many occupations and interests. Her breeds of cats and Pekingese dogs are famous. She invented an antiseptic lotion and ointment which she used in severe cases of frostbite when she was nursing in France in the early stages of the war." - The American Golfer, "Foreign Notes," August 1919

In August 1919, many newspapers carried this report on her hotel venture: "Lady Decies Opens Hotel Without Drink Provision. ASCOT, Eng., - Prohibition added a temporary recruit to its ranks here when Lady Gertrude Decies, widow of the late Baron, embarked in the hotel business with a "dry" bar. The hotel was formerly the country residence of the Decies and will be known as The Scotswood Golf hotel. Guests will be welcomed at a daily price of $5 per head, but with the understanding no liquor will be served. In its place the perspiring golfer or race goers can have lemon pop, ginger ale, ice cream, milk and many other soft concoctions. There are however, several oasis. Not far from the hotel is the aristocratic and fashionable Swinley Forest club, where those fortunate enough to have a friend for a member, may get "hard" liquor. Local pubs are looking forward to ja "landoffice" business. But it is not because Lady Decies is a prohibitionist that she is running a temperance hotel. Licenses are hard things to get these days and it won't be until next February that one will be available. It is expected then that one will be available. It is expected then that one will be sought unless the Prohibitionists can persuade the aristocratic proprietress to a permanent "dryness." "

Washington Post, August 15, 1919: "Decies Home Now a Hotel. Differing from most of the peers and peeresses of the British realm, who are engaged in selling their ancestral estates and their homes to the highest bidder with a view to escaping the additional taxation on real estate, rendered necessary by the war, Gertrude Lady Decies, widow of the fourth Lord Decles, has turned Scotswood, her country seat at Sunningdale, near Ascot, into a residential hotel, and, opened on the first day of this month, it is already in running order, under her personal direction and management, with a full complement of guests . Within easy motoring distance of London, of Windsor and of the Ascot, Hurst Park and Kempton race courses, standing in about 100 acres of park and garden, it ought to prove a decided success. She has retained for her hotel the former name of her home - that is to say, Scotswood - and she is running it on the lines of a first-class continental hostelry, managing by dint of tact and cleverness, to keep away the vulgar, noisy, new rich element, who through their entire absence of consideration for others do so much to poison life nowadays." This was one of her big mistakes. The new rich may have been brash and lacking in class, but they were now the ones who had the money. The Washington Times on August 1, 1919 quoted her as saying "This idea is partly a patriotic effort to assist in solving the housing problem. I have an excellent chef and a good manageress, but I'll supervise everything myself." The price was reported to be what wealthy Americans were prepared to pay.

On November 20, 1919, The [London] Times reported that Lady Decies was fined for giving rice to her dogs. As part of the war effort, food fit for human consumption wasn't allowed to be fed to animals. "At Ascot Police Court yesterday, Gertrude Lady Decies was charge under the Cereals Order with using rice as food for dogs. She was ordered to pay a fine of £2 and costs. Police-inspector Simmonds said that on October 8 he went to Scotswood, Sunningdale, and he saw two dogs in a kennel eating rice pudding from a plate. A person standing near was holding a tray on which there were seven other plates of rice pudding. He did not see Gertrude Lady Decies at that time, but a few days later, when he called again, her ladyship told him that as soon as she knew it was wrong she stopped feeding the dogs with rice. She also said that a mistake had been made, as she had ordered chicken rice for the dogs, but best rice had been forwarded instead. It was also stated that Gertrude Lady Decies kept 14 dogs. In defence it was submitted that the defendant was ignorant of the Order."

A description of her character, connections and interests was given in The Washington Post, August 15th, 1919: "Lady Decies Noted for Tact. Gertrude Lady Decies is an extremely clever broad-shouldered, slim-waisted little woman, only sister of the late Sir John Willoughby, renowned in his day as the smallest officer and as the finest boxer in the British army, in which he held a commission of captain of the Royal Horse Guards until his love of adventure led him to participate In the Transvaal raid. She has, like her kinswoman, Lady Marcus Beresford, specialized in tact, and has won for the catteries, which she formerly maintained at Beresford Lodge, Birchington, a seaside resort in Kent, something akin to European fame in connection with her success in breeding prize winners at the various national and international cat shows. She has also gone in for raising Pekingese, and has done a considerable amount of racing, her registered colors being white and primrose. Lady Decies has likewise been a bird fancier, and seems to have a marvelous influence over these feathered creatures, which she is able to teach all sorts of tricks.

Of a very inventive and ingenious turn of mind, and with a pronounced taste for mechanics, she has invented all sorts of toy games and puzzles, which, taken up by the trade, have brought her a considerable amount of money. Then, too, she has studied chemistry, has maintained a laboratory at Scotswood, and has discovered several patent remedies of an antiseptic character, against bites of flies and mosquitoes. - Marquise de Fontenoy.

The same author expanded on that report in The Washington Post, August 23rd, 1920: Women's Hotel Venture Costly. If Gertrude Lady Decies, widow of the fourth Lord Decies and sister-in-law of the present peer and of his American wife, eldest daughter of George Gould, has been gazetted in London as a bankrupt, it is as the result of her venture in hotel keeping. Less fortunate than Lady Honywood, who, beginning in a very small way, now owns and managed with rare success a whole string of so-called family hotels in London and in the provinces, Lady Decies, fired by her example to embark in a similar enterprise, has come to grief.

A little more than a year ago Lady Decies determined that instead of joining the ever-growing company of peers and peeresses of the British realm who are engaged in selling outright their ancestral estates and their homes to the highest bidder with a view to escaping the terribly extortionate taxation on real estate rendered by the war, she would convert Scotswood, her beautiful country place at Sunningdale, near Ascot, into a residential hotel. She resolved to manage it herself, convinced that she was a clever business woman and that she was possessed of quite as much capacity in that line as Lady Honywood.

She retained for her hotel its former name - that is to say, Scotswood. She ran it on the lines of a first-class continental hostelry and devoted all her tact and savoir faire to keeping away the vulgar, noisy and new rich element, who in Europe, as in America, do so much to poison life nowadays through their entire absence of consideration for others. Unfortunately it is the new rich nowadays who have the money, and while Lady Decies rendered her hotel very popular among those of relatively moderate means, she failed to make it pay, and it has come to grief. Her bankruptcy, however, will prove a blessing in disguise, for it will relieve her to a great extent of her recent worries and embarrassments and will enable her to return to those means of livelihood in which she formerly made quite a hit. Like her kinswoman. Lady Marcus Beresford, she, even during the lifetime of her husband, specialized in cats [etc]

The Milwaukee Journal, September 19, 1920 gives us a bit more information "[Her] 'original ideas' which have more than once landed her in rather a conspicuous position. Last year, for instance, she converted her beautiful home near Ascot race course into the Scots wood Golf hotel. She did this because she felt that many of the large country houses in the vicinity should be used to meet the present needs for housing accommodation. Her hotel, however, was not a conspicuous success, chiefly because she was rather arbitrary in her methods, and also because she had modelled the establishment on continental lines which did not appeal to the fancy of her clients."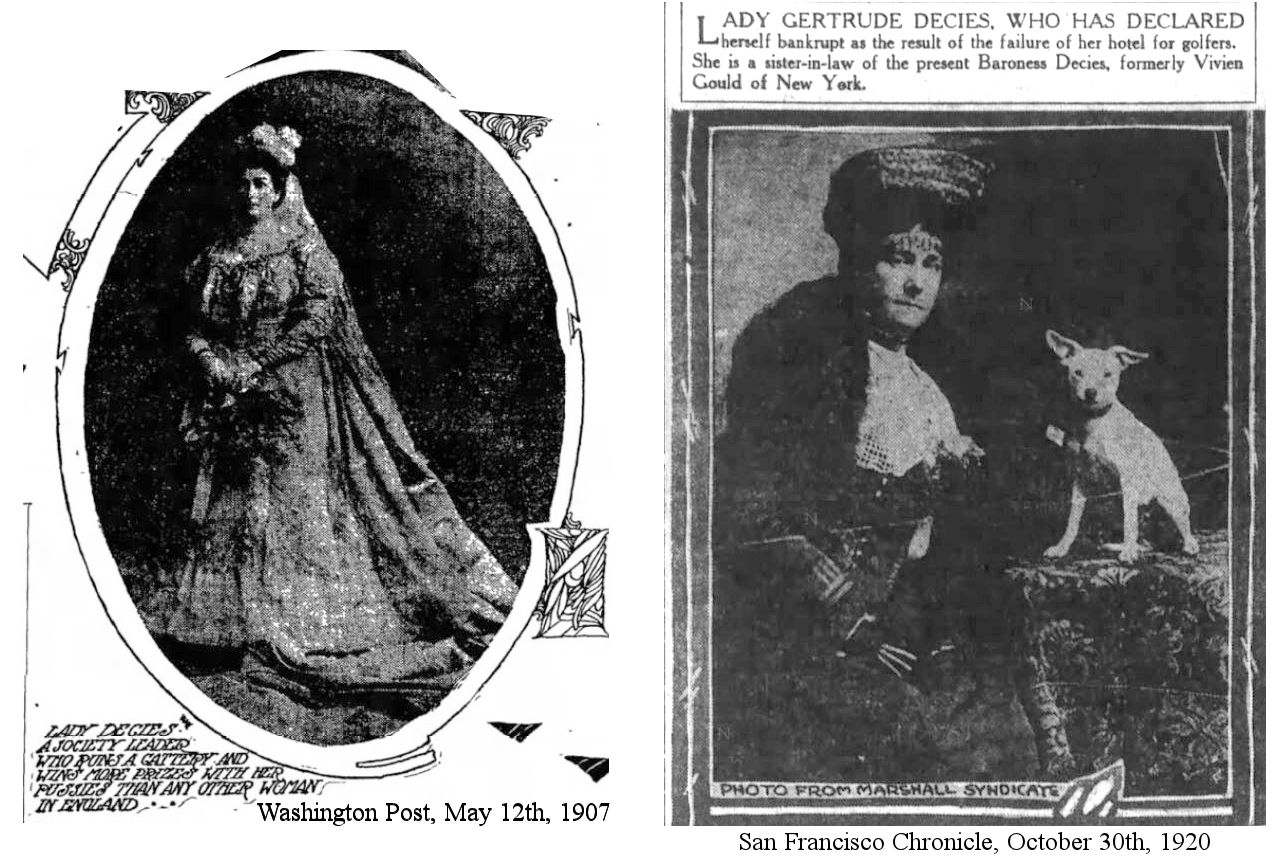 The Washington Times, July 19, 1920: "Gertrude Lady Decies is operating the "Hutch" in lower Belgrade street for the sale of well-bred rabbits. She advocates rabbit growing to help out the meat shortage. She has been operating her town houses for some time as hotels, while her beautiful country residence, 'Scotswood House,' has been turned into 'Scotswood Golf Hotel.' These ventures are run on business lines." The Milwaukee Journal, September 19, 1920 gives us a bit more information "[After her canine collecting corp was unsuccessful] she started a shop called "The Hutch" in lower Belgrave- st. where she sold rabbits in order to popularize rabbit-breeding as a means of increasing the country's food supply. She also declared that through this means she intended to deprive Germany of a profitable industry, but alas! Lady Decies' "bunny boom'' went the same way as her conscript army of dogs. She lives over that shop which she called "The Hutch" In lower Belgrave-st,and I am told that there has recently been a good deal of trouble concerning the number of animals she keeps on the premises."
During the early 1920s she became a special correspondent to The Washington Post (who syndicated her work to other papers) and wrote regular articles on English high society, society events and what the fashionable were wearing. Knowing her audience, she frequently mentioned "American and Anglo-American society." The Washington Post of 26 September, 1920 gives a detailed account of her bankruptcy a decade after her husband's death:
BARONESS FAILS WITH HER HOTEL. Lady Decies Admits She Is Bankrupt When Hostelry for Golfers Is Not a Success.
London, Sept. 25.—Probably all America already has heard of the unhappy fate of Maria Gertrude, Baroness Decies, whose affairs are now engaging the attention of the official receiver. It fills the press and keeps the gossips busy here. Lady Decies attributes her failure to the non-success of a rabbit breeding business and later of a hotel for golfers into which she converted her private residence at Sunningdale in the latter part of last year. She estimates her liabilities at the hefty sum of $135,000, whereas her assets are represented by an inconsiderable and at present largely problematical amount. Considering that after her husband's death, in 1910, she inherited an estate worth about $425,000, she has contrived to do rather badly, but it is undeniable that, as the saying goes, she has had a run for her money.
There happen to be no less than three fair bearers of this title in England at the moment. One of them is the former Vivien Gould, daughter of George Jay Gould, of New York, who married the present Baron Decies, the fifth of his line, in 1911. Another Lady Decies is the widow of the third baron, while the picturesque subject, of this article is the widow of the fourth. She is thus a sister-in-law of the American baroness, but remains very different. Previous to her marriage, in 1900, she was Miss Maria Gertrude Willoughby, daughter of the late Sir John Willoughby.
Lady Decies claims that the latest of her many business ventures - her hotel for golfers - would have been successful save for the fact that in July last the mortgagees appointed a receiver, who took possession and sold the property. She adds that her failure was due to the fact that for many years she had advanced large sums to her late brother, Sir John Willoughby. In this way she exhausted her own ready money and went to money lenders. Since then, she states, here securities have been realized little by little until there was nothing left. Her claim against Sir John Willoughby's estate has been admitted for £125,000, but this claim, it is stated, can only realize something like five-pence in the pound. The recent receiving order against Lady Decies was made on the petition of a money lender.
Her talents are many, her energy and resourcefulness boundless. Before her marriage she had invented games and puzzles that proved both clever and profitable. A few years ago she devised a new remedy called "No Germo," which was designed as a preventive against the bites of flies and mosquitoes and also as a safeguard against influenza. It is, however, as an animal lover and breeder that Lady Decies is best known. She has run the gamut of horses to rabbits, taking in cats, poodles, pekingeses and even bullfinches on the way, and a pretty penny they must have cost her, from first to last. She was long in the first rank of cat fanciers, and one of the most active members of the National Cat Club committee. Her aristocratic pussies were almost invariably prize winners.
These are some of the notices that were published in the USA as a result of her bankruptcy: "Gertrude Lady Decies, recently declared a bankrupt in England, is a sister-in-law of the present Baroness Decies, formerly Vivian Gould, of New York, Lady Decies spent a fortune on pets which us said to account for her present financial difficulties." (November, 1920) and "British Peeress In Bankrupt Suit. Sister-in-Law of Gould's Daughter on Financial Rocks. LONDON, Aug. 14. — A receiving' order in bankruptcy has been made in court angainst Lady Mary Gertrude Decies, widow of the fourth Baron Decies and sister-in-law of the present peer, whose wife was Vivien Gould, of New York. She was the daughter of Sir John Pollard Willoughby and married the late Baron Decies in 1901. He died nine years later."
The same report (with minor additions) appeared in the San Francisco Chronicle, October 3rd, 1920, accompanied by a photo of Lady Decies. The [London] Times of March 17, 1921 tells us "A sitting had been appointed to be held in the Bankruptcy Court yesterday for the public examination of Maria Gertrude Lady Decies, who was adjudged bankrupt on August 18. A statement of her affairs showed gross liabilities of £56,280, expected to rank for £26,650, against assets valued at £3,648. Mr. E Parke, Assistant Official Receiver, said that he had received a medical certificate that the debtor was too ill to be present. He understood that the trustee in bankruptcy had begun an action against moneylenders, in which be expected to recover a large sum, so that in any caae it was undesirable that the examination should proceed. The sitting was adjourned to June 22."
The sitting took place and was reported in The Times of August 24th, 1920: "The Affairs of Gertrude, Lady Decies. Rabbit Rearing and a Golf Hotel. The first meeting of creditors was held yesterday at Bankruptcy-buildings under a receiving order made on August 9 against Maria Gertrude Lady Decies, of Lower Belgrave-street, W.. The order was obtained on the petition of a West-end moneylender. Mr. E. Parke, Assistant Official Receiver, who presided, said that the debtor had attended for preliminary examination, and had stated that when her husband died in July, 1010, she inherited his property, worth about £85,000. In 1911 she bought for £8,500 a house and an estate at Sunningdale known as Scotswood, on which she spent nearly £16,000. When war broke out she volunteered to serve as a nurse, and afterwards went to France. She returned wounded in May, 1915, and after she recovered she served in a military hospital in England until May, 1917, when she went as a nurse to Russia and Rumania. In January, 1918, she and her sister took an empty shop at 37, Lower Belgrave-street, and started a rabbit-rearing business under the style of "The Hutch." Their idea was to provide food and fur and to capture the German trade, but the business was unsuccessful and was closed in July, 1919. In that month she converted her private home at Sunningdaie into an hotel under the name of the Scotswood Golf Hotel. She contended that this venture would have succeeded, but in July last the mortgagees appointed a receiver, who sold the property.
The debtor attributed her position to the fact that she had advanced large sums of money to her brother, the late Sir John Willoughby. These advances, which were spread over a number of years, exhausted all her ready money and led her to resort to moneylenders. In November last the moneylenders began to press, and since then she had gradually realized all her securities until there was nothing left. She estimated her liabilities at £27,000. The Assistant Official Receiver added that he could make no reliable estimate of the debtor's assets. The estate of Sir John Willoughby was being wound up in Chancery, and he understood that the debtor's claim against it for £40,000 had been admitted for £25,000. The other assets included two annuities and a number of shares. All the shares, however, were charged to creditors.
Mr. Coote (H. S. J. Woodhouse and Co.), for the debtor, said that his client's financial troubles arose from the fact that Sir John Willoughby died hopelessly insolvent in answer to the Assistant Official Receiver, he said that the debtor's claim against Sir John Willoughby's estate might realize something like 4 and a half pence in the pound. The debtor had been adjudged bankrupt, and the creditors appointed Mr. David Hart, accountant, as trustee of the estate.
On 19th February 1924, the Associated Press gives us details of another of her trades: "Dogs Need Dresses Declares lady Gertrude. Knitted jumpers for dogs - "to keep them warm when motoring," she said - were sold by Gertrude Lady Decies, at the winter show o£ the Pekingese Club, at Tattersall's. The tiny jumpers, knitted by Lady Decies herself, in wools and silks of various colors, were designed by her to take the place of the old dog's "coat," which was usually. a plain square piece of material wrapped around the animal's body- The new-fashioned jumper is properly shaped with leg holes, and draws up around the neck." Unfortunately she was producing luxury items aimed at an aristocratic set that was also impoverished.
The Village Shop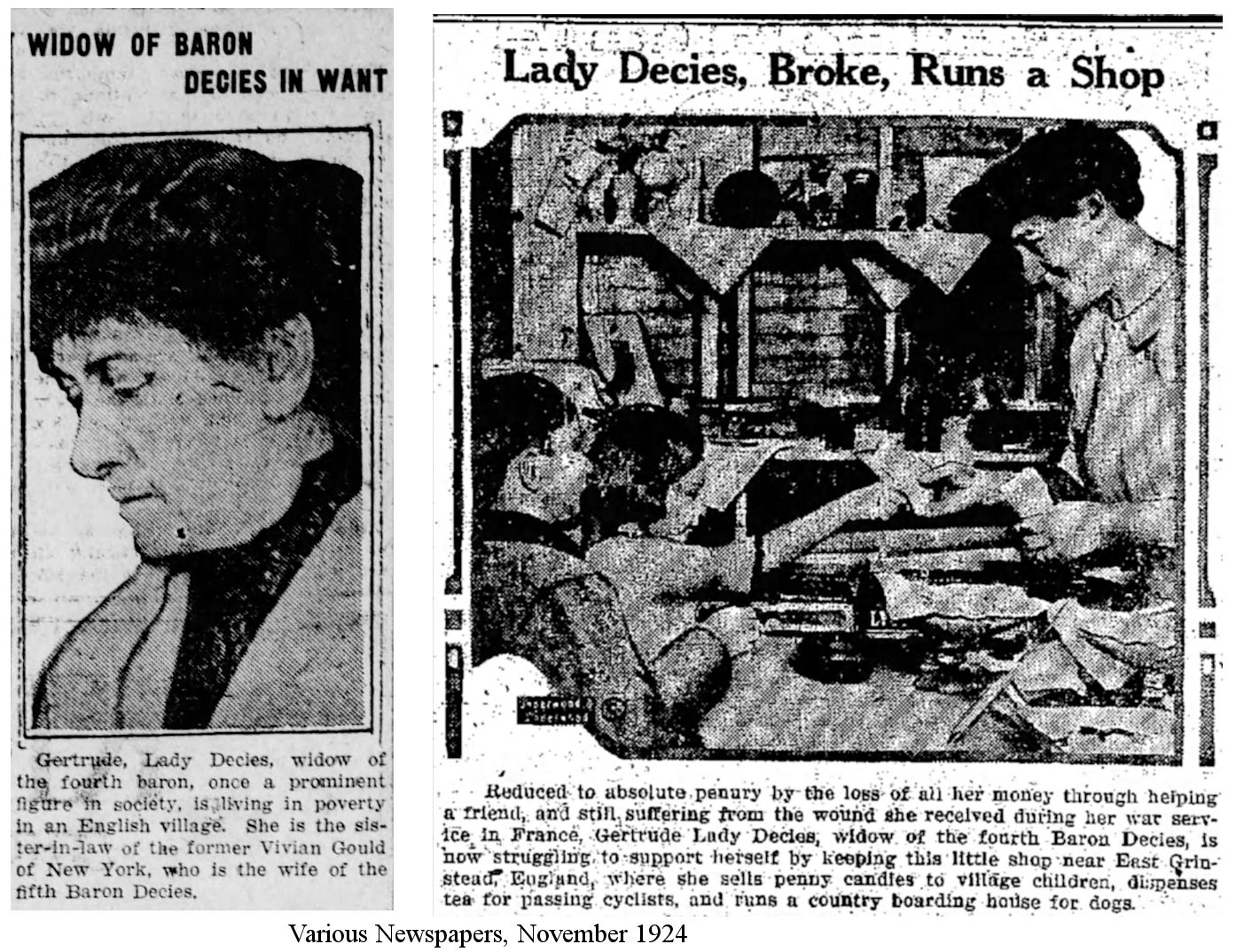 Then in the Bridgeport Telegram of October 14th, 1924 comes this: "Lady Decies, Once Wealthy, Reduced to Earning Living. London, Oct 13 [1924] - Lady Maria Gertrude Decies, widow of the fouith Baron Decies and sister-in-law o£ the present Baron, who married Helen Vivian Gould, is said by the Daily Mirror to be living in poverty, making an insufficient livelihood by keeping: a small village Store near East Grinstead. Her ladyship is quoted as saying that she has not a penny except what she makes in her shop and that she is sometimes hungry owing to the smallness of her income. She declares she lost all her money in helping another and that she would be grateful to any one providing her with remunerative employment."
November 22 1925 (various): Lady Decies, Broke, Runs a Shop. Reduced to absolute penury by the loss of all her money through helping a friend and still suffering from the wound she received during her war service in France, Gertrude lady Decies, widow of the fourth Baron Decies, is now struggling to support herself by keeping this little shop near East Grinstead, England, where she sell penny candles to village children, dispenses tea for passing cyclists, and runs a country boarding house for dogs."
Milton Bronner, NEA Service Writer interviewed Lady Decies and his article was published in American newspapers in March 1925: "BARONESS NOW SELLING TEA AT ROADSIDE. Tuppeny Tip More Useful Than Medals to Lady Decies. Dane Hill, England. - Gertrude Dowager Baroness Decies - and thus connected by marriage with one of the oldest families of the British Nobility and with the purse-proud, millionaire Gould family of America - serves hot tea to thirsty motorists and is thankful for a tuppenny tip. She told me so herself. And judging by her looks, the appearance of the house, and every-thing connected with it, there was no faking about it.
The woman, who once presided over a castle, is now very glad to have shelter in an old house - and once didn't even have that. When her husband, the fourth Baron Decies died, as their little son was also dead, the title and estates passed to her husband's brother, the present and fifth Baron Decies. The latter a year later married Helen Vivien Gould, daughter of George Jay Gould of New York. Decies and his American bride are in high society. Their sister-in-law is buried in this isolated little place in the Sussex hills, nine miles from the nearest railway. 0020The Decieses regale themselves with opera in the season. Their sister-in-law, when she has time, listens to the music of an old phonograph. Lady Decies' one helper says her rich relatives have done nothing for her. But she is mistaken. They once sent Lady Decies a picture of the pretty Gould girl who became the fifth baroness!
As I entered the poor little parlor I saw the photograph on the center table in a silver frame set with brilliants. That parlor itself told the whole story of the tenant of the house. Carpet - old and faded. Wall paper - stained. Chairs - sagging. But here and there were the relics of the owner's former prosperity. A rich gilt-framed mirror, a tabouret inlaid with mother of pearl, costly miniatures of Cecil Rhodes and other famous men and women she had known years ago. And medals, lots of them, that she had won when she exhibited her prize Pekinese dogs in the days of her affluence.
"There's no use grousing," said Lady Decles, a sad smile wrestling with the wrinkles of care in her face; "I am broke and alone and have to do just the best I can. Everything has gone wrong since I lost my husband. I had a small fortune, but lost it helping a friend. [Note: too tactful to mention it was her brother who bled her funds dry] I know a great deal about dogs, so I started a London shop for the sale of Pekinese. That failed. I opened a hat shop and that failed.
"Then came the war and I went to France as a nurse and was wounded in the shoulder by shrapnel. When I recovered I went with the London Scottish into Russia and was with then in their retreat. That got me some aches, some wounds and some war medals, but no pension. And you can't live off of your medals. I started a hotel and that failed. Then I was really down and out. I lived for six months in a hut in the corner of a field and had to sleep with a raincoat on when the rain poured through the roof. Then I came here and took this place. We sell hot tea to motorists and cyclists, candy to the neighborhood children, and take care of valuable dogs of London people who want them out in the country for a bit. They know I know all about dogs and love them.
"Things go quite well in summer, but in winter when there are not many people traveling the roads, it's hard. I would like a job if possible this winter. I could be a companion chaperon to some young girl whose people want her to travel a little." Here Lady Decies - who often makes the tea, butters the toast, washes the dishes, and waits on table - was called away to see what a cyclist wanted. He wanted tea, and lots of it. "And plenty 'ot water," he added peremptorily." When he finished, he complimented her: "You're an energetic sort o' body. Hope you get along all right. Here's tuppence tip and good luck to you."
"I need it," said Lady Decies fervently as she pocketed the pennies.
In January 1926, she was interviewed about women participating in sports. This was a rather new thing in society and it had been suggested that the modern English girl who indulged in sports and athletics would neglect her dress and personal appearance and generally become unladylike. Lady Decies replied that this was far from being a fact "Watch girls playing games," she averred, "They are invariably neat and tidily turned out."
Because she was a regular news correspondent, American newspapers picked up many snippets about her. On September 29th, 1927, American newspapers reported "Gertrude, Lady Decies, figured tonight as one of the principal witnesses in a sensational crime in an eastern suburb of London which cost the life of a policeman. Lady Decies was awakened in the early hours of the morning by the sound of revolver fire. She was able to testify that there had been a shooting, but could not identify the supposed assailants. The policeman was shot to death by supposed automobile thieves whom he intercepted as they were trying to escape with a stolen machine. Gertrude, Lady Decies, is a regular contributor to the Sunday News-Tribune, writing of London society events."
The Second World War
Her life changed again when, in 1936, she founded the Lady Decies Unit, working with the Red Cross, to aid soldiers injured in the war in Abyssinia. By that time, she was already treating woman patients at her nursing clinic at Lower Belgrave Street, London.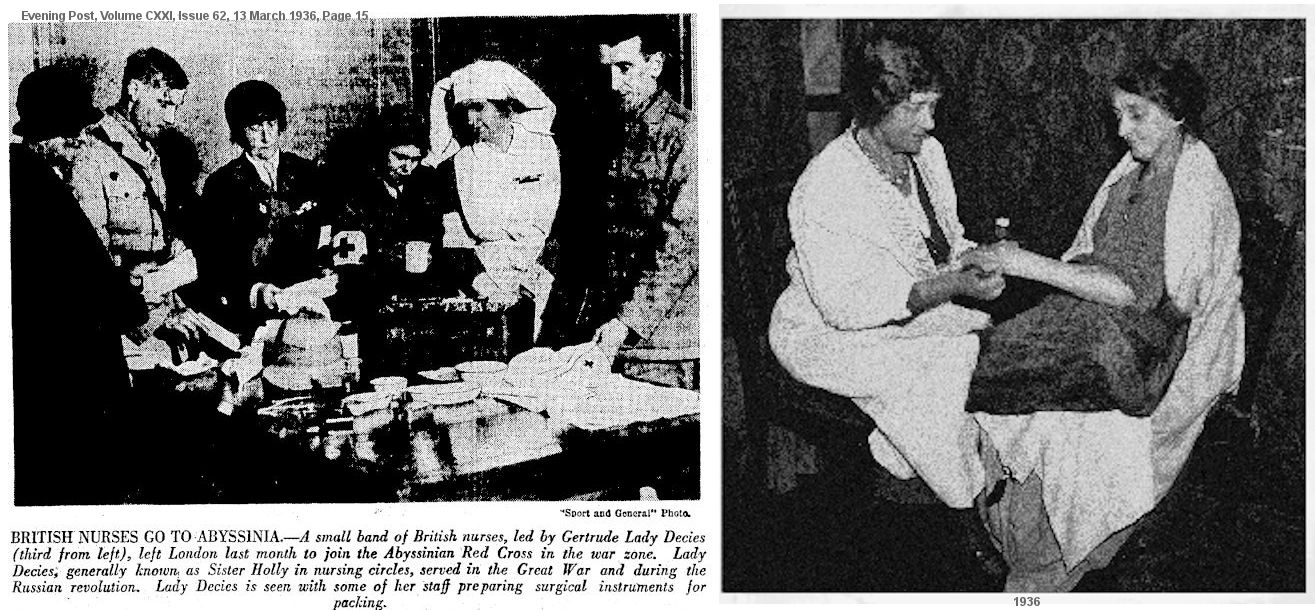 Aid For Ethiopian Wounded. The British Journal of Nursing, Page 50, Vol 84, February 1936:

To the Editor – Madam, - The British public, quite apart from any question of partiality towards either contestant in the present East African tragedy, are deeply concerned about the sorry plight of the Abyssinian wounded, both military and civilian. The undeniable shortage of skilled surgical aid, both in field and base hospitals, is in a measure due to the complete absence of trained women nurses. The British Red Cross have been unwilling to assume the responsibility of sending out women nurses under their aegis, and, while it is not difficult to appreciate their point of view, the lack of skilled aid for the wounded, especially feminine aid, is producing heartrending suffering that might be avoided. Lady Decies, who rendered valuable services to our Own wounded during the War as a Red Cross nurse, has formed a small voluntary unit of skilled women surgical nurses, and the Emperor has gratefully accepted her offer to bring them to his country, where they will serve with the Ethiopian Red Cross under the Empress and Lady Barton, wife of the British Minister, Their arrival is now most eagerly awaited.

For the purpose of equipping and transporting the Lady Decies unit a fund is being created out of donations from the sympathetic public, and I have the honour to be chairman of the fund. I feel that the existence of the fund and its objects are matters worthy of the notice of the public, and I write hoping that you may draw the attention of your readers to it. We have succeeded in raising £200 towards the £12,OOO minimum required to enable the unit to leave England, but further sums are most urgently needed. I would gratefully acknowledge any donations towards completing the balance. Lady Decies and her band of nurses are ready to start as soon as the fund is complete.

The sufferings of the animals must surpass imagination, and I am glad to say that the unit will include a qualified veterinary surgeon and will take out veterinary equipment, including humane killers, The Animal Defence Society has opened a subscription list for this purpose.

I am, &c., Nina Hamilton and Brandon, Lynsted, 25, St. Edmund's Terrace, Regent's Park, N.W.8.

British Nurses For Abyssinia. (Townsville Daily Bulletin (Queensland, Australia), Wednesday 18 March 1936: Undaunted by the Kalian bombing of ambulance units (Gertrude Lady Decies) accompanied by several women nurses, will shortly leave London for Abyssinia on a 'Florence Nightingale' mission. It will be the first European unit of women nurses to brave the perils of the war zone and conditions which only heroines could endure. Special permission for the entry of the unit into Abyssinia has been granted by the Emperor, who cabled that he was 'deeply touched' by this voluntary after of service. 'There is a desperate need for nurses In Abyssinia [modern-day Ethiopia], and one of the tasks to be undertaken by the unit will be the training of native nurses.'

A committee for raising the necessary funds (£1000 being fixed as the minimum) has been formed with the Duchess of Hamilton as the chair The Duchess who wishes to mitigate the sufferings of mules and horses, wounded in battle, is to provide the unit with humane killers, and a veterinary surgeon will also travel with the unit.

'Lady Decies has been besieged during the past few days by British women offering their services for the unit,' a Sunday Referee representative was told. 'Many of the women have volunteered In order to experience adventure, but Lady Decies has stressed that there would be no adventure only hard work for trained nurses. She has also had to reject the application of a number of nurses because they were too young. When the unit arrives at Addis Ababa It will be placed at the disposal of the Ethiopian Red Cross and will be prepared to go anywhere. A special uniform is to be devised for the members of the units, so that they will be able to ride on horseback and rough it generally.'

Lady Decies' War Record. Lady Decies has a distinguished record in the nursing service. During the war when she served In France, Belgium and Russia, she was widely known as 'Sister Holly.' Her courage was such that she was mentioned three times In despatches and was awarded a French decoration equivalent to the V.C. During the Russian Revolution she endured terrible hardships which, she feels, could not be equalled by those she is about to face in Abyssinia.

OBITUARY. Gertrude Lady Decies. (The Glasgow Herald - Apr 5, 1939):

Gertrude Lady Decies died yesterday in a London nursing home after a long illness. She was over 70. Lady Decies was the wife of the late and sister-in-law of the present Lord Decies. She was awarded the French equivalent of the V.C. for her nursing work in the Great War. She also served during the Russian Revolution. In February 1936, she was to have led a band of British nurses and veterinary surgeons to Abyssinia, but a few days before the departure she fractured a leg. For her splendid nursing work she had gained nearly a dozen medals. Known as the "modern Florence Nightingale," she was the widow of the fourth Baron, whom she married in 1901. He died in 1910.

You are visitor number