PROMINENT EARLY CAT FANCIERS - MR. H.C. BROOKE
The Windsor Magazine (Ward, Lock, and Co. (Limited), London) Vol 14, Issue 4, September 1901, p429 - 434, had a chatty article by E. Leuty Collins on "A Connoisseur in Curious Pets," about MR. H. C BROOKE, of Welling, whose collection of curious foreign pets was unique. H. C. Brooke was involved in the cat fancy and in 1926 he began, and edited, the magazine "Cat Gossip."
From the article:
Occasionally one finds people possessing a distinct magnetism that enables them to subdue animals which are for the most part pronounced untamable. Mr. and Mrs. H. C. Brooke, of Welling, have attained considerable celebrity in this particular, their collection of curious foreign pets being, in its way, unique. Mr. Brooke has all an Englishman's love of sport, combined with the Continental love of arms. For this his early training is responsible.
"I went from King's College School to a school at Sutton-Valence. Here I first imbibed the joys of hunting and ferreting ; and I may say that even now, after all my varied experiences of pastimes at home and abroad, ferreting is still one of my favourite amusements. I next went to college in Germany, where I very soon joined one of the 'corps' which exist at most of the higher German educational institutions for convivial and duelling purposes. Since then I have been, and still am, a great believer in the duel. The majority of these college duels are of a comparatively light, character, such as the 'Schlager,' which is extremely prevalent among students ; but even this may sometimes result in serious injuries. My own nose has been cut off and my skull splintered" Mr. Brooke's nose has been carefully repaired ; and now a severe scar is all that remains to remind one of the accident.
" From my schoolboy days I have always had a number of pets," Mr. Brooke continued, " and when I went to Berlin to study at the Veterinary College I had a large artificial run, near the town, for training dachshunds to fox and badger. I also had foxes, jackals, polecats, martens, a hybrid between dog and wolf, a toy Pomeranian, long-haired dachshunds, a bloodhound, and a fighting boarhound related to Harras II. This dog was never beaten, though he fought over sixty battles. I had a number of snakes, too, both harmless and poisonous. One special pet was a nine feet boa-constrictor, a creature tame as a kitten, who used to sleep between my mattresses. It died in 1887. I also had Smooth, Leopard, Seven-banded, and AEsculap's snakes, vipers, and many batrachians and saurians. I am extremely fond of the carnivorous section. The only animals I fear are horses and cattle.
"How about your celebrated wild cat, exhibited at the Palace — did you manage to tame that also ? " [Collins] queried.
"Well, here I have to confess a failure, for the wildcat I have as yet found untamable. My wife and I both like cats, and our notable silver tabby (the only silver Manx shown) was a great pet with us. Then, again, the 'Champion Bonhaki' won five championships and five firsts, besides specials. Queen Alexandra honoured him with a Royal pat at the N.C.C. Show at the Botanic Gardens in 1898. We had also another cat rarity in the prize Abyssinian 'Sedgemere Peaty.' Her fur was just like that of a hare. The Abyssinian cat greatly resembles the wild cat of Egypt (Felis chaus) in type."

In 1904, when he lived in Welling, Kent, he confessed to having one cat that he could not tame - a Geoffroy's Cat from South America. It tolerated his approach at meal times, but would not allow anyone else near.
THE SHORT-HAIR JUDGE (AND EDITOR OF "CAT GOSSIP"), With Abyssinian Cat. (Cat Gossip, 7 December, 1927)
Mr. H. C. Brooke. Born 1867. Educated at various Continental Universities. Member of S.H.C.S., Croydon C.C., Manx C.C. Life Hon. Member, London Bulldog Society, or which he was for 8 years Hon. Sec. Formerly Sec. Dogue de Bordeaux Club. Formerly reporter and/or contributor to: "Field," "Dog World," " Stock- keeper," "Our Cats," "Illustrated Kennel News," " International Kennel Review," "Welsh Fancy Gazette," "Der Hund," (Vienna) "Weidwerk und Hunde-Sport," etc., etc. Wrote Foreign Cats Section in "The Book of Cats"; Rat Section in "Fancy Mice and Rats." Ex-M.S.H. Former member of a Continental Duelling Club: has fought with pistol, sabre, and rapier; wounded twelve times; a firm believer in the duel, the abandonment of which he believes to be one of the first steps to a decadent democracy. Favourite animals, wolves and wild cats. Discovered, in 1920, a white variety of the "Old English" Black Rat; in 1923, a blue variety, the only blue rat known. Bred the only known specimen of white fancy rat with black eves. Favourite experience in life, sabre duel with a Russian, both being severely wounded and placed hors de combat in 2 and a half minutes. Funniest experience, a ride up Regent Street in a "growler" (in more ways than one!) with a young bear. First exhibit: Dogs, 1887; cats, 1895. Has judged cats at many shows, including Brighton and C.P. thirty years ago; dogs at many shows at home and at Vienna, Leipzig, etc. Ran Bulldog Show at Westminster Aquarium for four years, at C.Palace three years. Has bred white wolves, wolf-dingo hybrids, etc. (breeder of the specimen presented to Natural History Museum by Hon. Walter Rothschild). Winners owned too numerous to mention. Favourite sports (when younger), hunting and shooting.
NEAR FIFTY YEARS AGO. (Cat Gossip November 13 1929)
Mr. H. C. Brooke, Judge of Shorthair at Croydon today, in full parade uniform as Fuchs-Major of a German Duelling Corps.
Lieber als des Hofrath's Lehren
War mir stets der Schlaeger Klang,
Wer wird eitle Worte hoeren
Den des Burschen Geist durchdrang?
Naturalist — Duellist — Fancier — Sportsman — Journalist—International Judge — such have been the principal life's activities of the subject of these notes. Descendant of a line of lawyers, he must be either a "throw-back" or an absolute mutation from type. From the earliest childhood his one interest was in animals. Educated first at King's College, in the Strand, he already, when other boys keep white mice» and guinea pigs, had many kinds of foreign reptiles, weasels, polecats, and even a half-bred Wild Cat, by Lord Lilford's old Spanish cat, which lived so many years at the Zoo, out of the tortoise-and-white queen to which the old cat always remained faithful, even after her death.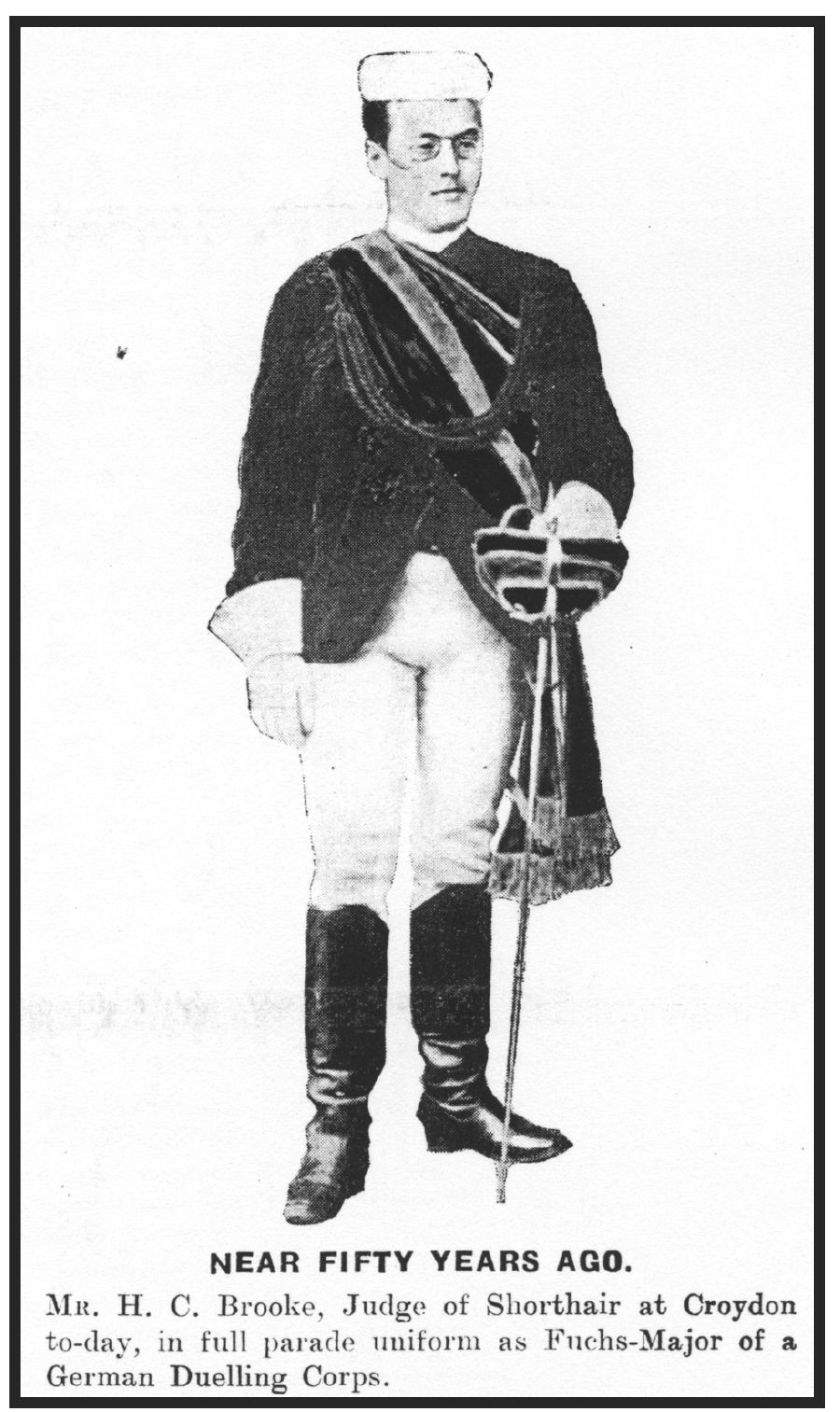 Sent then to a school in the country, his first terms were bitter as death, because he absolutely refused — with a strength of mind uncommon in a young boy — to play any games (except paper-chases, of which he was very fond), even though bullied and dragged by main force to the football field and tied to the roller when games were in progress. Happily a new headmaster, himself a sportsman, could sympathise with a lad whose mentality rose beyond the "muddied oaf" (Kipling) act, and he was allowed to spend all his free time in natural history pursuits or in following the Harriers, and even kept a few hounds himself, besides various strange pets. But the manner in which, when a weak and purblind youth, he had been bullied, gave his character a bias which has lasted ever since, and not until sent to finish his education abroad did he find amongst the fighting students of Germany real companionship and brotherhood.
For centuries these students have formed a network of corporations absolutely "sui generis," and on more than one occasion left their mark on history. Not overgrown schoolboys, compelled to "clock-in," attend chapels, and so forth, they enjoy absolute freedom, and are subjected only to their own strict rules, partly somewhat Freemasonlike. To these fighting clubs have belonged many of Germany's leading men — to mention only the great Bismarck in last century and Dr. Stresemann in this.
"Ragging" or personal indignities are unknown, and if attempted would lead to deadly encounters, and rightly so. The insular ignorance of the customs of neighbouring countries so prevalent here has led to most extraordinary misapprehensions about them and their duels, as when recently a writer in the "Daily Mail" gravely stated that the loser of a duel has to stand still whilst the victor slashes his face — an absolutely absurd fabrication. Others again place these duels on a par with those fought "in another place," which are often ended by the first blood drawn. Whereas even the "arranged" meetings between members of rival bodies last for fifteen or twenty-five minutes, unless stopped by the doctors, and a man may receive half a dozen wounds — a splintered skull, for instance, does not necessarily mean "stop" (as Mr. Brooke's skull can testify), though the severing of the temporal artery does. It is not permitted to "duck" the head to avoid a blow —if it cannot be warded off with the sword it must be allowed to land without being avoided; to "duck" would mean a warning, and three warnings would mean being suspended, or perhaps entirely removed from the club's membership. In sabre duels the combatants, stripped to the waist, protected only by a silken throat bandage and iron spectacles, fight with curved 32-inch blades, sharpened like razors, for 25 minutes, or until one is incapacitated or received an injury considered by the doctors dangerous to life: in one of Mr. Brooke's duels with a notorious Russian the duel only lasted minutes, he being the loser, receiving two terrific gashes in the sword-arm, which severed the muscles and caused the sabre to fall from his hand, whilst the Russian winner lost half one cheek and received a severe slash over the breast.
In various encounters Mr. Brooke received ten other wounds, including a pistol bullet through the thigh, and underwent on one occasion honourable "Festungshaft" — or fortress imprisonment. In the society of these "commilitonen," of professors and Army officers, he spent the seven best years of his life, speaking during five years not one English word, amongst those who, in a world gone mad with decadent democracy, and sodden with commercialism, may be called the last dying survivals of the days of chivalry.
His father's severe losses in mines necessitated his recall to this country, where he took up dog breeding. At a time when only one Bulldog Club existed, he helped to found what, under his guidance, became one of the most powerful specialist clubs, and ran as hon. secretary a yearly show at the old Westminster Aquarium, and, on its closing down, at the Crystal Palace. One of the early importers and judges of Griffons and French Bulls, he judged these and Bulldogs at various places at home and abroad. Then took up "Foreign Dogs," and in the 'nineties owned the most successful team of Foreign Dogs ever benched.
With Mr. Sam Woodiwiss he imported from France the sensation of 1895, the Dogues de Bordeaux, those almost legendary gladiators of the Midi, who for centuries used to be matched against each other, and against bears, and bulls, and fighting asses, at the fairs. Just as the breed was going well came in the anti-cropping regulations, and, disheartened, he sold the whole team to America.
In 1895 he first showed cats at the Palace, winning second and third in Manx to Mr. Woodiwiss's Ch. Manx King, with Kater and Katzenjammer, the later famous champion, a son of The Bulldog Cat, whose portrait appeared in so many papers when shown lying in the arms of a gigantic Bulldog at the 1893 Aquarium Bulldog Show. Ch. Bonhaki, the celebrated Silver Tabby Manx, which received Royal recognition, and Ch. King Clinkie (later purchased by Lady Marcus Beresford) at his debut the victim of one of the most asinine "bloomers" ever perpetrated by a would-be Manx judge, were other well-known Manx — the Indian Red S.H., the Wild Cats of various kinds, which also interested Royalty on several occasions, and the Abyssinians, were all well known to cat lovers of about 1900.
The team of Wolves, including rare white ones, so often portrayed in the illustrated Press of about that period — a very favourite picture being one showing Mr. Brooke with a large grey wolf taking sugar from between his lips, two other wolves sitting on either side — were famous, and a welcome attraction to the Ladies' Kennel Association Shows. All this time Mr. Brooke was on the staff of one or two "doggy" papers, and a regular contributor to the sporting and canine Press of England, Austria, and Germany, usually writing over the pseudonym of "Lupus."
Then came the Importation of Dogs Act, and although he succeeded in running the blockade with a few specimens, the strain and the expense were too great, and he gave up the most famous kennel of "Foreigners" ever known, and retired to the country to spend all his time hunting and shooting, holding for two years the Mastership of one pack. With the outbreak of war most of his securities "went to pot"; unable to keep horses or large animals, he fell back on rats, and not only won all the chief cups, etc., for years, but introduced two new sub-species, named after him, to science, and also bred colorations new to the "Fancy," supplying many Museums at home and abroad with specimens of rarity.
And now, for the third time, the law, as if by "malice prepense," has "crabbed" him, and prevented his procuring anymore of his beloved wild felines! Too old to hunt, in too poor health to do much shooting, what has he left? An adept in the doctrine of metempsychosis stated her belief that in previous incarnations he was a beast of prey, and after this life would once more reincarnate as some wild animal. The doctrine is just as likely, and just as unlikely, as any other of the doctrines with which humanity persistently and vainly endeavours to account for its existence and future. It would, if true, certainly explain why from his very early childhood the howl of the wolf and the roar of the lion have delighted him with a thrill impossible to describe — as were it the call of the blood! why he has always felt such sympathy and love for the Carnivora — why the cat tribe is apt to go crazy over him at times, to such an extent that it is unsafe for him to handle the greater cats, however tame, which would be liable to rend him for pure joy, just as a cat will rend a "catnip mouse." And if the prognostication of the adept above-mentioned should be true, such a reincarnation would have no terrors for him in the day when, as the grand two-century old student song, Gaudeamus igitur," has it -
post jucundam juventutem
post molestam senectutem
nos habebit humus!
(After pleasant youth
After troublesome old age
The earth will have us!)
This article was misinterpreted by "The Sketch" who printed this apology on 4th December, 1929: "We much regret that last week we stated that Mr. H.C. Brooke, the well-known judge of short-haired cats, wore his "duelling kit" when judging cats and appeared in parade uniform as a Fuchs-Major at Croydon. This is incorrect, as Mr. H.C. Brooke has never appeared in uniform at a cat show." On 27th November 1929, The Sketch published the photos below.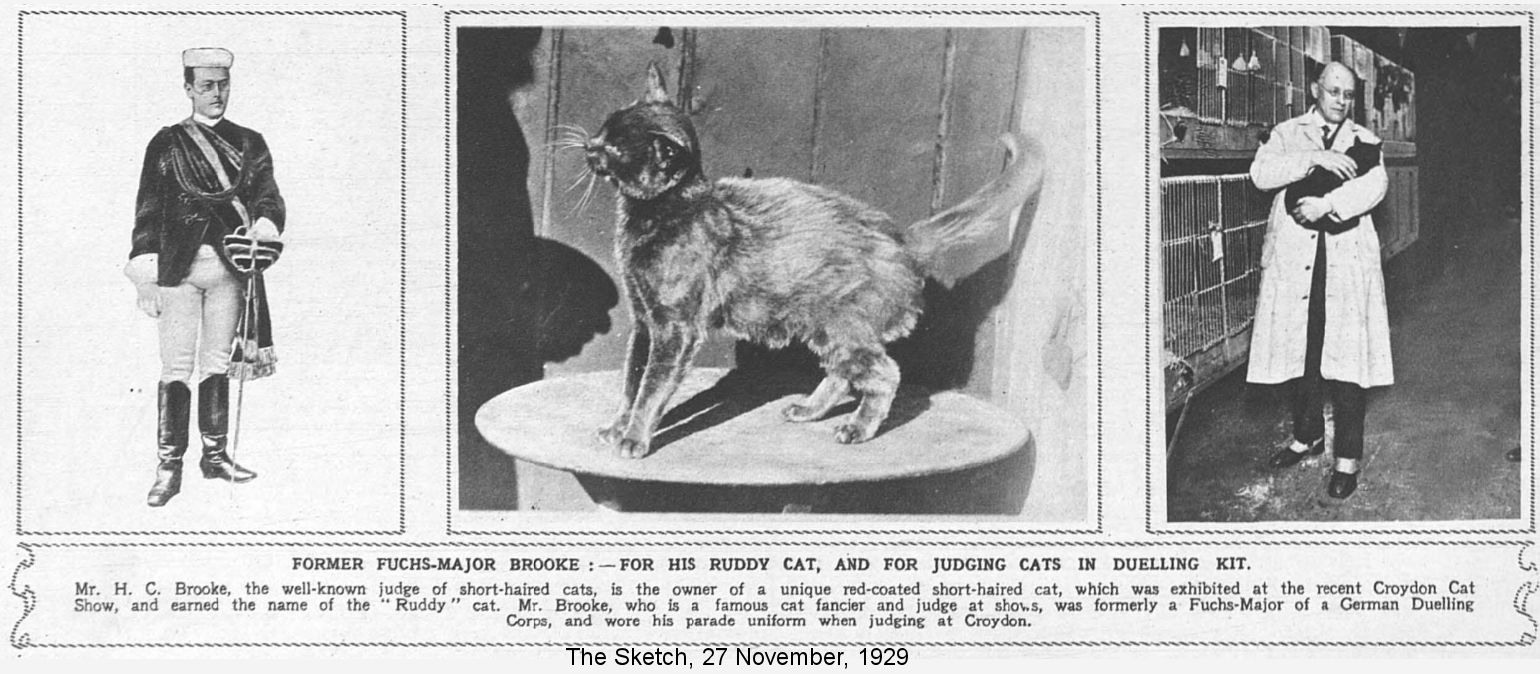 Hull Daily Mail, 9th April 1930 - A cat which is claimed to be unique in type and colouring is owned by Mr H.C. Brooke, of Taunton. It has short hair which, from whiskers to tail tip, is dark red, without any lighter shade or signs of tabby stripes. It rarely sits about like the everyday cat, but paces or trots to and fro continually.

DEATH OF WELL-KNOWN CAT EXPEKT IN LONDON (Western Morning News, Saturday 15th November, 1930)
Mr. H. C. Brooke, of Taunton, whose reputation us a judge of cats was as high on the Continent as it was in this country, died yesterday in a London nursing home. He had journeyed to London to judge the short hair classes at Croydon Cat Show, hut was taken ill on arrival.

Mr. Brooke has been described as naturalist, duellist, fancier, sportsman, journalist, and international judge. Besides being an expert on cats, he had domesticated many kinds of wild animals. Originally he bred and judged bulldogs, and later "foreign" dogs, with much success. It was in 1895 that he first showed cats at the Palace, win¬ning second and third in the Manx class. For some time Mr. Brooke was on the staff of one or two " doggy " papers, and a regular contributor to the sport¬ing and canine Press of England, Austria, and Germany.

The current issue of "Cat Gossip" says that Mr. Brooke was the descen¬dant of a long line of lawyers. From his earliest childhood his one interest was in animals. Educated first at King's College in the Strand, "he already, when other boys kept white mice and guinea pigs, had many kinds of foreign reptiles, weasels, polecats, and even a half-bred Wild Cat."

MAN WHO BRED WHITE "BLACK" RATS AND A RED CAT. Western Daily Press, 17th November 1930
Eminent Somerset Naturalist Dies in London. Hugh Chester Brooke, of Bishop's Hull, Taunton, an eminent naturalist and cat judge of international repute, died in a London nursing home at the age of 64. Mr Brooke made a lifelong study of natural history, and his breeding experiments with rats and mice attracted wide interest. He was noted for having produced a white specimen the old English black rat, which the Zoological Society named after him as the "Rattus rattus Brookei." Specimens of this freak were supplied to the natural history departments or museums of English, Continental, and American Universities. Brooke was educated in Germany, and while a university student fought a number of duels, including one with a Russian cavalry officer, in which he was badly scarred. Before coming to live in Somerset Mr Brooke owned one the finest collections of foreign dogs in the country, among which was a famous Eskimo dog that had taken part in one of Peary's Farthest North expeditions. In later years Mr Brooke's chief interest was cats. He had owned specimens of the sacred cat of Egypt, and an Abyssinian cat of another rare type. Early this year Mr Brooke exhibited in London an all-red cat, the only one of its kind in this country.

NATURALIST'S LAST WISH – TO BE BURIED WITH HUNTING HORN The People, 28th December 1930
"I direct that I be buried in my red coat and that my hunting-horn and German sabre blade be buried with me so that they may not fall into unworthy hands." So declared Mr. Hugh Chester Brooke in his will, which is published to-day. Mr. Brooke, who lived at Bishop's Hull, West Somerset, was a noted naturalist. having succeeded in breeding red cats and hairless mice.

You are visitor number