PROMINENT EARLY CAT FANCIERS - LADY MARCUS BERESFORD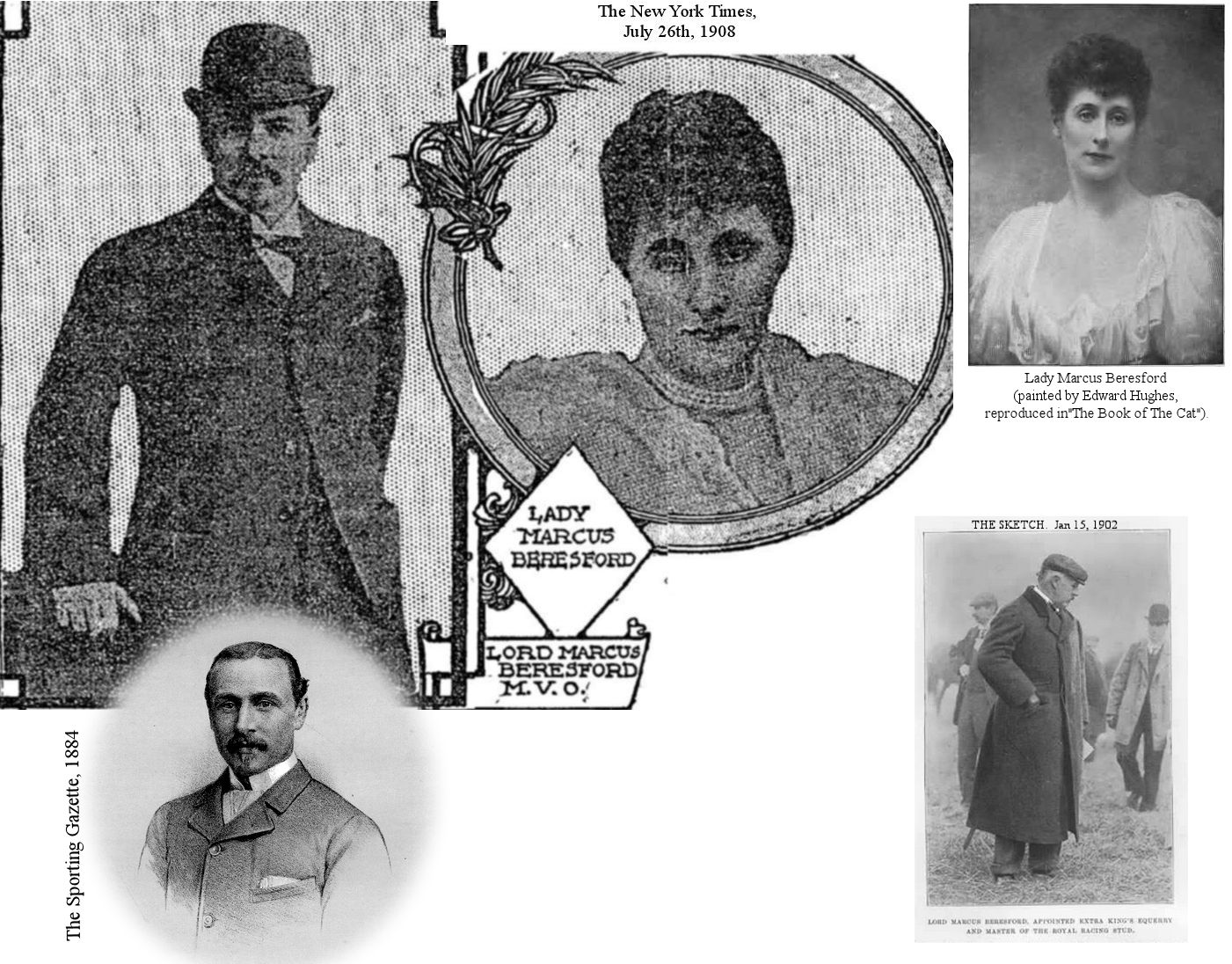 Lady Marcus Beresford has a rather lively history. She was born Louisa Catherine Ridley in 1846. Louisa first married Henry Bloomfield Kingscote in March 1870, but the couple divorced in 1871 when Louisa eloped with Charles Francis Buller whom she married in 1873. She married Marcus Beresford, with whom she had been having a long-term affair, in 1895 after Buller died of alcoholism. Her only recorded child with Sir Marcus Beresford did not survive.
Lord Marcus Talbot de la Poer Beresford (1848 –1922) was the son of the 4th Marquess of Waterford. He ran the stables of Albert Edward, Prince of Wales from 1890. In 1895, he married Louisa Catherine Ridley (1846-1920), daughter of Major-General Charles William Ridley and his wife Henrietta. On the Prince´s accession as King Edward VII in 1901, Beresford was appointed an Extra Equerry and Manager of His Majesty´s Thoroughbred Stud. After King Edward VII died in 1910, King George V appointed Beresford in charge of his stables, a position Beresford kept until his own death in 1922.
Something that confuses many is the dates clash in the register of The National Cat Club. Although did not marry Lord Marcus until August, 1895, a cat she bred by her and which born in July, 1894 was recorded in the register having been bred by Lady Marcus Beresford. She received a gift of Siamese cats from Lord Marcus in or before 1894, and the 1894 Cruft Cat Show, held on the 7th and 8th of March, 1894 had Lord Marcus Beresford as its President, which shows that he began sponsoring cat fancy activities well ahead of his marriage to Louisa . . . and thereby hangs a tale of scandal!
From The Chicago Tribune June 7, 1891: "Of the other prominent turfmen whose ventures those of the Prince [of Wales] always suggest, it may be said, the affairs of Baron Hirsch do not prosper. He employs as the trainer of his horses Lord Marcus Beresford, a protege of the Prince of Wales and the second brother of the Marquis of Waterford, [. . .] Lord Marcus lives with Mrs. Charlie Buller, a beautiful woman, who was the daughter of a General in the English army, and who was known in Dublin years ago as "Unlimited Loo." She married Capt. Kingscote, an officer of artillery and a brother of Col Nigel Kingsote, who is one of the equerries to the Prince of Wales. She ran away, however, from him with a handsome man about town, and the famous cricketer, Charlie Buller, whom she married after her husband had obtained a divorce from her. Buller took to drink and low company. Upon this she bolted once more, this time with Lord Marcus, by whom she had one child, which died. Buller tried to obtain a divorce from her while this liaison was going on, but failed. Mrs. Buller is an engaging companion and a devoted adherent of that doctrine [agnosticism] which finds one of its most eloquent disciples in Col Bob lngersoll. Lord Marcus has rather a domineering disposition and therefore fails to conciliate the right people."
From The Chicago Tribune June 24, 1891: "Like Napoleon III, [The Prince of Wales] is far too careless of the character and tone of his entourage [. . . ] Thus he is a constant visitor to the house of Lord Marcus Beresford, whose establishment is presided over by the lovely but exceedingly notorious Mrs. Charlie Buller. The latter is the daughter of the late Gen. Ridley, and eloped from her first husband, Col. Kingscote, of the Artillery, with Capt. Charles Buller of the Horse Guards, an officer whose claims to fame are based upon his record as a cricketer and as the first discoverer of Mabel Gray, the London counterpart of the Parisian Corn Pearl. Subsequently the divorce court permitted Mrs. Kingscote to contract a marriage with Capt. Buller. Matrimony, however, in its legal form proved far too commonplace to suit her, and she in course of time abandoned Buller for Lord Marcus Beresford. Once more she figured as the heroine of a divorce case, Lord Marcus being the co-respondent. But although the charges [adultery] against her were proved, yet the character of Buller was such that he was held to have been a cognizant and consenting party to her infidelity. The result was that the Queen's Proctor intervened and the divorce was refused. Since then she has lived openly with Lord Marcus as his wife. Although the number of her liaisons has been such that she is popularly known by the name of "Unlimited Loo," and that at the time of her last appearance in the divorce court it was suggested that the entire Carlton Club should be included among the list of co-respondents, yet her boudoir and drawing rooms are crowded with portraits of the Prince of Wales bearing his royal autograph, and in many cases a few words of affections for his 'dear Loo.'"
That last comment suggests that the Prince of Wales, well known for his sexual appetite, had likely sampled the delights of Unlimited Loo. Unlimited Loo was the name of a very high stakes "winner takes all" card game. The indiscreet Louisa was evidently not a fan of marital fidelity. Did the 49 year old Louisa tire of scandal and settle down, or did Lord Beresford allow her to have lovers? Perhaps the once wild Loo simply found new outlets – such as the cat fancy - for her energies. According to "Truth," on 20th August 1896, "Lady Marcus Beresford is the special friend of cats. She has built stables for the accommodation of her own fifteen beauties at Englefield Green, Windsor Park. They are chiefly orange-coloured Persians, and I well remember her devotion to them and their affection for her at the cat show in Holland Park."
The Times Picayune of July 10, 1899, explains all, in an article on divorce among the aristocracy: "In fact, nowadays divorce can no longer be regarded as a bar to admission to court, and to such an extent has Lady Marcus Beresford resumed her position in society that no one need despair of seeing her ultimately appearing at Buckingham palace, although her last divorce case, in which her present husband figured as co-respondent, was one of the most disgraceful and disreputable of any that have come up for hearing in recent years. It was but the other day that at the close of the Ascot races the prince of Wales attended a dinner at her home, a large party of great ladies, and of the most dignified and ultra-respectable noblemen being invited to meet him. Yet she used to go in London by the name of ''Unlimited Loo," was in the act of being divorced by her first husband, from whom she bad eloped, when he suddenly died. She thereupon married the man with whom she had eloped, namely Charlie Buller, of the Horse Guards, whom she deserted for the sake of Lord Marcus Beresford. Buller's attempt to secure a divorce from her was frustrated by testimony to the effect that he was in the habit of dining as a guest at the establishment kept up by Lord Marcus Beresford and by his wife, who passed at the time under the name of Lady Marcus. Buller eventually drank himself to death, and thereupon his widow legalised her relations with Lord Marcus."
Helen Winslow, in her 1900 book "Concerning Cats" wrote that "Lady Marcus Beresford had been in the business of breeding and rearing cats "for the last fifteen years," but a quote for Lady Marcus Beresford on the same page says that her catteries were established in 1890, and once comprised around 150 cats and kittens. According to W.M. Elkington in "'The Lady's Realm" (also 1900), "Lady Marcus Beresford has long kept cats as pets, but it is only six or seven years since she went in largely for breeding show specimens. She was the prime mover in Cruft's great cat show in 1894."
According to The Roanoke Times, 4th January, 1898 ("Cat Crazy"), "Lady Marcus Beresford keeps 200 cats at her country place near Windsor. They are from all parts of the world, and of all colors, from terra cotta to Russian blue. Every afternoon three footmen bring trays of saucers and lay them out on the lawn in front of the house in rows, and every cat feeds in its own special place, without encroaching on its neighbors. Lady Marcus is said to be the heroine of two elopements and of three divorce cases. She is the inseparable companion of the young Countess of Dudley and the Duchesses of St. Albans and Bedford, who are as cat crazy as herself."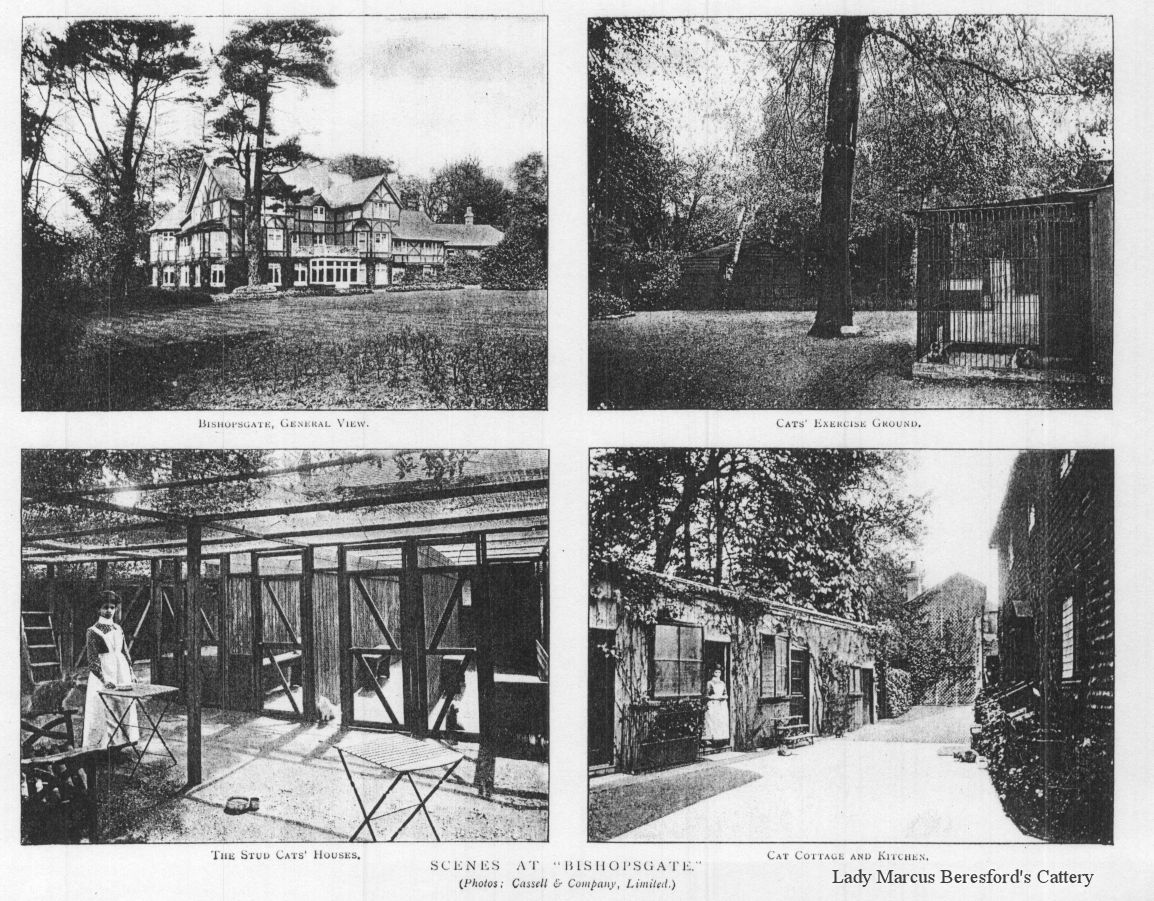 LADY MARCUS BERESFORD'S CATS. Wicklow People, 4th February 1899: The first show of the Cat Club, which took place in the St. Stephen's hall of the Royal Aquarium at Westminster last week, is a significant indication of the rapidly growing popularity among women of pussy as a pet. The Cat Club owes its existence to Lady Marcus Beresford, whose energetic labours caused the show to be talked of as Lady Marcus Beresford's cat show. Nearly six hundred cats were entered, almost all the exhibitors were ladies, and almost every species of cat, from the tailless Manxman to the bushy-tailed chinchilla, was represented in goodly numbers. The exhibitors included Lady Marcus herself, who was represented by no less than twenty-five glorified specimens of the domestic "mouser," Viscountess Maitland, Miss Willoughby, Miss Anderson Leake, Mrs Mackenzie Steward, and Lily, Duchess of Marlborough. The prizes, which were valued at nearly £500, were given away by Viscountess Maitland, assisted by her husband, among the crowded gathering being Lily, Duchess of Marlborough, and her husband Lord William Beresford. The proceeds of the show, which amounted, after the payment of all expenses, to over £50, were handed to the Children's Guild of the Deptford Fund, a charity founded by the Duchess of Albany.
The show, apart from its intrinsic merits, was a revelation of the extent to which the breeding of the rarer kinds of cats has become a hobby amongst women. Dozens of ladies nowadays are engaged in the breeding of cats on scientific lines, and most of them, according to their own statements, have contrived to make their hobby a financial success. It is no uncommon thing to see daintily marked specimens for which £50 is asked. In the Westminster show there were several animals priced at £100, and one was marked at no less a figure than £300
Lady Marcus Beresford has for the last fifteen years made quite a business of the breeding and rearing of cats. At Bishopsgate, near Egham, she has what is without doubt the finest cattery — as such establishments are called — in the world. "I have applications from all parts of the world for my cats and kittens," said Lady Marcus, in a chat about her hobby, "and I may tell you that it is largely because of this that I founded the Cat Club, which has for its object the general welfare of the cat and the improvement of the breed. The presidents of the club are Lily, Duchess of Marlborough, the Duchess of Wellington, and Lord Marcus Beresford. There is a very strong working committee of the club, and the list of members is steadily increasing. I should be very glad to have all who are interested write to the Hon Secretary of the club, at 55 West Kensington Mansions, London.
"My catteries were established in 1890, and at one time I had as many as 150 cats and kittens. They were source of great amusement to both my guests and myself, especially if tea was served on the lawn, for the lawn was made their play ground. Some of my pets live in a pretty cottage covered with creepers, which might well be called Cat Cottage. No expense has been spared in the fittings of the rooms, and every provision is made for warmth and ventilation. One room is set apart for the girl who takes entire charge of and feeds the pussies. She has a boy who works with her and performs the rougher tasks. There is a small kitchen for cooking the meals for the cats, and this is fitted with every requisite. On the walls are racks to hold the white enamelled bowls and plates used for the food. There is a medicine chest, which contains everything that is needful for prompt and efficacious treatment in case pussy becomes sick. On the wall are a list of the names and a full description of all the inmates of the cattery, and a set of rules to be observed by both the cats and their attendants. These rules are not ignored, and it is a tribute to the intelligence of the cat to see how carefully pussy can become amenable to discipline if once given to understand of what that discipline consists.
"Then there is a garden cattery. I think this is the prettiest of all. It is covered with roses and ivy. In this there are three rooms, provided with shelves and all other conveniences which can add to the cats' comfort and amusement. The residences of the male cats are most complete, for I have given them every attention possible. Each married male cat has his separate sleeping apartments, closed with wire and with a 'run' attached. Close at hand is a large square grass 'run' and in this each gentleman takes his daily but solitary exercise. One of the stringent rules of the cattery is that no two males shall ever be left together, and I know that with my cats if this rule were not observed both in letter and precept it would be a case of 'when Greek meets Greek.' I do not wish it to be understood that the gentleman cats are forced to live a solitary existence for they have their reception days for lady visitors, who seem to open their eyes in astonishment at the luxurious arrangements provided for guests.
"I vary the food for my cats as much as possible. One day we will have most appetizing bowls of fish and rice. At the proper time you can see these standing in the cat kitchen ready to be distributed. Another day these bowls will be filled with minced meat. In the very hot weather a good deal of vegetable matter is mixed with the food. Swiss milk is given, so there is no fear of its turning sour. For some time I have kept a goat on the premises, the milk from which is given to the delicate or younger kittens. Cleanliness is a great feature of the Bishopsgate cattery, and in each room or compartment is placed a box of dry earth to encourage the pussies in cleanly habits. My experience with the Persians in particular has been that they are naturally in their personal habits of that same degree of daintiness that distinguishes the human of the class that is better bred. And I cannot say that the Siamese are less particular. It is interesting to see that, in spite of the wide difference in the breeds, they meet on a common ground of aristocracy, feline though it be.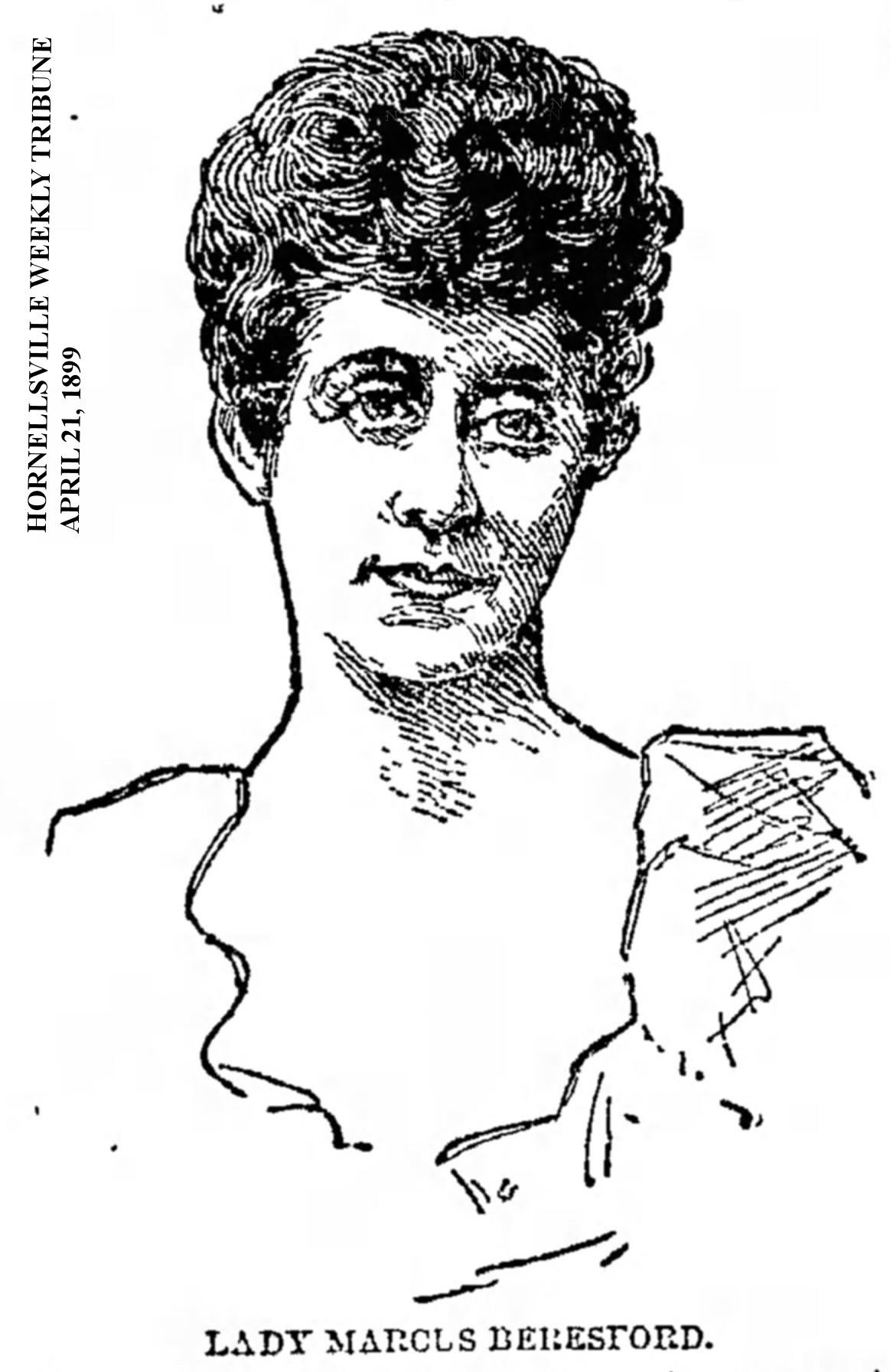 "Apart from the pleasure and amusement of keeping cats, you know, the pussies can be made a good source of income. I Know of one instance where a friend of mine cleared about £70 annually by means of one pair of blue Persians — Beauty Boy and Bluette [Frances Simpson's cats]. I have started many of my poorer friends in cat breeding, and they have proved conclusively how easily an addition to their income can be made, not only by breeding good Persian kittens and selling them, but by exhibiting them at the various shows and taking prizes. But of course there is a fashion in cats as in everything else. When I started breeding blue Persians about fifteen years ago they were very scarce and I could easily get £5 apiece for my kittens. Now this variety is less sought after, and self silvers, commonly called chinchillas, are in demand. One of the best specimens of this breed is to be found in Sweetheart, of Bishopsgate. These cats should have no decided markings, but be white, tipped with silver grey. Lollipop, Stella, and the Angel are beautiful self silver kittens worth their weight in gold."
And then her ladyship went into an elaborate and enthusiastic description of her pets - Siamese cats like Pachan and Cambodia, each with one or two twists or kinks in the tail, and each, in this and in their colouring, bearing a strong resemblance to pug dogs; Azure, a fine blue Persian with a pair of lovely yellow eyes, a special beauty in blue cats; the fine orange-coloured Lifeguard, a renowned prize winner; Gipsy, a beautiful smoke-coloured cat of the correct shading (white at the roots of the fur and black at the tips, with a sort of halo of light fur at the ruff); the sable Kismet, a lovely little creature which Lord William Beresford brought from Cashmere, and other splendid specimens, a description of which would make any cat lover turn green with envy.
WOMAN'S WORLD. THE CAT FAD AND ONE OF ITS LEADING EXPONENTS (Hornellsville Weekly Tribune, April 21, 1899): Of all the cats in the world Lady Marcus Beresford owns the dearest, says a London correspondent. Dearest as pets and dearest as investments! These wonderful cats are all royalties, and even some are kings and queens in a world all their own. They are housed palatially and waited upon by servants retained in their service alone. They live on the fat of the land — a little minced chicken, a tit of delicate white fish, a few finely minced vegetables, the top of the milk! But there are fashions in pussies as well as in other pets. One year it is blue Persians, another it is yellow or orange Persians.
The finest known specimens of the Siamese cats are lodged in the Bishopsgate catteries, quite regardless of expense. They are named Tachin and Cambodia. These cats cost £50 each, or more than their own weight in gold. In and of themselves they are most dainty, shy creatures. In color they are very like the familiar pug dog — a soft fawn, marked with deep velvety brown.
Her ladyship has without doubt a great passion for these charming pets, but, after all, Lady Marcus has turned her fad into a very consistent philanthropy. It is her custom to present dainty, fluffy little kittens to such friends as fate sends her way who may not be blessed with a superabundance of this world's goods and are not so lucky as to be able to import cats from the palace of the king of Siam.
As Tachin and Cambodia and their descendants are alone in their glory in England, such a gift proves a veritable cornerstone of good fortune to the skillful breeder of these charming animals. Great skill is needed in rearing them. So far, no other Royal Siamese have been so successfully imported to this country of fog and damp. Their extreme delicacy cannot be over-estimated. Even in the land of their home these pets of the aristocratic wives of the king are not blessed with the traditional nine lives of our own howling Thomas and humble Tabby. And where the environment is so different the task of rearing demands the utmost care. However, with proper care and patience cat breeding can be made a paying business and one not so well known in America as it should be. Not everyone can secure royal Siamese cats, but at this day almost any enterprising person can get good Persian stock.
LADY BERESFORD LOSES TWO SIAMESE CATS (The New York Times, August 6, 1899): There were a great many Americans at the [Goodwood] races and among them were Lady Craven, with her mother, Mrs Bradley Martin; Lady Randolph Churchill, and Lily, Duchess of Marlborough, with her husband Lord William Beresford. With her also has her sister-in-law, Lady Marcus Beresford, who was Mrs. Buller, and quite well known to New York [due to marital scandals]. Just at present Lady Marcus Beresford is, according to English prints, plunged in great grief over the loss of two Siamese cats named Tachin and Cambodia. This would seem odd to Americans at first glance, but Lady Marcus is the President of the Cat Show in England, and has made thousands of pounds with her remarkable cattery, which is famous all over the world, and which possibly appeals to the British mind as a fad and as equal a social distinction as that of driving an automobile into a stone walk or up the steps of a piazza.
The Tatler (25th September 1901), the celeb magazine of its time, writes "Lady Marcus Beresford's championship cat show at the Leopold Institute, Slough, on the 27th inst. will attract society votaries of the now widely-spread cat cult. Lady Marcus and her friends and various cat clubs are offering cups and valuable prizes for competition. Lily Duchess of Marlborough, Edith Duchess of Wellington, and Lord Marcus Beresford are to act as presidents. Several London professionals are going to help in the entertainment to be given on the day of the show, and Princess Christian, to whose nursing home at Windsor the funds of the show are to be devoted, has promised her patronage. Lady Marcus is an enthusiastic lover of cats, and has met with great success in breeding pets of high degree. The habitations of these cat aristocrats form quite a colony in the grounds of Lord and Lady Marcus Beresford's house at Englefield Green."
A LOVER OF CATS (Northern Guardian (Hartlepool), 2nd December 1901): One of the most energetic supporters of the National Cat Club is Lady Marcus Beresford. She is a great lover of cats, and her lavish generosity wherever cats are concerned has won her the admiration and pride of the cat world. Lady Marcus was the first to start holding cat shows for charity, one of her latest efforts being the show recently held at Slough in aid of H.R.H. Princess Christian's Nursing Homes. Recently her ladyship has been at loggerheads with the National Cat Club on the question of the register for her shows and those of the club, but, fortunately, the differences have now been settled, the club, under the advice of its president. Lord Marcus Beresford, having decided on a single register.
North Devon Gazette (4th February 1902), "Lady Marcus Beresford, who is well known as an exhibitor and prize-winner at the principal cat shows, owns the only two sacred temple cats that have ever left their native Siam."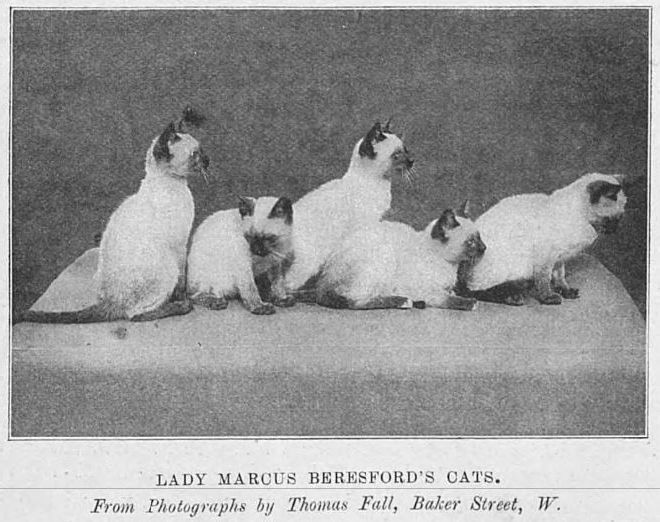 Lady Marcus Beresford became disillusioned with the attitude of many breeders and exhibitors who were more interested in prizes and novelties than in promoting the welfare of cats. Many of the exhibitors had no need of money prizes or valuable "specials."
A CAT WORLD CALAMITY. LADY MARCUS BERESFORD RESIGNS. THE CLUBS AND CAT CULTURE (London Daily News, 9th December 1903)
Much interest and some sensation will be caused in that large section of society which is interested in the cult of the cat by the fact that Lady Marcus Beresford has decided to give up so far as clubs and shows are concerned - a "fancy" with which she has long been associated, and in which she has won such notable position.
There is nothing more interesting and pleasing in the way of a pet than a beautiful specimen of the feline tribe, and now that the "fancy" has achieved so high a favour in aristocratic and social circles, the position of the cat has become quite distinguished, and the art of cultivating these pets and establishing breeds has become to-day quite a fine art. Our American cousins have caught the epidemic strongly, and in New York, Boston, and Washington cat culture is even more pronounced than our own home-loving England. Both at home and in the United States there are journals devoted solely to cats, and there has been established an agency and register by which cats of all breeds may exported and imported to and from the United States and to all parts. The feline fascination has not only become a fashion, but a lucrative hobby of quite a large order. There are, however, some uncomfortable sides to the situation and much disagreement amongst those who elect themselves as honest champions of the cause of a dumb creature whose ancestry we cannot adequately trace back. Pussy has now lovers in legions.
The most beautiful cats of noted pedigree are very valuable. It is here the struggle for notoriety comes in, and it is here also that the quarrelsome and fighting spirit exists in clubs and feline societies. Every woman, womanlike, wishes to outvie the others, and often in the cat world much vindictiveness is exhibited. This spirit, and the fact that sometimes the aim is to excel at any cost in the show world, hinders - -according to Lady Marcus Beresford – the advance of the cause, and cramps movements that otherwise might be advantageous to the animal, and a source of pleasure to the fancier and hobbyist.
Some sixteen ago the National Cat Club was founded, and Lady Marcus Beresford then was one of its chief supporters; but her ladyship saw that another society club could beneficially be founded on other lines with good results. Therefore, she set about inaugurating an institution called "The Cat Club." This was some six years ago, and the importance of the attitude which Lady Marcus Beresford has now taken up is emphasised by the fact that it will affect the whole official body of "The Cat Club," the president and vice-president of which include Lily, Duchess of Marlborough, Edith, Duchess of Wellington, Lord and Lady Marcus Beresford, Isabella, Countess Home, Viscountess Maitland, Viscountess Esher, Lady Ridley, Lady de Trafford, Lady Lister, Lady Gooch, Lord Walter Gordon-Lennox, and Sir Alfred Bateman.
Lady Marcus Beresford has done much to improve the cult of the cat, and I have just had an opportunity of a long personal chat with her on her views and intentions in regard to the feline world in future, and I have also visited her ladyship's almost regal catteries at her home, Bishopsgate, Windsor Park.
"For years," said Lady Marcus Beresford, "I have worked to establish what I maintain is a fair and equitable way of dealing with clubs and feline societies, and to ensure that most good should come from the various exhibitions. I have now decided, and reluctantly, you may be sure, to withdraw from "The Cat Club" entirely, as my strength is really inadequate to the immense amount of work and worry entailed. I gave to the Brighton Show tor the charity, 'The Home for Incurable Children,' four of my famous cats, but I learn that they were not bought by anyone, so I have simply presented them to those I feel will value them. I am disappointed, for their sale should have been of substantial benefit to the charity."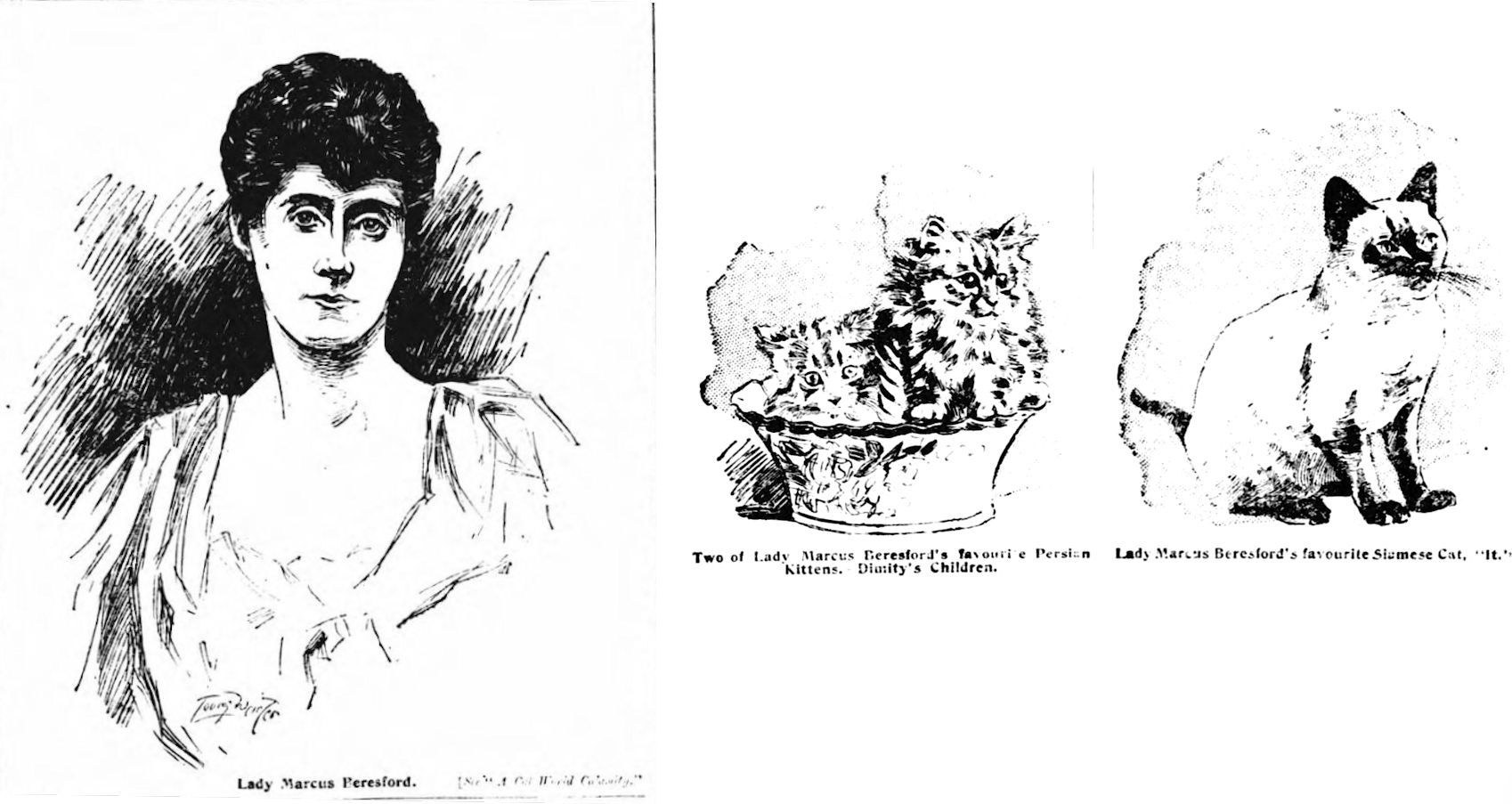 I asked Lady Marcus about her beautiful catteries at Bishopsgate, and if she was retaining any of her pets at all, and she answered very frankly: "I shall in future have no catteries, and only keep my two Siamese cats and possibly a silver Persian. My Siamese is a beautiful specimen, as you know. All my other cats must go. I cannot any longer undertake the worry of the shows, and I should not have done so at Brighton but for the excellent assistance of our hon. secretary, Mrs. Bagster, and Mr. A. Sparrow, who has managed all the shows for us in a very efficient manner. You quite understand how hard everyone has to work in matters of this kind. I wanted so to hand over a considerable sum to the charity, but my wishes in that respect are not realised. I shall, of course, do my best for cats generally in the future; but I feel keenly the apathetic way in which the cat fanciers in general look at shows for causes of this kind. There is no lack of interest when they are showing simply to make profit for themselves. It all seems selfishness - all for gain, for notoriety - and not for the cause of the cat itself. Whatever amalgamation may ultimately considered advisable amongst the cat societies, and whatever course "The Cat Club" may pursue after the general meeting in January next, will not alter my decision in the matter. My work is ended in regard to clubs. I shall keep a few pets - the Siamese, for instance, which my husband and I like best; and although I may still take an interest shows from an exhibitor's point of view, the matter will end there, for I have finished with the show world as regards their direction and bringing about."

" And so 'The Cat Club goes?" I asked Lady Marcus.

"No, not necessarily; but it must go on its own lines and without us. The question of amalgamation with other societies is not one for the promoters to consider, as we have always stood alone, and what the club chooses to do afterwards is another thing entirely. Every member will be treated fairly, as they have always been; but it is now just a crisis in the cat world, and I hope that the issue of the crisis will be beneficial for the cats and their culture. If the best be done for the real training of cats, I am sure it will prove better for the clubs than the spirit that in some quarters now prevails. In January next there will be a general meeting, when, as far as I am concerned, 'The Cat Club' will cease to exist, as all the presidents and will probably resign. The cups would in that event be returned to those who offered them (save those that have been won outright), and the pens and benching sold, the proceeds to divided amongst the members. A great part of these pens and benching have been paid for out of my own pocket, and the deficits in club accounts have up to now been made good by me. Very few members have helped towards expenses, and few have given any good specials. I should not have continued so long working, as my husband has often begged me to give it up, but I have kept hoping that things would become better. Alas! no. But as long as cat fanciers are seeking advertisement for themselves and feeling jealous of anyone who breeds or shows a cat better than their own, nothing can be worked in peace; and only with the able support of Mrs. Bagster have I been able to keep mv club for tins length of time. I cannot speak too highly of Mr. Sparrow s management; and I shall always feel and remember that The Cat Club shows have been the cleanest and healthiest in the cat fancy, and that some little good has been done with the money collected tor several charities. 'Those few who have helped and supported me I shall always remember gratefully and kindly.

The Bishopsgate Catteries, always so charmingly arranged, and situated in the heart of Windsor Park, will unfortunately be no longer known heretofore. Lady Marcus Beresford's hopes and aims were always keen and earnest. If, therefore, the lack of earnest supporters and good workers has at last brought about this position, it is a pity, and will be much regretted, and l am on this point just reminded of an utterance made to me at Brighton by a well-known gentleman who is devoted to felines, who said, "Well! If Lady Marcus Beresford leaves us, then heaven help the cat clubs." - E. Leuty Collins.

REGRETTED BY CAT FANCIERS- Walsall Advertiser, 19th December 1903: "Lovers of cats will be sorry to hear that Lady Marcus Beresford is withdrawing from all cat clubs and cat shows. She has supported the National Cat Club since its foundation some sixteen years ago, and later brought into existence "The Cat Club." Windsor Park, her "catteries*" are worth seeing. She is, however, "disestablishing" them, and is only going to keep two Siamese and a silver Persian. She refuses to support clubs and shows any longer, because "cat fanciers in general only seek profit and notoriety, and not the welfare of puss, whose cause she has so much at heart." The cause of the cats has been liberally supported for years by her ladyship."

According to The Allentown Leader (Oct 22, 1904), "Lady Marcus Beresford, who founded England's Cat Club, is said to have the best cattery known. She has, of course, the choicest breeds, rare Persians, Chinchillas with their bushy tails and Manx cats without any tail whatever. She has a cat cottage where every provision has been made for comfort and cleanliness." However, via The New York Times of Sunday, January 24, 1904 we learn "Lady Marcus Beresford liquidates her cattery. For some reason or other Lady Marcus Beresford has given up her various cat clubs, has resigned the Presidency of the largest and most notable of these organizations in London, and is to dispose of her many pets and charges by selling them to fanciers or to private parties. Lady Marcus Beresford has for some years made this cat culture a special fad. It is said that the Cat Club in London will now go into dissolution. The recent exhibition in New York showed several cat clubs in a most flourishing condition here, and some of the catteries here intend to purchase a few of the Beresford animals. They have been pictured for years in the various English magazines and are considered to be quite wonderful of their kind. Lady Marcus Beresford was originally Miss Louisa Katherine Ridley, the daughter of an army officer."

"The cat fancy has much for which to thank Lady Marcus Beresford, and if the rumour of her secession from its ranks is true, it is an evil day for exhibiting catdom. A more unselfish supporter of shows is not possible, and her efforts to stop sickness and fraud at shows are well known. The cat world would never have had such prominence given to their hobby had this remarkable cat lover neglected to finance the excellent and charitable shows she organised twice a year. I have also known her on occasion to enter twelve cats in one class in order that the class should pay the promoters, and so the cat herself be properly represented. Some¬times she has entered her cats thus liberally, knowing that she could not get even a third prize of five shillings — either they were out of coat or too young but Lady Marcus heeded not. Were not the cats making new friends ? Lady Marcus will, of course, keep two of her favourite Siamese, which are of the best in England, the one named "It" being especially good ; she will also keep some silvers." – Boudoir Magazine, 1904

LADY MARCUS BERESFORD LIQUIDATES HER CATTERY (The New York Times, January 24, 1904): For some reason or other Lady Marcus Beresford has given up her various cat clubs, has resigned the Presidency of the largest and most notable of these organizations in London, and is to dispose of her many pets and charges by selling them to fanciers or to private parties. Lady Marcus Beresford has for some years made this cat culture a special fad. It is said that the Cat Club in London will now go into dissolution. The recent exhibition in New York showed several cat clubs in a most flourishing condition here, and some of the catteries here intend to purchase a few of the Beresford animals. They have been pictured for years in the various English magazines and are considered to be quite wonderful of their kind. Lady Marcus Beresford was originally Miss Louisa Katherine Ridley, the daughter of an army officer.

CATS IN CLOVER (Mid Sussex Times, 14th June 1904): Writing of "Some Celebrated Cats and their Owners' in "Cassell's Magazine," Mr. Walter T. Roberts describes some famous catteries and speaks of the cattery at Bishopsgate – lady Marcus Beresford's lovely home near Windsor – which was at one time the most extensive in England. A whole cottage was given over to these highly bred pussies, with the exception of one room for the attendant who waited on the. Each room was fitted with a stove and the temperature throughout the cold weather always kept at a pleasant level. In some American journals the Bishopsgate cattery was once described as "a cat's fairy-land," which was undoubtedly a pretty and truthful expression; but when the writer went on to tell how one thousand cats reposed on velvet cushions and drank milk out of porcelain saucers, he got somewhat off the strict lines of truth. Lady Marcus Beresford has certainly devoted herself in a most thorough manner, not alone to raising the status of the cat, but in setting an example of how a cattery should be kept with due regard to the comfort of the animals, which is so often neglected.

"Lady Marcus has been a celebrated beauty and is very clever. For despite two sensational divorces and antecedents sufficient to ruin forever the position of any woman, she has managed since her marriage to Lord Marcus to recover a very remarkable foothold in society, mainly through her organization of the National Cat club, with herself as secretary and manager, and with all sorts of leaders of the great world as officers and Directors. If to-day cats have their 'peerage,' like dogdom, in the Kennel Book and horses in the Stud Book, it is entirely due to her initiative; and her altogether unique understanding of Angoras, Persians, Maltese, and other patrician pets of the feline race has had the effect of causing people interested in cats to pass a sponge over her former in-discretions." Published in the New York Times article "Women Began Feud that Agitates the British Navy: To a Social Feud Between the Wives of Two Admirals Is Attributed the Present Demoralization Existing in English Naval Circles." written by "a Veteran Diplomat" and published on July 26, 1908.

Lady Marcus Beresford died in 1920 and Lord Marcus Beresford died 2 years later.

FAMOUS PUSSY SHOW. Sporting Times, 29th January 1921 - "Is the Marcus Beresford Gold Medal still competed for at Pussy Shows?" asks a fair Pink 'Un. I remember dimly that a prize of this name used to be given for the best British cat at the great annual cat show at St. Stephen's Hall, Westminster, but I very much doubt whether Lord "Marky" himself was the donor. It was Lady Marcus, who has been such a charming and popular personality in London society, first as Miss "Lou" Ridley, then as Mrs. Kingscote, and then as Mrs. Charley Buller. "Have you seen the show of pussies at Westminster?'' used to be quite a watchword at the Service clubs in the 90'ies. [The rest of the article is double entendre.]

You are visitor number