PROMINENT EARLY CAT FANCIERS
Using various online archives and my own files, I thought it would be interesting to flesh out some of the prominent early cat fanciers on both sides of the Atlantic, most of whom were "society" people. In doing so, I also found tales of scandal and financial ruin that beset the British aristocracy, as well as accounts of upstanding families involved in their community.
MARY RUSSELL, DUCHESS OF BEDFORD
The Duchess of Bedford was another fascinating character whose interests went well beyond the cat fancy. She was born Mary du Caurroy Tribe at Stockbridge, Hampshire, England on 26 September 1865 and went missing, presumed dead, on 22 March 1937. She was the daughter of the Venerable Walter Harry Tribe and Sophie Tribe nee Lander. The young Mary lived with her aunt in England and was educated at Cheltenham Ladies College. She left school aged sixteen to join her parents in India, where her father was stationed as the Anglican Archdeacon of Lahore (then in India).
Her father's chaplaincy duties took him on dirt roads and over mountain passes to Indian villages, so for six years, the intrepid Mary went with him, taking turns riding their one pony. Mary thrived on the freedom of the Indian ex-pat lifestyle after the rigid formality of Victorian England. When alone, she rode astride rather than side-saddle. She played tennis and cricket and attended spectacular durbars (public receptions). She became skilled with the gun and was one of the best shots in the hunting expeditions organized at Lahore. She also fell in love with a young army officer, though it was a short-lived romance. When the family moved to Simla, heart of the British Raj, she attended parties at Government House and she met Lord Herbrand Russell, seven years her senior.
Herbrand Arthur Russell, later 11th Duke of Bedford was born 19 February 1858 and died 27 August 1940 aged 82. A former Grenadier Guards officer, he had fought in the Egyptian Campaign in 1882. He was Aide-de-Camp to the Viceroy of India between 1885 and 1886, during which time he met Mary. Between 1886 and 1888 they had to maintain their relationship by correspondence. On 31 January 1888, 23 year old Mary and 27 year old Herbrand were married at Barrackpore, India. As the younger son of the 9th Duke of Bedford, he was expected to make his own way in the world. The young couple anticipated a life serving Queen Victoria in India, the "Jewel in the Crown" of the British Empire. Five years later, in March 1893, Herbrand inherited his childless brother's titles. The Dukedom brought with it Woburn Abbey, seat of the Dukes of Bedford for over 300 years. The family also owned Russell Square, Bedford Square, the larger portion of Bloomsbury and the whole of Covent Garden in London.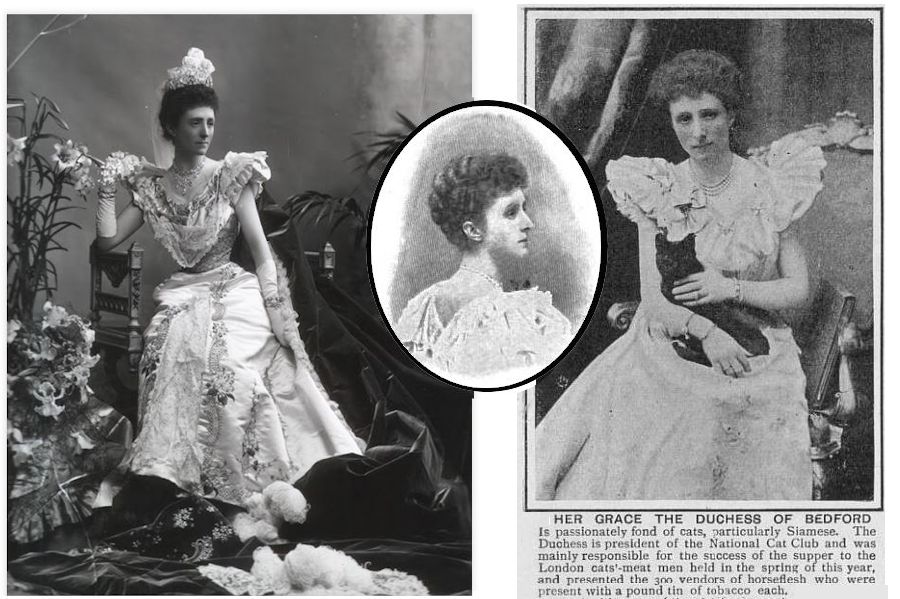 Herbrand inherited a slew of title in March 1893, following the deaths of his father and brother: 11th Baron Howland of Streatham, Surrey; 11th Duke of Bedford; 11th Marquess of Tavistock; 13th Baron Russell of Thornhaugh, Northants; 15th Earl of Bedford and 16th Baron Russell. During his lifetime he held a number of military positions including Militia Aide-de-Camp to both King Edward VII and King George V. He fought in the First World War and was mentioned in despatches. He had many other personal achievements too: President of the Zoological Society in 1899, Mayor of Holborn in 1900 and Fellow of the Society of Antiquaries in 1901. He was Knighted (Order of St John of Jerusalem, and Order of the Garter) and held an honorary degree of Doctor of Law from the University of Edinburgh in 1906. He became a Fellow of Royal Society in 1908 and Knight Commander, Order of the British Empire in 1919. In 1931 he became an honorary Freeman of Holborn in 1931.
The couple's engagement was announced at a Viceregal Ball at Simla. Herbrand's haughty parents, the Duke and Duchess of Bedford (Francis Charles Hastings Russell, 9th Duke of Bedford, and Lady Elizabeth Sackville-West), did not approve of Mary. She was only an Archdeacon's daughter and below their social class. The couple married on January 31, 1888 in Barrackpore. After their honeymoon, Herbrand and Mary Russell lived in Scotland. Their only child, Hastings William Sackville Russell, was born 21 December 1888. It seems to have been a traumatic birth, possibly followed by post natal depression, things not talked about in those days and not mentioned in her diaries. She was either left unable to bear more children or, having produced the required male heir, decided not to risk further pregnancies.
Hastings had governesses and tutors, and developed a close relationship with his father. Mary seems to have had little chance to develop a proper relationship with her son, because Herbrand and his father, Francis, appear to have excluded her from his early upbringing. As an aside, Hastings and Herbrand had a major falling out when Hastings became a pacifist rather than follow in his father's military footsteps.
During her lifetime, Mary became a Dame of Grace, Order of St. John of Jerusalem , a Fellow of the Linnean Society of the Imperial College, and in 1928, a Dame Commander, Order of the British Empire. However, her most famous title was that given her by the press: The Flying Duchess. She broke the record for a flight to South Africa in the 1930s.
Cats
The Duchess of Bedford was a great cat fancier. In the 1890s and early 1900s, she owned some of the finest Siamese cats in the world. For several years she owned a cat named Goblin, as famous in its day as Lady Marcus Beresford's "blues." She was an active member of the Ladies Kennel Association and President of the National Cat Club (Harrison Weir was the first president and the Duchess of Bedford succeeded Louis Wain). At the 1899 (or 1898?) Ladies Kennel Association cat and dog show at Holland House she presented two fine silver models of kittens as prizes specially designed by her grace. She also designed a charming milk saucer with the head of a cat in relief ornamenting the centre.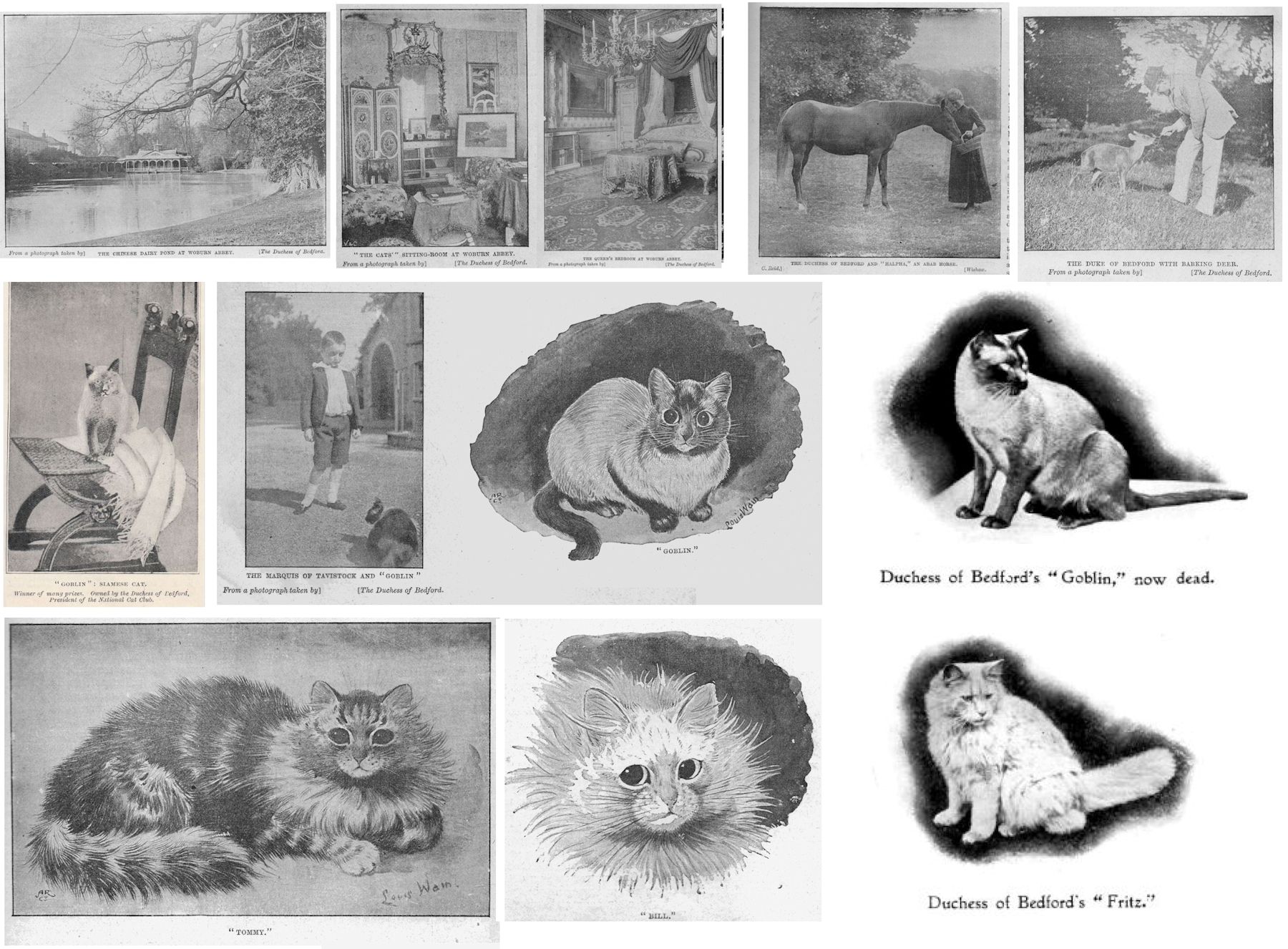 Goblin was a neutered seal point Siamese born in 1888, and had an impeccable pedigree: son of Mrs Vyvyan's imported cats Tiam-o-Shian and Susan. Louis Wain describes Goblin, and the Duchess's other cats in an article published in The Windsor magazine, pp244, 1895.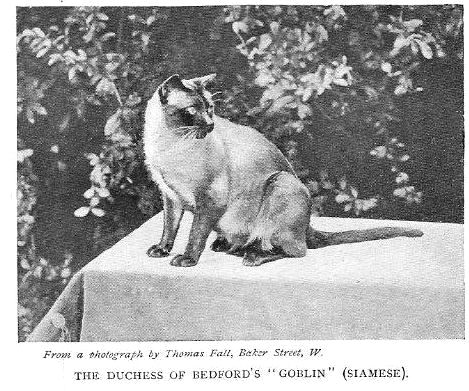 The Duchess Of Bedford's Pets, By Louis Wain (Windsor Magazine pp 244)
THE first impression a stranger receives on viewing the great home of the Russells is a feeling of absolute repose. Everything combines to produce this effect — the fine unpretentious front, severe in classical massing, backed by elms and the famous Woburn beeches of immense growth and immemorial age, the delightful park-land lying around, the graceful deer wandering undisturbed among the- quiet glades, all speak an atmosphere of eternal peace. Passing through the gateway, embedded in firs and laurels, a short walk brings one close to Woburn Great House ; but before one even enters the massive old hall, one encounters some of the many pets to which the charming mistress of Woburn is so devoted.
Once indoors, we pass down the scarlet corridors, hung with many famous family portraits, to the Duchess of Bedford's sitting room, which, by courtesy, is also the cats' boudoir, and here we are introduced to a few of the more distinguished members of a very important section of the family circle. Curled up in a cosy arm-chair is a smug, contented-looking, long-haired, half-bred cat, who, despite his mixed ancestry, has caught nature in her kindliest moments, and, as the result, rejoices in a perfect wealth of silver grey fur. His name is the most unromantic, "Tommy," but his manners are expressive more of the Bubastian deity, who looks down upon all cats as minioned subjects from among the mystic gods. Perhaps in years to come — far beyond the present seven of his earthly existence — he may pass into the realms of memory's fantasy, as much a deity in his own right as any earthly monument can make him, for he comes first among his peers in his mistress's affections, and his loss would be a sad blow to her.
On a fur rug a really royal Siamese cat sits, blinking in the glow and glint of the fire. His glossy coat is of a cream and mouse-brown colour, while his eyes are of a pale-blue mauve. It would be difficult to find "Goblin's" match at a show or elsewhere in this country ; small wonder that he is a popular sprite. Yet his grave, innocent expression of countenance is a huge fraud, for at any moment he is ready to sacrifice the whole of his dignity at one fell swoop for a romp and a scramble, despite the four years which he numbers.
"Bogie," a whole-colour, very dark-brown cat, is likewise a Siamese, and a vixen into the bargain. She has a philosophy of her own in regard to the treatment of furniture, and will play sad havoc with silk, damask, and even "down" cushions when she gets the chance. Consequently she is usually banished to an upper storey, or the grass lawn, whereon to work her wicked wiles.
A famous reddish-yellow, long-haired tabby — a mere big, overgrown baby of a cat — sits near the fire, spooning and purring for notice, as is the way with those unconscionable cats who crave for notoriety. Very celebrated is "Bill," whose donor was Lord William Beresford, and hence to all his friends and familiars he is universally known as "Bill Beresford."
Other cats are frequently permitted to join the house or garden party, but some, alas ! are by nature so indigenously and irretrievably wicked that their sojourn in polite society has to be of very limited duration. "Bigit," for example, is on the roll of the tabooed ; he is a sullen Siamese, who lives happily enough in exile, where twenty-five guinea pheasants are unknown, and the larder door balks his sportive inclinations, and where his liberties are entirely circumscribed to the domestication of home life alone.
Before finally leaving the cats, mention must be made of their appropriate surroundings. The walls of their comfortable room are hung with a happy selection of pictures, among which one specially notices Landseer's "Head of a Retriever holding a pheasant;" a bright treasure of perfect fur, by Madame Ronner — one of her prettiest cat paintings ; and a large canvas of two fox terriers watching a snarling kitten."
Bogie may have been an early Burmese/Chestnut Oriental type. As well as 5 Siamese cats (including Goblin, Bigit, Bogie and Marko), she had black-and-white shorthair (Napoleon), a half-Persian (or half-Angora) brown tabby Longhair, a silver tabby Persian (Fritz), several longhair blue "Russian cats" and a red Tabby Persian (Bill). In 1905 she reportedly had two large tiger cats that dozed on the fireside rug at her home in Eaton Square. She seldom travelled anywhere without a few dainty wicker baskets, holding her favourite cats which had their own rooms at Woburn, and also in her residences in Scotland and London. At Woburn they had covered exercise courts arranged with trees and shrubs.
According to an article printed in various American Newspapers in 1901 (I've taken this from The Courier Journal, October 27, 1901), "It is a question whether the Duchess likes dogs or cats best. The dogs at Woburn live like fighting cocks, but the cats have a most luxurious room practically given up to them. Her Grace is president of the society organized by Chinese Gordon's sister-in-law, which runs in London a remarkable boarding-house for well-to-do cats and a lodging-house for poverty-stricken ones, and is represented by two or three exhibits at almost every cat show that takes place. The Duchess was present at this year's dinner of the men who sell cats' meat in London and made a kindly little speech in which she begged the men to be charitable to the stray cats that they encountered on their rounds. But it is for her private zoo that the Duchess is best known. The zoo is at Woburn, too, and in the rarity of some of its inmates it surpasses the Zoological Gardens in London, of which the Duke of Bedford Is presiding officer."
"Nor has the Duchess of Bedford ever shown a cat, though, to help the fortunes of Puss, she has given the costliest of prizes, has subscribed and helps to maintain a bond fide Cat Home. In the movement to secure better treatment for waif and stray cats, the Duchess also promoted and largely paid for a most successful supper some two years ago for the cats'-meat men who were, on the occasion, so good impressed by her Grace's tactful remarks, her appeal to their kindlier manhood, that we can believe what is freely stated all over the slums of London, that since that eventful supper night the cats'-meat men have never allowed a cat on their beat to want a bite, or a little touch of kindness. The Duchess of Bedford is not an exhibitor from dislike of cat shows, for she realises that these fixtures are a great protection to the cat, making Puss of such com¬mercial value that its happiness and safety in living are assured, and she gives her patronage to the leading exhibitions of cats." – Boudoir Magazine, 1904
This article is from the Herts Advertiser, 19th January 1901, and was much reprinted in subsequent years. "The Duchess of Bedford, says "M.A.P.," is President of the National Cat Club, Patroness and supporter Mrs. Gordon's Home for Lost end Starving Cats, and a ready sympathiser and helper in anything that can further feline interests. Yet, in private life, one does not see "chez la Duchesse," the tribes of cats one might expect to find maintained by a lady who has done so much for these often sorely persecuted animals. A plain little stone bearing the single word "Tommy" marks the grave, of a departed pet in the grounds of Woburn. "Tommy" was a silver tabby Persian, stoically beautiful and intelligent. To-day "Goblin" has taken his place in his mistress's affections, a big-eyed Royal Siamese cat, growing grave and sedate, cat-fashion, out of sheer happiness. Then there is "Bill," named after his donor, poor Lord William Beresford, orange tabby, and a beauty. Other cats there are, indeed, distributed the country round in farms and cottages, but in the immediate neighbourhood of Woburn Abbey itself, the Duchess has other interest [the menagerie]. "
The Tatler of 13th July 1904 also mentions her cats: "The cat, Napoleon, is the latest feline arrival at Woburn, and though he looks fat and a monarch every inch of him now was a starved waif and stray when he was taken to Woburn by a poor woman who wished to secure a good home for the scraggy scavenger. The duchess consented to receive him, and Napoleon selected the Woburn stables, which he jealously guards, and if Fritz or any other cat presents his face within sight of Napoleon's domains the cat emperor makes a spirited attack and routs the intruder oft" the boundary of what he considers his exclusive sphere. Fritz, the Persian, is the personal pet of the Duchess of Bedford. Since the death of Goblin, who was the elect of Woburn felines, Fritz has lost the sullen jealousy and the skulking way of entering the rooms which from fear of Goblin pouncing on him he had in the latter's lifetime."
The Cheltenham Looker-On, of 6th February 1904, has this to say "The Duchess of Bedford has perhaps the finest collection of cats in the kingdom, and fortunate are the animals that have such a home and mistress. A large enclosure surrounded with wire, open roofed, gives the cats open air exercise, and they are not permitted to ramble about the demesne and gardens, being much too valuable to have their well-being endangered. Special baskets made for the favourites when travelling from one of the several homes of the Duchess to another, or to cat shows, are models of comfort and convenience."
In November 1927, the London Times carried an account of the Siamese Cat Show held in Kensington in September; the best exhibit in show was a male kitten, Marko, bred by Mrs. Ellerby and bought by the Duchess of Bedford. King Kesho, a famous Siamese sire in the 1890s until his death in 1897 claimed descent, in part, from the Duchess of Bedford's cats.

Other Interests
Life at the ancestral seat at Woburn Abbey was one of "pomp and circumstance" with a huge number of staff employed in the house and on the estate. Herbrand ran his private empire with the administrative skills learned in his army years and wrote a book on how to run an estate. Although he maintained the village of Chenies for his staff and kept rents low, those staff were hired by the week and subject to strict rules. If dismissed, they lost their home immediately. During the 1890s, with no involvement in the administrative side of the estate, Mary threw herself into other activities. She was a member of the Women's Tax Resistance League, a group associated with the Women's Social and Political Union that used tax resistance to protest the disenfranchisement of women during the British women's suffrage movement.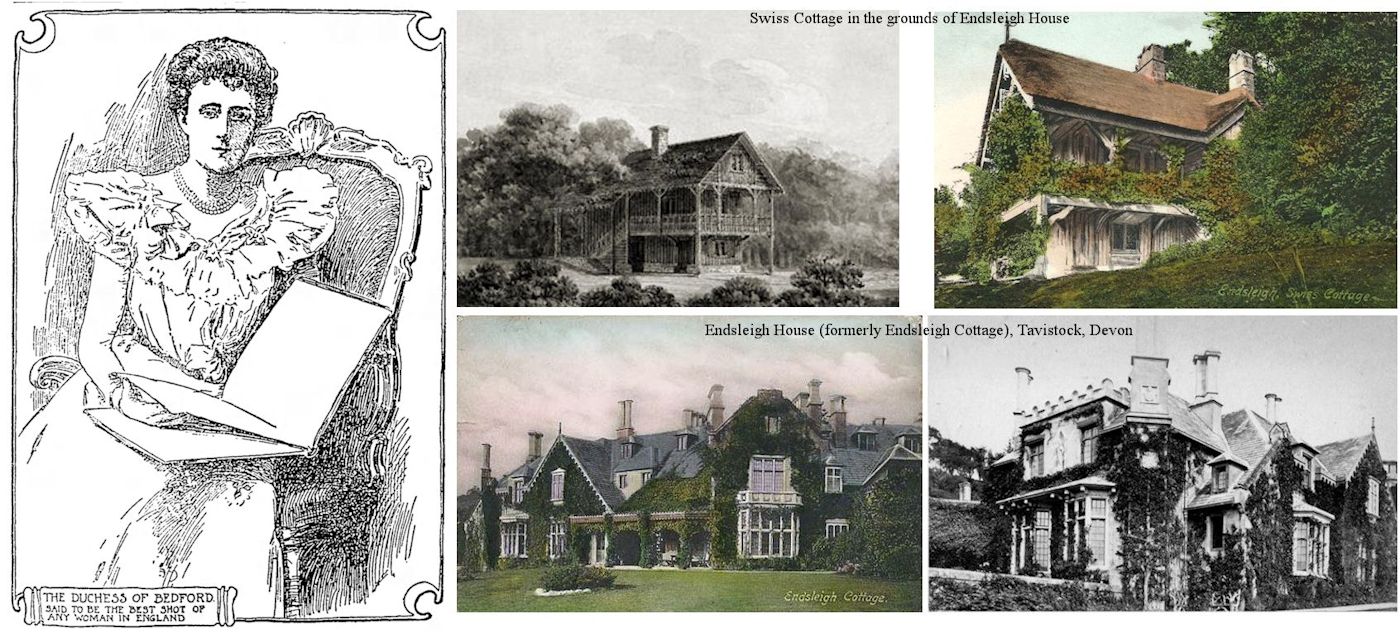 She was greatly fond of her Swiss cottage known as Endsleigh, near Tavistock in Devon. Cottage is a bit of an understatement – it was hugely expensive and set in a large estate . Despite her position, she had simple tastes. The couple were less known socially than any other pair of their rank and it was said that the duke was a shy man, and one who took himself most seriously. They appeared only rarely in their private box at the Royal Opera House or at the skating rink at Knightsbridge. Unlike many of her station, who held "at homes" and "took tea" with their peers, Mary was not one for the high society life. She donned the tiara and trappings of a duchess when required for social duties.
Instead of the social whirl, she threw herself into various activities, each undertaken with such single minded determination that she excelled at them all. She loved nature and preferred to be outdoors. She climbed mountains, sailed to remote and inaccessible places on her yacht, was a superb ice-skater, and a talented painter and photographer. She rode fearlessly (and no doubt side-saddle) to hounds according to Baily's Sporting Magazine, shot gamebirds, fly-fished, and went on solo canoe trips along the rivers where she sometimes got "shipwrecked." She became the finest woman shot in England, with only a handful of men in front of her. She excelled in fly-fishing. She became an internationally renowned ornithologist who spent weeks in remote cottages on Hebridean islands. Between 1909 and 1914 she spent much time on Fair Isle, often in the company of William Eagle Clarke. She also founded a boys' bird watching club, and her journal, A Bird-Watcher's Diary, was privately published posthumously in 1938. She also became a skilled amateur mechanic who made her own radios.
Although she did not published any scientific work, she was very capable of doing so, but probably didn't have the time. She often visited the British Museum's Natural History Dept where she discoursed with experts. The estate at Woburn included the rare Pere David's deer. Even the couple's worn out carriage horses found an easy retirement there. A great number of her animal photos, taken at Woburn Abbey, were used to illustrate "The Living Animals of The World." She passed on her interest in ornithology to her son, the Marquis of Tavistock who kept and bred Australian parrots.
Mary was also well-known for her ability to tame and train animals including a fiercely territorial swan, Sabina, that became so besotted with the Duchess that she ignored her own mate. Apart from one spoiled lap-dog, she could train almost any animal to perform tricks. She trained one of the Duke's horses to shake hands and bow, and also to drop, roll over and feign death.
Hospitals
The Duchess had always been interested in medicine but medicine was a man's world, while nursing was for women of lower social status. Charitable works were acceptable, so in 1903 she set up a cottage hospital on Leighton Street. Over the course of time, she founded and financed four hospitals in Woburn and in the grounds of Woburn Abbey, the principal one being the Abbey Hospital, established in 1914, where she worked as a nurse and radiographer right through to the 1930s.
During the Great War, her cottage hospital, became a hospital for the wounded and she employed a surgeon to run it for her. She also converted buildings at the Abbey into a second hospital. This was accomplished with such speed that the first wounded soldiers were admitted within six weeks of the declaration of War. She was responsible for the administration, while the duke paid all the bills (having a keen interest in military matters). Her hospital became an example of best practice and this war work allowed her to respectably fulfil her ambition of becoming a nurse. She became a theatre sister and trained as a surgeon's assistant so she could help during operations. She was so skilled that she performed minor operations herself. Encouraged by the surgeon, she trained in radiology, a new and important diagnostic tool, and she headed the hospital's radiology department.
Mary never expected her staff to do anything that she wouldn't do. She worked from early morning scrubbing floors and preparing the operating theatres for the surgeons. There is little doubt that had she not died in 1937, the dynamic duchess would have been equally active in hospital work during the Second World War.
Aviation Pioneer
The Duchess of Bedford was 61 when she started to fly. This was the infancy of powered flight and the intrepid Duchess had been taken up for a short flight which she found exhilarating. She also claimed it helped with her tinnitus (possibly the change in air pressure did help somewhat), although she later became totally deaf. She decided it was a hobby she'd like to pursue, and never one to do things by halves, she became a renowned aviatrix during the early days of powered flight. Most female aviation pioneers were less than half her age. She turned a paddock at Woburn Abbey into a landing field and did her errands to nearby towns by plane. This was also an era when many members of the aristocracy took to flying, had aircraft and paid social visits by plane.
On 2 August 1929, Mary and her personal pilot, Captain C.D. Barnard, departed on a record-breaking flight of 10,000 miles from Lympne Airport to Karachi (then in India), returning to Croydon Airport in eight days. They flew her single-engined Fokker (known as "The Spider" because of its tenacity), accompanied by mechanic Robert (Bob) Little. On 8 April 1930, Mary made her first solo flight, in her Gipsy Moth. On 10 April 1930, Mary and Barnard embarked on a record-breaking flight from Lympne Airport to Cape Town, in the "The Spider", flying 9,000 miles in 100 flying hours over 10 days.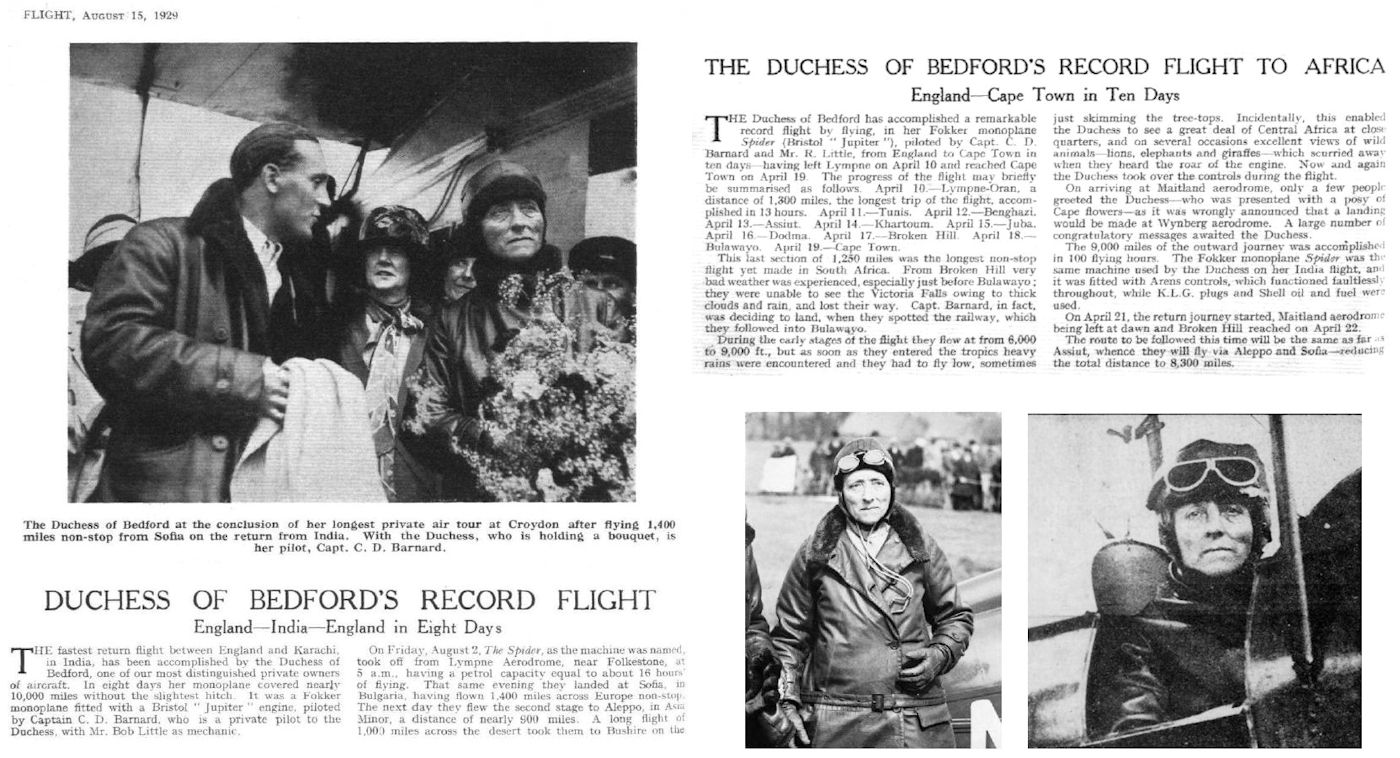 In those early days, aircraft had a fairly short range so aviators had to make frequent refuelling stops on turf or sand runways. Long distance flights were a matter of lots of shorter "hops." If something went wrong with the plane in the middle of nowhere they might have to wait days for a part. Her round trip to Cape Town had been interrupted by a broken oil line that forced her to land at Sofia, Bulgaria. There were other dangers if they flew over hostile territory. On one occasion they landed and discovered two bullet holes in the aircraft where people on the ground had shot at them. There was also the danger of carbon monoxide poisoning from the plane's engine.
Barnard loved to thrill – or scare – his passengers. Mary seemed to enjoy the danger and had even leaned out of the open door of the plane to take aerial photographs. He wanted to break aviation records and the Duchess took little persuasion to support (especially financially) and accompany him on record-setting flights. After Barnard, she employed Flight Lieut. Preston. It was he who plotted the course for her final flight. Mary had 199 flight hours under her belt and she wanted to reach 200 hours. There was some urgency about this because she was 71 and deaf and believed her pilot's licence would not be renewed.
She took off from Woburn, alone in her Green De Havilland Moth Major, heading towards Cambridgeshire. She had sufficient fuel for 3 hours of flying. She had intended to fly over the flooded Ouse river area. It was a dismal March afternoon in 1937, in weather conditions which were deteriorating rapidly. The navigation system she was using had caused problems to other pilots even without the visibility conditions of that day. Soon after she took off, a snow storm came up. When she hadn't returned after an hour and a half Herbrand was very concerned and contacted the chief of Bedfordshire police who put out calls to neighbouring constabularies. Although she knew the terrain well, it was feared she may have been disoriented by the wide floods or tried to set down on a flooded field. Police searched Monks woods, 13 miles from Peterborough where a gamekeeper had seen a low-flying plane. He quickly lost sight of it due to the blinding snow and he heard the engine stop. He believed the plane had come down, though he didn't hear a crash.
There was speculation that it could have been suicide, but a lot of people who knew her have said that there were so many things that could have gone wrong, it was just speculation. We do know that shhe had been ill about 10 days previously and had been subject to fits of dizziness, according to a friend. She was also worried, too, about the future of the hospital, as the duke was becoming aware of limitations on his spending power (a lot of wealthy estates were so heavily taxed they were broken up and sold off).
The Flying Duchess was never seen again. It seems most likely that she strayed over the sea and either ran out of fuel or was forced down by the weather. On March 25, 1937 fishermen dragged up a wooden strut in their nets. Flight Lieut. Preston and officials of the de Havilland firm did not believe it was part of the Duchess's Moth plane. Royal Air Force planes joined the search over the fenlands of East Anglia, criss-crossing the terrain. On the slim chance she was afloat at sea, the government radio ordered all nearby ships to be on the lookout. Nearly 100 Royal Air Force Planes and 2000 searchers on the ground failed to find any trace of her. Police dragged the lakes on the duke's 20,000 acre estate in case the plane had come down in the grounds. Although she knew the terrain well, even her husband, who answered all phone calls personally from his bedroom at Woburn Abbey, accepted that she had lost her way while flying through a snowstorm over flooded fenland. On March 26th, hope of her survival was abandoned. On March 29th, another piece of wood washed up near Hunstanton, Norfolk, but it was not from her plane. Finally, on April 2nd, 1937 an aeroplane strut washed up at great Yarmouth and definitely identified as coming from her plane. Experts believe she was blown off-course and met disaster in the sea. On 14th May, a body of a woman in a flying suit was found in the English Channel, by a train ferry, five miles out from Dover, but Flight Lieut. Preston said there was no chance of the body being the Duchess. To give some context, there were quite a few daring female aviators lost over the sea in those early years.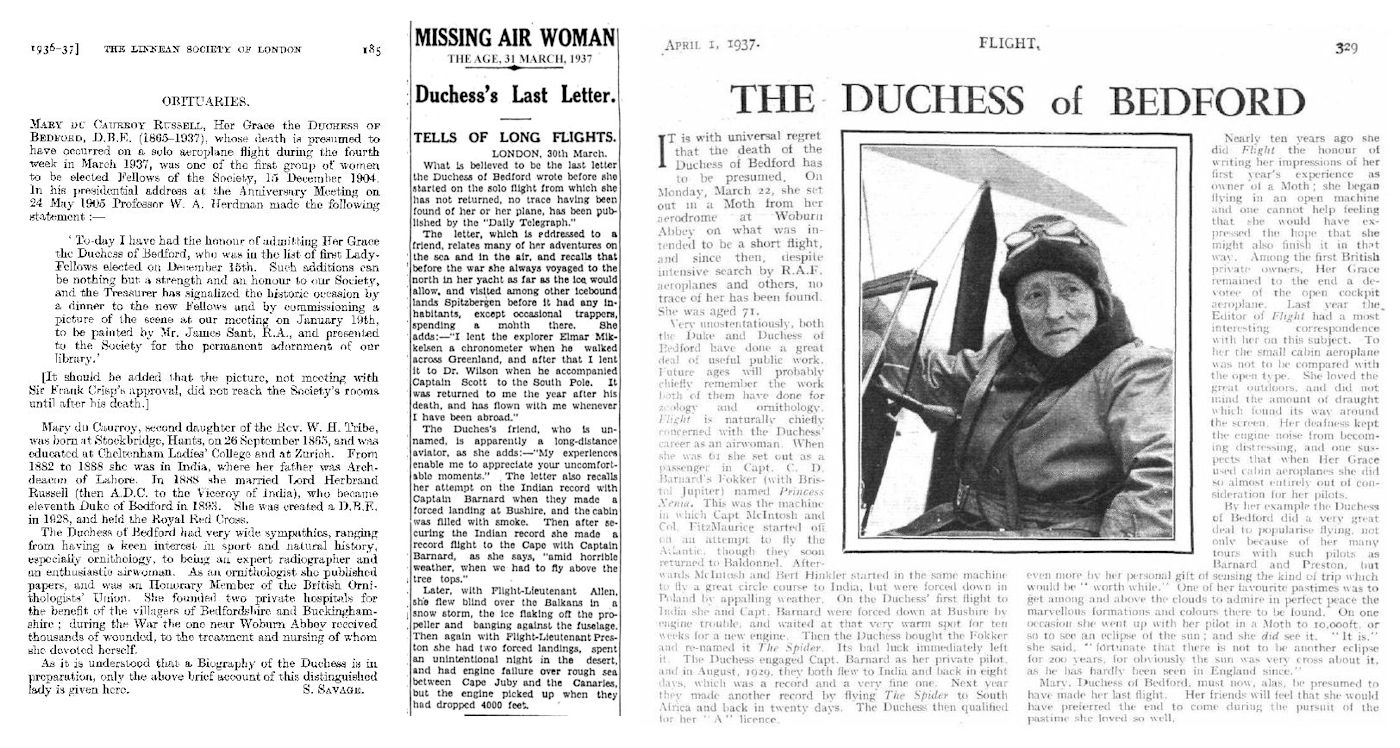 All that is known for sure is that the Flying Duchess and her plane disappeared together into the North Sea and were never recovered. Her beloved husband died 3 years later, in 1940, aged 82.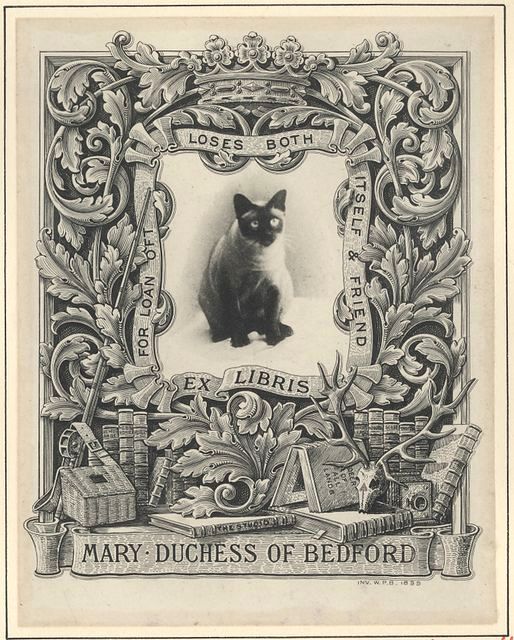 You are visitor number