THE EARLY BRITISH CAT FANCY - NEWS CUTTINGS (1880s - Early 1900s)

FAKERY AT CAT SHOW
Weston Mercury, 10th December 1887

A black and white cat was found one year at the Crystal Palace Show to have been dyed and amber hue so as the resemble tortoiseshell, and the cat had to suffer the ignominy of being labelled with a card explaining the deception.

VALUABLE WHITE PERSIAN CAT.
Pall Mall Gazette - Monday 22 April 1889

Not only do dogs go across the Atlantic at long prices, but now cats are following in the same way. The Fanciers' Gazette this week records that the celebrated white Persian cat "Miss Whitey," which at the last Crystal Palace Cat Show carried everything before her, has been sold at the high figure (for a cat) of £20 to an American purchaser. Miss Whitey was bought in 1885 for £2, and at the last show won the silver medal for the best long-haired she-cat in the show, the silver-mounted tea-service for the best long-haired cat, and the challenge cup for the best cat in the show, as well as several other prizes. Unfortunately she has never been bred from, and leaves no descendants on this side.

NATIONAL CAT CLUB St James's Gazette, 17th January 1891
Ought cats to be registered, licensed, and generally regulated? The National Cat Club thinks they ought -and a good many of us will agree with that society, all except the people who keep a cat on every arm-chair. It was said by an acute (or cynical) observer that the world contained too many cats and too many women. And unluckily to both these redundant divisions of the animal kingdom the gift of speech has been granted in no grudging measure. Yet it would be hard to say which of the two is the more seductive. If the National Cat Club can weed out the unfittest and leave us only fine, large, and amiable cats, even the puss-haters will be delighted. Licensing might do these things; but at an even greater cost of kitten-life than at present. [It then becomes satirical] There would be much less trouble with cats if people understood them better especially their diet. At breakfast they should given (on the hearthrug) the bits of bacon that have tiny bones in them, at dinner fish is their regal while Camembert at supper will attach any cat to any house. Tea too, should not forgotten. It is amazing how rapidly some cats will lap up a cup of tea, and look for more. These arrangements are suggested for bachelor establishments only. Ladies seem to think this kind of thing spoils the carpets.

NATIONAL CAT CLUB Yorkshire Evening Post, 19th January 1891
The National Cat Club is a body which deserves to be more widely known. Its objects will command general approbation. It would have cats registered and licensed. We do not know whether its members are in favour of more extensive regulation, but we doubt not the public would hail with satisfaction some measure for keeping down the numbers of the "harmless, necessary" animal. A tax on cats might do something to effect this - it might test the public affection for the animal. Even if it resulted in reducing the feline population the consummation would not altogether be an unpleasing one. A tax, too, could scarcely be objectionable to sworn lovers of the cat - it would place their favourite animal on a footing of dignity which in many cases it does not at present enjoy. If the National Cat Club used its influence in regulating those members the feline tribe that make night hideous in large towns, it would further commend itself to popular favour.

NATIONAL CAT CLUB Nottingham Evening Post, 20th January 1891
Many people will probably be surprised to learn that not only is there such organisation as a National Cat Club, but that body numbers 100 members. This society, like many other institutions, believes in educating the public opinion, and, as a consequence, they have arranged a series of debates and lectures which will deal with all the physiological and philosophical aspects of the domestic pussie. They accordingly held their initial meeting the other night, when a paper was read on the following subject: - " Whether a licence would not benefit the status of the cat." The author contended that it would, arguing from the analogous case of the dog, and the proposal excited so much interest that it has been determined to print the paper with a view of eliciting the feelings of the outside public on the subject. That decision points to an amount open mindedness on the part of the Cat Club which does them great credit. The British public, as rule, have a deep-rooted objection to taxes of all descriptions, and that the members of the N.C.C. will calmly discuss the advisability of a State control and tax speaks volumes for their sincerity and earnestness.

NATIONAL CAT CLUB Manchester Times, 23rd January 1891
The Weekly Times. Pope, apropos of a duchess who in her last will left considerable legacies and annuities to her cats, wrote the familiar lines" But thousands die without or this or that, Die, and endow a college or a cat." The National Cat Club, one of the latest additions to London clubland, is at present greatly exercised in its mind whether or no "a licence would not benefit the status of cats." A paper by a sympathetic member has been read to the members, and will shortly appear in print, so that the public at large may have the opportunity of learning the pros and cons of this interesting, if unimportant, question. That friend of man, the dog, is by this time fairly familiar with the worries and annoyances incidental to the enforcement of the law anent licences. He is supremely indifferent about his "status;" he is vastly more concerned about his muzzle. Is the friend of woman - the pet of the fireside - to be subjected, like a dog, to the inquisitorial requirements of the minions of man-made law? Is she destined, like him, to have a special place on the papers of the omnipresent tax collector? The cat-a-mountain which figures among the crests of the noble house of Sutherland pays toll to the State as an armorial bearing, but the plebeian householder is hardly likely to view with equanimity this latest proposal for cat club law. But if, on the principle of tit for tat, he agrees to compound for the dog he is inclined to by paying for the pet of his womenkind, he need not, as he bethinks him of the nocturnal wanderings of the tribe, lose heart of grace. Compliance with the precept enjoined by Mrs. Glasse to "first catch your hare" has ever been held a task of difficulty. The Inland Revenue officials to whose lot it may fall to carry out the desire of the club will find it no easy matter to " catch the cat " and, despite their best laid plans "Let Hercules himself do what he may, The cat will mew and dog will have his day."

ABOUT CATS.
Various, February 1891

There are high-bred cats and low-bred cats – so at least says the circular letter of Mr. Townsend, the hon. Secretary of the National Cat Club – and it is to encourage the breed of cats of the former sort that this institution, whose headquarters are at Wendreda, Lancaster Road, Wimbledon, was established some years ago. The club has increased and prospered, and by dint of cat shows, bronze, silver, and gold medals, and careful attention to the Cat Club's "Stud books," in which Amateurs may trace the pedigrees of their pets, the committee look forward hopefully to the time when cats of "low degree" will have given place to pure breeds presenting all the best points of their respective varieties. The latest step taken by this meritorious society is that of offering prizes for the best original essay on "The Cat," to be competed for by children under sixteen years of age.

WHO WILL DO THEIR BEST TO WIN A SILVER MEDAL?
Derbyshire Courier, 21st February, 1891

This question will, I have no doubt, be a surprise to very many of you, and I need not tell you that it is a great pleasure to me to be able to put such a question to our members. I have before me a letter and papers of particulars from the Hon. Secretary of the National Club, which has been formed in order to improve, protect, and advance the interests of our good DOMESTIC FRIEND, THE CAT. The Club in question has decided to give a handsome and massive silver medal as a first prize, and a bronze medal as a second prize; also CERTIFICATES OF MERITS designed by the talented delineator of animal life, Louis Wain, for every paper deserving "honourable mention." So that all our members may be in possession of all the particulars and conditions respecting the competition, I will give an entire reprint of the prospectus, which it at follows:-

PRIZE ESSAY COMPETITION. THE NATIONAL CAT CLUB Offer the following Medals and Certificates for THE BEST ORIGINAL ESSAY on "THE CAT." 1st Prize, an exceedingly handsome and massive Silver Medal; 2nd Prize, a Bronze ditto (same size, same design) and a Certificate of Merit, designed by Louis Wain, for every paper deserving Honourable mention. This Competition is open to all Children under 16 years of age. The age of the Competitor must be authenticated by a Clergyman, Teacher, or Guardian, who must also vouch for the originality of the Essays. All papers will become the unrestricted property of the National Cat Club, for publication if deemed desirable. These Papers are to be sent in to the Hon. Sec. Mr. J.W. Townsend, Wendreda, Lancaster road, Wimbledom, Surrey, on or before Easter Monday. The Rev. J.G. Gardner has kindly consented to adjudicate and award the Prizes and certificates. No Paper will be eligible for competition which arrives later than by the first postal delivery on Easter Monday (30th March, 1891).

There is no entrance fee, no form to be filled up, and no restrictions other than those above. All communications requiring an answer must be went to the Hon. Sec. accompanied by a stamp for reply. A list of names of the successful candidates and the winners of Certificates will be published about April 15, and also in the May number of "The Animal World." In the very nice letter I have received from the Hon. Secretary of the Club, Mr. Townsend, he tells me how anxious he is to increase the love of cats amongst the young, and asks for my assistance in this particular. I am thinking that perhaps many of our members will not quite know how to go about writing an essay of this sort. It may be of service to give a hint or two on the subject.

We will suppose now that your Captain [author of the column] was under the age of sixteen, (alas! He is several sixteens) and was about to compete for a medal. In the first place I should TAKE AIM FOR THE SILVER ONE, and do my very best to win it. My essay would consist of a few particulars respecting the different breeds of cats, their various colours, habits, and uses. I should make lengthy note of the great domestic position held by the cat, also pussy as the pet of the family. I should note her good qualities as a catcher of vermin, and should revile and expose her bad qualities, as instanced in her occasionally barbarous conduct of MAKING A MEAL OF A CANARY.

I should give my ideas respecting the proper training of cats, also the necessity of good and kindly treatment. I should also give a few instances of remarkable intelligence as displayed by our feline friends, also of their great love and fondness for those who treat them with kindness. I should expatiate on pussy's great love of fun and frolic, and of course draw a lifelike picture of our own little chimney corner friend, the pet pussy of Kindness Castle. These are some of the subjects I should treat upon in my fifteen hundred word essay. Of course, Children, it is not necessary to write your essay of that length, but you must re¬member not to exceed the 1,500 words. Need I say how much it would please me to see one at least of the MEDALS COME TO CHESTERFIELD.

Of one thing I feel quite sure, that there are many members of our Castle who are capable of winning not only the medals, but the certificates of merit also. I shall, therefore, expect with confidence to see all those who have already written essays, and also many more who have not, to make up their minds to enter the lists, and so do credit to themselves, and bring honour to the town and district in which they live. I hope our young friends will take special note of the conditions and particulars respecting the competition, as given above.

FIRST STUD BOOK CONCERNING THE CAT.
London Daily News, 31 December, 1891

A publication which claims to be the "first Stud Book concerning the Cat that has yet been attempted," demands a note, both as a literary curiosity and as a document for the future historian of our domestic pets. Such is the "Stud Book and Register" just issued to members of "the National Cat Club," and published by Messrs. Clarke and Son, of Bromley, Kent. The substantial feature of the pamphlet is the register of some two hundred pedigree cats, the property of about fifty persons, with notes of their points. No attempt, of course, is made to trace any eat to Dick Whittington's famous animal, materials for genealogical research being wanting, though "sires" and " dams" are in most cases gravely recorded. Mr. Louis Wain, the popular cat artist, has very appropriately been chosen pre¬sident of the club which claims to have the welfare of "Poor Puss" at heart without any idea of personal advantage, and sensibly declares its object to be "not only to breed hand¬some cats but healthier cats."

CATS
Nottinghamshire Guardian, 27th February, 1892

We almost instinctively turn to our cats after writing the above, for, as all will admit, cats invariably follow birds, especially canaries, as many a fancier knows to his cost. Admirers of the domestic puss will perhaps be glad to hear that their favourite is in no danger of dying through neglect The Hon. Sec. of the National Cat Club writes to inform the public that the club has never been in a more flourishing condition than it is at present. Ever since the commencement of the club some four, years ago its list of members has increased steadily, and it is probable that the society will be able to achieve much useful work in the future. It is stated that the members are now anxious to hold a large show of cats before very long, so that we shall one and all have an oppor¬tunity of judging for ourselves as to the excellence of the nineteenth century cat. Per¬haps no animal's history presents such a strange record of ups and downs, and we fancy many of our readers would find the subject a more interesting one than they imagine if they studied it closely.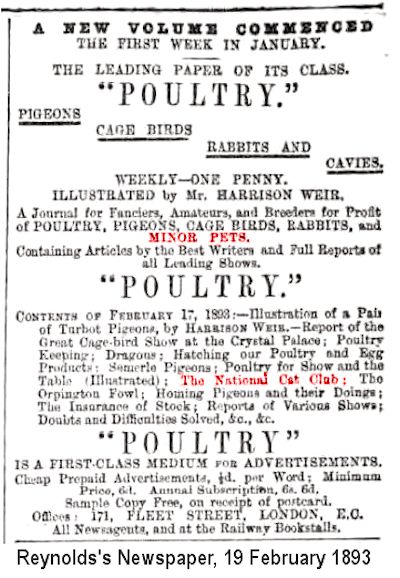 NATIONAL CAT CLUB St James's Gazette, 30th December 1892
A new era has commenced for cats. Cat shows we know, the National Cat Club some of us may have heard of; but only quite the inner circle has been hitherto acquainted with the fact that on July 31, 1890, was planted an institution which has now blossomed out into its first tangible product - the Cat Stud Book. Henceforth, ye prize toms and tabbies, take the electoral agent's warning, and Register, Register, register," under pain of being very low down in the numbering of the Stud Book.
Already the numbers have reached 1,185; and this surely means business even when we arc naively informed that the first entry was numbered 1001. This inaugural animal, Badomia, L.F. (i.e. long-haired female), Dark Smokie, bred by Mrs. Besant, Southsea, sire "Tibbs," dam "Minette," will some day be an historical personage. It is, indeed, a revolution in the history of cat-breeding. Hitherto cats at shows have been judged solely on their looks, as it has been taken as a postulate that you could never be sure to their fathers. That is all to be changed; and henceforth the lineage of cats shall be as scientifically attested as that of racehorses.
FIRST STUD BOOK OF THE NATIONAL CAT CLUB
Sporting Times, 31st December 1892
We have received a copy of the First Stud Book of the National Cat Club. We thought that this would be an impossible volume, but the compilers have made the attempt. Here is a sample of the entries—
GRAY QUEEN, 1020, L. F. Grey, Miss Molony.
Sire, white points and feet, The Shrubbery.
Dam, " Minnie."
Born, June 1883. Canterbury.
The "Shrubbery" is distinctly appropriate. We have handed the book to the "Hoffis Kat," who will duly, review it next week.
STUD BOOK AND REGISTER FOR CATS
The Cornish Telegraph, 5th January, 1893
It will be good news to all lovers of the
—little lion, soft and dainty-sweet,
With sea-grey eyes and softly falling feet,
that at last the purity of their favourites' breeding is taken under the august protection of a society. The National Cat Club has issued the first Stud Book and Register for cats of both sexes. This contains the entries that have figured at the National Cat Club shows from July 31, 1890, to the end of 1892, no fewer than 1,185 in number. In future there will therefore be some justification of the claims of pussy's pedigree, and she will be able to point to the "claims of long descent" with as unerring a paw as her canine rivals. Cat buyers will soon begin to insist upon stud book ancestries, and then the desire of the club "not only to breed handsomer cats, but healthier cats" will be fulfilled.
STUD BOOKWestern Times, 9th January 1893
The National Cat Club has issued its first stud book and register for cats of both sexes. The figure asked for a pure-bred Persian is equal to that of a thoroughbred horse.
NATIONAL CAT CLUB Lincolnshire Echo, 16th February 1893
A National Cat Club has been established. It is an association of humane people who are anxious protect an animal that is often ill-treated.
LIVE STOCK EXHIBITIONS.
Burnley Express, 22nd December 1894
From "Nature And Science" (column) by Gordon Stables, M.D., R.N.
Physical development is either helped or hindered by the animals' immediate surroundings and the mode of living. Now, leaving cattle and farm livestock generally out of the question - for in the course of time the science of chemistry and dietetics will have no further use for these - it may be asked how far dog shows, cat shows, pigeon shows and pet shows tend to assist physical evolution in the animals so exhibited. My opinion - take cat shows first. Although [I am] Vice- President of the National Cat Club, I do not hesitate to say that most cat shows held under ordinary auspices do more harm than good to our humble friend pussy. Such exhibitions are merely got up for the sake of £ s d, the cats are badly penned, badly bedded and fed, and about a third of them die after every show. I do not encourage these.
OUR CATS
Bridport News, 7th June 1895
Cats in town are pretty much of a nuisance to most people. But they are to a chosen few a source of much interest and pleasure. Not many of our rural readers, we pre-suppose, own a cattery. A cattery is not a place for tinning cats, or for manufacturing "bags of mystery" in! Not at all, it is a stud and breeding establishment for the pure breeds of cats that can only seen by the common public on such occasions as the Crystal Palace Cat Show, etc. A cat show is a rare treat to anyone who is fond of animals, and who has never seen such a sight before. Our own native and inborn antipathy to cats in general used to be somewhat like that of a bull-terrier to the same feline animal, till at last we went - it is years ago now - to see a cat show. That show not only set our hatred of cats for ever at rest, but It also made us become a student in the "school of cattery " for the rest our natural life. See what education can do in such a case! Our first study in cats was begun by pitching a half-grown one over the top of hayrick, and then running quickly round see whether it really did alight upon its feet, as cats are said to do! We have progressed muchly since those first lessons, and may be now be said to have taken our degree, having become the owner of a prize cat. Of that another time. Let us discuss the cattery on this occasion.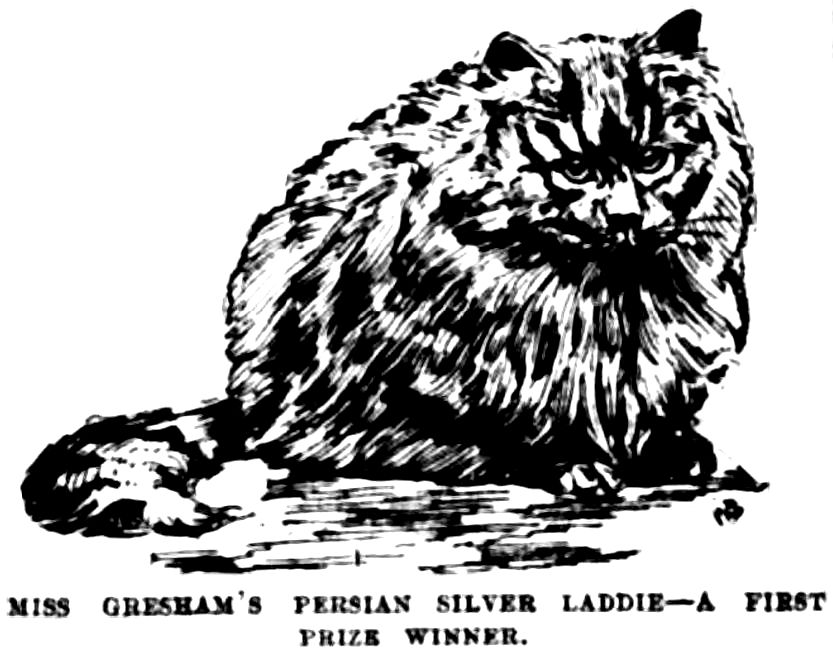 An apostle of the cult, Miss G. M. Taylor, writing in Fur and Feather, gives a very concise summary of the ethics of cat culture, from which we extract a few items, together with a picture of a real beauty of the first water—we mean colour—a blue Persian [Miss Gresham's Persian Silver Laddie - A First Prize Winner] This is one of the popular breeds, and the pedigree and strain is pure in its case as that of any racehorse or shorthorn. Miss Taylor's remarks on cat culture run thusly: Feed your cats yourself with proper food. If anybody and everybody may feed them they are not likely to do well. Too many tit-bits one day and scarcity the next will be the result. Kittens require the utmost regularity, cleanliness, and judicious choice as to food. Bread and milk, porridge and milk for breakfast; a meal of beef or mutton and vegetables, all finely minced and soaked with gravy, for dinner; a less heavy one of boiled rice and fish, varying It with bread and "Liebig" or gravy, and a few scraps of fowl, rabbit, etc., for supper. Veal, pork, fat, rich sauces, etc., are simply poison to cats! New milk, clean water, and a daily supply of fresh green grass should never be forgotten. An abundance of fresh air and exercise, but with discretion. A netted-in run, with access to and from the window of a sunny room, inside of which is a good, bright fire, a clean hearth, a singing kettle, and an old maid (the italics are ours). Readers of "Rural Life," this is a description of a cattery, not of a well-arranged and conducted home for rearing children. Truly, the well-to-do have some pleasant ways of passing time!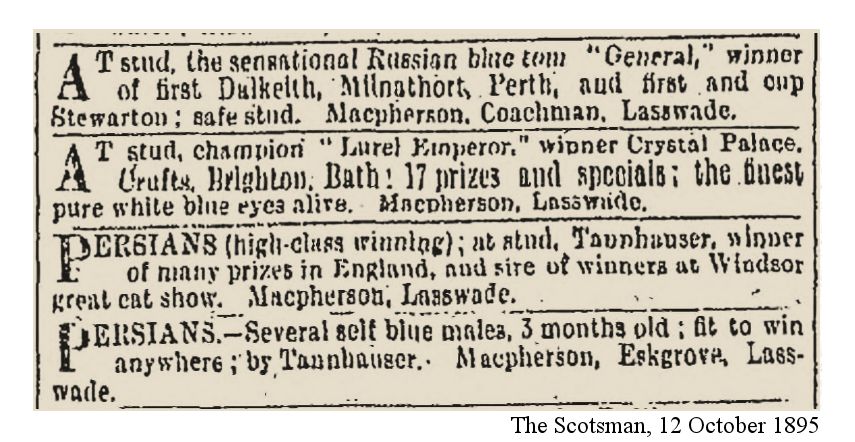 ONE CAT WORTH $12,500.
Argus, June 14, 1895
Did You Ever See a Pure Tortoise Shell Tom? — Cats That Look Like Bulldogs.
It is estimated that there are 360,000 cats in England and 69 varieties. With the greater number of these varieties the average reader is probably quite unfamiliar. Tortoise shell and white toms are very common, says an English writer, but a pure tortoise shell tom is so extremely scarce that many people declare that they exist only in the imagination. Anyone who happens to possess a female red tabby without any white spots could obtain a price which would keep him in comfort for at least a couple of years without work. Female red tabbies are as rare as tortoise shell toms.
The taste in Persian cats just now runs on the deep blue with orange colored eyes. Edward Lloyd, the tenor, had one for which he repeatedly refused $150. The bright slate or blue is a favorite variety of the Persian, the price sometimes going as high as $125. White cats of really herculean proportions readily fetch $500. The Marquis of Dufferin is extremely partial to white cats, upward of a dozen of these splendid creatures being comfortably domiciled at the British embassy in Paris.
Russian cats fetch high prices. The Duchess of Bedford owns several of a species extremely rare — a very curious tint of blue. Russian white cats are also highly prized, but the white variety is seldom long haired. Mr. Sam Woodiwiss is the owner of a smooth haired tom, Xenophon, of such gigantic proportions that when the writer, after an introduction, induced the cat to approach by calling in seductive accents, he experienced a feeling akin to dismay as the mammoth jumped on his knee, which in the course of a few moments began to exhibit unmistakable signs of fatigue, and no wonder — for 25 pounds is a fair weight. Xenophon is valued by its owner at $12,500. Lady de Trafford has cats of such remarkable ugliness that the writer for a moment took them for a hairy sort of bulldog.
The value of cats is much enhanced if they possess the black markings on the chest known as the "Lord Mayor's chain." The writer has seen a cat of this sort for which the owner would not take $2,500. Some cats are actually vegetarians, and a curious variety from Burma will only drink water.
IN THE CAT HOUSE
Newcastle Courant, 26th October 1895
How wonderfully the condition of our feline pets has changed to be sure. There was a day, and that not very long ago either, when a cat show was unheard of, and the only known varieties consisted of the Common cat, the Manx, and a very poor sort of long-haired animal. Now we find a monster cat show in the Crystal Palace, four judges hard at work upon an entry of 622. Cats of every description were to be found surrounded by an admiring crowd. Nor have the prospects of the cat fancy ever been brighter, for while it was noticed that most our famous cats such as Samson, Xenophon, Champion, Laurel King, and others still held their own, connoisseurs were not slow in discovering that many of the- youngsters which now appeared for the first time were the higher quality.
Most people who keep several cats of any high class breed find it necessary to devote something more than a mere corner of the house to their favourites. An ordinary household cat may wander about at will, but no satisfactory results will be obtained in this way from high-class animals. As a correspondent pointed out only last week, one cat soon draws others, and then the trouble commences. Trouble which causes not only sleepless nights, but litters of mongrel kittens, queens spoilt for breeding purposes [see note], and Toms which not only distribute their favours too freely, but are also apt to appear with torn cars and scarred heads at just about the time when they are required for breeding purposes. This being the case, the best plan is from the very commencement to provide proper sleeping accommodation, and moreover lose no time in finding a safe and suitable exercising ground, for it is well to remember that though a cat may safe enough in the garden with its mistress, there are times when is sadly apt to play truant.
[Note: it was believed that the influence of a previous mate would affect all later litters. Many females were destroyed if they mis-mated because it was believed they would not produce pure-bred offspring later on.]
LOUIS WAIN
Various, January 1896
Mr. Louis Wain, the cat artist, is very fond of cats, and keeps a number in his house at Bendigo Lodge, Westgate. The chief favourite is Peter," and it was the portrayal of the antics of this cat that first brought its master public success and favour. Mr. Wain has some original ideas about cats, which he has been giving to the "Idler." "I have myself," he says, found, as the result of many years of inquiry and study, that all people who keep cats and are in the habit of nursing them do not suffer from these petty little ailments which all flesh is heir to, namely, nervous complaints of minor sort." Not everyone, perhaps, will endorse this opinion. In Mr. Wain's opinion, English cats are slowly but surely developing into stronger types, which have very little affinity with the uncertain and unstable creature of the tiles and chimney-pots. "With careful breeding the lank body and the long nose disappear, the face becomes condensed, as it were, into a series of circles, the expression develops artlessness, and the general temperament of the animal is one of loving conceit." A marvellous change has also, it seems, come about in the quality of varieties since the National Cat Club has taken such strong hold upon the public fancy.
NATIONAL CAT CLUB.
Globe, 2nd April 1896
But could anyone ever think a cat soulful? There is something about the smug and satisfied selfishness of the feline nature that forbids the thought. But cats are on their promotion. There has just been started a National Cat Club with a coat of arms supported by two cats and a motto "Beauty lives by kindness." Lady Marcus Beresford, a well-known cat-lover and proprietor, is prominent on the committee. Her husband is one of the presidents, Her Grace of Bedford the other and Lily, Duchess of Marlborough heads the list of vice-presidents, which includes such well-known names as those of the Countess of Warwick, the Countess of Sefton, Lady Hothfield, and Lady Granville Gordon. The committee is composed equally of ladies and gentlemen. There is to be a local habitation as soon as suitable premises can be found. At the Ladies' Kennel Association Dog Show, to be held in June in the grounds of Holland House, there will be a special marquee for cats. Most assuredly they are on the upward grade. X. AND Z.
A NATIONAL CAT CLUB
London Daily News, 10th April, 1896
The re-construction of the National Cat Club has just taken place, and the Book of Rules has been published under the auspices of the Hon. Secretary of the Ladies' Kennel Association. The objects of the club are to promote purity of breed, to secure adequate distinctness of classification, and to encourage exhibition by giving prizes to owners. A stud book is to be established, in which a record of pedigrees and championship successes will be kept. The club is to have premises as soon as they can be found, and here a reference library will be founded, consisting of works relating to cats. Owners of valuable pussies must henceforth be careful to note the dates of birth, as this has to be set down, in the club register with other particulars. The Duchess of Bedford and Lord Marcus Beresford are presidents of the club and among the vice-presidents are Lily Duchess of Marlborough, Lady Warwick, Lady Granville Gordon, the Countess of Sefton, Lady Hothfield, and three or four gentlemen. Lady, Marcus Beresford and Mrs. Blair Maconochie head the list of the committee, which is composed of an equal number of ladies and gentlemen.
A NATIONAL CAT CLUB
Cheltenham Chronicle, 18th April, 1896
There are many people in good old England who may not be aware that we have had in our midst, for many years, a society calling itself "The National Cat Club," and having for its object the promotion of the purity and breed of the feline species in general. It has also aimed at securing adequate distinctness of classification, and the encouraging of exhibitions by giving prizes to the owners of good cate. For the last year or two the interests of the National Cat Club have been somewhat on the wane, but lately it has been felt that something should be done to resuscitate its fallen fortunes and a reconstruction has taken place which is likely to lead to most important results. The Honorary Secretary of the Ladies' Kennel Association has taken the matter in hand, and the Duchess of Bedford, who loves the dumb creation with an affection that might well be imitated in many humbler circles, and Lord Marcus Beresford have become Presidents of the reorganised club, among the list of the Committee being Lily, Duchess of Marlborough, Lady Warwick, Lady Granville Gordon, the Countess of Sefton, Lady Hothfield and many others. A Stud Book is to be established in which a record of pedigrees and champion successes will be kept. Suitable premises are being taken, and a reference library will be appended, consisting of works relating to cats. As the dates of birth have to be set down in the Club Register, it behoves owners of valuable animals from this time forward to be particularly careful in noting the exact lime of these interesting events. Naturally the walls of the club will be adorned with pictures of the leading cats of the past decade, and these will, of course, emanate from the brush of one of the few men who can do them justice — Mr. Louis Wain, whose fruitful pencil enables us this week to present to our reader* three of the most distinguished cats which have appeared before exhibitors recently. Mr. Wain has established a record as a cat artist and fancier, and, whoever may be responsible for the fortunes of the National Cat Club, there is no doubt that the genial Louis will rarely be absent when any knotty point is brought forward to be decided by the committee in council assembled.
THE CAT SHOW.
Manchester Courier and Lancashire General Advertiser, 17th October, 1896
When Mr. Harrison Weir suggested a cat show, nearly a quarter of a century ago, there were many difficulties and prejudices to encounter. It was necessary not only to solicit entries, but to beg and borrow cats. But the show was a success, and has continued to grow steadily in popular favour. This year it enters on a new career, under new management and new conditions. The National Cat Club has supplanted the Crystal Palace Company, and for the first time in their history cats on exhibition, like horses and dogs, have to appear with a registered pedigree. Many people thought that this would reduce the number of entries. On the contrary, it seems to have stimulated competition, for the show which opened at the Crystal Palace on Tuesday is the largest on record. Nearly 1,000 cats and kittens are collected in cages, and no fewer than 740 compete for 300 and odd prizes. There are a great many species, with an infinite variety of colour, form, eyes, tails, and temper. The long-haired cats are most numerous, including Persians and Chinchillas, with their soft, silvery-grey coats. To judge from the entries, Chinchillas are rapidly becoming the fashion. One looks in vain for the "Tom" of pure tortoise, though in white and tortoiseshell he is common enough. The Siamese, with his soft, biscuit-coloured coat and intelligent blue eyes, is no longer the rarity he was in days when it was a triumph of diplomacy to secure a specimen from the palace of the King. The tailless Manx, the short-haired English, and the very rare cream are also well represented.
CAT CLUB
St. Andrews Citizen - Saturday 24 April 1897
The Cat Club in London appears to be still going on very comfortably. It may interest some of my readers to know that cats never arrived at the dignity of being classified and entered in a stud book until last year, when Mrs. Stennard Robinson, hon. Secretary of the Ladies' Kennel Club, promoted them in this fashion. Lady Marcus Beresford, whose collection of fine cats is well known to all her friends, was one of the principal promoters of the plan.
NATIONAL CAT CLUB
Gloucester Citizen, 5th October 1897
It may not be generally known that influential lovers of cats have banded themselves together and formed the National Cat Club. Its object is to secure proper recognition of high-bred specimens of the feline for show purposes, and it is but natural that Mr. Louis Wain, whose caricatures of cats and their ways have created much amusement among our children, should be very closely identified with the club. Lady Marcus Beresford is also deeply interested in the work, and the second show, be held at the Crystal Palace next week, promises"well, the entries bang very large. Cats of every known variety are to be shewn, and many of the prizes - among which are several sterling silver milk-dishes - are exceedingly valuable. Championships are also be awarded.
A NATIONAL CAT CLUB
Buckingham Advertiser and Free Press, 23rd October, 1897.
The National Cat Club promises to make the creature of the hearthrug a thing of beauty. Its second championship show has revealed new features of joy in the domestic animal, and proved that our familiar friend Thomas when well-bred has a grace of outline and variety of good points that may make him the rival of the dog. A cat show has also this advantage over an exhibition of dogs it is a quiet affair. The air is not rent with cries for release and furious discussions between neighbours. The cat rises to the situation, and maintains an attitude of ease and dignity. Among the exhibits at the Crystal Palace Show was Mr. Sam Woodiwiss's "Xenophon," for whom £50 was recently refused. Then there were Manx cats, and cats from Siam and Russia, and representatives of every kind of pussy. The benching was well done, the interest was sustained, and there is reason to hope that the exhibition will grow in the course of years.
NATIONAL CAT CLUB
Dundee Evening Telegraph, 23rd September 1897
Mr Wain, who is a London man, 37 years of age, was first trained for the musical profession. He began the study of art towards the close of the seventies, and first drew cats in 1883. He has been President of the National Cat Club, and is story-teller, gardener, an essayist, or a natural history student, as the mood takes him.
THE CAT SHOW
Watford Observer, 23rd October 1897
The Cat Show of last week will be followed shortly by a dog show, organised by the Ladies' Kennel Association. The attention directed to cats lately has brought about a great change in the estimation in which these home favourites are held. Instead of harbouring any vagrant animal that chooses to make its way into a house and remain there, ladies carefully select their pets from distinguished families, so that they are eligible for prize competition at a show. Mixed races are not to be tolerated. The taste this year is for long furs, and fine markings of the fur are indispensable. The stranger within the gates of the Cat Show was the cat of Abyssinia, which is being domesticated, but not with its own entire approval, in England. The Abyssinian is solemn, and by no means disposed to make friends of masters and mistresses. To the uninitiated in such matters it may be well to mention that a first-class cat ought to have fat cheeks, even so plump as to have a tendency to droop.
There are several great ladies who have superior catteries of their own, with recreation grounds and every luxury provided for their pets. The Duchess of Bedford is one of these beneficent cat lovers. A very nice cats' home has been established in one of the suburbs of London, and during the summer absence of owners the domestic pats can be received as paying guests. Of course, the more valuable are the cats the better care will owners take of them, and perhaps the time may come when the wretched homeless creature deserted by its owners for several weeks at a time will be no more seen.
SURA (PRINCE DAMRONG) The Sketch, 27th October 1897
Among the famous breed of royal cats from Siam, Sura (late Prince Damrong) is among the most important. He was bought by the Hon. Mrs. McLaren Morrison last year, but, as his mistress was leaving England for India, he was placed in the care of Miss Manley, who is well known as one of the most popular and capable lady judges at both dog and cat shows. Sura was taken to Kensington, and soon became devoted to Miss Manley's lovely little King Charles, Boscobel. The beautiful pair are never apart. They eat out of the same dish, sleep together on the fur hearthrug, Sura making Bossie's body his pillow, and they often go out for a walk together on the same lead. When photographed recently at the bas-relief studio in Dover Street, Sura proved utterly unmanageable until his friend was placed on the table beside him, when he sat quietly and condescended to have his portrait taken. At home Sura is a charming cat, showing a pleasing curiosity in the doings of all Miss Manley's friends. He has every desired point in full perfection the close, fine fur, cream-colour with chocolate markings, the most brilliant china-blue eyes, and the requisite "kink" at the end of his tail which distinguishes him as one of the royal cats of Siam. He is by the famous King Kesho and Lady Betty, and was born in July 1896.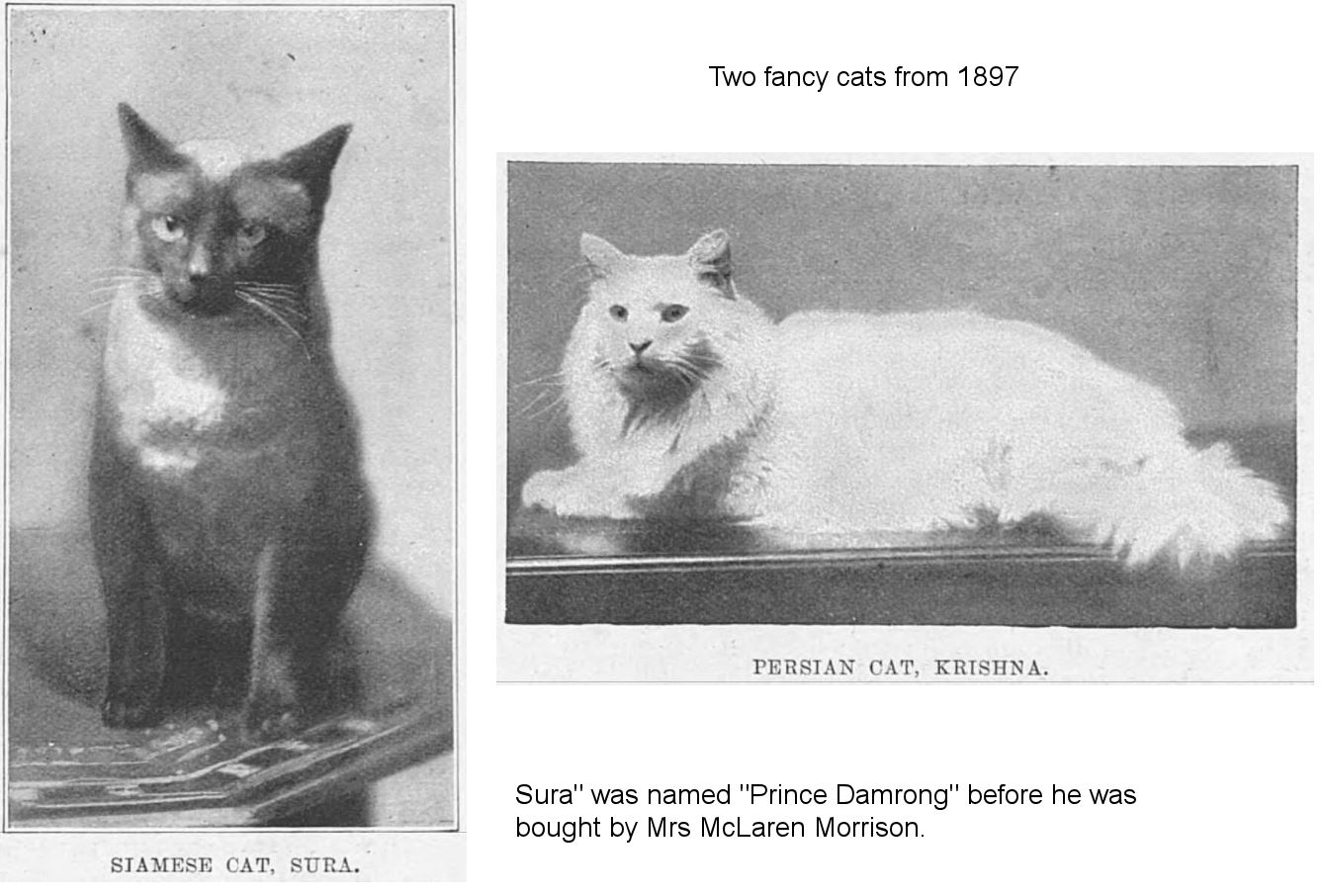 KRISHNA The Sketch, 27th October 1897


Among long-haired cats, Mrs. E. Lenty Collins's lovely pure white Persian, Krishna, is a lovely specimen. He is between four and five years old.

CATS IN THE ASCENDANT.
The Globe, 1st April 1898
Whether it is the result of the muzzling orders for dogs or of other causes, the boom in cats grows. In addition the National Cat Club, another Cat Club has lately been started at a meeting presided over by Lord Marcus Beresford; and already nearly half of doggy papers like the "Ladies' Kennel Journal" is devoted cats. To the ordinary person a cat is merely a cat, unless it is Persian with long hair or a Manx without a tail. But every cat of note now has his pedigree and his registered double-barrelled title; and in a very few years it will doubtless be as unusual for a respectable household to keep a "common or garden" cat as it now is to keep a mongrel dog. One has but to carry the mind back twenty years recollect the time when nine out of ten of the dogs which were kept were of no particular breed. Now, the cross-bred dog is rare and the mongrel almost non-existent. The same process is at work among the cats; and as each year's cat shows indicate a wider differentiation between the several feline varieties, once ignorantly lumped together as "common cats," we shall soon have as many distinct breeds of cats as our fathers had of dogs. The fecundity and roving instincts of the common cat, indeed, put practical difficulties in the way of hereditary differentiation; but with so many scientific breeders in the field, many carefully-kept "catteries," and many annual cat shows, the supply of well-bred kittens will suffice for all demands; and the "common or garden" cat will be left to follow his ancestral enemy, the "mongrel" dog, to the realms of the extinct.

OWNERS FALL OUT OVER OWNERSHIP OF SHOW CAT
Pall Mall Gazette, 5th August 1898

There were two maiden ladies of Lee, as friendly as friendly could be. But there was also a blue Persian cat, one Roy, and in an evil moment Miss Slater's eye fell on Roy. Cats and maidenladyhood are a favourite example of the association of ideas, but in this case the evil of speculation, that curse of modern society, blurred the usual idyllic picture. Miss Slater got Miss Harris to join her in a feline syndicate; Miss Slater bought Roy for thirty shillings; Miss Harris paid out twenty-five shillings on a "cattery," and attended to the cat, and all such prizes and profits as the cat might fetch were to be halved. At least so it has been decided was the arrangement. But whereas the National Cat Club ruled that the prize it gave Roy was to be halved, Miss Slater stuck to all the prizes he scored at Brighton. She was the owner, she said; Miss Harris only the paid trainer. But it is rules that the cat belongs to both, half and half, and therefore the prizes must be split, not the cat. We heard of a split cat with wings in a recent trade-mark case, but the National Cat Club gives no prize for that sort.

NEW CAT CLUB
Gloucester Citizen, 29th October 1898
Following the show of the National Cat Club, held the Crystal Palace this week, that of the Cat Club - surely a distinction without a difference - is announced. Certain members of the former, among whom were Lady Marcus Beresford and other aristocratic fanciers, found fault with the management and seceded; hence the formation of another club. It is indeed strange how members of these specialist clubs quarrel over matters seemingly very trifling. The Kennel Club, however, is a notable exception, and much interest is now being evinced as to the action of the governing body of the canine world in regard to the latest move of the Ladies' Kennel Association. This combination threatens to hold shows in defiance of the ruling of the Kennel Club that certain conditions must be complied with. In a dignified manner, quite in keeping with its reputation, the Old Burlington-street club may be depended upon to more than hold its own, even when opposed by ladies.

NEW CAT CLUB
Cheltenham Looker-On, 5th November 1898
That ladies should quarrel over their pussy cats is not after all surprising seeing that they have failed to maintain relations of perfect amity with the Kennel Club over their canine favourites. Lady Marcus Beresford is said to be the leading spirit amongst those who have seceded from the National Cat Club – whose exhibition at the Crystal Palace does not seem to have suffered greatly from being severely left alone by the members of the new organisation – the Cat Club. Perhaps the most satisfactory feature of the whole business – from pussy's point of view at any rate – is the increasing appreciation of a much abused animal, whose whims and little ways are according to Mr. Louis Wain, the great artist, worthy of close and affectionate regard.

A NEW CAT CLUB
Sheffield Evening Telegraph, 12th December 1898
A new cat club has been started by Lady Marcus Beresford who is so devoted to the feline race and goodness knows how many feline companions – something between thirty and forty. Her sister-in-law, Lily Duchess of Marlborough, is president of the club, and they will open proceedings by holding the first show on January 19.

A NEW CAT CLUB
Sporting Life, 21st December 1898
Cats as show animals are almost as popular as dogs, thanks in great part to Lady Marcus Beresford, who founded the Cat Club, and is untiring in her efforts to improve the feline breed. The first show of the Cat Club will be held on January 19, at St. Stephen's Hall, Westminster, when half the proceeds will be given to the Children's Guild of the Deptford Fund.

CAT CLUB SHOW
Reading Mercury, 7th January 1899
Lady Marcus Beresford has obtained an excellent list of supporters for the Cat Club's forthcoming Show. A number of exceedingly valuable prizes are to be offered, and it is hoped that these will attract a large number of entries. This young branch of the National Club has made such progress that the annual show promises to become very shortly a competitor for public recognition, which at present the Crystal Palace Exhibition alone enjoys.

CATS AND DOGS
Manchester Courier and Lancashire General Advertiser, 14th January 1899
Domestic animals have never been in such high favour in as now, and, since women have taken to exhibiting their pets, and even keeping kennels of their own, [. . .] Not only is there the Ladies Kennel Club, to which very many Society women belong, but there is also a new Cat Club with Lady Marcus Beresford as head; while an exhibition cats and dogs Brighton or elsewhere is sure to bring together some beautiful animals.

CATS TO THE FORE
Newcastle Courant, 14th January 1899
Next week the famous Cat Club, which has been started so successfully by Lady Marcus Beresford and other titled fanciers, holds its first show. The Westminster Aquarium has been chosen as the venue, and the schedule before us shows a liberal classification; while over and above the ordinary prizes there are 136 specials. Disease has too often followed cat exhibitions, but in the present case this go-a-head club has determined to baffle the enemy. The club, as all fanciers should know, has its own pens, the wood staging is to be new, while no cushions or draperies whatever are to be allowed. Under such favourable circumstances the show should be a success, and it is to be hoped that those who have worked so hard for the beloved feline will reap their reward. It is true that cats are advancing, yet they are still very far from being common; indeed, we wonder how many ordinary fanciers know anything of the Siamese, Russian, or other varieties.

CAT SHOWS HAVE COME TO STAY
Kentish Mercury, 10th February 1899

The fortunes of pussy are in the ascendant. In other years the best that could be said for her was "The harmless necessary cat," while critics less mild defined her as "a treacherous friend whom man had culled defend him against yet more treacherous enemy." All that is being rapidly altered. We recently noted that a German savant has gravely argued that when the cat plays with the mouse, letting it run away and catching it again, is only practising a habit essential for the training of her young in hunting. A Cat Club has been formed in London, and, under the auspices of Lady Marcus Beresford and other distinguished persons, its first show St. Stephen s Hall, Westminster, was a success. Prizes to the value of £500 were presented, and there was a numerous and fashionable attendance. In short, the Cat Show seems to have "come to stay."

CAT SHOWING.
Newcastle Courant, 4th November 1899

Even if they do not boom quite as strong as their canine rivals, the cats are nevertheless going well and steadily. They creep into popular favour so quietly that every now and then one is surprised to notice how good a position they hold. The recent Cat Show was a distinct success, its chief interest to the non-exhibiting fancier being the introduction of one or two novel features. For example, the judging pen was used for the first time in England, and proved a welcome change to the old order. One wonders however we have managed without it for so long, for obviously it was absurd to judge exhibits hidden away in dark pens. The new judging arrangement consists of a large pen mounted on a table; into this cage each cat is put in turn, so that the judge has ample opportunity of examining the exhibits' shape, colour, and marking before placing them in the order they seem to deserve. At this show too, many of the cats were led into the ring by their owners, and while the exercise was undoubtedly welcome many present remarked upon the advantage such a method of showing would have over every other way. The time, we imagine, will come when cats are shown on exactly the same lines as dogs, and a very good thing it will be. Everyone who knows anything about cats must be aware that it is the simplest thing in the world to accustom them to the use of a collar and lead, and until this is done and cats are led into the judging ring certain fanciers will never rest. The judging pen is a move in the right direction, but it is to be hoped that the authorities intend to go even further on the road of reform.

CAT SHOW RIBBONS
Nottinghamshire Guardian, 16th December 1899

At the coming cat show ribbons of a uniform colour, scarlet if we remember aright, are to be sent in advance to every exhibitor with instructions that these and no others are to be used. Collars are to be strictly tabooed, as it was found that they were apt to tell the judge too much, so that in future judging is to be purified, if indeed it ever needed it. So far so good, but we rather pity the exhibitors who have to secure an obstreperous cat to the end of a piece of ribbon. We can only warn all such that practice is needed at one end and training at the other, for though we know that it is perfectly possible to train a cat in this way, we know by bitter experience that an untrained one is fiendish.

SUCCESS OF AN IRVINE CAT FANCIER
Ardrossan and Saltcoats Herald, 19th January 1900
The increase of Persian Cats in Scotland has been very marked during the last year. Always a popular hobby in the South, it is surprising how many fanciers have sprung up North of the Tweed. At the Scottish Cat Show held in Edinburgh on December 27th, 1899, the entries numbered 230, an increase of 50 over those last year, while at Stephen's Hall. Westminster, the entries were 198, and a wonderful sight it was – Siamese, Persian, Russian, British, Manx, and some wild European Cats being on exhibition. Mrs Mackenzie Stewart's blue Persians have again succeeded in making a name for their owner, and have won this winter - at Glasgow, in December, two firsts, two seconds, and a third: four medals and special; Edinburgh, one first, two seconds, and five specials; while at Westminster, with four cats, Mrs Stewart was most successful, winning in a class of forty males, second with Ronald, and her kittens, first and second in an equally strong class, the second prize winners selling at £5 5s. At same show Mrs Stewart's English cat took third prize and four specials, and a medal also came to Irvine. Mrs Stewart's silver cat, "Silver Lancer," has, this season, won five first prizes, and is now a Scottish champion, winning second prize at the Crystal Palace In October last. This long list of successes is very creditable to Mrs Stewart, and is a proof of the interest she takes in this charming hobby.

NORTHERN COUNTIES CAT CLUB
Hull Daily Mail, 20th April 1900
The Northern Counties Cat Club, which is just springing into existence, will, it is hoped, hold a kitten show in September.

NATIONAL BAZAAR
Hull Daily Mail, 4th May 1900
The National Cat Club will have a tent at the forthcoming National Bazaar, containing kittens, puppies, and birds, which will be sold for the benefit of the war fund.

NATIONAL BAZAAR
Bedfordshire Times and Independent, 1st June 1900
At the National Bazaar Her Grace the Duchess of Bedford presided over a department for the sale of animals which was under the patronage of the National Cat Club.

THE NATIONAL BAZAAR
Illustrated Sporting and Dramatic News, 2nd June 1900
THE National Bazaar was the most talked of event in a particularly busy week for Londoners, and, having an engagement there on the opening day, I naturally found my way to the animal department, of which the Duchess of Bedford was the president, and Miss Gertrude Willoughby, hon. sec., quite as well-known as a successful breeder of poodles as she is as one of the founders and chief supporters of the National Cat Club. Members of the latter had, of course, sent numerous contributions to Miss Willoughby's tent, and quite a brisk trade was being done in kittens at "five bob a nob." [. . .] Spratt's, I ought to mention, penned and fed all the animals free of charge, Trusty, one of their best known show officials, acting as general assistant to Miss Willoughby.

THE NATIONAL BAZAAR
Herts Advertiser, 2nd June 1900
The National Bazaar - in aid of the sufferers by the war - was opened last week by her Royal Highness the Princess of Wales. [. . .] Her Most Gracious Majesty the Queen herself headed the list of patrons, and the noblest families in the land were assisting personally the good work. On entering the beautifully-decorated rooms and scanning a list of stalls, I immediately started off in search of the Live Animal Stall, under the patronage of the National Cat Club, President, Her Grace the Duchess of Bedford; secretary, Miss Gertrude Willoughby. A snug little room was set apart for these dear pets, who mewed and barked in cages all round. Wee, white Pomeranian pups, with tricolour ribbons round their fluffy necks, tiny khaki-coloured Persian kittens similarly decorated, puggies of all sizes and species, two beautiful collies, and endless rabbits and pigeons lived together in perfect harmony in their comfortable quarters at Kensington, enduring with much serenity the continual flow of admiration and caressing which it was their fate to receive until they were carried off in covered baskets by some fair purchaser.

NATIONAL CAT CLUB
Morning Post, 14th June 1900
Her Highness Princess Victoria of Schleswig-Holstein has joined the Grand Council of the Ladies' Kennel Association, and also become patroness of the National Cat Club.

FANCIERS' NOTES
Hull Daily Mail, 31st August 1900
The scheme for improving the health of stud cats by means of the Stud Cat Register, has, for some reasons which could hardly have been anticipated, not proved an entire success. In the first place, though the elite of the Fancy, the health of whose cats is beyond question, have gladly had their cats examined, the rank and file prefer to let their stock remain uncertified.

AMERICAN DEMAND FOR WHITE CATS.
Luton Times and Advertiser, 2nd November 1900
There are few white cats at the cat show the Crystal Palace. For this fact, a fashion among fanciers in America is primarily — if not, indeed, solely — responsible. Latterly Americans have been sweeping England of Whites, just as they have swept it of kinds of rabbits and toy dogs, to say nothing of horses and pictures. For anything good in white cats they are willing to pay a substantial price, and the result has been that many of last year's champions have crossed the "Duck Pond," while the kittens have not yet come on sufficiently for show purposes.

CAT SHOWS AND SCHOOL DEBT
Banbury Advertiser, 29th November 1900
The Crystal Palace Cat Show in October last suggested amusing intimation of the debt on the [St. John's] schools.
You saw Great London's wondrous show of cats
In graphic picture ! Now, friends ! to-night, that's
Just what we want to beat; at least, we'll try.
A thousand pounds a cat! was there the cry.
These schools cry too ; We want a thousand pounds.
A thousand pounds ! We're poor, no wealth abounds.

PEERESSES AS CAT-FANCIERS.
The Tatler, 11th February 1903

The number of society women who take an active interest in the feline tribe has increased hugely of late years. Lily Duchess of Marlborough, Lady Marcus Beresford, and Lady Maitland have exhibited champion cats at various shows, the first-named being president of the Cat Club. It is not such an easy matter by any means to acquire a really well-bred cat, and the "points" that catch the judges' attention are rarely if ever seen in the ordinary domestic puss. Lady Aberdeen is also an ardent patroness of cats and presented to the Cat Club some time ago a lovely little silver model of a cat for the best tabby.

DISTINGUISHED CAT FANCIERS.
The Tatler, 30th March 1904

Lady Decies, who has just left Beresford Lodge for Cannes, is one of the most enthusiastic cat-fanciers in England, and has by her exertions largely helped to bring the cat into the position of much notoriety and distinction. Lady Decies's Zaida is a pussy that has won countless honours at various cat shows and is an animal worth a good deal of money. Cats just at present are, indeed, rather a fashion able craze, and among distinguished owners of various members of the feline tribe can be counted Lady Aberdeen, the Duchess of Bedford, and Lady Marcus Beresford the last-mentioned, however, has quite recently considerably reduced the extent of her large catteries at Bishopsgate, once the largest in England.

A ROYAL LOVER OF CATS - PRINCESS VICTORIA OF SCHLESWIG-HOLSTEIN'S FELINE PETS.
The Tatler, 24th August 1904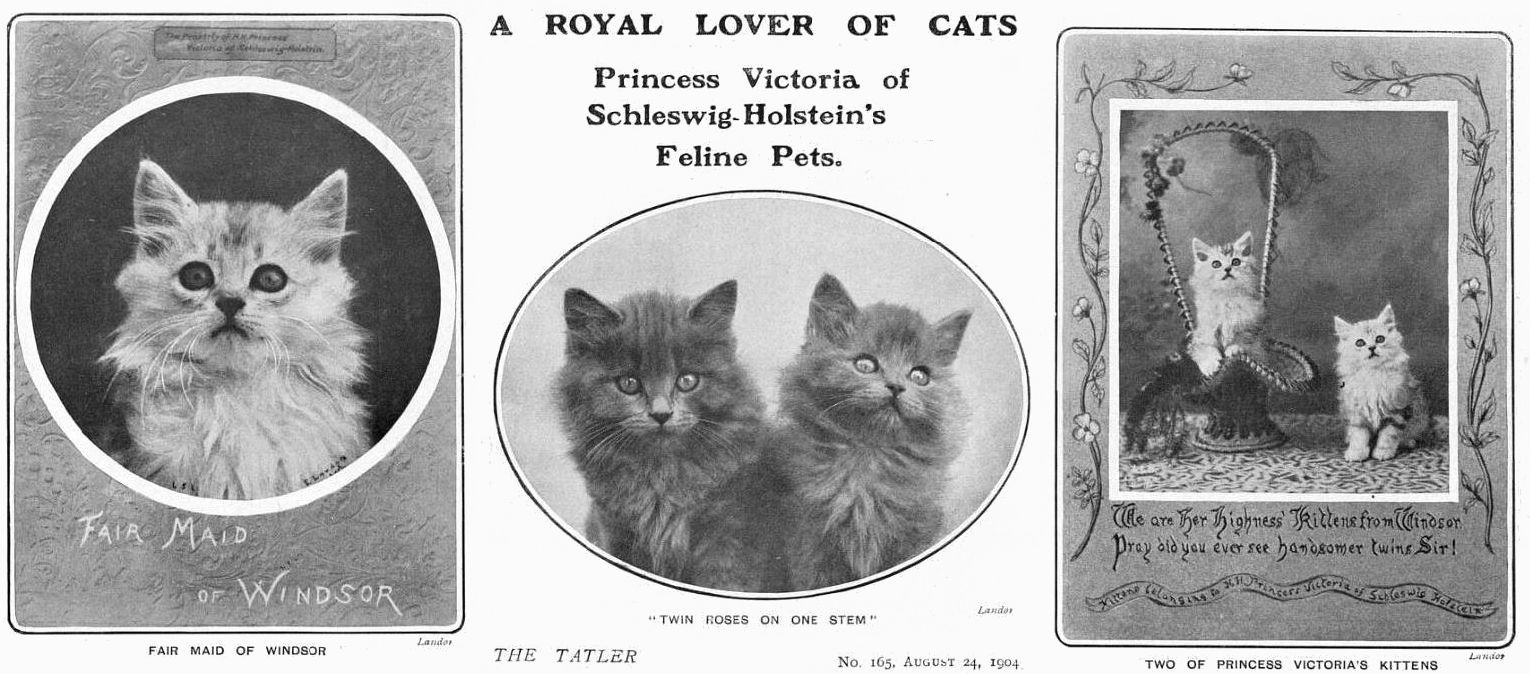 The public, more especially the cat-loving public, were extremely anxious over the illness of Princess Victoria of Schleswig- Holstein. To this amiable lady's support of the National Cat Club and cat shows the cat world is much indebted, for it has given the fashionable cult so necessary to the success of any hobby, and without which patronage, no enterprise, amateur or professional, can ever survive its introduction. A genuine cat-lover, it is now some years since the Princess Victoria became patron of the National Cat Club. Having given her name to the undertaking she displayed her interest to the public by entering her cats - pretty silver Persians for competition at the Crystal Palace and Botanic shows, and subsequently her Royal Highness has gone the length of placing her Windsor cattery at stud, thus entering into the practical part of cat owner ship as well as the part which means outlay and worries that of showing and competing for prizes.
Like the Queen, who treasures every medal she wins, the Princess Victoria is very proud of the tokens and trophies which her long- coated pussies of the East bring home to Cumberland Lodge, and prominent upon the table of her boudoir stand two of the loveliest models in silver (which spell honour for the Cumberland cattery won at the Crystal Palace), a pair of Persian cats. Cats in silver became the vogue as special prizes through her grace of Bedford, who for so many years generously gave to the N.C.C. the loveliest silver cat pepperettes for competition. It is said the noble Fritz of Woburn whose picture was given in our pages a few weeks since - was the handsome model which gave her grace's silversmith his study. Among the lucky cats whose bewitching beauty is given in this way to posterity (following the example of the Egyptians, whose models of felines are so full of interest to writers and lovers of cat history) Lady Decies's peerless chinchilla, Zaida, has her double in silver, and the original feline founder in England of the line of chinchillas - Mrs. Balding's famous Lambkin stands - empress-like on the N.C.C. trophy or ten-guinea urn which subsequently fell to the charms of the lucky Zaida, who has won this trophy some five times for Lady Decies.
Mr. Landor's picture of the Fair Maid of Windsor shows one of her Royal Highness's favourites, and a prettier, more winsome, puss- cat was surely never before the camera. The kittens from Windsor is also another charming study of Mr. Landor's, whose name stands high as a photographer of animals. "Twin Roses on One Stem is the photo of a pretty pair of royal blues also in the Cumberland cattery. Among the[smart owners of beautiful cats may be named the Duchess of Bedford, the Duchess of Sutherland, the Lady Dufferin, Lady Aberdeen, Lady Decies, Lady Maitland, Lady Hothfield, Lady Alexander, and Lady Knatchbull. Lady Marcus Beresford who did so much to forward the hobby, has given it up, much to the regret of the fancy generally and the surprise of everybody. Lady Decies is now offering all her cats for sale with the exception of Zaida, and it is said she has given them up for Pekinese spaniels.
PRINCESS A CAT COLLECTOR / CAT FAD IN SMART SET – Various, September 1904
Princess Victoria of Schleswig-Holstein, one of King Edward's nieces, has made the cat cult intensely fashionable again. Her royal highness, a devoted lover of cats, became patron of the National cat show and entered her beautiful silver Persians for competition at the Crystal palace and botanic shows.
Cats she must have with her always. Upon the table of her boudoir, at Cumberland Lodge stand two handsome models in silver of a pair of her Persian cats. Mr Landor has pictured one of the Princess' favorites, the Fair Maid of Windsor. He has also photographed the Windsor kittens and "twin roses on one stem," a fine pair of royal blues.
Miss Evelyn van Wart of New York is very fond of cats too. She possess some of the finest English tabbies in the kingdom, and, like all her friends, they are devoted to her. Another of her pets is a parrot which is full of quaint sayings and odd mannerisms.
Among the smart owners of fine cats are the Duchess of Bedford, the Duchess of Sutherland, Lady Dufferin, Lady Aberdeen, Lady Decies, Lady Maitland, Lady Hotfield, Lady Alexander and Lady Knatchbull. Lady Marcus Beresford, who did so much to popularize the hobby in society, has given it up, much to everybody's surprise.
SOME ARISTOCRATIC CATS AT THE CRYSTAL PALACE.
The Tatler, 9th November 1904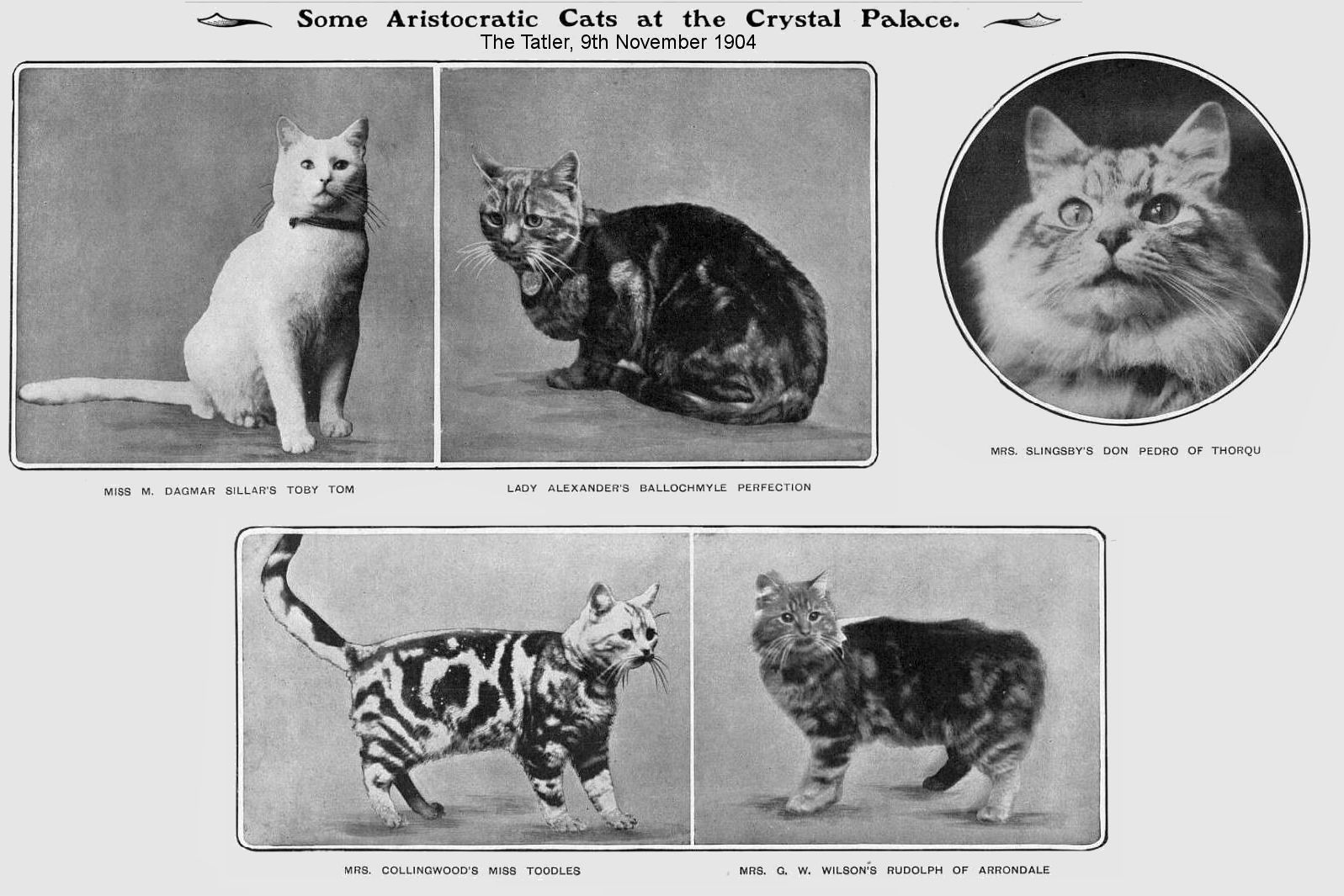 These pictures illustrate five out of the 550 entries at the sixteenth annual championship show of the National Cat Club which was held recently at the Crystal Palace. There were on this occasion no fewer than a hundred different classes, and all the best-known types were well represented.

Among the long-haired blues were some excellent specimens, and the silver tabbies were lovely. The former type are for the most part of Russian parentage and accredited by breeders with more intelligence than any other long-haired species. Chinchillas are still a difficult race, the only perfect specimen in the shows for the past six years being Lady Decies's Zaida. Most of the animals benched were really silver tabbies, which have become celebrated for their great size and strong constitution. Some of the whites appeared to have diminished in bulk, although in the case of the winners there was nothing to complain of in this respect.

The smooth-haired Siamese cats attracted much attention, and there were fine-looking creatures among the red tabbies and tortoise- shells. There was a fine exhibition of silver tabbies which varied considerably in the marking. Oranges and sables have become very fashionable, while blacks were conspicuously absent owing perhaps to the condition that their eyes must be orange.

Princess Victoria of Schleswig- Holstein, the patroness of the club, exhibited blues, chinchillas, and long-haired neuters. Lady Alexander had twenty-six animals on show in various classes and carried off several prizes, among them the Rotherham challenge bowl, value 10 guineas, for the best English short-haired cat in the show. Lady Decies had nine animals entered for seventeen classes and was awarded, among other prizes, the National Cat Club 10-guinea challenge cup for Fulmer Zaida, a female chinchilla, the best long-haired cat in the show.

LADIES GOSSIP
The Otago Witness, 16th November, 1904

Princess Victoria of Schleswig-Holstein has made the cat cult intensely fashionable again among the London, smart set. Her Royal Highness, a devoted lover of cats, became patron of the National cat show, and entered her beautiful silver Persians for competition at the Crystal Palace and Botanic shows. Cats she must have with her always. Upon the table of her boudoir at Cumberland Lodge stand two handsome models in silver of a pair of her Persian cats. Among other smart owners of fine cats are the Duchess of Bedford, the Duchess of Sutherland, Lady Dufferin, Lady Aberdeen, Lady Decies, Lady Maitland, Lady Hothfieid, Lady Alexander, and Lady Knatchbull.

WHEN IS A KITTEN A CAT?
Pittsburgh Post Gazette, 9th December, 1906

Can a kitten become a cat before it has reached the age of one year? To the owner of the common or domestic cat which condescends to receive fireside caresses this question may seem a small matter; but to the owner of the aristocrats of the show world it involves a very important point. And a great discussion has centered in it. The storm center is: Shall a cat be compelled to show itself in public exhibition as a kitten before it has reached the dignity of a second birthday? The Southern Counties Cat club say that the period of adolescence shall cese at the age of nine months, and they will act up to this pronouncement at their forthcoming Westminster exhibition. They are going to call cats cats and kittens kittens on those lines.

A REAL CAT THIEF. SOMERSET OWNER ROBBED OF VALUABLE ANIMAL.
Western Daily Press, 1st December, 1927

A valuable long-haired cat from Somerset, which was to have been shown at the National Cat Club's championship show at Crystal Palace yesterday, was stolen on Tuesday night while its owner was taking tea with a friend at Croydon. The animal "Curzon O' The Combe," had travelled with three others in baskets in a car from Combe Head, Chard, in the care of its owner Miss Langhorne, and a friend. Miss Langhorne was greatly upset by the loss.

"We had driven up from Chard with the four cats and had stopped to have tea with some friends in Nottingham Road, South Croydon," she said. "We left the cats in the car. When we came out again, Curzon and the basket had disappeared. Curzon was rather a valuable cat – he was priced in the catalogue at ten guineas, and had won prizes at shows, notably last year at Crystal Palace when he took a second."

Immediately on discovering her loss Miss Langhorne informed the local police and also telephoned to Scotland Yard.

You are visitor number