CATS AND THE CAT FANCY IN AUSTRALIA, NEW ZEALAND AND SOUTH AFRICA (1880S TO THE EARLY 1900s)
THE EARLY DAYS OF THE AUSTRALIAN CAT FANCY
While the early days of the British and North American cat fancies are well documented, no complete history of the Australian cat fancy have yet been compiled. As well as scouring various sources, I am indebted to Lesley Morgan Blythe who continues to collate and publish a comprehensive history of fancy cats in Australia. Note to non-Australian readers: In these notes on the Australian scene, "Victorian" refers to a state and not to an era.
In general, cat shows in each state were run in conjunction with dog shows or rabbit shows until the formation of the first Cat Control Body.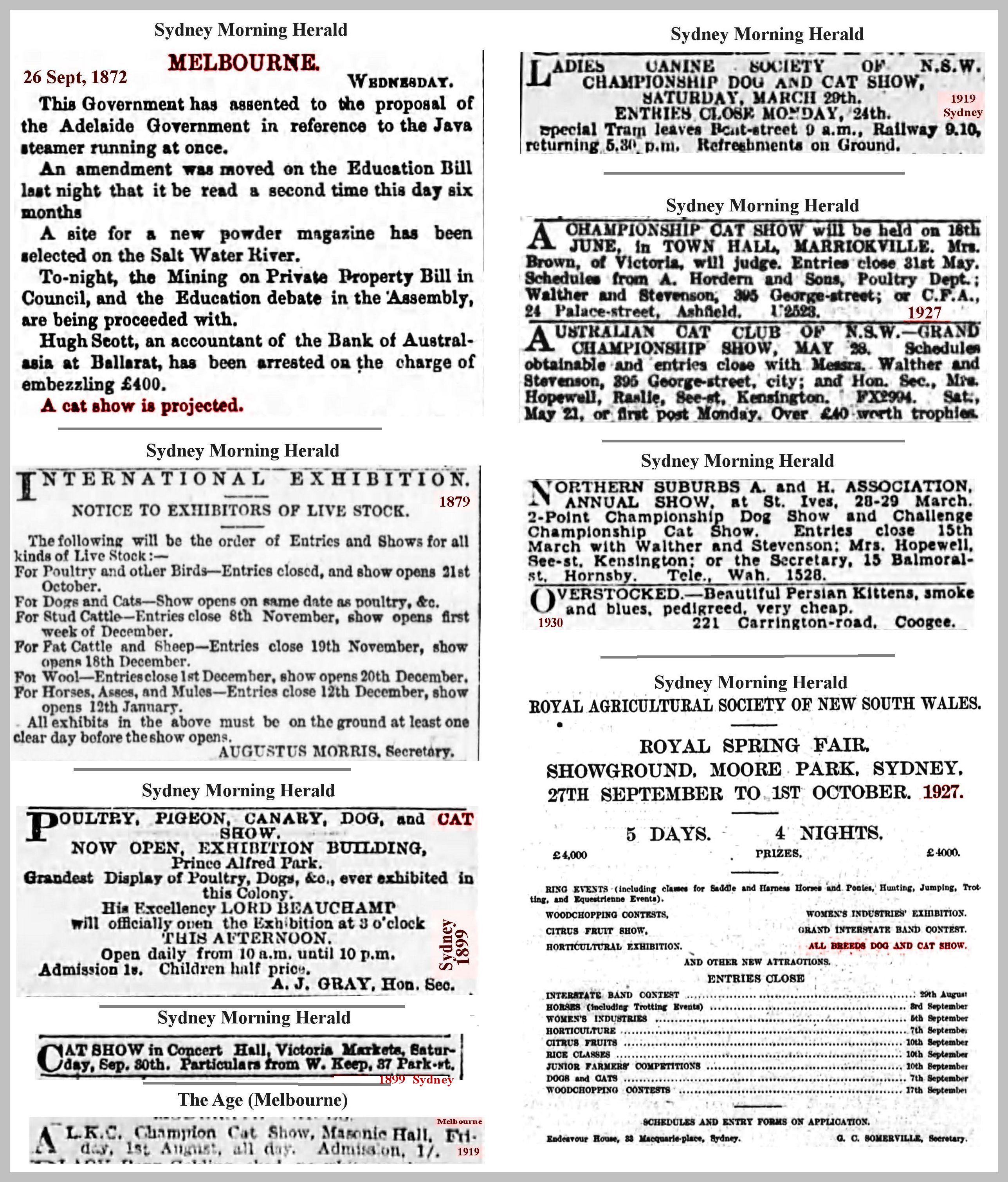 VICTORIA

There were cat shows in Australia in the 19th century as this clipping from the Hamilton Spectator, August 13th, 1872 shows: "We notice, by the Sporting Era, that it is proposed to hold a Cat Show in Melbourne, early in October next, when a solid silver collar, with suitable inscription, will be awarded to every winner."

According to The Age, (Melbourne) of 1st February, 1902: "If competition is the soul of trade, it should certainly result in immense improvement among our domestic pets. Here in Melbourne our dogs are far too apt to be "just dog" and our cats "just cat." And yet, as "horsemen" say, a good looking, well-bred animal costs no more to keep than another. The theory that it is the mongrels that have the brains is long since exploded, and one might just as well expect breeding to count for nothing on the turf as to look for the intelligence of a well-bred dog in every nondescript canine quadruped. Much the same applies to cats, and that the desirability of breeding first class animals is recognised in England is illustrated by the fact that the entries at the last National Cat Show totalled a thousand. Blue Persians formed one of the largest classes, though Siamese and Chinchilla cats were well represented."

The organised cat fancy in Australia began in 1919 in Victoria and a few years later in New South Wales. However, pedigree cats had been bred in those and other states since at least the 1880s and were being exhibited as sections attached to poultry, dog and rabbit shows and multi-animal shows, often under the umbrella of agricultural shows.

The Australian Cat Club (ACC) was established in Victoria in 1919, but prior to that a cat register was maintained by the Victorian Poultry and Kennel Club (VPKC) as far back as 1885 and possibly earlier. The earliest cat show catalogue known to exist was run by Australian Cat Club in 1912. The ACC register appears to be a continuation of that earlier VPKC register. Until WWI, the ACC was affiliated with the Australian Ladies Kennel Club (ALKC), but by 1925 it was affiliated with the Victorian Kennel Assoc (VKA), which had formed as a breakaway group from the VPKC. There were several other cat registries around and the cat fancy remained fragmented for some time.

SHOW OF PERSIAN CATS. A Fine Display - The Age, Thursday August 5th, 1920: The newly-formed Australian Cat Club, which comprises a large number of lady fanciers, inaugurated their first show of Persian cats on Wednesday at the Independent Hall, Collins-street. The exhibition, which was opened by Sir Henry Weedon, was nicely arranged, and drew a good attendance, and keen interest was centred in the awards. The chief laurels for the best cat in the show were awarded to Mrs. P. Owen, who won with My Digger, a smoke Persian of rare quality. The trophy for the best kitten in the show went to Miss E. Simmonds, with Lord Possie, a true blue Persian, with a magnificent coat. In blue Persians, the championship went to Miss B. Simmonds's Lord Possie, and Miss D. Dennis's Hawaiian Princess (imp), Black Persian championships fell to Mrs. K. Morris's Duke of Athol and Miss O. M. Bentley's Princess Peggy. In smoke Persians, Mrs. P. Owen's My Digger and Mrs. W. Sheriff's Beauty took the challenge honors. Other winners were Mrs. H. Hunter, in brown Tabbies; Mrs. R. B. Lemon, with Tawny. Miss E. Stone took the special in Neuters. In Chinchillas Mrs. Charlesworth and Miss F. Laurie won the chief honors. Mrs. M. Wallace and Mrs. V. Springhall scored the championships in shaded silvers. Mrs. Charlesworth and Mrs. H. G. Farrell scored in silver tabby Persians. Mrs. Maher and Mrs. W. Clifford were in front with white Persians. The special prize for the best decorated cage was won by Miss Mills, prettily arranged in various shades of mauve. Afternoon tea was served and musical items were rendered, and the arrangements were well carried out by Mrs. P. Owen, the hon. sec., and an energetic committee of ladies.

In 1928, the ACC organised a meeting for all cat fanciers, held in Melbourne.  They proposed forming a "Governing Cat Council" for the whole of the Australian cat fancy (a GCCF). Australia's GCCF was the third such body to be formed; the two earlier ones being in England and the USA. Judging would become more consistent across the states so that Persians at one end of the country were no longer "years behind" those in Victoria in terms of quality.

The Age (Melbourne), 11 October, 1938 provides us with this short report about a noted Australian cat fancier's investigation into the fancy outside of Australia since British cats were imported into Australia: "In the three years she has been abroad, Mrs. Bruce Pearce has established what surely must be a record. She has made it her business to see "every good cat" in England! A noted fancier - 23 cats at one time is her record to date — she visited every cat show of note while she was away, while her husband judged several of them. Now she has returned with the important news that the Governing Council of Cat Fanciers — that august British body — has "at last" decided to make separate classes at shows for yellow and blue-eyed white Persians — over which in the past controversy has raged bitterly. But for all the immense vogue for "long haireds," as Persians are now designated, Mrs. Pearce found that Siamese cats threaten to rival their popularity, especially now that Siamese with smoky-blue points are being bred with success. England, by the way, is gaining an enviable reputation for its cats. It is nothing unusual for fanciers to fly from Switzerland, Holland and France to attend the leading shows. And an aristocratic English cat now holds a high position in Italy, for, sold in that country by a friend of Mrs. Pearce, it was bought by an admirer of Mussolini to be presented to no less a personage than Il Duce —who, by the way, is a discerning fancier."

NEW SOUTH WALES

As with Melbourne, Victoria, there were cat shows in the late 1800s, for example this one reported by the Sydney Morning Herald, 2nd October, 1899: "A cat show in aid of the Civil Ambulance and Transport Brigade was opened on Saturday in the concert-hall of the Victoria Markets, There were over 200 entries from all parts of the country, which created a large amount of interest. All sorts and conditions of cats were shown, from a waif found in Hyde Park to the domestic aristocratic Persian cat of rare value. These costly specimens were in great variety — blue, silver, black, and brown; and as a thoroughly representative exhibition the show was a decided success. The promoters were Mr. and Mrs. Keep, and it is hoped that the interest awakened in the exhibition will lead to the formation of a cat club among fanciers of this universal domestic pet. The exhibits were well staged, and with the aid of an instructive catalogue many visitors, no doubt, learned much of interest concerning the feline race. The judging was performed by Dr. Hughes, Messrs, F. Albert and E. Butcher."

Attitudes to cat shows are alluded to in the The Sydney Morning Herald, 15th August, 1901, [The Mayor] considered it a great privilege for Messrs. Gollin to have asked him as Mayor of the city to declare the building open. In the past the Mayor had generally been kept aside for the opening of nothing more important than a dog show – (laughter) – and sometimes a canary exhibition. In fact he had been asked to open a cat show. He drew the line at that. He did not mind going to the dogs – (laughter) – but he stopped at the cats.

The New South Wales (NSW) organised cat fancy started up a couple of years after Victoria (usually stated as 1925). The first formal "Kitten Parade" in NSW was held in 1924 under the auspices of the Poultry Club of NSW, but Persian cats had already been exhibited in cat classes at dog shows in NSW back in 1908 and I found this news report from 1904:

"Poultry, Pigeon, Dog, And Cat Show" – The Sydney Morning Herald, 27th June, 1904. The 27th annual show of the New South Wales Poultry, Pigeon, Canary, and Dog Society was brought to a close on Saturday evening at the Exhibition Building. [. . .] A number of additional awards were made on Saturday, including the judging by Mr. C. W. Gray of the cats section, in which the number of entries was hardly up to the usual. The following awards were announced:—Cats:
Black female: Mrs. C, Butcher, First.
White Female: Minnie A. Sutton, First.
Isle of Man (Manx) – Male or Female: Miss Nira Towns, Champion and First.
Persian: Mrs. J.T. Claeson and Miss Emmie Jennings, equal First; Miss Muriel Jennings, Second; Mrs. Fenning, Third.
Any Other Variety – Cat, gelded: Mrs. F. Goodhead, First.
Shorthair kitten, any colour, under 9 months: Mrs. C, Butcher, First.
Heaviest Cat, any variety, male or female: Mrs. F. Goodhead, First."

The "Australasian Farm & Field & Poultry Advocate" had reported on the cat section at the Poultry Club of NSW in June 1923, at which around 50 cats were exhibited, so there was evidently an established cat fancy albeit not yet under the auspices of a specialist Cat Club or registry. The Poultry Club seems to have held cat sections at all its shows and in 1924 exhibitors requested that the club send a letter to the Royal Agricultural Society requesting a cat section in the RAS schedule.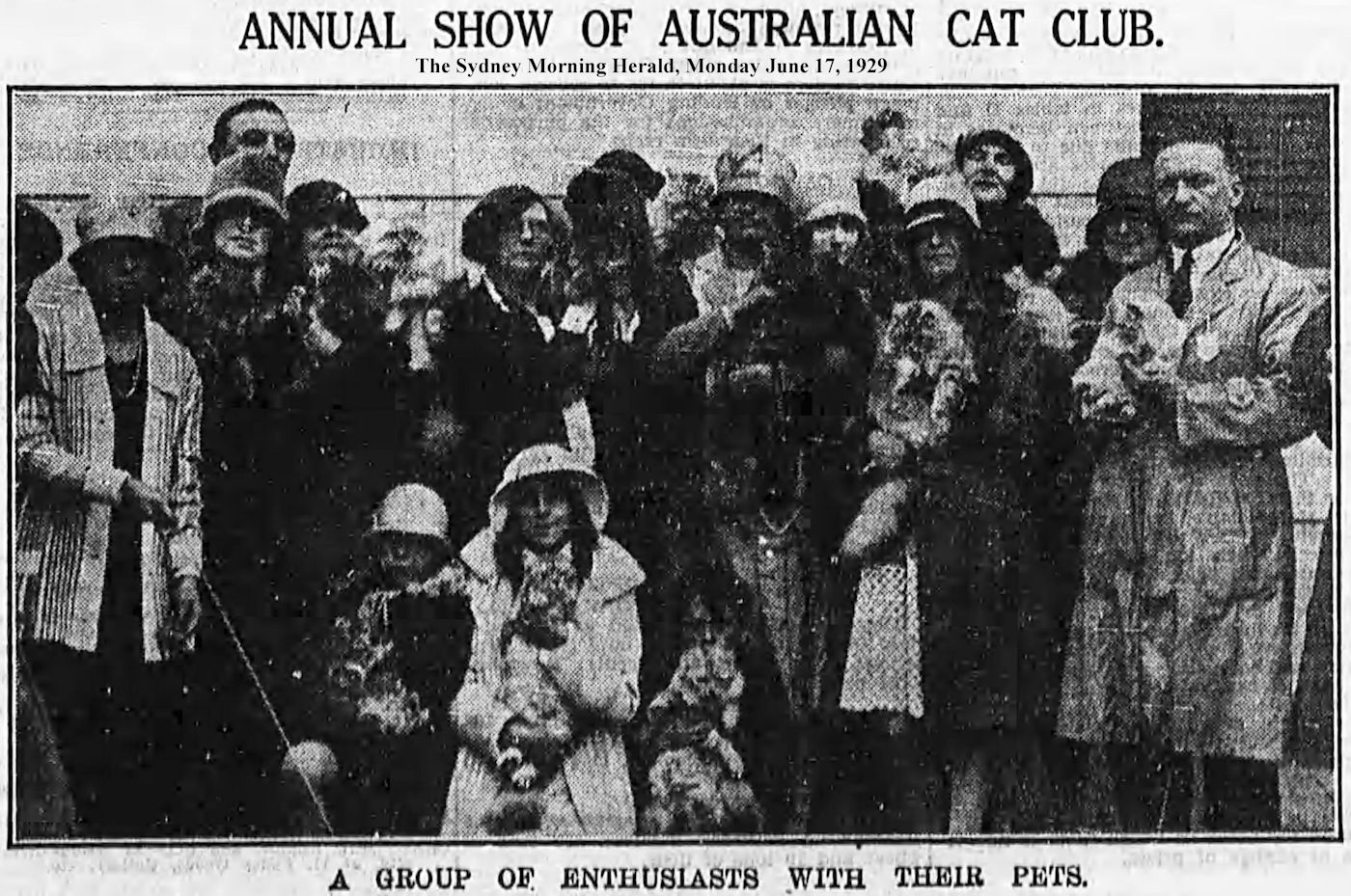 And this article ("Aristocrats") from The Sydney Morning Herald Women's Supplement, March 6, 1939 gives more details about several prominent exhibitors of the time. Last year there were 78 women who exhibited cats at the Royal Agricultural Show; and by the way this year's entries are coming in, this number will probably be exceeded. The dozen or so catteries in Sydney suburbs are, just now, "all of a dither," but it's a very pleasant dithering, for hopes are running high as brushes fly and well-bred, well-groomed cats abound. Tuesday, April 11, is "the" cat day at the R.A.S., and for this big day owners are now preparing.
Mrs. Mason, of the St. George Cattery at Oatley, who is the proud owner of Surf King of Worboys, is hoping that this Persian champion will retain his laurels. He should have plenty of stamina, and not suffer from nerves, when the Judges look him over, for daily he eats one pound of steak, daintily sips some milk, and dutifully swallows cod-liver oil and malt. Cobweb, a female Persian at the same cattery, was imported from England, and must like Oatley, and Surf King in particular, for she shows no signs of home-sickness, but rather a womanly determination to win a few prizes for herself.
Mrs. E. Braitling, of Haberfleld, bought her first Persian cat, Silver Prince of Queensland, to have as a pet. Indeed, he travelled from Brisbane by air; but, finding him too superior to be a pet, she decided to go in for cats in a big way. Miss A. C. Cashmore, of Mosman, is not only a cat lover and breeder, but she is also an authority. When interviewed she was off to Newcastle the next day to judge at a cat show which was being held there.
But no one visits a cattery in Sydney without being asked: "Have you been to Enfield and seen Miss Christie's Siamese cats? If not, you must see them. They're unique," And all one hears about them still falls to do them justice. If these cats had their true deserts they would be reclining on cushions in some Siamese palace or sniffing the heavy incense of a temple in Bangkok. They do not gambol in the coal cellar, but one wants to be told this, for their black faces, legs, and tails combined with their cream to fawn bodies suggest a recent frolic with lumps of coal. Their eyes are turquoise blue, which at night change to ruby red!
Miss Christie has about ten of these royal cats, whose collars are made to match their daytime eyes of turquoise blue, for these cats are put on leads like dogs and taken for walks. But whether the cat is a Siamese, a Persian, or as the catalogue tactfully describes him "any breed," if his owner is show-minded he will hardly have, between now and April 11, a spare day to call his own.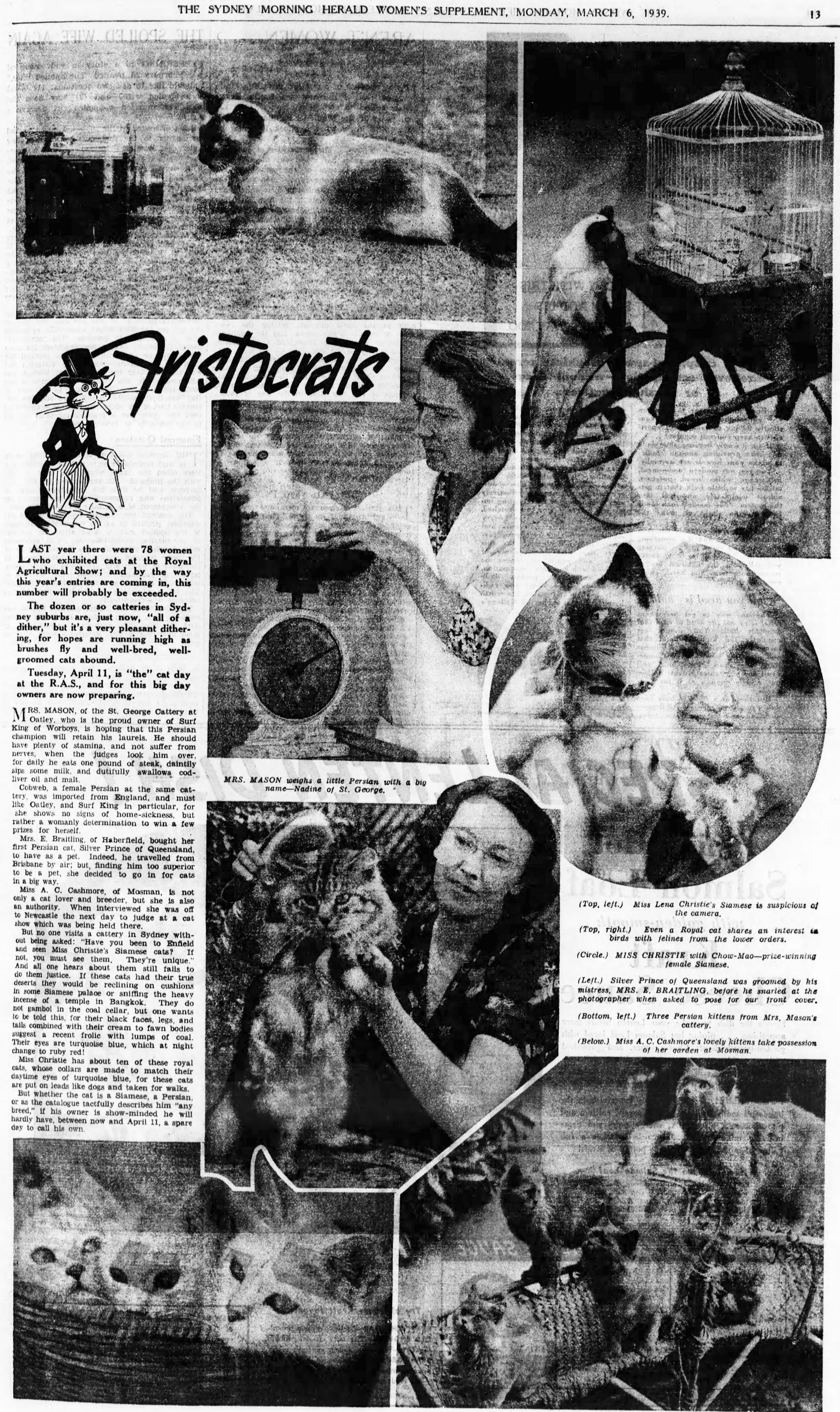 This excerpt from a "Report From Australia" in Jan 1950 "Our Cats" by Mr Harry H Wynne, (Joint Publicity Officer of Royal Agricultural Society Cat Club, N.S.W.) mentions the progress being made since the 1930s: "For a considerable number of years the Cat Fancy in Australia (particularly in New South Wales) has progressed quietly and without fanfare, and although we may be a long way behind England and America with regard to quantity, we are definitely on equal terms in quality. Two decades ago we adopted a standard which very closely resembled the English ideals and which, with local adaptation to suit our very different climate, has invariably ensured a high-class animal. As in other lands, our felines suffered during the war years, but are rapidly overcoming the inevitable setbacks, and indeed the Fancy is now approaching the flourishing stage. It is significant that many of our top-line breeders are again casting wistful glances at English catalogues, for, undoubtedly, our foremost stock are direct descendants from overseas importation and our native crossings are not as varied as could be desired."
One of its founders, Mr E J Lonsdale was still an active member into the 1950s. Although he retired from the Fancy in 1938, he was induced to return in 1947 and he visited a number of English shows and English catteries during 1950. Another foundation member was Mr Fred Pearce, who was still a judge in the 1950s - 28 years of service, interrupted only by war-time service. Mr Pearce became senior Vice-President and judged cats in Australia and New Zealand. The club had seven life members by 1953: Mr Lonsdale (1940); Mr Pearce (1942); Mr Harry Wynne (1947); Mr and Mrs Harvey (1952); Miss A Cashmore and Mrs Wallace (1953). During its first three decades, the Association had held shows in diverse venues: Mr Lonsdale's front lawn town halls, sections of agricultural shows (where the cats might have to share the hall with sheep) and eventually at the NSW Sheepbreeders' Association Annual Show outside Sydney.
OTHER STATES
The earliest reference to South Australia's fancy appears to be Persians being exhibited in 1908. By 1924, more than 160 Persians were exhibited at a show (Australian Farm & Field & Poultry Advocate) and the "Australian Rabbit & Pigeon Journal" featured a "Cat Chat" column edited by a South Australian cat fancier.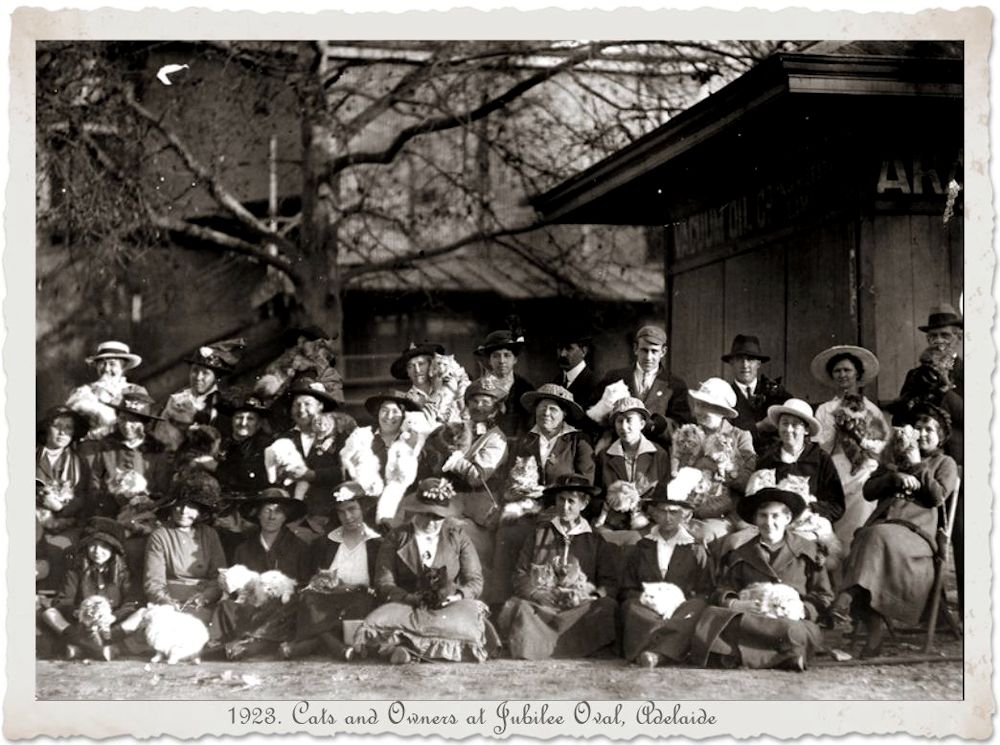 In Western Australia, a Persian was exhibited at some sort of show in Perth in 1896. The organised cat fancy in that state was established during the 1920s. It seems that cats lagged behind in terms of quality for a number of years as according to the above-mentioned "Cat Chat" column in 1933, Persians had improved greatly in the preceding 4 or 5 years and some were fit to compete against those in the Eastern states. It also seems that judges were not rigorous enough, which was holding the cats back in terms of quality.
Persians were being imported into Tasmania by a Mrs Cameron in 1901, and they were probably being bred in Queensland prior to 1910. Blue Persians and chinchillas were present in Tasmania in the 1920s. Pedigree cats were sometimes exhibited at agricultural shows in Tasmania and Queensland, prior to the establishment of an organised cat fancy in the 1960s. Siamese cats had arrived in Tasmania in or before 1925, with one featuring on newsreel filmed at the Deloraine races that year. The Queensland fancy evolved in the 1930s with cats initially being exhibited at bird shows and other animal shows.
Breeding and exhibition of fancy cats in the Northern Territory came much later than in the other states. That region was settled later by Europeans and was geographically more isolated.
THE EARLY BREEDS
The original breeds known to be present were much the same as those in Britain and the USA: Persians accounted for most show entries for many years, though Manx, Siamese and Abyssinians were also exhibited. It took more than one attempted to establish some of the breeds and varieties, most likely due to diseases contracted at shows, though we can't rule out contact with venomous Australian wildlife. At one early cat show, 60 cats were exhibited - 58 being pedigree Longhairs and 2 were Siamese.
The catalogue of the Victorian Poultry and Kennel Club Annual Show, 1897, lists a male and female Siamese entered by Mrs Lawson, although the cats failed to turn up for the show. Dr and Mrs Chas Ryan exhibited a pair of Siamese in 1901 and another Siamese in 1904. Mrs A E McLennan advertised imported Royal Siamese in 1902 and exhibited two of these in 1904.
In 1908, "The Australasian Poultry and Kennel World" ran an article Mrs McLennan's "Khio" cattery in Victoria. Mrs McLennan was breeding, among others, seal-point (Royal) Siamese cats. However her breeding lines appear to have died out, perhaps due to infections contracted at shows . A Siamese cat was also featured on newsreel filmed in 1925 at the Deloraine races in Tasmania. The founders of the Royal Siamese in Australia were Wing of Woodrooffe and Woodrooffe Adam (Major S Woodiwiss's prefix – he was Hon Sec of the Siamese Cat Club in the UK at the time), imported into New South Wales from Britain in 1925 by Mr and Mrs Lonsdale. These were exhibited at the Australian Cat Club show in Melbourne in June 1925. According to the animal fancier magazine "Our Dogs and Feathers", they caused a furore, much as Siamese cats did when first exhibited to the public in Britain.
Mrs McLennan also exhibited Abyssinians; and owned Khio Sir Peter Teazle and Khio Paul plus Khio Lady Teazle and Khio Virginia. Their origin and parentage isn't stated in show catalogues. The Khio Abyssinians also seem to have been lost, so perhaps the whole cattery was ravaged by "show fever" because modern Australian Abyssinian lines trace back to British imports in 1959 and not to 1890s.
The Victorian Poultry and Kennel Club Show catalogues of 1889 had a class for Royal Siamese, while that of 1896 had classes for Siamese and for Abyssinians. In 1895, there was a class for the Angora cat. Although these often lacked entries, it may attest to the breeds being present in the early Australian cat fancy. However, Show catalogues indicate that the Manx cat was relatively numerous in the mid 1890s. However, a word of caution - early cat shows around the world offered classes for breeds that might turn up, as the ever-empty class for the Chinese Lop-Eared cat at early European cat shows demonstrates.
According to the 1908 article, Mrs McLennan also bred Blue Persians, Orange Persian, (shaded) Silver and Chinchilla Persians and Silver Tabbies. Mrs McLennan's Persians were mainly of British origin, imported in 1900 and 1901 from Mrs Foote (UK). Persians were the most numerous fancy breed during the 1880s and 1890s and were imported from Britain, France, the USA and South Africa. In 1895 Charles Lynott exhibited an imported Chinchilla female, an imported "Brown" Persian female and a Persian male (unknown colour) at the Victorian Poultry and Kennel Club Show. In 1908, Mrs DM Matthews imported a breeding pair of blue-eyed White Persians, Wild White Rose and Blue-Eyed Robin, specially selected for her by Frances Simpson in Britain. These appear to have upset local Australian breeders resulting in the cats being shown under the wrong name and not being awarded prizes as a result. It was suggested in correspondence printed in Australasian Poultry and Kennel World that the show secretary (who was a competing exhibitor!), Mrs Harriet McLennan, had resorted to underhand tactics in this matter. Mrs McLennan sued both Mrs Matthews and the magazine for libel and though she won, technically, she ceased being the Hon Sec of the ALKC and appears to have stopped exhibiting cats.
The Siamese Cat Club of Australia was founded at the beginning of 1950 and held its first show in June 1950 in Melbourne Town Hall. It attracted over 3,000 visitors.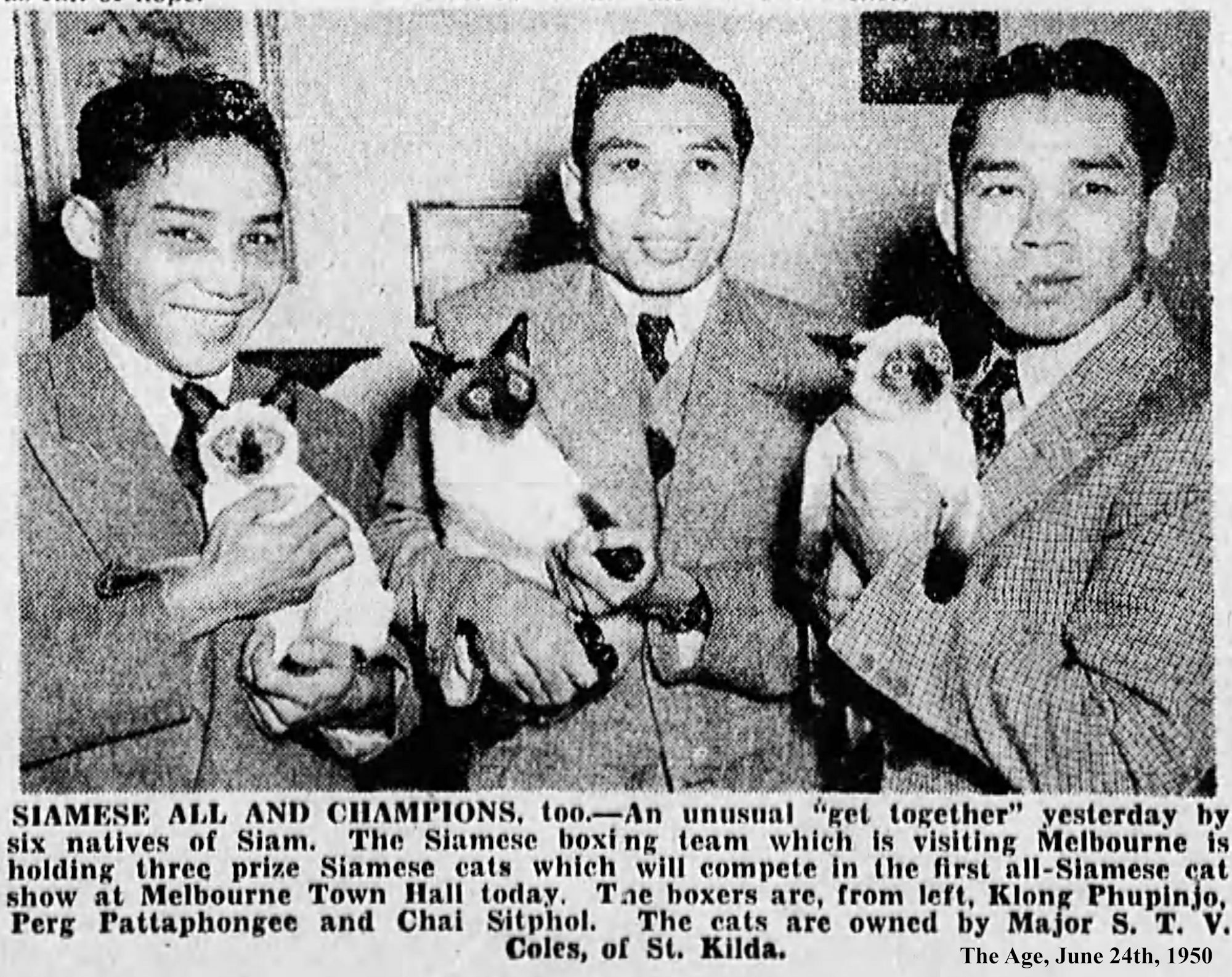 "PEDIGREE TWICE AS LONG AS HER TAIL – The Age, Melbourne, Victoria, Australia, 26th June, 1950
Obviously aware of her aristocratic pedigree, which dates back 20 generations and is more than twice the length of her tail – a very long one, which is a most important sign of good breeding – Circe of Sedgemore is one of the proudest Siamese cats in Melbourne today. Owned by Mrs. D.J. Chandler, she was judged champion at the Siamese Cat Club's first annual show in the Lower Melbourne Town Hall on Saturday. The show was officially opened by the Governor's daughter, Miss Jeanette Brooks, who was presented with a Siamese kitten, Baghead of Wyeeboo, who has already been given a pet name, Jeremy, by his new owner. Regret was expressed by the club secretary (Mr. D.J.C. Chandler) on behalf of the Lord Mayor's Fund, which benefited from the show, that many people were unable to gain admittance. Public interest had been far greater than anticipated.
What could be more appropriate in these days of streamlined two-tone cars than a streamlined two-toned cat! That describes the Siamese aptly. Streamlined because his body is long and slim but firm, and two-toned because the close glossy cream fur of his coat adds a contrast to hisseal brown face, pointed ears, paws and long tail. In the language of Siam the cream of the cat's fur is called "Sriswart," which means the color of love and affection. The Siamese cat is regarded as a better companion than the ordinary domestic cat (it has the loyalty of the dog and becomes a "one man" cat), is a better hunter, hunting for rabbits and birds, not just for the sake of killing, but to bring back game to its master, and is more agile in both running and climbing.
Contrary to common belief, owners of Siamese cats do not pamper them and make them and indoor pet only. Mrs. J. hine, whose Siamese cat, Nugat, produced a litter of 10 kittens – claimed to be a world record – allows her cats to run almost wild on her farm at Lara. Too much petting of the animals tends to make them weak and they become hard to rear. A quaint feature of some Siamese cats is the small crinkle at the end of the tail. This trend carried many legends which were related by Miss Voranuj Pramoj, who came from Siam three years ago to attend Kindergarten Training College in Melbourne, and was present at the show.
One of the tales, which also accounts for the squint which was once another common characteristic among Siamese cats, but which is not almost out-bred, goes like this: Hundreds of years ago two priests living with their Siamese cat in a temple had a great responsibility. They had the care of a sacred goblet. One day the older priest died and it was necessary for the younger one to leave the temple to find someone to take his place. The cat was left to guard the sacred goblet and to be quite sure it was safe she twisted the end of her tail firmly around it. As she was waiting for the priest's return she gave birth to a litter of kittens and because she was watching the door with one eye and the goblet with the other they were born with squint eyes and small crinkles at the ends of their tails.
Nowadays, however, judges eliminate points from the cat with the crinkly tail and so catteries are trying to breed out this fault.
Siam can boast of several other types of cats which are found only in that country. There are black cats with blue eyes, black and white cats with blue or sometimes ruby-red eyes and cats with coats striped in fawn, brown and grey-green. These are domestic cats and, like the "tabby" cat in Australia, are usually given to their owners, whereas the Siamese cat in Siam can only be bought by the very wealthy. Nearly everyone in Siam owns a cat and because these people love cats, anyone killing one invites the penalty of bein ostracised.
The most expensive exhibit in the whole show on Saturday was Mrs H. Chase's imported Russian Blue. Mouchemokey, who was judged champion for his class. Although a first cousin to the Siamese cat, the Russian Blue has an entirely different nature. He is extremely snobbish towards strangers, takes a long time to really become acquainted with his master and then is not particularly loyal, and is very fastidious about food. One-year-old Mouchemokey has already acquired the majestic air of looking down his nose at strangers and when bored of their company seeks refuge in higher places. All Mouchemokey's movements could be compared with those of a leopard. Although he is a small cat with a long lean body and limbs, as he moves strong muscles ripple under his sleek dark blue-grey coat. His pretty face is small and kitten like, swamped with two huge almond shaped eyes, the colour of the sea when it is calm."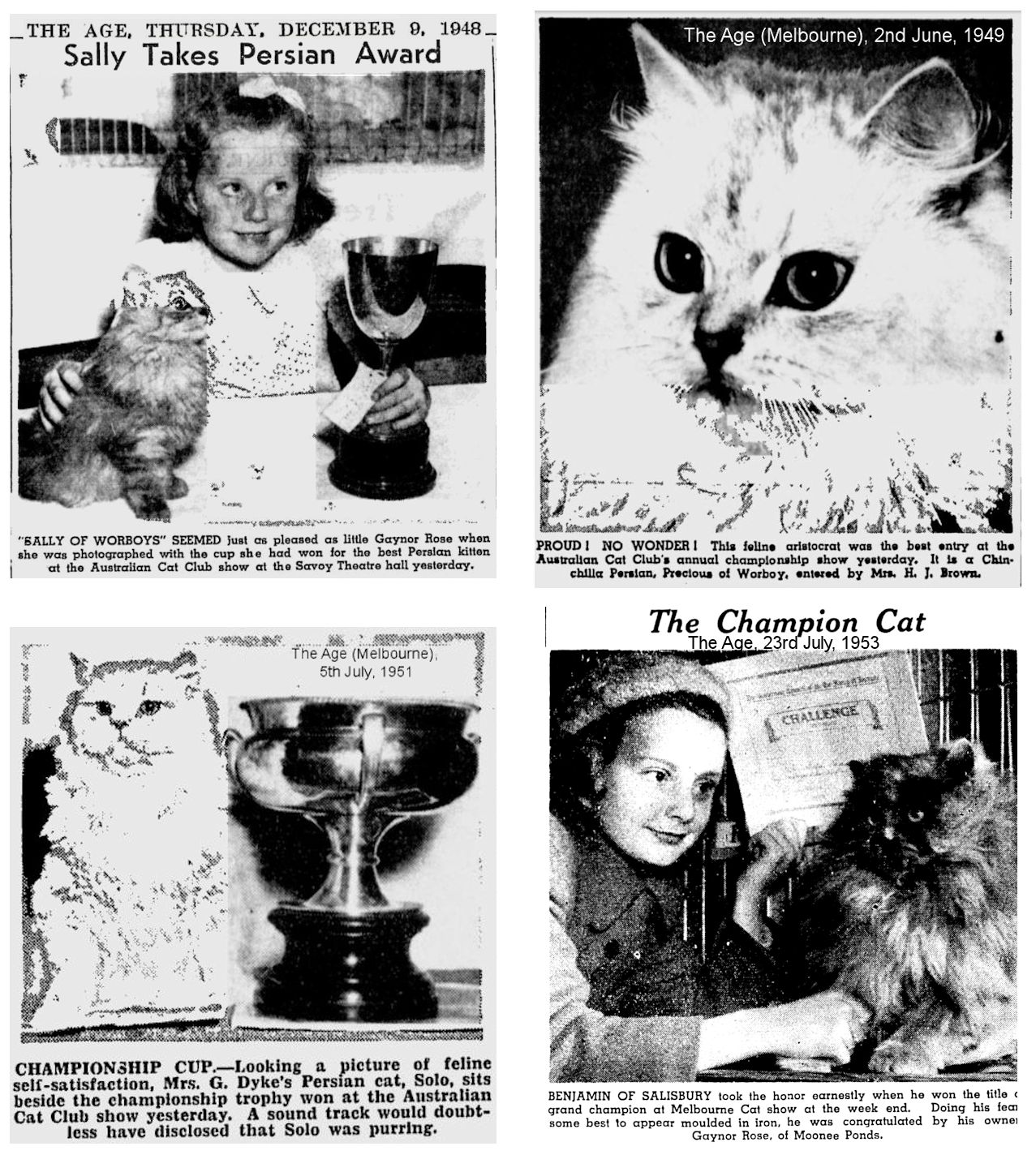 A HOME-GROWN AUSTRALIAN BREED?
Australian fanciers were importing those breeds known to the organised cat fancy in other English-speaking countries, but what about developing their own breeds? (The USA recognised the Maine Coon and Maltese). In fact some curious home-grown Australian cats were exported to the USA in the 1890s, but don't seem to have gained recognition in Australia.  The Australian breed was described by Robert Kent James in 1898 and in 1900 by Helen Winslow ("Concerning Cats").  Winslow wrote that Dr and Mrs Hammond in Connecticut specialised in rare Australian cats and had won numerous prizes with them in the USA.  Some of his Australian cats were US$500 each; they were also delicate and had small litters.  Other writers mentioned their large ears and arched foreheads and that they were sleek cats, with short, glossy fur and small, narrow heads.  The Hammonds believed that the breed was derived from Siamese cats imported from Siam to Australia (if so, Siamese must have reached Australia prior to 1898).  In March 1902, a description of the "Australian cat"  in the magazine "Our Cats" referred to a little spotted cat with a triple-kinked tail and very curious hindquarters:  the curve from the heels going deep into the fleshy part of the hind-legs, and suggesting a long, leaping gait (the kinked tail sounds akin to the Japanese Bobtail, a breed not known to Western fanciers at that time).  These descriptions were repeated in a number of publications in 1902 and 1903, including Frances Simpson's "The Book of the Cat".  The Australian cat was recognized by the CFA in the USA in 1910 in white, tabby-and-white, tortie-and-white, tabby and "seal-brown", but by 1925 had gone into rapid decline due to a lack of breeding males, probably compounded by inbreeding. The last mention of the Australian breed seems to be 1927. It was possibly an early representative of the Oriental Shorthair group. 
| | |
| --- | --- |
| | |
| Australian Cat (1900) (Tricksey, male) | Australian Cat (1902) |
| | |
| Australian Cat (circa 1920) (short-legged female) | Australian Male "Amee" |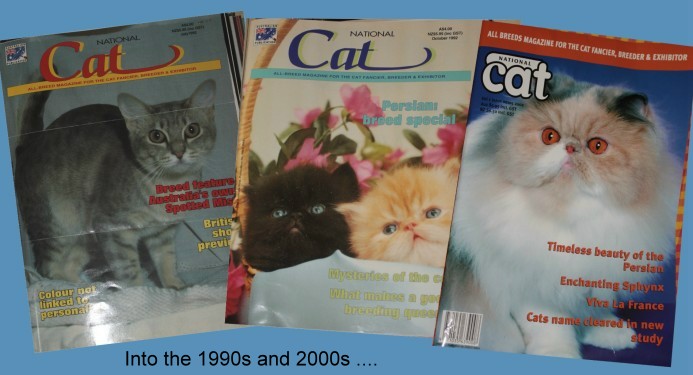 FORMATION OF A NATIONAL BODY
With thanks to Lesley Morgan for this information.
Abbreviations: WA – Western Australia; NSW – New South Wales, SA – South Australia; Tas – Tasmania; NT – Northern Territory; NZ – New Zealand; Vic – Victoria; Qld – Queensland.
The next logical step was to form a national body to govern the region cat control councils and registries. At the Governing Council of the Cat Fancy Victoria and Australia (GCCFV) Annual General Meeting on 27th November 1969, it was suggested that a National Controlling Body should be formed. The Council resolved to contact the major Governing/Control Councils in Australia regarding the formation of a National Body. At a Feline Control Council of Western Australia (FCCWA) meeting on 19 February 1970 it was resolved that the proposed affiliation between the Victoria and Queensland bodies would be the foundation of a National Body. On 22nd June 1972, the FCCWA recorded the following resolution: "National Feline Council: Resolved that the FCCWA is in favour of the formation of a National Council. The Committee emphasised that it would only be fair to have one vote per one State, as in some States there was more than one representative".
On the 21st October 1972, the inaugural meeting, sponsored by Uncle Ben's (Whiskas), was held in Melbourne, chaired by Mrs J E White. Attendees included Coordinator, Dr M J Tait (GCCFV); delegates from Queensland Mrs M Dougan (Cat Fanciers Association and independent clubs), Mr R Shead (Feline Council of Queensland), and Mrs M Haas (Governing Council of Queensland); delegates from Victoria Mr D J C Chandler (GCCFV) and Mr V Bumak (DCCV); Miss M Horne (GCCF of South Australia [GCCFSA]), Mr K Dobbie (CCCT), Mrs D Oaten (Cat Association of the Northern Territory (CANT)), Mrs B T Sparkes (Murray Valley Cat Authority), and Mr H Klopper (FCCWA). Observers included Mrs Mary Hinchcliffe (Feline Control Council of Victoria [FCCV]), Mrs M Oliver, as well as representatives of Uncle Ben's Australia Pty Ltd (Whiskas). There was sufficient national representation present to form a steering committee which would a draft constitution for presentation. Those councils not present would be kept up-to-date so they could join at a later date. It was planned to hold the first National Show in South Australia, because of its central location.
The ANCF (Australian National Cat Federation officially came into being on 10th March 1973. At its first conference, Harold Klopper was elected President. The ANCF's name was changed to Australian Cat Federation (ACF) when it was formally incorporated. The initial meeting of the new national body was organised in Melbourne by Clyde and Beryl Chandler of the GCCFV among others and the inaugural ANCF show was held in Adelaide on the 5th of August 1973 with Margaret Horne as the show manager and Shirley White as her assistant. The show committee were : June Vogel (Richardson) and Trixie Pettman (South Australia). Judges included: FIFe Secretary, Brita Kastengren-Remborg, Sonia Dowty (New South Wales), Gwen Jenkins (Victori), Mrs E Chan (New Zealand), Jack Caird (Victoria), Chris Selby (Western Australia), Mrs N Shead (Queensland), Mrs M Oliver, Mrs N Russack and Mrs D Meyers (South Australia) and Mrs G Litchfield (Queensland) plus two newcomers: Julian Schuller (Northern Territory) and Rossy Faulkner (Roberts-Thomson) of Tasmania on her first interstate assignment. Sponsored by Uncle Ben's, the inaugural "Whiskas International" show attracted nearly 700 exhibits from all over Australia and from New Zealand and 3,500 visitors.
At the 1973 Annual General Meeting, Harold Klopper (WA) was re-elected President. It was resolved that ANCF would apply for reciprocal affiliation with the European-based Fédération Internationale Féline (FIFe) so long as restrictive clauses were not placed on such affiliation. At that time, FIFe comprised 22 countries. The ABCF also decided to produce a bimonthly "National Cat" Magazine; this publication continued until 1977 in one form or another.
The 1974 National Show had been scheduled for Brisbane on 3 and 4 August, but flooding meant the show had to be relocated. The first ANCF Judges' seminar was held. Visiting judges/speakers were the FIFe President, Mme Ravel, and Terry Hiroaka of America's CFA. Nearly 800 cats were entered in the National Show. In 1974, the Murray Valley Cat Authority withdrew from the ANCF when GCCFV decided not to join. In addition, Cyclone Tracy hit Darwin on Christmas Day 1974 and many Northern Territory breeders and their cats were evacuated to other States. Despite these setbacks, the Cat Association of the Northern Territory (CANT) survived.
In 1975, the ANCF was registered, and the body incorporated, as the ACF. Its register of prefixes was initiated, to avoid the then common duplication of prefixes around Australia, and the Australian National Champion title was instituted. The 1975 National Show was run by the Feline Control Council of Victoria (FCCV) at the Royal Showgrounds and attracted 950 exhibits. Ruth McDonald from New Zealand officiated, with 26 Australian colleagues.
1976. The 1976 National Show returned to Adelaide, and attracted over 900.

The 1977 National Show was held in Tasmania. Dr Bill Groom (Chairman of the GCCF of Great Britain, GCCFGB) was a guest judge. The show attracted around 800 exhibits.
1977 saw the first ACF Judges' and breeders' tour of Europe; 35 people participated, paying their own way, and many of them gained FIFe national or international accreditation. There would be further groups in 1980 and 1982 which saw more stringent FIFe requirements. Participants included: Margaret Horne, June Richardson, Judith Russack, Julian Schuller, Dianne Dolman, Lesley Morgan, and Trixie Pettman-South.
1978. Brisbane hosted the 1978 National Show weekend. By 1978 the Queensland bodies had amalgamated into the Queensland Feline Association (QFA). Overseas judges were Dorrie Brice-Webb and Shirley Bullock (UK). The ACF Yearbook began publication.
1979. The National Show was held at Perth.and attracted 658 exhibits Eight European judges began their tour of Australia at this show, along with Lucy Koh of Singapore. This was the first show to really use panel judging. The number of FIFe judges meant that, Mr Terry Dever (Qld) was examined and awarded FIFe National status for Shorthairs – without the need for him to leave Australia!
1980. The 1980 AGM was held in Darwin. Founding President, Harold Klopper, handed over the reins to fellow West Australian, Jack Howson who had previously been Secretary. The new Secretary was Faye Schipperheijn. It was decided that anACF Judges Association was needed. International Liaison Officer (ILO), Mrs Oliver, reported that a World Federation of Cat Fanciers had been mooted, incorporating the FIFe, GCCFGB and the Cat Fanciers Association [CFA] in the United States (it was hoped that this would occur with 2 years, but actually took 15 years and the ACF a core participant). At the 1980 National show, Belgian judge, Peter Scholer, was joined by others from all affiliates.
1981. The 1981 National Show returned to Melbourne. Visiting judges were Jean Crockart (UK) and Will Thompson (CFA). Jean Crockart became patron of the ACF Judges Guild and the inaugural meeting was held. The ACF Yearbook advertised its rates at $75 for a full page, $45 for a half page, and $30 for a quarter page. Judging ran over schedule, resulting in some confusion over who won Best Exhibit.
1982. The 1982 National Show was held in Adelaide with Vaughan Barber (CFA) as guest judge. The Somali breed was recognised, Balinese were discussed, and chocolate and lilac Persians gained breed numbers. Judge and ACF history researcher Lesley Morgan has been unable to find Best in Show details for 1982.
1983. The first Guild seminar was held, featuring semi-longhair breeds. ACF President Jack Howson retired. Vice-President, Nita Russack acted in his stead for a while. The 1983 National weekend in Queensland attracted around 500 entries and several overseas observers, including 3 members of the Malaysian Cat Club and Singapore's Lucy Koh. Don Swanson (CFA) was the overseas judge.
1984. Bjorn Christie Johnstone (director, RAST) became ACF President, but it would be a short tenure. Johnstone chaired his only AGM at Whyalla (SA) during National Show weekend. Johnstone's presidency was conditional on moving towards an amalgamated cat fancy in Australia, combining the 5-year-old Coordinating Cat Council of Australia (CCCA) and the ACF. When this did not occur, Johnstone stood down. The 1984 Guild seminar topic was blue cats (all breeds). It also discussed whom should judge Balinese and Somalis (then part of a FIFe-style semi-longhair group) with the consensus that they be handled by appropriate shorthair judges for Abyssinian and Siamese respectively. The ACF adopted FIFe breed standards and it was suggested that ACF might do away with breed numbers in favour of acronyms. The 1984 Whyalla (SA) National Show was the first hosted outside a capital city. Swiss judge, Alfred Wittich, was present as overseas judge.
1985. The National Show, AGM and Seminar were held in Perth. At the 1985 AGM, the Balinese was recognised (Group 2). Judith Russack was ACF Secretary and. Nita Russack was Acting President for AGM. During the AGM, Eileen Eckblom (Mayor of Whyalla) was elected President. Mrs Oliver (International Liaison Officer since 1973, but now in Europe and Vice-President of FIFe) was succeeded by Julian Schuller. The Guild seminar topic was Abyssinians and Somalis, and five International Champion titles were granted.
1986. The 1986 National Show weekend returned to Adelaide. Russian Whites were assessed for recognition. The Seminar topic was Rex breeds. The visiting judge, Will Thompson (CFA), gave a presentation on CFA cats. This was a fraught and eventful year for the ACF. The Hon. Lance Barnard A.O. became ACF President, having been assured that all that all he needed to do was attend ACF National weekends and keep in touch with the Secretary. However, later in 1986, FIFe notified the ACF that it intended to take disciplinary action against it for breaching various FIFe protocols following complaints by Mrs Oliver. The breaches were petty e.g. publishing genetic articles by a non-FIFe, Dutch breeder–geneticist (it seemed that FIFe had to sanction everything, rather than welcoming views from qualified, but non-FIFe, specialists). When the ACF became affiliated to FIFe, there had been written acknowledgement from the then General Secretary that Australia would not be expected to adapt all its rules to European conditions. The Executive defended the ACF position (in three languages), but in vain. It later transpired that not all of the FIFe board nor disciplinary commission were fully informed on the matter and many were as much in the dark as the ACF was. The ACF was suspended rather than expelled (on the suggestion of Alva Uddin who later became FIFe President) at the 1987 General Assembly. ACF representatives at the General Assembly were frustrated in their attempts to present the ACF's case. ACF representative Mrs Thomas was present, but was not allowed to sit as ACF delegate at the FIFe General Assembly. She made a despondent in her report to the 1987 ACF AGM.
1987. At the AGM, Lorna Thomas of Western Australia took over from Judith Russack as Secretary. At the Guild AGM it was suggested that open judging (in front of exhibitors) should be compulsory and individual judges were to decide whether or not they spoke to exhibitors. Policy changes included Supplementary Register (SR) cats being eligible for competition against full register cats so long as a certificate was endorsed showing the cat as SR. Exotic Shorthairs were recognised in all Persian colours; "longhaired Exotics" could be registered as Longhairs provided that their registration indicated their Exotic ancestry. Due to their overall conformation, Exotics would be judged by All-breed or Longhair judges. This decision led to the suggestion to "type-group" (now common throughout Australia). At the AGM, delegates decided to pursue an "association" with FIFe, rather than to continuing to defending ACF affiliation to FIFe. The ACF executive resigned from FIFe, this being preferable to suspension on dubious grounds. Mrs Oliver, who had initiated the disciplinary action, had become Acting President of FIFe, so there was little point continuing the fight. Liaison with CCCA was endorsed and 2 ACF observers would attend the next CCCA meeting; this was a step towards a unified cat fancy in Australia. Hobart hosted the National Show weekend for the second time with visiting English judge, Joy Foster, as guest.
1988. The Australian Bicentennial National Show was held at Darwin. All Show personnel, (including judges and stewards, wore "colonial" costume. Guest judge was Alison Ashford from the UK.
1989. The 1989 National Show weekend was held on the Gold Coast. Kim Everett (CFA) and Bambi Edwards (CCCA judge, NSW) addressed the Guild Seminar; the Seminar included "Siamese head type" and "Influencing standards" (Jane Horstman). The 1989 show was the first open-style National, and the "talk show" format proved very popular. Julian Schuller became ACF Secretary Lesley Morgan became International Liaison Officer (ILO). The AGM decided that cadet judges could have financial assistance undertake their interstate assignment (part of ACF training). More than one affiliate per state would be allowed, and the ACF–CCCA were to formulate a common policy on acceptance of new affiliates. From 24 July 1989, ACF would accept only registrations from its own, CCCA or overseas bodies, and there was to be on-going dialogue about unifying ACF and CCCA into a single body. Scottish Folds were accepted. The red/tortie series Birman colours were accepted. Russian Whites and Russian Blacks gained full recognition. Smoke-point Siamese and Smoke Orientals gained full recognition. Golden and Colourpoint British Shorthairs gained full recognition.
1990. The ACF Show weekend returned to Perth. The AGM was dominated by a constitutional tidy-up. The Judges Guild was endorsed as a recommendatory body to the ACF and a joint policy on recognition of new breeds was initiated. Qualifying for ACF National titles was clarified. Three challenges(or Awards of Merit) must be obtained at three National shows, with at least 20 months between the first and the last show. Alternatively, two certificates must be obtained at two National shows plus three others issued by international or overseas judges (again with a 20-month minimum period). Various show rules were discussed; it was decided that, when panel judging was used at an ACF show to decide the Supreme Exhibit, it should be by secret ballot. Ragdolls gained provisional recognition. Pewter Persians and tabby-point Birmans were accepted. Guidelines for allowable outcrosses in Scottish Folds were established. A tour of European shows was undertaken in 1990 by Australian judges seeking FIFe qualifications made a tour of European shows and 1980 ACF panel judge Margaret Bush gained her FIFe national longhair qualification.
1991. The ACF weekend returned to Adelaide. The AGM decided that breed names and colours to be written, rather than using breed numbers (breed numbers varied across Australian cat fancies). Silver tabby-points were accepted. The placement of Persian noses was discussed and "or intermingled" was added to tortoiseshell standard. Ragdolls (seal, blue, chocolate and lavender in three patterns) gained recognition. Truda Straede's home-grown Spotted Mists gained provisional recognition. Judges were to be trained in the three Group categories. Cheryle Ross (CCCA) spoke of her visions for unity and a combined ACF–CCCA show. The Guild seminar featured red cats (all breeds). >At the ACF National Show, the visiting judge was Janet Kneebone from New Zealand.
1992. DCC hosted the 1992 ACF weekend in Melbourne. Guest judge was Pat Hogan (New Zealand). The Guild Seminar attracted a number of non-ACF judges, some of whom became associate members. The Seminar topic was "new breeds" and discussed Ocicats, Tonkinese and Maine Coons. The AGM decided to list cattery prefixes on the Royal Agricultural Society of New South Wales computer to avoid duplication by non-ACF bodies. There were also substantial changes to show rules.
1993. The ACF weekend and Show were hosted in Launceston, Tasmania and attracted several overseas judges: Alva Uddin (Sweden; FIFe President) , Tom Herbst (USA) and Lotte Borch (Denmark). The 1993 show used the "Australian open-style" format where cats were housed in home cages in bays and the judges moved around the bays to the cats. This "cat-friendly" format attracted a great deal of press coverage as well as preventing exhibits from becoming stressed. The show attracted almost 400 exhibits. British Shorthairs gained many top awards. Dr Harry Cooper (Tasmanian breeder–exhibitor), Alva Uddin (on Norwegian Forests) Lotte Borch (Scandinavian- versus "UK"-style Russians) and Tom Herbstspoke (US breeds including American Wirehairs) spoke at the Seminar . At the AGM, the ACF National title requirement changed to a minimum of 21 months. Fawn and cinnamon were recognised in Group 2. Tortie and black were recognised in Turkish Vans. Spotted Mists gained full recognition. Alva Uddin spoke about the accord mooted at the recent FIFe General Assembly; this was based on mutual recognition of judges, registrations and prefixes and agreement to judge by the others' standards when "guest-judging". FIFe's philosophy had changed dramatically under Alva Uddin' presidency and now encouraged co-operation even with non-FIFe members. The International Liaison Officer proposed an accord between ACF and FIFe and a similar accord with the NZ Cat Fancy. Mr Richings (CCCA Secretary) recommended three-way discussions at the next CCCA meeting and mentioned that the new Cat Owners Association of Western Australia, (COAWA) had not applied to join CCCA. The AGM also discussed anti-cat legislation and decided to confront this issue as a united voice. The Education and Management Committee was formed.The proposed joint ACF–CCCA show (in Adelaide) was discussed.
1994. The ACF weekend returned to Darwin and Tom Herbst returned from the USA. The Guild Seminar covered Ragdolls, judging British Shorthairs, and the issue of cosmetic surgery (there were concerns about unscrupulous breeders modifying the ears of Persians). The AGM reported that the accord with FIFe was in place and that the ACF was officially recognised as an entity in its own right by FIFe. Tom Herbst suggested a similar agreement with the American Cat Fanciers Association (ACFA). The idea of an ACF Yearbook was resurrected. The Cymric was accepted provided exhibits did not carry colourpoint. The ACF Award of Excellence (AoE) was instituted.
1995. The ACF weekend returned to the Gold Coast. The International Liaison Officer was unable to attend as she was representing ACF at the first World Congress of Cat Organisations (FIFe, World Cat Federation [WCF], CFA and ACF) meeting in Holland which meant significant recognition for ACF. Wain Harding of the USA was the guest judge. The AGM refined the Award of Excellence (AOE). Ocicats gained acceptance, using the CFA standard. Ragdolls "with white" were allows to have one spot on the hocks. A "breakaway" association in Tasmania (seeking CCCA affiliation) was discussed; the ACF supported its long-term affiliate, Cat Association of Tasmania Inc (CAT). Unity with CCCA was again discussed!
1996. The ACF weekend was held in Adelaide. Visiting judges were Joyce Irwin (USA), Penny Bydlinski (UK), and Waltraud Sattler (Germany). At the Guild Seminar, Penny Bydlinski (Burmilla breeder–judge) discussed Burmillas. Waltraud Sattler discussed Ocicats and Barbara Fougere from Whiskas talked about health and breeding issues. The AGM discussed the need to help South Australian Ocicat breeders, Joe and Edna Frittum's,whose home had been destroyed by fire. The ACF contributed to the appeal initiated by GCCFSA. The idea of a national register was discussed. Bengals gained provisional recognition, with full recognitiion depending on judges' reports on temperament to be reviewed in 1997. A register was set up for variant Korats (i.e. non self-blue). Judgies would be allowed to display their vote for Supreme Exhibit to the audience. The ACF judge training scheme would be revised. The forthcoming Silver Anniversary was discussed.
1997. The 25th anniversary ACF Yearbook contained a potted history of the ACF. A spectacular "Silver Anniversary" show was held at Perth's Fremantle International Terminal and visiting judges were Sandra Perry and Chris McNeil from New Zealand. Waratah State Cat Alliance joined the ACF. New breeds and colours recognised were: Japanese Bobtail, Scottish Fold Longhair, Singapura and Tonkinese (Mink pattern only). The Scottish Shorthair (straight-eared progeny of Folds) gained provisional recognition along with the Burmilla and Bombay. Cinnamon and Apricot were accepted as colours in Group 2. Shaded/tipped Orientals, smoke bicolour Persian, tortie smoke and white Persians, and shaded/tipped bicolour/tortie and white Persians were recognised. The Bengal gained full recognition. Honorary Secretary, Julian Schuller (NT) retired and Nell Evans (SA) became Secretary. Haidee Lowe (NT) stepped down as Treasurer and was replaced by Margaret Bush (WA). Lesley Morgan Blythe retired as Secretary of the Judges Guild and was replaced by Sandi Gemmell. Helen Farmer (Tasmania) remained President of the Judges Guild. Within a couple of months, ACF lost its President (The Hon. Lance Barnard AO, died August 1997) and Vice-President (Paul Doody, WA, resigned). Lesley Morgan Blythe (Tasmania) became Acting President and Keryn Rivett (Victoria) became Acting Vice-President.
1998. The ACF weekend went to Melbourne and was hosted by the Cat Association of Victoria. Lesley Morgan Blythe stepped down as Acting President and resumed as International Liaison Officer. Dr Jan Hills (NT) became President. The AGM accepted a new constitution reflecting changes made over the previous six years. The Presidents of World Cat Organisations (FIFe, CFA, WCF, ACF and TICA) had become the World Cat Congress (WCC). Marbled Australian Mists were recognised. Nita Russack, a key figure in the early years, died. At the National Show, guest judges were Louis Coste (France), Flavia Capra (Italy), and Stephe Bruin (Holland).
1999. Tasmania hosted the ACF weekend held at Wrest Point Hotel Casino. At the AGM, the Queensland Independent Cat Council (QICC) Inc. joined the ACF. John Blythe (Tasmania) was elected President of ACF. Kathie Scallan (Queensland Feline Association) became Vice-President. Helen Farmer, Geoffrey Dumigan and Margaret Saal officiated at FIFe shows in Denmark, Finland, the UK and Austria. ACF judge Helen Ferres (SA) died that year. The Burmilla was gained full recognition using the FIFe standard. The Korat standard was amended. The Sphynx was accepted with its original standard. Norwegian Forest Cat standard was updated to reflect changes made by FIFe. It was decided that if a breed standard was significantly altered, it could not be further changed for 3 years (amended in 2004 to allow a change to resolve a health issue.) The show was extremely popular with visitors, partly due to publicity surrounding the Sphynx. Visiting judges were Aline and Phillipe Noel (France) and Wayne Trevathan (USA).
On 1 January 1999, the ACF's Distinguished Merit (DM) Award was instituted, and the first four DM titles were issued to GC Jezreel Jackpot (Imp. UK blue British Shorthair male), GC Redwyton Wetheby James (blue British Shorthair male) both owned by the Jowett of Tasmania. The other winners were SR GC Comyn Jellyroll (black Exotic) and Comyn Lola Montez (blue Exotic) both owned and bred by Lesley Morgan Blythe (Tasmania.)
2000. Waratah State Cat Association hosgted the National Show's first visit to New South Wales at Penrith and a new show format was adopted, comprising six rings. Highest Scoring Exhibit (over six rings): Maskad Zulu (black spotted tabby Persian) owned by Debbie Moreno, New South Wales. The Guild meeting accepted golden in Orientals, red/tortie series Ragdolls and caramel Australian Mists. "Gold" and "peach" Australian Mists became cinnamon and fawn respectively. The Turkish Van standard was revised and a wider range of colours and pattern approved. The Persian–Exotic standard was revised to state that the nose leather must be "broad, with open nostril apertures". At the AGM, it was ruled that any judge found guilty in a court of law of an act injurious or prejudicial to the aims, objectives or reputation of the cat fancy would be excluded from the panel.
2001. The National Weekend was hosted by the Queensland Feline Association in Brisbane. There was no Supreme Exhibit, because QFA's top awards are "Best of Group". The overseas judges were Rachel Anger and Gary Veach (USA) and Johan Lamprecht (South Africa). The Guild recognised the Selkirk Rex (longhair and shorthair), tortie tabby-point Birmans and the marbled pattern in tabby Orientals, The caramel and apricot point Siamese standards were revised. At the AGM, Geoffrey Dumigan was elected Vice-President of ACF. The World Cat Congress was hosted in NSW (its first time outside of Europe) with the show run by the Waratah State Cat Association at Homebush in March; ACF's and CFA (USA) nominated the New Zealand Cat Fancy for associate membership.
2002. On 22 May 2002 representatives of ACF and the CCCA Inc met. As a result, CCCA opened its CCCA titles to ACF-registered cats in order to become consistent with established ACF practice. The national Show and AGM were hosted by GCCFSA at Morphettville Racecourse with judging over three rings.. The visiting judges were Kitty Angell (USA),Phillipe Noel (France), Jan van Rooyen (South Africa), and Yuki Hattori (Japan). At the AGM, Michael Figwer (SA) was elected President. Keryn Rivett became Secretary. Barbara La Rocca (Qld) became Vice-President. Recognition was granted to the Oriental bicolour and red/tortie series Tonkinese. The Javanese was re-named "Oriental Longhair" in line with other countries. Selkirk Rex cats were allowed outcrossing until 2016. Recommended Practices on Breeding were clarified: rumpy Manxes were not to be bred together; fold-eared Scottish Folds were not to be bred together. The inaugural ACF Distinguished Service Award was presented to Lesley Morgan Blythe for 20 years service in many different ACF roles.
2003. The National Show returned to Darwin. The show format was different, calculating Best of Group differently. The visiting judges were Olga Abramova (Russia–Israel) and Ken Lawrence (USA). Olga was badly bitten and Reserve judge Ian Rivett stepped in. Siberians gained recognition. Apricot, caramel and silver tabby-point were recognised in Birmans and Ragdolls. Caramel and apricot were accepted in Burmillas. The ticked tabby pattern was permitted in Persian–Exotic, British Shorthair, Scottish Fold, Scottish Shorthair and Rex breeds. John Blythe remained President and Allan Raymond became International Liaison Officer.
2004. The National show weekend returned to Perth and was hosted by FCCWA. Overseas judges were Aline Noel (now living in Canada), Nurit Pahl (Austria–Israel), Clare Coutinho (South Africa) and Stephe Bruin (Netherlands). Julian Schuller (NT) was elected President, Nell Evans (SA) Secretary and Keryn Rivett Vice-President was Keryn Rivett. The incoming President of the Judges Guild was Margo't Maddicks, replacing Helen Farmer. Lesley Morgan Blythe stepped down as Editor ofthe "ACF Year Book 2005" and was replaced by Jane van Dyk. The Distinguished Service Award was presented, for the second time, to Margaret Bush (WA). The AGM decided not to change its constitution, but reverted to the Western Australian Fair Trading Model Rules (with slight variations). The ACF By-laws document remained a work in progress. Until ACF completed its constitutional overhaul, progress towards a single national body (amalgamating ACF-CCCA) went on hold. A further seven levels were added to the ACF Award of Excellence (AoE) scheme. The Ragdoll profile description was modified. The Foreign White Longhair was recognised. Bicolour Siamese and Balinese were recognised. The Burmilla Longhair was recognised. Testing of Persian-Exotics and derived breeds for Polycystic Kidney Disease (PKD) was encouraged and would be recorded for registration purposes. Geoffrey Dumigan and Diana Arnold judged at shows in the UK and Czech Republic.
2005. The National show weekend was hosted by the Queensland Independent Cat Council at Marburg (near Ipswich, Qld) on Marburg Estate. There were several visiting overseas judges, namely Pam DelaBar (United States), Edith-Mary Smith (Canada), Kaai Du Plessis (South Africa), Eric Reijers (Czech Republic), and Penny Bydlinski (UK) as they had attended the WCC and NZCF National a week earlier. A Special General Meeting was convened to admit the Feline Control Council of Queensland (FCCQ) Inc as a new member body. The AGM contained many proposals for changing and overhauling the constitution and including the by laws. The proposed new constitution was rejected, and the exisitng constitution was amended. Lesley Morgan Blyth resumed as ACF Yearbook Editor. "Skeletal deformities' (formerly a withholding fault) became a "Disqualification" in the standards. The term "and white" was reserved for bicolours or vans of breeds where any degree of white was permitted. Rex and hairless breeds (where no points were awarded for colour or pattern) were now to be exhibited as Agouti, Agouti and White, Non-Agouti, and Non-Agouti and White. Bicolour colourpoints were accepted. Smoke points were accepted in all breeds that had both smoke and pointed patterns. Apricot,red and cream cats were no longer penalised for freckles. Other motions addressed Persian–Exotic skull structure. Caramel and apricot, as well as the silver series, were allowed in Persian–Exotic, British and Scottish breeds. A bump on the nose of Abyssinians became "undesirable." Cinnamon and fawnwere accepted in Tonkinese. Breeds that allowed golden now permitted colours other than black. The Bombay became the "Australian Bombay" to distinguish it from the US version. QICC proposed that ACF should take actions to address the south-east Asian pet trade problems (that topic was subsequently taken to the World Cat Congress and, in April 2007, action was taken to assist ACF-CCCA in its approaches to the Australian Government) .
2006. The Feline Association of NewSouth Wales join the ACF. The 2006 National Show weekend was hosted at Geelong by the Cat Association of Victoria. The visiting judges were Louis Coste (France) and Kim Cutter (South Africa) and Lynel Du Toit (South Africa) who was passing through Geelong on her way home from the NZCF the previous week. At the AGM, W.M. (Bill) Griffiths (Tasmania) was elected President and Lesley Morgan Blythe returned to her role of International Liaison Officer. Key decision included that, to be eligible for AoE awards, an exhibit must be placed in the Top Five at a given show and a subcommittee to be appointed to review the constitution. It became optional for Groups 2 and 3 training to be combined. The AGM approved the formation of a welfare subcommittee with particular reference to the pet trade to south-east Asia. Vitiligo (depigmentation of skin) became a "Disqualification." Mink pattern was accepted in Scottish Folds and Scottish Straights. Silver Bengals were recognised. The Egyptian Mau was recognise and the CFA standard adopted.
2007. The National Show returned to Hobart, Tasmania and saw record-breaking crowds again. The third ACF Distinguished Service Award was awarded to Secretary Nell Evans. Judge training rules were amended to allow already-licensed ACF panel judges to officiate interstate as a junior judge for their new group, under the supervision of a local tutor judge. The Siberian standard was amended in line with the FIFe standard. The Scottish Longhair was recognised. Pointed and "solid" Tonkinese were recognised.
2008. The Queensland Feline Association hosted the National weekend in Gympie, Queensland. The AGM decided that to be an ACF Panel Judge, the judge must be normally domiciled in Australia. In addition, cats registered with WNCA may be registered by ACF affiliates (subject to stringent conditions). Provisional membership of the ACF was introduced. There were slight changes to the Turkish Van standard, clarification of "faults" in the Ragdoll standard; and changes to the head type standard for Cornish Rex. The LaPerm was recognised under The International Cat Association (TICA) standard.
2009. The National show and AGM were held in Adelaide, South Australia. At the AGM, it was decided that the ACF Judges Training Scheme would be reviewed and updated. Aworking party was set up to investigate anomalies and inconsistencies in terminology throughout the breed standards. Standards for breeds with no points for colour or pattern (mainly Rex and hairless breeds) were changed to include five points for those attributes. Smoke-point and silver tabby-point standards were updated for all breeds. Caramel and apricot were fine-tune across all applicable breeds. Cinnamon and Fawn were recognised in British Shorthairs. All Abyssinian- and Burmese-derived breeds now also reflect that a bump in the nose was "undesirable."
2010. The National weekend was hosted in Perth FCCWA. Visiting judges came from FIFe, TICA and CFA (USA). At the AGM, Professor Diana Davis succeeded Bill Griffiths as President. Sandi Gemmell (Acting Vice-President following the resignation of Margo't Maddicks) became Vice-President. Dr Isobel Johnstone became President of the Judges Guild. AGM decision included acceptance of classic tabby Ocicats without challenge status as Ocicat "Any other Variety." "Hybridisation" colours and patterns were accepted in Manx. Amber was recognised in Norwegian Forest Cats. White Orientals were recognised in blue-, green- and odd-eyed forms. Ocicats were removed from the list of breeds where a bump on the nose was undesirable. For ACF awards was, the exhibit must be worthy of 95 points rather than just placed in the Top 5.
2011. QICC hosted the 2011 National weekend, with meetings taking place at Virginia Palms Hotel. Visiting judges included Carlos Lopez (TICA, Argentina) who addressed the Guild Seminar on Bengals, Don Finger (ACFA, USA) whose subject was Selkirk Rex, Monica Dany (TICA,Austria), and Karen Peplar and Lynel Du Toit (South Africa). The AGM agreed to replace the standards book with an annual, complete edition in A4 size. It also retained the original registration numbers when cats were transferred between councils and allowed reclassification of dilute colours based on DNA results. Caramel and Apricot in three base colours were recognised in tabby and smoke (including "with white") in the British Shorthair, Exotic, Persian and Scottish breeds. Silver tabby-point was recognised in Persian, Exotic, and British Shorthair. The Maine Coon standard was updated to reflect coat texture. The Australian Bombay gained full championship status. Cats Victoria Incorporated (CVI) became full members of ACF.
2012. The 40th ACF National Show was held in Melbourne over the Queen's Birthday long weekend in June. Instead of being hosted by a single cat council, it was organised by a committee of ACF members around Australia. Show Coordinator was Lesley Morgan Hobart, Tas), Assistant Show Manager was Matthew Wood (SA). Joint Show Secretary–Treasurer was Robbie Walker (Gold Coast, Qld). Chief Steward was as Scoot Andresen (Alice Springs, NT). Sponsorship and the website were organised by Carole Galli and Pamela Lanigan (WA). The Governing Council of the Cat Fancy of Victoria and Australia (GCCFV) was welcomed back to the AGM as an ACF member body after 39 years. GCCFV is the oldest cat body in Australia (founded 1926) and in 1972 and 1973 participated in the first Australian National Cat Federation (ANCF) meetings. The AGM approved amendments to allow more frequent meetings of ACF and amended some Show Rules. A competency-based Judges Training Scheme was adopted. Bernadette Roberts became co-editor the ACF Yearbook with Lesley Morgan. Julian Schuller became International Liaison Officer. The Peterbald, American Shorthair, American Curl and Pixiebob were recognised. Bombay and Peterbald standards were finalised. The Bengal Standard was amended in line with the TICA standard (country of origin).
AUSTRALIA: 50 YEARS OF CATS - BERYL CHANDLER
Cat World (International), September – October, 1978
(I hope that Beryl would not mind me reproducing this important historical essay.)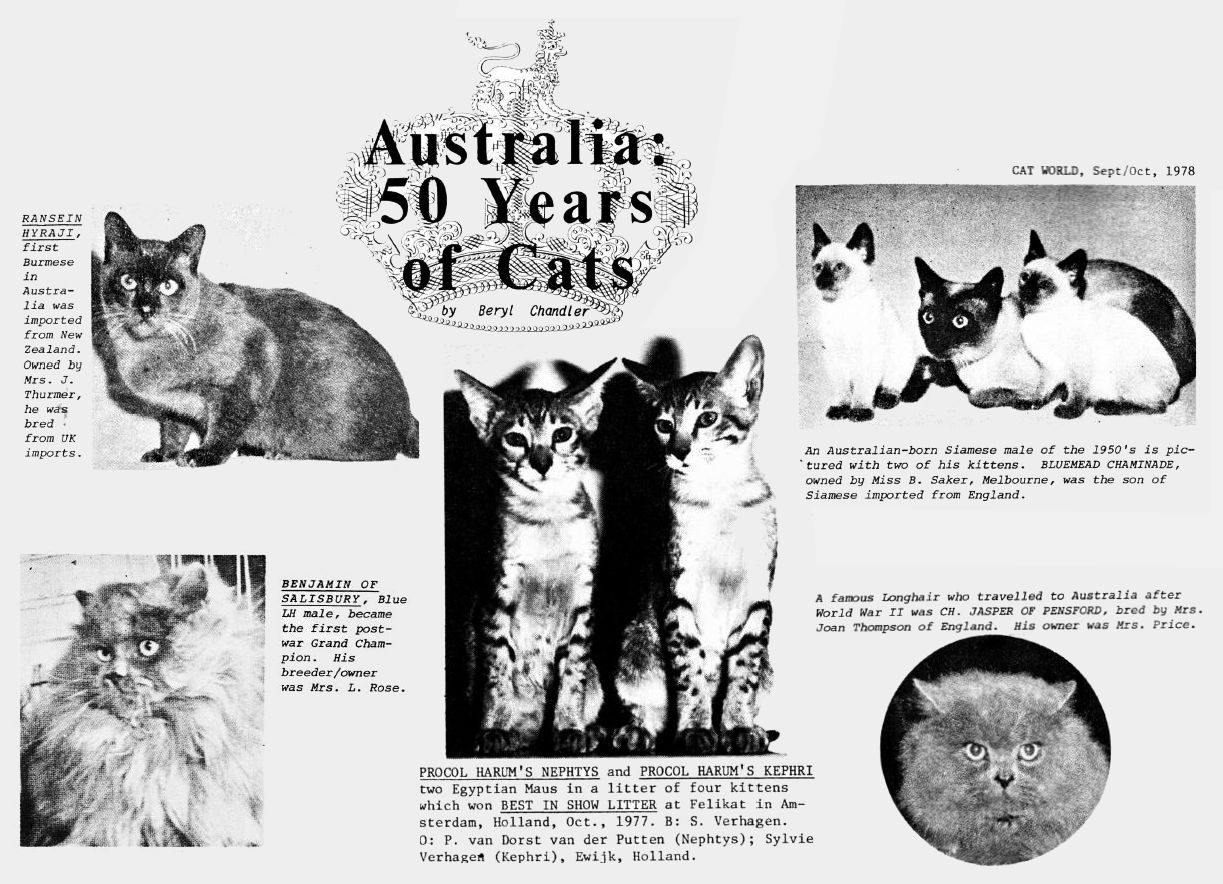 First: England; then America; and, now, Australia! 1978 is the Golden Jubilee Year of the Governing Council of the Cat Fancy, which has its headquarters in the State of Victoria. Many celebrations are planned by our affiliated clubs but the 'main event' will take place on November 25 and 26 when the gala Golden Jubilee Show of the G.C. Combined Clubs is held. It is really fascinating to look back over 50 years of show catalogues and note the pattern of cats and breeds at the shows and how they progressed from 1928 when the Council was formed. Let me share some of these reminiscences with you.
Prior to 1928, cats were shown in combination with dog shows. Today we would laugh if we received a schedule for a cat show to be held as part of the dog show held under the combined control of the Victorian Poultry and Kennel Club and the Combined Clubs affiliated with the Victorian Kennel Association! Cat shows in 1928 were not without interest. Sixty cats were shown at one of them including 58 pedigreed Long Hairs (Chinchillas, Shaded Silvers, Blues, Blacks and Whites) and two Siamese. Mrs. Keep showed her Seal Point male, BOIS BOIS (IMP), and Miss Bonwick her Seal Point female, UNDOONA PRINCESS SIANG. The benching of these two Siamese did nothing to encourage breeding or ownership; not because they were not good but it was strictly a Long Hair cat era and the Short Hairs were a 'non-event'.
There were a number of imported Long Hairs at the shows of 1928, among them: MAGOG OF MENDIP, the fine male whose value as a sire became legendary; DICK OF ALLINGTON, a Chinchilla male from the famous cattery of Miss E. Langston; the lovely Chinchilla female, LANGHERNE MOLLY; and ROSECOTT LILY, JERVETTE OF MAYFAIR, WHATMER, SOAMES RED ROCKET, DULCIBEL OF NEELS and CREAM PUFF. I was amused to see an entry for a Shaded Silver by the name of YENDA WHAT'S WANTED. I wonder would it still be so today? Chinchillas and Shaded Silvers were the most popular of the cats benched, with Blues next; some shows would include up to ten Brown Tabbies, as well as smaller benchings of Blacks, Whites, Smokes and the occasional A.O.C.
In 1929, catalogues were reflecting the effects of the sense of status which came with being affiliated to a Cat Control Body. The Australian C.C. catalogue for the show held in the Manchester Unity Hall was particularly proper. The only judge, Hayward Clark, had 'Esquire' after his name; and where the Club officers were printed, the ladies had "Ladies" after their names and the men had "Gentlemen" after theirs. Mr. Clark's reply of acceptance to the Clubs asking him to judge, by the way, is a most charming example of Victorian courtesy.
The trophy lists for 1929 shows furthered the status image. Silver cups abounded, silver rose bowls, silver medals, gold mounted sashes. Trophies were donated by DICK OF ALLINGTON, IMP. and LANGHERNE MOLLY, IMP., etc. Show benchings that year were reaching 120 cats. Blue Long Hairs were just beating Chinchillas in numbers; Shaded Silvers down but Silver Tabbies in considerable numbers with Red Tabbies, Brown Tabbies, Smokes and Whites, Creams and Blacks following. There was a small class at each show for cats with unknown or part-known parentage but nothing for domestic pets. No Siamese were shown - thoroughly discouraged, no doubt!
The pattern of shows was mostly the same for several years with the progeny of the imported Long Hairs seen again and again. In 1934, the Blues were well in the lead with Chinchillas, Shaded Silvers and Brown Tabbies next and the rest rather scattered. In 1937 something new was added. Mrs. Kreutzer showed one of that most rare L.H. colour - a Blue Cream! Benchings were: Blues still ahead, Chinchillas next and, close behind, a big benching of Red Tabbies. 1937 was a big year for me - I got my first Siamese.
THE POST-WAR ERA
The cat fancy ambled on into the war years - years which effectively dampened possible progress. It was a waiting time from which the fancy emerged ready for work and full of plans, though immediate post-war show catalogues would appear to deny this: miserable austerity ones they were. Benchings of cats were still of Long Hairs. It was still a Long Hair era and, as ours would have been the only Siamese present in 1946, we didn't bother to show. After all, it would be silly to have a Short Hair section at a show for one family's cats! There was no possibility of importing cats which would have been a big boost. Imports after the war were restricted to essentials, so we spent our time planning and organizing with the English breeders. You could only send small amounts of money out of the country so we kept doing this, building up a Sterling credit in England for the planned imports, pending Government permission to ship cats.
The permission came in 1949. Old hat now, importing cats in 1949 caused the authorities to consider you a mental case. In 1949, a few others had become Siamese fanciers and up to eleven Siamese were benched at shows. In all, show benchings were in the vicinity of 100 cats. In the Long Hairs, the 25 Blues led in numbers and some were really good, Salisbury Blues especially; the Regent Blues were just getting set for their long winning run. Plenty of Chinchillas, not good: Stelle Beattie's MONIVAE just starting, her prize winning yet to come. Lots of Red Tabbies and Blue-Eyed Whites, some Creams and other colours and four Blue Creams.
The shows of 1950 were when variety really took off. A Siamese Cat Club had been formed and the imports were arriving. This was the beginning of the Siamese cat fancy. We brought out Victoria's first Seal Point, DONERAILE DANTESS, and a Blue Point. Jack and Elsie Hine brought Seal and Blue. These first Blue Points were: LELA NOW and MISSELFORE PANELA. Helen Chase and George Dyke brought out Russian Blues: MOUCHE MOKEY and MOUCHE IVAN, female and male. Margery Hawkes brought Chinchillas. For these English imports alone, the year 1950 was a very good one for the Victorian cat fancy. To add to it all, Mrs. Dehle bred Australia's first Chocolate Point Siamese. We were able to bench 35 Siamese at shows in 1950 and the show scene was becoming excitingly varied - Blue Point and Chocolate Point Siamese for the first time, and Russian Blues.
1951 took off like a rocket. Progeny of the 1950 imports were shown and to them were added more Seals and Blues imported by the Hines, ourselves and others. George Dyke imported a very good Cream male Long-Hair. The year saw Australia's first all Chocolate Point litter which created shock waves. The litter was from two Seal Points with, as far as we knew, no Chocolate Point anywhere behind them. The sire was the imported Seal Point, LEMLING PERTAMA, and the dam was our own breeding, WESTWOOD FAIR MAID. It took that mating to bring out the recessive Chocolate Point factors behind the cats. Never a dull moment. Then Mrs. Springhill produced Australia's first Tabby Points; geared to thinking only of solid point colour in Siamese points, no one was amused. 1951 was quite a year in the cat fancy! It might be thought that with the activity in the Siamese fancy, hundreds would be shown but this wasn't so. Siamese were considered delicate and there was no cure then for the dreaded Feline Infectious Enteritus, etc.
Show benchings were up to 160 in 1952. In all cases, these are the cage numbers. Litters were and are counted as one and as we could show litters at 6 weeks old then, and there were generally between ten to fifteen litters shown, actual benched exhibits could be considered quite high. Siamese and one Russian Blue were still the only Short Hairs that year. Long Hairs more than doubled them in numbers. Ruby Prince's Regent Blues were starting their winning run now and her fabulous male import, JASPER OF PENSFORD, was scooping the pool with what must have been for other Long Hair owners depressing regularity. The Monivae Chinchillas and progeny from the Chinchilla imports were showing breeders just how good Chinchillas could be. A lot of Torties were shown and an even representation of the other usual colours. The Long Hairs had the numbers but the newer breeds and variants were yet to come.
1953 saw only a slight rise in show benchings. It still was not 'fashionable' to be a member of the cat fancy. For too long it had< been the poor relation, its shows held in places suitable to poor relations. The change to status venues such as the Melbourne Town Hall, which began in 1949, was too recent to educate people. Though domestic pets were loved by their owners, few considered showing them. Mrs. Baker imported a smashing Cream, WIDDINGTON JESSIE, in 1953 who, fortunately, had a few litters before she was lost and never found. Miss Cubbin benched the most fabulous Torties and Tortie-&-Whites. Perfectly patched in glitteringly bright colours, she named them well: GAY COLORS, MANY COLORS, BRIGHT COLORS, and so on. We haven't seen their like since. Some wonderful Blue Points were beating the Seal Points on quality. Only a few Chocolate Points were shown; they were at a stalemate for suitable stock to breed to. Imports from top English lines were needed. The only other Short Hairs were the Russian Blue imported in 1950 and progeny of that cat to Blue Points.
FIRST CHOCOLATE POINT IMPORT
Siamese imported in 1954 included several more Seal Points, another Blue Point and Australia's first Chocolate Point import. The latter, a female, was very good in type but poor in color. We were used to coat color of glowing magnolia cream and points of milk chocolate: the newcomer's lack in this direction was a disappointment. We hoped that the import's type combined with the local cats' color would prove a winner, but this didn't happen. Her name was DONERAILE BRUN BROWNIE.
Some elegant Supplementary Register Russian Blues were shown in 1954. The female import of 1950 had been mated to a Blue Point Siamese and a son of this mating, RUSSIAN VELVET, was mated to his dam with more good Russian Blues for type and coat resulting - older breeders may remember the truly lovely PRINCESS MIMOSA - but people were only interested in Siamese. There was no market for Russian Blues and the breeder had the stock neutered.
Show benchings in 1954 reached just under the 200 mark and, at one show, there were more Siamese benched than Long Hairs! At that show, duplicated sheets showing all winners were available at 3 P.M. The effort must have been too much because we didn't attempt it again. Long Hairs at 1954 shows featured Blues in greater numbers at one show and Chinchillas at the next. There were good benchings of Shaded Silvers, Creams, Blue-Eyed and Orange-Eyed Whites, a few Blacks, etc., and the occasional Smoke. Looking back, I realize that any resemblance to the fabulous Smokes we see at shows today and the Smokes of 1954 was purely coincidental. Reading the catalogues and seeing the cats again in memory, I think the Chinchillas of that year were the most outstanding of the Long Hairs. As with so many shows of the past, in 1954 it was a 'must' to have someone really special to open the shows. Jeannette Brooks, daughter of the then State Governor; Dame Sybil Thorndyke; Marie Collier, the famous singer; Winifred Attwell, and many others.
1955 was highlighted by progeny of the past year's imports, by litter classes of nine and ten entries, and by Mr. and Mrs. Uphaw's efforts to breed British Type Shorthairs. There were no imports to help them - they had to start from scratch and it was not unusual for them to bench up to nine at a show. If only one or more other breeders had worked with them, the Uphaws' breeding programme may have continued to full success. By 1956, their British Type S.H. were being shown under a prefix and they had a most interesting Tabby, ESPERANCE MACK.
The first L.H. Tortoiseshell to become Best Long Hair In Show appeared in 1956. She was Mrs. Matheson's LINDISFARNE MARY GOLD, IMP. NZ sired by CH. ROYAL OF PENSFORD, IMP. UK. I have never seen a better Tortie. Ruby Price had also bought HOMEND COPPER IMP UK and began through him to produce the Regent cats, so famous for the pale purity of their Lavender coats. Up until then, L.H. Blues had been quite dark. The 1956 Shorthairs consisted of Seal, Blue and Chocolate Point Siamese - not even a lone Russian Blue. The Seal Points were very good, but the Blue Points were at a peak of perfection very rarely seen now or for many years. We ourselves bred a litter of seven Blue Points: WESTWOOD BLUE JADE, BLUE ECHO, BLUE ISIS, BLUE ORIRIS, BLUE HAZE, BLUE BEAU and BLUE IRIS which became famous in all States and were so good they only reflected the overall quality of the Blue Points of the day. There were just so many good Blues - all owing to the great stock imported from the United Kingdom.
1957 saw big benchings of Blue-Eyed White Long Hairs. How rarely we see these beautiful cats now! Very big benchings of Chinchillas, with Monivae generally taking honors: I well remember the great MONIVAE TROY. A few British Type S.H. were shown, but by the 'Britishers' benched today, the 1957 British Type would be classified domestic. Foreign Short Hairs? Still only the three Siamese colors.
AGRICULTURAL SHOWS
The Governing Council held the first of the now many Cat Sections of County Agricultural Shows at Shepparton in 1958. Whenever an application came in from a County Agricultural Show, G.C. would send someone (usually my husband, Clyde, and I) to meet the show committee, outline requirements and look at the site in which the cats would be benched, before permission for a show was granted. If the cats could not be properly, safely and comfortably benched in acceptable conditions, no show. For those where we agreed to hold shows, we would charter a bus to take exhibitors and their cats.
Burmese and Manx made their debut at our shows. Lylie Thurmer of South Australia sent RANSEIN HIRAJI IMP NZ , a male, and AMHERST HORSA, who was the result of a Burmese (TOMAHAWK IMP UK) X Siamese (TALBINGO TURELLA) breeding. This male was part of a Supplementary Register programme being undertaken by Geoff Allen. Mrs. Matheson showed a Manx. Blue-Eyed Whites dominated the other Long Hairs: type wasn't marvellous but they really had blue eyes. The Blue L.H. were very good in type and color: Regent predominated but Laraine Picken, Kashan, was showing more U.K. imports, as well as progeny of those already imported. It was strange how few Creams were shown. The year 1959 followed a similar trend.
1960 got off to a good start with a cat show held in conjunction with the Royal Agricultural Society's "Royal Melbourne Show" which met with great success. That year the Foreign Short Hair classes were made exciting by the addition of two Abyssinians: Lylie Thurmer's FINISTERE CASSIM and FINISTERE SHERADA, both imported from New Zealand and, at that time, owned by a South Australian breeder. CASSIM and SHERADA, while owned by Lylie, gave birth to a litter and among the kittens was Australia's first Red Abyssinian, SHERADA was later sold to Nell Moloney and gave birth to the then world record litter of nine Abyssinians! Lylie Thurmer continued to show her Burmese male, MAUSEIN HIRAJI, in G.C. shows.
During 1960, in the Supplementary Register Show section, kittens from the Black Oriental breeding programme were shown, as were kittens from a programme toward Red Point Siamese. Still, however, Seal, Blue and Chocolate Points were the only Siamese benched. It was not uncommon to find up to twelve Siamese litters at a show. The Long Hair scene remained static.
DISCORD IN THE CAT FANCY
Despite another successful cat show at the Royal under Governing Council rules, despite the growth of the cat fancy and plans for its future, 1961 saw the end of unified cooperation in the Victorian fancy and the end of an era.
After a year of strife, there was a split in the fancy and a number of fanciers went under the control of the Royal Agricultural Society in a cat section named the F.C.C.
The 33-year-old Governing Council had an exciting start to the year 1962 with the arrival from England of two fabulous Lilac Point Siamese: a male, ANNELIDA LILAC NOKOMIS, and a female, SUPRA LOLLY POP, imported by Mrs. E. Moloney and Mr. Howard Scott. In 1963, Mrs. McDonald showed a Cameo Long Hair, and again we marvelled at the delphinium blue eyes of the same owner's White, DELHI ARCTIC STORM. Will we ever see anything like the blue of those eyes in a L.H. White again?
Howard Scott showed EASTERN CIRCE in 1964, a Blue Burmese female so good that she would give today's Blue Burmese a run for their money. She was from Australia's first all-Blue litter of Burmese bred by Mrs. Abbott of New South Wales. Good Abysinnians, Brown and Red, were seen as well as many exquisite Lilac Point Siamese, progeny of the first imported pair. Good they were, but it was years before one came up to beat their sire. Two more legendary cats were shown when Margaret Turner brought with her from England the Blue Point male, GALEGLOW FLORESTAN, and a 'first' for Tabby Points, the female SAMSARA SILVER SHADOW. Black Foreign Shorthairs (now called Black Orientals) were shown in considerable numbers. Chestnut Browns, on Supplementary Register, made occasional appearances as did S.R. Red Point Siamese. In the Long Hairs that year, Blues dominated with Chinchillas next and a surprising number of really good Odd-Eyed Whites. The show benches were getting exciting with variety!
In 1965, the progeny of ANNELIDA LILAC NOKOMUS IMP UK were doing well and, from this foundation, the excellence of all Lilac Point Siamese to the present day must be credited. Blue Point U.K. imports, GOLDEN FLORESTAN and MISSELFORE TYRAN PRINT were having their influence on Blue Point Siamese breeding. That year, Mrs. Nottingham showed Australia's first Red Point Siamese, an import from New Zealand. Tan Cattery (Mrs. Moloney) and Eilandonna Cattery (Howard Scott) dominated Abyssinian breeding. Scott benched the first Russian Blue kittens born in Australia from U.K. imports SYLPHIDES SHARKOV X ARCHON CINDERELLA and imported another Burmese from New Zealand, RANSEIN LORENZO. Rex cats were imported for the first time and shown. Mrs. Purnell showed an Australian Silver Tabby (British type).
For the Long Hairs, 1966 generally meant a top win for a Regent Blue, though Monivae Chinchillas did well and Lil Roberts' Yandalla Chinchillas were also to the fore. Kalmia Cattery was tops for Whites. Siamese were interesting: Mrs. Moloney showed SOUTHVIEW FIDGET IMP UK, a Chocolate Point with an intensely important pedigree; she also showed a litter of Red Points from ABERDARE GOLDEN KIWI X ABERDARE MERRI GOLD, all very good. Governing Council stood sponsor for the first "Sanction Cat Show". This was one run by the Committee of an entrant in the Miss Australia contest. It was conducted under our rules and G.C. judges officiated. It was a good show and lots of fun. Some cat clubs had celebrities as their Patrons: the Blue Pointed Siamese Cat Club had Miss Vivian Leigh (of "Gone With The Wind" fame).
Noteworthy in 1967 was the showing of the first Color Points (Himalayans) in Australia, and the beautiful Classic Silver Tabbies, British type, shown by Mrs. Purnell. For the first time in ten years. Chinchilla Long Hairs took Best In Show wins in 1968. Tortie Point Siamese made their debut at the 1969 shows.
1970 was a very good year. A smashing Cream kitten, ROXBERRY ZELDA, bred by Nell Shead and owned by Lil Roberts was shown. Victorian Creams just weren't cream until 1970. Birmans, Dr. Tait's U.K. imports, were seen at our shows for the first time.
Siamese were seen in quantity at the 1971 shows - some good, some very good, but the effect of past good imports and the work of careful breeders was being eroded by the careless. Best were the Tabby Points and Paolina Silverside benched some stunning ones. In the Orientals, Blacks were good, but Lavenders, Browns and Blues were better.
DEVON REX IMPORTED
Leslie Batiste imported the first Devon Rex into Australia from England in 1972. He was a Black Smoke, HEPHAESTOS SHARIM - pixielated perfection indeed. WATERMILL KANDLEWICK, a fabulous Cream, sired the first Australian-bred Cornish Rex litter. A particularly good Black Oriental, MOONLIGHT SHERE KHAN, owned by the Bells was shown that year and Mrs. Purnell continued to bench her British type Silver Tabbies, Smokes and Chinchillas. Wyn and Bill Essex were showing Black and Red L.H. which later had tremendous influence on Torties. Annette Inness imported from U.K. a Seal Point Siamese male, CASUARINA CHEETAH, a stud who was to have great influence.
In 1973, Ann Marks and Lil Roberts showed two wonderful Black Smokes, FISHERMORE NABUCCO and SONATA IMPRESSARIO IMP UK. Sarayan Cattery introduced exquisite Cream and Blue Cream Point Siamese to the show scene. The Burmese, already well represented, received two exciting additions when Carol and Mike Bray brought in two lovely Creams from U.K. - Australia's first ones - KERNOW CREAM KERBURHO and KERNOW CREAM CAROMEL. This new color had vital breeding effects, as did the bloodlines the cats carried. More firsts for the Orientals: Beryl and Laurie Wilson imported Whites from New Zealand, two males, OURLYNN APOLLO LEVEN and OURLYNN AJAX. Sarayan Cattery came up with a Lavender Oriental as beautiful as a melody, SARAYAN SILVER CHIBA.
The first Lilac Burmese came in from England in 1974 to the Delmoro Cattery, SITTANG LILAC CRESSIDA. Ten Blue Burmese appeared at one show and we saw a number of Manx after many years of absence from the shows.
A superlative Red Long Hair was shown in 1975 and there were more Birmans and Seal Colorpoints at the shows. The Burmese were continuing to increase in Brown, Blue, Cream, Blue Cream, Tortie, Red, Chocolate - the latter due to the arrival of the country's first Burmese of this color from U.K., ILUSKASS KAI-FENG. Leslie Batiste imported another Devon Rex, a female, STANLESA SAPPHIRE HAZE. The Korat appeared at the shows, and there were a few Cornish Si-Rex. Quality of Abys was fair that year but one alone had captured the Aby "essence", its style, its unique charisma, the particular type of nobility only an Aby conveys: OPTIMA RASSELAS, owned by Paolina Silverside. He wasn't perfect but he had that magic and I hope we shall see this again because this cat is gone now.
Two smashing Smokes came to Australia from the U.K. in 1976: HARDENDALE SMOKE NOCTURN and HARDENDALE FAVORITA, male and female. Smokes are excitement cats, a challenge and a frustration to bench at the time of full coat glory. We saw a stupendous Blue Cream L.H. in Noel and Marion Heaton's PEMBROOKE PALADIN.
And so we come to 1977. Here's how it was reflected in the show catalogues. For the Burmese, it was a very good year. The popularity of this breed ensured the numbers for a successful Specialist Show held by the Burmese Cat Club. Browns predominated in entries. Blues next, then Torties, Cream and Red, followed by Chocolate. Shows for the rest of the year were All Breeds and, in the Long Hairs, Blues and Chinchillas were the largest benchings, followed by Orange-Eyed Whites and Creams with most other standard LH colors in varying numbers. At one show there were 43 Chinchillas, just beating the Blues. In the Siamese, Seal Points had the numbers but were closely followed by Lilac, Chocolate and Red Points. The big benching of Seals at one show was very nearly outnumbered by Red Points! Tabby Points in all colors were not in such great numbers as the previous year but made up for this in quality. A British Blue, from imported stock, was shown. Benchings got bigger for Orientals which is good as long as quality is not lost in the popularity boom. Russian Blues shown were the best ever. Abyssinian and Rex benchings were impressive in numbers but an Aby is more than a foreign shorthair with a ticked coat. Quality walks a razor's edge in Rex and the responsibility of Rex breeders to ensure the future of this special breed by what they do now is an awesome one. GOODBYE, 1977.
HAIL TO 1978 —the Governing Council's Golden Jubilee!
THE EARLY DAYS OF THE CAT FANCY IN NEW ZEALAND
The New Zealand Governing Council was founded in 1930 and was closely associated with the parent body in Britain, having a similar constitution and rules. It lapsed during the Second World War and the Cat Fancy in New Zealand was all but extinct until 1949. In 1949, a few enthusiasts started a cat club in Auckland, where most of the descendents of former registered cats were still to be found. In less than 5 years it had made astonishing progress with around 1500 cats registered, a few imported from Australia and many imported from England (and only the very best cats were imported). The President after the reformation of the New Zealand Governing Council was Mrs B Downey, and the Hon Secretary was Mr R Marshall. Affiliated clubs were The Auckland Cat Club (Hon Sec Mr R Marshall); Canterbury Cat Fanciers Club (Hon Sec Mr C B Holmes); Franklin Cat Club (Hon Sec Mr R H Gray); Hamilton Cat Club (Hon Sec Miss M E Barlow); Palmerston North Cat Club (Hon Sec Miss A E Rogers) and Southland Cat Fanciers Club (Hon Sec Miss I M Flegg).
New Zealand launched a cat journal in 1953. It was called "Cat Monthly" and was devoted to the welfare, breeding and exchange of cats. Editor and publisher was Miss Dulcie Hore, 52 Roy Street, Palmerston North, New Zealand, and, the price was ls. 4d. per copy. The issues carry useful veterinary notes, general interest features with illustrations and news items about the English Fancy by Mrs. D. Brice-Webb.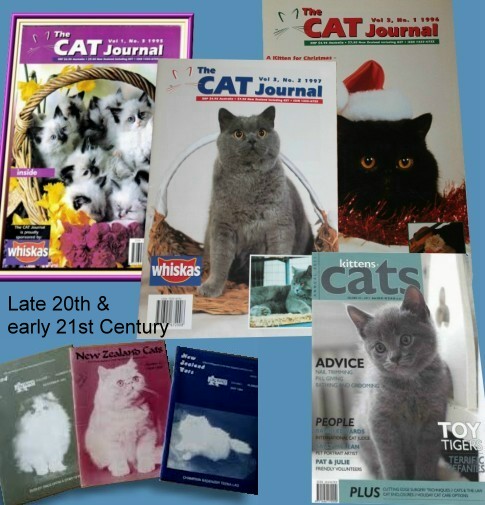 THE EARLY DAYS OF THE CAT FANCY IN SOUTH AFRICA
Hazel King , a committee member of Western Province Cat Club, has provided much of this information about the early cat fancy in South Africa. Other information comes mostly from the overseas news section published in Our Cats.
A stud book of cats was held by Mrs Karie in Cape Town during the period 1899 to 1904. Most of the cats registered appear to have been blue Persians, such as Roughie (born May 1899 sired by Big Ben from Kitsy, and bred by Mrs E Knowles of Leicester, England). An early South African bred cat was Daisy Bell, bred by Mrs Jac Theron of Worcester (the one in the Cape Colony) in 1900. The sire was Gascon, and the grandsire, Ch Blue Jack, winner of a Challenge Cup at the Crystal Palace in 1891. Several other cats and breeders are mentioned in an article in the September 1970 issue of Cats Calling, the magazine of the Western Province Cat Club.
During the 1960s, Kay Wheeler (a WPCC committee member) took part in a radio quiz show, her subject being cats. As a result of this, eventually, Mrs Karie's daughter, Mrs McQueen, was traced, and she remembered several cat shows being held at various locations in Cape Town, and records exist of at least two, held in 1912 and 1913. These included classes for Persians (blue seems to have been the most popular colour, and there were classes for Colonial Bred and Imported cats, males, females, neuters and kittens) and shorthairs.
The South African Cat Fanciers Association held its first show in Cape Town in July 1912, the judge being "the well known Transvaal judge, Mr E Hjort." [Cape Times 15 July 1912] This was, however, not the first cat show in South Africa. Hazel King is still researching this first show, but she has established that cat shows were held in conjunction with poultry shows in the Transvaal Colony between 1907 and 1912.
The organised cat fancy in South Africa appears to have fizzled out at some point, to the extent that, when it was re-established in the 1940s, the people involved had no idea that there had previously been shows or stud books. The cat fancy in South Africa was re-established in 1945 with the Governing Council of the Associated Cat Clubs of South Africa (GC ACC SA) which became in the Southern African Cat Council (SACC) in October 1996). Its cat register and stud book were started up a year later and maintained by Lynda Emery in Johannesburg. Anecdotally, a small show was held on a tennis court in Johannesburg in 1946. The WPCC show held in December 1948, was announced by the Cape Times as "the first cat show in Cape Town" and given a full page of photographs.
The South African Cat Union (SACU) was founded by Miss P. Deeble (now Mrs. A. Somerville) of Durban in 1946 and covered "the Rhodesias southwards". Dr. Smith was elected as the first President. The Union was founded primarily to register cats, to encourage their breeding and to organise cat shows. Early on, it became associated with the Governing Council of the Cat Fancy of Great Britain, but unlike the GCCF it had no clubs to govern at that time! In February 1948, Miss Fania Pocock founded the Western Province Cat Club with headquarters at Cape Town, and the WPCC at once became affiliated to the Union.
The first WPCC show was held in La Rochelle (now the Athenaeum Hall) under the Railway Bridge in Newlands. The winner was "Little Boy" who was entered as a Russian Blue though his parentage was uncertain. Little Boy was owned by founder member Mrs R Gilmour. The WPCC remained the only cat club in Cape Town until the early 1970s when the All Breeds Cat Club arrived on the scene. The WPCC claimed to be the first to show a Sia-Manx (or Sianx), just a few months ahead of one exhibited in San Diego, USA. The late Father Fowler's Sia-Manx was exhibited at their show during 1952, some months before the cat at the San Diego show, and resembled a Siamese Seal Point with definitely high hind quarters and complete absence of tail. He was described as a very charming person by Miss P. Ashby-Spilhaus, the Registrar of the South African Cat Union.
Personal circumstances meant Mrs. Somerville was unable to carry on, and the WPCC took over the running of the Union. Miss Pocock became Chairwoman of the SACU until resigning in 1953. The headquarters were moved to Cape Town, where the first meeting was held on 22nd December, 1949. A constitution was formed which would cover the single club and allow for representation of other clubs as the; more were formed and became affiliated to the Union. The whole registration system was overhauled to render it efficient, easy to run and as fraud proof as possible. There were just over 200 registered cats in 1949, but by 1953 there were over 1,000 Seal Point Siamese alone. The Union also founded a library and issued an occasional bulletin.
The Union's growth was staggering, but risked overwhelming its workers, all of whom were voluntary, inexperienced and had day jobs. This caused a number of hiccups and delays. Some technical hitches were inevitable. The worst of those was the unworkability of details of the constitution that some clubs felt could not be overcome due to the long distances involved. Those clubs seceded from the Union and the constitution was entirely recast following the experience.
The Natal Cat Club, which had its headquarters in Durban, was founded in July 1948 and sponsored annual Championship shows (attended by around 1500 visitors) as well as several local shows. There were 137 fully paid up members on the books by June 1953, most being residents of Durban. It also attracted members from Pietermaritzburg, various parts of Natal, Zululand, the Transvaal, the Cape and Southern Rhodesia (1150 miles away from Durban). The clubs main problem was the huge distances between towns and getting really competent judges at its shows; the latter necessitating the aid of Dr and Mrs Stewart and other friends in Johannesburg.
The club's formation was largely due to Mrs I Miles of Westridge. her cattery in South Africa was probably the largest of that time and comprised Siamese, Chinchillas, Blue Longhairs and Cream Longhairs. Mrs Miles persuaded Mrs Maunsell to get the ball rolling and Mrs Maunsell became the first Hon Secretary. The first Chairman was Dr J J Meiring, later succeeded by Mr W E S Philip during 1953. The President was Mr H W Davey.
In 1948 or 1949 (sources are contradictory), the Siamese Cat Society, was founded. In 1984, this became the Transvaal Cat Society. Their 1956 Show Catalogue gave a potted history, stating it was "founded in 1949, when a small group of enthusiasts, particularly interested in the Siamese Cat, met and discussed the idea of laying down a standard for the breed, based on that existing overseas, and the holding of shows to encourage breeders to improve local standards and foster a better understanding of the care and management of cats in general." The founder members of the Siamese Cat Society were Gladys Haswell, Rosemary Harte and the Reverend and Mrs Oliver. Mrs Stewart and Dr FG Stewart later joined the committee and their intimate knowledge of show procedure greatly benefitted the Society. The Stewarts had recently arrived from England where they had been very much involved with the cat fancy there. At the time, they were described as the only people in Johannesburg who knew anything about cat shows or how to run them. Their first show was held in the Norwegian Hall in de Villiers Street, Johannesburg, in 1950 and was very well attended. The Stewarts were both show judges in England, but in South Africa the judging fell to Mrs Stewart while her husband ran the show. In addition to running the cat shows, they trained cat judges in Johannesburg.
The All Breeds Cat Club (ABCC) was founded in 1968 by Stella Slabber and other breeders who broke away from the WPCC (much of its early history involved rivalry with the WPCC). Its autocratic Chairman, Mike Barrett, was unpopular with many members, hence this incarnation of the ABCC disintegrated when many founder members resigned to form their own All Breeds Club. The ABCC, under Barrett, continued with the remaining members, but local WPCC-trained judges refused to judge at its first show. Sister Francis Bradford, who wasn't part of the inter-club animosity, trained judges and stewards for the ABCC show. This took place in Winter 1969 at the Old Mutual Hall and Barrett was show manager. The animosity between ABCC and WPCC resulted in the WPCC secretary and her husband being removed from the show for snooping. Apart from that incident, the show was extremely successful, but Barrett withheld the profits for himself. It turned out that he had appropriated the ABCC's funds and its property (show cages etc), leaving the club with nothing.
At the 1969 AGM, members voted to start anew under the chairmanship of John Cullen. Funds were raised through donations and fundraising events. Meanwhile, Barrett apparently began a vendetta against the WPCC that resulted in a reconciliation between the WPCC and the new ABCC. In 1970 they took Barrett to court and on the day of the hearing, he settled out of court (at least in respect of the property, if not the money). ABCC shows were held in the old Drill Hall in Cape Town and they became affiliated to the South African Cat Association. The first championship reported in The Cape Times, Saturday, July 21, 1973.
The Siamese Cat Society was one of the first members of the Associated Cat Clubs of SA, the forerunner of SACC, along with the Rand Cat Club, Natal Cat Club, and WPCC. In 1969, delegates from all cat clubs in South Africa met in Bloemfontein to discuss a constitution for the Governing Council of the Cat Fancy of South Africa (GCCF SA). The GCCF SA held its inaugual meeting in January 1970. It appears that the GCCF SA ultimately replaced the Associated Cat Clubs of SA that had been founded in 1945.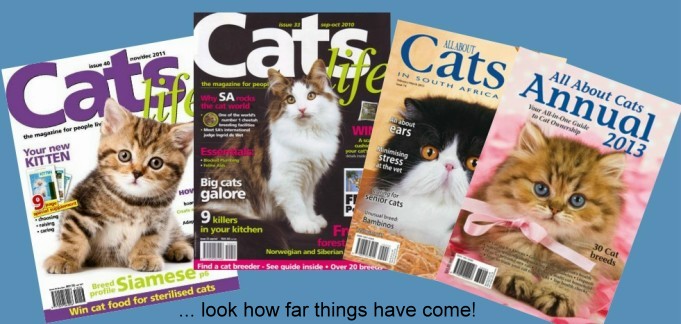 The story of Hazel King's quest for South African cat fancy history is also interesting. Shortly before the Western Province Cat Club (WPVCC) celebrated its 60th anniversary, she was given some old copies of Cats Calling (the Club magazine from 1957 until 2005).  Using these, she created a commemorative booklet for exhibitors and show personnel at the WPCC 60th Anniversary Show.  As a result, various people provided further editions of Cats Calling, resulting in an almost complete collection.  In those old Cats Callings that she found the story of Kay Wheeler taking part in the radio quiz.   After that, several people contacted her and one gave her a medal that was awarded at the 1913 show. 

At the time, the Club tried unsuccessfully to find out more about the South African Cat Fanciers Association.   Some time later, another committee member came across Mrs McQueen, whose mother, Mrs Karie, had kept the 1899 - 1904 stud book, after which the cat fancy gradually faded out.  Another committee member interviewed Mrs McQueen who was, by then, an elderly lady and whose memory of those early days was rather hazy (she must have been a young child when her mother was active in the cat fancy).   She still had the stud books, and even photos of some of the early cats, but it wasn't possible to reproduce them in Cats Calling, due to the printing method used.

Hazel then found a mention that the first WPCC show, in 1948, had been covered by the Cape Times. She contacted the paper and was referred me to their archives held in the National Library. Despite being a large and well-known institution, the National Library (postal address Queen Victoria Street in Cape Town) is tucked away behind the Cathedral in the Company Gardens and it took Hazel a whole morning to find it! As well as the sought-after microfiche of the Cape Times of December 1948, the magazine section of the Weekend Magazine contained a full page of photos; some of which are now on the WPCC website.

The next step was to find out about the show where the medal was awarded, so it was back to the National Library to read the Cape Times of July 1913. It contained a long report of the show, including all the prize winners.   Trying another newspaper, she found mention that it was the SACFA's second show, so she went back to the Cape Times of July 1912, and found a report of their first show. That article said that it was not the first show in South Africa.  The report also mentioned that they had wanted to hold the show in June, but had to delay in order to get the services of the esteemed Transvaal judge, Mr E Hjort.  If Mr Hjort couldn't attend Cape Town in June 1912, was this because he was judging at a show in Johannesburg in June?  This was a long shot, because he could have been attending to business or a family occasion. Hazel researched the newspapers from Johannesburg in 1912, and read the microfiche of the Rand Daily Mail of May and June 1912 where she found mention of a forthcoming poultry show - which included cats!  It had been organised by the Central South African Poultry Club, secretary:  Mr E Hjort which confirmed why he couldn't judge in Cape Town that June.

The cats involved in the Central South African Poultry Club show were all Persians, and the newspaper article suggested that their inclusion in a poultry show was nothing new, so Hazel went back to 1909, which was their first annual show. The 1909 show also included cats, and again they didn't seem to be anything new.  Hazel realised that if showing cats at poultry shows was nothing unusual, maybe cats were also shown at agricultural shows such as the Rand Easter Show held in 1894, 1895, 1896, a hiatus for the Boer Wars, and started up again in 1907.  There was no useful information about the big agricultural show that used to be held in Cape Town around the same time.  The Rand Daily Mail only started in 1902, so the first Rand Shows were not reported, but there was plenty about the 1907 show. A few cats were exhibited at the 1907 show but were seemingly not judged.   The cats included some of Mrs Hjort's Persians.   It appeared that cat shows, unlike dog shows, were not part of agricultural shows (the Witwatersrand Kennel Club had a big dog show as part of the Rand Show).   The Rand Daily Mail reported on two other agricultural shows as well as Rand, neither of which seemed to have a category for cats.   But the Rand Poultry Club show of June 1907 included Persian cats.   Hazel's next stop is the Cape Times of June 1905 …

You are visitor number