CATS AND THE CAT FANCY IN NORTH AMERICA 1880s TO 1896 (4)
At first, cat-only shows and cat breeders' clubs seem to have been considered an English eccentricity; who else would raise the common Tommy or Tabby to high status? Some writers doubted it would catch on in a big way in America where, they hinted, people were more sensible. They were soon proved wrong as the social elite of American cities emulated the aristocracy of Britain and took up cat fancying. Cat fancying was predominantly a female interest. The success of the cat section of the Fanciers shows in Madison Square Garden paved the way for the first American cat shows in the 1890s. Cat clubs quickly followed and cats began to be divided into varieties and judged against a standard of points. The initial focus was on Angoras and Persians which were bred along business lines and sold as status pets, far removed from familiar backyard cats. Some of the breeders ("catterers") who had "cat ranches" or "cat farms" also set up refuges and hospitals for strays and commonplace pet cats. The term "Angora" referred to a long-haired cat; the "Maine Angora" was considered a degenerate form.
To clear up some confusion, Adele Locke (1839-1919, who was Mrs. Clinton Locke, not Mrs. Robert Locke as some pages state) founded the Beresford Cat Club. Frances Simpson wrote, "In 1896 an American Cat Club was organized, which did some good work. Then Chicago started a Cat Club in January, 1899, and this was followed by a most successful enterprise on the part of Mrs. Clinton Locke, who founded the Beresford Cat Club, called after Lady Marcus Beresford, and now numbering about 200 members." Mrs Locke was a noted society figure in Chicago. She died March 29, 1919 aged 80 and her obituary read: "Mrs. Locke [...] with Lady Beresford, of England, organized the first Beresford Cat Club, and has always been recognized as the head and authority of the Cat Fancy in America. She was president of the American Cat Association for many years, and was always willing to help with the work of educating people to a full knowledge of the thorough breeding of cats.
The cuttings and reports a re chronologically arranged.
A RAGE FOR CATS.
Washington Star, December 1886.
A Demand in the Feminine World For Feline Pets. Tabbies That live High and Sleep in Silken Beds. A Scarcity of the Stylish Kinds. The Cat Doctor Tells Some Professional Secrets.
Mr George Wooldridge who makes a specialty of attending cats and dogs needing medical or surgical treatment, was asked by a Star reporter if the holiday season brought any increased demand for cats and dogs. Mr Wooldridge replied that there was considerable inquiry for cats, particularly for Maltese cats, and but little for dogs. "The cats, as pets," he said, seem just now to be growing in favour. I have had in the past few weeks nineteen orders for Maltese kittens and have had hard work to fill the orders. At one time I advertised in the Star and never knew that to fail to bring cats before, but at that time I could not get one. Some of these cats ordered were doubtless intended for presents. I am expecting every hour a Maltese kitten for a gentleman, who, I believe, intends to put a silver collar and bells on it and present it to a young lady with his "Merry Christmas Card." Young married ladies seem to take to the felines, and they seem to have adopted the occupation of the "Four score and four of us poor old maids; nursing cats is all we do." It not infrequently happens that I am stopped by ladies in market who want a kitten which will grow large."
"You make how much, a V?" asked the reporter.
"I get more than that," said Mr. Wooldridge, "generally $20 when I have them fixed up and nicely cleaned. Only the best is wanted, and the best is hard to get. Here is a card from a dealer in cats, dogs, birds and pets generally, and he says he has but one Maltese kitten in stock and that has a blemish, a white spot on the breast. That indicates a demand elsewhere as well as here. Most people can not understand it, but you know that ladies must have pets. You ought to see how some of these cats are kept. Hundreds of children do not have anything like the attention paid them. There are cats in the West End for which nice baskets with cushions are prepared. The covers are silk plush with ornamental needle work. Some feed them from platters and others who have no children have a chair set at the table where the animal is fed with tid-bits during the meal. They are often kept so well fed that they get fat and lazy. Some have fared so well that they will touch nothing but chicken and oysters. Nothing short of the very best food is good enough for them. As one would naturally suppose they have no desire to catch rats or mice. You may judge how the mania is increasing by the assortments of cat collars kept in the stores. Numbers of them are very expensive of silver with gold plate for the name.
The Angora is very scarce, and could it be had would bring $25 easily. This is a long haired animal, and grows quite Large. The cat which would be prized, if it could be had, is the Persian, for it can be trained as easily as a dog. The mania just at this time is the black Maltese, but like as not there will be some other species or color in style in a short time. Talk about taking care of people. You ought to see the sorrow of some ladies when their pets are sick, how tenderly they handle the patients. A week ago a Boston lady, en route to California, came to me for her kitten was sick. It was in a small basket and I found that it was simply nervous from its long ride in the [rail] cars. I gave it some valerian, and received my fee. Some days afterward she wrote me a long letter from San Francisco telling me how her pet got along and it was in perfect health. There is a lady in Alexandria who has no children, but she has thirteen ordinary cats which she prizes highly. The cats do not have as many diseases as some other animal - worms, mange and distemper being the principal diseases incident to cat life. It is difficult to administer medicine to them and it has to be forced on them. They can not be fooled with medicine. They, however, improve rapidly when medicine is given. The pet cats are so well taken care of that outside of getting bones in the throat or hair in the teeth they need no surgical treatment. It is quite a serious matter for a cat to get hair in his teeth, for the animal gets to scratching his jaws end in a little time gets the akin off making a sore. When people take so much interest in their pets as to pay for a professional visit you can judge how much a nice Maltese cat can be prized by a young lady who has the leisure to teach it a few tricks.
[CHICAGO] CATS OF HIGH DEGREE. SOME OF THE CHOICE FELINE SPECIMENS IN CHICAGO. (Excerpts)- Chicago Daily Tribune, March 17, 1895
If Chicago does not have a cat show this it will not be for lack of cats. They are here - Angora, Maltese, tiger, tortoise-shell, Chartreuse, old tabby, and even the mythical Manx. Should this exhibition take place, a treat is in store for those interested in the feline tribe. The surprises are likely to be many and agreeable. All unsuspected cats of every degree have been gathered from the four corners of the earth, and are sheltered under the hospitable roofs in this wide City. And if it comes to a test, Chicago can do battle for laurels with New York or any other town, latest Ki'kenny rules.
Foremost among those who are interested in cats of pure breed is Mrs. Leland Norton of Drexel boulevard. Among her collection is a white Angora, "Echo," which Mrs. Norton believes to be the handsomest of its kind in States. "Echo " is of purest white, and its white raff curls around its Neck, almost covering the pink ribbon. It came direct from Persia with some emigrants to Chicago and when rescued by Mrs. Norton, like many another foreign prince, it was decidedly in hard straits financially. But American dollars, which means in its case plenty of rich cream and Hamburger steak, has had a wholesome effect The climate of Chicago is too severe for "Echo's" ruby blood. It does not go out in winter. Nor does it lap its milk like a plebeian cat. It is fed by its mistress' hand from a silver spoon. It has a mate, " Glen," a thoroughbred from California. Mrs. Norton expects to take Echo to the cat show in New York in May. Beside these two cats she has a pair of black German Maltese cats, splendid creatures with restless big amber eyes. Their mother was born on the ocean. Mrs. Norton has a number of other cats, fine cats, but she sets little store by these, as she is not absolutely sure of their pedigree. Two rooms in her home are set apart for the use of their catships. The polished floor is strewn with cushions and slumber robes. But at night the cats sleep on two large beds, each in its owne blanket, as there are less of drafts there than on the floor.
M. J. Asheldstan of Prairie avenue has a black tailless cat which he claims is a genuine Manx. But the cat is so wild that he was unable to coax it from under the woodshed for inspection, even with bread and meat. He describes it as having long legs, short fur, and of fierce disposition. Only two staring green eyes could be seen from its black cavernous retreat. Mrs. Thomas Gibson, No. 4825 Prairie avenue, baa a beautiful full blooded Angora, seven months old. Its name is "Trilby," in spite of which it is thriving and growing. Trilby's fur is over two inches long and its bushy tail is three and one-half inches broad. Miss Louise Boyle, No. 2126 Wabash avenue, has a big black German cat with not a white hair on its body. It wears red ribbons in its ears and sometimes eardrops, such as a woman wears. Its name is "Chico." Mrs. Bertha Stiles, No. 2601 Calumet avenue, has a fine Maltese of purest breed. It is of a dark-blue slate color, without a spot or a blemish. It receives ail of the care and attention that could be lavished on a pet child. It has never been out of doors except on moving day, when it was carried in a basket.
Miss Gertrude Estabrooks, the artist, lives with her mother in a cozy flat on the North Side. Each has a cat, and there is considerable good-natured rivalry as to which cat shall have the blue ribbon. Gertrude's cat is an Angora, as whit, as milk, with a big bushy tail, long, waving hair, and a pink nose. It can stand up and beg, will turn somersaults, and do everything but talk. Her mother's cat sports a bushy tail and is a tiger gray and intelligent and boasts pure Spanish blood. Miss Estabrooks has become so interested in cats that she is now attempting her first piece at animal-life. She will soon have finished a life-size oil of Mrs. Norton's cat Echo. It will be exhibited. Miss Mary F. Fontayne, No. 3210 Forest avenue, has two fine white cats, which she declares know more than some people. They are her constant companions, following her from one room to another and up and down the stairs. When she puts on her hat to start out they at once jump on the window to watch her off.
Speaking of cats, everyone knows about Mrs. Clinton's Locke's admiration for cats. In this she has always been upheld by her worthy husband, the Rev. Clinton Locke. And the great preacher has not thought it beneath him at times to regale his friends with stories of his wife's pets and protégés. Mrs. Locke picks up and shelters any poor, stray unfortunate that happens to cross her pathway, feeling that to succor the least of God's creatures is sufficient reward. The proceeds from the sale of her fine cats devoted to the bed which she endows at St Luke's Hospital.
Miss Frances Willard owns a white Angora, which is as gentle as its mistress is good. "Toots" Willard is known by every man, woman, and child in Evanston, and so great is the regard for its mistress that no-one would molest the little pet even if they saw it a mile from home. " Toots " is not a good sailor, so was left behind at Rest Cottage when Miss Willard sailed for Europe. Mr G. L. McGill, No. 3034 Calumet avenue, has a strikingly marked white and yellow Angora, which he calls "Muff." "Muff" has the typical bushy tall deemed necessary by cat fanciers to indicate blood. Mrs. G. S. Biswell, No. 3311 Forest avenue, has an immense yellow coon cat, with a squirrel-like tail. He has big yellow eyes that shine like topaz. Mrs. D. Edison Hartwell, No. 4624 Emerald avenue, boasts of a black angora. Miss M. B. Wheatley, No. 28 Walnut street, has three full-grown Angora cats and three kittens, pure white. "Caprice," the mother of the kittens, on being shut in a room away from its little ones, climbed up a screen and out over the transom to its kittens. Every one who has valuable cats expresses a fear that something might happen to their pets if they entered them for an exhibition. And almost every woman declared in case she did consent to send her cat in she certainly would accompany it herself and tend and feed it.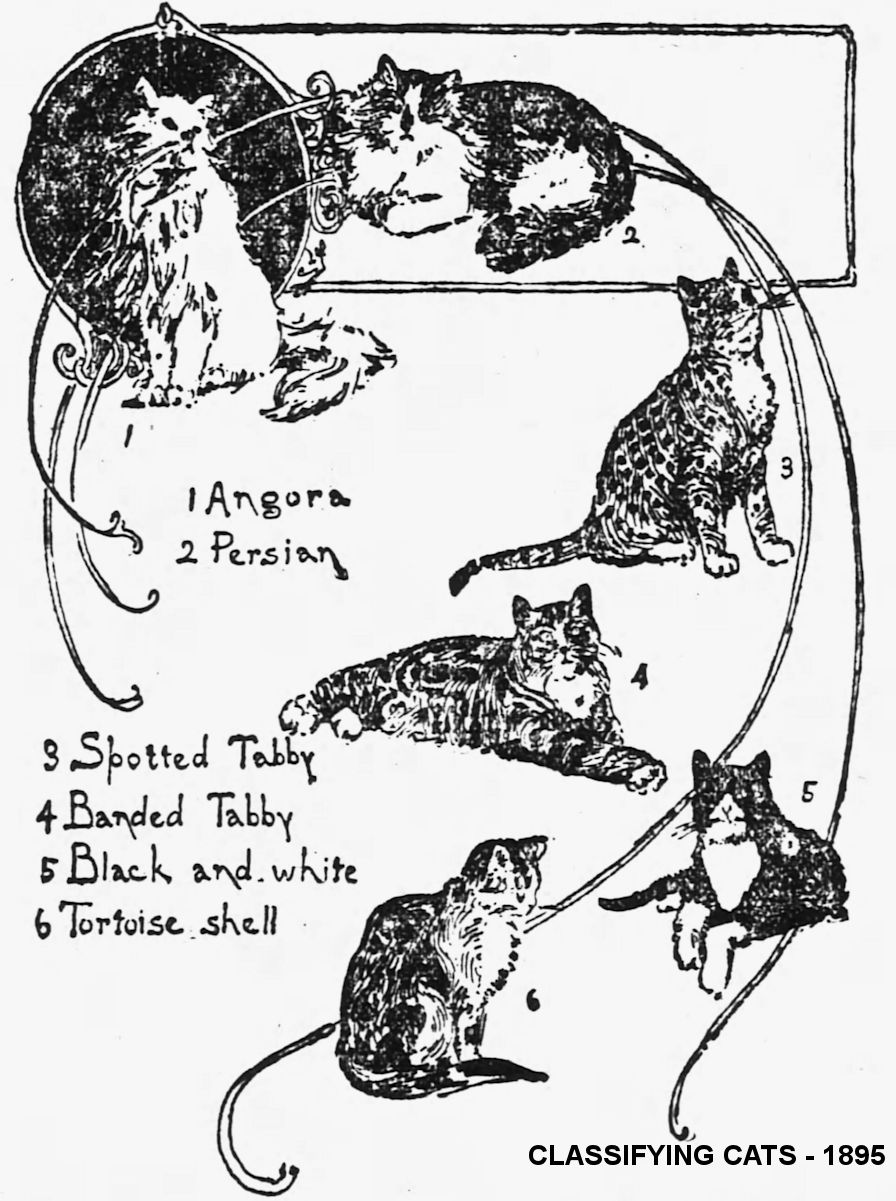 CHICAGO CATTERIES By Marion Martin in "The Inter Ocean," March 24, 1895
Cat fanciers of the City and Their Thoroughbreds – Among the Tabbies – Mrs. Clinton Locke, Mrs Leland Norton, and Dr. Hale – Mme. Henrietta Ronner and her Cat Models – Cats in Employ of Municipalities.
Some men there are love not a gaping pig, Some there are mad if they behold a cat.
Presumably the choleric sort will not be exhibitors or pilgrims to the national cat show to be held in New York in May. While this sagacious animal is neither easily flattered not lightly amused, a row of sponsors like J. Pierpont Morgan, F.K. Sturgis, Cornelius Felloes, D.C. Mills, and Colonel Kip ought to make him laugh, even after cycles of neglect and semi-martyrdom. Always a sacred animal in the East, entering the mosque and eating from his mater's plate; the cherished friend and sympathetic companion of princes, potentates, and peasants in the Latin countries, and for years a subject of intelligent study and humane interest in England, it is high time we stopped progressing to look the cat in the face just before it becomes the fad of fads. Cat shows in this country have so far met with modest failure. In the spring of [18]80 Boston had a mediocre one, and Chicago two years ago had a lugubrious exhibit. But now Pussy's hour has struck in earnest and she is going to show with pomp and circumstance her surpassing grace and beauty to an appreciative public – let us hope.
To understand a tithe of her intelligence or companionability, mankind must know catkind from an everyday point of view. It was Montaigne who said with a world of suggestion: "When I play with my cat, how do I know whether she does not make a pastime of me just as I do of her?"
While the cat lovers of Chicago would like a local bench exhibit most of them express themselves as more anxious to see first in their city some of the reforms acknowledging the rights of this poor relative. Boston and New York have had for some years, in connections with their humane societies, a department where sick, maimed, and outcast cats are collected by the ambulance service, and are afterwards put to a painless death. A postal card from any part of the city is answered inside of twenty-four hours by an agent of the society, with a padded box in his hand. The number of hopeless outcasts put out of their misery, without alarm or pain, each day in New York is about forty.
A year ago that city added to her institutions a "Shelter for Animals." This is under the supervision of the Humane Society, and is a kind of end-of-the-century pound where pet cats and dogs are kept a week for their masters, and then are killed or sold. Their building is in One Hundred and Second street, near East River, and was erected to carry on this work for which they are incorporated under the laws of the State.
"Catteries," as our English cousins call them, are as thick as blackberries with them, and London is recognized as the market par excellence for buying thoroughbred cat stock. On the principle, "if you want a thing well done do it yourself," the English aristocracy have gone into perfecting the breed of cats with enthusiasm and lead the world in this direction. We have in this country at present but one cattery, fashioned on the lines and ranking with those of England, and that was established many years ago by Mrs. Clinton Locke, of Chicago. This was undertaken for the benefit of a half dozen charities near Mrs. Locke's heart, foremost among which has always been St. Luke's Hospital.
Mrs. Locke, who is one of the most gifted and philanthropical women in Chicago, is a devoted friend of the cat, and before she set up her menage for thoroughbreds rescued all the waifs and wanderers that were stranded near her home. She is a member of the National Cat Club of England, which includes many prominent clergymen, artists, and men and women of rank, and her opinion is valued on both sides of the water. She brings over her own stock, which is troublesome, and attended with great risk as these sensitive little aristocrats are easy victims to mal de mer and the rat mange. In addition to quarters with the butcher, Mrs. Locke secures the services of a sailor and has the unhappy travellers carried to her stateroom for a few hours each day. She has never lost a pet except from old age. She visited the cat show in London last fall and made two purchases for her cattery. One of them is entered in the Stud Book as Hawthorne Dean's Beadle, and as "The Beadle" he has made his bow in Chicago. He is a blue Angora of tabulated pedigree and has all the points which mark a thoroughbred of his colour, round head, nose dark at tip, orange-yellow eyes, ears not large, long body, small bones, short legs, and long hair. Rosalys, his mate, purchased the same time, is a blue Angora and comes from an equally well-known fancier.
Mrs. Locke's cattery is a small house in the center of a large garden, and is divided into compartments for the different happy families, each of which opens into its own private grounds carefully wired off from those of the next door neighbour. In the summer, vines clamber over the wire inclosure, and catnip and grass spring up inside to refresh and tickle the palates of these dainty feeders. Each dwelling is a model of neatness and comfort, and is fitted up with a high shelf on which these arboreal creatures prefer to sleep, although the floor is covered with fresh straw. Their diet is flesh, their owner finding that carnivores do not thrive on farinaceous food. Their regimen is hashed liver cooked in butter, relieved by an occasional flesh dinner or a sardine supper and quantities of butter and milk. Many of these high-bred creatures are epicures in their taste and relish olive oil and mayonnaise dressing. "The Beadle" is already cultivating the national ailment by devouring olives. It would be invidious to describe one of these furred beauties and not another, but as they are all thoroughbred and fascinating it must simply be a choice in color. Marigold is a Spanish grandee, 7 years old. He is a superb creature of lion head and port, of a glorious yellowish-red color, with the eyes of gold and green, which should accompany that shade. This choice color appeared again in a bewitching kitten in an adjoining cage who scintillated with rage at exhibiting herself al fresco at 10 o'clock on a March morning. Then there were Grover, sired by the famous Wendell, and Vashti, who was returned by the terms of Miss Mary Booth's will to her original mistress, and quantities of others of established pedigree and fascinating allures.
One of the most interesting and famous catteries in Europe is that of Mme. Henriette Rouner [Ronner] of Brussels. These cats are not for sale, but are raised as models for their mistress' atelier. For twenty-five years this great artist has devoted her brush to the portraiture of her favourite animal, and outranks in subtle delineation the great French painter, Lambert, and the marvellous Japanese, Hokusai. Mme. Rouner has passed the three score and ten milestone, but she still spends the morning hours in the studio of her beautiful villa on the outskirts of Brussels. Her cats are all long-haired thoroughbred Russians, Angoras or Persians, and are well-known all over the world. They are the cherished friends of this great woman, and know no greater hardship than two of three hours' confinement in the glass cages in which they pose for their gifted mistress. The picture of the artist and her model en rapport in her studio was sent by Mme. Rouner to the writer.
Mrs. Leland Norton, of Drexel boulevard, has three fine Angora cats, none of them more than a year old. Echo, a white Angora, is pronounced by fanciers and connoisseurs to be a perfect and unusual specimen. As he has all the points that distinguish a white Angora thoroughbred, they may be enumerated: breadth between and across the eyes, a pink-tipped nose, large full azure eyes, a thick flowing ruff, a fine, long, slightly woolly coat, and tufted ears and toes. He has small bones and carries his magnificent tail low. The fur across this brush measures fourteen inches. Echo is beautiful and affectionate and lives like a Prince. His diet is raw beef, bread and milk, and now and then an egg. Before he was 6 months old he had received more than three hundred callers, many of them being strangers from neighboring States. Echo has a long pedigree and will be entered in the coming cat show in New York.
J.E. Grubb, of Fifty-Third street, has a cattery. He is an amateur fancier who likes a dozen cats quartered at either his house or place of business. Sam, his pet of pets, is an Angora of a rich, reddish-brown color and yellow eyes. He is 18 months old and is without exception the most fascinating cat in Chicago. He has pedigree, beauty, an affectionate nature, extraordinary intelligence, and rare docility. Sam shakes hands, bites the end of his master's nose, retrieves, says his prayers piously, and sits at his master's table like a fine little gentleman. Besides these social graces he earns a thousand dollars a year, hundreds of people flocking to the store to see him. Some of his visitors are from distant States and strangers in the city. He has just recovered from an attack of pneumonia, through which he was nursed night and day. Romping in some fragrant hay in a room back of the drug store, weaving in and out of bottles, jumping from one shelf to another, cooing like doves as they sported with Sam were: Lily, a Chartreuse, blue Angora; Gecko, a black thoroughbred, and "Toots," a white Maltese with jet black eyes. The preferred food for this feline family is mashed potato, corn, and cooked milk. Mr. Grubb raises grass for them, in the winter months and provides catnip soaked in water. He has all his life been interested in improving the breed of cat stock and will establish a cattery this spring on the English plan.
On the West Side, where the streets begin to hint of the open prairie and the transactions of the setting sun a mile or two beyond, and the very look of the two story brick cottages proclaim every occupant his own landlord, lives a woman who is tireless in her championship of the domestic cat. Miss Fargusson is a native of this State and is of good Scotch stock. She is a woman approaching middle age, of refined voice, and has a sensitive, handsome face. She has lived in her present home ten years and is known far and near for her humane work among her four-footed friends. Animals who are dying by inches while spreading some terrible disease among their kind, hear a compassionate voice, are made comfortable for a few hours, and are then mercifully sent out of the world. Starving cats and freezing, homeless kittens are rescued impartially and made welcome inside the cozy cottages as far as its limits will permit until homes are found for them. At present, Mrs. Fargusson's beneficiaries number nine, and they evidently desire nothing better than to be left where they are.
The stories that fit this colony would wring the hearts of humane people, to say nothing of cat lovers. The writer begged off with the inquiry "After all these years can you see no change in the sentiment of the community towards the cat?"
"No, people feel no obligation to even their own cat. At the least annoyance she is turned out of doors to starve or freeze. My sympathy has brought nothing but a shower of cats and kittens in my yard, thrown there by their owners, while every cat in the neighbourhood has set a watch on the house and on me and begs piteously to be admitted."
"Would you give your picture to the Inter Ocean?"
"I? Oh no; I have done nothing. In fact, I am very much laughed at by most people."
"Nevertheless, you are moving along the lines of great peoples and well-known societies. Some great man said, perhaps Chateaubriand, "'I would gladly constitute myself the advocate of some of the works of God that are despised by man, and among the foremost should come the ass and the cat."
Here the clock struck and seven long, fat sleek grimalkins slid out from the covert of chairs, tables, and sofas, and fastened hostile green or yellow eyes on the intruder. It was supper time!
Foremost among the cat idolaters of Chicago is Dr. E. M. hale, a mand of great culture, of scientific attainment and of noble philanthropy. The doctor has given the friends of the cat a valuable hand-book on its diseases, hundreds of copies of which have been distributed by the Humane Societies East and West. He has a remarkable collection of cat curios, among which is a priceless etching of the great Dutch artist, Cornelius Wisscher. It bears the date 1650, and represents the artist's famous tom-cat feigning sleep. There is also a cat scrap-book full of pathetic, aesthetic and humorous notes. Truth is sometimes stranger than fiction. Listen! A foreign newspaper has the following advertisement: "WANTED – BY A LADY OF QUALITY FOR adequate remuneration, a few well behaved and respectably dressed children to amuse a cat in delicate health two or three hours a day."
The following letter from this State also bore a recent date: "Dr. E. m. Hale – Dear Sir: I hear you are a great lover of cats. Now, I have got the largest maltese cat in the world. His weight is now thirty-six pounds. I have had him weigh forty-one pounds; I have had him on exhibition in all of the museums and in almost every city in the United States, and never found anything to compare with him. Now I am making a balloon for this summer and have run out of money. If you will buy my cat at any price reasonable I will come to Chicago and see you. I am going to sell him to someone for something as I have got to have money. If you think you would like to have him will call and see you. Wishing reply I remain, yours truly, - -"
Major David P. Jones, U.S.N., whose home is in Chicago, is as enthusiastic an admirer of the cat as Pierre Loti. He enjoys the distinction of having circumnavigated the globe, accompanied by his cat "Charlie." This feline middy developed a valor and a thirst for alien blood that soon made him the terror of the seas. After whipping every four-footed creature in South America that came within his reach or size, he covered himself and his country with glory on the Rock of Gibraltar, where he was challenged by an impudent, much-vaunted cat from a British man-of-war. One day at Malta a native came on board with a puissant monkey with whom he challenged anything on land or sea. The enchanted sailors produced their idol, who was instantly locked in the terrible embrace of a new kind of antagonist. The men stood heartsick and aghast at the agonizing cries and the shower of fur which fell on deck. When the atmosphere had cleared a bit they saw the Maltese with his protégé locked under his arm dashing over the vessel's side and Charlie shooting into the chains – to die. They were dumfounded and sad – for had they not just seen Charlie's Waterloo! – when an optimist who had thrown himself on deck cried out joyously: "Boys, it's monkey hair! Charlie wasn't idle!" Charlie, the redoubtable, sat in the chains until dark scanning the horizon for more monkeys.
Edward Thorpe, the Bloomington banker, is a warm friend to all cat kind, and has famous pets. Catnip and Cutlets have made "Sam Thorpe" a model of symmetry and of sheen, and his own clever head has made him a reputation. Mrs. F.A. Howe, in Grand boulevard, has tiger tabby, sans pedigree, who answers to the call of Tom. He is an enormous fellow and very much of an epicure, refusing anything in the way of sustenance except pork tenderloin and Simon Pure cream. This mighty trencherman sits with a humble companion at a pygmy table in a corner of the dining-room and dines on pork, toujours le porc, after the large table is served. His phenomenal exhibition of patience in waiting for his turn is thought by his admirers to more than offset his exactions in the little matter of menu.
Dr. Day, of Madison avenue, has a fine short-haired tiger cat that tips the scales at twenty-four pounds. In addition to this exceptional avoirdupois he rejoices in the distinction of double paws. He is greatly respected in his arrondissement. Mrs. Pierpont Isham has a great admiration for the whole cat family. Her present favorite is a tiger cat who sprung from the back alley a few months ago, but who has shown a strain of noble blood by establishing an unlimited monarchy in her household. This grimalkin is a superb creature in inches and quality.
Alderman James L. Francis has at his home in Auburn Park a tortoise-shell cat of more than ordinary intelligence, good looks, and feline fascination. Besides an easy assurance that sits well upon her as a drawing-room favourite, she has an amiable idiosyncrasy for playing with water. Thus far her strengths of character has made her proof against the encroachments of asthma and rheumatic pains. Mrs Hubbard, of Thirty-Third street, like all litterateurs, considers a cat the perfection of all pets. She is the owner of a fine white Angora. Leander McCormick is a cat worshiper and has on two or three occasions brought an Angora from the other side.
"Toby," John W. Ela's white Maltese, hails from food old New England. When he stretched himself after thirty six hours durance in a hamper, he pronounced himself favourably impressed with the general outlook, and he is now as familiar with the North Side as though it were a small garden patch in his native land. He is the valued friend of the family and is delightfully companionable. Toby is independent, noble, punctilious, and altogether a philosopher except that he loathes the chastening of his weekly tub. J.A. Montgomery, of West Polk street, is a great cat lover. He has a Maltese which is such a hunter that the English sparrows have drawn a large circle around his home.
We have now taken a look at thoroughbred and pet cats near and far. Let us look at the other side of the picture at those who work for their living, many of them being in the service of their respective governments. In Vienna four cats are engaged by the town magistrate to catch mice on the premises of the municipality. They hold their offices during good behaviour, under civil service rule, and after a limited period of active labor are placed on the retired list, with a comfortable life pension. A regular allowance is made for their keep, and they are treated with respect and courtesy by their two-footed associates. The Imperial Printing Office of France also employs a staff of felines and a keeper, the expense of which appears as a separate item in the national expenditure. In England the government pays certain sums quarterly to protect from rats their public offices, dockyards, stores and shipping. They boast of having some official cats so expert and zealous as to catch four victims at a jump – that is, one with each paw and two in the mouth.
In this country, the utility of the cat is not only acknowledged by the farmer and producer, as well as the business man of the city, but municipal cats are a feature of our public bureaus. All the large post offices employ a force of cats and the government pays the keep. Mr. Dayton, of New York, has a fraternal corps of twenty felines who have reached a high state of efficiency. Their meat, milk, and catnip bill is wiped out with an appropriation from the department at Washington. The same is true of Boston and Philadelphia, but these be land cats to catch land rats. The post office cats of Chicago are water cats. The most intelligent cat ever in the United States mail service was the historic cat who covered herself with glory in the days of the great fire. A day and a half after the flames had devoured the post office and everything in the neighbourhood, except a few cellars, the police found in the ruins this celebrated tabby who had saved her life, but not only her fur, by seeking refuge in a pail of water. This intelligent creature was an idol during the remainder of her years, and her descendants are now wading around in subterranean horrors of our post office bureau. The cat colony, all told, numbers twelve. Their comfort and food are looked after by the men of the newspaper section, at whose expense they are supported. They are fine ratters, and as wild as deer. In the department of misplaced mail is the post office baby, just three months old. She is a knowing and absurd little tabby, set high upon four long, black and gray striped legs. She is the darling and pride of two humane young book-keepers, who cater for her temporal wants, and her name is Nixie.
CATS AND IDIOTS One of the more sceptical articles about the First New York Cat Club Show comes from The Belleville Telescope, May 17, 1895. Cat shows are the province of the idle rich who have nothing better to do, and the rich spoil their cats with cream when the poor couldn't even get milk every day, it told its readers: "CATS AND IDIOTS. The wealthy loafers and "bummers" of New York are so hard up for something to relieve "that tired feeling" caused by perpetual idleness that they are planning a cat show. It's English, y'know. And aristocracy must be aped, by all blue-blooded apes. J. Pierpont Morgan is one of the managers of the "function." He will probably have a genuine gold-basis cat on exhibition, with a gold-bond blanket, cut bias. D.O. Mills, father-in-law of Whitelaw Reid, is also one of the bosses of the show. Won't someone kindly loan these fellows a sawbuck and a cord of wood to practice with. They need exercise, and need it bad. Mrs. Fred Vanderbilt has a cat which is carefully washed with scented water every morning. Other millionaire's tabbies have their silver and cut-glass bowls filled with rich cream by liveried attendants every morning. How would some of the workingmen who made the fortunes held by New York nabobs like the idea of being able to give their children milk in a tin cup every morning? Fall down and worship the competitive system which makes these things possible. Shun socialism, which would give you your rights. — Coporative Age"
Various papers carried this announcement: "NEW CORPORATIONS. ALBANY, May 24 [1895] – The following companies were incorporated to-day with the Secretary of State: The National Cat Show Association of New-York City, to breed, deal in, and exhibit cats and other minor tamed domestic animals; capital $1,000; Directors – Frank K. Sturgis, Stanford White, Frank W. Sanger, Charles N. Schroeder, and James C. Young of New-York City." It appers that only two shows were organised under the auspices of this club before the cat show was once again absorbed into the "pigeon and poultry show." In 1898, a group of Chicago cat fanciers took up the challenge of organising a cat club.
The idea of fancy cats caught sufficient public attention that some papers published guides on how the types were judged, such as this one from The Atlanta Constitution:
CLASSIFYING CATS by Esther Singleton
Feline Breed and Beauty. – The Atlanta Constitution, June 23rd, 1895
The first American cat show held a few weeks ago in the Madison Square garden of New York city, was not only a success as an exhibition, but it has resulted in a unity among cat fanciers. It has been decided to pay attention to the breeding, the pedigree and care of these favorites and to keep a regular cat stud book. Even the fashionable world is beginning to talk of cats technically, discussing the relative beauty of the "Lord Mayor's Chain" on Angoras, the "Dutch Rabbit Markings" on the tortoise shell, "self-colored cats," and tabbies, purely bred; trying to classify their darlings that unfortunately are not of pedigree, and talking of diet and treatment and care.
The General Division. The class of entry used by the National cat show gave eight general divisions of those exhibited. He cats, she cats, gelded cats and kittens. These again were divided into long-haired and short-haired cats, and separated according to color. There were also classes for the two kinds of tortoise shell, one with and one without white; three tabbies, divided according to their base color; black and white cats, cats of solid or "self color," etc. The comparative points for judging were as follows: Length of fur, quality of fur, frill size, and carriage of tail, richness of color and purity of coat, markings, head, eyes, size and shape and general condition.
On the same general principles will the book of pedigree or cat blue book be compiled. To many persons who keep cats and admire them, without knowing how to Judge if the breed be pure or not the following descriptions will, doubtless, prove acceptable:
Important Points. The long-haired cats derive their origin from the Indian Bengalese and other wild cats of Asia and Russia. They are variously known as Angora, Russian, Persian, Indian and Chinese and are judged according to the quality and color of their coat. These may be woolly and coarse, or as fine in texture as silk. Commonly there is a mixture of the two, the under garment being woolly and the upper one silky. Around the neck where the fur meets the fur of the cheeks, is a beautiful crest of hair known as the "Lord Mayor's Chain," which is a very important point to be observed. Ears, eyes and the length, thickness and character of the tail are also hints for the connoisseur of cats. He would tell you that although the fawns and reds and mottled grays of the Angora or Angola (as it is sometimes termed) are esteemed, the blues and whites are most prized, and that a dark slate blue Angora with orange eyes is a charmer of the highest order. The Persian cat of greatest value is the black and deep hair with flowing mane, high frill or "Lord Mayor's Chain," and orange eyes; next to him if placed the light slate or blue Persian, which has even a touch of lilac on his coat and paler yellow eyes.
Two other varieties of fancy cats are fashionable; the tailless Manx, which is only a freak cat and neither beautiful nor attractive, and the "royal cat of Siam," I which must be narrow, lithe and graceful, with strongly marked head and tail, almond-shaped eyes set obliquely like the Mongolians, and colored opalescent blue, growing reddish at dusk, and coat woolly or silky, colored silver gray, fawn, dun or light orange.
The Short Haired Variety. The white cat of pedigree must be spotless, and the tint may approach the yellow or blue, but never lean to gray. It must have a broad forehead, long nose, and a thick tail carried low. The eyes should be turquoise blue, and though yellow are permissible, green ones are a serious defect. White cats are very timid and are often deaf. The tortoise-shell, sometimes called "Spanish cats," must be small, with very round eyes, varying from amber to yellow — the darker the better. The points are four white feet, a blaze of white on the face, and a white breast. These are known as "Dutch rabbit markings" and the animal is noticeably vain of its white decorations.
Tabby cats, whose name comes from Atab, a street in Bagdad, famous once for the pure breed, are greatly prized. The red tabby is a deep-reddish, or yellow brown, with a well-ringed tail, orange or yellow eyes, and pink cushions to the feet. The brown tabby is orange brown, with black lips, brown whiskers, black feet, black pads, long tapering tall, greenish orange eyes, and a red nose bordered with black. The spotted tabby must have no bands, with brown, red or yellow for base color, and always spotted with black. In the brown one the feet and pads are black; in the yellow and red, the feet and pads are pink.
"Self-colored cats are entirely of one color, which may vary in different cats; but must never be mixed on the same coat, nor can it even shade into a lighter tone on the animal, and whether black, blue, red or yellow, the "self-colored cat" must have a rich, deep tint.
The "First" New York Cat Show captured the public's imagination and even inspired some wax lyrical in verses such as "The Cat Show" written by Lydia Welch of Cuero, Texas and printed in the Galveston Daily news, December 8th, 1891. Ms Welch had evidently made the trip to New York and taken in the cat show while there. Here are excerpts from an epic that owed more to enthusiasm than to style:

Of the cat show now I'll tell you
You see it was the first,
Held In our charming city,
I tell you it was great,
Indeed it was a pity
That you arrived so late.

These cats of all kinds and all colors
Were complacent and calm as could be
Behind prison bars with ribbons so gay
They seemed happy as though they were free;
[...]These cats were so cool and complacent,
With none of that shrinking or fear,
As much as to say 'Pay attention,
For that is the reason I'm here.'
I think if you study the life of a cat
You will find they're the happiest set.
You see, they've no conscience, no morals,
They freely take all they can get;

[...]All these cats at the show were society cats
With the sleekest of coats and smart collars.
They could all do the most unnatural things,
'Tis a fad that society follows.
Now society people try to write books
And for cats to dance is the passion,
Though they scarce do it well, it is unnatural,
So that makes it quite in the fashion.

[...]Now these petted cats took the same graceful pose,
Half-closed eyes so lazy expressing
'We are here for a show, it cost money, you know;'
Thus they seemed us poor mortals addressing.
Then there were the wild cats, with dangerous mark,
And that made them quite interesting,
[...]These beautiful creatures, with lithe, lazy grace
And glittering eyes quite impressed me.


"And now for the last, the poor, rescued cats
The pussies with weak, shady pasts,
With dissolute faces and whiskers untrimmed,
Lives half-wasted and follies broadcast;
They sat there, poor things, so ashamed of themselves,
Or pretended to be I'm afraid,
With one in in order, the other closed up
From some roof garden sad escapade.
I wish this poor cat could her story relate,
She sits looking so broken and sad,
It was not her fault, poor pity will say,
When they have found one has gone to the bad.
And this now, I think, is the end of the list;
As I told you before, 'twas a pity
To miss this, the latest society fad,
The first cat show held in New York City."
The following year's show was preceded by articles explaining standards of points and, interestingly, how an English cat registry operated and the value in setting up the same thing in the USA. That year's New York show was originally planned to be a joint show with cage-birds on display as well as (caged) cats. However there was insufficient interest from the bird-fanciers so the cage-bird section was dropped. Opinions varied as to whether the 1896 show was a success, and there was no show in 1897 because the public would be too busy speculating on silver and gold prices to attend a cat show.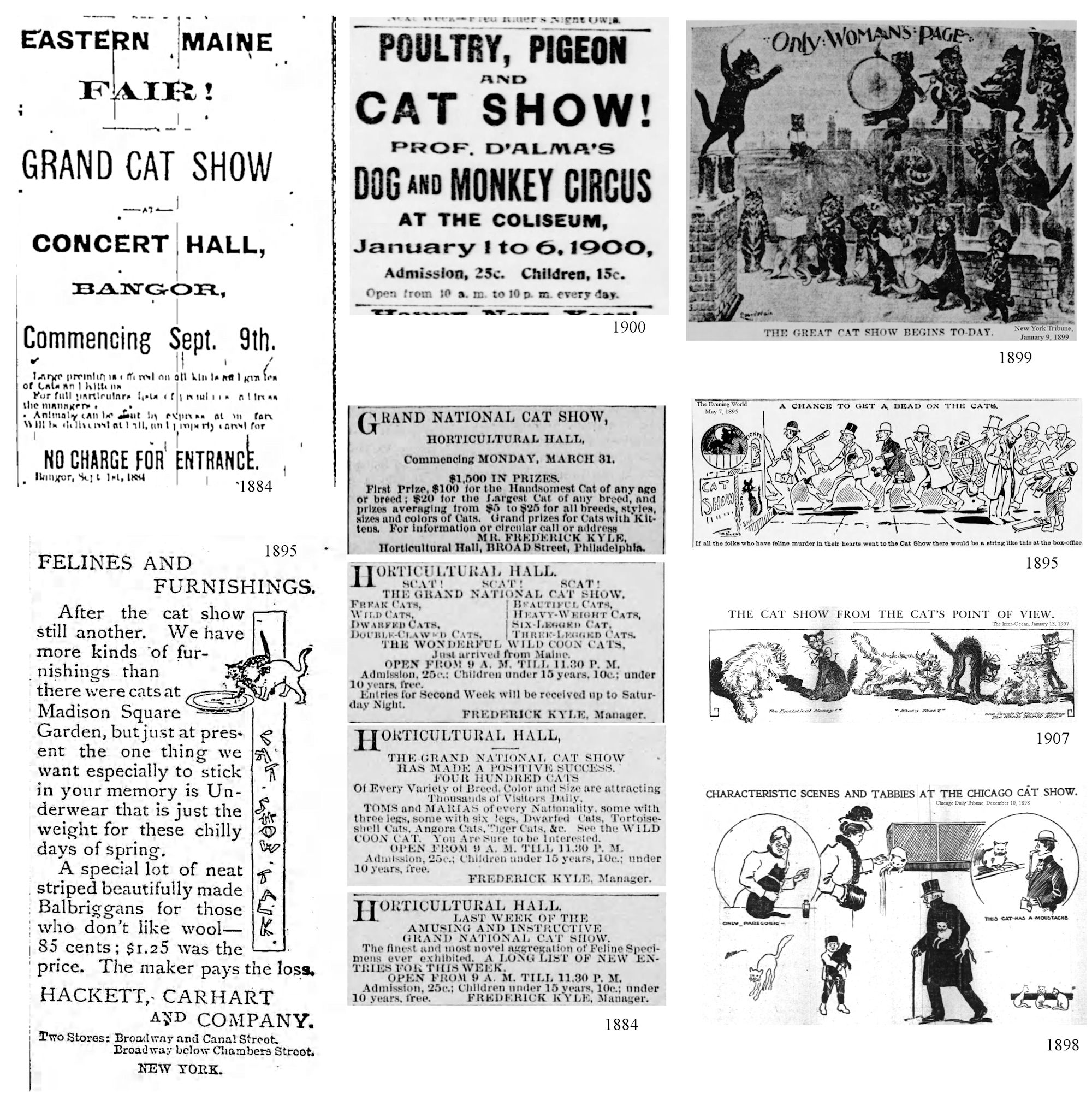 THIS IS PUSSY'S WEEK. CATS OF BREEDING WILL SIT IN STATE IN THE GARDEN. SOMETHING ABOUT THE VARIETIES OF THE FELIS DOMESTICA — INTEREST IN CAT CLUBS — THE POINTS UPON WHICH EXPERT JUDGMENT IS RENDERED.
The New York Tribune, Sunday March 1st, 1896
And now comes the Cat Show. Horse, bicycles, live stock, poultry and dogs each in turn have passed in review before the admiring gaze of the public, and next in order to seek attention and notoriety comes the four-footed favorite that has formed a part of the domestic life of man since the time when he first ceased to be a wandering savage and claimed some roof, however lowly, as a home. According to Rush S. Huidekoper, the domestication of the cat took place at a very ancient period. The first evidence of the animal's existence in connection with man is to be found in the ancient monuments of Egypt, Babylon and Nineveh. In the Egyptian gallery of the British Museum is an excellent painting of a tabby-cat which seems to be aiding a man who is trying to capture birds. The cat is mentioned in inscriptions as early as 1684 B. C. and it was certainly domesticated in Egypt 1,300 years before Christ. The goddess Pasht was under the Roman Empire represented with a cat's head. The cat was an emblem of the sun to the Egyptians. Its eyes were supposed to vary in appearance with the course of the luminary, and likewise to undergo a change each lunar month, on which account the animal was also sacred to the moon.
A canon enacted in the year 1127 forbade any English abbess or nun to use more costly fur than that of lambs or cats; and the cat was an object of Royal chase in the forests, as is shown by a licence to hunt it of the date 1239, and by a similar charter given by Richard II to the abbot of Peterborough. [Note: this was the Wild cat!] It will be seen that the cat has been a domestic animal from a remote period, probably from the date of the civilization of man himself. The young of the wild cat was caught and brought to the caves and huts to be the companion and pet of the children [note: we now know this was not the case]. The domestic variety evidently came from several sources. They may be divided into two classes, long-haired and short-haired cats. The long-haired cats include the Angora and Persian, and the short-haired comprise the tortoise-shell, the tortoise-shell-and-white, the brown and spotted tabbies, the black, blue and self-colored cats, the Manx cat and the Siamese cats.
The Angora, perhaps the most valuable and important of feline pets, comes from the province of Angora in Western Asia, also noted for its goats, the hair of which is used in the manufacture of fine shawls. The head of the Angora is small, with a short, but well-defined nose. The eyes are large and round, and should have the same colour as the coat. The body, which is long and of graceful form, is covered with long, silky hair. The legs are short; and the tail should be long with a curve at the end. The hair on the tail is long t the base and shorter at the end. The ears are tipped with a tuft of hair. The black, blue and white Angoras are of the most value. The light fawns and mottled grays are also much sought after.
It is said that the Maine coon cats get their coat characteristics from the Angora, several of which breed may have got into the State years ago from some shipwreck and cross-bred with some of the old New-England tabbies. The Maine people say that they are a species by themselves and demand large prices for them, as they make the best kind of pets, being particularly kind and gentle. Mrs. Charles Weed, of Woodhaven, Long Island, owns two Angora cats, Napoleon and Juno his daughter. Napoleon was born about eight years ago in a French chateau. He has long red hair and a face resembling that of a lion. Juno is eighteen months old, with long silky hair, but, unlike her father is of a variety of colours – white, dark-brown and a little red, with a small dark-brown spot in the middle of her head. The mother of Juno was Jeanne d'Arc, also a pure French-bred Angora cat. The mother died a few months ago from an accident.
The Persian is one of the most notable breeds of cats. It differs in several essential details from the Angora. Its head is larger and ears somewhat more pointed. It has a longer tail, which turns up slightly at the tip. It is larger in body and has broader and stronger hips. The colors of the Persian are variable; they may be of white, black, blue, chinchilla, smoke, and various degrees of tortoiseshell and tabby. A black fur of the rich, deep kind, with orange-colored eyes and long flowing hair and heavy mane, is considered the acme of beauty. The light slate and blue comes next in point of color. The mixed colors of orange and black follow in order of excellence.
The Siamese cat, or the royal cat of Siam, is rarely seen in this country, and is of decidedly odd appearance. It belongs to the short-haired class. It is graceful in form and marked in a peculiar manner about the head, tail and extremities. The head is small and broad at the eyes, but narrow at the forehead. The appearance of the head is square with a long, broad nose, narrow cheeks and a full lips. The eyes are almond shaped and of a rich blue color by day, which becomes red at night. The tail, which has no kink in it, is short and thin. The short coat, while somewhat woolly, is soft and silky. The hues most desirable are a fawn or dun color.
The Manx cat has no tail. The structure of the hind legs and its manner of running gives it the appearance of a rabbit. Most Manx cats are small with a small head for the size set on a long thick neck. The eyes are large, round and full. There are no which Manx cats, and black ones are rare. In New-Jersey is found a species of Manx cats with a short stump of a tail and a coat that is black on the surface and white next the skin. There is a street in Bagdad renowned for its moire silk, which was sold in England as "atabi," of "taffeta," and from the similarity of the banded cats, the latter were called "tabby." The most important of the tabby class are the brown spotted, blue or silver, and red tabby. A well-marked tabby should have pronounced stripes running lengthwise and extending down the legs and out on the tail. The tabby in all its variety of marking is more common in this country than any other high-bred species.
The following table, arranged by Mr. Huidekoper, shows the points which determine in the eyes or Judges what constitutes perfection in feline beauty.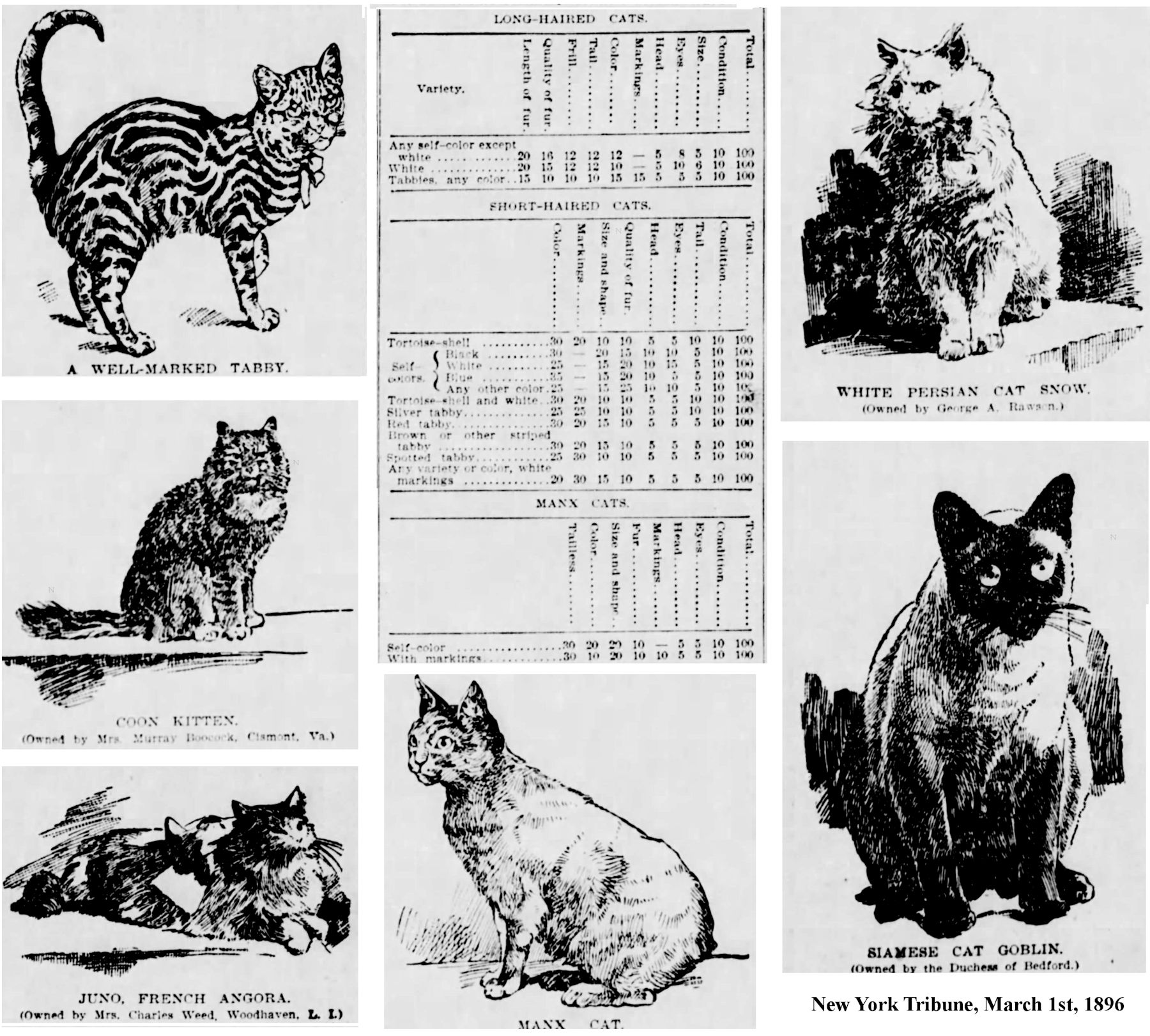 In England and other European countries much attention is given to the breeding of cats. Cat clubs are in existence, and animals of good breeding and winners of prizes are duly registered. This encourages the raising of good stock, brings up the market value of the animals and gives them certain definite classification, such as that enjoyed by horses, dogs, etc. A sample of registration in the English Cat Club is as follows: No, 1,380, Victoria, L.F., Smoke, Mrs. F.J. Thring, Holmbush, Hyde Park. Bred by Mrs Bessat, Villiers Road, Southsea. Born April 27, 1892; alive. Sire, Tee (Mr. King); dam, Minette (Mrs. Bessant).

A cat club already has been incorporated in this city. The details will be taken up, and formal organization will be effected at the coming show. The object of the club will be to offer every kind of encouragement for the breeding of fine grades of cats. A register will be opened and prize winners and other thoroughbreds will be duly entered. It is said that if this is done there will be good opportunities of making money in raising stock of this kind for the market. The average price of cats, as taken from the various catalogues of cat shows, is about $50. In one show was a long-haired male Persian, the price of which was $17,000. Many of choice breed and valuable markings and points are held at $500, and from that down. The tabby brings $10; that is if it has anything like good markings.

GOOD LUCK FOR THE FELIXES - The Inter Ocean, March 26, 1896

Mrs. Leland Norton. No. 4011 Drexel boulevard, projects a cat club, and expects to make the affair a society event. The club's object will be to improve the breeds of cats, and to suppress the Impending dangers that constantly await tabbies in the alleys. Mrs. Norton had fifteen Angora cats a year ago, but some of her most prized specimens succumbed to a cat plague. Echo's tail was fifteen inches long. He has been mounted by a taxidermist, and Mrs. Norton also possesses his portrait in oil. Dixie, her trick cat, is of mixed Maltese and Angora descent, 11 months old, and weighs fifteen pounds. He rides in a bundle carrier on Mrs. Norton's bicycle, and makes a fuss whenever a pleasant journey is ended and he must go in the house.

You are visitor number