FAMOUS NINETEENTH CENTURY BRITISH CATTERIES
In her "Book of the Cat," Frances Simpson gives details of cats bred in several notable catteries in the British Isles. Here I have simply listed the cattery premises that are depicted and described to allow comparison between them aswell as comparison with later catteries.
BACKWELL – MRS JAMES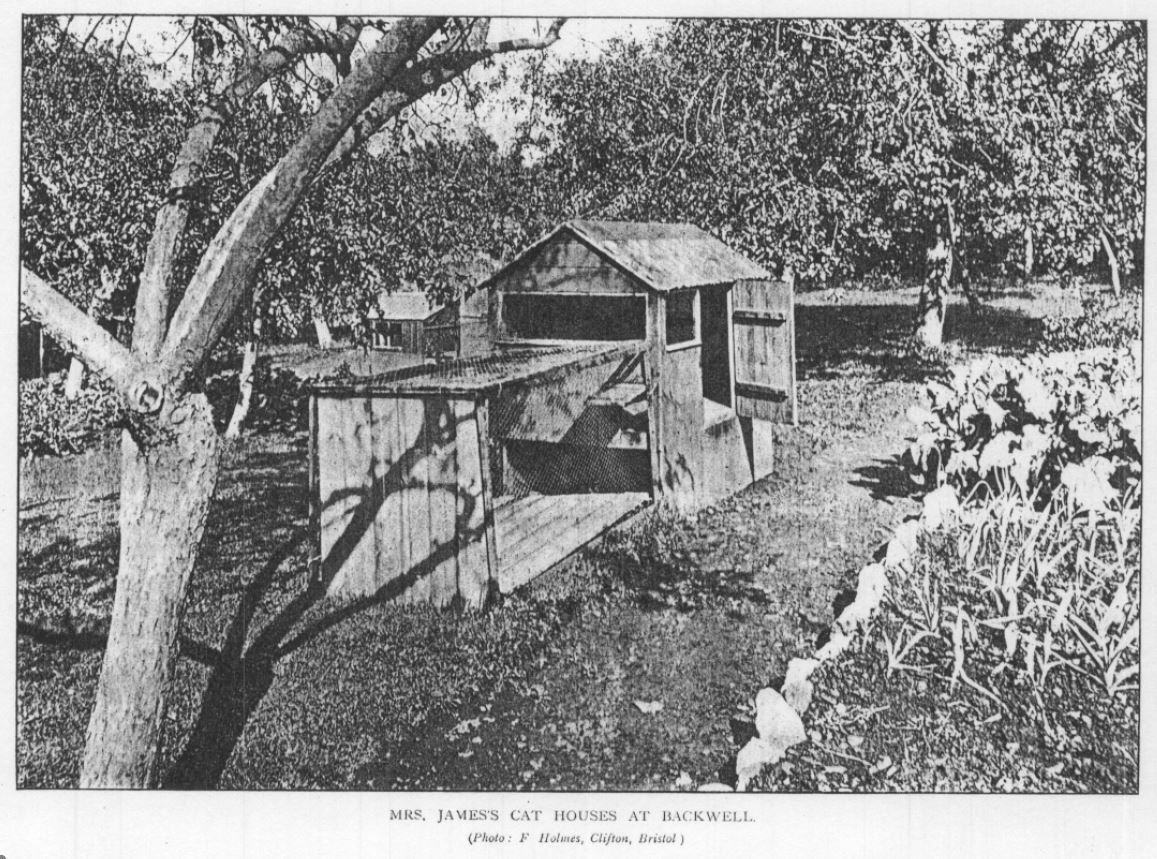 Mrs. James's bred smoke Persians in her old-fashioned garden surrounding the Grange at Backwell.
BERESFORD LODGE – LADY DECIES (GERTRUDE WILLOUGHBY)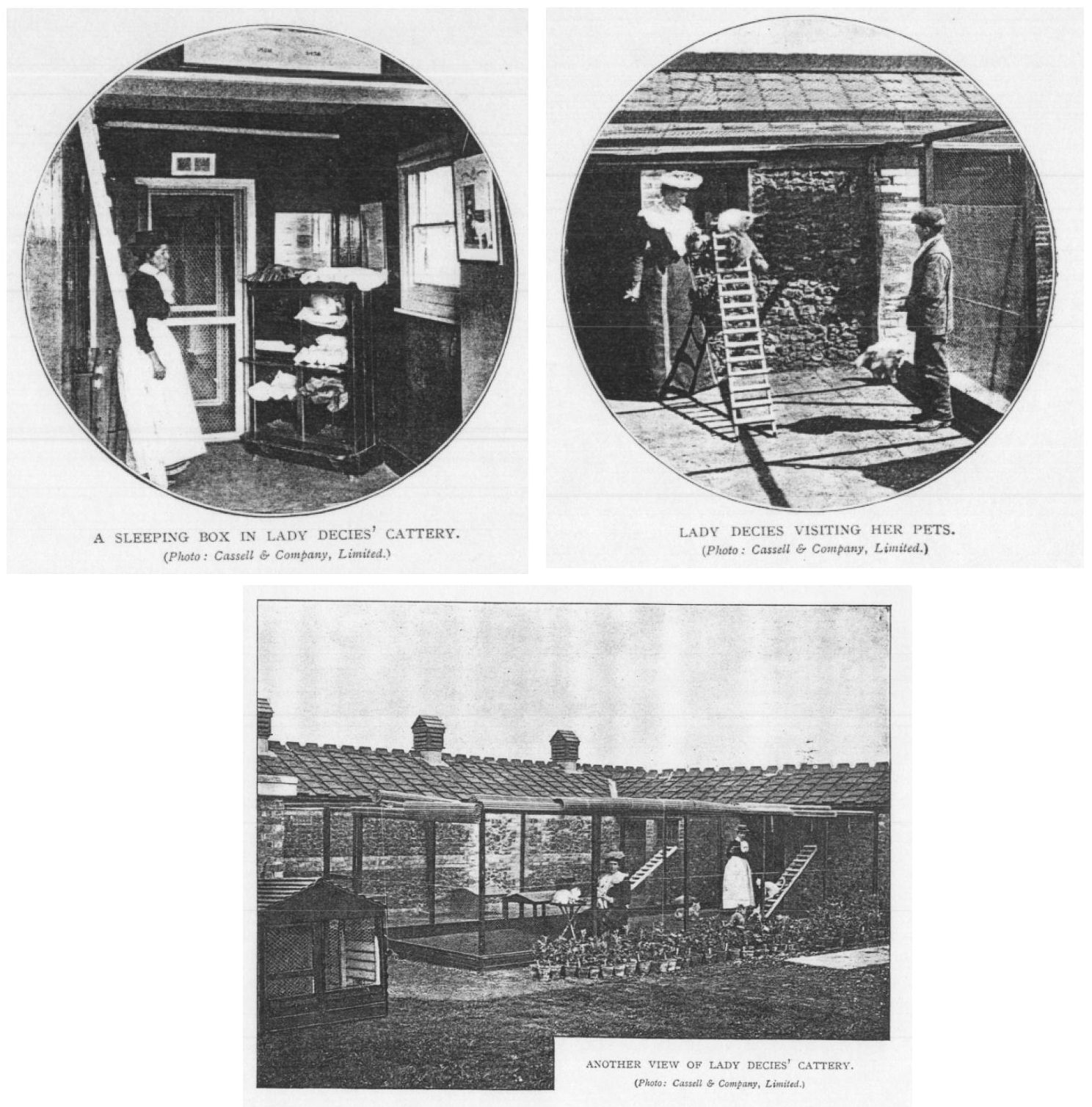 Lady Decies' catteries were at her summer residence at Birchington-on-Sea. The main cattery was large and in a sheltered portion of the grounds. The runs are arranged with boxes, benches, chairs, and ladders, and the cats had comfortable brick-built sleeping places. Lady Decies installed wooden blinds on the sides and tops of her cattery in order to regulate the strong sea breezes and strong sunshine. The floors were made of wood, covered with cork carpet, and were raised about a foot from the ground to ensure airflow beneath and prevent damp.
The stud cats had their own single houses with good-sized wired-in runs, and luxurious and cosy sleeping rooms. Inside her house Lady Decies set aside three rooms for her cats: two rooms for expectant and nursing females and a third room used as the cats' kitchen. She employed a woman and a boy to attend to the needs of her cats. Lady Decies was especially well known for her silver Persians.
BIRKDALE – MISS SOUTHAM
The Birkdale cattery (known as Master Ruffie's cattery after its most famous inhabitant) was built on the principle of shepherds' huts, each house having a separate wire run, with shrubs planted, and a thick wall of ivy in the background, which gave it a picturesque appearance. In summer a mass of luxuriant hops provided shade from the hot sun. The houses were warmed by gas stoves and were fitted out with curtained windows, carpets, wickerwork armchairs, and cushioned benches. It housed Master Ruffie (Birkdale Ruffie's son) and his seven feline playmates.
The cattery had appropriated the sunniest corner of the garden, their houses-having the much desired southern aspect. When Miss Whitney was away from home, the cattery was left in the care of the gardener.
BISHOPSGATE CATTERY – LADY MARCUS BERESFORD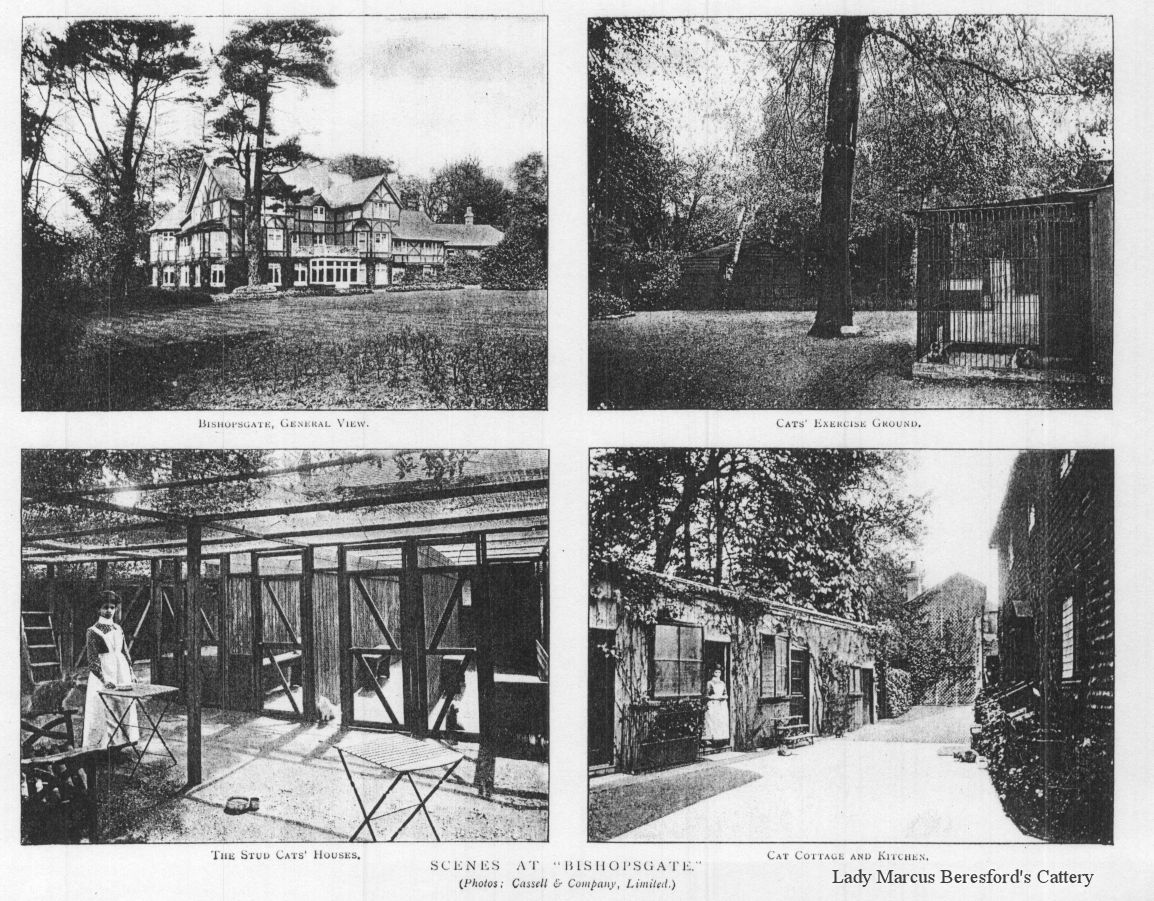 The Bishopsgate cattery comprised a cat cottage, where the attendant lived and where the other apartments were especially fitted up for the cats. This housed the Siamese cats and the windows faced due south to ensure plenty of sunshine and warmth. Opposite the cottage were some of the cat houses, and in the centre was the kitchen. There was also a grass run, securely wired in, which was used as an outside exercise area. In the hot summer weather this was shaded by the spreading beech trees of Windsor Park.
The stud cat had their own houses with sleeping places and spacious runs. The space in the centre in front of these runs was used as an exercise ground for the females and kittens. The garden-house cattery was a bower of roses in the summer and ivy-clad retreat in winter. The garden-house was divided into two apartments which were generally used for mothers and kittens. There were shelves along the windows so the cats could sunbathe. There was also a cats' cemetery under the trees and the graves were marked with inscribed white tombstones.
Lady Marcus Beresford kept many different breeds and was noted for her Siamese cats.
BOSSINGTON CATTERY – MRS COLLINGWOOD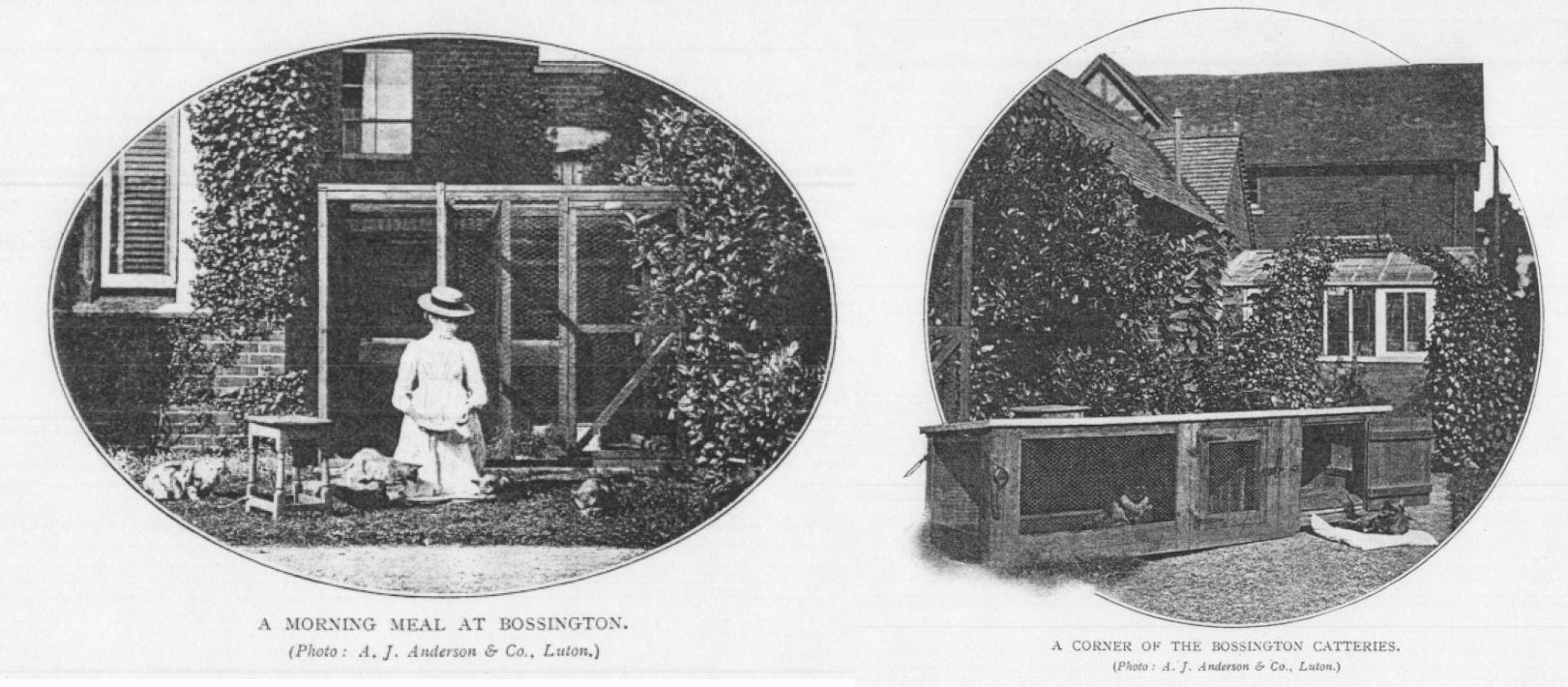 Bossington Cattery at Leighton Buzzard belonged to Mrs Collington who admitted to a great difficulty in keeping the number of cats down to about thirty. These were equally divided between long-and short-haired breeds. The five acre grounds contained twelve cat-houses. The smaller houses were mostly on wheels and the larger houses were kept for females and their families. Sometimes a corner of the hay-loft was set apart for nursing mothers. The neutered male cats were given their liberty during the morning, and in the afternoon the females enjoyed outdoors time. Mrs. Collingwood did not keep her own stud cat, but she had neuter pets that had their run of the house, and took their meals in a corner of the dining-room.
BRAYFORT CATTERY - MISS WHITNEY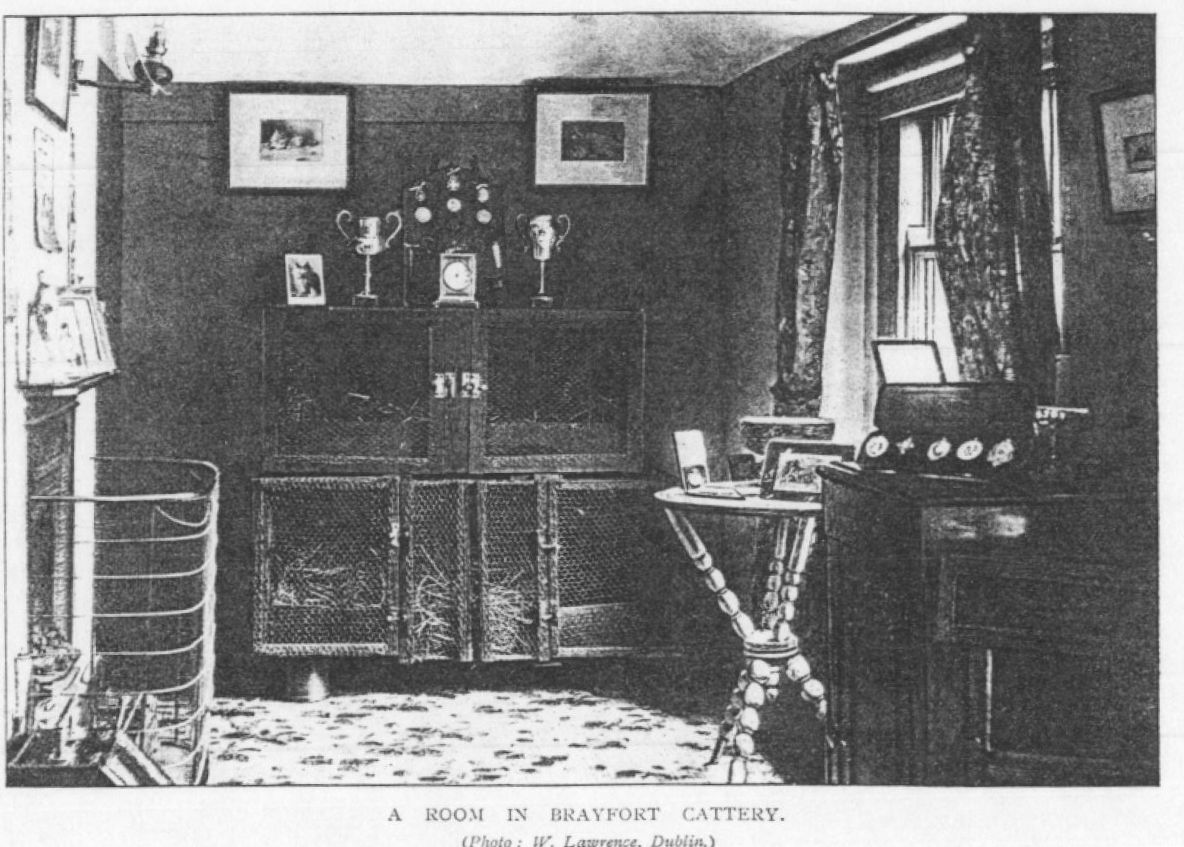 BRIARLEA - MISS HARPER
DINGLEY HILL – MISS ANDERSON LEAKE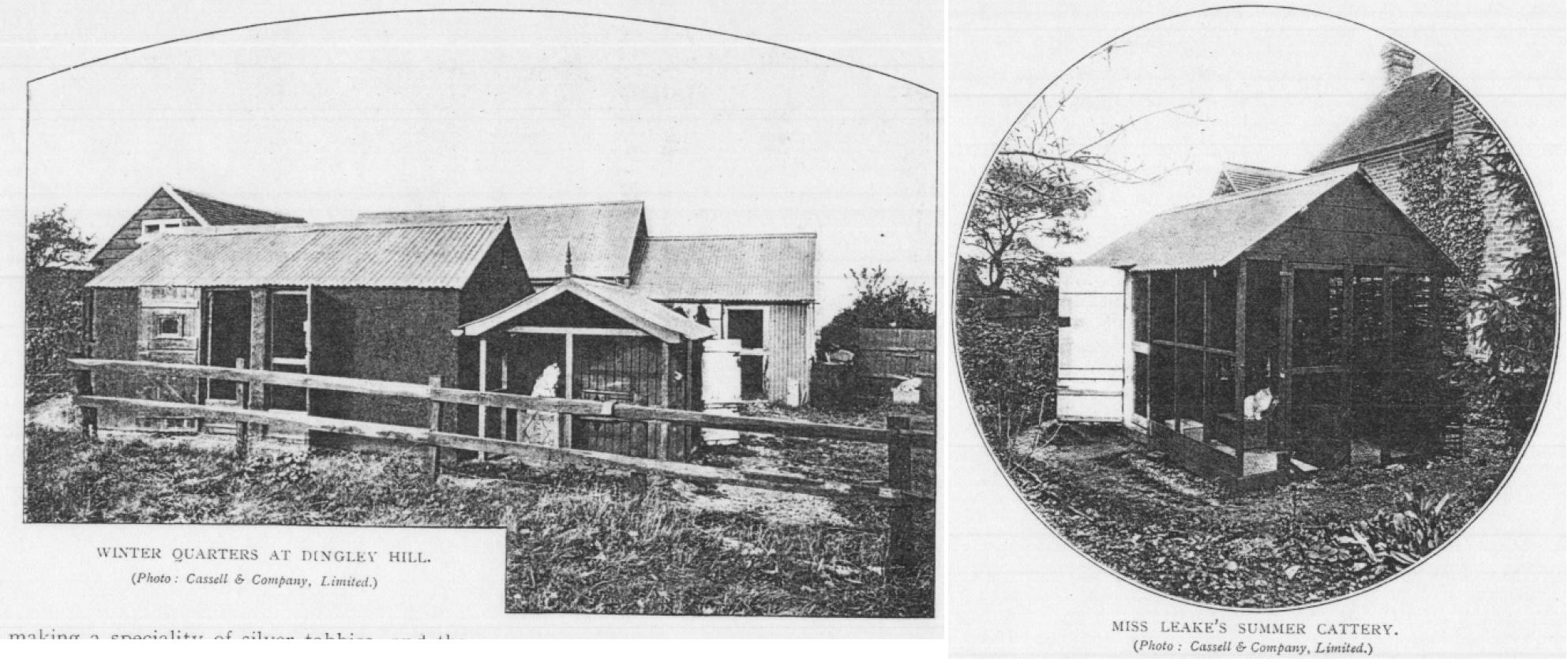 Miss Anderson Leake bred silver tabbies at her cattery at Dingley Hill, Bradfield, near Reading.
KEPWICK PARK – MRS MCLAREN MORRISON (MRS H WARNER)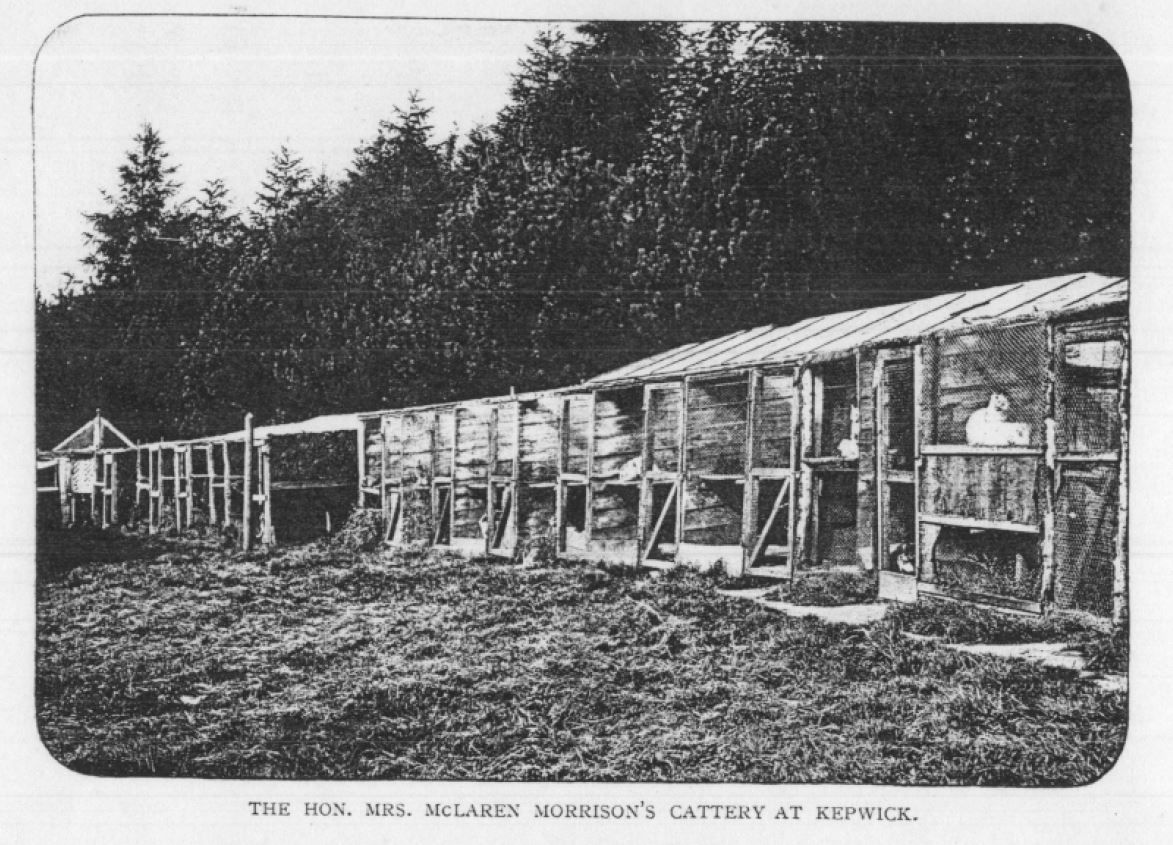 Mrs McLaren Morrison began exhibiting cats when she was Mrs H Warner. Compared to some of the catteries, hers appear a bit more ramshackle. She bred large numbers of cats and accounted for many of the registrations in early stud books and registries. She bred Persians, but she was an avid collector of imported cats and said in The Book of the Cat "I love the imported cats, and always get them when I can. I have nine now at Kepwick. One of these hails from Patagonia and one from Afghanistan. My cattery at one time was twice again as full as now; but my losses have been great, and I have reduced the numbers so that I may give more attention to the young stock." This suggests her cattery tended to be overcrowded and suffered outbreaks of illness. Sadly she went on to become a cat hoarder.
LESTOCK HOUSE – MRS HERRING
Mrs. Herring's cattery was Lestock House, Lee, and she bred both long- and short-haired cats. At some of the larger shows she exhibited 25 to 30 cats and these arrived with Mrs Herring in a large omnibus or van. Her cattery sometimes housed as many as 40 cats, but in the late 1890s she had to reduce her stock due to complaints from her neighbours. This meant removing some excellent, well-arranged cat-houses that encroached on a neighbouring garden wall. Mrs Herring personally supervised her cattery rather than leaving it in the hands of staff.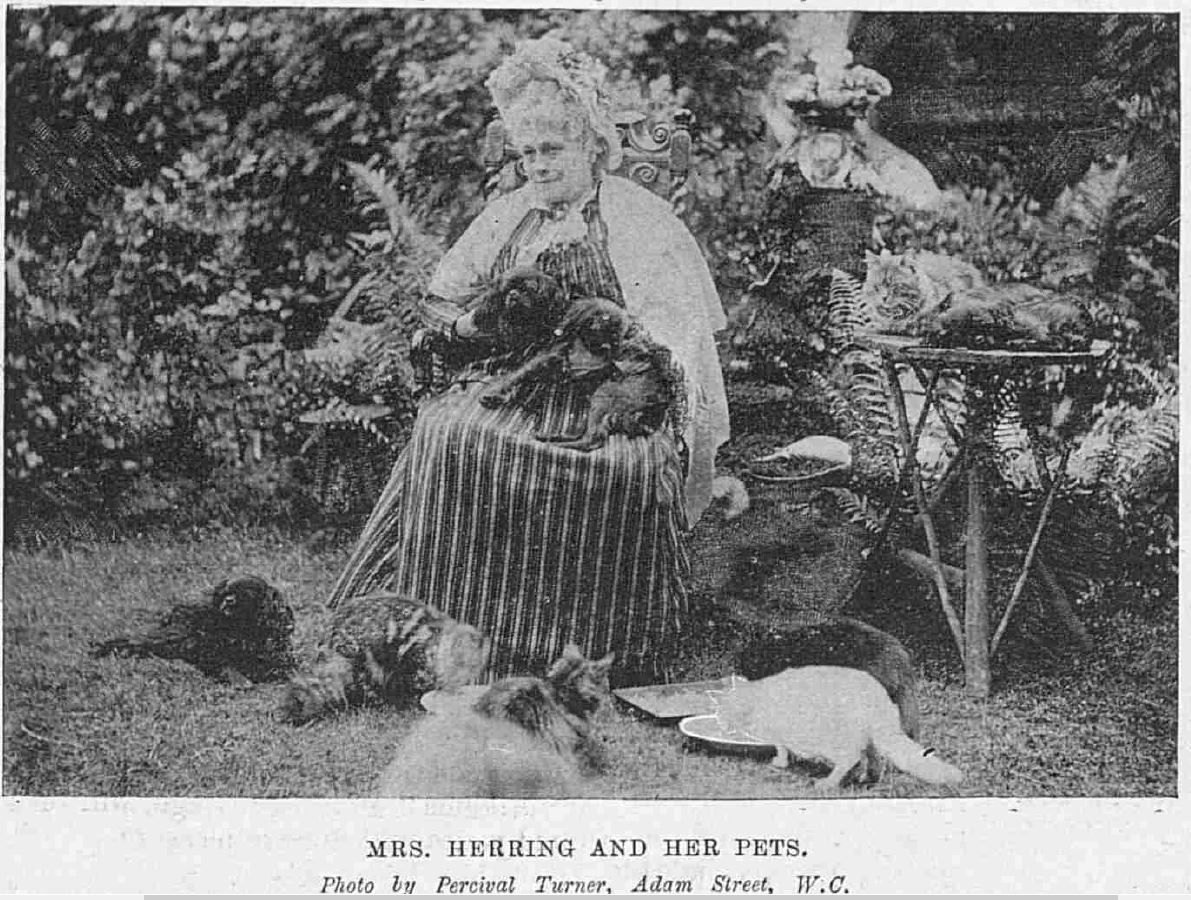 LOUTH – MRS S.F. CLARKE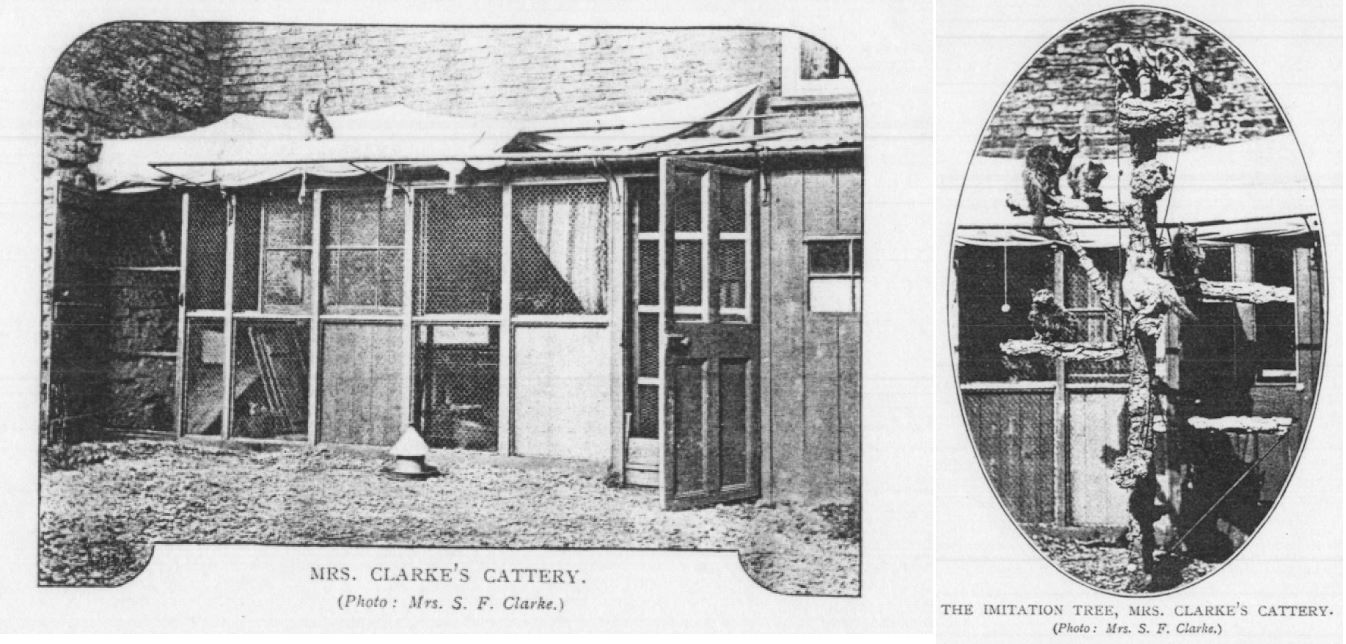 Mrs. S. F. Clarke bred Persian cats in limited space in her town residence at Louth. She had only a back yard 14 yards long by 6 yards wide so she had to be inventive in using this space. The area was fenced in, and an overhang prevented cats escaping or stray cats breaking in. The available cattery space was further reduced by her husband's laboratory building. A lean-to cattery and its covered run occupied a strip 7 yards by 2 yards, reducing the ground available for an exercise run to a patch 18 feet by 12 feet, plus a paved area of 21 feet by 6 feet. The space between the front of the laboratory and the paved area contained a small independent house and covered run used for isolation or for mothers and kittens. The covered run had shelves and an artificial climbing tree covered with cork. The open run was mostly gravelled (this required changing each year) with some grass strips. It also had an artificial climbing tree. Two smaller wired in run allowed cats to be separated if necessary. In this space she produced some excellent blue Persians.
ROMALDKIRK CATTERY – MISS BEAL
Miss Beal bred some noted cream Persians. The cold climate of the Romaldkirk cattery, situated 730 feet above the sea level, seemed to suit that variety of Persian. Most of the houses were old farm buildings around a stable yard, and also an old granary above the coachhouse. The cattery was about 40 feet long, and had a room at one end, with five windows and good ventilation above. In addition there were three big cat houses and a loft, where most of the queens resided. For the males, there were small wooden houses, felted inside and out, with wired runs and concrete floors. For sick cats that needed warmth, she used her two laundries and a tool-house fitted with fireplaces.
SEAGATE HOUSE – MRS MACKENZIE STEWART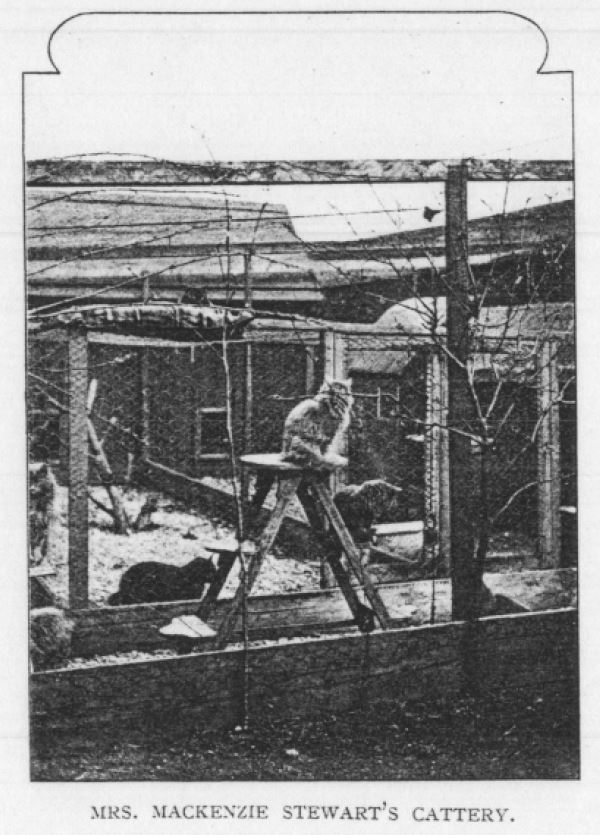 Seagate House was one of the largest catteries in Scotland and was situated in Irvine. The severe weather of that part of Scotland apparently suited her Persian cats which were said to be healthier and hardier than most. This was probably due to the fresh air, fresher food and relative lack of pollution! Mrs. Mackenzie Stewart often took her pets to London shows.
WOODHEYS GRANGE – MRS G.H. WALKER

Mrs. G. H. Walke had an excellently planned cattery at Woodheys Grange, Woodheys Park. The floors of the outside catteries, which face south, were cemented, so that they could be washed over every day. The roofs were boarded, and then covered with galvanised iron, so that the rain ran away easily. The spacious apartments were fitted with benches and ledges, and trunks of trees and leafy shrubs were planted in the ground for the cats' special amusement and exercise. The kennels were placed outside for photographs, but were normally inside and provided cosy sleeping dens. There was a maid in attendance and the kennel man also helped.
A staircase led to three upstairs rooms or apartments. In one, all the appliances and utensils connected with the animals were kept. In the second, were mothers and kittens until they were old enough to go outdoors. In the third was the isolation ward for sick cats. In one of the loose boxes near at hand, the cats' meals were cooked, and there was a larder especially for the cats' food. Despite the well-arranged premises, one of her cats returned from a show and spread infection which killed off many of her cats. The cattery normally housed around thirty cats, but had contained as many as sixty-three in the heyday of silver Persians.
WERNHAM CATTERY – MRS NEATE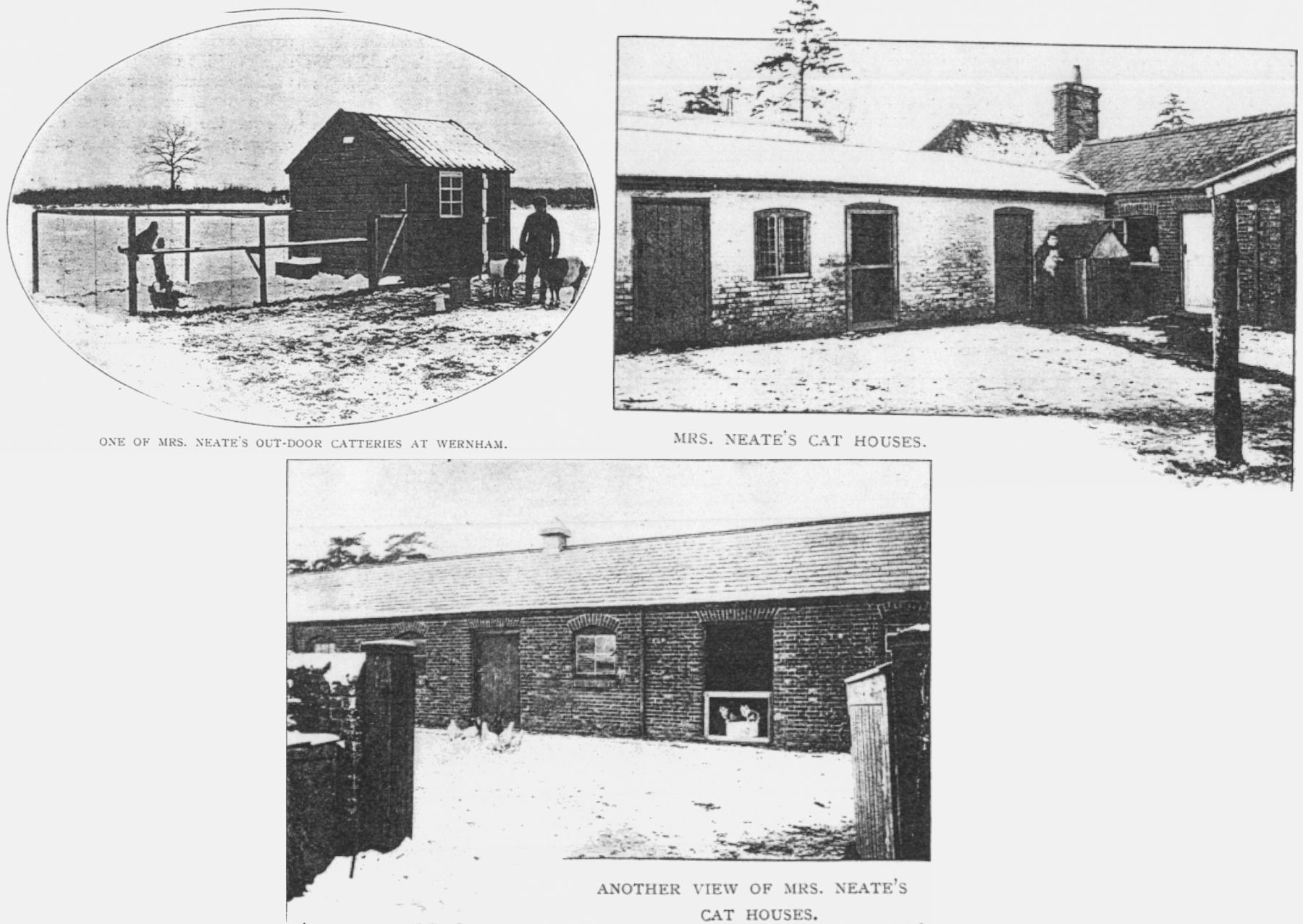 Mrs. Neate specialised in Orange (red) Persians. In the 1890s, she reduced her own stock of breeding queens, and made a speciality of boarding other fanciers' cats during the holidays. Mrs. Neate gave personal supervision to her boarders as well as having splendid custodians in the form of a St. Bernard and a chow-chow. The dogs were on good terms with the cats. The photographs were taken in the depth of winter and show brick-built houses, slate roofed, wire doored and wooden floored. These were originally outhouses and were adapted to the cats snug and warm during the cold weather. The largest of the outhouses is fitted with a Tortoise stove, carefully guarded. One of the buildings illustrated was 25 feet by 15 feet, and has three windows. It was equipped with a large table, shelves, and chairs, and cosy sleeping-boxes. An outside wire run, of the same length and width as the building, was erected for an exercise ground in summer weather.
Wernham, near Marlborough, was in the heart of the countryside and a mile from any other house. This meant her cats could safely enjoy their liberty. A herd of pure-bred goats supplied the inmates of the cattery with milk. The area abounded with rabbits, and these formed their staple food when in season. A number of portable houses and runs were dotted about the kitchen garden and meadows. An empty cottage served as an isolation hospital and also for quarantining cats returning from shows until it was certain they hadn't brought home any infection.
MRS HAWKINS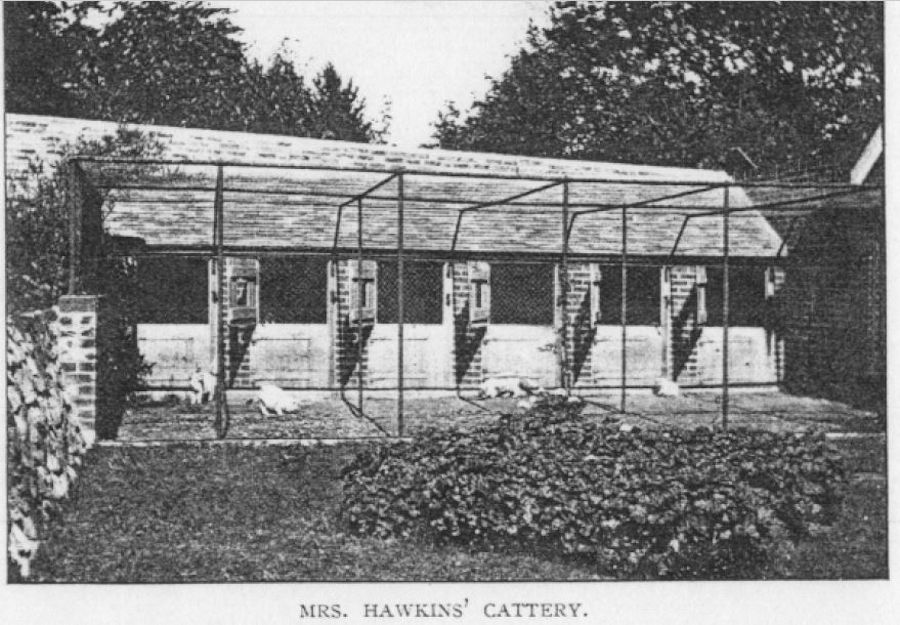 Mrs Hawkins bred Siamese cats.
MISS JAY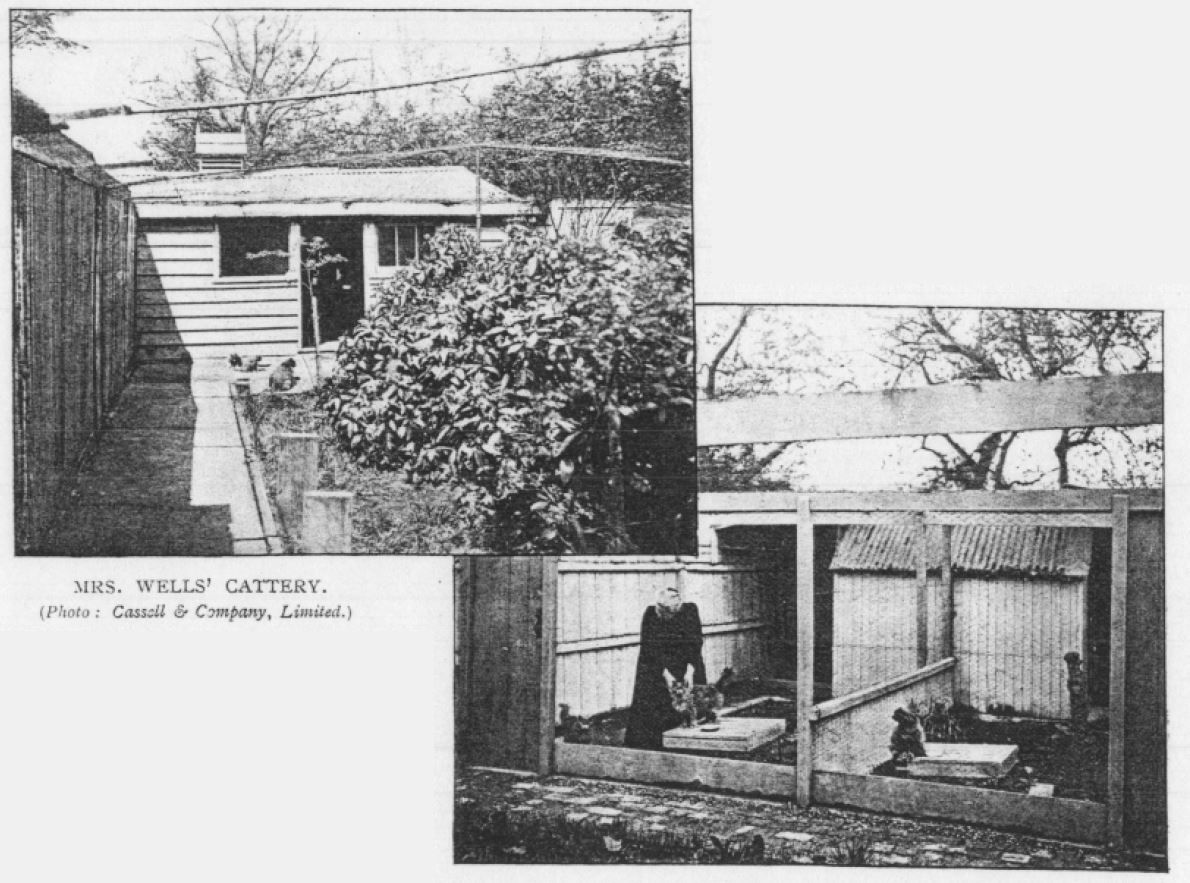 Miss Jay bred Blue Persians and Manx cats.
MRS WELLS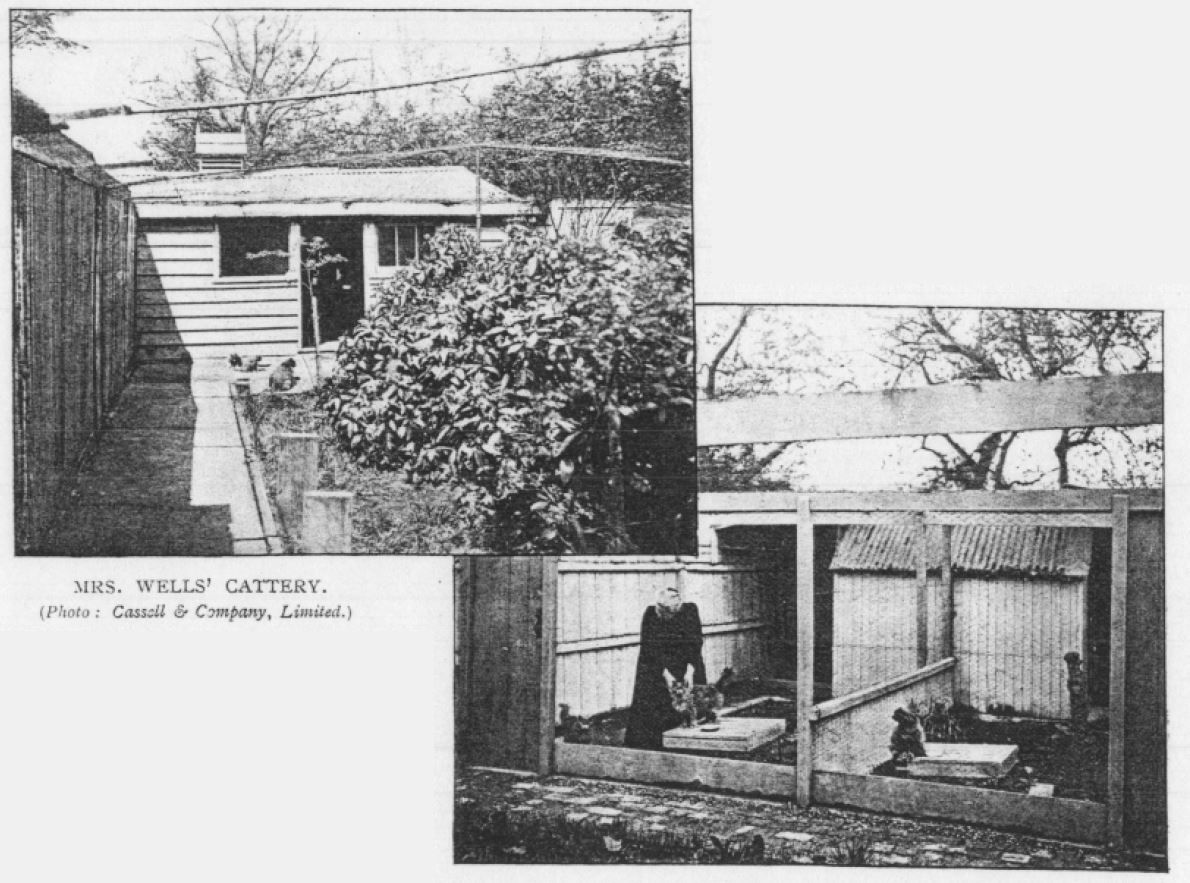 Mrs Wells, of Isleworth, was one of the first exhibitors of blue Persians She had well-planned catteries with plenty of space and large wired-in runs, planted with shrubs and plenty of grass. Her cottage was situated in a most rural district of Isleworth.
PRINCESS VICTORIA OF SCHLESWIG-HOLSTEIN
Abridged from The Washington Post, May 12, 1907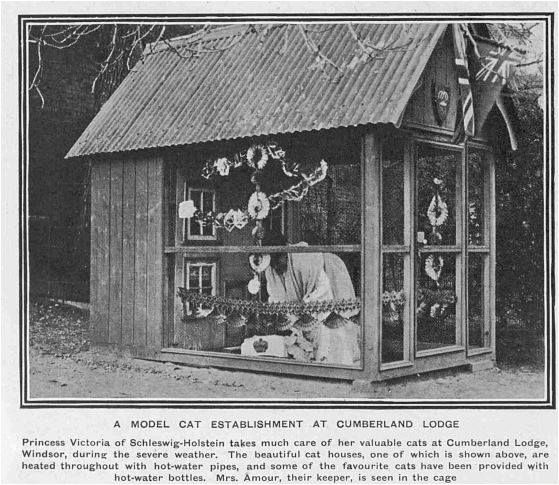 Princess Victoria Of Schleswig-Holstein is the acknowledged leader of the "cat cult" In England. Father Bernard Vaughan may or may not have been aware of this fact when he fulminated so violently against the cat and dog worshipers of society. It is doubtful, however, if even the Mayfair Savonarola could convince her highness that she is imperiling her immortal soul by lavishing her affections on cats. At Cumberland Lodge, in the royal domain of Windsor, where she resides with her parents, Prince and Princess Christian, she maintains a veritable feline paradise, where her furry pets revel in luxurious idleness, relieved of all the obligations imposed on common pussies of earning their board and lodging by catching rats and mice.

She has the only cat in the world probably which can claim the distinction of a private address and letter box. "Her Royal Highness Princess Imp" is the name of this aristocratic favorite. Perhaps the most pampered cat in existence, she is a perfect specimen of that much prized, high-caste breed, the Chinchilla, which is distinguished from the plebeian members of the numerous tribe by its superb fluffy coat. Every morning the postman on his early rounds brings her a letter addressed "H. R. H. Princess Imp, Seymour Lodge, Windsor." She is not a learned cat, and she makes no pretense of reading the letter, which, by the way, is sent by her loving mistress. On the contrary, Princess Imp promptly tears the "missive" up. It is a diversion to which she has grown so accustomed that if perchance a day passes without bringing her her usual correspondence she sulks in her boudoir and refuses to be comforted.

"Seymour Lodge" Is the name of the house where she resides with the family she is engaged in rearing. It is a dainty miniature two-storied villa. Over the front door, which leads into a little garden with graveled walks, is mounted a shield, in which is emblazoned a crown, surmounting the letters "V. S. H.," Princess Victoria's monogram. From the roof of the structure hang little colored gelatine balls, filled with peas, with which the kittens delight to play, and with which their royal mother occasionally diverts herself. The windows of the little house are hung with muslin curtains, tied back with blue ribbons, and a staircase leads up to the first floor, on which are the dining room and bed rooms. Each cat has its own little wooden bed, with its full complement of sheets, blankets, and quilt and bedding deemed necessary to insure the repose of a royal pet.

In a miniature mansion near-by are housed five female Persian cats, each one of which occupies a separate flat. The windows of their abode are hung with muslin curtains, tied up with bows of pink and green. Overlooking this structure is the residence of a royal tomcat — Prince Puck III — who is also a member of the august Chinchilla family, and the winner of many prizes at cat shows, and the father of a numerous progeny which have gained similar distinctions. He isn't even put to the trouble of choosing his wives. They are all carefully selected for him, and he can serenade his lady loves without ever being called to do battle with masculine rivals.

If "Princess Imp" and the rest of Princess Victoria's cats lack anything to make them supremely happy it is not their royal mistress' fault. Their meals are carefully prepared for them, and are always served on time. The milk supplied them comes from the King's own cows. Their special attendant is an old maid — Miss Armor — who finds her duties a labor of love, for old maids are proverbially fond of cats. Not to make any bones about it, Princess Victoria is an old maid herself. There is never any discreet concealment of royal birth dates, and half a dozen annuals in that portion devoted to the royal family record the fact that she was born in 1870. Even the stern moralist might be moved to regard that as an extenuating circumstance when pondering upon her extraordinary devotion to cats. And if she lavishes much superfluous affection on cats, that does not prevent her from being very fond of babies and children, and devoting much attention to them. Her mother's pet hobby is a creche for poor children at Windsor, which she has maintained for twenty years. And in making these little waifs of poverty happy, Princess Victoria is her chief assistant.

UNIDENTIFIED BREEDER (PERSIANS, ANGORAS) IN SCOTLAND

CAT FARM - Nottinghamshire Guardian, 23rd April 1892

I have heard of farms of many kinds - poultry farms, bee farms, etc. ; but I must admit that I never heard of a cat farm until a day or two ago. It is kept, of course, by a woman, for the feline race is always especially associated with the female sex, though, for the matter of that, many celebrities of the pass tribe have owned masters, not mistresses. We have all heard of Sir Isaac Newton's cat and kittens, which seemed to have been too much for the great philosopher's understanding, since tradition tells that being disturbed by their coming in and out of his study Sir Isaac had a hole cut in the door for the cat to pass through and a smaller one for the kitten! This notion of the cat hole seems to have prevailed in France in the last century, for General de Marbot, in his interesting memoirs, tells us that when a child of three years old he was nearly killed by trying to get through the cat hole in the door of his father's room. His father used to call him a kitten, and the boy thought he ought to go through the cat hole. His head got fixed, and he was nearly strangled. To return to the cat farm, it is in Scotland, and is kept by a widow, who makes a comfortable living out of it. She rears kittens for sale, tortoise-shell, Angora, Persian, and other varieties. The tortoiseshell are the most costly. The cat farmer asks £6 for a lady kitten, and £4 for a gentleman. This difference seems strange, since I always understood l that a tortoiseshell Tom was a great rarity, and at the cat shows they are very uncommon. The old lady charges only half as much for her Angoras and Persians. They are lodged in a large barn, fitted up for them, with separate compartments for the different families, and the old Scotch woman pays great attention to their comfort and cleanliness. She feeds them on porridge made with skim milk, on which they thrive. She declares that it makes their coats good and keeps them in health.

You are visitor number