CAT SHOWS IN NORTH AMERICA 1950s - 1970s
These are just a few of the interesting shows, generally where a new breed is exhibited.
CLEVELAND'S FIRST CHAMPIONSHIP SHOW – All Pets Magazine, January 1940
The Cleveland Cat Fanciers' Club, Cleveland, Ohio, held its first show November 18th and 19th, under the rules of the Cat Fanciers Association. An entry of 70 was judged by Mrs. L.
W. Bundrock. Three championship points and one grand championship point were given at this show. Sixteen beautiful kittens vied for the Best Kitten honors.
Best Cat in Show: Rosecrest's Little Pal, Chinchilla male (By Corso's Little Lover of Rose Crest, ex Mia Gloriance of Wedgewood). Breeder, Mrs. C. G. Neylor. Owners, Mr. and Mrs. Larry Diebel.
Best Opposite Sex Cat: Corso's Honey Bunch, Shaded Silver Female (By Double Champion Honey Boy of Corso, ex Corso's Honey Belle). Breeder-Owners, Mr. and Mrs. H. B. Zieses.
Best Champion: Champion Red Dawn's Karess of Just-A-Mere, Red Male (Ry Red Dawn's Joselite Del Norte, ex Grand Champion Tied Dawn's Bimbette of Just-A-Mere). Breeder, Mrs. Harry Yeider. Owner, Mrs. Ida Goodroe.
CAT SHOW DEADLINE OCT. 31 – Long Beach Independent, 21st October, 1949
Howard Warren, show manager for the Long Reach Cat Fancier's third annual cat show at the Masonic Temple auditorium, 835 Locust Ave., Nov. 19 and 20, announced Thursday that Oct. 31 will be the deadline for all entries registering for the show. He also stated that on display this year will be rare breeds never before shown in American shows. These two are Russian Blue and Abyssians, They have been imported recently by plane from England to owners here in this area.
The show is non-profit and all above expenses will go to Long Beach's Southern California Humane Society. Entries will be taken by Floy McGill, entry clerk for the show, 5385 Brayton Ave.
TWO DOGGY EVENTS PLANNED FOR CATS (SF) – The Times, 4th January, 1950
A record-breaking entry of more than 200 felines – prize pussies and just plain pets — is anticipated for the third annual Northern California Championship Cat show in Oakland, Saturday and Sunday. Doors of the Oakland Exposition building will be open 10 a. m. to 10 p.m. both days.
The first major show in the stale this year, the competition for honors will be a sequel to the Southern California Cat show in Hollywood last December. In addition to the regular all-breed show there will be a Siamese specialty show to give exhibitors of Siamese cats an opportunity to earn double points toward championships.
Among the San Mateo exhibitors will be Mrs. Fred Wildenhus, whose blue Persian female took two major awards at the Hollywood show, and Mrs. John M. Droast, who has entered her shaded silver Persian. The championship show, sponsored by the Golden Gate Cat club, has been sanctioned by the National Cat Fanciers' association. Among rare breeds entered are the Russian blues, new imports from Europe, and the Abyssinians. Fanciers from Portland in the north to San Diego in thw south have entered cats.
The show has been dedicated to Angus Ward, a cat fancier of International stature who made news when he was released from internee status by the Chinese Communists. Among the prominent guests who have been invited are Governor and Mrs. Earl Warren and mayors of bay area communities.
There will be special awards for children's exhibits and for the household pet division which covers cats not eligible for championship competition.
A second big event for cat fanciers is planned in San Francisco onSaturday and Sunday January 14 and 15. Occasion will be the twenty seventh annual cat-show at the civic auditorium. The Pacific Cat Club, Inc., of San Francisco, which celebrates its golden anniversary this year, announced through its president and show manager, Mrs. Alice M. Clark, that entries for the cat show will close Monday, January 9.
Fare cats, pedigreed cats, or just plain household mousers, are eligible.
Entries should be made at Pacific Cat club headquarters, 1538 Irving street, San Francisco. Nearly 300 cats will be entered in the big show, which will attract cat fanciers from all over the state. Rare breeds of felines, such as Russian Blues, Abyssinians, Burmese, Siamese and Persians, will go on display and compete for the coveted prizes. There will be a special section for the everyday household kitty.
CAT SHOW SCHEDULED NEXT WEEK IN SF – Daily Independent Journal, 7th January, 1950
Rarest of rare felines — the Imported Russian Blue, will be shown to Northern California for the first time at the San Francisco Cat Show, it was announced today by the show management, The Cat Show, the 27th event sponsored by the Pacific Cat Club Inc. will be held in the Civic Auditorium next Saturday and Sunday.
More than 200 other rare and pedigreed cats as well as a good supply of common household mousers, will go on display and vie for fancy cups, beautiful ribbons and other prizes at the San Francisco Cat Show. Thousands of cat fanciers from all over the Pacific Coast plan to attend the two day event.
ANGEL CITY CAT FANCIERS SHOW – The Chula Vista Star, 27th January, 1950
Russian Blue male cat Petroff III, owned by Dorothea Simmons of Imperial Beach was named Best Russian Blue at the Angel City Cat Fanciers show held in the Alexandria hotel, Los Angeles, Saturday and Sunday, January 21-22. A blue point Siamese kitten, Blu Bunny, also shown by Mrs. Simmons won best Siamese kitten opp. sex.
FIRST DOG AND PET SHOW DUE AT GRAND CENTRAL – The Brooklyn Daily Eagle, 8th December, 1950
The first National Dog and Pet Exposition, planned as an annual pre-holiday event, will open at Grand Central Palace next Tuesday and remain through Sunday, Dec. 17. A non-competitive show, designed only to create a better understanding of pets and how to care for them, the exposition will include more than 100 recognized breeds of dogs [. . .] The Empire Cat Club will exhibit pure-bred cats including Siamese, seal, bluepoint, Abyssinian, Russian Blues, peaks [sic], domestic long and short hairs, chinchilla, tabby and Manx. [. . .]The show will be open from 1 to 11 p.m.
SPOKANE CAT SHOW – The Independent Record, 5th February, 1951
Helena residents have been invited to show felines at the Inland Empire Cat club's first official show in Spokane, March 17- 18. Entries are expected from the entire Northwest, California, Canada and as far east as Minneapolis. A pair of Russian Blues, recently imported from England, will be shown as well as Burmese, Abyssinians, Siamese, Persians, short hair and alley cats. Further information may be obtained from Mrs. Del Landon, show manager, 411 East Rich, Spokane.
PHILIPPINE CAT WILL MAKE FIRST AMERICAN APPEARANCE - Daily Independent Journal, 25th October, 1951
An exotic Philippine cat with an unusual snowy coat, blue eyes and tortoise shell marking will make its first American appearance this weekend at the Marin county cat show. The Philippine cat is owned by Mrs. A. W. Draper of Mill Valley and has never been shown in the United States. On exhibit and competing tor championships, trophies, and rosettes will be nearly 250 cats in breeds ranging from the domestic short hair (better known as the American alley or tiger cat) to the Siamese and Philippine cats.
Advance ticket sales indicate an attendance of more than 5,000, it was reported today. The show will be held from noon to 10 pm. on Saturday and Sunday at Legion hall, Fourth and Mary streets, San Rafael. It is sponsored by the Marin County Cat Club, organized last April and with a membership nearing 100. The show will be under the sanction of the nationwide American Cat Association and will be for the benefit of the Marin Humane society
Mrs Russell Whitney of San Anselmo, show manager, reported that exhibitors will come from Colorado, Texas, Arizona, Oregon, Washington, and all parts of California. Most numerous among the entries will be the various Siamese cats — blue point, seal point, and chocolate point. Also entered are Burmese, Manx, Abyssinians, Russian Blues and many other varieties.
Officers of the Marin County Cat Club are Mrs Spencer Smiley, San Rafael, president; Mark Geratie III, San Rafael, vice president: Mrs. T. W. Carrithers, Sleepy Hollow, secretary; Mrs John Call, Kentfield, recording secretary; and Mrs. A. W. Wedel, Black Point, treasurer. Judges will be B. W. Wilson of Portland, Oregon, and Mrs. Roberta Knight of Oswego, Oregon.
KITTEN SHOW IS FEATURE OF ART AND GARDEN FAIR - Daily Independent Journal, 5th June, 1952
First kitten show ever held in Northern California will be featured on Sunday, the last day of the Marin Art and Garden Fair July 3, 4, 5 and 6 in Ross. Kittens under eight months old of both breeding stock and household pets will be shown under direction of the Marin County Cat club which received wide recognition in its first annual championship cat show last fall.
To encourage youngsters in proper care of cats, there will be a special award for all children exhibitors under 12 years of age. In addition, awards are offered to the winners of many classes and breeds. They will be judged by Mrs. Ruth Fisher, well-known San Francisco breeder.
Among foreign shorthairs exhibited are the Manx, the intelligent, tailless kitten from the Isle of Man; the rare, sleek golden-brown Abyssinian; the golden-eyed chocolate brown Burmese; the green-eyed Russian blue; and Siamese blue points, seal points, and chocolate points, recently accepted by the national Cat Fanciers Association. Foreign long hairs will include Persian kittens of all colors: cream, blue, black, and tortoise shell. Owners of kittens eight months or younger on July 6 have been invited to contact Mrs. Phyllis S. Whitney, show manager, or Mrs. Adele Deeths, show secretary in San Rafael.
COMES OF AGE – ART, GARDEN FAIR, HOST TO 20,000 – Daily Independent Journal, 7th July, 1952
Scores of records were broken at the seventh annual Marin Art and Garden Fair which closed last night, according to Fair manager William L. Kapranos. Records shattered during the four day show at the Art and Garden Center, Ross, include an overall attendance grand total clocked at the r two entrances of more than 20,700.[. . .]
Awards in Marin county Cat Club's all breed kitten show: Best kitten in show: blue Persian owned by Mrs Colleen Aslyn; best kitten, opposite sex: male chinchilla Persian owned by Mrs. Robert Hare; best senior kitten: seal point Siamese male owned by Ira Puller, vice-president of Marin Cat Club. Best senior kitten, opposite sex: chocolate point Siamese, owned by Alethea Hillhouse. Best short hair kitten in show: domestic silver tabby owned by Jack Wedel. Best short hair kitten, opposite sex; female Burmese owned by Mrs. Grace Forrest. Best household pet kitten: odd-eyed white Persian owned by Mr. and Mrs. Robert Hamann.
There were 116 kittens in the show, including Persians, Abyssinians, Russian blues, Siamese, and domestic shorthairs. Mrs. Ruth Fisher judged.
BLUE TROJAN FAVORED IN FELINE HANDICAP – Independent Press Telegram, 23rd November, 1952
Winner of the "Allbreeds," or alley cat division in the Cat Fanciers and Specialty Show Saturday at Municipal Auditorium was Sgt. Bo Bo, displayed by Mrs. Helen Van Zele of San Diego. Mrs, Van Zele is boarding the cat for Sgt. Chris Mower of the Marine Corps, Sgt. Bo Bo accompanied his master to Honolulu, Japan and Korea.
Feline fanciers gathered Saturday at Municipal Auditorium, where preliminary trial heats were run to separate the kittens from the cats before the big handicap of the seventh annual champion' ship — the choosing today of the best cat in the show. Early favorites in the betting were Palos Verdes Blue Trojan, a two-year old sired by Mandarin's Blue Chip out of the good dam Tapa of the Dark Gauntlets owned by Capt. (USN Ret.) and Mr. B. K. Culver of 1405 Via Azalea, Palos Verdes Estates, and a six-month-old kitten, Skyland Orion. Palos Verdes Blue Trojan won the trophy in his class, the male blue point Siamese, by a whisker over such classy cats as Luan's Charlie Chan, Taf-Fee Chee and Sing-Ah Boy.
Skyland Orion, a smoke male kitten, showed rare form in clawing his way to victory over a large field of 83 kittens and won the catnip in a hair-raising finish over Hollywood Blue Star of the Blue Mask, an 8-month-old Siamese filly. In the background under wraps lurked such foreign entrants as Jaibo, an Abyssinian kitten; Mr. Joseph, a Burmese male kitten, and Lamar's Nicola of HRH Marin, a Russian blue male kitten.
Saturday's heavy rain was not expected to affect the outcome of today's race as the the cats were safe in their beds, some of them jewelled, inside the building. Among the rare animals on exhibit at the show which ends tonight was a Sianx, a combination between a Manx and Siamese. Named "Wu Tu," the cat is owned by Fran Westfall of Fallbrook.
Youngest exhibitors were Rosalie Williams, 9, of San Gabriel, and Deborah Bartlett, 5, of La Canada. Both entered their own Siamese kittens. Probably the favorite of the crowd was Sgt. Bo Bo, the most travelled cat in the show. Sgt. Bo Bo has been to Korea, Hawaii and Japan with his master, Marine Sgt. Chris Mower. Because of a technicality Sgt Bo Bo was not permitted to enter the big race and had to be content with a special award. Sgt. Bo Bo is an alley cat.
SIXTH ANNUAL FELINE SHOW SET – The Times (SF), 25 November, 1952
The largest cat show in bay area history will be held in Oakland Civic auditorium next week end when the Golden Gate Cat club stages its sixth annual all-breed show. The show has attracted entries from all parts of the country, and competition will be keen for more than fifty trophies and additional scores of ribbons and rosettes. Among the rare and unusual cats in the show will be Russian blues, Abyssinians and the tailless Manx. Hundreds of Siamese, Burmese, Persians, domestic short hairs and other varieties also will compete. Judging the all-breed show will be Mrs. Walter Limpert of Mentor, Ohio. Charles Victor of Los Angeles will judge two specialty shows which will be held simultaneously.
TO HOLD CAT SHOW AT SHERMAN DEC. 4-5 – Suburbanite Economist, 1st December, 1925
The twentieth annual championship cat show, sponsored by the Beresford Cat Club of America, will be held Friday and Saturday, December 4 and 5, in the Hotel Sherman. Mrs. Thomas Hobson, 340 W. 61st st., is second vice-president of the association. Mrs. Robert Lundy, 10127 Union ave., is ticket manager for the show. This is the oldest cat club In America, named in honor of Mrs. Marcus Beresford of England. Mts. George Kessler, 3821 W. Jackson blvd., president and manager of the show, is owner of the oldest silver cat in the show. Among the 200 cats entered are Siamese, Manx, Russian blues and Persians of all colors. Ribbons and medals will be awarded the winners.
CAT CLUB HAS ITS DAY – Daily Independent, 30th October, 1953
Every Cat has his day. And for those in Marin the day is today and tomorrow as the Marin County Cat Club holds its third annual championship show at the Marin-Sonoma Fair grounds in Petaluma. Judges started this morning making their careful elimination to pick division winners for long and short feline contenders. Tomorrow night the show winner- best cat of all breeds — will be announced.
But if Mr. and Mrs. Public, junior and sister, find the judging slow there are rows and rows of cats and kittens to be admired, each the finest of his kind groomed in his decorated cage. There are regal Persians in variation of colors — blues and creams, whites, reds and blacks, smokes and silver tabbies all with glowing copper eyes. For those who prefer their cats streamlined there are sleek Domestic Shorthairs, colored like Persians, or the exotic foreign shorthairs such as the sleek Siamese, blue-eyed and creamy bodied; the svelt Russian Blue, the perky Abyssinians, sometimes called "Bunny Cats," the mahogany brown Burmese and the quaint Manx.
RARE CAT DISPLAY TO BE SEEN SUNDAY AT LOCAL FAIRGROUNDS– Freeport Journal Standard, 7th September, 1956
Several rare cats will be on display Sunday at the Stephenson County Fairgrounds, south of Freeport, at the Rock Valley Cat Club exhibit from 1-5 p.m. (DST). A ruddy-brown, almond-eyed Abyssinian will be shown by Mrs.) F. R. Steiger of Peru, Ill. Also on display will be two snow- shoe-pawed cats, so called because its extra toes make large tracks. Mrs. Werner Sahuetz of Monroe will exhibit a long-haired cat of this variety, which has produced kittens with as many as 26 toes.
Miss Rachel Salisbury, Milton Junction, Wis., will show a snowshoe-pawed short-haired cat with 22 toes. She brought it from Maine where the type is sometimes called money-pawed, because it is supposed to bring a family owning one good luck, according to Mrs. El wood T. Baker, show secretary. The public is invited. There is no entry fee. The public will vote on the "best cat in the show."
THAILAND CATS AT ALBANY SHOW – Albany Democrat Herald, 11th October, 1960
This silky, soft Khorat cat will be one of the rare varieties on display at the Santiam Cat fancy-sponsored show here this weekend. This cat and another are owned by Mrs. Robert Johnson of Estacada, who imported them from Thailand in 1959.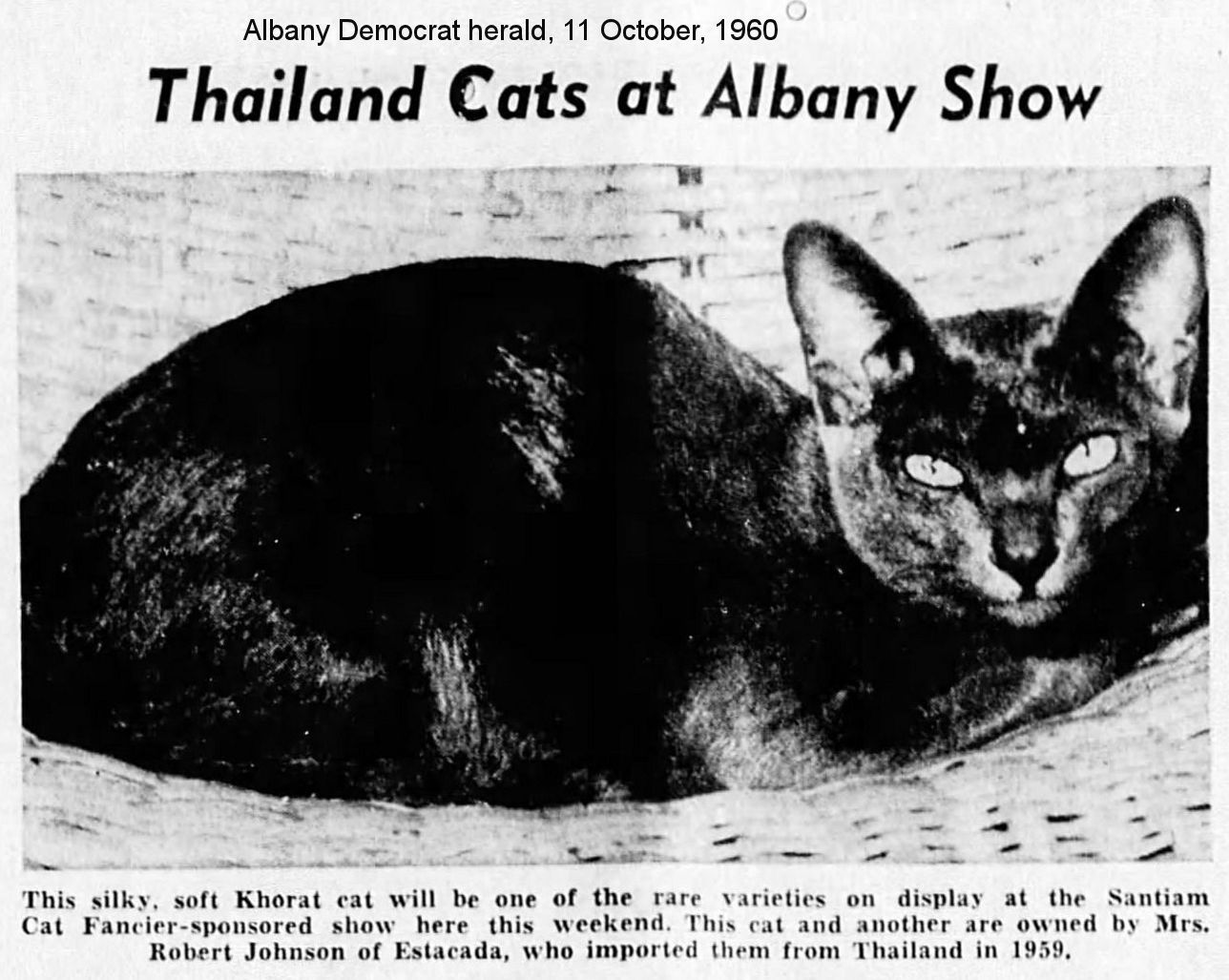 LARGE COLLECTION OF RARE CATS SLATED AT SHOW HERE THIS WEEK – Albany Democrat Herald, 11th October, 1960
The largest collection of Rare cats ever assembled at one show in the Northwest will he included in more than 200 cats on view at the Royal Merit Championship Cat show Saturday and Sunday at the Linn 4-H fairgrounds. Some will be on exhibition only as standards are being formulated now with the American Cat Fancers Assn and they are too new to be entered in championship judging.
There will be Khorats, British Blue, Rex and Himalayans in addition to the popular Siamese, Persian, Burmese, Manx and domestic short hair. The British Blue is a cross between the sacred Egyptian cats and wild cats of Europe [note: no idea where they got this misconception – it is a British Shorthair!]. It is a powerful cat with a broad face and chest, and thick, silky blue fur. The eyes are large, round and copper colored. It seldom makes a sound, and always leaves its pink tongue tip out [note: another misconception]. Mrs Brietta Cowan and Mrs Nell Guild of Albany recently purchased six British Blues from Mrs Harvey Miller of Kellog, Idaho, who imported them from England There are only six others in this country, and they are in the East.
Mrs. Robert Johnson of Estacada will bring a pair of Khorat kittens for exhibition. Mrs. Johnson imported the only known pair of Khorats in the United States from Thailand in June of 1959. Since the few specimens were always in the possession of members of royalty or foreign diplomats who had received them as tokens of high esteem from persons of high rank, they have at all times been difficult to obtain even in their home country [note: more hype!]. The Khorat is similar to the Royal Siamese, having a slender body, delicate bone structure and wedge-shaped head with large ears. The eyes are slanted, amber-green. The solid grey coat, soft to touch, is the outstanding feature of the Khorat.
The Rex cat at the show has won her championship. She is Kinky Marcella, owned by Mrs J. Selby Stringham of Warrenton. Mrs. Stringham says that Kinky is a Rex mutant born to a calico rat and the others in the litter were all normal coated. The Rex cat's coat is her outstanding feature, the shortness and appearance of a marcel wave [note: Oregon Rex].
Mr and Mrs. Ben Borett of Calgary, Alberta, Canada, are bringing their Himalayan cats that were so popular at last year's show. Grand Champion Chatelaine Femme Fatale of Chestermere, a blue point, and Grand Champion Chatelaine Al Hakim of Chestermere, a seal point, are both English imports, having won European honors in 1958 and 1959 before export to Canada. They are the first Grand Champion Himalayans in North America. The Himalayan is a round, cuddly cat with the conformation and long fur of the Persian, combined with the exotic colors of the Siamese. It retains the alert intelligence of the Siamese and makes a delightful companion.
The three judges will be judging the cats continually on Saturday from 10 a.m. to 10 p.m. and l0 a m. Sunday until the evening when final awards are presented. Mrs Whitney Abt. Burton, Texas, will judge the All-Breed. Mrs. Douglas Strain of Cornelius will judge the Longhair-Shorthair Specials and Mrs. Pearl Allison of Portland will do the Breed-Color Specialty. Mrs. Robert Johnson of Estacada will judge the special Children's Pet show on Saturday morning at 10 o'clock. The admission includes an opportunity for a child to win a half- Abyssinian kitten. The public is invited to attend any of the events.
RARE CAT BREED TO BE EXHIBITED – Albuquerque Journal, 4th October, 1962
A rare breed of cat will be seen for the first time in Albuquerque at the Turquoise Trail Cat Fanciers show Saturday and Sunday at the Industrial Bldg at the State Fairgrounds. Called the Rex Cat, the breed recently was recognized as a registered breed. A Blue Rex will be entered in the show by Mr. and Mrs. Bob Smith, Lakewood, Calif. The breed is of average size, has short, curly hair, and is of no definite color.
Entries have been received from New Mexico, California, Arizona, Colorado, Oklahoma and Texas. Doors will open at 10 a.m. Saturday with judging to continue through Sunday night. Other breeds to be displayed include long and short hair varieties, Burmese, Siamese and Abyssinian. The public is invited.
DAY'S PURR-FECT FOR FANCIERS - The Salt Lake Tribune, October 20, 1962
Rare cat fanciers throughout the United . States will exhibit their animals in a, cat show at the National Guard Armory, 1523 Sunnyside Ave. (850 South) Saturday and Sunday from 10 a.m. to 9 p.m. More than 125 cats will be entered in the show, one of the largest ever held in the Intermountain Region, according to Ray Henke, president of the Salt Lake Cat Fanciers, Inc., sponsors. Five of the six recognized breeds of short-haired cats in the United States have been entered. These are Burmese, Abyssinian, Siamese, Manx, and Domestic Shorthairs. Only one breed of long-haired cats, the Persian, is recognized. It, too, will be entered, Mr. Henke said.
Four of the nation's outstanding judges will be on hand, they are Doris Springer, San Francisco; Marilyn Kayhart, Newark, N.J.; Matil Rotter and Harriet Wolfgang, both of Minneapolis. As the sponsoring group is a non-profit association a small admission charge will be made, said Mr. Henke, to defray travel costs of judges. Any funds above these expenses will be turned over to the Humane Society of the United States he said. Other officers of the association assisting with the show are: Francis Torney, Bountiful, vice president; Clara-Alice Simmons, Salt Lake City, secretary, and Howard J. Tracy, Salt Lake City, treasurer.
RARE CAT TO BE SOLD DURING DALLAS SHOW– The Irving Daily News Texan, 26th November, 1964
An odd-eyed, long-haired white cat will be shown during the two day championship cat show, Nov. 28-29 at Market Hall in Dallas. The cat comes from the western United States, and has a price tag of $2,000 attached. In fact, cats of nearly every breed will be offered for sale during the show. Four judges will pick the bests of breed, then Sunday afternoon, the highlight of the two-day meet, the best cat, in the show will be announced.
Practically every known breed of cat will be shown, including Abyssinian, Burmese, Cameo Persians, Domestic Shorthairs with long impressive pedigrees, Himalayan, the exotic color pointed long hair, Havana Brown, the green-eyed brown cat seldom seen in this section, several colors in tailless Manx, Persians in many colors, the curly coated, and curly whiskered Rex, and the plush coated Russian Blue, one of them recently imported from Sweden.
This is the 13th annual championship, quadruple show of North Texas Cat Club and American National Cat Club. Frank Keefe is show manager and Mrs. E. E. Spencer is assistant. One of the most popular events of the two-day show is the Household Pet Cat judging, which takes place Sunday afternoon at 3 p.m. Household Pet Cats will not be benched the two days of the show, but will be brought to Market Hall between 2:30 and 3 p.m. Sunday, Nov. 29th, a small entry fee paid, whereupon the cat will be eligible to compete for prizes trophies and rosettes. Mrs. Dorothy Walker will judge the Household pet cats.
IT'S THE CAT'S MEOW TODAY IN THE ARENA – Independent Press Telegram, 24th January, 1965
The Southland's fanciest felines, as well as some from Oregon, Louisiana, Nevada and New Mexico, are in the spotlight today at Long Beach Municipal Auditorium. The American Cat Fanciers Association-affiliated El Dorado Cat Club's Quadruple Championship two-day all-breed cat show opened Saturday. Traditionally the largest cat show in the nation, the event this year drew 297 entries. They include long hairs and shorthairs of numerous breeds and such rare cats as the curly coated Rex, long-haired Manx, Havana Browns, Cameo Persians, Russian Blues and Himalayans. Several hundred dollars worth of trophies are at stake.
The cats will be on exhibit today from noon until judging is completed sometime in the evening. Judges for the all-breed events are Mrs. Evelyn King of Portland, and Mrs. Willa K. Rogers of Oklahoma City. Judges for the long-hair and shorthair specialties are Mrs. Betty Haralampus of Seaside, Ore, and Mrs. J. Lois Mazil of Lake Oswego, ore. The cats include 75 who are already champions and eight with grand-champion titles.
"Gogeann Tamba" of Pitti-pat may be a quadruple champion on the cat-show circuit, but to six-year-old Cindie the rare blue-point Himalayan is just a cuddly, grownup kitten. Cindie and her parents, Mr. and Mrs. Richard Rausch of 710 S. Sherrill St, Anaheim, were attending the El Dorado Cat Club show, which continues today at Long Beach Municipal Auditorium.
RARE CAT TO BE SHOWN – The News, 2nd February, 1970
The largest cat show in the United States, bringing 600 cats into competition, will be staged by the Chesapeake Cat Club from 10 a.m. to 8 p.m., Saturday, February 14, and from 1 p.m. to 6 p.m. Sunday, February 15, in the Baltimore Civic Center. Headlining the show is a rare American wire-hair cat named Hi-Fi's Amy of Katzenreich. Amy is one of four such cats in the world, and this will mark the first opportunity the Baltimore public will have to see this new cat breed.
The Rex, sometimes known as the poodle or curly-haired cat, will be in competition as well as the Abyssinian, Burmese, Himalayan, Manx, Persian, Russian Blue and Siamese. A variety of markings and colorings may be seen in the Household Pets category. About $2000 will be awarded in cash prizes, trophies, rosettes and ribbons. Judges for the show are Mrs. Edna Field, Mrs. Blanche V. Smith, Robert L. Smith, Loretta Willwerth, Mrs. Stella Calvert and Mrs. Harriet Wolfgang.
CAT SHOW A FAMILY AFFAIR – The Capital, February 14th, 1970
It's a family affair for two Annapolis couples today and tomorrow in Baltimore. They have packed up children and cats, reserved motel accommodations, and are off to the Chesapeake Cat Show in a two-day stand at the Civic Center. The families are those of Michael C. Coffin of Watergate Village and Amos D. Faux-Burhans of Granviile Ave. The men are slated to baby-sit 5-year-old Gretchen Coffin and 2.5-year-old Denny Faux-Burhans. Meanwhile, their wives, Judy Coffin and Cathy Faux-Burhans, will be showing two jointly owned entries in the show. One, never before shown, is ''Bow", a cream-colored, 4-year-old Persian. The other, "Darji", is a 9-month-old blue-point Himalayan. She took seven ribbons in the recent Washington Cat Club Show.
Mrs. Coffin and Mrs. Faux-Burhans met through their husbands when they worked together for the state, with which Coffin is a systems analyst. His wife is a substitute hostess at the Hammond Harwood House. Faux-Burhans now commutes from Annapolis to the Atomic Energy Commission in Washington, as does his wife. From the outset, Judy Coffin and Cathy Faux-Burhans had a deep mutual interest in cats. Progressing together, they ultimately embarked on joint ownership and showing. Their two entries will be among about 600 at the Baltimore Civic Center, where show hours are 10 a.m. to 8 p.m. today and 1 p.m. to 6 p.m. tomorrow.
The cat fancier will find much to interest him at the Chesapeake Cat Club's show, now the largest of its kind in the United States. A rare American wire-hair cat named Hi-Fi's Amy of Katzenreich will be there, marking the first opportunity many will have to see this new cat breed. Amy is one of four such American wire-hair cats in the world. Also on display will be a generic [genetic] marvel: a male calico cat. Normally calico cats are female. Other breeds include Abyssinian, Burmese, Manx, Rex, Russian Blue and Siamese, as well as a wide variety of household pets.
One of the primary interests of the sponsoring Chesapeake Cat Club is to raise funds for research on cat diseases, a little explored field. Another aim is to educate the public in cat fancy and to create interest in new and rare breeds.
RARE FELINES TO BE SHOWN – The Bensenville Register, 29th May, 1970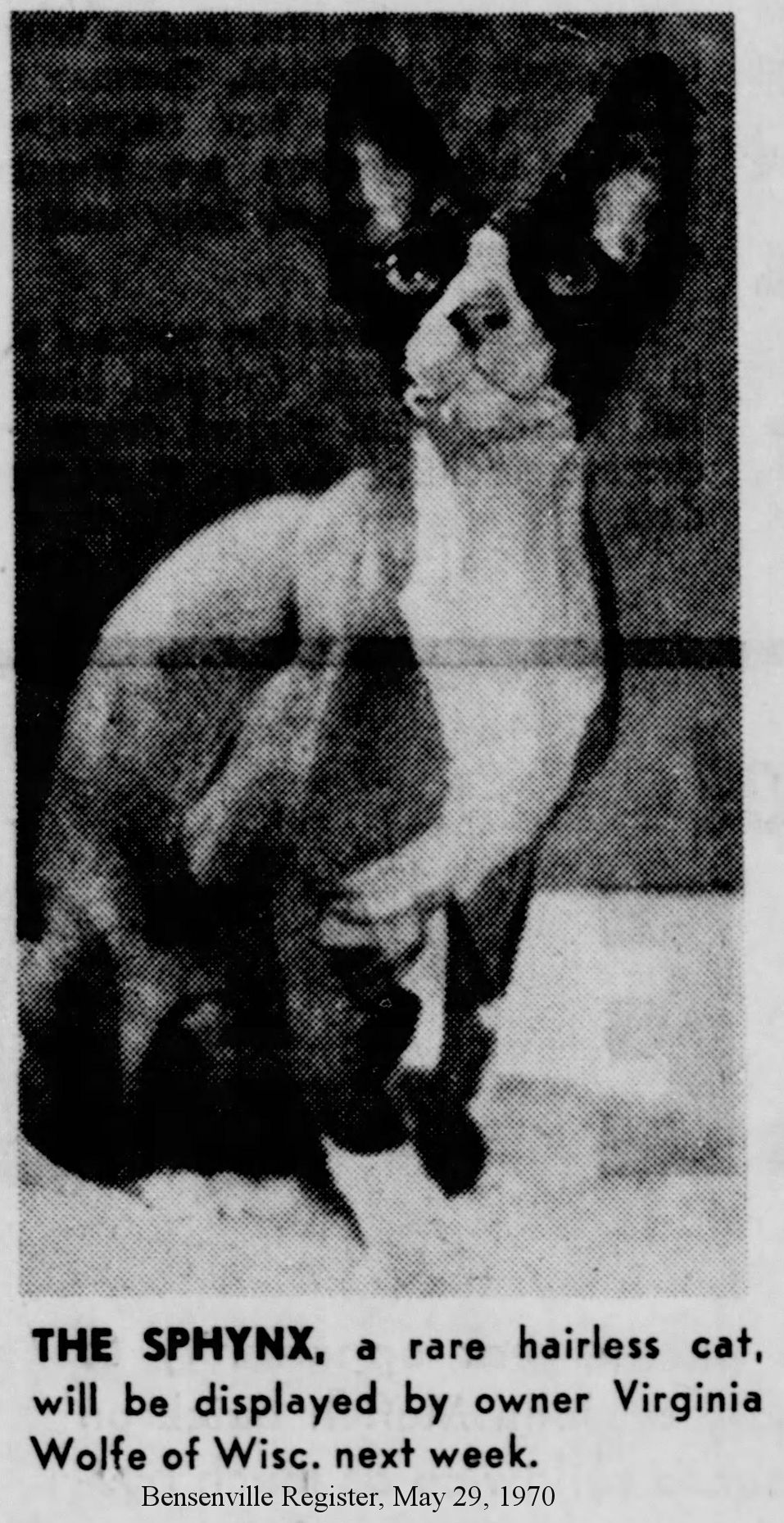 Mrs. Girald Schnieder, Indian Hills Drive, Bensenville, will show her rare cats next week at the Archangel Society's Shorthair Championship Cat Show in Des Plaines. Scheduled for June 6 from 10 a.m. to 9 p.m., the show will be held in the Carpenter's Hall, 1614 White Street. Admission is $1 for adults and 25 cents for children under 12-years-old. Proceeds will go toward research for felines, according to Mrs. Schnieder. This will be the only cat show held in the Chicago area during the summer months.

Breeds to be shown include the Siamese, America's most popular short-haired cat; Rex, a curly fur and whiskered feline; Burmese, a rare sable-brown cat with glowing golden eyes; Manx from the Isle of Man which has no tail; Russian Blues, a silver cat with a double coat of fur and emerald green eyes and American shorthairs of all colors. Also to be shown are Havana Browns, a man-made breed of cat — a hybrid — with green eyes; Korats, the extremely rare silver "good luck" cat from Thailand; Abyssinians, a ruddy cat purported to have ancestry in ancient Egypt; Japanese Bobtail, imported from Japan; Wirehair, a white cat with one gold and one blue eye; and the Sphynx, the very rare hairless cat. The Japanese Bobtail, Wirehair and Sphynx to be shown are the only ones in the Midwest, according to Mrs. Schnieder. For further information concerning the show call Mrs. J. P. May at or Mrs. L. Shockley. The Sphynx, a rare hairless cat, will be displayed by owner Virginia Wolfe of Wise, next week.

BLUE-BLOODED KITTIES COME TO TOWN FOR WEEKEND SHOW – Waukesha Daily Freeman, 14th March, 1972
Say "Pussy Cat" and you could be alluding to . . . a song by that name, a popular mixed drink, or the cat show to be held this weekend at the 4-H Youth Building, Northview Road. More than 200 blue-blooded felines will compete for ribbons and trophies at the first annual championship Cat Show sponsored by the South Eastern Wisconsin Cat Club Saturday and Sunday from 10 a.m. to 6 p.m. Admission is $1 for adults and 25 cents for children.

According to Russell M. Haussman Jr., Oak Creek, Wis., president of the club, cats from all over the United States are entered in the show. Fifteen breeds of long and shorthair cats will be on display, including the rare imported Japanese Bobtail and the new American Wirehair. The American Wirehair cat is the newest natural mutation in the feline world. They were discovered in a barn litter in 1966 and there are still fewer than 100 cats of this breed in the world. The Wirehairs at Saturday's show will be the first ones exhibited in this area.

Four professional judges will evaluate each cat according to breed standards. There will be a special class for household pets, cats not pedigreed or registered. Awards will be given for beauty and personality in this class. An informational booth set up by members of the South Eastern Wisconsin Cat Club will answer questions about cat care.

ENTER THE SOPHISTI-CATS – Sunday Gazette Mail, 20th October, 1974
By Martha Smith
The Havana Brown is not a good cigar. It is, however, a very good cat. It is one of many rare, exotic cats which will be exhibited here Oct. 26 and 27 when Mountain State Cat Club-sponsors its fourth CFA championship show. CFA - Cat Fanciers Association - is to cats what the American Kennel Club is to dogs. Recognition for new or imported breeds of cats does not come easily from CFA. Neither does grand championship status.

Nine long-hair grand champions and three short-hair grand champions are entered in this year's show. In addition, 43 champions will be in competition. CFA requires six winner's ribbons before a cat makes its championship. The cat then must earn 150 points - based on how many cats he defeats in subsequent shows - before he becomes a grand champion.

A number of exotic breed cats will be on display at the North Charleston Community Center. Indeed, it is entirely possible persons attending the show will have their only opportunity to see some of the rare breeds. There simply aren't a great number of them in existence.

The Havana Brown is a hybrid - that is. a man-made breed created by years of careful breeding. He gets his name from his resemblance to the shade of brown found in rich tobacco. He was bred originally in England, however. The Havana Brown was bred for his color and conformation. His coat is mahogany in color. His eyes vary from chartreuse to green. The Burmese, on the other hand, is a dark sable with golden eyes. And, while the Burmese matures to a sable coat color, the Havana Brown is born mahogany color and remains that shade throughout its life.

Himalayans, another man-made breed, resemble longhaired Siamese. In fact, the Himalayan technically is half Siamese and half Persian. But that's not what you get by crossing one of each. It takes a lot of systematic breeding to produce chocolate, blue, seal or flame point Himalayans - cats with Siamese markings and the short, cobby body of the Persian.

Certainly the most unusual cat to be entered in the Mountain State Cat Club championship show is the Turkish Angora. These cats are so rare that they were imported from Turkey. These are not man-made cats. They are a natural breed. The four Turkish Angoras to be displayed at the show are direct descendants of the pair of angoras living in the Ankara Zoo in Turkey. There are very few Turkish Angoras in the U. S. A champion, a novice (first show) and a kitten have been entered in the Turkish Angora class. Turkish cats - noteably the Turkish Van - are recognized as the only cats in the world who are fond of water. Turkish cats often are photographed as kittens - jumping happily into rivers in Turkey and swimming like mad. Another peculiarity of Turkish cats: they don't like milk.

How about a cat who has a permanent wave and doesn't shed? That is a Rex - the curly-coated cat. The first known Rex was born in 1950 in Cornwall, England and is known as the Cornish Rex. The curly coat is the result of cross mutation. It was difficult to perpetuate the breed, but in 1957 the first pair of Rex cats were imported to the U. S. A variation - the Devon Rex - was developed in England in 1960 and has a short, wedge head and large, bat-like ears.

Cats without tails are nothing new Lots of cats lose their tails in fights or under the tires of speeding cars. The Manx, however, is a breed of cat which is born without a tail. The Manx is legendary and reportedly was brought back from Japan by the Phoenicians. Another tradition holds that the Manx first came to the Isle of Man in 1588 from a wrecked ship of the Spanish Armada. However it got here, the Manx can be seen in Charleston Saturday and next Sunday.

The Korat Cat (or Si-Sa-wat) is bred in Thailand. An unusual Korat kitten is entered in the Charleston show. The cat is silver-blue in color and is traced in Thai history to 1350. Few Korat cats are bred outside Thailand, however The Sacred Cat of Burma (also known as the Birman) will make its appearance here next weekend. It is a majestic cat with a gold-shaded coat, seal or blue points (like a Siamese) and white paws. The paws are the important thing in Birmans. The white of the front feet must extend only over the paws, but in the back must reach to the first joint, coming to a point on the heel.

The Abyssinian, direct descendant of the ancient Egyptian cats, comes in two coat colors, red and ruddy. Invariably, persons unfamiliar with the breed will ask: "Is that a baby bobcat?" Indeed, the ruddy Abyssinian does resemble a tiny bobcat. Abby is strictly domestic and is a remarkably affectionate. playful breed. A red Abyssinian will travel all the way from Texas to participate in the Charleston show.

What's so special about a Persian? For starters, there are five recognized divisions - smoke, parti-colors. tabbies, solids and silvers. Then there are blue tabbies, brown tabbies, cameo tabbies, cream tabbies, red tabbies and silver tabbies. There are a seemingly endless number of solid color Persians. To win a championship, a Persian must defeat others of his particular color, then compete against others in his division. An enterprising silver tabby must defeat all other silver tabbies, then must beat the red, brown, etc. tabbies. It's a dog's life.

Cats from Texas, Maryland, West Virginia, Pennsylvania, Virginia, Ohio, Tennessee and Kentucky will compete in the championship show. Two hundred cats will be on display from 10 a.m. to 5 p.mm Saturday and from 10 a.m. to 4 p.m. Sunday in the North Charleston Community Center. Each cat in competition will be judged by CFA judges in four separate rings. Margaret McElhinny, founder of Mountain State Cat Club and owner of the El-Mac Cattery says: "There is no perfect cat, but conscientious breeders are always trying for the ideal cat."

The closest thing to perfection, a taste of the exotic Orient and the English countryside all are available at the show. Proceeds from admission charge ($1 for adults, 50 cents for children) go to help less fortunate felines. Any profit benefits the Mountain State Cat Club's neuter-spay program, an assistance project aimed at halting the pet overpopulation through birth control

A Havana Brown is a rare work of art. A cigar is only a smoke.

[LA] TEACHER'S PET CLUB SHOW IS CAT'S MEOW – Progress Bulletin, 24th November, 1974

Rare cats, household pets, big cats, kittens, Persians, Siamese, white, brown, 1ilac and calico; bored, sleepy, irritated, friendly cats - hundreds of cats are being exhibited this weekend at the Teacher's Pet Club's second annual cat show at the Los Angeles County Fairgrounds at Pomona. The lines or cages for the cats in building SA are all regulation size and shape, but the decor of each is individual. While many of the cages are outfitted with simplicity for the comfort of the cat inhabiting the space, others are considered posh.

Some cats on Saturday were accompanied by stuffed animals. One was sleeping with its head resting on an ancient, stuffed teddy bear. A large white Persian was haughtily ensconced on a round, black velvet and white wrought iron bed. His cage was lined in velvet except for the rear wall which was covered with a mirror. Nearby there was a cat cage with a very small portable TV inside and not far away a Siamese was curled up in the lap of a large ventriloquist's dummy, perhaps Mortimer Snerd.

The cats, however, are magnificent locking. There are such rare breeds as Chocolate Persians, Lilac Persians, Maine Coons and an Egyptian Mau. There are champions and grand champions vying for the top awards. There are kittens and household pets (judged for disposition as well as con-formation). For those seized by the desire to become a cat owner after seeing the show, there are cats offered for adoption by several animal organizations.

1,000 CATS INVADE NYC SPORTS ARENA – Spangle Tyrone Daily Herald, 23rd January, 1987
NEW YORK (UPI) - Madison Square Carden has become known recently (or the jeers and howls of sports fans bemoaning local basketball and hockey woes, but this weekend catcalls of another sort will fill the arena. More than 1,000 cats and their proud owners will stalk the grounds vying for honors at the vaunted International Cat Show that begins today and is expected to draw 35,000 cat lovers over three days.

Rare pedigrees as well as common household varieties will strut their stuff In front of judges looking at shape, markings, coat, condition and weight of the felines. The event culminates with a "Best of the Best" competition at the nation's largest cat show on Sunday. The weekend will also feature a cat fashion show, an emporium of cat products, grooming demonstrations, lectures and even a seminar on how a cat can break into the movies. And there will be new breeds, such as a gray spotted feline called a California Spangled who was part of a preview Thursday of exotic and not so exotic breeds from as far away as Europe and western Canada.

"It's the biggest, most exciting, the best, and I'm not just saying that because it's my show," said manager Karen Hauge.

A gray tabbycat named Marlene stole the show at the preview jumping through hoops, standing on her hindlegs and twirling like a tiny ballerina. Cats now outnumber dogs as the most popular house pet in America, with a tally of 56 million cats to 51 million dogs, said Barry Goldstein, treasurer of the Garden Cat Club that sponsors the annual competition. "You don't have to walk a cat," he explained.

BUYING RARE CATS TAKES A BIG KITTY – The Galveston Daily News, 10th September, 1990.

Associated Press.
Cats used to come in a variety of alley types spiced up by a few fancy breeds but today's rarest felines have become collectors' items for which status seekers pay megabucks. There are hundreds of thousands of pedigreed cats on the registers of cat breeding associations, according to an article in the current issue of Connoisseur, and more are added every year. The number of cat shows is climbing. Last year the International Cat Association, which regulates the nation's most prestigious cat shows, licensed 243, including the largest, New York's International Cat Show at Madison Square Garden.

Smoke-colored Korats, slender-necked Devon Rexes, foxtailed So-malis and newer, rarer breeds are attracting attention. Americans today prefer sleek, pointy cats. Even Siamese are being bred for thinner, more angular faces. Round-faced Siamese are jeered at in the trade as "apple heads." The term "rare" generally means there are fewer than 1,000 members of the breed. Perhaps the rarest is the Selkirk Rex, with a coat as curly as Persian lamb. There are only nine of them. It first came on the scene as a spontaneous dominant coat mutation in 1987. Successfully creating a new cat breed takes a long time and it will be perhaps five years before Selkirk Rexes are available to the general public.

Another rare breed is the Bengal, also known as the house leopard or leopardette. Bengals are being bred to perpetuate the markings of the endangered Asian leopard cat, a house-cat-sized wild feline. The best Bengals combine the black-and-gold "rosette" pelt of the leopard cat with the domesticity of a house cat. Fourth and fifth generation Bengals have the most reliable personalities. A flier on the breed says, "The standard defines growling, hissing or biting as disqualifying behavior." There are 400 Bengals in the United States. Show quality Bengals can cost $3,000 and pet-stock cats fetch between $500 and $1,000.

Many rare cat breeds owe their existence to their unusual coats. One is the Singapura, a Singapore import whose sleek sepia-and-ivory pelt and huge eyes give it a leonine quality. Unlike Bengals, Singapuras are reliably friendly. "They need people as much as they need food," said Tommy Meadow, who with her husband introduced them in this country.

The American Wirehair has a coat that makes it look like a house cat that got its paw stuck in an electric socket. The first litter of Wirehairs was discovered by chance in a barn in upstate New York. A marauding weasel killed all but one of the kittens. Even now, 24 years later, American Wirehairs remain very rare. Breeders have little control over the desired coat other than breeding the best Wirehairs to American Shorthairs with thick densely textured coats and hoping for the best. The Wirehair is hardy and good- natured but its coat is temperamental. Brushing can create permanent bald patches; so can letting it outdoors, where it could come into contact with bushes and trees.

You are visitor number