STUDIES OF "ANIMAL EMOTIONS" (BEHAVIOUR) IN THE 1880s
What is now termed "behavioural studies" or "animal psychology" (and its practitioners known as "pet shrinks") was termed "expression of animal emotions" by naturalists such as Charles Darwin and his contemporaries. The following excerpts are the cat-specific parts of works of that time.
The Expression Of The Emotions In Man And Animals By Charles Darwin, 1899
Dogs after voiding their excrement often make with all four feet a few scratches backwards, even on a bare stone pavement, as if for the purpose of covering up their excrement with earth, in nearly the same manner as do cats. Wolves and jackals behave in the Zoological Gardens in exactly the same manner, yet, as I am assured by the keepers, neither wolves, jackals, nor foxes, when they have the means of doing so, ever cover up their excrement, any more than do dogs. All these animals, however, bury superfluous food. Hence, if we rightly understand the meaning of the above cat-like habit, of which there can be little doubt, we have a purposeless remnant of an habitual movement, which was originally followed by some remote progenitor of the dog-genus for a definite purpose, and which has been retained for a prodigious length of time.
Cats cover up their excrements of both kinds with earth; and my grandfather [Footnote A] saw a kitten scraping ashes over a spoonful of pure water spilt on the hearth; so that here an habitual or instinctive action was falsely excited, not by a previous act or by odour, but by eyesight. It is well known that cats dislike wetting their feet, owing, it is probable, to their having aboriginally inhabited the dry country of Egypt; and when they wet their feet they shake them violently. My daughter poured some water into a glass close to the head of a kitten; and it immediately shook its feet in the usual manner; so that here we have an habitual movement falsely excited by an associated sound instead of by the sense of touch. [Footnote A] "Dr. Darwin, `Zoonomia,' 1794, vol. i. p. 160. I find that the fact of cats protruding their feet when pleased is also noticed (p. 151) in this work.
Kittens, puppies, young pigs and probably many other young animals, alternately push with their forefeet against the mammary glands of their mothers, to excite a freer secretion of milk, or to make it flow. Now it is very common with young cats, and not at all rare with old cats of the common and Persian breeds (believed by some naturalists to be specifically extinct), when comfortably lying on a warm shawl or other soft substance, to pound it quietly and alternately with their fore-feet; their toes being spread out and claws slightly protruded, precisely as when sucking their mother. That it is the same movement is clearly shown by their often at the same time taking a bit of the shawl into their mouths and sucking it; generally closing their eyes and purring from delight. This curious movement is commonly excited only in association with the sensation of a warm soft surface; but I have seen an old cat, when pleased by having its back scratched, pounding the air with its feet in the same manner; so that this action has almost become the expression of a pleasurable sensation.
We will now turn to the cat. When this animal is threatened by a dog, it arches its back in a surprising manner, erects its hair, opens its mouth and spits. But we are not here concerned with this well-known attitude, expressive of terror combined with anger; we are concerned only with that of rage or anger. This is not often seen, but may be observed when two cats are fighting together; and I have seen it well exhibited by a savage cat whilst plagued by a boy. The attitude is almost exactly the same as that of a tiger disturbed and growling over its food, which every one must have beheld in menageries. The animal assumes a crouching position, with the body extended; and the whole tail, or the tip alone, is lashed or curled from side to side. The hair is not in the least erect. Thus far, the attitude and movements are nearly the same as when the animal is prepared to spring on its prey, and when, no doubt, it feels savage. But when preparing to fight, there is this difference, that the ears are closely pressed backwards; the mouth is partially opened, showing the teeth; the fore feet are occasionally struck out with protruded claws; and the animal occasionally utters a fierce growl. (See figs. 9 and 10.) All, or almost all these actions naturally follow (as hereafter to be explained), from the cat's manner and intention of attacking its enemy.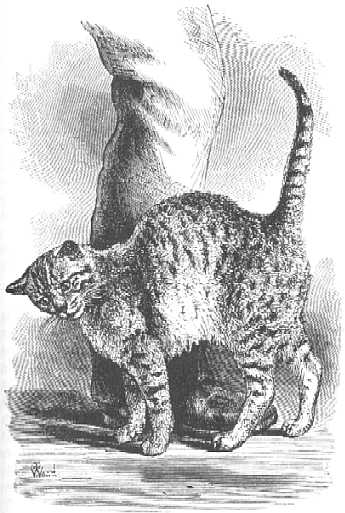 Let us now look at a cat in a directly opposite frame of mind, whilst feeling affectionate and caressing her master; and mark how opposite is her attitude in every respect. She now stands upright with her back slightly arched, which makes the hair appear rather rough, but it does not bristle; her tail, instead of being extended and lashed from side to side, is held quite still and perpendicularly upwards; her ears are erect and pointed; her mouth is closed; and she rubs against her master with a purr instead of a growl. Let it further be observed how widely different is the whole bearing of an affectionate cat from that of a dog, when with his body crouching and flexuous, his tail lowered and wagging, and ears depressed, he caresses his master. This contrast in the attitudes and movements of these two carnivorous animals, under the same pleased and affectionate frame of mind, can be explained, as it appears to me, solely by their movements standing in complete antithesis to those which are naturally assumed, when these animals feel savage and are prepared either to fight or to seize their prey. In these cases of the dog and cat, there is every reason to believe that the gestures both of hostility and affection are innate or inherited; for they are almost identically the same in the different races of the species, and in all the individuals of the same race, both young and old.
Again, when a cat, or rather when some early progenitor of the species, from feeling affectionate first slightly arched its back, held its tail perpendicularly upwards and pricked its ears, can it be believed that the animal consciously wished thus to show that its frame of mind was directly the reverse of that, when from being ready to fight or to spring on its prey, it assumed a crouching attitude, curled its tail from side to side and depressed its ears?
With all or almost all animals, even with birds, Terror causes the body to tremble. The skin becomes pale, sweat breaks out, and the hair bristles. The secretions of the alimentary canal and of the kidneys are increased, and they are involuntarily voided, owing to the relaxation of the sphincter muscles, as is known to be the case with man, and as I have seen with cattle, dogs, cats, and monkeys.
With the Carnivora the erection of the hair seems to be almost universal, often accompanied by threatening movements, the uncovering of the teeth and the utterance of savage growls. In the Herpestes, I have seen the hair on end over nearly the whole body, including the tail; and the dorsal crest is erected in a conspicuous manner by the Hyaena and Proteles. The enraged lion erects his mane. The bristling of the hair along the neck and back of the dog, and over the whole body of the cat, especially on the tail, is familiar to every one. With the cat it apparently occurs only under fear; with the dog, under anger and fear; but not, as far as I have observed, under abject fear, as when a dog is going to be flogged by a severe gamekeeper. If, however, the dog shows fight, as sometimes happens, up goes his hair. I have often noticed that the hair of a dog is particularly liable to rise, if he is half angry and half afraid, as on beholding some object only indistinctly seen in the dusk.
All the Carnivora fight with their canine teeth, and all, as far as I have observed, draw their ears back when feeling savage. This may be continually seen with dogs when fighting in earnest, and with puppies fighting in play. The movement is different from the falling down and slight drawing back of the ears, when a dog feels pleased and is caressed by his master. The retraction of the ears may likewise be seen in kittens fighting together in their play, and in full-grown cats when really savage, as before illustrated in fig. 9 (p. 58). Although their ears are thus to a large extent protected, yet they often get much torn in old male cats during their mutual battles. The same movement is very striking in tigers, leopards, &c., whilst growling over their food in menageries. The lynx has remarkably long ears; and their retraction, when one of these animals is approached in its cage, is very conspicuous, and is eminently expressive of its savage disposition.
Cats_. - I have already described the actions of a cat (fig. 9), when feeling savage and not terrified. She assumes a crouching attitude and occasionally protrudes her fore-feet, with the claws exserted ready for striking. The tail is extended, being curled or lashed from side to side. The hair is not erected - at least it was not so in the few cases observed by me. The ears are drawn closely backwards and the teeth are shown. Low savage growls are uttered. We can understand why the attitude assumed by a cat when preparing to fight with another cat, or in any way greatly irritated, is so widely different from that of a dog approaching another dog with hostile intentions; for the cat uses her fore-feet for striking, and this renders a crouching position convenient or necessary. She is also much more accustomed than a dog to lie concealed and suddenly spring on her prey. No cause can be assigned with certainty for the tail being lashed or curled from side to side. This habit is common to many other animals - for instance, to the puma, when prepared to spring; but it is not common to dogs, or to foxes, as I infer from Mr. St. John's account of a fox lying in wait and seizing a hare.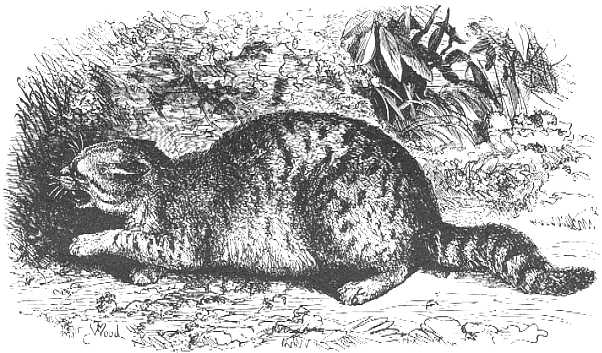 All the movements of a cat, when feeling affectionate, are in complete antithesis to those just described. She now stands upright, with slightly arched back, tail perpendicularly raised, and ears erected; and she rubs her cheeks and flanks against her master or mistress. The desire to rub something is so strong in cats under this state of mind, that they may often be seen rubbing themselves against the legs of chairs or tables, or against door-posts. This manner of expressing affection probably originated through association, as in the case of dogs, from the mother nursing and fondling her young; and perhaps from the young themselves loving each other and playing together.
Another and very different gesture, expressive of pleasure, has already been described, namely, the curious manner in which young and even old cats, when pleased, alternately protrude their fore-feet, with separated toes, as if pushing against and sucking their mother's teats. This habit is so far analogous to that of rubbing against something, that both apparently are derived from actions performed during the nursing period. Why cats should show affection by rubbing so much more than do dogs, though the latter delight in contact with their masters, and why cats only occasionally lick the hands of their friends, whilst dogs always do so, I cannot say. Cats cleanse themselves by licking their own coats more regularly than do dogs. On the other hand, their tongues seem less well fitted for the work than the longer and more flexible tongues of dogs.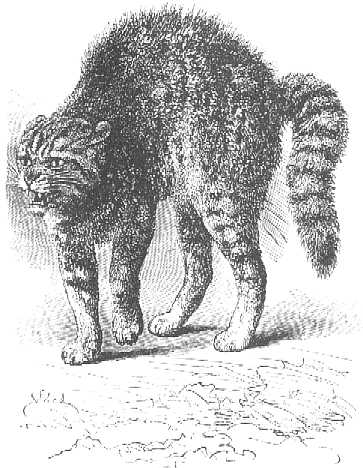 Cats, when terrified, stand at full height, and arch their backs in a well-known and ridiculous fashion. They spit, hiss, or growl. The hair over the whole body, and especially on the tail, becomes erect. In the instances observed by me the basal part of the tail was held upright, the terminal part being thrown on one side; but sometimes the tail (see fig. 15) is only a little raised, and is bent almost from the base to one side. The ears are drawn back, and the teeth exposed. When two kittens are playing together, the one often thus tries to frighten the other. From what we have seen in former chapters, all the above points of expression are intelligible, except the extreme arching of the back. I am inclined to believe that, in the same manner as many birds, whilst they ruffle their feathers, spread out their wings and tail, to make themselves look as big as possible, so cats stand upright at their full height, arch their backs, often raise the basal part of the tail, and erect their hair, for the same purpose. The lynx, when attacked, is said to arch its back, and is thus figured by Brehm. But the keepers in the Zoological Gardens have never seen any tendency to this action in the larger feline animals, such as tigers, lions, &c.; and these have little cause to be afraid of any other animal.
Cats use their voices much as a means of expression, and they utter, under various emotions and desires, at least six or seven different sounds. The purr of satisfaction, which is made during both inspiration and expiration, is one of the most curious. The puma, cheetah, and ocelot likewise purr; but the tiger, when pleased, "emits a peculiar short snuffle, accompanied by the closure of the eyelids." It is said that the lion, jaguar, and leopard, do not purr.
With the lower animals we see the same principle of pleasure derived from contact in association with love. Dogs and cats manifestly take pleasure in rubbing against their masters and mistresses, and in being rubbed or patted by them.
For instance, full-grown cats, when feeling warm and comfortable, often retain the habit of alternately protruding their fore-feet with extended toes, which habit they practised for a definite purpose whilst sucking their mothers.
We are so familiar with the fact of young and old animals displaying their feelings in the same manner, that we hardly perceive how remarkable it is that a young puppy should wag its tail when pleased, depress its ears and uncover its canine teeth when pretending to be savage, just like an old dog; or that a kitten should arch its little back and erect its hair when frightened and angry, like an old cat. (Darwin was emphasising the innateness of these behaviours.)
You are visitor number