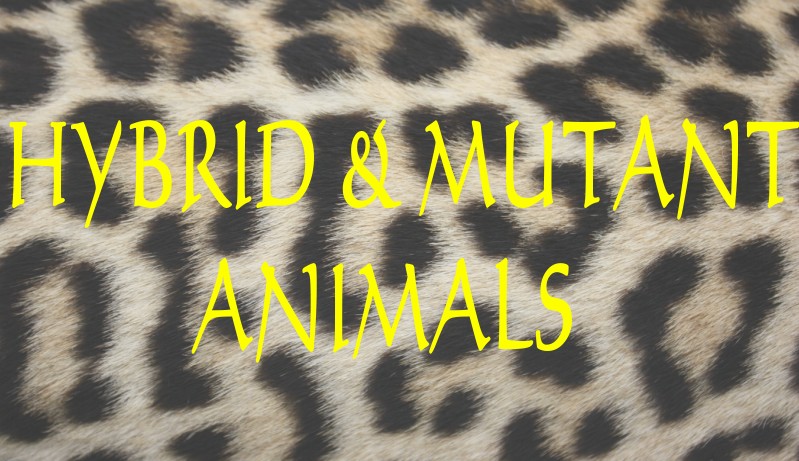 COLONEL FERARI, FRANK BOSTOCK AND THE BI-HYBRIDS
During the early 1900s there was "hybrid-mania" in American animal shows. One of the main breeders of complex hybrids was Colonel Ferari, although Bostock also claimed a complex hybrid.
Almost every circus advertised hybrids, though thwe press releases didn't always identify the species involved:
PARKER'S WILD ANIMALS COMING. Muscatine News-Tribune (Iowa), 4th August 1905, pg 3.
The collection comprises 12 big gilded cages of animals including Nubian lions, bears, wolves, leopards, jaguars, pumas, hybrids, panthers, tigers . . .
ALL ARRANGEMENTS FOR WILD ANIMAL SHOW. The Decatur Daily (Alabama), 1st May 1912, pg 2.
The King Edwards Trained Wild Animal Arena . . . you will see Capt. Harry Ogelvie, Englands most celebrated animal trainer, with leopards and jaguars, Princess Dixie, with her mixed group of lions, leopards, jaguars, pumas and hybrids.
CARNIVAL AND RACES DURING FAIR WEEK. Jamestown, North Dakota, 18th July 1912, pg 4.
The ninth annual Stutsman County Fair . . . probably the biggest show at the end of the Midway is the King Edward trained wild animal circus . . . there are 54 trained animals, lions, leopards, tigers, pumas, hybrids . . . Princess Dixie puts through an act wit a mixed group of pumas, lions and hybrids.
VARIED MIDWAY FOR FAIR. The York Dispatch (York, Pennsylvania), 26th September 1914, pg 10.
Another of the feature attractions will be Patrick's wild animal arena, presenting trained lions, tigers, leopards, pumas, and hybrids in-den and arena acts.
AMUSEMENT FEATURE [STATE FAIR]. Jackson Daily News (Jackson, Mississippi), 19th October 1916, pg 2.
One of the principal features will be the renowned Johnny J. Jones Trained Wild Animal Arena, including the largest collection of trained wild animals now en tour – Johnny J. Jones being known as "America's Animal King" – with lions, leopards, jaguars, pumas, hybrids . . . tigers, [. . .]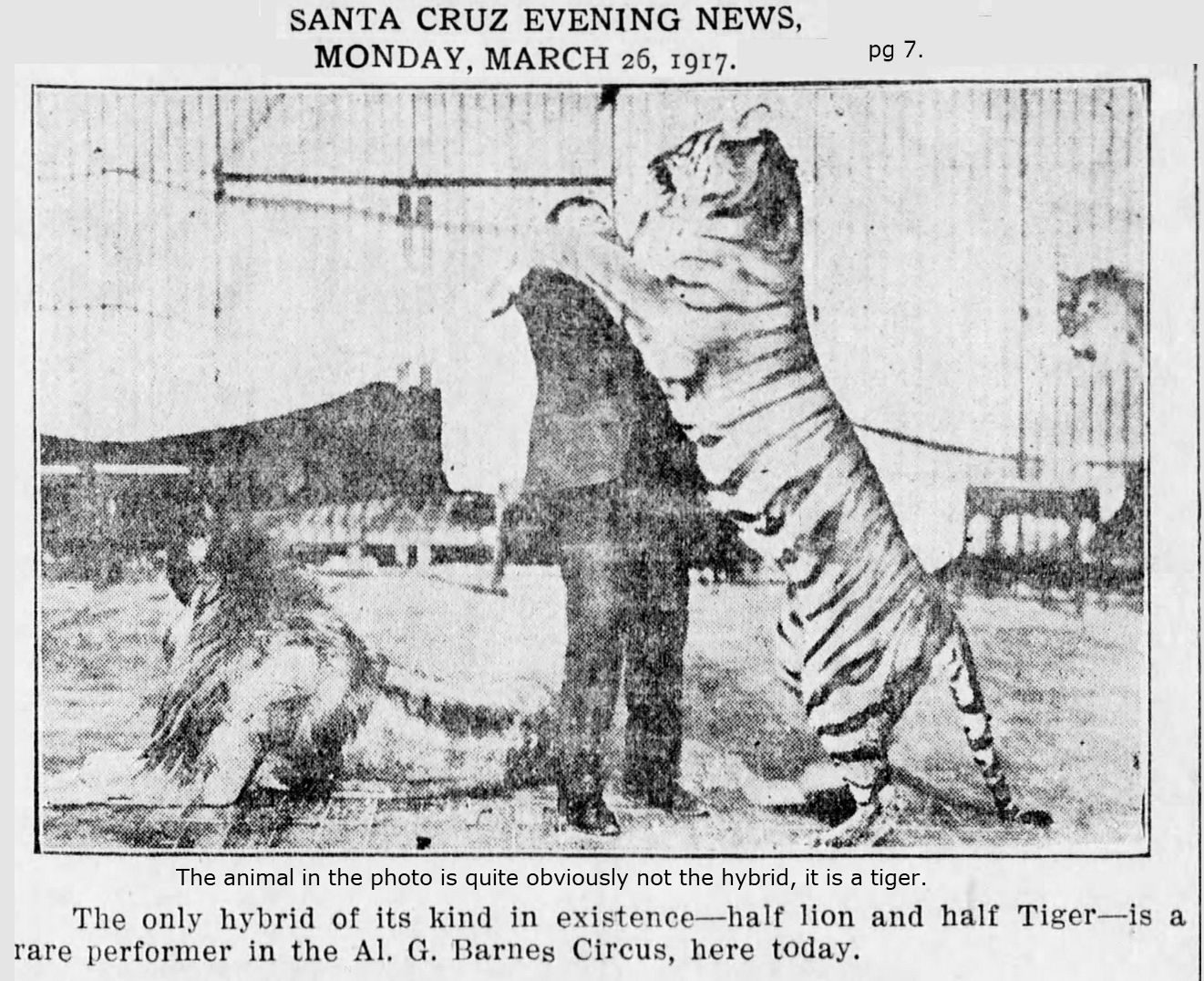 However the more exotic the hybrid, the more likely it would attract the paying public. Colonel Ferari and Frank Bostock went one better than these simple hybrids, they claimed complex hybrids between the most ferocious ofthe big cats - lions, tigers, jaguars and leopards though the the tiger-jaguar hybrids sound suspicious. It was also hard to unravel which of 23 species the "panther" referred to - sometimes it was puma, other times leopard and yet other times jaguar (South American panther). Even the identity of the tiger was open to interpretation as the jaguar was also known as the South American clouded tiger!
"WHAT IS ITS" BORN AT THE CARNIVAL GROUNDS – CROSS BTWEEN LION AND LEOPARD. Palladium-Item (Richmond, Indiana), 18th May 1904, pg 2.
At three o'clock yesterday morning at the Carnival grounds, a pair of hybrids was born to a leopard. These two "what is its" are crosses between a lion and a leopard and this is the first time that this especial cross has ever been produced. At least this is the story told by one of the Ferari employes this afternoon. He said that if these two young cubs live until after time of weaning they will be worth $10,000 apiece easily. The cubs will be named "Richmond" and "Indiana," after thise city and state.
[BI-HYBRIDS] The Rock Island Argus (Rock Island, Illinois), 29th June 1905, pg 6.
Ferari Brothers' famous trained wild animal arena . . . There are lions, tiger, pumas, panthers [black leopards], jaguars, leopards, hyenas, wolves, hybrids (one-half jaguar, one-half leopard), bi-hybrids (one-quarter jaguar, one-quarter leopard, one-half lion). There are four of these strange animals in the menagerie and they are also in training. These four are said to be the only four animals of their kind that were ever born in the world. Ferari Brothers challenge any show organisation, and will pay a forfeit of $10,000 in cash to anyone that will produce their equal number.
[HYBRIDS] The Boston Globe (Massachusetts), 3rd June 1906, pg 38
"Wonder" and "Land," the hybrid panther and leopard cubs of Ferari's wild animal show at Wonderland, are as lively as kittens, and their panther mother fondles her two tiny brown and black offspring with true maternal tenderness. The trio are a sensation of the animal tent and evoke no end of curiosity.
BI-HYBRIDS ARE TREACHEROUS. The Brookly Citizen (Brooklyn, NY), 4th June 1906.
Fear at Ferari's Animal Show at Brighton Beach the Only One in the World. Colonel Francis Ferari's bi-hybrids, and he has four of them in his collection of wild beasts at Brighton Beach Park, are the only known living specimens in existence in captivity. They are remarkably savage beasts and were very difficult to train. The Princess Pauline, but a few weeks ago in Toledo at Colonel Ferari's winter quarters, narrowly escaped death while trying to work them and today carries the marks on her arms, neck and breast of the frightful encounter. [These were either lion x leopard x jaguar mix or lion x tiger x jaguar.]
At times the bi-hybrids give but little trouble, but they are so treacherous that absolutely no dependence can be placed on their seeming quietude. Colonel Ferari values the four animals at $5,000 apiece and has a standing offer of their value, $20,000 to be put up against a like amount, the entire amount to be devoted to any charity, if there is an animal man in the world who can produce their like.
[BOSTOCK'S HYBRID LION-TIGER-LEOPARD CUB, TRICOLOR, DYING.]The Baltimore Sun (Maryland), 29th May, 1906, pg 10.
Tricolor, Frank C. Bostock's hybrid lion-tiger-leopard cub, is dying at the age of nine months. He cost Bostock $2,500 three months ago. He is the only hybrid of the kind ever known to have existed. Dr. H. Amlin Jr., a veterinary, made an examination of the little fellow yesterday and pronounced him seriously ill. The cub has been ailing ever since it was frightened on the voyage from Paris, when the animal ship encountered a big storm.
ONE HYBRID DEAD – TWO MORE BORN. New York Tribune, 4th June 1906.
Tricolor, the Bostock hybrid, died yesterday at Dreamland and almost simultaneously three were born to the lioness Princess two cubs, the only ones of their kind. Tricolor was a cross of leopard, lion and tiger. The new babies are a third each of puma, jaguar and lion. The father is now at the Bostock exhibition at Amiens, France, and is a cross between a puma and the self-eating jaguar Gaston, still at the arena in Coney Island. It took two operations last summer to keep Gaston from eating his tail completely off.
ALL HYBRIDS AT CONEY. New York Times, 4th June 1906, pg 9.
Some Beasts There Are Bi-Hybrids This Year – All Are Mighty Rare. Bulletin chased bulletin out of the animal shows at Coney Island yesterday. A Coney Island animal show is a cheap affair this year if it hasn't at least one hybrid; naturally the press agents aren't forgetting that fact.
CoL Francis Ferrari has a collection of; wild beasts at Brighton Beach Park. Four of his pets he called bi-hybrids. Their father is a full-bred native African lion and the mother, it is asserted, is a cross between a jaguar and a leopard. The four youngsters are described as the most peevish little rascals that were ever in captivity. Col. Ferrari gave zest to the day's news by declaring yesterday that he would give $20,000 if any animal man could produce their like.
Following this offer. Bostock's press agent announced, with tears in his voiced that "Tricolor," the Bostock hybrid, had just died. At the same time, however, there were born to the lioness Princess two tiny cubs. Their father is said to be a cross between a puma and "the famous self-eating Jaguar whose favourite occupation is biting a section of his own tail off." Tricolor was only a cross of a puma, a jaguar, and a lion. That, the press agent says, is quite a common cross. The new cubs, of course, are very rare."
ANIMALS ATTACK TRAINERS. BI-HYBRID ATTACKS WOMAN. The Brooklyn Citizen, 6th June 1906, pg 7.
The Princess Pauline was in the arena with her mixed group, consisting of two bi-hybrids, two jaguars and three pumas. The bi-hybrids had been acting very badly; the larger of the pair refusing absolutely to work, and climbing to the top of the cage out of reach of her prong, the only thing an animal really fears in the hands of its trainer. [Pauline was then mauled by a jaguar.]
Henderson Gold Leaf, 28th June, 1906, pg 2. "Tricolor," the Bostock leopard-lion-tiger hybrid recently died, and a lioness in Mr. Bostock's menagerie gave birth to a pair of puma-jaguar-lion prodigies. Persons who visited Bostock's trained animal exhibition at the Buffalo exposition, will recall the leopard-lion-tiger hybrid, then a mere cub, as well as the zebra-donkey hyrid which also attracted much attention. [Pan-American Exposition was a World's Fair held in Buffalo, New York, United States, from May 1 through November 2, 1901, which means Tricolor was only about 5 years old.]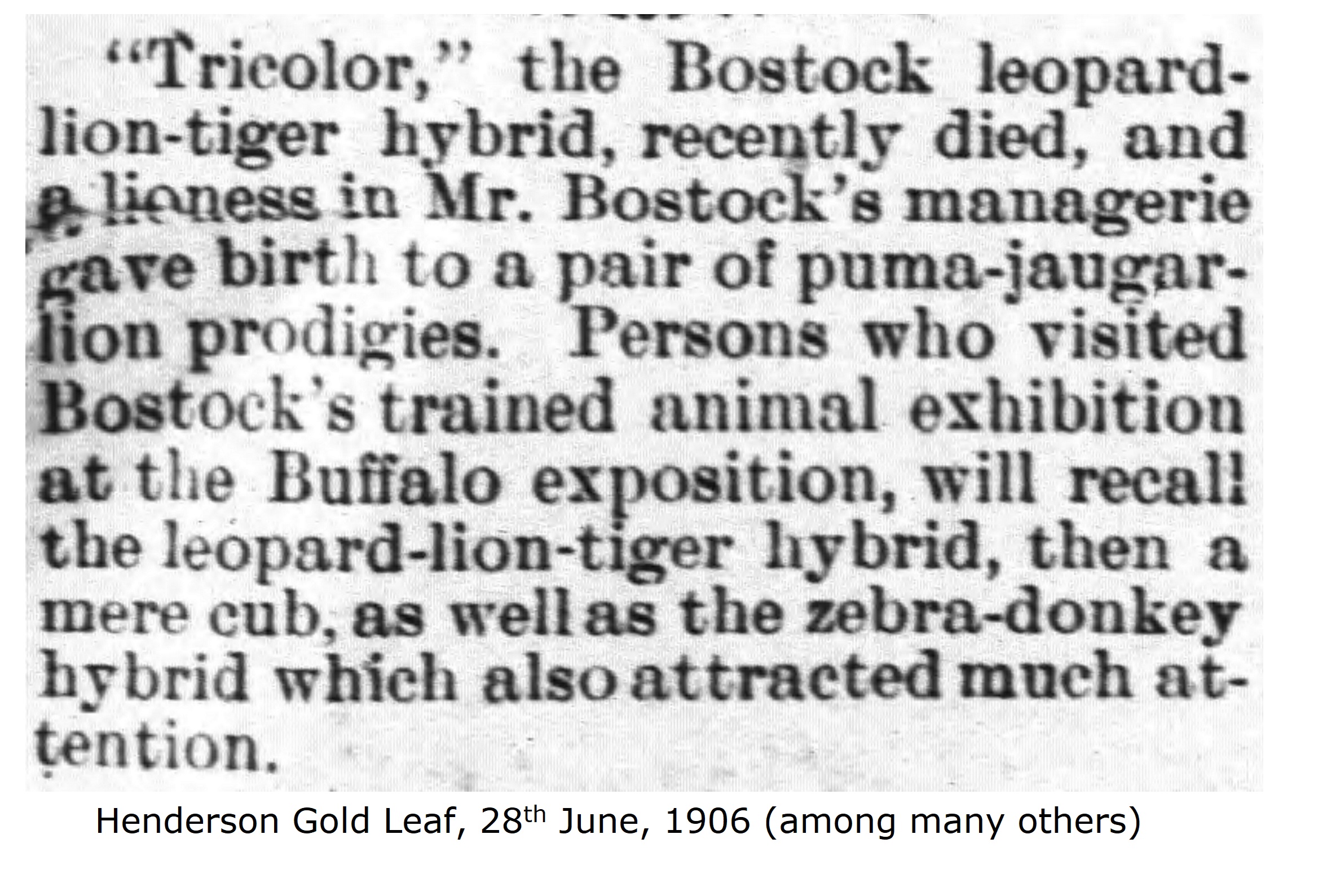 CUBS OF LEOPARD FATHER AND PANTHER MOTHER. The Boston Globe (Massachusetts), 1st August 1906, pg 7.
Only Examples of their Kind in the World Visit the Globe Office – Marvel of Animal Experts.
"Wonder," nine weeks old, described by his keeper as the "nastiest animal of his age I ever saw," came to Boston yesterday, snarling, snapping, clawing, spitting and expressing his general objection to everybody and everything he saw. "Wonder" is an all-round-bad-egg, but he is only a little worse than his partner, "Land," who was with him.
"Wonder" and "Land" are the only living examples of their kind, and so far as is known the only examples there ever were. They are sui generis, and they must have been fully conscious of their exclusiveness in the animal world, for yesterday they clawed red streaks in the hands of Joseph G. Ferari, their guardian, spat and snarled at the photographer who was taking their pictures, tore long rents in the upholstery of the automobile provided for their enjoyment, and were as hard to handle as a whole menagerie of grown ups. Every time they had an audience, which was practically all the time, "Wonder" and "Land" seemed to be imbued with this spirit: "We are the get of two most treacherous species of the jungle and we have got to live up to the reputation of our parentage." And they did.
"Wonder" and "Land" were born at Wonderland park, Revere beach, nine weeks ago, and yesterday was their first afternoon away from the maternal side of the South American panther mother who nurses them. They had not seen much of the world up to yesterday afternoon, when Joseph G. Ferari, of Ferari's trained wild animal show, and George Dobbins, manager of the Wonderland animal exhibition, bundled them into an automobile and drove them up to the Globe office to have their pictures taken. They did not like anybody or anything. They insisted upon turning their backs to the camera, would not let the artist get a good view of their spiteful countenances, and showed a disposition to fight without provocation. "Wonder" had the abhorrence of a camera which a society leader assumes, and he made several vicious passes at the instrument while his keeper was trying to get him in presentable position to be taken.
"Land" was a little more tractable, but when the artist had fixed the imprint of the physical proportions of "Wonder" and "Land" on his plate Joseph G. Ferari's hands needed the attention of a physician, for the sharp claws of the 9-weeks-old had drawn blood from a score of deep rents. The two tawny, spotted animals, who at nine weeks are able to teach a trained keeper caution, are known as panther-hybrids. Nothing like them has ever been born in the world before, and trainer Ferari says he thinks they are in a fair way to make the ugliest and most treacherous beast in or out of captivity. The father of "Wonder" an "Land" is an East India leopard, who was captured in the forest when he was about three years old. The mother is a South American panther, who up to the age of two dwelt in the wilds. Through fortune which is to animal trainers incredible, the leopard and the panther bred and the cubs which are the result are the marvel of animal men.
In captivity up to this time leopards and panthers have shown the strongest aversion to each other. They would not associate and it was even dangerous to attempt to keep them in one cage. But Mr Ferari succeeded after much trial in finding one of each specie which would mate with the other. These panther-hybrids in the nine weeks they have been on earth have shown, Mr Ferari says, all the vicious characteristics of leopard and panther. As Mr Ferari says, the little fellows at their age ought to be as easy to handle as kittens, since lions, tigers, panthers and other ferocious beasts can be trained without danger, but yesterday he had to be as much on the alert for the sharp claws of the babies as if they were yeas instead of weeks old.
They are very interesting curious and they are also very good specimens, strong and vigorous. Both show the panther and leopard blood. The gray in the tawny coat and the spots are from the father, the leopard, while the dark buff of the coat is of the mother. The head and back are those of the panther mother, and the movement, the loping, stealthy stride indicate strongly the predominance of the panther maternal blood.
"When these kittens are 4 weeks older it will be impossible for us to attempt to touch them with our hands," said Mr Ferari. "Never have I seen the vicious element in animals developed so young. What they will be, what characteristics growth will develop we do not know. They are an enigma, a problem. I think they will be an interesting study."
After their excursion to town "Wonder" and "Land" late in the afternoon were restored to the care of their panther mother at Wonderland park and it was curious to observe the way the panther snarled as she smelled the traces of numerous human hands on the coats of her offspring.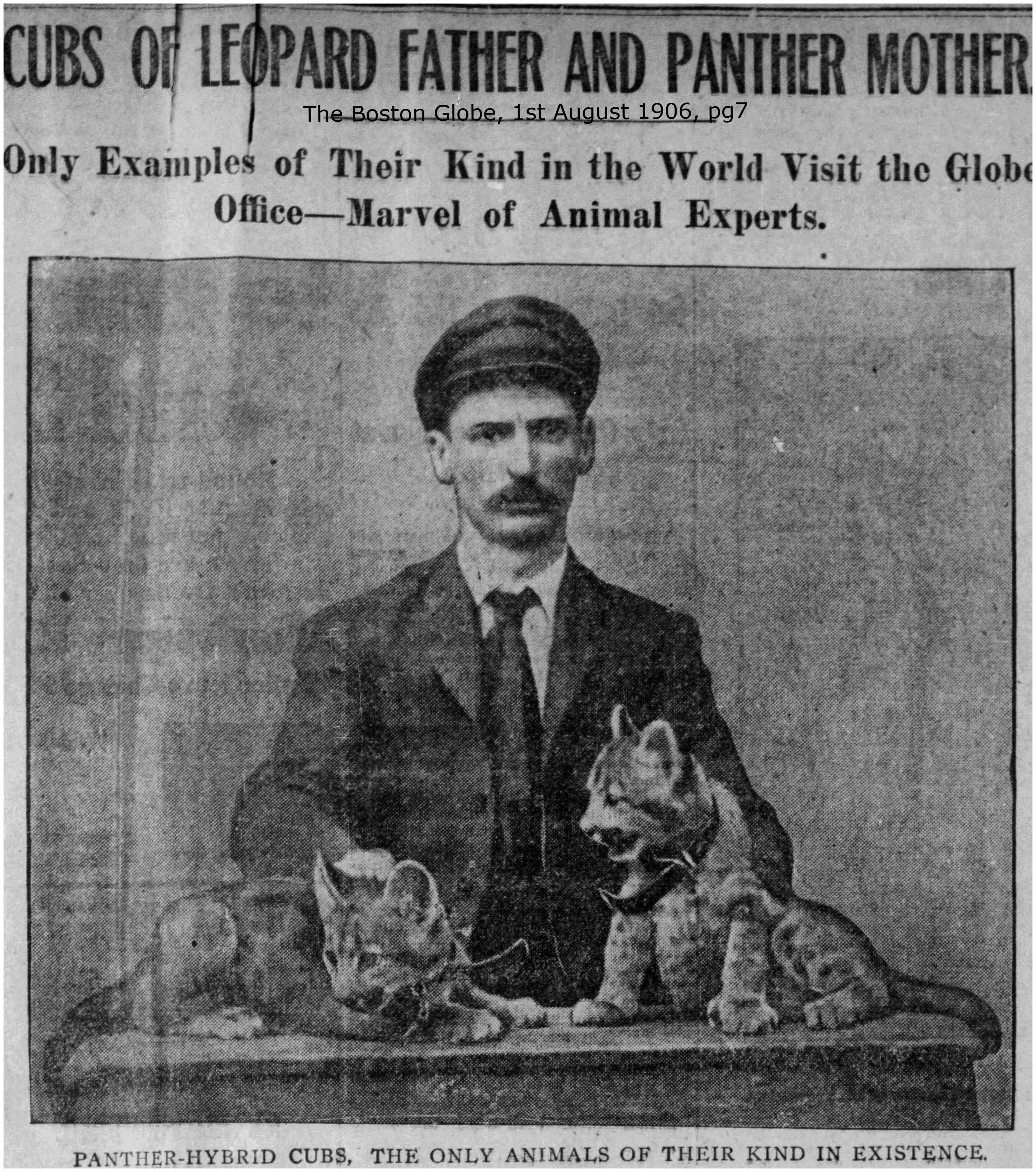 BIG ANIMAL SHOW FOR STATE FAIR. The Times Dispatch (Richmond, Virginia), 8th August 1906, pg 10.
Colonel Fred Lewis, wild animal show manager, and all round amusement man, is in Richmond negotiating for a long stay here this fall and winter . . . Among the attractions which the Colonel proposes bringing here in connection with the wild animal shows are the following: six bi-hybrids, the only animals of their kind in existence. These animals are one-quarter leopard, one-quarter jaguar and one-half lion, combining all the ferocity, craftiness and vicious untamable nature of each of these animals. These queer animals are put through a course of stunts by Madame Charlotta DeVere.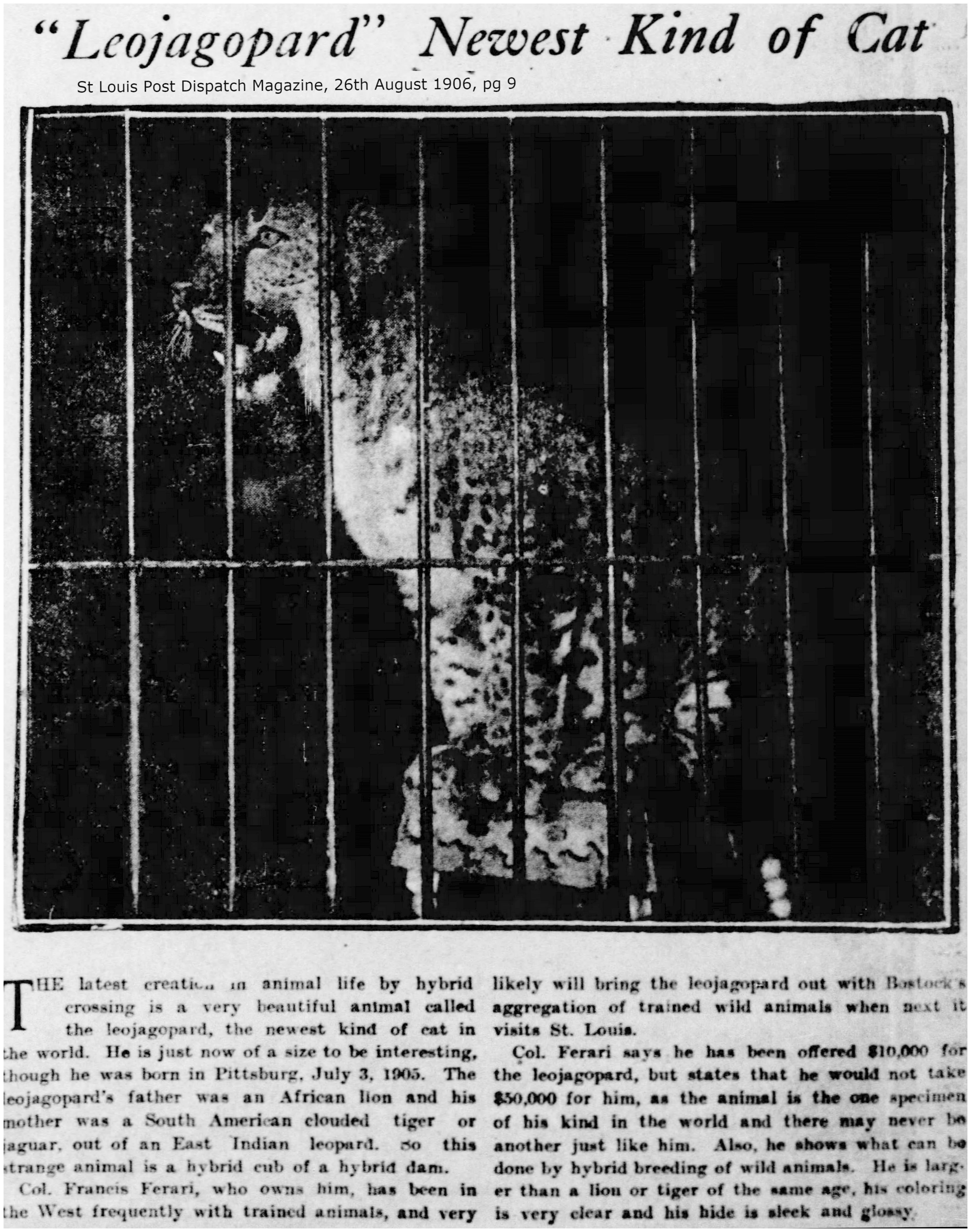 "LEOJAGOPARD" NEWEST KIND OF CAT. St. Louis Post-Dispatch (Missouri), 26th August 1906, pg 49
The latest creation in animal life by hybrid crossing is a very beautiful animal called the leopjagopard, the newest kind of cat in the world. He is just now of a size to be interesting, though he was born in Pittsburg, July 3, 1905. The leojagopard's father was an African lion and his mother was a South American clouded tiger or jaguar, out of an East Indian leopard, so this strange animal is a hybrid cub of a hybrid dam.
Col, Francis Ferari, who owns him, has been in the West frequently with trained animals, and very likely will bring the leojagopard out with Bostock's aggregation of trained wild animals when next it visits St. Louis. Col. Ferari says he has been offered $10,000 for the leojagopard, but states that he would not take $50,000 for him, as the animal is the one specimen of his kind in the world and there may never be another like him. Also he shows what can be done by hybrid breeding of wild animals. He is larger than a lion or tiger of the same age, his colouring is very clear and his hide is sleek and glossy.
FIVE YORK FAIR BABIES. The York Dispatch (York, Pennsylvania), 1st October 1906, pg2.
Five tiny hybrids, the first of their kind ever born, came to the cage of a handsome female panther Julia Saturday evening. They are a rare cross between the panther and Francis, a great jaguar. The cubs are no larger than kittens, but already bear the beautiful marks of their royal father. The panther is what the showmen call a good mother, this because she has not yet had an appetite for any of them. The are being carefully guarded, as if they are raised they will be of great value.
Ferari's success in mingling the breeds of the wild animals in his big collection is demonstrated in three of the most beautiful of the cat tribe ever seen. They are called bi-hybrids. The female offspring of a female leopard and male jaguar was bred to a lion. The result, which it is claimed the great Haganback [Hagenbeck] has vainly tried for is a handsome animal with the build of a great panther. The three one-year olds with the show are of a golden shade with the beautiful leopard spots showing faintly. Mayor McCall is to be asked to christen the five babies.
HYBRIDS BORN HERE. The York Daily (York, Pennsylvania), 1st October 1906, pg2.
Five Small Specimens of the Jaguar and Panther at Ferari's Show.
The first hybrids of their kind ever born in the world saw the light of day yesterday afternoon at 5:30 on the grounds of the York fair when the stork visited in one of the big animal cages of Colonel Francis Ferari's animal kingdom. Usually when cubs are born they number about two or three and a showman considers himself more than fortunate if four are born, but this animal household has been blessed with five in number, and then, also, the rarest species in the world. The father of the fuzzy little ones is Francis, the largest and most magnificent jaguar in captivity, while their mother is Julia, a handsome panther [leopard]. Animal trainers the world over, including Carl Hagenbeck, of Hamburg, Germany, have tried for this mixture of breed for years without success, and it was only by the rarest luck that it was finally accomplished. The little hybrids are about the size of the average new-born kitten and very prettily marked. The features of both animal species are very distinguishable, the spots of the panther being easily discernible. Louis J. Beck, the Ferari representative, will today call upon Mayor McCall and endeavor to have the city's executive christen the little animals at the fair grounds on Wednesday. They will be exhibited to the public thereafter, but no chances will be taken by the management to expose them in any way to injury, as they are very valuable.
LIVE IN HARMONY. The Times Dispatch (Richmond, Virginia), 15th January 1907, pg 12.
One of the rarest and most curious animals ever seen in captivity is among the recent additions to Bostock's Wild Animal Arena at Idlewood. This animal is known as a hybrid, and came with Mme. Morrell's group of leopards and jaguars, its mother was half-tiger and half-jaguar, and the father was a lion. The animals is pretty as large as a lioness, and has pretty much the same colouring, with the spots of the jaguar plainly marked on its body. In daylight faint signs of the tiger's stipes can be seen all along the sides of the beast. Keepers in charge of the Morelli group say that the hybrid is more treacherous and also more powerful than the leopard or jaguar, and is much harder to handle in the arena.
THE WEEK AT BOSTOCK'S. The Times Dispatch (Richmond, Virginia), 3rd March 1907, pg 24.
In her group this time Mme Morelli has one decidedly remarkable animals, a bi-hybrid – part lion, tiger and jaguar – and the only trained bi-hybrid in the world. This curious creature, according to all the Bostock keepers, includes in its nature all the viciousness and ferocity with which its three kinds of progenitors are accredited, and none of the good points, not even the beauty of the jaguar or tiger or the noble dignity of appearance for which the lion is famed.
FRANK BOSTOCK POSES WITH FAMOUS "LIO-PAN" The Atlanta Constitution, November 10th, 1907: Frank C. Bostock, owner and proprietor of the "Bostock Arena," which opened its winter season at The St. Nicholas rink at Ponce de Leon park Friday night in the presence of a large and enthusiastic audience, is m the city to look over his pets before leaving for the east to locate his shows for the summer season and sailing for Europe, where he goes to make arrangements for a grand hippodrome in Paris . While in Atlanta he posed for a picture of himself and his famous hybrid animal ''Lio-pan," which is a cross between an African lion and a South American panther, the only one ever known to be born. This king of animal trainers, who has complete mastery of his animals, toyed with the beast while they were being photographed with the same ease as a woman fondles her pet poodle.
He was the coolest man in the photograph gallery and the photographer stated that it was the first and last attempt at animal photography. "Why, he is as gentle as a cat," explained Mr. Bostock as he caught the animal by the upper and nether jaws and opened his cavernous mouth, as the anima! Issued a low rumble which sounded like distant thunder. "This animal knows me of course. I fondled him when a cub and have seen him almost daily since that time. He is now two years and a half old and to me as gentle as can be. So far as I Know he is the only hybrid of his kind in the -world. True, both the lion and the panther are of the same feline class, but think of the difference in their sizes, their habits and their homes. I don't think that 1 have ever heard of a more wonderful cross. What do I value him at? Why, $10,000 wouldn't take him away from me, would it, Leo-pan?" and with that the animal king stroked his head affectionately.
(The Lio-Pan, or Leo-Pan looks more like a regular lioness.)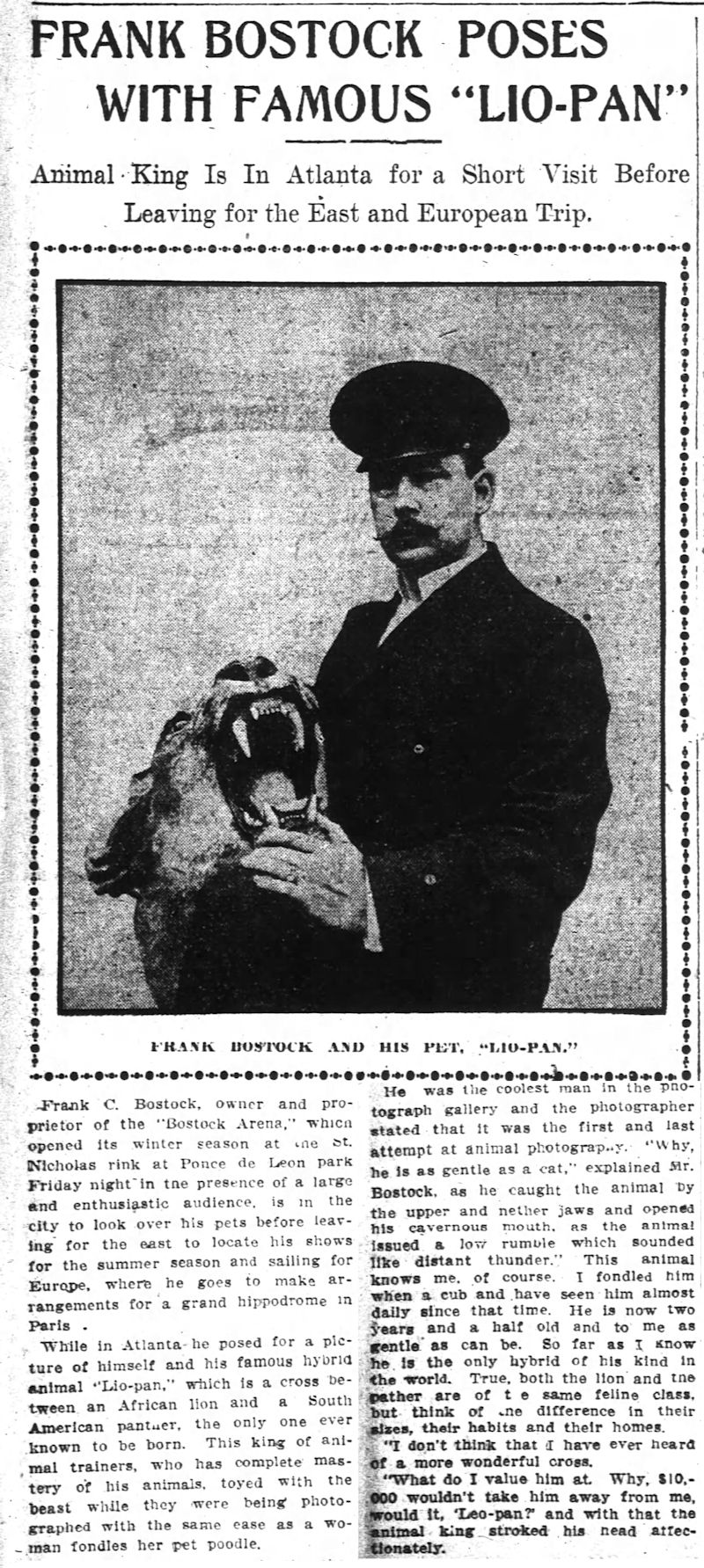 BRINGS BIHYBRID AS GIFT. The Baltimore Sun (Maryland), 19th December, 1907, pg 10.
Colonel Ferari Remembers Colonel Mundy – Rare Feline Has Cold. Col, Francis Ferari arrived in Baltimore late last night for a short while to Colonel Mundy, of the Zoo, as well as to many other friends here. Colonel Ferari, besides being one of the most popular showmen in American, is best remembered by visitors to the Jamestown Exposition who witnessed his superb animal show there. The Colonel brought with him a 1-year-old bihybrid of the feline species and presented it to Colonel Mundy. It is said that this is the only animal of its kind in captivity. Colonel Mundy believes it has already contracted a serious cold, due to the sudden changes of climate. The offspring of a leopard and a tiger or jaguar is commonly called a hybrid, and the offspring of a hybrid and a leopard or tiger or jaguar is called a bihybrid.
The Gazette (York, Pennsylvania), 13th August 1907, pg 7.
Captain Kuneo's hybrids vie for the first place in favour [with Mlle Helene's leopards, Princess Pauline the animal Queen etc]
CHEWED UP BY A WILD BEAST. The Baltimore Sun (Maryland), 17th April 1909, pg 2.
Tony Bartlett Severely Mangled in Presence of 2,000 Persons. Norfolk, Va., April 16. Tony Bartlett, a young lion trainer attached to the Ferari's Animal Sow, was attacked here last night before 2,000 people by a bi-hybrid animal and came near being torn to pieces. He was in a cage with that animal, which is of a cross blood of the lion, tiger, leopard and jaguar, and three lions, when the bi-hybrid sprang upon him and knocked him to the floor. Taking his right leg between its jaws I had almost bitten it off when Colonel ferari entered the cage with an iron rod in each hand. With one rod he overawed the three lions and with the other pounded the bi-hybrid until it ceased its attack on Bartlett. The people were panic stricken and stampeded. Several ladies fainted.
EAGLES TO GIVE CARNIVAL. The Washington Herald (Washington, D.C.), 2nd May 1909, pg 4.
"Queenie," a vicious bi-hybrid, during a performance at Norfolk two weeks ago attacked and terribly lacerated her keeper, Tony Bartlett, and only the quickness of Col. Ferari himself averted his death . . . "Queenie" is one of the few hybrids in existence, and is not bred for trick work or to be trained, It is said that nobody but Col. Ferari would undertake such a task, and that "Queenie" is the only one that is being broken in.
"EAGLES" OPEN BIG CARNIVAL. Evening Star (Washington, D.C.), 4th May 1909, pg 8.
LaBelle Salicia danced with a lion, while Mlle. Marcella placed in subjection a snarling pack of lions, jaguar, leopards, tigers and bi-hybrids, the latter being one-half lion, one-quarter leopard and one-quarter jaguar . . . More lions and bi-hybrids appeared when Capt. Bartlett was introduced.
[LION-LEOPARD-JAGUAR BI-HYBRIDS] Staunton Spectator and Vindicator (Staunton, Virginia), 14th May 1909, Pg 3.
Two baby bi-hybrids were added to Col. Ferrari's trained animal show of Washington, D.C. The mother, Maxine, is one of the largest, if not quite the largest, bi-hybrid in existence. She is only partly trained, and is such a vicious animal that it is not likely she will ever be entirely trained to do the work now being done by her brother and sister bi-hybrids. These peculiar animals are a cross-breed, being half lion, one quarter leopard and one quarter jaguar. Unlike any other animals, wild or otherwise, they at their young, so that it was necessary to remove the babies as soon as they were born. The mother made such an outcry for them and behaved so wildly that she caused all the other animals to become exceedingly excited, and they reared and plunged about for hours before peace finally settled down over the menagerie. The little arrivals are not at all pretty, but they are interesting in their being such a novelty. They greatly resemble new-born kittens, except that they are much larger.
UNDER THE CANVAS. The Morning Call (Allentown, Pennsylvania), 21st September 1909, pg 5.
There was an interesting occurrence at the tents of the Ferari Animal show, at the fair grounds, yesterday morning, when a hybrid, a cross between a leopard and tiger, [a South American "clouded tiger" i.e, a jaguar] whelped, giving birth to a pair of bi-hybrids, the father of which was a lion/This makes the circus babies half lion, quarter leopard and quarter tiger. Col. Ferari is the only successful breeder of hybrids and bi-hybrids in this country, and his success in this line has been remarkable . . . Other interesting infants in this aggregation include a pair of baby lions and a baby leopards. There's an exceptionally attractive bi-hybrid there too, just six months old, but with a disposition like a full grown jungle-bred lion.
AN ATTRACTION OF MERIT. FERARI'S TRAINED WILD ANIMAL SHOW AT STATE FAIR WILL DRAW BIG CROWD. The News and Observer (Raleigh, North Carolina), 19th October 1909, pg 6
One of the acts, that of Carodina, who performs with a collection of leopards, pumas and several of the finest specimens of lions in the world. In Ricardo's number will be seen one of those very rare hybrids, a cross of leopard and tiger, one of the rarest and most valuable animals in existence. [Based on other reports these are hybrids with the South American "Clouded Tiger" which is an old name for the Jaguar.]
"AFRICA" AT GIMBELS. FINE COLLECTION OF JUNGLE ANIMALS ON EXHIBITION AT DEPARTMENT STORE. The Philadelphia Enquirer, 20th November 1909, pg 9.
Included in the array of animal talent . . . there are also bi-hybrids, which are quarter Jagua, quarter leopard, and half lion. [These were Ferari's animals].
BOSTOCK &WOMBWELL'S ROYAL No. 1 MENAGERIE. Linlithgowshire Gazette, 24th June 1910, pg 1, Motherwell Times, 19th August 1910 pg 1 [and others]
Another great attraction is "Romeo," a Lion Tiger Hybrid, full grown, cost £900.
LIONS AND LEOPARDS CREATE TERROR AT FAIR . FEROCIOUS ANIMALS ESCAPED FROM CAGES IN SHOW . . . BI-HYBRID IN AN ENDEAVOR TO ESCAPE SWAM ACROSS RIDEAU CANAL TO OTTAWA EAST. The Ottawa Evening Journal, 15th September 1911, pg 2.
A powerful, snarling lion, two lithe, vicious leopards, and a semi-tamed by-Hybrid [lion-leopard hybrid] fanned Into a reckless fury at the prospect of freedom, after having escaped from their cages, romping through the midway, driving; screaming women and children, scurrying before them in deathly terror, was the stirring spectacle witnessed on the Exhibition Grounds'this morning at about 10 o'clock [ . . . ] In the meantime, the Bl-Hybrid, in a desperate attempt to e cape, plunged Into the Rideau Canal and struck out for the opposite shore, attracted evidently by the cluster of trees and shrubbery on the Ottawa East side. [the leopards and lion were recaptured] The greatest difficulty was experienced in capturing the By-Hybrid. A boat was secured, and the trainer followed it across the canal. In Slattery's field they succeeded after several attempts at lassooing it, but it was not placed in its cage before t too inflicted a painful bite on trainer Herr Herteino's arm. [. . .] The leopards' names are "Buster" and "Julia." while the By Hybrid bears the title of "Goldle."
CONEY'S PETS PERISH IN FIRE. MONARCHS OF JUNGLELAND ROAST TO DEATH. MANY SHOT DOWN BY MERCIFUL TRAINERS. The Courier Journal (Louisville, Kentucky), 28th May 1911, pg 7.
New York, May 27. (Special.) A flat, black plain of about ten acres of steaming embers and twisted iron spread out before the eyes of thousands when the sun rose upon Coney Island this morning, the ruins of the fire which had started at 2 a, m. at the Dreamland concession, known as Hell Gate . . . In the ruins were the charred bodies of about eighty lions, bears, monkeys, deer. leopards and various hybrids, which had been a part of Col. Ferraris animal show. [. . . ] Col. Ferrari, Jack Bonavita and Dr. F.W. Hastings, veterinarian to the animal show, got five lionesses, six ponies, two llamas, a monkey, a great Dane and four leopards out of the building. Then as there was no time to drive the eighty or more animals into transfer boxes, Capt. Bonavita ran from cage to cage shooting the trained wild animals through the head until he could stand the heat and smoke no longer. [. . .] so long did Bonavita stay in the burning arena that he saw part of the roof at the ocean side of the structure fall upon the cages of the monkeys and hybrids - half-lion. half-jaguar - and bury the animals, which by this time probably were dead. [. . .] In their cages in the meantime seven lions, two leopards, a small bear, three pumas, four hybrids . . . had been burned to death. (This means there were at least 4 hybrids, some of which were lion-jaguar hybrids. This was the old Bostock arena. It was the third big fire in 4 years.)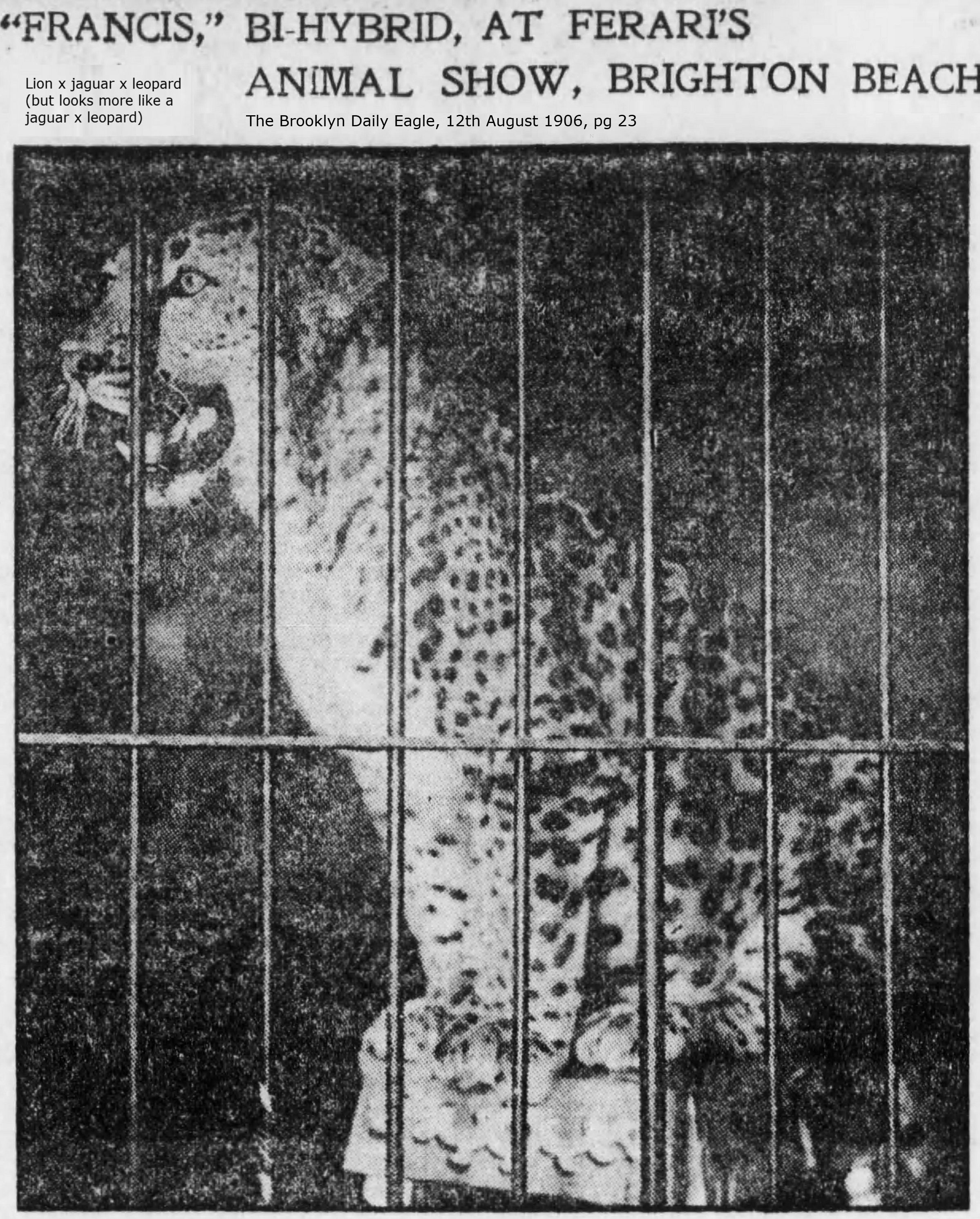 Textual content is licensed under the GFDL.