FALSE CARAMEL (LILAC CARRYING CINNAMON), EFFECT OF THE BLACK/CHOC/CINNAMON GENES ON RED, OTHER EFFECTS OF RECESSIVE GENES ON DOMINANT COLOURS


Sarah Hartwell, 2018 - 2020


This page is based on the observations of breeders who noticed that recessive genes can influence the colour produced by a more dominant gene. Firstly a brief summary of how genes work in pairs:
Apart from X and Y, chromosomes are inherited in pairs. A gene on a chromosome may have several variants, some being more dominant than others. Black has two recessive variants: chocolate and cinnamon. The order of dominance is Black >> Chocolate >> Cinnamon. A recessive colour is only expressed (visible) if the other gene is not more dominant. If the 2 genes are identical, the cat is homozygous for that colour. If they are not identical, the cat is heterozygous. Breeders can confirm which recessive black-based genes are present using DNA tests.
The red gene is on the X chromosome and there is no corresponding gene on the Y chromosome. Males (XY) with one red gene express the red colour. Females (XX) with one red gene express a mixture of red and non-red (black, chocolate or cinnamon); females with two red genes are red in colour. The black-based genes are still present on other chromosomes, but the red gene overrides them. Red is independent of black, chocolate, and cinnamon.
A separate "dilution" gene affects pigment density. If a cat inherits two dilution genes it shows the dilute version of the colour e.g. blue instead of black, cream instead of red. If it inherits only one or no dilution gene it expresses the full colour e.g. black or red.
The "dilute modifier" further affects diluted colours, but instead of being a distinct gene, caramels and apricots might actually be incompletely masked recessives. For convenience it is treated as a gene.
Agouti means the hair shafts are ticked (as in tabbies), non-agouti means the cat is a solid colour (not tabby patterned).
This chart gives a basic summary of full colours, dilute colours and dilute modifier colours.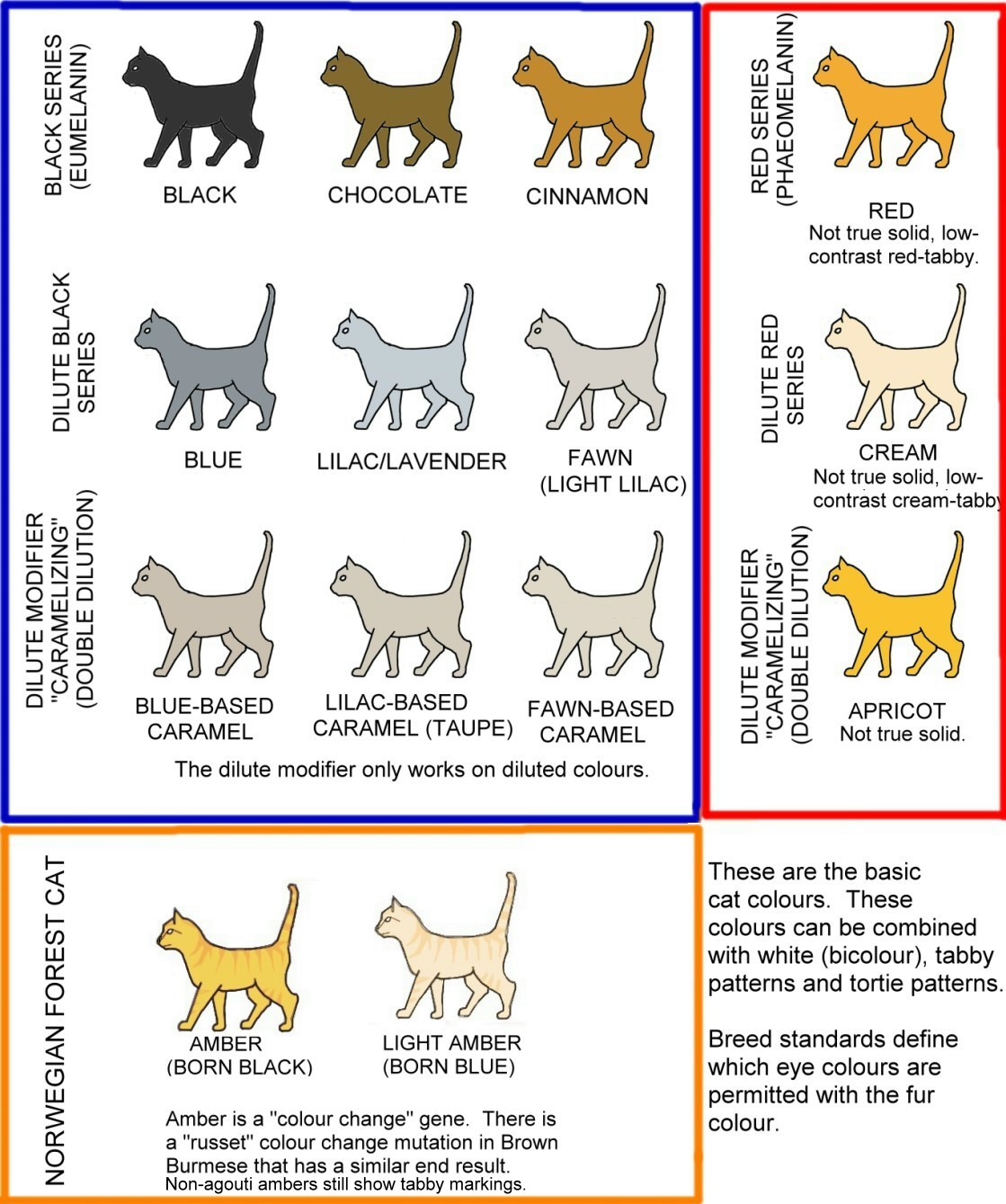 In theory, a recessive gene should be completely masked by a more dominant gene, but life is never this simple! Breeders have observed subtle variations in colour between cats homozygous for a colour and cats heterozygous for the same colour i.e. where a more recessive gene is being masked. Because red is on a different chromosome, it is inherited independently of the black-based genes (the black-based genes are still present though).
FALSE CARAMEL
Caramel is cause by the Dilute modifier gene acting on the dilute colours blue, lilac, fawn or cream. The resulting colours are blue-based caramel, lilac-based caramel, fawn-based caramel and apricot. The three caramel colours are hard to distinguish without knowing what is in the pedigree.
Observation: A lilac (i.e. choc + dilute) carrying one gene for cinnamon appears more pink.
Recently a breeder believed s/he had a caramel Oriental kitten and applied to register it as caramel. There was no caramel anywhere in the pedigree. The dam was genetically fawn (dilute of cinnamon). The sire was genetically lilac (aka lavender, dilute of chocolate). So why did the breeder think this was a caramel kitten? Some are down to lighting conditions, but even in good daylight some lilac kittens have slight "off" colour.
Lilac carrying cinnamon can express very strangely and while it isn't the same visually as dilute modifier it is all too often mistaken for caramel by those unfamiliar with true caramel colours. Many lilac-carrying-cinnamon cats have been labelled caramel based on the strange shade that can occur and not on the presence of the dilute modifier. Sometimes experienced breeders with imperfect dilute-coloured cats will label them caramel. If not caught and corrected on the pedigree, this becomes a problem later on for people wanting to breed caramels.
This is an effect of the cinnamon gene. It can alter the tone of lilac cats carrying cinnamon, and to a lesser extent can alter the tone of blue cats that carry caramel. The effect can be more pronounced in cats that are lilac-creams carrying cinnamon.
EFFECT OF THE BLACK/CHOC/CINNAMON GENES ON RED
Observation: The expression of the red gene can vary considerably depending on which of the black-based colours are present. This is because the normally black pigment granules are modified by the chocolate or cinnamon gene. Cream can range from a very pale colour through to a "hot cream."
Cinnamon/fawn-based cream (2 x cinnamon, 2 x dilute and the red gene) is the palest form of cream.
Chocolate/lilac-based cream cats have 2 x chocolate (or 1 x choc, 1 x cinnamon), 2 x dilution and the red gene. A chocolate/lilac-based cream is more delicate in colour compared to black/blue-based cream.
Black/blue-based cream cats have 2 x black (or 1 x black), 2 x dilution and the red gene.
Observation: A red or cream cat that has 2 x chocolate (or 1 x choc, 1 x cinnamon) has an impure colour compared to a red or cream that has 2 x black (or 1 x black, 1 x choc/cinnamon). Black-based reds tend to be hotter in colour.
Observation: Chocolate-based red can resemble cinnamon.

Observation: Cinnamon, Chocolate and Black based apricot cats also have subtle differences. There are no good examples of a cinnamon/fawn based apricot, because apricot should only occur when underneath they are black + cinnamon, black + chocolate, chocolate + chocolate or chocolate + cinnamon.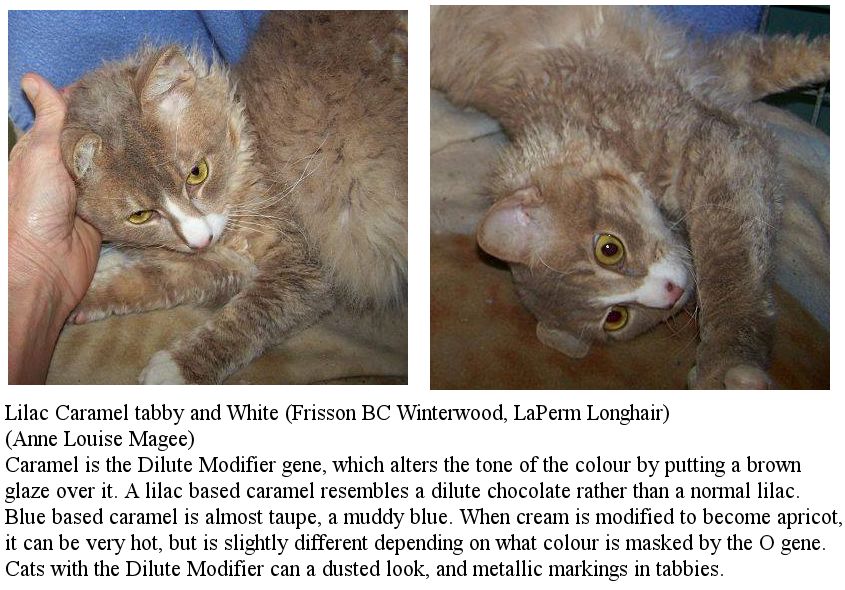 CHOCOLATE CARRYING CINNAMON , BLUE CARRYING CHOCOLATE OR CINNAMON
Observation: Chocolate carrying cinnamon (heterozygous chocolate) looks different to homozygous chocolate, especially on solid colour cats.
Observation: A blue (i.e. black + dilute) carrying one gene for either chocolate or cinnamon tends to have a more muddy colour.
HOMOZYGOUS SILVER VS HETEROZYGOUS SILVER
Observation: Heterozygous silver can look different (less silvery) to homozygous silver. Sometimes a heterozygous silver + agouti resembles a silver + non-agouti cat (smoke).
HOMOZYGOUS COLOURPOINT VS COLOURPOINT CARRYING ALBINO
Observation: In colourpoint cats, Siamese cats that are 1 x colourpint, 1 x blue-eyed albino (i.e. heterozygous for colourpoint) have higher contrast between body and markings than Siamese that are homozygous for colourpoint. The difference is distinct enough for high-contrast Siamese to have been termed "Bondanese" in the past.